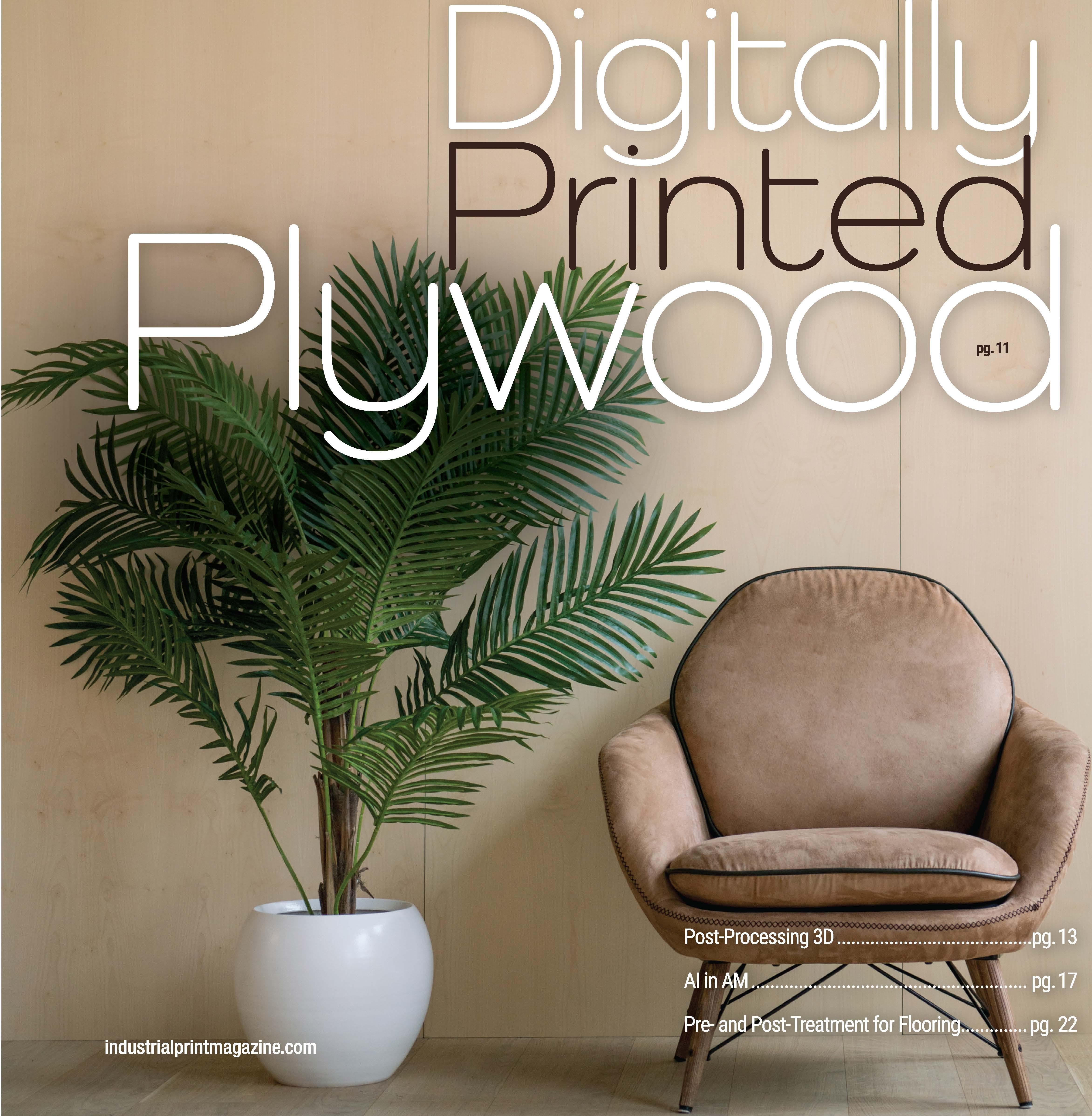 #6
[ 17] A Powerhouse Combination Al and AM [ 22] Fancy Flooring Surface Pre- and Post-Treatment Considerations for Digitally Printed Flooring Editor's Letter [WhatComes Next?] 4 AM [After the Print] 13 News Beat [Current Industry News] 5 Advertiser Index 16 Showtime [Tothe Hub] 7 Companies Mentioned 16 Spotlight [Making a Pointwith Plywood] 11 Target Chart [Metal Options] 21 ON THE COVER Garnica uses digital printing technologies to decorate plywood used in furniture, walls. fiooring, and more. See page11 industrialprtntmagazine.com October2023 [IndustrialPrintMagazineJ 3
WHATCOMES NEXT?
While a majority of three-dimensional (3D) printing focuses on the actual print itself, post-processing techniques are often overlooked, but many times an additive manufactured (AM) part requires a little finesse after it comes out of the printer.
Sanding, polishing, de-powdering-these are just a few of the methods that ensure the final piece is exactly what the end user intended. Consider the post-process hardware-and even software-when looking at implementing a 3D printer in house. Read more inAfterthe Print.
This issue also shares the inroads artificial intelligence (Al) is making in AM. Al is used throughout the entire process from design to print and beyond. APowerhouse Combination looks into this.
Looking at surface pretreatment from the perspective of a flooring manufacturer, our second feature, Fancy Flooring, discusses pre- and posttreatment tactics for digitally printed flooring.
Following up, Making a Point with Plywood, spotlights a manufacturer of plywood solutions for exterior and interior construction and furniture manufacturing. It turned to digital technologies to decorate plywood, offering customization to customers as well as a host other benefits.
Finally, this article includes a Target Chart on 3D metal printers and a preview of the upcoming Formnext trade show taking place in Germany this November.