2 minute read
CHANCELLOR'S AWARDS FOR STUDENT EXCELLENCE
from Rockefeller College Fall 2019 News Magazine
by Rockefeller College of Public Affairs & Policy
CHANCELLOR'S AWARDS FOR STUDENT EXCELLENCE
On Wednesday, April 24th, nine University at Albany students, including four Rockefeller College scholars were awarded the 2019 Chancellor's Award for Student Excellence at the Capital Center in downtown Albany.
"Today's award recipients emerged from their campuses this year as the top scholars, athletes, performers and achievers, as well as a tremendous source of inspiration," said Chancellor Kristina M. Johnson. "The students being recognized today made the choice to be leaders on their campuses, prioritize their studies, and serve their communities. Congratulations to this year's awardees, and I applaud you for pursuing excellence in all that you do."
A total of 210 SUNY undergraduate and graduate students from across the state received the award. Rockefeller College's honorees were: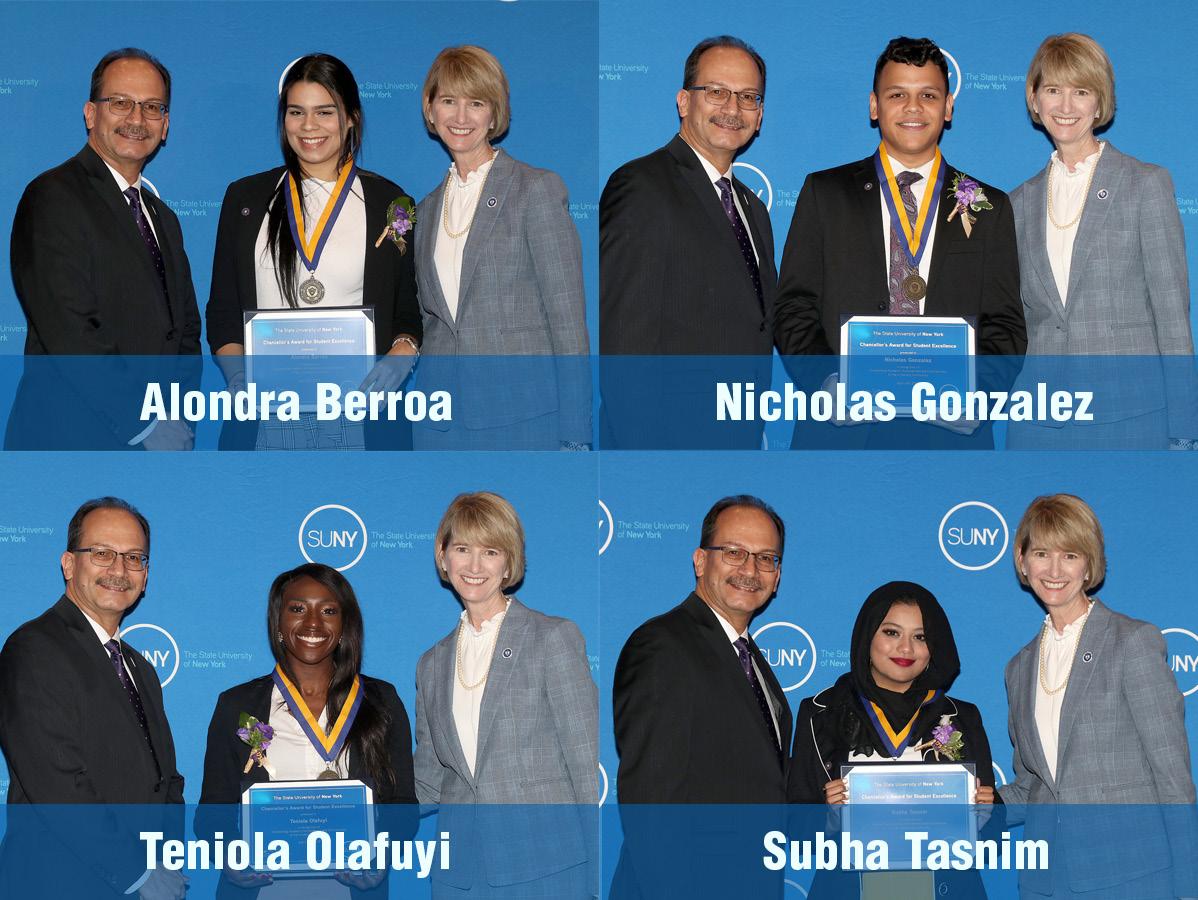 ALONDRA BERROA
Advocating for students was a highlight of Alondra Berroa's UAlbany experience. A resident advisor, a member of the UAS board, and a member of the University Council, Berroa graduated in December 2018 with a double major in political science and emergency preparedness, homeland security, and cybersecurity. She's pursuing a Master of Public Administration degree at Rockefeller College with an eye on law school in the future.
NICHOLAS GONZALEZ
A Brooklyn native, Nicholas Gonzalez graduated in May as a political science honors major with a concentration in public law, and a communication minor. He served as a Purple and Gold Ambassador, a member of the Student Association Senate, a peer career advisor, and a campus tour guide. Post-graduation plans include attending law school.
TENIOLA OLAFUYI
A public health and political science double major with a minor in history, Teniola Olafuyi says UAlbany taught her about leadership. After graduating in May, she is currently pursuing a Master of Public Health with the goal of advancing the rights of underrepresented people as a health policy advisor.
SUBHA TASNIM
A double major in criminal justice and emergency preparedness, homeland security, and cybersecurity, Subha Tasnim minored in political science and sociology. From Astoria, Queens, she was active in the Student Association, leadership and honor societies, and advocacy organizations. Graduating in May 2019, Tasnim plans to pursue a law degree with the goal of aiding disadvantaged communities.
The Chancellor's Award for Student Excellence was created in 1997 to recognize students who have best demonstrated, and have been recognized for, the integration of academic excellence with accomplishments in the areas of leadership, athletics, community service, creative and performing arts, campus involvement or career achievement.
Each year, SUNY campus presidents establish a selection committee, which reviews the accomplishments of exemplary students. Nominees are then forwarded to the Chancellor's Office for a second round of review. Finalists are then recommended to the Chancellor to become recipients of the award.