In Memory of Dr. Martin Luther King, Jr.
Martin Luther King Recipients 2023
#2 – Jair Davis
#3 – Gennie Giles
#4 – Kalexia Mojica
#5 – Mohamad Yakub
#8 – Ilmiyo Hussein
#9 – Yosthin Meza
#12 – Miles Warren & Benjamin Del Gado
#15 – Simon Kapusta #17 – D'Zaria Penn
#22 – Briankylex Rivera Valentin
#23 – Vera Petty-Brown
#25 – Kasius Dukes
#28 – Doneal Williams Jr.
#33 – Angelita Sedan #39 – Nevaeh Dawkins
#45 – Juelz Means
#50 – Xavion Goff
#53 – Anyiah Dunbar
#54 – Rory Jones #58 (Elementary) – Aki Taylor Mac Leod East Lower School – Luis Cruz
Northwest Junior High – Mychael Hazzard-Davis Rise Community School – Levelle Lee-Riley
Rochester International Academy (Elementary) – Winner Kabeya
Wilson Foundation Academy – Elijah Jones
#58 (Secondary) – Kimayah King
East Upper School – Sarah Adams
Edison Career & Technology High School – Providence Simbi
Franklin Upper School – Roshika Tamang
Monroe Upper School – Levar Moore
Northeast College Prep High School – Jorge Jimenez
Rochester Early College International High Schoo – El-Amin Ortiz-Price
Rochester International Academy (Secondary) – Shabnam Nazari
Wilson Magnet Commencement Academy – Aries Jiles
The 40th annual Dr. Martin Luther King, Jr. tribute awards ceremony will be held at School of the Arts, on January 17, 2023 at 6:30 pm. The Public is invited.
Rochester Teachers Association Human Relations Committee
Celebrating 40 years of outstanding students!
"I have a dream that my...children will not be judged by the color of their skin, but by the content of their character."
We salute the following students for the example they have set with their lives in school and in the community by living the ideals of Martin Luther King, Jr.
NEWS. ARTS. LIFE.
December 2022
Vol 51 No 5
On the cover:
Design by Jacob Walsh
280 State Street
Rochester, New York 14614
feedback@rochester-citynews.com phone (585) 244-3329 roccitynews.com
PUBLISHER
Rochester Area Media Partners LLC, Norm Silverstein, chairman
FOUNDERS Bill and Mary Anna Towler
EDITORIAL DEPARTMENT themail@rochester-citynews.com
Editor: David Andreatta
Deputy editor: Jeremy Moule
Staff writer: Gino Fanelli
Arts editor: Daniel J. Kushner
Life editor: Rebecca Rafferty
Contributors: Dario Joseph, Jeff Spevak, Leah Stacy, David Streever, Denise Young
CREATIVE DEPARTMENT artdept@rochester-citynews.com
Director, Strategy: Ryan Williamson Art director: Jacob Walsh
ADVERTISING DEPARTMENT ads@rochester-citynews.com Sales manager: Alison Zero Jones Advertising consultant/ Project manager: David White
OPERATIONS/CIRCULATION
Operations manager: Ryan Williamson Circulation manager: Katherine Stathis kstathis@rochester-citynews.com
CITY is available free of charge. Additional copies of the current issue may be purchased by calling 585-784-3503. CITY may be distributed only by authorized distributors. No person may, without prior written permission of CITY, take more than one copy of each monthly issue.
CITY (ISSN 1551-3262) is published monthly 12 times per year by Rochester Area Media Partners, a subsidiary of WXXI Public Broadcasting. Periodical postage paid at Rochester, NY (USPS 022-138). Address changes: CITY, 280 State Street, Rochester, NY 14614. Member of the Association of Alternative Newsmedia and the New York Press Association.
Copyright by Rochester Area Media Partners LLC, 2021 - all rights reserved. No part of this publication may be reproduced or transmitted in any form or by any means, electronic or mechanical, photocopying, recording or by any information storage retrieval system without permission of the copyright owner.
best of
rochester
the issue
CITY's annual "Best of Rochester" readers' poll is back — bigger and better than ever. Don't believe it? Just flip the page. Then the next, and the next, and the next, and the . . . you get the picture.
A "Best of Rochester" blowout
This month's entire issue is devoted to highlighting CITY readers' top choices for the people, places, businesses, and things that they believe make Rochester special. Why? Because the winners deserve it and because readers all but asked for it.
We were blown away by the participation in this year's poll. Nearly 17,000 people cast 722,000 final-round votes for everything from their favorite local bands, barbers, and burgers to the actors, artists, and antique shops they like best.
To put that in perspective, consider that just 10,000 people cast votes in the poll's final round in each of the previous two years, amid the depths of the pandemic.
This year, there were more than 150 ballot lines, including many new ones, across five categories. For the first time, voters had the option of choosing their favorite auto detailer, toy store, bridal boutique, and wedding venue, for example.
In the distant past, we listed the names of the winners under their ballot line in a special insert in CITY. In the more recent past, we attempted to beef up our coverage of the winners by providing a little more information about them, including a website and a sentence or two that summed them up.
Our coverage went much deeper this year. This issue is packed with photos and essential information about the winners, and short feature stories on two dozen of them to give readers a better sense of why the winners are so beloved. On some ballot lines, CITY staffers included their personal choices for also-rans that they felt were overlooked.
We hope this "Best of Rochester" edition sets a new standard and will be the type of magazine to occupy a prominent and permanent place on your coffee table. We hope that you'll consult it throughout the year to find the services you need, catch the right band, and plan that perfect night out.
Congratulations to all the winners and finalists, and many thanks to readers for playing. This "Best of Rochester" is a salute to all of you.
arts & entertainment food drink shopping & services recreation
CITY 3 roccitynews.com
David Andreatta, Editor
page 04 page 18 page 40 page 50 page 62
WXXI Members may inquire about free home delivery of CITY including monthly TV listings by calling 585-258-0200. @ROCCITYNEWS
best of BEST ACTOR
Penny Sterling
penny-sterling.com
Penny Sterling, who calls herself a "storyteller," "comedian," and "dad" and proclaims her "penis to be the least interesting part of me," is something of a late-bloomer. She burst onto the local performing arts scene in 2016 with "A Spy in the House of Men: A One-Woman Show With Balls," in which she recounted her decades-long journey of transitioning from a man to a woman. The show played to sold-out audiences here before hitting the road, where critics around the country lauded Sterling's gut-wrenching authenticity and comedic timing. Sterling has since kept busy churning out work that centers on her experiences as a trans woman, including "Someone No One Can See," a piece she wrote and performed last year at Blackfriars Theatre in collaboration with dancers from PUSH Physical Theatre.
Finalists: Che Holloway | Alex Hunter | Esther Winter
BEST ART
GALLERY
Memorial Art Gallery
500 University Ave. | 585-276-8900 mag.rochester.edu
Visiting the Memorial Art Gallery of the University of Rochester, better known by its nickname "The MAG," means journeying through 5,000 years of art history. The gallery, founded on University Avenue by Emily Sibley Watson as a memorial to her son, has come a long way since it opened as a handsome Italian Renaissance building 110 years ago. Its permanent collection boasts work by notables such as Monet, Cezanne, Matisse, Rembrandt, and Homer, and is considered to be one of the strongest in Western art and best balanced in New York outside of New York City. All the while, the gallery has stayed true to its mission as a teaching museum, exemplified by its healthy schedule of temporary exhibits, lectures, concerts, and tours that keep locals coming back and make the MAG a must-stop attraction for out-of-towners.
Finalists: Artisan Works | Rochester Contemporary Art Center (RoCo) UUU Art Collective
But also . . .
George Eastman Museum
900 East Ave. | 585-327-4800
The Eastman Museum's omission from the finalists fogs my film. Eastman's collections include works by extremely influential fine art photographers such as Ansel Adams, who is famous for his richly toned black and white landscape photos, and Alfred Stieglitz, a pioneering pictorial photographer known for his still lifes, portraits, and streetscapes. It also includes iconic work by
documentary photographer Eugene Richards and the contemporary work of Dawoud Bay, who is known for his large-scale portraits of marginalized and underrepresented people. The galleries selected by CITY's readers are great, and worth visiting regularly. But the essential artwork that lives in the archives and on the walls of the Eastman Museum should not be overlooked.
JEREMY MOULE
BEST ARTIST
Shawn Dunwoody dunwoode.design
Around these parts, Shawn Dunwoody needs no introduction. The prolific muralist and all-around creative is widely considered the face of the city's art scene. An unabashed cheerleader for Rochester, he also happens to be a strong contender for the city's best-dressed man. His work dots the city, from his FUA Krew-collaboration "Fat Albert" mural on Genesee Street to his homages to Frederick Douglass. His direction of a community painting project that transformed the crosswalks at the intersection of Gibbs and Main streets into a piano keyboard made national news. Last year, Dunwoody went avant garde at the corner to complement the Jazz Festival, transforming the crosswalk into a playable piano activated by the footsteps of pedestrians.
Finalists: Adam Eaton | Michaelangelo Martinez (@Deadfrens) @Pepperfaced
BEST ARTS EVENT
Rochester International Jazz Festival
rochesterjazz.com
For nine days in June, this international event draws an estimated 200,000 people to downtown Rochester. And yes, music is the draw. Is it any wonder that this staple of the city's festival scene clinched a second "Best of Rochester" honor for "Best Music Festival"? But an argument can be made that there's more to this event than meets the ear. Downtown restaurants reap the benefits that the food trucks don't capture. Kids draw chalk art on the closed-off streets. The Eastman School of Music plays host to music workshops.
Finalists: Clothesline Festival | Corn Hill Arts Festival Rochester Fringe Festival
Then again . . .
Rochester Fringe Festival
rochesterfringe.com
Yes, this is all subjective. If you like beer, then arguably The Flower City Brewers Fest is your "Best Arts Event." But there's a strong argument to be made in this category on behalf of the Rochester Fringe Festival, which has exhibited spectacular growth since it launched in 2012. It is entertainment diversity — 12 days in September for sampling music, dance, comedy, movies, food trucks, puppets, drag queens, and the odd disembowelment of a Shakespeare classic. And the huge scale of some of the productions can be seen throughout the city center. For instance, the California vertical dance group Bandaloop last year glided across the side of the 21-story Five Star Plaza building suspended from cables.
JEFF SPEVAK
CITY 5 roccitynews.com
arts & entertainment
PHOTO PROVIDED
BEST BAND (COVER)
Something Else
somethingelserockband.com
Sometimes you just want to hear the hits, let your hair down, and let your feet loose. Rock trio Something Else can help you get there, whether it's a random weekday at Flour City Station or it's party time at a wedding reception. Guitarist-keyboardist Johnny Cummings, bassist Michael Klock, and drummer Mikey Lasaponara never let the energy drag as they power through crowd-pleasers like Toto's arena anthem "Africa'' and a surprising take on Montell Jordan's '90's R&B smash "This Is How We Do It." If you love Elton John, Cummings's piano chops on "Bennie and the Jets" and "Crocodile Rock" are Something Else.
Finalists: Hey Mabel | Seven Wonders | Taran
BEST
CLUB DJ
DJ Mighty Mic (at ROAR)
roarroc.com
You can find Mighty Mic — aka Michael Ruger — right at home behind the DJ workstation at the popular LGBTQ club ROAR. He hosts the weekly drag show "Roaring Saturdays" from 9 p.m. to 2 a.m., alongside drag queen DeeDee Dubois. Ruger not only keeps the tunes spinning, but the party going as co-owner of the club. With DJ Mighty Mic in charge, expect a fun evening with plenty of energy.
Finalists: Brian Bartlett | DJ Darkcore | DJ Darkwave
BEST COMEDIAN/COMEDY TROUPE
Chris Thompson
Before he became a fixture on the open-mic comedy circuit, Chris Thompson was a social media keyboard funnyman. He stomped into stand-up after being goaded by friends who liked his Facebook and Instagram quips, and has been making inroads ever since into the territory that few dare tread. The way he tells it, he took a blind date to his first set and never saw that person again. Hey, there's no accounting for taste. Speaking of taste, Thompson co-hosts with Dario Joseph the deliciously fun podcast "Refined Taste with Dario and Chris," where they serve up laughs while dishing on the Rochester food scene. Joseph, a finalist in this category, and Thompson are both freelance writers for CITY.
Finalists: Dario Joseph Shirelle Kinder | Thank You Kiss
ROC Star
It's easy to make the case that R&B-soul artist Danielle Ponder won 2022 — and not just because she took five different "Best of Rochester" categories.
Ponder officially arrived on the national scene, playing prestigious venues like Newport Jazz Festival and the Hollywood Bowl, and performing on "Late Night with Seth Meyers" and "CBS Saturday Morning."
She did it while redefining her sound on her debut album "Some of Us Are Brave," which draws on lo-fi hip-hop beats and intense, hard-hitting soul timbres — a departure from the often overtly positive pop-soul of her previous work.
"It's really from my soul, and it's more personal," Ponder told CITY. The album and its live interpretation has benefited mightily from the contribution of Ponder's band, players with precise
musicianship and strong Rochester ties.
Ponder's music director and keyboardist, Avis Reese, has worked with the dynamic singer-songwriter for a decade. To her ears, the music is slower, moodier, and challenging.
"This whole album was a risk in some ways, a creative risk for Danielle and for myself," Reese said. "And it's paying off in ways that I couldn't have even predicted."
Ponder recently reported on her social media accounts that several of her bucket-list festivals had approached her to perform next year.
"I think telling her truth is speaking to a lot of people because these are the truths of a lot of people, you know: the heartbreak, the insecurities, the uncertainties," Reese said of Ponder. "I think she's just vocalizing what a lot of other people can't vocalize."
Ponder's ability to resonate with audiences has a lot to do with her
6 CITY JANUARY 2023 arts & entertainment best of
Best Band (Original) Best Blues Artist Best Jazz Artist Best Solo Artist Best Vocalist
Danielle Ponder
PHOTO PROVIDED
magnetic stage presence. Touring guitarist Garrett Mader has noticed that Ponder consistently establishes a strong emotional connection with her fans.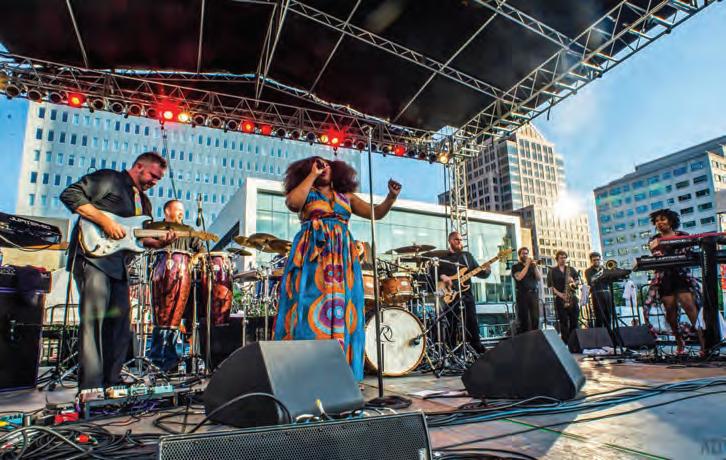 "It's kind of like an hour or so of therapy every night to go through that with a crowd and win them over," Mader said. "When she does 'Creep' at the end, people are often crying. And it's just a beautiful thing to get to see night after night after night."
It's Ponder's voice that sets her apart — a singular blend of raw tone and polished phrasing that hints at Mahalia Jackson and Macy Gray but ultimately blazes its own path.
"Her voice is unique," Mader said. "It stands out. The way that she chooses to enunciate is her own, and it's very engaging. She doesn't sound like anybody else but herself."
If you're not yet aboard the Danielle Ponder train, take a listen and step on up. There's plenty of room for everyone.
DANIEL J. KUSHNER
CITY 7 roccitynews.com arts & entertainment best of 5x "Best Of" winner! BEST BAND (ORIGINAL) The Cool Club & the Lipker Sisters Haewa Joywave BEST BLUES ARTIST Joe Beard Hanna PK Ryan Johnson BEST JAZZ ARTIST Escape Terrain Bob Sneider Bill Tiberio BEST SOLO ARTIST Cammy Enaharo Ryan Johnson Teagan Ward BEST VOCALIST Elyse Coughlin Sarah Gebbie danielleponder.com
Finalists FILE PHOTOS Danielle Ponder
best of
BEST COUNTRY ARTIST OR GROUP
Zac Brown Tribute Band
zacbrowntributeband.com
You could never accuse Zac Brown Tribute Band of false advertising. Livemusic lovers know exactly what they're getting with this good-vibin' septet devoted to interpreting the songs of the popular country rock group Zac Brown Band. And while the tribute band does a rousing version of the Zac Brown hit "Chicken Fried," these cover artists don't relegate themselves to Brown's songs alone. ZBTB puts its enthusiastic, countrified spin on classics like Van Morrison's "Into the Mystic" and Metallica's "Enter Sandman."
Finalists: Begging Angels | Claudia Hoyser | Jeff Riales | Jake Wren
Not
to be overlooked . . .
Claudia Hoyser
claudiahoyser.com
For original country songs with mainstream pop appeal, listen to the music of singer-songwriter Claudia Hoyser. From the mid-tempo lilt of "Wicked," off of her 2021 debut album "Red Light's Turning Green," to the new single "Small Town Motels," Hoyser excels at wistful ballads sung with earnestness and just the right amount of twang.
DANIEL J. KUSHNER
And . . .
Temple Cabin Band
aaronlipp.com/temple-cabin-studios
The quartet of Aaron Lipp, Max Flansburg, Ben Haravitch, and Will Sigel has too much talent to go without mention here. While the group doesn't perform often, you owe it to yourself to check them out as they bring original country, bluegrass, and folk tunes by Lipp, Flansburg, and Haravitch to life. You probably won't hear this music on the radio, but the songcraft alone is top-tier.
DANIEL J. KUSHNER
8 CITY JANUARY 2023
arts & entertainment
PHOTO BY RYAN WILLIAMSON
of
BEST DANCE COMPANY
Garth Fagan Dance
50 Chestnut St. | 585-454-3260 garthfagandance.org
Dance companies were hit particularly hard by the pandemic. Garth Fagan Dance was no exception, struggling to stay on its feet after having to suspend for a year celebrating Fagan's 50 years of heading his world-renowned dance company, known for captivating audiences with dazzling choreography. There's some giving back to the community. On Martin Luther King Jr. Day, Garth Fagan Dance offers free dance lessons, starting at noon, at its studio.
BEST DRAG PERFORMER DeeDee Dubois
facebook.com/deedee.dubois
After 24 years on Rochester's stages, DeeDee Dubois has moved from a "Best of Rochester" runner-up in this category to top queen. The man behind the makeup, David Chappius, is a co-owner of multi-"Best of Rochester" winner ROAR nightclub on Culver Road. Chappius dons a goldenrod wig and glitter aplenty to perform songs by P!nk, Kesha, and more every Saturday for "DeeDee's Club Night Out," in addition to running a monthly Saturday Wild College Party.
Finalists: Kiki Bananahammock | Mrs. Kasha Davis | Wednesday Westwood
You should also consider . . .
PUSH Physical Theatre and BIODANCE
pushtheatre.org biodance.com
Among the most-active forces on Rochester's powerful dance scene over the last year was PUSH Physical Theater with its show "Generic Male: Just What We Need, Another Show About Men." It was a big hit at the Rochester Fringe Festival, with its blend of physical comedy and powerful emotional content. "Generic Male" earned PUSH a 14-show run at New York City's SoHo Playhouse. Another company, BIODANCE, was also quite busy, with shows at Fringe, a mixed-repertory program at the Multi-use Community Cultural Center, two different events celebrating the Eastman School of Music centennial, an outdoor show called "Wander and Wonder," as well as shows throughout the year for seniors. Give these dance companies a chance and prepare to be blown away.
JEFF SPEVAK
BY JACOB WALSH
BEST FILM FESTIVAL
Rochester International Film Festival
585-210-8153 rochesterfilmfest.org
Three days. Dozens of short films. The Rochester International Film Festival is a celebration of movie-making brevity. This annual, global showcase of films focuses on short-runtime releases, with the typical movie lasting about 10 minutes. That opens the door for an eclectic mix of films packed into single screenings, or "sessions." Among the festival's most recent offerings were "The Bag," a tale of an Iranian transgender woman's coming out in an oppressive society, "Unforgotten," a short documentary on Japanese sexual war crimes in Korea during World War II, and "The Kaleidoscope Guy at the Market," a 20-minute documentary about a Seattle man who makes glass kaleidoscopes.
Finalists: Anomaly Film Festival | ImageOut | Jewish Film Festival
CITY 9 roccitynews.com
arts & entertainment best
Finalists: PUSH Physical Theatre | Rochester City Ballet | Tournesol Dance
PHOTO
The Honey Smugglers
Folk Heroes
facebook.com/honeysmugglers
BEST
Best Folk Artist or Group
You can call The Honey Smugglers an Americana band, an acoustic act, or even a jamgrass group. But one thing is for sure: CITY readers call the sextet Rochester's best folk group.
Fronted by lead vocalist and mandolinist Brian MacDonald, the band has been together for the better part of a decade, playing upbeat folk rock songs with bluegrass instruments. "I think the music has matured just because we've gotten better at playing with each other and working together," MacDonald said.
As songwriters, the band members have avoided predetermined styles and opted instead to encourage each musician to add what feels natural. The Honey Smugglers' drive to play fun-loving music people can dance to has been there from the outset, helping make them a consistently popular live band.
"When we first started, we just wanted to party as hard as we could and play shows," MacDonald said. "And so, we would purposely try to get the late-night slots on gigs and stuff, because we would just want to have a raging party. Those times still come and go, every now and then. But it's definitely few and far between at this point."
The last year has been one of transition for the band's lineup, with Dominic Marini replacing Dylan Niver as drummer.
"Dominic has really brought such a new, fun energy to the band — really exciting," MacDonald said. "The transition into playing with Dominic has been flawless. It's a very seamless transition. It's almost like he's been playing with us for years. And so it feels really good right now."
With three full-length albums in the archives, The Honey Smugglers are close to re-entering the recording studio to lay down some new tracks, and the band show no signs of stopping.
"As long as we're having fun," MacDonald said, "and as long as the people that come to see us are having fun, I don't see any reason to stop it."
DANIEL J. KUSHNER
INSTRUMENTALIST
Herb Smith
herbtrumpet.com
Trumpeter Herb Smith is as affable as he is stylistically versatile. Depending on the day, he may be found performing traditional brass fare as a member of the Rochester Philharmonic Orchestra, interpreting chamber music with the quintet Gateways Brass Collective, or leading his jazz band Freedom Trio with idiosyncratic yet charming melodies. In addition to being a first-call performer and a conductor of Eastman Youth Jazz Orchestra, Smith is also an educator and mentor, having started Herb's City Trumpets as a way to provide music, social, and life lessons to young Black boys.
Finalists: Chris Coon Ryan Johnson | Kinloch Nelson
BEST LIVE MUSIC VENUE (LARGE)
CMAC
4355 Lakeshore Drive, Canandaigua 585-394-4400 cmacevents.com
Large outdoor venues are inherently problematic. What if it rains? The show goes on. Mosquitos? The show goes on. The CMAC lawn feels like an opportunity to picnic, but you can't bring your own food and beverages. Nevertheless, the large outdoor venues are where the most enticing summer shows are found, and CMAC (Constellation Brands Marvin Sands Performing Arts Center) on the campus of Finger Lakes Community College is the best of them. The venue's website warns, "No tailgating is allowed in the parking lots prior to or following a concert." Yeah, right. Tailgating abounds at CMAC shows, and no one seems to say a word. It's part of the venue's charm.
Finalists: Eastman Theatre Parcel 5 | Water Street Music Hall
10 CITY JANUARY 2023 arts & entertainment best of
Finalists:
Jackson Cavalier
Ben Morey
Jake Wren
PHOTOS PROVIDED
best of
BEST LIVE
MUSIC
The Bug Jar
VENUE (SMALL)
219 Monroe Ave. | 585-454-2966 bugjar.com
Few live music fans in Rochester don't have a fond memory of the Bug Jar. Part live music venue, part quasi-punk bar, this cramped counterculture mainstay of the arts scene is a local gem frequented by mid-sized touring acts and up-and-coming local talent, and rife with oddities. Giant papiermache mosquitos rotating slowly on ceiling fan blades? Check. An entire kitchen table set-up affixed upside down to the ceiling? Check. A truly baffling amount of stickers adorning every surface of the bathroom? Check. If you're weird and like music, the Bug Jar is the place for you.
Finalists: Abilene | Record Archive | Photo City Music Hall
BEST MUSEUM
arts & entertainment
The Strong National Museum of Play
One Manhattan Square | 585-263-2700 museumofplay.org
Many people tend to think of museums as stodgy, mothballed institutions where touching exhibits is off limits, talking too loudly is verboten, and fun goes to die. The Strong National Museum of Play is the opposite. Highly-interactive exhibits devoted to the history of play and exploration allow kids to be kids and grown-ups to feel like a kid again. But the museum also features more traditional exhibits, like "America at Play," which chronicles more than 300 years of play and pastimes through rare artifacts such as antique board games and early versions of popular toys. The museum, which is home to the National Toy Hall of Fame and the World Video Game Hall of Fame, recently announced plans to house the National Archives of Game Show History. The Strong, as the museum wants to be known, estimates it receives 600,000 guests a year and anticipates that a massive expansion that is underway and scheduled to be completed by 2023 will draw as many as 1 million visitors annually.
Finalists: George Eastman Museum | Memorial Art Gallery Rochester Museum and Science Center
BEST MUSIC FESTIVAL
Rochester International Jazz Festival
The word "jazz" in the name is a bit misleading. While the festival does ooze jazz — and some top jazz musicians in the world have played the festival — many of the performers are drawn from other genres, particularly rock, with the likes of Sheryl Crow, King Crimson, Bruce Hornsby, and Gregg Allman being among them. And those musicians from Africa and the Nordic countries have offered jazz sensibilities as well. This year marks the 20th anniversary of the event, which runs from June 23 through July 1, and promises 325 shows spread across nine stages.
BEST MURAL OR PUBLIC ART
Murals at MLK Jr. Memorial Park
(Sarah Rutherford, Justin Suarez, Brittany Williams, Shawn Dunwoody)
This year's winner is not a single work on a wall, but the cache of murals located at Dr. Martin Luther King Jr. Park. The park hosts concerts and a cascading water feature in the summer and Roc Holiday Village in the winter, but year-round it's an artistic backdrop with the vibrant Roc Paint Division murals (a project led by Sarah Rutherford, Justin Suarez, and Brittany Williams) of homegrown musicians Moses Rockwell, Danielle Ponder, and Mikaela Davis. The walls, steps, and ground were formerly the site of Shawn Dunwoody's BLM collaboration with the community, "The Empire Strikes Black," which was painted over in 2021. The park has more potential as a canvas, and is a space to watch.
Finalists: "I Am Speaking" John Lewis Mural (Ephraim Gebre, Darius Dennis, Jared Diaz, and Dan Harrington)
"Her Voice Carries" series (Sarah Rutherford)
"Some Things Are Better Left Unseen" (Conor Harrington)
Finalists: Fairport Music Festival | Lilac Festival "Party in the Park" Series
CITY 11 roccitynews.com
FILE PHOTO FILE PHOTO
BEST PHOTOGRAPHER Jim Montanus
montanusphotography.com Photography is in the blood of this perennial "Best of Rochester" winner, who is perhaps best known for his images of area landscapes. He stalks the shores of Lake Ontario making hauntingly beautiful images of spectacular redorange sunrises and sunsets, awesome storms, and the jagged, otherworldly ice that forms along the water's edge. He also captures our local terrain blanketed in vibrant autumn foliage and dazzlingly white snow cover. Jim Montanus is the son of legendary Kodak photographer Neil Montanus.
Finalists: Julia Hart | Daqwan Koenig | Aaron Winters
BEST PLACE TO SEE COMEDY Comedy @ the Carlson
50 Carlson Road | 585-426-6339 carlsoncomedy.com Finding a place to see solid standup in Rochester is no joke. Looking for a good belly laugh at an open-mic night too often means suffering through meandering improv and sets of inside jokes for friends of the comic sitting front and center. Comedy @ The Carlson is an exception. The club, which opened in the former Stromberg-Carlson factory in 2017, offers a rotating slate of curated comedy from touring A-list talent and up-and-comers. Some of the cream-of-the-crop comics to take the stage in the last year included Jessica Kirson, Jay Mohr, Kevin Nealon, Nimesh Patel, and Doug Stanhope. The service, atrium bar, and modest menu of mostly finger foods get consistently good reviews. The 325-seat showroom is comfortable as far as comedy clubs go, and the interior design is a nod to the building's rich history manufacturing iconic audio equipment — like the bulky Stromberg-Carlson microphone made famous by Elvis Presley.
Finalists: Boulder Coffee | Del Lago Resort & Casino | Focus Theater
12 CITY JANUARY 2023
& entertainment best of
arts
PHOTO PROVIDED
COMEDIAN SHIRELLE KINDER | FILE PHOTO
best of
BEST PUBLISHED
AUTHOR Justin Murphy
justinmurphywriter.com
Justin Murphy joined the Democrat and Chronicle as a reporter in 2012 and quickly established himself as a must-read for his penetrating and enterprising reporting on Rochester's troubled public school system. Years of pulling thread on the topic, and winning numerous journalism awards in the process, eventually led to his first book, "Your Children Are Very Greatly In Danger: School Segregation in Rochester, New York." Published last year, the book is perhaps the most extensive and engaging history ever written of the city's school district. The book not only drives home the obvious — that the school system is segregated and unequal — but is a call to action to achieve what Murphy calls "the joy of learning that is possible when children from different backgrounds meet the classroom on equal terms."
Finalists: Gary Craig | Alex Lutzke Ravi Mangla
Best Hip Hop Artist or Group Moses Rockwell
Holy Moses!
mosesrockwell.bandcamp.com
Rochester loves the music of Anthony D'Angelo, aka Moses Rockwell. But he recalls times in his life when he wasn't Mr. Popular.
Kids on the schoolbus first dubbed him Moses because he parted his hair down the middle. What began as the taunt by bullies became a lifelong nickname used by Rockwell's family and friends to this day.
As Rockwell grew up, his hip-hop heroes were eccentric, left-of-center rappers like Aesop Rock and Busdriver, whose expansive vocabulary and clever wordplay set them apart from the mainstream.
Rockwell studied to be an art teacher in college, went on to manage a local Walgreens, and now has a day job building circuit boards for a tech company.
His songs are largely observational. If he has an odd conversation or he experiences something unfamiliar, he mines it for its comedic value and rhymes it in a song.
On "Lemonade," the opening track from Rockwell's album "Until You Run Out of Cake," the artist takes self-deprecating humor to a new level:
I used to wear a shirt in the pool, then I would run and duck for cover inside/ I used to blush, I turned purple and blue, then I would sulk under a colorless sky/ I threw a fit when all my succulents died, you're dealing with a true hunk of a guy.
"I think that most rappers take themselves entirely too serious," said Rockwell, 33. "And it's always been a goal of mine to figure out, 'How can I take the craft serious and how can I take my music serious, without taking myself serious?' And there's also a sort of honesty and an authenticity to just taking a look at yourself. I'm a goofy guy, in general, so why wouldn't my raps be goofy?"
DANIEL J. KUSHNER
CITY 13 roccitynews.com arts
& entertainment
Finalists: Chi the Realist | Noah Fense | Ishmael
FILE PHOTO
PHOTO PROVIDED
best of
BEST PUBLISHED POET Chen Chen
chenchenwrites.com
arts & entertainment
It's fitting that Chen Chen is back, living in Rochester, the place where his career as a successful published poet first began to take off. As a winner of BOA Editions' A. Poulin, Jr. Poetry Prize, Chen released his debut poetry book "When I Grow Up I Want to Be a List of Future Possibilities" in 2017. The collection later reached the National Book Awards' longlist and won the Thom Gunn Award for Gay Poetry. In September, BOA published Chen's second full-length book, "Your Emergency Contact Has Experienced an Emergency," which continues the poet's at-times-intimate, oftenhumorous expression of queer identity. You may have already read two of his latest poems — writ large this year on the wall of the Rochester Contemporary Art Center, facing the courtyard outside Christ Church. The pieces revel in the evocative imagery of life's tiny moments, with a style that is both highly articulate and conversational.
Finalists: Andrew Conley | Lu Highsmith | Rachel McKibbens
BEST ROCK ARTIST OR GROUP Joywave
joywavemusic.com
These homegrown rockers won this category by a ridiculously large margin and deservedly-so — even in a city blessed with many great bands. Oddly charismatic lead singer Daniel Armbruster, guitarist Joseph Morinelli, and drummer Paul Brenner, who are generally backed by a few road musicians, not only toured America and Europe last year, but found the time to release two albums. There was the studio-recorded "Cleanse," and the live "Live." And they managed to squeeze in a show for the home town, closing out the Rochester Fringe Festival with a packed outdoor gem at Parcel 5.
Finalists: Alien Autopsy | Bad Bloom | Bellwether Breaks
14 CITY JANUARY 2023
FILE
PHOTO PROVIDED
PHOTO
CITY 15 roccitynews.com
Geva Theatre Center
75 Woodbury Blvd. 585-232-4382 gevatheatre.org
Rochester has a lot of good theater. Saying that doesn't warrant the caveat "for a city of its size," either. The theater here is just plain good. Bottom line. But Geva Theatre Center is in a league of its own, with a typical annual operating budget of $7 million that enables it to employ roughly 200 people throughout the course of a theater season. Founded in 1972, the theater is located in the historic former Naval Armory and Convention Hall on Woodbury Avenue and has two stages. Its membership in the national League of Resident Theatres helps Geva cast its shows with professional actors from beyond the region, although the theater does cast locally as well. Geva alumni have collectively won nearly two dozen Tony Awards, been nominated for scores more, and include the likes of Kathy Bates, Josh Brolin, Robert Downey Jr., and Samuel L. Jackson. Actors like them have helped propel Geva to being recognized by the New York State Council on the Arts as the best-attended theater in the state outside New York City. The company got a new artistic director in Elizabeth Williams last year, when she replaced Mark Cuddy, who retired after 27 years at the helm. Look for her to put her stamp on the place.
Finalists: Blackfriars Theatre OFC Creations
Off-Monroe Players
Best Movie Theater
The Little Theatre
The Best Little Movie House
240 East Ave. | 585-258-0400 thelittle.org
The Little Theatre is no mere art deco moviehouse, it is a beloved Rochester icon of the city's East End that has stood for more than 90 years.
That's one reason why movie-lovers adore the Little. The other is that it is the full package: it embraces buzzy art-house films that aren't shown anywhere else in town, has a cafe, and hosts events tied into screenings of films new and old. Then, of course, it has its locally-famous Little Theatre popcorn.
That all goes into what Scott Pukos, the theater's spokesperson, calls the "Little Experience."
"We try to offer different elements aside from the movie," Pukos said.
That may mean a question-and-answer session or talkback after a film's screening, or it may mean working with a partner to develop a film series and events. For example, the Little partners with the Rochester Association of Black Journalists to present the "Black Cinema Series," with some sort of discussion following each screening.
With "Saturday Night Rewind," an ultra-popular series from the Little and local horror movie T-shirt company FrightRags, the focus is on fun. During the series' recent screening of "Halloween," one of the concessions employees dressed up as the unstoppable killing machine that is Michael Myers and roamed the lobby.
For a screening of "Back to the Future," local artist Magnus Champlin made a mock flux capacitor, the fictional technology that turns a DeLorean into a time machine. When the theater held backto-back screenings of the original horror movie "Candyman" and its 2021 remake, the theater was decorated with cutout bees, the cause of death for a character central to the film.
"We're allowed that creativity and flexibility," Pukos said. "We can do things other theaters can't."
But it's not just fun and spectacle that makes the Little a special place. Its five theaters are a cozy environment, leading to regulars and staff getting to know each other and talking film. After all, one of the best parts about seeing a movie is discussing it with someone afterwards.
In so many ways, movies are about connecting — with the characters on the screen, with other audience members, with different causes and organizations, and so on. The Little just seems to be the conduit for those connections.
JEREMY MOULE
The Little Theatre is operated by CITY's parent company, WXXI Public Media, and was the runaway favorite at the end of the final voting for "Best of Rochester."
Finalists: Dryden Theatre | ROC Cinema
CITY 17 roccitynews.com arts & entertainment best of
BEST THEATER COMPANY
FILE PHOTO
BEST BAKERY
Savoia Pastry Shoppe
2267 Clifford Ave. | 585-482-1130 savoiapastry.com
Savoia has been a family-owned and operated neighborhood mainstay in the northeast corner of the city for nearly a century. This unassuming shop on Clifford Avenue is a veritable galaxy of flavors. Its breads are immaculately crusted, perfect for soaking up olive oil or broiling with cheese and garlic. Its pastries, primarily Italian in origin, are imbued with plenty of French, Spanish, Latin, and American influences. It should come as no surprise that this local institution nabbed "Best Sweets Bakery" honors as well.
Finalists: Leo's Bakery | Scratch Bakeshop | Yeah Baby! Bakes
BEST BARBECUE
Dinosaur Bar-B-Que
99 Court St. | 585-325-7090 dinosaurbarbque.com/rochester
We gave you the address to this biker-bar-shabby joint, but if you're downtown you won't need directions. Just follow your nose. John Stage and two partners founded Dinosaur Bar-B-Que in 1983 by cutting a 55-gallon drum in half to form a makeshift barbecue and hitting the road — catering to motorcycle shows, fairs, and festivals up and down the East Coast. They settled in Syracuse five years later, and expanded to Court Street in Rochester in 1998. Downtown hasn't smelled the same since. You can't go wrong with this award-winning menu rooted in the traditions of Southern barbecue and slathered in spices and sauces that give Dinosaur's dishes their own flair. The pulled pork, brisket, apple-brined chicken, and beerboiled shrimp are first rate, and the ribs are so good the restaurant notched a second "Best of Rochester" win.
Finalists: Bubby's BBQ | Good Smoke BBQ & Pub Sticky Lips BBQ Juke Joint
BEST BREAD BAKERY
Amazing Grains
1000 Turk Hill Road., Fairport 585-880-8783 amazinggrainsbreadco.com Bakeries are best measured by their sourdough bread. The loaves of fermented and baked dough may not seem all that complicated, but to be good they require a certain amount of time, care, and craft. Good sourdough also needs the right starters and mixtures of flour. Amazing Grains nails the style, offering up hearty, crusty loaves with enough tang to make them stand up against soups or stews, while still working well for a classic PB&J. But really, most people know and love Amazing Grains for its "Salty Bread," which sells out in a hurry at its store and others that carry it.
Finalists: Baker Street Bakery | Flour City Bakery | Village Bakery
BEST BREAKFAST
The Original Steve's Diner
Various locations theoriginalstevesdiner.com
The folks at Original Steve's Diner want everyone in Rochester to eat with them. With four locations to choose from, what's stopping you? All of Steve's locations have that classic diner feel — large cushy booths, friendly staff, and an extensive menu. A highlight of the fare is the variety of the diner's famous hubcap-sized pancakes. Steve's calls them "love cakes" because it loves 'em big! Weekends can get busy, but with 36 varieties of pancakes and French toast, and a wide variety of breakfast classics like omelets, frittatas, and Benedicts, you'll need the time to choose. Don't worry if you slept in and missed breakfast. Steve's offers a menu full of lunch options like salads, burgers, wraps and plenty of house specials. If breakfast domination is its goal, Steve's is well on its way to conquering Rochester with its style of comfort food.
Finalists: Highland Diner | Jines Restaurant The Mad Hatter Restaurant & Bakery
BEST BURGER
Good Luck
50 Anderson Ave. (Village Gate Square) | 585-340-6161
restaurantgoodluck.com
A rite of passage for any local and visiting foodie, the Good Luck Burger is an achievement in its simplistic perfection. Sourced from farms in the Finger Lakes, the 1-pound patty is made with a combination of chuck and brisket and brined in-house, then served on a brioche bun with vegetable slaw and sides of Cuba cheddar and a heaping helping of fries. The size of it begs for sharing, but locals speak of legends who have conquered it alone. The burger has been a mainstay on the menu since Good Luck's opening back in 2008 and the classic continues its reign for another year.
Finalists: Bill Gray's | GateHouse | Swillburger
CITY 19 roccitynews.com food best
of
FILE PHOTO
PHOTO PROVIDED
Best Chef
Margherita Smith aka The Saucey Chef
Her menus have included lobster grilled cheese, orange chicken, garlic noodles and steak, fried rice dishes, and birria tacos.
The Saucey Chef starts from scratch
1011 Culver Road 585-705-5015 instagram.com/thesauceychef
When Margherita Smith founded her popular takeout and catering business The Saucey Chef in 2019, having a business model that allowed her to raise a family was a top priority.
Now an employer of seven and a mother of three (ages 14, 11, and 1), Smith relies on social media to get the word out about her business, but her operation on Culver Road resembles the Old World Italian kitchen of her roots.
"My 1-year-old is at work with me every single day, the whole day," Smith said. "My biggest accomplishment is being able to have a workspace that also allows me to mother at the same time. My personal philosophy is 'relentless pursuit.' If you don't have a way, you make one."
Smith has been cooking for 16 years, and graduated from Apicius International School of Hospitality in Florence, Italy, in 2008. She previously cooked at 2Vine and other spots in Rochester before branding herself as The Saucey Chef and hosting occasional chef's table events in 2017. Two years later, Smith got her first storefront on Culver Road and Atlantic Avenue, but recently moved into a building she bought at Culver and Garson Avenue.
Smith calls her offerings, which include jerk shrimp pasta, adobo wings, and lasagna made with sweet plantain, "elevated street food." They are dishes inspired by the wide world of flavorful comfort food, but with hyper-indulgent ingredients.
Take, for example, one customer favorite, the Baked and Stoned: baked mac & cheese with buttermilk fried chicken that's drenched in Cajun honey butter.
"We sell more of that than probably anything else," Smith said.
Smith said she lets her instincts and cravings do the meal planning, adding that her Puerto Rican and Asian crew members influence the menu flavors. "My cooks all come from different backgrounds, so we have this force of a creative team," she said.
The menus include daily vegetarian options, and Smith can cater to some allergies. Plates typically start around $18, but those plates are heaping.
"When we say 'indulgent,' that speaks to portions as well," Smith said.
The Saucey Chef drops a dinner menu on Instagram each Wednesday, and serves Wednesday through Saturday. Customers can call to schedule a pickup time slot. When they arrive, the order is brought to their cars.
But that's just the main hustle. Two offshoots of The Saucey Chef are "Ripe by Saucey," which offers fresh, health-minded options, and "Cream by Saucey," which offers desserts.
The Saucey Chef is entirely DIY, from
dreaming up the recipes to the from-scratch cooking and the advertising, done entirely over social media at the moment, which is watched closely by a loyal customer base.
"We thrive off creating our own hype," Smith said.
That hype has a saucy flavor in the form of an Instagram account filled with food porn.
"You should feel like you're being naughty when you eat at Saucey Chef," Smith said. "You're going big, like you're not eating for any other reason but pleasure."
REBECCA RAFFERTY
20 CITY JANUARY 2023 food best of
Finalists: Corey Hamilton (Melo Coffee & Kitchen) Cruz Nieves (Shell) Nate Stahl (Strangebird)
FILE PHOTOS
BEST CALZONE
Stromboli's
130 East Ave. | 585-546-2121 stromboliexpress.com
Stromboli and calzones are similar yet different beasts. The former is square shaped and thinner, while the latter is round and thicker, but both resemble a folded-over or rolled-up pizza and are stuffed with mozzarella and ricotta along with some combination of vegetables and meats. Don't let the name fool you, Stromboli's the restaurant does 'em both well, with the calzones available in mini, 12-inch (small), and 16-inch (large) sizes. How much golden dough and melted cheese you can handle is up to you.
Finalists: Mark's Pizzeria | Salvatore's | Swiftwater Brewing Company
BEST CANDY SHOP Stever's
623 Park Ave. | 585-473-2098 steverscandy.com
The candy business never goes out of style. Stever's, purveyors of homemade chocolate and candies, is a testament to that. The family-run chocolatier is a one-stop shop for everything sweet that uses many of the same recipes that were introduced by Douglas and Hilda Stever when they opened their original location at the corner of Benton and South Goodman Streets in 1946. Its peanut brittle and sponge candy are must-buys. During the holidays, especially Christmas and Easter, the store is packed with shoppers who pick from the finely-crafted confectionaries lining the shelves. For more than a half century, Stever's has made its home on Park Avenue and today stands among the bar-hoppers and brunch bunches as a Rochester tradition.
Finalists: Andy's Candies | Hedonist Artisan Chocolates
Laughing Gull Chocolates
But also: Hedonist Artisan Chocolates
674 South Ave. | 585-461-2815 hedonistchocolates.com
Rule of thumb: Never say no to any candy. But Rochester has one candy shop that's actually been lauded in The New York Times. In a blind taste test, a panel assembled by the newspaper called a Hedonist Artisan Chocolate candy one of "the 10 best American small-batch, chocolate-covered salted caramels." Also recommended: Hedonist's pairings with the Finger Lakes's McKenzie Whiskeys.
JEFF SPEVAK
BEST CATERER
The Meatball Truck
1160 Jay St. | 585-300-7010 meatballtruckco.com
As soon as you read the name on the side of this truck, you know exactly what this operation is all about. This mobile restaurant is a celebration of this simple, rustic, and elegant ground-meat dish, topped with the classic accoutrements of ricotta cheese and marinara sauce made with nothing but San Marzano tomatoes. Complementing the meaty morsels are golden brown truffle fries tossed in musty, mushroomy goodness and topped with a healthy dusting of parmesan cheese.
Finalists: Bubby's Barbecue | Julia K. Caters | Madeline's Catering Root Catering
BEST CHINESE RESTAURANT Han Noodle
687 Monroe Ave. | 585-242-7333 hannoodlebar.com Han has been touting its tagline of "No Fusion, No Gimmicks" in Rochester for over a decade, and its traditional Chinese noodles have been rated tops by CITY readers ever since. Try the dumplings to see why they earn rave reviews, but make sure to get the noodles. They're so good the restaurant has them in its name.
Finalists: Chen Garden | Hong Wah Restaurant | Szechuan Opera
Consider, too . . .
Szechuan Opera
630 Park Ave. | 585-340-6133 szechuanoperany.com Szechuan cooking is best known for the numbing heat of the málà sauce, made from the region's peppercorns. What's less well known is they're not really peppers. They come from a berry — and the cuisine isn't just for spice fanatics.
In Rochester, I find the best example of southeast China's legendary cuisine is at Szechuan Opera, which opened on Park Avenue in 2019. Dining in is grand, with an interior modeled after pagodas with large, spacious tables that are conducive to eating the food the way it's meant to be eaten — as multiple courses delivered hot and in no particular order. For the spice-curious, make sure to try the Dandan noodles — "peddler's noodles" — a type of street food popular in the Szechuan capital of Chengdu. Pork and pickled vegetables are piled on wide noodles soaked in a blend of chili oil and spices, including cardamom, cinnamon, ginger, and anise.
DAVID STREEVER
CITY 21 roccitynews.com
food best of
PHOTO PROVIDED
FILE PHOTO
BEST DELI SANDWICH OR SUB DiBella's Old Fashioned Submarines
Various locations  dibellas.com
A "Best of Rochester" guideline says we avoid tipping our hat to chain businesses. But there are exceptions to every rule, especially when the chain was born in our backyard. DiBella's has expanded rapidly in the last 20 years to more than 40 locations in five states. But it began in Rochester in 1918 as a family-owned Italian import store and deli, and its sandwiches have been a local favorite ever since. Subs are the focus, and the rolls are one reason DiBella's remains so beloved. The company says its dough is aged at least 16 hours before baking, and that sub rolls are baked at least twice a day. That means every roll is no more than a few hours out of the oven by the time you top it with your choice of meats, cheeses, and veggies. There are two dozen subs on the menu, but the one that made DiBella's famous is the classic Italian cold cut "The Godfather."
Finalists: Calabresella's | Rubino's | Wegmans
BEST DOUGHNUTS
Ridge Donuts
1600 Portland Ave. | 585-342-5263 ridgedonuts.com
Visitors to this Portland Avenue fixture are greeted with the phrase, "Ahhh the good donuts," painted on the wall by local artist Shawn Dunwoody. That pretty much sums up why Ridge Donuts is a reader favorite. Family-run for nearly four decades, Ridge Donut is in a class of its own when it comes to the fried pastries with the hole in the middle. Whether you want your doughnuts glazed, iced, topped, or filled, it is hard to go wrong with the selection here. The only hard part is choosing which to eat there and which to take home. Leaving with one of Ridge's famous apple fritters is a must, and while most of the doughnuts offered are traditional, innovations such as the Italian-cookie doughnut, a collaboration with Rubino's, have drawn large lines of eager patrons. Ridge Donut shows no signs of slowing down and maintains its title of Rochester's sweetest tradition for another year.
Finalists: Donuts Delite | Duke's Donuts | Schutt's Apple Mill
BEST FARMERS MARKET
Rochester Public Market
280 North Union St. | 585-428-6907 cityofrochester.gov/public market
Is it any shock that the Rochester Public Market took the win for "Best Farmers Market"? There's nothing in the area that even touches its sheer scope. You'd be hard-pressed to not find exactly what you're looking for, no matter how esoteric, in the market's wide array of fresh local produce, meats, dairy, eggs, and high-quality fresh seafood and imported goods. Add to that an impressive selection of wine tastings added in recent years and you have a vibrant, expansive farmers market that rivals any to be found in cities four times the size of Rochester.
Finalists: Brighton Farmers Market | Fairport Farmers Market Westside Farmers Market
Not so fast . . . Lacagnina's Subs
1332 Lyell Ave. | 585-254-4620
Lacagnina's Subs is not much to look at on the outside or the inside. Situated between a nail salon and a discount clothing store in the strip mall at the corner of Lyell Avenue and Mt. Read Boulevard, Lacagnina's is a literal hole in the wall without the ambience of a traditional Italian deli. There are no blocks of cheese or cured meats hanging from the ceiling. But what it lacks in atmosphere it makes up for in the quality of its cold and hot deli sandwiches. The fare is standard: Italian cold cuts, roast beef, veggies, chicken or egg salad, Cubans, fried bologna, grilled pastrami, you get the picture. But topped with a signature Italian dressing that is out of this world and hand-crafted with love by the staff, these sandwiches transport taste buds to the Old Country. Also worth checking out is the restaurant's rotating menu of homemade soups. They are a hot item in the cold months and they tend to sell out daily, so arrive early. Waiting for you will be friendly and patient servers and reasonable prices.
DAVID ANDREATTA
22 CITY JANUARY 2023
food
PHOTOS PROVIDED
best of
BEST FISH FRY
Captain Jim's
2329 East Main St. | 585-482-3640  facebook.com/cptjimsfish
Captain Jim's is one of those unassuming hole-in-the-walls where you just know the food has to be great. Mostly a fish market, the shop routinely has a line out the door for its Friday fish fry special. Rightfully so. The fish is a high-quality haddock battered in a divine beer and flour concoction, fried to a perfect golden brown. Its crispy, crunchy shell contrasts perfectly with the flaky, tender fish it envelops. Complement your indulgence with a side of fried smelt.
Finalists: Bill Gray's | Braddock Bay Inn | Palmer's Market
BEST FOOD TRUCK Le Petit Poutine
44 Elton St. | 585-461-2224 petitpoutinerie.com
It has been the opposite of a petit year for Le Petit Poutine owners Lizzie Clapp and Ronnie McClive, who recently expanded their business to the brick-and-mortar Petit Poutinerie at 44 Elton St. while still running their multiple food trucks. Known as founders of Rochester's food truck scene, they serve their classic Canadian combination of fries, gravy, and cheese curds with a sprinkling of thyme to thousands of hungry customers every year. Sunday mornings at the Brighton Farmers Market are not complete without picking up a carton of Le Petit Poutine's ooey-gooey goodness, and neither are late nights at Lux. This food truck makes Rochester a better place.
Finalists: Effortlessly Healthy | The Meatball Truck | Neno's
Give this a try, also . . .
Tryon City Tavern
2300 East Main Street | 585-654-9122 tryoncity.com
Located just across Main Street from Captain Jim's in the North Winton Village section of the city, this neighborhood bar specializes in understated, but extremely well-done pub classics. The fish fry is the coup de grace. It's a massive filet of haddock with a crust that turns the crunch factor up to 11 atop a bed of perfectly cooked battered fries. It doesn't tread new ground, and it doesn't try to. A good fish fry is not about innovation, but execution, and the execution at Tryon City is second to none. Combine that with a well-curated beer list and you have all the fixings for a gluttonous Friday evening.
GINO FANELLI
Another option could be . . . Roll'n Deep rollndeeproc.com
Grabbing a bite from Roll'n Deep at a local festival seems to elevate your social cache — everyone wants to talk to you. "Excuse me, where did you get that?" people ask, pointing to your meal. Scott Phomvongsa, the owner and founder of the popular food truck, immigrated here with his family from Laos when he was 15, and he integrates many Asian flavors from his native country into Roll'n Deep's creative menu. His ode to Rochester's delicacy, the "Garbage Roll," has the familiar egg roll vessel stuffed with macaroni salad, tater tots, American cheese, and truck-made meat hot sauce. The result is an instant classic. Pop-ups at other Asian-owned businesses, like Happy Gut Sanctuary, have drawn new patrons and regulars who can't get enough of dishes like the Crab Rangoon nachos. Wash it down with one of the truck's 14 varieties of bubble tea, which come equipped with a "fat straw" for those tasty bobas.
DARIO JOSEPH
CITY 23 roccitynews.com
food best of
PHOTOS PROVIDED
PHOTOS PROVIDED
best of
BEST GLOBAL FOODS MARKET
Rubino's Italian Food Market
1304 East Ridge Road | 585-544-5680 rubinos.net
Step into Rubino's on any given day and you'll be instantly greeted by the most pleasant menage of scents this side of the Atlantic. Fresh bread, olive oil, decadent sweets, and savory peppers all mingle in the air. The humble market on East Ridge Road is known for its subs, particularly its muffuletta, complete with capicola, mortadella, salami, and olive tapenade. But don't just stop at the sandwich counter — Rubino's carries an eclectic and expansive mix of Italian groceries, including a truly excellent butcher shop with fresh-made sausage.
Finalists: Asia Food Market | Lee's Oriental Foods
Namaste Cash & Carry
Also consider . . .
Asia Food Market
1885 Brighton-Henrietta Town Line Road | 585-292-9888   asiafoodmkt.com
I discovered Asia Food Market while expanding my culinary repertoire to include Szechuan and Cantonese cuisine, but it quickly became my main grocer. The store is gigantic and brimming with assorted odds and ends difficult to find elsewhere. A universe of different rices, every variety of southeast Asian curry and condiment under the sun, exotic fruits and vegetables, and a massive array of frozen dumplings and bao are just a sampling of what's on the shelves. But the real star of the show is undoubtedly the fish market. The sheer scale of what the shop offers is mind-boggling. From live frogs to giant clams and any fish you can think of, it's all here.
GINO FANELLI
24 CITY JANUARY 2023 food
PHOTO PROVIDED
best of
BEST ICE CREAM
Pittsford Farms Dairy
44 N. Main St., Pittsford | 585-586-6610 pittsfordfarmsdairy.com
The Pittsford Farms Dairy was founded in 1888 and was once best known for its scientific agriculture and prize-winning Jersey cattle. Today, the dairy is best known for its delectable, made-from-scratch ice cream. Raw milk from local farms forms the foundation of the dairy's dozens of flavors, including favorites like Grasshopper Pie (mint ice cream with Oreo cookie and a fudge swirl), Landslide (chocolate ice cream, chocolate crunch, and peanut butter), and Coconut Almond Crunch (pretty much what it sounds like), that can be had by the cone, the dish, and the quart. The dairy's primary retail outlet, built in 2012 in the heart of Pittsford Village, has a comforting farmhouse aesthetic that leaves visitors feeling like they just got home. Eating in? Pull up one of the old metal milk cans that double as seats and indulge under the chandeliers made of glass milk bottles. Taking your cone to go? The Erie Canal path is just a few steps away. Are you a city dweller who isn't up for the drive to Pittsford but has a hankering for Cow Tracks with hot fudge? The dairy has a location at Park Avenue and Somerton Street next to Cafe Sasso.
Finalists: Abbott's Frozen Custard Hedonist | LuGia's Ice Cream
BEST ITALIAN RESTAURANT
The Pasta Villa
1313 East Ridge Road | 585-266-2676 thepastavilla.com
Pasta Villa sets the bar for classic, Italian-American comfort food. Its menu is loaded with carb-heavy, liberally sauced offerings, done extremely well and served in gargantuan portions. While you'll find plenty of welltrodden offerings like eggplant parmigiana and ravioli, the Pasta Anthony, a garlicky concoction accompanied by clams and olives, is a standout.
Finalists: Restaurant Fiorella | Rocco | Vern's
CITY 25 roccitynews.com
food
PHOTO PROVIDED
PHOTOS PROVIDED
best of
BEST LUNCH SPOT Magnolia's Deli & Cafe
366 Park Ave. | 585-271-7380 magnoliascafe.com
Next year, this ultra-popular Park Avenue eatery marks its 20th anniversary. It's also the only restaurant in town that can say it was good enough for President Barack Obama, who dined there during a visit in 2013. You can even order what he ate. Magnolia's menu includes a robust selection of sandwiches and salads, with some soups as well. It also serves pizza, which comes with a cutter so you can size the slices to your liking.
Finalists: Dogtown | Jine's Restaurant | Voula's Greek Sweets
BEST MEXICAN RESTAURANT Neno's
642 Monroe Ave. | 585-978-7210 nenosmexican.com
Neno's journey began in a tiny 10-foot trailer and has since expanded to multiple food trucks, two restaurant locations (642 Monroe and 695 Park avenues), and an outpost in Canandaigua's Star Cidery. Coming from Mexico to Rochester in 2007 with his siblings, Neno's chef and founder, Fidelio Rita Jr., and his family have worked their way to achieving the American dream. Tacos are where to start at Neno's, but you'll be back for more, and when you do, try the enormous tortas and the savory mole enchiladas. Neno's food speaks for itself, fresh and full of flavor with Rita's passion for authenticity in every bite.
Finalists: Monte Alban | Old Pueblo Grill | Salena's Mexican Restaurant
BEST NEW RESTAURANT
Strangebird
62 Marshall St. | 585-505-8700 strangebirdbeer.com
Strangebird made waves in the local beer world upon its opening, defined by its fixation on odd, barrel-fermented offerings from wood-aging auteur Eric Salazar. Accompanying those libations is Chef Nate Stahl's playful menu of innovative pub classics. While Stahl has found ways to tread new ground on something as familiar as pizza and Caesar salad, the star of the show is undoubtedly the smoked maple Buffalo chicken wings. An inventive take on a region-defining snack, just the thought of these sweet and spicy flavor bombs is drool-inducing.
Finalists: Adelita's | Crisp | Le Petit Petinourie | Peach Blossom
26 CITY JANUARY 2023 food
FILE PHOTO
FILE PHOTO
BEST OUTDOOR DINING Genesee Brew House
25 Cataract St. | 585-263-9200 geneseebeer.com/brewhouse
Genesee Brewing Co. has a long legacy in Rochester. Genny Light? The Genny Girl? Cream Ale, anyone? But the brewery's Genesee Brew House has made a name for itself with its tasty pub-style fare and spectacular view. After being welcomed at the front door by a museum chronicling the evolution of the company since its founding in 1878, visitors find their way upstairs to the restaurant and an outdoor dining terrace with a glorious vista of one of Rochester's natural landmarks — the cascading High Falls. From their perch on the patio, diners can soak in a panorama of the historic High Falls District and the Rochester skyline while soaking up the mustard with one of the restaurant's celebrated Bavarian pretzels. Wash it all down with a sampling from the 16 taps pouring the freshest beer the brewery can serve. The patio is heated and enclosed with glass panels during the colder months, making for a pleasant dining experience with a view year round.
Finalists: Aladdin's | The Owl House | Trata
BEST PIZZA
Pizza Wizard
760 S. Clinton Ave. | 585-565-4557 pizzawizard.pizza
What sorcery is this?! A win for Pizza Wizard solidifies it as a force on the burgeoning local pizza scene. Specializing in Detroit-style pizza, Wizard serves square pies that hit all the notes a native Michigander would look for and that Rochester obviously wants: An airy but crisp crust; Wisconsin Brick cheese piled high and to the edges; and two thick stripes of red sauce topping it off. Behind the restaurant's success are chef James Revels and Brian Van Etten, chef and co-owner of Playhouse/Swillburger. Pizza Wizard's pizza is serious business, but as its name suggests, the restaurant is creative and playful with its rotating menu. Pies called "El Meat Man" and "The Side Piece" make it hard not to laugh with your mouth full.
Finalists: Mark's Pizzeria | Peels on Wheels | Pizza Stop
Another great pie . . .
Peels on Wheels
1157 Culver Road | 585-355-4111 peelsonwheelspizza.com
I thought I was passionate about pizza until I met Peels on Wheels owner Luis Perez. Turns out, I was only passionate about eating it. Perez can talk for hours on end about dough fermentation alone. His devotion to the craft is evident in every slice. Peels marries elements of New York-style and traditional Neapolitan pizza, and the results are glorious. Like a true master, Perez shows his versatility and prowess in other popular styles, offering Detroit-style pizza on Motor-City Wednesdays and Sicilian and Grandma (my personal favorite) pizza on what he calls "Thicc Thursdays." Following years of Peels being on wheels, Perez has parked the Italian-imported Piaggio Ape truck oven in the Beechwood garage/pizza shop his operation has called home since 2021. Perez himself is constantly on the move, though, traveling for education and collaboration.
DARIO JOSEPH
BEST
RESTAURANT
Good Luck
50 Anderson Ave. | 585-340-6161 restaurantgoodluck.com
Owner Chuck Cerankosky has made a name for himself on the local restaurant circuit for inventive, hip eateries, with the likes of Lucky's and Cure. But Good Luck is clearly his standout joint. This Neighborhood of the Arts staple specializes in rustic fusion dishes drawing influence from Italian, French, Japanese, and virtually every other culinary tradition under the sun, set against a backdrop of dimly lit ambience and one-of-akind cocktails that our readers voted to be the best in Rochester.
Finalists: REDD | Strangebird | Vern's Altro . . .
Velvet Belly
3 Rochester Public Market | 585-413-0825 velvet-belly.com
Chef Jeremy Nucelli is a mad scientist, and Velvet Belly, the seafoodfocused upscale restaurant at the Rochester Public Market, is his laboratory. His innovative approach to food leads to a menu that always feels new and fresh. From the decadent sushi, including the jaw dropping miso and scallop-topped TNT roll, to the deconstructed steak-and-potatoes take on beef tartare, Velvet Belly is a masterwork of culinary ingenuity. Words can hardly summarize the experience, but my best description came upon tasting the broth of the shellfish stew: "This is art."
GINO FANELLI
BEST RESTAURANT FOR DESSERTS
Phillip's European
26 Corporate Woods | 585-272-9910 phillipseuropean.com
No need to save room, just go straight for the desserts at Phillips European. Known by locals as Rochester's premier destination for cakes, tortes, pies, sundaes, and everything else you wish you could eat while watching "The Great British Bake Off," this restaurant has the antidote to your sweet tooth's craving. The storied chocolate raspberry torte at this place has a cult following due to its balanced combination of raspberry jam, white chocolate mousse, and chocolate ganache. If chocolate isn't your thing, Phillips has a variety of fruity confections, such as the Viennese meringue torte. Multiple layers of meringue and sponge create a slice of heaven. Phillips is the perfect spot to celebrate with friends or to escape from everyday life on your own and treat yourself.
Finalists: Caramel Bakery and Bar | The Red Fern White Rabbit Dessert Experience
CITY 27 roccitynews.com food best
of
PHOTO PROVIDED
PHOTO PROVIDED
best of
BEST RESTAURANT TO DINE ALONE Highland Park Diner
960 S. Clinton Ave. | 585-461-5040 highlandparkdinerny.com Losing yourself at the Highland Park Diner is easy to do. Snagging a stool there is another matter, especially on weekends. But once you do, you feel at home. Housed inside the iconic 1948 dining-car at the corner of South Goodman Street and South Clinton Avenue, the Highland transports diners back in time. Saturdays and Sundays are busiest, but visit on a weekday and diners sitting in a booth alone are everywhere. All the breakfast classics are on the menu, but the namesake Highland Skillet is a favorite for its large portion of eggs, home fries, and shredded cheese topped with sausage gravy. Since no one is judging, order that milkshake and slice of famous apple pie, too.
Finalists: Roux Stragebird | Vern's
BEST RIBS
Dinosaur Bar-B-Que
99 Court St. | 585-325-7090 dinosaurbarbque.com/rochester
Dinosaur serves its ribs St. Louis style. That's not a style of barbecue, but rather a style of cut. St. Louis ribs come from the belly side of the pig instead of the back and are trimmed into a rectangular shape. Why the name? Your guess is as good as ours. Not even the National Pork Board knows why, according to the St. Louis Post-Dispatch. But the cut means the ribs are flatter and fatter, and that means sweeter and juicier. Dry rub them, smoke them slowly, and lightly glaze them with Dinosaur's original sauce, and you've got the best ribs in Rochester. A very cool trait of Dinosaur has been its willingness to share its secret to its ribs with the world. Recipes for the rub, the sauce, and the ribs are readily available online.
Finalists: Bubby's BBQ | Good Smoke BBQ & Pub Sticky Lips BBQ Juke Joint
Also lip-smacking good . . .
J-Ribs
400 State St. | 585-623-1015
jribsonstate.com
The smell of smoked barbecue is in the air on any given day in the shadow of Kodak Tower. It doesn't take Toucan Sam to track the delightful aroma to J-Ribs on State Street, a boutique barbecue and convenience store at the corner of Brown Street. The "J" is for Jesse Barksdale, who opened the place in 2016 without much fanfare until he started offering barbecue ribs and chicken a few years later. Today, barbecue is the bulk of his business — and the ribs are the draw for good reason. They're huge, seasoned with a mix of sweet and heat, and give a slight tug on the bone. J-Ribs sells its sauce for $7 a bottle.
DAVID ANDREATTA
28 CITY JANUARY 2023
food
PHOTO PROVIDED
BEST
SUSHI
Plum House
686 Monroe Ave. | 585-442-0778 plumhouseny.com
Plum House has been a Monroe Avenue institution for nearly 20 years, and it has rightfully earned its place as Rochester's premier sushi stop. The prices are reasonable, the fish is great, and the offerings are unique, diverse, and creative. Yes, you can get your classic Philadelphia and California rolls here. But you can also get one-of-their-kind mashups that fuse American flavors and Japanese tradition. Try the Rochester roll, it's a spicy crab meat mixture with salmon roe and crispy accents.
Finalists: Next Door | Poke | Shema Sushi
BEST SWEETS BAKERY
Savoia Pastry Shoppe
2267 Clifford Ave. | 585-482-1130 savoiapastry.com
Savoia has become well-known regionally for its elaborate wedding cakes and assortment of seasonal Italian tea cookies. But the star of the show is undoubtedly its galaxy of assorted pastries. From rum baba to tres leches, fudge bombs, and tiramisu, there's something here for everyone. Do yourself a favor and pick up the guava-stuffed pastelillos, a flaky Puerto Rican offering akin to an empanada. It's obscenely delicious.
Finalists: Get Caked Bakery | Scratch Bakeshop | Yeah Baby! Bakes
CITY 29 roccitynews.com
food best of
PHOTO PROVIDED A 1 C 2 C 3 A 4 B 5 O 6 C 7 A 8 S 9 A 10 A 11 I 12 R 13 T 14 H 15 E 16 E 17 M 18 AR R 19 AM E 20 LIM C 21 RY H 22 OAX B 23 REA 24 THE S 25 OMET 26 HING 27 ELSE E 28 VERS L 29 S 30 AT L 31 IES O 32 KAYS R 33 EPS P 34 EER B 35 INS O 36 BI E 37 M 38 OTE A 39 REA S 40 PINA 41 C 42 H 43 O 44 P 45 E 46 NUP T 47 O 48 RI E 49 AU G 50 ALA S 51 ALAD T 52 HREEH 53 E 54 ADS A 55 RAT H 56 ULLS H 57 ER F 58 ORGE S 59 NORE A 60 LS L 61 G 62 A U 63 SUAL R 64 ADNER L 65 IAIS 66 O 67 N S 68 TEF 69 ANI R 70 A 71 P 72 IDS A 73 MIL 74 E R 75 EC F 76 I 77 B 78 A 79 LIVE S 80 LATE G 81 P 82 A T 83 H 84 ERE C 85 ITI T 86 HEREDF 87 ERN I 88 OTAS E 89 BON H 90 EM G 91 AME P 92 OTENT S 93 INGL 94 ED S 95 L 96 ED S 97 C 98 ANS R 99 EM S 100 PAS S 101 TAR E 102 A 103 S 104 T 105 T 106 H 107 R 108 OE P 109 OET A 110 NON T 111 ABOO R 112 ECORD 113 ARCHI 114 VE D 115 O 116 GTOWN I 117 SAT I 118 ST E 119 DIE I 120 DI V 121 EG M 122 ASS P 123 SA R 124 OAR D 125 EF E 126 DS CROSSWORD PUZZLE ANSWERS PUZZLE ON PAGE 70. NO PEEKING!
FILE PHOTO
Dogtown
At Dogtown, it's all about dogs
691 Monroe Ave. | 585-271-6620
dogtownhots.com
Dogtown, the beloved hot dog shack in the heart of Monroe Avenue, has become a local institution since its opening in 2006.
Owner Fran Basile had a simple idea — serve a variety of regional takes on the humble frankfurter. Take, for example, the Cincinnati Red Dog. It is an homage to Cincy topped with cheddar and a Cincinnati-style chili, much akin to Rochester's venerated meat hot.
That concept quickly snowballed into 18 varieties of hot dog. There are the Hawaiian Poi, topped with pineapple, barbecue sauce, and bacon; the Fido Castro, a weiner-fied take on a Cuban sandwich; and the Chihuahua, topped with cilantro-lime sour cream, roasted corn, and black beans.
There's an obvious pattern to the names of the dishes, and the decor inside Dogtown is even less subtle. Virtually every square-inch of wall space is adorned with photos of customers with their dogs.
"It's unique," Basile said. "When we opened, there was not any place that had this variety of toppings and this variety of hot dogs. And then, the quality and price."
The foundation of every Dogtown dog is a Zweigle's hot and a split piece of French bread in place of the traditional bun.
But Dogtown is so much more than just hot dogs. It offers burgers, chili, an array of sandwiches, and a full menu of vegetarian options, including a veggie spin on almost all of the joint's dogs.
Then there's the Junkyard Plate. There's a reason Dogtown consistently wins best plate, and why any Rochesterian worth their salt sends visitors to Dogtown for their first plate experience. A good plate is, despite common misconception, not a jumbled mess of greasy
Best "Plate"
Best Comfort Food Best Late-night Eats
3x
foods heaped onto a plate, but an array of textures, flavors, and temperatures balanced delicately inside a Styrofoam carry-out container.
"Best Of" winner!
The Junkyard Plate is a mashup of perfectly fried potatoes, flavorful macaroni salad, and a thin, liberally spiced meat hot that drapes every bit of the box. It's crispy, starchy, spicy, salty, hot, and cold all at once, as a good plate should be.
Basile believes Dogtown's menu, and the fanfare it receives, speaks for itself.
"We don't spend any money on advertising, we just concentrate on putting a quality product out with quality service," Basile said. "We're built up through word of mouth."
GINO FANELLI
Best
CITY 31 roccitynews.com food best of
"Plate" Finalists: Charlie Riedel's Restaurant Nick Tahou Hots Jimmy Z's Plates & Shakes
Best Comfort Food Finalists: Le Petit Poutine The Red Fern The Saucey Chef
Diner
Texas Hots
Street
and Grill
Hots FILE PHOTOS
Best Late-night Eats Finalists: Jay's
Mark's
Marshall
Bar
Spencerport
best of
BEST THAI RESTAURANT
The King & I
1455 E. Henrietta Road, Henrietta | 585-427-8090 thekingandithaicuisine.com
There's no shortage of spots offering Thai cuisine in Rochester, but this year the mainstay The King & I wears the crown. Located in an unassuming commercial strip in Henrietta, the space is bigger and cozier on the inside than it looks from the exterior, and the menu is just as expansive and comforting. A wide range of flavors — spicy red curry, fresh lemongrass, earthy licorice, creamy coconut, and more — bring an exciting complexity to soul-warming vegetarian dishes. Notable platters include the Evil Jungle Prince (green beans, bamboo, herbs, spices, and spicy coconut sauce), the Clay Pot ("glass" noodles, mushrooms, tomato, and celery in a ginger sauce), and the eggplant dish, which is lightly fried with basil in an anise liqueur sauce. You'll never miss the meat.
Finalists: Pattaya Thai Restaurant Seasoning Thai Bistro | ThaiYada
BEST WINGS
Jeremiah's Tavern
Various locations and phone numbers jeremiahstavern.com
It's easy to find really good wings on damn near every corner in Buffalo. Around here? A little more challenging. But Jeremiah's knows what makes a wing a winner. Perfectly deep-fried with crispy skin that shatters under your teeth. Meaty, juicy drums and flats. And while there's no reason to deviate from the classic Buffalo sauce (yes, it's that good), Jeremiah's offers lots of other choices if you're feeling adventurous, from Tavern BBQ to Teriyaki Pineapple to Catatonic. And for the sake of all that is holy, don't sully a Jeremiah's wing by dipping it in ranch dressing. It's blue cheese or nothing, you savage.
Finalists: Dinosaur Bar-B-Que | Strangebird | Windjammers Bar & Grill
Best Vegetarian/ Vegan Restaurant The Red Fern
my God, this is vegan?'
283 Oxford St. | 585-563-7633 redfernrochester.com
As Andrea Parros worked to open The Red Fern, she was apprehensive about launching with an all-vegan menu. She wondered whether vegan food was mainstream enough in Rochester for the restaurant she had in mind to survive.
But a conversation with Joel Capolongo, owner of the extremely popular Syracuse vegan fast-casual eatery Strong Hearts, changed her mind. He reminded her that a vegan restaurant would be more in line with her personal ideals, and encouraged her to take the risk.
Parros, a 42-year-old resident of the Park Avenue neighborhood, opened The Red Fern in September 2013 and the restaurant's menu of vegan comfort food was a quick hit. Now it's common to walk in at dinner time and see a dining room with few if any empty tables and a few people milling about near the counter as they wait for their takeout orders. CITY's readers have selected it as Rochester's best vegetarian/vegan restaurant for the second consecutive year.
"I made peace with the fact that even if I do this and fail, I just have to know," Parros said from a table in the corner of her establishment's cozy dining room.
With The Red Fern, Parros built on what she learned as a founding partner of The Owl House. She helped to ensure that that restaurant's menu had vegan-friendly and gluten-free options, and she observed a large number of customers gravitating toward those dishes.
She broadened that approach to the menu at The Red Fern by providing vegan versions of familiar dishes and offering more options for people with sensitivities such as food allergies or intolerances. Parros said the restaurant's top selling dish is the Compost Plate — her take on a Rochester staple. The nachos and mac and cheese on the menu are made with cashew cheese. The "steak" in the steak and potatoes is seitan, a chewy and tasty meat alternative made from wheat gluten.
Parros believes that, above all else, her restaurant needs to serve good food. The Red Fern has seemed to hit the mark, and many patrons who aren't vegetarian or vegan have raved to Parros about the restaurant's food.
"We've had people in here — they'll almost drop their fork and be like 'Oh my God, this is vegan?'" Parros said.
JEREMY MOULE
Finalists: New Ethic Pizzeria & Cafe The Owl House Voula's Greek Sweets
32 CITY JANUARY 2023 food
'Oh
PHOTO PROVIDED FILE PHOTO
ON WXXI-TV:
WXXI
CITY 33 roccitynews.com INSIDE WXXI PUBLIC MEDIA | WXXI-TV PBS | WXXI NEWS/NPR WXXI CLASSICAL | WRUR-FM 88.5 | THE LITTLE THEATRE
ON WXXI CLASSICAL: ON WXXI-KIDS:
ON WRUR:
Masterpiece on PBS brings fans a whole new season of All Creatures Great and Small (January 8) and Sanditon (March 2023), plus a new series – Tom Jones, an adaptation of Henry Fielding's classic novel, The History of Tom Jones, A Foundling (April 2023)
Photo: All Creatures cast | Credit: Playground Entertainment
Work it Out Wombats! joins the PBS Kids schedule (February 6). The animated series for 3- to 6-yearolds stars a playful trio of marsupial siblings who live with their grandmother in their treehouse apartment complex. Credit: 2022 WGBH Educational Foundation
Blacks & Blues & Rejuvenation celebrate 40 years on the air with a special screening event at The Little Theatre (January 28). Details on the following pages.
Photo: Scott Wallace and Doug Curry
Gateways Radio, a new series that spotlights performances from the Gateways Music Festival (January 8).
Photo: Host Garrett McQueen
brings you a whole new way to listen. Stay tuned. More to come on this news! ON WXXI NEWS: best of what's to come on
WXXI TV • THIS MONTH
American Experience: Zora Neale Hurston: Claiming a Space
Tuesday, January 17 at 9 p.m. on WXXI-TV
Meet the influential author and anthropologist whose groundbreaking anthropological work challenged the assumptions about race, gender, and cultural superiority that had long defined the field in the 19th century.
Credit: Courtesy of Library of Congress
American Masters: Roberta Flack
Tuesday, January 24 at 9 p.m. on WXXI-TV
Discover music icon Roberta Flack's rise to stardom and triumphs over racism and sexism. Detailing her story in her own words, the film features exclusive access to Roberta's archives and interviews with Rev. Jesse Jackson, Peabo Bryson, and more.
Credit: Courtesy of Warner Music Group
FRONTLINE
Global
Spyware Scandal: Exposing Pegasus
Tuesdays, January 3 & 10 at 10 p.m. on WXXI-TV
FRONTLINE and Forbidden Stories investigate the powerful spyware Pegasus, sold to governments around the world by the Israeli company NSO Group.
When Comedy Went to School
Monday, January 23 at 9 p.m. on WXXI-TV
This entertaining portrait tells the story of the Catskill hotels and bungalow colonies that provided the setting for a remarkable group of young Jewish-American comedians who redefined stand-up and sketch comedy and forever altered the course of American humor. Photo: Jerry Stiller
34 CITY JANUARY 2023
WXXI's annual initiative with Al Sigl Community of Agencies, Dialogue on Disability kicks off Monday, January 9 with a week of special programming designed to stimulate dialogue about people of all abilities and promote a more inclusive community. To learn more about the initiative and for a complete list of all the programming, visit wxxi.org/dod.
POV: I Didn't See You There Monday, January 9 at 10 p.m. on WXXI-TV
When a circus tent goes up outside his Oakland apartment, a disabled filmmaker launches into a meditative journey exploring the history of freakdom, vision, and (in)visibility.
American Masters: Becoming Helen
Keller Thursday, January 12 at 8 p.m. on WXXI-TV
This film rediscovers the complex life and legacy of author and activist Helen Keller.
Credit: Courtesy of Library of Congress
Unseen: How We're Failing Parent Caregivers & Why It Matters
Wednesday, January 11 at 7:15 p.m.
The Little Theatre, 240 East Avenue Free & open to the public
Join us for this documentary that takes an honest look at the lives of caregivers for children and adults who have developmental and intellectual disabilities and/or who have complex medical needs and a society that doesn't adequately support them.
The screening will be followed by a panel discussion moderated by disability rights advocate Jeiri Flores.
In a Different Key
Friday, January 13 at 9 p.m. on WXXI-TV
The mother of an autistic son finds and then befriends the first child ever diagnosed with autism – Donald Triplett, who still lives in the small Mississippi town where he was born nearly 90 years ago.
Credit: Courtesy WGBH
Connections with Evan Dawson
Weekdays from 12 p.m. to 2 p.m. on WXXI News & WRUR-FM 88.5
Evan Dawson hosts a series of conversations about inclusion and disability rights.
Dialogue on Disability Focus Throughout January on WXXI Classical & WXXIClassical.org
WXXI Classical presents performances by musicians with disabilities. It will also produce brief on-air features to highlight musicians with differing abilities and exploring the concept of undifferentiated participation in music and adaptive musical instruments.
Dialogue on Disability is supported by the Fred L. Emerson Foundation with additional support from The Golisano Foundation.
CITY 35 roccitynews.com
The Herman & Margaret Schwartz Community Series • January 9-15
E V E N T
Governor Hochul's Inauguration Address
Sunday, January 1 at 2 p.m. on WXXI News/WRUR-FM
WXXI presents live coverage of Governor Kathy Hochul being sworn in and delivering her inaugural address in the Empire State Plaza Convention Center in Albany. Hosts Evan Dawson and Randy Gorbman of WXXI News will be joined by WXXI & New York Public Radio Capitol Bureau Chief Karen DeWitt for analysis. This will also air on WXXI-TV.
Credit: Max Schulte, WXXI News
MLK – Activism and the Arts
Monday, January 17 at Noon on WXXI News/WRUR-FM
WNYC Radio presents the 17th annual Dr. Martin Luther King, Jr. Day Celebration that focuses on how Dr. King leveraged the influence of artists and athletes in the civil rights movement and how that legacy of activism in the arts and sports continues today. We'll examine how the struggle for social justice affected influencers from Nina Simone and Muhammad Ali to Beyoncé and Colin Kaepernick and how they, in turn, affected the struggle for social justice.
Gateways Radio
Sundays at Noon beginning January 8 on WXXI Classical Bassoonist Garrett McQueen hosts this 13-part weekly series that features exceptional compositions and exquisite performances from the Gateways Music Festival. Connecting and supporting classical musicians of African descent, Gateways Music Festival serves as a source of inspiration, enlightenment, and engagement for communities—especially communities underrepresented in classical music.
New Year's Day from Vienna 2023
Sunday, January 1 at 11 a.m. on WXXI Classical Performed by the Vienna Philharmonic under the baton of Franz Welser-Most, this concert provides musically definitive interpretations of the masterworks. As musical ambassadors of Austria, it also sends a message of hope and peace to people all over the world.
36 CITY JANUARY 2023
40 Year Celebration
Join WRUR Saturday, January 28 at The Little Theatre as we celebrate 40 years of Rejuvenation with Scott Wallace and Blacks & Blues with Doug Curry. For decades, Scott and Doug have brought the best in R&B, soul, and blues music to the airwaves. Their shows are Friday night staples on Different Radio and huge fan favorites!
The celebration includes a special screening of a film selected by Scott and Doug – Cooley High, a 1975 American coming-of-age comedy-drama film. Preserved by the National Film Registry, the film is an endearingly funny, tender, and authentic portrait of Black teens striving toward a brighter future in 1960's Chicago. Brought to life by a dynamic ensemble cast and set to a heavenly hit parade of Motown classics, this newly restored classic of Black cinema is cited as an inspiration for John Singleton and Spike Lee. The film will be followed by a discussion with Doug and Scott.
Scott Wallace and Rejuvenation
Fridays 6-9 p.m. on WRUR-FM
Scott Wallace shares his vast collection of R&B, soul, and funk music every Friday night on Different Radio. With a personal music library of more than 30,000 songs, Scott confesses that there are so many soul tunes out there that he'll never hit bottom. Scott's radio career on WRUR began in 1982 when he took a leap of faith that started with reading the news on Sunday mornings. A door opened to host a Friday night show and the rest is history. Rejuvenation provides an introduction to a significant American musical genre and Scott takes listeners on the journey every week.
Doug Curry and Blacks & Blues
Fridays 9 p.m. to Midnight on WRUR-FM
A Harlem native, lifelong blues lover, writer, record collector, historian, poet, and actor Doug Curry is the host of Blacks & Blues. Each week, he highlights the full spectrum of blues music past and present, acoustic and electric, with a perspective that spotlights the history of the people, places, and even the politics behind the recordings. Doug connects the dots between the evolution of the music and larger forces of Black culture from which the music is nurtured. He brings both a scholarly enthusiasm and a hip, confident swagger to each show, delivering the blues with a style all his own.
Saturday, January 28 | The Little Theatre, 240 East Avenue | Tickets on sale at TheLittle.org
Doors: 6:00 p.m. | Music by Sons of Monk: 6:30 | Program begins: 7:30 p.m.
Blacks & Blues and Rejuvenation 40th Anniversary Celebration
240 East Ave thelittle.org
The new year is bringing a pair of new film series to The Little. Both debut in January!
"So Fetch!"
Series Debut: Bring It On (2000)
7:30 p.m. Friday, January 20
Tickets at thelittle.org
The Toro cheerleading squad from Rancho Carne High School in San Diego has got spirit, spunk, sass and a killer routine that's sure to land them the national championship trophy for the sixth year in a row. But for newly-elected team captain, the Toros' road to total cheer glory takes a shady turn when she discovers that their perfectly-choreographed routines were in fact stolen.
About the series: The Little is making "fetch" happen with a new series of rom-coms, cheeky click-flicks, and fabulous turn-of-the-millennia cinema.
Staff Picks: 7:15 p.m. Monday, January 9 Tickets at thelittle.org
Clue
Picked by: Jasmine, Concessions Associate
For fans of: A good old-fashioned whodunnit hoot, Agatha Christie, Knives Out, murderous silliness
Seven suspects. Six weapons. Five bodies. And three endings. The 1985 comedy classic kicks off the Staff Picks' 2023 schedule.
Winter Wednesdays
Series Debut: Little Women (1994)
Wednesday, January 25 Tickets at thelittle.org
The story that has lived in our hearts for decades, returns to The Little big screen this winter. The 1994 adaptation of Louisa May Alcott's classic novel stars Winona Ryder, Clarie Danes, Kirsten Dunst, and Christian Bale.
About the series: The best type of snow fort is a movie theater — this is just a fact. Grab all the warm, delicious Little Popcorn and hibernate with us on Wednesdays for a series of throwback films … each with a snow-fueled twist. Wearing cozy clothing is very much encouraged.
One Take Documentary: Subject
Thursday, January 26 and Saturday, January 28
Tickets at thelittle.org
"Subject" explores the life-altering experience of sharing one's life on screen through the participants of five acclaimed documentaries. As tens of millions of people consume documentaries in an unprecedented "golden era," the film urges audiences to consider the impact on documentary participants - the good, the bad, and the complicated.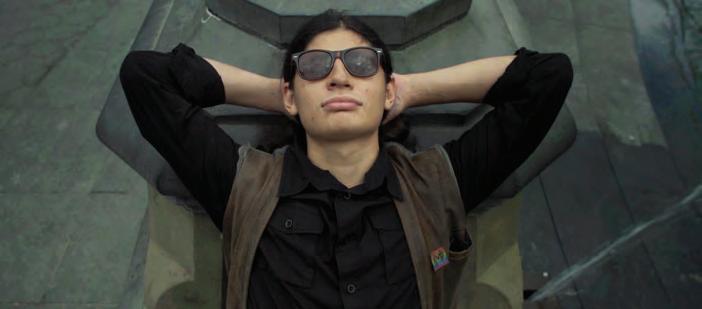 The January Giallo series, co-presented by Cinematic Void and Anomaly - The Rochester Genre Film Festival, slashes its way to The Little.
"Giallo" refers to a style of Italian-produced mystery-thriller films which rose to popularity in the 60s and 70s. Filled with atmosphere, suspense, crime, as well as eroticism, psychological horror, and slasher violence, classic and contemporary Giallo films continue to surprise and terrify.
The slate: jan 5jan 13jan 19jan 27 THE BIRD WITH THE CRYSTAL PLUMAGE (screening on 35mm film) KNIFE + HEART (screening on 35mm film) LIZARD IN A WOMAN'S SKIN STAGEFRIGHT Mystery! horror! Atmosphere! All the suspense! TICKETS AT THE LITTLE.ORG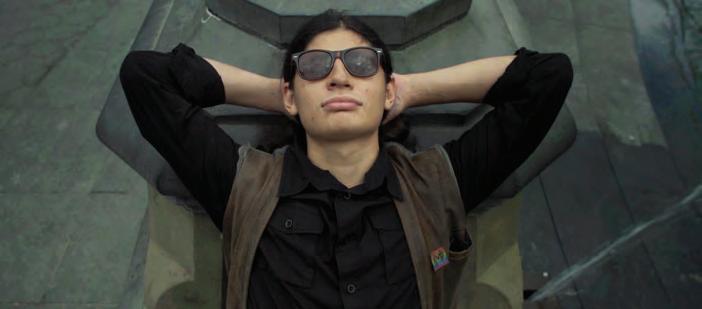 BEST BAR TO DRINK ALONE Lux Lounge
666 South Ave. | 585-232-9030 lux666.com
Drinking solo? There's plenty to keep you entertained at this South Wedge watering hole. If you feel chatty, take a seat around the outdoor stove to warm up and converse with the steady cast of characters that hang around Lux. There's also a much-loved and heavily used jukebox and cool art to keep your senses occupied. However, if you just want people to leave you alone, that's doable, too. Park yourself at the corner of the bar and do your thing. The barroom is dark, even in broad daylight, so you've got some cover. After all, Lux also won best dive bar.
Finalists: Nox | ROAR | Skylark
Also consider...
The Cub Room
739 South Clinton Ave. | 585-504-2790
Thecubroomroc.com
There's no point in sugar-coating it: I've been stood up at The Cub Room a couple of times. But since the bar has an awesome selection of whiskies, I just stuck around for a bit and had a pleasant drink or two. I never knew I could enjoy being brushed off so much. The Cub Room is lit warmly and dimly, a nod to the speakeasies of old it was modeled after, and the patrons don't waste their time gawking at the lone figure perched at the gorgeous wood bar. The atmosphere is laid back and you feel comfortable there all on your own. Additionally, the barkeeps are good conversationalists — I chat with them whether I'm alone or with others. But you can easily enjoy your drink in quiet solitude, if that's more your speed.
JEREMY MOULE
BEST BARISTA
Rory Van Grol (Ugly Duck Coffee)
89 Charlotte St. uglyduckcoffee.com
A hardcore punk vocalist-turned caffeine purveyor, Rory Van Grol is one of those seminal Rochester characters that makes the city special, and is as much a conversationalist as he is a barista. Walk into Ugly Duck on any day of the week and you're likely to find Van Grol toiling away among the steam valves, and always bearing a big, jovial grin. Get him talking about coffee or stories from the local music scene and you have a surefire way to kill a few hours.
Finalists: DeeDee Krupkin (Ugly Duck Coffee)
Angelina Viglione (Fuego) | Devan Colucci (Fuego)
BEST BARTENDER Tony Hayward (Lux Lounge)
Lux Lounge
666 South Ave. | 585-232-9030 lux666.com
In the 15 years that Tony Hayward has tended bar at Lux, he has become an essential and beloved part of the community there, providing not only great service but also fostering a safe space to unwind. Hayward stays busy behind the bar slinging drinks and humorous quips, and always has an eye on customer interactions, ready to intervene in defense against a creeper or someone who's gotten out of line. Lux DJ Ben Frazier says of Hayward: "He's just a real, warm, gregarious guy, full of self-deprecating humor, who tries really hard to make everyone feel at home at Lux — without suffering any bullshit!"
Finalists: Donny Clutterbuck (Cure) | Joe Bolam (Char Steak & Lounge) Victor Santiago (Bachelor Forum)
BEST BEER SELECTION (BAR OR RESTAURANT)
Rochester Beer Park
375 Averill Ave. | 585-685-8212 rocbeerandpark.com
Despite its name and initial appearance from the street, Beer Park is not a trailer park-themed beer bar, but a bar modeled on a nostalgic era of RV campsites, down to kitschy logos and bisected camping vehicles. The bar features over 60 beers on tap, about half of them held under the craft umbrella. Outside, find a patio space decked with purposely tacky neon green astro-turf.
Finalists: Strangebird | Three Heads Brewing MacGregor's Grill and Tap
Then again...:
Donnelly's Public House
1 Water St., Fairport | 585-377-5450 donellysph.com
This neighborhood bar off Liftbridge Lane in Fairport is a favorite among villagers and visitors alike for its friendly atmosphere and rotating selection of 33 beers on tap. Pub lore has it that a backroom in the building houses hundreds of novelty brewery taps the pub has cycled through since its founding in 2004. The beer menu is carefully curated and stocked with in-demand beers from across the country, and its descriptions of each are encyclopedic in their detail, giving discerning beer drinkers and fairweather drinkers alike what they need to make an informed choice. When in doubt, ask the bartender to surprise you. You won't be disappointed. Donnelly's also serves beer to go in 32-ounce cans — a convenient holdover from the depths of the pandemic. With beers from California to New York and the Redwood Forest to the Gulf Stream waters, this pub was made for you and me.
DAVID ANDREATTA
CITY 41 roccitynews.com drink
best of
FILE PHOTO
BEST BEER SELECTION (STORE) Beers of the World
2599 East Henrietta Road | 585-334-0034 mybeersoftheworld.com Beers of the World is a shop whose name speaks for itself. Inside this sprawling warehouse of brewing spectacles you'll find everything from beloved local favorites to craft beers from across the United States and hard-to-find brews from across the globe. Whether your tastes lie in the Costa Rican mainstay Pilsen or a Russian Imperial Stout from Saint Petersburg's Baltika Brewing, there's a little something for everyone here, so long as you don't get lost among the shelving.
Finalists: MacGregor's Grill and Tap Room | Strangebird Three Heads Brewing
But also...
One Stop Brew Shop
2512 Ridgeway Ave.| 585-830-8299 onestopbrewshop.com
Tucked away in an unassuming plaza in Greece, one could easily mistake One Stop Brew Shop as just another generic bottle shop slinging cans of Genesee and Rohrbach. And while you will find those beers there, the small shop's selling point is an incredibly well-curated, diverse selection of beers impossible to find anywhere in Rochester. Owner James Hilbert sees to that, personally sherpaing bottles across the state to One Stop from breweries like Queens' Finback and Poughkeepsie's Plan Bee. The discerning drinker will also find a respectable collection of Belgian Lambics on One Stop's shelves.
GINO FANELLI
BEST BLOODY MARY
The Revelry
1290 University Ave. | 585-340-6454 therevelryroc.com
In recent years, there's been a trend of topping the near-meal that a Bloody Mary already is with garnishes stacked ridiculously high — to the point of balancing atop the beverage an entire bacon cheeseburger speared through a straw. But amid all of this excess, the Bloody Mary at The Revelry stands out as a sleek, simple cocktail crafted with careful attention to freshness and flavor. The beverage was formulated by The Rev's former general manager Patrick Stetzel, who with his bar team came up with the recipe for a Bloody Mary competition at The Main Street Armory in 2017. His concoction won, and has been on The Revelry's menu ever since. Stetzel says that the drink gets its zip from Japanese Togarashi, aka "7 Spice," in addition to the fresh-juiced lemons, celery, and cucumber in the recipe. And the garnish? Minimalist and aromatic sprigs of basil and thyme, with a sprinkling of fresh cracked pepper.
Finalists: Roam Cafe | Titus Tavern | Vertex
BEST CIDERY Schutt's Apple Mill
1063 Plank Road, Webster 585-872-2924 schuttsapplemill.com Schutt's Apple Mill has been making its crystal-clear and sweet apple cider the same way since Paul "Great Grandpa" Schutt opened the place in 1918, and got into the hard cider business several years ago with its introduction of its popular "Great Grandpa's Grog" line. The line features two ciders: "Relic," a smallbatch hard cider with a balanced profile, and "Fried Cake," a sweeter variety inspired by the family-owned farm's award-winning fried cakes. The ciders can be had by the pint or the growler in the farm's tasting room, which also has a rotating stock of ciders from other cideries on tap.
Finalists: Blue Barn Cidery | Muller's Cider House | Seed and Stone
BEST COCKTAILS
Restaurant Good Luck
50 Anderson Ave. | 585-340-6161 restaurantgoodluck.com Good Luck is known for its inventive and flavorful cocktails as much as its food. Consider the Good Luck's old fashioned, which is anything but. It has the whiskey, the bitters, and the citrus peel of the classic, but instead of a plain ol' sugar cube it has Demerara, which evokes a caramel flavor. Or consider the La Escopeta, a tequila-based cocktail that includes ancho chile liqueur along with serrano and Bermuda peppers. The drink has a pepper scale next to its menu entry, virtually guaranteeing that it's going to be a spicy experience.
Finalists: Cheshire | The Daily Refresher | The Revelry
42 CITY JANUARY 2023 drink best
of
PHOTO PROVIDED
FILE PHOTO
FILE PHOTO
ROAR Nightclub
On the bar scene, a mighty ROAR
There's a neon sign over the door at ROAR: "A DJ and a Drag Queen Walk Into a Bar."
But this isn't the set up for a joke. It's the premise for Rochester's reigning gay-owned nightclub, which scooped up six "Best of Rochester" awards.
Since opening in November 2019, ROAR has filled a gap in the LGBTQ+ community left by the closings of Tilt Nightclub, Muther's, and Club GQ. It was while working in those venues that ROAR owners David Chappius (aka drag queen DeeDee DuBois) and Michael Ruger (aka DJ Mighty Mic) first met. (Chappius and Ruger are also "Best of Rochester" winners.)
After Tilt closed in 2018, the duo started a pop-up act called "DeeDee's Night Out" which traveled to different regional locations.
"We weren't ready to stop doing what we do," Chappius said.
With the encouragement of their husbands, Ruger and Chappius found a space at 621 Culver Road, next to the former Sticky Lips BBQ, and opened a club while keeping their full-time day jobs. They managed to stay in business — and retained most of the original staff intact — through the pandemic lockdown.
Now, they're back to full operation every Wednesday through Saturday.
"We like to have fun, and that's what this place is," Chappius said. "We pride ourselves on the fact that we're community oriented, and everything we host or benefit fits the model of our business."
Before ROAR, Chappius spent more than 20 years performing as a drag queen. By day, he works in finance for a construction company. His and Ruger's past gigs at LGBTQ+ clubs factor heavily into the ROAR experience.
"Drag is a part of everything we do at
ROAR, which really sets us apart from other nightclubs in the area right now," Chappius said.
Wednesday is trivia night hosted by drag queen Samantha Vega, and Thursday is karaoke night hosted by drag queen Chaka. On the weekends, the chairs and tables are removed to make way for elaborate drag shows and late night dancing (a floor-to-ceiling dance pole is a go-to photo opp for many guests). Select Sundays feature a drag brunch, and there's a monthly Bingo night. No matter the day, the crowd is always filled with familiar faces.
"So many of our guests have become regulars and extended family," Chappius said. "People may also be surprised at our age range. We are 18-plus because we want transgender youth to have a safe place to be their authentic selves, but our average age is in the mid-30s."
ROAR has a few plans for 2023, including booking national DJs, porn stars, drag queens, and go-go dancers for events as well as continuing to spotlight local talent.
"We're here to be creative and have a good time," Chappius said. "Not to do the same things that are already being done."
LEAH STACY
Finalists
Abilene
BEST TRIVIA NIGHT
Best Bar Best LGBTQ+ Bar Best Place To Go Dancing Best Karaoke Best Pickup Bar Best Trivia Night 6x "Best
winner!
Of"
621 Culver Road | 585-434-1248 roarroc.com
BEST BAR
Bar and Lounge
Forum Lux Lounge
Avenue Pub Bachelor Forum Lux Lounge
Bachelor Forum Lux Lounge Restaurant Good Luck Swan Dive
Angry Goat Pub Firehouse Saloon Lux Lounge
Bachelor
BEST LGBTQ BAR
BEST PICKUP BAR
BEST KARAOKE The
Night Rochester @ Radio Social Old Stone Tavern Roc Brewing Co. BEST PLACE TO GO DANCING JuiceBox Lux Lounge Vertex
Game
BEST COFFEE
Ugly Duck Coffee
89 Charlotte St. uglyduckcoffee.com
Ugly Duck began in 2015 as a pop-up espresso bar operated by perennial Best Barista pick Rory Van Grol but has since grown into a popular brick-and-mortar coffee shop where you can get everything from an excellent cup of plain black coffee to The Snug, a combination of espresso, maple syrup, Fee Brothers molasses bitters, and steamed milk. It also has a strong cold brew that will please your taste buds while jolting you awake. Ugly Duck is a multi-roaster shop, meaning it doesn't roast its own beans but rather carries and brews handpicked selections from places like Ithaca's Gimme! Coffee and other small independents.
Finalists: Cafe Sasso | Fuego | Java's
Running a close second . . .
Finger Lakes Coffee Roasters
Several locations | fingerlakescoffee.com
Finger Lakes Coffee is ubiquitous in Rochester. You can buy bags at Wegmans, Lori's Natural Foods, and other grocery stores; from the roaster's kiosks in local hospitals; and at Finger Lakes Coffee shops in plazas and Syracuse's Destiny USA mall. The company roasts its own beans and carries a very wide selection of flavored coffees, single-origin beans, and blended roasts. The Italian roast is unlike anything offered by other roasters in the area. Those beans produce an exceptionally dark brew with strong roasted flavors and subtle bittersweet notes of dark chocolate. It's fabulous in a press pot, especially if made strong.
JEREMY MOULE
BEST CRAFT BREWERY
Three Heads Brewing
186 Atlantic Avenue | 585-244-1224
threeheadsbrewing.com
The brainchild of three of the most distinctively Rochester characters you can find, Three Heads broke into the Rochester craft beer scene in the early 2010's with its flagship The Kind. A bitter West Coast IPA, it was the height of trendiness at the time. But times change, and so have the beers coming out of this NOTA mainstay. Yes, you can still get The Kind. You can also get a sour mimicking Hi-C Ecto Cooler, monstrous barrel-aged stouts, and on very special occasions, one of the best barleywines you can find in New York.
Finalists: Strangebird | Rohrbach | Swiftwater
BEST DISTILLERY Black Button Distilling
85 Railroad St. | 585-730-4512 blackbuttondistilling.com
Founded in 2012, Black Button Distilling is the first grain-to-grass craft distillery to open in Rochester since the end of Prohibition and it uses only locally-sourced ingredients. It's Four-Grain Bourbon has received high honors at spirits contests, and its Lilac Gin, released every year around the Lilac Festival, has become a Rochester springtime staple. Black Button's booze has been good from the start, but it has grown and refined its products and has started aging its whiskey longer, which should make for a richer, more complex pour. In July, Black Button plans to open a new distillery on University Avenue, leaving its first home on Railroad Street.
Finalists: Finger Lakes Distilling | Iron Smoke
BEST DIVE BAR Lux Lounge
666 South Ave. | 585-232-9030 lux666.com
Lux's house drink special is the Pabst Smear, a $3 order that will get you a can of Pabst Blue Ribbon and a well liquor shot of your choosing. The order screams dive bar the same way Lux's dim lights and heavily-graffitied barebones restrooms do. The South Wedge establishment also has rotating art, a pool table, a heavily-used juke box, and a backyard with picnic tables and a fire pit. There's no kitchen here, but there is Chex mix and on weekends you can usually find a food truck or two parked out front.
Finalists: Joey's | Marshall Street Bar and Grill | Skylark Lounge
BEST SMOOTHIES/JUICES
Just Juice 4 Life
710 University Ave. | 434-2607 justjuiceforlife.com
Just Juice 4 Life owner Damaris Pinedo was working as a cytotechnologist at the University of Rochester Medical Center, screening for cancer and infectious disease, when her cousin was diagnosed with ovarian cancer. She shifted her focus to nutrition, following her interest in finding ways to get vitamins to the body without having to do too much work breaking down food. Pinedo got certified as a holistic health coach, and began operating Just Juice from a renovated camper in 2012 before opening her first storefront the following year. The stylish shop has been at its current location on University Avenue since 2017. There, health-minded customers order power tonics, smoothies, and juice flights at the counter, or choose from the juices and fermented items in the grab-and-go coolers. A set of juices ideal for a cleanse can be custom ordered.
Finalists: A&B Juice Lab | Refresh Cafe & Smoothie Bar Tropical Blendz Cafe & Juice Bar
44 CITY JANUARY 2023 drink
best of
FILE PHOTO
Best Wine Selection (Store)
Wine wherever you turn
1100 Jefferson Road, Henrietta 888-427-2480
marketviewliquor.com
The moment you walk into the doors of Marketview Liquor, cases of wine piled chest high stare you down. Deeper in the store, racks full of bottles from every wine region imaginable stretch from the floor to damned close to the ceiling.
But still, there was the time a customer came in looking for a specific white wine from northern Italy made with arneis grapes. The shop didn't have any, recalled Mike Martin, the store's general manager, so he and a couple of other staff members hunted down two vintages and stocked Marketview's shelf with it.
Marketview Liquor
"I think it's the best wine store in upstate New York and we should have an arneis," Martin said.
CITY's readers likely wouldn't argue with Martin's assessment, after all they've once again pointed to the store as having the best wine selection in greater Rochester. But stocking the shelves of a bottle shop is an art. Martin and Marketview owner Mike Palmeri emphasize that it's not enough to have a lot of different wines on the store's shelves, they also have to be good.
To that end, the staff makes sure the store is stocked with popular wines they know will sell, but also ensures that it has a selection of interesting, under-the-radar vintages that appeal to more adventurous oenophiles. For
example, Marketview has one of Rochester's better selections of German and Austrian wines, many of which are stylistic forebears to the beloved Finger Lakes wines the store also keeps a robust stock of.
"We probably taste almost every bottle that's bought," Martin said.
It also holds regular wine tasting and pairing classes with sommelier Holly Howell, as well as informal tastings in the store on weekends. Palmieri said those tastings are a great way to find out what customers like and to introduce them to styles and producers they may be unfamiliar with.
The staff incorporates customer feedback into its selections but also tries to keep ahead of trends in the
wine world through industry publications such as Wine Spectator and Decanter.
Palmeri started Marketview Liquor in 1972 and his first location was a 1,500 square foot store in Penfield. Eventually it relocated to Henrietta and its location on Jefferson Road is 10 times larger than the original storefront.
JEREMY MOULE
Finalists:
Aldaskellar Wine Co. Century Wine & Liquor Pinnacle Wine & Liquor
CITY 45 roccitynews.com drink
best of
PHOTO BY JEREMY MOULE
Lori Lippa (ROAR)
Ask this bouncer for skin care tips
When Lori Lippa picks up the phone on a Sunday evening, she's worked almost as many hours over the weekend as the average person does in an entire week.
It's the thick of the holiday season, and she's a full-time Avon makeup and skincare sales representative (yes, as in "Avon calling") who moonlights as a bouncer at ROAR, one of Rochester's hottest nightclubs.
And at 51, this is her first bouncer gig.
When Lippa's longtime best friend Michael Ruger (AKA DJ Mighty Mic) opened ROAR in 2019 with co-owner David Chappius (AKA drag queen DeeDee DuBois), she was one of the first employees.
"He's basically family," Lippa said. "Wherever Mighty goes, Lippa goes."
She's been involved in the bar industry since 1994 — her uncle owned the former Club GQ — and has been known as "Mama" in the local LGBTQ+ community for more than half her life.
After watching Lippa with guests for a few weeks, the owners encouraged her to become a certified security guard.
"Kids felt safe with me when they couldn't come out to their
parents," Lippa said. "Now, I'm the first and last face they see at ROAR, and I want to make sure they know we accept them and love them, and they can come to us right away if they have an issue."
In the wake of recent shootings at LBGTQ clubs around the nation, Lippa and the rest of the ROAR team have upped safety protocols at the door, including bag checks and pat downs — and are often thanked by the guests for doing so.
In her three years at the door, Lippa said, she has had very few altercations.
"(The security team) toes the line of authority and respect because the guests know us," Lippa said. "They know ROAR is there for them and they want to keep it around. If we get someone who's scuffling or had too much to drink, we escort them out.
"But there's never a situation where people are throwing punches," Lippa went on. "We're not 'Road House,' we're ROAR."
In November 2021, ROAR was recognized with the New York State Empire Award for its contributions
to equality. The award was given on Transgender Day of Remembrance, which honors lives lost due to antitransgender violence.
"The owners are unsung heroes," Lippa said. "They do so much behind the scenes to make this place safe and fun. This is not just a dance club, it's a community center."
In addition to Avon and bouncing, Lippa also fosters for Kitten Korner Rescue (she's helped 23 cats and kittens find a home by her count), and during the pandemic lockdown, she began grocery shopping for some of her senior Avon customers (what she refers to as "kind of like InstaCart, but InstaLippa"). Admittedly, she thrives on staying busy.
"I still feel like I'm in my
Best Bouncer
late 20s, early 30s," said Lippa. "You just need energy drinks and protein."
If you say hello to her at ROAR on the weekends, be prepared for a big hug.
"I'm here to make new friends and keep people happy, that's my job," she said. "They want me on the dance floor and I'm like, 'I can't, I'm working.'"
LEAH STACY Finalists: Bear (Lux Lounge)
Oz (Bug Jar and Marshall Street Bar and Grill)
Patrick "PJ" Cosmano (Abilene Bar and Lounge)
46 CITY JANUARY 2023 drink best of
PHOTO BY RYAN WILLIAMSON
BEST SPORTS BAR
Jeremiah's Tavern
Various locations and phone numbers jeremiahstavern.com
What goes great with this local chain's award-winning wings? Watching football, of course. And baseball, and hockey, and soccer, and basketball, and anything that involves athletes running, jumping, and throwing things in ways impossible of us mere mortals. No matter. An impressive draft beer list and top-shelf whiskeys keep patrons happy no matter who's winning the game. Jeremiah's has four locations — the original bar on Monroe Avenue and fancier rustic-looking spinoffs in Gates, Henrietta, and Penfield. In keeping with its "Best Sports Bar" reputation, Jeremiah's routinely sponsors youth and adult-league athletic teams.
Finalists: The Distillery | Hot Shots | Marshall Street Bar and Grill
Another strong choice . . . Tin Cup Social
25 Parce Ave., Suite 150, Fairport tincupsocial.com
This upscale sports bar opened in September ready for game day. With a gigantic television screen behind the bar and a dozen smaller TVs dotting the walls and hanging overhead on a faux scoreboard, there's a good chance one of them will be showing the game you want to watch. Like the televisions, sports memorabilia is everywhere you turn in this place. One of the three unisex bathrooms is even bedecked in red, white, and blue Zubaz wallpaper as a hat tip to the Buffalo Bills, in case you forget who you should be rooting for on Sundays in the fall. The food is tasty pub fare, and the drink menus of wine, cocktails, and more than 50 beers all but guarantee you'll find something to wet your beak. Located in The Cannery, a popular strip of restaurants and bars in the former American Can Company factory, Tin Cup Social is a nod to the film "Tin Cup," in which the message is "Don't lay up." Don't overlook this place on game day.
DAVID ANDREATTA
BEST TEA HOUSE Tai Chi Bubble Tea
Various locations and phone numbers heroorder.com/taichibubbletea Tai-Chi is now a national chain founded in Henrietta. It first introduced Rochester to the sushi burrito, or sushirrito, a San Francisco-originated treat representing the sheer audacity of American cuisine. It's exactly what it sounds like—a giant sushi roll, filled with your choice of fish, rice, veggies, and condiments, eaten like a burrito. It's both an abomination and one of the greatest things you'll ever eat. As an accompaniment, Tai-Chi offers an expansive list of boba teas, from cold fruit drinks to hot milk teas. Try the hot kumquat lemon, it's awesome and really fun to say out loud.
Finalists: Happy Earth Tea | Happy Gut Sanctuary Mad Hatter Restaurant and Bakery
Also for your consideration . . . Happy Earth Tea
696 South Avenue | 585-730-7754 happyearthtea.com
In 2017, CNN ranked Leaf, Happy Earth Tea's former location on South Avenue, in the top 11 of the best tea houses in the world. Now occupying a larger location at the intersection of South Avenue and Gregory Street, Happy Earth is even better. Owner Niraj Lama, a former journalist in Kolkata, India, is an absolute tea fanatic. Using a wealth of connections, Lama works with small, artisanal tea farmers from around the world to bring some of the best, most exclusive leaves to the Flower City, categorizing them further into seasonal variants known as "flushes." Each tea is made to order in a mini-ritual, complete with a tiny hourglass to indicate when you're ready to take a sip. It's more than a tea shop, it's an experience.
GINO FANELLI
CITY 47 roccitynews.com drink best
of
PHOTO BY DAVID ANDREATTA
PHOTO PROVIDED
PHOTO PROVIDED
Best Wine Selection (Bar or Restaurant) Apogee
Where the wine comes with a story
151 Park Ave. | 585-598-4941 apogeewinebar.com
Simone Boone, owner of Apogee Wine Bar, has a story for you. Rather, the notes of earth, fruit, flowers, and terroir found in every glass of wine she pours have the story.
"Wine is history, wine is geography, wine is food and culture," Boone said. "It does tell a story, because each wine starts out as a grape, but it's a long journey that it takes before it becomes a wine."
Apogee, a modest wine bar on Park Avenue, is accented by a white marble bartop, open Edison bulb lighting, and a row of coolers behind the bar, each denoting the exact temperature at which each bottle of wine is held.
Boone, a certified sommelier, started Apogee in 2014 following a long career in the restaurant industry, including as the winebuyer for the Strathallan Hotel. Her goal was to create a space that celebrates wine, while also being accessible to the layman.
"I want a 21-year old who's coming who's just starting to learn and is starting from absolutely nothing," Boone said. "I want to have a wine for them, I don't want to turn anyone away."
The wine list at Apogee is carefully curated. Patrons won't find a book of pages and pages listing vintage bottles that sit in a dusty cellar here.
What they will find is a highly-selective list of unique and exciting wines that Boone handpicked, and small-bite offerings of cured meats, cheeses, and chocolate truffles.
She gravitates toward French and Italian heritage wines. At Apogee, there's plenty of Beaujolais, Bordeaux, and Brachetto to go around.
But there's also off-the-beatenpath finds that have been known to surprise even the most experienced oenophile.
On a recent visit, the standout was a Bosnian Tamjanika, a native grape of the Balkan nation. The wine was bone dry, but dripping in notes of tropical
fruit, peaches, plums, nectarines, and a healthy dose of earth.
Boone, who bought the wine on a whim for a Bosnian friend and was later contacted by the vintner, said the vintage exemplifies her passion for wine — there's always something new to learn, and a new story to hear.
"Each wine has a story," Boone said.
GINO FANELLI
Finalists: Flight Wine Bar
Living Roots Roots Wine & Co. REDD
48 CITY JANUARY 2023 drink best of
PHOTO BY AMY MOORE
best of BEST WINERY
Living Roots Wine & Co.
1255 University Ave. | 585-383-1112 livingrootswine.com
Living Roots was founded in 2016 by husband and wife Sebastian and Colleen Hardy, who opened a tasting room on University Avenue in November 2017. Though the Hardys refer to Living Roots as an urban winery, it sources its grapes from vineyards in the Finger Lakes and in southern Australia, including vineyards run by family members. Living Roots makes a variety of wines from sparkling pet nats to a shiraz made from Australian grapes. The establishment is as popular for its wines as it is for its classes and tastings.
drink
Finalists: Casa
Larga Dr. Konstantin Frank Winery Ravines Wine Cellars
Also great: Hermann J. Wiemer
3962 NY-14, Dundee | 607-243-7971 wiemer.com
Finger Lakes wine is booming, with its award-winning vintages and varietals landing on influential wine lists across the world. Chief among them are the rieslings, and the vintages produced by the Hermann J. Wiemer winery on Seneca Lake are among the best of the best. In 2021, Fred Merwatch, the winemaker and co-owner of Hermann J. Wiemer on Seneca Lake was named winemaker of the year by Wine Enthusiast, in part due to his dedication to and skill with rieslings. But it's not just the awards that make the Wiemer wines stand out. Even its more affordable products are a joy to share and drink. Its roughly $15-$18 field white, a blend of gruner veltliner, riesling, and chardonnay that is light and dry, has become one of my favorites and a go-to for taking to gatherings or giving as gifts. If you love Finger Lakes wines, you owe yourself a few Wiemer bottles.
JEREMY MOULE
CITY 49 roccitynews.com
FILE PHOTO
PHOTO PROVIDED
BEST ANTIQUE SHOP/DEALER The Shops on West Ridge
3200 W. Ridge Road, Greece | 585-368-0670  theshopsonwestridge.com
The Shops on West Ridge is actually a collection of some 200 smaller "shops'' that sell all kinds of goodies from the distant and near past. Within the 60,000 square foot, two-floor market you'll find furniture and fixtures for sale, but also vendors selling old tools, collectibles, cameras, ephemera, housewares, toys, books, and more. This place is made for browsing, so set aside an hour or two for hunting if you head there to treasure hunt.
Finalists: Abode | Liberty Hollow Antiques | Ontario Antique Mall
BEST BIKE SHOP – IT'S A TIE!
Full Moon Vista
1239 University Ave. | 585-546-4030 fullmoonvista.com
Towpath
21 Schoen Place, Pittsford | 585-381-2808 towpathbike.com
Great bike shops don't just sell bikes. They're run by a knowledgeable staff of cycling enthusiasts who build community with classes and host events to get people rolling. Our two winners, Full Moon Vista and Towpath, have all of those attributes, and then some. It's worth noting that CITY readers recognized these two fixtures in the cycling community as the best bike shops in Rochester in equal measure, literally down to the hundredth of a percentage point in our poll. The most endearing trait of both shops is that they wait on every customer with patience and sincerity, regardless of how long they've been biking.
Finalists: Bert's Bike Shop | Tom's Pro Bike
BEST BRIDAL SHOP
Heart to Heart Bride
3 W. Main St., Webster | 585-872-9696 heartotheartbride.net
This bridal boutique in the heart of Webster prides itself on stocking the largest inventory from the wedding gown industry's top designers and its own private collection.
Heart to Heart Bride carries gowns for all shapes and sizes in prices that range from $1,300 to $3,700, with most being in the $1,600 to $2,400 range. For brides-to-be, that means one-stop shopping without sticker shock. (And Heart to Heart Bride has a sister store in Two Hearts Bridal in Manchester, Ontario County, that specializes in gowns under $1,500.) The boutique offers free appointments between one and two hours with a dedicated stylist on weekends, weekdays, and evenings. But if the betrothed wants the whole store to herself, private appointments are available outside of business hours for a fee.
Finalists: Scarlet Bridal Boutique | Silk Bridal Boutique | Stella's Bridal
BEST CBD SHOP
Mad Hatter's Hideaway
2334 Culver Road | 585-266-2929 madhattershideaway.com
Mad Hatter's is everything a good smoke shop should be. This quiet storefront in Irondequoit offers an impressive array of hemp, CBD, and cannabis products; a mind-boggling selection of pipes, bongs, bubblers, and bowls; as well as boutique cigars and loose-leaf tobacco. The store is kept by a collection of some of the most friendly and enthusiastic cannabis consumers in town, eager to talk your ear off about their cures for what ails you, including their own brand of CBD, fittingly dubbed "Wonderland."
Finalists: Glenna's | HempSol CBD | Phalt
BEST CORNER STORE
Bodega
206 Park Ave. 585-319-3473 bodegaonpark.com Despite what its minimalist name might imply, Bodega aims to be more than a generic corner store. This cramped little shop on Park Avenue is packed with all sorts of various culinary odds and ends, from marshmallow Fluff to upscale regional treats. But the real star of the show are the sandwiches. Bodega has classic bacon-egg-and-cheeses and Italian cold cuts, but also more adventurous offerings, like the Wasabi, a breakfast sandwich imbued with Japanese barbecue sauce and wasabi, and the Royale, a smoked salmon flavor bomb topped with Swiss cheese and pickles.
Finalists: Highland Market Nathaniel Square Convenience Store | R's Market
But also . . .
999 Market
709 South Clinton Ave. | 585-473-8383 facebook.com/999market.llc
999 Market is synonymous with the South Wedge and Swillburg neighborhoods. Located at the intersection of South Clinton Avenue and Gregory Street, the angular storefront, constantly under construction over the past couple of years, serves as somewhat of a neighborhood hub, with its fried chicken being the beacon. Available in wings and fingers lingering all day under heated lamps, the fare is breaded to perfection, crispy, crunchy, and greasy. Each bite is pure hedonistic indulgence. Aside from the chicken, 999 offers a full assortment of good subs and sandwiches, as well as an array of household necessities.
GINO FANELLI
CITY 51 roccitynews.com shopping
services
&
best of
PHOTO PROVIDED
PHOTO PROVIDED
best of
BEST FITNESS SERVICE YMCA of Greater Rochester
444 East Main St. (Head Office) | 585-546-5500 rochesterymca.org
The Y has been the target of harsh criticism in recent years for cutting athletic services in the city, including at its headquarters on East Main Street, while building giant stateof-the-art facilities in the suburbs. But when it comes to amenities and value across the board, the organization is hard to beat. From personal training programs to childcare, camps, and classes for all ages and myriad interests, The Y probably has something for you among its 12 branches throughout Rochester and its immediate suburbs. In January, the organization will see a change in leadership, when Ernest Lamour replaces George Romell as president and chief executive officer. Romell held the title for 24 years. Lamour previously helmed the Ridgewood YMCA in New Jersey and the Stamford YMCA in Connecticut.
Framewerks | JCC of Greater Rochester | Midtown Athletic Club
BEST GARDEN CENTER
Garden Factory
2126 Buffalo Road | 585-247-6236 gardenfactoryny.com
No nursery in the Rochester area comes even close to rivaling The Garden Factory in terms of size and scope. What Robert and Patricia Martell began as a five-acre business in 1974 has grown to 36 acres of indoor shopping, nurseries, and tropical greenhouses that make The Garden Factory one of the largest garden centers on the East Coast. This massive facility in the town of Gates offers virtually every variety of herb, vegetable, fruit, or flower capable of blooming in the region. Complementing the nursery stock are a range of supplies to outfit the greenest of greenthumbs and resources to educate even the most experienced gardener.
Finalists: Bristol's Garden Center | Genrich's | Wayside
Another good option...
Aman's Farm Market
2458 East Ridge Road | 585-544-8360 amansmarket.com
After a long day toiling in the early spring sun preparing infant plants for the growing season, there's usually only one thing on my mind: a nice, cold beer. Aman's Farm Market has you covered. Along with carrying an eclectic assortment of gardening supplies, plants, and home goods, this Irondequoit mainstay also keeps an extensive beer cave filled with solid local and regional craft offerings. This place doesn't just cater to gardening needs, but has everything the gardener needs.
GINO FANELLI
BEST FLORIST
Kittelberger
263 North Ave., Webster | 585-872-1823  kittelbergerflorist.com
Everyone needs a florist at some point or another and Kittelberger has been a go-to for more than 90 years, all of which the business has spent at the same location in Webster. The family-owned shop, which has a greenhouse and a 22,000-square-foot showroom, offers lovely arrangements for any reason you'd buy flowers, from funerals or the death of a pet to thank you bouquets or flowers for weddings. It even offers flower subscriptions.
Finalists: Arena's | Stacy K Floral Wisteria Flowers & Gifts
BEST HAIRCUT
Gallery Salon
4 Elton St. | 585-271-8340
Founded and owned by stylist Erika Sorbello, Gallery Salon has more than a dozen stylists, nail artists, and makeup artists offering a dizzying array of beauty services. When it comes to hair and nails, the Gallery Salon knows that a picture can be worth a thousand words. It regularly posts its work on its Instagram account, @gallery_salon. Colorful hair and nail designs are heavily represented among the photos in which the salon is tagged. True to its name, the business also functions as an art gallery.
Finalists: Glory Days Barber Co. | Jaimie K Hair | Swillbarber
52 CITY JANUARY 2023 shopping & services
FILE PHOTO
PHOTO PROVIDED
PHOTO PROVIDED
best of BEST HOTEL
The Strathallan
550 East Ave. | 585-461-5010
Strathallan.com
shopping & services
The Strathallan, a DoubleTree Hotel by Hilton, has the bona fides to back up its self-proclaimed title of "Rochester's premier boutique hotel." The grounds boast a first-class spa, upscale cuisine, and breathtaking views, all within walking distance of the city's most prominent cultural attractions. Built on the site of one of East Avenue's grand Victorian mansions on Strathallan Park and originally planned as a nursing home that never panned out, the Strathallan was converted to a 157-room hotel in 1979 and became an overnight destination (pun intended). Some of the names in its guest book include Muhammad Ali, Sophia Loren, Tom Petty, and former President George H. W. Bush. Recent additions of suites at the mansion next door, known as the Seven on Strathallan, and meeting and conference rooms nearby at what was the Century Club, have only enhanced the hotel's prestige. Visiting the rooftop cocktail lounge Hattie's can be an ideal way to unwind in the warmer months. Fun fact: The restaurant is named for former resident of the street and activist, Hattie Harris, who was known as "The Mayor of Strathallan Park" and helped get the hotel off the ground.
Finalists: Del Monte Lodge | Inn on Broadway | Woodcliff Hotel & Spa
CITY 53 roccitynews.com
PHOTO BY RYAN WILLIAMSON
Warren Buff-It
He makes cars look like a billion bucks
507 W. Commercial St., East Rochester | 585-752-3850 facebook.com/wmbuffit
There is no telling when the muse will strike and change the course of a life.
For Warren Mapes, the owner of Warren Buff-It auto detailing in East Rochester, she struck about six years ago over a beer with friends at Johnny's pub on Culver Road.
There, Mapes was contemplating what to do with the rest of his life as he closed in on 50 years old. He had spent the better part of two decades working in marketing and graphic design, a fickle industry that had him hopping jobs and enduring layoff after layoff.
"I just got to the point where I was like, you know, I can't keep doing this the rest of my life," Mapes said. "I need to figure something out."
To make ends meet between gigs, he fell back on detailing cars out of a one-car garage at his East Rochester home. It was a hobby he had pursued with a passion since he was barely old enough to drive, and now he wondered whether he could make a living at it.
That's when the muse hit him.
"The original name for my business was going to be Buff Daddy — I'll buff the junk out your trunk," Mapes said with a laugh. "But then I was like, 'Wait. Warren Buffett. Warren. Buff. It. Warren Buff-It!"
His business's motto came to him in a flash for reasons that should be obvious to anyone familiar with the most famous investor in the world: "Keeping your ride looking like a billion bucks!"
"My buddy was like 'Oh my God, there it is,'" Mapes recalled. "So I grabbed a bar napkin and a pen from the bartender and sketched out my logo."
Warren Buff-It is symbolized by a high-speed polisher clenched in a closed fist — an image that reflects the combination of technology and elbow grease that embodies the business.
Mapes, now 53, works a few blocks from his home out of a garage on West Commercial Street that accommodates several cars. He details everything from McLarens and Porsches to minivans and SUVs and everything in between.
Speaking of everything in between, Mapes is so meticulous in his work on interiors that he has been known
to remove the seats of cars to ensure the deepest of deep cleans before reassembling the vehicle.
"It's really about honing in on not just vacuuming the car, but getting the dust in all the crevices around the radio buttons, the dust in the vents," he said. "I had a motorcycle in here yesterday and I pulled all the fairings off, I pulled all the panels off of it so I could get into the nooks and crannies."
On the exterior of vehicles, Mapes has a reputation for removing swirl marks by polishing the paint to a glimmering finish. He is certified in Gtechniq ceramic coating, a highly-regarded method for protecting paint.
His scrupulousness has not gone unnoticed by his
customers. Online reviews laud his attention to detail and communication.
Mapes is quick to give credit to his crew, which includes his 19-year-old son, Connor Mapes, who has been learning the trade from him since the days of his father working out of that one-car garage.
"I'm building this to hopefully hand it down to him," Mapes said. "I put all my faith in myself and it's done nothing but grow."
DAVID ANDREATTA
Finalists: Arete Auto Salon Austin-Spencer Automotive Titan Motorworks
54 CITY JANUARY 2023 shopping & services best of
PHOTOS BY MAX SCHULTE
Best Car Detailing
BEST INDEPENDENT BOOKSELLER Lift Bridge Bookshop
45 Main St., Brockport | 585-637-2260 liftbridgebooks.com
Good books swallow readers and do not let go. A good book store, such as Lift Bridge Books, can do the same. The shop is located on Brockport's main drag and its two floors have plenty of current bestsellers, novels, books by local authors, magazines, and reference books to keep curious browsers busy for a while. It also boasts a large selection of children's books and used books, art supplies, and posters. The shop is a lively space that holds events, including author signings and book-club meetings.
Finalists: Akimbo Bookshop | Hippocampo | Small World Books
BEST LOCAL TELEVISION PERSONALITY
Scott Hetsko
(WHAM 13)
13wham.com | twitter.com/scotthetsko
Meteorologist Scott Hetsko has won this category a few times over the years. He's an affable guy who has endeared himself to viewers across the region with his upbeat and trustworthy delivery of all things weather — even when he's forecasting an incoming snowstorm. People grumble about the winter weather, but they don't take it out on Hetsko, on whom they rely to tell them when the barrage of snow and sleet will end. The region rallied around him a few years ago when he fell ill due to cardiac sarcoidosis — a rare autoimmune disease that attacks the body — and cheered when he received a heart transplant.
Finalists: Don Alhart (WHAM 13) | Adam Chodak (WROC 8)
Doug Emblidge (WHAM 13)
BEST MECHANIC Browncroft Garage
762 Atlantic Ave. | 585-288-5060 browncroftgarage.com
BEST LOCAL RADIO PERSONALITY
Evan Dawson
WXXI News "Connections" wxxi.org/show/connections
Evan Dawson elevated the "Connections" brand at WXXI News when he took over as host of the afternoon radio talk show in 2014 — and he's only gotten better. His show runs from 12 to 2 p.m. on 1370 AM on weekdays, and typically involves in-depth conversations with local and national experts on two specific topics, one devoted to each hour of airtime. A master interviewer and a quick study, Dawson is prepared and often comes off as well-versed as his guests, whether the topic be heavy, light, or irreverent. Dawson makes his listeners smarter.
Finalists: Breezy (98PXY) | Brother Wease (95.1 FM) Scott Regan (WXXI)
One of the oldest auto mechanic shops in Rochester, Browncroft Garage has been in the same spot on Atlantic Avenue since before most American households had cars. The garage traces its roots to 1927, when H.C. Hargarther began repairing and selling used cars for less than the cost of an oil change today. The business became Browncroft Boulevard Garage when Louis Prinzing bought it in 1935 and quickly established a reputation for offering quality service around the clock. Today, owner Scott Posadny carries on the legacy. So loyal are Browncroft Garage customers that the company sells apparel for them to wear. "Honest," "knowledgeable," "trustworthy," and plain old "nice" are just some of the adjectives that surface again and again in online reviews and comments for this fixture of the city's southeast side. The company is now advertising openings for a second location.
D&B Auto Service | Spencerport Auto | Vesa's Automotive
BEST MEDIA OUTLET (OTHER THAN US, OF COURSE) 13 WHAM
13wham.com
WHAM-TV (Channel 13) has been the dominant local news affiliate for the better part of 40 years, thanks to the longevity of a news team whose members almost everyone in Rochester knows by name. The station's lead anchor, Don Alhart, has been with WHAM since 1966, and holds the Guinness World Record for "Longest Career as a Television News Broadcaster" (56 years and counting). Anchors Doug Emblidge and Ginny Ryan carried the 5 p.m. newscast together for 32 years until last fall, when both retired from the station. The newsroom boasts a stable of nearly 20 journalists, including popular sports anchor Mike Catalana, and beloved meteorologist Scott Hetsko, who notched a "Best Local Television Personality" win.
Finalists: Democrat and Chronicle | The Rochester Beacon WROC-TV (Channel 8)
CITY 55 roccitynews.com
services best of
shopping &
PHOTO PROVIDED
FILE PHOTO
Best Housewares Store
Mayer Paint and Hardware
BEST MUSIC TEACHER Ben & Katie Morey, The Submarine School of Music
1500 S. Clinton Ave.  thesubmarineschool.com
A classic, old-school hardware store vibe
226 North Winton Road 585-288-7665 mayerhardware.com
Originally opened in 1951 by Clarence and Ruth Mayer on Main Street and Illinois Street, Mayer Paint & Hardware has stayed in the North Winton Village neighborhood all these years.
Known by the locals simply as "Mayer's," the shop is now located on North Winton Road in the heart of the village, in a space that was formerly Martin's Hardware. The Mayers bought it in 1966.
Today, Mayer's is about 5,000 square feet of hardware, power tools, paint, snowblowers, grills, and just about anything else anyone might need to get the job done.
"We call it, 'The superstore on a city block,'" said Mayer's Vice President Dennis McCarthy. "In terms of products, you'll find about 99 percent of anything you'd get at a Home Depot or a Lowe's. The only thing we don't have that they carry is lumber, and that's just because we don't have anywhere to put it."
Mayer has planned renovations for 2023, which McCarthy said will change the layout and improve the customer experience. (But no word on if they'll be adding wood.)
"Anyone who's been here knows how good we are at smooshing tons and tons of stuff into our little store," McCarthy said, adding that because the shop is part of the ACE Hardware cooperative, Mayer's has the national buying power of ACE.
"That's how we can remain competitive while remaining a local, independent business."
Mayer's was purchased by Tom and Barb Green in 1972 and they steadily grew the business footprint to eight times what it was then. Their son, Tom Green Jr., and his wife Sara Green, are the current owners.
Throughout the years, Mayer's has maintained the classic, old-school hardware store vibe in a world where everything has become a big, yawning box.
"We love that we're a little maze with wood floors, wood on the walls, you know, dust, creaks, all that stuff," McCarthy said.
Today, Mayer's employs more than 40 people with a wide range of expertise and a uniform passion for customer service.
"If you come into Mayer's you're gonna get asked several times if you found what you needed, if you need any help," McCarthy said. "We have a little sign in our employee area that says 'The customer is always right,' and it was printed out in 1973. It's a silly thing, but it's very true — that's the heart of what we do."
REBECCA RAFFERTY
The whimsically named Submarine School of Music is Rochester's answer to the film "School of Rock." Husband-and-wife team Ben and Katie Morey created the music ed hub in 2018, and it has quickly expanded to include separate music clubs for rock bands, choirs, and string circles in addition to offering private lessons for multiple instruments, voice, and songwriting. The Moreys emphasize community inclusion with the availability of scholarships and a sliding pay scale. With opportunities for children and adults alike to hone their musical skills, The Submarine School of Music is a solid blend of substance and fun.
Finalists: Mike Edwards Stan Martinelli | Bill Tiberio
BEST MUSICAL INSTRUMENT STORE House of Guitars
645 Titus Ave. | 585-544-3500 houseofguitars.com
House of Guitars isn't just a Rochester institution. It's a national landmark of sorts for touring musicians. Jon Bon Jovi, Weird Al, Run-DMC, Metallica, and Tyler the Creator have all made the pilgrimage there. If you're a musician passing through town, it seems you're required to stop at this shrine to rock 'n' roll. Bruce and Armand Schaubroeck's store lives up to its name, with thousands of vintage guitars in its holdings. If you can make it past the main showroom and resist buying a new axe, a quick jaunt downstairs at the back of the house leads to an impressive trove of CDs, vinyl records, and T-shirts, plus music memorabilia adorning the walls. House of Guitars is a must-visit for any music lover.
Finalists: Atlas Music Bernunzio's Uptown Music Sound Source
56 CITY JANUARY 2023 shopping & services best of
Finalists: Abode Cooks World Historic Houseparts
best of
BEST NEIGHBORHOOD GARDEN 490 Farmers
Broadway and Meigs Street 490farmers.com
Before they became an urban farm, the stateowned plots at Meigs and Broadway were just unkempt fields of grass. But 490 Farmers brought life to the land, which is situated adjacent to Interstate 490, hence the group's name. The project started in 2017 as a community garden with 10 plots and a shed. It now has 55 plots for rent; a Children's Garden; a Free Food Forest with fruit trees, berry bushes and vegetables; a flower farm; beehives; a free food stand; and more. It hosts a weekly farmers market and provides fresh food to three families each week.
Finalists: First Market Farm | Maplewood Rose Garden Perinton Community Garden
BEST NONPROFIT ORGANIZATION
Lollypop Farm
99 Victor Road, Fairport | 585-223-1330 lollypop.org
Serving both animals and people, Lollypop Farm is best known for connecting adoptable creatures with loving caregivers. Tens of thousands of local families have found new best friends here, whether that friend be a dog or a cat, a rabbit or a reptile, or a bird or a furry little bugger. The organization, which is the Humane Society of Greater Rochester, estimates that it shelters upward of 5,000 animals a year on its 134acre campus in Perinton. But Lollypop Farm is much more than an animal shelter. It is a petting farm, an animal hospital, an educational institution, and a branch of law enforcement with an expansive calendar of events, from programs designed for young animal lovers to the popular Barktoberfest each fall. Lollypop Farm's doors are open seven days a week and a visit makes for a fun, free day-trip for families with young children.
Finalists: Foodlink | Primetime 585 | Willow Domestic Violence Center
BEST PLACE TO BUY KITSCH Parkleigh
215 Park Ave. | 800-333-0627 parkleigh.com
What began as a pharmacy at the corner of Park Avenue and Goodman Street in 1960 became the castle of kitsch it is today in 1986. Parkleigh is tough to pin down to one retail genre because it has a lot of a little bit of everything. Part gift shop, part hippie wardrobe boutique, and part jewelry shop, Parkleigh offers a wide range of products that smell good, look good, or feel good, the latter of which particularly stands out in its selection of super cozy bathrobes.
Finalists: Archimage | Buffalo Bleached | Record Archive
BEST RECORD STORE Record Archive
33⅓ Rockwood St. | 585-244-1210 recordarchive.com
Each of Rochester's record stores seems to have its own personality. Our voters came out in convincing numbers in favor of Record Archive and its vast warehouse of CDs, DVDs, vintage clothing, audio equipment, gag gifts, and vinyl that you regret having sold years ago. Founded in 1975 by one of the city's unique characters, Richard Storms, the place has anything and everything for the serious audiophile, toy collector, and novelty nerd, with a wine and beer bar to boot. Record Archive's Backroom Lounge — with the only bar among Rochester's record stores — is also one of the best-sounding rooms in the area.
Finalists: Bop Shop | House of Guitars | Needle Drop Records
CITY 57 roccitynews.com shopping & services
PHOTO PROVIDED
PHOTO PROVIDED
Best Pet-related Business Bones Dog Bakery
A place for dogs and dog people to unwind
39 S. Goodman St. 585-319-4088  bonesdogbakery.com
Around lunchtime every Saturday, my dog Gold begins to get a little restless and starts bugging me to go for a walk. Once I give in to his pleading greyhound eyes, my noodle horse hauls ass to Bones Dog Bakery a couple of blocks away.
He loves the dognut, a donut for dogs, so I buy him one and he demolishes it outside
the shop to the delight of onlookers, and there's usually a few strolling by.
Bones owner Dani Fischer said she hears stories like this from a lot of her customers. People view their dogs as family, and she wants her bakery to be a place where people and their pups can spend time together and the focus is on the dogs.
"I think it really appeals to the relationship that people have with their dogs and how close they are, and having that sense of family," Fischer said.
Before Fischer launched Bones in 2016, she'd worked for 20 years on and off as a
pastry chef — she started making treats for her dog as a hobby. While Bones' shelves are full of treats, cookies, cakes, and other goodies made from limited, human-grade ingredients, the storefront is more than a bakery. It also functions like a dog-oriented coffee shop (and Bones does serve excellent coffee for its two-legged patrons).
Unless some excited pooches decide to let loose with a round of barks or howls, the shop has a relaxed atmosphere. Human customers waiting to order chat about each others' dogs and stuff like dog gear, training, or the simple joys and
frustrations of living with a canine. The dogs socialize as well — picture lots of sniffing and tail-wagging, maybe a few play bows, and occasionally some light slobber.
Beyond the goodies, the shop has a fireplace-turneddoghouse selfie station that artist Laura Wolanin paints anew three times a year.
Bones is also a family operation, with Fischer's son, Matthew Lawson, overseeing production and her other son, Tarik Kaddouri, serving as business manager. Fischer's border collies Daximus and Nova frequently greet visitors to the store.
While a dog-oriented business has to appeal to pet parents, since they're the ones with the money, the dogs are the ones that beg (or pull) to go there.
"They just know it's for them and I think it's because of the environment, the treats, and the attention they get, too," Fischer said. "They're not just here hanging out with their owners, they're here for them. They are the priority."
JEREMY MOULE
Finalists: Park Ave. Pets Pet Supplies Plus
58 CITY JANUARY 2023 shopping & services best of
FILE PHOTO
best of
shopping & services
BEST SECONDHAND/THRIFT STORE Greenovation
850 St. Paul Street | 585-494-7101 greenovationnfp.com
If you like your shopping experience to be tidy and well-organized, Greenovation is not the store for you. The interior of the sprawling secondhand shop, located in an industrial park off St. Paul Street, might be best described as controlled chaos. You can find anything at Greenovation, from vintage clothing to cookware, furniture, and knick-knacks. Some of the stock is a step up from garbage. But some items are hidden gems and oncein-a-lifetime finds whose prices can typically be negotiated. Happy hunting and haggling.
Finalists: Little Shop of Hoarders | Savers | The Op Shop
BEST SHOE STORE
Fleet Feet
Culver Road Armory and Victor | 585-697-3338 fleetfeet.com/s/rochester
You won't find a pair of Bruno Maglis or Jimmy Choos here, but you will find personalized service, loyalty to the city and its suburbs, and a diverse selection of running and fitness shoes. Fleet Feet is a national chain, but the bond between the Rochester community and the chain's two local stores runs deep enough to make the brand a favorite of CITY readers. It is a bond fostered by the stores' owners, husband and wife David (Boots) and Ellen Boutillier, through an ongoing series of running-related events and philanthropic endeavors, like the Fleet Feet annual Santa Stampede Fun Run/Walk to benefit the Bivona Child Advocacy Center. The stores, one at the Culver Road Armory in Rochester and the other in Victor, have become the hub of the running community and a go-to for casual athletes looking to comfort their soles.
Finalists: Capacity | Flower City Kicks Medved Running & Walking Outfitters
BEST SOCIAL MEDIA ACCOUNT
The InnerLoop Blog
innerloopblog.com
Every city worth its salt — and this time of year Rochester breaks out loads of salt — can laugh at itself. Enter the Innerloop Blog, which bills itself as "Rochester #1 source for fake news." Our readers agree. Many of the posts are topical and current, such as one headlined "Rochester creates accountability board for Police Accountability Board." But others poke at perennial local tropes, such as the guy who enjoys haggling at the Public Market and saved 35 cents doing it. Humor like this can help a city stay honest about what it is. In some ways, The InnerLoop Blog is also Rochester's reality check.
Finalists: Day Trips Around Rochester | @IndustryStandard69 Rochester Red Wings
CITY 59 roccitynews.com
Best Toy Store
Millennium Games
A go-to for gamers of all ages
3047 W. Henrietta Road 585-427-2190
millenniumgames.com
Josh von Rathonyi sat next to his 6-year-old nephew Braxton, offering him encouragement and coaching, as the boy faced off against an opponent three times his age in an intense game of Pokemon cards.
"You just got Marnied," von Rathonyi told the boy. "So, what should your next move be?"
As Braxton contemplated his move, his opponent, 20-year-old Dom Englebert, of Victor, sat across from him patiently, and offered this oblivious onlooker tips on using Flaaffy cards and "dynamic spark attacks" and "knockouts."
"I come here every week, as much as I can," Englebert said.
Here was the backroom of Millennium Games in Henrietta, where their match was one of dozens of card games playing out on a cold fall evening.
That gaming should be a fun and social affair is the philosophy of the shop, a cornerstone of hobby gaming in the region for 35 years. To that end, the store dedicates more than 2,000 square feet to play space and holds free tournaments almost nightly.
The evening was set aside for Pokemon, Digimon, and Magic: The Gathering
contests, and drew players as young as Braxton to middleaged men and women looking to test their gaming skills in a safe and clean environment.
"I came here when I was his age," von Rathonyi, 33, who lives in Greece, said of his nephew. "He's the only one here who's under 10 and everyone is patient with him. People here understand that he is the younger generation of gaming."
Millennium Games is not your everyday toy store that carries dollhouses and train sets and plastic pistols. It specializes in board games and fantasy games, and has thousands of titles in stock.
The shop claims to be one the largest independent brickand-mortar gaming retailers in the country, and its 7,000-square-foot showroom at the front of the store lives up to what one might expect from such a place.
There are rows upon rows of shelves lined with board games, card games, roleplaying games, miniature figurines, trivia games, classic party games, and disc golf discs — from the tried-andtrue to the brand new.
(This oblivious onlooker walked out with a "Ted Lasso" party game because "I believe in believe.")
The selection, friendly and knowledgeable staff, and laid back atmosphere make Millennium Games a go-to for gamers across Greater Rochester.
"It's not a big box store," von Rathonyi said. "It is a small store that cares about the people, and that's important."
DAVID ANDREATTA
Finalists: Archimage Bartertown Collectibles Hobby House Toys
BEST SPA The Spa at the Del Monte
43 North Main St., Pittsford 585-419-3000  delmontespa.com
This upscale spa located within the DelMonte Lodge offers a full menu of treatments from massages and manicures to body scrubs, as well as haircuts and color, of course. Everything about the place screams luxury, from the warm but elegant decor to the various services offered to women and men. Make a trip there part of a weekend getaway with a stay at the attached Del Monte Lodge Renaissance Rochester hotel. The Erie Grill there is a sleek waterside American eatery with nightly drink deals and Sunday brunch. Finalists: Ape & Canary J Kohl Beauty | Relax & Wax
BEST TATTOO PARLOR Love Hate Tattoo
47 State St. | 585-262-6440 lovehatetattoo.com
Love Hate Tattoo has been a fixture of the local body art industry for more that 20 years. The shop's owner, Joseph "Jet" DiProjetto, and his crew of tattoo artists specialize in the traditional Americana style — bold borders; a vivid but limited color palette of blues, reds, and yellows; and familiar old-school imagery like eagles, tigers, skulls, daggers, and female portraiture. If you're interested in a more modern tattoo with a focus on sci fi or pop culture such as Star Wars or comic book heroes, Love Hate has you covered, too. For a balanced combination of edgy and old school, this downtown shop is the place to go for some fresh ink.
Finalists: Pyramid Arts Tattoo Savior Tattoo White Tiger Tattoo
60 CITY JANUARY 2023
best of
shopping & services
FILE PHOTO
best of
Tattoo too . . .
shopping & services
Pyramid Arts Tattoo
104 Platt St. | 585-473-2787 pyramidartstattoo.com
Pyramid Arts Tattoo lacks the name recognition of other local tattoo parlors, but artistic talent and professionalism are abundant there. Pyramid owner Ben Wight and his team boast skills in a wide variety of styles from traditional and neo-traditional to black-and-gray, Japanese style, and aesthetic nature tattoos. If you're looking to develop a rapport with a store of inkslingers you can come to again and again for your tattoos, Pyramid is the place. The two-story shop is a stone's throw from the Pont du Rennes overlooking High Falls. DANIEL J. KUSHNER
BEST VINTAGE CLOTHING STORE Little Shop of Hoarders
447 Monroe Ave. | 585-730-5374 shophoarders.com
Some thrift shoppers enjoy the thrill of the hunt: sifting through racks of nameless crap for that perfect vintage Wilson's Leather jacket or discoera button-up. For those who just want to cut to the chase, Little Shop of Hoarders is the place for you. This well-curated shop is packed with vintage finds, from blazers to shorts, shoes, and lingerie. Most items here are in excellent condition and offered at a reasonable price.
Finalists: The Op Shop | Panache Vintage and Finer Consignment Record Archive
BEST WEDDING VENUE
Pomona at Blue Barn
918 Manitou Road, Hilton | 585-490-1772 pomonatbluebarn.com
Jill and Jeremy Wolf are the owners, dreamers, and midnight oil-burners behind this exclusive wedding and private events venue on the bucolic grounds of West Wind Fruit Farm in Hilton. They wanted to get married in a barn, but couldn't find one that checked all their boxes, so they built one. Gorgeous, light, and airy space? Check. Loft for the bridal party? Check. Floor-to-ceiling fireplace with a mantle? Check. Vaulted ceilings? Covered terrace with an orchard view? Climate controlled? Check, check, and check. Pomona at Blue Barn accommodates up to 225 guests and requires a minimum of 75. As for the barn, it's an angelic white, not blue. But it is next door to the farm's Blue Barn Cidery, which features homegrown ciders made from apples grown on the premises.
Finalists: Arbor at the Port Genesee Country Village & Museum | The Highline
BEST YOGA STUDIO
Breathe Yoga & Juice Bar
19 S. Main St., Pittsford | 585-248-9070 breatheyoga.com
Now in its 21st year, Breathe Yoga offers guided yoga and meditation classes for beginners through advanced practitioners, both in person and online. Some free, on-demand audio options are accessible through the website. Breathe also specializes in nutrition, with an on-site juice bar that offers cold-pressed juices, milks, and teas, as well as a kitchen and bakery with full meals and snacks to keep you energized through sun salutations and downward dogs. There's also a boutique that hawks mats, clothing, books, and all kinds of chic wellness gear.
Finalists: Open Sky Yoga Center | Tru Yoga | Yoga DrishTi
CITY 61 roccitynews.com
best of
BEST BOWLING
Radio Social
20 Carlson Road | 585-244-1484 radio-social.com
If you like your bowling alley dank, dimly lit, and tinged with the scent of stale Coors and that fungicide they spray in the shoes, Radio Social may not be the place for you. This pristine playground-for-adults is fit with 34 lanes of bowling alongside astro-turfed space for corn hole and giant Jenga. The play areas are complemented by two bars, serving up high-end cocktails and a healthy mix of craft beers, curated by Good Luck owner Chuck Cerankosky, plus a food menu consisting of Chef Josh Prahler's lightly Middle Eastern spin on bar classics.
Finalists: Bowl-A-Roll | L&M Lanes | West Main Lanes
BEST CROSS-COUNTRY SKIING Mendon Ponds Park
95 Douglas Road, Honeoye Falls | 585-753-PARK monroecounty.gov/parks
Mendon Ponds Park is gorgeous year-round, but the 2,500-acre park is downright magical when it's covered in a fresh coat of snow. Any time there's ample snow on the ground is a great time to cross-country ski through the park's woodlands and wetlands, and around its ponds. The trails wending through the glacier-carved features of the park provide a great setting for skiers of all skill levels. The flat trails are excellent for beginners while others pass through rolling hills that require some grasp on climbing technique. There are also a few steep hills that provide a little bit of a challenge and thrill for more experienced skiers. Snowshoers beware. You're probably going to get an earful from skiers if they catch you rutting up the frequently groomed trails. Sorry, we don't make the rules.
Finalists: Cummings Nature Center | Durand-Eastman Park Harriet Hollister Spencer State Recreation Area
BEST DAY HIKE
Letchworth State Park
1 Letchworth State Park, Castile | 585-493-3600 parks.ny.gov
Letchworth State Park is packed with plenty of varying vistas, from the flat, woody areas that intersect with easy-going footpaths to hilly, sometimes near-mountainous trails. But the big attraction is the eponymous gorge, often called the "Grand Canyon of the East." Views of the glacial formation from the high points of the Gorge Trail are truly awe-inspiring and humbling. The Gorge Trail itself is a challenge even for seasoned hikers, running 14 miles out-and-back and changing more than 2,000 feet in elevation.
BEST CAMP FOR KIDS Rochester
Center
Museum and Science
657 East Ave. | 585-271-4320 rmsc.org
Do your curious youngsters love building robots? Conducting experiments and tinkering with science problems? Engineering forts? Learning wilderness skills? Outdoor team-building activities? Playing with animal babies!? Of course they do! Rochester Museum and Science Center hosts Curiosity Camp, led by experienced educators throughout the summer at the main museum on East Avenue and at the museum's Cumming Nature Center in Naples.
Finalists: Girls Rock Rochester | Genesee Country Village & Museum
Finalists: Chimney Bluffs State Park Mendon Ponds Park | Corbett's Glen Nature Park
Also fantastic . . .
Lucien Morin Park
1135 Empire Blvd., Penfield | 585-753-PARK monroecounty.gov/parks-wetlands
Lucien Morin Park can be easily accessed off Empire Boulevard, directly across the street from Irondequoit Bay. The park, named after a former Monroe County executive, boasts three trails, the longest of which is the Lucien Morin Trail. That 5.4-mile loop runs through relatively dense woodland overlooking marshes and Irondequoit Creek, and can be accessed from a lot next door to K2 Brothers Brewing Company. Don't let its suburban location fool you. Lucien Morin Trail can pose quite a challenge, with its quick changes in elevation. It's an up-and-downer at its core, and a hell of a workout taken at a brisk pace. Or take it slow and soak in the scenery. There's plenty of it to go around.
GINO FANELLI
CITY 63 roccitynews.com
recreation
PHOTO PROVIDED
PHOTO PROVIDED
FILE PHOTO
BEST DAY TRIP WITH THE KIDS Seabreeze
4600 Culver Road | 585-323-1900 seabreeze.com
Not so big that you can't see and ride everything in a single visit, and not so small that you feel like you're at the local fireman's carnival. Seabreeze has everything from kiddie rides to thrilling adult and family rides. And don't forget the waterpark! Pro tips: Bring a wagon, bring a well-stocked cooler, and arrive early enough to snag a table in one of the picnic areas to use as home base.
Finalists:
Don't forget . . .
Olcott Beach Carousel Park
5979 E. Main St., Olcott | 716-778-7066 olcottbeachcarouselpark.org
Nestled between cherry orchards and Lake Ontario in the heart of Niagara County's fruit belt, about an hour's drive west from Rochester, this tiny amusement park is a vestige of a bygone era with bygone prices. The nonprofit park bills itself as a "vintage kiddy park" and is open from Memorial Day through Labor Day. The park features about a dozen lovingly-restored pint-sized rides and games from the 1920s through the 1950s that recall the heyday of homey seaside resorts before sprawling theme parks drove them to the brink of extinction. In the background, a 1930s Wurlitzer band organ hoots out tunes as repetitive as the surf. The attractions cater to children no taller than 52 inches, and each costs just 25 cents to ride or play. There is no entry fee. Take little ones with $20 in your pocket and you will be a richer person by the end of the day.
DAVID ANDREATTA
BEST DOG PARK
Ellison Park
395 Rich's Dugway | 585-753-PARK monroecounty.gov/parks
Ellison Park had long been known as a favorite destination among local dog parents before the county put one of its first public dog parks there. But once the off-leash area for dogs opened it became immensely popular. It's easy to see why. The dog park features a fenced, gravel covered play area for larger dogs and a separate pen for small breeds, as well as a grassy play area with a pond for pups to splash around and swim. Like their humans, dogs need exercise, mental stimulation, and to socialize, all of which a romp at this dog park provides.
Finalists: Better Together Dog Park | Cobbs Hill | Spring Lake Park
BEST FAMILY-FRIENDLY ATTRACTION
The
Strong
National Museum of Play
One Manhattan Square | 585-263-2700 museumofplay.org
No surprise here. Consistently ranked atop the list of Rochester's tourist attractions, The Strong, as the museum wants to be known, is a wonderland for kids and kidsat-heart. There is no shortage of adventures to be had for young and old alike at the museum's permanent exhibits, whether you and your little one are grocery shopping at the Wegmans market, strolling down Sesame Street, fighting crime with superheroes, or leaping into the pages of the world's biggest pop-up book. The best part of this museum for kids is that it doesn't feel like a museum because they can touch pretty much everything in the exhibits that appeal most to them. Moms and dads of youngsters for generations have taken advantage of the museum's annual membership rates, with the basic package costing $154 for two adults and any four children. That deal pays for itself after two visits for a family of four.
Finalists: Genesee Country Village & Museum Seabreeze | Seneca Park Zoo
BEST FISHING HOLE Irondequoit Bay
Irondequoit, Penfield, and Webster  Irondequoit Bay's greatest feature as a fishing destination is its accessibility. It is easy to get to from a variety of areas around Irondequoit, Penfield, and Webster, and the access points are often close to some of the best bars and restaurants in those towns. The waters are home to varying aqueous environments where you can nab everything from channel catfish to walleye, perch, and bass. The well-trafficked bay is also a hotspot for ice fishing in the colder months, if you're into that sort of thing.
Finalists: Genesee River Lower Falls | Powder Mills Park
Turning Point Park
Plenty of fish in the . . .
Braddock
Town of Greece
Bay
Braddock Bay in Greece offers much of the same fishing conditions and species as Irondequoit Bay, but with more seclusion. My money would also be on it being one of the most beautiful pieces of scenery immediately surrounding Rochester. Sprawling marshland is bisected by roadways more reminiscent of what you'd expect in a bayou than upstate New York. Head out first thing in the morning on a crisp, early spring day and you'll be hard-pressed to find better perch fishing in the area, even when casting from the side of the road. Hook a few and ask me for my chowder recipe.
GINO FANELLI
64 CITY JANUARY 2023
Genesee Country Village & Museum
Hamlin Beach State Park | Letchworth State Park
recreation best of
PHOTO PROVIDED
FILE PHOTO
FILE PHOTO
BEST FOOT RACE
Lilac Run
rochesterevents.com/lilac-festival
This 5k and 10k run kicks off the warm-weather running season. Part of the annual Lilac Festival, the run starts at Highland Park, winds through Brighton and ends back at the festival grounds where pancakes, mimosas, and live music are waiting. Prefer a more laid back run? Check out the Donut Dash 1-mile fun run for all ages. (And yes, there is a donut pit stop.)
Finalists: Rochester Marathon | Run Like Hell | Runnin' of the Green
BEST LOCAL SPORTS TEAM
BEST GUIDED TOUR
Mount Hope Cemetery
791 Mount Hope Ave. | 585-428-7999 fomh.org
There are guided tours galore at Rochester's best known final resting place. Between May and October, the Friends of Mount Hope Cemetery offer twilight tours on Thursdays, theme tours every Saturday, and foundational tours on Sunday afternoons. The Halloween ghost walks, which are put on by third parties, have been particularly popular. At Mount Hope, the dead have a lot of tales to tell. Hearing them is best done with the aid of people who know the history the cemetery holds.
Finalists: DeTours at the MAG | Genesee Brewery tour Susan B. Anthony Museum & House
Rochester Red
Wings
1 Morrie Silver Way 585-454-1001 milb.com/rochester
The oldest continuouslyrun minor-league team in professional sports, the Red Wings have been a major source of hometown pride since 1899 and are the Triple-A affiliate of Major League Baseball's Washington Nationals. Longtime General Manager Dan Mason is a master at ginning up crowd-pleasing promotional gimmicks that keep audiences coming back — from his "50-Degree Opening Day Guarantees" to "Milo the Bat Dog" paw-print autographed posters — and the antics of the anthropomorphic Spikes and Mittsy mascots keep fans entertained. The team's Twitter account, @RocRedWings, is among the best anywhere for its mix of humor and snark.
Finalists: Roc City Roller Derby Rochester Americans | Rochester New York FC
BEST OUTDOOR ICE SKATING
Dr. Martin Luther King Jr.
Memorial Park
353 Court St. | 585-428-6755 cityofrochester.gov/skating
There were once several outdoor rinks in the area, but of those that remain, the kidney-shaped ice surface at Martin Luther King Jr. Park is a gem. Located in a city square (the park was formerly called Manhattan Square Park) that is packed with concerts and other festivities during the summer, the rink offers a chance to lace up the blades and skate among a unique urban backdrop of twinkling lights and a burgeoning "Neighborhood of Play" from December through March. Skate rentals, an expanded warming hut with heated floors and a fireplace, and a new sound and lighting system complement this quintessential and memorable Rochester winter experience. In the summer, the rink doubles as a reflecting pool with three fountains that provide respite from the heat.
Finalists: Highland Park | Greece Town Hall Ice Rink
CITY 65 roccitynews.com
recreation best of
PHOTO PROVIDED
PHOTO PROVIDED
best of
BEST OUTDOOR SWIMMING
Hamlin Beach State Park
1 Hamlin Beach Blvd. West, Hamlin | 585-964-2462  parks.ny.gov/parks/hamlinbeach  Day trips to Hamlin Beach have been a summertime staple for generations of local families. The park's sprawling, sandy beach provides plenty of space to soak up the sun and build sandcastles, and its multiple swimming areas ensure that even when the beach is busy, it doesn't feel crowded. Make sure to bring $9 for the "vehicle entrance fee."
Finalists: Durand Eastman Beach | Genesee Valley Park Ontario Beach Park
BEST PLACE TO PEOPLE WATCH Rochester Public Market
280 North Union St. | 585-428-6907 cityofrochester.gov/publicmarket
It's consistently voted one of the best public markets in the country, and it draws people from all walks of life. Grab a coffee and a spot at the picnic tables and watch the hoi polloi and the Rochester aristocracy bump elbows over the region's prettiest root vegetables.
Finalists: Lux Lounge | Park Avenue | Wegmans
BEST PLACE TO PLAY POOL
Dicky's Corner Pub
791 Meigs St. | 585-355-4939 dickyscornerpub.com
You won't run into the likes of Minnesota Fats or Fast Eddie running the table at this honest-to-goodness neighborhood bar in the heart of the South Wedge. What makes playing pool at Dicky's Corner Pub is the all-around laidback vibe around the well-worn table, which is tucked in the back of the bar's dining room and has just enough quirks in the felt and foundation to throw off even the most seasoned shark. No one at this joint, which claims to be the oldest bar in Rochester, takes themselves too seriously, even when a few dollars are on the line. But beware of the regulars who know every square inch of felt and use it to their advantage.
Finalists: Joey's | Lux Lounge | Radio Social
BEST PLACE TO TAKE A FIRST DATE Swillburger
820 South Clinton Ave. | 585-442-2442 theplayhouseroc.com
First dates are awkward. What's worse is sitting in a quiet place, with no distractions, and both parties desperately searching for something — anything — to fill the painful silence that sometimes intrudes on a first date. That's not a concern at Swillburger. This bar-arcade-burger joint is filled to the brim with classic arcade games, pinball machines, an excellent cocktail and beer menu, and great handheld food. There's plenty to do that won't leave you stuck listening to stories about your date's cat. If your date doesn't like this place, then find a new date, because there is no helping that person.
Finalists: Ellison Park | The Little Theatre | Radio Social
BEST PUBLIC GOLF COURSE Durand Eastman Park
1200 Kings Highway N. | 585-266-0110  monroecountyparksgolf.com/durand-eastman
Municipal golf courses tend to be regarded as being less prestigious than the links at private clubs. That's not the case with the Robert Trent Jones Sr.-designed Durand Eastman Park. Its undulating landscapes, tree-lined fairways, and creeks and ponds are no walk in the park (although playing the course literally is). Yet it offers an affordable challenge for even the most experienced golfer. Go enjoy a "good walk spoiled" and be sure to yell "fore" at the deer.
Finalists: Genesee Valley Park | Shadow Lake | Twin Hills
66 CITY JANUARY 2023 recreation
PHOTO PROVIDED
PHOTO PROVIDED
PHOTO PROVIDED
PHOTO PROVIDED
Best Biking Trail Erie Canalway Trail
The trail that keeps on going
eriecanalway.org
The Erie Canal, which was completed in 1825 and greatly accelerated westward expansion and the economic ascendancy of New York, has been called "the nation's first superhighway." It is only apropos that CITY readers recognize its namesake recreation trail as the best place to hop on a bike and move.
At more than 360 miles long, the Erie Canalway Trail connects Greater Rochester to Buffalo and Albany. Millions of cyclists spend time on the
trail, which is almost entirely off-road and paved, according to the advocacy group Parks & Trails New York.
Susan Levin is one of those riders. Hailing from Chicago, Levin lives and works in the Rochester area, and she's a year-round bike commuter. She said the trail is ideal for recreation.
"It's not a direct route, but for recreational riding, it's pretty outstanding," she said.
She has some tips for beginners.
She recommends visiting REI, the outdoor gear store in CityGate where she works, and talking to people there about bikes. The trail is
accessible from the parking lot and leads riders to nearby villages, where there are coffee shops, restaurants, and bathrooms.
"You don't have to go very far, eight miles to Pittsford, eight miles back, that's a big ride for a beginner," Levin said.
If 16 miles sounds like a few too many, you can also start in Pittsford, which has a CITY readers' favorite shop in Towpath Bike located right along the canal trail. Or, Levin says you can easily park in Genesee Valley Park and just ride as far as you'd like.
"Even if you only go out a mile and come back, you'll know what you need to do
to go 2 miles the next time, 4 miles the next, and more after that," Levin said. "Just go slow and don't overthink it."
The Erie Canalway Trail won the top spot in our poll, but Levin said it's hard for her to pick favorites when we have other trails, like the Genesee Valley Riverway.
"They're all amazing," she said. "I like the canal trail because it's paved, and it's secluded in some very, very nice nature."
DAVID STREEVER
Finalists:
Genesee Valley Greenway Lehigh Valley Trail Tryon Park
CITY 67 roccitynews.com recreation best of
FILE PHOTOS
best of
BEST PUBLIC PARK Highland Park
450 Highland Ave. 585-753-PARK
When readers selected Highland Park to win this category, they handed the victory to Rochester's first public park. It also happens to be the most intact Frederick Law Olmsteddesigned park in Rochester's system. Highland is most readily associated with its lilacs and the yearly Lilac Festival, but the original section of the 150-acre park functions as an arboretum. Winding paths follow rolling lawns that pass through flowering trees, bushes, and gardens. The park's stand of magnolias is brilliant when in bloom.
Finalists: Cobbs Hill Park | Ellison Park | Mendon Ponds Park
BEST WEEKEND GETAWAY
Finger Lakes Region
fingerlakes.org
What better way to get out of the "big city" than to take the short jaunt to the Finger Lakes? With 11 pristine lakes nestled between breathtaking bucolic hillsides, waterfront hotels, world-class wineries and breweries at every turn, and dining options that range from fine to farm-to-table lowkey, there's plenty to love about the region. Recreational activities include year-round hiking and biking, and seasonal boating and skiing.
Finalists: Adirondacks | Ithaca | Toronto
68 CITY JANUARY 2023
recreation
FILE PHOTO
FILE PHOTO
80 Culver Road | 585-428-6770
cityofrochester.gov/cobbshill
Cobbs Hills Park — the nearly 110 acres of rolling hills, woodlands, and scenic footpaths on the southeast side of the city — takes its name from Gideon Cobb, an early settler of the area and overachieving jack of all trades.
Cobb arrived here in 1812 and promptly set about staking claim to the place by buying 300 acres in what today is mostly Brighton, including the hill in the park that now bears his name.
He enlisted in the Army that same year and is credited with securing Brighton and New York in the War of 1812. When the
fighting ended, he started an ax and scythe company, ran a cattle and hog yard, invested in a sand and brick outfit, owned a tavern, directed a school, and was a firefighter and an abolitionist who also just happened to build roads.
With a legacy like that, it is perhaps no wonder that the park that bears his name notched four "Best of Rochester" honors for its basketball courts, tennis courts, tobogganing, and stargazing.
The story of how Cobbs Hill Park swept four categories begins at the top of the hill, where a gigantic reservoir draws the city's drinking water supply by gravity from Canadice and Hemlock lakes some 30 miles to the south. The city Water Bureau estimates there is enough water in that reservoir to fill every bathtub in Rochester twice a day for two months.
By day, the reservoir is crawling with joggers and hikers and animated by a fountain. But when the sun sets and the lights of the city are twinkling far below, there is nothing but darkness between the water and the heavens, making the elevated hilltop the perfect spot to take in the night sky.
Trudging down the slope by foot is one way to get back to civilization. But in the winter, when snow blankets the ground, the hill is ideal
for tobogganing.
At the bottom of the hill, the basketball courts and tennis courts are popular.
The Tony Boler Basketball Courts draw some of the best street ballers in the city yearround, weather permitting. Casual cagers can find a place to fit in in the morning, but the afternoon and evening crowds are filled with players who don't mess around.
The six tennis courts, which were renovated with upgraded lighting in 2013, are some of the most used among the three dozen or so in the city. Getting on a court, especially early on a pleasant summer morning, often requires a wait time. The courts are the home turf of the Monroe High School tennis team, and host the city's adult tennis program.
DAVID ANDREATTA
Finalists
CITY 69 roccitynews.com
Cobbs Hill Park Best Pick-up Basketball Best Public Tennis Courts Best Stargazing Spot Best Tobogganing "Best Of" winner! 4x BEST PICK-UP BASKETBALL JCC Merriman Park Perinton Park BEST PUBLIC TENNIS COURTS Genesee Valley Park BEST STARGAZING SPOT Durand Eastman Park Mendon Ponds Park Webster Park BEST TOBOGGANING HILL Ellison Park Highland Park Mendon Ponds Park
70 CITY JANUARY 2023 Answers to this puzzle can be found on page 29 PUZZLE BY S.J. AUSTIN & J. REYNOLDS Hidden winners 123 456 789 10 111213 14151617 18 19 20 21 22 23 24 25 26 27 28 2930 31 32 33 34 35 36 3738 39 40 414243 444546 4748 49 50 51 52 5354 55 56 57 58 59 60 6162 63 64 65 6667 68 69 707172 73 74 75 767778 79 80 8182 8384 85 86 87 88 89 90 91 92 93 94 9596 9798 99 100 101 102103104105 106107108 109 110 111 112 113 114 115116 117 118 119 120 121 122 123 124 125 126
Across Down
Fossilized resin, or the color of that resin
Sculpt, in a way
Sleazeball
Painting and dance, for two
Part of Scrooge's catchphrase
High protein breakfast dish
"Dog Whisperer" Milan
Quantity descriptor that is often misspelled as one word
Card that might be replaced in a mobile phone
2001 title role for Audrey Tautou
After effects of running a marathon
Part of the eye named after the Greek goddess of the rainbow
Rembrandt van _____
**Rodgers and Hammerstein musical that debuted on Broadway in 1951
Guatemalan greeting
Pie-like, difficulty-wise
Ariana Grande and Kim Kardashian, for Pete Davidson
Premier League powerhouse
Rocker Turner
Boil with anger
What balloons do on blades of grass
"Anarchists _____!" (Ironic slogan)
Issa of "Insecure"
Act like a couch potato
Catholic service
Nonprofit ad, for short
2013 Katy Perry chart-topper
Yasiin Bey, FKA Mos _____
Sheeran and McMahon
"Here comes the weekend!"
CITY 71 roccitynews.com 1.
4.
7. 53-Down
11.
14.
18. Disfigure 19. Aries
20.
21.
22. Deceptive
23. **Take
25.
28.
29.
31.
32.
33.
34.
35.
36.
37.
39.
40.
44.
47.
49.
50.
51.
52. **Expected
55.
56.
57.
58.
59.
60.
61.
63.
64.
65. Intermediary 68. Musician
who
to musician
70. White water 73. _____
75. Word
76.
79.
80.
81.
83. In
85.
86.
88.
89.
90.
91.
92.
93.
121.
122.
9.
10.
11.
12.
26.
27.
30.
34.
35.
36.
38.
39. Exist 40.
41. American
42.
43. Constant
44.
45. Left-handed
46. Building
48. Bruins
NYT
49. Bird
52. Language
53. Monopoly
54.
59.
62.
63.
64.
65.
72.
87.
107.
109.
110.
111.
113.
114.
NCAA div. for Duke and UNC
Blood typing letters
in Barcelona
Lungful
"My Country, 'Tis of _____"
animal
Kind of round in a tournament, for short
Let the tears flow
scam
in some 11-Across
**Particularly remarkable, unusual, or impressive
Civil rights leader Medgar
Exam for an aspiring atty.
Tells untruths
Gives the go-ahead
Workout tallies
Word with pressure or review
Disposes of, to a Brit
Sash for a kimono
Show feeling on stage
Length x width
Popeye's powerup
"I know you're in there!"
"Cornflake Girl" singer Amos
___ de cologne
Fancy event at The Met
Soup alternative
outcome for 6-coin flips
"I smell _____"
Ship bodies
What's-_____-name
What a blacksmith does… and where they do it
Apt rhyme for bore
Lou Gehrig's disease, for short
NYC Delta hub
Order from a regular, with "the"
SNL legend Gilda
Gwen
is married
Blake
a minute
with room or center
Small bit of dishonesty
Still kicking
Flat rock used as a writing surface
Fig. on a transcript
that location
Bank that sponsors a New York baseball stadium and a bike rental service
**"Where ___ Grows"
Specks
Black, poetically
Tailor's stitch
Scrabble or Clue
Powerful in flavor or effect
Got a one-base hit 95. Iditarod vehicle 97. Reads a UPC, say 99. "Losing My Religion" rockers 100. Retreat getaways 101. Polaris, e.g. 102. _____ of Eden 106. Severe spasm of pain 109. Emily Dickinson, for one 110. Shortly 111. Verboten 112. **Portion of the Rock and Roll Hall of Fame Collection that includes LPs 115. **2019 animated movie with a 2.9 rating on IMDb 117. Attends 118. Suffix for natural and fatal 119. Emmy recipient Falco 120. Dictator Amin
123.
124.
125.
126.
1.
2.
3.
4.
5.
6.
7.
8.
13.
14.
15.
16.
17.
24.
Asian desert
Boxers' counterparts
Work: Lat.
Dessert named after a natural disaster
"Smooth Operator" crooner
League home run champ Judge
Irish county where the Cliffs of Moher are found
critic
Federal agcy. responsible for enforcing many COVID vaccine mandates
Beatle
additions
great with 120 more
Crossword appearances than career goals
found on the Great Seal of the United States
spoken in Bangkok
purchase
The "E" of Q.E.D.
Official permission… or an official penalty
Oxygen or hydrogen
**Best Winery, as voted by City readers in 2022 - see if you can find the other winners hidden in this puzzle 66. Witch trial town 67. Minnesota congresswoman Ilhan 69. San _____ (city nickname rejected by its residents) 70. Speeds 71. Legal claim that literally means "elsewhere"
Climber's spike 74. Overhangs 76. Entertain lavishly 77. Persia 78. Top… or tops 80. Storage structure 81. Precious stone 82. Magician's cry 84. Where grilling might take place 86. Those folks
Friendship bracelets or Silly Bandz 92. 72, for many golf courses 94. Unwelcome look 95. Blueprint detail 96. Layer of bubbles 98. Frank 100. Ish 101. Insincere smile 103. Over 104. Planted 105. BBQ implements 106. Minor haircut
"For _____ a jolly good fellow" 108. Some TVs
Decline to call trump
New Balance competitor
Type of smokeless tobacco
Marital promise 116. Poetic tribute