18 minute read
Diplomacia Económica y Cultural: el maridaje ideal entre las naciones
Asunción de Noche
Entrevista al Ministro Pablo Esteban Bedoya González
Economic and Cultural Diplomacy: the ideal marriage between nations
Interview with Minister Pablo Esteban Bedoya González
La Revista Ecos Diplomáticos agradece las facilidades otorgadas por la Embajada de la República de Paraguay en México para la realización de esta entrevista, la cual tiene la finalidad de dar a conocer las amplias riquezas culturales que ofrece la República de Paraguay a mexicanos y extranjeros. Esta entrevista se realizó al Encargado de Negocios de la República de Paraguay en México, el Ministro Pablo Esteban Bedoya González.
1. Antes de que lo nombraran Encargado de Negocios del Paraguay en nuestro país, ¿Cuál era la percepción que tenía de México? ¿Esta percepción ha cambiado?
México ha tenido desde hace muchas décadas una presencia cultural muy importante en toda América Latina, eso lo viví en mi propia casa, donde desde mi niñez Ecos Diplomáticos Magazine is grateful for the facilities granted by the Embassy of the Republic of Paraguay in Mexico for the conduction of this interview, which has the purpose of making known the vast cultural richness that the Republic of Paraguay offers to Mexicans and foreigners. This interview was conduc-

disfrutamos la música, el cine y la literatura mexicanas. Con el tiempo descubrí la gastronomía y su riqueza arquitectónica, especialmente estudiando las obras de Barragán en mis tiempos de universidad. Mi interés en México va aumentando día a día.
2. ¿Cuál era su ocupación antes de ser nombrado Encargado de Negocios?
Mi cargo anterior fue el de Director de Relaciones Culturales y Turismo del Ministerio de Relaciones Exteriores.
3. Todos sabemos que un embajador es un representante de su país, pero ¿cuáles son las actividades que éste desempeña?
Es una labor muy amplia, primeramente, nos ocupamos de mantener y ampliar las excelentes relaciones con los funcionarios del gobierno central y los de toda la República, dando continuidad a las tradicionalmente fructíferas relaciones bilaterales. Por otro lado, sustentamos nuestro trabajo en la diplomacia económica, que siempre está articulada con la diplomacia cultural; formando un "maridaje" ideal para dar a conocer nuestras peculiaridades como nación; somos un país "distinto", y eso nos vuelve atractivos. Asimismo, desarrollamos una labor consular, que resulta vital para el contacto con los compatriotas residentes en México, y para facilitar el comercio y el turismo entre los dos países.
Sobre economía:
4. En términos generales, descríbanos el o los acuerdos comerciales que existen entre Paraguay y México.
Por el momento, el balance del comercio bilateral es ted with the Chargé d'Affaires of the Republic of Paraguay in Mexico, Minister Pablo Esteban Bedoya González.
1. Before you were appointed Chargé d'Affaires of Paraguay in our country, what was your perception of Mexico? Has this perception changed?
Mexico has had for many decades a very important cultural presence throughout Latin America, I experienced that in my own home, where since my childhood we enjoyed Mexican music, cinema, and literature. Over time I discovered gastronomy and its architectural richness, especially studying the works of Barragán in my university days. My interest in Mexico is growing day by day.
2. What was your occupation before being appointed Chargé d'Affaires?
My previous position was Director of Cultural Relations and Tourism at the Ministry of Foreign Affairs.
3. We all know that an ambassador is a representative of his or her country, but what are the activities he or she carries out?
It is a very broad task, first of all, we are in charge of maintaining and expanding the excellent relations with the central government officials and those of the whole Republic, giving continuity
muy favorable a México a fin de equilibrar la balanza comercial, está previsto reiniciar las negociaciones tendientes a actualizar el AAP38 celebrado de manera bilateral, y el ACE55, suscrito entre México y el MERCOSUR; lo cual fue respondido positivamente por la parte mexicana. Entendemos que son dos economías con grandes posibilidades de complementarse.
5. ¿Qué empresas mexicanas se encuentran instaladas en Paraguay?
La panificadora "Bimbo", una de las más importantes del continente y una de las mayores inversoras mexicanas en Paraguay, llegó al país en 2008, cuando adquirió una planta local para comenzar a producir sus especialidades.1 "Claro", perteneciente a la gigante América Móvil de México, se encuentra instalada en Paraguay desde el año 2008, donde ha realizado millonarias inversiones para penetrar de manera efectiva en el mercado paraguayo. "American Assist", que ofrece servicios integrales de asistencia y realiza coberturas de diversa índole, es otra empresa importante mexicana que se encuentra en nuestro país. Por otro lado, parte del monto de inversiones mexicanas en Paraguay corresponde a la actividad de unos cuatro mil menonitas que se dedican a la actividad agropecuaria en colonias habilitadas en la región norte del territorio paraguayo. Los menonitas se dedican a la producción de lácteos y a la cría de ganado, en forma preferente, pero resulta complejo cuantificar sus capitales, aunque también son aportes importantes a la economía paraguaya.2
Barcaza remolcadora de contenedores to the traditionally fruitful bilateral relations. On the other hand, we support our work in economic diplomacy, which is always articulated with cultural diplomacy; forming an ideal "marriage" to make known our peculiarities as a nation; we are a "different" country, and that makes us attractive. Likewise, we develop consular work, which is vital for contact with our compatriots living in Mexico, and to facilitate trade and tourism between the two countries.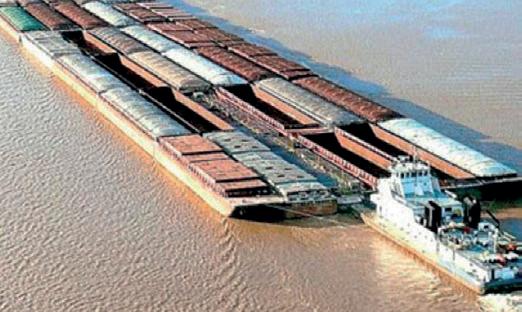 About economy:
4. In general terms, please describe the trade agreement(s) that exist between Paraguay and Mexico.
At the moment, the balance of bilateral trade is very favorable to Mexico to balance the trade balance, it is planned to restart negotiations to update the AAP38 concluded bilaterally, and the ACE55, signed between Mexico and MERCOSUR; which was responded positively by the Mexican side. We understand that these are two economies with great possibilities of complementing each other.
5. Which Mexican companies are installed in Paraguay?
The bakery company "Bimbo", one of the most important in the continent and one of the largest Mexican investors in Paraguay, arrived in the country in 2008, when it acquired a local plant to start producing its specialties.1 "Claro, which belongs to Mexico's giant América Móvil, has been established in Paraguay since 2008, where it has invested millions of dollars to effectively penetrate the Paraguayan market. "American Assist, which offers comprehensive assistance services and provides coverage of various kinds, is another important Mexican company in our country.
Paraguay ganadería
6. ¿Cuáles son las empresas de Paraguay que han venido a hacer comercio en México?
Aquí en México se encuentran varios connacionales nuestros que han constituido negocios y empresas, aunque no precisamente se ha dado esta situación a través de la canalización de inversiones provenientes de nuestro país, sino más bien la situación es de empresas nacidas en México que tienen como propietarios a ciudadanos paraguayos.
7. ¿Cuál es el sector más importante en la economía de Paraguay?
Sin duda, el sector primario, puesto que el Paraguay cuenta con una ganadería y una agricultura de primer nivel, reconocida a nivel mundial. Los números hablan por sí solos, alrededor del 75% de la exportación del país pertenece al sector primario. Somos el quinto exportador mundial de soja y el décimo exportador de carne vacuna. Los demás sectores productivos, de igual manera, se encuentran desarrollándose de manera sostenida.
8. ¿Qué productos tienen mayor demanda de exportación e importación en su país?
Los principales productos exportados son la energía eléctrica, la soja, carne bovina congelada deshuesada, maíz en grano, trigo, aceite de soja en bruto. A diferencia de las exportaciones, las importaciones se caracterizaron por un importante componente de manufacturas (76% en promedio en el periodo 2012-2017, con On the other hand, part of the number of Mexican investments in Paraguay corresponds to the activity of some four thousand Mennonites who are engaged in agricultural activities in colonies set up in the northern region of Paraguayan territory. The Mennonites are mainly engaged in dairy production and cattle raising, but it is difficult to quantify their capital, although they are also important contributors to the Paraguayan economy.2
6. Which Paraguayan companies have come to do business in Mexico?
Here in Mexico, there are several of our nationals who have set up businesses and companies, although this situation has not exactly occurred through the channeling of investments from our country, but rather the situation is of companies born in Mexico that have Paraguayan citizens as owners.
7. What is the most important sector in Paraguay's economy?
Undoubtedly, the primary sector, since Paraguay has first-class livestock and agriculture, is recognized worldwide. The numbers speak for themselves, around 75% of the country's exports belong to the primary sector. We are the world's fifth-largest exporter of soybeans and the tenthlargest exporter of beef. The other productive sectors, likewise, are developing steadily.
8. What products are most in-demand for export and import in your country?
The main exported products are electric power, soybeans, boneless frozen beef, corn grain, wheat, crude soybean oil. Unlike exports, imports were characterized by an important component of manufactures (76% on average in the period 2012-2017, with a medium technological content, the main products being diesel oil, cell
un contenido tecnológico medio, siendo los principales productos gasoil, teléfonos celulares, aceites livianos de petróleo, videoconsolas y máquinas de videojuegos, computadoras portátiles, abonos minerales o químicos, vehículos automóviles para el transporte de mercancías, cámaras de televisión, cámaras digitales y videocámaras. 3
Sobre turismo:
9. ¿Un mexicano o extranjero necesita visa para entrar a Paraguay?
No necesita, puesto que Paraguay y México tienen en vigencia un convenio de exención de visas a nacionales de ambos países, firmado en 2007, por el que un nacional de México puede ingresar al Paraguay por un periodo de hasta 180 días, y viceversa.
10. ¿Qué lugares nos invitaría a conocer?
Paraguay cuenta con una amplia variedad de atracciones turísticas. En la capital paraguaya se puede visitar el
phones, light petroleum oils, video game consoles, and video game machines, laptops, mineral or chemical fertilizers, motor vehicles for the transport of goods, television cameras, digital cameras, and camcorders.
About tourism:
9. Does a Mexican or foreigner need a visa to enter Paraguay?
No, they do not, since Paraguay and Mexico have a visa exemption agreement in force for nationals of both countries, signed in 2007, by which a Mexican national may enter Paraguay for a period of up to 180 days, and vice versa.
10. What places would you invite us to visit?
Paraguay has a wide variety of tourist attractions. In the Paraguayan capital, you can visit the Historic Center with mansions and palaces dating from the nineteenth century. It has different cultural proposals such as museums and theater plays. There are also shopping and business centers.
Iglesia San Buenaventura de Yaguarón
Mbatovi
Centro Histórico con casonas y palacios que datan del siglo XIX. Cuenta con diferentes propuestas culturales como museos y obras de teatro. Asimismo, se encuentran centros de compras y de negocios. En la frontera con Brasil se puede visitar la Hidroeléctrica de Itaipu, que significa piedra que suena, en guaraní. Esta es la Hidroeléctrica más grande del mundo en cuanto a generación de potencia eléctrica, y cuenta con recorridos turísticos dentro de la planta, así como una reserva natural. Itaipu se encuentra entre las ciudades de Foz de Yguazú de Brasil y Ciudad del este de Paraguay, por lo que se puede a su vez realizar un recorrido a ambas ciudades. Asimismo, es muy recomendable la visita a pueblos cercanos a la capital, que aún conservan la atmósfera de siglo anteriores, combinada con excelente gastronomía y artesanía. Para quienes disfrutan del ecoturismo, deben navegar el río Paraguay hasta adentrarse en el Pantanal, un verdadero santuario de flora y fauna; programa que puede incluir la visita a las colonias menonitas del Chaco.
Sobre la educación:
11. ¿Existen convenios educativos entre Paraguay y México? ¿Cuáles son?
Así es, el principal es el convenio de reconocimiento y homologación de certificados de estudios y grados académicos, firmado en el año 2006. Esto posibilitó la permanente llegada a México de estudiantes de posgrado en distintas disciplinas. Por otra parte, se encuentra vigente un Acuerdo de Colaboración en materia académica – diplomática entre el Ministerio de Relaciones Exteriores de la República del Paraguay y la Secretaría de Relaciones Exteriores de los Estados Unidos Mexicanos.
Sobre la cultura:
12. En México existe poco conocimiento acerca de la cultura de Paraguay, ¿cómo pudiera aportar más conocimientos al respecto?
Tenemos la base de la cultura aborigen unida a la cultura española. Esto resultó en nuestra condición de país bilingüe -dos lenguas nacionales y oficiales-, por On the border with Brazil, you can visit the Itaipu Hydroelectric Plant, which means "sounding stone" in Guarani. This is the largest hydroelectric plant in the world in terms of electric power generation and has tourist tours inside the plant, as well as a nature reserve. Itaipu is located between the cities of Foz de Yguazú in Brazil and Ciudad del Este in Paraguay, so it is possible to visit both cities. It is also highly recommended to visit the towns near the capital, which still preserve the atmosphere of previous centuries, combined with excellent gastronomy and handicrafts. For those who enjoy ecotourism, they should navigate the Paraguay River until they enter the Pantanal, a true sanctuary of flora and fauna; a program that can include a visit to the Mennonite colonies of the Chaco.
About education:
11. Are there any educational agreements between Paraguay and Mexico, what are they?
The main one is the agreement for the recognition and homologation of study certificates and academic degrees, signed in 2006. This made possible the permanent arrival to Mexico of postgraduate students in different disciplines. On the other hand, a Collaboration Agreement on academic-diplomatic matters is in force between the Ministry of Foreign Affairs of the Republic of Paraguay and the Ministry of Foreign Affairs of the United Mexican States.
About culture:
12. In Mexico there is little knowledge about the culture of Paraguay, how could you contribute more knowledge in this regard?
We have the basis of the aboriginal culture united with the Spanish culture. This resulted in our status as a bilingual country -two national and official languages-, also, with Mexico we share Amerindian ingredients in our gastronomies, as
lo demás, con México compartimos ingredientes amerindios en las gastronomías, así como nuestro gusto por la música y otras artes. En cuanto al Paraguay, se distingue por su población homogénea de gran sentimiento patriótico, el cual le permitió sobreponerse a catástrofes humanitarias, sin perder un ápice de su identidad como nación.
13. ¿De qué manera se puede mejorar el intercambio cultural entre México y Paraguay?
Estamos trabajando muy activamente para dar a conocer las principales características de la cultura paraguaya, y para eso acordamos con autoridades de Jalisco, Puebla y Guanajuato, la realización de una semana cultural del Paraguay en los meses de mayo y junio del 2021, que implicará la participación de músicos, artistas plásticos, escritores, fotógrafos, bailarines y chefs especialistas en gastronomía paraguaya. Por su parte, la Embajada de México en el Paraguay está llevando adelante un programa de similares características, destacándose, la posibilidad de abrir una librería del Fondo de Cultura Económica en el Paraguay.
14. ¿Podría describirnos la gastronomía típica de Paraguay?
La gastronomía de Paraguay es el conjunto de platos y técnicas culinarias con marcada influencia del pueblo guaraní y del español; base a la que se debe sumar los well as our taste for music and other arts. As for Paraguay, it stands out for its homogeneous population with a strong patriotic sentiment, which has enabled it to overcome humanitarian catastrophes without losing any of its identity as a nation.
13. How can cultural exchange between Mexico and Paraguay be improved?
We are working very actively to make known the main characteristics of Paraguayan culture, and for that, we agreed with authorities of Jalisco, Puebla, and Guanajuato, the realization of a cultural week of Paraguay in May and June 2021, which will involve the participation of musicians, artists, writers, photographers, dancers and chefs specializing in Paraguayan cuisine. For its part, the Mexican Embassy in Paraguay is carrying out a program of similar characteristics, highlighting the possibility of opening a Fondo de Cultura Económica bookstore in Paraguay.
14. Could you describe the typical gastronomy of Paraguay?
The gastronomy of Paraguay is the set of dishes and culinary techniques with a marked influen-
Cerro Akati
aportes de los colectivos migratorios históricos, provenientes de Italia, Portugal, Alemania, países árabes y otros del Asia (más recientemente). Pero el origen, es el sincretismo y fusión hispano-guaraní, que encuentra su precursor en las reducciones franciscanas y las misiones jesuíticas guaraníes, siendo éstas, el epicentro de la gastronomía distintiva del Paraguay, de mestizos, criollos y guaraníes. Cabe señalar, que en el 2017 la Secretaría Nacional de Cultura decidió: Declarar como Patrimonio Cultural Inmaterial del Paraguay a la producción, elaboración artesanal y tradicional de cuatro comidas típicas paraguayas; rescatándose sus recetas, conocimientos, prácticas y saberes que se transmiten de generación en generación, documentándose los elementos materiales e inmateriales asociados a ésta.
Sobre el medio ambiente:
15. ¿Cuáles son los problemas ambientales que compartimos como países y cómo podríamos juntos resolverlos?
Hay un empeoramiento de las condiciones medioambientales, producido en gran parte por la tala de bosques y por la degradación del suelo, a causa del uso de pesticidas, así como por el vertido de sustancias contaminantes en los cursos de agua. Esto como producto de la explotación irracional de los recursos naturales, y por la falta de educación respecto a la necesidad urgente de preservar el medio ambiente.
16. ¿Pudiera existir algún intercambio tecnológico para beneficio del medio ambiente en ambos países?
ce of the Guarani people and the Spanish; base to which must be added the contributions of the historical migratory groups, coming from Italy, Portugal, Germany, Arab countries, and others from Asia (more recently). But the origin is the Hispanic-Guarani syncretism and fusion, which finds its precursor in the Franciscan reductions and the Jesuit Guarani missions, being these, the epicenter of the distinctive gastronomy of Paraguay, of mestizos, Creoles, and Guarani. It should be noted that in 2017, the National Secretariat of Culture decided to declare as Intangible Cultural Heritage of Paraguay the production, artisanal and traditional elaboration of four typical Paraguayan foods; rescuing their recipes, knowledge, practices, and knowledge that are transmitted from generation to generation, documenting the material and immaterial elements associated with it.
About the environment:
15. What are the environmental problems we share as countries and how could we together solve them?
There is a worsening of environmental conditions, produced in large part by the felling of forests and soil degradation due to the use of pesticides, as well as the dumping of pollutants into waterways. This is the result of the irrational exploitation of natural resources and the lack of education regarding the urgent need to preserve the environment.
16. Could there be any technological exchange for the benefit of the environment in both countries?
Undoubtedly, the experiences shared on this issue can be of great help to improve our living conditions. On this point, professional training and education is the first step towards the achievement of common objectives, and we can mention the offer of the Centro de Investigaciones
Sin duda, las experiencias compartidas en esta problemática pueden ser de gran ayuda para mejorar nuestras condiciones de vida. Sobre el punto, la capacitación y formación profesional es el primer paso para el logro de objetivos comunes, pudiéndose mencionar la oferta del Centro de Investigaciones Biológicas del Noroeste S.C. (CIBNOR), institución que formalizará una propuesta para el usufructo de becas para estudios de posgrado, y que seguramente serán utilizadas por investigadores paraguayos.
Sobre las tradiciones:
17. ¿Cuáles son las tradiciones más representativas de Paraguay y que también le gustaría que México conociera?
Una tradición paraguaya, conocida a nivel internacional, es el consumo de la yerba mate (Ilex Paraguariensis), esta infusión que tuvo origen en la región guaranítica (con epicentro en el área que hoy día corresponde al territorio paraguayo), se ha popularizado en el sur del continente, pero también ha ganado adeptos en todo el mundo. La yerba mate paraguaya es la de mayor calidad entre todas las producidas, pudiéndose encontrar cosechas elaboradas con la técnica ancestral de los guaraníes, así como de pequeñas comunidades campesinas, y otras de producción industrial. La buena yerba mate paraguaya es un producto Premium, que vale la pena degustar en compañía de amigos, tal como se acostumbra. Esta bebida energizante, puede consumirse fría o caliente, con el uso de una bombilla.
Agradecemos al Ministro Pablo Esteban Bedoya González por concedernos esta entrevista para la revista Ecos Diplomáticos, esperamos que nuestros lectores la disfruten ampliamente. Biológicas del Noroeste S.C. (CIBNOR), an institution that has been working in the field of environmental research for many years. (CIBNOR), an institution that will formalize a proposal for the usufruct of scholarships for postgraduate studies and that will surely be used by Paraguayan researchers. About traditions:
17. What are the most representative traditions of Paraguay that you would also like Mexico to know about?
A Paraguayan tradition, known internationally, is the consumption of yerba mate (Ilex Paraguariensis), this infusion that originated in the Guaranitic region (with epicenter in the area that today corresponds to the Paraguayan territory), has become popular in the south of the continent, but has also gained followers around the world. Paraguayan yerba mate is of the highest quality among all those produced, being able to find harvests elaborated with the ancestral technique of the Guarani, as well as from small peasant communities and others of industrial production. The good Paraguayan yerba mate is a premium product, worth tasting in the company of friends, as is customary. This energizing drink can be consumed hot or cold, with the use of a bombilla.
We thank Minister Pablo Esteban Bedoya González for granting us this interview for Ecos Diplomáticos magazine, we hope our readers enjoy it.