2 minute read
The Charles Hotel a Rocco Forte Hotel
from Resorts Magazine 88
by THE WORLD'S MOST EXCLUSIVE DESTINATIONS by Ovidio Guaita
RESORTS MAGAZINE
THE WORLD'S MOST EXCLUSIVE DESTINATIONS 88 2019
The Charles Hotel a Rocco Forte Hotel
s soon as you become part of the atmosphere of the Charles Hotel, you are immediately attracted by the wise balance between contemporary design, distinction, and charm. Tribute to Lord Charles Forte, father of Sir Rocco, The Charles, which overlooks the ancient botanical garden, presents an enviable bouquet of pluses: elegance, comfort, attentive services and modern environments suitable for business and leisure.
The visual identity was conceived by Olga Polizzi, sister of Sir Rocco, starting from Bavarian artistic elements. Precious materials and clear lines thus bring freshness and poetry to the environments modeled by the refined interior design. Light and furnishings, elegant and functional, combine well with the choice of colors in the rooms and suites.
If you are looking for precious moments to devote to relaxation and well-being, there is nothing left but to immerse yourself in the universe dedicated to the Charles Spa: indoor pool, sauna, steam bath, shower, massage rooms, and fitness area. A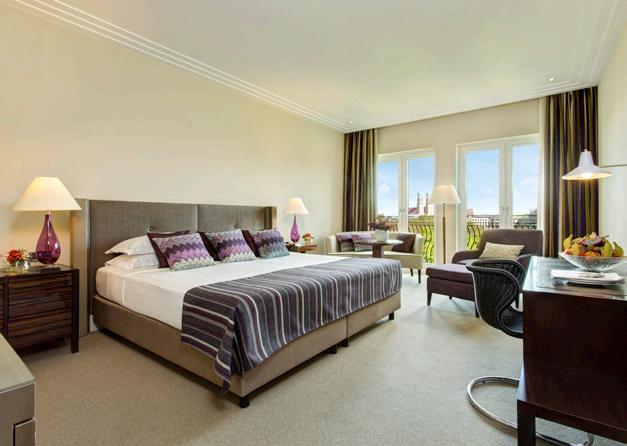 Chic and informal is the Sophia's Restaurant & Bar: a new concept of bistro and cocktail bar. In the space created to dialogue with the greenery of the botanical garden in front, chef Michael Hüsken proposes a fresh and innovative cuisine in his Mediterranean inspiration. The menu, attentive to seasonal and local products, to cooking and the presentation of dishes, perfectly satisfies the needs of guests who choose the cosmopolitan address of Rocco Forte's The Charles Hotel Munich.
INFO HOTEL
THE CHARLES HOTEL Monaco, Germany
www.roccofortehotels.com
Rooms & Suites 160 Villas 0 - Restaurants 1 Spa yes Children yes
Chain Rocco Forte Hotels Affiliation none Activities sightseeing
Score 80 Environment 80 Design 83 Service 75 Cuisine 85 Health 76 Spa 78 Rooms 85