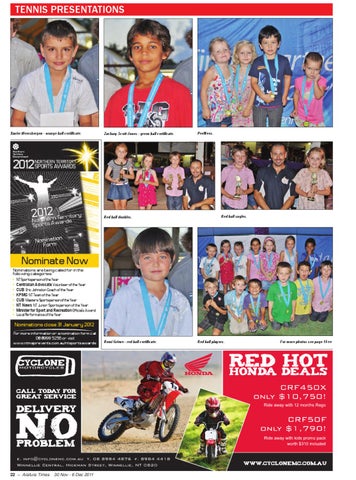 TENNIS PRESENTATIONS
Xavier Meersbergen - orange ball certificate.
Zachary Scott-Jones - green ball certificate.
Red ball doubles.
PeeWees.
Red ball sngles.
Nominate Now Nominations are being called for in the following categories: ‡NT Sportsperson of the Year ‡&HQWUDOLDQ$GYRFDWHVolunteer of the Year ‡&8%Eric Johnston Coach of the Year ‡.30*NT Team of the Year ‡&8%Masters Sportsperson of the Year ‡171HZVNT Junior Sportsperson of the Year ‡0LQLVWHUIRU6SRUWDQG5HFUHDWLRQOfficial's Award ‡Local Performance of the Year
Nominations close 31 January 2012 For more information or a nomination form call (08 8999 5256 or visit www.ntmajorevents.com.au/ntsportsawards
22 – Arafura Times
30 Nov - 6 Dec 2011
Remi Grieve - red ball certificate.
Red ball players.
For more photos see page 15 >>
Arafura Times 30 November 2011  
Arafura Times 30 November 2011
Arafura Times 30 November 2011  
Published on Nov 28, 2011  
Arafura Times 30 November 2011