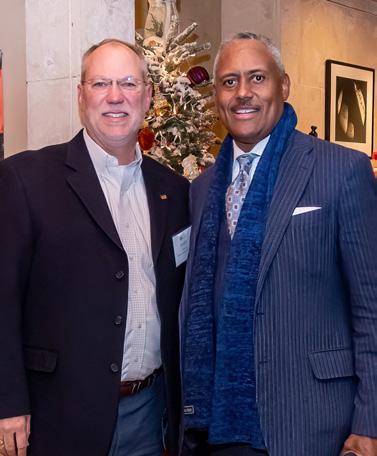 Re teCouncil of GreaterF th ANNUAL REPORT 2022-2023 www.recouncilgfw.com
Dear Members,
What an incredibility successful year! Our accomplishments reflect your unwavering dedication, hard work, and commitment to making the Greater Fort Worth region a better place to live, work, and play. Here are just a few highlights of these accomplishments.
Our membership grew by 18% this year, with 202 new members joining us, bringing our total to just over 630!
Our young professional leadership development training is one of the best in the region. It offers a mentoring program, access to real estate leaders, a charette design competition, chances to give back to the community, and exceptional networking.
We had some fantastic events this year. Our signature events had record attendance. We also had numerous opportunities for members to network and learn through events like our Get Togethers and Fireside Chats.
Our Political Action Committee raised over $20,000 at our second annual PAC Fundraiser, met with Fort Worth and Arlington City Council candidates, and issued a list of endorsements.
The Government Affairs Committee worked overtime! We met with the City of Fort Worth to share 10 Recommendations to improve development practices created from your responses to our 2022 Development Survey. We provided significant feedback to the City's Transportation Impact Fee program, are helping write a new chapter on Urban Infill Development, and are weighing in on the upcoming Urban Forestry Plan.
The Real Estate Council brought city, county, and regional public entities together to encourage transformative solutions for our region. This includes bringing together the Tarrant Regional Water District and the City of Fort Worth to provide quality water for citizens at the Mary's Creek Water Reclamation Facility and working with The Panther Island Steering Committee to hire HR&A to update the plan for Panther Island.
We keep working to make Fort Worth and Arlington better places to live! The Young Leaders' Dodgeball Tournament contributed $20,000 to T3 Partners (thanks to a $10,000 match from Empire Holdings)! The Community Affairs Committee worked to address workforce issues within the county.
As we look back on this remarkable year, we are reminded of the critical role every one of our members has played in our success. Together, we have tackled complex issues that have strengthened our organization and enhanced our ability to serve the community we love. I am proud of all we have achieved and honored to lead an organization committed to making a positive difference in our community. Thank you for your continued dedication and support as well. Can't wait to see what we do next year!
Joel W. Heydenburk Chair of the Board Real Estate Council of Greater Fort Worth