4 minute read
C O N N E C T I N G . E L E V A T I N G . I N S P I R I N G .
from JANUARY 2020 REAL PRODUCERS LANE COUNTY
by REAL PRODUCERS LANE COUNTY
RISING STAR: Laura Diethelm  BUSINESS SPOTLIGHT: Overall Builders  BROKERAGE SPOTLIGHT: Neu Real Estate
CONGRATULATIONS, 2019 & 2020 EAR AND SBOR PRESIDENTS
RE/MAX INTEGRITY KAREN CHURCH TOP PRODUCER
Photo Courtesy of Steve Spohn The-PhotoGuy
Photo Courtesy of Steve Spohn The-Photo Guy
MEET
Written By Liz Hart
Karen Church was raised with the kind of values you would expect from farm life. Hard work. Respect. Keeping your word. Staying organized. In her first career as a schoolteacher, those values translated nicely into the classroom where she taught 3rd and 5th grade for 18 years.
"Teaching taught me multi-tasking and organization that has carried through. This is my second career, and sometimes I miss working with parents and children. Now, though, it's like I get to work with big kids fulfilling their dreams." Church says. Church knows a lot about fulfilling dreams, she admits that her life is one she is proud of.
"My career, my family, I am just really happy with where I'm at in life and I don't know if everyone can say that." Church has always been one to reach for the stars. In college, she was a runner. She ran for 20 years as an Oregon Track Athlete and later with Nike and Reebok. She was inducted into her High School Hall of Fame in 2016 and the State of Wash
Horses. "It's always been a family affair for us. Zach's daughter is part of the horse show world as well." Church's stepdaughter is 14 and a freshman in high school, where she is involved in track and school clubs. Church's son Joel who is 34 and lives on the east coast, also grew up riding. "I adopted him when he was 10, when I was teaching, and raised him since then with the values and ethics my parents gave me. He had been struggling in school and only had a garbage bag full of his worldly possessions when he moved in with me. We helped him every night with his schoolwork, as he could hardly read or write. He later won writing awards and now is the vice president of a bank. I'm so proud of the man he grew up to be."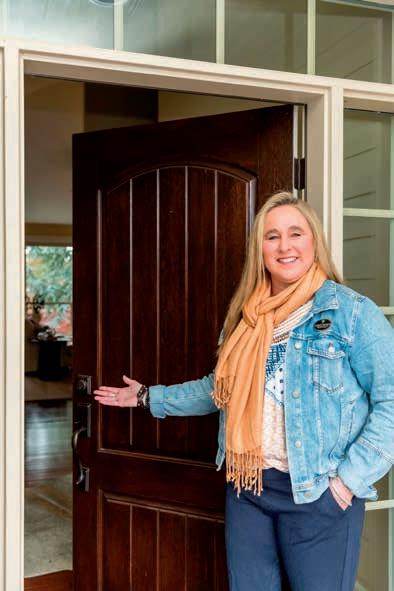 ington Snohomish County Hall of Fame in 2018 for Track and Field. Even though exercise might sometimes take a backseat in her busy lifestyle, staying fit is an important part of Church's life. Whether it's running, riding and showing horses, fly fishing with her husband, Zach Morris, and their daughter Daria, gardening or even quilting. She always puts her all into it.
Church grew up in the horse showing world. Her dad was an announcer, and her mom often ran the registration booth at horse shows. Church's family raised Arabian Horses and Black Angus cattle. "I was taught to do my best. I have that competitive edge so I still show horses, but in real estate that competitive nature helps drive me to be the best I can be."
Horses are still a big part of Church's life. Her husband is a well-known farrier who works shoeing Arabian National Show
Church has been in real estate for 14 years and has had her principal broker license for 11 years. She still has that teacher's instinct. "I really want to teach other brokers that this is a customer service-based industry. The buyer has to trust you, the seller has to trust you, and if you go in just wanting to make money…" Well, the clients see right through it. Church believes in taking the values she was taught as a child and applying them in every interaction and every real estate transaction she has. "My goal is always to have the process go professionally and smoothly, and have that client refer me to their friends and family. That's the best compliment we as REALTORS® can receive."
Her strategy pays off. In 2016, Church was voted the Eugene Association of REALTORS® President. Following that success, in 2018 Church was awarded REALTOR® of the Year. "The set of criteria [to win] is not just about how much you sell. It's about what else you do, volunteering, community service, and serving in local associations in Oregon and on a national level. Leadership is so important."
Church calls herself a service leader. She enjoys mentoring and supporting the Oregon Association of REALTORS® in Washington, D.C., for the past four years fighting for homeowner rights with NAR. "Getting involved is so important because it affects every single person in Oregon, not just brokers."
Next year, Church will serve as the Business Issues Key Committee Chair for the Oregon Association of REALTORS®. She served as 2019 incoming chair,