Greatwood
monthly
A publication of the
JANUARY 2023
22 8 15 6
06FEATURE | After missing her daughters, who went away to college, one former Greatwood mom decided to send love from afar. And pretty soon, other parents joined the bandwagon.
18
TALK OF THE TOWN | The Sugar Land Legacy Foundation and the City of Sugar Land unveils the Gold Star Families Memorial Monument
ARTS & ENTERTAINMENT | Artists encouraged to participate in upcoming arts festival.
CHAIRMAN, EDITOR & PUBLISHER Clyde King cking@hartmannews.com
MANAGING EDITOR
Marquita Griffin mgriffin@fbherald.com
ADVERTISING Stefanie Bartlett sbartlett@fbherald.com
Ruby Polichino ruby@fbherald.com
WRITERS & CONTRIBUTORS
Marquita Griffin Scott Reese Willey
GRAPHIC DESIGNERS
Melinda Maya mmaya@fbherald.com Rachel Cavazos rcavazos@fbherald.com
TO ADVERTISE
If you are interested in advertising in the Greatwood Monthly, please call 281-342-4474 and ask for Stefanie Bartlett or Ruby Polichino. We'll be happy to send rates, and deadline information to you.
PHOTO & ARTICLE SUBMISSIONS
We are looking for fresh story ideas and enjoy publishing your articles in the West Fort Bend Living. If you have an story idea or photo to publish please send your information to mgriffin@fbherald.com with "West Fort Bend Living" in the subject line.
©2022 Greatwood Monthly. All Rights Reserved. Greatwood Monthly is a sister publication of Fulshear Living Monthly, West Fort Bend Living Monthly, Pecan Grove Monthly and is a publication of the Fort Bend Herald. Our publishing headquarters is 1902 S. Fourth Street, Rosenberg Texas 77471.
4 • Greatwood Monthly January 2023
14
DINING ROOMS ACCESSORIES HOME OFFICE STORAGE LIVING ROOMS BEDROOMS RUGS LIGHTS SHOWROOM 3819 FONDREN RD (WESTPARK & FONDREN) HOUSTON, TX 77063 CALL: 832 201-1000 www.CastleFurniture.com WE BRING YOU THE FINEST FURNITURE OF QUALITY, FUNCTIONALITY, AND DESIGN CASTLE FURNITURE DESIGN CENTER AS UNIQUE AS YOU ARE! SIPARIO by Arredo
A "for her" birthday box example.
CeCe with her Christmas box."My roommate and I hung the little wreath on our front door," she said. "We [took] turns hiding the mini-Elf, so we [got] to look for it every day!"
An example of a Valentine's box. An example of a "for him" Christmas box.
Alison Carlino, Carlino's Photography Studio | Founder Alisha McMillen with her inspiration for The College Care Package Company – her twin freshmen daughters: Darian (left) and Addy (right).
A "for him" birthday box example. An example of a Mardi Gras box.
Continued on page 20
Emily shows off her Finals/ Christmas box.
JANUARY
8 •
Hometown Happenings
4 7 13 21 27
Greatwood Veterinary Hospital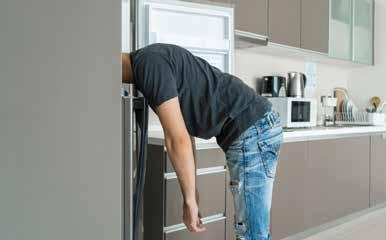 At Greatwood Veterinary Hospital, we are dedicated to providing excellent and compassionate care for your furry, family friends. We offer full veterinary services in our new, spacious 6,500 square foot facility. Our experienced and caring veterinarians and staff strive to provide the best quality care available for your pets, with an emphasis on client education and an understanding of your pet's specific needs. We would like to be partners with you in ensuring your pet's good health and well-being. In addition to full medical, surgical, and dental veterinary care, we also offer boarding, grooming, and cremation services. Greatwood Veterinary Hospital has been providing affordable and quality veterinary care to the Fort Bend area for over 15 years. It is our hope that we can meet all your animal's health care needs with our warm, friendly, and knowledgeable services. To make an appointment for your pet or for more information, please call us at (281) 342-7770 or visit us at 401 Crabb River Road in Richmond.
• 9 www.yourkpc.com ◆ 281-646-1700 MPL36673 So… How's your Air Conditioning? TACLB00119162E We're Now Offering Heating & Air Conditioning Services! Apartments • Restaurants • Hotels • Stores • Office/Commercial Buildings Industrial • Grocery Stores • Manufacturing • Residential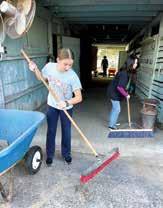 10 • Greatwood Monthly 10 • Spotlight
Top Row: Calvary Episcopal Preparatory students participate in the George Ranch Interpretive Teen (G.R.I.T.) programs; Bottom Row: students volunteer for a work-a-thon.
Elementary students take time to decorate brown bags for Lunches of Love.
• 11 To advertise, call 281-342-4474
Sixth-graders pack care packages for soldiers overseas.
FIN-106184 *Special conditions apply 21175 Southwest Fwy. • Richmond, TX 77469 www.claytonoaksliving.com
Leave the worries of home ownership behind and move in to a community where you can continue to live life on your terms. With the extra help of everyday tasks or personal care, you'll have more time to enjoy life and keep it simple for both you and your adult children. Call or Visit Today! 832-500-3971
Talk of the Town Gold Star Families Memorial Monument unveiled
On National Pearl Harbor Remembrance Day on December 7 in Sugar Land Memorial Park, the public was invited by the Sugar Land Legacy Foundation and the City of Sugar Land to witness the unveiling of the Gold Star Families Memorial Monument.
"We are honored to unveil our community's Gold Star Families Memorial Monument on National Pearl Harbor Remembrance Day," said Sunil Sharma, SLLF Board Chair. "On this very significant day, we pay homage to the families, known as Gold Star Family Members and to remember and honor the 2,403 Americans who were killed in the Japanese surprise attack on Pearl Harbor in Hawaii 81 years ago. The legacies of these families will live forever."
The monument, made possible by the Woody Williams Foundation, the Texas Gold Star Families Memorial Monument Committee, and donations from the community, is a tribute to family members left behind by brave service men and women in the Armed Services who sacrificed their lives in the line of duty.
The Sugar Land Legacy Foundation is a 501(c)3 non-profit organization established in 2010 to promote community investment in facilities and activities that enhance the long-term prosperity and quality of life of Sugar Land residents. Contributions to the Legacy Foundation support the City of Sugar Land's acquisition, ownership, construction, development, or improvement of land and facilities. The SLLF encourages participation from private philanthropic sources and participates in state and federal funding opportunities when appropriate. For more information visit sugarlandlegacy.org or call 832-779-8609.
Old Foster Community Museum awards scholarships
As a grassroots organization with a board of five members, the Old Foster Community Museum's scholarship program has awarded 58 $1,000 scholarships over the years.
The scholarship program, which recently announced its 20222023 scholarships, was developed by Vickie Lynn Tonn and adopted by the board in 2008.
Without significant financial support from large corporations or groups, the museum generates funds through its annual fundraiser and community donations.
For the past three years, however, Covid concerns have halted the museum's fundraiser and planned projects, but in the fall, the museum said it will resume its fundraiser. It also had the ability to reserve funds for the yearly scholarship program and Christmas Outreach program.
For information about the Old Foster Community Museum and its scholarship program, contact President and Scholarship Chair Vickie Lynn Tonn at vickietonn@yahoo.com.
NRG employees have positive impact on Fort Bend senior citizens
Story and photos by SCOTT REESE WILLEY | swilley@fbherald.com
The folks who work at NRG certainly know how to have a good time. Just ask Fort Bend County senior citizens.
Fifty-four NRG volunteers — from the Houston corporate offices and the WA Parish electric plant south of Richmond — treated area seniors to snacks, served them a nice lunch and helped with a spirited game of Bingo as part of the power company's "PositiveNRG Week" campaign.
NRG provided the food and snacks to seniors at the Senior Citizens Center on Band Road and all the seniors involved with the Fort Bend County Meals on Wheels program.
Fort Bend County has a large and growing population of citizens aged 60 years and above. Nearly 10% are unable to work and live at or below the poverty level.
To help combat the problem, NRG WA Parish partnered with Fort Bend Seniors Meals on Wheels to serve meals, play games and provide maintenance at the Band Road facility.
Fort Bend Seniors Meals on Wheels currently provides services to 1.2% of this group of citizens, which includes serving more than 360,000 meals to 2,200 seniors across the county.
"NRG is a big supporter of senior citizens, especially the Meals on Wheels program," said Kyle Wallis, engineering manager at the WA Parish plant.
He said NRG has been sponsoring its PositiveNRG Week program for the past 15 years around the nation.
"We look forward to visiting the Senior Citizens Center in Fort Bend County each year," he said. "The seniors here are always so appreciative."
Shonda Thomas, senior center manager, thanked NRG for committing the time and money to help local seniors each year.
"Even when we were closed down due to Covid, NRG came through for us," she told the crowded banquet hall.
Thomas said NRG donated towels and gift bags for the Secret Santa program during Covid.
NRG also provided gift bags for the Bingo prizes.
"I get emotional just thinking of the impact NRG has on our seniors," said Thomas, who had to take a moment to compose herself. "Our seniors appreciate NRG so much. I can't tell you how happy and how special NRG makes our seniors feel. They treat our seniors like royalty."
14 • Greatwood Monthly 14 •
Continued on page 18
On the old Tenant House porch at the museum are the 2022-2023 scholarship winners. From left, Kathryn Reynolds from George Ranch, attending Texas A&M; Vickie Lynn Tonn, president; Abigail Simmons from Fulshear, attending Blinn College; Jess Stuart, vice president; Cassandra Fuentes from Terry, attending Wharton Jr. College; Marianne Alvarado from Terry, attending UT-Austin; and Melody Hess, an advisory board who served as a judge. Not pictured is Morgyn Sheridan from Lamar, attending Texas A&M.
Seniors play a game of Bingo. NRG provided gift bags to winners.
Annual Caladium Bulb Sale returns
The Garden Club of Richmond is offering No. 1 "fancy-leafed" caladium bulbs for sale, which the club explained is best for the Fort Bend area. The bulbs are available in the following colors: Red Flash (red) and Carolyn Whorton (pink), which grow well in full sun or shade; Candidum (white), which thrives in partial sun or shade; White Christmas (white with intense green veining) and Fanny Munson (flamingo pink with green edges) which need shade; and FM Joyner (green netted veining with shades of pink and white), which is sun tolerant.
Native to the banks of the Amazon River in South America, Caladiums are tropical plants grown from a tuberous root often called bulbs.
They add a lush, exotic touch to summer gardens in our area. Easy to care for, the bulbs can provide a focal point for a sunny garden, enhance shady areas, or look stunning in patio containers.
Planting should take place in late April or early May when all danger of frost has passed, and the temperature reaches 70 degrees Fahrenheit.
Bulbs can be pre-ordered and will be available for pick-up on March 1, 2 and 3 from 10 a.m. – 4 p.m. at Joseph's Coffee & Cigars, 202 Morton Street in Richmond.
Bulbs are only sold in batches of 25 of a single color. Prices, including tax, are $36 for 25 bulbs, $68 for 50 bulbs and $134 for 100 bulbs.
To order, contact Nancie Rain at 713-898-8359 or nrain@comcast.net or Roberta Terrell at 281-343-9932 or robertaterrell@ gmail.com.
Feb. 17 is the last day to place an order, and all orders must be paid for in advance.
• 15 To advertise, call 281-342-4474 Gardening • 15
Open House 2023-2024 281-342-3161 • admissions@ces-richmond.org SIGN UP NOW Pre-Kindergarten Lower School Calvary Episcopal Preparatory Middle School High School 1201 Austin St. • Richmond, Tx 281.342.3161 • www.ces-richmond.org Middle School January 24th, 9am High School January 24th, 2pm Primary (PK3 - Kinder) January 26th, 9am Lower School January 26th, 2pm O PE N HOU S E SignUp Here! Middle School January 24th, 9am High School January 24th, 2pm Primary (PK3 - Kinder) January 26th, 9am Lower School January 26th, 2pm O PE N HOU S E SignUp Here! 4000 Avenue I • Rosenberg, TX 281-342-4664 www.VisionTrends.com Our full range of comprehensive eye care services at family-friendly prices, Including: n Eye health care for all ages n Treatment of eye diseases n Immediate care for eye emergencies n Full line of fashion and budget eyewear LASIK evaluation and co-management Specialists in contact lens fit and comfort Faris Ohan O.D. Ouida Middleton O.D. David S. Schaub O.D. Focused on Trusted Vision Care
BOOK CLUBS, PODCASTS, YOUNG ADULT EVENTS AND MORE FREE PROGRAMS AT UNIVERSITY BRANCH LIBRARY
Fort Bend County Libraries' University Branch Library, 14010 University Blvd in Sugar Land, on the UH campus will present free children's programs and book clubs for adults this month. All programs are free and open to the public. For more information, see the Fort Bend County Libraries website at www. fortbend.lib.tx.us or call the University Branch Library at 281633-5100 or the library system's Communications Office at 281633-4734. Please note the library will be closed Jan. 2 for New Year's and Jan. 16 for Martin Luther King, Jr. Day.
CHILDREN'S PROGRAMS
Please note that the library is unable to accommodate daycares and school groups at these activities, and the After-School Breaks and Creative Connection will not take place in January.
Mother Goose Time: Mondays from 10:30-11 a.m. Provides caregiver/infant multisensory circle-time activities including simple sign language, folksongs and lullabies, and finger plays which are specially designed to stimulate babies' social, emotional, and physical development through rhythm and music. Mother Goose Time is intended for pre-walking infants from ages 1 month to 12 months. This program will not take place on January 2 and 16 because of the holidays.
Toddler Time: Tuesdays and Wednesdays, 10:30-11 a.m. Offers caregiver/child activities, stories and songs for older babies, from 1 to 3 years of age.
Preschool Story Time: Thursdays, 10:30-11:15 a.m. Presents stories, movies, and age-appropriate craft activities for children 3 to 6 years of age.
Pajama Night Story Time: Wednesdays, 7-7:45 p.m. Gives families with children of all ages an evening option for some activities presented during the daytime.
Rise & Shine Family Story Time: Saturdays, Jan. 14 and 28, 10:30-11 a.m. Families with children of all ages are invited to come and enjoy stories, movies, and crafts together.
YOUNG ADULT PROGRAMS
YA Gaming: Telestrations: Thursday, Jan. 5, 4 p.m. in Meet-
ing Room 2. Teens entering grades 9-12 will participate in a game of Telestrations. In this game, each player is tasked with drawing a different word on a notepad. Then they pass their notepad on to the next person, who has to guess the word based on the drawing. The next player draws the guess, and so on, until the original player gets their notepad back. Then the players get to see if their word was guessed correctly or not.
Young Adult Advisory Council: Thursday, Jan. 12, 4-5 p.m. in Conference Room 1. Teens in grades 9-12 who are interested in an exciting new leadership opportunity and volunteer-service hours are invited to attend. Members will have a chance to share ideas about library programs, help out at events, give suggestions for teen services, books, and movies, and meet new people. Meets on the 2nd Thursday of every month, except during the summer.
ADULT PROGRAMS
Craft Squad: "Craft Swap": Friday, January 6, 2-4 p.m. in Meeting Room 1. People who enjoy crafts are invited to join the Craft Squad, where they can make new crafty friends, learn a new craft or two, and share tips, tricks, and resources with fellow crafters. In January, crafters are invited to participate in the library's first Craft Swap. Crafters are encouraged to clean out their craft closets and donate any unwanted craft supplies in good, usable condition. Crafters who bring their unused craft supplies to the 2nd-floor Reference Desk (or to the weekly Craft Squad Socials) before January 5 will receive special early access (1-2 p.m.) to the Craft Swap on Jan. 6. Anyone who doesn't have crafting supplies to donate can still claim free supplies from 2-4 p.m. Examples of accepted craft supplies include yarn, stickers, buttons, fabric, unopened paint, brushes, knitting needles, crochet hooks, pens, markers, stamps, beads, scrapbooking materials, unused craft kits, and coloring books. This program is for adults and older teens only.
Craft Squad Social: Fridays, Jan.13, 20, and 27, 2-4 p.m. in Meeting Room 1. At weekly Craft Squad Socials, crafters can bring their own craft and materials to work on while networking with other crafters. The Craft Squad Social is suitable for adults and older teens only.
University Branch Book Club: Wednesday, Jan. 11, 6 p.m. in Meeting Room 2. The book to be discussed is Quiet: The Power of Introverts in a World That Can't Stop Talking, written by Susan Cain. This title is available in print, audio on CD, and digitally as an ebook and e-audiobook on OverDrive; call the library to check availability of additional print copies. This book club meets on the second Wednesday of every month. New members invited to attend.
Culinary Book Club – Wednesday, Jan. 18; 1:30 p.m. in Meeting Room 1. This month, the theme is "Lunar New Year." Participants are invited to share their favorite Asian recipes. Because of health precautions, participants will not be bringing food this month, but are encouraged to bring a recipe and a photo of their dish or a short video showing how to prepare it. The Culinary Book Club meets on the third Wednesday of every month, and different cooking genres are explored each month. Cooking enthusiasts of all ages and experience levels – from beginners to advanced -- are invited to join. Share tips, get ideas, and enjoy the camaraderie of
16 • Greatwood Monthly 16 •
Arts & Entertainment
Continued on page 21 1320 Thompson Rd. · Richmond, TX 281-342-5022 Tamara S. Osina D.D.S . Family and Cosmetic Dentistry Mon.-Thurs. 8-5 • Fri. 7-3 (Early morning appointments available) 1320 Thompson Rd. · Richmond, TX 281-342-5022 • osinadds.com Tamara S. Osina-Felinski, D.D.S. & Daisy Montaño, D.D.S.
• 17 To advertise, call 281-342-4474
Rick Branek, Fort Bend Senior Meals on Wheels operations manager, said the senior citizens center couldn't host the traditional get-together during Covid in 2020 and 2021.
"So we're really happy to see so many of our seniors turn up today to have a good time, like they did before Covid came along," he said.
"Just look at all the smiles."
Texas Bar Foundation supports local nonprofits
The Texas Bar Foundation recently awarded the local nonprofit and autism advocacy group Hope For Three a generous grant to expand their Police Traffic Stops & Positive Driver Outcomes program.
Since its inception in 1965, the Texas Bar Foundation has awarded more than $24 million in grants to law-related programs. Supported by members of the State Bar of Texas, the Texas Bar Foundation is the nation's largest charitably funded bar foundation.
Hope For Three is the exclusive autism educator for the Fort Bend County Sheriff's Office Crisis Intervention Training (CIT) program and developed the Police Traffic Stops & Positive Driver Outcomes program after sharing resources at the annual CIT Texas State Conference.
"It is imperative drivers with autism are reminded of the rules of the road, and law enforcement is trained on the characteristics of autism spectrum disorder," said Hope For Three CEO Darla Farmer. "This program encourages friendlier relationships and respect."
The Police Traffic Stops & Positive Driver Outcomes program provides individuals with autism coming of age to drive or currently driving to receive reviews of traffic laws, safety rules, and standards to keep the driver, passenger, and other drivers on the road safe. Traffic stop demonstrations on how an officer may approach a vehicle with the siren, flashing lights, and PA system and how an officer may direct the individual out of their car are enacted.
For information visit www.hopeforthree.org.
$31K awarded to Fort Bend Women's Center
Texas Bar Foundation also awarded $31,292 to Fort Bend Women's Center to provide legal representation for survivors of family violence.
Fort Bend Women's Center, with the support of Chad Bridges, Chief Prosecutor for Domestic Violence Division at Fort Bend County District Attorney's office, working in conjunction with the Fort Bend County Crime Response Team and Fort Bend County Domestic Violence High-Risk Team, will use the additional funding to assist in serving the needs of survivors of Domestic Violence.
"It is an honor to receive the funding from Texas Bar supporting FBWC's mission," said CEO Vita Goodell.
Fort Bend Women's Center helps survivors of domestic violence and sexual assault and their children find safety and self-sufficiency. FBWC operates the only crisis hotline and emergency shelter for survivors of domestic violence and sexual assault in Fort Bend County.
For information visit fbwc.org.
Fort Bend Regional Dive Team formed
In collaboration with the Northeast Fort Bend County Fire Department, Fort Bend County Sheriff's Office divers were selected to form the first-ever regional Fort Bend County Dive and Water Rescue Team.
The Sheriff's Office is joining forces with the NEFBCFD and other local agencies, including the Fort Bend County Fire Marshal's Office, with the intention to provide extra support, additional resources, and a faster response time during emergencies with equipment that is well-maintained and quickly deployable.
The Sheriff's Office airboat will be stored and maintained at the
Northeast Fort Bend County Fire Department to safeguard it from environmental hazards.
Fort Bend County Sheriff's Office will remain the owner of the airboat.
Fort Bend County Sheriff Eric Fagan and NEFBCFD Fire Chief Travis Baxter call the collaboration a win-win for the communities they serve.
"We deeply appreciate the efforts of Chief Baxter and his team as we pool our public safety resources, which include the courageous members of our dive team," said Sheriff Eric Fagan. "The use of our airboat by the Fire Department will enable the vessel to be quickly deployed where needed and will reach anywhere in Fort Bend County during a crisis or emergency."
The county-wide dive and water rescue team and the FBCSO airboat will enhance the NEFBCFD's rescue response capabilities, according to Chief Baxter.
"This new addition to our rescue fleet will allow our team to access difficult non-public areas such as rivers, man-made ponds and lakes, and low water crossings that may flood due to excessive rain water or fast-rising water," said Chief Baxter.
Chassidy Olainu-Alade recognized as a leader
Chassidy Olainu-Alade named 2022 Mel Miller Outstanding Social Studies Leader of the Year
The National Social Studies Supervisors Association presented Chassidy OlainuAlade with the 2022 Mel Miller Outstanding Social Studies Leader of the Year Award at the association's conference in Philadelphia.
The Mel Miller Outstanding Social Studies Leader Award is a prestigious annual recognition of those who exemplify leadership qualities in the role of a social studies professional. Each year, the national association selects one person for the honor who meets its strenuous criteria.
"Winning the Mel Miller Award is a great honor and I am proud to represent social studies educators and leaders around the nation," Olainu-Alade said. "I am especially thankful to the National Social Studies Supervisors Association for recognizing the great work I am able to do related to the Sugar Land 95 and civic engagement initiatives."
Olainu-Alade's numerous accolades include being named the 2020-21 Dr. Rosemary Social Studies Supervisor of the Year by the Texas Social Studies Supervisors Association, the 2021-22 Texas Archive of the Moving Image Educator Fellow and being appointed board member for the Fort Bend Historical Commission.
She has worked tirelessly leading the Sugar Land 95 Memorialization Project, and the installation of the SL 95 Exhibit at the James Reese Career & Technical Center and has been featured in many publications and media productions.
Olainu-Alade currently serves as the Community and Civic Engagement Coordinator in the Fort Bend ISD Communications Department. She has been in education for more than 15 years and worked in the district since 2006.
18 • Greatwood Monthly
Continued from page 14
OUR STUDENTS Save THOUSANDS
BEGIN
JANUARY
Our students save thousands of dollars by taking their first two years of academic transfer courses with WCJC
Scholarship Opportunities
An up-to-date list of scholarship opportunities for WCJC students can be found at wcjc.edu
Tuition & Fee Installment Plan
WCJC's Tuition & Fee Installment Plan allows students to pay a percentage of tuition and fees at time of plan entry, plus a $35 non-refundable enrollment fee. The amount paid at plan entry differs per semester, as well as how long students have to spread out payments. Students should visit wcjc.edu for plan details.
Discounted Tuition & Fees Program
Additional assistance is being provided for WCJC students who take more than 13 hours of academic transfer courses. Under this policy, tuition and fees will be waived for any courses above the 13 credit hours.
Pell Grants
Students who display exceptional financial need may be awarded a Federal Pell Grant. A Pell Grant is a form of "gift aid" that does not have to be paid back. Congress has increased the 2022-2023 Pell Grant maximum award to $6,895. Students enrolling for Fall 2022 must complete a 2022-2023 FAFSA and submit supporting documentation to the WCJC Financial Aid Office for eligibility consideration.
Federal Direct Student Loans
Students who have a complete financial aid file at WCJC and are achieving Satisfactory Academic Progress may qualify for subsidized and/or unsubsidized student loans.
Financial Aid Special Condition Request
This request enables qualified students to receive an increased Pell Grant award and possibly additional subsidized loan funds. It's aimed at WCJC students who have faced a reduction in household income due to the COVID-19 pandemic.
QUALITY TECHNICAL PROGRAMS | HIGH TRANSFER RATE | AFFORDABLE wcjc.edu | 1.800.561.WCJC WHARTON | SUGAR LAND | RICHMOND | BAY CITY
SPRING CLASSES WCJC_FtBendHeraldMonth_Jan2023.indd 1 12/12/22 2:53 PM
17
Q&A
Learning more about the care packages
MARQUITA GRIFFIN: What does a care package typically include?
ALISHA McMILLEN: It can include so many different things. There really isn't a "typical" box. We shy away from the typical items you find in other care packages. Our focus is on curating boxes that make the students feel loved, enjoy the season, and be reminded that they are special. The December box included a book, themed pop-its, a wreath to hang in their rooms, and goodies to help them stay focused on their finals. A tiny 3-inch Elf on the Shelf was probably the most coveted item in the box because college kids grew up with their own elves at home, and getting a tiny one for their desk at school brought just the right amount of nostalgia and fun.
MG: Considering February is around the corner, tell me more about the Valentine's and Mardi Gras boxes. I understand there will be her/him versions for Valentine's and her/ him versions for Mardi Gras, but what are some of the items that will be included?
AM: Items in the Valentines boxes include: a $25 Uber gift card to meet a date or friends for the night out, a pink neon heart wall decoration, Conversation Hearts candy, a mini-water color palette, a watercolor notebook, a set of Valentine's to pass out to friends, a set of two sugar cookies (Eat One and Share One) and more. Some items in the Mardi Grad boxes include a Mini King Cake, King Cake flavored cotton candy, Louisiana Hot Sauce, Cajun Pop King Cake flavored popcorn, Mardi Gras beads, chocolate Mardi Gras coins, Mardi Gras mask, Mardi Gras socks, feather boa and more.
MG: Tell me more about the birthday and "anytime" boxes, too. Do these include something specific, do the items change, and can gift-givers make particular requests?
AM: Our birthday boxes include a ceramic mug that says "This is my birthday cake," along with some microwave mug cake mixes that allow the recipient to have their own little birthday cake, even if they are living in the dorm with just a microwave. Boxes also contain either four balloons with mini-gifts inside or four tiny gift boxes with mini-gifts inside. Gifts can include cash, chapstick, small jewelry, squishies or other small items. It gives them something to unwrap along with some yummy birthday cake-flavored treats. Birthday boxes are fully customizable like our other full-size boxes.
Our "Anytime" boxes are fairly new, but my favorite one is the "I Miss Your Face" box, which includes an I-Miss-Your-Face mug, face wash, face masks, a smiley face stress ball, a bag of smiley face gumballs, a Call-Your-Mom magnet and a pocket hug.
Stay tuned to our Facebook and Instagram pages for other "Anytime" boxes that are released. "Anytime" boxes, like our mini-boxes, are not customizable and have a set price.
Continued from page 7
Laura and Katelyn, college freshmen with their shared Christmas box, which included two of everything.
The birthday gift Helen Tu Joe sent her niece Kelly. Locations where college care packages have
sent to date 1310 Thompson Road • Richmond, TX 77469 281-342-6311 • www.drm-smiles.com Your FAMILY ORTHODONTIC SPECIALIST
Reagan enjoyed his birthday box from his parents.
been
other individuals who have an interest in cooking and good cuisine.
"Senior Series: The Truth About Transportation Challenges & Options: Friday, Jan. 20, 10:30 a.m. - noon in Meeting Room 1. Liz McNeel will talk about transportation resources that are available in the area, when one is unable (or prefers not) to drive anymore.
NEW! Reel Talk Documentary Series: Fake Famous: Monday, Jan. 23, 6-8 p.m. in Meeting Room 1. Reel Talk is a series of documentary screenings with brief discussions of the films after they are shown. In January, the film to be shown is Fake Famous: An Unreal Social Experiment. This documentary follows three average people participating in a social experiment to turn them into "famous" social media influencers. The documentary will be followed by a discussion at approximately 7:30 pm. The discussion will explore topics such as fame, social media, identity, mental health, and human connection. This documentary is not rated; it is intended for mature audiences. This HBO film is available in FBCL's Access Video on Demand digital collection, and it is being shown publicly with permission from Infobase.
University Branch Podcast Club: Wednesday, Jan. 25, 6 p.m. in Meeting Room 2. Note: The Podcast Club will now meet quarterly in person at the library. Similar to a book club, the Podcast Club is a monthly club for people who enjoy listening to podcasts on a variety of subjects. Each month, a theme will be selected, along with a short list of podcast episodes. Listeners will meet to discuss the podcasts they have listened to and the themes within them. In January, the theme is "New Year, New You." The list of podcasts from which to choose includes:
• "Scientifically Proven Ways to be Happier" – Life Kit: Health, 15 m.
• "How Meditation Helps Us Become Better at Life" – The Mindvalley Podcast with Vishen, 24 m.
• "Need to Make a Change in Your Life? Behavioral Science Can
Help" – Life Kit, 18 m.
• "Hardcore Kindness" – The Gathering Pod, 31 m.
• How to Create Habits and Hack Your Health" – Food, We Need to Talk, 35 m.
CALLING ALL ARTISTS! APPLY NOW FOR LOCAL ARTS FEST
Artists are now able to apply via the Sugar Land Arts Fest website.
Are you an artist? The Sugar Land Cultural Arts Foundation wants artists in all media to apply to participate in the second annual Sugar Land Arts Festival April 1-2.
During the inaugural edition, more than three thousand people visited more than a hundred artist booths, drinking hand-selected wines, eating delicious food, and enjoying live music. This time, the City of Sugar Land is partnering with the Sugar Land Cultural Arts Foundation to celebrate the second annual event at the Smart Financial Centre Plaza.
The artist application process is free, and accepted artists will receive a $50 discount on booth space if their registration is completed by Jan. 31.
The Sugar Land Arts Fest is an outdoor art gallery event with live music and entertainment featuring world-class artists from all backgrounds and artwork in all media.
The application deadline is Feb. 28. Complete applications at sugarlandartsfest.com/artists. The required application materials are six images of artwork per artist, one photo to be featured as a profile image of the artist, and two photographs of the booth.
For more information, visit www.sugarlandartsfest.com or follow @ SugarLandArtsFest on social media.
• 21
To advertise, call 281-342-4474
Continued from page 16 Belinda Regalado belregalado1@gmail.com • 979-709-6853 info@beltxrealtor.com • P.O Box 19516, Sugar Land, TX 77496 facebook.com/beltxrealtor • Full-Time Local Realtor • Turning Houses into Homes for over 24 yrs. • Complimentary Market Analysis • We offer a customized Marketing plan including Professional Staging Advice and Drone photography. With over 24yrs of real estate sales experience I can help you get started. We Love Listings! Christmas! Thinking of Buying or Selling? Call us Today! SUBSCRIBE ONLINE AND READ ONLINE – ANYWHERE! Subscribe to the Fort Bend Herald E-Edition and read it on your phone, tablet, or desktop computer, anywhere you like! Call us today to subscribe 281-342-4474 Or, visit us online at FBHerald.com YOUR BEST AND MOST RELIABLE SOURCE FOR NEWS AND INFORMATION E-EDITION IS FREE TO PRINT SUBSCRIBERS
Many restaurants offer brunch specials on New Year's Day, but people need not leave home to ensure their first meal of the new year is delicious. This recipe for "Pan-Fried Eggs and Mixed Mushroom Sauté on Toasted Sourdough Slices" from "Sunday Brunch" (Chronicle Books) by Betty Rosbottom can be just the dish to begin a new year.
Pan-Fried Eggs and Mixed Mushroom Sauté on Toasted Sourdough Slices Serves 4 Ingredients
eggs
salt •Freshly ground black pepper •Rosemary sprigs for garnish (optional)
Instructions
1For the Mushroom Sauté: Place the dried mushrooms in a medium bowl and cover with the boiling water. Let stand until softened, 20 minutes. Strain in a sieve lined with a double thickness of paper towels and reserve the soaking liquid. Coarsely chop the mushrooms.
2Heat the olive oil in a medium, heavy frying pan set over medium heat. When hot, add the brown mushrooms and sauté, stirring often, for 6 minutes. Add the reserved mushrooms, garlic, rosemary, and 1⁄2 teaspoon salt; stir for 1 minute. Add the mushroom liquid and cook, stirring, until it has evaporated, 4 to 7 minutes. Season with salt and several grinds of pepper. Remove the frying pan from the heat and cover with foil to keep warm. (The mushrooms can be prepared 1 day ahead; cool, cover and refrigerate. Reheat, stirring, over medium heat.)
3For the toast and eggs: Brush both sides of the bread slices generously with olive oil. Set a 10- to 11-inch nonstick frying pan over medium-high heat, and, when hot, add the bread and cook until lightly browned, about 2 minutes per side. Remove the toast and cover loosely with foil. When pan is cool enough to handle, wipe it out with clean paper towels.
4Add the butter to the frying pan and set it over medium heat. When the butter starts to foam, break an egg into a saucer, being careful to remove any shell fragments., and gently slide it into the frying pan. Repeat with the remaining eggs. Immediately reduce the heat to low and cook, basting the eggs with some of the butter in the pan frequently, until the whites are firm and the yolks are still soft and runny, 3 minutes.
5While the eggs are cooking, arrange a toasted bread slice on each of four plates. Mound the mushrooms evenly over the toast.
6Remove each egg with a spatula and arrange on top of the mushrooms. Season with salt and pepper and, if desired, garnish each serving with a rosemary sprig. Serve immediately.
TIP: If you can't find dried crushed rosemary, crush regular dried rosemary in an electic spice mill, or place it in a self-sealing plastic bag and roll over it with a rolling pin
•Mushroom
•1¼
mushrooms •1½
•3
•8
•2
•1
•Kosher
•4
THU 2.23.23 AT STAFFORD CENTRE JOiN US FOR A PAJAMA PARTY WiTH A PURPOSE! Shopping, Food, Fun & Girl Power in support of survivors of domestic violence and sexual assault. Scan for tickets! bidpal.net/giggle23
Sauté
ounces mixed dried
cups boiling water
tablespoons olive oil
ounces sliced brown mushrooms
teaspoons minced garlic
teaspoon dried crushed rosemary (see tip)
salt •Freshly ground black pepper •Toast and Eggs •4 ½-inch thick sourdough slices •Olive oil •2 tablespoons unsalted butter
•Kosher
• 23 To advertise, call 281-342-4474 Residential & Commercial Service Licensed Insured Heath McClure, Owner M-40315 Responsible Master Plumber rangerplumbing@gmail.com 832-868-8065 RANGER PLUMBING COMPANY www.plumbersugarland.org Locally Owned & Family Operated Since 1993 (281) 2518 1st Street Rosenberg, TX 77471 341-5779 COUPON $500 O F F* A Complete Roof Job of 35 Squares or More $50 O F F A Repair *Discount May Not Be Combined with any other Coupons *Insurance job upgrade coupon Ceramic Tile Flooring Counter Tops Wood Floor Refinishing Wood & Laminate Flooring 281.342.5193 RosenbergCarpet.com ROSENBERG Carpet & Flooring "What's On Your Floor Matters" Ceramic Tile Flooring Counter Tops Wood Floor Refinishing Wood & Laminate Flooring Shower & Bath Remodel Neighborhood Business Directory READERS CHOICE FORT BEND HERALD 2022 1223 Sixth St | Rosenberg, TX 77471 • 281-238-4443 • epcompean.com 281.238.0735 www.apache-fence.com Ornamental Iron • Wood • Chain Link PROFESSIONAL LANDSCAPING & TREE SERVICE DEPENDABLE SERVICES COMPLETE YARD WORK Ask for John 281.451.3119 FREE ESTIMATES Are you ready for the New Year? Business If you are interested in advertising in the Greatwood Monthly, please call the Fort Bend Herald at 281-342-4474 for rates, information and deadlines. ADVERTISE WITH US!
THERE'S A BETTER APPROACH TO CANCER CARE in Sugar Land
At Houston Methodist Neal Cancer Center, we treat every aspect of your cancer. Leading oncologists work with our specialists across disciplines to minimize cancer's effects on major organs. One comprehensive team — dedicated to your individual care — uses the latest research, treatments and technology to stop your cancer. From infusion and clinical trials to surgery and reconstruction, our innovative care is available in Sugar Land.
That's the difference between practicing medicine and leading it.
281.274.7500 houstonmethodist.org/cancer-sl
24 • Greatwood Monthly
The Woodlands B aytown
Willowbrook
Sugar Land Clear Lake
Katy-West Houston Tex as Medical Center