PCI, TO HAVE LIVE MAIL SORTING IN ITS NEW BOOTH
PCI launches new booth and brings its suite of solutions in print, mail, fulfillment, signs and creative marketing to Printing United VISIT PCI AT BOOTH #B943
Scan here to learn more about PCI.
Stop by PCI's hydration station for your free reusable water bottle and free refills
MailingSystemsTechnology.com MARCH-APRIL 2023 2 OCTOBER 18-20 IN ATLANTA! SEE YOU AT SEPTEMBER - OCTOBER 2023 MailingSystemsTechnology.com BEST PRACTICES IN MAIL PIECE DESIGN. PAGE 18 5 ELEMENTS OF AN OPTIMAL RFP. PAGE 16 COULD CUSTOMIZED MAILING LISTS BE A NEW REVENUE SOURCE? PAGE 30 STOP AND SEE THESE BOOTHS AT PRINTING UNITED PAGE 26 SEPTEMBER - OCTOBER 2023 MailingSystemsTechnology.com
CLICKHERETOSUBSCRIBE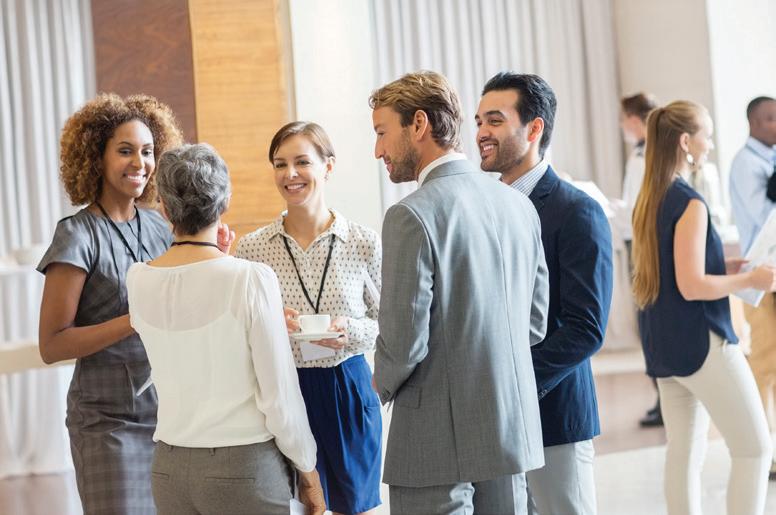 TABLE OF CONTENTS DEPARTMENTS
Editor's Note Networking Is Critical By Amanda Armendariz
Real-Life Management The Power of Collaboration! By Wes Friesen
Postal Insights Mixed Messages from the USPS About Cost Reductions By Leo Raymond 10 Inkjet Info Standing Out with Physical Mail By Karen Kimerer
The Trenches Inbound Mail and Remote Workers By Mike Porter
Intro to International Mail International Packages, Customs, EU, and the US By Merry Law
Guest Column Make Your Voice Heard By Lewis Johnson
Wrap Up Customized Mailing Lists Power New Revenue for Mailers and Printers By Greg Brown SPONSORED CONTENT
STOP & SEE THESE BOOTHS AT PRINTING UNITED EXPO SEPTEMBER-OCTOBER 2023 | VOLUME 36 ISSUE 5 FEATURES 16 5 Elements of an Optimal RFP By Mark Fallon 18 Best Practices in Mail Piece Design By Jill Corcoran 20 Streamlining Your USPS Certified Mail Processes By Adam Lewenberg 22 Our Annual Wage & Operations Survey: Part One By Amanda Armendariz 28 Highlighting the Importance of Face-toFace Learning at In-Person Events By Chris Lien 16 20 28 SUBSCRIBE FOR FREE 4 SEPTEMBER-OCTOBER 2023 | MailingSystemsTechnology.com
05
06
08
12
14
15
30
26
VOLUME 36, ISSUE 5
MAGAZINE STAFF
President
Chad Griepentrog
Publisher Ken Waddell
Editor Amanda Armendariz amanda.c@rbpub.com
Contributing Writers
Greg Brown, Jill Corcoran, Mark Fallon, Wes Friesen, Lewis Johnson, Karen Kimerer, Merry Law, Adam Lewenberg, Chris Lien, Mike Porter, Leo Raymond
Audience Development Manager
Rachel Chapman rachel@rbpub.com
Advertising Ken Waddell 608.235.2212 ken.w@rbpub.com
Design Kelli Cooke
MadMen3 PO Box 259098 Madison WI 53725-9098
Tel: 608.241.8777
Fax: 608.241.8666
Email: customerservice@rbpub.com
SUBSCIRBE
Subscribe online at MailingSystemsTechnology.com.
Subscriptions are free to qualified recipients: $20 per year to all others in the United States. Subscription rate for Canada or Mexico is $40 per year, and for elsewhere outside of the United States is $45. Back issue rate is $5.
SEND SUBSCRIPTIONS TO:
Mailing Systems Technology, PO Box 259098, Madison WI 53725-9098 Call 608.241.8777
Fax 608.241.8666
E-mail rachel@rbpub.com
Online at MailingSystemsTechnology.com.
REPRINT SALES
ReprintPro
949.702.5390 www.ReprintPros.com
All material in this magazine is copyrighted ©2023 by MadMen3 All rights reserved. Nothing may be reproduced in whole or in part without written permission from the publisher. Any correspondence sent to Mailing Systems Technology, MadMen3 or its staff becomes property of MadMen3.
The articles in this magazine represent the views of the authors and not those of MadMen3 or Mailing Systems Technology. MadMen3 and/or Mailing Systems Technology expressly disclaim any liability for the products or services sold or otherwise endorsed by advertisers or authors included in this magazine.
MAILING SYSTEMS TECHNOLOGY
(ISSN 1088-2677) [Volume 36 Issue 5]
is published six times per year (January/February, March/April, May/June, July/August, September/October, November/December) by MadMen3 PO Box 259098 Madison WI 53725-9098, 608-241-8777. Periodical postage paid at Madison WI and additional offices.
POSTMASTER
Send address changes to: Mailing Systems Technology PO Box 259098 Madison WI 53725-9098