West Coast Edition For: WA, OR, and CA Vol. 13, No. 2 APR / MAY '23 BUYER'S GUIDE PAGES 32-45 a2zMFG.com a2zMFG.com Born Out Of A Belief In The Excellence Of Craft
GROOVING THREADING PARTING BORING TURNING FACE GROOVING CUSTOM TOOLING FORM TOOLING MILL TOOLING Follow us on: 888-THINBIT | WWW.THINBIT.COM
J.K. Rowling, Harry Potter and the Goblet of Fire
The republic we call America was founded on strong beliefs that were tested during the Revolutionary war.The common belief was the idea that all people are created equal, regardless of their origin, color of skin, and belief system of religion. These pioneers of the new world believed all people have fundamental rights, like liberty, free speech, freedom of religion, due process of law, and freedom of assembly. Many Americans saw a powerful federal government as a threat to individual liberty. The first 10 amendments to the constitution, the bill of rights, limited federal power by protecting citizens' freedoms and promoting a "We The People" government.
In recent decades, the United States has seemed in danger of losing its position as a worldleading manufacturing economy. While absolute output has grown during the 21st century, the US shares of global manufacturing GDP and gross sales have fallen. In real value-added terms, growth in the sector has slowed dramatically over the past three business cycles, from 4.9 percent in the 1990s to 1.4 percent in each of the past two decades. And much of that recent growth has been driven by design, services, and software activities, rather than by physical production.2 The number of manufacturing firms and manufacturing plants in the United States has fallen by roughly 25 percent since 1997, reflecting an increase in closures and a slowdown in start-ups.
A strong manufacturing economy unlocks important employment and advancement opportunities—a factor set to grow in significance if current job market pressures ease. Manufacturing is the main economic engine and primary employer in around 500 US counties today, and in those communities, the industry employs a broader-than-average swath of the overall population and does so more inclusively. In most cases, employees don't need fouryear degrees, and they can earn twice as much as those holding equivalent service-sector jobs, as employers invest in up skilling and reskilling their current workers by offering expanded learning opportunities. Our analysis suggests that reviving manufacturing could add up to 1.5 million jobs, particularly among middle-skill workers, which would help recalibrate the US labor market and bolster the middle class.
Strengthening the sector could also address the supply chain issues that have been wreaking economic havoc over recent years, easing disruptions caused by the pandemic while improving global competitiveness in the mid to long term. Between 2010 and 2019, the US trade deficit in manufactured goods more than doubled, reaching $883 billion. The country currently meets 71 percent of its final demand with regional goods, trailing Germany (with 83 percent), Japan (86 percent), and China (89 percent). Increased import dependence has left some key US manufacturing supply chains exposed to greater global risks.3 The supply chain shocks of the past three years have pushed those risks to the top of the corporate agenda: in surveys, more than 90 percent of senior executives tell us that increasing the level of resilience in their supply chains is a priority.
Manufacturing offers high-skill, high-wage jobs for American workers and could do so even more as the industry becomes more digitized and automated.With existing worker shortage and rapidly evolving skill requirements, employers can become skill builders and develop the workforce needed to remain competitive while helping people access meaningful and lasting employment.
In closing I would like to thank all of you that call US manufacturing their home. We make things, fix things, and help reinvent a better way of life for the world.
Kim Carpenter
Born Out Of A Belief In The Excellence Of Craft Portland Japanese Garden
Published by: A2Z Manufacturing West Coast
PUBLISHERS/EDITORS
Kim Carpenter & Linda Daly
Kim@A2ZManufacturing.com
Mail Address: 1538 E. La Vieve Ln. Tempe AZ 85284
Telephone: (480) 773-3239
Website: www.A2ZManufacturing.com
CONTRIBUTORS
Linda Daly, Eugene Wirth, Stephen Hannemann, Hugh Taylor
Published
contracts,
and
supply a viable supplier source for the industry.
Circulation: A2Z Manufacturing West Coast maintains a master list of over 14,000 decision makers consisting of fortune 1000 companies, small manufacturing companies, engineering firms, DOD & Scientific Lab facilities, machine shops, fab-shops, and secondary source businesses. It has an estimated pass on readership of more than 25,000 people. The majority of our readers are based in CA, OR, WA area!
Advertising Rates have remained the same since 1999, deadlines and mechanical requirements furnished on our website at: www.a2zManufacturing.com.
All photos and copy become the property of A2Z Manufacturing.
The Publisher assumes no responsibility for the contents of any advertisement, and all representations are those of the advertiser and not that of the publisher.
The Publisher is not liable to any advertiser for any misprints or errors not the fault of the publisher, and in such event, the limit of the publisher's liability shall only be the amount of the publishers charge for such advertising.
bi-monthly to keep precision
of
manufacturers abreast
news,
trends,
to
Cover
E-mail:
Announcements/Releases ................... 6-14 Feature Articles ........................... 1,10, 20-21 Buyers Guide Equipment Services ..... 32-38 Buyers Guide Processes ...................... 39-45 Card Gallery ........................................ 32-45 Index Of Advertisers ............................... 46 Editorial .................................. Throughout A2Z MANUFACTURING WEST COAST • 4 • APR - MAY '23
Kim@A2ZManufacturing.com
"We are only as strong as we are united, as weak as we are divided."
Editor's Corner
We have added a number of improvements over the standard Fast Wire Edms including:
• Cutting capacity of 625 x 625 mm
• Panasonic AC Servo motors and drivers
• Hiwin Linear Guideways
• Build in Cad System
• Two filters
• Increased height side walls to reduce splashing
• View windows to see the wire progress
• Automatic spent wire spooler
• Optional build plate support fixture
• Optional Anti Electrolisis (AE)
sizes available: • 400x320x410mm H
630x500x625mm H
1000x800x1050mm H
Horizontal Model 1000x1000x1000mm 1974 Bucktail Lane, Sugar Grove, IL 60554 1-888-289-3367 www.edmnetwork.com EDM Network provides "Everything in EDM"
EDMMax 656W 37 min TIME TO CUT
Four
•
•
•
The new model
AB Finishing Tech
The Northwest Black Oxide Leader
By Stephen Hannemann
AB Finishing Tech, with 87 years of history and the largest black oxide tanks west of the Mississippi, continues to set the gold standard for black oxide conversion coating in the Northwest. With endless types of industrial metal surface finishes available, only a few can claim being ahead with black oxide.
AB Finishing Tech specializes in black oxide treatment of steel, stainless steel, and iron components, transforming their surfaces to a lustrous black. The process provides dimensional stability, corrosion resistance, and exceptional lubricity characteristics. The applications for this process are endless for a myriad of industries, from large exercise equipment and automotive components to small parts used in medical devices, and everything imaginable in between. The list is limitless.
AB utilizes a hot process forming a black oxide coating by immersing components in an oxidizing salt bath at an elevated temperature. The parts are then rinsed and dried. The Impressive results are evident in the included photos.
AB Finishing Tech's capabilities are nearly limitless both for quantity of product shipped and part size. With their large 4'x6' black oxide tank,
and depending upon configuration, they can comfortably accommodate 5'plus parts, as well as the smallest size fasteners and ancillary components. Additional companion services offered include shot peening and sandblasting. AB sports one of the largest wheelabrators in the Northwest. In addition to a peerless surface preparation, shot peening relieves stress, increases part strength, and reduces metal fatigue under use.
An all-important bonus to entrusting your parts to AB is their stellar quality and ontime delivery record. It is a 100% win-win!
Visit our ad on page 18 of this publication. Learn more at www.abfinishingtech.com.
AB Finishing Tech, 6724 NE 46th Ave., Portland, OR 97218 or call (503) 282-7239.
Email: info@abfinishingtech.com.
Cybersecurity
Six Ways To Make Sure Your Manufacturing Business Is Cyber-Secure
By Thomson Mathew—ANCA Software Product Manager
While smart factories are revolutionizing the manufacturing industry through innovation, being connected comes with new risk factors that must be addressed. A Deloitte study revealed that 48% of manufacturers identified operational risks—including cybersecurity—as the greatest danger to their factories.
Manufacturing can be a lucrative 'get' for cyberattackers, targeting your intellectual property or blocking production. Businesses risk financial, time and productivity losses if they don't get the balance right. So, how can you make sure your business is safe?
1. Understand your security requirements and risk
The cloud offers manufacturers an unprecedented level of flexibility, from lights-out manufacturing to remote real-time data. But this level of connection can expose your business to attack.
While it may be your first concern, the risk isn't limited to connected machines. Manufacturers can also be vulnerable to phishing attacks, ransomware and internal breaches, among others. This means company phones, email addresses and laptops should all be protected. Relying on supply chains also means manufacturing can be disrupted by attacks on suppliers and distributors. Having a clear picture of risk areas is the first step to creating a secure network.
2. Document your policies and processes
A false sense of security can be devastating to a manufacturing business if a cyberattack eventuates. Even if you're on top of what needs to be done, you must ensure everyone in the business understands the risks—human behavior is a significant factor in compromised systems!
• Clearly document your security measures.
A2Z MANUFACTURING WEST COAST • 6 • APR - MAY '23
Announcements & Releases
• Implement a policy of regular security reviews.
• Apply software updates as they're made available.
• Teach staff about the benefits of strong passwords and two-factor authentication.
• Ensure new employees are educated as part of their induction.
• Introduce a "principle of least privilege"—give employees the minimum permissions they need to perform their duties.
3. Choose secure machines
Operational technology, including tooling machines, creates endless opportunities for manufacturers. In the past, these machines had no external links to networks and so weren't vulnerable to digital attacks. Running machines 24/7 means relying on the network to remain secure even when you're not there. Because of these risks, ANCA machines have been designed to use whitelisting to ascertain networks can only be accessed by predetermined parties. That means new software and devices must be authorized before they can be added, massively reducing the risk of introducing viruses, malware or weak points. Each piece of software has been thoroughly assessed for vulnerabilities before being whitelisted, so manufacturers can be assured of their machines' security.
4. Get a clear picture of your whole network
If you're using a tooling machine, you're exposing your systems to external third parties.The potential consequences are that you could lose data, you could lose productivity time, or you'll have ongoing maintenance.You're putting your machine at risk.
Your manufacturing business isn't just the machines in your factory. It includes other businesses— like material suppliers, logistics companies and even accountants—and all of their extended networks. Any vulnerability they have can affect your business outcomes.
Speak to each of your stakeholders about what they do to protect their networks.You may not be able to change their approach, but it'll help you to mitigate the risk at your end, for example, by choosing a more secure supplier or looking into vertical integration.
5. Make regular offline backups
Even the most secure cloud and digital systems can fail. To ensure your IP is as robust as possible, and to limit the impact on your productivity, you should be performing regular offline backups away from your network. It's best to be overcautious. Store multiple backups in different places to better distribute the risk of further data loss—and make sure those locations are secure, too.
Automating this process eliminates the need to remember to do it (often until it's too late) but performing periodic manual backups will give you the best coverage.
6. Be ready to adapt as things change
Cybercrime is big business—some reports suggest it's the equivalent of the world's third-largest economy, inflicting damages in the trillions of dollars every year. Globally, spending on cybersecurity is expected to grow to
almost U.S. $350 billion by 2026. ,
State Of The Manufacturing Economy
Chris Frans, CLFP (President, Epic Finance)
A question that I am often asked is "what are you seeing out there?", which ultimately leads to a discussion about the economy from both a macro and micro perspective.
From my view (of financing manufacturing equipment all around the US), the larger companies are continuing to increase machining capacity with new machine orders, but the relatively smaller companies are showing increased hesitation in recent times.This is displayed in the accompanying graph (estimated figures for display purposes).
The bad: The majority economic indicators within the manufacturing market are pointing to some degree of a recessionary period that should be felt in late Q3/early Q4.
The good: This will be the most foreseen and anticipated recession in history. If we do enter a recessionary period, it should be relatively short term (versus a standard 18-month recession) and easy to weather. If we do not enter a recession, we will more than likely experience lack-luster production for that period.
The better:The forecast for late 2023 is positive and appears even stronger as we look at 2024.
The best: The US economy is extremely resilient and historically bounces back the year proceeding a recessionary period. We have the highest GPD in the world and manufacturing will always be a significant contributor.
Whether we enter a slow period or not, now is a great time to take advantage of Epic Finance's 120-day payment deferral program. With this program, your first monthly payment isn't due until 120 days after the equipment has been fully installed. This program, combined with our aggressive rates, speed of approval, and fearless customer service is what makes us your best option for all types of equipment financing.
Please feel free to reach out directly to discuss your goals and find out how Epic can help achieve them.
Chris Frans, CLFP President chris@epicapprovals.com, 303-261-8200
A2Z MANUFACTURING WEST COAST • 7 • APR - MAY '23
Re-Energizing American Manufacturing:
Lux Precision Manufacturing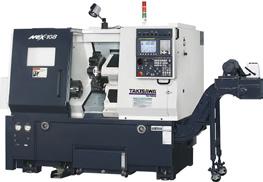 From its humble roots on a college campus, Lux Precision Manufacturing (Lux) is a premiere manufacturing company that has a mission to reenergize American manufacturing.With the unique operating location on the campus of Grand Canyon University (GCU), Lux serves the medical device, aerospace, semiconductor, and defense industries with precision machined parts. Lux, however, has a unique business model that is reenergizing American manufacturing by introducing college students to precision manufacturing and giving them an opportunity for educational immersion in manufacturing.
In 2017,Weston Smith founded Lux out of a dorm room on the campus
of Grand Canyon University originally as an electric longboard rental company. He grew up on a horse ranch in Flagstaff and never tried skateboarding until his freshman year on campus and waited until he was a sophomore to purchase his first electric longboard. Mind you, 2017 was the same year that all the hoverboard batteries were catching on fire. "It completely transformed how I got around campus," he said. "I had so many students stop me and say they want one – that sparked my entrepreneurial instincts." So, Weston started renting out electric longboards to college students. Nine months after buying an electric longboard fleet, there was a 90% battery failure rate in the electric longboards.
As a mechanical engineering student,Weston started innovating and developed a solution for the massive battery failure rate in the rental fleet; a flexible battery that uses the same battery technology found in Tesla cars. With this technology development, Weston decided to shift the business model of Lux from electric longboard rentals, to electric manufacturing. Over the course of two years, Lux Longboards launched three different board lines. The last and most innovative board line launch was the Lux LX, which was an Offroad electric longboard that went over 30mph on a range up to 19 miles.
In 2020, covid hit and the supply chain for Lux Longboards was decimated due to shortages and importing issues. With the supply chain in shambles, Weston made an executive decision to onshore as much of the manufacturing for Lux Longboards as possible. Luckily at that time, Lux owned a Kitamura Mycenter Zero Vertical CNC Mill that was used for light production and prototyping. Lux began machining as many parts as possible for the longboards. "I had so many contacts in industry that constantly were asking if we had capacity to make parts for them."Weston then started contract manufacturing for Lux. As industry demand grew for precision manufacturing, Lux scaled its machine shop capabilities and discontinued electric longboard manufacturing in 2022 to focus its growth in CNC machining.
In August of 2023, Lux Precision Manufacturing will be expanding to a new 12,000 sqft facility on GCU's campus with a mixture of 16 CNC mills and lathes. While still serving the medical device, aerospace, semiconductor, and defense industry with precision manufactured parts. Lux has partnered with GCU to impact the manufacturing workforce. With an estimated 2.1 million unfilled manufacturing jobs by 2030, GCU is launching a manufacturing certificate program with an emphasis in CNC
A2Z MANUFACTURING WEST COAST • 8 • APR - MAY '23
CNC AND MANUAL MACHINERY SINCE
New - Used -Appraisals
Auctions Our Showroom At: 3305 Edison Way, Fremont, CA 94538 Is Open Monday - Friday From 8am To 5pm BOB KROHA ROB KROHA CONTACT US TODAY: 510-249-1000, PERMACH.COM
1979
-
machining. In this immersive educational environment, GCU certificate students and 4-year degree engineering students will have an opportunity to work for Lux in manufacturing operations where they will gain hands-on manufacturing experience. Lux Precision Manufacturing mission is to re-energize American manufacturing by producing quality, precise parts for industry and by partnering with GCU to impact the manufacturing workforce.
For more infomation on Lux Precision Manufacturing Contact them at: weston@ luxprecisionmfg.com, (602) 633-5662.
Paperless Parts Strengthens Manufacturers' IT Security
Job shops and other manufacturers using the online quoting platform will gain a layer of security control when enhanced visibility and access rights management are required, particularly for orders linked to DoD programs.
With its chief technology officer noting that manufacturers are "major target for cybercrime," Paperless Parts is introducing data-security capabilities for the job shops and contract manufacturers using its quoting platform. The new Paperless Parts IT Module will help users ensure that sensitive data, especially Controlled Unclassified Information (CUI), is handled appropriately during quoting.