CIVIC CENTER MUSIC HALL Private Events FALL 2022 Follow @okcciviccenterspecialeventsAlong
HAIRSPRAYTHE BEACH BOYS OPENING NIGHTELIJAH MAHLER'S VIENNA OF THE CAMELLIASHADESTOWNJOHNBOLERO!WILLIAMS TOOTSIE MANNHEIM STEAMROLLER CHRISTMAS 2022-2023 SEASON has arrived VISIT OKCCIVICCENTER.COM TO LEARN MORE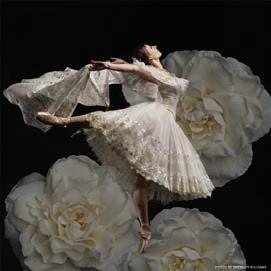 visit our east wing intimate performances • concordant caliber of events • free parking Located just 10 minutes east of the Civic Center e Hudiburg Chevrolet Center is located on the campus of Rose State College in Midwest City and is managed by the Civic Center Music Hall Visit okcciviccenter.com to learn more
premierweddingsmedia.com CONTENTS FALL 2022 Features 4 'TIL DEATH DO US PART 8 FLOWER SHOWERS 12 EMMY & BLAKE 14 LOVE AND LLAMAS 18 PRETTY IN PEARLS 22 SARA & COLE 26 VICTORIA & SILAS 30 JAISA & MATT 4 2214128 2 CIVIC CENTER MUSIC HALL // FALL 2022
This Halloween Glam inspired shoot brought dark details to the Ballroom. The hauntng sounds of cellist, Sam Kahre, echoed throughout the space. Complete with a black wedding gown and bubbling cocktails, we were spellbound.
COVER FEATURE 'TIL DEATH DO US PART PHOTOGRAPHER: ROBBY & SAVANNAH DOLAND OKCCIVICCENTER.COM5
6 CIVIC CENTER MUSIC HALL // FALL 2022
THE TEAM VENUE Civic Center Music Hall DESIGNER/COORDINATOR Amy Ray Events CONCEPT Suzanne Klimek PHOTOGRAPHER Robby & Savannah Doland VIDEOGRAPHER Pulley Productons FLORALS Forever Borrowed RENTALS Marianne's CAKE TOPPER & CUSTOM BOTTLE The Merriment Mill CAKE Allie's Baking Boutque CATERING Running Wild Catering HAIR Hayley Hall MAKEUP Krystal Rose Artstry DRESS Chantlly Bridal Studio BRIDESMAIDS DRESSES Revelry WEDDING RING Naifeh Fine Jewelry BRIDESMAID EARRINGS Izzy Anne Society STATIONERY Chirps and Cheers BALLOONS/BACKDROP OC Events CELLIST Sam Kahre MODELS Hunter (Bride), Dawana, Lizzie Masha, Micayla 7OKCCIVICCENTER.COM
Clouds on your wedding day don't have to be a bad thing. Especially when they are made of FLOWERS! This unique install by forist Ribbon & Blooms takes this intmate setup to a whole new level.
INSPIRATION FLOWER SHOWERS PHOTOGRAPHER: NELLIE KAY 9OKCCIVICCENTER.COM
10 CIVIC CENTER MUSIC HALL // FALL 2022 VENUE Civic Center Music Hall PHOTOGRAPHER Nellie Kay FLORALS Ribbon & Blooms RENTALS Marianne's HAIR Emily Cleek MAKEUP Dora Pett CHARCUTERIE OK Graze DRESS Moliere Bridal House SUITS The WardrobeMenswearModern CAKE Mishelle Handy THE TEAM
13OKCCIVICCENTER.COM
Alpaca my bags and run of with you! This transitonal color palete is perfect for a Fall wedding - with some unexpected guests.
INSPIRATION LOVE AND LLAMAS PHOTOGRAPHER: ASHLEY SUNDERLAND 15OKCCIVICCENTER.COM
VENUE Civic Center Music Hall PHOTOGRAPHER Ashley Sunderland CAKE Mishelle Handy Cakes FLORAL Trochta's Flowers GOWN/VEIL Chantlly Bridal Studio HAIR/MAKEUP MarloHaus Makeup & Hair MENSWEAR The WardrobeMenswearModern RENTALS Marianne's Rentals COLD SPARK BOXES Austn Smith Events DESIGN/STYLING Gracie Storey WEDDING OFFICIANT Chris Gray ALPACAS Magnolia And Prayers Alpacas THE TEAM 16 CIVIC CENTER MUSIC HALL // FALL 2022
Pearls are ofen thought of as an old traditon. However, this modern pearl trend has us all in a tzzy! Instead of a veil, opt for this pearl infused 'do to really wow your guests.
INSPIRATION PRETTY IN PEARLS PHOTOGRAPHER: BLAYKE Z. PHOTOGRAPHY 19OKCCIVICCENTER.COM
VENUE Civic Center Music Hall PHOTOGRAPHER Blayke Z. Photography HAIR Olivia Dixon MAKEUP Jakoby Loughridge FLORIST Curbside Flowers CAKE Sweet Devotons Cakery BRIDAL Bella Rose Bridal GROOM'S ATTIRE Weddings By Everyman COUPLE Thu Hong and Donnie Wall THE TEAM 20 CIVIC CENTER MUSIC HALL // FALL 2022
Afer fnding a napkin that she fell in love with, Sara based her entre wedding around it! It was colorful and unique just like their entre day. They infused both traditonal Persian and secular elements throughout their wedding for a celebraton that was perfectly them!
THE WEDDING OF SARA & COLE PHOTOGRAPHER: RACHEL WATERS 23OKCCIVICCENTER.COM
24 CIVIC CENTER MUSIC HALL // FALL 2022 VENUE Civic Center Music Hall PHOTOGRAPHER Rachel Waters PLANNER Edgin Event Co FLORALS Curbside Flowers RENTALS Marianne's Rentals HAIR & MAKEUP MarloHaus CATERING C2 Catering DRESS Prescot Bridal SUITS Jos A. Bank DESSERTS Arbuckle Mountain Pies & Eileen's Colossal Cookies THE TEAM
From childhood best friends to prom dates, to newlyweds; we couldn't have been more excited to celebrate these two tying the knot. Family was at the center of their day. Both sides helped setup and the forals were created by Victoria's grandmother!
THE WEDDING OF VICTORIA & SILAS PHOTOGRAPHER: SEASALT PHOTOGRAPHY 27OKCCIVICCENTER.COM
28 CIVIC CENTER MUSIC HALL // FALL 2022 VENUE Civic Center Music Hall PHOTOGRAPHER SeaSalt Photography COORDINATOR Cayden Wonn FLORALS Dori Guenther GETTING READY OUTFITS Mackleys CATERING Yellow Rose Theater Catering BARTENDING Amber's Bartending Connecton DJ Complete Weddings THE TEAM
When looking for a wedding venue, this couple focused on one main criteria: the groom wearing a tux! Mat wears a suit every day and wanted his wedding day to be special. With the help of Embellished Events, this luxurious wedding was defnitely black-te worthy!
THE WEDDING OF JAISA & MATT PHOTOGRAPHER: CARSYN CRAYTOR 31OKCCIVICCENTER.COM
32 CIVIC CENTER MUSIC HALL // FALL 2022 VENUE Civic Center Music Hall PHOTOGRAPHER Carsyn Craytor PLANNER Embellished Weddings FLORALS XO Haleigh Kenney FLORAL ARCH Wooden Hearts Boutque RENTALS Mood HAIR & MAKEUP Elite Beauty Bridal CATERING & BARTENDING Pepperoni Grill DJ M & M DJ Company DRESS The Bridal Boutque RINGS Michell's Jewelry CAKE Coop Cake ACCOMMODATIONS Colcord Hotel GUEST BOOK Fete Fone THE TEAM
PREFERRED VENDORS Get inspired by the amazing work of our preferred vendors by following us on Instagram at @okcciviccenterspecialevents

PACKAGES LUXURY - $6,500 • Base Rate price for Hall of Mirrors • Joel Levine Rehearsal Hall • Room Changeover • Balcony Lounge (Groom's Suite) • 12 LED up-lights • Choice of chairs (Crown or Chiavari) • 4 hours of Rehearsal tme BRILLIANCE - $5,000 • Base Rate price for Hall of Mirrors • Cocktail Hour in Joel Levine • Room Changeover • Balcony Lounge (Groom's Suite) • One Hour Rehearsal Time ROMANCE – $4,000 • Base Rate price for Hall of Mirrors • Balcony Lounge (Groom's Suite) • One Hour Rehearsal Time REQUIRED: • Security $40 per hour; required with venue rental on a 4-hour minimum • Liability Insurance: This may be purchased through the Civic Center for $350 or vendor of your choice • Maintenance Fee $150; additonal fee may apply upon discreton of OKCCCF ADD ONS: • Four Hour Rehearsal (subject to room availability) $750 • One Hour Rehearsal (subject to room availability) $300 • Balcony Lounge - $200 • Chivari Chair Upgrade $850 or $7 per chair (whichever is less) • Wireless LED Accent Up-Lights $25 per light • Producton Wi-Fi $75 • Large Screen $55 • Gold Circle Arch - $75 • Single White Arch - $55 • White Arches (3) - $125 BASE RATES MEINDERS HALL OF MIRRORS Max capacity 350 Monday - Thursday $3,250 Friday & Sunday $3,500 Saturday $3,900 Monday - Thursday mini event rate $2,500 *$300 per additonal hour JOEL LEVINE REHEARSAL HALL Max capacity 150 Monday - Thursday $1,500 Friday & Sunday $1,650 Saturday $1,800 BICENTENNIAL PARK Only available with additonal room rental $750 – Concierge Service
Civic Center Music Hall N A M E 4
O N E W E E K
R
B
7
N T
l
9 M
P
R
d /
A n n o u n c e y o u r e n g a g e m e n t ! D e c i d e o n W e d d i n g B u d g e t S t a r t g u e s t l i s t F i n d a n d b o o k v e n u e S e l e c t y o u r w e d d i n g d a t e F i n d a n d b o o k y o u r w e d d i n g p l a n n e r F i n d a n d b o o k p h o t o g r a p h e r S c h e d u l e e n g a g e m e n t p h o t o s C h o o s e c o l o r s c h e m e S e l e c t y o u r w e d d i n g p a r t y F i n d a n d b o o k c a t e r e r F i n d a n d b o o k f l o r i s t F i n d a n d b o o k v i d e o g r a p h e r S e l e c t d r e s s , s u i t , o r t u x a n d o r d e r V e n u e W e d d i n g P l a n n e r O f f i c i a n t C a t e r e r P h o t o g r a p h e r V i d e o g r a p h e r I n v i t a t i o n s F l o r i s t D J / M u s i c H a i r / M a k e u p D r e s s & A t t i r e L i g h t i n g & D e c o r C a k e / D e s s e r t R e n t a l s P h o t o B o o t h T r a n s p o r t a t i o n o o m B o c k - O H S n d a n d b o o k y o u r b a n D J e s e a r c h S o n g F i n d a n d b o o k o f f i c i a n t S e l e c t a t t i r e f o r y o u r w e d d i n g p a r t y e s e r v e h o t e l b l o c k f o r g u e s t s C r e a t e a n d s e n d S a v e t h e D a t e s F i n d a n d o r d e r w e d d i n g c a k e F i n d a n d o r d e r w e d d i n g i n v i t a t i o n s F i n d a n d o r d e r a n y r e n t a l i t e m s n e e d e d C o n f i r m a l l d e p o s i t s a c k f o r y o u r h o n e y m o o n G e t c a s h f o r a n y t i p s o r a n y r e m a i n i n g b a l a n c e s D D I N G D A Y o n g r a t u l a t i o n s ! Y o u ' r e M a r r i e d v i e w y o u r v e n d o r t e a m S e n d t h a n k y o u n o t e s i v e h a p p i l y e v e r a f t e r ! - 1 H S - 6 M O N T H S o o k R e h e a r s a l d i n n e r R e s e a r c h w e d d i n g i n s u r a n c e ( o r p u r c h a s e t h r o u g h C i v i c C e n t e r ) B o o k h a i r a n d m a k e u p U p d a t e y o u r r e g i s t r y P l a n a n d b o o k y o u r h o n e y m o o n P u r c h a s e w e d d i n g a c c e s s o r i e s B o o k a c c o m m o d a t i o n s f o r w e d d i n g n i g h t B o o k y o u r t r a n s p o r t a t i o n v e n d o r
R
Wedding WChecklist edding Checklist V E N D O R L I S T C O N T A C T Suzanne Klimek: 405 594 8253
C
A d d r e s s a n d s e n d i n v i t a t i o n s O r d e r w e d d i n g f a v o r s S c h e d u l e f i t t i n g a p p o i n t m e n t s P u r c h a s e w e d d i n g r i n g s P u r c h a s e g u e s t b o o k P u r c h a s e g i f t s f o r w e d d i n g p a r t y O r d e r c e r e m o n y p r o g r a m s & m e n u c a r d s W r i t e y o u r v o w s S e n d r e h e a r s a l d i n n e r i n v i t a t i o n s P l a n y o u r w e d d i n g c e r e m o n y C r e a t e w e d d i n g d a y t i m e l i n e
O N E M O N T H F i n a l i z e y o u r v e n d o r t e a m O b t a i n m a r r i a g e l i c e n s e C a l l g u e s t s w h o h a v e n o t R S V P ' d W r i t e a s w e e t n o t e t o y o u r p a r t n e r
2 W E E K S P i c k u p y o u r d r e s s , s u i t o r t u x C o n f i r m f i n a l d e t a i l s w i t h v e n d o r s A s s i g n d u t i e s t o w e d d i n g p a r t y C r e a t e a n d s h a r e y o u r s e a t i n g c h a r t
2 M O N T
2 - 3 M O N T H S
F i
W E
A F T E R R e
L
1 0