ANNUAL REPORT 2021
FOR PETS. FOR PEOPLE. for good.
Dear Friend,
The year 2021 was of contrasts as the world navigated the impact of the COVID-19 pandemic. But as always, pets deliver a special comfort. Your generous support of PetSmart Charities of Canada™ made an indelible impact on both ends of the leash this year.
Together, we helped more than 15,000 pets find loving homes through our adoption program in PetSmart stores. Outside of stores, we helped connect even more pets with people by committing $550,000 to help transport pets to areas where they have a better chance of finding a loving home and preparing them for adoption. With over $1.4 million in grant funding to improve access to veterinary care across Canada, we helped 10 partners provide healthcare for pets in their communities — helping them stay healthy, happy and together with their families.
The research we conducted uncovered the current state of affairs in animal welfare. We discovered there was much to celebrate! Over the past decade, significant progress has been made in saving more pets through adoption. But there is still much work to be done to keep those pets and their families together — happy and healthy. Our team rolled up their sleeves and began to look ahead at 2022, devising a new strategy for an even greater impact. We look forward to sharing more with you next year.
None of this would have been possible without you. Thanks to your generosity, we can continue to support more pets who will bring love and comfort to their people for years to come.
With gratitude,
Aimee Gilbreath, MBA President
PetSmart Charities of Canada
02
OUR MISSION
WHO WE ARE
PetSmart Charities of Canada makes the world a better place for pets by investing in community partners that advocate and care for the well-being of pets and all who love them.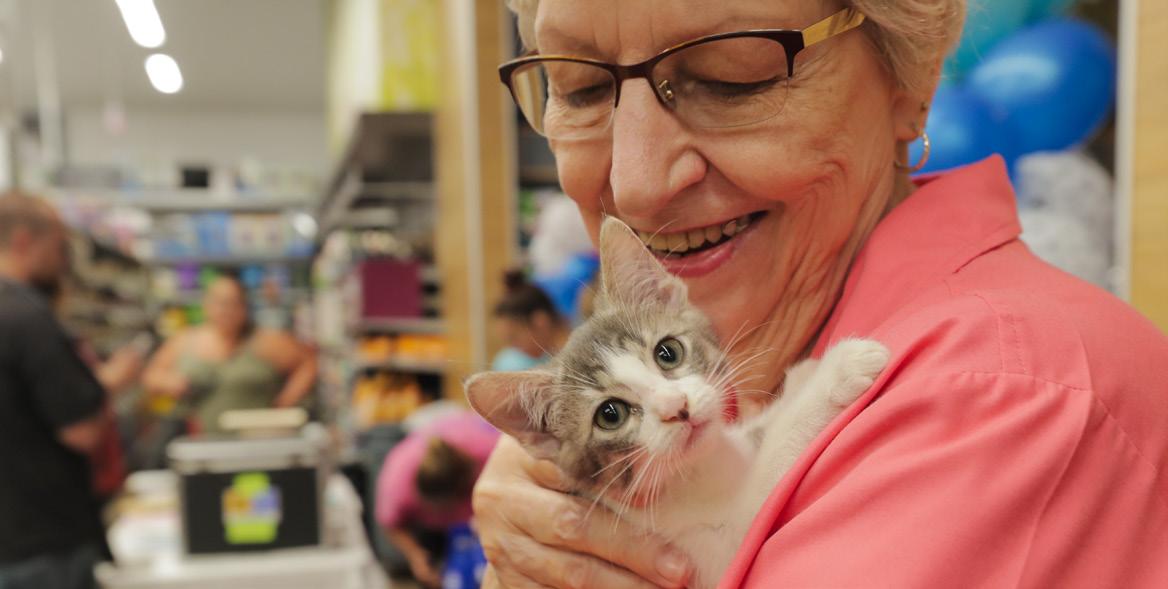 OUR VISION
A world where communities unite in support of pets together with their families.
03
Grant Portfolio
THROUGH OUR INVESTMENT IN STRATEGIC GRANTS AND PARTNERSHIPS, WE'RE MAKING POSITIVE CHANGES IN THE LIVES OF PETS, FAMILIES AND COMMUNITIES.
Pet Adoption
With help from more than 160 adoption partners and adoption centres in over 150 PetSmart stores, we help pets find the loving homes they deserve.
Preserving Families
We're committed to supporting programs that keep pets and people together by alleviating pet food insecurity and assisting families in crisis through disaster response efforts.
Access to Veterinary Care
Every pet deserves medical care, but for many, access isn't always available. We invest in programs that create accessible and affordable veterinary care within communities across the country.
Influencing Communities
As firm believers that pets make us better people and make our communities stronger, we're proud to support programs that reinforce the benefits pets bring into our lives.
04
05 CHANGES LIVES your support SEE THE IMPACT OF YOUR 2021 GIFTS More than $362,000 in funding for adoptions in PetSmart stores. OVER $1.4 MILLION Granted to 10 organizations across Canada to help improve access to veterinary care for pets in need. 15,252 FAMILIES CREATED Provided for disaster response to support flood and fire sheltering and recovery. $37,500 THOUSAND IN RELIEF To and throughout Canada to give them a better chance at finding a loving home. OVER 10,000 PETS TRANSPORTED
IMPACT IN ACTION
Lytton, British Columbia
When wildfires tore through the town of Lytton, BC, PetSmart Charities of Canada™ partner BC SPCA took action. With the support of a $7,500 Disaster Response grant, BC SPCA went behind fire lines to help the pets left behind when their families were forced to evacuate.
Calgary, Alberta
With the support of a $50,000 transport grant, Alberta Animal Rescue Crew Society worked with remote communities to help transport an estimated 2,600 homeless pets to help them find loving homes of their own.
Becca's pet parent was forced to flee a life-threatening situation, but with our support, Becca was not left behind. With a $30,000 grant to support the Newfoundland & Labrador SPCA Pet Safekeeping program, pets like Becca can find safety. After 3 months in the program's care, Becca was happy to be reunited with her family.
Brampton, Ontario
With $10,000 in combined grant funding and Adoption Rewards, Paws & Tails Cat Rescue found loving homes for over 600 pets through the PetSmart Charities of Canada™ adoption centre in the Brampton PetSmart store.
06
SEE OUR
Newfoundland & Labrador
Adoptions
Since 1999, we've partnered with PetSmart stores across Canada to connect pets in need of homes with families of their own. In 2021 we achieved something big - 350,000 adoptions! Working with animal welfare partners at PetSmart Charities of Canada™ Everyday Adoption Centres and hosting annual National Adoption Week events, we are incredibly proud of this achievement. It honours all those who save lives through adoption.
"For us, this meaningful milestone presents a perfect time to reflect on the hundreds of thousands of stories of unconditional love that led us here," said Aimee Gilbreath, president at PetSmart Charities of Canada. "This moment was brought to us by all those who made donations at stores or online. We're grateful for the generosity of those who support our work and those who opened their hearts and homes to pets in need."
By partnering with PetSmart stores and local adoption groups, we'll help thousands more. Local adoption partners make it possible for us to facilitate thousands of adoptions each year. In 2021, Toronto Cat Rescue led the pack with an incredible 844 adoptions in PetSmart stores. Together with over 160 dedicated partners like Toronto Cat Rescue, PetSmart Charities of Canada helped over 15,000 pets find homes in 2021.
07
Access to Care
It's a staggering number - almost 8 million of pets across Canada are in need of veterinary care. We believe all pets deserve to live long, healthy lives in the arms of those who love them. That's why PetSmart Charities of Canada is supporting community changemakers to address both the immediate problem and create long-term, sustainable solutions.
Accessing veterinary care is often especially challenging in Canada's remote Northern communities, where the nearest veterinarian could be hours away. Canadian Animal Task Force Society is on a mission to help bring care to those pets who need it most. With $150,000 in grant funding, we're supporting the expansion of accessible veterinary services in urban and Indigenous communities in Alberta and neighbouring provinces, helping First Nations members access care so their pets can live long, healthy lives.
Helping Alleviate Pet Food Insecurity
Millions of Canadians struggle with food insecurity, and oftentimes, their pets don't get adequate nutrition, either. To help alleviate pet food insecurity during the pandemic, PetSmart Charities of Canada teamed up with Humane Canada to help keep food bowls and bellies full. Thanks to a $100,000 grant, many pet parents facing financial struggles were able to provide for their pets throughout 2021. With our support, 12,000 pets received pet food through Humane Canada's partner organizations.
One Humane Canada partner organization in Winnipeg, Manitoba, received a portion of the grant funding to help feed pets in their area. "For almost a year, people in our community didn't have to worry about where their pet's next meal was coming from, and they could focus instead on having a wonderful relationship with their pet!" a grateful staffer told us.
09
Influencing Communities
PETSMART CHARITIES OF CANADA IS PROUD TO PARTNER WITH ORGANIZATIONS THAT CREATE POSITIVE CHANGE IN THE LIVES OF PETS AND PEOPLE WHO LOVE THEM.
At PetSmart Charities of Canada, we believe that education is key to making a positive impact within the diverse communities we serve. That's why, in partnership with Winnipeg Humane Society, we supported reconciliation training for animal welfare organizations serving Indigenous communities across Canada.
Canada's Truth and Reconciliation Commission (TRC) Calls to Action included the recommendation for cultural competency training for all healthcare professionals. Since human, community and pet health are so closely connected, integrating reconciliation training will help animal welfare organizations better serve Indigenous communities.
Winnipeg Humane Society collaborated with the Canadian Animal Task Force, BC SPCA and the International Fund for Animal Welfare to organize a Reconciliation in Animal Welfare Symposium (RAWS). About 500 people attended this groundbreaking symposium, where they gained cultural understanding to better integrate meaningful reconciliation into their operations.
10
11 OUR 2021 FINANCIALS A LOOK AT THE NUMBERS Individual Donations Petsmart, Inc Contributions Corporate, Foundations, etc. Total Operating Income FUNDING SOURCES $4.9M $2.2M $0.2M $7.3M Program Fundraising Administrative Total Expenses EXPENSES $6.0M $0.1M $0.2M $6.3M PROGRAM EXPENSE BREAKDOWN Building Positive Relationships Between People & Pets Improving Quality of Life for Under-Resourced Pets Preserving Families in At-Risk Scenarios Influencing Communities to Invest in Pets Total Operating Income $2.9M $1.9M $1.0M $0.3M $6.0M Total Net Operating Investment Income (Net) Change in Net Assets Beginning Net Assets Ending Net Assets $0.9M $0.2M $1.1M $5.3M $6.4M Building Positive Relationships Between People & Pets
Quality of Life for Under-Resourced Pets
Families in At-Risk Scenarios Influencing Communities to Invest in Pets
Improving
Preserving
OUR SUPPORT FROM
CORPORATE PARTNERS
PetSmart Charities of Canada partners with corporations that share our vision of a world where communities unite in support of pets together with their families. We aim to be there for pets and families through the entire journey, beginning with pet adoption and through all of life's moments. Thank you to all our corporate partners for their dedication to this shared vision.
partner spotlight
From hosting pet adoptions at over 150 PetSmart stores to supporting our mission through donations at the register PIN pad, our friends at PetSmart stand by their motto — Anything for Pets. In addition to providing ongoing support, PetSmart runs various seasonal promotions to help further our mission. This includes donating a portion of sales from their collection of plush toys, Chance & Friends, and facilitating points donations through the company's loyalty rewards program, Treats™.
12
OUR LEADERSHIP OFFICERS
board of directors
Thank you to our Board of Directors for their tireless commitment to care for pets and the families who love them.
DIRECTORS
13
Jim Persinger
Aimee Gilbreath
Janet Henry Malcom Khan
Barbara Cartwright Nils Kravis Delmar Kyllo
Chair, Director President Secretary Treasurer, Director Director Director Director
Ways to Give
As a monthly donor, your support plays a vital role in connecting families through pet adoption, creating access to affordable veterinary care, and assisting families in crisis through natural disasters. Join us and make a monthly contribution for those in need.
Remembering PetSmart Charities of Canada in your final wishes is a lasting way to change the lives of pets and people who love them. Whether through an outright gift in your will/bequest or by designating us as the beneficiary of your life insurance or retirement account, you will help make the world a better place for pets and their families for generations to come.
As a corporate partner, your contributions lead the change for good. Your support not only helps homeless pets find loving families it also ensures that families stay together with their pets even during life's toughest moments. Contact Karen Thomas at KarThomas@PetSmartCharities.org to learn how your company can get involved.
To learn more about opportunities to support PetSmart Charities of Canada, please visit PetSmartCharities.ca/Take-Action/Other-Ways-To-Give
14
SEND YOUR GIFT VIA MAIL: 200-1100
Drive
(800)
Burloak
Burlington, Ontario L7L 6B2
423-7387
P et S mart C harities . ca /D onate make a gift
Fulfilling the mission of PetSmart Charities of Canada only happens because of the generosity of our donors. You have options when making a gift. Choose to give by mail, phone, or make your gift online now at:
Become a monthly donor Become a Corporate Partner Include us in your Estate Plans
THANK YOU
Thanks to your support, we provided $3.4 million in grants to partner organizations across Canada. Together, we helped more than 15,000 pets find loving homes through adoption. You also made it possible to invest in organizations dedicated to providing pets with health care within communities that lack access to veterinary services.
Thank you for making 2021 a life-changing year for pets in need.
Let's keep leading change together — For Pets. For People. For Good.
15
Your generous contributions made tails wag across the country!
16 EMAIL US: Gifts@PetSmartCharities.org CALL US: 1-800-423-7387 MAIL US: 200-1100 Burloak Drive Burlington, Ontario L7L 6B2