MAGAZINE STUART ONES TO WATCH OUR ANNUAL LIST OF MOVERS + SHAKERS TO KEEP AN EYE ON 2022 KERRI PAIZZI: BRINGING THE FLAVOR TO MARTIN COUNTY THIS FALL
PREMIERPREMIERPRIVATEJETS Carrier #2RPA572N PREMIER Seasonal Travel has never been easier! The Florida Express Jet Club simplifies private jet travel with unique "Travel Zone" pricing. Travel is good for any direct flights to/from any Florida airport to anywhere on the zone map with locations east of the Mississippi River. Scan the QR code to learn more about this program! MAKING EVERY FLIGHT BETTER FLORIDA EXPRESS JET CLUB sales@premierprivatejets.com | www.premierprivatejets.com | (772) 247-3071 Atlantic At Stuart Jet Center | 2580 SE Aviation Way, Stuart FL
www.VacationHutchinsonIsland.com Over the years, Water Pointe Realty Group has proven itself to be a leader in the local luxury real estate market on the Treasure Coast. Whether you are looking for a starter home, shopping for the perfect property in one of our gorgeous golf course communities, or renting through www.VacationHutchinsonIsland.com, our expert associates are here to help. From course to coast, we're more than just waterfront. FIND YOUR HOME - www.WaterPointe.com at Indian River Plantation Jupiter/Tequesta Office 393 Tequesta 561.747.3377Drive Stuart/Hutchinson Island Office 660 NE Ocean 772.225.0110Blvd. Stuart/Willoughby Office 960 SE Indian 772.220.7877Street Sewall's Point Office 3727 SE Ocean Blvd., Ste. 100 772.220.4343 all that and more GOLF - TENNIS "Tennis Villas" Artist rendering - Elizabeth Huggins-Thompson © 2021
ClevelandClinicFlorida.org/Rankings FOR EVERY CARE IN THE WORLD Nothing compares to being healthy and feeling good. At Cleveland Clinic Martin Health, we are here for you and your loved ones, providing for every healthcare need you have today and conducting research to advance the medicine of tomorrow. Ranked among the best hospitals in Florida by U.S. News & World Report, we're proud of the care we deliver. For routine checkups. For life-enhancing treatments. For every care in the world. HIGH PERFORMING CONDITIONS & PROCEDURES Chronic Obstructive Pulmonary Disease (COPD) Colon Cancer KidneyHeartDiabetesSurgeryAttackHeartFailureFailureStroke FOR EVERY & HEALTHY HAPPYLIFE
561-747-4539 • 950 Jupiter Park Dr, Jupiter • www.mauricesfurniture.com Maurice's Furnishings Family Owned and Operated Since 1981 IMPORTED & CUSTOM FURNITURE • LIBRARIES & BUILT-INS • ENTERTAINMENT CENTERS SOFAS • ACCESSORIES & LIGHTING • ANTIQUES & ARCHITECTURALS

Essentials & Luxuries to Spoil Your Fur-Babies 2701 se ocean blvd • stuart, fl 34996 cedar pointe 772.600.7446plaza holistic natural foods • pet treat bakery • boutique wagnolias.com
STUART | SEPTEMBER 20226 44 Contents SEPTEMBER 2022 ALESHINAOLGA Features 28 Ones to Watch 2022 Our annual "hot list" of local movers and shakers you may want to keep an eye on By Linda Marx 44 Drama Queen Step into the spotlight this fall in diva-worthy looks with a vintage vibe Photography by Olga Aleshina Shot on location at The Lyric Theatre in Stuart
Vintage Claude Rap green crepe wool single-button jacket and pant ($295), vintage Yves Saint Laurent necklace ($1,500), Dina C's Fab and Funky Consignment Boutique, West Palm Beach; Salvatore Ferragamo mini leather cross-body tote ($750), Saks Fifth Avenue, The Gardens Mall, Palm Beach Gardens
BOYNTON772.238.8255561.473.4851BEACHSTUART PALM BEACH WELLINGTON561.375.5731GARDENSCROSSING561.556.4781 YOURELEVATELIVING Retire in style. Whether it's fine dining and luxury spa experiences or endless events and personalized care you're seeking, our south Florida communities have you covered. Discover how luxury senior living allows you to thrive in an engaging and vibrant community like our HarborChase communities of Wellington Crossing, Boynton Beach, Stuart and Palm Beach Gardens. This is HarborChase. Come celebrate with us. HarborChaseLivingExploreat EXPLORE LUXURY SENIOR LIVING IN SOUTH FLORIDA!
STUART | SEPTEMBER 20228 Contents
©2022 Palm Beach Media Group North LLC. All rights reserved. Stuart Magazine is published monthly except June and August by Palm Beach Media Group North LLC, P.O. Box 3344, Palm Beach, FL 33480. Known office of the publication 1000 N. Dixie Hwy., Suite C, West Palm Beach, FL 33401. Postage paid at West Palm Beach, FL and at additional mailing offices. POSTMASTER: Send address changes to: Stuart Magazine c/o Palm Beach Media Group North LLC, P.O. Box 3344, Palm Beach, FL 33480. Subscription price: $29.95 per year. Outside U.S. add $35 per year for postage and handling. Send subscription orders to: Subscription Department, Stuart Magazine, P.O. Box 3344, Palm Beach, FL, 33480 or email circulation@palmbeachmedia.com. Vol. 22, No. 7, September 2022. Stuart Magazine and Palm Beach Media Group North LLC retain exclusive rights to all be in any manner at Jason D. Page at
without our written consent. 26 28 19ON COVERTHE Photographer: Steven Martine / Stuart resident Kerri Paizzi shot by Stuart Magazine on location
Jon athan Dickinson State Park Ocean-inspired art by Jenna Derrenbacker
reproduced
editorial and photographic materials used, which cannot
Hudson's on the River in Stuart PAGED.JASON DERRENBACKERSTACEY In Every Issue 14 Editor's Note 16 Publisher's Note 53 Flavor Treasure Coast dining guide 60 Hot Shots Photos from recent events 68 Surf Report What's up on stuartmagazine.com, plus "Instaworthy" reader pics Radar 19 Buzz Jenna Derrenbacker's booming (and accidental) art career, Lindsey Jane Soaps handmade in Palm City, beauty picks for fall, events calendar 22 Off the Charts The Beasley family made their Florida vacation a permanent one— and bought a new fishing vessel from Young Boats for their new life 24 Wanderlust Set sail in the Caribbean on the amenity-rich and eco-conscious MSC Seashore 26 Wellness 4 delicious and healthy fall fruits and veggies to add to your grocery list ASAP Illuminated Being #4, self-portrait light painting shot by
Be a part of something fresh! NEW LOCATION! Flagler Park- 201 SW Flagler Ave -Past Mulligan's under the Roosevelt bridgeMOBILE BAR Specializing in craft cocktails in collaboration with our vendors. A market for growers, crafters, artists & other creators www.stuartmainstreet.org | 772-285-0502 Operated by: Fresh Local Produce & Honey Organic Eggs, Beef & Poultry Household Plants & Florals Homemade Cheeses Spices & Sauces Freshly Baked Breads & Tasty Treats Pottery, Art & Home Décor Handcrafted Jewelry & Accessories Vegan and Gluten Free options!  Every Sunday All Year Round Summer Hours: 9-1PM Live Music Sponsored by: Stormtroopers Cleaning Something for everyone of all ages!  Support young entrepreneurs at our Kids Market, the last Sunday of the Month.
STUART | SEPTEMBER 202210 STUART MAGAZINE © 2022 Palm Beach Media Group North, LLC. All rights reserved. Stuart Magazine is published 10 times a year by Palm Beach Media Group North LLC, P.O. Box 3344, Palm Beach, FL 33480 561.659.0210 • Fax 561.659.1736 stuartmagazine.com Editor in Chief Michelle Lee Ribeiro Creative Director Olga M. Gustine ArtDESIGNDirector Craig R. Cottrell Jr. Photo Editor Kelly Rogers Digital Imaging Specialist Leonor Alvarez-Maza ManagingEDITORIALEditor Melissa Puppo Senior Editor Allison Wolfe Reckson Fashion Editor Katherine Lande Web Editor Abigail Duffy CONTRIBUTORSWriters George LaBonte, Holly Martinez, Linda Marx, Emily Pantelides, Paul Rubio Photographers Olga Aleshina, Steven Martine, Jason Nuttle Social Photographers MaryAnn Ketcham, Liz McKinley, Doreen Poreba Fashion Stylist Zlata Kotmina SUBSCRIPTIONS 800.308.7346 20K&UNDER CIRCULATION BEST2022OVERALLMAGAZINE SILVER AWARD
Dianne Davant & Associates 613 Colorado Ave. • Stuart, FL 34994 Banner Elk, North Carolina 28604 Dianne Davant Moffitt , ASID • Priscilla Hyatt Councill, ASID 772.781.1400 • www.Davant-Interiors.com FL License IB0000766Photo credit: Daniel Newcomb
STUART | SEPTEMBER 202212 STUART MAGAZINE PUBLISHERS OF: Palm Beach Illustrated • Naples Illustrated • Fort Lauderdale Illustrated • Jupiter Magazine • Stuart Magazine • Aventura Vero Beach Magazine • Florida Design • Florida Design Naples Florida Design Miami • Florida Design Sourcebook • Palm Beach Charity Register • Naples Charity Register • Palm Beach Relocation Guide • Southwest Florida Relocation Guide • Traditions: The Breakers Fifth Avenue South • Palm Beach 100 • Naples 100 • Art & Culture: Cultural Council for Palm Beach County • Pinnacle: Jupiter Medical Center Foundation • The Jewel of Palm Beach: The Mar-a-Lago Club Naples on the Gulf: Naples Chamber of Commerce • Waypoints: Naples Yacht Club • Community Report: Collier Community Foundation • Advances: Tampa General Hospital • Fisher Island Club Magazine • Naples Realtor: Naples Area Board of REALTORS In Memoriam Ronald J. Woods (1935-2013) PALM BEACH ME DIA GROUP Associate Publisher Tanya Lorigan AccountADVERTISINGExecutive Kathy Breen Advertising Services Coordinators Rebecca Desir, Elizabeth Hackney ProductionPRODUCTIONDirector Selene M. Ceballo Production Manager Kayla Earle Digital Pre-Press Specialist George Davis Advertising Design Coordinators Jeffrey Rey, Anaely J. Perez Vargas Production Coordinator Ileana Caban Digital Production Coordinator Brendan Everson OPERATIONSITManager Keith Gonzalez Distribution Manager Judy Heflin Circulation Manager Marjorie Leiva Circulation Promotions Manager Marcos Alviar Logistics Manager Omar Morales Circulation Assistant Elizabeth Gillespie Accounting Specialist Mary Beth Cook Accounts Receivable Specialist Ana Coronel Group Publisher Terry Duffy Sales Director Deidre Wade Editorial Director Daphne Nikolopoulos Chief Operating Officer Todd Schmidt HOUR MEDIA, LLC CEO Stefan Wanczyk President John Balardo Patrick Gambale –Exclusive Agent AllstateCompanyInsurance Our family has worked closely with Allstate for years to help people with their insurance needs – from homes to auto to boats and more. Our quality, service-oriented agency is not only owned and operated by a family, customers tell us we make them feel like family too. I'm proud to work with a company who's been serving satisfied customers for over 80 years. Customers count on outstanding financial strength and superior claims service to help protect what they value most. Allstate delivers on their promise. P: 772.223.6007 | F: 772.223.6009 | patrickgambale@allstate.com 7100 S. Kanner Hwy. | Stuart, FL 34997 9 a.m. to 6 p.m., Monday - Friday | 9 a.m. to 1 p.m., Saturday | Closed Sunday Cutting Edge FacilityDentalExtensiveOfferingCare. Comprehensive & Personal Care 15% OFF CLEANINGS!DENTAL during September and October PALM CITY ANIMAL MEDICAL CENTER We need ourcleanedteethtoo! facebook.com/palmcityanimalclinicpalmcityanimalmedicalcenter.com3090S.W.MappRoad,PalmCity,FL34990 772-283-0920
historic downtown stuart • 15 sw flagler avenue • 772-221-8280 • matildaslifestyle.com style + service + inspiration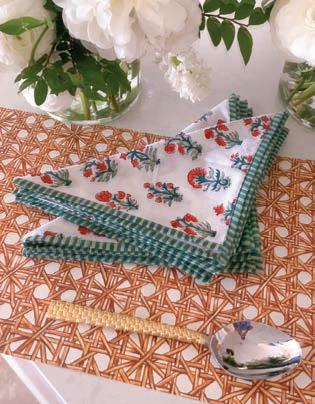 Last summer, our team was brainstorming ideas for the future and decided we wanted to launch some kind of annual feature highlighting some of the many interesting people in our community who are doing all kinds of cool things. Lots of magazines have these types of packages, "30 Under 30" and the like, but we didn't want to exclude anyone by putting an age stipulation on it. We asked for your recommendations (thanks to everyone who nominated someone!) and did our own hunting to come up with a dozen or so folks, each we feel are worthy in their own unique ways. Let me tell you, it wasn't easy narrowing down the options. But our goal was to cover a wide range of endeavors, so inevitably there were some really great nominees that we had to leave out this time around. There is always next year, and I hope going forward you will continue to let us know about people we should have our eye on. On the cover is Stuart resident Kerri Paizzi, who recently took over the monthlong Flavor Palm Beach food festival that takes place each September and has been doing an incredible job with it. And guess what? She has decided to expand the brand and launch Flavor Martin County! The local event will take place during the month of October and allow us all to taste special prix fixe menus at dozens of restaurants in Martin County. Get to know Kerri and the other "Ones to Watch" profilees beginning on page 28. Last but not least, I have some exciting news to share.... At the Florida Magazine Association's 2022 Charlie Awards, which took place up in Ponte Vedra Beach last month, Stuart Magazine was honored with a Silver Award for Best Overall Magazine in its circulation category! I am so proud of the product we create each month here at Stuart Magazine, and I'm grateful to the FMA for recognizing our work. To all of the talented contributors who come together to make this mag what it is— editorial, design, production, sales, freelance writers, photographers, stylists—thank you for all that you do. Well done, team! Peace and blessings,
PHOTOLILA© Michelle Lee Ribeiro @mleeribmichelle@stuartmagazine.com
Behind the SceneS We had a blast shooting our September cover at Hudson's on the River! From left: me with cover girl Kerri StevenphotographerKerri,Paizzi;me,andMartine. l
STUART | SEPTEMBER 202214
Movers and shakers note
Editor's
W hat an incredible summer it has been! I was able to make it up to Cape Cod, my eternal happy place, to spend some time with my family at the cottage. I did a lot of paddleboarding and biking and beaching here at home. And I got to meet a ton of amazing folks in the area as I hopped from photo shoot to photo shoot for our inaugural "Ones to Watch" editorial package, which we are launching in this issue and plan to make an annual thing. Let me explain a bit about the idea behind "Ones to Watch."
GEODE CHANDELIER
The October issue is shaping up to be a great one all around, as we will also be including a special adver tising section, Faces of Martin & St. Lucie Counties, for business owners to promote themselves. If you are interested in hearing more about this unique opportunity, please get in touch with me via email. In the meantime, I've been meeting with local business owners and organizations as we all witness the immense growth in Martin and St. Lucie counties. Many of us have mixed emotions about it, but I feel this growth will ultimately bring in more opportunities, business, and support for the community.
I hope you enjoy this issue and continue to visit stuartmagazine.com, where you can sign up for our weekly Insider's Guide newsletter to keep up with current events and news. Thank you for your readership, and feel free to reach out to me anytime. note Tanya Lorigan tlorigan@palmbeachmedia.com
STUART | SEPTEMBER 202216 W hat a busy summer it has been! My husband and I attended two weddings and spent quality time with family in the Northeast to escape the heat. During our travels, I met many interesting people from all over the country who are yearning to move to Florida and make this their full-time home. We've tried to keep the Treasure Coast a secret, but the word is out! The September issue always energizes me. Our slower summer season comes to an end, our children are back to school, the snowbirds begin their southern migration, and we flow back into our routines. I'm especially looking forward to reading the "Ones to Watch" feature our editorial team put together for this special issue, profiling some of the movers and shakers in our community. This may be one of my favorite issues of the Septemberyear!also allows me to begin the rewarding work of supporting and sponsoring upcoming events and charities. There are so many worthwhile organizations and individuals doing much-needed and inspiring work. If I haven't reached out to you already to discuss how Stuart Magazine might be able to work with you, please contact me—we are here to help! And be sure to keep an eye out for our annual Charity Datebook in the upcoming October issue to aid in your planning.
From summer to season
PHOTOGRAPHYDREAMACHASIN
Publisher's
Fine Art Gallery The Palm Room Art Gallery & Artisans Boutique offers original fine art by local professional artists, as well as hand crafted wearables, gift items and jewelry. We offer six new exhibits a year. Receptions the first Wednesday of odd months 5:30 to 7:30 pm! Hours: Tuesdays through Saturdays 12 to 6 pm 3746 SE Ocean Blvd, Harbour Bay Plaza Stuart, Florida 34996 https://martinartisansguild.org/palm-room-events
fisherpotterhodas.com | 561.832.1005 | West Palm Beach Visit our website to find out about our qualifications. Lawyers are only as good as their team. The FPH team includes: • A former federal prosecutor; • Four former federal law clerks; • A former President of the Florida Bar; • A former Chair of the Marital and Family Law Board Certification Committee; • Partners from Yale and Harvard law schools; and • Partners who have taken cases with billions of dollars in dispute to trial.
BUZZ OFF THE CHARTS | WANDERLUST | WELLNESS Clockwise from top right: Jenna Derrenbacker's statement pineapple wall art, ode to Florida, and ocean-inspired serving boards.
19SEPTEMBER 2022 | STUART Radar
Art Career An Accidental DERRENBACKERSTACEY DERRENBACKERJENNA DERRENBACKERJENNA by
|
L ike many people during the height of the pandemic, Jenna Derrenbacker found herself needing a creative outlet to fill all of the free time she now had living in quarantine. A University of Central Florida junior at the time, she moved back to Stuart after the college sent students home for the remainder of the semester and started focusing on something she has always loved—art. "I was using every art medium imaginable because I was just so bored during that time," says Derrenbacker, 23. "I needed a Father's Day gift for my dad and saw someone online using resin. I thought, 'That looks cool, I'll try it out.' I made a set of coasters for my dad." She began experimenting with resin on various other proj ects and discovered how much she loved the medium. And soon, her friends took notice and started asking her to create items for them. That's when she decided to launch her online HOLLY MARTINEZ
DERRENBACKERJENNA SPOFFORDSAMANTHA
DERRENBACKERSTACEY
In addition to using her social media savvy to grow her business, Derrenbacker has also set herself apart by creating memorial pieces for clients. She mixes the cre mated remains of customers' loved ones with the resin and uses it to create ocean-themed artwork in their honor. "One video featuring my memo rial artwork had millions of views [on TikTok]," she says. "Now I have a waiting list for these custom pieces, and they make up about half of my revenue. It's cool because I have two different types of clientele—those who want a memorial piece and those who want everyday artwork for their homes." artbyjennalynn.com lotion bar Lindsey Camillo
SOAP STAR
STUART | SEPTEMBER 202220 / BUZZRadar
A Palm City resident finds her passion crafting natural, vegan soaps
Clockwise from top left: Turtle serving board; Jenna Derrenbacker; an ocean-inspired work of art. Spotlight business, Art by Jenna Lynn (formerly called Arts 'N Crafts by Jen), selling resin-made wall and table decor, jewelry dishes, serving boards, and trays featuring ocean waves, sun sets, and galaxies. Now in its second year, Art by Jenna Lynn has become so successful that it is currently a full-time job for Derrenbacker. "I attribute a whole lot of my success to TikTok," says the artist. "There have been quite a few videos of me creating art that have gone viral. I'm thankful that the social media platform exposed me and my work to so many people. It's the reason why I have repeat customers from around the world."
Citronella
L indsey Camillo discovered her passion for soapmaking during a difficult period of her life. In the summer of 2021, the 32-yearold was staying at home with her newborn son while recovering from postpartum surgical complications and craved a creative outlet. She looked up homemade soap recipes to pass the time. "I really enjoyed the creative aspect of it and making something people can use," she recalls. "It was love at first soap!" Crafting the soaps in her Palm City home, she launched Lindsey Jane Soaps, an online store selling homemade, cold-processed, naturally scented, vegan soaps, this past February. She currently sells two collections: The Naturals, made with essential oil blends, and The Classics, created with phthalate-free fragrance oils that produce stronger scents. "Some people love the bolder smell and others want to go the allnatural route," says Camillo, who has added lotion bars, moisturizers, and more to her line, which can be found online as well as in local stores including Stuart's Healthfully Yours, DT Beauty, and Herban Bo tanicals Apothecary. "Soap isn't a gift that will just sit around," she says. "Everyone enjoys soap, and it's practical!" lindseyjanesoaps.com —H.M.
PERFECT SHAPE
September 25: Mothers and Daughters Day Garden Club of Fort Pierce, $7, facebook.com/ gardenclubftpierce
A few things to do this month
PAINT THE TOWN Sol de Janeiro Glowsoldejaneiro.com
September 15: Blowing Rocks Preserve Shoreline Cleanup Blowing Rocks Preserve, Hobe Sound, free, nature.org
September 15: "Peace, Love & Woodstock" '60s-Themed Dress-Up Dance Party Elliott Museum, Stuart, $20/advance ($25/door), hsmc-fl.com
LASH MAGIC
September 10-11: Port St. Lucie Home Show 2022 MidFlorida Credit Union Event Center, Port St. Lucie, free, hsmc-fl.com
PIGMENT PLAY About Face matte fluid eye paint in Sky Blue, $16, aboutface.com
NATURAL FLUSH Saie dew blush in Chilly, $24, saiehello.com
Fall
September 17: Second Annual Outrun Hunger 5K Causeway Cove Marina, Fort Pierce, $45, stophunger.org
September 25: Kids Market at Market on Main Flagler Park, Stuart, free, stuartmainstreet.org
September 2: First Friday Art Walk The Creek District, Stuart, free, thecreekdistrict.org
September 24: San Juan Festival & Business Expo MidFlorida Credit Union Event Center, Port St. Lucie, $10, hispanicchamber.org
September 9: Kitty Catalina Wine Mixer Humane Society of the Treasure Coast, Palm City, $25, hstc1.org
21SEPTEMBER 2022 | STUART
The Brow Trio stencil kit, $38, thebrowtrio.com
by EMILY PANTELIDES Sundays No.18 nail polish, $18, dearsundays.com
LANSERWIM
T he change of season is a great time to adjust your beauty routine. Trade your white polish for a darker color, experiment with a bold makeup trend, and greet autumn with a brand new look. I love wearing lighter nail polish in the summer, but this time of year I prefer a bit of contrast. An elegant, deep berry shade like No. 18 from Sundays, a cruelty-free vegan polish, looks great with a gold glitter accent nail. Blue eye makeup is still trending, so if you want to give it a try, check out the bold colors from Halsey's clean beauty line, About Face. Autumnal tones should factor into your blush too: Try Saie's dewy blush in the shade Chilly and see what all the TikTok hype is about. Just remember, a little goes a long way. For brows, stencils are hot this season, and this new powder kit from The Brow Trio is all the rage. Enhance your eyes further with a Lashify DIY lash extension kit. It takes some practice to master, but the results are worth it. If you want to give your skin a boost, Port St. Lucie–based online retailer Michael Todd Beauty carries this pore extractor and serum infuser spatula. I can't tell you how much it has changed my skin! My final fall must-have is this Glowmotions oil from Sol de Janeiro. You may know the brand for its famous Brazilian Bum Bum Cream, but this oil will transform your entire body. It's the perfect product to use when you want to fake a summer glow all year round. xo, Emily Emily's Picks Beauty Picks
SKIN DEEP Michael Todd Beauty Sonic Skim spatula,serumextractorporeandinfuser$100, beauty.commichaeltodd
GOLDEN GLOW Sol de Janeiro Glowmotions body oil, $35, soldejaneiro.com Lashify customized lash kit, $145, lashify.com
September 30: Spyro Gyra Jazz Concert The Lyric Theatre, Stuart, $50, lyrictheatre.com
Calendar
September 4: Market on Main Flagler Park, Stuart, also September 11, 18, 25, free, stuartmainstreet.org
September 1: St. Lucie Mets vs. Jupiter Hammerheads Baseball Game Clover Park, Port St. Lucie, also September 2, 3, 4, tickets from $25, milb.com
September 23-24: Fourteenth Annual Michael Shields Memorial Inshore Open River Palm Cottages & Fish Camp, Jensen Beach, from $500, projectlift.org
September 10: Cars & Coffee Elliott Museum, Stuart, free, also September 24, hsmc-fl.com
STUART | SEPTEMBER 202222 TestingNEWWATERS AN UNEXPECTED BUT EXCITING MOVE TO THE AREA MEANT THE BEASLEY FAMILY NEEDED A BOAT FOR THEIR FISHING EXCURSIONS. THEY FOUND THE PERFECT FIT IN THE YOUNG 27 . by GEORGE LABONTE LABONTEGEORGEPHOTOSALL / OFF THE CHARTSRadar
F or Brook Beasley and his wife, Olivia, what began as an impromptu vacation to the Florida Keys during the 2020 COVID lockdowns unraveled a series of events that would see the pair and their four children uproot their lives in North Carolina and become permanent residents of South Florida. On their return trip from the Keys, a sudden school cancellation back home resulted in the Beasley family extending their stay by another month at an Airbnb rental home in Jupiter. In that short time, they realized that the area's beach lifestyle was a perfect fit for their family—and by June of 2021, they were settled into their new home in Palm Beach Gardens. Clockwise from top: The Beasleys' new Young 27; Brook Beasley; the boat's custom family nameplate.
captainedfishermanLaBonteresidentSoundGeorgeisanavidwhohaslocalcharters for 40 years. He also hosts the national television series Florida Sportsman Best Boat and Florida Sportsman Project Dreamboat. To book a charter with Captain LaBonte, visit edgesportfishing.com—and be sure to check out his new YouTube channel ("George LaBonte") devoted to his many fishing adventures.
23SEPTEMBER 2022 | STUART
After spending a season using various rental boats in Jupiter, they decided it was time to find their own vessel. The Beasleys were on the lookout for a vessel that would appeal both to Olivia and the kids, who enjoy inshore boating, and to Brook, who was quickly becoming addicted to offshore big game fishing. After seeing a review of the Young 27 from Young Boats, Brook was sold on the model and set about placing a custom order. The Young 27 can be configured in a number of ways, and for Brook and his family, a boat that combined all of the attributes of an inshore and offshore boat was critical. Their model would include a full tower with controls for cruising the shallows and sight fishing, plus a 36V Minn Kota trolling motor for both spotanchoring offshore and quietly stalking the shallows. A Power-Pole Blade stake anchor was fitted for trips to the Jupiter sandbar with the kids, and dual Garmin MFD units were added inside the lower helm station. Transom width seating across the aft casting platform was fitted with a custom whilekidsbackrestwraparoundtokeepthesecurelyseatedunderway.Additionally,theboat was outfitted with top-quality hardware, such as Gemlux carbon fiber outrigger poles and upgraded seating at the helm by Llebroc, which adds an element of luxury that makes long boat rides easier to bear for the captain. For power, Brook elected to use the maximum recommended horsepower at 600 HP—a pair of Mercury 300-HP FourStroke Cold Fusion V8s deliver all the torque, topend speed, and economy one might ever need on a boat this size. With their new boat sit ting comfortably on a lift behind the Beasleys' water front home, the convenience of dropping in for a quick evening ride is a luxury to be appreciated. The family looks forward to the many Bahamas fishing excursions to come as well as exploring the waters off the northern Palm Beaches. ❖ Clockwise from top: A pair of Mercury V8s give the boat a maximum speed of 600 HP; top-quality hardware includes Gemlux carbon fiber outrigger poles; a 36V Minn Kota trolling motor allows anglers to stalk the shallows; dual Garmin MFD units at the lower helm.
youngboats.com
POWER FILE LENGTH: 27 feet, 7 inches BEAM: 9 feet, 4 inches DRAFT: 17 inches DEADRISE: 20 degrees WEIGHT: 5,900 pounds (without engines) FUEL: 160 gallons MAX HP: 600
Hobe
ABOUT THE WRITER
B ig-ship cruising is back—in a big way. After a lengthy pandemic pause, major cruise lines are rolling out one stunning ship after another, freshly minted with state-of-the-art amenities, elevated dining spaces, and contemporary designs in tune with the desires of today's cruising elite.
/ WANDERLUSTRadar SCHUTTCONRAD
One such vessel is the MSC Seashore, a new incarnation of the Italian brand's slick Seaside Class fleet, dubbed Seaside Evo (which stands for evolution). With nearly 140,000 square feet for outdoor endeavors, the 2,270-room megaship features the highest ratio of outdoor space per guest of any MSC ship and several firsts for the brand.
by PAUL RUBIO SAIL MSC SEASHORE
ON THE AMENITY-RICH YET ECO-CONSCIOUS
ofINNOVATORtheSeas SET
Think: a seafront boardwalk, an aft infinity pool (bringing the total pool count to six), a massive aquapark, and an impressive glass skywalk. The onboard excitement never ends thanks to more than 300
SARFATTIIVAN
STUART | SEPTEMBER 202224
MSC Seashore highlights, clockwise from top: Docking at Ocean Cay; luxurious cabin options; an onboard infinity pool. SARFATTIIVAN
Standouts include the vibrant Kaito Sushi Bar, where nigiri and sashimi are delivered via conveyor belts; Venchi 1878 Chocolate and Coffee Bar, a new outpost at sea by the eponymous Italian gourmet chocolatier; and 1920sinspired lounge Le Cabaret Rouge, where you can catch a different song and dance performance nightly. The latest and greatest in cruise excess notwithstanding, the MSC Seashore 's strongest attributes are its eco-conscious design and approach. While big cruising and environmental responsibility are not commonly aligned, MSC is poised to change this narrative, delivering on an action plan for zero-impact cruise operations. In this vein, the MSC Seashore houses some of today's most advanced environmental tech nologies, evidenced in the onboard wastewater treatment systems, freshwater production plant, noisemanagement system, and more. Furthermore, one of the ship's regular destinations, Ocean Cay MSC Marine Reserve, is a working restoration and conservation project. The private island off Bimini is a former industrial wasteland that MSC has transformed into a thriving, 64-square-mile marine reserve flanked by sparkling whitesandOverall,beaches.the MSC Seashore marks the dawn of a new generation of big-ship cruising that considers at once grand amenities for luxury travel ers and the industry's environmental impact. Experience this innovator of the seas on sailings to the Caribbean and Bahamas from Port Miami through November 2022 and on itineraries through South America and Europe in the months following.
msccruisesusa.com ❖
Clockwise from top left: Spacious cabins with gorgeous water views; Kaito Sushi Bar; Pirates Cove Aquapark; the Jungle Pool.
SARFATTIIVAN
entertainment activities per sailing, plus prolific amenities to enjoy at your leisure. It's not uncommon to start a day with some fitness, pampering, and sport in the Aurea Spa and Gym and Deck 20's Sports Arena, followed by sunbathing and languishing over a boozy lunch. Later, play some blackjack, enjoy live music, attend an acrobatic show, and then retreat to the virtual reality–fueled Hall of Games or hit one of the late-night bars.
Specialized options for dining and drinking are many.
25SEPTEMBER 2022 | STUART
BEETS With their vibrant color and earthy flavor, beets add natural beauty to your plate—plus, they are root vegetables so they're full of antioxidants, essential vitamins, and minerals. Not only are beets high on the nutrient scale, but they are also low in calories and provide a good dose of folate, which plays a key role in heart health. Beets have been studied for their role in lowering blood pressure, which is likely due to their high concentration of nitrates, which help dilate vessels.blood Try This: Add beets to salads or roast them with other vegetables like carrots for a colorful and appetizing plate.
STUART | SEPTEMBER 202226 A aroundisutumnright the corner, and with it comes a bevy of seasonal fruits and veggies. For a little guidance in the produce section, holistic dietitian and nutrition coach Phara J. Taylor of The Nutrition Clinic in Port St. Lucie lends her insight on the season's most nutritious and delicious farm-fresh picks and how you can incorporate them into your diet. thenutritionclinic.net
WEB BONUS! Get some delicious and healthy new recipes this season at stuartmagazine.com/fallsbounty
PUMPKIN I love the color and flavor of pumpkin in savory and sweet dishes alike. Pumpkin is nutritious, loaded with fiber, and boasts a range of vitamins and minerals for a well-balanced diet. It packs a good amount of beta carotene and vitamin C, both of which are important in supporting immunity. If you're aiming for weight loss, pumpkin is low in sugar and high in fiber, which may improve metabolic efficiency. Try This: Cook pumpkin into a soup or roast it with other vegetables. Use roasted pumpkin seeds as a crunchy snack or a topping on salads and yogurt.
BRUSSELS SPROUTS Brussels sprouts are superpacked with nutrients— especially fiber, vitamin C, and vitamin K, which supports blood clotting and healthy bones. These veggies are especially great for diabetics because their high fiber content can help lower blood sugar levels. A half-cup of sprouts contains 2 grams of fiber, which has been shown to reduce the risk of heart disease, among other health benefits.
Try This: Brussels sprouts make for an easy and tasty side dish. Simply drizzle them with olive oil, salt, and pepper and bake until crispy.
/ WELLNESSRadar 4 seasonal fruits and veggies to add to your grocery list ASAP by ABIGAIL
Fall's
Try This: Pears can be eaten raw as a snack or added to dishes like oatmeal or salad. ❖ DUFFY BOUNTY
PEARS Pears are an excellent addition to fall menus given their impressive nutrition profile and versatility. They are a good source of antioxidants and are rich in potassium, vitamin C, and fiber. Many of the nutrients that help fight inflammation and may also aid in weight loss are found in the peel.
TGH.orgPrimary teaching hospital for the USF Health Morsani College of Medicine AND YOUR BEST CHOICE FOR LIFESAVING CARE. NAMED ONE OF THE NATION'S BEST HOSPITALS For a consultation, please call (561) 644-0125. ONE OF THE NATION'S BEST • Diabetes & Endocrinology • Ear, Nose & Throat • Gastroenterology & GI Surgery • Obstetrics & Gynecology • Orthopaedic Surgery • Pulmonology & Lung Surgery • Rehabilitation TOP 10% IN THE NATION • Cancer • Cardiology & Heart Surgery • Geriatrics • Neurology & Neurosurgery • Urology Tampa General Hospital continues to lead the nation with award-winning care powered by academic medicine. For nearly two decades, TGH has been recognized on a national stage. Our specialized team performs more procedures, has more expertise and delivers better outcomes. We'd like to thank our team of physicians, nurses and health care professionals for their collaboration and commitment to best-in-class care.
ONES WATCH 2022 TO by LINDA MARX OUR ANNUAL "HOT LIST" OF LOCAL MOVERS AND SHAKERS YOU MAY WANT TO KEEP AN EYE ON MagazineStuart's
During college, Sarah Henry lived in a safe house helping young girls who were survivors of sex trafficking. It was part of an internship she took on while studying for a degree in social work at Palm Beach Atlantic University. Although the work was challenging, it was also rewarding—and it was then that Henry knew combating human trafficking was her call ing. "I was determined to help prevent trafficking of children through education and awareness," says Henry, 30, who is now community develop ment director for Catch the Wave of Hope, a Stuart-based nonprofit dedicated to this mission. "We are a local grassroots organization focusing on education, offering mental health advisors, and working with legislature to recognize and fight horrific human trafficking," she explains.
The Jensen Beach resident is also a board mem ber of the Human Trafficking Coalition of the Treasure Coast and Okeechobee and previously worked as a foster family support specialist and supervisor. catchthewaveofhope.org Shot on location outside the House of Refuge on Hutchinson Island in Stuart
The Child Protector: SARAH HENRY
29SEPTEMBER 2022 | STUARTMARTINESTEVEN
The Small-Biz Whiz: KERRI PAIZZI Stuart resident Kerri Paizzi, 39, has had a lifelong love affair with food. She spent years in the restaurant business and is also the owner of Monarch Marketing and Design, an influential digital marketing and social media agency specializing in small businesses on the Treasure Coast. Last October, she decided to take a leap and indulge her fondness for food, purchasing the famed Flavor Palm Beach franchise— a monthlong food fest highlighting Palm Beach County restaurants that takes place every September. "It brings joy to my heart to see these small businesses grow as more people are able to sample their food," she says. Paizzi is excited to reveal that she is now bringing the concept north, launching Flavor Martin County in October. The event will focus on the cuisine from around 50 restaurants between Hobe Sound and Jensen Beach, bringing much-deserved attention to these small businesses. "I can't wait to start this concept in Martin County," she says. In addition to Monarch Marketing and Design and the two Flavor fests, Paizzi also owns Monarch Music, a booking agency that aims to showcase the wealth of musical talent in South Florida. "There are so many fine musicians here, so I took a hobby and turned it into a business by hiring bands for venues from Melbourne to West Palm Beach," she says. Paizzi attributes her ability to straddle multiple businesses to being organized, eager, and true to her word. "I don't take on more than I can handle, I build relationships, and I do what I say I'm going to do," she says. "I am structured, passionate, and I can work from anywhere. I love it all!" flavormartin.com; musicbymonarch.commonarchmarketinganddesign.com;flavorpb.com; Shot on location at Hudson's on the River in Stuart
MARTINESTEVEN
NUTTLEJASON In May, when a racially charged social media post by a group of local middle school students went viral, Jeronda Hill fully recognized the uproar and aftermath that was in store. "There is so much hatred around this, but these kids are middle schoolers, and their minds can be changed," says Hill, 39, who is the area director and diversity, equity, inclusion, and belonging officer at Boys & Girls Clubs of Martin County. "Hate is a learned behavior. My reaction was to have compassion for these young people because I believe they were crying out for help. It is time to educate them and others on how to respond to this." The Port St. Lucie resident has devoted 17 years of her career to nurturing teens and younger kids through her work with Boys & Girls Clubs around the country, and she knows better than most that there is a great deal of work to be done in today's polarized society. "I've learned through my work with Boys & Girls Clubs that by teaching things like civic responsibility, character development, leadership skills, and financial literacy, I can really impact today's youth. My heart is with teens."
The Character Builder: JERONDA HILL
Since she began working with Boys & Girls Clubs of Martin County in 2019, Hill has implemented a variety of programs aimed at promoting inclusion and acceptance among both kids and staff. Programs include topics like leadership lessons, diversity acceptance, love and kindness, and courageous conversations. "I love my job," says Hill, who is also passionate about music and is currently learning how to DJ. "I want to help people become leaders. I like to be close to the mission and train people of all ages and generations to accept the differences in others." bgcmartin.org Shot on location at the Bill & Barbara Whitman Boys & Girls Club in Indiantown
The Grassroots Conservationist: HEATHER KASHNER GILLENSHAWN
With a lifelong interest in both saving the environment and fashion design, Heather Kashner merged her two passions to start The Moving Mirror, an organization devoted to raising awareness of critical issues. Currently, her main focus is to educate people about the increase in manatee deaths in the area due to water pollution. "I was in marketing for many years, but I have always had love for the outdoors and the environment," says Kashner, 55, who resides in Stuart part-time. "When I heard about the plight of the manatees, I wanted to do something to help them and to give my life more meaning." During the pandemic, Kashner began designing apparel like hoodies, tees, tanks, and tote bags featuring themes surrounding conservation and selling them on her website. A recent collection is devoted to helping the manatees: For every item sold from the collection, $10 is donated to Florida's Save the Manatee Club, which aids manatees in distress and also helps spread aware ness about the importance of conservation. "It is our responsibility to save the manatees," says Kashner. "In the Indian River alone, water pollution has decimated more than 96 percent of their primary food source of seagrass. The tragic result is that manatees are starving to death." Kashner, who spends part of the year in North Carolina, grew up in South Florida snorkeling, fishing, and enjoying nature. Today, she likes to visit the beach and kayak. "I had always wanted to be a marine biologist, and now I engage in community activities that benefit the environment, like preserving resources and improving the ocean," she says. "I am so happy to finally be doing what I love." themovingmirror.com
The Dream Team: HEATHER IVINS and JOHN CIAMBRIELLO
MARTINESTEVEN
Heather Ivins and John Ciambriello understand what true partnership means. The married couple, who moved to Stuart from New York City in 2018, collaborate on brand design, illustration, and photo editing for a variety of projects, including recreating the identity of downtown Stuart's popular Creek District of Arts & Entertainment. "We wanted to help them get organized visually," says Ciambriello, 45, who honed his talents in the advertising business in New York and Los Angeles with an expertise in photography and post-production photo editing. "We helped expand their logo, redesigned marketing materials, and improved their branding, including a redo of the Art Walk map." Most recently, the duo completed a big project for MartinArts, rebranding the organization from top to bottom. "We did layout, logo, colors, and patterns and created business cards," says Ivins, 47, who was raised in Port St. Lucie during her teen years and later moved to Boston, where she worked as a graphic designer for Fast Company and Inc. magazines, then to New York City to work for the marketing department of AOL. Self-described freelance workaholics, they both love the challenge of elevating brands. "We help get businesses where they want to be visually," says Ivins. "We set ourselves apart by having lots of face-to-face interaction and defining the client's needs. We see the potential and help them bring that out." Adds Ciambriello: "We love doing our work in Stuart. Everything about daily life is more pleasant here."
Shot on location at the Stuart home of Ivins and Ciambriello
Both Ivins and Ciambriello, who have a 13-year-old son, Lee, regularly show their own painting and photography artwork around town. heatherandjohnstudio.com
STUART | SEPTEMBER 202234
NUTTLEJASON
35SEPTEMBER 2022 | STUART
Shot on location at Port Salerno's historic African-American schoolhouse, built circa 1930
The Preservationist:Cultural LLOYD JONES
Lloyd Jones grew up in the Gomez-Lundy section of Hobe Sound watching Alan Shepard and John Glenn light up the sky as they headed for outer space. He had a bird's-eye view of the naval blockade during the Cuban Missile Crisis. Since most of his education took place in Martin County schools that were racially segregated, he took great pride in his family's marching for civil rights with Dr. Martin Luther King Jr. "I love history, and my goal now is to preserve Black history, improve race relations, and help people understand our legacy," says Jones, 68, a retired captain with the Martin County Sheriff's Office. In 2017, he cofounded the nonprofit Martin County Black History Initiatives to work toward those goals, and he is also involved with the Florida African American Heritage Preservation Network. Jones leads several ongoing projects in the area, including a register-to-vote campaign, the M.O.S.E.S Project to restore and preserve the historic Gomez Pioneer Cemetery in Hobe Sound, the preservation of the original "One Room Colored Schoolhouse" in Port Salerno, and the establishment of a Black Heritage Trail to connect Martin County to the Florida Heritage Trail. Collaborating with Martin County tourism, he is actively searching for a centrally located site to create a Black Heritage Museum for cultural exhibits, lectures, art, and music. "This is a huge undertaking, but we want to tell our stories the way we want to tell them," says Jones, who lives in Port St. Lucie. "I love people, but we can't depend on others to maintain our legacy. Black people need to take accountability. We have to do it ourselves." mcblackheritage.com
At six-foot-seven, 390 pounds, and brimming with athletic talent, 22-year-old Evan Neal was made to play football. And this past April, he became the number seven overall pick in the NFL draft, snatched up by the New York Giants. The Okeechobee native signed a four-year, $24.6 million contract with the Giants, which includes a $15 million signing bonus. It's a well-deserved achievement for the much-respected hometown boy known for his smooth footwork and explosiveness on the field. "South Florida consistently produces the cream of the crop when it comes to elite college football talent," says veteran radio news personality and sports opinionist Bill Newgent. "Many of those players go on to have stellar NFL careers. Evan Neal has an opportunity to be one of the best NFL offensive linemen ever to come out of South Florida. He is the kind of player that stands for years as the cornerstone of an offensive line. He's a stud." After playing one year for Okeechobee High School and finish ing at IMG Academy in Bradenton, Neal was immediately picked up by the University of Alabama, where he started as right guard in 2019 on his way to an SEC All-Freshman Team selection. According to his NFL player biography, the next year he played right tackle, leading the Crimson Tide's offense to a national championship. In his final college season, Neal was voted team captain, started 15 games at left tackle, earned AP second-team All-American honors, and was recognized as a first-team All-SEC selection. But his success on the field—and soon-to-be on national television—hasn't caused this humble young man to forget his roots. The night of the draft, he wore a jacket that read: "Lake Okeechobee." And after he was drafted, he returned to Okeechobee to visit with young schoolchildren who look up to him as a role model. The New York Giants kick off the season September 11, when hopefully we'll all get to see this local star take the field and do his thing. Insta: @e_neal73
The NFL Star: EVAN NEAL GIANTSFOOTBALLYORKSWENSEN/NEWMATT
With a wealth of experience in community improvement, helping small businesses, management, and nonprofit work, Candace Callahan is more than ready for her current challenges as executive director of Stuart Main Street. "I have an entrepreneurial spirit and am motivated,and driven," says Callahan, 40, who lives in downtown Stuart. "I am intrigued by my position with Stuart Main Street because I get to use my background and also learn how things happen in the city, even things like where signage goes. I am excited about coming up with new ways to support small businesses and promote the downtown area." After years spent working as corporate gifts officer for the Humane Society of the Treasure Coast and executive director of the Young Professionals of Martin County, Callahan took over Stuart Main Street in August 2020 at a time when it needed some solid restructuring. These days, she is involved with a slew of improvements to the Main Street area including: the renovation of the Flagler Center event space; the rebranding of the Stuart Green Market as Market on Main, with new programs that include a Kids Market; improving the design of the city with more infrastructure projects; and expanding the presence of art downtown and heightening the mosaic art program in the Creek District. "Everyone I work with here feels like family to me," she says. "I value what we have downtown, and I thrive on chaos." stuartmainstreet.org
Shot on location at Stuart Coffee Company in downtown Stuart
MARTINESTEVEN
Street: CANDACE
Champion of
The Main CALLAHAN
STUART | SEPTEMBER 202238
The Indian River Lagoon has won the lottery with Jim Moir, who was recently named the new Indian Riverkeeper. He is determined to save the estuary from ecological ruin by educating the public on scientific principles in a way they can understand. "I am a nature boy who grew up on the water in Key Biscayne," says 61-year-old Moir, who has lived in Stuart for 30 years and started his new volunteer job in June. "I want to educate the public on how some land use policies pollute the Indian River Lagoon. I am not a scientist, but I'm familiar with ocean science." Moir plans to collaborate with various agencies on the 156-mile ecosystem and launch projects that will improve the area. He knows what needs to be done, having spent his life working in conservation. He is very involved in marine mammal research, specializing in bioacoustics—the science of animal sounds—and has been active with the Marine Resources Council for 18 years in various capaci ties. For the past 16 years, he has worked closely on the MRC's 45-acre Jupiter Island Greenway Project, looking out for exotic invasive plants that need to be replaced with indigenous species. Now he is ready to lead the protection of the Indian River Lagoon as only the fifth "riverkeeper" since the organization was formed in 2002. (The Indian Riverkeeper is a local arm of the Waterkeeper Alliance, a national organization founded by environmentalist Robert F. Kennedy Jr.) "I am deeply passionate about this project," says Moir. "It's important that I inform the public as apolitically as possible on how to help save our lagoon." The avid boater and paddleboarder wants to ensure our waterways are here for a long time for everyone to enjoy. "I will get the word out to NGOs and other agencies up and down the Indian River Lagoon for all of us to do our part in reversing the seagrass decline and improving the pollution problems," he says. "I want the world to be a better place when I leave."
The Environmentalist: JIM MOIR
Shot on location at the Indian River Lagoon near Sewall's Point
MARTINESTEVEN
39SEPTEMBER 2022 | STUART
theindianriverkeeper.org; savetheirl.org
Growing up in Fife, Scotland, Amanda Jones was no stranger to the simple pleasure of fish and chips. Even though she spent more than 30 years in Scotland and then Los Angeles in the nursing business, she had always longed to be a chef. "I had dreams of food," says Jones, 57, who now lives in Stuart. She eventually took culinary classes and started cooking for seniors in their homes. And then she bought a truck—and turned it into a food truck biz, The Frying Scot, that sells traditional Scottish fish and chips Jones prepares exactly the way she recalls the meal from her childhood. "My fish and chips is authentic, and I feel like I am bringing Scotland to Stuart!" she says. Her rolling kitchen was created from a vintage USPS truck that she renovated with help from local companies. You can find The Frying Scot parked at Tradition Square in Port St. Lucie (5-9 p.m.) on the first and third Friday of the month and at J.V. Reed Park in Hobe Sound (5-9 p.m.) on the second Friday of the month, serving up tacos with codfish and haddock and delicacies like deep-fried Scotch eggs rolled in crumbs, in addition to fish and chips. Says Jones: "I feel like I'm bringing joy to people because I can see that they love the food." thefryingscotfoodtruck.com
Shot on location at Tradition Village in Port St. Lucie
The Sizzling Scot: AMANDA JONES
NUTTLEJASON
Shot on location at Coffee Bar Blue Door in Stuart
Jensen Beach native Lucie McGuire grew up wanting to be a college professor or a company head until an unexpected stint in marketing changed the course of her life. "While I was studying at Indian River State College, I got into marketing for seven Papa John's restaurants from Jupiter to St. Lucie West and learned a lot," says McGuire, 27, who now lives in Port St. Lucie. After a four-month stay overseas (one month studying business in Hong Kong and Prague during college; the other three backpacking through Europe), she says she came home broke. But thanks to that marketing experience, she landed a job with Arrow Title Services in Stuart, where she worked up until last January. During that time, she started her own venture called The Traveling Youth, a nonprofit that helps underprivileged students travel abroad. In just two years, she has raised more than $20,000 to help students fund their dreams, mostly by hosting cultural and holiday events. She is also the new president of Young Professionals of Martin County, where she aims to help the community understand how important networking is for success. "I educate, connect, and service people in their twenties and thirties both personally and professionally," she says. This year, she launched Get Real Social, a business focused on coaching clients on how to utilize social media to their advantage. McGuire says she strives for a work-life balance and spends her free time paddleboarding, hiking, and singing karaoke. "I don't live to work, I work to live," she says. "And I look forward to pursuing my passion for travel because I love people and want to learn more about other cultures." ypmc.org
The Networker: LUCIE MCGUIRE MARTINESTEVEN
Page The Light Painter: JASON D. PAGE PAGED.JASON
A42photographer for 28 years, Jason D. Page stumbled upon his unique craft of "light painting" in 2004 by chance. "I bumped my camera by accident on a full moon night, and I used that light to create designs in the sky," says the 45-year-old Hobe Sound resident. It was an epiphany of sorts for Page, who took the experience and transformed it into an art form he calls light painting. "Since then, I started using my camera to record light," he says. "It can be a challenge to work in total darkness, but the end results are quite rewarding." When he's shooting a portrait, both he and the subject are in total darkness except for flashes of light. He "paints with light" using a long-exposure technique—when the shutter closes, his camera compresses the light into one single frame. "It's like watching a magic show and then the reveal," describes Page, who is out creating light paintings two or three nights a week, often at Jonathan Dickinson State Park. When he's not working on his art, he's running his online side business selling a system of patented tools, including light-painting brushes that he designed to help others create similar images. "What's important to me is to try and make the world a brighter place," says Page. "I want to bring light to dark places." jasondpage.com ❖ light painting by Jason D.
STUART | SEPTEMBER 2022
Illuminated Being #6, a self-portrait
43SEPTEMBER 2022 | STUART
Shot by Stuart Magazine on location at The Lyric Theatre SemSem tuxedo sleeveless jumpsuit ($995), vintage Kathrine Baumann limited edition Cham pagne clutch ($2,495), Fivestory Palm Beach; vintage navy silk chiffon cape ($145), Dina C's Fab and Funky Consignment Boutique, West Palm Beach; gold belt ($98), gold earrings ($75), The House of Perna, Delray Beach photography by olga aleshina Drama QUEEN STEP INTO THE SPOTLIGHT THIS FALL IN DIVA-WORTHY LOOKS WITH A VINTAGE VIBE
Cinq à Sept Loisa embellished blazer ($795), Saks Fifth Avenue, The Gardens Mall, Palm Beach Gardens; vintage Oleg Cassini cream satin full maxi skirt ($125), Dina C's Fab and Funky Consignment Boutique, West Palm Beach; vintage Lanvin neck lace ($995), Fivestory Palm Beach
Vintage Chanel pink tweed jacket and miniskirt ($3,200), vintage Chanel pearl earrings ($1,500), Dina C's Fab and Funky Consignment Boutique, West Palm Beach; DeMellier gold metallic tote ($465), Saks Fifth Avenue, The Gardens Mall, Palm Beach Gardens
Vintage Chloé silk dress ($725), vintage Chanel seven-strand pearl choker ($1,500), vintage Chanel chicklet necklace ($2,000), Dina C's Fab and Funky Consignment Bou tique, West Palm Beach; Valentino Garavani Rockstud medium flat pouch ($750), Saks Fifth Avenue, The Gardens Mall, Palm Beach Gardens
Vintage Camille black ruffle layer tie-front blouse ($175), Dina C's Fab and Funky Consignment Boutique, West Palm Beach; Stella McCartney wide-leg pant ($1,095), Saks Fifth Avenue, The Gardens Mall, Palm Beach Gardens
Louis Vuitton straight coat (price upon request), bi-material flounced skirt (price upon request), Archlight slingback pump ($1,460), Capucines BB handbag ($9,300), Louis Vuitton, The Gardens Mall, Palm Beach Gardens
Amanda Perna Couture gown ($10,000), Amanda Perna, Delray Beach; Aquazzura metallic leather ankle-tie sandal ($750), Saks Fifth Avenue, The Gardens Mall, Palm Beach Gardens
Vintage Elie Saab blush silver beaded gown ($1,495), vintage Jimmy Choo silver strap heel ($295), Fivestory Palm Beach; vintage Kokin white leather drum majorette hat ($425), Dina C's Fab and Funky Consignment Boutique, West Palm Beach; earrings, stylist's own Fashion editor: Katherine Lande Stylist: Zlata Kotmina Hair and makeup: Alina Bondarevska Model: Klaudia Kapuscinska, Elite Model Management, Miami
Treasure Coast Dining
CHEF'S TABLE Sophisticated New American restaurant offering fine wine and seasonal menus in understated, rustic digs. 2313 SE Ocean Blvd., Stuart; chefstable stuart.com; 772.287.5599
KYLE G'S KITCHEN
MANERO'S RESTAURANT Enjoy steaks cooked to order, a shrimp cocktail, or other classic American dishes at this Palm City establishment. 2851 SW High Meadow Ave., Palm City; maneros.com; 772.220.3011
This new outpost is what Kyle G calls a "passion project" and features menu items such as the chopped steak burger to seared North Atlantic salmon. 10867 S. Ocean Drive, Jensen Beach; kylegskitchen.com; 772.807.1404
This local neighborhood tavern is home to weekly live music performed by an array of talented eclectic musicians. Stay for the late-night menu with picks like Margherita Bar Pie and SE Ocean Beach Bread. 2883 SE Ocean Blvd., Stuart; carsonstav.com; 772.286.7611
53SEPTEMBER 2022 | STUART MARTIN COUNTY AMERICAN CARSONS TAVERN
DISTRICT TABLE & BAR Chef Jason Stocks presents his creative take on everything from dry-aged burgers to sourdough pizza. Sustainability is also a focus: All oyster shells are recycled to rebuild local reefs and oyster beds. 4665 SE Dixie Hwy., Stuart; districttableandbar.com; 772.324.8357
OCEAN REPUBLIC BREWING Stuart's family-owned and operated craft brewery known for its laid-back lifestyle and pours like Keepin' It PC and Because Ordinary is Boring. Pretzels and cheese are the perfect order for when cravings hit. 1630 SE Federal Hwy., Stuart; oceanrepublicbrewing.com; 772.600.5596 PHILLY DOWN SOUTH CAFE Discover an array of Philly cheesesteaks, salads, burgers, and seafood at the café inside the Elliott Museum, under owner Jim Leary. 825 NE Ocean Blvd., Stuart; hsmc-fl.com/philly-down-south-cafe; 772.225.1961 SAUDER'S LANDING RESTAURANT A five-star dining experience in Jensen Beach known for decadent meals and an outdoor Tiki hut with marina waterfront views. 9815 S. Ocean Drive, Jensen Beach; sauderslanding.com; 772.229.0246 SCOOTERS FUN FOOD AND SPIRITS Scooters has been an unfussy local favorite for decades. Enjoy the food and bar at good prices. 8913 SE Bridge Road, Hobe Sound; scootersfunfoodandspirits.com; 772.546.6235
SOCIETY MARKET CAFÉ Order fresh and delicious items from the café as well as experience a unique shopping space. The market features specialty food items and specialty gifts. 320 Denver Ave., Stuart; societymarketfl.com; 772.247.7071 SONNY'S BBQ Traditional, smoky barbecue including mouthwatering pulled pork and brisket. 1961 S. U.S. Hwy. 1, Stuart; sonnysbbq.com; 772.283.4150
SOUTH FORK KITCHEN AND BAR Made-from-scratch dishes, from seafood to steak, prepared by Naples native Chef Ron Kerr. 900 SE Indian St., Stuart; southforkkitchenandbar.com; 772.247.7382 SOUTHERN PIG AND CATTLE Stop by for steaks and barbecue favorites in addition to a large salad bar. 2583 SE Federal Hwy., Stuart; southernpigandcattlecompany.com; 772.324.3141 SPRITZ CITY BISTRO Upscale American bistro featuring tapas and small plates. 61 SW Osceola St., Stuart; spritzcitybistro.com; 772.320.9100 TASTE Taste looks just as bright and colorful as it, well, tastes. Stop by for a casual bite of their New Eng land meets South Florida fare; there is something for everyone. 11750 SE Dixie Hwy., Hobe Sound; tastehobesound.com; 772.546.1129
KORK Globally inspired and locally sourced small bites, dinners, and brunch with premier cocktails and courtyard outdoor seating. 11970 SE Dixie Hwy., Hobe Sound; korkhobesound.com; 772.245.8182
Flavor A Selection of Area Restaurants
This list is compiled by our editors as a service to our readers. It is not all-inclusive; we rotate the listings to comply with available space, which means not every establishment appears in every issue. If you are a business owner who would like to submit your restaurant, please email mpuppo@palmbeachmedia.com.
THE GAFFORD Family-run business with Southern hospitality and perfectly executed plates such as Mabel's fried chicken, a local favorite. 47 SW Flagler Ave., Stuart; thegafford.com; 772.221.9517
OLYMPIC TAVERNA Part of the Spiro's empire, Olympic Taverna serves traditional Greek cuisine as well as American favorites. 2951 SW High Meadow Ave., Palm City; spirostaverna.com/palm-city; 772.781.8461
BASIL GARDEN OF PALM CITY Locally beloved, cozy Thai eatery offering a vast, quality menu. 2655 SW Feroe Ave., Palm City; fromtherestaurant.com/basil-garden; 772.220.1994
INDIAN BOLLY TWIST Bolly Twist offers an array of Indian and Indo-Chinese cuisine, including tandoori dishes, meat and vegetarian entrées, dosas, biryani, and special platters. 5563 SE Federal Hwy., Stuart; bollytwist.com; 772.210.6793 NAMASTE GRILL Nepalese and Indian cuisine inside a relaxed, contemporary space in the heart of downtown Stuart. Menu highlights range from tandoori and grilled meats to a hearty array of veggie entrées ABOUT THIS GUIDE
GREEK/MEDITERRANEAN MR. GYROS Treasure Coast chain serving authentic Greek and Mediterranean comfort food, including gyros, pitas, entrées, appetizers, soups, and sides. 2383 SE Federal Hwy., Stuart; mrgyrosflorida.com; 772.463.3127
COFFEE BAR BLUE DOOR
TOWNIES TAVERN A casual yet sophisticated restaurant serving American eats and bar food in a Prohibition-era setting, with outdoor deck seating available. 2277 SW Martin Hwy., Palm City; towniestavern.com; 772.291.2115
STUART | SEPTEMBER 202254 Flavor
CAFE BOONMA "Boonma" means good karma and that good times and things are coming—something owner and Chef Rampai lives up to at this traditional Thai spot offering wok dishes and house specials like duck with tamarind sauce. 3720 SE Ocean Blvd., Stuart; cafeboonma.net; 772.291.2320 EMMAN'S ASIAN GOURMET Filipino Chef/owner Emman Eugenio creates small plates of Asian-fusion cuisine in a casual setting. 555 S. Colorado Ave. Suite 105, Stuart; facebook.com/ fusionofec; 772.888.3171
KRUA THAI RESTAURANT Authentic Thai dishes served family-style in an eclectically themed restaurant. 3283 SE Federal Hwy., Stuart; kruathaiofstuart.com; 772.600.8114
SACHI SUSHI ASIAN FUSION A contemporary space offering a multitude of sushi options, as well as Thai and pho selections. 3382 SE Federal Hwy., Stuart; sachisushirestaurant.com; 772.219.0900
IMPORTICO'S BAKERY CAFÉ Specializing in pastry and breads, with additional menu items like sandwiches and coffee. 3800 SE Dixie Hwy., Stuart; importicosbakerycafe.com; 772.286.0204 STUART COFFEE COMPANY Located in the heart of historic downtown, Stuart Coffee Company is the perfect spot to enjoy wraps, sandwiches, bagels, salads, and more. 55 SW Flagler Ave., Stuart; stuartcoffeeco.com; 772.600.8243 THE ROASTED RECORD An international, award-winning coffee roaster, café, and vinyl record store. In addition to its beer collaborations with Walking Tree and Ocean Republic brewing, The Roasted Record has 11 local craft beers on tap and a variety of both white and red wines. 600 S. Colorado Ave., Stuart; roasted record.com; 772.320.9918
PAPPGYORGY
ITAL BOWLS FOOD TRUCK Ital Bowls offers organic acai bowls and cookies, smoothies, and coffees for your post-beach satisfaction. Nutritious add-ons include spirulina, CBD oil, bee pollen, and more. 650 NE Ocean Blvd., Stuart; italbowls.com; 772.905.7503 SUNSET SLIDERS FOOD TRUCK Delicious, Instagram-worthy sliders and sides with lots of vegetarian options too. 3385 SE Dixie Hwy., Stuart; facebook.com/sunsetslidersfla; 772.224.0893
Quaint downtown coffee shop serving breakfast, bistro fare, and baked goods, with flora-focused outdoor seating that's especially enjoyable in the late hours. 38 SE Osceola St., Stuart; facebook.com/ coffeebarbluedoor; 772.221.7707
FOOD TRUCK BAGEL BOYZ Swing by for New York–style bagels served fresh from a custom wood-fired oven. During lunch, grab a pizza, wings, or a salad. 4504 SE Federal Hwy., Stuart; bagelboyzstuart.com; 561.379.3771
CAFÉ BOMBOLONI BAKERY CAFÉ Authentic Italian bakery and café offering pastries, sandwiches, soups, salads, and coffee. 3980 NW Federal Hwy., Jensen Beach; bombolonibakery.com; 772.261.8913
TAQUERIA SOLAVINO 2 Authentic Mexican tacos, burritos, quesadillas, tortas, gorditas, and a wide selection of meat options. 10835 SE Federal Hwy., Hobe Sound; 772.485.6994
FRENCH 11 MAPLE STREET Where French country meets Florida. 11 Maple Street offers a dining experience with fare resembling art. Chef Michael Perrin prepares his plates with some of each season's peak items, including locally sourced produce and humanely raised meats. 3224 NE Maple Ave., Jensen Beach; elevenmaple.com; 772.334.7714
Formerly a bunkhouse used to house WWII soldiers, this 100-percent plant-based café offers acai bowls and fresh-baked goods alongside its coffee menu. 3181 NE West End Blvd., Jensen Beach; bunkhousecoffeebar.com; 772.261.8312
GILBERT'S COFFEE BAR Enjoy coffee, cheese boards, smoothies, and more at this charming waterfront location. Stay for happy hour and gaze as the sun sets over the water. 615 SW Anchorage Way, Stuart; gilbertscoffeebar.com; 772.214.1522
GERMAN SCHNITZEL HAUS Chef Lenh offers an exciting menu featuring American fusion and German favorites such as potato pancakes, schnitzel, and sauerbraten. 5687 SE Crooked Oak Ave., Hobe Sound; ethansgrill.com; 772.210.2350 THE HOFFMANN Enjoy traditional German and American fare while relaxing at the expansive outdoor seating and barn. 3825 NE Indian River Drive, Jensen Beach; the-hoffmann.com; 772.444.3697
BUNKHOUSE COFFEE BAR
HOKKAIDO SUSHI & STEAKHOUSE Japanese steak house offering typical Asian eats as well as extravagant sushi boats and hibachi dinners in a setting adorned with LED lights, plants, and traditional Japanese decor. 2867 SW Cafe Court, Palm City; hokkaidopalmcity.com; 772.283.5118
ASIAN ASIAN CHAO Mix and match Chinese entrées, sushi, and sides from the buffet-style counter takeout. Choose from a variety of classic dishes like orange chicken, lo mein, and California rolls. 3174 NW Federal Hwy., Jensen Beach; asianchao.com; 772.692.3674
PASTA NOSTRA Bucatini Carbonara 21.95 Silky smooth Bucatini twirled with Evoo, Italian bacon, Pecorino Romano cheese, garlic and egg yolk. Pair with Terlato Pinot Grigio.
THE GROVE, PIZZA, CUCINA, WINE, MARKET & CHARCUTERIE The Grove offers a twist on Italian and is a great meeting place for friends, family, and business colleagues. Chat over enticing charcuterie boards, Italian classics, and Mediterranean dishes. 8815 SE Bridge Road, Hobe Sound; thegrovehobesound. com; 772.402.5410
ITALIAN 18 SEMINOLE ITALIAN BISTRO Inside this quaint, historically preserved building lies one of the area's most intimate and romantic atmospheres. All meals are made to order and crafted with top-quality, local seasonal ingredi ents. 18 SE Seminole St., Stuart; 18seminole.com; 772.463.0059
Penne Ala Vodka 21.95 Proscuitto, in a smooth Vodka cream sauce. Pair with Quilt Cabernet Sauvignon. Add sautéed chicken, sliced sausage or shrimp + 8.00 Broccoli Rabe & Sausage Over Penne 23.95 Garlic, Evo, Andy Boy Rabe and Sausage. Pair with La Crema Pinot Noir. Shrimp & Clam Oreganata Over Linguine 27.95 (3) Shrimp, fresh Shucked Clams sautéed with Evoo, garlic, oregano, white wine. Pair with La Crema Chardonnay.
Pair with La Crema Chardonnay. Shrimp Fantini Over Linguine 25.95 (5) Shrimp in our own special sauce with bits of Prosciutto, fire roasted red peppers, garlic, minced onion and fresh basil and marsala. Pair with Josh Cellars, Sauvignon Blanc Ravioli 19.95 (5) Cheese Ravioli with our awesome tomato sauce. Pair with Ruffino Chianti Classico. Add (1) meatball + 4.95 Bucatini & Meatballs 21.95 Two of our delicious meatballs with tomato sauce. Pair with Ruffino Chianti Classico. Add a dollop of our smooth ricotta + 1.95 Linguine with Proscuitto & Mushrooms 21.95 Parma Prosciutto sautéed with fresh mushrooms in a cream sauce with a hint of Sage and Pecorino Romano. Pair with La Crema Chardonnay. All entrées served with your choice of side salad or cup of soup
This quaint restaurant combines northern and southern Italian cuisine under one roof. Expect big flavors and beyond-satisfactory Italian dishes. 512 SW 3rd St., Stuart; casabellastuart.com; 772.223.0077
55SEPTEMBER 2022 | STUART to goat curry with Nepalese spices simmered in a dark stew. 2500 SE Federal Hwy., Stuart; namaste grillstuart.com; 772.283.5515
CoastServingtheTreasureforover35years 4:43 PM
LA BORGATA RISTORANTE
2026
LOURÓNZO'S ITALIAN FUSION Downtown eatery offering a unique perspective of Italian cuisine, with menu items like gnocchi di zucca: potato and butternut squash gnocchi with gorgonzola sauce, topped with walnut and coffee powder. 301 S. Colorado Ave., Stuart; louronzos italianfusion.com; 772.287.3334
Bucatini Carbonara 21.95 Silky smooth Bucatini twirled with Evoo, Italian bacon, Pecorino Romano cheese, garlic and egg yolk. Pair with Terlato Pinot Grigio.
TWO BROTHERS PIZZA A quaint local favorite, Two Brothers offers a Market Est. 1985 "A Cut the Rest" (772) 283.7567 S.E. Federal Highway • Stuart, Florida 34994
ANNA'S PIZZA A casual pizzeria with mouthwatering pies, pastas, and subs for a laid-back experience that will leave you stuffed and satisfied. 2281 SW Martin Hwy., Palm City; annaspizza.com; 772.221.0061
RISTORANTE CLARETTA Authentic Italian dishes in a fine-dining setting. All ingredients are imported fresh from Italy, and the seafood comes straight from the Medi terranean Sea. 1315 SW Martin Hwy., Palm City; ristoranteclaretta.com; 772.219.9940
Above
Penne Ala Vodka 21.95 Proscuitto, in a smooth Vodka cream sauce. Pair with Quilt Cabernet Sauvignon. Add sautéed chicken, sliced sausage or shrimp + 8.00 Broccoli Rabe & Sausage Over Penne 23.95 Garlic, Evo, Andy Boy Rabe and Sausage. Pair with La Crema Pinot Noir. Shrimp & Clam Oreganata Over Linguine 27.95 (3) Shrimp, fresh Shucked Clams sautéed with Evoo, garlic, oregano, white wine.
FANTINI'S NEW HAVEN STYLE APIZZA Known for New Haven–style thin crust known as "apizza," Fantini's offers old-school Italian soul food cooked fresh to order. A fan favorite is the white clam apizza. 1560 NW Federal Hwy., Stuart; fantinisapizza.com; 772.692.9980
LUNA DOWNTOWN STUART A local favorite and landmark offering indoor and outdoor seating as well as sidewalk window service.
Bucatini Carbonara 21.95 Silky smooth Bucatini twirled with Evoo, Italian bacon, Pecorino Romano cheese, garlic and egg yolk. Pair with Terlato Pinot Grigio.
LA FORCHETTA ITALIAN RESTAURANT This family-owned gem is home to an extensive selection of gourmet pasta including lobster ravioli, penne alla vodka, and gnocchi Capri. Plus, hand-tossed pizza pies, a warm, Italian setting, and attentive staff. 7820 SW Lost River Road, Stuart; laforchetta.net; 772.872.7333
PASTA NOSTRA
Supreme Meats& Gourmet
49 SW Flagler Ave., Stuart; lunadowntownstuart. com; 772.288.0550 PIETRO'S ON THE RIVER Under the supervision of Chef Robert King, the kitchen puts out authentic Italian dishes such as roasted Long Island duckling and swordfish puttanesca. 8735 S. Ocean Drive, Jensen Beach; pietrosontheriver.com; 772.229.7575
SUPMSTU0122.indd 1 12/1/21
THE BRICK OVEN PIZZA COMPANY Serving delicious brick oven pizza as well as various Italian entrées in a moody setting, complete with a bar and plenty of seating. 3138 SW Martin Downs Blvd., Palm City; thebrickoven pizzacompany.com; 772.219.7747
GIGI'S ITALIAN RESTAURANT With recipes passed down through generations, Gigi's Neapolitan fare is time-tested and well worth a visit. 1322 NE Jensen Beach Blvd., Jensen Beach; gigisitalian.com; 772.225.6444
Shrimp Fantini Over Linguine 25.95 (5) Shrimp in our own special sauce with bits of Prosciutto, fire roasted red peppers, garlic, minced onion and fresh basil and marsala. Pair with Josh Cellars, Sauvignon Blanc Ravioli 19.95 (5) Cheese Ravioli with our awesome tomato sauce. Pair with Ruffino Chianti Classico. Add (1) meatball + 4.95 Bucatini & Meatballs 21.95 Two of our delicious meatballs with tomato sauce. Pair with Ruffino Chianti Classico. Add a dollop of our smooth ricotta + 1.95 Linguine with Proscuitto & Mushrooms 21.95 Parma Prosciutto sautéed with fresh mushrooms in a cream sauce with a hint of Sage and Pecorino Romano. Pair with La Crema Chardonnay. All entrées served with your choice of side salad or cup of soup
Penne Ala Vodka 21.95 Proscuitto, in a smooth Vodka cream sauce. Pair with Quilt Cabernet Sauvignon. Add sautéed chicken, sliced sausage or shrimp + 8.00 Broccoli Rabe & Sausage Over Penne Garlic, Evo, Andy Boy Rabe and Sausage. Pair with La Crema Pinot Noir.
Shrimp & Clam Oreganata Over Linguine 27.95 (3) Shrimp, fresh Shucked Clams sautéed with Evoo, garlic, oregano, white wine. Pair with La Crema Chardonnay. Shrimp Fantini Over Linguine 25.95 (5) Shrimp in our own special sauce with bits of Prosciutto, fire roasted red peppers, garlic, minced onion and fresh basil and marsala. Pair with Josh Cellars, Sauvignon Blanc Ravioli 19.95 Cheese Ravioli with our awesome tomato sauce. Pair with Ruffino Chianti Classico. Add (1) meatball + 4.95 Bucatini & Meatballs Two of our delicious meatballs with tomato sauce. Pair with Ruffino Chianti Classico. Add a dollop of our smooth ricotta + 1.95 Linguine with Proscuitto & Mushrooms
772.692.9980 Expanded Dining Room • Wine Bar ITALIAN RESTAURANT
La Borgata has taken its patrons on tours of Italy's famous dishes—no passport required—for more than 50 years. The menu features Italian dishes such as calamari Siciliana and penne puttanesca, as well as pizza, calzones, and stromboli. 3227 SW Mapp Road, Palm City; laborgataristorante.com; 772.288.2121
CASA BELLA
Parma Prosciutto sautéed with fresh mushrooms in a cream sauce with a hint of Sage and Pecorino Romano. Pair with La Crema Chardonnay. All entrées served with your choice of side salad or cup of soup
PASTA NOSTRA
BERRY FRESH CAFE
RIVERWALK CAFE AND OYSTER BAR A top stop for fresh-caught seafood and drinks in a casual atmosphere. Try the oyster stew and lob ster ravioli, two favorites, and see why the venue fills up so quickly every night. 201 SW St. Lucie Ave., Stuart; riverwalkoysterbar.com; 772.221.1511
POLISH POLKA EUROPEAN MARKET AND RESTAURANT An authentic, Mom and Pop Polish restaurant with a European market attached. 3950 NW Federal Hwy., Jensen Beach; 772.692.1112 SEAFOOD BASIN SEAFOOD & FRESH FISH MARKET Fresh seafood available for purchase as well as dining options with outdoor and indoor seat ing. 4150 SE Salerno Road, Stuart; facebook.com/ basin-seafood-fresh-fish-market; 772.287.5771 CATFISH HOUSE A captivatingly decorated seafood joint special izing in classic fried selections. 11500 SE Federal Hwy., Hobe Sound; facebook.com/hobesound catfishhouse; 772.545.7733
THE BLACK MARLIN
JAMAICAN CLASSIC JAMAICAN JERK STOP
MEXICAN CASA TEQUILA
FRUITS AND ROOTS VEGAN CAFE The menu here is 100-percent plant-based and offers items like cold-pressed juices, smoothies, juice shots, oat bowls, salads, and sandwiches— all made with locally harvested ingredients. 710 S. Colorado Ave., Stuart; fruitsandrootsvegancafe. com; 772.678.6627
PORT ST. LUCIE/FORT PIERCE AMERICAN 2ND STREET BISTRO
SNEAKI TIKI Tiki-inspired tropical eatery outfitted with a patio to enjoy live music and everyone's favorite seafood and tacos. 211 S. Colorado Ave. Suite 1, Stuart; sneakitikistuart.com; 772.286.0565
VEGETARIAN/VEGAN/HEALTHY
3NATIVES
American warehouse–style eatery offering a wide selection of beers from the taproom, as well as eats from the pizza kitchen including create-yourown pies, flatbreads, house pizzas, and desserts. 130 N. 2nd St., Fort Pierce; sailfishbrewingco.com; 772.577.4382
Florida health chain offering smoothies, acai bowls, salads, bagels, wraps, juices, and shots in a relaxed, beachy environment. 870 SE Indian St., Stuart; 3natives.com; 772.266.9431
A stunning waterfront setting, an outstanding happy hour, enticing specials, and live music all weekend make Stuart Boathouse a go-to on the local dining scene. 49 SW Seminole St., Stuart; stuartboathouse.com; 772.266.4586
Eclectic, seafood-centric menu that blends the freshest daily catches, highest-quality raw bar, and shellfish selections. Plus, premium cuts of meat. 10900 S. Ocean Drive, Jensen Beach; kylegseafood.com; 772.237.5461
SEPTEMBER
This lively bistro, located in historic downtown Fort Pierce, highlights local produce in its delicious dishes. The extensive beer list features a brew to complement every meal and satisfy everyone's taste buds. 122 N. 2nd St., Fort Pierce; 2ndstreet bistro.com; 772.293.9191
Authentic Mexican cuisine from burritos to fajitas. Stop in Fridays for live mariachi band performances. 1725 SE Federal Hwy., Stuart; casatequilafl.com; 772.600.5482
TABULEH CAFÉ AT PLANET OZONE
CRAWDADDY'S Every day is Mardi Gras at Crawdaddy's, where Cajun-Creole cuisine reigns supreme. 1949 NE Jensen Beach Blvd., Jensen Beach; crawdaddys jensenbeach.com; 772.225.3444
KYLE G'S PRIME SEAFOOD & STEAKS
Authentic Mexican cuisine with bold flavor. 1602 SE Federal Hwy., Stuart; mr-jalapeno.com; 772.287.8161 PUEBLO VIEJO A family-owned chain restaurant offering Mexican fare, drinks, and a tropical mural setting. 3181 NW Federal Hwy., Jensen Beach; 772.934.6683; 291 SW Port St. Lucie Blvd., Port St. Lucie; 772.336.5050; puebloviejofl.com TAKO TIKI Come to Tako Tiki for craft cocktails, nightly live music, and a menu of small plates, sandwiches, and salads. Oh, and tacos! 3340 NE Pineapple Ave., Jensen Beach; takotiki.net; 772.208.5554 TAQUERIA TORRES
STEAK HOUSE 1120 PRIME STEAKHOUSE Classic steak house food and atmosphere with fresh farm-to-table salads. 11220 SE Federal Hwy., Hobe Sound; facebook.com/1120prime; 772.742.2856 GRIFFIN'S SURF & TURF Enjoy quality seafood, steaks, and cocktails in this upscale contemporary setting with live piano music every night. 2621 SE Ocean Blvd., Stuart; griffinsrestaurant.com; 772.266.4014 PETER'S STEAKHOUSE Fine wines and sides like Pete's Famous Hash Browns and shoe-string onions accompany the dry-aged steaks at this longstanding steak house. 3200 NE Maple Ave., Jensen Beach; peterssteakhouse.com; 772.225.2516
CONCHY JOE'S SEAFOOD Dive into fresh seafood items such as Conchy's Seafood Feast or the Bahamian-inspired conch salad. 3945 NE Indian River Drive, Jensen Beach; conchyjoes.com; 772.334.1130
This island shack–style, "no shoes, no shirt, no problem" restaurant has been open for more than 70 years. Enjoy sandwiches, seafood, and drinks while live music and the beach set the scene. 401 S. Ocean Drive, Fort Pierce; archiesftpierce.com; 772.460.3888 PICKLED Bright and spacious restaurant with flavorful eats including Wagyu sirloin, duck pot pie, truffle mac and cheese, and charcuterie boards. 201 N. 2nd St, Fort Pierce; pickledinthefort.com; 772.448.4239
MR. JALAPEÑO STUART
GETTIN CRABBY A no-frills seafood house known for crabs by the pound and music performances. 4110 SE Salerno Road, Stuart; gettincrabby.me; 772.463.1166
SAILFISH BREWING COMPANY
This cozy hideaway was once the site of the oldest tavern in Stuart and offers everything from local seafood to late-night martinis. 53 SW Osceola St., Stuart; theblackmarlin.net; 772.286.3126 TIDEHOUSE Dine from the second floor overlooking the Har borage Yacht Club & Marina. Expansive views span from the St. Lucie River to the Roosevelt Bridge. Fresh Florida seafood purchased from local fisher men, plus flatbreads, prime rib, and more. 915 NW Flagler Ave., Stuart; tidehouse.com; 772.444.3166
Authentic jerk house offering fresh favorites like beef patties with bun and cheese and jerk chicken served with rice and peas, plantains, or steamed vegetables. 2200 SE Indian St., Stuart; jamaicanjerkstop.com; 772.266.8678
ARCHIE'S SEABREEZE
SHRIMPERS GRILL AND RAW BAR Discover a relaxed, tropical environment and sunset specials at this waterfront gem in Stuart. 4903 SE Dixie Hwy., Stuart; shrimpersgrill.com; 772.220.3287
This Treasure Coast breakfast and lunch spot is a GMO- and preservative-free café. 1429 SE Federal Hwy., Stuart; berryfresh.cafe; 772.324.8287
Authentic Mexican fare featuring tacos and other traditional plates. 2995 SE Dixie Hwy., Stuart; facebook.com/taqueriatorres; 772.678.9014
This market and café offers organic, gluten-free, Halal, and locally sourced selections, as well as fresh-squeezed juices. 1601 SE Federal Hwy., Stuart; planetozone.com; 772.403.2199
KING NEPTUNE Serving the finest seafood soups, salads, and dishes, King Neptune lives up to its reputation of knowing how to "talk fresh, local seafood." 4795 SE Dixie Hwy., Stuart; facebook.com/king neptunestuart; 772.287.9630
STUART | 202256 Flavor wide selection of pastas, sandwiches, salads, and pizzas, including Chicken Parm, Brindisi, and the Philly. 8423 SE Church St., Hobe Sound; twobrospizzafl.com; 772.402.5056
STUART BOATHOUSE
WE MAKE MOVING & STORAGE EASY! Free Estimates Local & Long Distance Moving Short & Long Term Storage Packing & Crating Services Loading & Unloading 772-778-4750 WhiteGloveUSA.com Agent for 2018 Torch Awards for Ethics TRUST | PERFORMANCE | INTEGRITY WINNER BBB Serving Southeast Florida & the Caribbean Michael Dadko, CFP® | EVP / Wealth Management, Financial Advisor Diane Dadko, CFP® | Private Client Associate 309 SE Osceola Street, Suite 208, Stuart, FL 34994 sailfishwmg.com | 772.219.2026 | 877.716.3502 © JANNEY MONTGOMERY SCOTT LLC • MEMBER: NYSE, FINRA, SIPC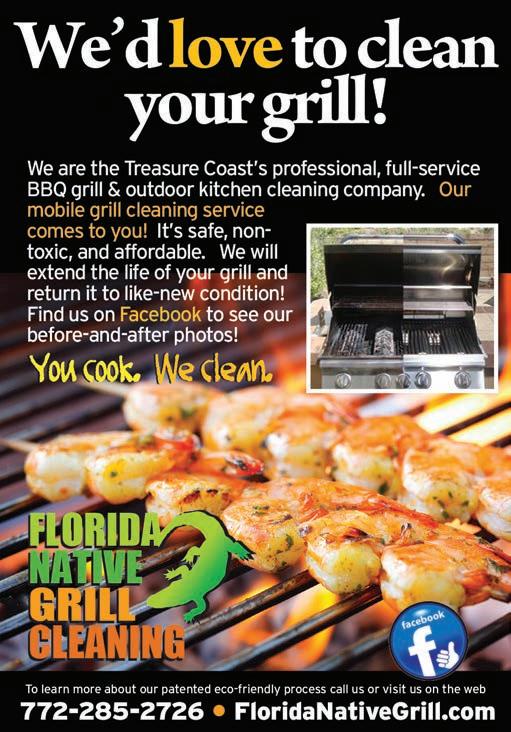 First a food truck and now a full-fledged restaurant, Think Greek offers Greek classics with an American twist. 644 SW Port St. Lucie Blvd., Port St. Lucie; thinkgreekfl.com; 772.800.3128
Suite 4424, Fort Pierce; cobbs-landing.com; 772.460.9014 CROCADILLOS BAR AND GRILL Tons of outdoor seating and a stage allow Crocadillos to host events throughout the year. Combined with tasty grill eats and cold drinks, it's a guaranteed good time at a good price. 109 Fishermans Wharf, Fort Pierce;
This family-owned restaurant boasts authentic Italian fare from a menu of more than 70 choices, as well as daily specials. 1145 SE Port St. Lucie Blvd., Port St. Lucie; ruffinos.net; 772.335.2988
LUSO PORTUGUESE GRILLE Portuguese outpost reflecting the country's coastal heritage with a focus on seafood like shrimp cooked Mozambique-style. 10511 SW Village Center Drive, Port St. Lucie; lusogrille.info; 772.303.2400 SEAFOOD COBB'S LANDING A quality waterfront dining experience, the menu features hearty servings of pasta, seafood, and meat, River Drive crocadillos.com; COVE BAR Located inside the Harbor Town Marina, Harbor Cove Bar & Grill merges waterfront views and casual dining. 1930 Harbortown Drive, Fort Pierce; harborcovebargrill.com; 772.429.5303
ITALIAN ANGELINA'S PIZZERIA Along with mouth-watering pizzas, the family-run pizzeria also offers a variety of Italian appetizers, pastas, and salads. 1126 Colonnades Drive, Fort Pierce; orderangelinaspizzeria.com; 772.302.3591
Flavor
THE FORT STEAKHOUSE A modern take on the classic steak house executed with elegant, rich dishes and a sophisticated atmosphere. 106 S. 2nd St., Fort Pierce; thefortsteakhouse.com; 772.882.9131
TUTTO FRESCO An elegant Italian restaurant with indoor and outdoor seating featuring upmarket entrées, steaks, and a full bar. 9501 Reserve Blvd., Port St. Lucie; tuttofrescopsl.com; 772.464.8988
ONE LOVE JAMAICAN This beloved eatery serves up delectable seafood platters and authentic Jamaican dishes. Indulge in corn, crab legs, blue crabs, sausage, boiled egg, potatoes, and more. 3453 SW Darwin Blvd., Port St. Lucie; onelovecaribbeancuisineseafood. business.site; 772.985.3128
JAMAICAN JERK CITY Located at an unassuming strip mall, Jerk City offers diners the best of island specialties for lunch and dinner. 8007 U.S. Hwy. 1, Port St. Lucie; jerkcity.com; 772.871.2552
RAMEN HANA AND WINGS
SPIRO'S TAVERNA Head to Spiro's Taverna for Greek-American fare like gyros and sandwiches, along with beer and wine, in a casual setting. 1738 St. Lucie W. Blvd., Port St. Lucie; spirostaverna.com; 772.879.4083
THE S & S CAFÉ & WINE BAR
RUFFINO'S ITALIAN RESTAURANT AND PIZZERIA
& GRILL
STUART | SEPTEMBER 2022
VEGETARIAN/VEGAN/HEALTHY BEACH BOWLS FORT PIERCE Organic, fresh fruit blended into smoothies and smoothie bowls in the heart of downtown Fort Pierce. 217 Avenue A, Fort Pierce; beachbowls fortpierce.com; 772.448.4097 ❖
SUNRISE CITY CAFE Sunrise City Cafe serves breakfast and lunch with a hometown feel everyone is sure to love. 204 Orange Ave., Fort Pierce; sunrisecitycafe.com; 772.242.1833
INDIAN TAJ INDIAN Curries steal the show at this establishment that offers a wide range of cultural favorites in addition to vegan and Halal foods. 529 NW Prima Vista Blvd., Port St. Lucie; tajpsl.com; 772.237.4567
PORTUGUESE FERNANDO'S DOCKSIDE GRILLE Take a tour along the coasts of the Atlantic with Chef Fernando Dovale, who is whipping up authentic Mediterranean and Portuguese cuisine from shrimp scampi to pork Alentejana to seared scallops. 2214 SE Veterans Memorial Parkway, Port St. Lucie; fernandosdocksidegrille. com; 772.337.1110
along with live entertainment and a buzzing mojito bar. 200 N. Indian
PIE HOLE WOOD PIZZA Pizza pub with classic pizza, subs, wings, and salads served in a vintage-style setting with dark wood, stone and brick walls, shuffleboard, and charming outdoor seating. 2510 S. Ocean Drive, Fort Pierce; pieholewoodpizza.com; 772.971.0120
WASABI THAI SUSHI Stop by Wasabi Thai for good food, large portions, and a delicate ambience—plus a full liquor bar. 217 Orange Ave., Fort Pierce; wasabithaisushifl.com; 772.242.1310
THE MOFONGO KING This Puerto Rican outpost is known for its name sake mofongo and two-for-one draft beers. 295 SW Port St. Lucie Blvd., Port St. Lucie; facebook. com/themofongoking; 772.777.4080 MEXICAN CASA AMIGOS AUTHENTIC MEXICAN RESTAURANT A hit with the locals, visit for a dynamite meal of nachos, fajitas and other savory fare. 7950 S. U.S. Hwy. 1, Port St. Lucie; casaamigosrest.com; 772.204.2744 ZAPATA'S MEXICAN GRILL Zapata's has eye-catching decor and even more eye-catching drinks and meals. Drop by for tasty, authentic Mexican food. 6700 U.S. Hwy. 1, Port St. Lucie; zapatasmexicancuisine.com; 772.464.7288
GREEK/MEDITERRANEAN THINK GREEK
Globally inspired with an emphasis on health, the S & S offers plenty of wholesome vegan options. 148 Depot Drive, Fort Pierce; facebook.com/ thesstakeout; 772.461.8354
PELICAN YACHT CLUB Excellent service, beautiful sunsets, and dishes ranging from herb- and pistachio-crusted sea scallops to short ribs. 1120 Seaway Drive, Fort Pierce; pelicanyachtclub.com; 772.464.2700 STEAK HOUSE BUFFALO CHOPHOUSE Backed by 20 years of experience and local farmfresh ingredients, Buffalo Chophouse has all your favorites with none of the compromise. 918 SW Gatlin Blvd., Port St. Lucie; buffalo-chophouse.com; 772.621.7900 MEATING STREET STEAK & SEAFOOD The Lamarra family offers USDA Prime steaks, seafood, and indulgent sides at their Tradition outpost. 10553 SW Meeting St., Port St. Lucie; meatingstreet.com; 772.348.3805
This Fort Pierce establishment doubles as a USPS contract unit and serves up one tasty Cuban sandwich that has locals coming back for more. They also offer satisfying bites like sweet plantains, croquettes, and empanadas. 402 S. 5th St., Fort Pierce; merviscafe.com; 772.462.6600
58 SEAWAY SMOKEHOUSE Classic and hearty barbeque served from a charming two-story space. In-store and outdoor seating available. 101 Seaway Drive, Fort Pierce; seawaybbq.com; 772.577.6350
LATIN AMERICAN/CUBAN MERVIS' CAFÉ & GRILL
ASIAN PHO DELI Authentic Vietnamese restaurant in a casual setting with a counter-serve option and dishes from pho to bahn mi. 466 SW Port St. Lucie Blvd., Port St. Lucie; 772.877.2133; 1007 Seaway Drive, Fort Pierce; 772.882.9584; phodelipsl.com
Ramen that warms the mouth and soul. Choose between small and large plates of various ramen flavors or try the namesake wings in four flavors. 6935 Heritage Drive, Port St. Lucie; ramenhana.com; 772.444.7891
772.409.4495 HARBOR
Hot Shots STUART | SEPTEMBER 202260 Hot Shots 43 857 1 2 69 10 The Event: TEA IN THE GARDENS When/Where April 3, 2022 | Heathcote Botanical Gardens, Fort Pierce 1. Pandora Scotto, Penelope Bowes 2. Melanie Wiles, Courtney Collins 3. Berkley Barnes, Jodi Riley 4. Tena Sigmon, Cris Adams, Pat Alley 5. Bella Nichols, Cathy Prisco 6. Suzi James 7. Athena Marie Prisco 8. Kathryn Hensley, Carol Dawkins 9. Judi Miller, Lana McClain, Maureen Persson, Janis Brown 10. Barbara Chandler, Charlotte Jones, Graceann Scott, Gale Schorr KETCHAMMARYANN
61SEPTEMBER 2022 | STUART 3 65 74 8 1 2 The Event: THE SALVATION ARMY OF MARTIN, ST. LUCIE & OKEECHOBEE APPRECIATIONVOLUNTEERLUNCHEON When/Where April 6, 2022 | Martin Downs Golf Club, Palm City 1. Andrea Shaffer, Dawn Blair, Robert Shaffer 2. Sue Yarusso, Elaine Conlin, Pat Paretta 3. Al and Linda Simbritz 4. Wilma and Ken Osterhoudt 5. Jean and Gordon Coffin 6. Ben Minto, Tom Driscoll 7. Kailee Cumming, Brian Neaville 8. Doreen Wilson, Kathie Voldish, Karen GallagherMCKINLEYLIZ
Hot Shots STUART | SEPTEMBER 202262 8 1 2 53 674 The Event: MARTIN ARTISANS GUILD ART DOWN THE HALL RECEPTION When/Where April 14, 2022 | Elliott Museum, Stuart 1. George and Waltraud Blanchard 2. Janis Clary, Ken Capozzi, Danuta Rothschild, Jen Hearn 3. Jan Murphy, Barb Bucci 4. Mimi Biddle, Caren Corbett 5. Peter Sullivan, Jane Baldridge 6. Lynn Ganaway, Torenzo Gann 7. Local musicians Cris & Alex 8. Jeanine Baum MCKINLEYLIZ
63SEPTEMBER 2022 | STUART 7 8 1 2 54 63 The Event: IMPACT100 MARTIN GRANT AWARDS CELEBRATION When/Where April 19, 2022 | Harbour Ridge Yacht and CountryPalmClub,City 1. Nancy Wong, Genevieve George, Maureen Cotter 2. Janie Tighe, Susan King, Arati Hammond 3. Paula Hundt, Judy Zanchi 4. Sarah Baker, Lisa Marshall 5. Karla Preissman, Nina Preissman, Lisa Rhodes 6. Kathy de Windt, Kali Flood 7. Kristen Konkus-Signorelli, Peggy Austin, Brigite Babine, Laurie Peterson, Karen Townsend 8. Lisa LaFrance, Jennifer EatonMCKINLEYLIZ
Hot Shots STUART | SEPTEMBER 202264 POREBADOREEN 1 The Event: JUNIOR LEAGUE OF MARTIN COUNTY SPRING SOIREE TO CELEBRATE 30 YEARS OF SERVICE When/Where April 23, 2022 | Florida Oceanographic Coastal Center, Stuart 1. Bruce, Ashley, Karen, and David Mann 2. Mary Fields, Aviana Shapiro 3. Lara and Charles Bailey 4. Suzanne Karr, Beth Conway 5. Karen Moore, Kat Joy, Emily Karr, Taylor Gilmour 6. Shane and Alison Manship 7. Olivia Kirchman, Karen Moore 8. Nikki and John Milano 9. Mary and Dave Fields 7 98 2 54 63
65SEPTEMBER 2022 | STUART 3 4 5 6 718 2 The Event: TREASURE COAST HOSPICE FOUNDATION TEA TIME DERBY TIME When/Where April 24, 2022 | Pelican Yacht Club, Fort Pierce 1. Jackie Brownie, Debbie Yancy, Jeanine Bushman, Kambrie Bushman 2. Kaya Marcimiak, Benita Olsen, Susanna Huhtamaki 3. Donna Regan, Karen Chashen 4. Lisa Wilcox, Michelle Daly 5. Kate Dieujuste, Shauna Nobile, Keara Sodano, Jennifer Knowles 6. Cherie Sudderth, Maureen Buergermeister, Sandee Searle, Joan Perin 7. Casey French, Lisa Jensen 8. Linda Hamilton, Jenny Fee, Jimmie Anne Haisley, Grace Fee, Addison FeeMCKINLEYLIZ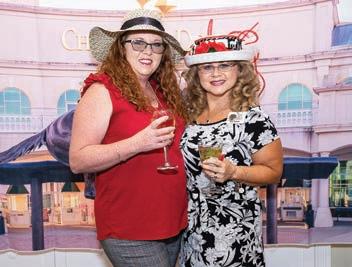 Hot Shots STUART | SEPTEMBER 202266 1The Event: FLORIDA DEPARTMENT OF HEALTH ST. LUCIE COUNTY VOLUNTEER AND PARTNERSHIP APPRECIATION LUNCHEON When/Where April 29, 2022 | Indian River State College Pruitt Campus STEM Center, Port St. Lucie 1. Lauren Dudley, Dr. Madhu Sasidhar, Gabriel Brook 2. St. Lucie County Commissioner Chris Dzadovsky, Jon Prince, Dr. Donna Mills 3. Patrice Copeland, Miriam Roldan 4. Mark Lander, State Senator Gayle Harrell 5. Mark Dionisio, Stefanie Myers, Jason Barela 6. Helen McDonald, Arlease Hall, Caleta Scott, Rob Lord 7. Robert Delgadillo, St. Lucie County Commissioner Linda Bartz, Alphonso Jefferson 8. Angela Robertson, Ray and Cheryl Lalloo 7 8 2 54 63 KETCHAMMARYANN
67SEPTEMBER 2022 | STUART Submit your event photos to: michelle@stuartmagazine.com KETCHAMMARYANN 53 6 4 7 8 1 2 The Event: GUARDIANS FOR NEW FUTURES CHILDREN'S ADVOCACY CENTER GRAND OPENING CELEBRATION When/Where April 30, 2022 | Children's Advocacy Center, Port St. Lucie 1. Ray Navarro, Ellie Gundrania, Susanne Ferguson, Eric Garza 2. Constance Yingling, Penelope Vinyard, Khay Chatman, Ty McKinnond 3. Shauna, Miles, Ruby, and Brandon Nobile 4. Karen and Bill Jenkins 5. Brian and Jennifer Garcia 6. Monica McClendon, Ty'Ran McClendon, Brenda Claridy 7. Gabriella Mowery, Katie Huddleston 8. Debbie Butler, Joe Mayhew, Linda French, Caroline Vinyard, Brandon Nobile, Stephanie Castellanos, Christopher Murray
STUART | SEPTEMBER 202268 INSTAWORTHY Tag us on Instagram for a chance to see your post on this page @stuartmagazine_ Surf Report In June, the Elliott Museum on Hutchin son Island debuted a new dance party series featuring lively music, light bites, a cash bar, and the opportunity to dress up in themed duds. Summer themes have included Motown Magic and Downright Country—and next up is Peace, Love & Woodstock, celebrating music of the 1960s, on September 15. Get ready to get your groove on! Read all the party details at stuartmagazine.com/elliottdanceparty >> GET WEEKLY UPDATES ABOUT LOCAL HAPPENINGS BY BECOMING A VIP INSIDER: STUARTMAGAZINE.COM/INSIDER << WHAT'S HAPPENING ON STUARTMAGAZINE.COM by ABIGAIL DUFFY "The iconic House of Refuge with a Wizard of Oz twist" @jessica.donnelly.photo "Brown pelican cruising along the Jensen Beach shoreline" @pkstflorida "Kayaking the St. Lucie Inlet Preserve" @benjwilson Moonlighting, /StuartMagazine @stuartmagazine_ To Florida, With LOVE CALLINGALLHIPPIES SPA&RESORTBEACHPALMEAUOFCOURTESY For true Floridians, the fun doesn't stop when summer ends—it just gets a little bit more peaceful with all the snowbirds flying the coop. Our pristine oceans, natural wonders, quaint towns, and tropical climate set the scene for vacation year-round. Resorts from the Keys to Apalachicola are treating Florida residents to staycation deals throughout summer (and beyond), so start planning your getaway now! Learn more at stuartmagazine.com/floridaresidentresorts Eau Palm Beach Resort & Spa
Outdoor Wicker • Aluminum • Teak Marine Grade Polymer • Fire Pits Concrete & Stone Tables • Fountains Recycled Resin • Accessories • & MORE 1527 N. Old Dixie Hwy. • Jupiter, FL 33469 Mon. - Sat. 10 a.m. - 5:30 p.m. Sunday 12:30 p.m. - 5 p.m. 561.748.3433 • patioandpoolside.com CASUAL LIVING PATIO & POOLSIDE Largest Display of Outdoor Furniture in Jupiter, Tequesta and Hobe Sound
LET US FURNISH YOUR HOME INSIDE & OUT! 815 S US HWY 1, Jupiter, FL 33477 // Open Mon.–Sat., 10 a.m. to 6 p.m. & Sun., 12:30 p.m. to 5 p.m. 561.781.3696 // SUMMERHOUSEFURNITURE.COM Bedroom • Dining • Barstools • Sofas • Sectionals • Theater Seating • Patio • Home Decor