Priceless September 2023 Adopt ♥ Rescue ♥ Donate ♥ Foster ♥ Volunteer TM Expanding Families One Pet at a Time
Hi, everyone! I'm Marley, a Morkie mix puppy, and this is my feline friend, Knox. We're inviting you to attend the 15th Wilmington Fur Ball! This joyful and fun evening benefits rescue animals (like us) from New Hanover, Brunswick and Pender Counties. You'll come together with other animal lovers while enjoying lavish hors d'oeuvres, wine, beer, champagne, a live band, and the opportunity to bid on many live and silent auction items. The event will be held on November 4, 2023, from 6:30pm to 10:30pm at The Plaza On Princess. Tickets are $150 each and are available online now at www.wilmingtonfurball.com. So dust off your dancing shoes and prepare for a night of great entertainment. It's an event you won't want to miss! Please see the ad on page 12.
Both Knox and I are up for adoption at Pender County Humane Society. I'm a friendly, playful darling, just 3-months-old. Knox and his sister Ginger are a bonded pair, just 1-year-old, and as loving as can be. Please call 910-259-7022 to meet me or them!
Thank you to Cathy from Wiggle Butts Photography for giving us this chance to shine and be adopted!
Deborah A. Richards Broker/REALTOR, ABR, SPS 910-769-6850 office 919-219-1939 cell deborahrichards@seacoastrealty.com SUPPORTING RESCUE ANIMALS WITH EVERY SALE! SERVING COASTAL CAROLINA FOR 20 YEARS!
Photo by: Wiggle Butts Photography
Wilmington's Newest Doggie Day Spa and Salon Offers Basic to Luxury Services to Accommodate Every Pets Needs.
Conveniently located on Judges Road off of Market Street, our beautiful spa and salon is designed to relax even the most anxious pets and provide a calming atmosphere that your dog will love!
311 2-D Judges Rd. Wilmington, NC 910-769-6708
Email: thecombandcollar.ilm@gmail.com www.WilmingtonDogGrooming.com
Hi, my name is Anna (Ah-Nuh...like from the movie Frozen). I am a 3-year-old Pit mix girl! I have been a part of C.A.R.E. for about 4-months now while going through heartworm treatment and I am FINALLY almost ready for adoption! I LOVE people, ignore cats, and will require a proper introduction to new dogs! Once I finish recovering from heartworm treatment I hope to start puppy play and get rid of all of this built-up energy! My friends at Atlantic Animal Hospital describe me as the most perfect wild child! I can not wait to be in my forever home! Please reach out if you are interested in adopting me by calling 910-256-2624 or emailing carewilmington@yahoo.com.
Hi, my name is Coco. People say I'm a bully breed, but I'm not a bully at all. I'm kinda a mush but don't tell anyone. I'm about 5-years-old but you would never know it! My life didn't start out so well but now I am with my foster Mama and she's taking great care of me. I went to the doggy doctor and got neutered and vaccinated. They told me I had those wormy things in my heart (I think they call it heartworm) but not to worry, the rescue who is helping us said they would take care of everything! How cool is that? Anyways, I got a little microchip so if I get lost, people can help me get back home (I hope I have my very own soon). I did really great at a recent event with lots of people and other pups. I made a couple of furry friends so I'm really excited. I really think I would be just fine being by myself with my humans (I love belly rubs) or with a really cool fur sister. Like my buddy, Wallen (on page 22), I'm kinda a ladies man. If you would like to meet me, please let my people know. Call Freedom Bridge Animal Rescue NC at 843-614-0231 or email freedombridgeanimalrescuenc@gmail.com.
I am sponsored by Cape Fear Spay/Neuter Clinic.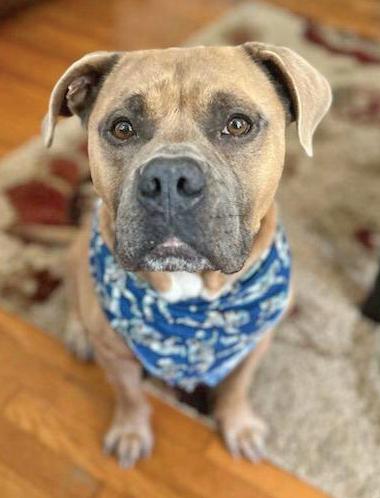 I am sponsored by Atlantic Animal Hospital who supports Coastal Animal Rescue Effort (C.A.R.E.).
My name is Viper I was rescued from an overcrowded shelter. There are SOOOO many homeless animals right now. It is pitiful. It is very hard to compete for a home. I am just 3-months-old, sweet, loving and playful and I am hoping I catch someone's eye. I am a pretty girl who has seen some things in my short life. Will you come adopt me, love me and keep me safe forever? Meet me at Petco at 324 S. College Road near Market Street or text Melinda at 910-471-6909. For more info, updates and upcoming adoption events, visit us online at www.adoptanangel.net or on Facebook at www.facebook.com/adoptanangelnc.
I am sponsored in honor of all the wonderful foster mommies and daddies who care for homeless animals.
My name is River and as a puppy, I was abandoned. For over a year, I lived by the trailer where I'd been left. Today, I am 20-months-old and weigh 70 pounds. I'm such a good boy and I'm hoping to find a forever family. Since my former humans let me down, I thrive with lots of positive reinforcement. A quiet home with a secure fenced yard and two-leggeds who have German Shepherd experience would be a dream come true for me.
Because of past trauma, I prefer women and I'm leery of large men. I have been a real joy in my foster home. I love my foster mommy and, with time, I've come to love my foster daddy, too. I love to have a good time and I like toys and playing fetch. I'm intelligent, love training time and have quickly learned basic commands. I've also learned to walk nicely on a leash and how to get in and out of cars. I've done well meeting new people and I'm good with cats and some dogs. If you'd like to adopt a total love bug who will follow you everywhere, I pray you will consider me. I am neutered, vaccinated, and on heartworm prevention. Call or text Coastal Canine Rescue at 910-470-5554 or email coastalcaninerescue@ec.rr.com.
I am sponsored in loving memory of Nolan, a compassionate dog lover.
All Merchandise is Animal Related. Pet Supplies to Home Décor and Collectables Open 10-5 Thursday, Friday & Saturday 401 Hwy 117S in Burgaw 910–300-6251 or 910-259-7911 www.montyshome.org info@montyshome.org New At Same Location! Second Chances Dog Training Puppy and Basic Obedience Building a better partnership with your pet Utilizing 100% Reward Based Training 401 Hwy 117S in Burgaw info@montyshome.org 910-259-7911 www.montyshome.org
Publishers / Editors
Kelly Wall & Diane Pour
Cover Photographer
Wiggle Butts Photography
Account Manager
Kelly Wall
Graphic Design
Diane Pour
How To Reach Us: We welcome comments, suggestions, article ideas, questions and subscription inquiries. Please send them to:
PawPrints Magazine P.O. Box 4834
Wilmington, NC 28406 910-264-3647
Email: pawprints@ec.rr.com
www.PawPrintsMagazine.com www.facebook.com/PawPrintsMagazine
PawPrints Magazine is dedicated to saving the lives of homeless animals by promoting shelter adoptions. We provide an up to date pictorial directory of shelters, humane societies and rescue organizations in the Cape Fear area. Deadline for submissions is before the 15th of each month. Please call to verify date.
PawPrints Magazine is published on a monthly basis by Zappareta Publications, Inc. All nonprofit organizations and individuals who are not in the business of breeding and/or selling animals are welcome to participate in the magazine. PawPrints Magazine cannot guarantee the health or temperament of any animal offered for adoption through this publication. We try to keep information as current and accurate as possible; however, we cannot guarantee the availability of a specific animal. Prospective pet parents must contact the shelter directly to make certain a particular pet is still available or to inquire about the adoption process.
Disclaimer: Zappareta Publications, Inc. does not endorse or guarantee any products, services, or vendors mentioned in PawPrints Magazine, nor can it be responsible for problems with their products or services. Also, Zappareta Publications, Inc. reserves the right to reject, at its discretion, any advertisement. Views expressed by various authors are not necessarily those of Zappareta Publications, Inc.
©2023 Zappareta Publications, Inc.
All rights reserved. Reproduction in whole or part without prior written consent of publishers is prohibited
In This Issue
Volume 22 - Number 6
8-9 11 13 15 17 19 21 27 29 31 33 35 37 39 41 45 Animal Shelters & Organizations: Adoption Options............................................................. New Hanover Sheriff's Office Animal Services Unit.......... Pender County Humane Society....................................... Thundering Paws Pet Adoption…….................................. All 4 Cats........................................................................... Paws Place........................................................................ Cat Adoption Team...... Feline Urgent Rescue and Rehab..................................... Roseys Rescue................................................................. Onslow County Animal Services…......…….……………... Hamilton's Healing Hearts.…………...……………………. Cat Tails............................................................................ Adopt-An-ANGEL........ Pender County Animal Shelter............……....……..…….. New Hanover Humane Society......................................... Fresh Start Rescue…………………...…………………….. Please Recycle
Features: Adoption Celebration...........................................................................46 15th Wilmington Fur Ball.................................................................12 Meet Our Adoptable September Cover Models: Marley & Knox…..2 Happy Tails: Where Is She Now?…………..……………………......28 September 2023 www.facebook.com/PawPrintsMagazine 7 19 15 9 10 26 31
Adoption Options
We are all from different Animal Rescues. Please read our stories!
RESCUECONNECT
Hi, I am George. I am an 8 to 9-week-old kitten who was rescued from running in-between cars on a busy road. I have had my initial vaccines and I am looking for a forever home where I can live my best life indoors. I am shy at first but once I trust you, I am a playful ball of energy. If you would like more info, please fill out an application at www.rescueconnectnc.com. You may also call 910-352-5150. ♥
OPERATION TOPCAT
My name is Patty and I'm a sweet 15-month-old girl who is looking for a forever home. I love attention and will follow you around and meow at you to let you know I'd like to be petted. I'm fine with female cats however I do not get along with male cats and I've never been around dogs. I would do better with older kids and in a quiet home. I'm fully vetted, spayed, vaccinated and microchipped. To adopt me, call Operation Topcat at 910-200-0612 or send an email to otopcatnc@aol.com.
FRIENDS OF FELINES
My friends call me Sweet Pea and I certainly live up to my name! I love to rub all over you and I'm very playful. I am dog tolerant, but would do very well in a house with other cats. I'm up to date on vaccines and spayed so I'm ready for my forever home. My only request is that you please have balls for play time!
Please call 919-710-3872 or email friendsofelines@aol.com if you'd like to visit with me. ♥
COASTAL CANINE RESCUE
My name is Hebrew and I'm a 1-year-old Hound mix. I have a very sweet temperament and I'm great around other dogs. I love my toys, I walk well on a leash and I'm eager to learn my obediencetraining. I'm crate-trained, current on shots, heartworm negative, neutered and microchipped. I don't try to dig out or jump a fence but I'm looking for a home with a fenced yard and an adventure loving family. To meet me, email coastalcaninerescue@ec.rr.com or call 910-470-5554.
WAGON TAILS FARM
I am Roxy, a beautiful medium-sized girl with the most beautiful eyes. I am a sweet, adorable girl with a gentle soul who would love to show a new family just how much love I have to give. I am very friendly and do well with kids, and other dogs, and I've been around cats, also. I enjoy walks and adventures just as much as laying on the couch and cuddling. I am very treat-motivated, eager to please and ready to learn more exciting tricks. I am crate-trained and very well-behaved. If you are ready for a big mush of a baby, then I'm your girl! To apply, please go to www.wagontailsfarm.org/adopt and start the application process. For more info, call 910-375-3105. ♥
SOUTHPORT OAK ISLAND ANIMAL RESCUE
Darling Kitten Alert! I'm just relaxing in this cozy bed and wondering why all my siblings have been adopted and I'm still here? I'm thinking it's because the best is always saved for last! I'm a 5-month-old boy, extremely handsome, cuddly and loveable. I don't yet have a name, but I'm sure you'll think up a great one for me! Won't you come to SOAR and watch me play with my toys? You can even pick me up for a nice cuddle or two. The shelter is open for adoptions on Monday, Tuesday, Wednesday, Friday and Saturday from 8am to Noon. You can also call 910-457-6340 with questions.
8 www.PawPrintsMagazine.com September 2023
♥
♥
♥
Adoption Options
We are all from different Animal Rescues. Please read our stories!
A SHELTER FRIEND
My name is Mike and I was pulled from the county shelter more than 3-months-ago. I had a wonderful home waiting for me, but something came up and they were not able to welcome me. Now I am stuck in kennel boarding with only my toys to keep me company. I am getting very stressed - I NEED A NEW HOME ASAP! I am a great boy who loves snuggles, belly rubs, walks and of course, I love toys. I am neutered, vaccinated and on heartworm preventative. Help me get out of this cage by calling or texting Sean at 910-918-5118 or Silvia at 910-876-0539. Remember no one will ever love you like a dog who was once abandoned. ♥
PAWSITIVE PARTNERS PRISON PROGRAM
My name is Ariel, like the Little Mermaid! I love adventure just like she does, but that's because I'm only 5-months-old. I'm also just 40 pounds now, but I'm a Poodle/Pyrenees mix so I'm gonna be a big girl. I'm part of the 'Deep Sea Dogs' group and am learning all the manners I need to be a great family pet. Fill out an adoption application on www.montyshome.org. You can also call 732-693-8462 or email adopt@montyshome.org with any questions. I am one of five dogs, so if I'm not your type, check out the others on the website too! ♥
COASTAL ANIMAL RESCUE EFFORT (CARE)
Hi there! I'm a very sweet Orange Tabby boy named Ludwig. You may remember me from past issues. I had found a home, but my pet parent developed a medical condition that prevented her from continuing to care for me. So, which one of you reading this will adopt me and take me back into the home environment I so love? I'm a fun and feisty guy who will do well in a single cat household with adults only. I enjoy plenty of play time and am one of the handsomest cats around, if I do say so myself. Email carewilmington@yahoo.com or call 910-256-2624 and let's plan a time to get together! ♥
RESCUE ANIMALS COMMUNITY EFFORT (RACE)
I'm Abel, a 10-year-old Chihuahua who weighs 14 pounds. I love with my whole heart and I love all other dogs. I have a heart murmur and I take a daily maintenance drug to stay healthy. I would like a home with a woman who likes to snuggle. I am nervous with men but get used to them with time. Once I settle in with you, I promise to be loyal and stay by your side. To adopt, call 910-579-0407 or fill out an application at www.raceshelter.org/forms-and-resources.
Hi, I'm Barney and I'm an 8 to 10-year-old boy who weighs 30 pounds. I'm a Basset Hound and Wire-Haired Terrier mix. I am heartworm negative, vaccinated and neutered. I am deaf and have poor vision but my heart is fully capable of showering you with love. I'm really sweet and I get along with all other dogs but will sometimes bump into them. I am ready to spend my days wandering around your home. I do get used to my surroundings and get comfortable very quickly.
To adopt me, please call 910-579-0407. You may also fill out an adoption application at www.raceshelter.org/forms-and-resources.
My name is Annie and I'm a 5-year-old mixed breed girl. I weigh 57 pounds, I am heartworm negative and I'm spayed and vaccinated. I am moderately active but would like a fenced in yard with regular neighborhood walks. I really love people and will roll over to get belly rubs. I can be picky about my dog friends so I would do best in a home with no other animals. If you are an experienced big dog parent, I would love to meet you. To adopt me, please call 910-579-0407. You may also fill out an adoption application at www.raceshelter.org/forms-and-resources.
September 2023 www.facebook.com/PawPrintsMagazine 9
♥
♥
♥
Photo by: Michael Cline Photography
Six Things that Make Fear Free Vet Visits Different:
■ Calming Environment with Pheromone Diffusers
■ Calming Music to Promote Relaxation
■ Reduction of Stressful Noises
■ Variety of Treats Available
■ Calming Meds Prescribed as Needed
■ Possibly delaying or postponing appointments when pets show excessive signs of fear, anxiety or stress.
I'm Checkers, a beautiful 6-year-old female Calico. I am already spayed and vaccinated. You can often find me getting cozy under a blanket. I'm friendly but it takes me a little time to explore new people and places before getting completely comfortable. Once I'm familiar with my new surroundings, I'm the sweetest girl who loves being the center of attention.
910-313-3326 6005
We're Happy To Welcome You Back In To Our Newly Renovated Hospital!
I've been around other cats, but a quiet home with no small children would be best for me. For more information, please call Carolina Animal Protection Society (CAPS) at 910-455-9682, send an email to capsrescue@yahoo.com or visit us online at www.capsrescue.com.
I am sponsored by Greenwood Pet Camp in memory of Duke.
I hope this striking pose pulls at your heartstrings because I'm so ready to be part of a forever family! My name is Beau (A466789) and I'm a 4-year-old Hound boy who is totally loveable! I enjoy all types of toys and am very social. The staff say I'm an absolute goofball and lots of fun to be around. I'm already neutered so you don't have to worry about that. Oh, if you have another dog at home already, please bring him or her over to meet me! I'm at New Hanover Sheriff's Office Animal Services Unit and adoption hours are Monday through Friday from 11am to 3:30pm and on Saturday from 8am to 11:30am. For more information, please call 910-798-7500.
I am sponsored by Christy Lee. Thank you!
10 www.PawPrintsMagazine.com September 2023 Dineen Animal Hospital 1132 Floral Parkway - Wilmington, NC 28403 JEFF J. DINEEN, D.V.M. EVE MILLS, D.V.M. (910) 799-3400 Cats ~ Dogs
Dr. Christian Bolz Dr. Debbie Bolz
Dr. Rebecca Cozart
Dr. Daniel Houlihan Dr. Colleen Peat
Carolina Beach Road (1 mile south of Monkey Junction across from Harris Teeter Fuel Station)
◄I'm a very beautiful black and white girl who is looking for a loving family and a cozy spot to lay my head. At just 5-years of age, I'm already spayed and ready to go! I enjoy cat nip and like the cat toys that have cat nip in them (naturally!) My ID number is A471387 but I deserve a much better name than that. Even Oreo will do! Come on over and get to know me. ♥
►I'm Ryder (A464474), a goofy, silly fellow who will keep you entertained! I love to romp and play with toys in the yard but if you have a treat handy I'll sit right down for it. In fact, the volunteer trainer bragged on me and said she could tell I've already been trained! At 3-years-old, I'm a neutered Pit Bull mix boy. If you have another dog, bring him or her out to the shelter for a meeting! ♥
◄I'm a Boxer boy who would love to belong to a real forever family! Won't you come visit and get to know me? I adore treats and will be happy to go in the play yard with you for a snack and a ball toss or two. You see, I also love games and toys and am active and playful. I even like to chase water from the water hose! I'm 5-years-old and my ID number is A471184. I'll keep my eye out for you! ♥
►I'm a gorgeous Pit Bull boy who the shelter staff very affectionately calls an "absolute goofball". They say I have an outgoing personality and I love to play and engage with people and toys. Like all youngsters (I'm just 1-yearold) I could benefit from basic training to bring out my full potential. If you have another dog, please bring him or her over to meet me. My ID number is A471240. See you soon! ♥
◄Just look at me chillin' in my cat cage here at the shelter… wouldn't I look even better on a comfy cat bed or blanket at your house? I'm a 2-year-old orange and white Tabby boy who enjoys my cat nip treats and cat nip toys. I'd also enjoy receiving a new name, as currently my moniker is ID number A471139. Think of something more catchy on your way over, okay? ♥
◄
I'm a total cutie-pie and the name is Dwight (A472523)!
I'm 2-yearsold and sweet as can be. I love to play with cat toys, I enjoy my catnip and all sorts of treats, and I love to get attention from nice folks like you! I'm neutered, vaccinated, microchipped and ready to be your best boy! ♥
September 2023 www.facebook.com/PawPrintsMagazine 11 New Hanover Sheriff's Office Animal Services Unit Call 910-798-7500 or visit www.facebook.com/NHSOAnimalServices to adopt! 180 Division Dr. Wilmington, NC 28401 www.facebook.com/NHSOAnimalServices