2 minute read
Students from Page Schools Earn Eagle Scout Award
from PUSD District newsletter Feb. 15-29, 2020
by pageud
High school students Anthony Smith and Mac Anderson.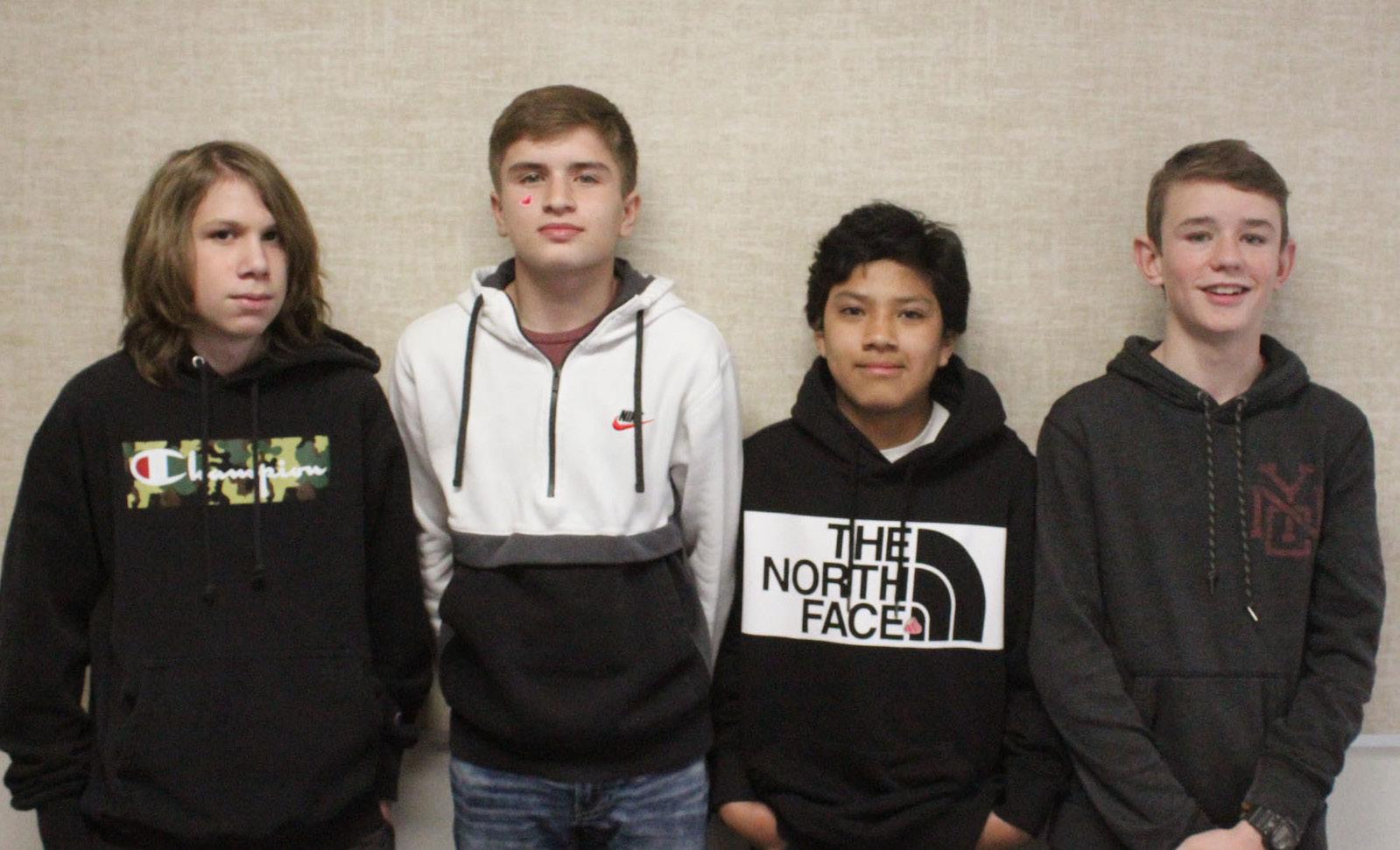 Page Middle School students Vance Gardner, Tyler McNeil, AndrewLopez and Ben Anderson.
Eight scouts from the combined Troops 907 and 911 were awarded the rank of Eagle Scout last December during a special Court of Honor ceremony held at the Glen Canyon Dam.
The Court of Honor marked the end of Troop 907, which has been affiliated with the Church of Jesus Christ of Latter-Day Saints. In 2019 the LDS Church decided to end its long-standing affiliation with the Boy Scouts of America.
Achieving the rank is a big accomplishment. Since the inception of the Boy Scouts of America in 1911, only four percent of Boy Scouts advance to the rank of Eagle.
One scout from Troop 911—Cal Cornaby—and seven scouts from Troop 907 received their Eagle Scout Awards during the December Court of Honor. The seven scouts from Troop 907 who received their Eagle badge are Mac Anderson, Ben Anderson, Vance Gardner, Andrew Lopez, Tyler McNeil, Anthony Smith and Austin Wilson.
Mac Anderson and Anthony Smith are both juniors at Page High School. Ben Anderson, Vance Gardner, Andrew Lopez and Tyler McNeil are all eighth graders at Page Middle School. Austin Wilson is home schooled.
Cal Cornaby currently lives in Salt Lake City, where he attends Bonneville High School. Prior to moving to Salt Lake he lived in Page and belonged to Troop 911. He finished the final requirements to earn his Eagle award in Salt Lake and was invited to return to Page for the special Court of Honor.
One of the big requirements in earning an Eagle Scout is the completion of an Eagle Project, a civic-related project that is done entirely with volunteer labor, and materials that are donated, or the funds for the materials raised by volunteer labor.
Mac Anderson erected a steel Sand Devils sign at the school district's Sports Complex. Vance Gardner Installed the New Shelters at the Grand View Knoll Park soon to open by the Elementary School overlooking Lake Powell. Ben Anderson cleaned, tested, and prepared more than 100 pairs of glasses for the Lion's Club which will be sent to those in need in developing countries. Andrew Lopez painted the curb with red paint at the U.S. Post Office to mark various zones. Tyler White did trail cleanup on the City of Page Rim Trail overlooking Page/Lake Powell Campground. Anthony Smith did family history indexing entering birth dates and death dates of obituaries from regional newspapers including Flagstaff, Page and St. George for genealogical research.
Anthony Smith said he's very happy he was able to earn his Eagle Award.
"It's something I'm really proud of," he said. "It's a big accomplishment. I think it's something that will continue