www.riversidecamp.com 800-341-7534 • 865-453-7299 4280 Boyd's Creek Highway Sevierville, Tennessee reservations@riversidecamp.com37876 Expectations! RiveRside M ission To Him who is able to do EXCEEDING, ABUNDANTLY, ABOVE all that we can ask or think according to the power that works in us. Ephesians 3:20 2023
Kent & Teresa Loveday, Owners
Welcome
1 Page 2
Welcome to Riverside RV Park and Resort. We are delighted you have chosen to stay with us for your visit. As a family owned and operated RV Resort, with 40+ years in the hospitality business, we are always happy to recommend some of our favorite places to visit, eat, or relax. Please let us know if there is anything we may do to make your stay more enjoyable. We would like to extend our personal invitation to you to join us for our Sunday, nondenominational services at 10:00am in the pavilion. Enjoy your stay, and come back soon!
712 Parkway • Sevierville, TN 865-366-1430 1989 winfield dunn pkwy suite 9, sevierville TN 865.446-4615 Gifts for your favorite Toxica or your favorite Vistima! $3OFF withEntreePurchaseSmallFreeCheese Dip with Entree Purchase 10% regularOffprice with this coupon 1989 Winfield Dunn Pkwy, Ste 8 865-366-6575 2 3C 3B 3A Page 3
Reba RandyChuckie 40 WATCHMILES GATE WALKWAY WALKWAY ToKnoxvilleWest To Asheville WALKPET PARKPET PICKLEBALLCOURT OVERFLOWPARKINGNOGRASSPARKINGONTHE WALKING TRAIL STARTING POINT 259 260261262263 264265266267268269270271272273274275276277278279280 281282283284285 258257256255254253252251250249248 246245 244243 242241 240 239 238237236235 C-24C-23 247 194 193 192 191 190 189 188 187 186 185 184 183 182 181 180 179 178 177 176 175 174 173 172 171 170 169 168 167 166 165 164 163 162 161 160 159 158 157 156 155 154 153 152 151 150 19519619719819920020120220320420520620720820921021121221321421521621721821922022122222322422522622722822923023123223323445' 65' 75' 75' To access WiFi, click on Riverside RV WiFi NO Password needed for WiFi Mowing on Tuesday & Wednesday – Please remove personal items from grass. Speed Limit 5 MPH (STRICTLY ENFORCED) Anyone violating the SPEED LIMIT will be asked to leave the campground without a REFUND. NO REFUNDS or CREDITS due to the discomfort of nature. No refunds for early departures. EMERGENCY #s (865) 548-2750 (865) 654-7299 NOONPARKINGEMPTYSITES. Channel Listings 3 Information 4 CBS 5 FOX News 6 ABC 7 ESPN 9 ESPN 2 10 NBC 11 FOX (43) 12 Hillsong Channel 13 National Geographic 14 Animal Planet 15 Discovery 16 TLC 17 HGTV 18 Food Network 19 Travel Channel/SEC (Fall) 20 TV Land 21 Nickelodeon 22 Lifetime 23 The Weather Channel 24 TNT 25 WTBS 26 Freeform 27 History Call Us SERVICES865-933-3620Today!www.alrvsales.comOFFEREDBYOURDEALERSHIP • All Electrical Repairs (12v or 110v) • All Plumbing • Gaskets and Seals • Roof Repairs and Full Roof Replacement • Axles and Bearing Repairs • Engine and Generator Service (Gas Engine Service Only) • Full Interior Repair or Rebuild • LP System Repairs • Satellite and Solar Install • Full RV Wash and Detail • Awning Repair and New Install *Show us your guide and get 10% off parts & labor Visit Us at: 3269 Winfield Dunn Pkwy, Kodak *Discount cannot be used in combination with any other offer. Must present guide all time of purchase to receive discount. YOUR EXCLUSIVE DEALER IN TENNESSEE4
MOBILEHOMES PULLTHRUS PULLTHRUSPOOL BOATRAMPDOGWALKPAVILION Ifwepoop…yougottascoop! Entrance To 40 LittlePigeonRiver MILES WATCHHOURPERFORCHILDREN5 OFFICE FredLeeWay 66 66 To PLAYGROUND GATE PUMPHOUSE Asheville East - Exit 407 BOYD'SCREEKRDWINFIELDDUNNPARKWAYSTORAGEAREA YouHereAre 1819 161514131211 8A 2120191817161514131211109 7A6A5A4A3A2A1A 10987654 3 20 25242322C-1526 C-14C-13C-12C-11C-10C-9C-8C-7C-6C-5C-4C-3C-2C-1 C-17C-16C-19C-18C-20C-23C-22C-21 212223242526272829303132333435 127126128129130131133 117116115114113112111110109108107106105104103102101100125138137136135134139140124123122121120119141142143144146 98 87888685848382818079787755545352515049484746454443424140 56 57 76899091929394959697F4F3F2F1 65' Site # PULLTHRUSPOOL BOATRAMPDOGWALKPAVILION Ifwepoop…yougottascoop! Entrance PigeonRiver OFFICE LeeWay 66 66 To BOYD'SCREEKRDWINFIELDDUNNPARKWAY KINGCABINSHOWERCABINLAUNDRYLPGAS Legend 30/50 AMP 30 SPECIALTYAMP WEEKLY MOBILE PRIMITIVEDUMPSTERHOMECABINYouHereAre 1211109 C-14C-13C-12C-11C-10C-9C-8C-7C-6C-5C-4C-3C-2C-1471171161151141131121111101091081071061051041031021011004041424344454665' Sunday Morning Guest Name
UPPER MIDDLE CREEKRD SEVIERVILLEPIGEONFORGE See MoreAboveMapForDetail RDRIVERSNRIVERRD#8#7 PINE MTN RD FRANCESAVE LANETEASTERSHARONDRPICKELST JAKE THOMAS BLVD DRFLORENCEHIGHVALLEYRD DOLLYWOOD LN WEARS VALLEY RD #6 #5 #4 #3 #2B DOLLY PARTON PKWY ALLENSVILLE RD DOUGLAS DAM RD DOUGLASLAKE TRI-CITIESBRISTOL/ASHEVILLETOTO #13.4 #17.1 #15.5 #2#1 #0COMMUNITYCTRRDPARKWAY PKWYTHEFOLKSOFRIVER PARKWAY HENDERSONCHAPELRD #14.8 EXIT417EXIT412 SHOWPLACE BLVD MUSICRD NEW ERA DR TOWNSENDTO OFFICEPOST PATRIOT PARK LIBRARYSTATIONPOLICECITYHALLLIBRARY SUGAR HOLLOW RD 81 40 71 3573 #4.2#5.2 441 441 321 411 35 35 411 411 #19.9 COLLIER DR BLANTON LONDON WHALEYLNHOLLOWMCCARTERDRRDOLD MILL DR GOLDENCR FRENCH BROAD RIVE KNOXVILLETO&ALCOA TO&KODAKI-40 40 139STRAWBERRYPLAINSPIKE EXIT398 HUCKLEBERRYSPRINGSRD SWAGGERTYRD NASHVILLETO EXIT407 338 338 BLOWINGCAVERD HIGHWAYTO321 #19.1 416 TO I 40 NEWPORT& CREEKGISTSRDKNIFEWORKSLNCENTERBUSINESSCIR 66 E MILL CREEK RD WVALLEYDUMPLINRD SMOKYDR VETERANSBLVD DANDRIDGE ST PROVIDERSMOBILE 2 8 3A 6 1 5 OLDKNOWVILLEHWYBOYD'S CREEKHWY BOYD'SCREEKHWYPORTERFIELDGAPRD KODAK RD KODAK RD KODAK RDTHORNGROVEPIKE DOUGLAS DAM RD DOUGLASDAMRD DOUGLASDAMRD DOUGLASDAMRDDOUGLASDAMRDALDERBRANCH RD LAINSPIKE HUCKLEBERRYSPRINGSRDTHORNGROVEPIKE CURTISRD BATESRDTHORNGROVEPIKE DEEPSPRINGSRDDYNSERRD EDUMPLIN VALLEYRD 139 139 338 338 338 CATLETTSBURGBRANCHALDER BOYD'SCREEK KODAK KIMBERLINHEIGHTS 6666 66 40 40 40 BATESRD 66 BRYANRDBRYANFREDRD W MT RD STRAWBERRYPLAINSPIKE WINFIELDDUNNPKWY CREEKGISTSRD SWAGGERTYRDFRENCHBROADRIVER FRENCHBROADRIVER DOUGLASLAKE FRENCHBROADRIVER EXIT398 EXIT402 EXIT407 EXIT412 NASHVILLETO SEVIERVILLETO ASHEVILLETO ARERECOMMENDEDBUSINESSESTHESEAREBYYOURHOST.PLEASELETTHEMKNOWYOUSTAYINGAT BUSINESSESTHESE THEMRECOMMENDEDAREBYYOURHOST.PLEASELETKNOWYOUARESTAYINGAT RVRIVERSIDEPARK&RESORT 411 411 DANDRIDGE SEVIERVILLENEWPORTTO 10 4 7 3B 3C 9 KRD SEVIERVILLEPIGEONFORGE RIVERSNRIVERRDFRANCESAVE LANETEASTERSHARONDRPICKEL JAKE THOMAS BLVD DRFLORENCE #6 #5 #4 #3 #2B DOLLY PARTON PKWY ALLENSVILLEDAMRD RD DOUGLASLAKE TRI-CITIESBRISTOL/ASHEVILLETOTO #17.1 #2#1 #0HENDERSONCOMMUNITYCTRRDPARKWAYPARKWAYRD #14.8 EXIT417EXIT412 SHOWPLACE BLVD MUSICDR PATRIOT PARK SUGAR HOLLOW RD 81 40 #4.2#5.2 441 35 35 411 411 COLLIER DR BLANTON LONDON WHALEYLNHOLLOWMCCARTERDRRDOLD MILL DR VER 40 139 338 BLOWINGCAVERD HIGHWAYTO321 #19.1 416 TO I 40 NEWPORT& SMOKYDR VETERANSBLVD DANDRIDGE PORTERFIELDGAPRD KODAK RD K THORNGROVEPIKE STRAWBERRY PLAINSPIKE HUCKLEBERRYSPRINGSRDTHORNGROVEPIKE THORNGROVEPIKE KIMBERLINHEIGHTS 40 STRAWBERRYPLAINSPIKE FRENCHBROADRIVER FRENCH EXIT398 NASHVILLETO ARERECOMMENDEDBUSINESSESTHESEAREBYYOURHOST.PLEASELETTHEMKNOWYOUSTAYINGAT BUSINESSESTHESE THEMRECOMMENDEDAREBYYOURHOST.PLEASELETKNOWYOUARESTAYINGAT RVRIVERSIDEPARK&RESORT 411 411 92 DANDRIDGE SEVIERVILLETONEWPORTTO 8 3A 6 1 9 Page 6 (865) RVLifeline.com809-2626 Insured & Certified / 10% Military & First Responders Discount Retired Military/Veteran Owned MOBILE REPAIR 5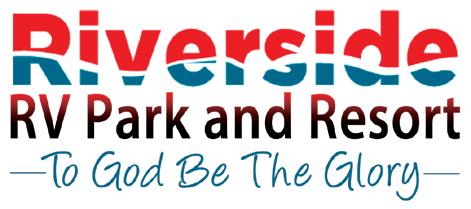 YOU'RE ON THE ROAD TO VICTORY 1554 SEVIERVILLEPARKWAYTN 37862 865.868.3500 JOIN US FOR FOOD, GAMES AND MORE 865-453-3463 Burgers • Wings Salads • SteaksChicken • FULL BAR • Online Ordering & Delivery localeaterygrill.comAvailable! Shoppes at Boyd's Creek 2453 Boyd's Creek Hwy, Sevierville TN 37876 WatchGamestheHere!7 6 8 Page 7 Valued Guests, Welcome back for another season of camping! We do whatever we can to ensure that our visitors have an enjoyable, relaxing and safe time during their stay. Please review our code of conduct. This is in addition to our normal rules which still apply. The following behaviors may result in being evicted and banned from the property without refund. Camper Code of Conduct * Any illegal activity * Black water improperly disposed of * Destruction of property * Disregarding any of the RV Park Rules/Policies * Littered or unkempt sites (cigarette butts, trash, etc.) * Hateful or repeated rude behavior * Proper clean up and disposal of pet waste * Unsupervised children * Adhering to the speed limit of 5 MPH * Conduct that is threatening, disorderly, unruly, disruptive, profane or in poor taste whether directed at guests or staff is prohibited Guests who fail to abide by, or comply with, any of the above terms, conditions, conduct requirements, or violates any applicable laws may, at the discretion of Riverside Rv Park have their camping agreement revoked with no refund of any amount paid therefor. www.GuestGuideSurvey.com WIN$100.00 FOUR GIADRAWINGMONTHLYINTOGETQUESTIONS,YES/NOENTEREDAFOR$100VISAFTCARDSCAN&ANSWER dogsfor betterlives.org 8 0 0 -9 9 0 -DOGS DONAT E ON L I N E OR BY M A I L
©2021 Bush Brothers & Company CHILDREN'S BOUTIQUE 1989 Winfield Dunn Parkway Suite #7, Sevierville, TN Teresa Carlyle, Owner 865-375-5552 9 10 © 2022 AGSPUB.COM • CROWLEY, TX 76036 • (877) 518-1989 • 10-22 KC MAY NOT BE REPRODUCED WITHOUT WRITTEN PERMISSION • D2245 MON 14353 The Leader in the Guest Services Guide Industry for over 35 Years ATTENTION FULL-TIME RVERS SEEKING $ALE$ REP TEAMS Earn money while traveling Highest commission in the industry Complimentary camping Sell local print & internet advertising to an established customer base Supportive office provides assignments Go to the "Join Our Team" page at agspub.com or call 877-518-1989 Do you like this guide? Wi$h to join our team?
Resort Rules/Regulations
• NO PETS in cabins or bathhouses.
• Bicycles: Ride in designated areas only. No bike riding after dark.
• Sites: Be courteous and do not ride or walk through other guests campsites; do not drive through empty campsites, stay on designated roads to enter and leave.
• Sewer Donut or Elbow Required: You must have one to connect to the sewer.
• Tents: Not allowed on property/campsite. We do not allow tent camping.
• Pets are permitted on leash and are not to be left unattended.
• Speed Limit is 5 MPH (Strictly Enforced) Drive carefully and watch for children.
• Rugs: No rugs on grass, must be on concrete patio only.
• Septic Tank: Please do not flush any type of wipes or feminine hygiene products down septic system.
• Laundry: Do not leave clothes unattended.
• Swimming: Is at your own risk. All children under 14 years and those who cannot swim must be accompanied by an adult.
• Quiet Time: 11:00pm to 8:00am
• No fences or cages for pets outside; STRICTLY ENFORCED.
• Campfires: Permitted in fire rings on the riverbank. Please DO NOT move fire rings. Due to the emerald ash borer you cannot bring in your own wood. It is available here for purchase if needed. You are able to have a fire at your site if you have a self-contained off the ground fire pit.
If you do not adhere to the Rules & Regulations you may be asked to leave Riverside RV Park and a refund will not be given.
• Attention Campers: All guests/day visitors must register at office and pay the $3.00 + tax fee per person and receive a car tag. Cars without a tag will be towed. This is required by insurance regulations.
• Trash: Must be taken to on-site dumpsters and not left at site or taken to bathhouse.
• Check In Time: Campsites 1pm, Cabins 3pm
• Washing of Vehicles: No washing cars or campers/rv detailing companies are the only ones able to come in to wash for you. Washing is prohibited on holidays.
• Parking: Not allowed in empty campsites. One car per campsite. Additional parking around pool, pavilion or field area.
• Do not Leave kids unattended on the grounds or in bathhouses. Parent/Guardian will be held financially liable for damages caused by their children.
PETS
• Please keep your pet quiet and clean up after them.
• Check Out Time: Campsites 12pm, Cabins 11am
• Alcohol: Absolutely no display of alcohol. Please keep in a koozie or cup.
• Golf Carts: Must be a licensed driver to operate and must have lights to operate after dark. 5 mph speed limit enforced.