OHIO COOPERATIVE
Mutual Aid
ALSO INSIDE
What is the grid? Master gardeners Air Force Museum
MAY 2023
Holmes-Wayne Electric Cooperative
FEATURES
The National Museum of the U.S. Air Force celebrates its centennial.
GIANTS An Ohio naturalist has made it his mission to seek out the biggest trees in the state.
ROBOTS Ohio's road princes invent a safer way to paint all those sharrows, arrows, lines, and other street markings.
OHIO COOPERATIVE LIVING • MAY 2023
22 THOSE MAGNIFICENT MEN AND THEIR FLYING MACHINES
26 HUNTING
30 ROADWAY
INSIDE
editions:
Cover image on most
Marc DeWerth has nominated numerous trees that have attained "state champion" status with the Ohio Division of Forestry. The trunk on this monster of a white oak in Athens County is almost 26 feet in diameter.
MAY 2023 • OHIO COOPERATIVE LIVING  1
This page: Ohio's Master Gardener Volunteer program inspired Lorain-Medina Rural Electric Cooperative member Jackie Driscoll to plant an 8-acre pollinator garden on her property near Wellington.
Time for a change
After working in the electric utility business for nearly 40 years, I still marvel at the working of our interconnected electric power network that we commonly refer to as "the grid." It has taken equal parts of engineering, ingenuity, and hard work to design, build, and sustain a network that makes electricity available every hour of every day, no matter how hot or how cold the weather outside may be. I hope you have the chance to read more about the basic workings of the power grid in our article on page 4
Unfortunately, as summer approaches this year, we can no longer take that 24/ 7 availability for granted. Over the past several years, we have experienced a tightening of the supply-demand balance that's critical to the function of our power grid. Since 2020, each time a large area of the country has experienced extreme temperatures for more than a day or two, the supply of electricity has proved inadequate to meet demand and forced regional grid operators to shut off power to consumers for hours or even days at a time to keep the system from crashing.
Across the country, we are facing the disorderly retirement of baseload coal and nuclear power plants because of poorly conceived and harmful energy policies that include:
• Overreaching and unreasonable environmental regulations that result in unnecessarily high costs while providing only minimal environmental benefits.
• Poorly designed electricity market rules that under-compensate reliable baseload power plants that provide a steady and controllable output, while over-compensating less reliable and intermittent sources.
• Unreasonable goals and time frames to achieve greater reductions in carbon emissions from electricity providers, despite the fact that the U.S. electric sector has cut CO2 emissions by 36% since 2005 while producing nearly 5% more electricity.
Organizations charged with ensuring a reliable electric grid such as the North American Electric Reliability Corporation (nerc.com) and the PJM Interconnection (pjm.com) have each, independently, published reports that outline concerning trends that are resulting in increased reliability risks.
While the mission of your electric cooperative has not changed and our commitment to you, our members, has not wavered, the harsh reality is that providing a safe, reliable, affordable, and environmentally responsible supply of electricity is getting more and more challenging. We need changes in the policies that affect our electricity supply.
Pat O'Loughlin PRESIDENT & CEO OHIO'S ELECTRIC COOPERATIVES
UP FRONT
As summer approaches this year, we can no longer take 24/7 availability of electricity for granted.
2  OHIO COOPERATIVE LIVING • MAY 2023
Ohio Rural Electric Cooperatives
6677 Busch Blvd. Columbus, OH 43229 614-846-5757
www.ohiocoopliving.com
Patrick O'Loughlin President & CEO
Caryn Whitney Director of Communications
Jeff McCallister Managing Editor
Amy Howat Associate Editor
Crystal Pomeroy Graphic Designer
Contributors: Margaret Buranen, Colleen Romick
Clark, Getty Images, W.H. "Chip" Gross, Sarah Jaquay, Catherine Murray, Craig Springer, and Damaine Vonada.
OHIO COOPERATIVE LIVING (USPS 134-760; ISSN 2572-049X) is published monthly by Ohio Rural Electric Cooperatives, Inc. It is the official communication link between the electric cooperatives in Ohio and West Virginia and their members. Subscription cost for members ranges from $5.52 to $6.96 per year, paid from equity accruing to the member.
POSTMASTER: Send address changes to editorial and advertising offices at: 6677 Busch Boulevard, Columbus, OH 43229-1101. Periodicals postage paid at Pontiac, IL 61764, and at additional mailing offices. Nothing in this publication may be reproduced in any manner without written permission from Ohio Rural Electric Cooperatives, Inc. All rights reserved. The fact that a product is advertised in Ohio Cooperative Living should not be taken as an endorsement. If you find an advertisement misleading or a product unsatisfactory, please notify us or the Ohio Attorney General's Office, Consumer Protection Section, 30 E. Broad St., Columbus, OH 43215. Periodicals postage paid at Columbus, OH, and at additional mailing offices.
4
DEPARTMENTS
4 POWER LINES
Electric highway: The system of delivering electricity to consumers only gets noticed when it fails. But what exactly is "the grid"?
8 WOODS, WATERS, AND WILDLIFE
Looking good in orange: Outdoors editor Chip Gross offers some surefire ways to lure orioles to your backyard feeder.
10 CO-OP PEOPLE
Masters of the landscape: Extension program aims not to grow gardens, but rather to grow gardeners.
13 GOOD EATS
Location, location, location: This selection of delicious food is from all over the map.
17 LOCAL PAGES
News and other important information from your electric cooperative.
33 CALENDAR
National/regional advertising inquiries, contact Cheryl Solomon
American MainStreet Publications
847-749-4875 | cheryl@amp.coop
Cooperative members: Please report changes of address to your electric cooperative. Ohio Cooperative Living staff cannot process address changes.
Alliance for Audited Media Member
8
10
13
What's happening: May/June events and other things to do around Ohio
36 MEMBER INTERACTIVE
Junior gardeners: The next generation of green thumbs takes over in members' backyards.
33
36
Visit Ohio Cooperative Living magazine online at www.ohiocoopliving.com! Read past issues and watch videos about our articles or our recipes. Our site features an expanded Member Interactive area, where you can share your stories, recipes, and photos and find content submitted by other co-op members across the state.
MAY 2023 • Volume 65, No. 8
MAY 2023 • OHIO COOPERATIVE LIVING  3
Electric highway
BY JEFF MCCALLISTER
Again in late March and early April, a series of powerful storms swept through Ohio — this time bringing gale-force winds that brought down trees, snapped utility poles, and pulled wide stretches of power line to the ground, causing electricity to stop flowing to homes and businesses around the state.
Line crews from Ohio electric cooperatives, as they do, worked diligently, for long hours and several days, to reconnect those co-op-served portions of the power grid that had gone offline.
Scenes like that, when they happen, are highly visible events; that visibility may even make them seem common, especially during storm season. In reality, however, power is available to electric meters served by Ohio electric
cooperatives more than 99 9% of the time, according to Ben Wilson, director of power delivery engineering at Buckeye Power, which generates and supplies the electricity co-ops distribute to their members. For the vast majority of time, no one really thinks about electricity or where it comes from, or how it gets to that lightbulb. It's only during that fraction of a percent of the hours in a year when power is not available that the grid comes to public attention.
But what is 'the grid'?

In the United States, the electricity industry has a generating capacity of 1.1 million megawatts, serving up electricity to nearly every home and business — including over a million Ohioans and 42 million people across the country who are served by electric cooperatives.
"In short, the electricity grid is the system and equipment required to get electric power from where it's generated to where it's used," says Tom Schmidt, principal planning engineer at Buckeye Power. "It's a vast, sprawling, yet interconnected network that has provided this essential public good for over 100 years."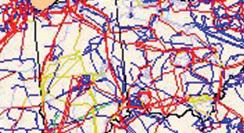 The system of delivering electricity to consumers only gets noticed when it fails. But what exactly is 'the grid'?
4  OHIO COOPERATIVE LIVING • MAY 2023
A map of the system of transmission lines in the U.S. resembles a roadmap, because, in a way, that's exactly what it is.
POWER LINES
It's that interconnectedness that makes it a grid.
"You can think of the power grid like our system of roadways," Schmidt says. "Each individual part of each system is designed and built to handle a certain volume — cars and trucks on the highway system, electricity on the grid."
In that analogy, the interstate highway system compares to the high-voltage transmission system that carries bulk electricity at a very high voltage from its generation source to individual distribution systems.
Transformers step down voltage along the way, like cars taking exit ramps from the highway onto city streets, then slowing further onto smaller roads until it's just one single car turning onto a driveway: electricity entering a home at a much lower, safer voltage than what's carried on the transmission lines.
A system of redundancy
In the same way that there may be several different routes your family could take to drive to, say, Columbus, in case an accident or traffic jam closes one roadway, engineers build redundancy into the system of power lines and substations that provides numerous pathways for electricity to move and eventually arrive at members' homes and businesses.
Generally, those redundancies are what allow for the grid's overall high reliability. When an accident happens on the grid's interstate — the extra-high-voltage transmission system — power is automatically rerouted to prevent interruptions to hundreds of thousands of consumers. Lower-voltage transmission lines provide power to fewer people and can often lack the redundancy of the extra-high-voltage transmission system. This is also true for local distribution lines operated by electric cooperatives. In cases with limited redundancy, electric cooperatives constantly strive to maintain and improve local distribution lines while also supporting investments in transmission line upgrades — all, of course, while responding to every outage as it happens.
Like highway construction projects, transmission power line improvements can be slow, unsightly, and costly. But once completed, these investments strengthen the transmission grid by adding redundancy — increasing reliability and resilience for many decades.
Balance of power
Thomas Edison created the first power grid in 1882 and other than a change from direct current to alternating current, the technology is basically the same because the physics is the same: Power producers must ensure that the amount of electricity generated at power plants and put into the grid precisely matches the amount of electricity used by consumers at any given moment. An
The electric roadway
The electricity grid can be compared with our system of roads.
Extra-high-voltage transmission lines, 300 kV (300,000 volts) to 1,000 kV: compares to an interstate highway (high volume, high capacity); carries enough power for 100,000 to 500,000 homes.
Transmission lines, 100 kV to 300 kV: compares to a U.S. highway (not quite the capacity of an interstate); 10,000 to 100,000 homes.
Sub-transmission lines, 20kV to 100 kV: closer to a state highway (still lots of volume); 1,000 to 10,000 homes.
3-phase distribution, 4 kV to 40 kV: more like a city street in terms of volume; 100 to 1,000 homes.
Single-phase distribution, 2 kV to 15 kV: more like a smaller residential street; 10 to 100 homes.
Distribution service, 120 to 240 volts: the lines that come from the street to your house, compares to your driveway; 1 to 10 homes.
imbalance can cause anything from widespread blackouts to damaged equipment.
The recent retirement of numerous power plants over the last couple of years, coupled with extreme weather events, has resulted in blackouts from supply shortages in Texas, California, Tennessee, North Carolina, and Kentucky. With the removal of significant amounts of baseload generation, such as that provided by coal-fired power plants, from the grid, less-dependable sources of electricity were unable to keep up with consumers' demand.
Rolling blackouts are currently necessary to avert a largerscale grid catastrophe; notably, in Texas in February 2021, at least 246 people died during Winter Storm Uri and the resulting supply shortage.
New and emerging technologies continue to optimize grid performance, effectiveness, and reliability. Most of Ohio's electric cooperatives, for example, continually modernize their distribution systems using "smart grid" technology: controls, computers, automation, telecommunication, and smart meters that work together to dynamically respond to quickly changing conditions.
"The grid is greater than 99.9% reliable, and we are always working to put more nines after that decimal," Wilson says. "All outages hurt, even when they are rare."
MAY 2023 • OHIO COOPERATIVE LIVING  5
Get 100 Mint U.S. Postage Stamps
Scarce and Historic – Only $1
This is your chance to get 100 mint US postage stamps for just $1. You save $39. Plus you'll enjoy FREE shipping and guaranteed delivery. Hard to find and worth $40 at our regular prices, this sought-after collection of mint-fresh US stamps is a real value.
Hurry – older American stamps are growing scarcer each day. They're very popular with collectors. These stamps will never be issued again and supplies are vanishing.
If you'd like to own this special collection of 100 mint US postage stamps for just $1, return the order form with your payment or credit card information. Plus shipping and guaranteed delivery are FREE! Place your order right away. Strict limit of one collection. Your satisfaction is guaranteed. Send today and you'll also get the chance to examine other desirable collections of historic US postage stamps.
Get 100 Mint U.S. Postage Stamps
❏ Yes! Send my 100 mint U.S. Postage Stamps for just $1. Satisfaction guaranteed. Strict limit of one collection at this special price. FREE shipping and guaranteed delivery. Quick order at MysticAd.com/OC25J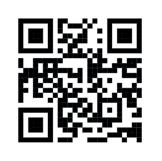 up to $2,000 TAX CREDIT* Hybrid Electric Heat Pump Water Heater Save Now Use Federal Tax Credit And Local Electric Utility Rebates To save on purchase AND installation! *Effective January 1, 2023. Tax Credit limited to 30% of the cost of equipment and the installation up to $2000. Consult a tax advisor for qualifications and VISIT ENERGYSTAR.GOV FOR DETAILS SCAN to visit Menards.com for rebate information. 50 and 80 gallon models available. Shop your local
Name ___________________________________________________________________________________ Address _________________________________________________________________________________ City/State/Zip ____________________________________________________________________________ ❏ Check or money order enclosed* ❏ VISA ❏ MasterCard ❏ American Express ❏ Discover Exp. Date: ____ / ____ Please send to: Mystic Stamp Company, Dept. OC25J, 9700 Mill St., Camden, NY 13316-9111 ✔ *Add state sales tax to order total. Stamps may vary. 2023 COOPERATIVE CALENDAR Photo Contest! Email high-resolution photo with details to photo@ohioec.org by Aug. 15, 2023 Please include your name and contact information and the name of your electric cooperative. CALL
6  OHIO COOPERATIVE LIVING • MAY 2023
FOR ENTRIES
Family Time
EXPERIENCE PARKERSBURG. DISCOVER THE WORLD.
From exploring history to the science of tomorrow, your family can discover the world right here in the Greater Parkersburg area.
At the new Discovery World on Market (opening Spring 2023), learning is anything but a spectator sport. Get hands-on with three floors of fun, kid-friendly (up to age 10) activities and experiments that spark the senses and ignite the imagination.
Kids and adults will love a visit to Blennerhassett Island. The whole family will enjoy the scenic sternwheel riverboat trip, the horse-drawn covered-wagon ride, and a tour of the beautifully reconstructed mansion. Pair a half-day trip to Blennerhassett Island with a visit to Discovery World and you have a great overnight or weekend experience for families with small children!
Get outside and get active with outdoor fun. Hike, bike or paddle your way through the great outdoors toward unforgettable family memories on miles of scenic trails and byways featuring beautiful forests, valleys, tunnels and historical destinations.
No matter which family adventure you choose, Parkersburg is your family's gateway to a world of adventure.
LEARN MORE AT: GreaterParkersburg.com | 304.428.1130 or 800.752.4982
Looking good in orange Here are some surefire ways to lure Ohio's orioles to your feeder.
WOODS, WATERS, AND WILDLIFE 8  OHIO COOPERATIVE LIVING • MAY 2023
STORY AND PHOTOS BY W.H. "CHIP" GROSS
What's in a name?
The Baltimore oriole, the state bird of Maryland, takes its name from the state's founder, Cecil, Lord Baltimore, whose family's coat of arms was a vibrant black and orange. Orchard orioles are so named because they frequent and prefer nesting in orchards. By the way, if you have an older bird ID field guide, you might see a bird listed as a northern oriole. Baltimore and Bullock's orioles were once lumped together as northern orioles, but recent DNA testing has since proven the birds are indeed separate species.
Roman Mast's backyard looks like a bird-feeding test kitchen. Mast, a member of The Energy Cooperative in Newark, maintains a dozen or more birdfeeders year-round, offering not only black-oil sunflower seed and beef suet — as most of us bird enthusiasts do — but also raw peanuts that he obtains as floor sweepings from a peanut butter factory.
But come May, he's all about attracting orioles — of which Ohio sees two species during spring migration: the Baltimore oriole and the orchard oriole.
"I have my oriole feeders out by the last week in April," Mast says. "Through the years, I've tried a lot of different foods to attract orioles, including sliced oranges, but my main food now is simply grape jelly." Orioles and a few other species, such as rose-breasted grosbeaks, gray catbirds, and some warblers, seem to love the stuff. "A red-bellied woodpecker even comes to my jelly feeders occasionally," Mast says.
To be successful attracting orioles, Mast says, a person must have a passion for feeding birds in general. "Whatever foods you offer must be present consistently," he said. "You can't have feeders empty for days and expect to attract many birds. With orioles that's especially true; I fill my jelly feeders daily."
Hang oriole feeders 4 to 5 feet off the ground and close to mature trees in semi-open areas. My property is surrounded by woods, so I place one feeder along the edge of the yard and a second at the edge of my back deck; both are frequented by orioles.
Patience is also required. Mast says that if you have never attempted to attract orioles previously, it may take days, or possibly even weeks, for the birds to find your feeders. To help them locate feeders, make sure they are orange in
color. Mast also believes that older birds remember where they found food in the past, so they will come looking for your feeders during subsequent migrations — success building upon success year after year.
Most of the orioles passing through Ohio during spring are headed to Canada to nest, migrating from northern South America and Central America (the males arrive first). Some orioles nest in the Buckeye State as well, with Baltimore orioles weaving a uniquely shaped hanging nest that looks something like a shaggy softball tethered to a high tree limb. The nests are easier to see once leaves have fallen from the trees in autumn.
Mast takes his oriole feeders down toward the end of June, thoroughly cleans them, then stores them away until next spring. "It's with a bit of reluctance," he admits. "Wild birds are a serious hobby of mine, a passion, and when that particular part of the annual migration cycle winds down and eventually ends, it's always with a touch of sadness."
Asked about his most memorable oriole experience, Mast recounted a likely once-in-a-lifetime event that occurred in the spring of 2020. "It was during the first week of May, and the weather had turned suddenly cold with a little snow," he says. "Natural food for orioles, such as insects, was almost nonexistent for a few days, and as a result, birds were mobbing my feeders. I counted more than 30 orioles in the bushes and trees in my backyard simultaneously — an absolutely stunning, colorful sight I'll never forget."
Email Chip Gross with outdoors-related questions at whchipgross@gmail.com with "Ask Chip" in the subject of the email. Your question may be answered on www.ohiocoopliving.com.
Baltimore orioles, such as the adult male on the left and the juvenile at right, migrate through Ohio beginning in late April and early May each year.
MAY 2023 • OHIO COOPERATIVE LIVING  9
Masters of the landscape
Extension program aims not to grow gardens, but rather to grow gardeners.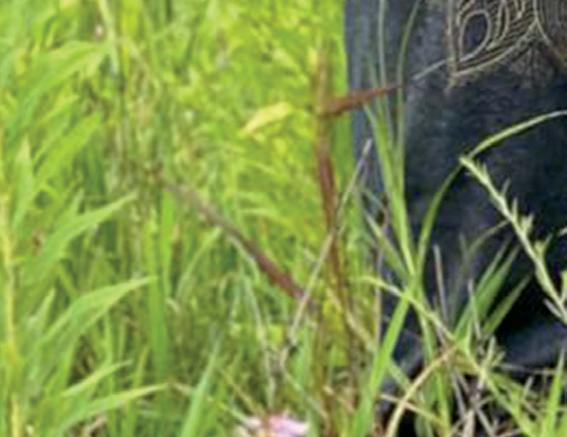 BY MARGARET BURANEN; PHOTOS COURTESY MEDINA COUNTY MASTER GARDENER VOLUNTEERS PROGRAM
CO-OP PEOPLE
10  OHIO COOPERATIVE LIVING • MAY 2023
Jackie Driscoll paints her landscape with a palette of colors from native plants.
Driscoll, a member of Lorain-Medina Rural Electric Cooperative, is a master gardener volunteer (MGV). She's turned 8 acres of a former crop field into a stunning pollinator garden, and from spring through fall, bees, birds, and butterflies swoop down to enjoy and benefit from spiderwort, false foxglove, golden Alexandria, asters, coneflowers, sunflowers, ironweed, and more types of native flowering plants (or "forbs"). The prairie also has half a dozen species of native grasses.
Driscoll also has a kitchen garden of herbs and several flower gardens around her house. She tucks a few vegetables here and there into the flower gardens.
Driscoll has been gardening since she was a child. Her mother, who kept gardening until she died at 88, planted the joy of gardening seed in her daughter, and it still flourishes.
Jackie and her husband, Brian, lived in a Cleveland suburb while their children were growing up. Their property was small, but Driscoll kept adding plants to it. "My husband finally said, 'You have to leave some grass,'" she recalls.
In 2010, the Driscolls bought rural land outside Rochester Township near Wellington — and suddenly they had
plenty of room for Jackie's gardens. A few years later, with their five children now young adults, she had extra time on her hands.
"I was looking for something to do, to become involved with, once the kids were grown," she says.
The Master Gardener Volunteer program seemed a good choice. Medina County's training sessions worked best with Driscoll's schedule, and in 2016 she began weekly classes there.
"I love taking [gardening] classes. I really do," Driscoll says. "Master Gardeners has been a great fit for me because there's always a class or conference I can go to and learn something more."
Toward the end of the master gardening training, each student gave a presentation to the class. Driscoll and another student teamed up to tell their classmates about the native plant prairies they had planted at their homes.
"That's a lot of what master gardeners do: give presentations to educate the community," Driscoll says.
Driscoll particularly enjoys sharing her gardening knowledge with kids. At the Medina Parks Department's Earth Day celebration, the master gardeners had a big demonstration table. "We talked about good bugs and
continued on page 12
Jackie Driscoll (left) explores her 8-acre pollinator garden in Lorain County. A master gardener volunteer, she'd been gardening since she was 8. Above, the Master Gardener Volunteer program hosts "Adventures in the Garden" to introduce young people to the joys of gardening.
MAY 2023 • OHIO COOPERATIVE LIVING  11
continued from page 11
bad bugs in your garden and how to use integrated pest management [instead of insecticides]," she says.
Driscoll has also answered the master gardeners' hotline. This free service allows community members to call or email with gardening questions, to which the volunteer on duty provides research-based answers.
She also enjoys the social aspect of the program — learning and volunteering with like-minded people. "I've met so many nice people through Master Gardeners," she says.
Driscoll is one of 53 Master Gardener Volunteers in Medina County. The group's coordinator is Ashley Kulhanek, Extension Educator, Agriculture and Natural Resources, at Ohio State University. "We focus on education and outreach, not [providing] free garden labor," Kulhanek says. "We do not just grow gardens. We grow gardeners."
Earning the MGV certification requires 50 hours of class training and 50 hours of volunteer time. Kulhanek says the volunteers are encouraged to work on whatever type of gardening interests them most. "If you want to be outdoors and enjoy plants and nature, you can find your fit in the MGV program," she adds.
For more information about the Master Gardener Volunteer program, contact your county extension agent or go to https://mastergardener.osu.edu.
Ohio's wider MGV program is directed by Pam Bennett, extension educator, horticulture, at Ohio State. According to Bennett, Ohio has more than 3,500 MGVs in 64 counties. In 2020 Driscoll took out some aggressive native grasses to create an entirely forb field. "It should be full of glorious bloom this summer," she says. "The old adage is that the first year [native] plants sleep [because all of their energy goes into developing deep root systems]. The second year they creep, and the third year they leap."
For anyone thinking about becoming an MGV, Driscoll says, "If they enjoy learning and sharing their knowledge it's a great program. You can choose an area of interest — we have several groups — and find like-minded people. It's made me a better steward of the land we're on. Our intentions were always good, but now we have the knowledge [to garden well and responsibly]."
Master gardeners often set up informational booths to share tips and help at community events.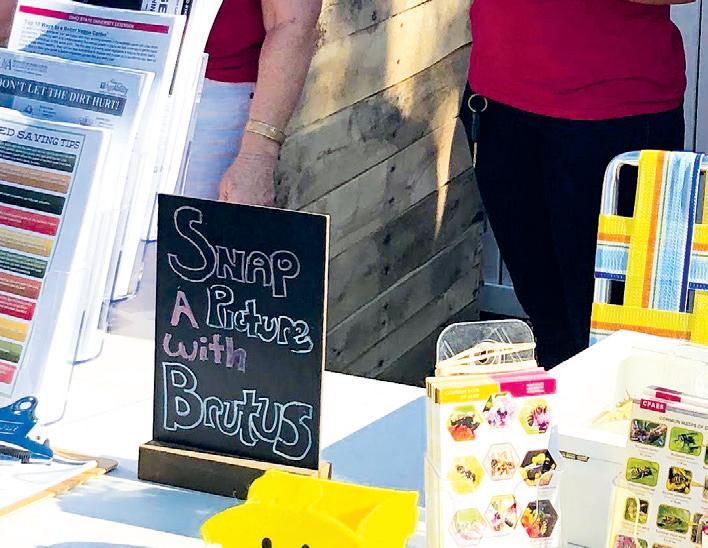 12  OHIO COOPERATIVE LIVING • MAY 2023
LocatLocation, ion, Location
BY CATHERINE MURRAY
BELGIAN WAFFLES
A Belgian waffle is no ordinary waffle. Yeasted dough instead of batter, pearl sugar to add a delightful crunch, and a dedicated Belgian waffle iron create extra-thick waffles with deep pockets.
Prep: 30 minutes | Cook: 20 minutes Proof: 30 to 60 minutes | Servings: 10
¾ cup warm milk
1 packet active dry yeast
1 tablespoon packed brown sugar 2 large eggs, room temperature
¾ cup unsalted butter, melted and cooled
1 teaspoon vanilla
½ teaspoon salt
3½ cups flour
3 to 4 ounces Belgian pearl sugar
Pour warm milk into the bowl of a stand mixer, then sprinkle yeast and brown sugar on top. Let sit for 5 minutes or until the yeast begins to foam. Mix in eggs, melted butter, vanilla, and salt on low with a whisk attachment.
Slowly incorporate 3 cups of the flour while mixing on low with a dough hook until mixture is smooth, then add remaining ½ cup flour and continue mixing for 2 minutes. Gather the dough into a ball and grease the sides of the bowl, placing the dough in the middle. Cover bowl and set somewhere warm to rise for 30 to 60 minutes, until doubled in size.
Heat waffle iron while prepping the dough. (If your iron has an adjustable temperature gauge, start on medium.) Lay dough out onto a floured surface and flatten a bit. Sprinkle pearl sugar on top and fold it into the dough, then divide into 10 balls. Grease waffle iron with cooking spray. Place a piece of dough in the middle of the waffle iron, close, and cook 4 to 6 minutes, until the color turns toasted brown in the center. If sugar begins to burn, turn down the heat. Set on a wire rack to cool. Cooked waffles can be frozen for up to two months.
Per serving: 406 calories, 15 grams fat (9 grams saturated fat), 75 milligrams cholesterol, 238 milligrams sodium, 70 grams total carbohydrates, 0 grams fiber, 2 grams protein.
GOOD EATS RECIPES
AND PHOTOGRAPHS
MAY 2023 • OHIO COOPERATIVE LIVING  13
This selection of delicious food is all over the map.
Prep: 15 minutes | Cook: 50 minutes | Servings: 10
FILLING
4 egg yolks
½ cup sugar
1/3 cup corn starch
2 cups whole milk
2 tablespoons salted butter
2 teaspoons vanilla
VANILLA CAKE
¾ cup unsalted butter, room temperature
1½ cups sugar
3 tablespoons vegetable oil
4 large eggs
2 teaspoons vanilla
2 cups flour
BOSTON CREAM PIE
2 teaspoons baking powder
½ teaspoon salt
1¼ cups whole milk
CHOCOLATE GANACHE
1 cup semi-sweet chocolate chips
2 tablespoons light corn syrup
½ cup heavy whipping cream
Note: The filling can be made 2 days ahead and the cakes the day before. Make the ganache right before assembling.
FILLING: In a medium bowl, beat egg yolks with sugar for 1 minute, then whisk in cornstarch. Set aside. In a medium saucepan, slowly bring milk to a boil. Remove from heat and slowly drizzle hot milk into the egg yolks, whisking constantly until all milk has been incorporated, then transfer back to the saucepan and bring to a light boil, whisking constantly until thickened. Remove from heat and add butter and vanilla, stirring until smooth. Transfer back to bowl, place plastic wrap directly on top of the filling, and refrigerate.
Have you tried one of our recipes? Do you have a recipe to share with other Ohio co-op members? Visit the Member Interactive page on www.ohiocoopliving.com to find recipes submitted by our readers and to upload yours.
www.ohiocoopliving.com
While you're there, check out a video of a few of our recipes being prepared.
CAKE: Grease two 8-inch cake pans. In a large mixer, beat butter, sugar, and oil until light and flu y, about 4 minutes. Incorporate the eggs and vanilla. In a separate bowl, combine flour, baking powder, and salt. Add half the dry ingredients into the batter and lightly mix. Add the milk and mix fully. (It may look a bit lumpy at this stage.) Finish mixing in the dry ingredients, until just incorporated.
Preheat oven to 350 F. Divide batter evenly between cake pans and bake 22 to 25 minutes, or until a toothpick comes out dry. Allow to cool 5 minutes, then turn over onto cooling racks. When cakes are completely cooled, shave any rounding o the tops. Place first cake layer on a serving platter and with a spatula, spoon and smooth out filling across the top. Place second cake layer on top.
GANACHE: Combine chocolate chips and corn syrup in a medium bowl. Heat heavy cream until just boiling, then pour it over the chocolate. Let sit 1 to 2 minutes, then whisk until smooth. Pour melted chocolate in the center of the cake, then spread out toward the edges, letting some of the chocolate drip down the sides. Refrigerate cake until ready to serve and refrigerate leftovers for 2 to 3 days.
Per serving: 690 calories, 36 grams fat (20 grams saturated fat), 226 milligrams cholesterol, 370 milligrams sodium, 83 grams total carbohydrates, 1 gram fiber, 12 grams protein.
14  OHIO COOPERATIVE LIVING • MAY 2023
DENVER OMELET
Prep: 10 minutes | Cook: 10 minutes | Servings: 2
4 large eggs
3 teaspoons water
¼ teaspoon salt
¼ teaspoon pepper
1 tablespoon butter
¼ cup diced smoked ham
¼ cup diced white onion
¼ cup diced green bell pepper
1/3 cup shredded white cheddar cheese
In a small bowl, beat eggs with 3 teaspoons water, salt, and pepper. The next paragraph of steps can be done in two skillets simultaneously or in one skillet consecutively.
In a 10-inch skillet, melt butter over medium-high heat. Add ham, onion, and bell pepper. Cook and stir until vegetables soften and lightly brown, about 5 minutes, then remove from heat. Generously coat a clean 10-inch skillet with cooking spray and place over medium-low heat. Carefully pour in eggs and cover with lid. Let cook untouched for 5 minutes until they are a little wet but not runny. Sprinkle cheese across the whole skillet and spoon ham and vegetables over one half. Cover with lid and cook another minute to melt the cheese.
Remove lid and lightly run a spatula around the edges of the eggs to loosen. Carefully fold cheese side over the ham side and slide omelet onto a plate. Serve with potatoes, simple salad, or toast.
Per serving: 308 calories, 23 grams fat (11 grams saturated fat), 417 milligrams cholesterol, 770 milligrams sodium, 4 grams total carbohydrates, 1 gram fiber, 20.5 grams protein.
CALIFORNIA ROLLS
Cook: 25 minutes | Cool: 30 minutes | Prep: 20 minutes | Servings: 5
2 cups uncooked sushi rice (Japanese short grain rice)
½ cup rice vinegar
2 tablespoons sugar
4 cups water
1 teaspoon salt
5 - 8 x 7-inch sheets of nori (dry seaweed)
1 tablespoon toasted sesame seeds
½ an English cucumber, julienned
6 ounces canned crab meat, drained
1 large avocado, sliced thin Optional toppings: soy sauce, wasabi, pickled ginger, or spicy mayo
Tips: A mandolin works great for creating thin, even slices of cucumber. Uncoated wooden or bamboo bowls and utensils are ideal for handling the rice, as they absorb the steam while the rice cools.
In a microwavable bowl, mix together rice vinegar, sugar, and salt. Microwave in 20-second increments, stirring until sugar has dissolved. Set aside. Rinse rice in a mesh strainer until water runs clear. Place rice and water in a medium saucepan. Bring to a boil over high heat, stir once, then reduce heat to medium-low, cover, and simmer 15 to 20 minutes until water has been absorbed. Immediately transfer rice to a large bowl and cut in vinegar mixture using a large, flat spoon. Allow rice to cool to room temperature, about 30 minutes.
Fill a small bowl with water and lay a sushi rolling mat out flat with a layer of plastic wrap on top. Lay one sheet of nori on top, long side closest to you and rough side facing up. Dip fingers in water and spread about a cup of rice in an even layer across the nori and sprinkle with sesame seeds. Cover with another layer of plastic wrap on top, then flip over so nori is facing up. Set aside top layer of plastic wrap.
In a horizontal row 1 inch from the bottom edge, place a thin row of cucumber, then above it a row of crab, then a row of avocado. Holding onto the closest edge, tightly roll away from you, peeling the mat and plastic wrap away along the way, rolling tightly and pressing down when you reach the other end. Transfer roll to a cutting board.
With a thin, sharp knife, make a quick slice in half, then line the two halves up and quickly slice in thirds, rinsing the knife after each slice. Repeat steps above to make 4 more rolls. Serve with your choice of toppings within an hour of making.
Per serving: 445 calories, 10 grams fat (2 grams saturated fat), 18 milligrams cholesterol, 691 milligrams sodium, 70 grams total carbohydrates, 5 grams fiber, 12 grams protein.
MAY 2023 • OHIO COOPERATIVE LIVING  15
Got a monstrously delicious dish you serve during the Halloween season? A ghoulishly clever presentation? We're looking for SPOOKY recipes — and the stories behind them — for our
Reader Recipe Contest.
2023 Reader Recipe Contest
Three ways to enter:
Submissions may be an original recipe or one adapted from an existing recipe published elsewhere, with at least three distinct changes from the published version. Include your name and address, a phone number and email address where you can be contacted, and the name of your electric cooperative.
Send your recipe, including all ingredients and measurements, directions, and number of servings. Then tell us the basic story behind your recipe — is it a family tradition, passed down through generations? Or did you make it up one day out of thin air?
A good back story can never hurt!
Entrants must be electric cooperative members or residents of an electric cooperative household. Limit of three recipes per entrant. Contest winners will be announced in the October edition of Ohio Cooperative Living.
Email memberinteract@ohioec.org Online at www.ohiocoopliving.com/memberinteractive Or the old-fashioned way: Mail to Catherine Murray, c/o Ohio Cooperative Living, 6677 Busch Blvd., Columbus, OH 43229. 2023
USA ENGINEERED AND BUILT Assembled in the USA using domestic and foreign parts. Make Stumps Disappear! • Grind away stumps fast • Tungsten carbide-tipped teeth • Rotary head takes 360 "bites" per second • Self-propelled available DR® Stump Grinder SOME LIMITATIONS APPLY FREE SHIPPING SALE! FREE Catalog! Call Toll-Free 877-202-1711 DRstumpgrinder.com 16  OHIO COOPERATIVE LIVING • MAY 2023
MESSAGE FROM THE PRESIDENT/CEO
Storm preparedness
In the past year, we have experienced major windstorms that have greatly impacted our community. We appreciate your support through these critical times.
The most obvious and visual part of our team is our lineworkers. Their specialized knowledge and skill to restore power starts with year-round training, safety inspections, and critical maintenance to our infrastructure. But behind the lineworkers is a team working to make the restoration efforts safe and e cient. Our storm team requires a variety of staff, each with a diverse field of expertise, long before a major storm hits.
Strategic planning is critical to your cooperative weathering any storm. This includes a four-year work plan that evaluates the current infrastructure and member demand with future growth plans. Our current $23 million plan is the guideline for future infrastructure development. By maintaining our power distribution system — just like maintenance you do on your car or home — we can greatly improve our members' service reliability. Our engineering and accounting departments work diligently to manage the work plan and make appropriate adjustments.
Also critical to our service is our vegetation management program. Tree-trimming and spraying reduces the growth of trees in our rights-of-way that otherwise would make contact and cause major damage to our system. Each substation territory is on a four-year trimming cycle.
Often not the visual center of our organization, but critical to the success of the cooperative, is our member services team. From the first day you become a member of the cooperative and receive power, the member services team is here to explain programs, provide valuable information to assist with reporting outages, and keep your contact data up to date. And during a storm, this team is committed to gathering critical information you provide regarding damage and downed lines or trees on our system. Because we manage more than 2,300 miles of line, this knowledge greatly assists in the restoration process.
Additionally, our communications team utilizes a variety of avenues like Facebook, this monthly publication, and your monthly bill to educate you, the members, throughout the year. Education includes making sure you know the
ways to report outages, storm preparation tips, and ways to stay safe during a power outage. During a storm, summary updates on the restoration process, reminders of power restoration steps, and shelter options or assistance are provided.
Our mapping and dispatch department maintains our digital maps year-round to have accurate, detailed data for all staff to view from mobile devices and from the storm center dispatch room. Having all of the information available for all to see, including the location of each line crew, the details of our infrastructure equipment, and reported outage notes, allows for universal communication and the highest level of safety possible.
Annually, our leadership team completes an emergency disaster tabletop exercise to review current practices and preparations in place, from every aspect of the organization. Even before predicted major storms, HWEC supervisors work with staff to make sure all equipment, materials, and processes are in place. After the storm, we look at any ways we could improve processes, and complete inventory replenishing, equipment clean-up, and preventive maintenance made necessary by the storm to prevent future potential outages.
Finally, we can't forget how you, the members, are a critical part of our storm team. You help us by preparing in advance when severe weather is predicted and by keeping your contact information up to date, which allows for reporting your outage quickly through caller ID verification. Or you may choose to download our mobile app, SmartHub, or register for our texting feature so you can report outages and damage immediately into our outage management system. During a storm, members assist by staying away from downed power lines, never removing debris that is near power lines, and driving slowly near our working line crews. These are all critical parts to storm restoration.
Our entire staff works together, year-round, with the members as our partners, to bring back the lights in the safest and most e cient way. Thanks for being part of our storm team.
HOLMES-WAYNE ELECTRIC COOPERATIVE LOCAL PAGES MAY 2023 • OHIO COOPERATIVE LIVING  17
Glenn W. Miller PRESIDENT/CEO
Scholarship winners announced
The Holmes-Wayne Electric Cooperative Scholarship Contest is offered annually to co-op members' children who are graduating high school seniors and reside in a home served by Holmes-Wayne Electric. The cooperative is proud to have distributed more than $275,000 in scholarships within the community since its establishment. Judges for the two-day virtual competition were Dale Sidle, Craig Hershberger, and Melinda Eliot. As they have served impactful careers in the education field, their participation in the scholarship program is greatly appreciated.
Sarah Irwin of West Holmes High School is the first-place winner of $3,000 in scholarships in the 2023 Holmes-Wayne Electric Cooperative Scholarship Contest. Irwin was a part of a group of 37 students representing 11 area high schools who competed for a total of $20,200 in scholarships.
Irwin is the daughter of Cormac and Jody Irwin of Big Prairie. Her top school choice this fall is Marietta College. Irwin shared, "I am honored to represent Holmes-Wayne Electric Co-op and receiving this scholarship means so much to me. While my major may currently be undecided, I know that this scholarship will benefit me in so many amazing ways. I can now focus more of my time on future education and goals rather than focusing too much on the finances that go along with it." Irwin represented Holmes-Wayne Electric at the Ohio's Electric Cooperatives scholarship competition in Columbus in April.
Other winners: Jaret Snyder — second place ($2,800). Snyder is son of Nate and Amy Snyder of Big Prairie. A senior at West Holmes High School, he will major in music education (instrumental emphasis) at Ohio University. "The most meaningful experience of my high school career was the All-Ohio State Fair Band. It opened my eyes to how the arts can provide both technical and personal enrichment. Joining this group fueled my desire to constantly seek discomfort and try new things, which is exactly why I'm excited to begin college," Snyder explained.
Katie Seboe — third place ($2,500). Seboe is the daughter of Kelly and Julie Seboe of Millersburg. She will be graduating from Loudonville High School. This fall she will be attending Geneva College, majoring in communications with a minor in writing. Seboe emphasized, "This scholarship shows the importance of community and the impact it has had on my life. By showing that others are greater than me, whether that's tutoring 5th graders or simply sacrificing my time, I have seen how the people around me change who I am. I am so thankful for this opportunity!"
Noah Cerniglia — fourth place ($2,000). Cerniglia is the son of Andrew and Angela Cerniglia of Holmesville. He will graduate from Waynedale High School and TriCounty International Baccalaureate Academy. He will attend the College of Wooster or University of Notre Dame, majoring in environmental engineering or architecture. Cerniglia shared, "In high school I was lucky to be able to attend the IB (International Baccalaureate) Program at Wooster High School and pursue the academic rigor I desired. I want to thank the IB program for all it has done for me, allowing me to grow as a student and a member of this community. I would also like to thank Holmes-Wayne Electric for giving me this scholarship and aiding me in my academic pursuits."
HOLMES-WAYNE ELECTRIC COOPERATIVE LOCAL PAGES 18  OHIO COOPERATIVE LIVING • MAY 2023
Laci Snyder — fifth place ($1,900). Snyder is the daughter of Nate and Amy Snyder of Big Prairie. A senior at West Holmes High School, she will be attending the University of Cincinnati, majoring in computer science. She feels, "I am beyond grateful to have received this scholarship. It will help relieve some of the financial burdens of college and will aid me in focusing more on my academics and to achieve a technological career."
Jenna Rose — sixth place ($1,800). Rose is the daughter of Kevin and Jessica Rose of Wooster.
A senior at Triway High School, she will major in kinesiology at Miami University. "I am extremely thankful to be able to represent Holmes-Wayne Electric Co-op in receiving this scholarship,"
Rose shared. "My goal in life is to become a pediatric occupational therapist to support and show kids that just because they are faced with challenges, with grit and determination, the sky is the limit."
Claire Yost — seventh place ($1,700). Yost is the daughter of Matthew and Abby Yost of Wooster. She is a senior at Central Christian High School and will pursue a degree in business management and minor in entrepreneurship at Taylor University. Yost shared her personal mission statement, "to passionately pursue God's kingdom through leadership."
Becca Schuch — eighth place ($1,600). Schuch is the daughter of Jason and Erika Schuch of Shreve. A senior at West Holmes High School, she will attend Grace College and major in environmental studies/sciences and minor in communications. Schuch expressed, "I am very thankful for the Holmes-Wayne Electric Cooperative Scholarship. This scholarship will bring me one step closer to being able to go to my preferred college, where I will be able to grow both personally and academically."
Lily Yoder — ninth place ($1,500). Yoder is the daughter of Brian and Stephanie Yoder of Walhonding. A senior at River View High School, she is pursuing a degree in dental hygiene at Shawnee State University. Yoder said, "I am very ready and excited to start my new future. I can't wait to start working and growing. This scholarship will help me do just that. I am very thankful for this opportunity and this scholarship."
Felicity Cline — 10th place ($1,400). Cline is the daughter of Heath and Amy Cline of Killbuck. A senior at West Holmes High School, she will major in nursing at Mount Vernon Nazarene University. Cline expressed, "Life is a very precious gift granted to us from God. We are given the chance to make a difference, to achieve our goals and dreams, a chance to pursue him, a chance to live. With my life, I want to grow and become a person who encourages, supports, and values life. I want to be a nurse, specifically a neonatal nurse, to care for life when it's the most vulnerable. Our lives are what we make them. So, I challenge everyone to dream for the stars and never stop chasing them."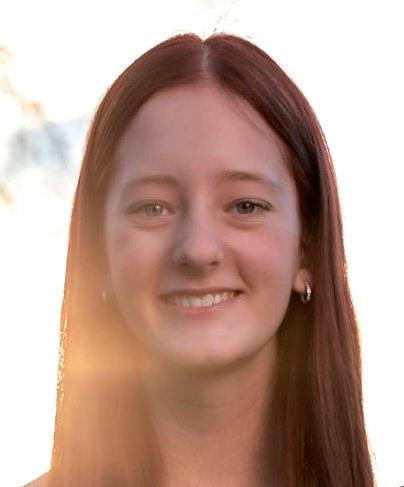 MAY 2023 • OHIO COOPERATIVE LIVING  19
Randy Sprang Chairman
Jackie McKee Vice Chairman
Barry Jolliff Secretary/Treasurer
Jonathan Berger
Lisa Grassbaugh
Gary Graham
Ronnie Schlegel
David Tegtmeier
Chris Young Trustees
Glenn W. Miller President/CEO
We want to hear from you!
Holmes-Wayne Electric Cooperative will be working with NRECA Market Research Services to complete member satisfaction surveys.
The surveys will be conducted both by phone and email, but not everyone will be contacted. If you are contacted, we would greatly appreciate a few minutes of your time to share your opinions of the cooperative.
We strive to provide all members with safe, affordable, reliable, and clean electric service. By participating in the survey, you will help us make decisions that benefit you, your family, and your neighbors. All information is confidential.
Thank you to the crews who assisted our sister cooperative!
Cooperatives are known for their willingness to assist others in their time of need. Mutual aid is critical to efficient restoration during major outages. Holmes-Wayne Electric experienced the need for sister cooperatives' assistance last June as well as in late March and early April of this year. It is always a pleasure to return the favor to those in need.
Thanks to the following HWEC staff who assisted Adams Rural Electric Cooperative, Inc. (West Union, Ohio) with storm restoration in March: Carter Quay, Mike Martin, Mike Maurer, and Jim Stake.
HOLMES-WAYNE ELECTRIC COOPERATIVE LOCAL PAGES 22 OHIO COOPERATIVE LIVING • MAY 2022
an outage, submit
SmartHub
for
Android and Apple
US 24/7 Report outages, submit meter readings, and make payments Text an outage to 55050 with the word "outage."
SMARTHUB Report
a meter reading, and pay your bill all through our mobile
application. Available
both
devices CALL
Facebook.com/holmeswayneelectriccoop BOARD OF TRUSTEES
20  OHIO COOPERATIVE LIVING • MAY 2023 CONTACT 866-674-1055 (toll-free) www.hwecoop.com OFFICE 6060 St. Rte. 83 P.O. Box 112 Millersburg, OH 44654-0112 This institution is an equal opportunity provider and employer.
How a Safe Step Walk-In Tub can change your life
Remember when…
Think about the things you loved to do that are dif cult today — going for a walk or just sitting comfortably while reading a book. And remember the last time you got a great night's sleep?
As we get older, health issues or even everyday aches, pains and stress can prevent us from enjoying life.
So what's keeping you from having a better quality of life?
Check all the conditions that apply to you.
Personal Checklist:
Arthritis Dry Skin
Insomnia Anxiety
Diabetes Mobility Issues
Lower Back Poor Pain Circulation
Then read on to learn how a Safe Step Walk-In Tub can help. Feel better, sleep better, live better
A Safe Step Walk-In Tub lets you indulge in a warm, relaxing bath that can help relieve life's aches, pains and worries.
A Safe Step Tub can help increase mobility, boost energy and improve sleep.
It's got everything you should look for in a walk-in tub:
• Heated Seat – Providing soothing warmth from start to nish.
• MicroSoothe® Air Therapy System – helps oxygenate and soften skin while offering therapeutic bene ts.
• Pain-relieving therapy – Hydro massage jets target sore muscles and joints.
• Safety features – Low step-in, grab bars and more can help you bathe safely and maintain your independence.
• Free Shower Package – shower while seated or standing.
THERAPY, SAFETY AND INDEPENDENCE
Personal Hygiene Therapy System and Bidet Hydro-Jet Water Therapy –10 Built-In Variable-Speed Massaging Water Jets Wider Door, The Industry's Leading Low Step-In Foot Massaging Jets Anti-Slip Tub Floor Complete Lifetime Warranty on the Tub Safe Step includes more standard therapeutic and safety features than any other tub on the market, plus the best warranty in the industry: Heated Seat and Back CSLB 1082165 NSCB 0082999 0083445 New Rapid Fill Faucet MicroSoothe® Air Therapy System Electronic Keypad 16 Air Bubble Jets Call now toll free 1-800-371-6410 for more information and for our Senior Discounts. Financing available with approved credit. www.BuySafeStep.com Scan me Call today and receive a FREE SHOWER PACKAGE PLUS $1500 OFF FOR A LIMITED TIME ONLY Call Toll-Free 1-800-371-6410 With purchase of a new Safe Step Walk-In Tub. Not applicable with any previous walk-in tub purchase. Offer available while supplies last. No cash value.Must present offer at time of purchase. MAY 2023 • OHIO COOPERATIVE LIVING  21
Those magnificent men and their flying machines
The National Museum of the U.S. Air Force celebrates its centennial.
AND PHOTOS BY DAMAINE VONADA
Born and raised in Columbus, Air Force General Curtis LeMay studied engineering at Ohio State University and launched his military career in his hometown by learning to fly at old Norton Field. The bombing raids he directed during World War II clinched Lemay's reputation as a disciplinarian, and in 1948, the cigar-chomping general known as "Old Iron Pants" was tapped to oversee operations for the Berlin Airlift.
Code-named Operation Vittles, the airlift famously foiled a Soviet Union blockade with nonstop cargo flights that delivered life-saving food and fuel to beleaguered West Berliners.
One airlift pilot, Lt. Russ Steber, took along his newly adopted boxer rather than leave the pup alone during the lengthy missions. The dog became such a familiar part of the airlift, Steber even had a parachute made for him. Eventually, LeMay learned of the stowaway, and Steber expected to be in big trouble. Instead, the general told Steber his dog was a great morale booster and promptly named him "Vittles."
Fortunately, Vittles never needed the parachute, and the National Museum of the United States Air Force now showcases Vittles' full flight gear in its Berlin Airlift exhibit. "LeMay was a gruff commander," says museum historian Douglas Lantry, "but our Vittles display gives people insight into his humanitarian impulses in the midst of a difficult and dangerous job."
The Air Force Museum is located on Wright-Patterson Air Force Base outside of Dayton, where Orville and Wilbur Wright invented the airplane. It's the world's largest military aviation museum, boasting more than 350 aerospace vehicles and missiles plus countless artifacts that range from wind tunnel to videos of Bob Hope entertaining airmen in Vietnam to the Distinguished Service Cross that General Dwight Eisenhower personally presented to World War II's "Ace of Aces" — and Piqua native — Capt. Don Gentile.
a 1918 Eisenhower
The Air Force Museum, which turns 100 this year, is also the world's oldest military aviation museum, and although it currently consists of four hangar-style buildings containing over 19 acres of exhibit space, the museum's origin was
STORY
Wright Brothers 1909 military flyer
to beleaguered West Berliners.
22  OHIO COOPERATIVE LIVING • MAY 2023
considerably more modest. It began in May 1923, when personnel at Dayton's McCook Field amassed numerous aircraft engines and other equipment in the corner of a hangar and invited the public to have a look. Because of Dayton's rich tradition of innovation, the Army Air Service (the Air Force's precursor) had established McCook Field as its aviation research and development center in 1917. A decade later, the burgeoning research facilities and budding museum permanently moved to Wright Field at present-day Wright-Patterson AFB.
Today, the Air Force Museum ranks among Ohio's most popular attractions, annually drawing about a million visitors from around the globe. While people certainly come for its unrivaled array of aircraft, they also discover that the museum preserves remarkable stories about individuals, technological milestones, and American culture. "The museum's starting point coincides with the United States emerging as a world power," notes Lantry, "and its collections illustrate the tremendous changes occurring during the last 100 years."
For the museum's centennial, Lantry is helping to curate a special heritage exhibit. "We'll be displaying many archival materials that people practically never get to see." Those rare items include the handwritten diary kept by World War I ace and Medal of Honor recipient Eddie Rickenbacker as well as historic B-17 technical manuals that the museum's restoration staff used to piece together the iconic World War II bomber, Memphis Belle
Memphis Belle
Admission and parking are free at the National Museum of the United States Air Force, and its family-friendly 100th anniversary celebrations will include a centennial exhibit scheduled to open May 20; an ongoing Enlisted Forces exhibit; and a Planes, Trains, and Automobiles model event. Other activities and events will be added throughout 2023. For details and dates, telephone 937-255-3286 or visit www.nationalmuseum.af.mil.
"Every visitor should see the Memphis Belle exhibit, because it represents the lives of 30,000 airmen lost in the air battles over Europe," says Lantry. "The plane is the equivalent of the Iwo Jima Memorial as an emotional touchstone for service and sacrifice."
Of course, Memphis Belle is hardly the only storied item in the museum, and in a nod to the museum's centennial, Lantry has selected 10 other must-see exhibits that embody the history of military aviation and the nation.
Wright 1909 Military Flyer
The Wright brothers built the world's first military airplane — Signal Corps Airplane No. 1 — for the U.S. Army. Though it's a reproduction, the exhibit features an engine donated by Orville Wright. "It's worth seeing," says Lantry. "Compared to today's technology, the Military Flyer was on a completely different planet."
MAY 2023 • OHIO COOPERATIVE LIVING  23
De Haviland DH- 4 (aka the "Liberty Plane")
A wood and fabric biplane, the DH-4 was World War I's only American-made combat aircraft, and its Liberty 12 engine was developed at McCook Field. Says Lantry, "Liberty Planes taught lots of Americans how to fly and lots of Americans how to make airplanes."
B-29 "Bockscar"
The airplane that ended World War II: "After it dropped the second atomic bomb on Nagasaki," Lantry says, "Japan surrendered."
Cold War Gallery's B-36J Peacemaker
A strategic bomber that embodies America's commitment to air power in the 1950s. "It was called the Peacemaker," Lantry says, "because of its ability to deliver nuclear weapons anywhere in the world."
SR-71A "Blackbird"
The futuristic-looking spy plane flew from 1966 to 1990. "It's world-renowned for being the fastest aircraft ever built," Lantry says, "an outstanding example of American aircraft design and engineering."
The F-86A Sabre and MiG-15
The American F-86 and Soviet MiG are displayed side by side because their Korean War dogfights represent the birth of modern air combat. "These jets changed the whole calculus of what airplanes could do and how they should be used in combat."
The Presidential Gallery's SAM 26000
Delivered to the Air Force in 1962, it was the first jet aircraft specifically built for U.S. presidents. On November 22, 1963, this Air Force One took John Kennedy to Dallas and later returned the assassinated president's body to Washington, D.C. "The SAM 26000 transported eight presidents," notes Lantry, "and was the vehicle for many historical moments like Johnson's swearing-in and Nixon's trip to China."
B-52D Stratofortress
B-52 heavy bombers have been the Air Force's global workhorse since 1955. "B-52s symbolize American air power, and their shape is unmistakable."
Apollo 15 Command Module Endeavour
Launched in 1971, Apollo 15 was the first moon landing mission to both emphasize science and use a lunar rover vehicle. Says Lantry, "It was the only Apollo mission with an all-Air Force crew and demonstrates the service's commitment to human space flight."
Titan IVB Rocket
Used from 1996 to 2005, Titan IVBs were powerful, singleuse rockets that launched everything from meteorological satellites to the Cassini-Huygens space probe that revealed the wonders of Saturn. "It's 204 feet long and superimpressive to see or stand under," says Lantry.
An overview of one of the hangar galleries featuring a variety of aircraft at the National Museum of the U.S. Air Force in Dayton
24  OHIO COOPERATIVE LIVING • MAY 2023
Hearing Aids RECHARGEABLE
"I
The answer: Although tremendous strides have been made in Hearing Aid Technology, those cost reductions have not been passed on to you. Until now...
MDHearing ™ uses the same kind of technology incorporated into hearing aids that cost thousands more at a small fraction of the price.
Both are medical-grade, rechargeable hearing aids offering sophistication and high performance.
How can a rechargeable hearing aid that costs only $14 999 be every bit as good as one that sells for $2,400 or more? NEW LOW PRICE ONLY $14999 REG $299.98 Each When You Buy a Pair PLUS FREE SHIPPING Limited Time Only! Use Code EZ67 and get FREE Shipping DOCTOR DESIGNED | AUDIOLOGIST TESTED | FDA REGISTERED ™
Smallest NEO, or the Best-Selling AIR
Choose From Our
NEO ™ AIR ™ Sits discreetly inside your ear canal without anyone knowing Charging case
digital long-lasting rechargeable
aid
state-of-the-art
quality
in
case is also the charger 20-hour battery life For the Lowest Price Call 1-800-909-5461 www.TryMDHearing.com
products are proudly designed in America and supported by US audiologists or 45-DAY RISK-FREE TRIAL!
REFUND! NEO NEW! Actual size
Our most popular AIR is a
hearing
with
audio
and noise management all
a discreet, comfortable design. Carrying
Both
If you are not completely satis ed with your hearing aids, return them within 45 days for a FULL
was amazed! Sounds I hadn't heard in years
back to me!" heard — Don W., Sherman, TX Reviews Over 7, 000 5-STAR hearing aid ever!
came
Hunting Giants
BY CRAIG SPRINGER
Spring comes into full bloom in May. White dogwood sepals spangle the hillsides, and the fronds of deciduous trees everywhere produce those fresh wet-lime tender shoots that will soon become the full, flat leaves that provide welcome cooling shade in the sweltering summer sure to follow.
Ohio has some big trees, and Marc DeWerth of Columbia Station has made it his mission to locate and educate — to find massive old trees and tell others about them. "Big tree education," he calls it. DeWerth, an amateur naturalist and self-trained forester and arborist, lectures to groups large and small on the matter of forestry, land management, and tree conservation. He consults tree owners on proper care of their trees and lots.
For DeWerth, it's a moral imperative. "People need to know about nature," he says. "We need to look up — there is so much to see and learn in nature. I want youth to understand the significance of Ohio's trees."
The interest in trees and forestry came by surprise. When he worked in business and finance, DeWerth spent a great deal of time on the road, off the beaten path, throughout Ohio. That first profession taught him to converse with most anyone in any station, making it easy to naturally reach out when he noticed a big red oak here, a shagbark hickory there. What started as a light hobby has blossomed into a major endeavor: documenting the biggest — and by default some of the oldest — trees that persist in Ohio, from Harrison to Hartsgrove, Pioneer to Pomeroy.
An amateur naturalist has made it his mission to seek out the biggest trees in the state.
26  OHIO COOPERATIVE LIVING • MAY 2023
That trees approaching half a millennium in age exist anywhere in Ohio is remarkable, considering history.
At the beginning of the historic period, the land was heavily forested. Henry Howe, in his 1907 Historical Collections of Ohio, noted that in 1834, "The trees were mostly oak, and of the finest growth. Their noble stems ran up some hundred feet above you and were beautifully feathered with verdant foliage. They ran off in the distance, park like, but grander far, in admirable groupings, forming avenues, galleries and recesses, redolent, with solemn loveliness, and here they stood before you like the thousand pillars of one vast imperishable temple for the worship of the Great Invisible."
Grand as they were, the forests gradually perished by axe and fire to make way for the plow. Some, however, were spared in the odd farm lot or the ribbon-like bands of woods that mark a stream course, and DeWerth continues to find them. He has successfully nominated 17 species of champion trees (the biggest in the state) with the Ohio Division of Forestry. Four of those are national champions.
Think of it: a green ash in Logan County, nearly 20 feet in circumference and 92 feet tall; a northern red oak in Ashtabula County, 28 feet around and towering into the sky, harkening Howe's locution — verdant, grand, and solemn.
While not every big tree is a champion, DeWerth collects data from 40 of Ohio's 243 tree species and shares it with the Ohio Division of Forestry. He has a significant social media presence on Facebook and Instagram, where he shares photographs of the massive trees (though never locations of those on private land). Search "Big Trees Ohio" and prepare to be awestruck.
DeWerth started collecting big-tree data in earnest in 2015 and has met people of all stripes. He found a sycamore that could house a family of four (albeit tightly) in its hollowed bole, and happened upon a substantial American chestnut in Summit County that has fruited — extraordinary because the species is considered functionally extirpated by blight.
He plans to continue his searches. "We have amazing trees waiting to be found," he says. "I have dreams of finding more champion trees."
If you know of a tree DeWerth might want to check out, he welcomes email at bigtreesohio@gmail.com.
There's a whole network of folks around the state who find and send in photos of Ohio's largest trees to be posted on Marc DeWerth's Big Trees Facebook and Instagram feeds — such as the national champion northern catalpa tree in Lawrence County (above), or the giant American sycamore that stands by a creek on a farm in Scioto County (left page).
MAY 2023 • OHIO COOPERATIVE LIVING  27
Your Local WaterFurnace Dealers
Bowling Green
United Home Comfort (419) 352-7092
unitedhomecomfort.com
Canal Winchester Kessler Htg & Clg (614) 837-9961
kesslerheating.com
Chillicothe
Accurate Htg & Clg (740) 775-5005
accurategeothermal.com
Coldwater Ray's Refrigeration (419) 678-8711
raysrefrigeration.com
Columbus Geo Source One (614) 873-1140
geosourceone.com
Defiance Schlatters Plbg & Htg (419) 393-4690
schlattersgeothermal.com
Dresden
Federal Htg & Clg (740) 754-4328
federalheating.com
Findlay Knueve & Sons Inc. (419) 420-7638
knueve.com
Gahanna Custom A/C & Htg (614) 552-4822
customairco.com/ geothermal
Groveport Patriot Air (614) 577-1577
patriotair.com
Holgate Holgate Hardware (419) 264-3012
Kalida Knueve & Sons Inc. (419) 420-7638
knueve.com
Sarka Electric (419) 532-3492
sarkaelectric.com
Lancaster Fairfield Heating (740) 653-6421
fairfieldgeothermal.com
Mansfield Eberts Energy Center (419) 589-2000
ebertsheatingandcooling. com
Marion Wenig's Inc. (740) 383-5012 wenigsinc.com
Medina Sisler Heating (330) 722-7101
sislerwaterfurnace.com
Mt. Vernon Cosby Htg & Clg (740) 393-4328
cosbyhc.com
New Knoxville New Knoxville Supply (419) 753-2444
newknoxvillesupply.com
Newark Hottinger Geothermal (740) 323-2330
hottingergeothermal.com
Sidney Lochard Inc. (937) 492-8811
Sunbury
Westin Air (614) 794-1259
geothermalcentralohio.com
Toledo
Overcashier & Horst (419) 841-3333
ohcomfort.com
Waverly Combs Htg & A/C (740) 947-4061
combsgeopro.com
Wellington Wellington Indoor Comfort (440) 647-3421
MAY 2023 • OHIO COOPERATIVE LIVING  29
30  OHIO COOPERATIVE LIVING • MAY 2023
Wyatt Newman (left) and Sam Bell came up with their idea, for truck-mounted robots that can create custom road markings, while they were biking.
Roadway robots
Sam Bell, a retired auto mechanic, and Wyatt Newman, a retired Case Western Reserve University professor of electrical engineering, have been friends and bicycling buddies for years. "We talk about everything on our rides," Bell says. "We make bad jokes, we laugh, and we complain."
On one of their rides, for example, Bell recalls telling Newman how frustrated he was that his suburban hometown city council couldn't approve funds for bike lane markings. Told by city officials that it would take $30,000, Bell wondered why it cost so much for such a seemingly mundane task. There were several answers, but the main reason was the cost of person-power both to paint the markings and to maintain them, since waterbased paint fades quickly.
Newman's response, as it often is when Bell complains about human folly: "Can we get a robot to do it?"
Not long after, the pair launched RoadPrintz, LLC.
The common, labor-intensive practice is that all those turn arrows, handicapped space designations, sharrows (shared lane markings), and other specialty markers are stenciled by hand. It's not only costly, it puts America's road workers in danger every time they do their jobs. RoadPrintz changes that by producing a truck-mounted robotic arm that can paint even custom markings that are too complicated for striping trucks.
"My favorite part of the process is when the robotic arm is mounted on the truck," Newman noted. Their first truckmounted robotic arm, called Lester, was a prototype. They worked out some kinks in their second truck, Stella, and the current iteration, Electra, "is a template for manufacturing vehicles for our customers," Newman says.
Bell and Newman had collaborated before. They worked together on a Defense Advanced Research Projects Agency (DARPA) competition in 2007 to build a vehicle capable of autonomous operation in an
urban environment — Bell working on the automotive aspects while Newman took on the robotics. It was that experience that led them to believe they could make a concept like RoadPrintz actually come together. Why would a municipality, department of transportation, or other potential customer want to buy an Electra or one of its progeny? "Cleveland, Cincinnati, or Columbus would benefit because the person-hours would be cut in half," says Newman. He explains that when specialty road markings are painted manually, several trucks and a fourperson crew are involved, including flaggers and a couple of painters. With a RoadPrintz robotic arm-mounted truck (that can do the pre-work coning automatically), only two trucks and their drivers are required. The painting is accomplished robotically from inside the truck. "We don't want the driver to get out. That's when bad things happen," notes Newman.
Newman and Bell can rattle off national statistics about how many road workers are injured and killed doing precisely the work these robotic arms can do. Those numbers hit home last August in Stow, Ohio, when a driver careened into a coned-off work zone, critically injuring the two workers who were painting a crosswalk at an intersection. Impaired or careless drivers may always be a threat, but the damage they do will be greatly reduced if they collide with a huge truck versus workers protected only by cones.
RoadPrintz has conducted successful demonstrations of its technology in northeast Ohio, including painting bike lanes on the Payne Avenue Bridge over Cleveland's Innerbelt with green boxes, white bike symbols, and white arrows. Bell and Newman estimate that a typical long-line road painting truck can sell for about $500,000 "RoadPrintz expects to be about 20 percent cheaper," notes Newman.
For more information, visit www.roadprintz.com. To see the company's video of the process, search "Road Printz" on YouTube.
Ohio's road princes invent a safer way to paint all those sharrows, arrows, lines, and other markings on the street.
STORY AND PHOTO BY SARAH JAQUAY
MAY 2023 • OHIO COOPERATIVE LIVING  31
32  OHIO COOPERATIVE LIVING • MAY 2023 BARNS WANTED FOR RECLAIM We pay up front. Completely insured A+ rating with the BBB. Call/Text 567-232-2500 www.allohiobarn.com NorthwestParkwayStorage.com Reservations Now Available Looking for Extra Space? Reliable and Safe • 24/7 • Drive Up Access • Online Bill Pay & Rental • Month to Month • Vehicle, RV & Boat Parking Marysville, OH WE BUY TREES WE BUY TREES Call Dennis 3 30- 60 0 - 8739 Learn more at GreaterParkersburg.com West Virginia MOUNTAIN BIKING EXCITEMENT Starts here! MARKETPLACE
CALENDAR
MAY 20 – Antique Car Gathering, Sauder Village, 22611 St. Rte. 2, Archbold, 10 a.m.–5 p.m. See cars older than 1942, with some dating back to the early 1900s. 800590-9755 or https://saudervillage.org.
MAY 20 – Family Fun Day: "End of the School Year," Northwest Ohio Railroad Preservation Inc., 12505 Co. Rd. 99, Findlay, 1–4 p.m. $5. Enjoy games, quarter-scale train rides, bounce house, and other fun activities and events. 419-423-2995, www.nworrp.org, or www. facebook.com/nworrp.
motorcycle show Sunday. 937-596-6812 or www.buckeyefarmantiques.com.
MAY 27 – Memorial Day Service, Perry's Victory and International Peace Memorial, 93 Delaware Ave., Put-inBay, 10–11 a.m. Free. 419-285-2184 or www.nps.gov/pevi/ index.htm.
THROUGH MAY 28 – Chunky Knit Blanket Workshop, Vandermark Estate and Events Venue, 9095 Spencerville Rd., Spencerville, 2–5 p.m. $40. Learn step by step how to hand knit a beautiful and cozy chunky chenille blanket. www.thevandemarkestate.com/book-online.
THROUGH AUG. 4 – Limaland Motorsports Park Races, 1500 Dutch Hollow Rd., Lima, 7:30–10:30 p.m. Sprints, UMP Modifieds, Thunderstocks, and more! Pit gates open at 4:30 p.m., grandstand gates at 5 p.m., warmup laps begin at 6:30 p.m. See website for updated information. www.limaland.com.
THROUGH SEP. 10 – NWORRP Museum Summer Hours, Northwest Ohio Railroad Preservation Inc., 12505 Co. Rd. 99, Findlay, Sat./Sun. 1–4 p.m. $3; 12 and under, $2. Museum tours, quarter-scale train rides, model train displays, games, play area, and more. 419-423-2995, www.nworrp.org, or www.facebook.com/nworrp.
MAY 12–21 – Four Weddings and an Elvis, Encore Theatre, 991 N. Shore Dr., Lima, Fri./Sat. 8 p.m., Sun. 2 p.m. A romantic comedy set in a Las Vegas wedding chapel that hosts four of the most memorable ceremonies you will ever see. 419-223-8866 or www. amiltellers.org.
MAY 18–21 – Armed Forces Day Celebration, Hancock Co. Fgds., Findlay, Thur.–Sat. 9 a.m.–7 p.m., Sun. 9 a.m.–noon. Adults $10, C. (6–17) $5, under 6 free. This year is the "Mule Muster"! See American Huey 360 and UH-1B Gunship 049, military vehicles and weapons displays, flamethrower demos, living history displays, reenactments, and more. www.findlaymilitaryshow.org.
MAY 19–20 – Hamler Country Fest, St. Rte. 109, Hamler. $30; 16 and under free with paid adult admission. Two days of great country music and fun. Open seating under roof; bring lawn chairs. Primitive on-site camping available. 419-748-7459 or www. hamlercountryfest.com.
WEST VIRGINIA
MAY 20 – "Walk Your Socks Off," Tawawa Park, Sidney, 10 a.m.–noon. Help raise awareness for our local Down syndrome community with this celebration walk. Scavenger hunt, dance party and DJ, bounce houses, awards ceremony, food, and more. Register, donate, or sponsor at www.mvdsa.org/news-and-events/upcomingevents/walk-your-socks-off.html.
MAY 20–21 – Settlers' Encampment, AuGlaize Village, 12296 Krouse Rd., Defiance, Sat. 10 a.m.–5 p.m., Sun. 10 a.m.–4 p.m. $5, under 13 free. Step back in time to 1750–1815 and see how settlers survived. Demos and instructions ranging from plant dying and food preparation to the fur trade and weapons of that era. 419-990-0107 or www.auglaizevillage.com.
MAY 20–21, JUN. 10–11 – The Fantastic Tiffin Flea Market, Seneca Co. Fgds., 100 Hopewell Ave., Tiffin, Sat. 9 a.m.–4 p.m., Sun. 9 a.m.–3 p.m., rain or shine. Free; handicapped accessible. 250 to 400 dealers per show. Food available for purchase. 419-447-9613 or www. tiffinfleamarket.com.
MAY 20–OCT. 14 – The Great Sidney Farmers Market, Shelby County Court Square, 100 E. Court St., Sidney, Sat. 8 a.m.–noon. Fresh produce, baked goods, jams and jellies, crafts, plants, and flowers. 937-658-6945 or www. sidneyalive.org.
MAY 21 – Shelby County Coin Club Coin Show, American Legion Post 217, 1265 Fourth Ave., Sidney, 10 a.m.–3 p.m. 937-339-5437
MAY 25–29 – Main Street Port Clinton Walleye Festival, Waterworks Park, Port Clinton. Free live concerts, kids' fishing derby, grande parade, educational programs/activities, carnival rides, and more than 130 vendors. 419-734-5503 or www.walleyefestival.com.
MAY 26–28 – Buckeye Farm Antiques Annual Show, Shelby Co. Fgds., 655 S. Highland Ave, Sidney, Fri./Sat. 9 a.m.–7 p.m., Sun. 9 a.m.–4 p.m. Featuring Allis Chalmers tractors and engines. Tractor pull, flea market, crafts, kids' activities, and other entertainment; car, truck, and
MAY 13–21 – West Virginia Strawberry Festival, downtown Buckhannon. Food vendors specializing in strawberry treats of all kinds, arts and crafts show, horse and carriage parade, carnival, exhibits, and much more! 304-472-9036 or www. wvstrawberryfestival.com.
JUN. 3 – Taste of Parkersburg, corner of Market and 3rd Sts., Parkersburg, 5–11 p.m. Savor food, wine, and beer from local restaurants. 304-865-0522 or www.downtownpkb.com.
JUN. 9–11 – Fostoria Glass Society of America's Glass Show and Sale, Moundsville Center Bldg., 901 Eighth St., Moundsville. Featuring glassware by Fostoria, Imperial, Morgantown, Cambridge, Fenton, and others, including Depression glassware. 304-242-3176 or www.fostoriaglass.org.
MAY 29 – Memorial Day Parade, downtown Lima, 10 a.m. Parade honoring all those who served; includes military flyover. Wreath-laying service at VFW Post 1275 after parade, with food trucks, hog roast, and trophy awards at 311 E. Market St. after ceremony. www. visitgreaterlima.com/calendar.
MAY 30–JUL. 21 – "All Together Now": Summer Library Program, Shelby County Libraries, in Anna, Botkins, Ft. Loramie, Jackson Center, Russia, and Sidney. Join us for a variety of themed programs, special guests, crafts, snacks, and more, plus prizes once you complete your program goals. Sign up at any of our six locations. www.shelbycountylibraries.org.
JUN. 3 – Fiberpalooza Festival, AuGlaize Village 12296 Krouse Rd., Defiance, 10 a.m.–5 p.m. Demonstrations of spinning, weaving, sewing, and quilting on fiber equipment of various time periods. 419-990-0107, villageauglaize@gmail.com, or www.auglaizevillage.com.
JUN. 3–4 – Power of Yesteryear Club Annual Spring Show, Wood County Historical Museum, 13660 County Home Rd., Bowling Green. Featuring Minneapolis Moline tractors and equipment. poycmail@yahoo.com or www. powerofyesteryear.org.
JUN. 7 – Down on the Farm Story Time, Proving Ground Farm, 5670 E. Twp. Rd. 138, Tiffin, 10 a.m. Stories and activities are geared for preschool-age children and focus on farming and nature in a picturesque outdoor setting. Families always welcome! 419-447-7073, www.conservesenecacounty.com, or follow Seneca Conservation District on Facebook.
JUN. 10 – Antique Tractor Show, Sauder Village, 22611 St. Rte. 2, Archbold, 10 a.m.–5 p.m. Historic tractors from the 1920s to the 1960s. 800-590-9755 or www. saudervillage.org.
JUN. 10–11 – Antique Tractor Show/Pulls and Flea Market, AuGlaize Village, 12296 Krouse Rd., Defiance, Sat. 9 a.m.–7 p.m., Sun. 10 a.m.–4 p.m. Antique tractors and hit-miss engines. Antique tractor pulls Sat. 10 a.m.–3 p.m. with a small connect fee. Trophies and prize money awarded. 419-990-0107, villageauglaize@gmail.com, or www.auglaizevillage.com.
Get listed in our calendar
Submit listings AT LEAST 90 DAYS prior to the event to Ohio Cooperative Living, 6677 Busch Blvd., Columbus, OH 43229 or email events@ohioec.org. Ohio Cooperative Living will not publish listings that don't include a complete address or a number/website for more information.
COMPILED BY COLLEEN ROMICK CLARK 2023
MAY/JUNE
NORTHWEST
MAY 2023 • OHIO COOPERATIVE LIVING  33
2023 CALENDAR
MAY 20 – The Homestead Rendezvous, 724 Monroe St., Bergholz, 9 a.m.–3 p.m. Free homesteading event featuring a farmers market, natural resources educational displays and demonstrations, homestead and small farm equipment, workshops, and much more. Family friendly; no pets, please. 740-768-2483 or www.facebook.com/ homesteadrendezvous.
MAY 20 – Model Train Days, Painesville Railroad Museum (Painesville Depot), 475 Railroad St., Painesville, 10 a.m.–4 p.m. Adult $5, child (3–12) $3, family $12. Twelve different operating modular layouts in N scale, HO scale, S gauge, O gauge, and G gauge; model train flea market. 216-470-5780 (Tom) or www. painesvillerailroadmuseum.org.
MAY 20 – Vintage Tea, Chatham Township Community Center, 6306 Avon Lake Rd., Spencer, 11:30 a.m.–2 p.m. $25 presale. Features wedding dresses through the years. Special luncheon and raffle baskets. Contact Sarah Bistline at 330-606-6609.
MAY 26 – Music at the Arboretum: NEO5 Brass Quintet, John Streeter Garden Amphitheater, 2122 Williams Rd., Wooster, 6:30–8:30 p.m. Free, but registration is
recommended. In the event of rain, the concert will be held at Fisher Auditorium, 1680 Madison Ave., Wooster 44691 419-853-6016 or www.ormaco.org.
MAY 26–JUL. 29 – "Susan Cook's Award-Winning Quilts," McCook House Museum, Carrollton, Fri./Sat. 10 a.m.–5 p.m. $3. Susan has completed more than 200 quilts and has given away machine-made quilts to veterans, cancer patients, and many others. This exhibit features hand-sewn projects only. 330-437-9715 or kathorn4120@gmail.com.
MAY 27–28 – Great Lakes Fiber Show, Wayne Co. Fgds., 199 Vancouver St., Wooster. Free. Workshops, competitions, wool fleece show and sale, craft activities, vendors, Angora rabbit show, and special presentation on livestock guardian dogs. 740-686-2172 or www. greatlakesfibershow.com.
MAY 31 – Bike Week Dice Run, Kelleys Island, 10 a.m.–5 p.m. Participants will experience an exciting tour of the island while completing a scavenger hunt and collecting dice rolls at a variety of local businesses. 419-746-2360 or www.kelleysislandchamber.com.
JUN. 1–AUG. 3 – Fort Steuben Summer Concert Series, Fort Steuben Park, 120 S. 3rd St., Steubenville, Thur. 7–9 p.m. Free. Bring a blanket and picnic basket and enjoy a variety of live musical performances. 740-283-1787 or www.oldfortsteuben.com.
JUN. 2 – First Fridays on Fourth, 155 N. 4th St., Steubenville, 6–10 p.m. Free. Monthly themed celebration featuring art, crafts, games, food trucks, live entertainment, and activities to stimulate the imagination. www.theharmoniumproject.org/first-Fridays.
JUN. 3 – Jazz under the Stars: Groove Tonic, Uptown Park, Medina, 7–9 p.m. Free. Enjoy a night of eclectic music from this high-energy ensemble. Bring your lawn
Park, 1000 Carillon Blvd., Dayton, noon–7 p.m. $10–$14 Celebrates Dayton's unparalleled history through special activities, costumed interpreters, and more, concluding with a concert by the Dayton Philharmonic Orchestra. 937-293-2841 or www.daytonhistory.org/events/specialevents.
MAY 28 – White Water Shaker Village Open House, 11813 Oxford Rd., Harrison, 2–5 p.m. Free. Tour the Village, learn about the daily life of a Shaker and the styles of businesses Shakers conducted, and see our collection of Shaker goods. friendsofwwsv@gmail.com or www.whitewatervillage.org.
chairs, blankets, and picnic food. In event of rain, the concert will be held at the United Church of Christ, 217 East Liberty St., Medina 44256 419-853-6016 or www. ormaco.org.
JUN. 3 – Lorain County Beekeepers Association HandsOn Field Day, Queen Right Colonies, 43655 St. Rte. 162, Spencer, 10 a.m. www.loraincountybeekeepers.org.
JUN. 3–4 – Ohio Valley Frontier Days, Historic Fort Steuben, 120 S. 3rd St., Steubenville. $6, child (6–12) $3, under 6 free. Annual festival featuring soldier, settler, surveyor, and Native American reenactors re-creating life on the Ohio frontier; includes crafts, games, food, and entertainment. 740-283-1787 or www.oldfortsteuben.com.
JUN. 4 – Kelleys Island 5 & 10K Run/Walk, begins at Memorial Park, 112 Division St., Kelleys Island. Registration begins at 8 a.m., race at 10:45 a.m., followed by awards ceremony. Registration fee $20 online, $25 day of race. 419-746-2360 or www.kelleysislandchamber.com.
JUN. 4 – Pulp Fiction and Comic Book Convention, Doubletree by Hilton Cleveland/ Westlake, 1100 Crocker Rd., Westlake, 10 a.m.–4 p.m. $5; 6 and under free. Collectible book and comic vendors, guest writers, hourly prizes. 330-462-3985 or www.harpercomics.com.
JUN. 10 – Secrest Garden Fair, Secrest Arboretum, 2122 Williams Rd., Wooster, 9 a.m.–4 p.m. Free. Handmade arts and crafts with a garden theme, guided tours of the arboretum, activities for kids, plant sale, workshops, and food trucks. http://friendsofsecrest.com/garden-fair.
JUN. 11 – "Jeff Klemm: Evoking Emotion Through Music," Wadsworth Public Library, 132 Broad St., Wadsworth, 2–3 p.m. Free, but reservations recommended. Register at www.ormaco.org or by calling 419-853-6016
JUN. 3–4 – Troy Strawberry Festival, Great Miami River Levee and downtown Troy. Fun, family-friendly weekend celebrating everything strawberry! Food, arts and crafts, games, pageants, cruise-in, and entertainment. 937-3397714 or www.gostrawberries.com.
JUN. 10 – "Storytelling and Native American Flute," Garber Nature Center, 9691 OH-503 N., Lewisburg, 6:30–8:30 p.m. Free. Presented by John DeBoer. 937-962-5561, pcpdevents@gmail.com, or www. preblecountyparks.org.
THROUGH JUN. 28 – Bluegrass Wednesdays, Vinoklet Winery, 11069 Colerain Ave., Cincinnati, Wed. 6:30–8:30 p.m. Enjoy dinner, wine, and an evening of free entertainment by Vernon McIntyre's Appalachian Grass. Reservations recommended. 513-385-9309, vinokletwinery@fuse.net, or www.vinokletwines.com.
MAY 19 – Bluegrass Night, Fibonacci Brewing Company, 1445 Compton Rd., Cincinnati, 7–9 p.m. Free. Enjoy lively bluegrass music by Vernon McIntyre's Appalachian Grass, a wide variety of craft beers, and food truck eats. 513-832-1422 or http://fibbrew.com.
MAY 20 – MetroParks Spring Arts Festival, 7850 Voice of America Park Dr., West Chester, noon–5 p.m. Free. Local artisans and craftspeople will showcase their work at this inaugural arts festival. Live music and food trucks. 513-867-5835 or www.travelbutlercounty.com/events/ metroparks-spring-arts-festival.
MAY 28 – Dayton Heritage Day, Carillon Historical
JUN. 1–3 – Milford Frontier Days, Riverside Park, 450 Victor Stier Dr., Milford. Kickoff parade, bands, car show, food and drink, Makers' Market, rides, and more. www. frontierdaysmilford.com.
JUN. 2 – Vernon McIntyre's Appalachian Grass, Butler County Bluegrass Association, Collinsville Community Center, 5113 Huston Rd., Collinsville, 7–9 p.m. Free. Lively bluegrass music. Food available on-site. 937-417-8488.
JUN. 3 – "Getting Ready: Solar Eclipse, Part 1," Garber Nature Center, 9691 OH-503 N., Lewisburg, 1–3 p.m. Free. Presented by astronomer Terry Mann. 937-962-5561, pcpdevents@gmail.com, or www. preblecountyparks.org.
JUN. 3 – Sawyer Point Summer Concert, 705 E. Pete Rose Way, Cincinnati, 4–10 p.m. Free. Featuring Appalachian Grass at 4 p.m., Jake Speed and the Freddies at 6 p.m., and Henhouse Prowlers at 8:30 p.m. Food trucks and beer/cooler vendors on-site. Consider bringing a lawn chair. 513-357-2604 or www.cincinnatioh.gov/cincyparks/visit-a-park/parks-events-calendar.
JUN. 10 – Kids' Program: "Chalk Art," Garber Nature Center, 9691 OH-503 N., Lewisburg, 1–3 p.m. Free. Led by naturalist and teacher Bev Holland. Materials provided; bring play clothes. 937-962-5561, pcpdevents@gmail.com, or www.preblecountyparks.org.
JUN. 10 – Shandon Strawberry Festival, Community House, 4782 Cincinnati Brookville Rd., Shandon, 10 a.m.–5 p.m. Free. Enjoy strawberry shortcake and homemade ice cream, hot pressed chicken sandwiches, homemade pies, and much more. 513-738-4127 or www. shandonchurch.com/strawberry-festival.
JUN. 10 – Vernon McIntyre's Appalachian Grass, Clifton Opry House, 5 S. Clay St., Clifton, 7:30–10:30 p.m. $10. Enjoy an evening of lively bluegrass music with lightning-fast instrumentals, close harmonies, and entertaining novelty songs. 937-342-2175, schasnov@ netzero.net, or www.villageofclifton.com/clifton-operahouse.
JUN. 10 – Village Music Festival, Caesar's Creek Pioneer Village, 3999 Pioneer Village Rd., Waynesville, 10 a.m.–6 p.m. $6 per person; under 16 free. www. caesarscreekpioneervillage.org.
NORTHEAST
SOUTHWEST MAY/JUNE 34  OHIO COOPERATIVE LIVING • MAY 2023
MAY 6–SEP. 30 – Sunbury Farmers Market, Sunbury Town Square, 9 E. Granville St., Sunbury, Sat. 9 a.m.–noon. Offering local handmade, homemade, and homegrown products. 740-513-9192 or sunburyohiofarmersmarket@gmail.com.
MAY 6–OCT. 28 – Coshocton County Farmers Market, 22375 Co. Rd. 1A, Coshocton, Sat. 8:30 a.m.–noon. Local fresh produce, baked goods, and artisan crafts at our new location by the Walhonding River. market. manager@coshfarmmarket.org or www.facebook.com/ coshoctonfarmersmarket.
MAY 6–OCT. 28 – Spring Farmers Market, Adornetto's, 2224 Maple Ave., Zanesville, Sat. 9 a.m.–noon. Locally grown produce, homemade food, locally raised/ processed meat, farm eggs, Ohio cheese, and more. www.zanesvillefarmersmarket.org.
MAY 9, 23, JUN. 6 – Farmers Market, Roseville Branch Library, 41 N. Main St., Roseville, 4–6:30 p.m. Sponsored by the Roseville Branch Library Friends Group. Book sale planned for May 30. 740-697-0237or juanita@ muskingumlibrary.org.
MAY 11, JUN. 8 – Inventors Network Meeting, The Point at Otterbein University, 60 Collegeview Rd., Westerville 43081, 7 p.m. Educational presentations and discussion about the invention process. Zoom meetings on May 18 and Jun. 15 at 7 p.m. 614-470-0144 or www. inventorscolumbus.com.
MAY 19–20 – Spring in the Country, Amanda, Tarlton, and Stoutsville area, 8 a.m.–5 p.m. (times may vary for
SOUTHEAST
individual businesses). Enjoy a ride in the country for a "shop hop" at participating area businesses, ranging from home cottage to retail sales. Special offers and maps available at each location. 740-503-2125 or www. countryshophop.com.
MAY 20 – "Art on the Canal" Art Stroll, downtown Canal Winchester, noon–6 p.m. Live music, dancing, and performances, along with arts and crafts from central Ohio artists. Enjoy local food, drinks, and shopping, and don't miss the one-room Prentiss School Building and the Hocking Valley "Queen of the Line" railroad depot. 614270-5053 or www.destinationcw.org/artStroll.
MAY 20 – Ki'Wanna Go for a Run 5K/10K, Hunter Park, Lancaster, 9 a.m. Join us for a 5K walk, run, roll or 10K run. Proceeds benefit the Kiwanis Club of Lancaster's youth/community service programs benefiting children in Fairfield County. Race day registration at 7:30 a.m. or register at https://raceroster.com/events/2023/73331/ kiwanna-go-for-a-run.
MAY 26–28 – Flint Ridge Knap-In, Coshocton Co. Fgds., 724 S. 7th St., Coshocton, Fri./Sat. 9 a.m.–5 p.m., Sun. 9 a.m.–3 p.m. $7 per vehicle, $3 walk-ins, under 12 free. New location! Flint-knapping demos, fire starting, cordage making, artifact identification, and more. Rain or shine. 419-632-4274 or 330-440-3625
MAY 27 – Ohio Authors Book Fair, 8000 Factory Shops Boulevard, Jeffersonville, 10 a.m.–3 p.m. At locations around the mall. www.destinationoutlets. com/post/2023-events-calendar or www.social-ally.biz/ ohioauthorsbookfair.
MAY 27–28 – Asian Festival, Franklin Park, 1755 E. Broad St., Columbus, Sat. 10 a.m.–8 p.m., Sun. 10 a.m.–6 p.m. Free. A celebration of Asian culture, including dance, music, martial arts, food, and much more. http://asianfestival.org.
MAY 27–28, JUN. 2–4 – Once Upon a Mattress, Zanesville Community Theatre, 940 Findley Ave., Zanesville, 2:30 and 7 p.m. 740-455-6487 or www.zct.org.
MAY 27–29 – Utica Sertoma Ice Cream Festival, Ye Olde Mill and Velvet Ice Cream Co., 11324 Mt. Vernon Rd., Utica, Sat./Sun. 9 a.m.–7 p.m., Mon. 10 a.m.–6 p.m. $5 per car. Parade, live music, car show, kiddie
Celebrate the 40th anniversary of the festival featuring Native American music and dancing, crafters, exhibits, and plenty of family-friendly entertainment. www. feastofthefloweringmoon.org.
MAY 27–28 – Historic Marietta Tour of Homes, Marietta, 10 a.m.–4 p.m. Tour a variety of homes that make up the first established settlement of the Northwest Territory. Homes on Saturday will be different from homes on Sunday. https://mariettaohio.org/events/historicmarietta-tour-of-homes.
tractor pulls, ice cream-eating contests, arts and crafts, games, and ice cream, of course! 740-892-3161 or www. sertomaicecreamfestival.com.
MAY 29 – Lithopolis Memorial Day Celebration, Lithopolis Cemetery and The Wagnalls Memorial, 150 E. Columbus St., Lithopolis, 10 a.m.–5 p.m. Parade, memorial service, car show, live music, food, crafts, used book sale, and fire department open house. 614-837-4765 or www. wagnalls.org.
MAY 29 – Memorial Day Parade and Commemoration, Lockbourne's Veterans Park, 95 Landis St., Lockbourne. Parade at noon, followed by a service featuring our military ties to the Columbus Air Show at Rickenbacker International Airport. 614-491-3161 or www. lockbourneohio.us.
MAY 31–JUN. 4 – Deercreek Dam Days Festival, Williamsport, Wed./Thur. 4–10 p.m., Fri. 4–11 p.m., Sat. 11 a.m.–11 p.m. Free. Fun for the whole family, with music, food, games, and rides for all ages. www. deercreekdamdays.com.
JUN. 2– Zanesville Memorial Concert Band, Zane's Landing Park, west end of Market Street (along river), Zanesville, 7 p.m. Free. Performing with the High School Honors Band. Rain site: Zanesville High School. 740-8914098 or www.zmcb.org.
JUN. 8 – Classical Guitar and Mandolin Concert, Zanesville Museum of Art, 620 Military Rd., Zanesville, 6–7 p.m. Free; reservations required. Featuring guitar and mandolin duo Gruviera Armonico. 740-452-0741 or www. zanesvilleart.org.
JUN. 8–10 – Hot Air Balloon Festival, Coshocton Co. Fgds., 707 Kenilworth Ave., Coshocton. Free. Balloon launches at dawn and dusk, balloon "night glow," balloon race, musical entertainment, carnival rides, food, crafts, and more. www.coshoctonhotairballoonfestival.com.
JUN. 9–11 – Columbus Arts Festival, downtown riverfront, Columbus, Fri. 11 a.m.–10:30 p.m., Sat. 10 a.m.–10:30 p.m., Sun. 10 a.m.–5 p.m. Free. Artists and craftspeople from around the nation, live music, theater, dance, hands-on art activities, and gourmet food. 614-2242606 or www.columbusartsfestival.org.
miss engines, working sawmill, flea market/craft items, food, and kids' activities. Truck and tractor pulls Saturday 7 p.m., car show Sunday. Parts vendors wanted. Contact Steve Dean at 740-289-4124
JUN. 8–10 – Southern Ohio Forest Rally, Chillicothe, Shawnee Forest, McArthur, and Zaleski Forest. Fan Festival on the 8th in Chillicothe's Yoctangee Park; meet the drivers and see the action up close! www. southernohioforestrally.com.
THROUGH DECEMBER – Athens Farmers Market, Athens Community Center, 701 E. State St., Athens, Sat. 9 a.m.–noon; Apr. 20–Nov. 23, Wed./Sat. 9 a.m.–noon. Voted Ohio's #1 favorite farmers market! 740-593-6763 or www.athensfarmersmarket.org.
MAY 6–28 – Heirloom Plant Sale, Adena Mansion and Gardens, 847 Adena Rd., Chillicothe, Wed.–Sat. 9 a.m.–5 p.m., Sun. 12 p.m.–5 p.m. Featuring heirloom varieties of flowers and vegetables. www.adenamansion.com.
MAY 26–28 – Feast of the Flowering Moon, Yoctangee Park, 1 Enderlin Circle, Chillicothe, 10 a.m.–10 p.m.
MAY 29 – Ironton Lawrence County Memorial Day Parade, starting at 4th and Center Sts., Ironton, 10 a.m. The oldest continuous Memorial Day parade in the nation. Contact Lou Pyles at 740-533-7140 or lpyles54@ roadrunner.com.
JUN. 1 – Chillicothe Paints 2023 Home Opener, VA Memorial Stadium, 17273 St. Rte. 104, Chillicothe, 7:05 p.m. $5–$7. See the Paints in their first at-home game of their 30th season as they go up against the Champion City Kings. www.chillicothepaints.com.
JUN. 2–4 – Southern Ohio Farm Power of the Past Antique Tractor and Machinery Show, Pike Co. Fgds., Piketon. Featuring Oliver tractors and equipment. Vintage tractors/farm equipment and demos, hit and
JUN. 9–10 – Black Diamond Music and Arts Festival, Hocking College, 3301 Hocking Parkway, Nelsonville. A celebration of the country and bluegrass traditions of southeast Ohio. Local craft vendors, food vendors, an early 19th-century replica village, and more. www. blackdiamondmusicfestival.com.
JUN. 10 –Bethel Township VFD Annual Carnival, Bethel Twp. Community Center, 33877 St. Rte. 260, Lewisville, 4 p.m. Food, live music, and games. Parade at 6:30 p.m.; country store at 7:30 p.m. For more information, contact Jason at 740-934-2412
JUN. 10–11 – Lucasville Trade Days, Scioto Co. Fgds., 1193 Fairground Rd., Lucasville, Sat. 7 a.m.–7 p.m., Sun. 7 a.m.–4 p.m. $7; 12 and under free. 937-728-6643 or www.lucasvilletradedays.com.
CENTRAL MAY 2023 • OHIO COOPERATIVE LIVING  35
For August, send "Vintage school days" by May 15; for September, send "Strike up the band" by June 15. Upload your photos at www.ohiocoopliving.com/memberinteractive. Your photo may be featured in our magazine or on our website. MEMBER INTERACTIVE Send us YOUR picture!
Junior gardeners
Our grandson, Eli Messer, inspecting his Papaw's popcorn patch. Kathy and Jerry Banks, Butler Rural Electric Cooperative member
Ron Knippen being helped by grandson Fisher Jones, 2 years old, picking peas. Ronald Knippen, Paulding Putnam Electric Cooperative member
Our grandchildren, Jade and Mason Solak, in our four-generation garden they worked with my dad, me, and my daughter. Ladonna Miller, North Central Electric Cooperative member
My granddaughter, Hailee Ramey, loves helping transplant beautiful flowers. Sally Arledge, South Central Power Company member
Celia Schnipke, my daughter, 3 years old. Adam Schnipke, Paulding Putnam Electric Cooperative member
Our son, Josiah, age 4, was so pleased to special deliver his fresh garden finds. Keith Beitzel, The Frontier Power Company member
My son Ryan grew this from a plant he got in the fifth grade. LoriLea Beard, South Central Power Company member
Hi! I'm Jackson and I'm picking the first crop with my Great-Aunt Kay. Kay Fosnaugh, South Central Power Company member
36  OHIO COOPERATIVE LIVING • MAY 2023
My granddaughter, Rory Foster, planting green beans. She had to wear my garden hat. Angela Schoonover, South Central Power Company member
Call before you dig!
Know what's below—dial 811 before any project that requires digging.
Underground utilities, such as gas, water, and electric lines, can be a shovel thrust away from turning a spring project into a disaster. Play it safe by dialing 811 three days before digging to find out where utility lines run on your property. It's free, fast—and may save a life!
ohioec.org/purpose
30 x 60 x 12 Storage Building - 1 60 foot Sidewall Open - 5 12 foot Bays - 3 foot Overhang on Front 40 x 60 x 12 Garage/Hobby Shop - 2 10x10 Garage Doors - 1 3 foot Entry Door - Soffit/Wainscot Optional Call Toll Free (855) MQS-3334 www.mqsstructures.com Free Estimates