7 minute read
The Finish Line
from Ochsner Philanthropy Winter 2019-2020
by ochsnerweb
By Topher Balfer | Photos provided by Daniel Allemond
Daniel Allemond bikes 112 miles during the November 2019 Ironman in Arizona.
After a years-long battle with leukemia, Daniel Allemond is ready to go the distance.
In September 2015, Daniel Allemond was just a week away from completing his first Half Ironman, a race he'd spent months preparing for. It was set to be his biggest challenge yet, and while he would ultimately be successful, it would be four years before he'd cross the finish line — and the race to get there would be longer and more arduous than he'd ever expected.
At first, Daniel thought his increased fatigue and lightheadedness were simply results of overtraining. He'd been pushing harder and harder to ensure his success in the Half Ironman, which would see him swimming 1.2 miles, biking 56 miles and running a half marathon. He was no stranger to such rigorous training, but he knew something was amiss when his speed and energy
began to decline dramatically.
"I would have to stop running because I couldn't breathe," Daniel said. "I would go ride bikes with my friends, and I would get left behind because I couldn't keep up, when normally, I could easily keep up with the guys I ride with. There were a couple of times I remember almost blacking out in the swimming pool because I just didn't have enough oxygen."
Daniel paid a visit to his family doctor, who directed him to a cardiologist, who then referred him to an oncologist. Within a matter of days, Daniel had gone from a strict athletic training regimen to awaiting the results of a bone marrow biopsy. And barely two weeks after meeting with his family doctor, he received news he never expected to hear: Daniel was diagnosed with acute
lymphoblastic leukemia (ALL).
Funnily enough, Daniel said his first reaction was not fear or sadness, but disappointment that the timing might impede his chances of participating in the Ironman. "When my doctor was telling me, 'You have leukemia,' I think I asked at least three times, 'I've been training for this race. I can't wait until next week to start all this stuff?'" Daniel said.
Daniel's treatment couldn't wait, and he changed his focus from crossing the Half Ironman finish line to fighting for his life. The following week, Daniel received his first round of chemotherapy at the Adolescent and Young Adult Cancer and Survivorship Program at Ochsner. He would go on to have seven more bone marrow biopsies, close to 20 lumbar punctures and almost 100 chemotherapy infusions.
When Ochsner Magazine last spoke to Daniel in 2016, he was nearing the end of his treatment following a long and eventful battle, during which he was honored as an Ochsner Saints Hero and was recognized as the featured patient at that year's Moonlight & Miracles Gala. Three years later and over the incredible hurdle that leukemia presented, Daniel set his sights on the goals that motivated him before the unexpected detour. It's his way, he said, of reclaiming what he almost lost.
First on his to-do list was the Half Ironman. In September 2019 — just eight months after his final chemo treatment — Daniel traveled to Augusta, Georgia to finish what he started. He was more prepared than ever.
"Now, I laugh because I've probably set a record for training for a Half Ironman," Daniel said. "Because I've been training for about four years."
Daniel and his coach set a goal of five and a half hours to complete the Half Ironman, which was held on a hot day and required him to run and bike over challenging, hilly terrain — but Daniel was ready to close that chapter of his
TOP LEFT: Daniel Allemond with his wife, Maggie, and parents moments after crossing the finish line of his first full Ironman. TOP CENTER: Daniel celebrating the end of his chemotherapy treatments and official remission status. TOP RIGHT: Daniel and Maggie at the 2019 Moonlight & Miracles Gala.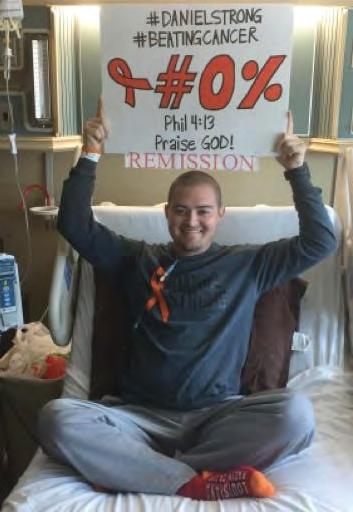 ABOVE: Daniel, Maggie, and Daniel's parents stand with Saints owner, Gayle Benson, and Ochsner President and CEO, Warner Thomas, at the 2019 Gala.
ABOVE: Daniel and Saints coach Sean Payton at the 2016 Gala.
life. He finished in five hours and eighteen minutes.
"When I crossed the finish line with the Half Ironman, it was almost like I shut the door on everything," Daniel said. "I almost broke down into tears. When I crossed the finish line and my wife, my mom and my dad were there, they all hugged me. A couple of us were crying. It was almost like my last chemo, like all the miles, all the early mornings, all the long drives…it was all worth it at the end."
Daniel's story had already come full circle, but he wasn't ready to call it quits. With the Half under his belt, Daniel set his sights on running a full Ironman in Tempe, Arizona in November — a feat that challenged him to swim 2.4 miles, bike 112 miles and run 26.2 miles. It wasn't easy, especially when intense knee pain set in halfway through the run, but Daniel said cancer had taught him to "dig deep and channel the energy and pain elsewhere." He found the drive to keep going and, when he finally crossed the finish line, Daniel joined the 0.5 percent of Ironman contestants who successfuly complete the challenge.
That drive to persevere comes from something his mother has said to him since he was young, a mantra and philosophy that has guided his every decision and action.
"My mom always told me, 'You can start anything you want — any sport, anything, whatever — but you're not going to quit.' Because of that, I think I looked at the whole cancer thing as just a challenge," Daniel said. "I was so ornery about it, like, 'Bring it. Let it come. We're going to go at it.' I always told people, 'I just had to win more days than it won. I couldn't let it beat me.' Mentally and physically, I couldn't let it beat me more days than I could beat it.
"I think that's just staying positive," he continued. "I started it. I wasn't going to quit until either it took me, or I was done. That was the same thing about the race. I started training for this race. It truly helped me envision a lot of stuff and kept me going." "It was not an option to give up," he said. "There was not a choice to quit. The race — yeah, it was a choice, but it was my dream. I had to do it. Like my mom said, I started it, and I had to finish."
If you would like to support cancer research and pat ient care t hrough t he Adolescent and Young Adult Cancer Program at Ochsner, please visit ochsner.org/aya or contact Traci Lucas, Director of Development, at traci.lucas@ochsner.org.
The Annual Transplant Holiday Party was held at Ochsner Jefferson Highway on December 5, 2019. The fest ive event brings toget her Ochsner physicians, nurses and staff along wit h donors and patients to celebrate transplant care.
Jules Montelaro, Executive Board Member; Jennifer Fritz-Reavis, Director of Programs; and Kristianne Stewart, Founder and CEO present a check on behalf of Compassion that Compels in support of the Women's Wellness and Survivorship Center at Ochsner Baptist.
Winn-Dixie Port Orleans
Thomas Harris, Vice President of Pediatrics for Ochsner Health System; Thomas Morstead, Michelle Hennessey, Marlene Rodriguez and John Hennessey at a check presentation to Ochsner Hospital for Children on behalf of What You Give Will Grow and Triumph Over Kid Cancer. This incredible act of generosity will provide a new outdoor space that will allow pediatric patients a place to play, get sunshine and have a breath of fresh air during their stay at Ochsner Hospital for Children.
Lend a Helping Can was held on November 13, 2019 at Port Orleans Brewing, Co. LEFT: David Connick, Manager of Clinic Operations, Karen Wynn, Manager of the Chemo Infusion Center, Courtney Dini, RN, Dr. Brian Moore, Associate Medical Director of Cancer Services and Dr. Elizabeth Lapeyre. RIGHT: Chip Turner, Winn Dixie District Manager and Don Noel, Port Orleans Brewing Co. Manager present a check in support of Ochsner Cancer Institute to Dr. Elizabeth Lapeyre and Dr. Brian Moore.