2022 Figures
Gender Pay Gap Report
PROUD OF OUR PROMISE
Why we're reporting on Gender Pay...
Aside from our legal obligations (companies with over 250 employees are required by law to report the difference in the average hourly earnings between men and women, regardless of the job they do), we fundamentally believe it's the right thing to do. This is a key step in encouraging businesses, particularly in our sector, to be transparent when it comes to pay for all colleagues, with a specific focus on Gender.
At Novus, women currently represent only 20% of our workforce. This impacts our Gender Pay report negatively and therefore recruiting more women into the company and developing female colleagues remain key focus areas.
When considering Gender Pay it is important to understand that a high Gender Pay Gap does not mean that we are not paying people equally for the same roles. We carry out regular reviews, benchmark salaries and have a grading structure to ensure that any differences are justified by qualifications and experience and not by Gender. This aside, we know there is more to do to improve the Gender balance at all levels within our company.
A message from our CEO
When I reflect on the achievements of Novus throughout 2022, I am filled with pride. In a year where companies had to react in unprecedented circumstances to face the significant challenges bought by the aptly titled 'Permacrisis' we took steps to support our colleagues and continued to deliver our full range of services for our clients and their customers. This tenacity enabled our 2021 five-year business growth plan to remain on track. We are meeting our organisational growth ambitions and doing so whilst developing our people.
Taking steps to support colleagues during 2022 came naturally to a company rooted in family values like Novus. We have taken physical steps of support such as providing colleagues with two cost of living payments over the past 12 months and increased all colleagues' salaries by a minimum of 5%. We also took steps to bolster colleague wellbeing, including providing six wellbeing events throughout the year, which focused on financial, mental, and physical health.
2022 is also the year we launched our EDI strategy 'Without U there is NO US' which focuses on driving colleague engagement and a sense of belonging through actions and accountability. The main purpose of the strategy is to ensure that colleagues are always able to be their whole selves, and that no one must compromise who they are to fit in with our culture. The strategy, written by colleagues and signed off by the Novus Board identifies our three commitments.
Our focused commitments to achieve our purpose are:
1. Everyone is included and will feel able to be themselves
2. We will actively champion diversity, inclusion and belonging
3. We will enhance education and development opportunities that support everyone
Whilst it is pleasing to see that for the fourth year in a row, we have reduced our Gender Pay Gap, I do not shy away from the fact that we still have work to do in this space. Without doubt, our continued focus and the actions we are taking to increase our internal diversity and promote inclusion will positively impact gender pay. Looking ahead I have certainty that the three commitments. we work on as part of our Inclusion strategy will fundamentally help us to reduce our Gender Pay Gap further.
In my role as Chief Executive Officer, I commit to continuing to reduce our Gender Pay Gap, improve our colleagues' sense of belonging, and ensure Novus provides a culture where nobody ever goes home feeling that they have been discriminated against or treated unfairly. This commitment should ensure all our colleagues are given an equal opportunity to thrive and achieve their career aspirations at Novus.
Steve Davies Chief Executive Officer
Gender Pay Statistics
Please see our Gender Pay figures below for 2021/22 and trend for previous years.
This shows the percentage by which women's average hourly pay is lower when compared to men.
Hourly Mean Our Workforce Hourly Median
2019/2020 2019/2020 2020/2021 2020/2021 2021/2022 2021/2022 30% 20% 10% 0% 30% 20% 10% 0% 15.2% 13.2% 22.6% 17.9% 17.8% 12.4% 4.8% decrease 5.5% decrease 2.6% decrease 0.8% increase 2.6% decrease 2021/2022 15.2% 0.8% increase 2021/2022 13.2% 2021/2022 Workforce Gender split 20% 80%
Hourly Pay Statistics
The pay quartiles in 2022 represent higher salaries, with the average salary for the lowest quartile being on average more than £600 higher than the same position in 2021. The lower quartile has less women when compared directly to 2021, reducing from 84 in 2021 to 73 in 2022. In part the reasons for this includes promotions with four colleagues progressing in terms of pay into new quartiles:
Hourly Upper Quartile Hourly 2nd Quartile Hourly 3rd Quartile Hourly Lower Quartile 7.7% 92.3% 6.6% 93.4% 44.3% 55.7% 7.7% 92.3% 2019/20 2019/20 2019/20 2019/20 2020/21 2020/21 2020/21 2020/21 2021/22 2021/22 2021/22 2021/22
Overview 10.8% 89.2% 8.4% 91.6% 50.9% 49.1% 12.6% 87.4% 13.9% 86.1% 11.8% 88.2% 38.8% 61.2% 13.4% 86.6%
Bonus Payments
There are currently more male colleagues receiving a bonus than female colleagues. This is proportionate to the current demographics seen in our operational role types. 63% of all bonuses for 2022 were awarded to operational colleagues. These bonuses are paid based on productivity/performance as opposed to on a targeted annual basis. Although this is consistently applied to the 192 colleagues, only two are female.
Employees receiving bonus 2019/20 48.0% 47.9% 2020/21 27.1% 4.0% 2021/22 32.2% 2.7% Hourly Mean Hourly Median 2019/2020 2019/2020 2020/2021 2020/2021 2021/2022 2021/2022 100% 0% -100% -200% 100% 0% -100% -200% -300% -400% -102.3% -59.6% 63.6% 14.3% -145.7% -312% 208.6% decrease 326.3% decrease 254% increase 43.4% increase 2021/2022 -102.3% 254% increase 2021/2022 -59.6% 43.4% increase
Overview
Bonus Pay Quartiles
These quartiles are calculated by splitting our colleagues into four bands based on bonus payments, from the higher (upper) to the lowest (lower). Here we show the percentage of men and women who sit in each band.
Bonus Upper Quartile Bonus 2nd Quartile 6.1% 93.9% 2019/20 2019/20 2020/21 2020/21 2021/22 2021/22 6.3% 93.7% 7.1% 92.9% 2.0% 98.0% 4% 96.0% Bonus 3rd Quartile Bonus Lower Quartile 25.4% 74.6% 2.8% 97.2% 2019/20 2019/20 2020/21 2020/21 2021/22 2021/22 0% 100% 0% 100% 0% 100% 2.0% 98.0% 30.3% 69.7%
The results...
Our People plan is action-oriented and supports our aim to reduce our Gender Pay Gap. We are pleased to confirm that we continue to reduce our Gender Pay Gap mean to 15.2% and acknowledge that our median has increased slightly to 13.2%. An increase has incurred in the median average as a reflection of the way our internal pay increase process is organised. Whilst it is satisfying to see the reduction in our Gender Pay Gap mean, we understand there is still work for us to do to achieve our overall aim of workplace Gender Pay equality.
We are dedicated to delivering on the commitments made in our People plan and have taken further steps to remove inequality by implementing our Inclusion strategy, thus ensuring all our colleagues have the opportunity to thrive.
What we are doing
Below is a summary of all the great activities that have taken place in 2022 specifically targeted to drive greater diversity.
Inclusion Strategy
Our 'Without U there is NO US' strategy is the bedrock of our commitment to ensuring Equality, Diversity, Inclusion and Belonging (EDIB) are at the heart of our business.
With a clear Purpose that; 'Nobody ever goes home after a working day and feels they have been discriminated against or treated unfairly'. This is our first strategy focusing solely on EDIB. Our three commitments are:
1. Everyone is included and will feel able to be themselves without compromise to achieve a greater sense of belonging.
2. We will enhance education and development opportunities that support everyone, building a legacy where people can live, work, and thrive.
3. We will actively champion diversity and inclusion across our teams, partners, and the industry.
The focus of our strategy is to hold us all to account so that we undoubtedly achieve improvements for all. Below is an overview of our commitments, to show where we are today, and where we intend to be in 2026.
Board sponsorship
Our five network groups are Board Sponsored. In addition to establishing the purpose of our Inclusion strategy and setting its direction, they are also advocates for Inclusion and in 2022 advocated for Novus to sign the Race at Work charter, the Menopause pledge and the Women in Construction industry pledge.
Our Measures of Success Now vs 2026
Our overall success will be measured by the following targets in the identified areas.
80% >10%
Our median gender pay gap will decrease below 10%
Our colleagues' belonging score is at least 80%
The below infographic shows our intention to increase the number of colleagues in the business by percentage of total workforce who identify within the following minority groups by 2026 in contrast to our current position.
Female Ethnic Minority LGBTQ+ People with disabilities 20%* 2.22%* 0.39%* 5.22%** Today 2026 35% 10% 5% 7%
*Information from HR system. **self-identified by colleagues through diversity survey.
What we are doing
Below is a summary of all the great activities that have taken place in 2022 specifically targeted to drive greater diversity.
Colleague Network Groups
The successes of the WiN (Women in Novus) network, which included the regular coming together of over 30 participants of mixed genders from across the company to discuss the challenges that the women in our business face and focusses on implementing strategies to effectively overcome them, has led to the creation of four new Board Sponsored colleague network groups. The purpose of the newly formed groups is to bring colleagues together based on shared identity, experience, a shared difference, or strong allyship/advocacy for that intersectional difference. The groups create a safe environment for colleagues to share experiences, feelings and ideas and create opportunities for positive change.
The new network groups were identified using insight taken directly from colleagues and it is anticipated that they will hold the same level of success as our WiN network at ensuring the challenges that minority groups face have a space at our most senior table.
Pay and Benefits
In line with our People plan, we have embarked on a significant review of our pay and benefits to ensure we are supporting our colleagues fairly and consistently across the business. From this review we have implemented:
• Five leadership and management grades
• Enhanced maternity, paternity and adoption leave and benefits
• Introduced new policies such as Menopause, Neo natal, Carers and Flexible Working
• Supported colleagues with a Winter Payment allowance to support with rising energy costs
• Enhanced our Fleet and Flexible Benefits offering
In addition, as part of our ongoing commitment to pay transparency we are also undertaking internal reviews to ensure pay equity for our minority colleagues.
What we are doing
Below is a summary of all the great activities that have taken place in 2022 specifically targeted to drive greater diversity.
Charity Partnership - Women in Social Housing (WISH)
WISH is a designated Community Interest Company dedicated to attracting new female talent to the UK housing sector, supporting women in their career progression, and working towards gender equality – in particular, reducing the Gender Pay Gap within housing. The network now operates across 10 regions throughout the UK and boasts more than 500 subscribed members.
Based on the above, the opportunity to work closer with WISH was a priority for us. Our Business Development & Marketing Director has joined WISH as a board member for the network's Northwest region and in June 2022 Novus hosted an event to support WISH members to unite to provide a range of opportunities with other women working in the sector.
Enhanced Policies to support our colleagues
We have assurances in place within our internal processes, and an internal Inclusion policy to bring our expectations into one document.
Based on colleague feedback plus external and internal market trends, the company has enhanced our Family Friendly terms, supporting colleagues starting families with enhanced payment terms for maternity, paternity, surrogacy, and adoption leave.
Under the enhanced Maternity policy, parents will be in receipt of 13 weeks full pay, 13 weeks half pay and 13 weeks at Statutory Maternity Pay, and Paternity Pay has been increased to up to two weeks' full pay.
Further policy progression included the addition of a well-received Menopause policy and signing of the Menopause pledge to demonstrate our commitment to supporting affected employees.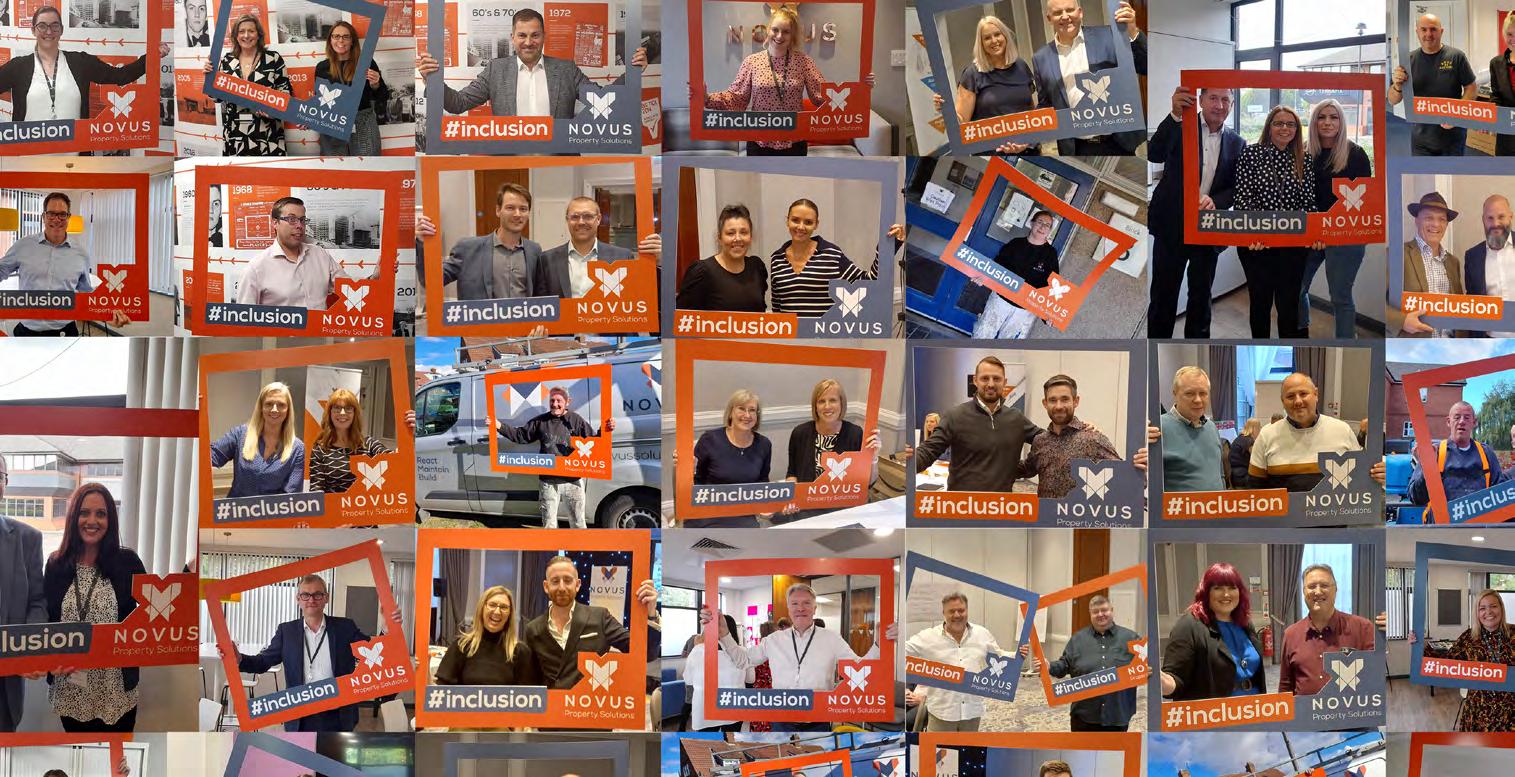 What we are doing
Below is a summary of all the great activities that have taken place in 2022 specifically targeted to drive greater diversity.
Your employee engagement survey is here!
Listening to our Employees to shape our future
At the start of 2022 the People team embarked on regional roadshows to share the Novus inclusion priorities with the leadership teams. The key message communicated was that Novus wants all colleagues, irrelevant of background, to feel like they belong at Novus. This enabled the team to understand the varying interpretations of belonging and gave useful insight to help formulate the Inclusion strategy and key activity.
In April, Novus reported on their colleague engagement survey which showed a 2% increase in colleagues belonging compared to 2021. Overall, 61% of colleagues feel they belong at Novus with 29% of colleagues responding passively, indicating an opportunity to develop their belonging score.
Novus encourages their leadership teams to actively discuss inclusion and belonging and it is a set agenda at leadership and communication meetings. Novus continues to explore new ways to engage and communicate with all colleagues in a bid to obtain insight to help shape strategy and action.
Celebrating our Women
Novus' Scotland team celebrated the success and contribution of their female colleagues with an article in the monthly colleague newsletter, Novus Now. Linking to the Women's World Cup, they were able to highlight the energy and commitment their female colleagues have in developing their careers. The article shared some great stories of how female colleagues have had the chance to grow and flourish within Novus.
What we are doing
Below is a summary of all the great activities that have taken place in 2022 specifically targeted to drive greater diversity.
Developingourpeople throughcompetencies
Delivered to you by the People Team
Apprenticeships
Our 2022 apprenticeship intake saw us successfully recruit 19 apprentices into our broadest variety of roles yet. The 19 successful candidates were selected from over 700 applicants. Pleasingly, 36% of the apprentices who joined us were female. For the first time, we successfully undertook diversity style monitoring for our apprentices to better understand the attractiveness of our roles to different intersectionalities. Our survey received over 300 responses and will support us to tailor our apprenticeship recruitment accordingly in future years.
We also use apprenticeships as a development route for our colleagues to support lifelong learning. Currently, we have 7.5% of our workforce enrolled in an apprenticeship or traineeship.
Developing our People
By role, competency frameworks were embedded throughout the organisation last year. This action has enabled our focus for 2022 to be on colleague development to support them to understand the competencies but also to develop skills based on the requirements of their current or future role.
From this, three leadership programmes have been developed to support management capability across the identified competencies.
To specifically support the development of women at Novus, a workshop was held to share best practice and skills for women working in a male dominated industry. The session enabled personal stories to be shared as well as a useful Q&A session to target specific challenges experienced by the delegates.
What we are doing
Below is a summary of all the great activities that have taken place in 2022 specifically targeted to drive greater diversity.
Attraction, Recruitment and Onboarding
To encourage applications from underrepresented groups, we changed the language of our adverts. We ensure all our adverts are checked by Gender de coder technology, and that all adverts only display the key essential criteria to perform the role. We have also added a statement of encouragement at the bottom of all our job adverts to encourage applicants to apply even if they don't meet the full criteria for the role.
To ensure consistent standards when selecting the right candidate for a role, all hiring managers have attended competency training on recruitment. The training included specific focus on the external market, Novus' recruitment process, CV screening, interview questioning skills, bias and objectivity, feedback and onboarding.
2022 also saw the creation of a specific interview pack for each role to support recruiting managers to assess against agreed competency benchmarks. The scoring matrix sits alongside the competency questions to ensure answers are reviewed and scored fairly and consistently to ensure the candidate is hired based on their competencies and behaviours alone.
We have changed the way we welcome our new starters, enhancing our onboarding experience by empowering the candidate to take control of their own onboarding. The interactive onboarding process shares accessible and useful information with all new starters and ensures that they have all they need to have a great first day.
Improving diversity at Novus
As part of our Inclusion strategy, we have made a clear commitment to becoming an organisation that is reflective of the societies we work in. We want to create an environment where all our colleagues are given opportunities to thrive, and we have clear ambitions to become an employer of choice for future colleagues looking for a likeminded organisation to progress their career. Our Inclusion strategy, written with our colleagues, will tangibly improve our workforce diversity and will drive the use of diversity metrics in our organisational KPIs.
We are proud of the steps taken so far to reduce our Gender Pay imbalance and remain focussed on taking the tangible actions required to continue this momentum. We understand that to attract diverse talent we need to continue to drive through initiatives that support our workforce in totality as well as identifying opportunities to move the dial on diversity related matters. We will continue to advocate this on behalf of our workforce, our customers and our clients through our Inclusion strategy and working in partnership with underrepresented groups to ensure a greater sense of belonging for all.
PROUD OF OUR PROMISE
If you have any questions relating to this document or wish to know more, please do not hesitate to reach out to our People team
Email: HR@novussolutions.co.uk