YEARPRESIDENCYSULMASYONE: MAGAZINE Volume 16, Issue 2 | Spring/Summer 2022 Magic, marketing and Nichols on the move
These are some of the ways Nichols College is laying the groundwork for its next milestone. There's more to come! Nichols is on the move, and I invite you to join us on this journey. Go Books. Go Bison.
Over the past few years, Nichols has strengthened its commitment and access to experiential learning opportunities, such as curriculum-based consulting projects, professional certifications, and prime internships. This will continue to be a hallmark of the Nichols education. We are also focused on becoming the business college of choice for women and for data analytics. This spring, we introduced a new data science program and in fall 2022, we will launch an undergraduate and graduate degree in healthcare management. Also, our bid to achieve accreditation from the Association to Advance Collegiate Schools of Business is in its final stages, with an AACSB site visit in November. Beyond the classroom, my wife Marla and I are committed to making the campus more vibrant with robust offerings, including new performance-based clubs, the revival of The Bison student newspaper, and the restoration of campus ministries. And beyond the campus border, we are revitalizing our study abroad and international travel opportunities and connecting with the business community through two signature programs, the Center for Intelligent Process Automation (CIPA) and the Nichols Consulting Group.
As I conclude my first year as president, I am continually excited and energized by this new beginning for Nichols College, and I am now happy to report on our progress and our potential for increasing the regional then national prominence of this shining college on a hill. "Nichols is on the move" has become a galvanizing cry, uniting and capturing our momentum. It is also a stark reminder that standing still and status quo are no longer options in our march toward greatness in a challenging higher education landscape. To that end, we are in the midst of our strategic planning process, an effort that has come to be called "Embracing Greatness 2023-2028." We are eager to present the final draft of our five pillars and respective objectives to the Board of Trustees this fall. In the meantime, we continue to enhance recruitment and retention strategies to ensure that Nichols is no longer the best kept secret. Our multi-pronged approach includes several marketing and engagement initiatives, such as strategic billboards, branded shuttle and travel bus, enhanced events for prospective students and college counselors, and increased faculty participation in the recruitment process. We have augmented the admissions staff and equipped them, and our student ambassadors, with examples that demonstrate that "Nichols is on the move," including our plan to provide free laptops to new students starting this fall. Of special note is a new college-wide Rankings Committee convened to explore opportunities for increased recognition. A recent change to our educational classification will allow us to be ranked by U.S. News and World Report this year.
State of the College President
From the President
We have commenced "Bison Builds," a series of construction projects that will help to provide a more engaging campus experience for students. Among the renovations happening this summer are the modernization of the library and the completion of a multi-year transformation of the Lombard Dining Hall. The Board of Trustees recently approved the site for construction of new townhouses to be available by fall 2024 for senior students.
EDITOR Susan Veshi VICE PRESIDENT FOR ADVANCEMENT Bill Pieczynski CONTRIBUTORS Brent Broszeit Pete DiVito Rae BrittanyJillianGlispinRichesJacobsMollyThienelHopeRudzinski PHOTOGRAPHERS BrookeDylanLizzieDeMerchantFontaineHallieLeoMitchell'22 Pat O'Connor Photography DESIGN Steve Belleville Nichols College PO Box 5000 123 Center Road Dudley, MA 508-213-156001571-5000 8:00 a.m.–4:30 p.m., www.nichols.eduM–F Nichols College MAGAZINE is published twice a year by Nichols College, Dudley, MA M A G A Z I N E Volume 16, Issue 2 Spring/Summer 2022 Nichols College Magazine 1 HILLSPRING ON THE Bison never have to roam too far on the Hill to find spring fun, whether it's at the golf course, the new Bison Den, a barbecue, Daniels Auditorium, a women's tennis match, or Springfest. CONTENTSBeckerBisonPantry fights food insecurity 2 The artifacts of life on Dudley Hill 3 Student profile: Meghan Fuller 4 in the driver's seat 5 Nichols on the move From his first impressions to his first year on the job, President Glenn Sulmasy discusses his passion for Nichols and its potential for prominence. 8 Bison build careers at the LEGO® Group At the LEGO Group, Nichols graduates experience a family atmosphere and ample opportunities to work, play, and grow. 18 Sea the world Kurt Harrington '74 and his wife Carol traversed more than 32,000 nautical miles on an unforgettable journey aboard the Ice Bear. ON CAMPUS 2–4 Love brings classmates back to Nichols: 14 Tammy Wolf '94 and Eric Smyrl '94 Band of brothers: 2000 Bison 16 record-breakers reunite Sea the world: Kurt '74 and Carol Harrington 18 Crossing the Ts: Lee Cappola '92 20 CLASS NOTES 13–22 NICHOLS REMEMBERS 23-2 4 Get a jump on legacy giving 25 Mental health: Make the right call 10 SAAC empowers student athletes 11 ATHLETICS 10- 12
To donate to the Becker Bison Pantry, please visit alumni.nichols.edu/donate. select "Campus Wide" under "area to support your passion," and choose "Bison Pantry"from the drop-down menu.
While facing some challenges along the way, Cornell, who is majoring in psychology and minoring in business administration and criminal justice, says her favorite part is being an active resource and advocate for students on campus. Fellow volunteer and club officer Mary Seabury '24 is equally humbled to be "part of an initiative which allows people the peace of mind to not have to worry about essential items." They have plans to expand the Becker Bison Pantry in the future. "We are trying to become an organization," says Cornell. "We want a community outreach through working with community partners such as local food pantries. Our goal is to continue our impact and be involved with Nichols on the move." by Hope Rudzinski
2 Nichols College Magazine l Spring/Summer 2022 ON CAMPUS Studies show that 30 percent of all college students have experienced food insecurity – a lack of reliable access to sufficient quantities of affordable, nutritious food – at some point in their college careers. The numbers have only increased during the COVID-19 pan demic. A survey conducted in fall 2020 of more than 195,000 students from 130 two-year and 72 four-year colleges and universities found that 39 percent and 29 percent of students, respectively, reported experi encing food insecurity within the previous 30 days. The growing crisis is one that Taylor Cornell '24 was already all too familiar with when she entered Nichols College in 2020. Having moved out of her home when she was a high school senior due to a personal hardship and fending for herself, she was driven to help others in the same situation. She founded the Bison Pantry to ensure students have access to the resources they need. Located in the former Becker Market in the Copper Beech I residence hall, the Bison Pantry at Nichols College opened its doors in October 2021. It is stocked with a variety of food options, such as quick meals, frozen meals, and grab-and-go items, as well as personal care items, school supplies, cleaning supplies and other essentials. "Quick meal options and personal care products are our most popular items needed among students," states Cornell. The pantry is run by student volunteers and club officers and dependent on donations from fundraising and collection drives within the Nichols community. Its presence fills a vital need, says Cornell. "Students have expressed their appreciation for a resource like the Becker Bison Pantry and tend to add that this is something we've needed on campus prior, but has now come to life," she notes. "For some students the pantry has become a necessity."
Melissa Owusu and Ingrid DeSouza Oliveria staff the Bison Pantry bake sale during Family Weekend. Volunteers gather items for students living on campus during a school break. Cornell '24 N B E C K E R
PA
Taylor
Becker Bison Pantry fights food insecurity
TRY BISON
While excavation continues this summer, Mitchell and Brown hope to one day offer a summer special topics course at the site. "We can show students our methods – how to dig, how to recover artifacts, know what to look for," says Mitchell.
Joseph Mitchell displays discoveries from the dirt of Dudley Hill.
"That was my backyard," he says. It was a place to play, camp out, and explore that sparked a lifelong passion for archaeology. That and a fascination with the character Indiana Jones. This interest was encouraged during graduate school at Mississippi State University, where Mitchell says "the best teachers and mentors one could hope for" helped him reach his dream of a career as an archaeologist. After arriving at Nichols College in 2018, it was just a matter of time before the assistant professor of environmental science started digging into Dudley's past.
alumni.nichols.edu l Nichols College Magazine 3
They also found a knife handle, a pewter whistle (made in Sheffield England, ca. 1893), and flower decorated porcelain (made in Austria, ca. 1899-1918).
As far as childhoods go, Joseph Mitchell, PhD, really dug growing up at Winterville Mounds in Mississippi. His father managed the historic park, which features several preserved dirt mounds built as early as 1100 AD by Native American tribes in West Mississippi.
Mitchell says the most significant finding from a scientific standpoint was the identification of Native American artifacts, indicating the presence of multiple cultures on the site. These artifacts included several stone digging and cutting tools and hundreds of stone flakes, which are considered the byproduct of prehistoric stone tool
The artifacts of life on Dudley Hill
After getting their hands dirty, student groups cleaned and analyzed their discoveries in the lab, as Mitchell helped students identify the debris from the debitage, another name for those stone flake byproducts. The importance of their efforts was not lost on Alex Hanna '25. "I find it's important to dig up the past to understand what the past was, what our location used to be before we arrived or thought to document the history, and potentially find a huge discovery that could aid in research of other areas or projects," he says. Thanks to Mitchell, history is alive and just waiting to be discovered on Dudley Hill.
In the meantime, he shares his love of underground treasures with his archaeology class where this fall he led shovel tests of an area behind Davis Hall. Expecting to find mostly debris from the construction of the adjacent academic building built in 2015, both professor and students were pleasantly surprised to unearth prehistoric artifacts as well. "I could tell they were genuinely having fun, the fact that they were finding real things," he remarks. "They fed off of my excitement and started digging faster."
They recovered and analyzed hundreds of artifacts, including historic-era European stone- and white-ware ceramics, nails, bricks, and glass.
"Themanufacturing.BlackTavern Historical Society knows a great deal about the history of Dudley Hill and the tavern and the outbuildings, but nothing has ever been done here to investigate the extent of Native American occupations."
In the summer of 2020, with grants from the Janet Malser Humanities Trust and the Nichols College Faculty Development Committee, Mitchell and fellow faculty member Boyd Brown, associate professor of criminal justice and part-time biological anthropologist, began digging behind the Black Tavern and barn adjacent to campus. The inn was built in 1803 and once served as a bustling hub of commerce on Dudley Hill, a popular meeting ground and cultural center in the early 19th century as it was a midway point on a stagecoach route between Boston and Hartford. "As an archaeologist, I wanted to have my own study site that I could work on," Mitchell explains. That first summer, the pair conducted shovel tests (a preliminary way to survey an area) in a 5-meter by 5-meter grid from the barn to the first set of houses below. In the following summer, they began the excavation. "We started finding prehistoric artifacts almost immediately," notes Mitchell. "Because of the topography of the landscape – people like to live on elevated areas like Dudley Hill – we anticipated we would find something."
Student profile: Meghan Fuller in the driver's seat by Hope Rudzinski Since age 6, Meghan Fuller has been determined to prove her prowess in racing.
For a woman, competing in a male-dominated sport like racecar driving is tough; doing it while going to college full time is even tougher. But through sacrifice, focus, and time management, Nichols College sophomore Meghan Fuller is making it work, as she follows a passion for racing that runs in her blood. "I grew up in a racing family. My father drove in several NASCAR divisions winning in all the divisions, including a NASCAR Modified Tour Championship. My Uncle Jeff made it all the way to the NASCAR Cup Series," says Fuller, who started driving Quarter Midgets at the age of 6. In 2017, at the age of 15, the Auburn, Mass, native moved up into the Limited Sportsman Division, a NASCAR series at Connecticut's Thompson Speedway. "I was the only female driver and the youngest one in the division. I was racing with grown men," she says. In addition to Thompson, Fuller raced at Stafford Motor Speedway in the Street Stock Division from 2018 to 2020. Now she has graduated up to the open wheel modified type cars competing at the same racetracks and hoping for similar success as she continues to grow.As a female racecar driver, Fuller says it takes more effort to gain the respect of fellow competitors, but her passion drives her to succeed. Among her career highlights: "Rookie of the Year" accolades at both Thompson and Stafford, and 10 wins, 36 top five and 51 top 10 finishes at Stafford. "Racing requires the ability to focus, plan and anticipate," Fuller explains. "My dad has provided me excellent guidance, and my teammates are very supportive. I am also grateful to have access to a lot of resources and people with a great deal of experience which has helped me with my driving style."
Her favorite part of racing is being at the racetrack, where everyone feels like family. "I also love being able to inspire other females to want to be involved in racing and being able to meet all my fans and have conversations with them, to see the pure joy that comes to their faces," she says. At Nichols, Fuller is "interested in learning as much as I can to take with me once I graduate." The management major and marketing minor loves the small campus where she says it's easy to interact with professors and even had the opportunity to converse with Nichols President Glenn Sulmasy. "I think this sets Nichols apart from other colleges where you can become just a number," she contends.
To full-time college students, especially women, interested in following their dreams, Fuller has this advice: "You can do anything you put your mind to. It is possible when you are passionate about something to take the time to make things work. It requires sacrifice and time management, and it can be done," she says, adding, "I think we all need to think outside the box with respect to our passions so we can spread diversity and inclusion."
4 Nichols College Magazine l Spring/Summer 2022 ON CAMPUS
Sulmasy has also encountered Bison humility, especially when he speaks about taking Nichols to the next level on the "backs of giants" – alumni who not only represent the top echelons of their fields but who quietly and purposefully invest in the continued success of the college and their communities. "When you hear their stories and how they got here and what made them, there is an underlying modesty. Nobody is bragging about themselves. No bravado," he says.
First impressions "I realized I had been here before."
alumni.nichols.edu l Nichols College Magazine 5
Nichols on the move
"You take that for granted when you are here all of the time…. You know it's great, you know it's there, but it's always good to have someone fresh come in and say this is an incredible place, you're doing great things, you're doing things beyond what most people can even imagine," he shares. He refers to the col lege's efforts during the pandemic in providing an on-campus experience and keeping student COVID cases at a minimum; and the strides Nichols has made to remain competitive and to secure its financial footing during a challenging time in higher education, including the completion of the historic $66 million bicentennial campaign. "This place is primed, and there is an enormous opportunity for growth," Sulmasy asserts. "I immediately saw myself as potentially being a catalyst for that growth."
He quickly learned the meaning of Bison Pride, which he calls the Nichols Way: "To work harder when others get tired; grit, perseverance, and the ability to overcome obstacles."
As he nears the end of his first year as president of Nichols College, Glenn M. Sulmasy, JD, LL.M reflects on the magic that drew him here, a preview of what's to come, the importance of family, and his sources of inspiration. by Susan Veshi
The quality, though admirable, can be somewhat of a handicap to a leader who has vowed to "shatter the notion" of Nichols as the best kept secret. "In three years, I want everyone in the region to know us. In five to six years, I want everyone in the country to know. That's hard when everyone's modest," he contends. The solution? If alumni are not going to brag about themselves, Sulmasy submits, "We are going to brag about you."
Magic is a word Glenn Sulmasy often uses to describe Nichols. He first experienced it taking a tour of the campus with his wife, Marla. "Something struck me," he recalls. "I realized I had been here before... I had a vision of a field house and a flashback. When I was 7 years old, I came here to Joe Namath Football Camp. I had chills all over my body. At that point I said to Marla, 'Something has happened here that is beyond what we Sulmasyknow.'"finds magic in the beauty of campus and in the people, in their love of community, education, and service.
Regional and prominencenational
"Being the best kept secret in New England is no longer a viable option for us. It's bad business," states Sulmasy. "And one of the greatest things about Nichols is that it's a business school that runs like a business."
Facing a dearth of college-aged students in New England, Nichols also needs to branch out, he says. "In the past, we've had students from Pennsylvania and Long Island – we've got to get back to those markets," He also mentions areas in Florida and Texas to target, referring to the approach as the spoke method. "We have to have a presence in all of these places," he adds. The college is running a pilot program in three different spots along the East Coast, including Naples, Fla., to assess short- and long-term viability. "We'll monitor the data. If it produces applications, then we'll grow those areas."
Among Sulmasy's top priorities is to establish Nichols' status in college rankings. Due to a recent change in educational classi fication, Nichols will be ranked by U.S. News and World Report this year. A boon, according to Sulmasy. "We all look at them. The students look at them and the parents look at them." In its billboard campaign, Nichols touts its Princeton Review's seal of approval as a 2022 Best College in the Northeast. As Nichols looks to bolster marketing, it will continue to focus on brand – what will Nichols be known for. "It's always been accounting," Sulmasy acknowledges. "The strategic plan ning process will identify where we're going…. It might be data science, it might be the healthcare management program we're Onestarting."thing is for certain, though: "We want young women and men around the region and around the country to say Nichols is the place to go for women because we support them through our programming and through our Institute for Women's Leadership." He points to encouraging data vali dation of the school's direction. "Our women graduates are making approximately $12,000 more than men right now," he shares. "Women do better in school, they are more likely to take leadership positions at colleges, they graduate at higher rates and have higher GPAs and starting salaries." Something else to brag about.Challenges in higher education
6 Nichols College Magazine l Spring/Summer 2022
"Being the best kept secret in New England is no longer a viable option for us."
At the tactical level that means increasing name recognition. This spring, Nichols billboards have been placed in Grafton on the Massachusetts Turnpike, Sharon, Mass., and Stamford, Conn., on I-95. "I've had so many calls from people saying, 'Wow, you're out there!' Faculty, staff, alumni feel a sense of pride," says Sulmasy. In addition, a shuttle used to transport students to various off-campus locations was repainted to reflect Nichols' new "On the move" slogan, and the newly wrapped "Bison Pride" bus that carts teams to away games is difficult to miss on any roadway.
In response to the question about his plans for gaining regional then national prominence for Nichols, Sulmasy repeats one word, "Market, market, market."
"We are a grit school." Colleges and universities are bracing for battle against the threats to higher education, particularly in New England where the population of college-aged students will continue to de cline over the next decade. They are also facing rising tuition costs, parental concerns over their return on investment, and the pundits who question whether institutions that promote enlightened thinking are relics of the past.
As challenges continue to test the mettle of even the most stalwart institutions, Sulmasy is optimistic about the future, saying, "Nichols College is at an inflection point, a point at which we will not only survive in these most uncertain times within the landscape of higher education, but in fact, thrive."
Family matters "I told the Presidential Search Committee at the beginning, you're getting two for one."
Presidency is a partnership for Sulmasy. "I call Marla the secret weapon, though she's no longer a secret," he says. Indeed. Marla Sulmasy, a former accounting professor, is spearheading a cultural renaissance at Nichols, reviving long-lost traditions, and engaging the campus community in new ones. Among her endeavors this year has been renovating the new Bison Den at the Dudley Hill Golf Clubhouse; helping students to launch the Bison newspaper; rekindling interest in the perform ing arts, such as theater and singing groups; running two successful artists showcases; reimagining study abroad and international programs; and restoring Campus Ministries to enable students to practice their faith. Her work is hands on, everything from painting offices to installing artwork to working on revitalization plans for Daniels Auditorium, the library, and the chapel. "I told the Presidential Search Committee at the beginning, you're getting two for one," notes Sulmasy. "I don't think I could do this without her. That's the reality. She would laugh at that and not agree, but it's important to send that signal that there's someone there checking me and being a voice. She's indispensable. She's the real catalyst."
The Sulmasys, who have seven children, have made a home on campus, especially 8-year-old Callum who can be typically seen grabbing a snack in the Lombard Dining Hall, throwing a football around the quad or cheering on the Bison teams with his dad. Sulmasy desired to live in campus housing and is grateful to the Board of Trustees and the Department of Facilities Management for making it happen. "I do think this place is a family and one way we promote that is having my family here," he says. Renovations are almost completed on the 1841 House to accommodate the family as well as offer space for presidential events. .
Heroes and passions "Nichols is my number one passion."
As a constitutional and international law professor, Sulmasy is fascinated by "the great American experiment." He finds inspiration in the country's leaders, starting with George Washington. "Without him, there would be no United States. He was a uniter and he was apolitical. He cautioned us against political parties," he says. "He had the opportunity to stay a king, and he didn't. He walked away from absolute power, which is a very difficult thing for any woman or man to Amongdo."
When it comes to Nichols, Sulmasy is confident – in strategies to aggressively market the college and expand recruitment and in the value of a Nichols education. "We produce jobready leaders," he asserts, referring to the range of initiatives Nichols has implemented to prepare graduates, such as the Professional Development Seminar that focuses on resume writing, interviewing, and life skills. "We are not a place that promotes elitism," he adds. "We are a grit school." A sentiment he has encapsulated in this phrase: "Harvard graduates preen; Nichols graduates do."
alumni.nichols.edu l Nichols College Magazine 7
the "founding fathers" Sulmasy admires is Abigail Adams. "I call the new academic building the Abigail Adams Building because I want to recognize her and the history of women in the United States." He aspires to the leadership of President John F. Kennedy. "He represented the ideals of a generation, and embodied everything that I believe in." He credits Kennedy as the genesis of the civil rights movement in America: "He took the American dream to the next level, promising a dream for every American, not just white Amer ica, that we all should look up to." It's not surprising that he chose former U.S. Representative Joseph P. Kennedy III, grandnephew of JFK, to give the keynote address at his pres idential Sulmasyinauguration.ispassionate about history and sports, but even they have taken a backseat to Nichols. "You all have embraced me and my family more than any of you realize," he says. "The students have been phenomenal. Nichols is my number one passion. At the end of the day it's Nichols, Nichols, Nichols."
8 Nichols College Magazine l Spring/Summer 2022
They are with the LEGO Group, supporting one of the world's largest toy manufacturers and a business built on the fundamental belief that "children are our role models." Founded in 1932, the company has been owned and operated by the Kirk Kristiansen family for four generations. And a "family essence" is felt throughout the organization, our alumni say, from its collaborative work environment to its unparalleled appreciation for employee well-being and work-life balance. "I've worked in corporate in Boston, for a software company, a hospital and an education system. I've had experience in all sorts of different environments. What makes the LEGO Group so special is that the people feel like family. They care like family," says Alan MacKenzie '15, one of about 10 Nichols alumni employed by the MacKenziecompany.started there just over three years ago in the IT department but, within the past year, transitioned to the e-commerce team. "When I jumped into my new role, I was the only digital merchandiser and we were hiring a second. I had a lot of work to do. It blew my mind that senior directors were stepping in and offering to help. People not even directly related to the work I was doing knew that I had a large workload and were stepping in and offering their time to help."
Worldwide, there are some 20,000 LEGO employees spread over five hubs – Enfield, London, Shanghai, Singapore, and the company's birthplace and headquarters in Billund, Denmark.
There is also room to grow, something that MacKenzie is "over the moon" about, especially coming from IT. "Usually you don't want to lose the resources of IT, but at the LEGO Group, I was encouraged and welcomed to look elsewhere. To be able to try something else and be supported like this is next level. It's really amazing." As a digital merchandiser, he creates product pages for display on several online retailers, such as Amazon and Target, to increase consumer traffic.
Bison build careers at the LEGO® Group
The corporate culture is shaped by four "promises," each underscoring the company's commitment to caring for its people, learning through play, cultivating partners, and sustaining the planet. "The People Promise is so prevalent," says Brittney (Case) Butler '09. As senior People Operations and Development partner (HR), Butler's job is to support leadership teams (and employees) across several global functions, with a focus on strengthening the people and culture agenda within these teams. This encompasses overall motivation and satisfaction, diversity and inclusion, leadership and development and organizational design to highlight a few. "The people are the foundation to what makes this company so special, which is why we continuously strive for balance when it comes to making decisions between what is best for our employees and what is best for the business."
The Enfield facility employs about 640 people and houses business and creative operations for the U.S., Canada, Mexico City, and Brazil. "The LEGO Group truly cares about the family, and we are a LEGO family," says Stacy (Boisjolie) Brabender '07, a business data and inventory manager. In addition to generous health coverage, which Brabender is exceedingly grateful for in caring for her 9-year-old son with diabetes, the company offers enhanced parental leave and a day dedicated just to play, among other benefits. When employees were working from home during the pandemic, they sent each one a big box of LEGO sets for family fun. Working in the office has its perks, too. The Enfield campus features areas for fitness, massages, walking, relaxation and nap pods as well as a basketball court, pool table, air hockey and foosball. Pre-pandemic, meeting rooms were furnished with LEGO bricks to spark creativity.
by Susan Veshi Nestled in Enfield, Conn., a suburb some 20 miles north of Hartford, a small herd of Nichols College graduates are finding that the concepts of work and play are not necessarily mutually exclusive. In fact, fun is one of the six brand values their employer promotes, along with imagination, creativity, caring, learning, and quality.
alumni.nichols.edu l Nichols College Magazine 9
Bison feel a sense of pride with the work they do at the LEGO Group. Take Meghan Kesilewski '20, who assists the marketing communications team with projects displayed in LEGO stores. "The best takeaway from these jobs is going into a LEGO store and seeing the work that I have completed over a four-month period, and I get to say, 'I helped with that,'" she shares. But it's pride in the product, as well. Those interlocking bricks that have entertained children and ignited imaginations for 90 years. "I can't walk through an airport or anywhere holding my LEGO backpack without getting someone's favorite story or the memories they have interacting with our product," says Brabender. "I could be a recruiter or business analyst or a director anywhere, but I'm part of something so much bigger. We are about inspiring the builders of tomorrow and creating unique experiences our consumers expect and trust."
In addition to the company's rigorous quality standards and the toy's endless possibilities for individual and group play, innovation has been key, believes Chelsea (Blair) Prokop '09. "We are always bringing new themes into our product portfolio, staying on top of what people are passionate about. As times are changing, LEGO is changing along with them," says Prokop. She points to new Bluetooth connected interactive Super Mario sets as evidence of product Multi-generationaladvancements.appealis also a factor. "The toy crosses all ages," comments Prokop. "You can have your first set gifted to you when you're one and a half. You can be an adult with a massive set. It follows you through the course of your own life."
Brabender began as an HR intern at the LEGO Group before transitioning to a full-time role following graduation. The experience led to a three-month stint in the London office, recruiting for their customer contact center. "HR was great, but I quickly became interested in the business," she says. She was tasked with managing a contact center team that addresses problem orders, such as those involving fraud, stolen credit cards, or missing data. In her current role, she ensures appropriate product allocation to LEGO stores and warehouses – a job that requires forecasting at a very granular level. "My ultimate career goal is to invent the crystal ball," she jokes. She helped lead a project that has vastly improved that process, learning specialized software, rolling it out within their direct-to-consumer channel, and recommending best practices for its use. "When I first joined the team, we were figuring out needs using an Excel spreadsheet," she states. "We've gone from a static approach for determining what a store needs for inventory replenishment to becoming much more strategic and efficient in the approach using a system built on profiling and algorithms to project a need."
MacKenzie, who remembers his first set was Indiana Jones-themed and came in a plastic mummy, attests: "I was excited about working at the LEGO Group but did not see myself getting back into building as much as I do. We have a couple projects going on at home at any one time."
And Bison will continue to build careers. "The LEGO Group is an incredible company," says Brabender. "I can never imagine wanting to leave, and only look forward to what's next."
She has also had the opportunity to learn other facets of the business by covering for employees on parental leave, including a six-month assignment as national accounts analytics manager.
Nichols alumni find careers that click at the LEGO Group facility in Enfield, Conn., from left, Stacy Brabender, Alan MacKenzie, Chelsea Prokop, Brittney Butler.
Butler adds, "We constantly hear and get letters into our consumer services team with stories sharing how the LEGO Group is bringing joy to people's families, children and adults alike."
While toy fads come and go, LEGO bricks remain a perennial favorite, topping the list of the 10 most popular toys in 2021.
MENTAL HEALTH MAKE THE RIGHT by Dr. Brittany Jacobs Dr. Brittany Jacobs
Naomi Osaka, Simone Biles, Michael Phelps, Serena Williams, Kevin Love, Abby Wambach. This list includes many athletes who would be considered the greatest of all time within their respective sport. But, what's more, is that these athletes have all spoken publicly about mental health and their own strug gles in recent years. They have been the leaders of a movement to get teams, leagues, and nations talking about mental health. In some cases, this meant withdrawing from Olympic events – much to the chagrin of countless fans. But, in a sporting culture that often celebrates mental toughness and chides weakness, their impact has been immeasurable. As the conversation around mental health begins to be normalized for players, officiating lags behind. Like their counterparts, referees regularly report psychological stressors including fear of failure, role conflict, travel demands, and work-life balance issues, according to several studies. This is not unexpected as their workplace is a high-pressure environment which demands perfection. We have all heard the sideline chants when a call does not go our team's way, songs about the referee's 'blindness' and their destruction of the game. In such an environment, it's no surprise that referees must don a coat of armor –one that research suggests may lead to the masking of mental health concerns. In recent years, sport leagues all over the country have reported shortages of officials. This has led to mass cancellations of sporting events, em phasizing the importance of officials to the continuance of the sports we love. Yet, officials continue to be the last consideration, a forgotten group. Thus, looking to better understand mental health among officials, Dr. Jacob Tingle (Trinity University), Dr. Stacy Warner (East Carolina University), and Dr. Lynn Rydinger (Old Dominion University) and I conducted 20 interviews with female basketball referees. The importance of focusing specifically on female officials is underscored by the fact that of 386 publications about sport officials in the last 50 years, only five studies were devoted to females. Further, research also reveals that the intersection of gender and athletic identities appears to lead to drastically different mental health experiences than male counterparts. The results were Thesestartling.officials reported that mental health concerns are often overlooked due to their associated stigma. Instead of creating cultures that facilitate open dialogue, officials felt that wouldFailurementalthe"officiateexpectedadministratorsthemtothroughpain"–beitorphysical.todosobeperceived as weakness and, real or perceived, consequences may result. It seems to follow, then, that the officials reported mental health resources to be nearly non-existent. "I'm not sure that I've ever heard the word mental health in all of my years of officiating," said a referee who had been officiating Division I basketball for nearly 20 years. The quote under scores the fact that mental health was not discussed in trainings and support systems were few and far between. The officials also detailed the emotional toll of insidious gendered aggression –being denied opportunities, being sexually objectified, or being questioned about their abilities because of their gender. A common theme, well described by one official, was that
10 Nichols College Magazine l Spring/Summer 2022
CALL
Continued on page 12
Caitlin is a major reason we've been able to get SAAC up-and-running again after COVID. She is much more than an advisor. She gives us as much creative freedom as we need yet is always there to help us when we need it."
SAAC studentempowersathletes
by Pete DiVito, Sports Information Director
Coach Caitlin Pickul
SAAC is also responsible for all aspects surrounding the end-of-the-year studentathlete banquet, which returned to an in-person affair this April following a two-year absence. The 2019 edition –which was the first run by SAAC –featured the presentation of the department's annual awards but also other highlights geared specifically towards the enjoyment of the studentathletes – celebrity look-a-like graphics, blooper reels, and prom-posals. "An extreme amount of work goes into planning the banquet," explains Julia Carroll, a junior on the women's ice hockey team. "From budgeting to logistics, it's a process that takes the entire academic year for one well put-together evening."
Nichols College hosted a pair of basketball games on Valentine's Day this year for the first time in nearly a decade. While the results on the court did not go the way of the Bison, women's soccer head coach and Student Athlete Advisory Committee advisor Caitlin Pickul, along with her squad of student-athletes, were busy hosting a "Pink Out" – an event held by hundreds of colleges and universities throughout basketball season to help spread breast cancer awareness. Fans poured into the athletic center donning pink shirts and hats while the student-athletes wore wrist bands and shoelaces promoting the Meanwhile,cause. SAAC – as they are more commonly known – held games of knockout during halftime of both the women's and men's contests while raffling off prizes throughout the evening. Some students left the athletic center that night wearing pink wrist bands and white knit hats that were awarded by SAAC while others carried plastic mugs polished with the 'N' that has become synonymous with athletics here in Dudley. The first-ever "Pink Out" was just another in a long list of successfully run events SAAC has conducted under Pickul's watch. "Coach Pickul has been a fantastic addition to the SAAC organization," says SAAC President Abbey Cail, a junior on the women's lacrosse team. "She's brought with her a mantra of wanting SAAC to be student-run. She has put a lot of faith in the executive board and our representatives because she believes that we can create a great organization.
Upon being assigned to head up SAAC, Pickul and Cail began to re-write the bylaws and further structure the organization, including implementing an attendance policy for meetings and capping the number of representatives per team to two. SAAC's mission is to "enhance the student-athlete experience by promoting opportunity, protecting the well-being of the student-athlete, acting as the liaison between student-athletes and the Athletic Department, as well as fostering a positive student-athlete image."
alumni.nichols.edu l Nichols College Magazine 11
Pickul explained that she did not have any experience with SAAC during her time as a student-athlete at Providence College and wanted to make sure that all members of SAAC at Nichols College knew they were steering the ship. "Several of the students expressed to me that they felt SAAC was used more as a communications vessel than anything else," commented Pickul. "I really wanted to empower them and be as hands-off as possible. I let them run with it and make mistakes and problem solve."
ATHLETICS
Student participants in a knock-out game at halftime during the "Pink Out" at a men's basketball game.
Continued on page 12
Additionally, last winter, SAAC partnered with Hope Happens Here, a mental health awareness foundation dedicated to fighting the negative stigma surrounding mental health on college campuses. "Mental health has been a huge topic of discussion within SAAC and all sports teams in general," says Cail. "We would really love to have some guest speakers come and talk with all sports teams about dealing with mental health and how we can be there for each other."
12 Nichols College Magazine l Spring/Summer 2022
Pickul said the organization has also placed a heavy emphasis on community service. Last spring, every team signed up to participate in the Relay for Life event, and the program with the highest percentage of student-athletes registered to participate received t-shirts. In the fall, every athletic program at Nichols donated to the Bison Pantry, a student food Simcobank.says she knew from the jump that SAAC was something that she wanted to be a part of. "SAAC gives me the opportunity to get to know other student-athletes on campus and their teams. SAAC has also given all student-athletes a voice in important conversations with campus administration and the NCAA. It provides us the opportunity to make a difference within
More "Pink Out" students (and President Sulmasy's son, Callum) at a women's basketball game.
"male coaches probably aren't going to be comfortable with me [a woman] officiating their games."
And, if they were, "They're going to all say that you got where you got because [you're] cute, that you look like a Barbie doll." According to studies, in some cases, a single experience can cause increased stress and anxiety and in others, negative mental health outcomes.
Every single detail – from music and decorations to awards and food – is laid out so that the banquet goes smoothly. We pack the event because we want all athletes to have an unforgettable time at the banquet."
Seniorathletics."Lane Parks echoes a similar sentiment, "I've developed a greater passion for helping our student-athletes with each passing year. Helping our population have a voice and a platform for which to bring our opinion to the conversation is huge."
Despite the challenges regarding mental health, officials noted that when provided with supportive and safe environments, officiating could be a catharsis. Meaning that, it was an activity that allowed them to escape from the rigors of everyday life and could offer stress relief. This creates a significant opportunity to reframe the perceptions of mental health in sport and re-establish the role of our sport systems to provide a healthy outlet for all involved. There is an immediate need to normalize the conversation around mental health – both to protect referees and to help retain the integrity of sporting contests nationwide. Every sport fan, coach, player, referee, and sport manager has the opportunity to be part of the change. Simone Biles was willing to give up a gold medal to ensure her own mental health –no matter how difficult it may have been, she was willing to have the conversation. We will probably never have the power or influence of Simone Biles, but each of us can play a role in normalizing conversations around mental health in sport.
Continued from page 10
Continued from page 11
While the pandemic forced the cancellation of some SAAC traditions, such as Play4TheCure games and inviting youth leagues and teams to campus to watch the Bison compete, it allowed the group to turn their attention to other challenges our students face. They worked to support different campus Zoom events, including teaming up with the Men of Distinction and the newly formed Athletic Social Justice Council, to promote guest speakers.
Moving forward, Pickul says the group hopes to be able to bring back some of the initiatives which helped define SAAC pre-pandemic, including inviting youth sports teams and leagues to watch Nichols student-athletes compete as well as celebrate National Girls and Women in Sports Day. According to Cail, this event "means so much to not just me but all female student-athletes on campus. We are able to host girls from surrounding areas and show them a small part of all our sports. It's a great experience for all female student-athletes to get involved and for young girls to feel appreciated and encouraged to participate in sports. I hope we can resume this tradition next year!"
Amanda Simco, a junior on the women's soccer team, adds, "Prep and work for the banquet starts right away at our first meeting of the academic year.
1972 Class Champion: Mark Alexander 1973mark1alex12@gmail.com
Class Champion: Jay Reese (508) jay.reese@verizon.net359-7862
Please send your Class Notes news directly to your class champion. If you do not have a class champion, news may be forwarded to classnotes@nichols.edu. Digital images are preferred, but please do not crop them! The higher the resolution the better — 300 dpi (dots per inch) is best. Digital images may be sent directly to the Alumni Relations Office classnotes@nichols.edu. Prints may be sent to: Nichols College, Alumni Relations Office, P.O. Box 5000, Dudley, MA
Bob Barry '83 was surrounded by Nichols friends at his Cancer Free Celebration in Worcester. In attendance were Dan and Pam Murphy, Steve Byrnes '84, Kevin Dunn, Greg Rose, Bob McCarthy '84, Joe McManus '84, Angelo (Bubba) Battaini '84, Lynn (Schedin) Zastawny '85. Mark Fagan '84 was unable to join.
alumni.nichols.edu l Nichols College Magazine 13 CLASS NOTES
01571.1983
Jeffrey Allen, who retired from Glenwood Management Corp. in January 2021, writes: My wife Mary Beth and I are proud to be grandparents to five beautiful grandchildren, ages 8, 6, 4, 1 and 3 months old; three boys and two girls. Built our home in Hilton Head Island, SC, which is also known as Paradise Island. 1978 Bill Fraser reports on the 44th Annual Super Bowl Bison Reunion, starting with the first. Here are some excerpts: We found ourselves in 1978 on campus over Christmas break: Marty Power and his bride Shelly, who lived in the apartment in Budleigh Hall; Pat Hoey because he had something like 17 brothers (Irish Catholic) and the food at his family's table sometimes never made it to him as it was passed around; Billy Strobel, who was there protecting the Bison Den from thieves and burglars and me. So that left five of us, and Super Bowl 1978, a game where the Dallas Cowboys beat the Denver Broncos 27-10, needed to be watched. Eight months later, Marty and I discovered that we had both moved to Houston. Me tagging along after John Stanton, who was born in Texas, and Marty, as his car had broken down in Houston on the way to a family member's home in San Antonio. Bill Strobel had spent a couple years in Aspen as a snow bunny before moving to Houston as well. So, in 1980, we decided it was a good idea to rekindle the Super Bowl Party. We expanded it first to a four-day affair, then in the past decade, a five-day affair. Tom Loricco joined us; Mike Villanova '79 followed shortly thereafter and Pat Hoey for a couple of years or so, then Andy Higgins '80, Mike Nelson '80 and Gary Guglielmello '79. The 2022 game brought aboard Phil Robinson and Bruce Taggart Mark Brisbois joined us for a couple of adult beverages one afternoon and along with four others, it was the largest reunion of Smith Dorm dwellers in Nichols College history, and since Smith Dorm no longer exists, we feel confident that our record will Tom,stand.Goog, Mike Vill and Andy came in from New England. Mike Nelson from Jacksonville, FL, but Bruce came in from his retirement home in Portugal. Bruce wins! The weekend starts at Sugar Creek Country Club in Sugarland, TX, on Super Bowl Wednesday, then off to Galveston, TX, and Galveston Country Club for the "Thursday Super Bowl Scramble RealChampionship."earlyFriday morning we get on the Bolivar Ferry on the eastern tip of Galveston Island and we then run the Gulf Coast for three hours to spend two days at Lake Charles (LA) Country Club. I have introduced my Nichols Bison friends to my Texas/Louisiana friends and, of course, they have ended up liking each other more than they like me. Anyway, one of them is a past president of Lake Charles Country Club and they welcome us with open arms. The combined party was 24 partic ipants by the time Super Bowl Saturday finally came. In the old days, we organized an actual Super Bowl Party, but in the 21st Century we noticed ourselves napping through the game, so now everyone flies home on Sunday morning to nap on their own couches.
Keith Meehan celebrated his 50th birthday in September at a surprise party organized by Tammy Meehan that featured a beer bus hopper with stops at three Cheersbreweries.alsotoTammy Wolf Smyrl on celebrating her 50th birthday. Best of friends flew down to surprise her that weekend and we had a blast watching football games, hanging out in the pool and sharing over 30 years' worth of memories that had us laughing all weekend. Great time with the best of friends.
Tammy and Shaggy created a new style of relationship. They did not want to change their pasts, or hide them from each other, but to share them and to understand them, to mutually respect them. They want to create a future together without erasing their pasts.
1985 Class Champion: John Donahue 1991Johndonahue1234@gmail.com609-257-8717
Class Champion: Keith Hofbeck 1994khofbeck@comcast.net Class Champion: Danielle Troiano Sprague thedwoman@yahoo.com
Love brings classmates back to Nichols Tammy Wolf, a Nichols College trustee, and Eric Smyrl return to campus to celebrate their wedding. In lieu of gifts, the couple has raised nearly $14,000 to create an endowed scholarship.
Class Champion: Donna Small 1992dsmall9242000@yahoo.com336-692-5157
14 Nichols College Magazine l Spring/Summer 2022
Many a love story has started at Nichols College, but the story of Tammy Wolf '94 and Eric Smyrl '94 isn't a typical one. They were friends who found each other years after they both suffered the death of a spouse. On Oc tober 9, 2021, they were married at Nichols. "If it wasn't for Nichols, we wouldn't even know each Matronother."ofHonor Danielle (Troiano) Sprague '94 gave the toast, which is exerpted here: "Well, here we are at Nichols College. Nichols College is a special place...This is the place where I met two special individuals, a person I consider one of my closest friends in Eric (Shaggy) and, of course, my best friend in the whole world Tammy... They were both guests at my sister's wedding over 21 years ago. They sat at the same table, they caught up on old times over cocktails and they danced the night away together. And then they didn't meet up again until my wedding eight years later where they sat at the same table with their beloved spouses. "The Nichols Table." And it would be another 10 years before they spoke again, and under very different circumstances. After graduating Nichols they both took their own roads, walked their own life paths. I have spent time with each of them during their best of times…with countless laughs, fun adventures and priceless memories that keep our friendships so alive and special. I have also spent time with each of them during their worst of times…bad times when they were broken, with sad tears, emotional pain and horrible heartbreak. And then came a conversation with Tammy. She spoke from the heart and said, "I will not move on, but I know I have to live on." And then came a simple question from my friend Shaggy, "Do you think it would be alright if I called Tammy? I know what she's going through and might be able to help." And so they began to help heal each other's hearts. These two old friends, these two amazing caretakers, these two bright lights, these two incredibly strong spirits.
They are so unique, so thoughtful and so Andinspiring.sohere we are at Nichols College. Celebrating two extraordinary people who are so deserving of another love story. Who are two of my closest friends, in this whole world, who I am once again seeing at their happiest. And I am so thankful for that..."
Class Champion: Erica Boulay erica.boulay@hotmail.com
From left, Justin Shepard, Mike Letzeisen, Erin Giza, Becca Lanstein, Kate Fields, Vin Bertolino Michael Letzeisen '04 (Who?) Cappy and his wife Christine welcomed their second child and first son, Liam! Mike left the world of athletics after almost 20 years and started managing the Capital Planning and Maintenance Department for Fitchburg State University. Mike also celebrated his 40th birthday with a surprise party and fellow Bison.
From left, Kate and Bobby Fields, Justin and Kathryn Shepard, Rebecca and Jay Lanstein Becca (Platt) Lanstein '04 celebrated with a "This is 40" trip to Martha's Vineyard.
GoldenBison
Class Champion: David Twiss David.twiss14@gmail.com978-979-7658
Class Champion: Jillian (Hayes) Smerage Jnhayes80@gmail.com
CLASS NOTES 2000 Class Champion: Andrea Sacco 2001Andrea.j.Sacco@gmail.com
alumni.nichols.edu l Nichols College Magazine 15 (Left Photo) Bob Lucas '69 and his granddaughters, Sydney (13) and Avery (10) (daughters of his son, Jason Lucas '97), caught a Nichols College softball game on spring break in Clermont, FL. He says he "enjoyed talking to the coach and players' parents…Go Nicky U!" (Right Photo) 1970 classmates, Rich Merrill, Jim Mulcunry, and John Wheeler enjoyed a reunion in Florida in March.
2004 Class Champion: Justin Shepard shep@therevivalfarm.com Jay Flibbert launched his real estate empire shortly after graduation and manages it all from his home in Dudley. Always prioritizing fun and family, Jay has been able to achieve a work/ life balance we should all strive for, spending most of his time adventuring with his 10-year-old daughter. Justin Shepard and his wife Kathryn continue to work their small farm raising hogs and chickens in Plympton, MA. Justin also accepted a position on the Board of Directors for Coastal Food Shed, a New Bedford-based non-profit. Liz (Freeman) Grenier ran the Boston Marathon this year raising money for the Herren Project. Shawn Daoust has joined Bear Com Inc. as an upfit account executive. Nikhil Rathi MBA was profiled in tele.net. He is the managing director and CEO of Web Werks India Private Ltd., a web hosting company he founded which is now owner and operator of Mumbai's most densely connected data center. He is also the founder of DE-CIX India, Neo Soft Technologies, and Next Star Venture Capital LLP.
2002 Class Champion: John Larochelle 2003john.larochelle1@gmail.com
2005 Class Champion: Melissa Jackson 2006msmeljackson@gmail.com
David Twiss has been promoted to SVP, senior commercial lend ing officer, at Enterprise Bank headquartered in Lowell, MA.
CLASS NOTES 16 Nichols College Magazine l Spring/Summer 2022 s
More than 20 years had passed since their last huddle as a record-breaking Bison offense, but within minutes of their reuniting in November, the brotherhood was back. "Meeting at the airport, we were all hugs and smiles," says Steve Malcolm '01. "It felt like it was yesterday when we Malcolmgraduated."isreferring to a core group of football players – the offensive line, to be precise – along with running back Matt Fox '01, who helped the Bison capture their first winning season in seven years in 1999 and their first-ever ECAC Championship the following season. In addition to Malcolm and Fox, the teammates are Matt's brother Tim Fox '02, Jeffrey Silvertooth '01, Sean O'Hara '02, Sean Olson '02, Michael Farina '01, and Marc Groccia '02. "The impetus for the reunion was first, the fellowship. The chance to celebrate each other, our families, and our accomplishments since we were 20-yearolds," explains Fox, who hosted the long weekend at his farmstead, just south of Denver, Colo. "Most importantly, I wanted to have an opportunity to commemorate and immortalize the records we still hold as a group." The 2000 team is among the most decorated in Bison football history. They have remained within the top five or 10 teams for most wins per season (seven), highest winning percentage (.700) and longest unbeaten streak (four). Several of their records have yet to be broken, highlighted by an epic performance against Massachusetts Maritime on October 21, 2000, in which they set marks for most points (65), most touchdowns (nine), most rushing touchdowns (six), and largest margin of victory (58). The Bison closed the 2000 campaign with the most rushing yards (1,982) and touchdowns (25) in program history. Fox's own achievements are no less impressive. He still holds the record for rushing attempts in a game (40), season (282), and career (805), as well as single-season (1,248) and career (3,535) rushing yards, and singleseason (14) and career (39) rushing touchdowns. He was named a Third Team Football Gazette All-East Region All-American and ranked 24th in the country in rushing yards (132.2) and 27th in scoring (9.6 PPG). Fox was inducted into the Nichols Athletic Hall of Fame in 2006, but he is adamant about acknowledging how responsible the offensive line was to the Bison's success in 2000. "We get so caught up in individuals, but football is a team sport," he contends. "You can't do it without the guy standing next to you, and particularly the guys up front…. Everything you do in the game is established on the line of scrimmage. The line where it all begins."
Band of brothers 2000 Bison record-breakers reunite The Bison attend a University of Wyoming football game, front row from left, Mark Groccia, Channing Fox, Matt Fox; and back row from left, Steve Malcolm, Tim Fox, Coach Derrick Frazier, Jeff Silvertooth, Sean Olson, Mike Farina. The 2000 Bison football team celebrates their reunion with commemorative tee shirts and belt buckles (pictured on page 17).
For their special weekend, Fox went all out to show his appreciation – teeshirts proclaiming, "It starts up front" with team stats on the back, custom handmade bronze belt buckles with a bison and the players' jersey numbers, an array of activities, and a celebratory cake. It was so important to have everyone in attendance that Fox covered travel and entertainment expenses because he didn't want cost to be a deterrent to joining in this unique and special weekend. The reunion offered them the opportunity to renew the bonds of friendship born decades earlier on the field. The teammates played together for the better part of three years, improving from a record of 5-5 in 1998, to 6-3 in 1999, to 7-3 in 2000, despite an obstacle or two. "We were young, and we had a couple of coaching changes," admits Fox. "All we knew was each other and we relied on each other to go from zero to where we ended, a winning season and a trip to the ECAC championship for the first time."
"We were all brothers on the offensive line," adds Malcolm. "You could rely on each other and know what the other was thinking because you've played hundreds, if not thousands, of snaps next to that person. That's what built the bond over the past 20 years. It didn't skip a beat when we saw each Orother."when they huddled together on the farmstead, donning their custom tees. "We ran two plays – well, let's say we jogged two plays," chuckles Fox, whose 14-year-old son Channing stood in as QB. "We've all been on our own journeys over the past 20 years but to be able to stand shoulder to shoulder in the same huddle with these guys was an amazing feeling for all of us."
The weekend had plenty of time for reminiscing and thumbing through yearbooks, where, according to Malcolm, "We pointed out all the goofy pictures of us in the day, the haircuts and the clothing." They also reflected on the impact that Nichols has had on their lives. "We are so grateful for the foundation that we got from this college that enabled us not only to be successful men and fathers and leaders, but also to have the opportunity to play football and share those memories," says Fox. The highlight of their time together was a trip to the University of Wyoming to watch the Cowboys defeat the Rams of Colorado State University in the historic Border War and to catch up with Derek Frazier MBA '00, offensive coordinator at Nichols in 2000 and then offensive line coach for Wyoming. In what Malcolm and Fox describe as a perfect day, the group tailgated, rushed the field after the win, toured the football facilities, interacted with the players, and enjoyed an emotional reunion at Frazier's home.
"It shouldn't have taken 20 years to do this," notes Malcolm. So, before they returned home, the brotherhood vowed to keep it going by finding a college football game somewhere in the country to attend each year. "We all love football, and football is what brought us together," reasons Fox. His brother Tim adds, "What began as two biological brothers reuniting in college has spawned into a band of brothers that will never be–broken."SusanVeshi"Eight guys from eight states," quips Steve Malcolm (far right), of the crew pictured here with the spoils of their victories.
alumni.nichols.edu l Nichols College Magazine 17
Peopleremote."there live off the sea and land, relying on ships to periodically bring supplies which they cart back to the village on a wheelbarrow through a mile of jungle. To harbor in the lagoon on Fulaga, Kurt and Carol brought the chief a gift of kava root. They were then assigned a host family. "You spend time with them, go to church, have them out to your boat," Kurt says, adding, "We thought we'd spend three days there, but we spent a week. We got so caught up."
On the first leg, they visited Panama, the Galapagos, the Marquesas, French Polynesia, Tahiti, Bora Bora and Tonga. "We met people from all around the world doing this, who were in our fleet. We made friends in all the places we stopped," says Kurt. "Then we got to Fiji and we said it was going too fast for us, and we want to go to New Zealand." The Ice Bear and four other boats took off independently for New Zealand, where the Harringtons spent eight months. The layover allowed them to have some work done on the boat, but also to thoroughly enjoy the beauty, culture and people of New Zealand. "The weather is absolutely stunning," says Carol. "The North Island is closer to the equator and the South Island is closer to the South Pole. They have the best of everything. So, the whole mindset is outdoors, hiking, lots of activity."
To stay on the remote Fijian island of Fulaga, the visitors bring a gift of kava root to the chief. The couple boards a helicopter to a glacier in the South Island of New Zealand.
From New Zealand, they re-joined another World ARC fleet in Fiji heading toward South Africa in summer 2019. But by then, "We chafed at the structure," says Kurt. "We were used to doing what we wanted to do and knew the ropes now, so we spent a lot of time from Fiji to South Africa behind them doing our own thing." They spent weeks in Fiji, including on the remote Lau islands, which, until recently, had restricted yachts from stopping. "The world is getting less and less remote, and even remote places are being visited by many people because there is a yearning to see natural beauty," Carol observes. "Since the Lau islands just started permitting sailboats over the last five years, they still have the flavor of being exotically
They explored the country in a car they bought from an enterprising man who sells them to the "yachties" at the marina and gladly takes them back when his patrons return to the sea.
Sea the world Kurt '74 and Carol Harrington
CLASS NOTES 18 Nichols College Magazine l Spring/Summer 2022
Kurt and Carol Harrington met on a sailboat in 1975 when Carol's brother invited Kurt on a chartered sail from Newport to Martha's Vineyard. Says Kurt, "I had never been on a sailboat before in my life, and I liked it. And then I loved her. When she said she's always wanted to sail around the world, I said, 'we'll do it!' Here we are, we're doing it!" Kurt '74, a retired CFO, and Carol, a retired physician, were speaking from the cabin of the Ice Bear, a 48-foot, 20-year-old Morris 486 yacht they bought in 2013. They were harbored in Cape Town, South Africa, awaiting repairs on a crack in their mast and reflecting on an "incredible adventure." A journey that has been mostly smooth sailing, save for a few maintenance mishaps, a harrowing encounter with a gale storm, and a global pandemic that grounded them for nearly two years. It began in October 2017. Leaving their Maine home, the Ice Bear met up with about 30 other boats in St. Lucia, as part of an organization called World ARC, which supports and facilitates circumnavigations. The itinerary, a historic and well-traveled cruising passage from the Americas to Australia, was expected to take 15 months and cover 26,000 nautical miles.
The Harringtons land in the Marquesas after traveling from the Galapagos Islands.
alumni.nichols.edu l Nichols College Magazine 19
From there, the Ice Bear took off toward the northeast tip of Australia, stopping at Cairns and Darwin before sailing across the Indian Ocean to the Christmas and Cocos (Keeling) islands and Mauritius and Reunion. As they approached South Africa, Kurt and Carol became wary of the weather, which is known to be challenging. They had enlisted the services of a weather router, a meteorologist and a sailor who tracks individual vessels, but trouble began as they were leaving Cape Town. About 300 miles offshore at 2 a.m., they were met with big winds and big seas. "We lost our steering; the steering wheel stopped working. I'm not exaggerating, the seas were about 15 feet, a couple of stories. Not breaking too much but pretty big. The wind was blowing at 35 to 40 knots, so the boat turned into the wind," describes Kurt. The GPS cables in the rig were cut so they had to use an I-phone for navigation to Saldanha, 60 miles north of Cape Town. "That was terrifying for a few seconds, until we realized that the boat was very comfortable just pointing into the wind. So, we took the sail down, waited until the sun came up so we could negotiate these big seas, see them coming. Turned off the engine and put on our emergency tiller." With the help of friend and classmate Hank Keene '74, whose family owns Edson International, manufacturer of the steering system, the Ice Bear was equipped with new parts and ready to cruise again. "The scary things that I had anticipated…What would happen if we lost our GPS? Guess what, we lost our GPS. What would happen if we lost our steering? Guess what, we lost our steering. Anticipatory anxiety for something like this is far greater than when it actually happens," Carol reflects. She credits training and experience – in 2014, 2015 and 2016, they participated in Newport to Bermuda and Marion to Bermuda races, where they needed to meet strict safety requirements and demonstrate responses to situations like loss of steering or a rudder. "That was incredible preparation for this trip," she says. What they weren't prepared for was COVID-19 bringing their adventure to an abrupt halt. In January 2020, as they were about to set sail from Cape Town, "we couldn't go anyplace," says Carol. "All of the countries were shutting down. You might be able to enter their waters, but they wouldn't let you on land." The Harringtons flew home and considered themselves lucky they didn't suffer the total quarantine fate of other ships. In December 2021, they resumed the trip and, as of this writing, are sailing the South Atlantic Ocean from Namibia to St. Helena, and then on to Brazil. They are scheduled to arrive home in July 2022 to await the birth of their third grandchild. A 15-month-turned-five-year excursion may not be what the Harringtons bargained for, but this incomparable experience has been theirs to savor. Like the beauty of the Tuamotu Islands in French Polynesia favored by Kurt: "If I got shipwrecked somewhere, that's where I would want to be." They impart this lesson to itlets.mastwincheswhetherEverything,boat"Everythingseafarers:would-beonabreaks.it'stheortheorthetoi-Younameit,breaks,"laments
Carol. She is hoping to attend a program on marine systems at the International Yacht Restoration School to tackle any future mishaps. They will not stay landlocked for long. The couple, who divides their time between Maine and Charleston, S.C., are already eyeing the Baltic or the Mediterranean for their next adventure. "There are all kinds of possibilities," says Kurt. "We have the boat to do it and maintained it –well."Susan VeshiThe Harringtons check in with immigration in Africa. They visit the St. Blas Islands, an archipelago in Panama. Ice Bear crosses the Indian Ocean.
Throughout his career, Cappola says, "I have applied the core skills I gained from Nichols, while also gaining new skills and experiences, including some I've decided aren't the best fit to my preferred leadership style." He refers to the software development company he owned, which required him to wear many different hats as he led a team dedicated to the company's success and to its ultimate acquisition by Sybase, to his time at General Electric in the Jack Welsh era of "rank and yank," where employees had to either move up or move out of the organization, to his first CIO role, in a private equity firm where EBITDA was the Crossing the Ts Lee Cappola '92 The Cappolas raise money through a cycling team they founded in 2008.
She Racing's driver and crew gear up for another race.
Lee Cappola '92 describes his technology career as a unique journey through many different industries in both the public and private sectors –from the Federal Reserve Bank of Boston to his current position as CIO for Hope Global – with stops along the way at the state's Office of Energy and Environmental Affairs, CVS, The TJX Companies, General Electric, and principal owner of a software development company. His personal journey is no less unique: a drummer in the local bar scene, a Ferrari enthusiast, and, with his wife Wendy, founder of a women's centric motorsports brand and a prolific charity cycling team. Cappola majored in Management Information Systems (MIS), which was relatively new at Nichols at the time. He remembers his first visit to campus in late August 1988, made at his father's encouragement. "Little did I know, he had arranged a meeting with the dean to discuss my interest in the new major and a few work study opportunities," recalls Cappola. "Less than a week later, I started my collegiate studies at AmongNichols."his jobs was serving as a resident assistant in Goodell, living primarily with football and rugby players. "One can imagine I have many entertaining stories, but none that come to mind are appropriate for inclusion in the alumni publication," he jokes. On his first visit back to campus as an alumnus, he was surprised to see that Goodell was replaced by the tennis courts. "I guess this is a good sign of how Nichols has progressed," he states. To Cappola, Nichols offered a "blank slate" of activities. He worked as an audio/video engineer for the school's cultural enrichment program and with fellow students and faculty to "resurrect from the dead" the campus radio station, WNRC. You could also find him "rooting on my dorm mates at their weekly sporting events and, win or loss, splurging on pizza delivery from Dudley House of Pizza."
An MIS major, Cappola was "surrounded by accounting and finance savvy students to whom this subject came easily," he says. "I had to put in extra time to master this curriculum, but it was a worthwhile lesson learned and something I've coached outgoing high school seniors to pay attention to. Regardless of your major, management and financial literacy are core life skills."
Cappola drew fundamental and life-long lessons from Principles of Management and Business Law courses. "Growing up, I always was creative, coming up with ideas for things I wanted to do, but didn't know how to get started. Nichols taught me how to put into practice core skills like time management, relationship development, and project management, which has enabled me to truly innovate," he says. Cappola was also impressed by the "thoughtfulness of students and faculty in all aspects of student life" at Nichols.
CLASS NOTES 20 Nichols College Magazine l Spring/Summer 2022 s
In his junior year, a fellow student introduced him to an opportunity that resulted in an internship – and ultimately a full-time job – at the Federal Reserve Bank in Boston, working for someone who proved to be not just an inspiration and long-term mentor but an unintended matchmaker. "In 1993, she introduced me to Wendy, who's been my life partner ever since!"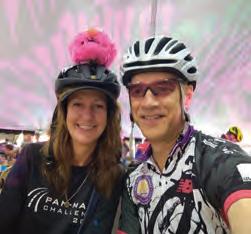 alumni.nichols.edu l Nichols College Magazine 21 only thing that mattered. ("Thank goodness I made it through those finance courses!" he quips.) In this role, he was nominated for the Boston CIO award for leading innovative initiatives that advanced the business. As CIO of Hope Global, a textile and automotive assembly manufacturer operating in the United States, Czech Republic, Mexico, and China, Cappola is applying his career experience and finding creative ways to use technology to advance business goals. He recently engaged the Nichols College Center for Intelligent Process Automation and the Nichols Consulting Group to develop an independent and objective analysis of a proprietary manufacturing line for a facility in Cumberland, RI. "The evidence-based approach with deep analytics provided by the project team was exceptional," reports Cappola. "I proudly observed an active listening, innovative, and well-skilled student project team with industry leading tools. I highly recommend business owners anywhere in the world consider this alternative to traditional consulting."
contributions are equally important," he says. "In 2021 Wendy and I were able to contribute to all three 'Ts,' and each year we are challenging ourselves for more ways to continue contributing toward Nichols' goals." He adds, "As an advisor, I have the opportunity to share my career insights to help influence the direction of the college to assure future students achieve their greatest success. Additionally, I had the unique opportunity to mentor a student in need of professional guidance. All these experiences were worthwhile investments and very rewarding."
His pride of Nichols extends to his service on the college's Board of Advisors, where he learned 'time'ity,termis"Whilesure.talentthreecontributingaboutthe"Ts"–time,andtrea-'treasure'criticaltolong-sustainabil-I'llarguethatand'talent'
Residents of Sturbridge, Mass., for more than 20 years, the Cappolas enjoy regional travel, gardening, music, charitable giving, and motorsports. In 2008, they founded a cycling team that has participated in charity rides such as the PanMass Challenge, Best Buddies, and the Dempsey Challenge, collectively raising more than $1 million. In 2012, they became owners of a Ferrari 360 Modena Coupe. "Ferrari ownership has been enlightening in that you're just a caretaker of the vehicle for a period of time, and if properly maintained while in your custody will bring the same experience to the next owner," relays, Cappola, president of the Rhode Island Chapter of the Ferrari Club of America. The racing heritage of Ferrari led Wendy to obtain a national SCCA motorsports racing license and for the pair to launch She Racing (she-racing.com), a platform created specifically for female motorsports drivers and enthusiasts. This year, Wendy will be racing at her 12th distinct racetrack, Virginia International OfRaceway.hisnewest ventures, Cappola says, "Without question, many of the foundational courses I took at Nichols prepared me for small business ownership, charitable giving leadership, and to be an aspiring entrepreneur. " He reflects on how that late August visit to Nichols in 1988 ended up shaping his life as well as his decision to get involved. "I am eternally grateful to my classmates, dorm buddies, and faculty for my Nichols experience," he says. "Joining the advisory board made me realize just how important it is to the school and the graduates to stay engaged. Connecting with my fellow members reinforces how proud I am to be a Nichols alum, and working together on initiatives that continue to advance the national prestige of the institution is truly inspiring."–Brent Broszeit MBA '02 Cappola performs at a gig in March 2020, shortly before the pandemic lockdown. The Ferrari 360 passes Glen Waterfall.
Class Champions: Nicole LaBrack & Gina Petruzzi
2011 Class Champion: Alexandria Hallam aliemchal@gmail.com Matthew Nash was promoted to senior manager at Meyers Brothers Kalicka, P.C. in Holyoke. He has been with MBK since 2011 and focuses on audit, review, and compilation engagements. He is a key leader on the commercial, not-for-profit audit, and pension engagement teams. In the community, he serves as a board member and treasurer for Springfield School Volunteers, and committee member for Ronald McDonald House Golf Tournament.
2018gmp0626@aol.comnjlabrack13@verizon.net
2013 Class Champion: Ryan Flavin 2015rtflavin@gmail.com
2007 Class Champion: Meaghan Larkin 2008meaglark@gmail.com
John Easley has formed Moreas ley Services LLC, in Richmond, VA 2009 Jessica McGarry was promoted to first vice president, team lead, for the commercial lending divi sion in the East, at Country Bank, which she joined in 2017. She has more than 20 years of experience in financial services, specializing in commercial lending. In 2014, she received the Worcester Business Journal's 40 Under 40 2010Award. Class Champion: Katelyn Vella katelyn.vella@yahoo.com
Katelyn Vella got engaged to Nick Maresca in November in Dennisport, MA. She is senior HR manager with the Kraft Group overseeing day-of-game opera tions. The couple will be married in September 2023 at Kirkbrae Country Club in Lincoln, RI.
2016 Class Champion: Stacie Converse 2017converse.stacielee@gmail.com
Class Champion: Andrew Haas & Mike Ricci michaeljamesricci@gmail.comandrewhaas3@gmail.com
2019 Class Champion: Brian O'Riodan andQuadhockeyprofessionalThe2021boriordan78@gmail.comQuadCityStorm,aminorleagueteambasedintheCitiesareaofIllinoisIowa,hassignedforward
Class Champion: Nicole Curley nsc3129@gmail.com
CLASS NOTES 22 Nichols College Magazine l Spring/Summer 2022 2015 Matt San Clemente was married on October 10, 2021, at the Barn at Wight Farm in Sturbridge, with 12 Bison in attendance. He is a market data analyst and his wife Katie works as a child developmental specialist.
Filip Virgili to their training camp roster. At Nichols, the Malmö, Sweden, native scored 22 goals and added 36 assists for 58 points in 72 games.
Briana Doyle MBA '19 was promoted to senior associate at Meyers Brothers Kalicka, P.C. in Holyoke, where she has worked since 2018. As a member of the firm's audit department, she works on employee benefit plans, not-for-profits, HUD, and commercial engagements.
Daniel R. "Danny" Tycz '64, of Webster, MA, January 16, 2022: He worked for S&M Manufacturing and American Optical Co. in Southbridge and for Anglo Fabrics Co. in Webster.
James E. Collins '52, of Pompano Beach, FL, January 2, 2022: He was the retired owner of Eastwood Chysler-Plymouth Inc. Basil P. "Billy" Michaeles '53, of Sturbridge, MA, August 27, 2021: He worked for his family business, the California Fruit Company, serving as owner and CEO until his retirement in 1992.
NICHOLS REMEMBERS Robert C. Luse '49, of Mount Jackson, VA, August 17, 2021: A Navy veteran of the Korean War, he was the owner of the former Widow Kip's Bed and Breakfast. Richard B. Siegel '49, of Sarasota, FL, February 12, 2022: He was the owner and president of Axiom Products in Carlstadt, NJ.
James E. Coley III '51, of Clinton, CT, May 18, 2021: He served in the U.S. Army during the Korean War, earning several service medals. He became a Sea Scout leader and was a longtime contributing member of the United States Power Squadrons, holding the rank of Junior Navigator.
Matthew J. Miles '55, of Hopkinton, NH, September 1, 2021: Following Nichols Junior College, he graduated from American University. In addition to working as a medical underwriter for the Metropolitan Life Insurance Co. for 31 years, he served in the National Guard from 1953 to 1961.
Robert C. Ashley '63, of Watertown, CT, January 30, 2022: A captain and chief of the Nichols College Fire Department, he graduated from the U.S. Coast Guard Officer Candidate School and was commissioned as an ensign in the Coast Guard Reserve in Boston. He later held several financial management positions at various businesses.
Thomas F. Moran III '60, of Middlebury, CT, February 12, 2022: He was the retired owner of Industrial Paper & Plastic in Waterbury.
Elliot P. Putnam '59, of Bluffton, SC, December 6, 2021: He was the owner of Putnam Pipe Corp. for 30 years, retiring in 2002.
Norman C. Stone '59, of San Francisco, CA, April 2, 2021: A psychologist, he was a noted philanthropist, vintner, and collector of contemporary and modern art, serving on the Board of Trustees at the San Francisco Museum of Modern Art (1991-2020), the National Committee of the Whitney Museum of American Art in New York, and the Tate International Council in London.
DeWitt H. Dansard '56, in Mineral Bluff, GA, September 9, 2021: He spent his career at the Florida Power & Light Co., where he served in various managerial positions.
Francis J. "Fran" Roberts '64, of Shelburne, MA, October 13, 2021. In 1959, he founded Long View RV with three Apache tent trailers and turned the business into Long View RV Superstore with locations in Massachusetts, Connecticut, and Leesburg, Kissimmee, and Dover, Florida. Before running the business full time he worked in the advertising department of Millers Falls Tool Co.
Carl E. "Rick" Swenson Jr. '64, of Enfield, CT, September 24, 2021: He was president and treasurer of National Typewriter Co. and a national account manager at Corporate Express, as well as a member of the U.S. Coast Guard Auxiliary.
Reported as of April 30, 2022
alumni.nichols.edu l Nichols College Magazine 23
Robert A. Skenderian '55, of West Hartford, CT, March 20, 2022: As an interior designer, he continued the family business, Skenderian Interior Designers, which his father started in 1927.
Frederick J. Levitan '50, of Timonium, MD, and Port Charlotte, FL, August 5, 2021: In the Army/Air Force, he was stationed in Japan during the post-WWII occupation. He owned Creative Business Promotions and was an avid boater.
Robert E. Dempsey Jr. '54, of Plymouth, MA, January 26, 2022: He enjoyed a career selling medical and surgical supplies. Charles H. Swartwout Jr. '54, of Loudon, TN, and formerly Huguenot, NY, October 28, 2021: His family roots in the Neversink Valley of Orange County, NY, dated back to the 1690s. He spent 32 years with Orange and Rockland Utilities, retiring in 1994 as community relations manager.
Robert E. "Bob" Catlow '65, of East Providence, RI, September 2, 2021: He was a veteran of the U.S. Navy, serving during the Vietnam War aboard the USS Picuda. He spent many years as a professional lumberjack competing throughout the country and performed logging exhibitions at the 1964 World's Fair in Queens, NY.
Donald S. Merrill '60, of Milo, ME, November 14, 2021: Over his lifetime, he ran an Esso gas station, was a foreman for Blue Rock Industries during the building of I-95, and worked as a diesel mechanic for the Great Northern Paper Co. A forestry major, he served multiple roles for Piscataquis Valley Fair for over 45 years, including several appointments as president.
Otis H. Vaughn Jr. '50, of Mesa, AZ, August 23, 2021: He was the president and chair of Fountain Fire and Safety Equipment Inc. and the Waterfixx Corp. and retired as executive vice president at Chase Bank. Joseph L. "Joe" Walkowiak '50, of Webster, MA, January 22, 2022: He was a U.S. Army veteran of the Korean War. After working at Cranston Works, he was hired as one of the original toll collectors for the Massachusetts Turnpike, where he retired as the plaza supervisor in 1992.
John D. Plum Sr. '62, of Plainfield, NJ, February 14, 2022: He served in the U.S. Navy from 1962 to 1965 and as the owner of Rustic Wood Produce.
Thomas A.M. Dekker '65, of Boothbay Harbor, ME, November 27, 2021. He served in the U.S. Army in South Korea and worked at BBDO in Boston and Guard Corp and owned Captain Sawyers Bed and Breakfast in Boothbay Harbor for several years. He was a school bus driver for 30 years.
Andrew S. Cocaine '17, of Millbury, MA, October 24, 2021: Since graduating, he worked as a shop foreman for Custom Insulation Co. and also volunteered at the Worcester Food Bank
Stephen J. Wier '75, of Point Pleasant, NJ, April 30, 2022: He was owner and operator of Budget Blinds of Brick and Toms River. Jeraldine M. Norberg '78 MBA '81, of Winterhaven, FL, January 3, 2022: She owned an accounting firm in Worcester and taught at Nichols College, where she was the former president of the Alumni Board of Directors and recipient of the Alumni Achievement Award in 1996.
Kenneth M. Spector '69, of Manchester, CT, September 26, 2021: He served in the Air National Guard and founded Allied Protective Alarm, which he ran for 52 years. David A. Cosgrove '71, of Waterville, ME, March 30, 2022: He worked for the family business, The Cosgrove Agency, selling real estate and insurance with his wife for 35 years. He sold the agency in 2015 and worked for GHM Insurance and sold real estate for the Coldwell Banker Plourde Real Estate Agency until retirement.
NICHOLS REMEMBERS 24 Nichols College Magazine l Spring/Summer 2022
Angelo L. Schmidt MBA '92, of Millbury, MA, July 26, 2021: A CPA, he held numerous director positions throughout his career, including at Hologic, Watts Water Technologies and most recently, Clean Harbors.
Stephen D. DiGeronimo '81, of Osterville, MA, February 12, 2022: He enjoyed working outdoors, spending many years as a landscaper before retiring.
Nicole A. Johnson '12, of Westhampton, MA, February 19, 2022: She worked for SAS Retail Services.
Mark Naigles, former associate professor of mathematics, of Tolland, CT, December 30, 2021: After almost two decades at Nichols, where he served as chair of the Faculty Senate, he became a lecturer in the mathematics department at UConn.
Lonnie L. Dragon '94, of San Diego, CA, February 13, 2022: He most recently worked as an event planner in the entertainment industry and was also a day trader.
Cynthia A. (Leveille) Hackett ABA '99, of Southbridge, MA, November 25, 2021: She worked as a secretary for an optical company for many years and at Dexter Russell Harrington. Mary (Soukaras) Pascal MBA '01, of Marlborough, MA, August 23, 2021: She was a graduate of UMass Lowell and Northeastern University and worked at Bostonmatic.
Aaron B. Church '02, of Florence, MA, March 5, 2022: He worked as a CPA for many years in Central Massachusetts and locally.
FACULTY / STAFF
Arthur K. Lash, former professor, of St. Louis, MO, January 16, 2022: He worked at Aetna Insurance before a long career with Farm Credit Financial Partners where he was able to explore his love of computers at the dawn of the technology industry.
Thomas H. Flaherty '65, of Lake Placid, FL and North Grafton, MA, December 13, 2021: A former Mayor of the Hill, he was an executive and sales representative in the garage door industry, retiring from Standard Door Supply of North Oxford in 2014.
William "Bill" Lasher, former professor of finance and business law, of Upton, MA, December 4, 2021: He was a member of the faculty from 1988 to 2015 and was the first professor to be awarded the Robert E. Stansky Distinguished Professorship. He wrote a best-selling finance textbook adopted at more than 300 colleges/ universities.
Robert "Bob" J. Classon MBA '83, of Earleville, MD, March 22, 2022: He earned a BS in chemistry from American University and retired from Shimadzu Scientific Instruments after 20 years.
Charles E. "Chuck" Evans '65, of Erie, PA, January 8, 2022: He served the U.S. Navy through active duty and reserve from 1959-1965 and later volunteered as a member of the Coast Guard Auxiliary. Trained as an accountant, he took a risk and pursued work in computers, initially at Baldwin Brothers and then retiring from a long career as director of data processing at the Erie Daily Times.
Richard R. "Rick" Sawicki Jr '83, of Erving, MA, September 19, 2021: He worked as a sales representative for Commercial Distributors, Liberty Distributors and United Distributors, before taking over Sawicki Real Estate in 2015.
Paul L. Howie '73, of Millis, MA, March 15, 2022: He served in the U.S. Army from 1972 to 1974 and co-owned Howie Oil. Linda J. (Krasowsky) Carter '74, of Dudley, MA, January 23, 2022: She and her husband owned and managed five Act One Video stores and she later was a manager and bookkeeper for the family business, Martin Realty.
Robert "Bob" Taberski, of Thompson, CT, October 2021. He served in several capacities with Nichols College Buildings and Grounds Department, including supervisor and interim director, from 1991 to this retirement in 2007.
Marshall T. Wiebe, former associate professor of forestry, of Readfield, ME, March 15, 2022: He was the executive director of the Connecticut Audubon Society followed by a long-term career as director of information for Maine Department of Conservation.
Robert J. "Rob" Hirsch '74, of Rochester Hills, MI, March 3, 2022: He earned a master's degree from Central Michigan University and had a career in logistics, retiring from Volkswagen after over 30 years of service. George Simone '74, of Shrewsbury, MA, August 29, 2021: He worked for many years as a letter carrier for the U.S. Postal Service in Westborough before retiring.
Catherine "Cathy" A. Morrissey MBA '92, of Worcester, MA, October 16, 2021: She worked for Ford Motor Co., beginning in a field sales position rising through the ranks to a senior role in the Ford Fleet Division. She retired recently as a national account manager.
Robbie Munce '99 MBA '01 had similar reasoning when he and his wife, Holly Munce '99 MBA '01, each created a life insurance policy for Nichols with their own agent this spring. "We thought this was an opportunity to show faith and support for what the trustees and President [Glenn] Sulmasy are doing long term for the school and to show our love for the school," says Munce, a former trustee and current member of the Board of Advisors. He also saw it as an opportunity to give Nichols a larger gift for the future, as he concentrates now on building his fiveyear-old business, Go Time Restrooms. "And we thought it might serve as a model for other alumni," he offers.
As insurance premiums typically increase with age, Munce advises younger alumni to consider this giving option.
Jim Kerley '69
As he takes this next step in his relationship with Nichols, Munce, a longtime supporter, advocate and volunteer leader, relays, "I have two homes, where I live and Nichols." or contact the Nichols College Office of Advancement at advancement@nichols.edu for more information.
Get a jump on legacy giving Visit https://alumni.nichols.edu/planned-giving/
"Insurance never gets less expensive," he says. "This was a good time for us to do this. It doesn't cost that much out of pocket but provides the college with a really good benefit at the end."
In April, CNBC reported that the COVID-19 pandemic has made Americans more aware of the need to have a will, living trust or other end-of-life document. Yet, according to a new survey from Caring.com, only 33 percent have made such plans. In the sage advice of financial planners: It's never too early, but it may be too late to write a will. To help facilitate what some may consider a challenging or even unpleasant but necessary task, the college has partnered with Life Legacy, a technology platform that enables Nichols College alumni and donors to create wills and life insurance policies online quickly and easily that support the future growth and success of the college at the same time. Life Legacy was created by brothers Jordan, Spencer, and Austin Cassidy, who lost their father to brain cancer in 2007. In the ensuing years, as they sought to fashion their own lives after their philanthropic father, they realized the tangible impact that life insurance and wills can have, not just on loved ones, but special interests and beloved causes as well. They built a charityoriented vehicle that allows donors of any means to leave a legacy in an affordable and simplified manner. Jim Kerley '69, a member of the Board of Advisors and a 50-year veteran in the insurance industry, was first introduced to Life Legacy by a colleague and friend. "I immediately thought of Nichols College," he says. After working with the company as an insurance provider, he has come to admire their distribution model of focusing exclusively in the charitable giving marketplace and believes it will encourage significant growth in the endowments of institutions like Nichols. He feels so strongly that he has offered to cover the cost of the service this year so that Nichols alumni and donors can create a will and initiate a life insurance policy to benefit the college free of charge.Kerley points to two reasons he became involved with Life Legacy. "It's a way to reach out to fellow alumni to help them understand the benefits of providing a legacy for the college in a simple and easy way," he explains. The process, which takes about 20 minutes, begins at an online portal where alumni can select wills or life insurance as planned gifts, explore their options, name Nichols as a beneficiary, set a budget for insurance premiums, and pay them over time. "It's a great opportunity for Nichols and for everyone who graduated from Nichols to say thank you in a way that is affordable and, in the long term, will help the college to grow and develop."
Becoming members of the Conrad Society – individuals who document a bequest to Nichols – is a bonus. "It's so cool to be in the Conrad Society. Our names will always be there…. That means something to Holly and me," he notes, adding "This place is so special to us. We met here and both worked here. Our relationship developed here."
Kerley has also been impressed with the success Nichols has achieved and understands the fuel it needs to soar to even greater heights. "The ability to provide growth for the college in large part is based on the endowment and the money that can go into Nichols' growth plan. Life Legacy is a way to provide that growth for the future," he states.
alumni.nichols.edu l Nichols College Magazine 25
Come home to the Hill Homecoming 2022 September 30 - October 1 Details at alumni.nichols.edu/homecoming P.O. Box 5000 Dudley, MA 01571-5000 NON-PROFIT ORG US POSTAGE PAID PERMIT NASHUA#375NH Bison Fight Song Let's Go Bison, Charge Black and Green Up on the Hill, We Fight and Stay Mean Charge! Bison Charge! We Fight for the Green Lead Us, Oh Bison, to Victory! Go! Bison Go! Charge! Go! Bison Go! Charge! Go! Fight! Win! Stampede! Go! Fight! Win! Stampede!