THIS IS THE LIFE.
Community Guide
MAKE YOUR HEAD AND YOUR HEART HAPPY AT THE SAME TIME.
Over the last five decades, we've become one of the nation's most prominent developers, creating award-winning communities across the country — including Cinco Ranch and Seven Meadows right here in Katy.
And during that time, we've learned that the best communities aren't just about where you live. But how you live.
That's why Elyson is a place where connection with friends and family and nature are celebrated. Where you can take a scenic hike along a neighborhood trail, and send the kids to top-rated schools. Listen to live music under the stars or sit poolside in the sun. Where you can make a quick run to tacos or Target, take the clothes to the cleaners, or the pet to the vet. And where there's always something interesting and fun and different to do (just ask our Lifestyle Director, who is always thinking of our next event).
And if you think it's great now, just wait. Because we believe in creating enduring places that get even better over time.
We can't wait for you to experience it. Come join us.
3
HERE'S TO GETTING TOGETHER. AND PLACES TO GATHER.
At Elyson, you're never far from a place to meet up with neighbors or meet new friends — like creative parks and cool (as in air-conditioned) indoor community hubs. There are great places to learn, too. With top-notch schools nearby (and a couple right here in the community).
(AND PLACES TO LEARN, TOO)
Top-rated schools are a priority here. We're in the highly ranked Katy ISD, one of the most sought-after districts in Texas — with an elementary school onsite, a junior high and high school just a few miles away, and a charter school right in the community. And learning isn't just for those K-12. Our littlest residents benefit from educational daycare options and older students will appreciate the opportunities for lifelong education — like Houston Community College's Katy campus and the University of Houston at Katy.
ELYSON HOUSE A SO-MUCH-HERE SPACE
How do we put Elyson House into words? Well it's part fitness center. Part pool. Part event lawn. Part game room hangout. Part café (and by "café," we mean full-service restaurant). And completely, totally, a heartbeat of our community.
ELYSON COMMONS 145 ACRES OF FUN
This vast outdoor space is full of things to do. Including the aptly named "Great Lawn," where you can catch a concert (or a Frisbee), 1.4 miles of meandering trails, playful playgrounds, a sports field and basketball court, and a dog park just for off-leash pooches.
LAKESIDE LANDING (OPENING 2023)
Our newest amenity complex is in the works, and it's going to wow — with two resort-style pools, indoor/outdoor fitness areas, an entertainment lawn and an indoor gathering space, all surrounded by a lakeside setting.
5
Fitness spaces
When it comes to staying fit, you can either workout indoors, or (new word alert!) workoutdoors.
COURT SPORTS
Whether you like your courts for tennis, pickleball, or bocce, we've got you covered.
Parks
Every house in Elyson is within walking distance to a park — making it easy to prioritize play.
elyson café
Elyson Café offers milkshakes, coffee, wine and craft beer ... plus meals to eat in, or take out.
compass lake Kayak. Canoe. Paddleboard. Or, if you'd rather, just gaze. Compass Lake will let you do any (or all) of the above.
splash pad
With jets, fountains and a water slide, escaping the heat has never been so cool.
Community Pools
Not just one pool. Multiple pools. From the soaking-in-the-sun to the getting-in-some laps variety.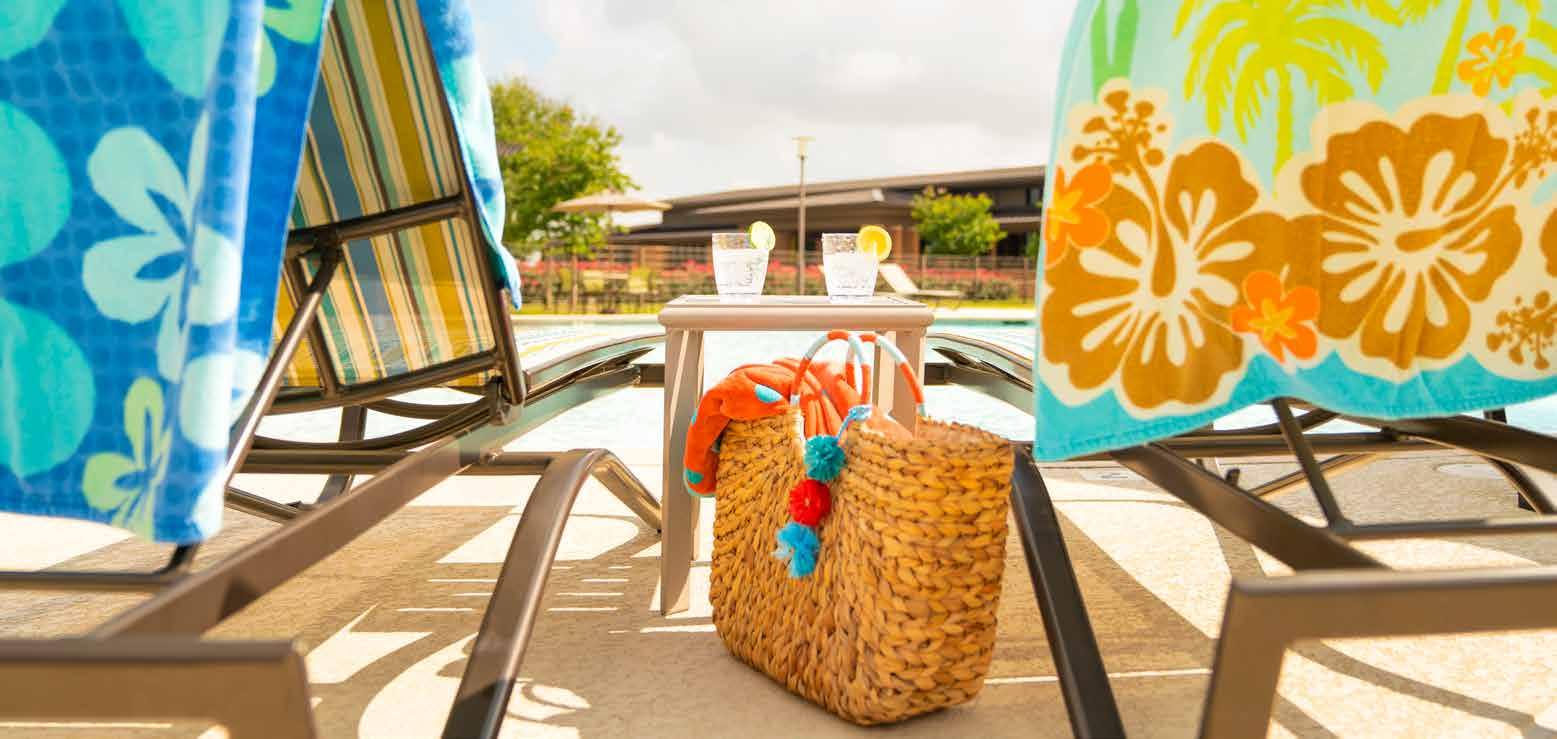 Orchards and community garden
Ever picked a pecan? You can, in our community orchards. (Plus peaches, figs and more.) Or, grow your own plants, herbs and veggies in Honeybell Gardens.
7
What's here and what's coming
FREEMAN R D KATY-HOCKLEY CUTOFF R D . FM 529 KATYHOCKLEY R D LONGENBAUGH R D PORTER R D FUTURE DEVELOPMENT WATER PLANT FUTURE KATY ISD JUNIOR HIGH SCHOOL #18 (OPENING AUG. 2024) HIGH SCHOOL #10 (OPENING AUG. 2024) FUTURE DEVELOPMENT FUTURE DEVELOPMENT FUTURE ELEMENTARY SCHOOL (KATY ISD) DAVID & TERRI YOUNGBLOOD ELEMENTARY (OPENING AUG. 2023) NW TRANSPORTATION CENTER (OPENING DEC. 2025) 9 2 fireside park Firepit, Pickleball and Bocce Ball sunset PARK & SPLASH PAD 3 ELYSON Commons at bear creek 5 TIMBER GROVE PARK 4 SCHOOLS Katy ISD and Harmony Public Schools Elyson House & Café Community Center 1 Elyson WELCOME CENTER and Model Home Village Pooch Playground 6 Sports Field 7 Honeybell Gardens 8 lakeside landing Recreation Center (coming 2023) 9 compass lake & Crescent Park (coming 2024) 10 CURRENT RESIDENTIAL SOLD RESIDENTIAL OPEN SPACE FUTURE development commercial & MIXED-Use Trails
Elyson facts-at-a-glance
6,000 homes at completion
• 750 + acres of open space preserved for parks, trails, lakes and waterways
• Almost 30 miles of planned trails
• 450+ acres of planned commercial and mixed-use
PEEK R D E LYS O N B L V .D BECKENDORFF R D GRAND PARKWAY FREEMAN R D FM 529 LONGENBAUGH R D FUTURE DEVELOPMENT McELWAIN ELEMENTARY SCHOOL (KATY ISD) COMPASS LAKE & CRESCENT PARK DRILL SITE DRILL SITE POWER SUBSTATION WATER PLANT FUTURE DEVELOPMENT HARMONY SCHOOL OF EXCELLENCE – KATY COMMERCIAL & MIXED-USE COMMERCIAL & MIXED-USE 6 7 10 n 5 ELYSON WELCOME CENTER & Model Home Village 8 1 2 3 4 Map not to scale. This map is for illustration purposes only, based upon current development concepts, which are subject to change without notice. No guarantee is made that the features depicted will be built, or, if built, will be as depicted. Commercial uses may include, but not be limited to, service centers, retail centers, office buildings, professional buildings, light industrial and high density residential. All plans for land use or facilities are subject to change without notice and nothing presented on this map shall obligate the owner or any other entity, public or private, to construct or develop facilities as shown. 2023 © Elyson. All Rights Reserved. 9
COMMUNITY MAP
From the $300s – $1M+
Whether you're looking to upsize, downsize, or stay-the-same-size, our builders have a variety of home styles and floorplans designed to fit the way you live.
FREEMAN RD. WHEATG C O T T ONTAILCREEKLN PIPIT CREEK W PERCH I N G H A W K T R L HAWTH G R O U N D S Q U R R E L R D ELKHORN GLE W I N T E R B E R R Y G L E N L N TALLGRASS MEADOW TRL S N O W F I N C H L N E L Y S O N V I L L A G E R D SPIZA NEST LN AVOCET CREEK RD G R A S S L A N D V I S T A L N P R A I R I E H E G H T S D R PARTRIDGEPOINTERD GREEN BUFFALOGRASS TRL SWITCHGRASS VALLEY WY LAUREL BLOOMLN. WILDRYEMEADOWLN. SOARINGSPARROWTRL B L U E F I NCH LN . PRONGHORN MEADOWTRL. NESTINGPLOVERDR MLAP AW R B L ER CT ORCHARDORIOLECT PRAIRIEWARBLER DR SUNDOWN PRAIRIE DR BUCKEYE BRUSHBLVD FOX TH STLE RD ELYSON MEADOW DR. GLEAMING GLEN CT JUNEGRASS BEND RD S P ARROW VAL L E Y T LR B U R O A K B E N D W Y PRAIRIE SUNFLOWER CIR. FLUTTERING DOVE LN. PRAIRIE CRABAPP CATTAIL SHALLOWS LN PINE SQUARE TRL. FAWNTHICKET WY BERRY BRAMBLERD. LEAPING STAG LN. BLOOMING DAISY CIR. BREEZY BLUESTARBLOSSOMTRL. SAXIFRAGERD SABINOCYPRESSWY. S W N G I NG OAKCIR MELLOW GLEN WY. B A Y B E R RY CRESCENT LN HARROW MEADOWDR W I N D I N G ASTER WY LOBELIA GARDEN LN. BLUE GENTIANA LN. YARROW BLOSSOM CT. SUMMER GRASSLAND RD. LONGSPURHOLLOW LN COMPASSPLANTCIR ASHY SUNFLOWER LN CELESTIALLILYDR BUSH HONEYSUCKLE WY. GRASSMUHLY CT. E BEEBALM TRL. TRILLIUM HOLLOW CT. CALICOASTERCT. CELESTIAL LILY DR ELYSON HERITAGE BLVD PRAIRIEHEIRLOOMRD ASTER HOLLOWCT. HIB SCUS GARDEN WY ZINNIABLOSS O M L N BEEBALM TRL. P I NK BERGAMOTPL PURPLE PRA I R I E RD KATY-HOCKLEY CUT-OFF RD. ELYSON BLV D LAKESIDE LANDING RECREATION CENTER ELYSON COURTS FUTURE ELEMENTARY SCHOOL (KATY ISD) A L G B
our homes
map key COMMERCIAL Trails elyson welcome center COMMUNITY ORCHARDS PLAYGROUND
E L KINGSTON RIDGE WY. DAINTREE PL. LN. ANDORRA FALLS TRACE RUSSET OAK LN. TWILIGHT ELM TRACE HARTFORD SPRINGS TRL BROOKDALE BAY LN STRAGGLER DAISY CIR. FREEMAN RD. CARLISLE VALLEY T OAKHEATH PINESPL. MONTCLAIRCOLONY TRL. DUNSMORE RIVER TRL. SKYLARK FALLS TRL. HONEYBIRD MEADOW CIR. JASMIN PRIMROSE GARDEN RD W O O L G R A S S CRESCENT WY. ASTERTHICKETTRLSILVERLIRIOPELN COTTON GRASS TRL. ASH BUD CIR. MAYAPPLE GROVE LN. SWEET LAUREL LN. SAGE ROW LN. CEDAR GLADE LN. BLACKHAW BLOSSOM LN. GOLDEN GROUNDSEL DR. ANACUA BERRY CIR. HOUSE WREN CT. S Y L V A N BI R CH TRL. B U C K T H O R N H O L L OW T R L C O R D G R A S S P R A I R I E L N VERBENA MEADOW DR ELYSON BLVD . GREENGRASSMEADOW LN FERNBRIARST WINECUP BLOSSOM CT. C O N E F L O W E R C R E E K C T BLUE ASTER LN CAMDEN CRESTWOOD WY C R O S S V I N E M A N O R T RL . BOTTLEBRUSH TERRACE TRL SAVANNAH SPARROW LN T O W N S E N D B U N T I N G T R L GRASS GROVE LN THORNBIRD CLIFF WY W O O D L A R K R I D G E D R WY ORN BREEZE WY K I N G B I R D C O V E C T D A R T I N G P L O V E R W Y N LN SPICEBERRY LODGE CT. ORIOLE VALLEY TRL. SUMAC BLUFF TRL. GREEN BULRUSH WY. J E R R A R A H E I G H T S LN H O N E Y B E L L H E D G E D R DABBLING DUCK TRL. SONGLARK LANDING CT. HORSEHERB RD PLE CT SWOOPING SWALLOW LN. BREEZY BANK TRL. ROCK ROSE BEND WY. MEADOW MOUSE LN. PORTER R D . ELYSON B LV D PORTER R D . M O N GREENWO O D ADOW STARLING GROVE SIA MEA D OW LN COMMERCIAL & MIXED-USE MODEL HOME VILLAGE TIMBER GROVE PARK COMMERCIAL HONEYBELL GARDENS ELYSON COMMONS AT BEAR CREEK F H CD E J I L K N M n O Map not to scale. This map is for illustration purposes only, based upon current development concepts, which are subject to change without notice. No guarantee is made that the features depicted will be built, or, if built, will be as depicted. Commercial uses may include, but not be limited to, service centers, retail centers, office buildings, professional buildings, light industrial and high density residential. All plans for land use or facilities are subject to change without notice and nothing presented on this map shall obligate the owner or any other entity, public or private, to construct or develop facilities as shown. 2023 © Elyson. All Rights Reserved. 11 Builders & Model Homes Scan the QR code for plan and pricing information. A Beazer Homes chesmar homes perry homes Pulte homes westin homes chesmar homes Brookfield Residential Brookfield Residential C D E F H SOLD OUT WESTIN homes taylor morrison highland homes perry homes chesmar homes M O Perry homes NEWMARK homes Highland homes highland homes perry homes I J K M N L B G
Be the first to get elyson news (and invites, too). Become an Elyson insider at Elyson.com VISIT OUR WELCOME CENTER: 23634 SAVANNAH SPARROW LANE, KATY, TX 77493 | 281.640.4004 Elyson is proud to become the fourth member of Newland Communities' Katy family, joining Cinco Ranch, Grayson Lakes and Seven Meadows. Homes at Elyson® are built and sold by home builders (Builders) unaffiliated with NASH FM 529, LLC (Fee Owner), Newland Real Estate Group LLC (Newland) or their related entities. Buyers should review the purchase agreement, public offering statement, and other offering materials provided by the seller prior to signing any contract to purchase a home. Details on the prospective development are provided for informational purposes only and there is no guarantee that the final development will match the developer's current vision. Every effort has been made to ensure that the prices and specifications set forth herein are accurate, however, they may change at any time and they may refer to a base house that does not include upgrades. Maps are not to scale and are provided for illustration purposes only. Stated distances are estimates and only provided for relative location. EQUAL HOUSING OPPORTUNITY. This is neither an offer to sell, nor a solicitation of offers to buy, to residents in those states or jurisdictions, including but not limited to New York, where such offers or solicitations cannot be made without prior qualification and/or registration unless the legal owner of the Community or its development manager, Newland, has been so qualified or an exemption is available. WARNING: THE CALIFORNIA DEPARTMENT OF REAL ESTATE HAS NOT INSPECTED, EXAMINED, OR QUALIFIED THIS OFFERING. Copyright ©2023 NASH FM 529, LLC. All Rights Reserved. No reproductions, distribution, or unauthorized transmission of any portion is permitted without written permission of Fee Owner. 5/23 Newland is proud to be a part of Brookfield Properties. We are one of the largest developers of mixed-use communities in the United States. With our partner, North America Sekisui House, LLC, we believe it is our responsibility to create enduring, healthier communities for people to live life in ways that matter most to them. newlandco.com | nashcommunities.com