THADEUS GREENSON
Humboldt County, CA | FREE Thursday, Sept. 28, 2023 Vol. XXXIV Issue 39 northcoastjournal.com 6 Ghosts at CR 14 New Arcata spots IN
Tri-County Independent Living, residents raise alarm over pedestrian safety on Eureka's Fourth, Fifth streets
SEARCH OF SAFE CROSSING
BY
2 NORTH COAST JOURNAL • Thursday, Sept. 28, 2023 • northcoastjournal.com
PUBLISHER
Melissa Sanderson melissa@northcoastjournal.com
NEWS EDITOR
Thadeus Greenson thad@northcoastjournal.com
ARTS & FEATURES EDITOR
Jennifer Fumiko Cahill jennifer@northcoastjournal.com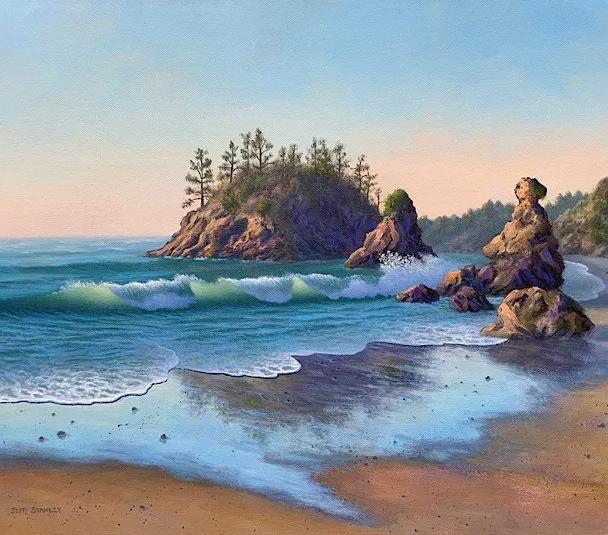 DIGITAL EDITOR
Kimberly Wear kim@northcoastjournal.com
CALENDAR EDITOR
Kali Cozyris calendar@northcoastjournal.com
CONTRIBUTING WRITERS
John J. Bennett, Simona Carini, Wendy Chan, Barry Evans, Mike Kelly, Kenny Priest, Collin Yeo
PRODUCTION MANAGER
Holly Harvey holly@northcoastjournal.com
GRAPHIC DESIGN/PRODUCTION
Heidi Bazán Beltrán, Dave Brown, Rory Hubbard ncjads@northcoastjournal.com
SENIOR ADVERTISING REPRESENTATIVE
Bryan Walker bryan@northcoastjournal.com
ADVERTISING REPRESENTATIVE
Linus Lorenzen linus@northcoastjournal.com
Heather Luther heather@northcoastjournal.com
CLASSIFIED ADVERTISING
Mark Boyd classified@northcoastjournal.com
BOOKKEEPER
Deborah Henry billing@northcoastjournal.com
OFFICE MANAGER/DISTRIBUTION
Michelle Dickinson michelle@northcoastjournal.com
www.northcoastjournal.com
Press Releases newsroom@northcoastjournal.com
Letters to the Editor letters@northcoastjournal.com
Events/A&E calendar@northcoastjournal.com
Music music@northcoastjournal.com
Classified/Workshops classified@northcoastjournal.com
Sept. 28, 2023 • Volume XXXIV Issue 39 North Coast Journal Inc. www.northcoastjournal.com ISSN 1099-7571 © Copyright 2023 4 Mailbox 5 Poem My Obituary 6 News Ghosting the System 9 NCJ Daily Online 10 On The Cover In Search of Safe Crossing 14 On the Table What's Good 15 Art Beat Sea of Possibilities 17 Trinidad Art Night Sept. 30, 6 to 9 p.m. (some early starts) 18 Nightlife Live Entertainment Grid Apple Harvest Festival Special Insert 20 The Setlist Because It's There 21 Calendar 25 Screens It Lives Inside's Desi Demons 26 Field Notes Darwin's Bulldog 27 Workshops & Classes 27 Home & Garden Service Directory 28 Sudoku & Crossword 32 Classifieds On the Cover Photo by Thadeus Greenson Paintings by Jeff Stanley at the Lighthouse Grill. Read more on page 17. Submitted The North Coast Journal is a weekly newspaper serving Humboldt County. Circulation: 18,000 copies distributed FREE at more than 450 locations. Mail subscriptions: $39 / 52 issues. Single back issues mailed $2.50. Entire contents of the North Coast Journal are copyrighted. No article may be reprinted without publisher's written permission. Printed on recycled paper with soy-based ink. CIRCULATION COUNCIL VERIFICATION MAIL/OFFICE 310 F St., Eureka, CA 95501 707 442-1400 FAX: 707 442-1401
CONTENTS
WEDNESDAY & THURSDAY NIGHTS Prime Beef Beef Tri Tip Burger$17 17 Prime Beef Tri Tip Burger$17 Steel head $18 18 Steel head $18 Fried Chicken$17 Fried Chicken$17 Snapper Fish 'n' Chips $18 18 Snapper Fish 'n' Chips $18 Entertainment Calendar 29 30 6 7 OCT | SEPT Roland Rock Classic Rock, Country, Blues & Rockabilly Piet Dalmolen Solo Guitar, Classic Rock And Soul Almost Dangerous Classic Rock & Roll Triple Junction Classic Rock & Blues Karaoke Every Tuesday Night 8PM Karaoke Every 8PM funattheheights.com | 1-800-684-2464 NOW OPEN 24 HOURS Thurs Fri Sat northcoastjournal.com • Thursday, Sept. 28, 2023 • NORTH COAST JOURNAL 3
New Heights – August 2023 Plateaus
'Our Best Interests'
Editor:
August 2023 Sponsors
Arcata CO-OP
Cal Trans City Hall - Eureka
Coastal Business Systems TECH EXPO
College of the Redwoods
Farmers Market/ Artisan -Crescent City
Fortuna CCC
Heart of Humboldt
Humboldt Co Health Dept.
Humboldt Co O ice of Education
Humboldt Co Courthouse
Humboldt State University
Hydesville Community Church
Mad River Community Hospital
Mary Dorman State Farm
McKinleyville Shopping Center
Meadows Business Park
Miranda Market
Murphy's Market - Arcata
PG&E -Myrtle
Premier Financial
Ray's Food Place -Fortuna
Rio Dell Community
Safeway - Arcata
Safeway - Crescent City
Safeway - Fortuna
Safeway - McKinleyville
Social Services -Koster
Thank you for printing Patty Harvey's opinion piece, "California Says No to Privatizing Medicare" (Sept. 21). Each year, seniors are given the opportunity to change their Medicare plans during the Annual Election Period (AEP), this year Oct. 15 to Dec. 7. Navigating all of the options can be overwhelming and it's not because all seniors are feeble-minded.
Last year, Humboldt County was a target market for Medicare Advantage sales. There were 25 "events" scheduled and heavy saturation on TV and local online advertising to lure seniors into this for-profit coverage that will soon bankrupt our Medicare Trust Fund. Medicare Advantage is private insurance, as described in Harvey's article. Using the name "Medicare" is deceptive marketing that makes the process confusing. I attended one of these "events" last year and learned that the dental care promised is not available in Humboldt and the vision coverage is limited to $100 every two years. There were other gaps in the plans that I asked about but the presenter did not know the answers and got hostile with me for asking.
My biggest fear is that my children and grandchildren, like us, pay into Medicare their entire working lives believing they will have healthcare when they retire. Once the trust fund is depleted, what options for health care will they have if they're not among the wealthy?
Our wonderful program, traditional Medicare, that serves so many, is on track to only serve investors. Is that really in our best interests as a nation?
Eileen McGee, Eureka
'About That Wood Smoke'
Editor:
Developing solutions to self-destructive human behaviors requires deeper and broader understanding of complex motivations (Mailbox, Sept. 14).
While both destructive and toxic, domestic firewood heating is arguably less devastating than "fracked" natural gas (poisoning diminishing sources of fresh,
access to firewood, mitigate PG&E's corrupt, outdated monopoly, freeing money needed for medicine, in-home care, rent, food and transportation.
Energy utility costs could decline if publicly-owned. Until phased-out, natural gas reserves could be restricted to domestic-use, instead of being exported to the highest international bidders, driving up prices.
Until then, Trinidad residents can mitigate impacts of firewood by composing a draft city ordinance limiting time-ofuse for wood stoves, or, present a civics lesson plan to Trinidad students willing to take a petition door-to-door, (providing memorable, project-based, experiential learning in the complexities surrounding energy, corruption, firewood and Trinidad's stark class divisions).
Just a century ago America's comfortable-class began filling rural communities with noisy, smoky, polluting, unregulated and deadly "horseless carriages" manufactured thousands of miles away, despite widespread opposition as community's horse-based economies collapsed.
Who among thousands of local residents with an acre or more will be first to build a solar array and sell cheaper energy to their neighbors? Who will be first to learn from Scandinavian and European entrepreneurs taking back public streets with bicycles and mass-produced, peddle-assist "pod bikes" fulfilling 90 percent of student, worker and retiree's daily commutes?
Local financial institutions and public o cials have leadership responsibilities to shift priorities, incentives, policies and investments to alternative energy sources and products that can be manufactured locally to prepare for the future; an imperative that local and national vested interests in outdated, self-destructive industries continue to neglect and oppose.
George Clark, Eureka
In Mourning
Editor:
I would like to request a week of mourning for the loss of the 150-year-old Eucalyptus trees that were removed from the farthest north section near Indianola Cuto the third week of August (Mailbox, Aug. 31).
4 NORTH COAST JOURNAL • Thursday, Sept. 28, 2023 • northcoastjournal.com
MAILBOX
The Campus Store The Heights Casino Tri Counties Bank - Fortuna United Indian Health Services Wal-Mart - Crescent City Wildberries Market Place Northern California Community Blood Bank 2524 Harrison Avenue • Eureka, CA 95501 • (707)443-8004 Hours: M, Tu, Thu 8-6 • Wed 8-7 • Fri 8-4 • 2nd Sat 8-2
3 Gallons James Beal Mark Burdick 4 Gallons Robert Darby Janet Feldstein Jermaine Gray Sr. Kathryn Maguire 5 Gallons Janet Butler-Ward Maria Ortega Rebecca Todtman Nancy Walsh 6 Gallons Alisha Hammer Avishai Leibson 7 Gallons Julie Fillman Thomas Lowry Rodney Marchetti Mark Topping 8 Gallons Heather Bowen Vernon Brown 11 Gallons Art Christen Machelle Coddington 12 Gallons Corinna Kitchen 13 Gallons Karl Ferguson 15 Gallons Steven Abrams April Joyce Bob Stockwell Robert Thoman Jr. 16 Gallons Je Michael Allan Wiegman 17 Gallons Stanley Hino MD Rick Kimberling 18 Gallons Craig Newman 19 Gallons Douglas Foster Martin Hauan Steven Schlerf 20 Gallons Nick Papageorge Barbara Walser 23 Gallons Jerry Miller 27 Gallons Mark Neeson 108 Gallons Leroy Murrell TO SEE THEM ALL VISIST ENDS SUNDAY OCT. 1! Brought to you by: NCJBURGERWEEK.COM 2023 BURGER SPECIALS 31 IN 10 CITIES THROUGHOUT HUMBOLDT COUNTY Trinidad • McKinleyville Blue Lake • Arcata • Eureka Loleta • Fortuna • Ferndale Rio Dell • Shelter Cove #NCJBurgerWeek @northcoastjournal
one has ever been injured by those trees. The installation of a sidewalk for the bike trail is hardly a good reason to remove the beautiful iconic trees.
But, like the way of the Falk Mansion for a Safeway building on the best piece of real estate in Arcata, this action is another perfect example of how restoration and maintenance are not considered a valuable expense. There are many other examples of iconic structures that have been lost to progress.
Yet we have lost more than the cost of maintaining the trees. Their grandeur cannot be replaced. Certainly, a sidewalk is no replacement for such majestic beauty as those trees were. It is just sad.
I pray the wood will be used for more than just firewood. The creation of some fantastic structure that the community could admire would be appropriate for the destruction of such a grove of trees. If there are plans for such a structure, I would love to hear more about it and donate to it. Thank you to all other community members who feel the trees are a great loss. And who agree to mourn with
My Obituary
When nothing becomes me And the mystery is done, Hummingbirds will continue To feed on the endless florets Dangling in that wistful tree Where I would sit for hours Alone, in my garden.
— Kirk Gothier
me the third week of August each year. Martha
Meade, Blue Lake
Write a Letter!
Please make your letter no more than 300 words and include your full name, place of residence and phone number (we won't print your number). Send it to letters@northcoastjournal.com. The weekly deadline to be considered for the upcoming edition is 10 a.m. Monday. ●