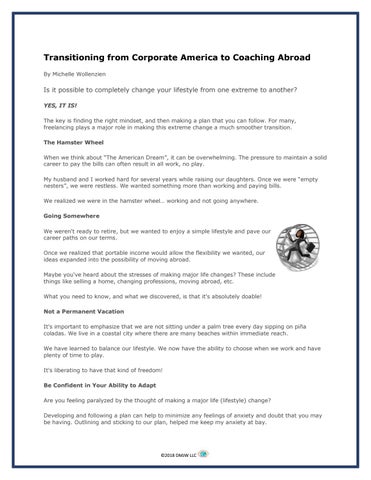 Transitioning from Corporate America to Coaching Abroad By Michelle Wollenzien
Is it possible to completely change your lifestyle from one extreme to another? YES, IT IS! The key is finding the right mindset, and then making a plan that you can follow. For many, freelancing plays a major role in making this extreme change a much smoother transition. The Hamster Wheel When we think about "The American Dream", it can be overwhelming. The pressure to maintain a solid career to pay the bills can often result in all work, no play. My husband and I worked hard for several years while raising our daughters. Once we were "empty nesters", we were restless. We wanted something more than working and paying bills. We realized we were in the hamster wheel… working and not going anywhere. Going Somewhere We weren't ready to retire, but we wanted to enjoy a simple lifestyle and pave our career paths on our terms. Once we realized that portable income would allow the flexibility we wanted, our ideas expanded into the possibility of moving abroad. Maybe you've heard about the stresses of making major life changes? These include things like selling a home, changing professions, moving abroad, etc. What you need to know, and what we discovered, is that it's absolutely doable! Not a Permanent Vacation It's important to emphasize that we are not sitting under a palm tree every day sipping on piña coladas. We live in a coastal city where there are many beaches within immediate reach. We have learned to balance our lifestyle. We now have the ability to choose when we work and have plenty of time to play. It's liberating to have that kind of freedom! Be Confident in Your Ability to Adapt Are you feeling paralyzed by the thought of making a major life (lifestyle) change? Developing and following a plan can help to minimize any feelings of anxiety and doubt that you may be having. Outlining and sticking to our plan, helped me keep my anxiety at bay.
©2018 DMJW LLC
---
Undertaking a major life change is always complex and can be very challenging. A key that can help to make these transitions much smoother is to tackle one major life change at a time, or even break each one down into smaller, easier to accomplish parts. Making the Transition Here are six tips that helped me through the process, and can help anyone considering transitioning into a new career such as portable income and/or moving abroad:
1. Have a clear mind! There will always be those who doubt what you are undertaking or just don't understand what you're doing or why you are doing it.
2. If you've formulated a solid plan that you believe in, don't let "naysayers' make you cast doubt on your decision. 3. Establish your source of income BEFORE moving abroad. 4. Stay confident. Your energy is reflected in how you present yourself and how people perceive you. 5. Stay active. If you are spending time at a computer, allow yourself time to step away and refresh your eyes and your mind. 6. Brainstorm. Think about what you want and start the planning process. Make a list of pros and cons. It may take months, or it may take years, but it is obtainable. Take charge of your life and open the door to endless options! "Do something today that your future self will thank you for." ~Unknown
You can connect with me on my Facebook business page https://www.facebook.com/dmjwllc/
©2018 DMJW LLC
Published on Mar 11, 2018  
Transitioning from Corporate America to Coaching Abroad  
Transitioning from Corporate America to Coaching Abroad  
Published on Mar 11, 2018  
An article to inspire those who are hesitant in pursuing your dreams.