The Guyette & Deeter Difference
Most Trusted Decoy and Sporting Collectibles Auction
The
House in the World
A Legacy of Trust
The decision to sell a treasured family collection can be an emotional and confusing experience. Where do we start? What's the best way? How can we get the most in return?
For nearly 40 years Guyette & Deeter has gained the trust of our clients by making sure that they are comfortable with every aspect of the process of selling their items, long before we go about the business of actually offering them for sale.
We go beyond being just brokers of goods. We are committed to building a collaborative relationship with our clients, grounded in an intimate understanding of their concerns and goals. Working together, we carefully evaluate each piece to be sold, discuss current market trends, develop tailored marketing plans, and set realistic auction estimates. We know that this attention to detail gives our clients the reassurance they need and the results they want.
This is the Guyette & Deeter difference.
On the following pages you'll see tangible evidence of our leadership. More experience and knowledge from more years in business. More top collections sold. More world record prices set. And we are the only firm offering condition guarantees that let buyers bid with confidence.
Even more important, you'll see the words of our clients thanking us for the way we go about our business -- caring, continuous support, and integrity in everything we do. We take pride in our approach and look forward to sharing it with you.
"I wanted to thank you for your time this morning. I certainly appreciate you making an effort to talk with me – that certainly shows me that you are a man with integrity and committed to your business and name brand. I have nothing but positive thoughts about your company."
Steve Frazier, Canton, Georgia
"I wanted to thank you taking the time and educating us with some important aspects of the "decoy world." I also appreciate the professionalism in which you are undertaking this assignment. As you know, dad was very private as to his purchases and who he allowed into his "inner circle." You were indeed one of his favorites."
Jim Doherty, III, Moorestown, New Jersey
"I wanted to share with you that every interaction I've had with Ed Kenny in your shipping area over a number of years now has been a really positive experience. He just "gets" it. Always willing to go the extra mile...and always with a smile. As you know, you have to differentiate yourself based on things like customer service rather than what you ultimately sell at auction. Ed just seems to get that...and it matters."
Jeff Seregny, Hilton Head, South Carolina
"My contacts in the decoy world tell me you are continuing to build a reputation for being honest, forthright and capable. Although I am an "outsider," I know the decoy world desperately needs you to continue to lead in such a way...an emphasis on quality and integrity. Leave no regrets, emphasizing helping people learn and you'll go far."
Jim Chodan, Cleveland, Ohio
"I wanted you to know how much I valued your support and knowledge. I am confident that my decoys sold well due to your expertise and understanding of the market. I enjoy buying and selling from people I trust. I have had some not so great experiences but I have always felt good dealing with you and your company."
Jeff Hay, Portage, Michigan
"You did great job marketing my teal. You are gifted in many ways and writing descriptions in the decoy catalogs is surely one of them."
Jim Doherty, Sr., Moorestown, New Jersey
Leader in Experience
In 1984, a small auction firm was formed to take advantage of what founders Gary and Dale Guyette saw as an emerging interest in collecting waterfowl decoys. Their hunch turned out to be correct and today Guyette & Deeter is the longest running and most successful seller of decoys and other sporting collectibles anywhere. Our staff has a combined experience of 260 years studying, collecting, and selling decoys, in addition to other sporting collectibles. This long history not only brings unparalleled knowledge about this uniquely American folk art, but also gives us unmatched insight into market trends and valuations.
Together, we have managed more than 120 auctions, realizing more than $220 million in sales for our consignors. That's more than all of our competitors combined.
Gary Guyette Jon Deeter Zac Cote Bill Lapointe | Massachusetts Joe Tonelli | Illinois Cooper Rossner Founder/Consultant 410-924-5678 gary@guyetteanddeeter.com 42 years experience Owner 440-610-1768 jdeeter@guyetteanddeeter.com 37 years experience Owner 207-321-8091 zcote@guyetteanddeeter.com 15 years experience New England Consultant 48 years experience Midwest Consultant 60 years experience Weekly Auction Manager 609-560-8028 cooper@guyetteanddeeter.com 12 years experience QUALITYSPORTING COLLECTIBLES Guyette & Deeter We ekly Auctions Asafe place to collect
Leader in World Class Collections
The Steven Michaan collection
• John Delph • Dr. John Dinan • Jim & Pat Doherty • Sam Dyke • Adele Earnest • Hal Evans • Dave Fisher • Joe French A sampling of collector profiles from our auction catalogs. Steve Michaan started collecting fish decoys in 1984. He is now recognized as a seasoned collector and accomplished author on two of the most popular books on the subject, "Beneath The Ice" and "American Fish Decoys". He has organized exhibits at museums around the country including The Museum "A thousand years before the first American quilt was created as a protection against the chill night; before the first American whirlgig played against the New England wind or the first American weathervane showed its direction- before any of these things, fish decoys were being actively used for ice spearing by Native Americans. From Alaska throughout the Midwest, the Middle Atlantic region, New England, and Canada, men have speared for bass, sturgeon, muskellunge, carp, trout, pike and numerous other species. Despite some regional preferences-leather tails in New York State, certain colors preferences in other areas- fish decoys were pretty much the same everywhere. It is just recent years that fish decoys have come to be recognized and appreciated as fine examples of American folk sculpture. Generally carved only with a drawing knife and a jackknife from white pine, basswood or tulipwood, they have body cavities that are carved out and then filled with lead for "sinkability".
• Dave Galliher • Dr. Lloyd Griffith • Harold Haertel • Mort Hanson, Sr. • Bobby Harrelson • Somers Headly • William Hickey • John Hillman
While we always welcome individual items, one measure of leadership in our field is the degree to which one has sold entire collections that are understood by the collecting community to be among the very best. We are proud that so many families have trusted us to sell their important collections. In fact, we have sold more top collections than any other company in the industry. • Russell Aiken • Jack Amato • Peter Bartlett • The Blair Family • Peter Brown • Jon & Virginia Chua • Robert Congden • Jim & Diane Cook
Charles S. Hunter, III A passion for Southern decoys We learned of the passing of legendary collector, Charles S. "Charlie" Hunter, III, earlier this year. With the loss comes the inevitable memories of a life well lived. Charlie lived and died in Staunton, Virginia, and will be remembered for his involvement with Ducks Unlimited, staunch support of the NRA, his love of duck hunting, and serving the SPCA, among other local charities. For the decoy collecting community, Charlie will be remembered for his love of the hunt for fine southern decoys. An assembly of Illinois River's finest
collection
The Steven
The Governor Jim Thompson
The collection of legendary Southern decoy collector Debernia Clinton "D.C." North, Jr., will be sold in two sessions starting with the upcoming Guyette & Deeter auction on August 6 and 7, held remotely from St. Michaels, Maryland. D.C. had a fondness for Southern black ducks and acquired many of the very best-
My interest in collecting old hunting decoys was not gradual, but instant and all encompassing. It came about when curiously popped into the former Beacon Hotel in Point Pleasant Beach in the early 1980s to see what a "Decoy Show" was all about.
In my many years of enjoying the pursuit of early American antiques, I had never come across old hunting decoys.
Gary Guyette recalls, "D.C. called our Farmington, Maine office to set up to phone bid for our April 1986 auction in Illinois. He wound up buying the pair of North Hampton County Green Wing Teal that we are selling in this sale. During the process he was friendly, funny and very accepting of me, someone just having his third auction."
Seeing these magnificent polychromed floating sculptures, all with important historic significance, was a revelation to me. These old decoys were used by full-time hunters to attract ducks and birds to their hunting rigs to get food for their own families and to supply in quantity to hotels in Atlantic City and Philadelphia.
Gary added, "The next year he attended our Maine auction when we sold Jim Lewis' collection of mostly southern decoys. D.C. bid actively and for two days good naturedly teased the people in the audience he bid against. After the sale he invited me to visit him at his home in Wrightsville Beach, North Carolina to look at his decoy collection. remember that his office had dark decoys mounted on light walls. He knew a lot about Virginia and North Carolina decoys and openly shared his knowledge with me for an afternoon. For many years he attended our Easton, Maryland auction and for many years enjoyed visiting D.C. and Hester at Goose Haven Farm in Currie after they moved there from the beach." The last time visited D.C. was late fall, and his was out. He had a space heater set up in his little den, so we sat in there. The walls were covered with dark shorebirds mounted on metal stands that came out from the light colored walls and turned toward the ceiling to hold the shorebirds. We sat there and he told me the story of every one of those shorebirds.
looked on this epiphany as an opportunity to reinvest the sale of my membership seat on NYC's American Stock Exchange into a "job" that for the first time in 25 years actually enjoyed. immersed myself in learning more about carvings from New Jersey's Barnegat Bay and Delaware River. Full-time dedication, study, and energy over the past few decades has enabled me to build a significant and sizable collection of duck decoys, beach shorebirds and miniatures. For years, I've had so much fun travelling each Friday to South Jersey, visiting with and learning from decoy carvers and dealers who were methodically purging old barns and sheds of early hunting rigs.
D.C. had a lot of Virginia and North Carolina decoys, both common and some very uncommon ones. He had a great deal of knowledge about the decoys
The highlight by far was getting to know Bob White, and then acquiring in 1984 his collection of 63 rare old hunting decoys, assembled over a twenty-five year period by this master decoy carver and ubersportsman from Tullytown, Pennsylvania. In his early years, Bob was a "decoy picker" for Lloyd Johnson and Bill Mackey, and later for John Hillman, all from New Jersey. As he learned from these early collectors, and by visiting the carving sheds of old-time carvers, Bob began collecting for himself. He focused on the
very best Delaware River working decoys that he could find, with an emphasis on rarity of species from the masters along the river.
The collection that purchased from Bob has remained intact. In 1988, the decoys were put on display for the first time at the Noyes Museum in Oceanville, New Jersey, as a salute to the skilled old-time carvers and painters of the Delaware River. The original core group of the collection was supplemented with an additional 30 decoys that I acquired from Bob or on my own with his guidance. wanted this specific group of decoys within my larger collection to continue to be named "The Bob White Collection" as a tribute to the exceptional accomplishment of Bob's talented eye,
also been fortunate to acquire one of every specie of bird that came down the Delaware River of Bob's own carvings. As well, Bob made a hunting rig for me that he and his friends hunted over in the river. These were on display in 2004 at the almost year-long exhibition that Bob and co-curated at the Mercer Museum in Bucks County, Pennsylvania which was comprised mostly of the old "classics" from 18651945. It has been a great ride. I feel so privileged to live with these beautiful floating sculptures. am indebted to the knowledge shared with me by so many talented carvers and sportsmen, and am grateful for their friendship. Bruce Williams, 2010 (1930-2019) The Bruce Williams collection Bruce Williams with George Strunk, pictured at Russ Allen's workshop • Charlie Hunter III • Paul Tudor Jones II • Gene & Linda Kangas • Jim Keegan • Gene Konopasek • Jim Lewis • Preston Lowe • William J. Mackey, Jr. • Dr. Jim McCleery • Steven Michaan • Jack Mitchell • D.C. North • Estate of Charles Perdew •
•
•
•
•
•
•
•
•
In addition to the acquisition of "The Bob White Collection", I've
Kirby Roberts
Carolyn Rowland
Gov. James Thompson
John Tice
Hugh Turnbill
Kirk Whaley
Bob & Pauline White
Geo & Hope Wick
Bruce Williams
Steven Michaan collection
known examples from Virginia and North Carolina.
During his lifetime, D.C. had many pursuits and interests, but excelled at collecting decoys and was usually researching and learning about his latest finds. He also worked as a professional auctioneer and was known as an entertaining master of ceremonies. D.C. is credited as co-founder of what is today's Carolina Decoy Collectors Association back in 1978.
that he owned. In the 1980s and 1990s when people were writing decoy books, he was the man to go to. Consequently, most of his decoys are pictured in decoy books, including; "Southern Decoys," Fleckenstein, "Great Book of Decoys," Engers, editor, Decoys: A North American Survey," Kangas, and the extended version of "Chesapeake Bay Decoys," Richardson.
D.C. died at 89 years of age on Christmas Day 2020 at his home on Goose Haven Farm in Currie, North Carolina. D.C. was married to the late Hester Irene Freeman North and leaves behind four children, 10 grandchildren and two great grandchildren.
D.C.'s matchless collection of Southern black ducks and shorebirds will be proudly auctioned at this summer and fall auction.
D.C.'s "N" brand, which he used from 1981 through 1988. Pictured from lot 142a of this sale.
The Debernia Clinton "D.C." North, Jr. Collection
Leader in World Records
Establishing record prices for decoys doesn't simply just happen. It is the result of market knowledge, innovative marketing, and maintaining an intimate understanding of what the top collectors are looking for. Of the 268 recorded carver world records, as tracked by Decoy Magazine, our company has set 178 of those records; six times that of our nearest competitor. Below is just a sampling of the noteworthy world records that we have set.
•
•
•
Lothrop Holmes - Merganser - $856,000
Elmer Crowell - Black Bellied Plover - $830,000
Caines Brothers - Mallard Hen - $767,000
• Mason Factory - Premier Woodduck - $690,000
• William Bowman - Curlew - $464,500
• Nathan Cobb, Jr. - Curlew - $390,000
• Lee Dudley -Ruddy Duck - $269,000
• Ward Brothers - Pintail Hen - $201,500
• Charles Perdew - Mallard Hen - $252,000
•
Ira Hudson - Merganser Hen - $214,000
• Bert Graves - Mallard Pair - $214,000
•
•
John Blair - Mallard Hen - $214,000
Harry Shourds - Seagull - $212,400
• Robert Elliston - Mallard Hen - $212,400
• John Williams - Swan - $194,700
• Oscar Peterson - Fish Decoy - $114,000
• Hans Janner - Fish Decoy - $108,000
•
James Beckhart - Duck Call - $103,500
Carver World Auction Records as tracked by Decoy Magazine through January 2022
Guyette & Deeter 248 Nearest Competitor 42 6x
Leader in Marketing of Sporting Collectibles
• Three annual auctions located throughout the East and Midwest to reach to the largest number of buyers.
• Auction preview flyers mailed to collectors prior to each auction.
• Displaying auction items at the largest decoy and sporting collectibles shows in the country.
• Targeted emails to customers and potential buyers.
• Ongoing social media posts promoting auction items.
• Private showings of select pieces to top buyers across the country
• Advertising in the largest and most widely read sporting and antique related publications
• Continuously updated auction previews on the G&D website
• Promotionally-driven partnerships with a variety of decoy and sporting collectibles organizations:
• Ward Museum • Ducks Unlimited • Mass Audubon • North American Decoy Collectors Association • Great Lakes Decoy Collectors Association • Easton Waterfowl Festival • East Coast Decoy Collectors Association • Delmarva Decoy Collectors Association
A word in general about the quality of the catalogs. Each catalog included not only details about the decoy being offered, but also its provenance, the literature that discussed the bird, or in some cases pictured it. The exhibition history, where appropriate was included and extensive, often multipage, biographies of the carvers were also included. There were also details
concerning the consignors who had put together the impressive collections. And, of course, detailed statements of condition. Some auction houses are cutting back on printed catalogs, but these catalogs go against that trend.
Rick Russack - Antiques and the Arts Weekly contrinuting Editor
Russell Aiken Jack Amato Peter Bartlett The Blair Family Peter Brown Jon & Virginia Chua Robert Congden Jim Cook John Delph Dr. John Dinan Jim & Pat Doherty Sam Dyke Adele Earnest Hal Evans
Guyette & reputation for excellence. Celebrating 38 years with 143 cataloged A 410-745-0485 P.O. Box 1170 St. Michaels, MD 21663 www.guyetteanddeeter.com
history of marketing important decoy collections A 1
Dave Fisher Joe French Dave Galliher Dr. Lloyd Griffith Harold Haertel Mort Hanson, Bobby Harrelson Somers Headly William Hickey John Hillman Charlie Hunter Paul Tudor Jones
The Leading and Most Trusted
ArtArtistsfrom1879to1881andagainin1884.HealsoshowedattheBoston Club,theNationalAcademyofDesignandtheArtInstituteofChicago. theIn1887,hisworkwasdisplayedattheopeningofthenewquartersof celebratedPhiladelphiaArtClubalongsideworksbyAlbertBierstadtandother artistsoftheperiod.
byAnimpressive35"x58.5"oiloncanvas glimpseHermanSimon.Depictsanimportant ($75,000ofwaterfowlingontheChesapeake. -$95,000) Whatmanyconsidertobethemost importantwaterfowlingsceneeverpainted. artistExecutedin1883bynotedPhiladelphia HermanSimon,thelargeoiloncanvasaoftwowealthysportsmanshootingfrom Bay,doublesinkboxintheChesapeake commissionistheonlypaintingofitskind.Likelya piece,twogunnerscoveredup ofincanvasbacks.TheCanvasbackwasking andtheChesapeakeattheturnofthecentury sinkboxhuntingwassosuccessfulthat haveitwaseventuallyoutlawed.Neverbefore momentweseenapaintingthatcapturesthis intime. Simon'sworkwasincludedinnumerous prominentexhibitionsoftheperiod. He FineexhibitedatthePhiladelphiaAcademyof Artsin1863and,again,between1876 and1884.HispaintingsintheCentennial ExhibitioninPhiladelphiaof1876included "DogsatQuailShooting"and"Duck ShootingontheChesapeakeBay". He exhibitedwiththePhiladelphiaSocietyof
Media advertising includes key collector publications such as Decoy Magazine, Maine Antiques Digest, Antiques & the Arts Weekly, and Sporting Classics Magazine.
canvassportingart,includinganoilon ofduckhuntersthatwas carvings,5feetwide.Therewereminiature

onwhatisbeingsold,relyinginstead onlinedescriptions,withmore theorlessinformation,dependingon tioneersauctioncompany.Decoyauc areoneoftheexceptions thistothispractice.Thecatalogfor
wasguaranteed.Thecatalogalso someincludedextensivebiographiesof
whosecollectionswerebeingsold, biographies
knownaboutspecificbutperhapslittlehuntingfacetsofthecollectingor world.Forexample,this specificscatalogincludedadiscussionof
falconbirds,atwo-pageexplanationof hoods,adiscussionofthe
andtheenormousslaughteritcaused
decoysoftentracethemovementofprize fromonefamouscollection logstoanother.Inotherwords,cata likethiskeepalivethe"lore"ofdecoycollecting. byThesalestartedwithcarvings firstcontemporarycarversandthe lot,awilletinflightbyWil liam Gibian, sold for $19,200,that'salmostfivetimestheestimate— Interestagoodwaytostartasale. contemporarycontinuedstronginthe carverswithaloon by Mark McNair selling forJim$10,800.Therewerefiveducksby Schmiedlin,oneofthemas Bringingtersofthecraftwhodiedin2015. $45,000 was a 2008withback-preeningwoodduckdrake finepaintanddetails,such tail.ascarvedfeathers,wingtipsand Itsheadandcrestweretilted to one side and the drake wasgroomingitself.Schmiedlin,who developed Lou Gehrig's disease
tions in Philadelphia, includingthe1876CentennialExhibition. ersUseofthesinkbox,givinghunt plicatedahugeadvantage,wasacom undertaking, involving several small boats and severalupmentogeteverythingsafelyset pensiveandready.Itwasnotaninex day'ssport.In1905,rent prior to this sale. The catalogofdevotesfourpagestoadiscussion Fourthisdecoy. of the five lots that real
ing the sinkbox and the neces sary ized more than $100,000 weretodecoysbutnotallwereexpected reach that level. One of theuresurprisefinishersinthesix-fig category (and it wasn't theonlyone)wasaNantucketplover
sale.Shorebirdsaccountedforseveralofthehigherpricesinthe finishedAlthoughbyanunknownNantucketmaker,thisplover at$114,000,againstahighestimateof$22,000.The vercatalognotedthatitisarigmatetotheonlyNantucketplo inthecollectionoftheMuseumofAmericanFolkArt.
$100catalog(equivalentto$3,000today).The includesareprintofan 1886 article published in Baltiboxes.morewhichdiscussesuseofsink ShangWheeler'sMallard&NortheastShorebirds LeadForGuyette&DeeterAuctionActionInStMichael's,Md. Ofthefivelotsthatsoldformorethan$100,000,twowere shorebirds, one from Nantucket and this one from Long
includingapaintingbyEdmund Island. It was a greater yellowlegs in a contented poseWellcarvedbyWilliamBowmaninthelateNineteenthCentury. carvedandwellpainted,itsoldfor$108,000. At$108,000,thisfishdecoywasoneof aauction.HansJennercarvedand paintingso-called"ghostfish."Called oneachside appears a second one.
It
canvaswhichearned$60,000.Anoilon byGeorgeBrowne(1918landing1958)depictingaflockofgeese onafarmpondearned $12,000.
to
(1858-1928) The sale's highest price, $144,000, was earned by ShangWheeler'sraremallarddrake,circa1940,inanat-restpose. thisWheelermostlycarveddecoysforhisownpersonaluseand isbelievedtobetheonlysleepingmallardhemade. This mallard drake by John Blair Sr was a well-known example,havingbeenpicturedintwobooks.Itmorethan doubleditsestimate,bringing$96,000.
Strong
&
Inc. excellence. cataloged auctions, and total sales of $215 million. tradition of exceptional service. • Guaranteed condition reports - Both live and weekly online auctions • In-house shipping - Fewer steps to receive your treasures • Multiple sales platforms for the marketing of your sporting collectibles • Onsite x-ray machine • Estate planning services giving you and your family peace of mind • The best catalogs for education and reference A 1. Lothrop Holmes - $856,000 2. Elmer Crowell - $830,000 4. Elmer Crowell - $801,500 5. Caines Brothers - $767,000 7. Mason Decoy Factory - $690,000 8. Elmer Crowell - $684,500 10. Unknown carver - $632,500 marketing and selling the most collections in America 4 2 5 10 We have sold seven of the top ten highest priced decoys ever to be sold at auction. Griffith Sr. Harrelson Hickey III Jones II Gene & Linda Kangas Jim Keegan Gene Konopasek Jim Lewis Preston Lowe William J. Mackey, Jr. Dr. Jim McCleery Steven Michaan Jack Mitchell D.C. North Estate of Charles Perdew Kirby Roberts Carolyn Rowland Gov. James Thompson John Tice Hugh Turnbill Kirk Whaley Bob & Pauline White Geo & Hope Wick Bruce Williams Trusted Decoy Auction Firm in the World Guyette & Deeter, Inc. TheLeadingandMostTrustedDecoyandSportingArtAuctionFirmintheWorld A"DoubleBatterySusquehannaFlats,"byHerman chancetoownthemostimportantwaterfowlgunningpaintingevercreated,executedin1883. August 6 & 7, 2021 | Decoy and Sporting Art Auction TheonlysleepingmallardbyShang Wheeler.Dustjacketdecoyfrom "Shang,"byDixonMerkt. ($80,000-$120,000) OutstandingoiloncanvasbyEdmundOsthaus,23.5"x35.5".($35,000-$45,000) 410-745-0485|St.Michaels,MD21663 Garywww.guyetteanddeeter.com Guyette|410-924-5678 Jgary@guyetteanddeeter.com onDeeter|440-610-1768 jdeeter@guyetteanddeeter.com
Deeter,
Decoys by Doug Jester A selection of decoys from Long Island Decorative hooded merganser by Jim Schmiedlin Decorative mallard by the Ward Brothers Decoys by Cline McAlpin www.decoysforsale.com Guyette & Deeter, Inc. Online only weekly auction | September 23 - 30, 2021 ADDITIONAL PHOTOS WILL BE VIEWABLE WHEN SALE GOES LIVE AT 9PM, September 23 www.decoysforsale.com Shipping Estimates Shipping quotes on each listing are simply estimates and are subject to change depending on winning bidders exact address and the final hammer price. 150+ quality items to include decoys, sporting art, fish decoys, duck calls, and other sporting collectibles. This auction will be held totally online and can only be viewed at www. decoysforsale.com. Items will be viewable and open for bidding from 9pm Thursday, September 23 till the evening of Thursday, September 30. As always, items will start ending at 7pm Eastern and every minute after that. Hover your smartphones camera above this code after 9pm Thursday, September 23 to enter the auction or simply go to www.decoysforsale.com on your computer. • In order to bid you need to create an account at www.decoysforsale.com. You will only have to do this once. • No reserves. Bids start at 1/2 the low estimate. Any bids submitted in the last minutes of a listing will extend the time by 2 minutes. gives everyone get their bids in. No last second bidding. Friday mornings. We do not automatically charge Shipping will be consolidated for multiple purchases in a single weekly auction. they ship Waited to the last minute to bid and having Cooper at 609-560-8028, will do help. your early. Decoysforsale.com Timed Weekly Auctions FREE DECOY APPRAISALS For free decoy appraisal contact: Gary Guyette gary@guyetteanddeeter.com 410-745-0485 Jon Deeter jdeeter@guyetteanddeeter.com 440-610-1768 Zac Cote zcote@guyetteanddeeter.com 207-321-8091 Decorative wood duck by Jim Schmiedlin Guyette & Deeter 100+ Lot Super Sale May 26 - June 2, 2022 www.decoysforsale.com Postcard.indd "Coffee table" quality 300+ page, full color auction catalogs. Auction flyers mail to over 12,000 potential buyers.
support periodic DecoysForSale.com "Super Sales"
Postcards
advertising relationships garner extended auction media coverage, often including cover stories in key publications.
Shopwithus Sellwithus EraWoodblockPrints www.erawood blockprints.com LookAtThatNecklace! www.trocadero.com/ stores/lookatthatnecklace StudioAntiques &FineArt www.studioantiques.net Nelson&NelsonAntiques www.nelsonand nelsonantiques.com DialogueGallery JapaneseCeramics www.trocadero.com/stores/ dialoguegallery PatHatch CountryAntiques www.country andshaker antiques.com JuneHastingsAntiques www.junehastings.comBalanced Breakfast C March2021 VOLUMEXLIX•No.3 TheMarketplace forAmericana IndexofAdvertisers...p.36 TableofContents...p.37 Shows&Auctions...p.38 SubscriptionForm onp.140 Plusmuch,much more! Inthisissue: ChineseChairsFly A$50,000Cameo GlassVase HennageCollectionGoes toColonialWilliamsburg August27,2021—AntiquesandTheArtsWeekly—41 ST MICHAEL'S, MD. — The second of Guyette & Deeter's three cataloged decoy auctions this year took place on Augustwould6-7.Theonewordtosumitup
the two-day sale grossing 500$4.2million.Therewerejustover lots offered, but the word "decoy" doesn't really describe
were duck and shorebird decoys from nearly every bird
Coast to the West Coast. There were fine examples of
decorativecarvings,fish decoys and carvings, duck and turkey calls,ammunition boxes, some hunting firearms, some American furniture,and this is not a complete list.One of the
of 48 vintage falconry hoods.
thick catalogs filled with color photographs and details about
sale was about 350 pages long, sometimes with multiple photos of each item. Condition reports were included, and the accuracy of those descriptions
of the men and women
of several of the major carvers and
shore
role played by the demand for feathers for women's hats and
more. Catalog
be"success."Fivelotssold 100formore$100,000eachandabout withlotsearnedfive-figureprices,
thereeverythingthesaleincluded.Yes,
Easthuntingregionrepresentingthe
lectionmostunusualofferingswasacol
auctioneersWe'reinanerainwhichmost havedispensedwith
information
of New England
descriptions
men for arranging everything could cost
The sale included numerous other pieces of sporting art,
Osthaus
depicting two English setters on point,
wasn't necessary
Shang Wheeler's rare mallard drake,circa 1940,in an at-rest
and its bill tucked under a
alateinlife,soldthisbirdthrough where2013Guyette&Deeterauction, it sold for $26,450,with Liketheproceedsdonatedtothe"Live TheLou"foundation.firstoftheauction'ssix-fig uresaleswasanoiloncanvasby Herman Gustav Simon (1846-feet,1897).Thelargepainting,3by5 which brought $102,000, was titled "Double Battery Susquehanna Flats"and was arisingsceneoftwowell-dressedhunters fromasinkboxinthemidst backofalargerigofdecoys.Canvas ducks fly overhead anding.some,havingbeenshot,arefall Thepaintingisthoughttobe oftheearliestandlargestdepiction thetheuseofthedoublesinkboxin originallyregionandwas,undoubtedly, destinedforanaffluent home. Herman Gustav Simon,hisborninGermanyemigratedwith family, settling in Philadelphia.Hewaswell-knowninPhil adelphiaforhislandscapesand paintings of animals. His work It'stheonlysleepingmallardby Wheeler now known to exist.ownWheeler,whocarvedonlyforhis use, worked in Stratford, Conn., and most of his decoysthatrepresentspeciesthatfrequented area. Mallards were notdidcommonintheareaandWheeler
was included in several exhibi ofShangbyDixonMerkt.Wheel er gave it to a private family,haswhereithasbeensincethen;it never been on the market
plesspendfivefiguresongoodexam worksofsportingart.Severalother soldforlessthan$2,000, withsomesellingunder$1,000.
sideposewithitsheadreclinedtoone
topwing,wasexpectedtobringthe disappoint,priceofthesale,anditdidnot realizing $144,000.
notmakemany.Thisparticu aslardecoyispicturedonpage70, wellasonthereardustjacket,
Reviewby PhotosRickRussack,ContributingEditor CourtesyGuyette&Deeter
Leader in Meeting Consignor Needs
We often find that families want to sell complete collections rather than a few select items. We offer a full suite of sales channels to meet all of our consignors' needs. While our three annual auctions generally attract the more experienced collector, our weekly online "DecoysForSale.com" auctions reach avid collectors of more moderately priced items.
• DFS is now the largest decoy auction company by volume and the third largest by gross sales. • Capitalizes on growth of online buying • Setting its own world record prices for makers • Same condition guarantees as catalog sales • Every item goes through visual inspection, UV inspection, provenance assessment, and X-ray, if needed
In addition, we can also refer some items to smaller, specialized auction houses to help consigners fully meet their sales goals. At the end of the day, we are built to meet our consignors' needs, regardless of how broad or narrow they may be.
QUALITY SPORTING COLLECTIBLES Guyette & Deeter We ekly Auctions A safe place to collect
Growth of DecoysForSale.com Average Price Per Lot Numbers of Items Sold Gross Sales 2016 2016 2016 2017 2017 2017 2018 2018 2018 2019 2019 2019 2020 2020 2020 2021 2021 2021
Our New Showroom Located in St. Michaels, Maryland
Our showroom gallery provides a comfortable gathering place for collectors to preview single owner or collective displays. The facility also houses an on-site x-ray machine, photography, and catalog development, with a highly organized warehouse that is available for collectors to visit Monday - Friday from 9 - 5, along with afterhours or weekends by appointment.
When not in St. Michaels, our principals travel the country visiting top collectors to stay abreast of their areas of interest and bring them relevant pieces to preview as they become available. All told, we typically log over 100 days on the road each year to promote our clients' consignments to potential bidders.
Our facility, located at 1210 S Talbot St, St. Michaels, Maryland 21663
Our auction catalogs are a key element in the marketing of our clients' consignments. They are produced in-house and have been widely praised for their overall quality. Each includes full-color photography for every item being offered along with a detailed description and guaranteed condition report. In addition, where available, listings provide provenance and cite literature that discussed/and or pictured the item. To underscore historical significance, extensive carver biographies are often included as are detailed profiles of significant consignors.
addition to bringing quality birds to the market - - - -Guyette & Deeter have taken the quality of auction catalogs to the next level. They just keep getting thicker, as multiple photos and biographical material help promote their inventory".
Top: Our extensive warehouse.
Left: Photography/Design studio.
Right: X-ray machine.
Bottom: Entrance/gallery display.
"In
Joe Engers – Editor and Publisher, Decoy Magazine
Antique Decoys
1. Lothrop Holmes - Kingston, Massachusetts - $856,000 2. Elmer Crowell - East Harwich, Massachusetts - $830,000 4. Elmer Crowell - East Harwich, Massachusetts - $801,500 5. Caines Brothers - Georgetown, South Carolina - $767,000 7. Mason Decoy Factory - Detroit, Michigan - $690,000 8. Elmer Crowell - East Harwich, Massachusetts - $684,500
10. Unknown carver - Massachusetts/Pennsylvania - $632,500
We have sold seven of the top ten highest priced decoys at auction 1 4 2
7 8 10
Thomas Gelston Quogue, New York $483,000 Ivar Fernlund Hamilton, Ontario $201,250 Robert Elliston Bureau, Illinois $212,400 John English Florence, New Jersey $225,000
John Dawson Trenton, New Jersey $230,100 Enoch Reindahl Stoughton, Wisconsin $153,400 Charles Safford Newburyport, Massachusetts $517,500 Harry V. Shourds Tuckerton, New Jersey $212,400 Ward Brothers Crisfield, Maryland $201,250
Lee Dudley Knott's Island, North Carolina $276,000
Fred Nichols Lynn, Massachusetts $184,000
John Blair, Sr. Philadelphia, Pennsylvania $218,500
William Basnight Manteo, North Carolina $186,875
Unknown maker Massachusetts $350,750
Elmer Crowell East Harwich, Massachusetts $632,500 William Hart Belleville, Ontario $207,000 Nathan Cobb, Jr. Cobb Island, Virginia $402,500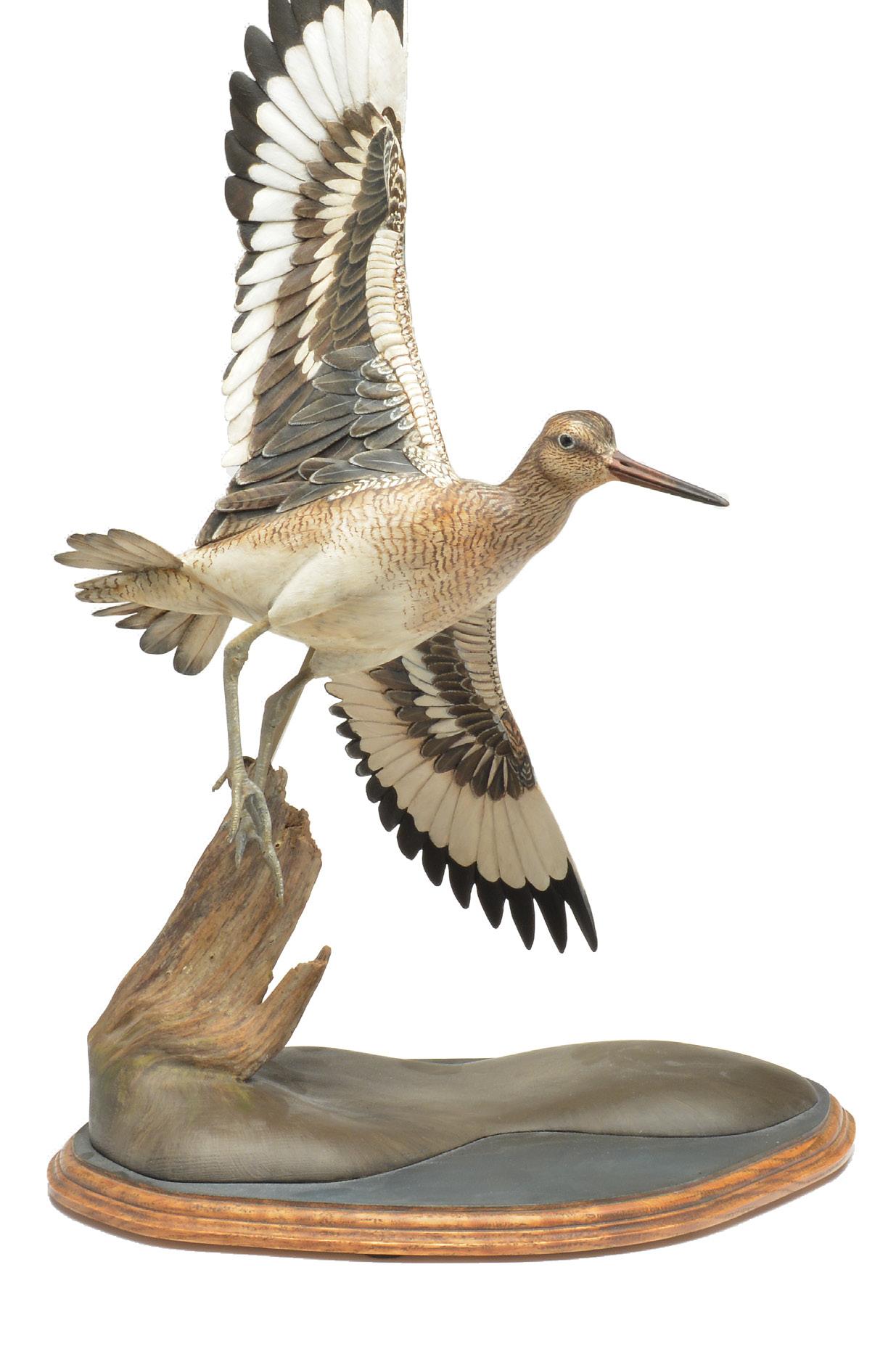 Decorative Carvings Jett Brunet Galliano, Louisiana $15,525 William Gibian Onancock, Virginia $19,200 Oliver Lawson Crisfield, Maryland $12,980
Ron Tepley Racine, Wisconsin $15,600 John Scheeler Mays Landing, New Jersey $11,800 Tan Brunet Galliano, Louisiana $9,200 Roger Barton San Francisco, California $7,800 Ernie Muehlmatt Salisbury, Maryland $12,075
Fish Spearing Decoys
20" long perch, Oscar Peterson, Cadillac, Michigan
$114,000 - World record for a fish decoy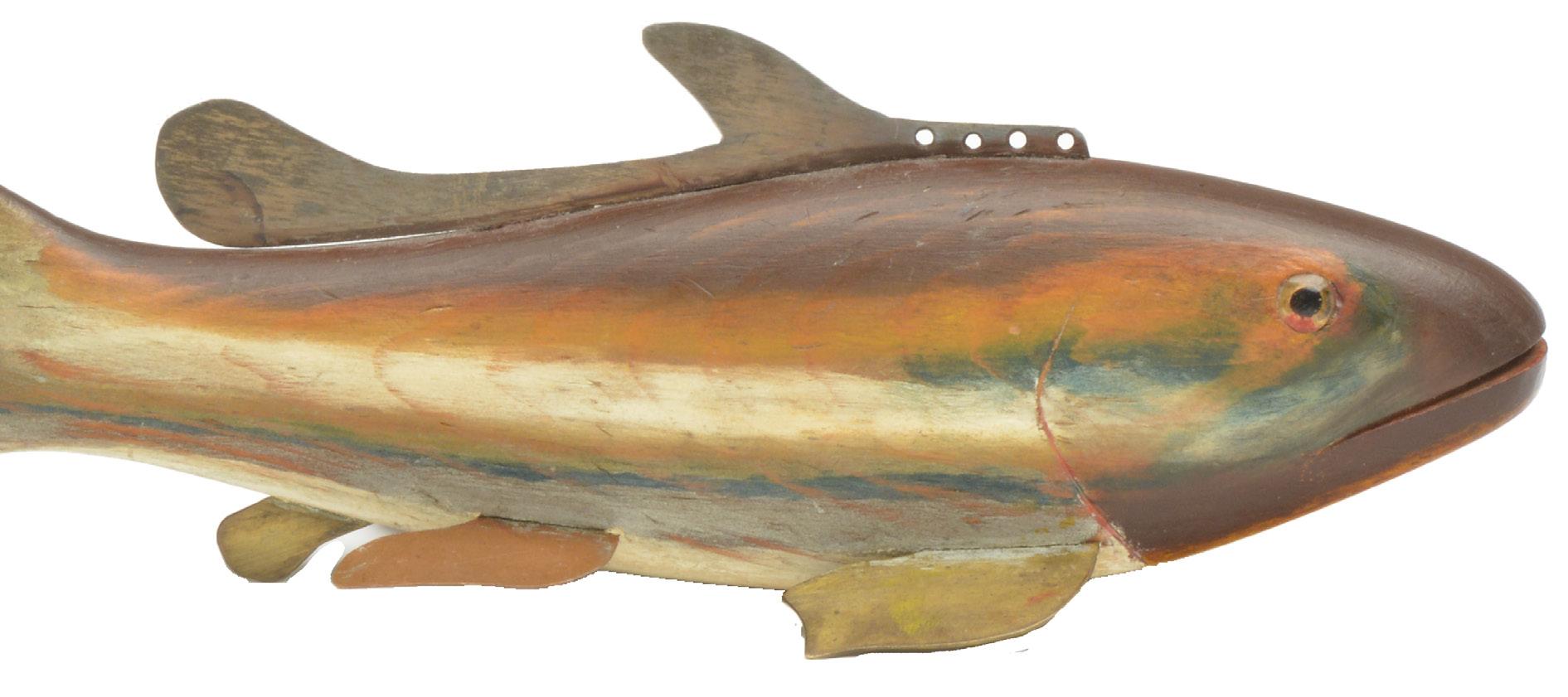 $108,000 $75,000 $69,000 $41,400
Fish decoys by Hans Janner - Mt. Clemens, Michigan
$66,000 $42,000 $16,520 $31,200
Fish decoys by Oscar Peterson - Cadillac, Michigan
Harry Seymour
Unknown maker Lake Chautauqua $34,500 Unknown maker Lake Chautauqua $34,500
Lake Chautauqua, New York $48,000
Ed Irwin Lake Chautauqua, New York $43,200
Hans Janner
Mt. Clemens, Michigan
$63,000
Unknown maker Lake Chautauqua $27,600
Unknown maker Lake Chautauqua $16,100
Leroy Howell Hinkley, Minnesota
$9,775
$84,000
Crowell $30,000
Fish Plaques Oscar Peterson
Elmer
P.D. Malloch $20,700 Lawrence Irvine $18,000 George Gillette $10,925 Phillippe Sirois
Calls James Beckhart | $103,500 World record for a duck call James Beckhart | $20,700 Victor Glodo | $12,650 Perry Hooker | $17,250 Tom Turpin | $7,800 Kinney & Harlow | $63,000
Charles Perdew | $29,900 Owen Gromme | $21,850 Bill Clifford | $8,625 Kinney & Harlow | $24,150 James Beckhart | $17,825 John "Sundown" Cochran $16,675
1 2 3
Herman Gustav Simon (1846-1895) - $102,000 Bob Kuhn (1920-2007) - $109,250
Edmund Osthaus (1858-1928) - $66,000
Sporting Art
1
2 3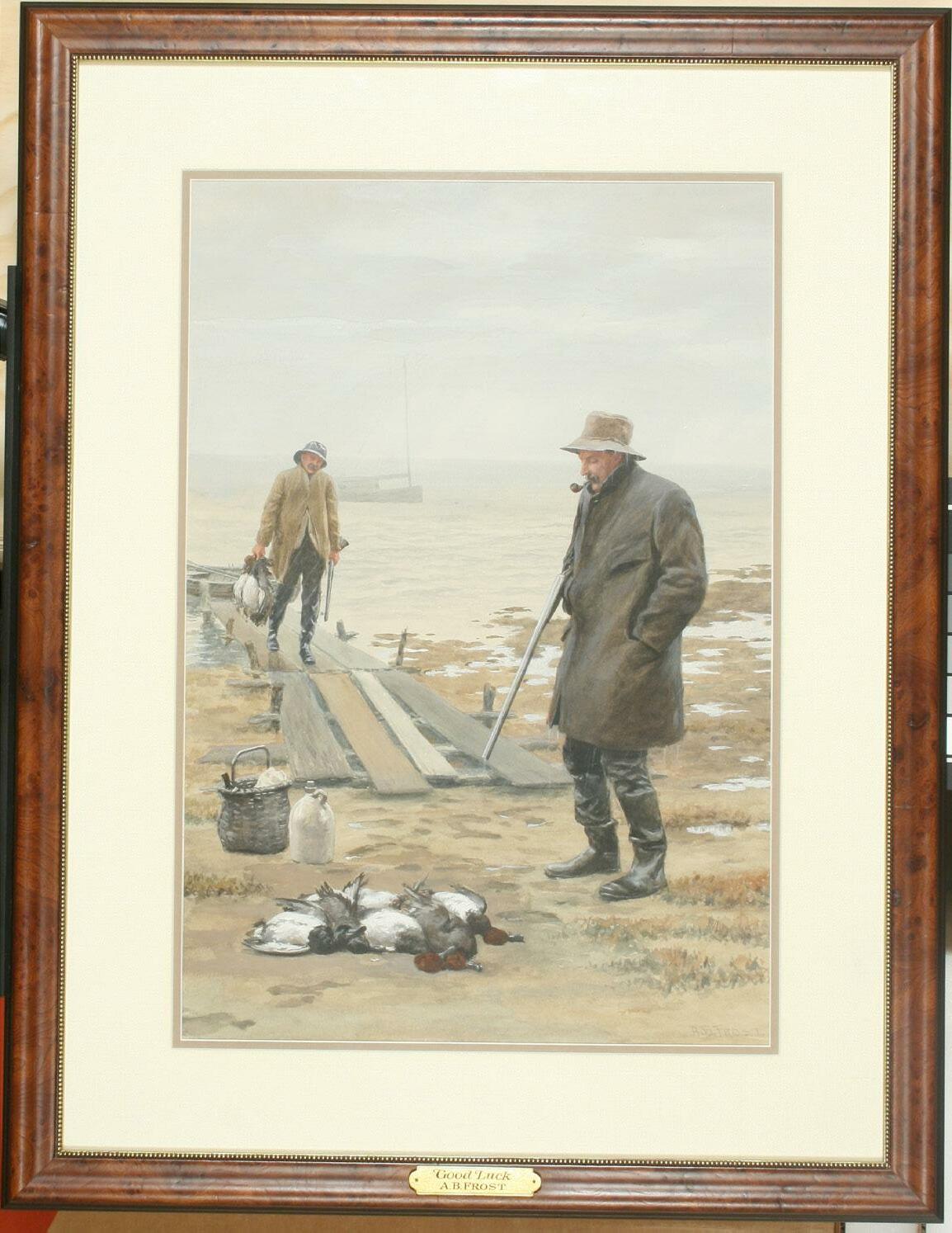 Frederic Remington (1861-1909) $74,750 Arthur Burdett Frost (1851-1928) $92,000 Frank Weston Benson (1862-1951) $28,800 1 2 1 2 3 4 Andrew Wyeth (1917-2009) $94,875
3 4
1 2
3
Edmund Osthaus (1858-1928) - $48,000
Lynn Bogue Hunt (1878-1960) - $33,600
Frank Stick (1884-1966) - $23,400
Percival Leonard Rosseau (1859-1937) - $51,750
Ogden Pleissner (1905-1983) - $37,375
1 2 3 4 4 5
5
Francis Lee Jacques (1887-1969) $26,450
George Browne (1918-1958)
$22,200
David Maass (b.1929) $25,370
George Browne (1918-1958) $19,550
John Seerey Lester (1941-2020) $9,600
Aiden Lassell Ripley (1896-1969) $23,000
Chet Reneson (b.1934) $11,400
Folk Art and Americana Cigar store Indian princess $570,000 John Bellamy $126,260 Floor lamp $27,600
John Tolson $13,800 Oscar Peterson $31,200 Charles Perdew $27,600 Weathervane $42,000
Oscar Peterson $123,250 Oscar Peterson $37,200 Oscar Peterson $15,600 Masthead figure $22,425
Charles Hart $44,275 Alexander Pope $33,350 J.W. Fisk $23,600 Grenfell Labrador Industries $6,612
Old Town Canoe model $27,600 Rangely Lakes salesman sample $16,800 Sneak boat model $6,600 Nantucket Basket $4,560
Kennebec canoe model $21,600 Adirondack guide boat model $7,187 Indian Burl Bowl $4,600 Emile Robichaud $2,460
Advertising Winchester $16,800 U.M.C. Shot Shells $9,775 Bristol Rods $7,200
J. Dukehart & Co. - $8,625 DuPont Gun Powder - $12,650 Baily, Farrell and Co. - $8,625 Selby Shells - $5,750
1 2 3 4
3. Remington Arms Company - $7,475 5. Peters - $6,785 6. Winchester - $6,900 2. DuPont - $6,195 4.Winchester - $39,100 7. Union Metallic Cartridge Co. - $8,050 1. Quick Shot - $6,325 5 7 6
Lion Stone Consulting and Guyette & Deeter Form Strategic Alliance For the Marketing of Fine Sporting Arms at Auction
I grew up around fine sporting guns. Starting at age 8, I began attending gun shows with my father, who has been seriously interested in fine American Sporting Shotguns for as long as I can remember. He exposed me to lots of great guns over the years as he built and refined his collection- constantly looking for guns in finer and more original condition than what he previously owned. Fast forward to 2012 and I began talking to James D. Julia about the possibility of joining his gun division as a co-department head with Wes Dillon. It was an opportunity, after 15 successful years in financial services, to make my hobby and passion my work. Thankfully, Jim saw my knowledge in American shotguns and my sales acumen, and a deal was struck! I joined his incredibly respected firm in March 2013 and have never looked back.
For the past decade as I have been involved in the high-end antique and collectible gun business, I have watched closely what other auctioneers were doing to try to find best practices and learn from them. Since I was not involved in the collectible decoy markets, I watched my friends at Guyette and Deeter with a keen eye as they have always had a reputation for being very honest and fair with both buyers and sellers alike, a trait I found to be critical to anyone I would ever want to align with. I also admired their marketing and the ways in which I observed their clients valuing their relationships with the principals of the firm.
Fast forward to 2022. I was continuing to get calls from clients asking me when I might start my own auction firm to help them handle their sporting gun collections at auction. As I started thinking about all the infrastructure that is needed to build an
auction firm, I didn't think I wanted to take on the task. Imagine my surprise when the phone rings and I see it is Jon Deeter calling. Jon tells me that he and Zac are thinking of starting a gun division and wanted to know if we could work together in partnership to help build something from the ground up. He told me of G&D's desire to build a world recognized and respected gun division that focused on rare and collectible sporting arms, much like the firm's already dominant leadership in the decoy and sporting art world. I was somewhat shocked to hear this from Jon because for the last few years, I had been getting a stronger and stronger feeling that there was a wide open gap in the market for a highly respected auction house, like G&D, to build a boutique auction division focused intensely on the world's best and most desired & collectible sporting shotguns.
Josh Loewensteiner
Exceedingly rare and desirable high condition Parker BHE 28ga
After that conversation, I immediately called my wife to talk to her about what was discussed. We both agreed that my firms' values align perfectly with those of G&D. She liked the idea and felt it would be worth pursuing. Jon, Zac, and I have had numerous conversations on what we plan to achieve over the coming years working together and we are pleased to announce our newly formed alliance.
Our plan is to hold two major sporting gun auctions per year starting in February 2023. In each sale, we will offer a select group of fine sporting guns, describe them and photograph them with "best in class" presentation and marketing, sell them with a guarantee, and deliver exceptional value to both buyers and sellers alike.
I am extremely excited to join in partnership with the team at G&D to build something that serves our clients and continues to develop the market for fine sporting arms.
If you are buying or selling, we look forward to speaking with you and learning more about how we can work together to achieve your goals.
Josh Loewensteiner | Lion Stone Consulting
704-280-2382
J. Wesley Dillon has over 35 years of marketing experience in antique and modern firearms and sporting collectibles. A founding member of the original Cabela's Gun Library in NE, Wes joined forces with the prestigious James D. Julia Auction firm in 2007 serving as Department Head and Senior Consultant for the Firearms Division until it's sale in 2018. Today he serves the collecting fraternity and auction trade as an independent consultant based in the greater Denver area.
Josh joins J. Wesley Dillion as our expert firearms consultants
Stunning A.H. Fox "FE" Grade 12ga
Fantastic L.C. Smith Monogram Grade 20ga
While you continue to enjoy collecting today, you can rely on Guyette & Deeter to collaborate with you on your estate planning and collection management needs. Whether it's for tax purposes, estate planning, gifting, charitable giving, or insurance, we can develop and periodically update a comprehensive written appraisal of your collection. We have extensive experience working closely with banks, attorneys, trustees, estate officers, probate court, private clients and family members responsible for the dispersal of collections as part of larger estat es. O ur unmatched market understanding allows us to more accurately document the value and description of each item in your collection. We know that working together to ensure that your wishes are established now will make it easier to administer your estate lat er. Co ntact Jon or Zac to discuss our Legacy Planning Program today.
Collection Planning Program
Jon Deeter | 440-610-1768 jdeeter@guyetteanddeeter.com Zac Cote | 207-321-8091 zcote@guyetteanddeeter.com
Collect Today, Plan for Tomorrow
Incredible pair of mallards by the Caines Brothers of Georgetown, South Carolin a. Sol d July 2018 for $1.14 Million.
Caines Brothers decoys being used at the Hobcaw Barony, circa 1910.
Guyette & Deeter, Inc. PO Box 1170, St. Michaels, MD 21663 www.guyetteanddeeter.com 410-745-0485
Miniatures by Elmer Crowell