Buzz
Personal Assistant
Fender Musical Instruments Corporation (FMIC) launched the latest amp in its Mustang series, the Mustang Micro Amp. It is a personal guitar amplifier with a wide selection of tones and effects from the Mustang Series amps, now available in a compact, portable product that fits in a player's pocket and allows them to jam silently anywhere. The on-the-go guitar amplifier has more than four hours of continuous play time and can be plugged directly into a guitar and connected to favorite wired headphones. Players can easily choose from a selection of amps depending on your musical preference — from classic cleans to metal — and a bevy of effects. The Mustang Micro is ideal for beginners and seasoned players alike. Its simple and intuitive controls, as well as rechargeable batteries, are made for the player on the go, while its headphone output and Bluetooth play-along capabilities make it perfect for quiet, at-home practice sessions.
fender.com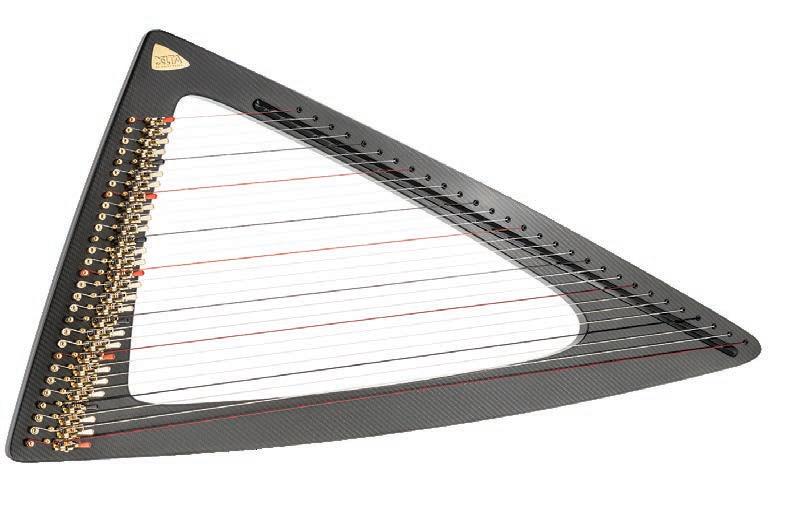 Rolling in the Deep
Washburn Guitars debuted the Deep Forest Series, created specifically to feature acoustic guitars with exotic woods from around the world. The first collection in the Deep Forest Series is the Ebony Collection. The models in the Deep Forest Ebony Collection are: Deep Forest Ebony D; featuring a standard dreadnought body, this has the most traditional sonic profile of all of the models in this family; Deep Forest Ebony FE is a slightly smaller folk-style body shape on the FE makes it very comfortable to play. This body style also further focuses the tone giving this the most attack amongst the three models in the collection; and Deep Forest Ebony ACE, offering a cutaway Auditorium body, the ACE is the most modern take on the Deep Forest Ebony collection.
washburn.com/deepforest
Elite Furniture
Gator Frameworks launched its Elite Studio Furniture line. The new line includes a studio main desk, a corner piece, rack side-car table and two keyboard tables. All are available in three highquality wood finishes and available to buy as individual pieces or as a set to enhance any studio or home setting. The Elite Furniture Collection comprises the Studio Desk (GFW-ELITEDESK), an ergonomic workstation ideal for podcasts, broadcasts, content creation, streaming, and music production at home; the Rack Side-Car Table (GFW-ELITEDESKRK) that holds up to 10 units of rack gear along with surface space for a small mixer or desktop accessory and a slide-out tray; the Corner Piece (GFWELITEDESKCRNR), an extension piece to either side of the studio desk to add more room to one's workspace; and Keyboard Tables (GFW-ELITEKEYTBL), high-quality, feature-packed solutions for any space. Available in both 61 and 88-note sizes, the keyboard tables' compact sizes are the perfect space-saving solution to enhance any room, stated the company.
gatorcases.com
Do Harp on It
Salvi Harps introduced the carbon fiber body Delta C, a lighter version of the popular Delta, with overall reduced dimensions, at a mere 8.3 pounds. The Delta C's shape and lightness allows versatility to musicians to play it their own way, sitting, standing or even moving onstage. Both the original solid body Delta and carbon fiber Delta C are available as 29-string models (2nd Oct C to 6th Oct C). These electric instruments allow resonant, dynamic and immersive performances, also with the use of all kinds of effects processors. Ready to plug-in-and-play, they are compatible with recording equipment and PA systems, bringing a dynamic to live performances and studio sessions. Both models come with a strap, base, gig bag and tuning key; a flight case and tripod stand are available separately.
delta-harp.com
Buzz
Windy City Design
Zeppelin Design Labs of Chicago released the Cortado MkIII, its high-performance contact microphone. The Cortado MkIII is a rugged, versatile, easy-to-use contact mic that reveals the hidden sounds in the solid world around you, stated the company. The mic is equally useful for sound design, music recording, and venue sound reinforcement. The sensor head attaches easily to most surfaces with clamp, tape or putty, and is tethered to the preamp chassis with a six-foot shielded cable. Features include a Sensitive piezo sensor; rugged steel enclosures; balanced and buffered signal for wide bandwidth and low noise floor; phantom-powered preamp circuit; built-in -10dB pad; and bass boost for extended low end response.
cortadomic.com
Video Killed the Radio Star
With the introduction of the TM-200SG Shotgun Microphone, TASCAM announces another addition to its expanding line of microphones. The new TM-200SG represents the videographer's choice for recording audio in the field. As a compact shotgun microphone that is exceptionally well suited for Vlogging, video shooting, plus other applications where fixed audio isn't an option, the new TM200SG delivers high-quality, mix ready audio in a rugged, compact form factor, stated the company. With its easy to handle, lightweight, and compact design, the TM-200SG delivers maximum audio quality with minimal visual intrusion. Featuring Super cardioid directivity for focused, clean audio capture, the TM-200SG intelligently captures the desired audio while admonishing unwanted sounds, resulting in minimal cleanup in postproduction. Expanding upon this capability, the microphone also incorporates a built-in low-cut filter for easy environmental noise reduction, effectively eliminating vocal pops while minimizing wind and environmental hum that can cause headaches during post-production.
tascam.com
Buzz
Got the World on a String
Spector Musical Instruments announced a line of electric bass strings. Available in four-, five- and six-string sets, these nickelround-wound long-scale strings, made in the USA, are well suited to any bass guitar but are designed specifically to complement the unique tonal character of Spector Basses. Spector has partnered with New York-based La Bella Strings, the world's oldest continuously family-owned string manufacturer, stated the company. Spector and La Bella have developed a custom formula that achieves a balance between longevity, feel, and the attack and sustain that Spector is known for. These nickel-plated round-wound strings are an excellent complement to Spector's instruments and are used exclusively on all USA Series basses made in Woodstock, N.Y. The result is a durable, reliable string that reinforces the iconic tone of Spector basses and proprietary electronics, added the manufacturer.
spectorbass.com
Adapting to Its Surroundings
Hercules launched the DG Adaptive Series. Released were the Universal Podcast Mic & Camera Arm Stand, which can easily clamp to flat and round surfaces. It connects with microphones, action cameras, such as GoPro or compact cameras, and is also compatible with the DG Adaptive Series Smartphone Holder and 2-In-1 Tablet and Phone Holder; the Smartphone Holder, which attaches seamlessly on a flat surface, or on round or square tubes, and supports phone sizes of 4.7 inches to 6.9 inches; and the 2-In-1 Tablet and Phone Holder includes all of the elements of the Smartphone Holder with even more adaptability to extend to fit all tablets, stated the company. With support for tablet and phone sizes 6.1 inches to 13 inches, it also has an one-quarter-inch to 20-inch threaded hole that fits into a tripod stand.
herculesstands.com
Learning to Fly
Tech 21 introduced Version 2 of its Bass Fly Rig. With a Bass Fly Rig, end users have an easily transportable solution to getting rich, expressive combinations they can use for any gig, on stage or in the studio, whether it's around the corner or across the pond, stated the company. The all-analog SansAmp heart is what makes a Tech 21 Fly Rig a true Fly Rig and enables users to go direct to a PA or studio mixers and computer interfaces. Housed in a rugged, all-metal enclosure, the Bass Fly Rig v2 will easily fit in a gig bag or backpack. There are illuminated mini controls to show active status, an included power supply, and metal footswitches and jacks.
tech21nyc.com
Heavy Metal
Audix is now shipping the A127 Omnidirectional Metal Film Condenser Microphone for critical recording applications. Utilizing a reference-grade, half-inch Type 1 metal film capsule, the omnidirectional A127 delivers unmatched audio capture for professional studio recording, broadcast, film and sound design, stated the company. With a frequency response of 10Hz to 20kHz, a wide dynamic range of 133dB and an ultra-low self-noise of 7dBA, the A127 is intended to excel in the demanding applications. Capsule design features a precision-tuned, three-micron metal diaphragm for exceptionally detailed and reliable performance. The A127 circuit is designed and built to exacting specifications and is coupled to the capsule by a series of driven shields to protect the microphone from external interference and capacitive coupling.
audixusa.com
Buzz
X Marks the Spot
Austrian Audio's new Hi-X65 professional headphones feature Hi-X (High Excursion) technology. In addition to the large, open and detailed sound, it also provides the highest level of comfort, stated the company. The ear pads are made of soft memory foam and have been completely redesigned to provide more space for the ears without increasing the external dimensions. The soft memory foam padding of the headband has a recess for the head seam and thus significantly reduces the contact pressure. All moving and load-bearing components are made of metal for maximum load capacity. It has a sturdy folding construction and comes with a carrying bag. Additionally, the headphones allow to work with a large number of feeders: Thanks to the impedance of 25 ohms, the greatest possible power and headroom are always available, no matter if the sound source originates from highend headphone amplifiers, reference AD converters, analog mixers, mobile players or notebooks, stated the company. The standard 3.5 mm stereo jack plug ensures the highest possible consumer compatibility, and an adapter to a one-quarter inch stereo jack is included for professional connections, stated the company.
https://austrian.audio/
A Ture Heavyweight
Evans Drumheads debuted the UV Heavyweight Dry Snare Head. It features two plies of 10 mil film, providing maximum durability, compressed attack, and a wide dynamic range, stated the company. The three mil Reverse Dot lends extra durability, focus, and attack in the center. Precision-drilled dry vents further reduce overtones and sustain. Paired along with our patented UV coating, this head is designed for the heaviest of hitters. This line extension to the Heavyweight will be available in 14 inches.
daddario.com
On the Record
The "Hal Leonard Recording Method" is an introduction for anyone interested in learning the basics of recording audio for bands, singer/ songwriters, and more. Veteran studio engineer and author Jake Johnson takes readers through the fundamentals of audio recording, from gear and set-up through mixing and mastering, sharing tips and guideposts along the way. This book features valuable audio demonstration tracks and video tutorials that are accessed online for download or streaming. The book is also full of helpful photos and screenshots. Topics covered include digital audio basics, basic gear and setup, inputs and outputs (I/O), audio sources and microphones, capturing and editing audio, plug-ins, effects and signal processing, mixing, mastering and more. Jake Johnson is the senior producer, engineer and owner of Paradyme Productions, an award-winning recording studio and production facility in Madison, Wis.
halleonard.com
I'm BAAACK!
PRS Guitars announced the return of its popular Archon amplifier. The new lineup features both a 50-watt 1x12 combo and a 50-watt head with matching 1x12 and 2x12 cabinets. Fans of PRS amps may have noticed the model disappear from the lineup at the start of 2021, but the Archon is now back and better than ever, stated PRS. It is a commanding two-channel amplifier with versatile lead and remarkable clean channels. The lead channel's gain controls have been voiced to provide more variety of tones, from earlier/more traditional rock to the Archon's signature searing metal. The clean channel has remarkable clarity and offers a great pedal platform thanks to its ample headroom. The Archon is powered by two 6CA7 power tubes, which offer the best combination of EL34 and 6L6 tubes.
prsguitars.com