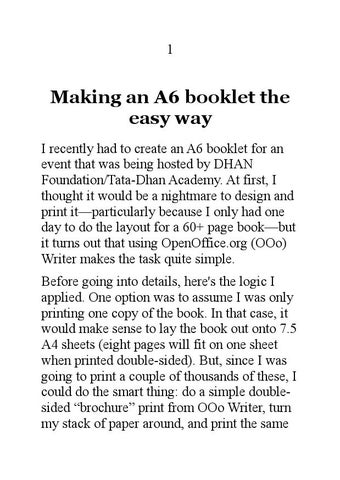 1
Making an A6 booklet the easy way I recently had to create an A6 booklet for an event that was being hosted by DHAN Foundation/Tata-Dhan Academy. At first, I thought it would be a nightmare to design and print it—particularly because I only had one day to do the layout for a 60+ page book—but it turns out that using OpenOffice.org (OOo) Writer makes the task quite simple. Before going into details, here's the logic I applied. One option was to assume I was only printing one copy of the book. In that case, it would make sense to lay the book out onto 7.5 A4 sheets (eight pages will fit on one sheet when printed double-sided). But, since I was going to print a couple of thousands of these, I could do the smart thing: do a simple doublesided "brochure" print from OOo Writer, turn my stack of paper around, and print the same
---
2 file again. That way, you end up with two sets of the same page on each sheet, which means you can simply cut the sheet in half, fold the cut pieces in half, and you have two books ready to be stapled! Here's the simple step-by-step solution: 1. Create an A6 size page in the "Styles and Formatting" panel (A6 is 105mm x 148mm). 2. Go ahead and type your content as you normally would. 3. When you are done, go to "File > Print" and in the dialog box, click "Options". Under "Options" make sure that "Brochure" is selected. 4. Print a full set of your document (you can duplex too, though this can be done later in the copying stage). 5. Turn your stack of printed papers around and print a full set again.
---
3 Imagining you had just a four-page document, you would have something that resembled the following:
Now, all you would have to do is cut the sheet in half, fold, and you're good to go! For me, the nice thing about doing the layout
---
4 this way is that I can easily have not only a print-ready document, but I can also use the PDF export feature built-in to OpenOffice.org Writer and I can also easily have a nice PDF to share say by email or online—all with no extra work. It really is that easy! Of course, another option is to simply create an A5 booklet and reduce it to 70% of the original size get the same results, but I think this is much more logical.
http://news.mrdwab.com/wp-content/uploads/2009/11/A6-Layout-in-OpenOffice-regular-export  
http://news.mrdwab.com/wp-content/uploads/2009/11/A6-Layout-in-OpenOffice-regular-export.pdf
http://news.mrdwab.com/wp-content/uploads/2009/11/A6-Layout-in-OpenOffice-regular-export  
Published on Nov 19, 2009  
http://news.mrdwab.com/wp-content/uploads/2009/11/A6-Layout-in-OpenOffice-regular-export.pdf