Higher Returns A Season of Historic Investment morgan|MAGAZINEmorgan|MAGAZINE 2022|1volume
Opinions in this magazine are those of the authors and are not those of the University.
Dancing on the World Stage
MORGAN.EDUMORGAN MAGAZINE, VOL. I 2022 Credits
10
•
More proof of the big return on investment in Morgan are the alumni who lead and influence society by, as President Wilson puts it, "dancing on the world stage." This article profiles a few of the many Morgan alumni who have recently had outstanding success.
02
An unprecedented surge in giving to Morgan by philanthropists, employers, alumni and other stakeholders represented a critical investment in the University's mission during the turbulence of 2020 and 2021.
Student Success
Morgan Magazine is produced by the Office of Public Relations and Strategic Communications (OPRSC).
Morgan Magazine is published by the University's Division of Institutional Advancement.
Contact: Morgan Magazine (443) 885-3022 office main PR@morgan.edu
•
Historic Investment
14
18
An Eponymous Honor
FEATURE
University of Maine renames a building in honor of former MSU dean Beryl Warner Williams.
morgan MAGAZINE
|
2022|1volume
Photo Courtesy of Nick Childers.
James Madison University renamed a campus building in honor of Morgan graduate, longtime JMU English professor, and poet Joanne Gabbin, Ph.D., and her husband, Alexander, who is also a longtime JMU faculty member.
Morgan student teams put their intellectual skills on display and found success in national case competitions and other national contests.
AI is reshaping society, but concerns about "algorithmic bias" loom over the reports of progress. Kofi Nyarko, D.Eng., professor of electrical engineering and director of the Data Engineering and Predictive Analytics Lab at Morgan, discusses the state of MSU's current research in this field, and the potential for expansion.
Donna J. Howard, CFRE • Vice President, Institutional Advancement
Alumni and Friends,
Eric Addison • Editor David E. Ricardo • Art Director & Designer P.A. Greene • Photographer
Contributing Writers • Redessa Harris, B. Denise Hawkins, Frank McCoy, Delthia Ricks
I welcome you to peruse this eye-catching portrait of change and transformation: the new Morgan Magazine!
The world has changed tremendously over the past 28 months of pandemic and socialpolitical-economic dislocation. This edition of our completely recast flagship publication celebrates the historic financial investment of the past two years that has placed Morgan State University — Maryland's largest Historically Black College or University and the state's Preeminent Public Urban Research University — in a prime position to shape the transformation happening around the globe today, all the while furthering our ascent to R1 "very high research" status. But our unprecedented fundraising success, and Maryland's game-changing legal settlement with the state's HBCUs, are only part of the story. The pages that follow also document how Morgan, and Morgan alumni, are already engaged in the vital work of change, in convergent channels such as artificial intelligence, community health, higher education, business, communications, politics, government, and diversity, equity and Theinclusion.dieis
cast: Morgan State University will continue to grow the future and lead the world in the coming decades and beyond. I thank you for making that possible with your continuing dedication to Morgan's educational mission, and I hope to receive your feedback soon about this transformation of Morgan Magazine.
1MORGAN MAGAZINE, VOL. I 2022
Meet Heidi!
A Morgan graduate is the University's new assistant vice president for Alumni Relations and Strategic Engagement.
Dell Jackson • Director, OPRSC Henry McEachnie • Assistant Director, Web FerdinandCommunicationsMehlinger•Publications Manager
Rising stars on the faculty continue Morgan's long tradition of excellence in instruction, research and social advocacy, and raise the University's profile.
MessagePresident's
Staff
30
Larry Jones • Assistant Vice President, OPRSC
27 Research Spotlight
Faculty Matters
In the Community
22
David K. Wilson, david.wilson@morgan.eduPresident
32
Morgan's Community-Aligned Research Solutions program (Morgan CARES), part of the University's Center for Urban Health Disparities Research and Innovation (RCMI@Morgan), has partnered with hundreds of community organizations in Baltimore City to improve public health.
MORGAN.EDUMORGAN MAGAZINE, VOL. I 20222
Morgan's Educational and Research Mission Receives Unprecedented Financial Support
Morgan's record-breaking cohort of financiers have had a variety of positive goals and motivations. Some saw the critical importance of Maryland's Preeminent Public Urban Research University in studying and countering the disproportionate health and economic impacts of the pandemic on communities of color. Some saw the moral imperative to correct longstanding inequities in their nation and support the social justice movement that had risen in tandem with the pandemic, countering a rising tide of racism. Others saw the economic disruption caused by the pandemic as a mandate for change within their own organizations, to improve their productivity and their bottom line by increasing diversity, equity and inclusion.
s
Giving COVER STORY
HISTORIC INVESTMENT
WHEN RENOWNED AUTHOR AND businesswoman Arianna Huffington selected "resilience" as her word of the year for 2020, she could have had Morgan State University in mind. The disruption caused by the global COVID-19 pandemic over the preceding nine months had been nearly universal — causing the yearlong postponement of MSU's in-person graduation ceremonies, among many other things — but Morgan's prescient planning and prompt response to the emergency had enabled the University to continue its educational mission. As students, faculty and staff navigated the challenging transitions to remote learning/ instruction, social/physical distancing and other public health-related measures, their efforts were soon rewarded and abetted by an unprecedented financial investment in Morgan, the state's largest Historically Black College or University. The surge of investment is continuing today.
The news of financial investment that follows will be an inspiration to all Morganites wishing and working for success for the institution as it prepares its students to lead the world during an era of transformation.
''
"Morgan is open for investment, and if you invest in our university, there will be a definite return on your support," said Morgan State University President David K. Wilson. "We hope that Ms. Scott's giving inspires others to give to HBCUs like Morgan, who are providing much-needed opportunities to the students flying under the radar and producing the graduates of today and tomorrow."
Morgan is open for investment, and if you invest in our university, there will be a definite return on your support."
3MORGAN MAGAZINE, VOL. I 2022COVER STORY>HISTORIC INVESTMENT
— MSU President David K. Wilson
MacKenzie Scott
$40 Million, No Strings Attached
Continued on page 4
A gift from author and philanthropist MacKenzie Scott began the giving season early at Morgan State University in 2020. In mid-December of that year, the University announced the receipt of an historic, $40-million gift from Scott's foundation: the largest single private donation in Morgan's history and the second-largest gift to a public university in Maryland. The unrestricted funds are supporting the University's efforts to enhance student success, advance research and boost investments in other mission-focused priorities and initiatives. The majority of the gift will be used to seed the newly established "Leading the World Endowment Fund," the first unrestricted endowment in Morgan's history. The fund will be invested using the Morgan State University Foundation's successful asset allocation strategy, with future interest leveraged to underpin ongoing University initiatives that have a direct connection to Morgan's strategic plan. Scott's gift — among the large amounts she gave to more than 35 institutions that provide "education for historically marginalized and underserved people" — doubles the endowment at Morgan, establishing a more promising future supporting students and faculty, and improving the prospects for academic programs for years to come.
generosity. He attended Morgan as a first-generation college student for two years beginning in 1961, to study business administration. After leaving Morgan because of a lack of funds, he took a job as one of the first 10 UPS drivers in Baltimore, in 1964. Tyler worked his way up the corporate ladder at the company and retired as senior vice president of operations in 1998, then joined the company's board of directors."Mywife and I have become keenly aware of the effect that the pandemic has had on a number of young people trying to get an education (and) we have the resources to help a lot of young people," Tyler said. "This is why we are increasing our commitment at Morgan: we want to have more full-tuition scholarships offered to young people so that they can graduate from college and enter the next stage of their life debt-free."
Calvin and Tina Tyler
$577 Million Toward Educational Equity
Calvin Tyler has a deep understanding of the students targeted by his and his wife's
The legislation stemmed from a lawsuit brought to court in 2006 by the Coalition for Equity and Excellence in Maryland Higher Education, which charged the State of Maryland with engaging in discriminatory practices against the HBCUs beginning before the Brown v. Board of Education decision
Continued from page 3
In February 2021, 11 days after the deadly disease COVID-19 received its name, Morgan announced receipt of a $20-million commitment from Morgan alumnus Calvin E. Tyler Jr. and his wife, Tina, quadrupling the value of an endowed scholarship fund they established in 2002. The gift is the largest private donation to Morgan to date from an alumnus.
The Tylers established the Calvin and Tina Tyler Endowed Scholarship Fund to provide fulltuition, need-based scholarships to MSU for select students residing in the Tylers' hometown of Baltimore. With their latest gift, the Tylers have opened access to the fund to students nationwide. Their endowed fund has supported 222 Morgan students by way of 46 fulltuition and 176 partial scholarships.
$20 Million From Family
With the stroke of a pen by Maryland House Speaker Adrienne Jones, Maryland Senate President Bill Ferguson and Maryland Gov. Larry Hogan at Bowie State University in March 2021, Morgan State University became one of the beneficiaries of $577-million legislation crafted to end a more than 15-year legal effort to redress inequitable funding at the State of Maryland's four Historically Black Colleges and Universities. The legislation, which was spearheaded by Speaker Jones, will fund scholarships, faculty, academic programs and marketing at Morgan, Bowie, Coppin State University and the University of Maryland Eastern Shore. The funding will occur over 10 years beginning in fiscal year 2023, with Morgan to receive $15.1 million in the first year.
MORGAN.EDUMORGAN MAGAZINE, VOL. I 20224
''
5MORGAN MAGAZINE, VOL. I 2022
in 1954, through unequal funding, unfair allocation of missions to the state's public colleges and universities, and the unnecessary duplication of HBCU academic programs at predominantly white institutions. The group was seeking $2.1 billion for the Maryland HBCUs.
step toward addressing the historic inequities within Maryland higher education." But he also highlighted the need for Morgan to continue making its case annually to the State for"Wefunding.areasking for an investment, and the State should expect a significant return," he told Morgan
On March 24, 2021, Maryland Gov. Larry Hogan joined House Speaker Adrienne A. Jones and the presidents of Maryland's four HBCUs on the campus of Bowie State University to sign legislation into law awarding the universities $577 million in funding over the next 10 years.
Continued on page 6
David Burton of Morgan's Class of 1967 was a founder of the Coalition.
In a statement to the Morgan community, President Wilson called the funding legislation "the first significant
THIS CASE IS PROBABLY ON THE MAGNITUDE OF BROWN V. BOARD OF EDUCATION ... IN TERMS OF ITS IMPORTANCE TO DISMANTLING SEGREGATED HIGHER EDUCATION SYSTEMS IN THE NATION."
— David Burton, Morgan Class of 1967
Magazine. "We have to come back year after year to Annapolis to show what that return is and how it is in alignment with the future competitiveness of the State."
COVER STORY>HISTORIC INVESTMENT
"The Supreme Court ruled years ago in U.S. v. Fordice that states must establish nonduplicated, unique, high-demand programs at HBCUs," he told Morgan Magazine. "This case is probably on the magnitude of Brown v. Board of Education, Adams (v. Richardson) and (United States v.) Fordice, in terms of its importance to dismantling segregated higher education systems in the nation."
"This infusion of money will enable us to put in place new high-demand academic degree programs that are in alignment with the work of the future," MSU President David K. Wilson told The Washington Post in March. "Morgan is ready to move from the second floor of the research house to the penthouse."
$25-million commitment to advance up-skilling and reskilling of Black/ African-American and Hispanic/Latino individuals. The funds are being used to enhance existing programs to meet specific opportunities to fill higherpaying, family-sustaining jobs in high-demand fields. Bank of America will work alongside employers in Maryland to ensure these programs target specific hiring needs and create a clearly defined career pathway to future employment.
Continued from page 5
in Morgan after a Whiting-Turner senior vice president who serves on the advisory board of Morgan's School of Architecture and Planning (SA+P) informed the company's leadership that a number of students were being forced to stop their matriculation because of financial hardship caused by the economic effects of the pandemic. The funds are now providing support to Morgan students pursuing degrees in construction management or in engineering with a focus onconstruction.Theannouncement
$1 Million for OpportunityEmployment
The academy is being funded by a $6.5-million investment by NBCUniversal, part of a $100-million commitment made by parent company Comcast NBCUniversal in June 2020 to address systemic racism and inequality. Morgan received $500,000 in support. The academic partners in the program include Historically Black Colleges
and Universities, Hispanic-Serving Institutions and other colleges with significant Latino, Asian American, Pacific Islander, Black, Indigenous and tribalSGJC'spopulations.newdean, Jackie Jones, says NBCU Academy will accelerate the mission of the school, which is to instill students with the skills, knowledge and training necessary to become effective communicators and to add to the diversity of thought in the media.
MORGAN.EDUMORGAN MAGAZINE, VOL. I 20226
In February 2021, as the total number of COVID-19 cases in the United States approached 28 million, Morgan announced receipt of a $300,000 commitment from The WhitingTurner Construction Company. The Baltimore-based construction management, general contracting, design-build and integrated project delivery services company decided to make its largest-ever investment
$500,000 to Cultivate Journalists of Color
made another big leap ahead, as it joined 17 other higher education institutions in a multiyear partnership with NBCUniversal News Group to launch NBCU Academy, a new multiplatform journalism training and development program for four-year university and community college students. The initiative includes education, on-campus training and online programming; funding for accredited journalism programs; and scholarships. The academy's curriculum utilizes learning experiences with veteran NBCU News Group journalists.
$300,000 for Future Construction Professionals
of a $1-million jobs initiative funded by Bank of America gave Morgan State University and its students another reason to be grateful in the run-up to Thanksgiving 2020. Created to address the disproportionate impact of the COVID-19 pandemic on individuals and communities of color in the United States, the partnership between the two institutions is part of Bank of America's ongoing $1-billion, four-year commitment to advance racial equity and economic opportunity, and its
"Creating an inclusive culture for journalism that represents the communities we serve is at the very core of what we do," said NBCU News Group Chairman Cesar Conde. "Through NBCU Academy, we have the opportunity to widen our extraordinary legacy by building on-ramps for a talented generation of journalists and storytellers who — for so long — may have been overlooked."
Receiving international accreditation from the Accrediting Council on Education in Journalism and Mass Communications in May 2020 added significantly to the forward momentum of Morgan's School of Global Journalism and Communication (SGJC) in the school's seventh year. In January 2021, during the tenure of SGJC founding Dean DeWayne Wickham, the school
COVER STORY>HISTORIC INVESTMENT
Oscar Barton Jr., Ph.D., PE, dean of Morgan's Clarence M. Mitchell Jr. School of Engineering
These facts have not gone unnoticed by major players in the nation's tech sector, among them Apple Inc., the world's largest technology company. This past June, Morgan announced the University's selection as one of four recipients of a new $1.25-million Apple Innovation Grant, designed to support schools of engineering at HBCUs in developing their silicon and hardware technologies curriculum in partnership with Apple's experts. The three-year grant is providing funding and other support from Apple for lab space, guest lectures, scholarships and fellowships, faculty training, curriculum support and other vital resources. Part of Apple's Racial Equity and Justice Initiative and the company's New Silicon Initiative, the grant is designed to inspire and prepare students for careers in hardware engineering, computer architecture and silicon chip design and has a broader goal of helping dismantle systemic barriers to opportunity and combat injustices faced by communities of color.
"The HBCU community is home to incredible Black talent, and we are thrilled to work alongside these universities to enhance the opportunities for their students," said Lisa Jackson, Apple's vice president of Environment, Policy and Social Initiatives. "We know many jobs of the future will be in innovative areas like silicon engineering, and we want to help ensure the leaders of tomorrow have access to transformational learning opportunities."OscarBarton Jr., Ph.D., PE, dean of Morgan's Clarence M. Mitchell Jr. School of Engineering, applauded the wide reach of the grant.
Continued on page 8
7MORGAN MAGAZINE, VOL. I 2022
$1.25 Million to Boost Innovation
Long the main driver of the global economy, the science, technology, engineering and mathematics (STEM) fields represent the fastest-growing workforce sector in the United States. Black professionals are significantly underrepresented in STEM, however, and make up only 9% of the collective workforce of the nation's five largest technology companies: Facebook, Amazon, Apple, Microsoft and Google. A report compiled at the request of Morgan State University President David K. Wilson by the economics consulting firm Econsult Solutions, Inc., in 2018, documented MSU's positive economic impact on the city, state and region as well as Morgan's outsize influence on the STEM fields: 17% of the University graduates are employed in STEM, versus 11% for Maryland colleges and universities as a whole. Moreover, the nation's HBCUs produce 25% of the nation's African-American graduates with STEM degrees.
"Being awarded the 2021 Apple Innovation Grant not only builds capacity in VLSI chip design here at Morgan's Mitchell School of Engineering," Dr. Barton said, "it also bridges the industryacademia divide by providing an opportunity to enhance our programs and curricula, to cultivate faculty and their research expertise and to impact workforce development and talent acquisition."
part of the company's $50-million commitment to build tech equity for HBCUs and support a diverse talent pipeline in STEM fields.
ideation and global competitiveness," said President Wilson. "With this effort, Google is setting a new standard in corporate philanthropy that directly addresses decades of gross inequities and underfunding at HBCUs and establishes a new path forward to ensuring workforce diversity in STEM, one of our most critical sectors here in the U.S. and within the global market."
MORGAN.EDUMORGAN MAGAZINE, VOL. I 20228
The $5-million investment in Morgan builds on Google's Pathways to Tech initiative, announced earlier this year, which is designed to build equity for HBCU computing education, help job seekers find tech roles and ensure that Black employees have growth opportunities and feel included at work. The company's Tech Exchange and Grow with Google HBCU Career Readiness programs are also seeking to close racial gaps and increase the flow of Black talent into Google's workforce, through immersive experiential learning programs, focused career development initiatives and meaningful investment.
Continued from page 7
"Google's considerable investment in HBCUs, and in the ingenuity and promise of our students, demonstrates a recognition of the unparalleled track record HBCUs have consistently amassed in producing top talent representing American innovation,
$5 Million to Pave Pathways to Tech
Concurrent with the news of the Apple Innovation Grant, Morgan announced receipt of a $5-million unrestricted financial grant from Google — among the largest philanthropic contributions in the University's history. The grant is providing Morgan with financial support for scholarships, technological infrastructure support, career readiness and curriculum development. It came as part of an investment in 10 institutions that received a grant from Google as
"These institutions (HBCUs) are actively shaping the next generation of Black leaders and are helping build a more diverse workforce across all industries," said Melonie Parker, chief diversity officer for Google. "This investment further solidifies our commitment to providing access and opportunities for underrepresented groups in tech."
him and experience the things he did," Carter said. "(But) obviously, with Morgan getting more financial help over the years, it let me know that they were serious about their students and that they would be using that money to give us more resources…. So it really inspired me to come."The 18-year-old plans to make the most of her time at MSU.
"My higher educational goals consist of making a positive change in my community, working towards that," Carter said. "It's become obvious to me that I have to really put myself into my community and do anything I can to help society. Because I see what's going on in the world, and I'm concerned about the future of my generation and generations to come." n
The Morgan Bears dominated wrestling in their conference throughout the 1950s and continued the trend in the '60s, capturing Central Intercollegiate Athletic Association (CIAA) titles in 1963, 1964 and 1965, among many other achievements. Legendary coach James Phillips took over the team in 1975–76 and led the Bears to unprecedented success over the next 20 years. Under his guidance, the Bears won 13 Mid-Eastern Athletic Conference (MEAC) titles, produced
Olivia Carter
THE TIMING OF Morgan's burgeoning student enrollment — up 11.4% to a record 8,502 in Fall 2021 — reflects a nationwide trend among Historically Black Colleges and Universities and suggests another, indirect benefit of the surging financial investment in the University. Freshman business administration major Olivia Carter, from Baltimore, exemplifies the rise in the number of matriculants who chose Morgan from a long list of academic suitors. An "A" student who never missed a day of school from pre-kindergarten through grade 12, Carter had multiple motivations for selecting MSU.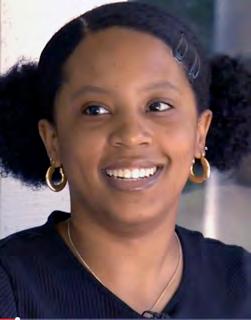 four national champions and had more than 75 wrestlers named AllAmerican."Wrestling teaches leadership: 15 of our 46 (U.S.) presidents wrestled as well as many important business, political and community leaders," said Novogratz, CEO of Galaxy Investment Partners. "That is what HBCUW is about. It's about growing the sport of wrestling and our bench of future Black leaders who will make our nation more just and prosperous. I fully support the HBCU Wrestling Initiative and hope that many others will help push this endeavor forward." n
The gift, which is among the largest received from a private donor to the University, will provide funding for wrestling at Morgan for the next 10 years and will support
"My dad is actually a Morgan alum (Jon Carter, Class of 1969). So just hearing his stories about his adventures at Morgan and feeling his pride when he talked about being a Morgan alum made me want to share that with
The wave of investment has also lifted Morgan State University Athletics, as the department received its largest-ever donation: a $2.7-million gift from billionaire philanthropist and former hedge fund manager Mike Novogratz, in partnership with HBCU Wrestling (HBCUW), this past October. The gift will revive the storied wrestling program at Morgan after a 24-year hiatus, making MSU the only Historically Black College or University in the country to offer the sport at the NCAA Division I Varsity level. Baltimore-based nonprofit Beat the Streets, which works to develop Baltimore's youth through wrestling and STEM programs, also collaborated with Morgan to make the return of wrestling a reality.
of the new program will be the 2023–24 season.
up to nine anticipatedofbecauseseason,ofthediscontinuedprogramwrestlingMorgan'sannually.scholarshipsfullwasatconclusionthe1996–97inpartofalackresources.Thestart
9MORGAN MAGAZINE, VOL. I 2022
— Investment and Student Enrollment — s To give to Morgan and help more scholars, visit GiveToMorgan.org. 11.4% COVER STORY>HISTORIC INVESTMENT
$2.7 Million for Wrestling and Leadership
Jon Carter
Achievement
FROM INDUSTRIAL ENTREPRENEUR TO MEDIA MAVEN TO HEAD OF DIVERSITY and beyond, Morgan State University (MSU) has some of the world's most impressive alumni contributing to all segments of the economy. Earning a degree from Morgan is a sound investment that continues to produce outstanding graduates: alumni who lead and influence the world and whose many positive accomplishments have been acknowledged by MSU President David K. Wilson as "dancing on the world stage."
by REDESSA HARRIS
Observing various sectors of society invariably leads to a focus on top-rated individuals whose leadership qualities make a profound impact on a multitude of industries. Attending Morgan, with all of its support systems and excellent faculty, has proven to be a major steppingstone to the success achieved by our alumni around theMorganglobe. has a distinguished history of providing its students with a world-class education and lifelong learning experiences. Well-rounded preparation makes it possible for MSU alumni to compete and win in their chosen professions.
For Morgan's alumni, "dancing on the world stage" also includes adhering to "the Morgan Way," the University's six core values of leadership, integrity, innovation, diversity, excellence and respect. The following profiles highlight just a few of MSU's many talented and successful graduates.
s
MORGAN MADE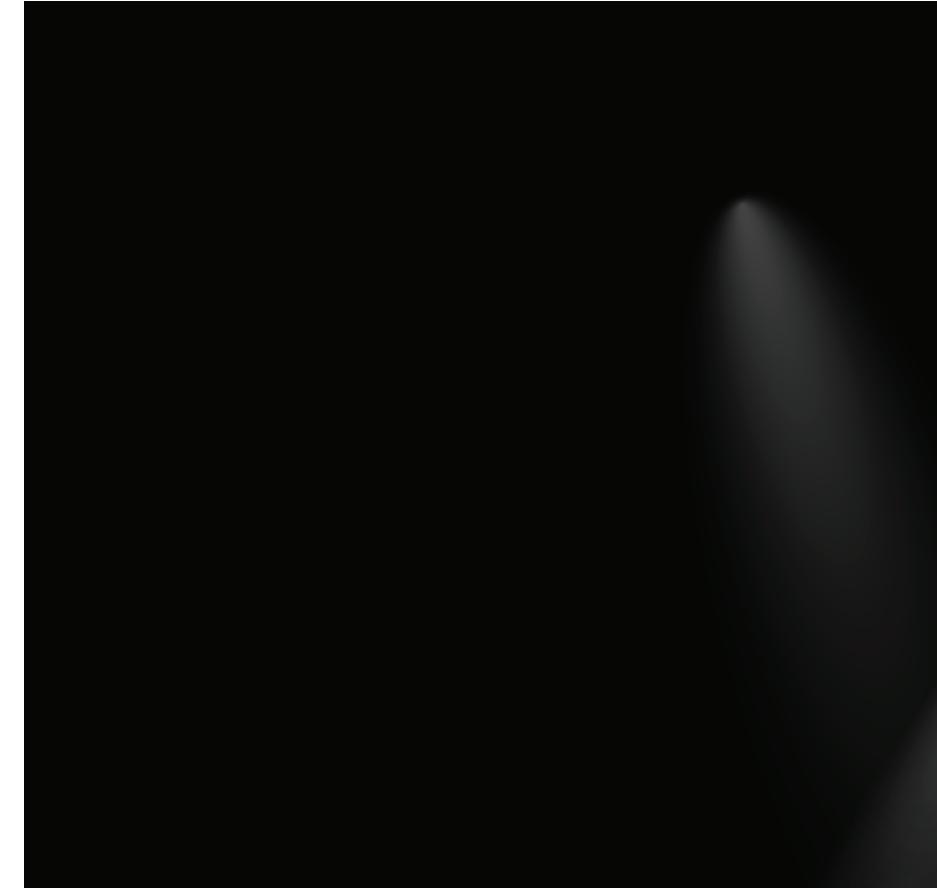 Duane ("Myko") Cheers (far left) with business partners Danita Claytor and Jumoke Jackson
With a 7 percentage point win in the Democratic primary election in May 2021 and a resounding victory over his Republican opponent in November, Edward C. Gainey became the first African American elected mayor of Pittsburgh, Pennsylvania – a city with a population of more than 300,000 residents. He plans to usher in a new vision to the city's working class that seeks good jobs with a living wage and benefits; affordable housing; public safety measures; and a sense of belonging for all.
High-Quality, Plant-Based Meat Alternative Burgers, by Everything Legendary
Healthy Investment Duane ("Myko") Cheers
A native of Pittsburgh, Gainey has spent a large portion of his career in public service. He was elected to the Pennsylvania House of Representatives in 2013 and addressed issues that included labor, transportation, education and community development, during his eight-year tenure there. In his previous position as the community development specialist for the city, he implemented programs such as diversity education for the Pittsburgh Bureau of Police; business seminars; the Minority Media Initiative; and The 52 Weeks of Peace Initiative.Gainey received a Bachelor of Arts in business management from Morgan State University in 1994. He is a board member for the Divine Intervention Ministries and PROMISE organizations.
Photo Courtesy of Nick Childers.
Legendary targets consumers who have health and/or environmental concerns, as well as Black millennials, who are among the fastest-growing demographics of the vegan Immediatelypopulation.afterthe Shark Tank airing, the company had the good fortune of selling $250,000 worth of meatless burgers within 24 hours. Says Cheers, the appearance and success on the show, "give us the resources that allow us to position the brand against any competitor, where I know we will win on the flavor and quality."
Ed Gainey
11MORGAN MAGAZINE, VOL. I 2022 Continued on page 12
Mayoral Success Ed Gainey
Watching ABC-TV's Shark Tank last season introduced the viewing public to entrepreneur Duane ("Myko") Cheers, chief executive officer of a company, Everything Legendary, that impressed Mark Cuban, one of the billionaire sharks. After the team's presentation, Cuban offered $300,000 for a 22% interest in the firm, which the company accepted.
MORGAN MADE>DANCING ON THE WORLD STAGE
A 2009 graduate of Morgan State University with a Bachelor of Science in marketing, Cheers and his two young, African-American partners founded a newto-the-market company that manufactures delicious, high-quality, plant-based meat alternative burgers in one of the hottest categories of the food industry. Headquartered in Washington, D.C., Everything
A native of Philadelphia, Jasmine E. Sessoms has spent much of her career in leadership roles for her beloved city and its residents. In 2020, Hilco Redevelopment Partners (HRP) appointed Sessoms senior vice president of Corporate Affairs. HRP is the real estate development unit of Hilco Global that remediates and redevelops complex and obsolete industrial properties.
Sessoms is responsible for oversight of the company's community and government outreach efforts as HRP executes its plan to clean up and transform the former PES refinery site into an
environmentally stable and economically robust commercial hub in her hometown. A well-known figure within city government and political leadership, Sessoms started her career in corporate giving before transitioning to managing executive director of The Mayor's Fund, where she oversaw $17 million of grants and awards to deliver on the goals of the mayor's philanthropic priorities.
Redevelopment Rainmaker
Nunu Ntshingila-Njeke is regional director for Facebook in Africa, where she is responsible for building the company's commercial presence across the entire continent. She leads Facebook's growth initiative from an office outside of Johannesburg, the company's first office in Africa. Before joining Facebook in 2015, Ntshingila-Njeke was employed at Ogilvy & Mather South Africa for 16 years, holding senior positions of increasing responsibility at the global advertising and public relations agency.
Ntshingila-Njeke attended the University of Swaziland for her undergraduate degree and earned her MBA from Morgan in 1996. The recipient of numerous honors, she received a Lifetime Achievement Award for leading and transforming the advertising business in South Africa. Ntshingila-Njeke was also the first woman inducted into the Loeries Hall of Fame, in recognition of her role in driving creativity in Africa. In 2018, she received the BET Butterfly Award for Passion, Purpose and Persistence. Fortune magazine named her to its International List as one of the Top 50 Most Powerful Women in 2018 and 2019.
Jasmine Sessoms
Advising Higher Ed Aisha Oliver-Staley
Continued from page 11
MORGAN.EDUMORGAN MAGAZINE, VOL. I 202212
Monetizing Media Nunu Ntshingila-Njeke
A powerhouse in legal and compliance matters affecting universities, Aisha Oliver-Staley was appointed senior vice president, general counsel and secretary of New York University (NYU) in January 2021. OliverStaley previously served in various roles of expanding responsibility at Georgia Institute of Technology for nearly 10 years; serving as chief ethics and compliance officer and deputy general counsel at the time of her departure for NYU.Oliver-Staley's hiring came at a pivotal time, as NYU's research and entrepreneurial activity is fast expanding. She was recruited because of her expert command of the issues and demands that confront large, complex, officerAssociationofOliver-DuringUniversity'sShebusinessearnedofgoals.achievingherinlegaluniversities.research-intensiveOliver-Staley'sexpertiseandexperiencehighereducationpositionedasastrategicpartnerinNYU'slong-rangeAmagnacumlaudegraduateMorganin2002,Oliver-StaleyaBachelorofScienceinmanagementatMSU.alsoholdsaJ.D.fromHowardSchoolofLaw.hertenureatMorgan,StaleyservedaspresidenttheStudentGovernmentandaspresidingoftheMSUJudicialBoard.
She formerly served as a government relations officer for the Community College of Philadelphia and founded the political fundraising firm J&S Strategies. Sessoms earned a Bachelor of Science in hospitality management from Morgan in 2006.
Jasmine Sessoms
Joe Simms
Boosting Diversity, Equity and Inclusion
Simms is responsible for championing a broad approach to diversity, equity and inclusion to accelerate company performance for a corporation that employs 61,000 people in 60 countries. In addition, he works to organizationaloptimizeculture and enhance transparency.
Simms is also serving as co-chair of Stanley, Black & Decker's African Ancestry Network and contributed to the company's "10 Commitments to Racial Equity and Social Justice."
SelolwaneSamantha
Samantha Selolwane
Before her tenure at RCA, Selolwane held positions at Jive Records and an independent promotion company, Active Industry Research (A.I.R.). She began her career in radio at Baltimore's WERQ-FM as an intern and progressed to assistant music director at the station, ultimately hosting a weekly hip-hop show named The Rap Attack.
An established cybersecurity leader with nearly two decades of experience, Traci McKenzieKnight was appointed deputy chief information security officer for NASA Goddard Space Flight Center (GSFC) in 2020. Before accepting that post, she was the cyber operations lead for GSFC. McKenzieKnight also served as senior operations planner in the Office of the Inspector General of Homeland Security.Intheprivate sector, McKenzieKnight worked as a lead associate for 11 years for Booz Allen Hamilton, a leading professional services company providing a broad range of services and solutions in management, technology, consulting and engineering. She started her career as a web developer for the Federal Retirement Thrift Investment Board.McKenzie-Knight earned her Bachelor of Information Systems from Morgan in 2002. She also holds an M.S. from the Maryland University of Integrative Health. In addition, McKenzie-Knight received the CCNA and CISM certifications, two of the top-level IT training designations available in the field.
13MORGAN MAGAZINE, VOL. I 2022
executive and a forward-thinking leader who advocates for her artists, Selolwane has been instrumental in shaping the careers of many popular musicians — Usher, Alicia Keys, H.E.R., Miguel and Jazmine Sullivan, to name a few.
Promoting Musical Talent
Cyber Leadership
A giant in the very competitive music industry, Samantha ("Sam") Selolwane was named head of Promotion at RCA Records earlier this year. She oversees the hip-hop, R&B and mixshow formats. Selolwane is a 20-year record industry veteran who has spent 15 years at Sony Music, parent company of RCA. She previously served as senior vice president of Urban Promotion for the label. Selolwane earned a Bachelor of Science in telecommunications from Morgan in 2000. Renowned as an outstanding
A 1993 graduate of Morgan with a Bachelor of Science in psychology, Simms continued his education at the University of Illinois at Urbana-Champaign, earning an M.S. degree in labor and industrial relations. n
Joe Simms
With a commitment to inclusivity for all, Stanley, Black & Decker recently named Joe Simms as chief diversity officer for its $14-billion-a-year industrial organization. Simms began his tenure at Stanley, Black & Decker in 2013 as vice president of Human Resources for U.S. Sales &
Marketing. Before joining the company, he worked in a variety of human resources leadership roles at PepsiCo.
Traci McKenzie-Knight
MORGAN MADE>DANCING ON THE WORLD STAGE
Colbert and her teammates on Morgan's Oratorical Team — junior Computer Science major Jada Grant, junior Civil Engineering major Kennard Johnston and junior Multiplatform Production major Natalie Thomas — were coached by Debora Jones-Thomas, office manager and administrative assistant for the Clara I. Adams Honors College. The winning Quiz Bowl team, comprising junior History major
Business Innovators
Honor Student Standouts
Leading organizations of two disparate worlds — the National Basketball Association (NBA) in the field of professional sports and the Thurgood Marshall College Fund (TMCF) in higher education — partnered to create the
SINCE 2020 , NOT EVEN AN INTERNATIONAL PANDEMIC HAS BEEN ABLE TO STOP MORGAN State University from winning or placing high in multiple case study and other national competitions.
EXCELLENCE
Nicholas Anderson, sophomore Nursing major Kenedi Canteen, junior Computer Science major Steven Fuller and junior Physics major Breon Prestbury, was coached by Division of Student Affairs staff member and veteran Honda Campus All-Star Challenge trainer Dennis Nicholson.
Student Success
MAKING THE CASE
MORGAN.EDUMORGAN MAGAZINE, VOL. I 202214
by FRANK MCCOY
TMCF-NBA "Innovate the Future" business competition, an annual event launched to inspire innovative and entrepreneurial-minded students of publicly supported Historically Black Colleges and Universities to change the world through business and technology. In April 2020, a team of students from another leading institution, Morgan State University, took first place in the competition, with the development and presentation of their N-Gage App, an artificial intelligence-powered application designed to make it easy for NBA fans to interact with one another beyond viewing games, by joining local friends to play basketball and participating in open-sourceaugmented virtual reality games and quizzes.Senior Finance major Evan Robertson, senior Electrical Engineering major Victor Oyare Oko and junior Electrical Engineering major Martins Umeh were the winning team. Each of the
"The NAAAHP Annual Conference is always one of the signature events on the (Clara I. Adams) Honors College calendar," said Darryl L. Peterkin, Ph.D., director of the college. "Our students have an opportunity to travel to interesting cities and interact with a diverse and talented group of honors students from the nation's HBCUs."
In April 2020, 15 student members of Morgan's Clara I. Adams Honors College swept two of three competitions during the 28th Annual Conference of the National Association of African American Honors Programs (NAAAHP). Senior English major Chloe Colbert was the NAAAHP Oratorical Competition's first place winner, a Morgan State team won the Quiz Bowl competition, and MSU's team made it to the semifinal round of the Debate Competition.
MSU Students Excel in National Competitions
"After the presentation, the reviewers told me that I made them feel that I was the actual store director and they were the group director," says Pleas. She adds that the competition's big surprise was "how much creativity was involved in designing plans as a store director."
In April 2021, Madison Pleas, a 22-year-old senior biology major with a minor in chemistry at Morgan State University, was the first place winner of the inaugural Target Corporation HBCU Future Leaders in Retail Challenge. Pleas, a Maryland native, learned about the challenge via an online Canvas Network course: Professionalism 101. She says she entered the contest "as a challenge to myself to see if as a STEM major…I could be business-minded, which is important if I want to open my medical practice one day. Winning the top prize was a validating experience of my own skill set and brought me immense joy."
participants compiled and presented a data-driven PowerPoint via Zoom, showing their understanding of a store's four priorities — Safety and Sales; Team; Guests; and Operations Management — and revealing their plans to "carry the store to the ideal state in 90 days."
Besides the much-appreciated $10,000 scholarships, the winners benefited from opportunities to network with NBA officers.
Target sponsored the case study competition for students from Historically Black Colleges and Universities. Pleas acted as a Target store director about to meet a group vice responsiblepresidentfor 60 to 80 stores and as many as 8,000 team members. In one week, she and the other contest
MSU students took home a $10,000 scholarship and NBA and Thurgood Marshall College Fund merchandise from the one-and-a-half-day event.
This past fall, Pleas became president of Morgan's Student Research Center.
Pleas received a MacBook, $2,000, a one-year Master Class subscription, a Shipt delivery membership and a Minny & Paul artisanal gift box.
Madison Pleas
"…The judges were blown away by her presentation," Williams said. "Madison's attention to detail, embodiment of Target's core behaviors and dedication to Target's guests and teams were evident as she sought to make improvements to her store."
"We were determined to win the competition from the time that we submitted the application," said Team Leader Robertson, a native of Baltimore, Maryland. "…The team was hand-picked according to the skills that we each possessed. We had a well-rounded team that included a business manager, software engineer and user experience (UX) designer. Each role complemented theUmehothers."brought his experience to the role of chief financial officer for Morgan's team in the 2021 iteration of Innovate the Future, which helped boost MSU to a second consecutive first place showing in the competition. He and his teammates, Electrical and Computer Engineering senior Stanley Nwakamma (chief technology and design officer) and Business Administration senior Abidemi Onibatedo (chief operating officer), envisioned a solution named "NBAcoin" for the contest: the first sports-backed cryptocurrency, imagined as a way to increase fan engagement with pro basketball and generate profits for the franchises.
Continued on page 16 EXCELLENCE>MAKING THE CASE
15MORGAN MAGAZINE, VOL. I 2022
"I was confident my team would win the competition, because our solution was completely outside of the box," says Nwakamma. "I didn't expect other teams to have anything similar."
Cephas Williams, a Target group vice president for stores in Minnesota, and a Southern University in Baton Rouge graduate, gave kudos to Pleas.
Leading in Retail
Rose Marie Laure Kebe, Senior Finance Major; Allison Murdock, Senior Finance Major; Braxton Richardson, Freshman Business Administration ManishMajor;Thapa, Senior Accounting Major; Jaida West, Junior Finance Major
WINNING, THE MORGAN WAY
Project: Developed software that translates both Black American Sign Language and American Sign Language into plain text or audio
2021 HBCU Future Leaders in Retail Challenge
In this highly competitive case study competition, national finalists develop comprehensive leadership plans designed to expose students to the scope of responsibilities and dynamic challenges that Target leaders tackle on a day-to-day basis, while further developing their own leadership skills.
Final Four:
2021 AT&T HBCU Innovation Challenge
Prize: Valued at $4,000
Project: Developed the EduLab app to redress the unequal distribution of academic resources and enhance access to experienced teachers, textbooks and technology
1st Place: Madison Pleas, Senior Biology Major
2022 AT&T HBCU Innovation Challenge
Ayomide Ajayi, Senior Computer Science Major; George Makunde Martin, Senior Computer Science KileyMajor;Williams, Senior Information Science and Systems Major; Martin Adu-Boahene, Sophomore Information Systems Major; and Ogo-Oluwasubomi ("Subomi") Popoola, Sophomore Computer Science Major
3rd Place: Earl G. Graves School of Business and Management Team —
Project: Move a Target store to the ideal state in 90 days
2nd Place: bEar Buds —
AT&T HBCU Innovation Challenge
Young innovators from HBCUs across the nation are tasked with building 5G solutions for causes that matter most to them, including healthcare, education and community relief.
Prize: $15,000
Taylor Ellis, Sophomore Actuarial Science Major; David Freeman, Sophomore Industrial Engineering Major; Elan Jones, Sophomore Finance Major; Dimitri Watat, Sophomore Finance Major
3rd Place:
Continued from page 15
2nd Place: Oyedoyin Aduroja, Doctoral Candidate, Bioenvironmental Science
HBCU Battle for the Cryptos 2
3rd Annual HP HBCU Business Challenge
Goldman Sachs Market Madness Competition
Business deans from the National HBCU Business Deans Roundtable member institutions select a small team of students — of any major — to represent their schools by submitting proposals to solve a real-life HP business challenge in multiple rounds of competition for an ultimate grand prize.
2nd Place: Meta Bears –
Laila Carter, Sophomore Communications Major; Godwin Eke, Sophomore Electrical Engineering Major; Lamar Brooks, Sophomore Social Work Major; Shalom Dades, Sophomore Electrical Engineering Major Prize: $250,000 school donation
Prize: $20,000
Project: Yield the highest portfolio balance with $200 seed of cryptocurrency, to create a Binance.US wallet
2022 Goldman Sachs Market Madness Competition
A national fintech competition for HBCU students who are learning about cryptocurrency investing and portfolio management while actively trading cryptocurrency for the opportunity to win crypto-cash awards.
Enterprising HBCU teams participated in a semester-long, immersive introduction to key financial concepts and real-world applications culminating in a case study competition with the opportunity to win prize funding for their university. In two consecutive years, Morgan fielded competitive, award-winning teams.
MORGAN.EDUMORGAN MAGAZINE, VOL. I 202216
Project: An integrated, hybrid Bluetooth controller as a new product line that encompassed proposed partnerships, customizable bundles, environmentally friendly features and detailed strategic financial projections
2021 Goldman Sachs Market Madness Competition
Abigail Dina, Junior Computer Science Major; Dimitri Watat, Junior Finance Major; Makyha Wilridge, Senior Computer Science Major; Martin Adu-Boahene, Junior Information Systems Major
Inaugural HBCU Future Leaders in Retail Challenge
Stanley Nwakamma, Senior Electrical and Computer Engineering AbidemiMajor;Onibatedo, Senior Business Administration Major; and Martins Umeh, Senior Electrical Engineering Major Project: "NBAcoin," a sports-backed cryptocurrency Prize: $10,000 scholarships, plus
Chloe Colbert, Senior English Major
Under Armour Career Combine
1st Place:
Prize: $35,000 each to UrConvey and MSU n
Quiz Bowl
Project: N-Gage App, an artificial intelligence-powered application Prize: $10,000 scholarships, plus
1st Place:
1st Place:
Semifinalists:
Tahj Coleman, Senior Industrial Engineering Major; Purnell Hill, Sophomore Finance Major; India Kutcherman, Sophomore Social Work Major; Jovan Luna, Senior Industrial Engineering Major; Elizabeth Olusola, Senior Accounting Major; and Rebecca Olusola, Junior Electrical Engineering Major
1st Place: Team Inspire –
Nearly 50 students collaborated in groups to develop a real-world solution in the inaugural Under Armour Career Combine, the first-ever case study competition spearheaded by the Baltimore-based global footwear and active apparel brand. The contest which afforded MSU students opportunities to learn directly from UA employees and win scholarship funds.
Over a span of three days, students from Morgan's Clara I. Adams Honors College competed against a highly competitive field of scholars from more than 20 colleges and universities in a series of fastpaced contests, including an Oratorical Competition, a Quiz Bowl and a Debate.
Evan Robertson, Senior Finance Major; Victor Oyare Oko, Senior Electrical Engineering Major; and Martins Umeh, Junior Electrical Engineering Major
17MORGAN MAGAZINE, VOL. I 2022
Thurgood Marshall College Fund NBA 'Innovate the Future' Competition
Victor Oyare Oko, Senior Electrical Engineering Major; and Ayomide Ajayi, Senior Computer Science Major
1st Place:
EXCELLENCE>MAKING THE CASE
Prize: $10,000 scholarships
Project: Developed "Be Your Best You" solution to introduce mental health education to Under Armour's grassroots leagues
Project: UrConvey, a mobile technology platform that makes multiple passenger pickups easier
Lerone Joyner First-Year Computer Science Major; Nia Cowling, Junior Marketing Major; Dimitri Watat, Junior Finance Major; Lenae Wharton, Junior Psychology Major
Nicholas Anderson, Junior History Major; Kenedi Canteen, Sophomore Nursing Major; Steven Fuller, Junior Computer Science Major; and Breon Prestbury, Junior Physics Major Debate Competition
2020 Thurgood Marshall College Fund-NBA 'Innovate the Future' Competition
Entrepreneurial-minded HBCU students and recent alumni transform concepts and seedlings of ideas into businesses, or scale existing ventures that are pitched to PepsiCo representatives for a chance to win a portion of the $1-millon prize.
28th Annual Conference of the National Association of African American Honors Programs
Top 10: UrConvey —
2021 Thurgood Marshall College Fund-NBA 'Innovate the Future' Competition
Innovative and entrepreneurial minded HBCU business competition teams are challenged over a one-and-a-half-day competition to solve one of three case studies presented by the NBA, in partnership with the Thurgood Marshall College Fund.
MTN Dew Real Change Opportunity Fund Pitch Competition
Oratorical Competition
BY B. DENISE HAWKINS
AN EPONYMOUS HONOR
James Madison University Dedicates an Historic Building to Morgan Graduate Joanne Veal Gabbin
s Alumni LEGACY
daughter of sharecroppers in Windsor, North Carolina, education had had to take a backseat to work in the cotton and tobacco fields alongside her 10 siblings.
Reader, lively tales of a beloved elephant named Babar.
But her mother's declaration wasn't meant to be a deterrent. Mrs. Veal had already ignited a love of learning in her daughter and instilled in her a respect for the power of the written word, things that would prove to be enduring. But what the seven-year-old Joanne didn't know at the time was that her mother, her first teacher, had only made it to the fourth grade. For Mrs. Veal, the
"I'VE TAKEN YOU AS FAR AS I CAN go. Now, you have to go further." Those words could have easily confounded the second grader who eagerly consumed the cast-off books her mother, Jessie Smallwood Veal, a part-time domestic worker in Baltimore, brought home when her employers' children grew tired of them. The daughter, Joanne, looked forward to the pages her mother would read to her over and over — fairytales, the Weekly
Dressed in regalia in May of 2021, Joanne Veal Gabbin, Ph.D., of Morgan State University's Class of 1967, recounted her mother's words as she delivered the commencement address at James Madison University (JMU). She taught at the university for more than 35 years before retiring this year.
MORGAN.EDUMORGAN MAGAZINE, VOL. I 202218
— Joanne Gabbin, Ph.D.
Her mother, who "owned seven fully rented row houses" in Baltimore, and her father, who was one of the city's expert cement masons, lived to see their firstborn graduate from what was then Morgan State College, Dr. Gabbin told her audience. But her parents didn't live to see the thousands of students she would touch, mentor and encourage during her 50 years of teaching at colleges and universities across the country, or to congratulate her for the award-winning honors program she built at JMU, or to revel in her still growing legacy, which includes having the first named professorship in the Honors College: the Dr. Joanne Gabbin Professorship."And,theynever would have imagined that their little girl would have a historic university building named after her," Gabbin said in her address. JMU voted in February 2021 to change the names of three campus buildings to honor five African Americans who had worked for or attended the university. What had been Maury Hall, named for a Confederate naval officer, is now Gabbin Hall. Its new name honors Gabbin and her husband, Alexander Gabbin, Ph.D., an accounting professor at JMU.
Dr. Joanne Gabbin and her husband, Dr. Alexander Gabbin, inside the building named in their honor at James Madison University
Imagine, Gabbin Hall
LEGACY>AN EPONYMOUS HONOR
Photo credit: JMU Communications and Marketing
The Gabbins with poet Amanda Gorman at the Furious Flower 25th Anniversary Gala, in Washington, D.C., in 2019 20
That meeting changed my life," says Gabbin, who was accepted to Morgan and awarded a scholarship. "If Morgan hadn't sent that recruiter to Eastern, many of us probably never would have had the opportunity to go to college."
Photo credit: JMU Communications and Marketing
19MORGAN MAGAZINE, VOL. I 2022
''
Continued on page
When she received that news, "For a moment I just stopped talking and said to myself, 'Is this really happening? Is it happening to me and my husband, who are still working and very much alive?' " Joanne Gabbin recalls. "We are very much blessed by just working. So it was an honor, and I'm humbled," she says. For Alexander Gabbin, who called the university's decision "a bold move," the new honor "feels unreal." The couple, natives of Baltimore, has been married for 54 years.
Morgan was where she found a network of caring Black scholars and writers who likewise took her as far as they could, but not before they equipped her for graduate school and helped prepare the inquisitive, driven and disciplined student for the literary life that was always her ambition.
When she arrived on Morgan's campus in 1963, she found a world of possibilities — and ready opportunities to lead, and to write and tell stories.
A Nurturing Network
"When my mother told me that 'I've taken you as far as I can go,' she was telling me that you are my firstborn, I love you, and you are smart," says Gabbin, who has called on that encouragement through the years to reassure and propel her as she's climbed.Looking back, she says, it helped her navigate the newly integrated halls of Baltimore's Eastern High School in the years immediately after the decision in Brown v. Board of Education. To Gabbin, who was among the handful of bright, Black girls accepted to the public, all-girls school, it was clear that integration didn't guarantee parity. She knew even then that she wanted a career "in literature and writing," but at Eastern, she says, that aspiration wasn't allowed to take root. School clubs and activities, she remembers, were rarely welcoming places for Black girls.
As her senior year neared a close, Gabbin recalls, Eastern's plans to guide its girls from high school to college omitted her and her Black classmates. Most of them would be the first in their family to complete the 12th grade. But on a day in April, she and the other daughters of Black strivers made their way to the balcony of the school auditorium. Their principal had invited them to meet with a recruiter from Morgan State College, one of two historically Black colleges in the city.
Along the way at Morgan, Gabbin also found time to pledge Alpha Kappa Alpha Sorority, in 1965.
A Mother's Words for the Climb
Continued from page 19
MORGAN.EDUMORGAN MAGAZINE, VOL. I 202220
"That meeting changed my life," says Gabbin, who was accepted to Morgan and awarded a scholarship. "If Morgan hadn't sent that recruiter to Eastern, many of us probably never would have had the opportunity to go to college. That's why I will love Morgan until the day I die."
"I was thinking, there's nothing that can hold me back now," says Gabbin, whose voice hints at that meetingattendingfeatureemergedeagerexcitement.decades-oldThefreshmantheeditorafterherfirstof The Spokesman, Morgan's student paper. By her sophomore year, Gabbin was at the helm as the paper's editor. The aspiring journalist even reported alongside national media who descended on Baltimore when hundreds of Morganites staged a now-legendary protest to integrate the nearby Northwood Theatre. At the urging of Frances Murphy Henderson, then Morgan's public relations director and advisor to the campus paper and yearbook, Gabbin stepped up to edit a commemorative yearbook that marked Morgan's centennial year.
A lifelong public servant, Williams played a major role in the desegregation of the Baltimore City Public Schools, as a member and officer of the school board from 1974 to 1984, and made significant contributions to many other civic organizations. UMaine awarded Williams an honorary Doctor of Pedagogy in 1972. She passed away in 1999 at the age of 85.
'Go Further'
She made poetry her medium.
Little Hall — named after a former UMaine president who once served as president of the American Eugenics Society — is now known as Beryl Warner Williams Hall. n
Gabbin credits Morgan's professors with first stoking her interest in Black literature and poetry. At the University of Chicago, where Gabbin pursued her Ph.D. in the 1970s, she studied a cavalcade of Black writers whose work she would later teach. Gabbin, who titled the first course she taught as a new professor in Chicago, "Revolutionary Self-Consciousness in Black Literature," realized she "could be more effective as an activist in the classroom than she could be in the streets."
21MORGAN MAGAZINE, VOL. I 2022
The movement for progressive symbolism on college campuses brought a spotlight to another praiseworthy daughter of Morgan State University. In May of last year, the University of Maine System Board of Trustees voted to rename a lecture hall after Beryl Warner Williams, the school's first Black mathematics graduate and a longtime faculty member and administrator at Morgan.
cultivate and promote a new generation of Black poets. Two years before Amanda Gorman, the nation's first youth poet laureate, made history with her poetry performance at the 2021 U.S. presidential inauguration, Gabbin gave her a national stage when the Furious Flower Poetry Center celebrated its 25th anniversary in 2019.After spending a lifetime opening doors, Dr. Gabbin ended her tenure at JMU and Furious Flower this summer.
Photo credit: B. Denise Hawkins
— Joanne Gabbin, Ph.D. ''
"It was a way to tell the truth and a tool to change society," adds Gabbin, whose name is synonymous with the Furious Flower Poetry Center she founded at JMU in 1994. It is the nation's first academic center devoted to Black poetry and where she continued to
LEGACY>AN EPONYMOUS HONOR
Williams was born and raised in Bangor, Maine, by her mother, who owned a boarding house, and her father, who was a railroad porter. At the University of Maine, she earned a bachelor's and master's degree in mathematics, then taught at several colleges in the U.S. South before moving to Baltimore and joining Morgan as an instructor of English then math. In 1970, she was appointed dean of Morgan's Center of Continuing Education — the first woman to hold that post — and led the center to major advancements until her retirement in 1981.
"Looking forward to this new chapter in my life, I think about the models of academic excellence that I found at Morgan. Much of the success I've had in the academy I owe to the examples that they set. I birthed Furious Flower and played a part in moving African-American literature, especially poetry, from the margins of consideration in American literature to the very center." n
(Poetry) was a way to tell the truth and a tool to change society."
UMaine Renames Lecture Hall to Commemorate a Former Morgan Dean
• MK Asante, professor of English and award-winning author and filmmaker
FACULTY MATTERS
MK Asante, associate professor of English at Morgan since 2006, is a storyteller whose tales of the AfricanAmerican experience resonate with people of all races. He is the author of four books, including his bestselling memoir "Buck"; an award-winning filmmaker; a recording artist; and a distinguished educator from a family of educators in which "HBCUs, in general, were really held in high, sacred regard," heBornrecalls.inZimbabwe and raised in Philadelphia, Pennsylvania, Asante draws upon his varied life experiences and eclectic education to challenge his students at Morgan to be creative by "connecting the dots," being emotionally vulnerable and remembering the high value of their stories. On the other side of the balance, he says, his students have inspired him with their intellectual diversity, creative courage and resiliency. His youthful appearance belies the fact that Asante is a coach of his son's junior league basketball team and came of age before the rise of social media. He says
learning his students' perspective has been valuable and has helped him channel his own creativity into projects in new media such as podcasts and Snapchat. Most recently, his creative side was on display for the nation to see when he performed two Monday Night Football intros.
Those diverse media are "just languages," Asante says, "ways to communicate with people."
ACADEMICS
MORGAN.EDUMORGAN MAGAZINE, VOL. I 202222
s Impact
Of the nearly 600 faculty here at the National Treasure, we celebrate the individuals spotlighted in this feature as well as the many others — such as Harold Morales, Ph.D., associate professor of Philosophy and Religious Studies and Director of the Center for the Study of Religion and the City; Krishna Bista, Ed.D., professor of Community College Leadership; Thurman Bridges, Ph.D., associate professor of Teacher Education and chair of the Physical Education Department; Viji Sitther, Ph.D., associate professor of Biology; and Lorece Edwards, Dr.P.H., professor of Public Health — who play vital roles in the University's mission of broadening access to the opportunities of higher education and who add greatly to Morgan's stature as a world-class Public Urban Research University.
THE UNIVERSITY'S 2021–30 STRATEGIC PLAN, "TRANSFORMATION MORGAN," MAKES IT CLEAR: Morgan's faculty are a pillar of the tremendous success the institution has seen during the past decade, and its members are vital to attainment of the high goals the institution's leadership has set for the next nineButyears.thestrategic plan is hardly the only source of praise for Morgan's faculty. As they prepare their students to Lead the World — government, industry, community — the world is also increasingly acknowledging the leadership abilities and research innovation of MSU educators and is elevating them to positions where they can make the greatest impact.
SOAS University of London Lafayette College, B.A., Africana Studies UCLA School of Theater, Film and Television, M.F.A., Screenwriting
duties, Dr. Dillon serves as a faculty advisor and coach for students participating in national innovation challenges and hackathons.
the classroom beyond the classroom and apply these to their personal lives, career and academic opportunities."
23MORGAN MAGAZINE, VOL. I 2022
By his own admission, Edward C. Dillon Jr., Ph.D., associate professor in Morgan's Department of Computer Science since 2017, prefers a nonverbal approach. "I am usually perceived as a man of very few words," he says. "I believe actions speak louder than words."Dr.Dillon's actions spoke very loudly in 2020, when he landed a three-year grant of nearly $400,000 from the National Science Foundation to help address the underrepresentation of Black, Latinx and Native American people and Pacific Islanders in computer science and related fields. His "Targeted Infusion Project: Infusing Learning Initiatives for Improving the
•Edward Dillon Jr., Ph.D., assistant professor of Computer Science and expert in social computing, human-centered computing and computer science education
University of Mississippi, B.A., Computer UniversityScienceof Alabama, M.S. and Ph.D., Computer Science
Being a faculty member at Morgan "has been a proverbial love affair," says Dr. Pratt-Harris, who served as the lead of the instrumental study detailing the community's perceptions of and experiences with the Baltimore City Police Department, following the 2017 U.S. Department of Justice Consent Decree.
"My favorite thing about Morgan State and working at this institution is the students," Dr. Dillon says. "I enjoy teaching, advising and mentoring students while watching them reach their full potential."
• Natasha Pratt-Harris, Ph.D., associate professor and coordinator of the Criminal Justice program in the Department of Sociology and Anthropology, and expert in racial disproportionality in the U.S. criminal justice system
During Dr. Dillon's journey to Morgan, he has developed effective skills in problem solving and innovative thinking to study human factors in computing. And as his recent achievements show, he places a high priority on passing those skills on to his students. In addition to professorial
University of Maryland, College Park, B.A., Criminology/Criminal Justice University of Baltimore, M.S., Criminal Justice HowardAdministrationUniversity, Ph.D., Sociology
Programming Proficiency of Computer Science Majors at Morgan State University" utilized two new learning approaches to enhance select computer science courses at MSU. The same year, Morgan's School of Computer, Mathematical and Natural Sciences recognized his work by selecting him to receive the Dean's Faculty of the Year Award in Research.
ACADEMICS>FACULTY MATTERS
Continued on page 24
Counting her time growing up near the Morgan campus, raised by a mother who revered higher education, Natasha Pratt-Harris, Ph.D., has been a member of the Morgan family for more than two decades. Today, her focus has shifted far from playground games, to researching and rectifying disproportionality that adversely impacts Black males and other people of color in the criminal justice system. But to Dr. Pratt-Harris, Morgan is still "home, sweet home," as she ends her 15th year as an associate professor of Sociology and Anthropology at the University. Before becoming faculty, she joined MSU as a senior research associate in the Office of Institutional Research in 2000 and later served there as director for more than fiveHeryears.students have flourished "in ways that I did not imagine early in my career," in courses such as Police and Society, which she designed to "address some of our most pressing community concerns: police/community relations," says Dr. Pratt-Harris. "Students are expected to get as much out of me as I can give them," she adds. "Students are expected to take the practice in
Born on the other side of the globe, in Nepal, in 1975 — the year Morgan State became a university — educator, scholar and student advocate Uttam Gaulee, Ph.D., professor in MSU's doctoral program in Community College Leadership, has dedicated his career to ensuring the success of all students. He is an avid supporter of community college and believes the institution is beneficial socially and economically within and beyond the United States. Dr. Gaulee has amassed two decades of experience in teaching and educational administration and research, as he seeks the connections between education and international development and uses his findings to create tangible solutions that benefit both students and institutions. His diverse international education informs his research: he holds four academic degrees from universities in the U.S. and abroad.
MORGAN.EDUMORGAN MAGAZINE, VOL. I 202224 Continued from page 23
People-centric educator Mark Barnes, Ph.D., gives full meaning to the term "human geography," working constantly to build interdisciplinary campus communities around his academic discipline as he strives to guide his students to global citizenship. Dr. Barnes combines and implements his interest, knowledge and expertise in fields including North American geography, climate and society, environmental policy and planning, transportation, urban studies and religious studies.
living laboratory for geographic instruction and research as well…. Morgan truly is the place to be for a keen introduction to the use of the principles and tools of the discipline to 'lead the world.' "
"I have been to many universities in Asia, Europe and the United States. I have not found a better university than Morgan State," Dr. Gaulee says. "There are so many favorite things at this great institution of higher education. If I had to
Since joining Morgan in 2016, Dr. Gaulee has gone on to serve as president of the Society of Transnational Academic Researchers (STAR), which advances global social mobility through innovative research and progressive advocacy efforts. He has also been instrumental in opening the door to students from his native Nepal to study at Morgan. The University now has 11 Nepali students enrolled.
Mark Barnes, Ph.D.
pick just a few, I would say, the heritage, the colleagues and the students. Morgan's history makes you humble, and the campus steeped in its heritage gives you a sense of a forward thinking community of amazing humans."
"(MSU's) architectural asset growth, along with its increases in student population and development expansions like new student life and degree programs, provide the perfect
"A geographer whose interests lie in institutional decision-making around environmental risk reduction and adaptation could not ask for a better place to teach the causes and consequences of human-environment interactions than Morgan," he says.
geospatialMorgan'stechnologies.rapidgrowth during his nine years on the faculty has been a pleasant surprise, Dr. Barnes admits. It has also been a boon for his teaching.
Tribhuvan University, B.Ed., English and Economics Tribhuvan University, M.Ed., English Education University of Pittsburgh, M.Ed., Student Affairs University of Florida, Ph.D., Higher Education Administration and Policy
• Uttam Gaulee, Ph.D., professor of Higher Education in the Community College Doctoral Program and expert in international higher education
• Mark Barnes, Ph.D., associate professor of History and Geography and leading researcher in North American geography; climate and society; environmental policy and planning; transportation; and urban studies
As one of the creators of Morgan's Environmental Workgroup, he has helped chart new and innovative ways to advance environmental learning, and as a developer of a new student group named the Geographical People's Society (GPS), established with the support of the American Geographical Society, he promotes the mission of increasing campus awareness of environmental matters with the aid of
West Chester University, B.A., Geography and TemplePlanningUniversity, M.A., Urban Studies Rutgers University, Ph.D., Geography
An associate professor of History and Geography at Morgan, Dr. Barnes is a founder of the University's Geospatial Collaborative, which provides new career pathways for students by giving them exposure to leading technologies used in burgeoning fields such as geographical information systems.
them. And in his work as professor — defining "real" journalism and challenging his students to deepen their knowledge of how the world actually works — "I like to think that I've given back: taking the students to The Daily Show, taking the students to media studios where I'm working. I've always been happy to share anything I'm working on with my students and the University as a whole."
Coming to Morgan in 2012, she has expanded and implemented her research on those topics and has served as president and vice president of the University of Maryland Extension Baltimore City Advisory Board. As a teacher, she has learned, "you have to be able to adapt in a classroom to the students who are sitting in front of you. You have to be very dynamic and be able to read the room and adjust, on a dime."Dr.Sanders-Thach came to Morgan with high expectations, after reading about the University's strategic plan and MSU President David K. Wilson, and MSU "has exceeded my expectations," she says. "You just love the mission, and you love the students." n
• Jason Johnson, Ph.D., associate professor of politics and journalism in the School of Global Journalism and Communication , author and political analyst on mainstream TV, radio and newspapers
• Tonya Sanders-Thach, Ph.D., associate professor of City and Regional Planning and researcher focused on faith-based community development, faith-based curriculum development, built environment and health, and community development
The
His experience at Morgan's School of Global Journalism and Communication since he arrived in 2016 has been "absolutely transformative," says Dr. Johnson, who creatively integrates popular culture and political discourse to shape his classroom instruction. "I've had an opportunity to grow here, and I've had an opportunity to receive unprecedented levels of support from theDuringUniversity."histime in academia, Dr. Johnson has become one of the more prolific voices on Twitter, amassing more than 276,000 followers. And, as Morgan envisioned, his students have benefited from Dr. Johnson's ever-growing presence in front of international audiences. On MSNBC, he often talks about his Morgan students and what he's heard and learned from
Frequent appearances on MSNBC, CNN and other popular media outlets have also increased the global impact of Jason Johnson, Ph.D., political analyst, commentator and author, but he says his role as associate professor of Multimedia Journalism at Morgan State University is central to his life.
— Jason Johnson, Ph.D. ''
As an associate professor of City and Regional Planning at Morgan, Tonya Sanders-Thach, Ph.D., also believes in 'giving back,' acting on what she sees as the full range of duties of her position: teaching, research and service.
25MORGAN MAGAZINE, VOL. I 2022
University of Virginia, B.A., Government University of North Carolina at Chapel Hill, M.A. and Ph.D., Political Science
Truman State University, B.A., Psychology Pennsylvania State University, M.A., Community Psychology and Social Change University of Illinois at Chicago, Ph.D., Urban Planning and Policy
... I've always been happy to withanythingshare...mystudents."
ACADEMICS>FACULTY MATTERS
"In the discipline I'm in, the community calls to you, and you want to be on the ground, addressing the huge need in Baltimore. I'm hoping that over a career of 30, 40 years, I can start making some inroads," Dr. SandersThachShe'ssays.offto a very good start. The Maywood, Illinois, native came to her passion for faith-based community development and curriculum development from personal experience: seeing the church she grew up in revitalize a declining community.
s Research
UPROOTING BIAS IN ARTIFICIAL INTELLIGENCE
MORGAN.EDUMORGAN MAGAZINE, VOL. I 202226
Algorithmic bias refers to unfairness or potential harm caused by skewed data in artificial intelligence systems. The growing list of discriminatory acts caused by algorithmic bias goes well beyond dispensing soap, self-driving cars or activating an iPhone. Spotlight
As egregious as those examples are, they've emerged as only the tip of a massive iceberg. A quietly growing new form of racial discrimination is developing in the digital arena, prejudices that computer scientists define as algorithmic bias, bigotry embedded in the codes that drive the technology of daily life.
by DELTHIA RICKS
ABOUT FIVE YEARS AGO, IT BECAME EVIDENT THAT certain high-tech soap dispensers in a growing number of restrooms failed to recognize dark skin. The electronic devices, which were being installed in airports, office buildings and other public venues, remained stubbornly unresponsive when Black people tried to wash their hands. But related problems soon grew increasingly more serious — and then potentially deadly. The artificial intelligence underlying facial recognition technology was found to more frequently misidentify people of color than whites. Worse still, the software embedded in some autonomous — self-driving — cars didn't recognize dark skin tones, a flaw that could turn the futuristic vehicles into lethal weapons on the road.
AI
Leading AI Equity
— Kofi Nyarko, D.Eng.
"Those aren't trivial concerns, but we are facing something much, much larger," says Kofi Nyarko, D.Eng., professor in the Department of Electrical and Computer Engineering at Morgan State University. Dr. Nyarko is conducting research into algorithmic bias in collaboration with his Morgan colleague, Shuangbao ("Paul") Wang, Ph.D., chair and professor of the Department of Computer Science. Following the recommendation of Morgan's first-ever BlueRibbon Panel on STEM Research Expansion — a gathering of some of the country's leading scholars and research scientists, held last December — the two have also founded a new national center at Morgan to address deep-seated problems in artificial intelligence (AI) systems that can lead to racist outcomes. "Most people would assume that we are talking about dispassionate systems, but that is not always the case. And that's what can make AI so subversive," Nyarko says.
Morgan's new interdisciplinary Center for Equitable Artificial Intelligence and Machine Learning Systems (CEAMLS) specializes in mitigating algorithmic bias via "continuous research and engagement with academic and industrial leaders," Nyarko adds. "One of the goals of the center will be to conduct research on how to develop socially responsible artificial intelligence and how to implement socially responsible AI systems."
The new center is partnering with the Urban Health Disparities Research and Innovation Center at Morgan. "We will help them address health disparities and learn how algorithmic bias can creep into health (delivery and insurance) systems," Nyarko says.
27MORGAN MAGAZINE, VOL. I 2022AI>UPROOTING BIAS IN ARTIFICIAL INTELLIGENCE Continued on page 28
'' OUR RELIANCE ON PURELY IMPACT?'OFSYSTEMSANDPEOPLEASKQUESTIONINEQUALITY,EXACERBATEALGORITHMSDATA-DRIVENCANSOCIALANDTHEONEMUSTIS,'AREN'TTHEWHODESIGNDEPLOYTHESEEVENAWAREITSPOSSIBLE"
Kofi Nyarko, D.Eng.
Funding for CEAMLS has already begun to roll in, starting with a $3-million grant from the State of Maryland. "We will receive this appropriation every year in perpetuity. But we are also seeking private funding," Nyarko says.
Shuangbao ("Paul") Wang, Ph.D.
MORGAN.EDUMORGAN MAGAZINE, VOL. I 202228 Continued from page 27
Early autonomous vehicle models were less likely to recognize people with darker skin.
"Our reliance on purely data-driven algorithms can exacerbate social inequality, and the question one must ask is, 'Aren't the people who design and deploy these systems even aware of their possible impact?' " Nyarko says.
Yet he and Dr. Wang acknowledge facing uncharted terrain when it comes to addressing algorithmic bias, because, as both professors underscore, the tentacles of the problem run long and deep throughout myriad data systems involving diverse aspects of life.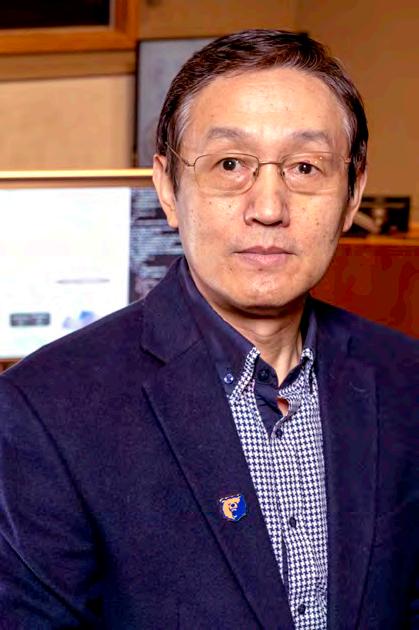 Problems involving autonomous cars were fortunately discovered years before the vehicles rolled onto streets. A 2019 study by scientists at Georgia Institute of Technology revealed the AI systems that powered the navigation of multiple models were less likely to recognize people with darker skin. None of the cars were in use, but the team of scientists found eight different models that had the same potentially deadly flaw: they kept moving against targets in the study that corresponded with a range of darker skin tones. If released on the road, the cars could have mowed down Black and Brown pedestrians.
Broad Racial Impact
"Machine learning can reveal patterns that are difficult for human beings to uncover, which is done by analyzing data efficiently and accumulating knowledge gained from previous learnings," Nyarko adds. However, the accuracy of algorithms can be affected by many factors, and one of the most destructive is "unintentional and intentional prejudices or biases," he explains.
The soap dispensers had a similar but far less dangerous problem. Because of a mere engineering issue, Nyarko says, the dispensers couldn't recognize dark-colored skin. Light skin tones reflected light back to the device, activating the release of soap. Because dark skin absorbs more light, the device couldn't be switched on.
Nowhere is algorithmic bias more glaring than in AI systems that determine the kind of healthcare patients receive. In his assessment of a 2019 study that unearthed racism in medical care, Nyarko asserted that inherently bigoted data hampered treatment for Black patients.
29MORGAN MAGAZINE, VOL. I 2022AI>UPROOTING BIAS IN ARTIFICIAL INTELLIGENCE
"A widely used commercial healthcare algorithm reflected a serious racial bias," Nyarko explains, because it relied on the amount of money spent on individuals' healthcare, with money serving as a proxy for health status. If less money was being spent on patients, then the system assumed those patients were healthier and had no need for routine or follow-up care.
"Black patients were consistently and significantly more sick than white patients," adds Nyarko, but the biased algorithm influenced who was deemed more worthy of care on the basis of spending. For Black patients, that meant vital treatment denied.
Although the system was designed to curb costs for the healthcare provider, a deep dive into its data uncovered a disparity that has long characterized racial differences in U.S. healthcare: on average, less money is spent on Black patients.
Healthcare Risks
Even though Black patients' need for medical care may have been the same as or greater than that of their white counterparts, the algorithm falsely concluded that Black patients were healthier, because less money was being spent on the battery of tests, hospitalizations, medications and other treatments that whites received routinely.
"The developers of these algorithms and the AI models that drive them should be made aware of the impact of the choices they make along the entire life cycle of their systems," Nyarko asserts. "There needs to be a sustained focus on the prevention of algorithmic bias." n
by ERIC
''
Sustaining The Family Tree
s health organizations in Baltimore City and public health researchers and academicians at MSU. Disrupted by COVID-19 soon after its establishment, the program has marched ahead, gaining more than 360 community partners.
Our mission is to become like a magnet in the pipeline for bringing in community researchers and community leaders and connecting them with (Morgan) faculty…."
in seven areas: infectious diseases; cardiovascular health; cancers and diabetes; drug addiction research; health informatics; family health; and food security."
Morgan CARES is the community engagement core of Morgan's federally funded Center for Urban Health
Morgan CARES seeks to build a bridge between people who should be connected, Dr. Sheikhattari says: "If I am a researcher in my ivory tower, and my research is not informed by the community, then my research question, my research results, everything would be irrelevant. And if I am a community member, and I am doing everything I can, but I am not doing it in a systematic, correct way, then my work wouldn't be fully optimized or efficient. Our mission is to become like a magnet in the pipeline for bringing in community researchers and community leaders and connecting them with (Morgan) faculty
PAYAMADDISONSHEIKHATTARI,
EnvironmentAdvocatingCommunitiescessationthestretchButwas(RCMI@Morgan),ResearchDisparitiesandInnovationwhichestablishedin2019.theprogram'srootsbackto2007andlaunchofasmokingprogramnamedEngagedandforaSmoke-Free(CEASE),Dr.
Morgan alumna Patricia Barger is community services manager for The Family Tree: a 25-year-old, statewide nonprofit based in Baltimore City, and one of the CEALnationwideCollegesofofbyDisparities,(CEAL)EngagementprojectcommunityherMorganwithorganizationscommunity-basedpartneringMorganCARES.CARESrecruitedemployerandfourothergroupsforanamedCommunityAllianceAgainstCOVID-19whichisfundedtheNationalInstitutesHealth.MorganwasonefiveHistoricallyBlackorUniversitiesthatreceivedfunding,apointof
In the Community
Sheikhattari says: "We built Morgan CARES to kind of follow the model of CEASE, but not just for smoking, for every community (health) problem."
EQUITY
MORGAN.EDUMORGAN MAGAZINE, VOL. I 202230
M.D., is a native of Iran and a member of the faculty of Morgan State University, his workplace since 2005. Dr. Sheikhattari holds four job titles at Morgan: professor of public health in the School of Community Health and Policy; director of the Prevention Sciences Research Center; co-director of the ASCEND center for biomedical research; and director of the CommunityAligned REsearch Solutions program (Morgan CARES). Morgan CARES was launched in 2019 to facilitate close, effective collaboration between community-based
MORGAN CARES ABOUT HEALTH PARITY
— Payam Sheikhattari, M.D., Director, Morgan CARES
"Culturally, African Americans don't discuss learning disabilities," Winston says. "I had built a network of people who knew the ins and outs of the system of advocacy and assistance for children with dyslexia, and then I was laid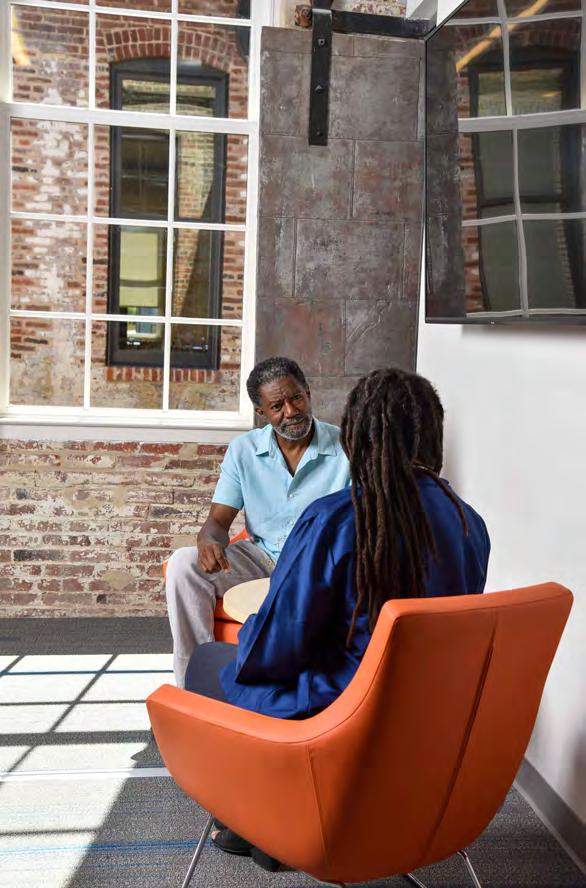 Even when the funding leaves, the towewill(withrelationshipMorgan)bethere,andcancontinuebuildonthat."
31MORGAN MAGAZINE, VOL. I 2022
pride for her as an MSU graduate, says Barger, who earned her Bachelor of Science in Community Mental Health at the University in 1983.
The Family Tree has taken students from Morgan as interns for many years, and she anticipates that the COVID project will lead to an even broader partnership between Morgan CARES and her"Evenemployer.when the (CEAL) funding leaves, the relationship will be there," Barger says, "and we can continue to build on that."
''
— Patricia Barger, Community Services Manager, The Family Tree
"So for us to collaborate with Morgan around this issue of peoplethat"IjusthealthandcommunitiesinformingaboutCOVID,alsobuilding(publicservices)capacity,makessense,"sheadds.alwayssay,'Thepeopleweservearethesameyouserve.'Ifyou're
The CEAL partners meet regularly to examine and discuss COVID issues, and the project trains "ambassadors" to go out into the community and inform people about those issues, Barger explains. The work has been successful, she adds: "We did so well with it that NIH (the National Institutes of Health) has given us a second year of funding."Bargersays
not serving them directly, you're serving them through their loved ones, indirectly."
topic and had taken a job as director of admissions of a private school for students with dyslexia — all to help her daughter, and children like her and their parents. Now she was ready to take the next step: forming her own nonprofit organization, Dyslexia Advocation, Inc.
"…Because (The Family Tree's) mission is to eradicate child abuse and neglect, we understand that people we work with are already dealing with other social determinants (of health), like poverty, homelessness, domestic violence abuse, substance abuse. And then you've got COVID on top of that," explains Barger. "If they're already struggling, COVID just makes it more severe. It's another burden.
EQUITY>MORGAN CARES ABOUT HEALTH PARITY Continued on page 32
Winifred Winston decided to launch an organization in May 2020 to address a condition considered taboo by many African Americans. Her daughter had been identified as having dyslexia three years earlier. Winston had worked as a volunteer for nonprofits focused on awareness and treatment of the learning disability, had begun social media communities to create an active network of followers dedicated to addressing the
Raising Awareness of Dyslexia
A native of Brooklyn, New York, Winston is a former board member of the Morgan Community Mile and says she has "always had a connection to Morgan…. I think for me, being a resident of northeast Baltimore, it just makes sense partnering with Morgan State University, which does a lot in the northeast corridor and is an HBCU right here in my neighborhood," Winston adds.The Morgan CARES program reached a major milestone last December with the opening of its
''
New Home, New Growth
Throwing herself fully into the venture, Winston won a large grant from a Johns Hopkins University accelerator program and landed other prizes or grants from Clubhouse, Ross Stores and Walmart. Then she heard, from one of the parents she was assisting, about a Morgan CARES grant program."Isubmitted in my application that I wanted to do a podcast to raise awareness about dyslexia in Baltimore City, because undiagnosed or misdiagnosed learning
off because of the pandemic. So I thought, 'I can share this network with my people. I'm going to do a nonprofit.' "
I think for me, being a resident of northeast Baltimore, it just makes sense partnering with Morgan State University, which does a lot in the northeast corridor and is an HBCU right here in my neighborhood."
Continued from page
Gibson, Ph.D., an associate professor of Teacher Education at Morgan she had connected with years earlier, to be the faculty lead for the podcast project. Dyslexia Advocation received the Morgan CARES grant in March 2021 and has produced a powerful, informative series of 17 shows for the organization's "Black and Dyslexic Podcast," which is geared toward Baltimore's AfricanAmerican communities.
disability triggers mental health issues: depression, anxiety, mood disorders, selfesteem issues. And that's how it came to fruition," WinstonWinstonrecalls.recruited Simone
community center in the recently renovated Hoen & Co. Lithograph Building, in east Baltimore. Dr. Sheikhattari is pleased with the progress the program has made virtually, during the pandemic, but he anticipates greater growth now."We have been funded by the National Science Foundation, National Institutes of Health and also by supplemental NIH grants that have funded four programs for COVID," he reports. "We hope that now that we are moving gradually toward a more inperson hybrid mode, we can even exceed what we have done." n 31
MORGAN.EDUMORGAN MAGAZINE, VOL. I 202232
— Winifred Winston, Founder and Executive Director, Dyslexia Advocation, Inc.
''
What brought you back to Morgan?
What are your other work experiences?
— Heidi Bruce
A Morgan Graduate Is the University's New Assistant Vice President for Alumni Relations and Strategic Engagement Meet Heidi!
My job is to reignite the fire our alumni had when they were students and to get them engaged with Morgan today."
I grew up on 33rd Street, between Memorial Stadium and Lake Montebello, within walking distance of Morgan, my mother's alma mater. At her suggestion, I applied and was accepted to Morgan on an early admission after three years at Friends School.
We all stand on the shoulders of giants. One of the best mentors I have had was/is Cheryl Hitchcock. She has been a "North Star" for my career from the beginning. Everything that has happened, every promotion, every career move, every speaking engagement, every article I have published has been because she and others encouraged me to take huge steps. From my job as director of development for the College of Arts and Sciences at The Ohio State University — one of the largest universities in the country — to positions that I've held at George Mason and the University of Maryland, College Park, all of my career experiences have methodically and purposefully led me back to Morgan. Returning home to alma mater and taking that next step with Morgan was inevitable.
LEADERSHIP>MEET HEIDI! LEADERSHIP
The University is growing, we're striving for R1 research status, and we have alumni who have achieved great things. My job is to reignite the fire our alumni had when they were students and to get them engaged with Morgan today. I want Morgan alumni to be inspired by what is happening here! Believing in your university begins with remaining close to it and doing our collective part to support it. #GoBears
Tell us about growing up in Baltimore and how you ended up at Morgan for undergrad.
Coming back to Morgan has always been the plan. In 2000, Cheryl Hitchcock, Morgan's (then) director of development, hired me as a development officer. I, along with Ms. Hitchcock and Joyce Brown, attended the School of Philanthropy at Indiana University through a grant from the Thurgood Marshall Scholarship Fund. We implemented what we learned to essentially build a permanent fundraising team and culture of philanthropy from the ground up. That work over 20 years ago has led to the recent fundraising successes Morgan is having today.
And you have a strong legacy of Morgan alumni in your family?
How do you plan to help Morgan reach its goals?
Heidi Bruce
Yes. My mother, Regina Bruce, nee Wright, graduated in 1966; my aunt, her younger sister, Claudine Allen, nee Wright, also graduated from Morgan; and my uncle, her older brother, Harold Wright, also attended Morgan. My mother and my aunt were jailed during the protest to integrate Northwood Theatre in the 1960s, in fact, their photo is on the wall in the University Student Center and was on the cover of Morgan Magazine.
MORGAN MAGAZINE, VOL. I 2022
Office of Public Relations and Strategic www.morgan.edu443-885-3022Communications
Ready to finish your degree?MORGAN.EDU/MCYApplyToday! 18 Bachelor's and Graduate Degree Program Options FULFILL THE PROMISE YOU MADE TO YOURSELF
1700 E. Cold Spring Lane McMechen Hall, Suite 635 Baltimore, MD 21251
U.S. Postage PAID Permit #4995 Baltimore, MD
Non-Profit Organization
MORGAN MAGAZINE, VOL. I 20224