EXCELSIOR
2018
Contents
LEADERSHIP 5
Chair of Council 6
Principal 8
Head of Junior School 10
Speech Night Guest Speaker 12
School Captain 14
Vice-Captains 15
SRC Captain 16
Junior School Captain 18
Junior School Vice-Captain 19
Junior School Student Council 20
Leadership Photos 21
Worship 23
STAFF 25
Staff List 26
Staff Photos 28
YEAR 12 31
Year 12 Captains 33
Year 12 House Captains 34
Year 12 Portraits 36
Kindergarten to Year 12 Students 44
Year 12 Prize Winners 45 HSC and IB Results 48
HOUSES 51
Abbeythorpe Senior School 53
Booralee Junior School 54
Booralee Senior School 55
Churunga Junior School 56
Churunga Senior School 57
Leawarra Junior School 58
Leawarra Senior School 59
Lester Senior School 60
Mooramoora Junior School 62
Mooramoora Senior School 63
Prescott Senior School 64
Sutton Senior School 65
Wade Senior School 66
Whitley Senior School 67
House Photos 68
JUNIOR SCHOOL 75
Learning 76
Student Life 80 Junior School Photos 83
SENIOR SCHOOL 91
Immersive Learning 92 Year 6 92 Year 7 93 Year 8 94 Year 8 95 Year 10 96
Careers 97 Dance, Drama and Entertainment (DDE) 98
English 99 History 100 Human Society and Its Environment (HSIE) 101
HSC and IB Report 102
Languages 104 Mathematics 105 Music 106
Personal Development, Health and Physical Education (PDHPE) 107 Science 108
Design Art and Technology (DART) 109 Visual Arts 109 Technology and Applied Science (TAS) 110
SENIOR SCHOOL STUDENT LIFE 113
Art and Design Captain 114 Book Week 115 Committees 116
da Vinci Decathlon 117
Debating Captain 118 Debating 119
Duke of Edinburgh's Award 120
Languages Day 121 Overseas Tours 122
Round Square Captain 126 Round Square Exchange 127
Senior School Photos 128
MLC School has used its best endeavours to ensure that material contained in this publication was correct at the time of printing. MLC School gives no warranty and accepts no responsibility for the accuracy or completeness of information and MLC School reserves the right to make changes without notice at any time in its absolute discretion. Users of this publication are advised to
reconcile the accuracy and currency of the information provided with MLC School before acting upon or in consideration of the information. Copyright in this publication is owned by MLC School and no part of it may be reproduced without the permission of MLC School.
MUSIC 133
Music Captain 134
Junior School Music 136
Senior School Music 138
Music Photos 142
PERFORMING ARTS 155
Dance, Drama and Entertainment Captain 156
Middle Years Drama Production 157 Dance 158
The Speech and Drama Studio 160
Acting and Communication Academy 161 Performing Arts Photos 162
SPORT 167
Sport Captain 168
Junior School Sports Champions 170
Senior School Sports Champions 171
Junior School Carnivals 172
Sport Results 175 Athletics 175 Badminton 176 Basketball 176 Cross Country 177 Diving 178 Fencing 179 Football 180 Gymnastics 181 Hockey 182 Netball 182 Rowing 183 Snowsports 184 Softball 185 Swimming 186 Tennis 187
Touch Football 188 Volleyball 189
Water Polo 189 Sports Dinner 191 Sports Photos 192
Junior School 192
Senior School 202
SCHOOL ROLL 210
SOCIAL MEDIA
Follow MLC School on Facebook, YouTube, LinkedIn, Instagram and Twitter.      Pursue excellence Demonstrate integrity Celebrate diversity Embrace world citizenship Live with humility OUR VALUES
3
LEADERSHIP 5
Chair of Council
It is wonderful to celebrate yet another extraordinary year of achievement of the amazing girls of MLC School.
At the heart of MLC School, since its humble beginnings in 1886, is a belief that holistically well-educated young women can and do change the world. We take pride in being at the forefront of girls' education globally, never placing limits on what is possible – and even more pride in the role MLC School girls and Old Girls play in creating the world we all want to live in.
In 2018, once again, our girls exemplified this, excelling at the highest level in academia, sport and the arts.
Our 2017 International Baccalaureate results were exceptional and amongst the very best in the world, with our students earning four perfect scores while another two were only one point off perfection. This takes our total number of perfect IB scores over the last eight years to 39, an average of 4.9 a year. To put that into context, over that period no other school has earned more than two perfect scores in any year and even that has been the exception rather than the norm. Congratulations once again to our IB students and teachers.
Perhaps even more impressive were our 2017 Higher School Certificate results. As we all know, MLC School's rankings in the HSC results are always affected by the large number of our girls choosing to undertake the IB. Despite this, MLC School was ranked 31st in the state, up from 69th in 2016 and one of the strongest performances in the state by a non-selective school. Congratulations to all our 2017 HSC students and the teachers who put so much effort into achieving exceptional educational outcomes for our students.
However, it is not just about academia. Beyond the classroom:
Ì MLC School won the NSW Rugby Union School Girls 7s in our first year of offering Rugby to the girls.
Ì
Our dancers won awards at Wakakirri and were Scholastic Grand Champions at the NIDA Dance Battle.
Ì
Our debaters won the Independent Schools Debating Association Shield, proudly beating Sydney Grammar in the process.
This is an incredible set of achievements.
2018 was a year of new beginnings at MLC School: we welcomed a new Principal and completed the construction of our state-of-the-art Senior School building.
What a joy it has been to welcome Ms Lisa Moloney to our School community as our new Principal. Over the course of this year, Lisa has focused on listening, building relationships and understanding all that is unique and wonderful about MLC School. She has quickly earned very well-deserved respect and trust across our community; she leads us with great wisdom and compassion, and has taken absolutely every opportunity over the last year to connect with all sectors of our community.
Over the course of 2019, Lisa will use all she has learned this year to lead the School community through the process of articulating our strategic vision for the next era. We look forward to participating in that and jointly creating a road map for the future to ensure that MLC School maintains its place at the forefront of education globally.
How wonderful it will be to implement this in our long-awaited new Senior School building. I hope you have all had a chance to see this incredible new educational facility that provides a modern and inspirational learning environment to support holistic education in the 21st century. The centre has been built to promote inter-disciplinary and enquiry-based learning that can be tailored to the needs of each girl. As you know, at MLC School, we are always improving the way we approach learning, and we are extremely pleased that we now have a built environment that more naturally supports the latest in educational practices. We began piloting classes in the building in Term 4 this year and the building will be fully timetabled for the Senior School from the beginning of 2019.
Mrs Pauline Johnston, Chair of the MLC School Council
6
A significant project like this only happens with the incredible dedication and effort of a large number of people, many of whom volunteer hours and hours of their own time as well as their expertise. I would like to thank each and every one of these people who have contributed to this project. In particular, I would like to acknowledge the contribution of Mr Robert Kell. Over the last 27 years as a member of the School Council, Robert has selflessly given more time and expertise than anyone could have reasonably expected, inspired not by expectation of reward for himself, but rather by a love of MLC School. The hours he has given to support our buildings over this period number into the thousands, and the incredible outcomes we have achieved are in great part due to his dedication, wisdom and experience. This year, Robert has decided it is time for him to retire from the Council; however, we are fortunate that he will continue to serve on the School's Building and Master Planning committees. Robert's legacy is, quite literally, in the fabric of our School and on behalf of this and future generations of MLC School girls, we thank him from the bottom of our hearts.
During 2018, the Council has also been working with the Uniting Church to articulate and implement the new relationship and understanding between the Church and the School, as well as a new governance framework for MLC School. MLC School, like all Uniting Church schools other than Newington College, currently operates under a legacy governance model and is not an incorporated entity. This legal framework is no longer appropriate for the complex environment in which schools of today operate, and so needs to be modernised. This modernisation also provides a great opportunity to explore how the Church and the School can work together to more effectively minister to the MLC School community.
Throughout this year, I have been working, and will continue to work, with the Chairs of the other Uniting Church schools to ensure that we create the right legal and governance foundation for MLC School going forward. Our
new governance structure must enable us to continue to attract well-qualified individuals to serve on our Council and clarify the role of the MLC School Council in protecting the legacy and future of our School. Of utmost importance to the Council throughout this process are maintaining and strengthening the unique essence of MLC School, while honouring and protecting the contributions of those who have gone before, and ensuring that all that is special about this place will truly endure for the generations to follow.
I am hopeful that our new governance structure and articulation of the contribution of MLC School in the mission of the Uniting Church will be operational from the beginning of 2020.
you all every day to be all that you can be and, with the foundations you have built here, you will be incredible – and change our world for the better.
Mrs Pauline Johnston Chair of the MLC School Council
Finally, I would like to thank all members of the School community for their efforts this year in making MLC School the special place that it is. I am grateful to Lisa and the staff – I know you go above and beyond to give our girls every opportunity and support. I also thank our parents for your support of your daughters, the staff and the School. Thank you to all the volunteers for your selfless service. And in particular, thank you girls for simply being awesome.
To the Year 12 girls leaving us this year – each and every one of you has had a wonderful gift, the gift of an MLC School education. As we have seen so clearly this year, the world is crying out for leaders who have both knowledge and the internal fortitude, integrity and compassion to step up and make a contribution in all aspects of society – be it in politics, business, or community endeavours. You, girls, are exactly what our world needs. I encourage
'...have both knowledge and the internal fortitude, integrity and compassion to step up and make a contribution in all aspects of society – be it in politics, business, or community endeavours. You, girls, are exactly what our world needs.'
7
Principal
My first year as Principal of MLC School has been both exciting and challenging. Settling into a new school and a new city has been made so much easier because of the warm welcome and encouragement that the MLC School community has offered.
As you may imagine, one of the first questions that I am often asked when someone learns that I am the (relatively new) Principal of MLC School is 'What's it like?'
This is because the broader educational community holds MLC School in exceptionally high esteem and, consequently, other educators are keen to know what it is that explains our success. How can a non-selective school achieve such outstanding academic results year in and year out? Why are so many MLC School Old Girls such high achievers across so many fields of endeavour and why are our girls so articulate and capable?
Here are some of my thoughts and observations:
As someone who is new to the MLC School community, I have been struck by the strength and depth of the
connections within the School community, the love that the Old Girls have for the School and their strong, enduring friendships. We have supportive and hardworking parent groups; a School Council which is committed to the School and involved for all the right reasons; and the Executive team is second to none.
At the heart of MLC School is a community that cares and contributes.
The current MLC School girls inspire me every day and often make me smile. There is a sense of joy that pervades the School as a result of their energy and passion. As well as an exceptional work ethic and commitment to doing well, there is one very special quality shared by MLC School girls and that is their care and support for each other. The values of the Uniting Church are alive; there is genuine acceptance of diversity and the girls are committed to making the world a better place. They really do work to inspire people, enliven communities and confront injustice.
Our 2018 School Captains have been outstanding role models and, through their leadership and hard work, have
shown themselves to be wonderful ambassadors for MLC School. Along with the rest of the leadership team, Captain Jane Liu and Vice-Captains, Anna Michael and Anastasia Kennett, led with determination, care and a sense of fun that inspired and encouraged us all. I wish them and every one of our Year 12s all the very best.
As well as leading from the front and achieving outstanding HSC and IB results, MLC School girls take up every opportunity presented to them and are often recognised nationally and internationally for their achievements.
For example:
Ì
Xin (Sherry) Jiang, Elizabeth Liu Ada Wong and Amanda Yu won the Senior Secondary Division of Video Matsuri (Japanese Film Festival).
Ì
MLC School students – Yijun Cui and Atoufa Mohanna – asked their insightful questions live on ABC's Q&A program.
Ì
Six of our Year 8 students achieved perfect scores in the University of Sydney NCSS Coding Competition Beginners course.
Ms Lisa Moloney, Principal
'At the heart of MLC School is a community that cares and contributes.'
8
Ì
Emily Hunt, Year 11, had an article about her work experience published in the Sydney Morning Herald earlier this year.
Ì
Jasmine Cho won the 2018 Harmony Day Song Writing Competition.
Development consistent with the Australian Charter for the Professional Learning of Teachers and School Leaders, and includes:
Ì each teacher having a set of documented and regularly reviewed goals agreed with their team leader.
developing the next School's Strategic Plan and the findings of the survey will help to inform the direction that we take.
In 2019, some initiatives will be implemented. We will:
Ì
105 Year 10 PDHPE students achieved their Bronze Medallion Lifesaving Award.
Ì
Seo (Celine) Kang performed at Carnegie Hall.
Ì
Four HSC Dance projects were nominated for HSC Dance Callback.
Ì
reflection and review coming from a range of sources, including peer lesson observation.
Ì all teachers receiving regular formal and informal feedback on their performance.
Ì introduce a new executive structure with a greater emphasis on Teaching and Learning in order to further improve learning at MLC School and to respond to the matters that were raised as part of this year's consultation.
Ì
A large number of girls achieved high distinctions in the Australian Mathematics Competition, the Mathematics Trust Challenge and the Australian Mathematics Olympiad.
Ì
Eva Jessurun was recognised for her outstanding academic achievement in her Health Services Certificate 3 in Nursing Course (which she completed during her holidays).
This year has also been a very successful year for teachers completing accreditation with external organisations such as NESA (New South Wales Education Standards Authority) and the AIS (the Association of Independent Schools). We had 10 teachers meet the Proficient Teacher standards and three of our colleagues were recognised as meeting the Experienced Teacher level.
Ì introduce a new Learning Management System, Canvas, which is used in a number of other well-respected Independent Schools. This system will enable us to improve communication, enhance learning and further embrace the use of technology for learning.
Ì
Our Hip Hop and Pom Teams received numerous places and awards at the 2018 Australian All Star Cheerleading Federation (AASCF) Cheer and Dance Battles.
Ì Vicky Feng won the Senior Division of both the Japanese Speech Competition and the Essay Writing Competition.
Ì
Our Senior Girls won the challenging Current Affairs division of the Independent Girls' Schools Sport Association (IGSSA) Festival of Speech.
And there was an enormous array of other sporting, cultural and musical achievements, many of which are showcased elsewhere in this publication.
The vast array of opportunities are available to our girls because of the diligence and commitment of our staff. They work exceptionally hard to provide not just outstanding academic opportunities but also to make sure that the girls are challenged beyond the classroom. Whether teaching or working in a support or operational role, each member of the MLC School staff is committed to the School and to continual improvement.
In 2018, we introduced our Performance and Development Program or PDP for all teachers. This process provides staff with access to ongoing Professional
All remaining teachers at the School have been accredited at Proficient Teacher level, including a large group of pre-2004 teachers who have now joined NESA and will complete a five-yearly cycle of Professional Development.
As part of the approach to learning more about MLC School, I commissioned an independent, confidential 'experience' survey of all school parents (PreKindergarten – Year 12), staff and girls (Year 5 – Year 12) as part of our commitment to continually monitoring and improving the quality of education we provide to our girls.
Knowing the community's views and understanding their experience are most important for the School's operational and strategic planning, as well as tracking changes in our performance.
A total of 387 Senior School parents and 728 Senior School girls, 133 Junior School parents and 141 Junior School girls and 73 Early Years (K–2) parents completed the survey. We are most grateful to these parents and students for their time and effort in assisting us with this important initiative.
The surveys were extensive and covered in excess of 300 aspects in relation to education at MLC School. Overall, we are very pleased with the results. However, there are areas identified where further attention will be focused. In the coming year, the Council and Executive will be
Ì outsource our Uniform Shop to Midfords who also provide an online ordering option, assisting busy families to purchase what they need at any time.
Ì continue to improve our facilities and develop our masterplan.
Ì review and reframe our Pastoral Care and wellbeing programs in light of the most recent research into the needs of girls and the challenges that they face.
Ì embrace the opportunities provided by our beautiful new Senior Centre and enjoy the challenge of using the spaces in the most effective ways.
My vision is for us to make an outstanding School even better. We have exciting times ahead.
I would like to thank the MLC School community for your support and welcome this year. I do not take lightly the responsibility that I have been given and the trust that has been placed in me. I am incredibly grateful for the opportunity to lead this exceptional School.
Ms Lisa Moloney Principal
9
Head of Junior School
In 1886, a new community was formed –a girls' school. Not just any girls' school, Methodist Ladies College was founded to educate young women to attend tertiary education – a first. It was also the first girls' school to engage students in an athletics carnival. At the time, it was daring. Our foundational leaders were indeed brave and visionary. That spirit of striving to be more, challenging norms and stepping outside our comfort zone has become part of the fabric of who we are today. In 2018 much has changed, yet our founding principle of educating fearless women to be agents of change remains stronger than ever.
2018 has indeed been a year of change. The School began a new, exciting chapter with the appointment of our Principal, Ms Lisa Moloney. Ms Moloney has been entrusted to lead the vision and direction of this special place of learning, and MLC School is indeed in good hands. There are Pre-K – Year 12 schools where the Principal is rarely present or known in
the Junior School. Not here! Ms Moloney is our biggest supporter. She loves spending time with the Junior School girls and staff; she has a deep understanding of how young children learn (an insight that not every leader has) and delights in seeing our girls learn and grow. Her expectations of the Junior School are high, something that I am thankful for and appreciate, even if it keeps me on my toes! Thank you Ms Moloney, for your unwavering support, both publicly and privately. This is indeed an exciting time of change in the MLC School's leadership history, with an exciting future ahead.
You would equally know that I have a steadfast belief in the importance of a strong partnership of home and school. The more strongly we work together, the greater the benefits are for our girls. There are many examples of this at MLC Junior School. An initiative that is illustrative of this partnership is the introduction of our URSTRONG program. Learning to develop healthy, respectful relationships is
a lifelong skill that can have a significant impact on our personal and professional lives. Learning the skills of friendship begins with our very youngest learners. Since the introduction of URSTRONG, enriching our Pastoral Care program, I have personally witnessed a change in our culture, a change for the better. For the first time, teachers, girls and their parents and guardians have a common language to use to talk about relationships. It is a bit like teaching someone to swim. The adults now have the same techniques, the same strategies and the same language to coach the girls as they learn to navigate their way through the waters of friendship. When things get rocky – and they have and will continue to do so, as in all human interactions – we do not jump in and create waves. Instead, we know to throw the girls a lifeline and continue to guide and model the process and strategies they need so that they will learn, in time, to swim for themselves. To the staff who have embraced this – the girls will thank
Mr Daniel Sandral, Head of Junior School
10
you in the years to come. We may be learning to swim, but with the support of parents and guardians in our partnership, we can do laps in the pool of friendship. Thank you to the many girls, educators and parents who have contacted me, sharing their stories of success.
I cannot talk about the strong homeschool partnership without acknowledging the Junior School Parents and Friends (P&F), Parent Ambassadors and parent and guardian volunteers who support our many community events. The Mothers and Fathers Day stalls, Book Week BBQ and Parade, and the Dads and Daughters Cardboard Challenge, have all been a great success. Even the heavy rain at the Cardboard Challenge was not enough to dampen our MLC School spirit! In 2018, we commenced with the inaugural event for girls and their mums or significant women, The Mother/Daughter Disco. International Night has grown to become the largest community event celebrated across the School in the calendar year, as a whole community event. It is loved and valued by all, and due to its success, it has become a responsibility of the whole Junior School, and no longer assigned to a grade. As we look to the future, we will continue to strive to make this event an inclusive celebration of the gifts of our cultural diversity for our entire School. I take this opportunity to encourage you to support our events, in any way. I also wish to publicly acknowledge our committed staff who go above and beyond to support our School events, generously giving their time away from their own families to support our MLC School family.
This year we have had plenty of learning adventures. I recall Pre-K and Kindergarten covered in mud early this year for Mud Day, as was their playground. Now they have a beautiful play space that is the envy of other schools. It was a delight to see Year 1 girls learning from some of our grandparents who came to visit as special guests, along with parents and guardians, during their Science Fair. Year 2 experienced their very first day camp. Year 3 were very excited to attend their first overnight camp – so excited that the adrenalin had them up ready for their second day of outdoor adventures before the sun had risen! Year 4 commenced participating in interschool sport and took on leadership responsibilities as Guardian Angels in our playground. During their transitional year to Senior School, Year 6 mastered the skill of political persuasion following their
To our Year 5 students, I have borrowed words from John Quincy Adams: 'If your actions inspire others to dream more, learn more, do more and become more, you are a leader'. From your very first day this year, you have stepped up to the challenge of leadership. I witnessed first-hand you growing as a collaborative team of leaders at school camp, where you took up the challenge of stepping outside your comfort zone. In the studio and the outdoor classroom, here and on your excursion to Victoria, you have continued to learn more, be challenged by your teachers and to challenge yourselves to learn more about our world. You certainly did more on the sports field, kicking personal best goals and exceeding all expectations. And you dared to dream. As leaders you challenged us to support others in our service learning. You have shown us what it means to have compassion, to be agents of change in the lives of others. Whether you have held an official leadership position or not, your actions have indeed inspired others. I wish you well in Year 6 and may you continue to dare to be more, inspire others and dream.
Across the Junior School, there have been so many other opportunities to engage, to be challenged and to learn. We embraced Chinese Year New celebrations, the Slam Poetry workshop and author visits during Book Week. Sports records were broken in the water and on land, with MLC Junior School girls representing NSW at a National level. We also made it to the State finals in Tournament of Minds, where our combined Year 5 and Year 6 team was the Regional Champion and, in
the da Vinci Decathlon, our Year 5 team was ranked first out of 45 schools in the Creative Producers category. We were even placegetters in the University of NSW RoboCup, entering for the very first time.
We are, indeed, fortunate to be part of a school as beautiful as MLC School. Yet, as I have said before, there is no resource more valuable than our quality staff. To all the staff – educators, and those in administration and maintenance – all of you, thank you for what you have contributed and given to the students of MLC School. It is noted and appreciated by all. At a personal level, I thank you for the support you have given to me in my first year at MLC School. I am indeed proud and honoured to call you my colleagues.
Girls, as the 2018 academic year concludes, take the opportunity to renew and spend time with your families who love and care for you. Thank you, parents and guardians, for your supportive partnership in the education of these young women, whom we are immensely proud. And finally, girls, keep the 'Daughters of the Light' burning brightly within you. Rest assured, more adventures and opportunities await in 2019.
Mr Daniel Sandral Head of Junior School
four-day visit to Canberra, with a number of politicians requesting to visit Year 6 here at School. We may indeed have a future Prime Minister amongst us!
'That spirit of striving to be more, challenging norms and stepping outside our comfort zone has become part of the fabric of who we are today.'
11
Speech Night Guest Speaker
Senior School Speech Night was once again held at the beautiful State Theatre. The guest speaker was MLC School Old Girl, Gail O'Brien AO (Bamford, 1972).
Gail is Patient Advocate and Board Director at the Chris O'Brien Lifehouse, the worldclass, fully integrated and comprehensive cancer care facility located across the road from Royal Prince Alfred Hospital and named for Gail's husband, the late Professor Chris O'Brien, AO whose vision it was. Gail was integral in realising her husband's dream.
Gail's speech, an inspiration to all those in the theatre, follows.
'Rev Hansford, Mrs Johnston, Ms Moloney, distinguished guests, teachers, parents, and above all, ladies of MLC School.
I'm honoured to be with you tonight, back at my Alma Mater, and on Gadigal land, where I too pay my respects to the people of the Eora nation, and their elders past and present.
Congratulations girls on all of your terrific achievements this year – especially the graduating class of 2018. It's wonderful to see all your talents and efforts showcased here tonight.
As I prepared this speech, naturally I cast my mind back to my own graduation from this School, more than 40 years ago.
That Speech Night was a grand affair held up the road, at the Sydney Town Hall. The girls wore prim white dresses, as if it was our societal debut or wedding! Prize winners had white gloves too. And we were all abuzz at being allowed to wear black court shoes with a little high heel.
I can't quite remember who was the guest of honour that night, but it was often a male politician, diplomat, or war hero with medals emblazoned on his chest.
The speakers were always very impressive and formidable! But I hope my presence will be slightly more relatable to you, than they were to me back then.
You see, I think I've been asked to speak here because of circumstances that have
happened quite by accident – certainly through no planning or control of my own.
When I sat where you are now, I believed that I would shape the arc of my own life, much like a sculptor carves a form out of clay. Hard work, setting goals and making sound choices – these were the step-bystep instructions to mould a well-lived life.
Well, it turns out, that's not exactly how it works.
Yes, you should work hard. Yes, you need goals and direction. And of course, our lives are the sum of countless decisions.
But I want to share a secret with you.
It's a secret that is so well kept, most people don't even know it exists.
Enjoyed friends. Travelled. We contributed to worthy causes. We found success. It was picture perfect, just as it should be. It couldn't get better.
But here is the second half of the story.
It began 12 years ago. I can pinpoint it to the day — 25 November 2006.
My husband, Chris O'Brien, was diagnosed with a brain tumour and given six months to live. For him, a worldrenowned cancer surgeon at the height of his career, his diagnosis came like a hammer blow.
Over the next two and half years, Chris squeezed out every drop from the life he had left. He used his unique position as a high-profile cancer surgeon who was dying of the disease himself, to campaign tirelessly for better cancer care.
As I cared for Chris over those months, it was all-consuming, exhausting and dreadful in the truest sense of the word. But losing him was far worse.
The night Chris died on 4 June 2009, a thick fog covered the city. It seemed to arrive to carry him away.
I'll tell you what it is by sharing with you a story about my life. It is a story in two halves. The first half goes like this.
I was born in Dublin, Ireland, to loving parents and had a happy childhood, as the second-eldest of six children. My family migrated here and I grew up in what the locals call God's Country, and everyone else calls The Shire.
I had an excellent, well-rounded education at MLC School where I attained good grades and made life-long friendships. In fact, my best friend from school, Lesley, is here tonight.
I went to university to study Physiotherapy and it was there that I met a wonderful man. We married, lived in wedded bliss, and were blessed with three children.
We worked hard. Raised a family. Accumulated security. Renovated houses.
A year later, my eldest son, Adam, in his 20s and on the brink of his career, became inexplicably ill, suffering infrequent seizures in his sleep. He was a strong, strapping young man. But the fifth seizure took his life. We say it was epilepsy, but the diagnosis was ambivalent.
And finally, a short while after that, my daughter, Juliette, then a student at the University of Sydney, was diagnosed with a type of thyroid cancer. She underwent surgery and radiotherapy treatment. I'm glad to say she is perfectly well now.
I'm not telling you all of this as a story of grief – though it certainly is that. Nor is it a story of giving up or falling down – even though, there were days I almost did.
Rather, I wanted to tell you about what I gained, as well as what I lost. It's not a story of falling down. It's one of 'falling up'.
'... everytime you fall down, it's an opportunity to fall up.'
12
'Falling up'. It's a phrase coined by Fr Richard Rohr, a Franciscan teacher and favourite author of mine.
In his book, Falling Upwards, Richard Rohr writes that life-changing events like those I've just described will feel like rocky terrain, but in fact they are the stepping stones towards a deeper understanding of your own soul.
After 20 years focused on my family and my husband's brilliant career, I re-entered the workforce and returned to physiotherapy. I accepted a position on the board of the Chris O'Brien Lifehouse, a comprehensive cancer centre that my husband had envisioned and was named in his honour.
Although I'd always worked in the health sector, and run Chris's practices and foundations, this major project – creating a hospital from scratch – pushed me off a ledge into the deep ends of politics and bureaucracy.
Today, Chris O'Brien Lifehouse stands on Missenden Road, Camperdown, across the road from Royal Prince Alfred Hospital. It is a beautiful, not to mention awardwinning building, that houses everything a cancer patient needs under the one roof – surgery, chemotherapy, radiotherapy, screening, prevention, alongside complementary and alternative therapies like acupuncture, massage and reflexology.
We treat the body, mind and spirit. We conduct cancer research. We teach the next generation. We're the first facility of our kind in NSW. We are independent and not-for-profit.
I walk the wards of Chris O'Brien Lifehouse every day as the Patient Advocate, grateful to be able to use my gifts of experience and insight to help create a health system that is more compassionate, holistic and hopeful.
So, back to that secret that I've been promising to tell you.
It is this: everyone's life has two halves.
And the first half is but a warm-up act for the second half that awaits us all.
The two halves have nothing to do with chronology or age. Some people reach the second half younger than the rest.
Rather the two halves are distinguished by challenges – and maybe even suffering – that push us into the 'further journey' of spiritual and self-discovery.
I don't want to alarm you girls! I'm not at all saying you're all destined to endure tragedy. But we all must face disappointments and setbacks. We will make mistakes. We will lose control. Our hearts will be broken. Sometimes, we will fail.
But remember this – every time you fall down, it is an opportunity to fall up.
In everything we do, we can ask, 'What can I learn from this? What am I missing?'
When I was a student at MLC School, each school day began with an assembly at which we sang the School song. I distinctly remember the words. 'Here in this house, where we are singing thus, long generations will come after us.'
And now I stand before you, dear girls, the long generations about whom we sang. I've felt a sense of responsibility to make what I say, worthwhile.
So, I hope that my story has affected you in some way. Perhaps to comprehend the arc of your life in a slightly different light. We live in a 'first-half-of-life culture' to quote Richard Rohr once more. Climbing, achieving, performing. It's all necessary and valuable.
But as you navigate towards the horizons and opportunities that await you, just remember, it's the journey to your inner landscape that's the greatest adventure of all!'
Gail O'Brien
MLC School Old Girl (Bamford, 1972)
Gail O'Brien, MLC School Old Girl
13
School Captain
Storytelling is an integral aspect of the human experience, serving a variety of purposes: to entertain, to educate, to philosophise and to keep our history and culture alive. Storytelling is an activity that can help make meaning of everyday experiences, whether that be enlightening others to new perspectives or consolidating common ground; either way, it draws us closer to one another.
This year has been an incredible year of storytelling, of sharing passions and fears, dreams and achievements. It has been an honour to listen to some of these stories and to help weave them into a rich tapestry, so others may find them and learn from them too.
The first School event the Leadership team of 2017-2018 organised, was RUOK Day, a day that focused on normalising conversations around mental health. We then had the honour of representing the School at Burwood Council's White Ribbon Day, where the community stands together in solidarity with women who have suffered from domestic abuse. SRC organised an incredible World's Greatest Shave, which I eagerly participated in, helping to rally support for those affected by blood cancers in Australia. With the help of Collective Voice, we put on the biggest Wear It Purple Day I have ever seen in my time here, which was heartwarming and affirming for many within the School community.
Through these events, we aimed to emphasise the overwhelming support and acceptance that already exists in our School community, and as a result, help individuals tell their stories of struggle and lighten their personal burdens. Hearing these stories has highlighted the importance of humanising statistics, allowing us to approach these issues with greater compassion and understanding.
Finally, we reached out and reconnected with our brother school, Newington College. We successfully hosted our first joint Prefects' Afternoon Tea, where student leaders from various schools congregate to discuss the concept of leadership and how we can carry on changing the world as young adults. MLC School and Newington College
leaders also started many exciting projects that will only come into fruition in the new year. Lin-Manuel Miranda fans will understand that legacy is planting seeds in a garden that you never get to see.
I have deeply cherished my time here at the School. MLC School has provided me with myriad opportunities, which have stimulated exponential growth in my character over the years. Immersive trips overseas to Chiang Mai, Thailand and Fiji have broadened my worldview and reminded me of my role as a global citizen, and that my small actions have the potential to touch the lives of those across the world. But it has also been the small, ordinary moments that have stuck with me, unexpected highlights – jamming away in Stage Band only to be thrown into the deep end midperformance with a 'Janey, solo! Go!'… being brought to tears of laughter by friends' antics…sleeping on the bedroom floor at camp, ignoring the perfectly fine beds provided. The common tie to all these stories has been the beautiful
radiance and passion of MLC School students and staff, a testament to the incredible community we have here at School.
I thank you again for the privilege of serving you over this past year, and I have absolute faith that the coming year will be even more superb under the leadership of the new captains.
Our stories are just beginning, so let us take the coming year as a new chapter in our lives.
Jane Liu School Captain
Jane Liu, School Captain
14
Vice-Captains
As Vice-Captains, we have had the honour of representing the School community both internally and externally. Speaking with prospective parents, students and Old Girls has highlighted how precious life at MLC School is. Hearing the fondness and tenderness with which Old Girls discuss their time here reminds us of how lucky we are to have the warm community that surrounds us every day. We have no doubt that MLC School will continue to be a safe and welcoming home for every girl.
Outside MLC School, we have continued the tradition of representing the School in the wider community. Participating in the annual ANZAC and Sandakan Memorial Services in Burwood Park has reminded us of the importance of youth respecting our country's history, whilst attending White Ribbon Day and International Women's Day has highlighted the vital role of hearing young people's stories and listening to their concerns and ideas. We have every confidence that our girls have the passion, determination and integrity needed to be active members of the wider community and to instigate change.
As Middle Years Captain, the aim this year was to encourage students to build a sense of community, create support networks and to find their own voices. We introduced a film club for Year 6s and I found myself enjoying the relaxing lunches spent huddled around
a television. I have had the pleasure of working with the Middle Years team to increase activism around the School by participating in RUOK Day,White Ribbon Day and InternationalWomen's Day. We spoke one on one with students in Middle Years, left posters in bathroom stalls and created assemblies focused on educating and helping young people understand the issues in the world today.
A few of the many highlights of the year include watching everyone write positive notes to each other during assembly and then finding them placed on people's lockers throughout the day, and watching one of the Middle Years team members giving a presentation on women's rights and the importance of finding your own voice. Above all, there were moments of laughter and hugs, smiles in the hallways and all the memories that we as a group of three hundred plus students have made during 2018.
As Senior Years Captain, I have found that despite the stress of Senior Years, the students' ongoing energy and determination have been admirable. Senior Year's assemblies have been an opportunity to have some fun, with fortnightly activities designed to restore the girls' energy midweek. It was noted that, although all girls enthusiastically participated in quizzes and games with chocolate incentives provided, the most successful assemblies involved the playful humiliation
of captains or teachers, such as the egg roulette, which resulted in numerous broken eggs and a few sore heads.
Furthermore, I have had the pleasure of seeing students coming together to support girls from across the year groups. Upon asking for Year 11 and Year 12 volunteers to speak with the Year 10 students at the School's first student-led subject selection exposition, I received an overwhelming response with over 70 girls willing to offer their advice to Year 10 students. The event was highly successful and would not have been possible without the help and care of Senior Years students. As Vice-Captain of Senior Years, it was exciting to see the shared sense of community and fun, as well as the willingness of the girls to have a laugh at themselves. It is this energy and life of the Senior Years girls that I will always remember from my captaincy.
Upon reflecting on our time here, it is clear to see that one of the defining features of the girls of MLC School is their desire to follow their passions and to succeed. However, spend a few hours with any year group and you will find that there is no one definition for success; success is achieving one's personal aspirations, whether they be academic, sporting, musical, or personal passions. From debating to student activism to Wakakirri, girls have thrived in all aspects of their School life and education. Every single student should be congratulated on all she has achieved throughout the year, whilst acknowledging that this achievement does not necessarily correspond to a prize, medal or badge. The joy that comes from following one's passions is the most valuable success of all. Although it will be difficult to leave this wonderful School and all it has given us, we know that we will cherish our time here forever. We wish all girls the best of luck for the future.
Anastasia Kennett (Senior School Vice-Captain,Year 6 toYear 9) and Anna Michael (Senior School Vice-Captain,Year 10 toYear 12)
Anna Michael and Anastasia Kennett, Senior SchoolVice-Captains
15
SRC Captain
'... aim high, because there is actually so much that can be achieved.'
The year spent as Student Representative Council (SRC) Captain has exceeded my expectations. One example of this is the World's Greatest Shave.We organised our inaugural World's Greatest Shave at MLC School expecting to raise about $5000 but we ended up raising $25,242! With this money, we've been able to help provide around 600 families the support that they need to overcome the initial shock and stress of being diagnosed with leukemia.
This could not have happened without the girls in SRC who have worked so hard. To everyone in SRC, thank you so much for making my time as SRC Captain not only so much easier, but very enjoyable and rewarding. We are also grateful to Mr Eddleston, for supporting and motivating us throughout the year, listening to our crazy ideas, and constructing some awesome graphs and tables.
The incoming Captain for 2019, Vicky Feng, is a legend, and MLC School is so lucky to have her. The one piece of advice I would give her is to aim high, because there is actually so much that can be achieved though the SRC and it is important to make use of the opportunity it presents. I am sure she will enjoy her time as Captain as I have done, especially with an amazing team of girls and teachers in SRC to support her as they supported me.
Swathi Ilanko SRC Captain
Swathi Ilanko, SRC Captain
16
Junior School Captain
thank on behalf of all the Junior School girls for all you do to support and guide us.
I'd like to thank the House Captains. You're not just crazy cheerleaders – you're committed supporters and are amazing representatives of your houses. We are so grateful for all your work this year.
A special thank you to Miss Rouhliadeff who has been an unbelievably patient, kind and incredible teacher. Also thank you to Mr Howard and Miss Dougherty – you have also been so caring, supportive and encouraging of us.
I'm so glad I started at MLC School in 2012 because it has allowed me to make friends with girls from so many different backgrounds and beliefs. We are all so different and that's what really makes us special. Be yourself, because diversity is cool and it's one of MLC School's greatest strengths.
If I had to sum up this year, this quote would definitely do it justice! It's by Emma Watson – my idol. 'It's not the absence of fear, it's overcoming it. Sometimes you've got to blast through and have faith.' Sometimes people ask me why I think she's so awesome. It's because she is so many things I would dream to be: an Ambassador for the United Nations; a feminist; a fighter against sexual harassment; and most importantly, a fighter for education and a love of learning. I'm not saying she's perfect, but I am saying that she was once a little girl like us, just dreaming of all the ways she could 'Dare to be More'.
I would like to say a huge thank you to my amazing friend and School Vice-Captain, Amaya. It's been great getting to know you better this year. I've learned so much about you. You're a kind, funny and awesome person to be around. I know that without you, this year wouldn't have been the amazing year it was.
Mr Sandral, you've done so much for us this year and we've been so fortunate that you have come to MLC School. You always look like you are having such a great time. You made a huge effort to get to know each of us this year and you're always encouraging us to be the best version of ourselves that we can be.
Mr Finlay, where do I start with you? You have been working at MLC School for 24 years, but you still approach every day with so much enthusiasm. You are ready for anything and you are an amazing Head of Year 3 – Year 5, and I want to say a big
Thank you to all the Junior School teachers. It's not easy controlling all these girls. You get to School early in the morning and leave late at night; you put so much effort into every little thing you do and you care about every one of us.
In my speech when I was running for School Captain, I said, 'I have tried lots of new things at MLC School and while I've been good at some, I've also been terrible at others.' The truth is, no one is perfect, and we're all good at different things. We were all made as equals who shine under different spotlights.
In our School song there is a line that says, 'After we are dead, they may find beauty here like daily bread.' Let's forget about the dead part, which is a bit depressing, and think about great things we have done that will live on forever. I think the girls in our year have grasped every opportunity to leave a legacy of diversity, kindness and fun.
I would like to wish next year's School Captains all the best. Yes, it is a bit nerveracking at first when you come on stage and are given a pile of flowers bigger than your head, but it is so much fun! It's such a fantastic opportunity to be in this role and don't worry, I'm sure you'll be amazing.
Now to our parents. How can some people seriously say that parenting isn't a full-time job? You've supported us from the day we were born. When we have good days, you celebrate with us and when we have bad days, you cheer us up. While we don't say it enough, thank you for all that you do.
I would love to thank all of Year 5. I couldn't have asked for better friends. We have had so many fun times together this year. Flying to Ballarat, camping, doughnutting down the river, making a conga line around the playground in the pouring rain, singing at the Town Hall, dancing our feet off at the Year 5 Farewell Dinner – and now we are finally at the end of it all!
All these events remind me of a quote that I really like: 'It's the little moments that make life big.'
I have had the most wonderful seven years wearing this MLC School uniform and walking across that red carpet. I have so many awesome memories. Let's all walk into 2019 with our heads held high as we open a new door to endless opportunities. I'm sorry Junior School but I've gotta love you and leave you! Senior School – watch out, because here we come!
Kristina Bitar Junior School Captain
'It's not the absence of fear, it's overcoming it. Sometimes you've got to blast through and have faith.'
Kristina Bitar, Junior School Captain
18
Junior School Vice-Captain
I have been wondering how I could put my whole Junior School experience into one short report and trust me when I say it is not that easy. Just this year, we roasted marshmallows at Somerset and flew on a plane to Ballarat and that's just two things out of so many! Now it is the very last day of School! There are many last moments which are sad, like the last time Kristina and I will be School Captains or the last time Year 5 will be in the Junior School but, the only word that fits this year is epic! Epic, epic, epic, just epic.
I thank you for electing me as your Junior School Vice-Captain. I am so grateful.
I would like to say is a huge thank you to the one person who has stood by me every moment of this year, and that is Kristina Bitar. A really vivid memory I have at Speech Day was when they called out Kristina Bitar, Junior School Captain! At that moment, I was so thrilled and excited that I would be working with her and she did not let me down at all. She has just been amazing, a supportive and a really kind and caring friend. When I first came to MLC School, I thought that Kristina was so confident and caring that I wanted to be just like her, so I thank her, for all this and more.
When Mrs Floro left, I was really upset and thought there would never be a better Head of the Junior School, (as we all know change is sometimes scary) but Mr Sandral has done such a great job and been so welcoming that we are all so glad he came. From coming to visit us in class, to joining us in the fun and games, he has shown us how we can try to do our personal best and we all hope he has had the best year possible.
Mr Finlay never lets us down. I have had so much fun organising games and events with him. He comes to all the camps and netball games to cheer us on and has a goofy time with us. It is one thing to know teachers at school but a completely different thing to know them outside their jobs and I have certainly got to know him this year. We all love him being here and appreciate how much time and effort he gives to make each day wonderful.
I would also like to thank all the Year 5 teachers. Miss Dougherty's fun smile and adorable photos of Rev Vinnie, just make us all laugh. Miss Rouhliadeff always has something fun planned and is so calm and kind. Mr Howard always makes our assemblies and classroom look so cool with his creativity. I thank them for being the best Year 5 teachers ever!
Some other girls who have been so great this year are the House Captains. They all have played a very important role in making our houses fun and awesome: Mia, Georgie, Christine, Mannix, Ella, Annaliese, Ayla, Ellie, Christina, Sophia, Katelyn and Tasha. They are all so supportive and fun and have amazing team spirit. I honestly don't know what all the houses would have done without these girls.
We both wish the Captains in 2019 the best of luck, knowing that they will lead the other girls in their roles as House Captains or Monitors. The feeling of getting up on the leadership stage is both terrifying and awesome at the same time but I know they will be amazing.
'You don't have to wear a badge to be a leader.' This is a quote that has a lot of precious meaning to me and that is exactly what Year 5 girls have brought to the Junior School. Everyone works hard and helps make the Junior School a better place, whether they have a badge or not. They are so much fun, from the crazy dance battle at the Year 5 Dinner to their generous amount of donations at my sister's bake sale. I am so lucky to be part of a Year 5 group with such kind, caring and welcoming girls.
As we all know, you can't have a Junior School or even a grade without all the students, all of the girls and I thank every single girl. They all help make the School fun and without them, our School would not be the same. Imagine playing basketball by yourself or being the only one in the School photos? Without the girls, MLC School would not be a family – it would just be a boring old school.
I would like to make a special mention of our Year 4 girls who will all be great role models in the Junior School next year.
At the start of the year, I talked about taking advantage of opportunities and how lucky we are to attend such an awesome school with so many activities. Over the course of the year, I saw so many people grab these opportunities. For example, we had our house debating auditions and many girls who had never debated in their lives, stepped up and gave it a shot.
To my friends in Year 5, next year is a new year and we can come to school proud and ready. We may be small, but we are truly ready to accept every challenge and shake things up in the Senior School!
Amaya Karunakaran Junior SchoolVice-Captain
'... we are truly ready to accept every challenge '
Amaya Karunakaran, Junior SchoolVice-Captain
19
Junior School Student Council
This year the Junior School Student Council (JSSC) and staff have been having a blast going to meetings, voting on Citizens of the Term and even organising Stay N Play.
MEETINGS
Throughout the year all the JSSC members and staff gave up their recess time every Thursday to come together to discuss different activities and how we all can make our school a better place. As well as this, we have also have been voting for the Early Year Citizen of the Term and Junior School Citizen of the Term, reading lots of suggestions from our classmates and organising Stay N Play.
PLAYGROUND
In our JSSC meetings this year, the JSSC discussed our playground and how to make it a better place than it already is. We went to Mr Sandral with our ideas, made Minecraft models, talked about having paintings on the floor and so much more. We even moved the wooden house and got new soft play equipment so now the playground is on its way to being an even way better place to play in!
STAY N PLAY
This year's Stay N Play was filled with yummy food and fun carnival games. It was fun to run all the stalls, serve lots of customers and play lots of games.
CITIZENS OF THE TERM:
Each term, all the classes in the Junior School nominate one girl who they all think is an outstanding citizen. They then go to a JSSC meeting where we ask them questions about citizenship and how they are a good citizen. Afterwards, we all vote for one of the girls who displays amazing citizenship. Mr Finlay then counts the votes and all the JSSC members run an assembly. We were all very excited in the lead-up to the announcement of the Junior School Citizens of the Term! This year's winners were:
Term 1:
Early Years: Sofia Tzouganatos (Year 2)
Junior School: Annaliese Yan (Year 5)
Term 2:
Early Years: Jasmin Srisathkurunathan (Year 2)
Junior School: Georgie Papadimitriou (Year 5)
Term 3:
Early Years: Emma Sugianto (Year 2)
Junior School: Erin Muir (Year 5)
GOOD LUCK AND THANK YOU
All the JSSC members would love to stay in the JSSC but we also want to welcome all the new JSSC members for 2019. We hope that you all have just as much fun as we did. On behalf of the JSSC, we would like to thank all the teachers, parents and students who helped make this year's JSSC so enjoyable for all of us.
Aspen Lambert and Erin Muir JSSC Coordinators
FRONT ROW Sofia Tzouganatos, Elizabeth Ravens, Janice Leong, Lara Bazzi, Chloe Lu, Katherine Woo, Ada Savage SECOND ROW Ms C Dougherty, Niamh Johnson, Gigi Guan, Chloe Constantinidis, Gauri Nathan, Naoise Lynn-Black, Elizabeth Faraj, Sophia Antipas, Mr D Finlay THIRD ROW Megan Lieu, Aspen Lambert, Jasmine Banks, Haegan Sitou, Erin Muir, Evie Papamanuel
20
Leadership Photos
FRONT ROW Katelyn Tu, Sophia Malas, Georgie Papadimitriou, Amaya Karunakaran, Kristina Bitar, Ella Baker, Christina Di Giandomenico, Eloise Girard SECOND ROW Mr D Finlay, Christine Jin, Annaliese Yan, Mannix Aurisch, Ayla Staltari, Tascha Ireland, Mia Rae, Mr D Sandral
FRONT ROW Piper McCowan, Dionne Alaveras, Mr N Scotney, Mrs F Booth, Amara Kalcev, Mikaela Nguyen SECOND ROW Elise Nikolopoulos, Vanessa Ryan, Katie Sutherland, Claudia Bean, Nicola Oddie, Maya Simpson
LEADERSHIPMIDDLEYEARS TEAM JSCAPTAINSANDHOUSE CAPTAINS
21
Leadership Photos
SCHOOLCAPTAINS
STUDENT REPRESENTATIVECOUNCIL(SRC)
FRONT ROW Georgia Pollitt, Anastasia Kennett, Mr N Scotney, Mrs F Booth, Jane Liu, Anna Michael SECOND ROW Zoe Cross, Swathi Ilanko, Dakota Comino, Emily Hart, Ashley Oliver-Sjahry, Emmeline Booth
FRONT ROW Olivia Wu, Katrina Marshall, Isabella Lasovski, Swathi Ilanko, Katie Zheng, Tess Tsoi, Phoebe Zhou SECOND ROW Mr C Eddleston, Rachel Wang, Kate Baker, Aleksia Grbic, Olivia Winlaw, Nicole Lin, Vicky Feng
22
Worship
Each term, Worship is themed based, with special themes such as Women of the Bible,Emojis and Season of Creation as well as lectionary readings; our whole school community – from Kindergarten to Year 12 – comes together for a weekly devotional assembly, and chapel services. The weekly liturgy and order of service (prayers, songs, Bible readings and reflection) are tailored to suit the theme.
The liturgical year for Pre-Kindergarten is enhanced in our new Godly Play room where our youngest members of school have Godly Play classes every week and a worship service every fortnight. The Godly Play program plays a major part in Early Years study of Religion. The Chaplains have also taken an active role in teaching Godly Play to other year groups in the Junior School as part of the new way forward.
Significant liturgical events – Ash Wednesday, Easter, Pentecost and Advent – are shared in student and family gatherings. The aim of Sunday Services is to bring families together in student-led House Chapel Services. Students take ownership of these services, creatively putting the liturgy together and leading worship, with some assistance from the Chaplains.
Pastoral care continues to be a major part of our role as we meet the spiritual needs of staff and girls during their special
times of need. We conduct a dialogue in which we intentionally explore spirituality to help them deal with life's challenges; we assist young people to develop to their full potential, pursuing knowledge and the practice of empathy and understanding, and seeking the answers to spiritual needs.
The Chaplains also serve the MLC School community through Christian rites. In 2018 we conducted two funerals, three baptisms and four weddings. Other special services included Ms Lisa Moloney's Induction Service, the Staff Service at the start of the year, the Valedictory Service for Year 12, the Prefect Service, end-ofterm Communion Services and the Advent Service for staff, students, parents and Old Girls.
We continue to be thankful and grateful for the support of the Old Girls Association in the ongoing care and refurbishment of the School Chapel.
Rev Vinnie travelled with a group of Year 11 girls to Fiji during the Term 2 holidays for their Duke of Edinburgh's Award Gold expedition. It was a lifetransforming experience for our girls as they built footpaths for a local school in the highlands. Rev Vinnie also attended the Year 12 Leadership Retreat, supporting our most senior year group whilst at camp.
Our lunch time programs – JIST (Jesus in School Time) and Colour, Chill and Chat for Senior School, and JAM (Jesus and Me) for Junior School –continue to grow. It is a shared time of exploring faith through storytelling, games, biblical quizzes, songs and prayer.
School ministry is unique in that it brings the Church to the community; we continually strive to keep the dialogue going, thereby continuing the work of Christ in ushering in the Kingdom of God on Earth, as it is in Heaven.
Rev Viniana Ravetali and Rev Vanessa Williams-Henke School Chaplains
'School ministry is unique in that it brings the Church to the community.'
Rev Vanessa Williams-Henke and Rev Viniana Ravetali
23
STAFF 25
Staff List
CHAPLAINCY
Lynne Bondar BA, DipEd
Rev Viniana Ravetali MTh, BTh, DipAdminMgt Rev Vanessa Williams-Henke BTh, DipDramArt
CO-CURRICULAR
Blake Fatouros BHlthSc, GDip Creative Industries
Monika Slobodova AssocDipBus, CertIVHRM ( left November 2018)
HUMAN SOCIETY AND ITS ENVIRONMENT (HSIE)
David Latimer BA, DipEd, MEd (Merits),
– Head of Department
PRINCIPAL
Lisa Moloney BEd, MEd Leadership, GDip Music Ed MACE, MACEL, AHISA
DEPUTY PRINCIPAL
Frances Booth BA (Hons), PGCE, ARI, MACEL
HEAD OF SENIOR SCHOOL
Neil Scotney BPhysEd, BEd (PDHPE)
HEAD OF JUNIOR SCHOOL
Daniel Sandral BEd, Dip Teach, MEd ,GradDip TESOL
HEAD OF FINANCE, SYSTEMS AND ADMINISTRATION
Ross Kirby BBus Studies, Dip Acct, Cert GIA, ASA, JP
HEAD OF HUMAN RESOURCES
Louise Strachan BEd (Hons), MBA (HRM)
HEAD OF MARKETING AND COMMUNITY RELATIONS
Michele Dunn BJuris Law
DIRECTOR OF SENIOR CURRICULUM AND IB DIPLOMA COORDINATOR
Anne Layman BEd, MBA
EXECUTIVE ASSISTANT TO PRINCIPAL
Ally McManus (Term 1 to Term 2)
Tracy Neale (from Term 3)
EXECUTIVE ASSISTANT TO THE DEPUTY PRINCIPAL AND HEAD OF SENIOR SCHOOL
Alexandra Norton
EXECUTIVE ASSISTANT TO THE HEAD OF FINANCE SYSTEMS AND ADMINISTRATION
Andrea Prevost
ADMINISTRATION AND FINANCE
Wendy Allen Cert III Teacher's Special Aide, DipEducation Support
Carla Comitogianni
Brett Grey BCom, CPA
Easso Mathews BCom
Trinh Nguyen
Rachel Piper (left June 2018)
Navoda Wellege ACMA
AQUATIC CENTRE
Jason Nicholas BDes – Aquatic Centre Manager
Jessica Gilmour BAPsych, DipCommWel
CAREERS
Loretta Toole DipTeach, DipRelEd, GDipCareers Ed, DipCoun, MBTI Accred – Head of Careers and Academic Advising
Jo Cilia BA, DipEd, GCert Careers
Catherine Roach RN, (Cert IV G Career Development)
– Dance Teaching (Secondary Ed), BEd, Cert III Ent, Cert IV Workplace Assess, BEd (Secondary) PDHPE and Dance – Head of Co-curricular
COUNSELLING
Marion Delprado BA, DipEd, MA (Social Work)
Elizabeth Hill BA, DipEd, MA, Susan Rountree BA, DipEd, MA
DANCE, DRAMA AND ENTERTAINMENT
Lisa Jinga BA, DipEd, MA – Head of Department
Samantha Abrahim BA , MTeach
Bianca Argyrous BA, BEd, Cert IVPA
Kate Caron BA, DipEd, MEd (leftFebruary2018)
Alyssha Clarke BMus (leftSeptember2018)
Kate Drady BArts Dance (Hons), MTeach
Blake Fatouros BHealth Sc, GDip Creative Industries (Dance Teaching) (Secondary Ed), BEd, Cert III Ent, Cert IV Workplace Assess, BEd
Secondary PDHPE&Dance
Julian Kennard BCA, MTeach – Assistant Head of Year 7
Bojana Kvrgic BA
Jenna Skepper BEd
ENGLISH
Benjamin Haeusler BEd(Hons)
– Head of Department
Deborah Moir BA (Hons), MLitt, GradDipEd, COGE
– Assistant Head of Department
Rachel Alice BA, DipEd
Lynn Calluaud BA DipTeach, MEd, GDip TESOL Christine Choi BA, DipEd, TESOL Cert Carmel Cordaro BA(Hons), DipEd – Head of Year 9
Alice Fenton BAComm, GDipJ, GDipEd (leftMay2018)
Gemma Goldberger BA, GDipEd
Elizabeth King BA, DipEd, TESOL
Adam Lee MTeach
Kim Lightfoot BEd, MLOLead
Hanna Lucas BA, GDipEd
Ashleigh Maihi BA, MTeach
Fiona Pow BA (Hons), PGCE – Head of Year 7
Greig Robinson MA, COGE (left October 2018)
Lynne Slarke BA, BEd, DipEd, MEd MSPEd, GDipSpEd – Head of Year 12
Irene Swain DipTeach, DipEd, GDipSpEd, Cert IVAss &Tr., Cert Comp in EdAss – Head of Year 11
Olivia Takacs BA DipEd MA COGE (left December 2018)
Jane Wang BA/BEd, MEd
Adrianne Wardrop CertIIIEdsupport (leftApril2018)
HISTORY
Peter Klamka BA (Hons), DipEd
– Head of Department
Antonella Accurso BEd(Sec)
Felicity Berry BA(Hons), BTeach, PhD
Sharon Connolly BA, DipEd
Gemma Goldberger BA, GDipEd
Vicky Zinopoulos BA, BEd, Cert IVAssessment and WPlaceTrain
HUMAN RESOURCES
Louise Strachan BEd (Hons) MBA (HRM)
– Head of Department
Mariam Issa BCompEng BTeach (Sec) (fromJuly2018)
Vanessa Lau BCom, CertIVBA
Manuel Condoleon BCom, BEd, MEd (Research)
– Assistant Head of Department
Paul Batten BSc (Hons), DipEd, PhD
Lynne Bondar BA, DipEd
Julia Ciaschetti BA, MTeach (leftSeptember2018)
Annie Conway BA, MA (Spirituality), DipEd, Dip Christian Studies
Bryana Cooper BExHlthSc, DipEd
Ben Davidson BSocSc, MEnv – Head of Churunga
Jocelyn Jabbour-Perez BEc, GDipAFin&Investment, DipFinPlan, GDipEd, CertRE
Helen Kondos BEc, DipEd
Anne Layman BEd, MBA
Prue Pope BA, BTeach, MREd (leftMarch2018)
Henry Wijanto BBus, MA
Nicole Wirth BSc, GDipEd
INFORMATION TECHNOLOGY
Sean Raftery – Head of Department (fromApril2018)
Shane Beal
Anthony Cheater
Catherine De Gier (leftAugust2018)
Rudolph De Vos (leftApril2018)
Kelly Lyu (from November 2018)
Jeremy McCowage (fromSeptember2018)
Elias Shakif Cert IVIT
IT PEDAGOGY
Sujatha Gunja BSc, MTeach (left November 2018)
Bryce Lindstrom BTeach, DipIT
JUNIOR SCHOOL
Daniel Sandral BEd, Dip Teach, MEd, Grad Dip TESOL – Head of Junior School
Geneva Clayton BTeach (Hons) COGE – Deputy Head of Junior School
Douglas Finlay BEd DipTeach – Deputy Head of Junior School
Wendy Allen Cert III Teacher's Special Aide, DipEducation Support
Julie Alimpic BPhysEd
Elizabeth Astle BA Hons, DipEd
Rachel Barakat BEd (Primary)
Matilda Baxter BA, MTeach
Melissa Baxter BEd
Susan Blanche BEd, Higher DipTeach, DipArtEd
Diane Bonnici DipEdSupport, Cert 1V Chaplaincy and Pastoral Care
Catherine Borchok BMus, GDipEd (Hons)
Rachael Borg BEd (Early Childhood)
Victoria Bradshaw BEd (Hons) (Primary)
Jennifer Bruscino
Carol Campbell MEd (Library Science)
Marie Cassar BMechEng/BCompSc (Hons)
Sherry Chen BA, BTeach (Sec), MEd, Selina Clark BPsych (Hons), MTeach
Danielle Collins COGE MEd (fromJuly2018)
Maya Cupac
Emma Davey BEd (Primary), BECE (left June 2018)
Debra Doyle (fromMay2018)
Courtney Dougherty BEd
Patricia Duke BA, DipTeach
Samantha Edwards BEd (Primary) (Hons)
Shaunna Evens (left June 2018)
Jody Gilroy MTeach, BA
Jan Falls BA, DipEd, MEd, MECH DipDecorative Arts
Anna Frayne BPsych, MPsych (Clinical) (leftApril2018)
26
Madison Greville BVA
Nerida Greville BA, DipEd
Rebecca Hicks BA (Hons), BEd (Primary)
Natalie Hird BA, MTeach
Michelle Hiss BEd (PhysHlth)
Grace Kapellos BA MA (Psych)
Donna Keane BA, HigherDipEd
Paulini Koroi (leftApril2018)
Jane Lancaster BA, Dip Ed (Primary), MA/Design Ed
Elin Lazar
Michael Lewis BPsych
Vicki Liubinskas AssocDipECH
Annette McClure BEd, DipTeach
Belinda Merrick BEd (Early Childhood) (Hons)
Helen Missiris
Eleonora Monda
Claudia De Pasquale BEd Early Childhood and Primary
Danielle Pham
Ellen Rhodes BEd Primary
Victoria Rouhliadeff B Arts, MTeach (Prim)
Mariatina Ruddock BA, DipEd
Brett Salakas BTeach, BEd
Bede Schofield MTeach
Emily Simpson BEd (Primary) (fromJuly2018)
Liane Simpson JP, Cert III Hosp, Cert Clothing Assembly
Jackie Tanevski DipIT, CertIIIECEd
Michelle Wyatt BA (Hons), DipEd, MInclusiveEd
Gina Zucco BEd DipTeach (from June 2018)
LANGUAGES
Louisa Macdonald BA (Hons) MA, PGCE
– Head of Department
Lijun Bi GDipEd, PhD
Kartika Brand BA ,BEd (fromJuly2018)
Jennifer Brown BA, GDipEd (Hons)
Cristy Gover BA, PostGDipEd, PostGDipHR (left June 2018)
Penelope Hewett BCom/BA, MTeach – Head of Year 8
Sandy Huang BA, GDip LOTE
Kentaro Otani BSc/BEd
Bronwyn Peace BA, GDipEd
Elisa Tagliabue MAAppL (LT)
Veronique Tormey BA (Hons),MA, PGCE
Ann Wood
LIBRARY SERVICES
Louise Piggot BEd, DipTeach, MEd
– Head of Department
Nola Booth DipLib&InfSc
Sharon Goad BA, DipEd, DipLib&InfSc
Tara Howell BInfSt(Lib), DipLib&InfSc (leftApril2018)
Lauren-Gaye O'Donoghue BA, MEd (Primary) (fromJuly2018)
Michelle Olah BA/BEd, GCTESOL, MEd
Anne Sullivan DipLib&InfSc (fromApril2018)
MARKETING AND COMMUNITY RELATIONS
Michele Dunn BJuris Law – Head of Department
Jillian Avramis AssocDipFA
Barbara Hoffman BSc (Hons), GCRecords Mgt
Shelley Kirkwood DipArt, DipGA, AdvCert Print Management, Cert in Advertising (fromSeptember 2018)
Hanh Nguyen BDes
Melissa Pollett BJ (Hons)
Vanessa Roussos BA (leftAugust2018)
Julianne Sheedy (fromAugust2018)
REGISTRAR
Nerida Coman DipTeach (Primary), Cert III BusAdmin
Fadia Aoun (commenced December 2018)
Natalie Martino CertIVBA
MATHEMATICS
Eva Pejovic BSc (Hons), BSc (Maths & Psych), MGuidCouns, DipEd – Head of Department
Penny Pachos BSc, DipEd, MEd TL, MEd (Curriculum) – Assistant Head of Department
Kimiko Dethlefs BSc, GDipEd
Christopher Eddleston PGDipEd, MMath (Hons)
Stephen Ewington BCom (Hons), BSc
Genevieve Green BSc, DipEd
Shirley Green BSc (Hons), MTeach
Colin Hill BA (Hons), DipEd (leftApril2018)
Carolyn Knight BEd
Monica Lee BEd, BSc (from October 2018)
Clea Manthos BSc, BEd
Jane Martin BA, LLB (leftApril2018and recommenced October 2018)
Kestie Neligan BEd, DipTeach
Angela Renwick BAppSc (Maths), BTeach (Secondary) – Head of Year 10
Nancy Tanios BEd (Secondary Mathematics)
MUSIC
James Allington PGCE (Mus), GTCL, FTCL, ARCO
– Director of Music
Emma Bourke BMus (Hons), PGCE
Tristan Coelho BMus (Hons)
Richard Coward BMus/BEd, Cert IVTrain&Asses, CertIIILiveProd, Theatre & Events
Virginia Diomis (from October 2018)
Joanna Drimatis BMusEd (Hons), MMus, GDipMus
PhD
Alison Duncan BA (Hons), MMus
Elisabeth Finlayson BEd/BCA
Elizabeth Gilberthorpe BMus
– Head of Abbeythorpe
Holly Harrison DCA
Ying Ho BMus (Hons), MMus
Phillipa Knight BA (Hons), DipEd
Annette McClure BEd, DipTeach
NURSE
Anne Shearman BSc (Nursing), Dip Family History Immunisation Cert, RN, JP
PERSONAL DEVELOPMENT, HEALTH AND PHYSICAL EDUCATION (PDHPE)
Olivia Nolan BExcSc, GDipEd, MEd
– Head of Department
Julie Alimpic BPhysEd
Wayne Donley BEd, Dip Sports Science, Hons Exercise Science (Research), GDipREd, AssDipSportsSc, GDipEd – Head of Leawarra
Jane Ferguson BEd (Phys & HlthEd)
Michelle Hiss BEd (Phys & HlthEd)
Sarah Papachristoforou BComm/BJ, DipEd
Neil Scotney BEd (PDHPE)
Gavin Starr BPhEd, BEd
Claire White BEd (HMS)
PROPERTY SERVICES
Gregory McGirr Cert III Electrical Fitter Mech Trade, Cert IV Ind Electronics – Facilities Manager
Erdal Altas
Brendon Doak Cert III Plumbing Services
Scott Ingwersen Horticultural Cert, AssocDipLandscaping
Jorge Schell
Jeffery Wright
SCIENCE
Susan Rowley BSc, G Dip FDA, GCertEducStud MSc, MTeach (Hons)– Head of Department
Mora Soliman BTech GDipEd
– Assistant Head of Department (fromFebruary2018)
Marc Berndsen GDipEd, MSc
Felicity Cassidy BPharm, BTeach
Charlene Clarke BSc
Mary Correa AssocDipChemTech (leftSeptember2018)
Moira Gaha BEd
Tracey Getts BSc (Hons), MSc, DipEd
– Head of Booralee
Michael Hayes BSc (Hons), DipEd, MA (leftJuly2018)
Janice Moore BS, GDipTeach
Jennifer Rubie BSc, Cert IV TAE (fromOctober2018)
Kate Schurch BSc, MEd
Ingrid Smolka BSc, DipEd
Martina Stolzi MSc, MTeach
Sandra Street ChemCert
Roseanne Thompson BSc, GDipEd
SPORT
Lisa Filby BEd, DipTeach – Director of Sport
Kylie Bickerstaff BEd, DipM – Assistant Director of Sport
Naomi Bruce BA, MComm
Jessica Coetzee (fromFebruary2018)
Emmanuel Fashoyin
Delia Halmu
Pepe Havea Kathleen Hextell
Esther Maling (fromJuly2018)
Laura Mannion
Tatiana Matts (leftJanuary2018)
Emily Osborne BEd Human Movement and Health Education
Laura Verlinden BPDHPE (leftApril2018)
Claire White BEd (HMS)
Colman Wong BSc, MSportCoach
STUDIES OFFICE
Ellen Duff MAppSc(Soc) (left June 2018)
Michael Hayes BSc (Hons), DipEd, MA (leftJuly 2018)
Debra McRostie BBus
Kestie Neligan BEd, DipTeach
Wendy Strachan
CENTRE FOR DESIGN ART AND TECHNOLOGY (DART)
Vince Papa BA, BArtEd (Hons) – Head of Centre for Design Art and Technology (DART)
Technology and Applied Science (TAS)
Caitlin White BIArch, BTeach – Assistant Head of Centre for Design Art and Technology (DART)
– TAS (from November 2018)
Natalie Adaimy BSc (Hons) – Assistant Head of Year 10
Natasha Avenoso (left June 2018)
Marianne Bohdan B Visual Arts, MDes Film and Television (left October 2018)
Nicole Gilberd BDes, GCertMktg
Sujatha Gunja BSc, MTeach (left November 2018)
Kara Laidsaar BEd
Robyn Langford DipTeach
Bryce Lindstrom BTeach, DipIT
Robyn Mackertich BEd
Pamela McGowan DipTeach
Renee Willemsen BEd
Nicole Wirth BSc, GDipEd, MSc
Visual Arts
Sally Marks BA, DipEd, DipFA
– Assistant Head of Design Art and Technology (DART) – Visual Arts (from November 2018)
Cigdem Aydemir BDes/BEd, MFA, GCFA
Caitlin Boyd BDes/BA
Emily Cribb B Arts/B Teach
Nicole Gilberd BDes, GCertMktg
Emma Hogan BA BArtTh /BArtEd
Emily Turner BA/BEd (leftSeptember2018)
Dayna Wilding BDes
27
Staff Photos
28
29
YEAR 12 31
Year 12
Captains
Emily Hart
SCHOOL CAPTAIN
Jane Liu
At MLC School since 2013
SCHOOL VICE-CAPTAIN (YEAR 6 TO YEAR 9)
Anastasia Kennett
At MLC School since 2013
SCHOOL VICE-CAPTAIN (YEAR 10 TO YEAR 12)
Anna Michael
At MLC School since 2009
ROUND SQUARE CAPTAIN
Dakota Comino
At MLC School since 2013
SPORT CAPTAIN
Georgia Pollitt
At MLC School since 2013
CREATIVE ART AND DESIGN CAPTAIN
At MLC School since 2011
DANCE, DRAMA AND ENTERTAINMENT CAPTAIN
Zoe Cross At MLC School since 2006
DEBATING CAPTAIN
Ashley Oliver-Sjahry At MLC School since 2013
MUSIC CAPTAIN
Emmeline Booth At MLC School since 2013
SRC CAPTAIN Swathi Ilanko At MLC School since 2011
CHURUNGA
WADE
WHITLEY
WADE
BOORALEE WADE
WHITLEY
ABBEYTHORPE
MOORAMOORA
2018
WHITLEY
33
Year 12
House Captains
CAPTAIN
Jennifer Tang
At MLC School since 2006
VICE-CAPTAIN
Emma Clark
At MLC School since 2013
CAPTAIN
Danah Maher-Lee
At MLC School since 2015
VICE-CAPTAIN
Nancy Wang
At MLC School since 2006
CAPTAIN
Isabella Lasovski
At MLC School since 2013
VICE-CAPTAIN
Eva Gouganovski
At MLC School since 2006
CAPTAIN Malia Crawford At MLC School since 2015
VICE-CAPTAIN
Sienna Prowse
At MLC School since 2013
CAPTAIN
Rita Cammaroto
At MLC School since 2011
VICE-CAPTAIN
Michelle Law
At MLC School since 2015
CHURUNGA
LESTER
ABBEYTHORPE
CHURUNGA
LESTER
ABBEYTHORPE
LEAWARRA
BOORALEE
LEAWARRA
BOORALEE
34

SUTTON
WHITLEY
MOORAMOORA
SUTTON
WHITLEY
MOORAMOORA
WADE
PRESCOTT
WADE
PRESCOTT
VICE-CAPTAIN
Ava Tsaousidis At MLC School since 2008
CAPTAIN Ashna Kapoor At MLC School since 2006
CAPTAIN Asena Gunduz At MLC School since 2006
CAPTAIN Georgia Hewitt At MLC School since 2013
VICE-CAPTAIN Julia Athos At MLC School since 2006
VICE-CAPTAIN
Megan Cavanagh At MLC School since 2013
CAPTAIN Sherrie Chung At MLC School since 2014
VICE-CAPTAIN
Therese Makarious At MLC School since 2013
CAPTAIN Yasmin Mills At MLC School since 2013
VICE-CAPTAIN Ella Makovec At MLC School since 2014
2018
35
Year 12
Portraits
MOORAMOORA
PRESCOTT
BOORALEE
SUTTON
MOORAMOORA
CHURUNGA
SUTTON
ABBEYTHORPE
LESTER
BOORALEE
LEAWARRA
LESTER
Julia Athos At MLC School since 2006
Erin Bofinger At MLC School since 2013
Emmeline Booth At MLC School since 2013
Mia Boursiani-Lawrence At MLC School since 2006
Georgia Bowrey
At MLC School since 2013
Olivia Bubalo At MLC School since 2013
Rita Cammaroto At MLC School since 2011
Catalina Canas At MLC School since 2012
Megan Cavanagh At MLC School since 2013
Lok Ching (Leanne) Chan At MLC School since 2015
Hannah Chau At MLC School since 2015
Cecilia Chen At MLC School since 2013
2018
36
WHITLEY
SUTTON
CHURUNGA
PRESCOTT
LEAWARRA
WHITLEY
SUTTON
ABBEYTHORPE
CHURUNGA
Sarah Chou At MLC School since 2015
Sherrie Chung At MLC School since 2014
Emma Clark At MLC School since 2013
Amy Clarke At MLC School since 2017
Dakota Comino At MLC School since 2013
Sarah Cooper At MLC School since 2013
Malia Crawford At MLC School since 2015
Zoe Cross At MLC School since 2006
Gabriela Delgado At MLC School since 2006
Chloe Donkin At MLC School since 2016
Shaaden Elsawi At MLC School since 2016
Alexandra Farrow At MLC School since 2013
Alyssa Filippoff At MLC School since 2006
Catalina Floros At MLC School since 2015
Yizhou (Tina) Gong At MLC School since 2015
Eva Gouganovski At MLC School since 2006
WADE WADE WADE WADE
PRESCOTT LEAWARRA
ABBEYTHORPE
37
Year 12
Portraits
LEAWARRA
LESTER
PRESCOTT
LESTER
WHITLEY
PRESCOTT
CHURUNGA
PRESCOTT
LESTER
SUTTON
Lyla Groom At MLC School since 2013
Asena Gunduz At MLC School since 2006
Suhani Gupta At MLC School since 2016
Dyana Hamed At MLC School since 2006
May Hamed At MLC School since 2016
Emily Hart At MLC School since 2011
Nicole Healey At MLC School since 2006
Georgia Hewitt At MLC School since 2013
Swathi Ilanko At MLC School since 2011
Danya Jacobson-van der Merwe At MLC School since 2016
Caitlyn Kakakios At MLC School since 2006
Seo (Celine) Kang At MLC School since 2013
WADE
LESTER 2018
38

LESTER
ABBEYTHORPE
BOORALEE
WHITLEY
BOORALEE
LEAWARRA
MOORAMOORA
WADE
PRESCOTT
CHURUNGA
WADE
WHITLEY
WADE
WADE WADE
Yuqing (Sonia) Kang At MLC School since 2016
Ashna Kapoor At MLC School since 2006
Anastasia Kennett At MLC School since 2013
Stella Kochanowicz At MLC School since 2013
Ananya Krishna At MLC School since 2014
Josephine Lam At MLC School since 2006
Isabella Lasovski At MLC School since 2013
Michelle Law At MLC School since 2015
Fiona Lee At MLC School since 2013
Linda Lee
At MLC School since 2015
Emily Li At MLC School since 2006
Monique Li At MLC School since 2015
Xue (Judy) Lin At MLC School since 2013
Natalie Lin At MLC School since 2013
Chuhua (Joyce) Lin At MLC School since 2015
Jane Liu At MLC School since 2013
LEAWARRA
39
Year 12

Portraits
WHITLEY
BOORALEE
SUTTON
MOORAMOORA
WADE
LESTER
MOORAMOORA
WHITLEY
LESTER
CHURUNGA
CHURUNGA
Tina Liu At MLC School since 2013
Bianca Weng Io Lok At MLC School since 2016
Angelica Lovel At MLC School since 2013
Sabrina Lowe At MLC School since 2006
Danah Maher-Lee
At MLC School since 2015
Therese Makarious At MLC School since 2013
Ella Makovec At MLC School since 2014
Veronika Males At MLC School since 2013
Katia Matar At MLC School since 2013
MacKenzie McCowan At MLC School since 2013
Divya Mehta At MLC School since 2013
Anna Michael At MLC School since 2009
MOORAMOORA 2018
40
SUTTON
BOORALEE
BOORALEE
CHURUNGA
CHURUNGA
CHURUNGA
ABBEYTHORPE
WHITLEY
PRESCOTT
Yasmin Mills At MLC School since 2013
Nicole Miloucheva At MLC School since 2012
Abbie Milton At MLC School since 2010
Rebecca Minett At MLC School since 2012
Atoufa Mohanna At MLC School since 2015
Kimberley Ngo At MLC School since 2006
Sophia Nikiforidis At MLC School since 2011
Megan Nipatcharoen At MLC School since 2010
Eva Novikov
At MLC School since 2014
Ashley Oliver-Sjahry At MLC School since 2013
Jaya Ong At MLC School since 2013
Georgia Pollitt At MLC School since 2013
Sienna Prowse At MLC School since 2013
Sandy Qiu At MLC School since 2013
Elisha Quan At MLC School since 2016
Emma Rutherford At MLC School since 2012
WHITLEY SUTTON WADE WHITLEY LESTER LEAWARRA
ABBEYTHORPE
41
Year 12
Portraits
MOORAMOORA
WHITLEY
BOORALEE
ABBEYTHORPE
LEAWARRA
CHURUNGA
PRESCOTT
LEAWARRA
LEAWARRA
MOORAMOORA
LEAWARRA
PRESCOTT
Mia Ryan At MLC School since 2017
Anja Seeto At MLC School since 2013
Isabelle Sherbon At MLC School since 2010
Madeleine Sherbon At MLC School since 2010
Wenting (Wendy) Shi
At MLC School since 2013
Claudia Simons At MLC School since 2013
Ruth Snelling At MLC School since 2013
Lisa Soliman At MLC School since 2014
Amy Song At MLC School since 2013
Ana-Maria Stevans At MLC School since 2013
Sarah Taleb At MLC School since 2006
Lynelle Tamerji At MLC School since 2015
2018
42
BOORALEE
SUTTON
MOORAMOORA
ABBEYTHORPE
LESTER
CHURUNGA
LEAWARRA
LEAWARRA
ABBEYTHORPE
MOORAMOORA
ABBEYTHORPE
SUTTON
PRESCOTT
SUTTON
Nerissa Tan At MLC School since 2016
Jennifer Tang At MLC School since 2006
Jessica Tippett At MLC School since 2013
Sabina Tom At MLC School since 2006
Elizabeth Tran At MLC School since 2010
Anthea Trent At MLC School since 2014
Katrina Tsaousidis At MLC School since 2006
Ava Tsaousidis At MLC School since 2008
Nancy Wang At MLC School since 2006
Rosa Wang At MLC School since 2013
Hanna Woodward At MLC School since 2013
Anousha Xegas At MLC School since 2013
Jasmine Ypermachou At MLC School since 2006
Nikki Zanuttini At MLC School since 2009
Klara Zhao At MLC School since 2014
Jessica Zhu At MLC School since 2011
ABBEYTHORPE
WADE
43
Kindergarten to Year 12 Students
We would like to acknowledge the following students who have been students at MLC School from Kindergarten to Year 12.
FRONT ROW Ashna Kapoor, Dyana Hamed, Sabina Tom, Jennifer Tang, Josephine Lam, Emily Li, Kimberley Ngo SECOND ROW Sabrina Lowe, Sarah Taleb, Nancy Wang, Mia Boursiani-Lawrence, Eva Gouganovski, Caitlyn Kakakios, Zoe Cross THIRD ROW Alyssa Filippoff, Asena Gunduz, Julia Athos, Katrina Tsaousidis, Jasmine Ypermachou, Nicole Healey ABSENT Gabriela Delgado
2018 44
Year 12
Prize Winners
INTERNATIONAL BACCALAUREATE (IB) DIPLOMA PROGRAMME
Business Management Mathematical Studies
All-round Academic Excellence Madeleine Sherbon Chemistry Dance Economics Mathematics SL
All-round Academic Excellence Anna Michael Creativity, Activity and Service Psychology Visual Arts Anastasia Kennett Design Technology Rosa Wang History Ruth Snelling Japanese Yasmin Mills Music
All-round Academic Excellence Emmeline Booth Theatre Swathi Ilanko
All-round Academic Excellence Georgia Bowrey
All-round Academic Excellence Sherrie Chung
All-round Academic Excellence Monique Li English Mathematics HL Physics
All-round Academic Excellence
Dux of MLC School IB Diploma Candidature (aeq.) Ashley Oliver-Sjahry Biology French Italian ab initio Theory of Knowledge
All-round Academic Excellence
Dux of MLC School IB Diploma Candidature (aeq.) Klara Zhao
45
Year 12 Prize Winners
HIGHER SCHOOL CERTIFICATE (HSC)
Biology
Chemistry
Dr Denise Cole Prize for Science English as a Second Language
All-round Academic Excellence
Yizhou (Tina) Gong Business Studies Cecilia Chen Chinese Sabrina Lowe Dance
Textiles and Design Ella Makovec Design and Technology Emily Li Drama
Personal Development, Health and Physical Education All-round Academic Excellence Ava Tsaousidis Economics Elizabeth Tran
English Extension 1 History Extension
All-round Academic Excellence
Veronika Males Entertainment Mathematics (aeq.) Malia Crawford Food Technology Mia Ryan French Continuers Modern History
All-round Academic Excellence Alyssa Filippoff
Geography Georgia Pollitt
Indonesian Continuers
Mathematics Extension 1
All-round Academic Excellence Zoe Cross Industrial Technology Hannah Woodward Japanese Beginners Wendy Shi Mathematics General Nikki Zanuttini Mathematics (aeq.) Sarah Cooper
Music Extension Seo (Celine) Kang Senior Swimming Champion Sienna Prowse Studies of Religion Lisa Soliman
The Jennifer Carr (Grant) Memorial Prize for English Extension 2 Atoufa Mohanna Visual Arts Jessica Tippett
All-round Academic Excellence MacKenzie McCowan
All-round Academic Excellence Amy Song
46
HIGHER SCHOOL CERTIFICATE (HSC) CONTINUED
Ancient History
Mathematics Extension 2
All-round Academic Excellence
Runner-up to Dux of MLC School HSC Candidature
English Advanced Music 2
Physics
All-round Academic Excellence
Josephine Lam
The George Lane Prize for Dux of MLC School HSC Candidature Jane Liu
SPECIAL AWARDS
Award for the Highest University Admissions Rank in 2017
Charlotte Beckett Shuang (Claris) Foo Anastasia Hatzisarantinos Elizabeth Hewish Rebecca Janssen Imogen Locke-Sodhi Jasmine Todoroska
Duke of Edinburgh Award Scheme Gold Award Sarah Chou Sherrie Chung Dakota Comino Swathi Ilanko Josephine Lam Linda Lee Monique Li Jane Liu Yasmin Mills Megan Nipatcharoen Jennifer Tang Nancy Wang
C.R. Warne Prize for Sportsmanship and Proficiency in Sport Georgia Pollitt
George Brown Prize for Leadership Jane Liu
Helen Bagley Memorial Medal for Achievement, Generosity and Citizenship Ashna Kapoor
Caltex Best All-Rounder Award Anna Michael
Kareen Healy Memorial All-Rounder Sports Award Desiree Miller
MLC School Blue for Music
Emmeline Booth Jane Liu
MLC School Blue for Sport Erin Bofinger
Nicole Horton Prize for the Players' Player Olivia Cain
OGU Prize for Scholarship, Sportsmanship and Leadership Jane Liu
The King Constantine Medal – Round Square Dakota Comino
Highest Score Trophy for House Champion Events Booralee
The G. A. Davey Cup for Highest Overall Score in House Competition Leawarra
47
HSC and IB Results
Congratulations to our Class of 2018, they have achieved outstanding results through their dedication and pursuit of excellence.
Ì Anna Michael (2018 Vice-Captain) and Ashley Oliver-Sjahry (2018 Debating Captain) received a perfect score of 45 (ATAR 99.95), an amazing result, which places them among the top academic achievers worldwide.
Ì Sarah Chou and Swathi Ilanko achieved a score of 44 (ATAR 99.85).
Ì Forty-one MLC School girls have now received perfect scores over the last nine years.
Ì
Six students achieved an ATAR equivalent of 99 and over –Sarah Chou, Swathi Ilanko, Monique Li, Anna Michael, Ashley Oliver-Sjahry, Klara Zhao
Ì
The average score among IB students at MLC School was 37.30 which represents an ATAR equivalent to 95.75.
Ì
Over 50% of our IB candidates achieved an ATAR of 95 or over.
Ì
The worldwide average score among IB students in 2018 was 28.58.
Ì
Klara Zhao and Ananya Krishna, sat interviews at the prestigious Oxford University in the United Kingdom – Klara Zhao for Linguistics and French; and Ananya Krishna for History. Klara Zhao accepted her offered place.
INTERNATIONAL BACCALAUREATE (IB) HIGHLIGHTS
Caitlyn Kakakios
Klara Zhao, Anastasia Kennett, Ms Lisa Moloney, Swathi Ilanko, Ashley Oliver-Sjahry, Georgia Bowrey and Emmeline Booth
48
HIGHER SCHOOL CERTIFICATE (HSC) HIGHLIGHTS
Ì
Four students were placed in the HSC All-Rounders list for those achieved a Band 6 in 10 units of studies. Tina Gong (ATAR 99.85), Josephine Lam (ATAR 99.35), Jane Liu (ATAR 99.85) and Amy Song (ATAR 99.35).
Ì There were 101 instances of students being awarded Band 6 or E4 (the highest bands possible).
Ì 61.5% of the cohort achieved a Band 6 in at least one subject.
Ì
75% of Ancient History students achieved a Band 5 or Band 6.
Ì 100% of Chinese Continuers students achieved a Band 5 or Band 6.
Ì
75% of Dance students achieved a Band 5 or 6.
Ì
Mathematics General 2 students achieved 27% above the state average.
Ì
75% of Modern History students achieved a Band 5 or Band 6.
Ì Ella Makovec and Natalie Lin were nominated for Callback – the showcase of exemplary performances and compositions by HSC Dance students.
Ì
100% of Music 2 students achieved a Band 5 or Band 6. 24% above the State average.
Ì
100% Music Extension students received a Band E4 (equivalent to a Band 6). 34% above the State average.
Ì 86% of PDHPE students achieved a Band 5 or Band 6.
Ì
67% of Physics students achieved a Band 5 or Band 6.
Ì Stella Kochanowicz and MacKenzie McGowan were accepted for OnSTAGE – a presentation and exhibition of group and individual performances and projects by HSC Drama students who have been selected for exemplary work.
Ì
Asunda Gundez, Seo (Celine) Kang, Ava Tsaousidis, Mia BoursianiLawrence, Eva Gouganovski were nominated for OnSTAGE.
Ì
75% of Studies of Religion 1 students achieved a Band 5 or Band 6.
Ì
Ì
100% of Drama students achieved a Band 5 or Band 6.
Ì
100% of Studies of Religion 2 students achieved a Band 5 or Band 6.
Hannah Woodward was nominated for InTech – an exhibition of outstanding Major Projects from HSC Industrial Technology students.
Ì
73% of English Adanced students achieved a Band 5 or Band 6.
Ì
100% of Textiles & Design students achieved Bands 5 and 6.
Ì
Judy Lim was nominated for ARTEXPRESS, an annual exhibition of exemplary artworks, for her animation 1961.
Ì
82% of Entertainment students achieved a Band 5 or Band 6.
Ì
100% of ESL students achieved a Band 5 or Band 6.
Ì
90% of Visual Arts students achieved a Band 5 or Band 6. This result has more than doubled in the past two years.
Ì
Ì
75% of Food Technology students achieved a Band 5 or 6.
Ì
100% of French Continuers achieved a Band 5 or Band 6.
Ì Seo (Celine) Kang and Jane Liu were nominated for selection to ENCORE – exemplary performances and compositions from HSC Music students.
Ì
Yizhou (Tina) Gong and Amy Song sat interviews for the prestigious University of Cambridge in the United Kingdom – Tina for Veterinary Sciences and Amy for Achitecture.
One student was offered a place at the Royal College of Music, London.
Angelica Lovel and Mrs Loretta Toole
Anthea Trent
49
HOUSECAPTAINS
SECOND ROW
THIRD ROW
HOUSES
FRONT ROW
Sherrie Chung, Jennifer Tang, Megan Cavanagh, Mr Neil Scotney, Mrs Frances Booth, Nancy Wang, Emma Clark, Ashna Kapoor
Danah Maher-Lee, Yasmin Mills, Isabella Lasovski, Therese Makarious, Eva Gouganovski, Michelle Law, Malia Crawford
Rita Cammaroto, Ava Tsaousidis, Julia Athos, Georgia Hewitt, Sienna Prowse, Asena Gunduz, Ella Makovec
51
Abbeythorpe Senior School
2018 for Abbeythorpe has been a fun-filled, memorable and outstanding year; there have been many great achievements, with the House demonstrating resilience and teamwork. It has been so fulfilling for us, as the 2018 House Captains of Abbeythorpe, to see how the House has grown as a community, supporting each other and helping each other wherever possible. Abbeythorpe is one of the smaller Houses in the School, and our goal as captains was to create a positive environment of encouragement and togetherness. This goal was surpassed by all House members, especially 'Big Sisters and Little Sisters', as the little sisters have truly used their big sisters for support and guidance.
The Abbeythorpe Chapel Service was the last of all the Houses, ending the series of services on a beautiful note. The Chapel Service required us to collaborate as a House; girls from Year 6 to Year 12 demonstrated a multitude of talents, including Music. Our theme for the Service, Resilience, paired with the motto, Bend Don't Break, truly encapsulated the persistence and strength that each Abbeythorpian possesses.
Abbeythorpe's efforts in the 2018 Swimming Carnival yielded great success. For our theme, Abbeythorpe Australia,
we modified the chant 'Aussie Aussie Aussie Oi Oi Oi' to produce our own rendition, 'Abbey Abbey Abbey Thorpe Thorpe Thorpe'. It was incredible to see the girls arriving with Australian flags, and covered in green and yellow stripes and tattoos, ready to swim their races. The 2018 Athletics Carnival was an even greater success, with the girls dressing up in wigs, feather boas and flapper-inspired costumes to match our theme, Green Gatsby. Once again, the participation and effort of the girls were impressive, whether in sprinting, high jumping, long jumping or even in the egg and spoon races.
to participate. We would also like to thank our Heads of House, Ms Cristy Gover for all her encouragement and help – she leaves a very cherished mark on the House – as well as Ms Elizabeth Gilberthorpe, for launching herself into our community with open arms and the utmost enthusiasm and support any House could ever ask for. Without the constant support of Luminaries and involvement of each student, Abbeythorpe would not have been as successful in all our achievements throughout the year, or in fostering such a positive environment for our students.
Jennifer Tang House Captain Emma Clark HouseVice-Captain
We would like to thank all girls in Abbeythorpe for their cooperation during the carnivals, the Chapel Service, the House times and above all, for always being so energetic and eager
'... our goal as captains was to create a positive environment of encouragement and togetherness.'
53
Booralee Junior School
This year has been a fantastic year for us, and Booralee is the best House to lead!
The sports carnivals have been such an amazing highlight for our House this year. Every girl in Booralee has had a chance to try to beat her personal best. All the girls tried really hard and we are really proud of every one of them. We are very grateful to all the girls for supporting Booralee during the carnivals by cheering, getting really involved, and not giving up. As the House Captains, we are very proud of all the effort that every girl in Booralee put in into all our carnivals.
This year there were lots of Booralee girls who stepped out of their comfort zone to compete in the Cross Country. And thanks to them, Booralee won the Cross Country Carnival this year.
This year, Booralee decided to raise money for a charity called Red Dust. Red Dust supports Indigenous Australians in need and educates them about health and
fitness. In Booralee's Chapel Service, a guest speaker from Red Dust spoke about this organisation and her experiences.
Booralee's service learning project this year was Crazy Sock Day! On 23 November everyone in MLC Junior School came to School in a pair of their craziest socks and showed them off! Then every student in the Junior School participated in MLC School's biggest Nutbush ever. The fun thing about this is that you had to wear your socks while dancing the Nutbush with everyone else in the MLC Junior School. This year Booralee's fundraiser was quite an experience.
Booralee has achieved great things this year and we Captains believe that all the girls in Booralee have tried their PB (personal best). They achieved amazing results with their uniforms and Booralee really did deserve those Zooper Doopers. They wore their socks with their sport uniforms and their hats with their summer and winter uniform. Booralee
was amazing at cleaning up. We did especially well in the Soft Play clean up in Term 1.
We believe we have had a very successful year. We believe that we have strived to do our very best and did not give up. We have had lots of fun while following orders, such as in line up where we do the Macarena,or Baby Shark. We have got the most out of our time and we should congratulate ourselves for having such a wonderful, successful year. We also wish the best of luck to the 2019 Captains as they lead Booralee.
'We are Booralee, couldn't be prouder. If you can't hear us, we'll shout a little louder!'
Sophia Malas House Captain Katelyn Tu and Tascha Ireland HouseVice-Captains
54
Booralee Senior School
2018 has been an amazing year for Booralee; our close-knit community of supportive girls and staff have ensured the success of our House. Our achievements across the year are a product of the superb effort, unwavering determination and enthusiasm the girls have put into our House events. With outstanding performances and participation this year in House carnivals and charity events, Booralee has continued to improve, demonstrating true House spirit and compassion and helping our House as a whole to grow. As the 2018 House Captains for Booralee, we are extremely proud of all of our girls and staff for their positive attitude and encouragement; this has helped us all to form strong connections with each other and to strengthen our House.
Booralee set the bar high with our high energy, resonating cheers and House spirit at the Swimming Carnival. Our theme was Booralee Broadway, and our girls enthusiastically conveyed our House spirit and energy with colourful costumes and participation that made us stand out amongst the other Houses. The perseverance and encouragement that the girls showed one another was very moving and motivating, both in and out of the pool, where each girl demonstrated the true essence of what is to be part of Booralee. Although
we narrowly missed out on first place, Booralee placed extremely well and this could not have happened without the strength and engagement of our girls in coming together as an entire House. Our success can also be attributed to the help of our Head of House, Ms Tracy Getts – she has been incredibly supportive, and has helped all of us in Booralee to achieve our potential. With her unfailing guidance, we have been able to form stronger connections between students from different years and with teachers, and as a result, our House has become more cohesive.
The commitment of Booralee girls was undoubtedly a factor in our win at the Athletics Carnival, where the girls were unstoppable in their pursuit of success. They were also determined to enjoy themselves; the whole House shone, as Booraleans, dazzling with red glitter, sparkles and gems, completely stealing the limelight at the event. Our House win is largely attributable to the immense effort, astounding energy and unfaltering participation of every individual. Our House cheer exemplified the hard work of the girls; the chant was undeniably loud, and the routines were carefully planned and flawlessly performed. Our House relay was also a huge success, and we were very proud of the participation of students from all years. This demonstration of true House
spirit enabled Booralee to take home first place and highlighted the potential and skills of the girls and the unfailing support of our House by each student and member of staff.
Literacy is an extremely important part of our lives here at MLC School. With the Indigenous Literacy Day falling on 5 September this year, Booralee worked hard to plan and collaborate during House time, contributing ideas for fundraising and other methods to aid our House charity. Through these activities, we hope to make a difference and do our part in contributing to Indigenous Literary Foundation and their vision, particularly in 'levelling the playing field' so that all Australian children have the same opportunities to develop a lifelong love and passion for reading. We hope that our House's efforts not only help those in need, but also raise awareness in our School community.
We wish the best of luck to next year's Captains, Gabby Giannakos and Chloe Gentle. We know you will do an amazing job and continue our House legacy. Thank you again to Ms Getts who has guided us and our House, making all of this possible.
Danah Maher Lee House Captain Elizabeth Hewish HouseVice-Captain
55
Churunga Junior School
This year, Churunga went beyond expectations, not only with our House Chapel Service and Service Learning Event, but also with the carnivals. Churunga students have shown outstanding enthusiasm, courage, teamwork and resilience throughout the year. The students participated in all the events to the very best of their ability.
The Churunga Captains are very proud of the activities and rewards that the Junior School Captains have introduced to the School and hope that future Captains will use them as well. One example is the vacuum cleaner point system. The Captains have had the pleasure of handing these out to the students of Churunga for cleaning up. This has encouraged nearly every student to clean up. We have also started 'hand clapping' games at line-up. This is where Captains and occasionally students stand up at line-up and do some clapping movements to encourage students to calm down at the end of lunch and playing.
This year, Churunga competed in the Father-Daughter Cardboard Challenge and we won! We had to cut, shape, and tape pieces of cardboard together. What led us to victory was that we all worked together, kept going and never gave up. This was great team work.
The 2018 Churunga House charity was the Indigenous Literacy Foundation This foundation helps disadvantaged indigenous families, who don't have the same opportunities of education that we have. We thank everyone who bought books and bookmarks – we couldn't believe that we raised over $5000. We also had a wonderful Churunga House Chapel Service, where we sold bookmarks and made heaps of money for the foundation.
Throughout the year, we took part in many sporting events. These include the Swimming Carnival, Cross Country, the Athletics Carnival, House Netball, House Soccer and House Dodgeball. We had loads of fun participating as a House in all of the sporting events. Even though we didn't win many, we loved how everyone just kept going and never stopped. We also loved everyone's enthusiasm and team spirit which was shown in the cheers we prepared for them.
We thank all of the Churunga students for an amazing year and for their efforts and enthusiasm. We greatly enjoyed leading you. We wish Churunga girls luck in your future years. Our advice is to work hard because when you put your mind to it, you can accomplish anything. We are very grateful to Ms Alympic for organising all the carnivals and making it such a great year for all of us.
Our quote of inspiration is from Serena Williams – 'A champion is not defined by their wins, but how they will recover when they fall.'
Christina Di Giandomenico House Captain
Eloise Girard and Ayla Staltari HouseVice-Captains
'... when you put your mind to it, you can accomplish anything.'
56
Churunga Senior School
It has been an exciting year for Churunga and it has been a privilege to serve as Captains. Even though we are the smallest House, our consistent House spirit, determination and courage do not go unnoticed. Friendships have been formed in each year group and the bond between girls has certainly tightened.
amazingly, even those who are not keen swimmers, but their willingness to participate meant everything to us as captains. The highlight of the event was when the Year 12 girls came together to perform the synchronised swimming, earning third place out of the 10 Houses.
The Athletics Carnival was another event where all the girls were united in support of our House. With the theme, Straight Outta Churunga: Golden Gangsters, the girls ran, jumped and cheered, participating in all events with great enthusiasm and House spirit.
comfortable. Congratulations to the new 2019 captains, Grace Karras and Emily Millar. We are positive that you will continue to lead the House forward into bigger and greater things.
We would like to thank all of the girls in the House as well as all the Luminaries and all other staff for all the effort you put into House activities. We are particularly grateful to the Year 12 Luminary, Mrs Calluaud for always supporting us. We also thank our Head of House, Mr Davidson, who has guided us on this journey over the past year.
The year started off vibrantly with first event, the Swimming Carnival, where the Churunga girls showcased their fabulous House spirit. The stand was filled with glitter and feathers as we celebrated with the theme inspired by Rio, Churunga Carnivalè. Many of the girls participated in several of the events and cheered until they could do so no more throughout the whole event. All the girls supported each other, providing a sense of community within the House. Everyone performed
Another important event in the Churunga calendar is the annual House Chapel Service. During the service, we introduced the House charity, Save the Children The initial goal of this organisation was to supply food to starving children in Austria after World War 1, but Save the Children is now one of Australia's largest aid and development agencies dedicated to helping children and striving to provide access to education and health services for children all around the world.
As House Captains for 2018, we would like to say thank you for entrusting us with the role of ensuring not only strong House spirit, but a strong sense of community where the girls feel
Thank you yet again for providing us with the opportunity to lead the House in 2018 – we will truly miss all the excitement of attending carnivals and supporting one another. We were very fortunate to have such collaborative House members and are thankful to all the girls who have made our year as Captains so memorable.
Isabella Lasovski House Captain
Eva Gouganovski HouseVice-Captain
'Friendships have been formed in each year group and the bond between girls has certainly tightened. '
57
Leawarra Junior School
In Term 1, we had the Swimming Carnival and Cross Country. Leawarra girls did their personal best and tried really hard in everything. Although we did not win, Leawarra showed great House spirit.
In Term 2, we had the Athletics Carnival. Again, Leawarra put in their best effort.
During lunchtime House sports, Leawarra participated very well. In House Soccer, Leawarra won against the other Houses, which led us to play against the teachers. Unfortunately, the teachers won but it was very exciting.
Leawarra girls have been amazing at cleaning up. We rewarded them with vacuum cleaner points. They were all very excited when they got one and they were very good vacuum cleaners.
We would like to thank all of the members of Leawarra for choosing us as your House Captains. This year has been a really good one for the Leawarra Captains. It is an exciting job to do.
We wish 2019 Leawarra Captains the best of luck. We hope you have fun and will try to help Leawarra be the winner of the 2019 House Cup.
Georgie Papadimitriou House Captain Christine Jin and Mia Rae HouseVice-Captains
'They were all very excited when they got one and they were very good vacuum cleaners!'
58
Leawarra Senior School
2018, what a year for Leawarra. From the sports carnivals to lunchtime competitions to the House fundraisers, Leawarra brought only their very best to the table. The various skills and abilities of the girls throughout the House community were showcased, ranging from Athletics to Public Speaking; this demonstrates our strengths of diversity and unity. The unfaltering spirit that lies at the core of the Leawarran community was further amplified this year with the introduction of the purple Leawarra beanies that the girls love to wear around the School, demonstrating purple pride. It has truly been our pleasure to represent Leawarra in 2018, and with the constant support and mentoring of our fantastic Head of House, Mr Wayne Donley, Leawarra's future is sure to be starry bright.
The House Competition calendar began with the Swimming Carnival, where the House spirit and participation all our Leawarriors was exceptional. The girls' engagement with the Purple Prince of Bel Air theme and willingness to participate in the pool are testament to Leawarra's determined and enthusiastic attitude. Our Leawarra Let's Get Physical theme at the Athletics Carnival was a fun way to motivate everyone to jump on the track, and make use of their '80s workout costumes, as well as providing
an opportunity for plenty of singing and dancing to well-loved tunes in the stands. At this year's carnivals, Leawarra also debuted a number of new cheers, such as the unparalleled Viking clap that undoubtedly set us up for our second victory in the competition for the House Spirit Trophy. With close top-two finishes in the Athletics Carnival, Rowing Challenge, and Year 12 Synchro, as well as an overall victory in the Swimming Carnival, Leawarra has definitely proven we're a force to be reckoned with.
In addition, Leawarra had great success in our fundraising efforts this year for our new House charity, The Girls Refuge. The Girls Refuge is a Sydney-based not-for-profit organisation that provides crisis accommodation for girls and young women at risk of homelessness. As well as this, they provide financial and educational support, counselling and occupational training, allowing the girls to find stability and move on with their lives in freedom and with choice. Discovering its relevance and significance for young women in society, we formed a relationship with this local charity, which we hope to strengthen in years to come. Between the Mother's Day stall fundraiser and contributions made at the annual Chapel Service, we are very proud to support this initiative as a community.
Thank you to the wider Leawarran community, families and friends, who have made contributions.
We'd like to thank all the girls, Leawarra families and House staff for their unwavering enthusiasm throughout 2018. The girls' efforts throughout the year made our role as House Captains simple and extremely enjoyable. However, Leawarra's achievements would not have been possible without the tireless assistance and leadership of our Head of House, Mr Wayne Donley. His attitude of fairness, his dedication, and his competitive spirit have inspired many, and are integral to our success this year. Leawarra, we are beyond proud of you and grateful for the opportunity to be involved in and lead such a spectacular House – wear those beanies with pride! We wish the whole Leawarra community all the best for the following years, particularly the incoming House Captains, Charlotte Seales and Crystal Warner, who we hope will enjoy every minute of it as much as we did.
Malia Crawford House Captain Sienna Prowse HouseVice-Captain
59
Lester Senior School
Lester's 2018 theme and goal – Sisterhood – fostered interaction between year groups, and a stronger sense of community. This goal was effortlessly achieved with the girls' strong sense of dedication and enthusiasm throughout the year. With great emphasis on the support of one another, the Lester girls have been able to truly connect, and this was clear in the School's central events – the Swimming Carnival and the Athletics Carnival – as well as a variety of other events. The Lester community prides itself on its goal-setting mindset – and with the clear goal of creating a strong community, events such as the House Chapel Service, and charity events were even more fruitful.
The Lester girls have shown great engagement, demonstrating this strong bond to the surrounding MLC School community. 2018 began with the Swimming Carnival, where the Lester Lifeguards displayed incredible House spirit – mounting safety flags, blowing whistles, and paddling in an effort to win points for our House. The girls cheered for one another, and their passion was clear, further emphasising their fearless and spirited attitude. The same can be said about the Athletics Carnival, where Lester Las Vegas shook the crowd. Our efforts
were strong and consistent; our level of dedication throughout these events was exhilarating.
This year, Lester continued to support White Ribbon Australia, in an effort to further promote the theme of sisterhood and support. We raised funds to assist this cause, educating not only the girls, but the School community. As a House, we felt we connected the most with this charity as it promoted our own goals, as well as a sense of integrity, leadership, and respect. In building a strong Lester community, we have been able to educate ourselves on issues individuals face when isolated – and have come to truly understand the importance of our peers and community.
The girls involved themselves in a variety of events throughout the year – wearing their Lester House colours with pride. The Inter-House Public Speaking Competition highlighted our efforts to promote confidence within the School, inviting the girls to support their peers in an entirely friendly competition. We were ecstatic when our Junior Years member won, strengthening our community even further. As Captains, we have explicitly asked the girls to interact with other
year groups; we have tried to build a system whereby members of the entire Lester community are able to support one another, without being restricted to year groups. We have coordinated activities inviting this interaction and were so pleased when girls began to strengthen their connections as the year progressed.
2018 has been a highly enjoyable year, and we have both been able to improve as leaders as a result. The girls' contribution and enthusiasm made the year enjoyable, and the constant support of staff ensured we were informed throughout the year. Specifically, Mrs Jocelyn Jabbour-Perez and Mrs Roseanne Thompson ensured our captaincy was as enjoyable as it was. We wish the Lester community nothing but the best for the following years and hope that the sisterhood strengthens year by year. We wish the best of luck to the incoming captains, Ava McGrigor and Anushri Baksi.
Rita Cammaroto House Captain Michelle Law HouseVice-Captain
60
Mooramoora Junior School
'It is not falling down that matters. It is getting up again that makes you a champion.'
SPORT
This year Mooramoora has had a great sporting year full of achievements.
First of all, what a Swimming Carnival! So many girls participated and it was a great win. Special mention to fantastic results from Annaliese Yan, Jossie Liu and Angelique Houltham who all received a trophy in their age groups.
Then the Cross-Country Carnival. We all showed great spirit and came second.
Finally, the Athletics Carnival. Everyone did their personal best and as a result our House won. We also won the House cheer competitions in all carnivals.
SERVICE LEARNING
Mooramoora has had so many big achievements this year, including School carnivals, chapel services, assemblies and many more! One of our biggest accomplishments was our service learning event. We aimed to help those who were less fortunate and we achieved some amazing results.
Mooramoora's service learning event was for the charity Shoes for Planet Earth
Our intention was to provide shoes to children who could not afford them. We encouraged everyone to bring in shoes that were too small for them, or ones that they didn't use anymore. Every day, children brought in shoes, and our boxes were getting very full! We enjoyed seeing all the shoes on display, and were very thankful for everyone's generosity. Mooramoora then collected all the shoes and sent them all the way to the Northern Territory.
The kids in the Northern Territory were extremely happy and grateful for all the shoes we managed to send to them. They sent us many photos of children wearing the shoes we gave to them, which were the first shoes many of them ever had. Everyone had so much fun cooperating in this event and helping other kids in need. Altogether, the Junior School did an amazing job lending a hand in Mooramoora's service learning, Shoes for Planet Earth. It was a huge success.
THANK YOU!
Thank you to everyone in Mooramoora House, the Mooramoora staff members and our House patron Miss Coles for helping organise our Mooramoora assembly, our service learning event, chapel service and so much more. I would also like to thank all the Mooramoora girls for putting in such a big effort into
everything they do, whether it is carnivals or cheering, they always give 100 per cent.
On behalf of the Mooramoora Captains we would also love to thank Mr Finlay for guiding us and teaching us more about leadership and most importantly what it means to be a good leader.
Being your House Captains in 2018 has been a great opportunity for us to take your amazing ideas and expand on them and make them happen. Being your House Captains has taught us that others come first and that if we all work together great things can happen. Looking at all of Mooramoora we can definitely see true leaders in all of you.
As we leave the Junior School we wish you all good luck for the future. We thank you all for giving us this amazing opportunity. It has been an experience we will never forget. We hope we have been good House Captains and hope to carry the happiness and glory of Mooramoora along with us.
Ella Baker House Captain Mannix Aurish and Annaliese Yan HouseVice-Captains
62
Mooramoora Senior School
Mooramoora: Mighty, Mentors, Meditative. Captaining Mooramoora throughout 2018 has been an incredible journey. As this year's Captains, we have been honoured to lead our House and to achieve the goals set out by the staff, students and ourselves.
This year has seen Mooramoora increase their participation in carnivals tenfold, with girls from all years participating in both the Swimming Carnival and the Athletics Carnival. Our team spirit and sense of community across all the year groups have increased exponentially, and the enthusiasm of both the students and the staff has highlighted what it is to be part of the Mooramoora family.
We launched the year with the annual Swimming Carnival, where Mooramoora unleashed our abilities in the water and dressed in our Madagascar-inspired costumes. Achieving such a high place in the cheer competition was a reward for our energy on the day! The level of participation for Mooramoora was off the charts, with almost all year groups having 100 per cent participation!
The interaction and engagement across all grade levels at the Athletics Carnival were lovely to see and we enjoyed watching Mooramoora Magic hop, skip, and fly through all the track events that day. On both these days, we were able
to celebrate the talented Mooramoora students and cheer them on as they ran and swam to victory.
We had a beautiful chapel service, based on the theme of Peace. Central to the organisation of the service was the participation of students who planned this event. We would like to thank both Year 11 and Year 12 for their participation in the planning process of this special event. This chapel service also gave Mooramoora a chance to work together as a community in the creation of the prayers and playing musical instruments and helping to lead the service. We'd like to give a special mention to Anna Michael who demonstrated courage when engaging the Mooramoora family with music during the offertory and recession.
For our House charity, we have chosen to support Beyond Blue, an organisation whose focus is on treatment, prevention and raising awareness of mental health issues. The proceeds from the offertory and the House fundraiser will be put towards this great cause. Discussions about Beyond Blue provided a focal point in our House chapel service as we felt it was necessary to raise awareness within the wider Mooramoora community regarding the present stigma concerning mental health as it is an issue that is close to many.
This fantastic year for Mooramoora would not have been achieved without the help of the Mooramoora students and teachers. We would like to thank Ms Conway for her amazing dedication to the House and for guiding us to become great leaders. Her constant support and cheerful attitude have been the backbone of the House this year and we hope she will inspire the House for many years to come. We would also like to thank our Year 12 cohort. We would not have been able to do this without you and all your enthusiasm this year!
We wish all the best to the incoming Mooramoora leaders, Georgia Ventouris and Katie Papachatgis. We know you will do an amazing job next year and we will be excited to see your growth as leaders in the future.
It has been an honour to be your House Captains for 2018 and we feel privileged to have contributed and left our mark in the Mooramorra House journey.
Ashna Kapoor House Captain Ava Tsaousidis HouseVice-Captain
63
Prescott Senior School
This has been a huge year for Prescott. We began by sponsoring Amber, a trainee with Seeing Eye DogsAustralia. To support her, we held MLC School's first ever Puppy Pageant, raising nearly $1000. Ten teachers and their dogs took part. Georgie Cordaro won the Judge's Award, and Elvis Starr won the People's Choice Award. The whole of Prescott House would like to thank everyone who took part, attended, donated, and helped make our fundraiser a massive success.
We also had huge success in interHouse events. The graduating class of 2018 were crowned Prescott's first ever Synchronised Swimming Champions. Simone Maddison represented us
excellently in the Public Speaking Competition and made it into the top three. We came second overall in the Swimming Carnival, and fourth in the Athletics Carnival.
Overall, 2018 was a fantastic year for Prescott House. Every Prescottian in every year should be proud of her contributions and the success we have had as a team. The whole of Prescott is looking forward to even greater success next year.
Asena Gunduz House Captain Julia Athos HouseVice-Captain
'Every Prescottian in every year should be proud of her contributions and the success we have had as a team. '
64
Sutton Senior School
As the 2018 Captains of Sutton, it has been an honour to lead such a great and committed group of young women this year. We are very proud of what we have all achieved together as a House.
beyond their comfort zones. These girls really demonstrated the true spirit of Sutton – getting in there and giving it a go, whilst having fun at the same time! We particularly acknowledge the Year 7s for their display of incredible acrobatic talent in an amazing cheer routine that accompanied the phenomenal cheering of the rest of the House.
girls have embraced those around them to help create an inclusive, safe environment. The pride we each experience when we celebrate each other's successes, no matter how big or small, is also a testament to the way in which the girls have been able to unite as a community.
This year, the girls have really supported the House, creating a safe, supportive, and exciting environment for all students to enjoy. This was reflected in the various events of the year. For the Swimming Carnival, students and staff alike got involved with the carnival theme, donning capes and masks to become Sutton Superheroes, and glitter and antennae for the Athletics Carnival with our theme, Sutton Space. Both carnivals were very eventful and exciting for all involved, and we are very appreciative of all the girls who got in the pool and out onto the track, pushing themselves
Sutton is full of highly talented and inspiring young women across the board, and this is reflected not only in our sporting achievements, but in our victory in the Inter-House Debating Competition. The passion Sutton girls have demonstrated in both their individual and collective endeavours is a continuous reminder of how fortunate we are to have had the opportunity to lead a House of such independent girls.
This year, Sutton also reflected on the idea of 'embrace', the theme of our chapel service. Life depends heavily on one's ability to embrace changes, good and bad, and as Captains, we admire the way in which each member of the House has embraced the opportunities and changes that have come their way throughout the course of the year. We also want to acknowledge the way in which Sutton
We would like to thank our Head of House, Mr Gavin Starr, for his constant support and involvement in House activities, as well as his care for the wellbeing of each and every student, Sutton would not be what it is today! We'd also like to thank all the Luminaries who have helped and been there for their students, as well as all of the wonderful girls who make up Sutton. Thank you for backing us as your Captains; we've loved working with all of you!
Good luck to the incoming 2019 House Captains, Tess Tsoi and Elle Andreopoulos. We know that you will do Sutton proud! We are so fortunate to have led such an amazing House this year and we wish everyone all the best.
Georgia Hewitt House Captain Megan Cavanagh HouseVice-Captain
'... getting in there and giving it a go, whilst having fun at the same time. '
65
Wade Senior School
Wade House has had an amazing 2018. We started the year with the House Chapel Service, the theme of which was Stronger Not Broken; it was organised by the Year 11s and our then new Head of House, Mrs Langford. It was a beautiful service with lovely music and dance by some of our very talented Wade girls. It was a wonderful way to begin the year and to grow closer as a House.
committee and had the privilege of visiting this charity at their facilities at Knights Hill and experience first-hand the work the charity does. To support this charity, as well as raising money at our chapel service, we hosted our innovative toasties stall, selling over 400 toasties to hungry parents and students at various Parent-Teacher Interviews, and managed to raise over $400!
Another highlight of the year was the Year 6 – Year 12 Swimming Carnival where all students participated with great excitement and House spirit. The theme this year was TurquoiseThriller and there were myriad costumes ranging from zombies to witches and even Michael Jackson himself! This was a wonderful opportunity for girls to cheer for their peers and participate, with many girls getting into the pool and having a go.
One of our main goals for 2018 was to increase support for our House charity, Triple Care Farm. This charity does amazing work, supporting young people who suffer from substance abuse, mental illness, homelessness and family breakdown. It gives these adolescents a place to detox, restart and acquire new skills to achieve a better future. For the first time in 2018, we had a charity
The 2018 Athletics Carnival was another opportunity for Wade to display our exuberant spirit. With the addition of our new cheer squad, Wade cheered and participated in as many events as possible, coming fourth in House Spirit and first in the Cheer Competition. Our Wade girls also demonstrated their excitement in their very sparkly costumes for the theme TurquoiseTinseltown, enthusiastically shouting the themed cheers. We were so proud of all the girls
for going in so many events and for their great display of teamwork.
We have thoroughly enjoyed our time as House Captains and would like to thank every girl, especially our fellow Year 12s for supporting us this year. We are also so grateful for the support of our Head of House, Mrs Robyn Langford. Without her continuous support, creative talent and fun ideas, Wade would not have been as successful in all our endeavours. It has been an honour to lead Wade in 2018 and we would like to wish the 2019 Captains, Sarah Monaha and Georgia Dunn the very best of luck. We look forward to hearing about Wade's achievements in 2019.
Sherrie Chung House Captain Therese Makarious HouseVice-Captain
'We were so proud of all the girls for going in so many events and for their great display of teamwork.'
66
Whitley Senior School
It is with great pride and honour that we called ourselves the House Captains of Whitley. As Captains, we wanted to create an environment where everyone in Whitley could feel comfortable in expressing their individuality while at the same time being united and working towards the common goal of a strong sense of House spirit. We thank all of Whitley for the effort and work you have put into making this year yet another success.
Mr Richard Coward, who became Head of Whitley this year, has done an incredible job in representing what it really means to be a part of this House. He has encouraged us to consider Whitley as a tribe, a group of students from all years who are united and continually support each other in all aspects of our schooling. With the phenomenal effort and support that Mr Coward provides, Whitley will undoubtedly continue soaring upwards and forwards.
This year our Whitley 'tribe' has maintained our teamwork, support and determination in all we do. We started the year with our House Chapel Service, where we celebrated the theme, New Beginnings. The Year 11s demonstrated true House spirit in bringing our Whitley family together. We thank all the teachers, students and parents who joined us to celebrate our House unity.
The Whitley 'tribe' spirit was also demonstrated by the girls during the Swimming and Athletics Carnivals. We were placed in the top four for House Spirit in both carnivals. Our continued commitment to the ideal of strength in unity and to creating a tribe-like community was rewarded with many athletic victories, including placing fourth overall in the Mixed Years Relay and fourth in the Rowing competition.
It is Whitley's tradition to hold a Christmas charity drive, where students contribute to the charity, Uniting, providing gifts to disadvantaged groups, and giving hope and joy to those less fortunate in our wider community. Whitley has been supporting Uniting for over five years now, and our involvement has enabled the young women of Whitley to learn about the values of compassion, respect, boldness and imagination; they have come to understand the need to create an inclusive, connected and just world and to take an extra step by living according to these values in our everyday lives. Whitley has now decided to support a new charity called The Period Project, whereby, through fundraising and support, we help women experiencing homelessness to access necessities such as sanitary products. We successfully began a new tradition this year of selling hot chocolate
at school with the hope of continuing to raise money to support this charity in the future.
We would like to thank Mr Coward, all of the teachers, our Year 12 Luminaries and our Whitley tribe who have supported us and helped to make this year absolutely phenomenal. The friendship, unity and motivation that all of you show have been truly inspiring – it has been a pleasure to lead Whitley this year.
We know that we leave Whitley in great hands and do not doubt that the 2019 Captains, Afamia Moussa and Jessica Pizzinga, will continue Whitley's incredible tradition. We wish Whitley House the best of luck for 2019 and know that you all will continue making everyone proud and create many fond memories of your time as a Whitlian.
Yasmin Mills House Captain Ella Makovec HouseVice-Captain
67
JSBOORALEE
FRONT ROW Mrs M Baxter, Alexandra Huynh, Eloise Wong, Christa Jeyasingam, Adora Xu, Ella Le, Amara Sivagurunathan, Carolyn Dou, Mariette Karam, Lucia Cicinelli, Arabella Kuo, Chloe Price, Sophia Correia, Abira Sanan, Maggie Ma, Zara Nicholias, Magdalena Volikas, Giselle Tanios, Anna Lieu, Emily Tu, Ms C Dougherty SECOND ROW Stephanie El'Atrache, Olivia Kozman, Francesca Masters, Liesl Wong, Megan Kuit, Violet Le, Avery Koh, Milla Papaluca, Kristella Miltiades, Sienna Clark, Mikayla Woon, Stephanie Phong, Imogen Sutton, Rachael Ming, Sienna Munoz, Alisha Ji-Lee, Isabella Horvath THIRD ROW Ms E Astle, Ms S Edwards, Gloria Chen, Liana Wai, Imogen Wong, Katelyn Tu, Emily Duong, Amelia Kozman, Soraya Bates, Charla Howard, Eleanor McKeough, Gabriella Ayad, Avnika Kandala, Cheylene Leung, Karla Anderson, Isabella Munoz, Emma Sugianto, Adelaide Akers, Mrs J Tanevski, Mrs C Campbell FOURTH ROW Mrs S Clark, Elizabeth Faraj, Eve Ireland, Isabella Correia, Megan Lieu, Grace Kuman, Emily Phong, Misha Behi, Felicia Hannah, Mariyah Sfarjalani, Alana Ikladios, Angelina Xu, Anna Obaid, Sacha Jeyasingam, Luella Farah, Evelyn Gogos, Mr D Finlay, Ms S Chen FIFTH ROW Erin Clowes, Elyssa Ghaly, Sneha Hasanat, Sophia Grave, Tascha Ireland, Haegan Sitou, Ruby Davis, Angie Lan, Ynez Liauw, Sophia Malas, Alexia Carisio, Anisha Sivagurunathan, Yolanda Dolenac, Zaz Tiglao
FRONT ROW Fern Still, Eve Vantas, Claire Chan, Emma Ung, Anna Constantinidis, Jennisa Ha, Caitlyn Singleton, Paris Chen, Martine Zeilinga, Nichole Wang, Sienna Marriott, Angelina Hu SECOND ROW Zoe Wang, Esther Tonkinwise, Indianna Miller, Sarah Kanaan, Soina Thind, Eva Tkocz, Caitlin Zeilinga, Isabella Gadelrabb, Audrey Nguyen, Andie Clark, Georgia Mouscas, Mia Gerbino, Harriet Campbell THIRD ROW Olivia Smith, Annika Lee, Jessie Tang, Mia Grasso-Nguyen, Tiffany Boungoto Weng, Claudia Catania, Katie Sutherland, Anika Grannall, Sofia Carey, Trinity Elghitany, Kirsten McLelland, Ciara Hyland, Olivia Leighton FOURTH ROW Annie Gu, Anousha Xegas, Jasmine Cho, Kyra Ioakimidis, Renae Varvaris, Sen Sen Xie, Evie Gallagher, Daisy Zheng, Hanna Nash, Elisha Quan FIFTH ROW Nikki Zanuttini, Nicole Miloucheva, Amy Song, Annie Chen, Joy Zhang, Antonique Amperidis, Ella Fletcher, Jaimie Kappas, Desiree Miller, Phoebe Zhou SIXTH ROW Eliana Farr, Klara Zhao, Ananya Krishna, Katherine Du, Dr J Drimatis, Ms F Pow, Mrs E King, Emma Clark, Ms C Gover, Jennifer Tang, Mrs P Pachos, Ms C White, Mrs L MacDonald, Ms M Gaha, Veronikah McClelland, Layla Ziade, Sienna Fresta SEVENTH ROW Prerna Pabathi, Emmeline Booth, Alexandra Farrow, Lydia Todoroska, Laura Sutherland, Elizabeth Farrow, Claire McLelland, Penny Fu, Grace Gilmore, Christina Catania, Tashjan Managreve, Eliza Crossley, Bella Leighton, Eleni Charalambidis, Eden Cheng ABSENT Ellery Joyce, Edie Baker
ABBEYTHORPE 68
SSBOORALEE
FRONT ROW Ms S Blanche, Rosanna Tsoi, Yang Yang Liu, Jocelyn Yao, Angela Liu, Chelsea Keomanivong, Scarlett Innes, Vivienne Nguyen, Shiloh Gao, Chelsey Gao, Manjima Dutta Gupta, Olive Simmons, Taylor Bakir, Avery Lee, Alana Bakir, Halimah Bokhari, Hayley Trinh, Mrs J Falls SECOND ROW Chloe Zheng, Aurora Sharma, Arianna Xu, Hannah Dastyari, Taylor Lu, Bethany Haddad, Vita Gohil, Jiarui Song, Niamh Canadas, Kaitlyn Yang, Queena Chen, Miranda Lin, Sateni Shoaib, Anaahat Kahlon, Angelyn Xiang, Alicia Suen THIRD ROW Mrs R Barakat, Mrs M Wyatt, Madeleine Girgis, Elizabeth Ravens, Jasmin Srisathkurunathan, Julia Saad, Sophia Hu, Carina Chu, Ines Prince, Jade Pashos, Aashi Shah, Mia Rice, Janice Leong, Elysse Diep, Alisha Dhaliwal, Audrey Boulton, Ingrid Henderson, Georgina Auld, Mrs D Keane, Ms E Rhodes FOURTH ROW Mr B Schofield, Stella Wallace, Mia Tynan, Alyssa Corbett, Eloise Girard, Lana Radwan, Nicole Audi, Kiara Elghitany, Natalia Gadelrabb, Camille McLucas, Aryana Sah, Emma Sullivan, Minh Thu Mai, Gurnaaz Kahlon, Hazel Gohil, Ilaria Blanco, Mrs N Greville FIFTH ROW Riya Chib, Ella Wu, Saskia Roberts, Ava Saad, Sofia Sok Cifuentes, Sarah Pickett, Ayla Staltari, Christina Di Giandomenico, Neika Abdilla-Bacon, Jasmine Fordyce, Lily Simmons, Claire Lee, Julinar Alshehabi, Angelina Mijakovac
FRONT ROW Jenaan Rajani, Zahli Harris, Chantelle Wan, Kate Forster, Isabel McKeough, Grace Scanlon, Pascale Simington, Dwaraka Raguparan, Elizabeth Wilkie, Isabella Kristallis, Cara Britton, Tulasi Kanani SECOND ROW Dahlia Issmail, Lucinda Winlaw, Isabelle Barakat, Rashi Dhamala, Ella Tanner-Black, Helena Panos, Mia Eker, Jade Di Girolamo, Tara Gentle, Jasmine Stavros, Laryssa Latt, Jaiden Sinozic, Madison Clemens, Sally Obaid THIRD ROW Freya D'Mello, Indigo Devlin, Tianka Parapuram, Annabelle Banfield, Mikaela Nguyen, Isabella Chapman, Maia Sullivan, Dakota Sinozic, Sophie Reid, Nancy Faraj, Natalia Giannakos, Briar Campbell, Lily Scanlon, Charlotte Trieu, Kirsten Dao FOURTH ROW Himani Gupta, Emma Webb, Gemma Sorial, Holly Herden, Olivia Tanevski, Jasmin Fitch, Lucy Edwards, Kayley Macgonigal FIFTH ROW Gabrielle Giannakos, Tiahna Sortwell, Zoe Scoufis, Uma Barrett, Aimee Chau, Chanel Boudib, Judy Lin, Hannah Chau SIXTH ROW Nese Sirikci, Cienna Dent, Jessica Kuo, Emily Huynh, Ms S Huang, Ms F Cassidy, Mr J Kennard, Nancy Wang, Ms T Getts, Danah Maher-Lee, Ms R Willemsen, Ms S Gunja, Mr B Salakas, Tiara Huynh, Sonia Kang, Georgia Bowrey, Emily Eker SEVENTH ROW Laura Cincotta, Airlie Cullen, Wendy Shi, Lily Rodgers, Chloe Gentle, Caitlin Fitch, Ashley Oliver-Sjahry, Amy Yarrow, Ellena Hartzenberg, Nicola Yarrow, Kate Baker, Olivia Winlaw, Gabrielle Cadena, Katerina Malafouris, Stephanie Kalamvokis, Natalie Sorial, Sandy Qiu, Jana Kabbara, Sophia Wang, Eleni Kaloterakis ABSENT Beth Balas
JSCHURUNGA
69
SSCHURUNGA
JSLEAWARRA
FRONT ROW Miss V Rouhliadeff, Fedra Nikolakopoulos, Charlotte Hing, Angela Thorn, Raquel Gill, Sophia Ghaly, Jessica Lim, Mia Licenblat, Sophie Hong, Joanna Williams, Hayley Dinh, Chloe Grasso, Bonnie Ming, Frida Yao, Selina Shan, Dora Zheng, Ashwini Kanesalingam, Aleeya Sharma, Helen Liu, Ethelia Cassar, Emilia Sarayar, Ms E Simpson SECOND ROW Layla Abdelrahim, Leela Das, Sofia Callegaro, Evelyn Tran, Maryse Elassal, Georgia Delis, Anastasia Countouris, Janani Kanthathas, Georgie Papadimitriou, Chloe Lu, Rima Zhang, Svara Mutalithas, Tamara Abdelrahim, Mia Coady, Sophia Du, Mai Phan, Katelyn Lim, Eva Rocca, Zoe Fotoulis THIRD ROW Ms M Hiss, Jordan Vo, Rose Lin, Imogen Bush, Jade Scott-Rogers, Ava Brown, Stephanie Keo, Sophie Ye, Aaliya Salim, Zaina Verma, Ophelia Li, Charlotte Latham, Chloe Kypreos, Umaiza Mahfuz, Jacqueline Wang, Elyse Vivash, Emily Bitar, Bethany Mikhail, Ms G Clayton FOURTH ROW Mr M Lewis, Sophia Antipas, Naoise Lynn-Black, Ava Roins, Edith Hynes, Chloe Constantinidis, Mia Rae, Lucy Cui, Anastazia Samad, Amaya Karunakaran, Chloe Miller, Bianca Trimboli, Christine Jin, Valerie Tran, Ella Zhang, Meena Kanthathas, Chelsea Chen, Mrs A McClure FIFTH ROW Harriet Scott, Lucinda Butcher, Zahra Yassine, Amreen Thind, Abigail Bush, Sara Trimboli, Jemima Zoud, Jasmine Banks, Aspen Lambert, Grace Farrow, Zara Dhawan, Kristina Bitar, Sameera Khatri, Stephanie Mikhail
FRONT ROW Vishaalini Ravichandra, Elle Kendrovski, Chiara Corbett, Anika Cuganesan, Hannah Kang, Armita Dutta Gupta, Yung Hei Joanna Tsoi, Chloe Jing, Olivia Gouganovski, Marissa Tsaousidis, Yunqing Amy Zhao, Lily Rutherford SECOND ROW Harriet Gohil, Sanya Mehta, Eladie Simmonds, Sophia Hendriks, Emma Lawrie, Sylie Bhat, Zara Zuccolotto, Lucinda King, Kira Hodgson-Yu, Zara Constance, Keira O'Connor, Mahibhana Mahinthan, Alexandra Lasovski THIRD ROW Neethika Naidu, Liv Morrison, Helena Lu, Kirsten Moller, Maha Meer, Georgia Long, Lauren Millar, Mercedes Ansuh-Yeboah, Sophia Heyde, Georgia Wyatt, Natasha Sheehy, Chelsea Hunt, Ashmini Ganesh, Jocelyn Ting, Maya Simpson FOURTH ROW Bethany Xue, Grace Karras, Cassandra Economides, Isabella Collins, Kimberly Keogh, Katrina Marquarding, Ishwary Ramjeevan, Mahum Jahan, Hazel Sung, Amala Cuganesan FIFTH ROW Olivia Bubalo, Ariana Haghighi, Mia Burjan, Jaya Ong, Claudia Simons, Diya Mehta, Kate Cartwright, Alyssar Zogheib, Layla Nazha, Tina Liu SIXTH Row Rahni Ong, Abbie Milton, Emily Hart, Ms K Dethlefs, Ms M Stolzi, J Moore, K Roberts, Isabella Lasovski, Mr B Davidson, Eva Gouganovski, Ms L Jinga, Ms S Abrahim, Ms L Calluaud, Ms C White, Sarah Dejanovic, Emily Millar, Annike Lindhout SEVENTH ROW Sophia Nikiforidis, Katrina Tsaousidis, Sophie Graham, Samantha Naayen, Maddison Fisher, Madison Long, Olivia Russell, Imogen Greenslade, Veronika Males, Eva Wright, Emily Hunt, Lucy Baker, Alyssa Filippoff, Sarah Moller
70
SSLEAWARRA
FRONT ROW Isabella Bednaic, Jasmine Wolfe, Jorja Papantoniou, Madison Floros, Seraya Srikumar, Tiana Roins, Hailey Truong, Zoe Proctor, Chloe Hui, Alannah Christodoulou, Nevaeh Nicholas SECOND ROW Romy Dobbie, Charissa Chatnantawej, Jana Roy, Eloise Proctor, Charlotte McCrory, Caitlin Hartnett, Milla Newman, Brittany Warner, Dalia Alsaad, Emily Fitzgerald, Chloe Arnold, Sienna Barrett, Athena Nikolakopoulos THIRD ROW Anna Devlin, Tina Papamanuel, Stella Margarian, Teíjhaan Altiok-Brown, Destiny Nicholas, Gabrielle Palmer, Kittu Hoyne, Zoe Brase, Amy-Grace Docherty, Claudia Seales, Mariam Yassine, Amisha Khatri, Bella Upcroft, Alannah Gill FOURTH ROW Christyn Cordato, Coco Huang, Arya Sharma, Juliette Beattie, Zara Kilborn, Tara Grasso, Dylan Rose, Anna Sundquist, Eloise Drake, Ella Zohs FIFTH ROW Lilly Dummett, Catalina Floros, Josephine Lam, Alex (Alexandra) Stackpool, Nicola Oddie, Queenie Howard-White, Annabelle Bailey, Harriet Clark, Catalina Canas, Ruby Guminski, Mia Novati, Madison Gollan SIXTH ROW Caitlyn Kakakios, Lisa Soliman, Anabelle Truong, Olivia Cain, Teagan Truong, Miss B Cooper, Miss C Manthos, Malia Crawford, Mr W Donley, Sienna Prowse, Mr S Ewington, Ms M Bohdan, Emily Osborne, Anika Lammers, Tia Niemann, Katerina Delis, Annaliese Konidaris SEVENTH ROW Lana Selwood, Madeleine Aitken, Madeleine Lysaght, Beatrice Drake, Samara Tucker, Isabelle Sherbon, Emma Juffermans, Hannah Arnold, Emma Dickson, Hanna Woodward, Jessica Tippett, Stella Kochanowicz, Alex Harbridge, Charlotte Seales, Anja Seeto, Erin Glover, Charlie Kairaitis, Sian Thomas, Sabrine Yassine, Crystal Warner ABSENT Ms V Tormey, Ms E Tagliabue, Ruth Snelling, Victoria Workman, Nikki Juffermans
FRONT ROW Belle Cortiula, Sanjana Natkunamanickam, Claudia Scott, Isabella Coombes, Maiee Hanna, Angela Trang, Ruby Newton, Hannah Baker, Madhavi Chauhan, Isla Saxena, Fiona Feng, Georgina Lim, Sofia Cvetkovski SECOND ROW Kate Cvetkovski, Jody Feng, Christie Ch'ng, Vivian Zhang, Tara Mulholland, Ivy Brasher, Zunairah Mahfuz, Alexandra Robinson, Sophia Pavlovic, Amanda Ou, Maggie Zhang, Aria Swan, Kayla Graham, Rachel Kardasis, Laura Kardasis THIRD ROW Sophia Kang, Maggie Wang, Piper McCowan, Hayley Kenzler, Sarah Carvolth, Leilani Innes, Sophie Ciesielski, Olivia Alden-Hallit, Emma Corcoran, Zoe Johnson FOURTH ROW Elsa Tonkinwise, Elizabeth Linardos, Imogen Kuah, Suhani Gupta, Georgia Softsis, Halle Yang, May Hamed, Anjelica Issa, Elizabeth Trung, Olivia Debs, Patria Koutsogiannis, Sophia Murphy FIFTH ROW Dyana Hamed, Morgan Kelaher, Sophie Newby, Mrs R Thompson, Ms D Moir, Ms P Hewett, Rita Cammaroto, Mrs J Jabbour-Perez, Michelle Law, Mrs E Bourke, Mr B Haeusler, Dr L Bi, MacKenzie McCowan, Chloe Mavris, Divya Mehta SIXTH ROW Fiona MacKenzie, Ada Wong, Caitlin Field, Sashira Mulholland, Charlie Sodbinov, Anushri Baksi, Rosa Wang, Jessica Karabesinis, Tayla Kerpiniotis, Madeleine Murphy, Jennifer Leng, Eva Novikov, Vicky Feng, Ava McGrigor, Liv Sodbinov, Briana Chapman, Vivian Law, Olivia Codevelle ABSENT Ms L Piggott, Anna Brew, Kitty Chen, Anastasia Giannakakos, Celine Kang, Isabelle Lin, Yolanda Liu, Vittoria Loprevite, Georgia Terzis, Julia Varvarigos
LESTER
71
JSMOORAMOORA
SSMOORAMOORA
FRONT ROW Mrs P Knight, Faith Huynh, Elina Yu, Queeny Guan, Wendi Lv, Claire Liang, Frankie Fardoost, Megana Pasupati, Yasmin Maidment, Zara Ho-Shon, Olivia Connolly, Sookai Law, Amanda Houltham, Zoe Zlamal, Olivia Wang, Sherlyn Lin, Leona Nadarajah, Meng Yuan Victoria Xu, Freda Xie, Aerin Kim, Mrs G Kapellos SECOND ROW Elisa Li, Frances Xie, Ella Rose Zraika, Lexie Bellew, Christina Messih, Poppy Hayes, Pip McGuire, Katherine Woo, Ada Savage, Ellie Ni, Stella Inthavong, Emma Kanaan, Katie Goldring, Sofia Tzouganatos, Olivia Burke, Anny Xie, Charlotte Yiu, Sally Nguyen, Jenny Lin THIRD ROW Ms J Gilroy, Angelina Huang, Sophie Connolly, Sybilla Howes, Imogen Walker, Elly Yu, Amritha Ravichandra, Jodhi Bou, Gigi Guan, Lucia Barrington-Higgs, Baylie Shen, Nicola Keast, Angelina Ng, Lola Jablonski, Hannah North, Avery Dauphinee, India-Rose Mace, Emma Rose Koeswandy, Miss L Coles, Ms E Lazar FOURTH ROW Mr C Howard, Niamh Johnson, Jiayi Li, Isabella Townsend, Gauri Nathan, Sallia Nguyen, Giovanna Lim, Jossie Liu, Allegra Carlini, Aiesha Sivaranjan, Elora Nadarajah, Chloe Messih, Dina Saeed, Lara Bazzi, Ellie Li, Nectaria Constanti, Ms J Alimpic FIFTH ROW Angelina Le, Olivia Walker, Annaliese Yan, Chloe Ho-Shon, Erin Muir, Suyi Yin, Mannix Aurisch, Maha Amir, Kathleen Chrun, Ella Baker, Angelique Houltham, Isabel Garner, Evie Papamanuel, Bonnie Zheng
FRONT ROW Lara Stojkovic, Keiralyn Dao, Joanne Law, Danielle Dib, Claire Liu, Seetha Nathan, Despina Stamoulos, Alexandra Scherf, Mia Tsaousidis, Dakota Dodd, Bariah Khaznadar, Emily Ward SECOND ROW Cynthia Hu, Jasmine Talbot, Alexandra Walker, Gracelyn Dao, Samantha Tsakalos-Stewart, Charlotte Huynh, Julia Gough, Tessa Tomkins, Layla Hamdan, Amelia Whitmont, Samantha Brady, Mikaela Sitaramayya, Yianna Mitropoulos THIRD ROW Lara Taleb, Grace Selim, Gloria Lim, Sophie Beraldo, Diane Wang, Lola Whittaker, Eda Haller, Isabella Lee, Anna Gough, Amelia Chan, Tori Charalambous, Zoe Trpezanovski, Francesca Morrison FOURTH ROW Sophie Thomas, Aadhya Dhanpal, Tahlia Hatzisarantinos, Anneliese Sandy, Zoe Johnston, Hannah Williams, Amara Kalcev, Sophie Walker FIFTH ROW Chloe Beraldo, Jade De Julian, Jasmin Selim, Erin Bofinger, Bianca Weng Io Lok, Isabella Zhang, Ruby Ince, Ella Tomkins SIXTH ROW Madeleine Sherbon, Mia Boursiani-Lawrence, Angelica Lovel, Anna Michael, Ms F Berry, Ms P McGowan, Ms C Cleaver, Ava Tsaousidis, Mrs A Conway, Ashna Kapoor, Ms C Irwin, Ms A Clarke, Mrs M Ruddock, Georgia Ventouris, Sarah Taleb, Jivi Govender, Anthea Trent SEVENTH ROW Samantha King, Paris Mitropoulos, Hope Mersal, Jess MacMaster, Olivia Papasavvas, Katie Papachatgis, Emma Suster, Tayla Casey, Alice Ho Yi Lam, Lucy Squier, Aleksia Grbic, Chiara Moore, Grace John, Chloe Azzam, Annika Haller, Eva Jessurun, Ella Tsaousidis, Samar Taleb, Natalia Grbic ABSENT Mr K Otani, Ms C Aydemir, Hope Selim, Claudine Talbot, Olivia Robb, Billie Whittaker
72
FRONT ROW Mira Kalra, Zoe Jameson, Georgia Duggan, Ella Walters, Ilaria Korompay, Kate Morfoot, Isabella Wang, Mimi Jones, Claudia Kritzler, Scout Van Der Merwe, Aileen Leong, Anikah Sanan, Ada Tetley-Sutton SECOND ROW Emily Heng, Lilli-Rose Nasr, Abigail Latham, Isabella Smith, Sophia Sefein, Annading Chen, Sarah-Bronte Andrikis, Erykah Lakkis, Kayla Andreopoulos, Meera Rawal, Molly Rose North, Olivia Clowes, Zoe Howes, Isabella Al-horani THIRD ROW Sasha Green, Sophia Cairns, Jnisha Tanasap, Zoe Clark, Dionne Alaveras, Maria Gourlas, Kylie Becvarovski, Lia Al-Soufi FOURTH ROW Ria Kapoor, Inez Kritzler, Charlotte Jones, Alice Kreis, Lauren Purkis, Laura Andrikis, Sabine Saad, Claire van der Stel FIFTH ROW Megan Xie, Joy Xu, Ms J Ferguson, Mrs L Bondar, Mr J Allington, Mr A Lee, Georgia Hewitt, Mr G Starr, Megan Cavanagh, Mr P Klamka, Ms N Hird, Mrs S Connolly, Lauren Huynh, Gabriela Delgado, Kimberley Ngo SIXTH ROW Elle Andreopoulos, Danielle Mikhael, Jessica Zhu, Tina Gong, Isabel Leung, Jade Su, Katie Zheng, Lauren Phelps, Nicole Hussein, Josefine Ticic, Tess Tsoi, Yijun Cui, Tessa Iversen, Alyssa Nguyen, Leanne Chan, Elizabeth Tran, Mariam Makary, Sammy Cavanagh SEVENTH ROW Zoe Berg, Ziya Kalra, Katia Matar, Marina Chan, Fiona Paterson, Beccy Minett, Marie Yan, Olivia Bersais, Eloise Riviere, Meghana Gopalan, Nerissa Tan, Jade Jameson ABSENT Mrs G Goldberger
FRONT ROW Zara Luong, Sahasra Bandi, Georgie Roediger, Marlene Anderson, Raashi Parmar, Lara Varol, Isabel Baudille, Julia Lok, Amelia Cosmidis, Zoe Churchill, Sofia Jury, Amelia Norton, Kayli Scott SECOND ROW Madeleine Hutchens, Minda Wang, Selma Ulutas, Ivana Dolenac, Le Yan Gui, Kelly Zhang, Maddisen Strauss, Ana Trigg, Anais Siu, Miranda Norton, Wenyan Fan, Madita Anderson, Jane So, Yijia Sang, Charlize Hosking THIRD ROW Eugenie Tan, Clara Janssen, Sienna Strauss, Ruby Smith, Claudia Padman, Elisha Matthews, Johanna Lafoa'i, Mia Ramsey, Vanessa Ryan, Mei Yan Wong, Emma Mahant, Chloe Correia, Maeve Halliday, Nehreen Hassan, Breanna Scott FOURTH ROW Christiana Perdis, Olivia Makhlouf, Danya Jacobson-van der Merwe, Lyla Groom, Amelie Roediger, Virginia Peter, Rhiannon Macleod, MinhTam Le FIFTH ROW Alyssa Scott, Olivia Otto, Natalie Lin, Eliza Swann, Jessica Song, Jacqueline Ciofani, Simone Maddison, Ayla Varol SIXTH ROW Taylor Hosking, Laura Libro, Aisling McCreery, Ms S Marks, Ms E Pejovic, Mr M Berndsen, Julia Athos, Mr C Eddleston, Asena Gunduz, Mr B Lindstrom, Ms K Lightfoot, Ms O Nolan, Ms S Rowley, Natashja Eyles, Matilda Swann SEVENTH ROW Lana Reiter, Alexia Lorenzato, Nicole Lin, Lily Smith, Audrey Williams, Jasmine Ypermachou, Philippa Machin, Emma Rutherford, Ella Walters, Maya Felice, Julia Spiker, Lynelle Tamerji, Chloe Donkin, Amy Clarke ABSENT Ana-Maria Stevans, Liana Angell, Ivy Ross
SUTTON PRESCOTT 73
WHITLEY
FRONT ROW Avondale Thompson, Gwenyth Smith, Magdalene Miltiades, Hannah Ford, Hannah Bathgate, Mahi Shah, Ria Simone Farag, Ananya Wakhare, Jenna Wright, Kathryn Shih, Genevieve Cesarano, Santina Signorelli, Nicole Giannacopoulos SECOND ROW Erica Chou, Hayley Ma, Elsa Pickering, Andie Comino, Tarindhi Fernando, Clare Butcher, Charlotte Bathgate, Amelia Bresolin, Natalie Cavallaro, Sophia Westbrook, Maya Lecuna, Zara Poortvliet, Ruby Narvaez THIRD ROW Lilia Coman, Mounica Akula, Taotao Jiang, Cassidy Maher, Chantelle Farag, Sophie Wilson, Marissa Matthews, Gauri Sharma FOURTH ROW Cailey Smith, Shirley Kuang, Elizabeth Liu, Maria Stamateris, Georgia Melhem, Phillipa Signorelli, Courtney Roberts, Montana Cominos, Elise Nikolopoulos, Linda Lee, Sarah Monaha, Bethany Lo FIFTH ROW Dakota Comino, Sarah Cooper, Jessica Kim, Monique Li, Sabina Tom, Sarah Chou, Mrs A Renwick, Ms A Accurso, Sherrie Chung, Mrs R Langford, Therese Makarious, Ms M Olah, Miss J Ciaschetti, Sara Kie, Rhea Gandhi, Eva Telemachou, Joyce Lin, Charis Chiu, Lilly Mijatovic SIXTH ROW Sarah Healey, Zoe Westbrook, Isabelle Tang, Atoufa Mohanna, Anastasia Kennett, Christiane Diamantis, Georgia Dunn, Jane Liu, Tiarna Cominos, Amelie Coman, Capri Maher, Gemma Dessent, Sofia Costa, Elke Johns, Gabriella Melhem, Claire Wang, Shannon Song, Karen Chung, Rasika Bains ABSENT Ms J Skepper, Ms K Drady, Mr D Latimer, Zaara Chalak, Elizabeth Giannacopoulos, Nicole Healey
FRONT ROW Azzurra Zappacosta, Sasha Kovarik, Arabella Zeederberg, Tiana Michas, Cassandra Tong, Moira Peach, Sarvani Bala, Anna Xu, Sarai Rollason, Freya Patterson, Annabel Twomey, Joyce Mai SECOND ROW Victoria Grammenos, Samridhi Garg, Ava Lee, Zara Cathcart, Jennipher Kong, Jasmine Ferraby, Imogen Johnstone, Aimee Goodridge, Sarah Demos, Brooke Bucholtz, Arrielle Carisio, Jana Mourad, Catherine Kong THIRD ROW India Makovec, Lucy Lee, Shivani Spencer, Jacqueline Flett, Ruby Scott-Wishart, Layla Hare, Preeyangka Manogaran, Tamara Obradovic, Natalie Toomey, Madeleine Lewis, Sarah Pearson, Emma Christie, Elle Tamvakolos FOURTH ROW Victoria Demos, Amber Johnstone, Claudia Bean, Ella Allport, Charlie Kyle-Sutherland, Georgia Beretov-Millar FIFTH ROW Fiona Lee, Afamia Moussa, Olivia Wu, Natalie Bejar, Zoe Cross, Emily Li, Desiray La, Isabelle Choi SIXTH ROW Sherry Zhao, Jessica Pizzinga, Angie Xu, Cherie Pepperell, Ms I Smolka, Ms S Green, Mr M Condoleon, Yasmin Mills, Mr R Coward, Ella Makovec, Ms E Turner, Ms A Maihi, Jennifer Lee, Mikayla Papadimitriou, Holly Miller, Kaisha Rollason, Anica Shen SEVENTH ROW Sabrina Lowe, Swathi Ilanko, Daphne Doumanis, Veronica Phan, Amanda Yu, Kate Papadimitriou, Lilie Tyler, Bella Gall, Ava Heine, Sarah Day, Madeline Bide, Darani Gilchrist, Natalie Wong, Zoe Hannam, Rachel Wang, Katrina Marshall, Charlotte Pullinger, Megan Nipatcharoen, Shaaden Elsawi
WADE 74
JUNIOR
SCHOOL 75
Learning
This year has been an enjoyable, highly creative and busy time in the MLC Junior School STEAM Lab. We have been working collaboratively with teachers, students and parents to infuse innovative design thinking into the curriculum through the elements of Science, Technology, Engineering, Arts and Mathematics (STEAM). We have engaged the students through exciting and hands-on activities in their Collaborative Learning Projects (CLP) as well as through Co-Curricular Clubs.
Incorporating STEAM into the Junior School setting provides students with the opportunity to learn through an integrated pedagogy, showing them the connections between traditionally disparate disciplines. We aim to teach the students, right from Pre-Kindergarten, the skills of critical, logical and lateral thinking, inquisitiveness, innovation, design, resilience, collaboration and selfevaluation. These skills are a key element of MLC School's Philosophy of Powerful Learning, and are essential in a 21st Century education for powerful learners who will shape their own future.
It was fun to explore the concept of 'Together We Can' with Pre-Kindergarten, collaborating to build a community through the modelling of human-made constructions. The Pre-K students made some impressive bridges, tunnels and
towering skyscrapers with a variety of materials. Later, they explored their immediate environment through the 'Spaces' around them. Their new playground provided many opportunities to take new perspectives on the things they see (and don't see!) every day.
Kindergarten investigated how 'Materials Are For Making', looking at different natural and artificial materials and the inherent properties that make them suitable or unsuitable for a variety of purposes. They finished the year with their inquiry into 'Our Living World' and the needs of living things. They created model habitats for farm animals, with each habitat requiring everything the animals need to survive. The coding program, Scratch, and Makey Makey tools were used to provide touch-based, interactive elements of the habitats and to play recordings of the students presenting their research.
'Paddock To Plate' provided Year 1 with insights into the food we eat, what happens to it before it gets to us, and the implications of food processing. Over the term, the students enjoyed watching grapes shrivel, milk curdle, and mould grow. They also audited the Junior School canteen for the amount of processed and unprocessed foods on offer! In their next STEAM CLP, they looked at 'Innovation'
and, using an Engineering Design Process, invented solutions to an authentic problem in their lives. Students asked questions about their chosen problem, imagined solutions, planned a possibility and created a prototype of it. It was a fun and busy project, using everyday materials to create marvellous inventions.
Year 2 started their STEAM investigations by looking at simple machines, such as levers, pulleys and wheels. They used the Engineering Design Process to design and construct mechanical solutions to problems posed by the Year 1 students. Later in the year, they asked the question 'Are We Really Resourceful?', and made an inquiry into water conservation. They looked at the water cycle, the different sources of our water supply, and the ways that water can be stored and treated.
Our Year 3 students looked into 'Our Living World' and invasive species. They collaborated to design solutions to combat the threats posed by a chosen species and used Scratch and Makey Makey to model their ideas. Following an investigation of 'Our Material World' and the thermal properties of materials, they had a great time turning their school desks into insulated cubby-houses for their study of 'Heat and the Built Environment'. Organised into a desert group and an arctic group, they had to
STEAM
76
use what they had learnt about heat, reflection and insulation to create the most effective design.
Year 4 focused on physics, with bungeejumping Barbie dolls and balloonpowered hovercraft. This was followed up with an experimental design challenge to create a safe and robust Lunar Lander model using household materials. It was a very challenging and rewarding project that resulted in a wide variety of designs and solutions of varying success. They also made an inquiry into 'Our Changing Earth' and the elements that shape our planet. This was followed by a look at infographics as an educational and persuasive medium for us to become 'Agents Of Change' for social and economic problems.
There were 'disasters' aplenty during Year 5's investigation into earthquakes for their 'Natural Hazards' unit. They made matchstick towers, LEGO seismographs, and had to design their own model of an earthquake-proof structure to keep our mascot, Betsy the Bear, safe in her new home. For their 'Light Is Life' project, they created light-art using Sphero robots and long-exposure photography. There were some beautiful results, which were created live and displayed at the MLC School Illuminate festival.
We were joined this year by the Year 6 cohort, beginning with some intensive, instructional lessons on digital media and the creation of digital content. We were excited to collaborate with them in their unit on 'Space', exploring the mind (and time!)-bending theories around black holes, and using the tennis courts to lay out a scale of the Solar System. We also took the opportunity to get hands-on with some robots: Sphero (to simulate the Solar System) and LEGO EV3 robots (programmed as rovers to collect asteroids).
Our co-curricular clubs were popular once again, providing students with engaging learning experiences outside of their regular classes. The Code Club worked tirelessly on their Scratch Games and Makey Makey interactive projects. In the new engineering / maker / tinkering club, The Tinkerbelles, the students built a multitude of contraptions from everyday materials, including cranes, marble mazes, catapults, rockets, and parachutes. In Robotics Club, they learned all about inputs, processes and outputs using Bee Bots, Sphero, and LEGO WeDo. We also commenced our LEGO Play club, giving the students an opportunity to play, build and create in a relaxed environment. And nothing is better for that job than our favourite toy, LEGO!
This year also saw us make our first foray into the RoboCup Junior Australia Competition. With no footsteps to follow in, it was a steep learning curve for staff and students alike. After months of preparation (and a mini-crisis or two!), the two teams of selected Year 4 and Year 5 students competed against other school teams from the state at the University of NSW. The students gave a commendable performance, rising to the challenge and taking on every obstacle that popped up with ingenuity and maturity. They did themselves and MLC School proud, and the Year 5 team earned themselves second place on the day!
Once again, our Father & Daughter Cardboard Challenge was a wonderful event. This year's theme was Boxcar Racers and the Junior School playground was abuzz with racing cars, motorbikes and drivers' costumes, all made from cardboard and paper. Unfortunately, the weather put an abrupt (and very damp) end to the fun, but the community spirit shone through as everyone pitched in with the clean-up and salvage effort, still with smiling faces. We look forward to it again next year!
Mrs Marie Cassar and Mr Bede Schofield
77
The Junior School library sits at the heart of the Junior School and is aptly named The Hub. It is a space where we explore children's literature, develop information literacy and promote a love of reading. Throughout 2018 we have embarked on a number of mind-stretching activities with the aim of creating life-long readers and critical thinkers.
Throughout Terms 2 and 3, students from Year 3 to Year 5 completed the DARE Reading Challenge which encouraged our girls to read widely from a variety of sources. This challenge required students to read texts of their own choice from genres and styles that they may not have chosen to read, to help them to appreciate literature in its various forms.
Students from Kindergarten to Year 2 embarked on the 2018 Premier's Reading Challenge, which encouraged our students to experience quality literature that they may not have tried otherwise. One hundred and nineteen Kindergarten to Year 2 students completed the challenge this year. In addition, we entered the Premier's Reading Challenge Art and Words Competition with an entry by Ella Zhang of Year 4. Ella's entry
JUNIOR SCHOOL LIBRARY
showcased her favourite book Wonder which was submitted with the caption: Wonder is a great book because it teaches us to be kind to people because you don't know what they have battled throughout their life.
While we continue to be most proud of her efforts, Ella was not successful in this instance.
borrowed based on recommendations given. Students who participated entered the draw for a pizza lunch which took place during the highlight of our library calendar, Book Week.
Book Week began early at MLC School. On Friday 17 August, our library monitors travelled to the CBCA Kids Book Awards ceremony in Sydney to support Lara Bazzi (Year 5), one of only six students in Sydney chosen to review a shortlisted book in the Younger Readers Category. Lara was a confident, knowledgeable and capable presenter, whose love of reading shone through. It was an outstanding opportunity for students to be inspired to read great Australian literature after hearing the presentations of other students from around NSW.
The girls were encouraged to read and visit local libraries during the holidays. The LookWhoWas Caught Reading Competition was a hit amongst students who took photos of themselves reading great books in a variety of locations. Many students stopped in to see the photos and
The theme for Book Week 2018 was Find yourTreasure, and as each class explored the shortlisted books through the lens of this theme, students were encouraged to discover treasures of their own. Puzzle pieces of shortlisted books were placed throughout the school, while jewels were found in books within the library to celebrate the treasures we find on our bookshelves. During library lessons,
'Reading is a means of thinking with another person's mind; it forces you to stretch your own.'
Charles Scribner Jr.
78
each class had time to discover the books that teachers loved at their age, and this provided much discussion.
Throughout Book Week, students in Year 3 to Year 5 participated in workshops with slam poet, Phillip Wilcox. These workshops were engaging, entertaining and, most importantly, allowed the girls to see themselves as poets. Students from Pre-K to Year 2 did not miss out, with a visit from the author and the illustrator of Alphabetical Sydney, Hilary Bell and Antonia Pesenti. This dynamic duo hosted workshops for Kindergarten to Year 2, giving students an opportunity to learn about the processes involved in creating a
book, to investigate illustrations for clues and to create their own illustrations based on the book, Numerical Street.
On the Friday of Book Week, many of the characters that we have grown to love and cherish stepped out of their books and into our Junior School playground. Students from Pre-K to Year 5 dressed up as a favourite character from their most treasured book, while staff came dressed as pirates looking to steal their treasures! Parents organised a delicious breakfast and then our much-loved book characters came to life at the parade. House reading followed the parade, with older students reading to younger ones. This provided
time to reflect on the aim of Book Week – to promote a life-long love of reading – and was a special opportunity to share books and bond with housemates.
While Book Week is a time to promote reading, our library lessons in 2018 provided students with an opportunity to learn about authors, and develop their information literacy, digital citizenship and research strategies.
It has been an exciting year in The Hub.
Mrs Jody Gilroy Teacher Librarian
79
Student Life
CHINESE NEW YEAR CELEBRATIONS
CELEBRATE THE YEAR OF THE DOG 新年快樂
In an increasingly multilingual world, learning a language other than English (LOTE) becomes more than a tool of communication – it builds bridges between people, cultures and countries. The Language program in the Junior School aims to provide our students with the opportunity to gain an insight into another culture and develop the communication skills necessary to speak confidently in another language.
In the Junior School, students celebrate Lunar New Year, also known as Chinese New Year or the Spring Festival. This traditional celebration is considered the most important event in China and across South-East Asia.
Over fifteen days, students participated in different activities to celebrate this significant festival. These included Pre-Kindergarten students using fabric flowers, tissue paper and buttons to decorate cherry blossom trees on cardboard. Kindergarten girls listened to the story, TheYear of the Dog, and discussed what they might do to welcome the new year.
As part of their Collaborative Learning Project on 'Celebrations', Year 2 students investigated the customs and legends
that make Chinese New Year the most exciting time of the year in China and in neighbouring countries.
Year 3 students had fun exploring the art of paper folding and made some origami flowers to decorate their greeting cards.
Year 4 girls started a journey to discover China's history and learned to name different inventions from ancient China, such as the abacus, the compass, gunpowder and tea. They found inspiration from pictures of ceramics and porcelain in the Qing Dynasty and created their own unique artworks on paper plates.
Extension activities at home and in the studio were also included to extend Year 5 students' cross-cultural appreciation. They made a PowerPoint presentation to introduce China and completed traditional Chinese paintings of plum blossoms and bamboo.
Miss Sherry Chen Junior School Chinese (Mandarin)Teacher
This year the da Vinci Decathlon celebrated its 16th year. It is a competition designed to nurture the academic gifts of Australian youth by providing a stimulating and challenging competition across ten academic disciplines. The competition is fast paced and requires organisation, collaboration and intellectual rigour.
In the Junior School, Year 4 girls can join the da Vinci Club run by Clayton Howard and learn skills that will help them be selected for the Year 5 team. Year 6 students are trained by Ms Tina Ruddock. The selection process for the competition is multi-faceted. Girls complete a nomination form outlining their skills and abilities. Teachers are also consulted.
This year the Year 5 team came first in Creative Producers and eleventh in Science. Year 6 also placed well: tenth in Art and Poetry; ninth in Code Breaking; and fourth in Creative Producers. This was a great effort, and a clear reflection of their diverse skills.
Mrs Jan Falls Public Speaking Coordinator K –Y12
DA VINCI DECATHLON
80
MLC School is well known for its debating prowess and it all begins in the Junior School. A number of girls are selected from Year 5 and Year 6 to participate in the IPSHA Debating Competition that takes place during Term 2 and Term 3. Girls are given two weeks to prepare each debate. Topics are varied and often challenging, but both teams had significant success over the season. The most valuable aspect of the competition is the huge developmental improvement that takes place as the
girls compete and are given feedback on their performance. The debating season culminates in a Gala Day. For this event, the girls did a wonderful job of preparing and presenting two debates as well as chairing and timekeeping.
Congratulations on a wonderful debating season. I know everyone is looking forward to more debating in 2019.
Mrs Jan Falls Public Speaking Coordinator K –Y12
Developing public speaking skills enables one to persuade, transform or compel and it is never too early to start learning the craft. Girls in Year 5 have the opportunity to develop vital skills to enhance their speaking ability. They learn how to write a speech and how to use their voice effectively. They are also provided with many opportunities to practise presentations. Constructive points for improvement are given by both teachers and peers. The aim is to build confidence and learn ways to manage nerves. The rudiments of debating are also taught, with an emphasis on impromptu rebuttals, as impromptu speaking skills are the most vital. Many of the students who participate in the course are selected for the Year 5 Debating Team later in the year.
Mrs Jan Falls Public Speaking Coordinator K –Y12
DON'T KEEP HISTORY A MYSTERY
The Junior School reflected on this year's theme for Reconciliation Week, Don't keep history a mystery, by covering the display tree with black fabric, to create a sense of mystery, and unveiling it during our morning assembly at the beginning of Reconciliation Week. The goal was to ignite curiosity and wonder about our Indigenous cultures.
Alongside the Aboriginal and Torres Strait Islander flags that decorated the tree, were information cards which recognised outstanding Aboriginal and Torres Strait Islander people, as well as key events linked to our shared history and culture. To embellish the display, each student decorated the branches of the tree with glass mosaic beads, to create a collaborative design using traditional indigenous colours. Junior School students added to the impact of the display by creating a ground mosaic around the base of the tree, developing patterns with natural materials, such as pine cones, sticks, pebbles and shells. The installation
RECONCILIATION WEEK
in the playground was a tribute to Aboriginal and Torres Strait Islander peoples, who have been creating ground mosaics for thousands of years.
During Reconciliation Week, students had the opportunity to investigate traditional Indigenous objects, resources and books in the school's collection.
Year 3 students hosted an assembly to reflect on our shared histories and to acknowledge the contributions and achievements of Aboriginal and Torres Strait Islander peoples.
Activities such as these in the Junior School reinforce our shared journey towards reconciliation.
Ms Jane Lancaster and Mrs Jan Falls Junior School Reconciliation Committee
IPSHA DEBATING
SPEECHCRAFT/DEBATING 81
TOURNAMENT OF MINDS
The aim of Tournament of Minds (ToM) is to enhance skills that will flow through to academic performance and eventually workplace practice. The competition offers students a unique experience, providing challenge and stimulating intellectual growth through its six-week problem solving structure. Teams must work together to problem solve and create a stimulating ten-minute performance. A prerequisite for success is working collaboratively, using the skills and talents of each team member.
This year the Junior School entered three teams into a new ToM discipline, The Arts. For this challenge, students had to create a musical based on the theme of Freedom. They had to incorporate dancing from the 1920s, art from the 1940s, and fashion from the 1980s. One team made it through to the State Finals at UNSW. In their three-hour challenge, the team had to explain to a government agency why the Arts deserved funding during the time of World War 2.
Mr Michael Lewis
82
Junior School Photos
FRONT ROW Mariyah Sfarjalani, Aiesha Sivaranjan, Sara Trimboli, Giovanna Lim, Elora Nadarajah SECOND ROW Riya Chib, Claire Lee, Lucinda Butcher, Olivia Walker
FRONT ROW Katelyn Tu, Mia Rae, Chloe Ho-Shon, Aiesha Sivaranjan, Lara Bazzi SECOND ROW Mr C Howard, Tascha Ireland, Ruby Davis, Lana Radwan
YR5 DECATHLONDAVINCI ART MONITORS
83
Junior School Photos
FRONT ROW Alana Ikladios, Amaya Karunakaran, Eve Vantas, Jenaan Rajani, Riya Chib, Aiesha Sivaranjan, Hope Selim, Lara Bazzi SECOND ROW Ms J Falls, Annaliese Yan, Azzurra Zappacosta, Ella Baker, Cara Britton, Tiana Roins, Sienna Marriott, Chloe Ho-Shon, Vishaalini Ravichandra THIRD ROW Raashi Parmar, Chloe Arnold, Lara Stojkovic, Zara Poortvliet, Ayla Staltari, Danielle Dib, Lucinda Winlaw
ABSENT Kate Morfoot, Sarinna Cai
FRONT ROW Magdalene Miltiades, Anikah Sanan, Sally Obaid, Georgie Roediger, Vishaalini Ravichandra SECOND ROW Mrs T Ruddock, Samantha Brady, Clare Butcher, Victoria Grammenos
DEBATING YR6 DAVINCIDECATHLON
84
ENVIRONMENTAL MONITORS
MONITORSLIBRARY
Riya Chib, Amreen Thind, Sameera Khatri, Amaya Karunakaran
FRONT ROW Felicia Hannah, Zahra Yassine, Amreen Thind, Emily Phong SECOND ROW Ms J Gilroy, Sarah Pickett, Maha Amir, Lily Simmons
85
Junior School Photos
TEACHERASSISTANTMONITORS
TECHYNINJAS
FRONT ROW Natalia Gadelrabb, Anastazia Samad, Angelina Le, Stephanie Mikhail, Zaz Tiglao, Nicole Audi SECOND ROW Zara Dhawan, Sophia Grave, Ruby Davis, Sofia Sok Cifuentes, Harriet Scott
FRONT ROW Alana Ikladios, Abigail Bush, Jasmine Fordyce, Minh Thu Mai SECOND ROW Mrs C Campbell, Angie Lan, Neika Abdilla-Bacon, Ynez Liauw
86
OFTOURNAMENT MINDS
FRONT ROW Tulasi Kanani, Elora Nadarajah, Erin Clowes, Riya Chib, Amaya Karunakaran, Hope Selim, Mia Rae, Katelyn Tu SECOND ROW Mr M Lewis, Amelia Norton, Amreen Thind, Sienna Marriott, Zara Dhawan, Vishaalini Ravichandra, Sameera Khatri THIRD ROW Aspen Lambert, Tiana Roins, Chloe Hui, Bella Upcroft, Moira Peach, Georgie Roediger, Erin Muir
FRONT ROW Annabella Xiang, Leah Maidment, Poppy Frederick, Sienna Dib, Chloe Huang, Estella Tran, Tara Siddarth, Su Ahn Park, Shantelle Nguyen, Daisy Han, Victoria Wai, Vivienne Woon, Avianna Tanios, Victoria Cassar SECOND ROW Genevieve Nguyen, Nia Immanuel, Shuqi Ye, Macy Bellew, Hannah Girgis, Olivia Smith, Kyrani Countouris, Audrey Henderson, Aaliyah Liu, Ava Kozman, Annika Bou, Emily Leung, Elissa Chami THIRD ROW Ruby Tzouganatos, Jolyn Nassif, Eve Hutchison, Lily Sugianto, Vera Papaluca, Clara Southwood, Scarlet Akers, Elana Chrun, Elizabeth Horvath, Eloise Dastyari, Grace Trimboli, Sienna Khouzame, Nikoda May TEACHERS Mrs E Monda, Ms G Zucco, Mrs D Doyle, Mrs V Liubinskas, Miss C De Pasquale, Miss M Greville (Absent)
PRE-KINDERGARTEN
87
Junior School Photos
KINDERGARTEN
FRONT ROW Frida Yao, Hui Elina Yu, Chloe Zheng, Adora Xu, Frankie Fardoost, Helen Liu, Queeny Guan, Lavinia Luoyi Xu, Sophia Hall, Wendi Lv, Taylor Bakir, Faith Huynh, Meng Yuan Victoria Xu, Aerin Kim, Anna Lieu, Alexandra Huynh SECOND ROW Emily Tu, Shiloh Gao, Vivienne Nguyen, Chelsey Gao, Mia Licenblat, Freda Xie, Zara Nicholias, Claire Liang, Jessica Lim, Sophia Correia, Megana Pasupati, Bonnie Ming, Manjima Dutta Gupta, Magdalena Volikas, Leona Nadarajah, Sherlyn Lin, Charlotte Hing THIRD ROW Fedra Nikolakopoulos, Alicia Suen, Olivia Wang, Christa Jeyasingam, Selina Shan, Angela Thorn, Ella Le, Zoe Fotoulis, Anaahat Kahlon, Sophia Ghaly, Ashwini Kanesalingam, Arianna Xu, Abira Sanan, Kimia Ferdose, Hayley Trinh FOURTH ROW Dora Zheng, Queena Chen, Carolyn Dou, Yasmin Maidment, Amanda Houltham, Evelyn Tran, Zoe Zlamal, Sofia Callegaro, Fuman Joy Wei, Mariette Karam, Huaqing Harper Shi, Yang Yang Liu, Chloe Grasso, Maggie Ma, Sateni Shoaib TEACHERS Miss E Davey, Mrs S Clark, Ms S Edwards
FRONT ROW Isabella Horvath, Rosanna Tsoi, Alana Bakir, Gabriela Lim, Giselle Tanios, Jocelyn Yao, Charlotte Yiu, Avery Lee, Chloe Price, Evelyn Hardy, Sophie Hong, Eloise Wong, Emilia Sarayar SECOND ROW Angela Liu, Eva Rocca, Scarlett Innes, Frances Xie, Sookai Law, Lucia Cicinelli, Zara Ho-Shon, Aleeya Sharma, Elisa Li, Layla Abdelrahim, Olive Simmons, Angelyn Xiang THIRD ROW Aurora Sharma, Arabella Kuo, Sally Nguyen, Olivia Connolly, Lexie Bellew, Leela Das, Ella Rose Zraika, Sophia Du, Alisha Ji-Lee, Raquel Gill, Amara Sivagurunathan, Sienna Munoz FOURTH ROW Francesca Masters, Jenny Lin, Janani Kanthathas, Vita Gohil, Imogen Sutton, Imogen Bush, Anastasia Countouris, Anny Xie, Kaitlyn Yang, Svara Mutalithas, Bethany Haddad ABSENT Chelsea Keomanivong, Olivia Burke TEACHERS Mrs J Tanevski, Mrs M Wyatt, Mrs M Baxter
YEAR1
88
FRONT ROW Ethelia Cassar, Joanna Williams, Mai Phan, Katelyn Lim, Stephanie El'Atrache, Rachael Ming, Sofia Tzouganatos, Niamh Canadas, Christina Messih, Maryse Elassal, Olivia Kozman, Hayley Dinh, Hannah Dastyari, Miranda Lin SECOND ROW Madeleine Girgis, Emilia Ghaly, Jiarui Song, Tiffany Ibrahim, Chloe Lu, Ingrid Henderson, Georgina Auld, Katherine Woo, Audrey Boulton, Emma Kanaan, Katie Goldring, Poppy Hayes, Tamara Abdelrahim, Olivia Yang THIRD ROW Emma Rose Koeswandy, Pip McGuire, Elizabeth Ravens, Liesl Wong, Adelaide Akers, Alisha Dhaliwal, Jacqueline Wang, Milla Papaluca, Elyse Vivash, Angelina Huang, Ada Savage, Megan Kuit, Stella Inthavong, Rima Zhang FOURTH ROW Sienna Clark, Gloria Chen, Emma Sugianto, Avery Dauphinee, Ava Brown, Julia Saad, Elizabeth Faraj, Zoe Brown, Sybilla Howes, Jade Scott-Rogers, Kristella Miltiades, Jasmin Srisathkurunathan ABSENT Evelyn Gogos, Taylor Lu, Ally Videira Firmino TEACHERS Mrs R Barakat, Mrs D Keane, Ms S Blanche
FRONT ROW Sophie Connolly, Stephanie Phong, Avery Koh, Aashi Shah, Angelina Ng, Eleni Giannacopoulos, Imogen Walker, Lola Jablonski, Hannah North, Mikayla Woon, India-Rose Mace, Georgia Delis, Janice Leong, Isabella Munoz, Bethany Mikhail, Sophia Hu, Violet Le SECOND ROW Amritha Ravichandra, Elly Yu, Imogen Wong, Cheylene Leung, Mia Rice, Ines Prince, Gigi Guan, Gurnaaz Kahlon, Lam Nguyen, Zaina Verma, Niamh Johnson, Liana Wai, Avnika Kandala, Ilaria Blanco, Rose Lin, Mia Coady THIRD ROW Stella Wallace, Carina Chu, Nectaria Constanti, Baylie Shen, Eleanor McKeough, Aaliya Salim, Naoise Lynn-Black, Diar Kabaha, Sacha Jeyasingam, Luella Farah, Angela Ong, Charlotte Latham, Stephanie Keo, Kyra Narang, Nicola Keast, Jodhi Bou FOURTH ROW Soraya Bates, Chelsea Chen, Alyssa Corbett, Lucy Cui, Grace Kuman, Angelina Mijakovac, Yolanda Dolenac, Chloe Miller, Meena Kanthathas, Angelina Xu, Lucia Barrington-Higgs, Sophia Antipas, Charla Howard, Ophelia Li TEACHERS Ms J Falls, Miss L Coles, Ms E Astle
YEAR2 YEAR3
89
Junior School Photos
FRONT ROW Georgie Papadimitriou, Alana Ikladios, Lara Bazzi, Misha Behi, Emily Phong, Lana Radwan, Eloise Girard, Christine Jin, Giovanna Lim, Minh Thu Mai, Mimi Lim, Nghi Nguyen, Katelyn Tu SECOND ROW Mariyah Sfarjalani, Bonnie Zheng, Anastazia Samad, Nicole Audi, Jossie Liu, Riya Chib, Lucinda Butcher, Erin Clowes, Angelina Le, Elora Nadarajah, Zaz Tiglao, Felicia Hannah THIRD ROW Aiesha Sivaranjan, Natalia Gadelrabb, Abigail Bush, Annaliese Yan, Stephanie Mikhail, Harriet Scott, Erin Muir, Lily Simmons, Claire Lee, Olivia Walker, Evie Papamanuel, Zara Dhawan FOURTH ROW Amreen Thind, Sameera Khatri, Sara Trimboli, Tascha Ireland, Sophia Grave, Aspen Lambert, Sophia Malas, Ella Baker, Chloe Ho-Shon, Jasmine Fordyce, Kristina Bitar, Zahra Yassine FIFTH ROW Ynez Liauw, Sarah Pickett, Neika Abdilla-Bacon, Angie Lan, Mannix Aurisch, Christina Di Giandomenico, Maha Amir, Ayla Staltari, Ruby Davis, Jasmine Banks, Sofia Sok Cifuentes TEACHERS Miss V Rouhliadeff, Mr C Howard, Ms C Dougherty
FRONT ROW Jordan Vo, Emily Bitar, Chloe Kypreos, Hazel Gohil, Ava Roins, Chloe Constantinidis, Amelia Kozman, Gabriella Ayad, Umaiza Mahfuz, Emily Duong, Ellie Li, Karla Anderson, Elysse Diep SECOND ROW Jiayi Li, Sallia Nguyen, Eve Ireland, Anna Obaid, Isabella Townsend, Emma Sullivan, Isabella Correia, Camille McLucas, Valerie Tran, Dina Saeed, Chloe Messih, Gauri Nathan THIRD ROW Megan Lieu, Julia Zarlenga, Ella Zhang, Stephanie Wang, Allegra Carlini, Maalika Chalak, Julinar Alshehabi, Angelique Houltham, Danielle Wan, Kiara Elghitany, Aryana Sah, Bianca Trimboli FOURTH ROW Isabel Garner, Elyssa Ghaly, Anisha Sivagurunathan, Ella Wu, Jemima Zoud, Kathleen Chrun, Haegan Sitou, Sneha Hasanat, Grace Farrow, Saskia Roberts, Olivia Sun-Ryan ABSENT Ava Saad, Mia Tynan TEACHERS Mr M Lewis, Ms E Rhodes
YEAR5 YEAR4
90
SENIOR SCHOOL 91
Immersive Learning Year 6
During Term 3, Year 6 conducted an inquiry into Space. The inquiry was guided by our Big Idea: Scientific and technological developments enhance our understanding of the solar system, its impact on us and how we can make responsible use of its resources
With any inquiry, the learner journeys through the cycle of tuning in, finding out, sorting out, going further, drawing conclusions, taking action and reflecting on their understanding. This process provides the framework for lifelong learning – a quality that we engender and nurture in our students here at MLC School.
The topic of Space sparked great enthusiasm amongst the girls. The large variety of inquiries undertaken meant that there was a great depth of knowledge acquired by the entire grade which was
subsequently shared with all the visitors to the Showcase. The girls inquired into such topics as whether we could live on Mars, how we can use virtual reality to simulate living in space, how to mine asteroids, the problems caused by space junk, and how black holes form. They chose the presentation tools they believed would best communicate their learning to others. As a result, the Year 6 Centre was filled with models, posters, holograms, rocket ships, Lego, experiments, virtual reality demonstrations, and robot models of the Space Rovers. An excited group of girls passed on their learning to their peers, families and members of the community.
Even though the topic is Science-based, it inspired art work and poetry too. The outside area of the Centre was decorated with artwork based on Vincent van Gogh's The Starry Night and the girls' poetry was
displayed as constellations lit up by fairy lights. The evening began with impressive performances of musical compositions, based on aspects of the solar system, and created by each of the core classes in Music lessons.
The beauty of inquiry is that it is based on a passion for learning. The atmosphere in the classrooms during our inquiry was focused and enthusiastic. The girls were engaged in active learning and presented a product that went beyond reproducing facts and figures. They looked at problems, possible solutions and sustainability. For many, this appeared to be a daunting process. However, all the girls rose to the challenge and can be very proud of the results they achieved.
Ms Danielle Collins, Ms Natalie Hird, Ms Tina Ruddock, and Mr Brett Salakas Year 6 teachers
'The beauty of inquiry is that it is based on a passion for learning.'
SPACE
92
Immersive Learning Year 7
Early in Term 3, Year 7 participated in a week-long workshop run by professional actors from Sport for Jove. They enabled us to unlock and understand the world of Shakespeare and the timeless themes of his many plays, as well as teaching us how to communicate these messages and develop characters in a Shakespearestyle play.
Everyone was split into 'theatre companies' with an actor who directed and cast each play. The groups had been designed so that we would be with many new students, giving everyone a chance to create new friendships and learn about others. This enabled us to discover not only our own hidden talents, but those of our peers as well. Naturally this was, at first, something of a culture shock for us and a departure from a normal school week. We did not have scheduled timetables and the familiarity of our class but, upon meeting our new groups and the actors, the enthusiasm, excitement and desire to create incredible performances were contagious.
'Coming into the School as a new student at the start of the term, I found that it really helped me settle into the MLC School community and make some amazing friends. This workshop was designed to help us make the transition between Year 7 and Year 8 and I believe this was an excellent choice because it was enjoyable and educational at the same time.' (Natasha Whitmont)
Each day we would commence with the whole year group coming together and learning A Lover and his Lass, a folk song adapted from lines in Shakespeare's
play As You Like It, which would be the grand finale to an exciting evening of performances on the Friday. This was a great way to start each day and energised everyone for the hours of acting ahead. From there, we went into our separate groups and adapted scripts to create our own 10-minute interpretation of a Shakespeare play. From Romeo and Juliet to HenryV, the range of plays gave us insight into many plays written by the Bard. In our groups, we would first play some new and interesting drama games to make us think on our feet, develop our improvisation and teamwork skills and maintain our focus and concentration.
From there we would delve into our plays, casting characters, staging scenes and endlessly rehearsing. We believe everyone gained a lot from this experience, learning new acting skills and understanding the true meaning of the play.
We performed at a range of locations around the School campus, using the tree outside the main gate as a canopy for a mysterious Macbeth, the birdbath area for A Midsummer Night's Dream and the courtyard under Potts Hall for a dramatic staging of Romeo and Juliet.
The actors from Sport for Jove were incredible, building our confidence and performing skills as well as translating the language and explaining the stories of the plays. Over the week, we read, staged, adapted and endlessly rehearsed our scenes. We were able to make contributions and suggestions whilst using our talents to personalise the play and make it more engaging for our audience.
On the last two days, we performed our plays for each other, practising for the big performance at the end of the week. We loved seeing the achievements of other groups and trying to figure out the title of each play. We loved using props and choreography to enhance our play and make it more interesting for the audience. When the final night came, everyone was filled with excitement, having worked very hard during the week. We were all confident and keen to showcase our achievements. The companies were split into two groups and parents would follow a route around the School. Then we all came together to perform our song and with huge applause, the evening ended.
We are so proud of what we achieved in such a short period of time. The outcome was astonishing, much better than we had anticipated. Collaborating with professional actors and learning and developing new techniques developed our creative mindsets and gave us new confidence in speaking and acting on stage – more than what we thought we could achieve prior to this experience. This workshop was a brilliant opportunity to make new friends and meet new people. It was an unforgettable experience that we will all look back on together with a smile.
Claudia Padman and Natasha Whitmont Year 8 students
SHAKESPEARE'S WORLD
93
Immersive Learning Year 8
Year 8 students participated in a two-week program where they were immersed in a variety of experiences throughout Sydney. City Experience was an unforgettable adventure that enabled Year 8 students to explore the city and its surrounding suburbs with a focus on sustainability. As part of the experience, we were responsible for navigating themselves around Sydney on public transport to areas including Bankstown, Bondi Junction, Barangaroo, Flemington and many more. Over the two weeks, our confidence and independence grew as we became more familiar with the city and the transport system.
The girls participated in a wide range of activities, from volunteering at Second Bite Kitchen, and enjoying the delicious food in Bankstown on the Taste Tours to participating in a scavenger hunt in the City. Through each activity, Year 8 girls developed their understanding of globalisation and sustainability
in Sydney. Over the two weeks, we observed, collected data and thought critically about our final product. During the final two days of the experience, we collaborated with our peers on a project to promote sustainability in Sydney.
and it was wonderful to see the Year 8 MLC School community come together for the evening to celebrate their daughters' hard work.
STUDENT TESTIMONIAL
'We have seen a diverse range of culture throughout Sydney and have been able to learn about how there are many ways to help Sydney become a more sustainable and enjoyable place, for us and for the future of our world. Thank you to all the teachers for allowing Year 8 to participate in City Experience; we have a better understanding of how to spread awareness and to act on the issues of waste, consumption and sustainability.'
The Presentation of Learning evening was a great success. The Year 8 girls took great pride in presenting their projects to their parents and families and explaining their vision for a sustainable Sydney. The Oz Harvest food truck provided a delicious meal for everyone
Briar Campbell, Isabella Chapman and Madison Clemens Year 8 students
'Over the two weeks, their confidence and independence grew...'
CITY EXPERIENCE
94
Immersive Learning Year 9
Year 9 MLC School students at Broken Hill stay in cabins, shop, cook, clean and make do. Accompanied by teachers, students experience life through a different lens. Emily Fitzgerald documented her Silver City visit.
DAY 1
Underground explorers: MLC School students in Broken Hill.
Our Broken Hill adventure begins with a 6.30am train from Strathfield. I can't wait to get on the train that will transport me away from everyday classroom subjects. Ahead of me are two weeks of no bells, no assessments and no homework.
DAY 2
At Bells Milk Bar, a South Broken Hill institution.
We arrive late on Monday night, so when I wake the next morning and step outside, I'm surprised to see a dry desert landscape in all directions. The only notable object on the horizon is the Line of Lode Miners Memorial, the place where for years miners worked to extract ore from underneath the town. We explore the city in minivans driven by our teachers, eventually making our way up to the memorial. The site has panoramic views over Broken Hill, but it's also quite sad because it's a reminder of all the lives lost over years of mining a natural resource.
At dinner we host students from Broken Hill High School and play a game of trivia.
DAY 3
We drive about three hours from Broken Hill to Mutawintji National Park where we bush walk with a group of Aboriginal tour guides. The guides say Mutawintji is defined as a place of green grass and waterholes. We are deeply impressed by this spiritual place and fascinated by the stories shared with us by the guides.
DAY 4
We visit School of The Air, which educates primary school children who live in rural and isolated areas. The school used to educate students via radio, but now they use a satellite-delivered internet connection and video calls. In the afternoon, we head to the base of the Royal Flying Doctor Service (RFDS) at the airport. We watch an empowering video about the RFDS and what they do and are given a tour and see their planes from a viewing platform. We get to witness one landing, which is awesome. Outback people really depend on the RFDS and I realise how lucky we are in the city to have doctors so close by.
DAY 5
At Broken Hill High, it's all about sheep wrangling on the school's agricultural farm, as well as driving a tractor. Later in the day we do some service learning at the local cemetery where we rake piles of leaves to make way for a new garden. It's a lovely experience as we're doing good for the community and it makes us feel good.
DAY 7
We attend a service at Broken Hill Uniting Church where I enjoy speaking with the elderly and locals as they are all very compassionate towards us MLC School girls. Some girls take part in the service by doing a reading from the Gospel, lighting a candle and singing a beautiful rendition of Amazing Grace. Our cooking skills have improved during our time in Broken Hill, so we bake morning tea and offer our treats after the service. Later on, we head to Bells Milk Bar, a retro milk bar and diner. Everyone is keen as the locals and others have raved about it. I order an original vanilla milkshake. Superb! In fact, the best ever.
Overall, going to Broken Hill has been an amazing experience, just indescribable. I can't thank the teachers and girls in my group enough as the trip wouldn't have been the same or wouldn't have happened without them. I loved meeting new people.
Emily Fitzgerald Year 9 student
'We are deeply impressed by this spiritual place and fascinated by the stories shared with us by the guides. '
BROKEN HILL
95
Immersive Learning
Year 10
The adventures and inspiring stories about Chiang Mai are relayed each year by the Year 10s; however, the true thrill and rewarding experience are not fully understood until you are yourself within the country, interacting with the locals.
Consisting of a week of service in a rural village and another of cultural immersion, the trip was unanimously agreed to be an unforgettable (once in a lifetime) experience. Every girl and teacher found the week of service intensely rewarding and so service week became the highlight of the trip.
CHIANG MAI
including concreting, painting classrooms, packing dirt, building brick walls and teaching the children. The most common task was concreting. Every girl took her turn mixing the necessary ratios of rocks, sand, cement powder and water, and we made significant progress over the course of a day. At the end of the day, we would return to our accommodation covered in cement, exhausted and a little sunburnt but with an amazing sense of fulfilment and a greater perspective.
All of these experiences helped us to understand and appreciate cultural diversity and the differences between Australia and Chiang Mai.
Our routine during service week began at 7am. We woke up with the sunrise and then had an immensely satisfying breakfast, prepared by one of the local families. We then headed off to the primary school. While at the school, we were tasked with a range of activities
The other half of the trip was spent immersing ourselves deeply in Thai culture. We had unique opportunities to learn everything the community had to offer. We had an insight into a hill tribe village, where we could see their great sense of community despite being isolated from major cities and being financially disadvantaged. We had the opportunity to visit local markets, where we got to try the famous Thai Milk Tea and collect ingredients for our Jungle Cooking Classes. We also learnt the beautiful art form of traditional umbrella painting, watched authentic performances showcasing the Thai culture, learnt traditional Thai boxing, also known as Muay Thai, and all became certified in Basic Thai Massage. An unforgettable experience during this week was going to an elephant sanctuary where we got to meet, feed and wash the elephants.
Our sense of camaraderie and the strength of our friendships helped to create a positive atmosphere throughout the trip, and we developed our resilience and ability to compromise. Over the course of the two weeks, the groups worked together to haul teams of 12 people over a three-metre wall without any tools, navigate the Thai markets and cycle on the quiet roads of the countryside.
Andre Gide, winner of the Nobel Prize for Literature, once stated, 'Man cannot discover new oceans unless he has the courage to lose sight of the shore'. Whilst we did indeed lose sight of the Australian shore, every individual developed the courage to embrace the unique and unforgettable experience of Chiang Mai, despite the vast differences in lifestyle compared to our lives in Sydney. It is this philosophy that we hand over to the girls going to Chiang Mai in 2019: soak up every experience, live in the moment and be brave.
Ellena Hartzenberg and Amelie Roediger Year 10 students
'All of these experiences helped us to understand and appreciate cultural diversity...'
96
Careers
'Whether by removing,improving or creating jobs,technology is reshaping the future of work in Australia.There are plenty of jobs that didn't exist 10 years ago yet are now commonplace –Uber drivers,app designers and social media managers have all become legitimate professions,all stemming from the advancement of the smartphone. Predicting what technology will exist and how it will impact the workforce isn't an exact science.' Ross White, Head of Data and Analytics, Good Education Group.
CAREER CONVERSATIONS
On International Women's Day this year we held the first of our 'Career Conversations' Series talks. The first talk was Women in Property and Construction Management
Alison Mirams, CEO of the tier one construction firm, Roberts Pizzarotti, shared her passion for the industry and her enthusiasm for opportunities available to women. She recounted her transition from MLC School to a university course where the majority of students were male.
A recent UNSW graduate, Simona Henley, worked as the Project Co-ordinator for Lipman Constructions on the new Senior School building at MLC School. She discussed the skill set that led her to an interest in Construction Management. Organisational skills, creative thinking, and the appeal of variety in the role, and a constantly changing work place attracted her.
Both Alison and Simona remarked that one of the most satisfying parts of their job, was to see the finished product and know that they played some part in its construction.
The second 'Career Conversations' featured Women in Media and Communications.
Our guest speakers were MLC School Old Girls, Amanda Shalala (2003) – ABC Grandstand TV/Radio, Lucy Cormack (2009), Sydney Morning Herald, and Alicia Vrajlal (2009), Yahoo 7, Entertainment Director. They shared some interesting insights and experiences in their careers.
The Conversation Series provided a wonderful opportunity for students to hear from, and interact with, this talented group of women. Many students have been able to arrange work experience as a result of meeting the girls.
WORK EXPERIENCE
The Fourth Industrial Revolution requires employees and graduates to come armed with more than just qualifications. Problem solving, critical thinking, team work and work integrated learning experiences are highly desired.
Work Experience gives our students an opportunity to look at study and careers beyond school. This year the 166 placements were in a wide range of industries and locations. The logistics of planning their own travel and Sydney's transport system, meeting professional workers, planning their lunch and an appropriate wardrobe, are all important skills they developed – some for their first foray into the working world.
Several girls took part in the Burwood Police program, where they were shown many different opportunities for a career in policing – from Sydney Harbour with the Water Police, Polair, Driver training and the Training Academy in Goulburn. Whilst on her placement at Whimn (News Corp's online platform), Emily Hunt wrote an article that was published and picked up by the New York Post!
and Angie Xu were two students who worked on site at the new Senior School Building at MLC School, and had a wonderful time.
CAMPUS TOURS
This is an annual event, and this year we broadened the number of different universities to cater for our student's interests. The Campus tours took us to University of New South Wales, University of Technology Sydney, the University of Sydney, the University of Notre Dame, Western Sydney University and Australian Institute of Music. Students had an opportunity to choose different workshops within each University where they learned about new courses, as well as more traditional vocational courses such as, Creative Intelligence and Innovation, Data Analytics, Design and Law. This provided an insight for our new Year 11 students into the different University environments and the innovation that is happening in some faculties.
STEM areas, including Health and Medical, Astrophysics, Cardiac Research, Optometry, VET Science and Dentistry are always popular. Several girls visited workplaces in design and architecture, and on the rise is project construction management (which was highlighted in last year's Careers Conversations breakfast). Tia Niemann
MINI US UNIVERSITY EXPO
In addition to our annual Careers and Tertiary Expo, we invited a group of US Universities to our campus for a mini Expo. This provided a great opportunity for students to access first-class Universities which they'd otherwise would not be aware of – University of South Carolina, Fairleigh Dickinson, University of Colorado, University of Hawaii, University of Buffalo and Fordham University (NYC)
Mrs Loretta Toole Head of Careers andAcademicAdvising
97
Dance, Drama and Entertainment (DDE)
Drama, Dance and Entertainment equals = Dynamic Experiences and Learning!
2018 has seen performance and entertainment at the heart of an outstanding, action-packed year for the DDE Department. The Performing Arts are a special form of learning, which engage our students holistically and develop their talents, abilities and confidence. In Dance, Drama and Entertainment, students participated enthusiastically and energetically, learning by experiencing each activity, not just reading about them.
The highlight for Drama was our annual Senior School production, Emily and the Detectives, that involved over 50 students, including boys from Newington College, as cast or crew. We sold out over four nights and had many great reports about the show. The positive power of young people was celebrated in the play; the characters are resourceful, bright, resilient and generous, just like our own girls. In the play, whether they are rich or poor, children shine a light of optimism from which we can all learn. We used the skills of our Entertainment students; they crewed the show, as well as constructing and painting a great set incorporating a tram/train and illuminated LED flats, to create the different locations. The crew
looked after over 100 props, complicated costumes, front-of-house, ticketing, lighting, sound and audio.
Students from Year 11 Drama and IB Theatre produced the challenging play, The Visit, in our drama theatre. The play has elements of the absurd and black comedy in its performance style, as human greed is satirised. The play is full of questions and the audience was asked to consider, 'What is the price of a human life?'
Our curriculum classes had a great year characterised by excellence. Our Year 12 Drama class had five individual performances or projects and a Group Performance nominated for OnStage, the showcase of outstanding HSC Drama works. Four different projects were nominated for HSC Callback, the showcase of outstanding Dance works for the 2018 HSC. These are outstanding achievements for our girls.
Our three Year 9 Drama classes presented creative showcases of their work in playbuilding on the Year 9 Drama Night, looking at issues that affect young people today. Our girls participated in a range of diverse workshops across the curriculum such as comedy, commedia and circus skills and physical theatre, and went on some stimulating excursions.
At MLC School we have two classes of Year 11 and two classes of Year 12 Entertainment, a Vocational Education and Training subject offered by NESA, which gives students a workplace credential at the end of the course. It counts towards an ATAR like any other subject. Our students undertake practical and theoretical work across all sectors of the entertainment industry. They constructed the sets and crewed the performances of our annual Dance Showcase and Wakakirri events at NIDA in a professional theatre and won Best Backstage Crew on the evening. Indeed, they trained at NIDA attaining a White Card, a construction induction certificate, and attended an audio and vision masterclass at Southern Cross College. In contrast, they organise and manage a range of different events across the School to practise their skills such as Careers Expo in the Daphne Line Hall with over 50 exhibitors, Kindergarten –Year 2 Twilight recital and Rainbow Week.
So, as the house lights fade and the curtain falls on 2018, all students and staff of DDE can take a bow to a welldeserved round of applause! We look forward to the next show.
Ms Lisa Jinga Head of Department – Dance, Drama and Entertainment
98
'Books and doors are the same thing. You open them,and you go through into another world. '
Jeanette Winterson
The importance of reading cannot be emphasised too strongly. Jeanette Winterson knew what she was talking about; like doors, books open us up to new ideas. They expand our horizons, introduce us to different perspectives, and help us develop empathy. In recognition of the value of reading, the English Department continued our partnership with the Library to encourage all of our students to become regular readers. The Head of Library, Louise Piggott, and librarians Michelle Olah and Lauren O'Donoghue worked collaboratively with teachers in Year 7 to Year 12 to further develop our wide reading program. Students in Year 7 to Year 10 had a regular wide reading lesson which developed the unit being studied, challenging them to read genres they may avoid, for example, science fiction with Year 8 as part of the 'Different WorldsFuture Visions' unit or non-fiction with Year 9 as part of the documentary study 'Reel Life'. The aim of the wide reading program is to encourage our students to see the value of regular reading to develop both their pace of reading, as longer and more difficult textual analysis is required in the Senior School, and of course, to develop a wide and varied vocabulary to enhance their own writing. We are grateful for the library staff's ongoing support in helping us achieve this goal.
In 2018, six of our HSC students completed the challenging Higher School Certificate English Extension 2 course under the guidance of Ms Carmel Cordaro, Mrs Elizabeth King and Ms Deborah Moir. These students composed a wide variety of Major Works, including critical essays, short stories and a short film. This course is an incredibly demanding one; it requires students to stretch themselves both critically and creatively. It is also one of the most rewarding courses as it allows students to immerse themselves in a topic of interest over twelve months. This year, one of our 2017 Extension 2 students, Isabella Suckling, had her Major Work chosen for publication in the YoungWriters Showcase anthology.
This anthology gathers together some of the most extraordinary Major Works submitted for the HSC English Extension 2 course. Her story explored the ways self-justification can be used as a means to absolve oneself of unethical acts. It is an outstanding piece of writing and we are thrilled that Isabella's achievement was recognised.
Dialect) students were privileged to see a production of The Shoe-Horn Sonata, one of the prescribed HSC texts, earlier in the year. Not to be outdone, the Year 11 IB girls enjoyed a moving performance of Top Girls at the Sydney Opera House. We also welcomed the company Poetry in Action back to MLC School; they presented an engaging and thought-provoking performance that introduced our Year 7 students to the
The English Department at MLC School are firm believers in the value of collaboration. To that end, we programmed lessons in which teachers join classes to ensure that students hear a variety of opinions and have an opportunity to work with a range of others. This year we seized on the opportunity to facilitate collaboration between Senior HSC and International Baccalaureate students.
We programmed for both groups to study the poetry of Thomas Hardy, which meant students across both courses could join forces and share their ideas. We brought the year group together with a 'Marketplace' activity, which was set up with small groups of HSC students taking ownership of one poem and sharing their expertise with IB students at their 'stall'. The Year 11 IB students had the opportunity to return the favour by sharing their expertise on Margaret Atwood's The Handmaid's Tale later in the year.
There were numerous immersive learning experiences for our students this year; theatre excursions are always among the highlights. The Year 12 EAL/D (English as an Additional Language or
The many developments around curriculum development introduced by NESA have seen the faculty undertake a rigorous program of professional development. We attended numerous courses and spent months planning and programming our senior HSC courses in order to provide our students with the best chances for success. The English Department staff threw themselves into this challenge with enthusiasm, spending long hours reading everything we could get our hands on so as to make the most effective choices when writing our new programs. Some of the interesting additions include the study of Kurt Vonnegut's novel Slaughterhouse-5 and George Orwell's essay Politics and the English Language. It is always encouraging to see the depth of engagement students have with new texts; there were some very passionate discussions about the merits of these works.
With Ms Jane Wang and Mr Benjamen Haeusler taking parental leave throughout 2018, we welcomed a new addition to the English Department. Ms Olivia Takacs joined the faculty, bringing a wealth of experience with her. We also welcomed back Ms Rachel Alice, who has been sorely missed during her time away from MLC School on parental leave.
It is often easy to become anxious in times of change, and 2018 has seen many changes; however, with careful planning, thorough preparation, and the dedication of their teachers, I know that our students will continue to develop a lifelong love of learning.
Deborah Moir Acting Head of Department – English
Isabella Suckling
English
99
History
While History is about the past, it is also the beginning of the future. Our Year 12 students at the end of 2017 achieved the reward for all their past study and effort as a foundation of their future. Both the HSC and IB results were outstanding. From a class of 17 students of Ancient History, 65 per cent gained a mark above 90 per cent. Congratulations in particular to Navini Fernando, April Guest and Anastasia Hatzisarantinos who attained a result of 96 per cent. As their teacher, I was so impressed by their collaborative approach to work in Year 12 and their willingness to support each other. This approach was shared by Modern History classes with 90 per cent gaining a result above 80 per cent. Congratulations again to Anastasia Hatzisarantinos for gaining 94 per cent. Similarly, the Extension History students all excelled, with 100 per cent achieving results in the top two bands. All students should be proud of their examination results; their many years of study as well as well their engagement in the broad range of co-curricular and sporting activities at MLC School, have equipped them well for the future.
For the International Baccalaureate students in particular, the range of topics to study was vast. Negotiating a new syllabus was truly a challenge for students and for me as a teacher as well. However, it gave us the opportunity to study topics from Medieval Europe through to the breakup of the Soviet Union. A study of Genghis Khan was new to all of us and was a particularly memorable learning experience. The students rose to the challenge, sharing resources and practice
responses as well as eagerly participating in extra holiday study days in order to perform at their best. As a result, five of the 10 students gained a Grade 7 and four more gained a Grade 6. Their efforts have certainly paved the way for their future.
the History Department in the teaching of Modern History and the initial introduction of IB History at our School. Her expertise and willingness to share this were of great benefit to us all. The departure of Ms Angus has had its silver lining in the arrival of Dr Berry. She has quickly earned the respect of her peers and, most importantly, her students, due to her extensive knowledge, efficiency and rapport with the girls.
Therefore, 2018 has truly been a year of transition from the old to the new and a bright future is guaranteed due to the efficiency and interest of teachers who are looking forward to utilising the new building and telling wonderful stories about the past.
The beginning of 2018 brought exciting new challenges for the History staff and students. Both Ancient and Modern History had a new syllabus, which in many instances meant 'out with the old and in with the new'. In particular, this meant the end of World War 1 as the Core study for Modern History and the end of my own favourite topic, Bronze Age Mycenae. However, as always, the end of one thing is the beginning of something new and all of the History staff have enjoyed the opportunity to engage as active learners with the new topics. The History Tour this year included Crete and Berlin which contributed greatly to student and teacher understanding of new topics in Ancient and Modern History.
The greatest example of change is highlighted by the retirement of Lesley Ann Angus after 20 years at MLC School. She made tremendous contributions to
Mr Peter Klamka Head of Department – History
The talented IB History class of 2017 providing a farewell.
Students working beyond the classroom
'2018 has truly been a year of transition from the old to the new.'
100
Human Society and Its Environment (HSIE)
HSIE (Human Society and Its Environment) is a broad set of academic disciplines which aims to teach students to question and understand their world by bringing together primary fieldwork and secondary research skills within a particular conceptual worldview. At MLC School, HSIE includes the subjects of Business Studies, Commerce, Economics, Geography, Psychology and Studies of Religion. The understanding and perspective that HSIE enables are highly valuable for young people in addressing the major contemporary challenges that humanity faces, such as global conflicts, widespread ecological unsustainability and massive spatial inequality. Furthermore, HSIE subjects prepare students for a very wide range of post-school careers or academic courses of study.
for our disciplines throughout 2018. Some HSIE subjects, such as Geography, readily cohabit the STEM learning movement where IT capabilities can be easily integrated to foster research skills and facilitate communication in highly innovative and creative ways. To explore this frontier, we began to incorporate drone technology into senior Geography classes as an exciting new fieldwork device.
The HSIE Department also developed its repertoire of excursion activities to engage our young learners in the real world. In 2018, the religion teachers organised a tour of religious places of worship to investigate how faith shapes the ethics and architecture of three distinct religious traditions. The Year 11 Geography girls visited the Blue Mountains to conduct fieldwork on biophysical interactions and the management of bushfires. Our Year 9 Geographers pushed beyond their usual worldview by visiting Auburn to investigate how immigration and population growth contribute to the changes seen across urban Sydney.
skills in marketing. We also explored opportunities to engage with industry experts by visiting the Sydney Fish Markets to learn about the aquaculture industry. A select group of MLC School students also visited ABC's Q&A program to participate in democracy in action. Two girls, Yijun Cui and Atoufa Mohanna, were even invited by presenter Tony Jones to ask their insightful questions live on air. They were, quite possibly, the two most articulate audience members of the evening. These are just some examples of how 21st century pedagogical concepts are changing the way students learn in HSIE.
While the HSIE Department is proud of its academic achievements in formal examinations, we were thrilled to learn that three MLC School girls this year (Cynthia Hu, Ruby Guminski and Jessica Song) earned results placing them in the top 1 per cent of the nation. 37 girls also gained a High Distinction and 44 gained a distinction. Our congratulations are extended to these and all girls who participated and strived to achieve their best. Hopefully 2019 will be an even more exciting year in the HSIE Department.
The HSIE Department continued to explore new ways of engaging and motivating students in their learning and passion
This year, HSIE continued to incorporate a range of authentic learning experiences to connect our subjects to real-life applications. For example, the Year 10 Commerce girls held their annual trade show to demonstrate their newly acquired
Mr David Latimer Head of Department – Human Society and Its Environment (HSIE)
'...teach students to question and understand their world...'
101
HSC and IB Report
This year, the International Baccalaureate Organisation celebrated 50 years of educating young people. Founded in Geneva, it started in 1968 with seven schools. The aim of the organisation was to equip young people with the skills, values and knowledge to build a more peaceful future. The challenge was to create an academically rigorous education system, with a leaving qualification accepted by the best universities around the world.
The first official examinations were launched for the Diploma in 1971, undertaken in either English or French. Spanish became the third official IB language in 1983. All Diploma Programme students study a language acquisition subject, Mathematics, Science, Literature and a Humanities subject. The IB offers diverse subjects such as Philosophy and Social and Cultural Anthropology.
Meanwhile, in 1968, the HSC was celebrating its second cohort of graduating students. When the HSC was first introduced, only 18,000 students completed the examinations with 28 subjects offered. 90 per cent of students completed Mathematics, while 33 per cent, studied French. The Art examination included a three-hour practical examination.
aimed at building a stronger HSC by supporting minimum standards for all students, regular syllabus reviews, refinement of assessments, redesign of HSC examinations to examine depth and application of knowledge and the introduction of new courses such as Extension Science, which will have an online examination.
Both the HSC and Diploma Programme are dynamic and extensive education programs, seeking to educate young people from diverse social and cultural backgrounds, so that students are prepared for their future and the opportunities presented to them.
Mrs Anne Layman Director ofTeaching
The current HSC structure dates from 2001; however, changes are in place,
'Both the HSC and Diploma Programme are dynamic and extensive education programs...'
102
Languages
MLC School prides itself on nurturing students to become global citizens and preparing them for life beyond the classroom walls. Learning a second language is at the heart of this journey; speaking someone else's language undoubtedly creates a deeper sense of connection. When we learn languages, it is more than just words; we learn about people, cultures and history and see the world through other people's eyes.
2018 was another busy year in the Language Faculty. At the start of the year, a group of senior students returned from a highly successful French exchange to Toulouse. They spent four weeks in the south-west of France exploring iconic places around Toulouse, followed by a cultural week in Paris discovering all the delights that this beautiful city has to offer. Our students stayed with French families, and were not only immersed in the French language, but also built lasting relationships with the people with whom they stayed. We had eight students who departed once again in December, accompanied by Mme Tormey and Prof Tagliabue.
Our Year 8 students continued our tradition of raising money to sponsor students at the Starehe Girls' Centre in Kenya through our annual Spell-a-thon, this time raising over $5,300. The spelling workshop to prepare for the competition,
required the students to trial and evaluate different learning strategies for vocabulary acquisition. It is an excellent example of how students are encouraged to use language to work collaboratively and to reflect upon their learning methods, whilst participating in a service activity to enhance the lives of others.
Year 12 students attended various HSC workshops at Sydney University, SCEGS Darlinghurst and the Nihongo Tanken Centre to help consolidate further the skills required to handle the various components of the French and Japanese examinations.
This year there were many individual successes, including five students who participated in the State NSW Japanese speech contest. Vicky Feng was the recipient of the prize for the High School Senior Division National Winner and Teagan Truong was the Wakaba Division Winner. Japanese students also participated in the Video Matsuri Film Contest and the Japan-Australia Relations Essay Contest.
Languages Day 2018 was a vibrant, colourful day of culture and language and, of course, food! Activities ranged from energetic Tyrol and Italian dancing classes, to French story-telling and theatre, a Japanese obstacle race, an Indonesian show, French and Chinese cooking, Chinese drums, Kung Fu and paper-cutting and painting. This was all topped off with a delicious lunch that showcased various cuisines from around the world and satisfied the appetites of nearly 600 hungry students!
Finally, the Language Faculty would like to congratulate the graduating class of 2018. We hope that you have enjoyed your language learning at MLC School and that we have helped to foster in you a life-long interest in language and culture.
Ms Louisa Macdonald Head of Department – Languages
'Language is the blood of the soul into which thoughts run and out of which they grow.'
Oliver Wendell Holmes
104
Mathematics
One of my favourite quotes about Mathematics is 'Mathematics gives us hope that every problem has a solution'. I think it captures nicely the idea that Mathematics is not just about producing numbers, it is also about how to systematically approach a problem and (hopefully) reach a satisfying solution. In this way Mathematics teaches us the very important skill of logical thinking, and in the process shows us the fulfilment of finding elegant solutions. Importantly, Mathematics also teaches us perseverance, that is, the resolution to keep tackling a problem even after multiple mistakes and failed attempts. And, if you still can't solve the problem, Mathematics teaches us that help is always just around the corner in the form of teachers.
Indeed, my mathematical journey would not have been possible without the constant guidance and encouragement of the Mathematics teachers at MLC School. I have always enjoyed problem solving, and in Year 8 I was first introduced to competitions such as the MCYA Challenge and the AIMO. These competitions opened my eyes to a whole new level of Mathematics and problem
solving that built on what I had learned at school, and further piqued my interest in Mathematics. And the fun certainly didn't end there. When I began the IB Mathematics course in Year 11, I was struck by the highly stimulating nature of the content, which had a strong focus on developing creative solutions to problems.
entering Year 11 and Year 12, I have appreciated the relevance of Mathematics to a wide range of subjects, including Chemistry, where concepts are reliant on mathematical formulae, and Psychology, with its heavy dependence on statistics, not to mention the Theory of Knowledge course where the study of Mathematics is a much-loved topic of discussion.
Mathematics at MLC School certainly has a significant presence. Towards that end, when it comes to the mathematical learning and opportunities that we receive, the limit does not exist!
Vicky Feng Year 11 student
My Mathematics teachers have all been passionate in teaching this subject and have patiently provided wisdom and support. They have been a great influence and have inspired my academic curiosity.
For all its merits, Mathematics may sometimes seem like a stand-alone subject with few links to other areas of study. That, however, is as much a myth as complex numbers are imaginary. Since
'...Mathematics teaches us the very important skill of logical thinking...'
105
Music
MLC School's mandatory and elective classes had an exciting year of curriculum. The principles of Zoltan Kodaly underpin all of our music teaching and are consistently linked with both the mandatory classroom and year choir program. Whilst the NSW Education Standards Authority (NESA) Stages 4, 5 and 6 are a mandatory requirement, both the Middle Years Programme (MYP) and International Baccalaureate (IB) Diploma Programme offer dynamic alternative teaching philosophies which help support the relevance of a quality music education in the 21st century.
Highlights of the music teaching programs in Year 6 to Year 12 are listed below.
MIDDLE YEARS MUSIC PROGRAM
Year 6 – Our World through Music, Australian Made, Space and Time and Music Awards.
The Space and Time unit presented students with the opportunity to create a whole class composition in which each planet is depicted through music.
Year 7 – What is Music? Instruments of the Orchestra, Jazz and Music Awards
The ever-popular graphic score as a response to an Australian Indigenous narrative began the course. Instruments of the orchestra involved the students composing for an orchestral instrument, while Jazz asked students to 'Dare to be More' through learning the art of improvisation.
Year 8 – Back to the Future, Middle Years Concert, Film Music and Music Awards
Back to the Future identifies and forges links between contemporary music and some of the best loved classical pieces. Film Music offered all girls a chance to create a score using music technology.
Year 9 – Baroque Music, Music for Small Ensembles, Australian Music (Broken Hill Focus) and Musical Theatre
The Australian Music (Broken Hill Focus) unit was based around two activities – a Soundscape composition (using sound
samples collected by the students during their two weeks in Broken Hill), and an extensive student-led project in class (based on a variety of Australian Music).
SENIOR YEARS MUSIC PROGRAM
Year 10 – Music for Large Ensembles (Opera), Music Technology and Music of a Culture, Australian Music, Popular Music, Boot Camp – Concepts of Music and terms and definitions
Year 10 girls commence the course in Term 4 by working with Opera Express. This is an opportunity for the girls to write and perform their own opera (as a group), including all the associated elements of putting on a production. In Term 1, the Year 10 students' community project in Thailand's Chiang Mai became an outlet for them to explore ethnomusicology, and develop an appreciation for this country's rich artistic culture. Australian Music and Popular Music form the rest of the Year 10 course. In Term 4, with the preparation for Year 11, a revision 'Boot Camp' unit ensures that the girls are properly prepared for the advanced study of music.
Year 11 – Music 1, Music 2 and International Baccalaureate
The topics and music studied in this stage of an elective music student's journey are wide-ranging and relevant to the selected course. MLC School's Australian Music Day (AMD) this year covered a wide spectrum of music ranging from hip hop to chamber music. Students from schools across Sydney joined us to hear live
performances from professional musicians and learn about the creative process in a workshop setting, with the opportunity to write their own music, hear it performed live and receive expert feedback. The program for Music 1 students focused on songwriting, presented by Aboriginal/ Filipino hip hop artist and jazz drummer Rhyan Clapham and award-winning pianist, conductor, composer and educator Sally Whitwell. The program for Music 2 and IB students featured Elena Kats-Chernin's The Spirit and the Maiden for violin, cello and piano, performed by the Sydney Symphony Fellows, Matthew Hindson's Scenes from Romeo and Juliet for saxophone quartet, performed by Nexas Quartet, and Rosalind Page's Being and Time II:Tabula Rasa for solo piano, performed by Zubin Kanga.
Year 12 – Music 2 and International Baccalaureate
As this is the culmination of each student's elective music program, inevitably the final result can affect their opportunities post-school. Conscious of our responsibility in this regard, the Music Department has worked in developing the program to ensure that in all aspects of the course the girls are able to realise their full potential.
Performance and composition workshops are now a regular teaching tool, and within a collaborative and supportive environment the girls are positively guided to reflect on and improve their work.
Mr James Allington Director of Music
106
Personal Development, Health and Physical Education (PDHPE)
I would like to congratulate the HSC class of 2017 for their PDHPE results. The girls worked consistently throughout the year to consolidate and apply their knowledge. I particularly congratulate the following girls who achieved the top results in the PDHPE cohort: Alice Patterson, Lily Soliman, Victoria Michael, Brittany Duncombe, Lauren Barclay, Sarah Wellfare, Phoebe Hunter Mole and Laura Laman.
2018 was a busy and rewarding year for the PDHPE Department. We continued to develop innovative programs and engaging opportunities to enhance the students' understanding of what it means to maintain a healthy and balanced lifestyle. It was an exciting time as we prepare to implement a new Kindergarten to Year 10 PDHPE syllabus for 2019 and beyond.
through an interactive virtual t-shirt and app, which allowed them to see how the body works in a unique format. They also explored how to maintain positive relationships and developed their conflict resolution skills in Health lessons.
Year 7 and Year 8 increased their understanding of how to create a healthy and balanced lifestyle through studying the dimensions of health and their impact on positive health behaviours. The girls developed their athletic skills on the field, movement sequences through gymnastics, teamwork skills through synchronised swimming, as well as their hand-eye coordination in a series of net games.
Year 9 tackled a new adventure when they played AFL (Australian Football League) for the first time. They loved learning a range of new skills on the field and applying them in a series of round-robin games. During Health lessons, students critically inquired about health issues affecting young people in Australia today, including body image and mental health.
their knowledge of Australia's Sporting Identity, tried their skills at golf and investigated the various uses and impacts of technology in sport.
The Year 10 PASS students completed their Level 0 Coaching Certificate and led the Year 9 students through various training sessions across a range of sports. Additionally, they learnt snorkelling in the School pool and then had the chance to transfer those skills to the surf at Manly Beach, where they completed their Level 1 Surf Awareness course.
The Junior School PDHPE teachers delved eagerly into the new syllabus. The previous Kindergarten to Year 6 PDHPE syllabus was released in 1999 and life has changed a lot over the past 20 years. The Junior School students continued to develop their fundamental skills and coordination through their Physical Education lessons and learning experiences. The programs developed their skills and abilities across a range of activities including swimming, dance, gymnastics and game play. The use of technology was evident when Year 6 investigated the various body systems
Year 10 engaged in an integrated unit, which focused on 'playing it safe'. In the Health unit they investigated playing it safe in a range of contexts and social settings, whereas the practical component focused on playing it safe in a range of structured sports such as Soccer, Softball and Basketball. They also explored the notion of life beyond school, including employment opportunities, educational possibilities and the importance of embracing lifelong physical activity as part of a healthy lifestyle.
Our Physical Activity and Sports Studies (PASS) elective students participated in a variety of specialised activities. Year 9 PASS girls enjoyed a three-day alpine skiing adventure as part of the Participating with Safety unit where they were involved in a series of instructorled skiing lessons. They also increased
Our Year 11 and Year 12 students embraced their Senior School PDHPE studies. The Year 11 students completed their First Aid course and increased their understanding of how the body works. The Year 12 students learnt about nutrition and dietetics with MLC School Old Girl and guest presenter, Holly Edstein. They also had the opportunity to attend a fantastic PDHPE course at the Wesley Mission Centre. At this conference they consolidated their knowledge of the Core topics and Options studied as guest speakers linked their own knowledge and experiences to the syllabus content.
I am particularly grateful to the PDHPE Staff in the Junior School – Ms Julie Alimpic and Mrs Michelle Hiss – who provide an engaging and nurturing learning environment. I also thank the Senior School PDHPE staff – Mr Wayne Donley, Mr Gavin Starr, Mrs Claire White, Ms Jane Ferguson and Miss Sarah Papachristoforou – who continue to provide our girls with opportunities which challenge them and enable them to embrace their individual abilities. Their commitment and enthusiasm allow our gilrs to flourish in PDHPE and become lifelong learners.
Ms Olivia Nolan Head of Personal Development,Health and Physical Education (PDHPE)
107
In her Australia Day address for NSW in 2017 Professor Michelle Simmons, Australian of the Year, spoke about the importance of setting high expectations for students. She made it clear that Australians need to set the bar high and tell their students they expect them to jump over it. She said, 'It is better to do the things that have the greatest reward, things that are hard, not easy.'
Students at MLC School are encouraged to set the bar high, to push themselves and to make a difference in the world around them. The things that have the greatest reward are the things that will elicit positive and exciting changes. Through the NESA and IB courses students become resilient in solving difficult tasks and utilising critical thinking skills to solve problems through reflection, analysis and collaborative work. Students learn to research ideas and are challenged to further develop their knowledge by designing investigations and developing practical skills. In this way, they learn to observe, question, explain and provide scientific reasoning for different phenomena. The Science courses also have a strong focus on interdisciplinary ideas and cultural contexts which enable the students to form a holistic view of the world and the place of Science in all aspects of their lives. The new Extension Science course running in 2019 is full of possibilities and ideas, and the girls can in fact Dare to be More!
The wonderful thing about Science is the fun and creative practical activities which are part of our lessons. From Year 7 dissecting squids to examine the internal structure, Year 8 simulating 'making poo'
to observe the functions of the digestive system, Year 9 making a working lemon battery to see the concepts of electrical currents and Year 10 throwing objects off the building to develop an understanding of motion, the practical investigations lead to tangible studentcentred learning, whereby the girls are engaged and motivated to take ownership of their learning.
The Science courses take the girls out of the classroom and into the real world where their knowledge can be applied and utilised. Year 7 visited Taronga Zoo and used their observations to consider the social, moral and scientific role of zoos; Year 8 took a day trip to explore the saltmarshes and mangrove communities at Towra Point. Our Year 10 Conference focused on STEM applications and a number of outstanding presenters, including Professor Merlin Crossley contributed to this annual event. Year 11 Biology students undertook an ecology field study. Year 12 Chemistry and Physics students visited ANSTO and Year 12 Chemistry students learnt how water is treated and recycled at Sydney Water. Several students were awarded credits and distinctions for their participation in the Science Olympiad and ICAS Science competitions. A group of selected Year 9 students attended the L'Oréal Women in Science event. All these opportunities continue to add richness to their study and inspire girls to uncover the beauty and mystery in Science. 2018 also saw the first ever Space Camp where Junior and Senior girls headed to the US to visit NASA. Here they saw actual spaceships, models of space rovers and experienced anti-gravity simulations.
The 2018 Year 12 Science cohort are commended for their outstanding HSC and IB results. Their diligence, cooperation and inquisitive minds led not only to great academic achievements but also to the development of mature young women who will make valuable contributions to our society. Many of our Year 12 graduates will go on to further studies in Science and Engineering and be in jobs that do not yet exist in our everchanging world. Our society will be a better place for them doing so, as they all demonstrated an exceptional capacity to collaborate, support and inspire throughout their studies. I wish them great success in the future and look forward to following their scientific pursuits.
The Science Department welcomed Ms Moore, Ms Schurch and Ms Soliman as new members of the team. The dedication, creativity and collaboration of the Science staff has enabled the development and implementation of the new HSC Science courses which focus on inquiry, analysis, collaboration and links to industry and tertiary institutions. The love of Science is evident in each Science teacher and all strive to inspire this passion and enjoyment in their students. The Science teachers constantly engage in discussions about their classes, their content and evaluate their practice, seeking to provide each student with the opportunities and support she needs. I sincerely thank all the Science staff for their valuable contributions and for their support of Science learning at MLC School.
Mrs Susan Rowley Head of Science
Science 108
Design Art and Technology
(DART)
This year saw the amalgamation of the TAS and Visual Arts Departments to form the Design, Art and Technology Department, (DART). We congratulate Ms Sally Marks and Ms Caitlin White for their appointment as Assistant Heads of DART.
VISUAL ARTS
2018 was another successful year across all subjects within the DART Department. Girls in all years worked collaboratively to develop their creativity, problem solving, communication and critical thinking skills. In Year 6, Visual Arts girls completed an outstanding collaborative mural project. This program was designed to enliven the Year 6 Centre during the construction of the School's new building, as well as link in with the girls' studies in Global Connections.
Visual Arts girls in Year 7 had the opportunity to visit The Archibald Prize at the Art Gallery of NSW, which inspired their own portraits, while Year 8 Visual Arts girls explored how artists respond to the places and spaces around them and created a series of prints based on a trip to the Sydney Harbour Bridge and Luna Park.
Year 9 Photographic and Digital Media girls attended a film-making incursion which expanded their understanding of
how practising film-makers create films using the same methods learned in class. Congratulations to Amelie Roediger (Year 10) and Judy Lin (Year 12), who were highly commended in the 2018 V-Fest Student Film Festival.
The HSC and IB girls worked tirelessly to produce outstanding works. In HSC Visual Arts, Judy Lin had her haunting digital animation work considered for ARTEXPRESS, a selective exhibition highlighting the very best student Visual Arts work. The IB Visual Arts Exhibition was of an exceptionally high standard and the product of two years of investigation into complex ideas, concepts and technical experimentation.
This year was the inaugural 'Illuminate', a student-run, teacher-facilitated initiative, which ran at the end of Creative Arts week in Term 2. Emily Hart, (Year 12), our Art and Design Captain, led a committee of dedicated girls in organising a VIVID-
inspired series of events throughout the week, which culminated in an evening which showcased DART projects from Years 7 to Year 12. Congratulations to Emily and her team for the organisation of what is sure to become a yearly event.
This year we farewelled two members of staff, Ms Emily Turner and Mrs Sujatha Gunja. We welcomed Ms Emily Cribb, an Old Girl of MLC School, who brought a wealth of knowledge, energy and enthusiasm to the department. I would like to personally thank the DART team for inspiring our dedicated girls each and every day, along with the School Leadership Team for their continued support of DART.
Mr Vince Papa Head of Centre (DART)
109
Design and Technology girls researched, prototyped and manufactured solutions to a range of real-world problems. Year 9 explored graphic design and architecture to develop an appreciation for detail and to uncover their conceptual talent. Year 10 responded to challenges of flat pack design to develop exquisite lights, and also investigated the ergonomics of chair design and manufacture. Year 11 developed knowledge and skills in their study of clean industrial technology, creating unique machines in self-directed design projects.
In HSC Design and Technology, girls identified opportunities to address the needs of authentic target audiences in society by developing functioning prototypes, including an upcycled vertical garden doghouse, a solar powered water tank, an architectural project, unique furniture and an innovative take on a beach bag. IB Diploma Design Technology girls investigated design through a scientific lens by directing their own inquiry and problem solving. Projects included an innovative perspective on ADHD, a laptop tray, a comfortable walking stick and a fine-motor aid for children to learn to pour from bottles.
TECHNOLOGY AND APPLIED SCIENCE (TAS)
Year 9 to Year 12 Food Technology girls expanded their knowledge of nutrition, the chemistry of food and the history of food in Australia.
The Information Software and Technology (IST) girls continued to engage with challenging design scenarios to develop a range of solutions to modern-day technological problems. Year 9 designed and developed skills with Python language to solve programming problems. Year 10 worked with vector-based graphics and animation, gained insights into network infrastructure and how to manage their own home network routers, developed their own websites using HTML5 and CSS and worked on independent projects.
The Industrial Technology Multimedia program provided Stage 6 girls with the opportunity to develop industry-standard skills in animation, game, film and web development and design. HSC Multimedia students continued to create exceptional products with supporting documentation. We have continued to be nominated by NSW Education Standards Authority (NESA) for the IIATE InTech Exhibition.
Congratulations to Hanna Woodward for the nomination of her major project.
The Technology program fosters curiosity, problem solving and creative thinking through project-based learning. Year 7 and Year 8 girls applied laser cutting, 3D printing, wood working and textiles techniques to solve unique problems.
Software Design and Development (SDD) provided Stage 6 students with opportunities to continue developing their technical skill in programming.
In Textiles, Year 9 to Year 11 girls used opportunities to master a variety of decoration techniques and to apply the latest in technological practices in digital printing and fabric dyeing to machine embroidery. HSC students produced technically exceptional and creative garments which were based on each individual student's concept.
Ms Caitlin White Assistant Head of DART – TAS
https://www.instagram.com/p/BkkPUSXhP_DdZMyXZIxveD5p3E9oSLx2VNur1c0/[7/12/18, 8:30:17 pm] 110
SENIOR SCHOOL STUDENT LIFE 113
Art and Design Captain
Over the last year, the Art and Design Committee was redefined by its committee members and facilitating teachers. The committee extended its membership beyond students who participate in Art and Design subjects, with the aim of promoting creativity and leadership amongst all MLC School students. For the first time, Art and Design sub-captaincy roles were introduced: Art Captain (Sienna Prowse), Design and Technology Captain (Emily Li), Food Technology and Hospitality Captain (Tayla Cassey), IST/ Software Design Captain (Eva Jessurun), Multimedia Captain (Eleni Charalambidis) and Textiles Captain (Ella Makovec).
In Term 4 of 2017, the Art and Design Committee raised awareness of RUOK Day, Wear it Purple Day and White Ribbon Day through creative expression on the School's outdoor chalkboards. In addition to this, the committee organised the School's first fingerprint mural of the School crest created by a fingerprint from each student from Year 6 to Year 12.
Term 2 of 2018 was certainly the busiest time of the year for the Art and Design Committee. The committee brought back Art and Design Week and introduced MLC Illuminate (an event that was inspired by Sydney Vivid). The event was organised and run by the Art and Design Committee and STEM Club with the assistance of the DART staff members and Science teachers. The Dance Department, Music Department and Junior School were also involved in some of the displays and performances. Illuminate 2018 was a way to bring the School community together – teachers, old girls and extended family – and showcase the wonderful creative efforts of the students of MLC School.
There is no doubt that Illuminate 2018 was the highlight of Art and Design Week. I'm so honoured to go to a school where the facilities and teachers enable our ambitions to become a reality. I am also proud to know that the money raised by our community helped mothers and children who have suffered, or are suffering, domestic violence. We are particularly grateful to Ms Tracy Getts, Ms Caitlin White, Mr Bryce Lindstrom, Ms Pamela McGowan, Ms Robyn Langford, Ms Caitlin Boyd, Ms Emily Turner and Ms Dayna Wilding for all their help with workshops and the night. Thank you also to Ms Lisa Moloney, Mrs Frances Booth and Mr Neil Scotney for allowing this event to happen, and to the maintenance team for being so helpful. We also warmly thank the six Art and Design sub-portfolio captains, as well as Charlotte Seales (Year 11), Catalina Floros (Year 12), Stella Kochanowicz (Year 12) and Crystal Warner (Year 11) for their outstanding help and support during the week.
We are also grateful to all members of Art and Design Committee, Film Club and STEM Club for all the work they did for the displays at Illuminate 2018 Above all we thank three very important people, without whom the week would not have been possible: Ms Emily Cribb, Ms Sally Marks and our Events Coordinator, Mrs Jillian Avramis. Thank you to all the teachers and students who were involved with this week. I hope that the event can become an annual fixture on the MLC School calendar in years to come.
Emily Hart CreativeArt and Design Captain
Emily Hart
'Over the past year, our main aim was simply to encourage all students to embrace their creativity and imagination.'
114
" 1. Cassandra Clare 2. John Green 3. Rick Riordian 4. Sarah J. Maas 5. Morris Gleitzman 1. To Kill a Mockingbird – Harper Lee 2. Three Dark Crowns – Kendare Blake 3. Drama – Raina Telgemeier 4. Nemesis – Brendan Reichs 5. Matched – Allie Condie 17,768 621 53 hrs 2 376 Resources Borrowed Wide Reading Classes Student Research Sessions What was borrowed this year? Guest authors spoke to Students Most Popular Authors Most Borrowed Books Fiction Non Fiction Ebooks Graphic Books DVDs Magazines 126 girls Busiest Lunch Puzzles Completed Book Week A YEAR IN REVIEW 115
Committees
2018 was a phenomenal year for Collective Voice. The student-run committee launched two initiatives this year, plus held the biggest Wear It Purple Day to date. The students from all year groups also managed to find time to keep up-to-date with the latest topics, discussing current social, gender and political issues each week in our lunch time meetings.
The seventh annual Wear It Purple Day at MLC School was a massive, colourful party to remember. Recognising and being proud of the diversity and social equality of all young people, the Senior
COLLECTIVE VOICE
School community celebrated in full force with the first purple mufti-day to support the event. Lunch in Palm Court was filled with balloons, music, craft workshops and photo booth banners. With the theme of Empower Together, the MLC School community also donated $1,240 from the day to Beyond Blue, to help break down the barriers that prevent young people from speaking up about mental health problems that affect their lives.
Throughout Term 2, the students supported Share the Dignity, a charity that collects thousands of personal hygiene products for women experiencing
homelessness and poverty in Australia. Collective Voice organised the collection of these items using drop-boxes across the School, and were overwhelmed by the enormous support. The collection was a chance for the students to see the impact they can make in participating in a simple, yet worthwhile cause, to enable all women the monthly dignity they deserve.
Pushing conversations outside of the Collective Voice circle, this year saw the beginning of Q&A@MLC. Structured like the ABC program, we had students and teachers make up a panel that discussed and argued about relevant current affairs topics in the media that matter most to the students. Audience members also had the opportunity to challenge members of the panel, and add their own opinions to the discussion. Collective Voice aims to make Q&A@MLC a regular, once a term event.
MLC School students engaged so passionately in issues and topics of social justice and equality. Collective Voice is growing stronger each year as an empowering and safe space for everyone.
Ms Caitlin Boyd Collective Voice Coordinator
JESUS IN SCHOOL TIME (JIST)
Jesus in School Time (JIST) is a Christian fellowship group that runs in Middle and Senior years.
The girls meet on Wednesdays at lunchtime where they share, explore and grow their faith in Jesus.
It is a time of fun, food, fellowship, Bible study and prayer. The girls regularly lead the meetings as well as taking a leadership role during Chapel Services.
Mrs Lynne Bondar Assistant to the Chaplains
116
da Vinci Decathlon
It was a busy year for our Year 7 to Year 11 girls involved in the da Vinci Decathlon. The girls met on a weekly basis, giving up their lunch times to practise the skills necessary for the competition. English, Art and Poetry, Ideation, Science, Mathematics, Code Breaking, Cartography and General knowledge are some of the topics up for the challenge at Knox Grammar School.
One team was selected from each year group from Year 7 to Year 11, and each team was made up of eight members. Each member of the team contributed in a different way, so the team was able to have an expert on each subject and each subject is therefore covered.
The teams met once a week for several consecutive weeks. At each meeting, challenging questions were practised. The girls tried to answer questions from previous da Vinci Decathlons and were able to work independently and split into experts groups within their teams. A great amount of work was put into this and the girls enjoyed every minute of it.
The Decathlon usually takes place at Knox Grammar School and is a really intense day. Each team sits at their own table where the girls answer
questions non-stop – their team building skills sharpened minute by minute. Collaboration is a key component to the success of the team. Each girl uses her abilities so the entire team can benefit – "all for one, one for all". It is a hard and exhausting day, however the girls always have smiles on their faces, which shows how much they love to be challenged and solve nearly every impossible code breaking question.
Congratulations to all girls selected for the 2018 da Vinci team. Below are some amazing results:
Ì
The Year 7 team placed 4th for Creative Producers;
Ì
The Year 9 team placed 6th overall, 1st in Art and Poetry, 2nd in Engineering, 8th in Science and 7th in Ideation;
Ì
The Year 10 team placed 7th overall, 4th in Art and Poetry, 1st in Cartography, 7th in English and 9th in Science;
Ì
The Year 11 team placed 11th overall, 10th in Art and Poetry, 4th in English, 4th in Mathematics and 4th in Code Breaking.
Well done girls, it was our pleasure to work with you all!
MLC School girls did their very best as they always do when things get hard and complicated. Our girls shine more if there is a challenge! Their theme was 'the unexpected', and the girls came up with brilliant ideas and solutions to problems that required critical thinking.
Ms Martina Stolzi and Mr Ken Otani da Vinci Decathalon Coordinators
'Each member of the team contributes in a different way so the team is able to have an expert for each subject.'
117
Debating Captain
Debating was an incredible success this year. With more than 100 debaters across three competitions, Debating is a huge program at MLC School. We are renowned as one of the best debating schools in Sydney, and this is thanks to the dedication and tenacity of our debaters. The debating family that has developed is supportive and close-knit, and it has been an honour to be a part of this community for the past six years.
and it is important to recognise the many hours dedicated to debating that adjudicators and audiences do not see.
Ashley Oliver Sjahry
The hard work and talent of our MLC School teams consistently shone through as we competed in the Independent Schools Debating Association (ISDA), Archdale and Friday Evening Debating (FED) competitions throughout this year. Our ISDA Senior B team emerged as champions of their division and the ISDA Year 10 team narrowly missed out in a very close Grand Final. MLC School won the ISDA Shield, further strengthening our reputation as one of the top debating schools in Sydney. Our teams also progressed well into both the FED and Archdale competitions, with the FED 7B team competing in the Grand Finals, and the Archdale Year 9 and 7Bs winning their respective divisions. Congratulations to every team for a successful season. This feat is all thanks to the dedication and talent of the MLC School debaters and I am incredibly proud of each and every one of them.
The debating program at MLC School encourages both new and experienced debaters to take part and it has been a pleasure to witness the enthusiasm of every MLC School student in this endeavour. Debaters sacrifice their Thursday afternoons and Friday or Tuesday evenings to represent our School,
The teams were faced with complex and often controversial topics, from politics to the environment, as they debated against Sydney's other top schools throughout this year. From the Primary through to the Seniors category, the debates were consistently of a high calibre as our debaters exhibit an ability to construct rational, plausible arguments that always impress the adjudicators of each competition. This is no easy task, especially when teams must present a case they do not personally agree with or must convince an adjudicator predisposed against their side. Yet the MLC School debaters are not only skilful, but also some of the friendliest and most openminded people, which, given they are professional arguers, is an admirable feat.
I would like to thank Ms Andrea Rowe, Harrison Rogers and the debating coaches for hours spent organising and supporting the Debating program. I am grateful to the parents and friends who have sacrificed their time to support our debating teams and who have driven all around Sydney during peak hour to give our debaters an audience. Finally, I would like to thank all of the MLC School debaters for their dedication and enthusiasm throughout the past year. Congratulations on an amazing result, and I wish you continuing success into 2019. It has truly been a pleasure to be your 2018 Debating Captain.
Ashley Oliver Sjahry Debating Captain
118
Debating
DEBATING SEASON 2018
This year we had nearly 100 girls involved in our Debating competition teams. It was a busy year with the Friday Evening Debating (FED) and Independent School's Debating Association (ISDA) competitions running concurrently in Terms 1 and 2, and the Archdale taking up all of Term 3.
Our eight FED teams had a very successful season. It was a transition year for this competition, with four new schools joining to make it a 16-school group. The main aim for FED is to make debating an enjoyable, social and learning experience.
All MLC School teams showed marked improvement through seven preliminary rounds of debates. We hosted the semi-finals at MLC School, with three of our teams competing. Our 7B team won through to the grand final but were defeated in a close debate with Newington College. Next year, new rules will make this competition fairer by introducing quarter finals and dividing schools into two pools. The whole team put in a wonderful effort this year.
Seven MLC School teams competed through seven preliminary rounds of Archdale, and all the girls put in a great effort while juggling their increasing school work. Six teams progressed through to the finals series and four teams competed in the semi-finals. Our 7B and Year 9 teams made it through to the grand final. This was held at MLC School at the end of Term 3 2018 and was a big occasion, with over 250 people in Potts Hall to celebrate debating and the end of the Archdale Competition. Both our teams won their division and even though we missed out on retaining the Archdale Shield for another year, the team came a close second. All the girls were wonderful competitors and hosts of the grand final.
Questions team did a great job against schools who were experts in this section. We learnt some valuable lessons for next year. Our Current Affairs team was similarly new to the format of a question and answer style discussion. Out of 21 schools competing, our team made it through to the final three, where they had one hour to prepare for a discussion of an international issue. Our team delivered a smart and polished performance and were declared the winners. All the girls contributed to MLC School placing 5th out of 30 girl's schools in the overall Festival competition.
Our eight ISDA teams were a mixture of older teams who have been together for years, and our new Primary and Year 7 teams. We only had two home debates this year, so the girls spent a lot of time travelling to other schools and arguing the Negative case. This did not deter them as all teams sailed through to the finals.
Our Year 10 and Senior B teams made it through to the semi-finals and then to the grand final. The Senior Bs won their division and the Year 10s were defeated – both teams are amazingly talented. The ISDA is a very tough competition, with the best debating schools in Sydney involved. All the girls contributed to the overall team's success and it was a great achievement for MLC School to be ranked number one for 2018, out of 32 schools.
After the Archdale final, we participated in The AHIGS Festival of Speech at Brigidine College in October. MLC School was represented by two debating teams, a Current Affairs and Religious/Ethical Questions team. Both our Junior and Senior Debating teams made it through to the semi-finals. Our Religious/Ethical
I think we can confidently say that MLC School has retained its place as one of the top debating schools in Sydney, but more importantly, all the debaters have demonstrated diligence, empathy, resilience and dedication to improving their debating skills. Older girls have continued to mentor younger debaters, and our newest teams have benefited from the example set by our Senior teams. Our MLC School girls should be congratulated for the way they continue to represent the School in such a wonderful manner.
Ms Andrea Rowe Debating Coordinator
FED
ISDA
ARCHDALE
'... all the debaters have demonstrated diligence, empathy, resilience and dedication to improving their debating skills'
119
Duke of Edinburgh's Award
OVERVIEW OF THE PROGRAM
The Duke of Edinburgh's (DofE) Award is an internationally recognised award that encourages students to extend themselves beyond the classroom. The award allows students to immerse themselves in a service, skill, physical recreation and an adventurous journey, and the residential project (for the Gold Award).
The adventurous journey's place students out of their comfort zones, into practical and exciting situations. In 2018 we offered a wide range of opportunities, the Bronze Adventurous Journey was paired with the Year 9 trip to Broken Hill, while the Silver trip consisted of a Pack, Paddle and Ride in Glenworth Valley. In terms of the Gold Award, MLC School offered two trips for the students to select from – Fiji and Cambodia.
Mr Glen Mole Duke of EdinburghAward Leader
OUR EXPERIENCE
This year, we were given the opportunity to travel to Cambodia, where we spent two weeks immersed in the Cambodian culture. From trying the local cuisine, to tasting tarantulas, we experienced everything Cambodia has to offer. We visited the historical sites of S-21 and the Killing Fields at the beginning of the trip, which were integral for our understanding of the scale and severity of the Cambodian genocide.
For our residential project, we stayed in a remote village, completing a service project which involved planting lime trees, painting and concreting dormitories in a vocational centre. We played soccer and learned the Khmer dance with children at the school.
For our Adventurous Journey, we were given the unique opportunity to interview Cambodian people on their experiences during the regime of the Khmer Rouge in the 1970s. In total, we interviewed over 20 Cambodian families, and all of their emotional and heart-wrenching stories
touched us all, widening our perspective as we were able to gain insight into the hardships that these families have faced.
In addition, we flew to Siem Reap to experience the world heritage site of Angkor Wat and other amazing historic temples, along with hitting the night markets for some much-needed retail therapy.
The Duke of Edinburgh trip to Cambodia was truly life-changing and very rewarding.
Isabella Leighton, Natashja Eyles, Sarah Day Year 12 students
120
Languages Day
Music, colour, language, fragrant smells and vibrant excitement all fused together to create another successful Languages Day. Students were transported into a world of authentic and immersive experiences that connected them to language, culture and people.
This year, activities ranged from energetic Tyrol and Italian dancing classes, to engaging French storytelling and theatre, a competitive Japanese obstacle race, a colourful Indonesian show, delicious French and Chinese cooking, rousing Chinese drum playing, the finer arts of Kung Fu and, for the more creative tastes, Chinese paper cutting and painting.
Students were immersed in the language and the stories of each of these unique cultures, transported by the music and charmed by the spell. A true celebration of diversity!
Mrs Louisa Macdonald Head of Languages
121
Overseas Tours
MUSICTOUR
During the September/October School Holidays, 46 students and six staff embarked on the first overseas music tour held in three years.
Over the three weeks, students participated in a wide range of enriching experiences, including performing at eight concerts with other student musicians, learning from international composers, musicologists and performers in five workshops, and visiting 14 places of historical interest, attending two cathedral worship services and three concerts.
Mr James Allington Head of History
We had an unforgettable experience on the 2018 Music Tour. There were so many once-in-a -lifetime opportunities to learn and gain inspiration from high calibre musicians, including the Leipzig Gewandhaus Orchestra, the Principal players from the Berlin Philharmonic Orchestra, ABC Young Musician 2018 and MLC School Old Girl, Emily Sun (2008) (violin) and the Cantamus Girls Choir.
We came away from the trip with more understanding of what it is like to be a professional musician. It was a surreal experience to collaborate and share repertoire with schools and community groups and make friendships with people on the other side of the world.
Some of the other tour highlights included sightseeing in London, walking the longest pier in the world in Southend, where we met and had our photo taken with Jamie Oliver, re-enacting the Sound of Music scenes in Salzburg's Mirimar
Gardens, bonding during long bus rides, tasting the local cuisines and performing in the Mozart House in Saint Gilgen.
This amazing experience would not have been possible without the support and organisation of the Music staff. On behalf of everyone on the tour, I would like to thank the Director of Music, Mr James Allington, for organising all of the hosting and concerts for our UK itinerary, Ms Ying Ho for arranging both Emily Sun (London) and Tahlia Petrosian (Leipzig) to work with the music tour chamber orchestra, and Mr Richard Coward, Dr Joanna Drimatis, Mrs Liane Simpson and Ms Bryana Cooper for their indefatigable energy and ongoing support of the tour group.
Holly Miller and Jessica Pizzinga Year 11 and Year 12 students
UK/EUROPE MUSIC TOUR 2018
FRONT ROW Jade Di Girolamo, Tianka Parapuram, Annika Lee, Kittu Hoyne, Ellery Joyce, Ria Kapoor, Coco Huang, Ana Trigg, Isabella Lee, Emma Corcoran, Kirsten Dao, Tina Papamanuel SECOND ROW Dr J Drimatis, Ms Y Ho, Mr J Allington, Sofia Carey, Sabine Saad, Arya Sharma, Katie Sutherland, Jacqueline Flett, Ruby Scott-Wishart, Sophia Heyde, Miss B Cooper, Mr R Coward, Mrs L Simpson THIRD ROW Chanel Boudib, Amelie Roediger, Joy Xu, Angie Xu, Jessica Song, Holly Miller, Jessica Pizzinga, Isabel Leung, Cherie Pepperell, Charis Chiu, Desiray La FOURTH ROW Katherine Du, Anica Shen, Halle Yang, Zoe Hannam, Olivia Winlaw, Hannah Arnold, Nicole Lin, Briana Chapman, Olivia Debs, Sophia Wang, Tessa Iversen
122
Repertoire
West Side Story Choral Suite – Leonard Bernstein arr. Mac Duff
Non Nobis Domine – Patrick Doyle arr. Allington/Coward
Gloria (selected movements) – Vivaldi
Tundra – Ola Gjeillo
Gaelic Blessing – John Rutter
The Lord BlessYou and KeepYou – John Rutter
And will he not come again – Paul Jarman
It was a Lover and his Lass – Ward Swingle
Songs of Innocence and Joy – Paul Stanhope
Ave Maria – Rebecca Clarke
Scherzo from Piano Trio – Arensky
Wild – Iain Grandage
Introduction & Rondo Capriccioso – Saint-Saens
Morceau de concert – Saint-Saens
Rumanian Folk Dances – Bartok
Two pieces from HenryV – Walton
Elegiac pieces – Grieg
Intermezzo from Cavalliera Rusticana – Mascagni
The Gift – Tristan Coelho
STUDENTS
Hannah Arnold (Violin/ Oboe/Soprano)
Chanel Boudib (Horn)
Sofia Carey (Alto)
Briana Chapman (Horn)
Eden Cheng (Violin)
Charis Chiu (Violin)
Jasmine Cho (Alto)
Karen Chung (Cello/Soprano)
Emma Corcoran (Soprano)
Kirsten Dao (Violin)
Olivia Debs (Viola)
Jade Di Girolamo (Cello)
Katherine Du (Percussion/Alto)
Jaqueline Flett (Saxophone/Alto)
Zoe Hannam (Alto)
Sophia Heyde (Soprano)
Coco Huang (Cello)
Tessa Iversen (Clarinet)
Clara Janssen (Percussion)
Ellery Joyce (Alto)
Ria Kapoor (Violin/Soprano)
Jessica Kim (Flute)
Desiray La (Violin)
Annika Lee (Oboe/Soprano)
Isabella Lee (Soprano)
Isabel Leung (Trumpet)
Nicole Lin (Violin)
Holly Miller (Soprano)
Tina Papamanuel (Bassoon)
Tianka Parapuran (Soprano)
Cherie Pepperell (Violin)
Jessica Pizzinga (Percussion/Soprano)
Eloise Riviere (Viola/Alto)
Amelie Roediger (Saxophone/Soprano)
Sabine Saad (Alto)
Ruby Scott-Wishart (Viola)
Arya Sharma (Horn/Soprano)
Anica Shen (Violin/Soprano)
Jessica Song (Violin/Alto)
Katie Sutherland (Trumpet)
Ana Trigg (Soprano)
Sophia Wang (Cello)
Olivia Winlaw (Soprano)
Angie Xu (Violin/Soprano)
Joy Xu (Cello)
Halle Yang (Cello)
James Allington – Director of Music
Bryana Cooper – Tour Administrator
Richard Coward – Head of Bands
Joanna Drimatis – Head of Strings
Ying Ho – Head of Keyboard and Piano
Accompaniment
STAFF
Musicians
123
This year marked the 12th MLC School History Tour to Europe, combining an exciting itinerary for both Ancient and Modern History students. Every site visited remains as exciting as the first time I saw them and each trip remains unique to the wonderful group of students who come along. This year, a group of 41 students accompanied by Ms Sharon Connolly, Dr Felicity Berry and Ms Olivia Nolan, visited parts of Greece, including Crete, flew to Berlin for four days and then flew to Naples to explore the Pompeii region, and finally departed from Rome.
Each day was hectic, filled with varied experiences, but always filled with laughter, learning, great food and very relaxing Hotel accommodation. While it
was an amazing learning experience in relation to History, it was also culturally enriching in so many ways – sharing Octopus with fellow students for dinner, walking the streets of ancient cities such as Athens, Rome and Berlin – all cities that have witnessed some of the most significant developments in History. Very importantly, students go away as individuals and come back with shared experiences, with stronger and new friendships, as well a more focused perspective of what lies ahead in their studies in Year 11 and Year 12.
Mr Peter Klamka Head of History
'... each trip remains unique to the wonderful students who come along.'
HISTORY TOUR 2018
125
Round Square Captain
Round Square is an international organisation consisting of thousands of students across 160 schools in 50 different countries. Collectively, they work to address issues related to the organisation's IDEALS – internationalism, democracy, environment, adventure, leadership and service.
This year, there was a lot going on behind the scenes in Round Square at MLC School. We implemented a new structure for Round Square, so instead of focusing on fundraising this year, we focused on building knowledge and understanding of current issues. The Round Square leadership team realised that without education and awareness, fundraising loses its impact and lacks purpose and drive. We reinvigorated passion and effectiveness by focusing on providing the group with the tools to run events and projects such as Round Square Week in Term 4.
In Term 1, we focused on the environment, exploring recycling and the long-term effects our waste has on the environment. By brainstorming ways to reduce our environmental footprint, we were able to develop the skills required to make decisions that will lead to positive change in the future. We discussed events such as Clean UpAustralia Day and Earth Hour as well as learning about what it means to be a Round Square student and global citizen.
In Term 2, our focus was on social justice with events such as National Reconciliation Week and RefugeeWeek being addressed in our meetings. We spoke about racism and the ways we can become a more accepting community by acknowledging that 'differences don't make a difference' which we decided was going to be our theme for Round Square Week.
During Term 3, we moved our focus back to the environment and education about issues including the lifecycle of plastic, uses for our waste and the protection of the Great Barrier Reef. After the government lowered the protection status of the Great Barrier Reef, we as a group decided to write letters to our local Members of Parliament opposing the changes. It was incredible to see the group implement everything they had learnt about creating change.
Additionally, 30 girls participated in international and regional exchanges that pushed the girls' boundaries. A delegation of six students represented MLC School at the annual Round Square International Conference in Canada. It's through Round Square that life-changing opportunities like these are possible.
Without student passion we would not have been able to achieve the global perspective that we have this year.
Thank you to the Round Square Student leadership team for dedicating two lunch times a week to ensuring the smooth running of Round Square meetings.
Thank you to Ms Calluaud, Round Square Exchange Liaison; Mr Fatouros, Director of Co-Curriculum and Ms White, Round Square Co-ordinator, for all your time and help in all that Round Square has achieved. Finally, thank you to all the students, from Year 6 to Year 12, who are a part of Round Square for attending and engaging with global issues. I have confidence that Diya Mehta will grow Round Square in MLC School and will continue to guide and lead the group. I wish her the best of luck as I leave with the knowledge that Round Square is in very capable hands.
Thank you for a wonderful year.
Dakota Comino Round Square Captain
Dakota Comino
'Without student passion we would not have been able to achieve the global perspective that we have this year.'
126
Round Square Exchange
During the end of Term 2, 2018, I went on an exchange to Tamagawa Academy in Japan for three weeks. I was nervous as this would be my first time going overseas alone, but that is what made it more exciting. Although a co-ordinator from the school met me on my arrival, taking a bus alone to another town from Tokyo (I couldn't find my host-family for a little while), was a new experience for me.
Looking back, the first day of my arrival in Japan was an interesting start. My first host family was welcoming, and their second-grade daughter was very cute and talented. The day before school, I watched my little sister having Marimba lesson and enjoyed a relaxing dinner, talking to the family. The next morning, I arrived to the international centre of the school.
After a 'hike' (the school was huge), I then met other exchange students in a classroom. The first day was generally the introduction to the program. From the
timetable I received, I could tell it would be an interesting three weeks, as there were many activities allocated for us. I finally met my school buddy during the second day, and the Japanese classes had a different atmosphere compared to Australia. During the first week, I had the Japanese class experience, tea ceremony, Tokyo excursion, folded origami with host's friend, and visited Odawara Castle.
From the second to third week, I stayed with another host family who were also nice. During the weekdays, except Japanese/English class times, we had many more cultural enriching activities like playing Taiko drums, joining Art class with elementary students, doing martial arts, making bento, watching Kabuki and having Japanese harp lesson. Unfortunately, my glasses broke, and I had to find a store that sold contact lenses. By asking many people, I finally found a store. Through difficult communication
with the help of online translating, the assistant told me I needed to get a prescription paper from the eye doctor, despite the fact I knew my data. I visited the eye doctor before I could purchase the contact lens I needed. I did it all by my myself in another country.
The last Friday of my trip was an especially memorable day, because after our graduation, all of the exchange students hung out as a group for one last time.
I am truly grateful for this experience in Japan. This exchange program not only provided an opportunity for me to appreciate another culture, but also allowed me to grow from the experience, gain new friendships, and make wonderful memories.
Shirley Kuang Year 11 student
127
Senior School Photos
COLLECTIVE VOICE ART ANDDESIGNCOMMITTEE
FRONT ROW Ruby Scott-Wishart, Hazel Sung, Alexandra Farrow, Emily Osborne, Sarai Rollason SECOND ROW Ms C Boyd, Kaisha Rollason, Emma Juffermans, Kate Baker, Eleni Charalambidis, Zoe Berg ABSENT MacKenzie McCowan
FRONT ROW Claudia Kritzler, Olivia Clowes, Amelia Chan, Jacqueline Flett, Emily Hart, Briar Campbell, Natalie Toomey, Julia Gough, Jenaan Rajani SECOND ROW Anais Siu, Nikki Juffermans, Maria Antonia Costantino, Nicole Hussein, Eleni Charalambidis, Vicky Feng, Georgia Ventouris, Madison Clemens THIRD ROW Vivian Law, Sarah Dejanovic, Sienna Prowse, Natalie Wong, Tayla Casey, Capri Maher, Audrey Williams, Zoe Hannam
128
OFDAUGHTERS OLDGIRLS
FRONT ROW Alicia Suen, Eloise Wong, Sophie Hong, Olivia Smith, Hannah Girgis, Kyrani Countouris, Macy Bellew, Estella Tran, Victoria Cassar, Poppy Frederick, Ethelia Cassar, Fedra Nikolakopoulos, Emilia Sarayar SECOND ROW Joanna Williams, Zoe Fotoulis, Emilia Ghaly, Lexie Bellew, Milla Papaluca, Imogen Bush, Danielle Wan, Eleanor McKeough, Abigail Bush, Jade Scott-Rogers, Rachael (Pip) McGuire, Evelyn Tran, Anastasia Countouris, Amara Sivagurunathan THIRD ROW Madeleine Girgis, Gauri Nathan, Ines Prince, Imogen Wong, Amaya Karunakaran, Chloe Miller, Rose Lin, Anisha Sivagurunathan, Amritha Ravichandra, Elyssa Ghaly, Kyra Narang, Chloe Kypreos, Jasmin Srisathkurunathan, Ava Roins FOURTH ROW Evie Papamanuel, Vishaalini Ravichandra, Chantelle Wan, Romy Dobbie, Isabel McKeough, Grace Scanlon, Yianna Mitropoulos, Alexandra Scherf, Seetha Nathan, Tiana Roins, Amelia Norton FIFTH ROW Chloe Arnold, Isabel Baudille, Jasmine Talbot, Madison Clemens, Lucinda King, Anika Lammers, Charlie Kairaitis, Erin Glover, Mia Novati, Julia Gough, Layla Hamdan, Laryssa Latt, Tina Papamanuel, Athena Nikolakopoulos SIXTH ROW Georgia Ventouris, Gabrielle Cadena, Ellena Hartzenberg, Danielle Mikhael, Madeleine Aitken, Emily Hart, Sienna Prowse, Stella Kochanowicz, Madison Long, Hannah Arnold, Tayla Casey, Zoe Scoufis, Paris Mitropoulos, Kate Cartwright SEVENTH ROW Keira O'Connor, Georgia Long, Maya Simpson, Miranda Norton, Annabelle Banfield, Anna Gough, Sophie Thomas, Zara Kilborn, Holly Herden, Claire van der Stel, Renae Varvaris, Juliette Beattie, Freya D'Mello, Lily Scanlon, Isabelle Lin, Zara Constance, Samantha Brady
FRONT ROW Jacqueline Ciofani, Annie Chen, Isabel Leung, Ashley Oliver-Sjahry, Cherie Pepperell, Amelie Roediger, Hazel Sung SECOND ROW Eve Vantas, Mira Kalra, Azzurra Zappacosta, Cara Britton, Raashi Parmar, Sarai Rollason, Maiee Hanna, Vishaalini Ravichandra, Keiralyn Dao, Hope Selim THIRD ROW Georgie Roediger, Tiana Roins, Madhavi Chauhan, Isabel McKeough, Anika Cuganesan, Erica Chou, Anna Xu, Ruby Newton, Chloe Jing, Vivian Zhang, Danielle Dib, Isabella Kristallis FOURTH ROW Chloe Hui, Hannah Ford, Jody Feng, Chloe Arnold, Sally Obaid, Arrielle Carisio, Maya Simpson, Lucinda Winlaw, Lara Stojkovic, Moira Peach, Anikah Sanan, Gracelyn Dao FIFTH ROW Mia Eker, Zara Poortvliet, Tina Papamanuel, Alannah Gill, Natalie Cavallaro, Charlotte McCrory, Jade Di Girolamo, Sanya Mehta, Marissa Matthews, Soina Thind, Layla Hamdan, Samridhi Garg SIXTH ROW Mariam Yassine, Annabelle Banfield, Isabella Smith, Sarah Pearson, Christyn Cordato, Juliette Beattie, Shivani Spencer, Grace Selim, Anna Gough, Mikaela Nguyen, Sylie Bhat, Amisha Khatri, Kirsten Dao, Pascale Simington SEVENTH ROW Diya Mehta, Zoe Clark, Lauren Millar, Claudia Bean, Alexia Lorenzato, Eliza Crossley, Emma Dickson, Rachel Wang, Meghana Gopalan, Himani Gupta, Sophia Murphy, Ishwary Ramjeevan, Vivian Law, Amala Cuganesan
DEBATING
129
Senior School Photos
DUKEOFEDINBURGH
MIND CHALLENGES
FRONT ROW Mira Kalra, Amelia Norton, Magdalene Miltiades, Cara Britton, Georgie Roediger, Vishaalini Ravichandra, Joyce Mai, Lily Rutherford, Tulasi Kanani SECOND ROW Anikah Sanan, Madhavi Chauhan, Isabel McKeough, Arabella Zeederberg, Hannah Ford, Erica Chou, Chloe Jing, Vivian Zhang, Chloe Hui, Keiralyn Dao THIRD ROW Mr K Otani, Ms M Stolzi, Sally Obaid, Samantha Brady, Samridhi Garg, Victoria Grammenos, Christie Ch'ng, Moira Peach, Anna Xu, Mrs M Ruddock FOURTH ROW Laryssa Latt, Ashmini Ganesh, Sarah-Bronte Andrikis, Madeleine Lewis, Clare Butcher, Kylie Becvarovski, Anna Sundquist, Sylie Bhat, Bella Upcroft, Charlotte Trieu, Sanya Mehta, Soina Thind FIFTH ROW Annie Chen, Christyn Cordato, Zara Kilborn, Piper McCowan, Jacqueline Flett, Diane Wang, Elsa Tonkinwise, Mikaela Nguyen, Cynthia Hu, Maggie Wang, Grace Selim, Sarah Pearson, Hazel Sung SIXTH ROW Cherie Pepperell, Diya Mehta, Vicky Feng, Zoe Hannam, Eliza Crossley, Kate Baker, Anneliese Sandy, Beth Balas, Tess Tsoi, Vivian Law, Charis Chiu, Amelie Roediger
FRONT ROW Cassandra Economides, Josephine Lam, Amelie Roediger, Fiona Lee, Ruby Guminski, Sara Kie, Sherrie Chung, Gabrielle Giannakos SECOND ROW Cherie Pepperell, Monique Li, Sarah Chou, Nancy Wang, Jennifer Tang, Afamia Moussa, Georgia Ventouris, Jaimie Kappas, Amala Cuganesan THIRD ROW Ms A Clarke, Uma Barrett, Holly Miller, Desiree Miller, Tina Liu, Olivia Otto, Jessica Kuo, Anica Shen, Kate Cartwright, Ziya Kalra, Ms E Turner FOURTH ROW Linda Lee, Tess Tsoi, Katrina Marshall, Tiara Huynh, Swathi Ilanko, Katie Zheng, Ananya Krishna, Dakota Comino, Emily Huynh, Diya Mehta, Yasmin Mills, Danah Maher-Lee FIFTH ROW Taylor Hosking, Beatrice Drake, Eliza Crossley, Bella Leighton, Vicky Feng, Ella Woolbank, Chloe Gentle, Hannah Arnold, Ellena Hartzenberg, Lily Smith, Vivian Law, Maya Felice, Natashja Eyles, Mei Yan Wong SIXTH ROW Emily Hart, Julia Spiker, Jane Liu, Chiara Moore, Samantha Naayen, Darani Gilchrist, Nicola Yarrow, Aleksia Grbic, Amelie Coman, Emma Dickson, Madeline Bide, Sarah Day, Laura Sutherland, Grace Gilmore, Stephanie Kalamvokis, Capri Maher
130
SQUAREROUND
FRONT ROW Claire Chan, Isabella Kristallis, Yung Hei Joanna Tsoi, Samantha Brady, Dakota Comino, Moira Peach, Georgia Duggan, Sasha Kovarik, Magdalene Miltiades SECOND ROW Samridhi Garg, Kayla Graham, Sanya Mehta, Charlotte Bathgate, Mariam Yassine, Laryssa Latt, Andie Comino, Maya Simpson, Alexandra Walker THIRD ROW Ms C White, Kittu Hoyne, Elle Tamvakolos, Sophie Wilson, Ruby Smith, Ashmini Ganesh, Mikaela Nguyen, Natalia Giannakos, Annika Lee, Ms L Calluaud FOURTH ROW Victoria Grammenos, Lia Al-Soufi, Olivia Alden-Hallit, Juliette Beattie, Sabine Saad, Mei Yan Wong, Zoe Clark, Vanessa Ryan, Lilia Coman, Grace Selim, Chelsea Hunt FIFTH ROW Sara Kie, Fiona Lee, Charis Chiu, Cherie Pepperell, Olivia Wu, Jaimie Kappas, Tess Tsoi, Georgia Ventouris, Amala Cuganesan, Amelie Roediger, Ruby Guminski, Sherrie Chung SIXTH ROW Ashna Kapoor, Tiara Huynh, Jivi Govender, Uma Barrett, Danah Maher-Lee, Yasmin Mills, Diya Mehta, Therese Makarious, Linda Lee, Kate Cartwright, Holly Miller, Emily Huynh, Katrina Marshall SEVENTH ROW Paris Mitropoulos, Vicky Feng, Claire Wang, Maha Meer, Claudia Bean, Elsa Tonkinwise, Zoe Johnston, Alice Kreis, Capri Maher, Emily Hart, Alexia Lorenzato EIGHTH ROW Audrey Williams, Ella Woolbank, Lily Smith, Chiara Moore, Samantha Naayen, Emma Dickson, Amelie Coman, Darani Gilchrist, Madeline Bide, Ellena Hartzenberg, Maya Felice, Beatrice Drake, Eliza Crossley, Vivian Law
131
MUSIC
133
Music Captain
The music community at MLC School is wonderful, but even though I have spent six years here, it wasn't until I left my ensembles that I was actually able for the first time to be an observer. Often when we're performing and in the midst of it, we do not realise how remarkable what we're doing actually is. My advice to every single musician at MLC School is not to give up and to keep trying, because what you are doing is amazing and beautiful.
I've been so proud of everyone's achievements and skills this year, from Idol to music committee meetings, to the first ensemble concert series in Potts Hall, and various other ventures. Everyone performed to the highest standard, and even though there might have been occasional groans at rehearsal, they got through it!
I would like to thank the staff of the Music Department, particularly our, Director, Mr James Allington, and Assistant Director, Mrs Emma Bourke, and every single conductor and tutor involved. I also, of course, thank all the girls who are involved in rehearsing and performing. You put in hundreds of hours which no one sees, but everyone can hear the splendid result of your hard work in the end. I would like to congratulate Clara Janssen – you are an amazing individual, and extremely hard-working and perseverant. I wish you all the best for next year, rallying the troops for the Opera House! I cannot imagine anyone better than you for the job. Congratulations too to Jessica Pizzinga, Gabrielle Giannakos, Madeleine Murphy and Charis Chiu – you are all wonderful.
I am grateful to the Music Committee this year – Sofia Carey, Cynthia Hu, Charis Chui and Cherie Pepperell – as well as my wonderful captains Georgia Hewitt, Fiona Lee and Erin Bofinger I thank you for your time and commitment – and for dealing with me!
The other players in my original trio were Fiona Lee and Celine Kang. We started our musical journey together as Year 7s, looking up to the big girls who played so wonderfully. Thank for you sharing this journey with me, and for all your support.
Every girl at MLC School is involved in this program, particularly at Opera House. I encourage you all to try your hardest and involve yourself in music as much as you can, because there is nothing so beautiful as sharing this wonderful gift with other people.
Now that it has come to an end, I hope that my tenure as Music Captain has been helpful, at times inspiring, and always musical.
Emmeline Booth Music Captain
Emmeline Booth
'... involve yourself in music as much as you can, because there is nothing so beautiful as sharing this wonderful gift with other people.'
134
Junior School Music
Junior School students had a busy musical year. In addition to formal music classes, choir and instrumental lessons, girls meet, listen and interact with visiting musicians and have the opportunity to participate in the musical life of the School in a wide range of vocal and instrumental performances.
This year we were fortunate to host inventor and composer Jon Madin. Jon spent a week with the girls, exploring new music, playing instruments and presenting an extravaganza performance with the girls at a Friday Assembly.
Year 3 to Year 5 girls performed the Pirates of Penzance as their biennial musical production. The musical is set in Cornwall, England and follows the adventures of Frederick as he celebrates his 21st birthday and release from apprenticeship to a band of pirates. Year 3 were the disorganised and timid English Bobbies who are trying to capture the pirates, Year 4 were our gentlemanly band of pirates, and Year 5 were the girls from a fashionable finishing school who 'dare to be quite a lot more'.
Our enthusiastic cast loved being immersed in the humour, melodies and lyrics fashioned by Gilbert and Sullivan. The girls were also captivated by the story of The Pirates of Penzance and enjoyed discovering each of the characters they played.
Mr Nell Yeo, Ms Miranda Middleton and Ms Kate Drady shaped the girls' movement on the stage through creative choreography and imaginative direction. Jane Lancaster conceived, designed and then braved the aisles of Bunnings to forage for hardware to build the beautiful
sets. She also found us some very quirky props, with the help of Miss Elin Lazar. Mrs Jan Falls, Mrs Matilda Baxter and Mr Clayton Howard worked with girls on their dialogue. The musicians in the Pirate Band – Ms Emma Bourke, Mr Richard Coward, Dr Joanna Drimatis and Mrs Elizabeth Gilberthorpe and Ms Karen Roberts – gathered together at short notice to be our fabulous backing group. Mrs Phillipa Knight, Ms Catherine Borchok, Ms Karen Roberts, and Gayoon Jung devoted a huge amount of time, energy and musicianship to the musical.
JUNIOR SCHOOL MUSICAL, THE PIRATES OF PENZANCE
MLC JUNIOR SCHOOL ARTISTS IN RESIDENCE PROGRAM
136
Our Piccole Stelle Lunchtime Concerts give young musicians the opportunity to gain performance experience in a relaxed setting.
BELLE VOCE
Girls in Year 4 and Year 5 do a singing audition to gain a place in Belle Voce. They rehearse once a week for an hour. Performances this year include the Middle Years Concert, Gala Concert, the RSCM Carol Service, assemblies and Speech Day.
TAIKO DRUMMING
Year 5 girls participated in Taiko lessons this year. They have relished the physical and intellectual challenge of drumming.
SOIREES AND FESTIVALS
Throughout the year, instrumental teachers organise festivals and soirees to showcase their students' work. This year we have had performances by our vocal, string, keyboard, wind and brass musicians.
Angeli is a choir made up of girls from Year 3 to Year 5 who love to sing. At the end of each term, they have an open rehearsal to show parents and friends how they warm up their voices and prepare repertoire. The parents particularly enjoyed the Mexican Woodpecker and Old Lady from Houston warm-ups. The girls performed at assemblies and Speech Day.
THE GRUMPY SHEEP
Girls from Pre-K to Year 2 performed a musical called The Grumpy Sheep in December. The audience was entertained by singing sheep, dancing camels, three wise women and very sleepy shepherds who go to visit the Holy Family. The musical tells the beautiful nativity story through the eyes of a very grumpy sheep through some catchy new songs and lively dances.
SPEECH DAY YEAR 3 TO YEAR 5
Angeli entertained the audience as they waited for Speech Day to begin. The main Instrumental performance was by our string players in the Presto Orchestra. The Year 3 to Year 5 Choir sang a gentle Christmas carol and followed it with a lively Ghanaian folksong. Belle Voce sang Humpty Dumpty which was choreographed by Amelia Kozman from Year 4. Year 4 choir sang the final blessing to Year 5.
Mrs Annette McClure
Junior School Music Teacher
PICCOLE STELLE
ANGELI
137
Senior School Music
AUSTRALIAN MUSIC DAY
MLC School's 2018 Australian Music Day welcomed over 200 students from schools across Sydney. This annual event, which is directed and curated by MLC School's Head of Composition, Mr Tristan Coelho, was once again focused on engaging students in a discovery and exploration of Australian music and letting imaginations run wild as they create their own work. Students were treated to presentations and performances covering a wide spectrum of music from hip hop to chamber music and lots in between. As part of the sessions, participants had the
opportunity to compose music and have their ideas realised by live performers of the highest calibre.
Two program streams were on offer, which catered for students in both HSC Music 1 and HSC Music 2 courses. MLC School welcomed back the Sydney Symphony Fellows this year, continuing our ongoing relationship with the group, and workshops were run by guest composers and musicians, including Rhyan Clapham, Sally Whitwell and Rosalind Page, with support from composer-in-residence,
Dr Holly Harrison and Assistant Director of Music, Mrs Emma Bourke. Mr Tristan Coelho and MLC School's Head of Strings, Dr Joanna Drimatis, presented sessions on composing for small ensembles.
There was an incredible spirit of collaboration between students and a real buzz throughout the event as they heard their music come to life!
Mr Tristan Coelho Head of Composition
2018 has been a tremendous and eventful year and the MLC School band program has continued to go from strength to strength.
The Band program grew in size with the consolidation of the following ensembles:
Ì Symphonic Wind Band
Concert Band
Intermediate Concert Band
Junior School Training Band
Jazz Combo
Stage Band
Jazz Ensemble
Junior Jazz
BANDS
Many of these ensembles, along with some of the wind, brass and percussion chamber ensembles, featured in the Semester 1 Band Concert on Thursday 26
May 2018:
SENIOR TAIKO GROUP 1 Yataibayashi, Traditional, arr. Sophie Unsen
YEAR 4 ADVANCED WIND & BRASS ENSEMBLE
Farandole, Bizet, arr. Michael Sweeny
SENIOR SCHOOL BRASS ENSEMBLE
Brass Quintet 1, Gossner
JUNIOR SCHOOL INTERMEDIATE BAND
Bunyip Blues, Brian West Fireworks, arr. Michael Brown
SAXOPHONE GROUP
Swing Low Sweet Chariot, arr. Henzgen
SENIOR SCHOOL PERCUSSION ENSEMBLE
Summon the Spirits, Kevin Tuc
CONCERT BAND
The Magic of Harry Potter, arr. Michael Story
Ì
Ì
Ì
Ì
Ì
Ì
Ì
138
SENIOR SCHOOL WIND ENSEMBLE
Trio Sonata, arr. Mark Walton
SYMPHONIC WIND BAND
Into the Joy of Spring, James Swearingen
SENIOR TAIKO GROUP 2
Dirt Music, Anton Lock
COMBINED BANDS
(Symphonic Wind Band and Concert Band)
Chicken Run, arr. Paul Murtha
Moana, arr. Jay Bocook
PORT MACQUARIE BIG BAND BLAST 2018
The Port Macquarie Big Band Blast was held on Friday 1 June to Sunday 3 June 2018. This was the first time that MLC School was represented at this major festival. The short tour was an outstanding success and below is a report by one of the students, Amelie Roediger, on the weekend's activities:
'Jazz is something you have to feel, something you have to live.' Ray Brown, bass player.
MLC School's Stage Band took part in the Big Band Blast at Port Macquarie, performing, workshopping and listening to high quality jazz music. From Friday evening till Sunday afternoon, big bands from all over Australia came together and immersed themselves in the world of blues and jazz, being mentored by some of the most celebrated jazz musicians including Ross Irwin, Denis DiBlasio, Judy Bailey and Ed Wilson. As well as attending many concerts featuring these jazz musicians and the big band Jazz Connection,
students were able to attend sight-reading jams, improvisation workshops and technique sessions. We were also able to have a technical session with Ross Irwin who worked one-on-one with our big band to improve our playing and style.
Throughout these workshops we were given two major tips:
1. That listening to jazz is one of the most important parts of playing the style because of the unique inflections on different notes which are not notated and have to be played instinctively by the musicians
2. That practising is an essential part to learning the style. Denis DiBlasio said that if we were his students, he would pick a famous jazz player who plays technically complex and stylistically correct solos, choose a specific solo and spend a term imitating that player's solo along with their stylistic choices. The reason for this is that jazz music was traditionally passed down to people orally and so people developed their style from first listening to the music and then imitating jazz musicians.
I can safely say that being immersed in such an encouraging atmosphere with inspiring musicians and other music students from around Australia was a highlight for the entire MLC School Stage Band. As well as with strengthening our friendships with each other, we learnt many new technical tips and stylistic choices that we will be able to use on a regular basis.
The weekend closed with a crazy hat parade where all the bands wore crazy hats and played together, with Ed Wilson cracking out solos on the trombone. Overall, the weekend was a great success and we hope to be able to go back next
year. Many thanks to Mr Coward (Head of Bands) and Mrs Gilberthorpe who supported, supervised and look after us for the whole weekend.
Amelie Roediger
Year 10 Student
CAMELOT LOUNGE
Camelot Lounge, now in its fifth year, remains a favourite event for both students and parents. This year it showcased all the jazz ensembles as well as Year 12 elective music students, who enjoyed the opportunity to play through their HSC repertoire.
139
The focus of the Semester 1 program was the Choral Concert on Wednesday 6 June 2018. It was called If Music be the Food of Love and was a selection of music inspired by the plays of Shakespeare. The song If Music Be the Food of Love contains only the first seven words of Duke Orsino's opening lines in Twelfth Night. The subsequent text is by a Colonel Henry Hevingham (16511700) who, undoubtedly, was influenced by Shakespeare, but who put his own Elizabethan spin on the words. The composer is Henry Purcell (1659-1695).
Mr James Allington, Miss Karen Roberts and Mrs Annette McClure researched and chose music that would engage the singers in our various MLC School choirs. They very much enjoyed the process of selecting music that best demonstrated the different choirs' vocal and choral development, and the resulting program contained an eclectic mix of musical styles and genres:
Non Nobis Domine, (music from Kenneth Branagh's film version of HenryV), Patrick Doyle
Sea Change, Gordon Kerry (Shakespeare link: TheTempest)
CHOIRS
Brush up your Shakespeare, Cole Porter (Shakespeare link: Kiss me Kate, the musical based on TheTaming of the Shrew)
C'Mon Everybody, Joy Byers Johnston arr. Mac Huff (Shakespeare link: All Shook Up, the musical based on Twelfth Night)
AndWill He Not ComeAgain, Paul Jarman (Shakespeare link: Hamlet)
It was a Lover and his Lass, Ward Swingle (Shakespeare link: As You Like It)
Lied mit Chor – Song with Choir (Ye Spotted Snakes), Felix Mendelssohn, sung in German (Shakespeare link: A Midsummer Night's Dream)
West Side Story Choral Suite, Leonard Bernstein, arr. Mac Duff (Shakespeare link: Romeo and Juliet)
In preparation for the 2019 Sydney Opera House Concert, the Senior Choir gave the Australian premiere of Kelly Andre's Wave. The work is scored for a choir of junior girls who sing the predominant melodies, along with a choir of senior girls who divide into five parts. In addition to percussive vocalisation, the whole performance is further enhanced
by dramatic movement. Following the successful performance, the choir went to music camp to begin learning the main commissioned piece by Kerry. Unity with Lyrics, written by MLC School students, will feature the whole school choir along with Taiko.
The choral program has been further consolidated in the Senior School by the formation of the Middle Years Choir, Cantabile. Being in this small ensemble of invited students from Year 6 and Year 7 has done much to develop and refine their part-singing skills, in preparation for them to audition for the School's Chamber Choir as they progress through the Senior School.
Many of the Chamber Choir attended the UK and European Music Tour, where the main featured work was Paul Stanhope's Songs of Innocence and Joy. On tour, the suite of three songs was performed with piano but was subsequently accompanied by MLC School's Chamber Orchestra at the annual Music Gala Concert in Sydney Town Hall in November.
140
The Orchestra Concert was early in Term 2 on Monday 28 May 2019. It was remarkable how, after just over a term's work, the School's orchestral and chamber ensembles could perform to such a high standard. The concert featured over 100 performers of orchestral instruments in a delightfully varied program that demonstrated the full range of the MLC School orchestras:
COMBINED JUNIOR ORCHESTRA
Early One Morning, English Folk Song, arr. Sandra Dackow
JUNIOR ORCHESTRA – ALLEGRO
Dinosaur Dig, Susan H. Day
JUNIOR ORCHESTRA – PRESTO
Stormbird, Keith Sharp
SENIOR CLARINET TRIO
Clarinet: Laura Sutherland, Violin: Danah Maher-Lee, Piano: Jane Liu
Trio for Clarinet (orViola),Violin and Piano in G minor,Andante con dolore, con molto espressione Aram Khachaturian
SINFONIA
Baila Conmigo, Jeremy Woolstenhulme
Suite for Strings, Elliot Del Borgo
SYMPHONY ORCHESTRA
I. Intrada
II. Canto III. Dance
SENIOR PIANO TRIO
PianoTrio in D Major Op.70 No.1'Ghost' Ludwig van Beethoven
Allegro vivace e con brio
Violin: Fiona Lee Cello: Halle Yang Piano: Charis Chiu
CHAMBER ORCHESTRA
Mile High City, Benjamin Dean Taylor
Rumanian Folk Dances, Béla Bartók
I. Jocul cu bâta (Stick Dance)
II. Brâul (Sash Dance)
III. Pe loc (In One Spot)
IV. Buciumeana (Dance from Bucsum)
V. Poarga Româneasca (Rumanian Polka)
VI. Maruntel (Fast Dance)
SYMPHONY ORCHESTRA
The Hebrides Overture,Op.26, Felix Mendelssohn
Danzon No.2 Arturo Márquez
In Semester 2, the School's Chamber Orchestra, along with selected wind players, prepared a program of works for the UK/Europe Music Tour, a highlight being the performance of Introduction & Rondo Capriccioso with MLC School Old Girl, Emily Sun (2008).
Scherzo from Piano Trio, Arensky Wild, Iain Grandage
Introduction & Rondo Capriccioso, Saint-Saens
Morceau de concert, Saint-Saens
Rumanian Folk Dances, Bartok
Two Pieces from HenryV, Walton
Elegiac pieces, Grieg Intermezzo from Cavalliera Rusticana, Mascagni
The Gift, Tristan Coelho
At the Gala Concert on 14 November, the main works featured were:
SINFONIA Libertango, Piazzola
SYMPHONY ORCHESTRA
Fourth Alarm, Natalie Williams
CHAMBER ORCHESTRA AND CHAMBER CHOIR
SongsofInnocenceandJoy, Paul Stanhope
2018
141
Music Junior School
BELLAVOCE
FRONT ROW Katelyn Tu, Jiayi Li, Amelia Kozman, Emma Sullivan, Gauri Nathan, Mia Rae, Lana Radwan, Ava Roins, Hazel Gohil, Chloe Kypreos SECOND ROW Mrs A McClure, Anna Obaid, Aiesha Sivaranjan, Angelina Le, Felicia Hannah, Angelique Houltham, Zahra Yassine, Evie Papamanuel, Harriet Scott, Julinar Alshehabi, Ella Zhang, Ms G Jung THIRD ROW Kristina Bitar, Sophia Malas, Sarah Pickett, Jasmine Banks, Ayla Staltari, Suyi Yin, Ella Baker, Abigail Bush, Chloe Ho-Shon
FRONT ROW Bethany Mikhail, Stephanie Phong, Avnika Kandala, Ilaria Blanco, Ellie Li, Liana Wai, Rose Lin, Aashi Shah, Amritha Ravichandra, India-Rose Mace SECOND ROW Ms G Jung, Katelyn Tu, Hazel Gohil, Baylie Shen, Valerie Tran, Cheylene Leung, Niamh Johnson, Charla Howard, Ava Roins, Jiayi Li, Gabriella Ayad, Mrs P Knight THIRD ROW Mrs A McClure, Sophia Antipas, Luella Farah, Gigi Guan, Alyssa Corbett, Meena Kanthathas, Angelina Xu, Emma Sullivan, Sacha Jeyasingam, Aaliya Salim FOURTH ROW Ella Zhang, Felicia Hannah, Angelique Houltham, Jemima Zoud, Sarah Pickett, Abigail Bush, Yolanda Dolenac, Evie Papamanuel, Aryana Sah
ANGELI
142
JAZZJUNIOR
FRONT ROW Katelyn Tu, Gauri Nathan, Erin Clowes, Yolanda Dolenac, Amaya Karunakaran, Anna Obaid, Hazel Gohil SECOND ROW Mr R Coward, Vishaalini Ravichandra, Erin Muir, Sienna Marriott, Cara Britton, Aspen Lambert, Sameera Khatri THIRD ROW Georgie Roediger, Aileen Leong, Georgia Terzis, Ivana Dolenac, Sally Obaid, Claire Liu
FRONT ROW Katelyn Tu, Erin Clowes, Yolanda Dolenac, Vishaalini Ravichandra, Sameera Khatri, Amaya Karunakaran, Anna Obaid SECOND ROW Mr R Coward, Cara Britton, Sally Obaid, Ivana Dolenac, Georgia Terzis, Georgie Roediger, Aspen Lambert
CONCERTJUNIORSCHOOL BAND
BAND
143
Music Junior School
JUNIORSCHOOL STRINGORCHESTRA
JUNIORSCHOOL TAIKO
Mariyah Sfarjalani, Zara Luong, Vishaalini Ravichandra, Sophia Sefein, Keira O'Connor, Abigail Bush, Isabella Bednaic
FRONT ROW Taylor Lu, Stephanie Phong, Megan Kuit, Mia Coady, Sophia Hu, Mikayla Woon, Janice Leong, Imogen Wong, Sophie Connolly, Elysse Diep, Emma Rose Koeswandy, Avery Koh, Chloe Lu, Miranda Lin SECOND ROW Dr J Drimatis, Rose Lin, Niamh Johnson, Carina Chu, Cheylene Leung, Chelsea Chen, Emily Phong, Chloe Constantinidis, Emma Sullivan, Gigi Guan, Alana Ikladios, Eleanor McKeough, Jodhi Bou, Ines Prince THIRD ROW Mia Rae, Bianca Trimboli, Nicole Audi, Aiesha Sivaranjan, Julinar Alshehabi, Olivia Walker, Annaliese Yan, Yolanda Dolenac, Jossie Liu, Anastazia Samad, Felicia Hannah, Valerie Tran, Christine Jin FOURTH ROW Abigail Bush, Sara Trimboli, Anisha Sivagurunathan, Ynez Liauw, Suyi Yin, Jasmine Banks, Mannix Aurisch, Kathleen Chrun, Jemima Zoud, Grace Farrow, Chloe Ho-Shon, Angelique Houltham ABSENT Sarinna Cai, Nghi Nguyen, Olivia Sun-Ryan, Stephanie Wang
144
Music Senior School
CHAMBER MUSIC CANTABILE
FRONT ROW Georgie Roediger, Joanne Law, Danah Maher-Lee, Fiona Lee, Laura Sutherland, Tessa Iversen, Jessica Song, Anica Shen, Nichole Wang, Fiona Feng SECOND ROW Dr J Drimatis, Ms Y Ho, Anikah Sanan, Chloe Arnold, Kirsten Dao, Ruby Scott-Wishart, Olivia Debs, Jade Di Girolamo, Hannah Kang, Halle Yang THIRD ROW Isabelle Lin, Charis Chiu, Cherie Pepperell, Yijun Cui, Jane Liu, Nicole Lin, Eden Cheng, Sasha Green, Clare Butcher
FRONT ROW Vishaalini Ravichandra, Tiana Roins, Anikah Sanan, Chloe Arnold, Seraya Srikumar, Georgie Roediger, Chloe Hui SECOND ROW Mr J Allington, Lucinda Winlaw, Bella Upcroft, Isabelle Lin, Sally Obaid, Ms K Roberts ABSENT Harriet Gohil, Joyce Mai, Sienna Marriott, Nevaeh Nicholas, Claudia Padman
145
Music Senior School
CHAMBERORCHESTRA
FRONT ROW Azzurra Zappacosta, Chloe Hui, Georgie Roediger, Anikah Sanan, Erin Bofinger, Tiana Roins, Emily Ward, Vishaalini Ravichandra, Tulasi Kanani SECOND ROW Madhavi Chauhan, Hannah Kang, Moira Peach, Yianna Mitropoulos, Mahi Shah, Erica Chou, Victoria Grammenos, Seetha Nathan, Ruby Newton, Seraya Srikumar THIRD ROW Mr J Allington, Ms K Roberts, Lucinda Winlaw, Ananya Wakhare, Madison Clemens, Olivia Clowes, Sanya Mehta, Dalia Alsaad, Sally Obaid, Esther Tonkinwise, Ms Y Ho FOURTH ROW Charlize Hosking, Julia Gough, Tessa Tomkins, Zoe Trpezanovski, Emma Corcoran, Bella Upcroft, Isabella Lee, Tianka Parapuram, Sarah-Bronte Andrikis, Isabelle Lin, Audrey Nguyen FIFTH ROW Mikaela Nguyen, Jacqueline Flett, Jasmine Cho, Sammy Cavanagh, Jessica Pizzinga, Holly Miller, Ella Tomkins, Amelie Roediger, Gabrielle Giannakos, Diane Wang, Ria Kapoor, Simone Maddison SIXTH ROW Jessica Song, Diya Mehta, Taotao Jiang, Sophia Heyde, Claudia Padman, Emmeline Booth, Meghana Gopalan, Maya Felice, Paris Mitropoulos, Katrina Marshall, Isabella Chapman, Arya Sharma, Shivani Spencer, Katherine Du SEVENTH ROW Ayla Varol, Charlie Kairaitis, Natalie Wong, Rachel Wang, Claire McLelland, Hannah Arnold, Emma Dickson, Georgia Hewitt, Ellena Hartzenberg, Olivia Winlaw, Beth Balas, Eliza Crossley, Zoe Hannam, Anica Shen, Audrey Williams
FRONT ROW Nichole Wang, Desiray La, Fiona Lee, Kirsten Dao, Angie Xu, Jessica Song, Sherrie Chung, Ria Kapoor SECOND ROW Dr J Drimatis, Jade Di Girolamo, Ruby Scott-Wishart, Joy Xu, Halle Yang, Olivia Debs, Anica Shen, Charis Chiu THIRD ROW Megan Cavanagh, Eden Cheng, Danah Maher-Lee, Hannah Arnold, Nicole Lin, Sophia Wang, Karen Chung, Cherie Pepperell
CHOIR
146
CLARINET TRIO
CONCERTBAND
FRONT ROW Hannah Ford, Caitlin Zeilinga, Anna Gough, Chelsea Hunt, Emma Mahant, Dionne Alaveras, Meera Rawal, Chloe Arnold, Kathryn Shih SECOND ROW Mrs E Gilberthorpe, Elizabeth Wilkie, Madeleine Lewis, Romy Dobbie, Annabelle Banfield, Zara Cathcart, Ashmini Ganesh, Sanya Mehta, Seetha Nathan, Mr R Coward THIRD ROW Natalie Cavallaro, Hannah Baker, Tessa Tomkins, Tianka Parapuram, Helena Lu, Zara Kilborn, Mia Grasso-Nguyen, Sienna Barrett, Martine Zeilinga
Danah Maher-Lee, Jane Liu, Laura Sutherland
147
Music Senior School
JAZZCOMBO
JAZZENSEMBLE
FRONT ROW Chloe Arnold, Milla Newman, Ashmini Ganesh, Sanya Mehta, Seetha Nathan, Tessa Tomkins, Martine Zeilinga, Scout Van Der Merwe SECOND ROW Ms E Gilberthorpe, Mr R Coward, Zara Cathcart, Caitlin Zeilinga, Nikki Juffermans, Maya Lecuna, Romy Dobbie, Lucinda King
Mr R Coward, Clara Janssen, Anna Michael, Jane Liu
148
MUSIC COMMITTEE
PIANOTRIO
FRONT ROW Georgia Hewitt, Emmeline Booth, Erin Bofinger, Fiona Lee SECOND ROW Mr J Allington, Charis Chiu, Sofia Carey, Cherie Pepperell, Cynthia Hu
Fiona Lee, Halle Yang, Charis Chiu
149
Music Senior School
SAXOPHONEENSEMBLE
SENIOR BRASSENSEMBLE
Mr R Coward, Amelie Roediger, Katie Sutherland, Briana Chapman, Arya Sharma, Isabel Leung
Mr R Coward, Amelie Roediger, Jacqueline Flett, Emma Juffermans, Morgan Kelaher, Ashmini Ganesh, Sanya Mehta
150
CHAMBERSENIORCHOIR
PERCUSSIONSENIORENSEMBLE
FRONT ROW Ruby Newton, Esther Tonkinwise, Tianka Parapuram, Annika Lee, Kittu Hoyne, Isabella Lee, Emma Corcoran, Tessa Tomkins, Erica Chou, Madhavi Chauhan SECOND ROW Ms Y Ho, Ria Kapoor, Sabine Saad, Sophia Heyde, Claudia Padman, Sofia Carey, Ana Trigg, Ellery Joyce, Seetha Nathan, Mr J Allington THIRD ROW Amelie Roediger, Holly Miller, Jessica Song, Emmeline Booth, Anica Shen, Katherine Du, Jessica Pizzinga, Sammy Cavanagh, Jasmine Cho FOURTH ROW Erin Bofinger, Zoe Hannam, Olivia Winlaw, Olivia Bersais, Claire McLelland, Ellena Hartzenberg, Hannah Arnold, Natalie Wong, Taylor Hosking
Mr R Coward, Chanel Boudib, Katherine Du, Clara Janssen
151
Music Senior School
SENIOR WINDENSEMBLE
SINFONIA
FRONT ROW Eve Vantas, Joyce Mai, Joanne Law, Jessie Tang, Sophia Cairns, Mia Grasso-Nguyen, Dalia Alsaad, Fiona Feng, Emily Ward SECOND ROW Dr J Drimatis, Laryssa Latt, Ananya Wakhare, Georgie Roediger, Isabella Smith, Chloe Hui, Chloe Arnold, Anikah Sanan THIRD ROW Sophie Wilson, Cara Wu, Aria Swan, Isabelle Lin, Clare Butcher, Lucinda King, Mahibhana Mahinthan, Julia Lok FOURTH ROW Diane Wang, Christyn Cordato, Amber Johnstone, Mia Ramsey, Eda Haller, Amelia Chan, Sarah Pearson
Mr R Coward, Annika Lee, Tessa Iversen, Maya Felice, Laura Sutherland, Madeleine Murphy, Jessica Kim, Amelie Roediger, Tina Papamanuel
152
STAGEBAND
WINDSYMPHONIC BAND
FRONT ROW Katie Sutherland, Laura Sutherland, Arya Sharma, Isabel Leung, Briana Chapman, Maya Felice, Ellena Hartzenberg SECOND ROW Mr R Coward, Cynthia Hu, Jane Liu, Jessica Pizzinga, Ella Tomkins, Clara Janssen THIRD ROW Anna Michael, Emma Juffermans, Morgan Kelaher, Jacqueline Flett, Amelie Roediger
FRONT ROW Yunqing Amy Zhao, Ella Tomkins, Chanel Boudib, Arya Sharma, Emma Dickson, Georgia Hewitt, Briana Chapman, Jessica Pizzinga, Amala Cuganesan, Natalie Cavallaro SECOND ROW Mr R Coward, Annika Lee, Cynthia Hu, Hayley Ma, Nikki Juffermans, Zoe Johnston, Katherine Du, Zoe Berg, Clara Janssen, Tina Papamanuel THIRD ROW Madeleine Lewis, Jacqueline Flett, Emma Juffermans, Isabel Leung, Katie Sutherland, Ellena Hartzenberg, Charlotte McCrory, Morgan Kelaher, Anjelica Issa, Amelie Roediger FOURTH ROW Tessa Iversen, Maya Felice, Elsa Tonkinwise, Laura Sutherland, Claire McLelland, Hannah Arnold, Madeleine Murphy, Olivia Winlaw, Jessica Kim
153
Music Senior School
SYMPHONYORCHESTRA
TAIKO
FRONT ROW Tessa Tomkins, Jacqueline Flett, Dylan Rose, Yung Hei Joanna Tsoi, Briar Campbell, Mia Grasso-Nguyen, Zoe Howes SECOND ROW Ms K Roberts, Ella Tomkins, Joyce Lin, Himani Gupta, Sophie Reid, Maria Antonia Costantino, Lauren Huynh THIRD ROW Yasmin Mills, Katrina Marshall, Lydia Todoroska, Aleksia Grbic, Olivia Bersais, Vicky Feng ABSENT Eloise Riviere
FRONT ROW Fiona Feng, Paris Chen, Kirsten Dao, Tarindhi Fernando, Jessica Song, Anica Shen, Fiona Lee, Virginia Peter, Olivia Debs, Ruby Scott-Wishart, Ria Kapoor, Joanne Law, Nichole Wang SECOND ROW Mr R Coward, Hannah Kang, Amelia Chan, Nicole Lin, Hannah Arnold, Katie Sutherland, Coco Huang, Isabel Leung, Airlie Cullen, Cherie Pepperell, Charis Chiu, Sophie Wilson, Jade Di Girolamo, Mrs E Bourke THIRD ROW Laryssa Latt, Annika Lee, Amelie Roediger, Katherine Du, Tessa Iversen, Laura Sutherland, Briana Chapman, Madeleine Murphy, Arya Sharma, Maya Felice, Jessica Kim, Chanel Boudib, Tina Papamanuel, Clara Janssen, Desiray La FOURTH ROW Danah Maher-Lee, Angie Xu, Eden Cheng, Zoe Hannam, Sophia Murphy, Natalie Wong, Sabine Saad, Sophia Wang, Karen Chung, Joy Xu, Sammy Cavanagh
154
PERFORMING ARTS 155
Dance, Drama and Entertainment Captain
Wakakirri Awards Night where they won the award for the best teamwork.
As Dance, Drama and Entertainment (DDE) Captain, I was able to experience the many accomplishments and events that occurred this year in the DDE Department.
We began with our littlest dancers, who performed at the annual Kindergarten to Year 2 Twilight Recital, an opportunity for parents and students to appreciate the hard work of the girls over the year.
Our Junior and Senior teams for Hip Hop, POM and Wakakirri also had many successes, with the Junior Hip Hop and POM teams gaining the title of Scholastic Grand Champions in the AASCF Dance Battle. These teams also competed at multiple competitions, including AASCF Winterfest and the National Cheer and Dance Competition. The Junior Wakakirri team was extremely successful, winning best soundtrack and awards for amazing finale, excellent group dance, excellent lead cast, best team work, costuming and minimal use of sets and props in the Primary School division of the Story Dance Competition for their piece Where in the World is Carmen Sandiego?This success continued with our Senior Wakakirri teams, which awarded the state's Best Historical Biographical Story Award, as well as awards for excellent individual set piece design, best direction, best backstage crew, best individual costume design; they also received an invitation to perform at the
All of these creative performances were put on show at the Dance Showcase, an incredible night that highlighted the talent and passion of all MLC School dancers and dance teachers. This night left me in awe as I was really able to see the reason dance is so successful and why it is a department so integral to MLC School. The theme of the night was Beyond the Frame and each girl performed pieces based on famous artworks. The result was phenomenal –stories and artworks were portrayed in a way that was so creative and innovative. I congratulate all the girls involved and am so grateful I was able to experience such incredible performances. A night like this would not have been possible without the dedicated dance teachers Ms Kate Drady, Ms Alyssha Clarke, Ms Jenna Skepper and Mr Blake Fatouros, as well as the many passionate cocurricular dance teachers.
Drama at MLC School is another area of the DDE Department that is thriving and vital to the MLC School community. The success of MLC School Theatresports teams, both Junior and Senior, is a clear representation of the sheer talent and confidence this department produces. These girls manage to get up on stage and do completely improvised pieces with no scripting; this is daunting and an extremely challenging skill, but one that so many MLC School girls seem to have mastered.
Productions are another way that MLC School draw in all members of the MLC School community. The Senior School production of Emily and the Detectives was a unique and engaging performance that involved so many girls, from those who made the sets, and managed the sound and lighting, to the incredible performers who made the piece what it was. Being in this production, I was able to see how lucky girls involved in drama at MLC School are – they are able to take part in and create such incredible performances where their
talent and love for drama can be seen and applauded. The dedicated teachers Mr Julian Kennard, Ms Alyssha Clarke, Ms Samantha Ambrahim, Ms Bojana Kvrgic and Ms Lisa Jinga, are vital to such successful productions; whether staying after school to paint sets or rehearsing with girls on Sundays, these teachers allow this department, as well as the girls themselves, to reach great heights.
Entertainment is another extremely successful aspect of this incredible department, with these girls being a vital part of all dance and drama performances. From painting and creating set pieces, to managing all the backstage operations, these students are professional and dedicated and enable all performances to run smoothly. I really admire these girls, as the pressure and meticulous planning that are involved in running a show are immense, yet they complete such tasks with professionalism. Due to this, our Year 11 Entertainment students won the award for the best backstage crew at Senior Wakakirri, a testimony to the hard work of all these girls.
The DDE committee were also hard at work this year, running the annual DDE Talent show where girls' talents, from dancing to singing, were put on display. As well as this, they raised money for the committee charity, Murmuration. Many other lunch time events were held such as a showing of Dance Moms during lunch time and Theatresports workshops to raise money for this charity. I am very grateful to the girls on this committee who made so many of these events possible and successful.
Over the year, I have been extremely honoured to witness these achievements. I applaud all girls involved in dance, drama and entertainment this year and hope that next year is similarly filled with incredible experiences and accomplishments.
Zoe Cross Dance,Drama and Entertainment Captain
Zoe Cross
156
Middle Years Drama
Production
Into the Woods JR. is the first junior musical that the Middle Years Drama Company have had the pleasure of performing. Into the Woods JR. is an engaging and funny musical comedy that twists the familiar fairy tales into a new story. When a Baker and his Wife learn
they have been cursed with childlessness by the Witch, they embark on a quest for the special objects required to break the spell. Students spent over a term creating their characters, learning various songs and choreography for the performance night. During this rehearsal period,
students also attended the Junior Musical Competition in Newcastle where the girls won an award for 'Outstanding Vocals'.
Miss Samantha Abrahim Dance, Drama, EntertainmentTeacher
157
Dance
IIn 2018, the MLC School Dance co-curricular program once again experienced significant growth with enrolments reaching just under 400. Our inclusive program, from Pre-Kindergarten to Year 12, successfully operates to create a differentiated and sequential learning environment that fosters the development of individual students. The program not only equips our girls with the technical skills for a range of dance styles, but allows them to explore dance as a means of communication and creative expression.
Authentic performance opportunities play a vital role in the program and enable students to showcase their abilities. Annual events such as the Twilight Recital, Wakakirri, AASCF Cheer and Dance Competitions, MLC School Dance Showcase and International Night, give the girls an opportunity to perform for both internal and external audiences.
The 2018 Dance performance season opened with the annual AASCF WinterFest competition at Sydney Olympic Park. The Junior and Senior Hip Hop and Pom teams had a fantastic day, cheering for each other as each group entered the competition floor. The day concluded on a high, with both the Junior Hip Hop and Pom teams awarded 1st place in their primary school divisions, whilst our Senior Hip Hop team left with a 1st place, and Senior Pom, 3rd. Later in the year, the same teams returned to a second AASCF competition, this time at NIDA Parade Theatre, for the debut of the new Dance Battle. MLC School took out 1st place in all divisions, with the Senior Hip Hop team winning overall Scholastic Grand Champions.
On Wednesday 8 August, 46 of our littlest dancers took to the Drama Theatre stage for the annual Twilight Recital titled Spectrum. The colourful program of exciting dance performances by students from Kindergarten to Year 2 delighted the audience, with some dancers experiencing the spotlight for the very first time. The aim of the Twilight Recital is to develop our youngest dancers' confidence and celebrate their dance journey with family and friends in a fun, exciting and supportive environment.
Term 3 is always full of performance opportunities with our dancers participating in the 2018 Primary and Secondary Wakakirri Story Dance Competition at NIDA Parade Theatre, competing against other schools in the region. Both of our teams this year had standout performances on their respective evenings, earning themselves various Production, Show and State awards.
PRIMARY SCHOOL ENTRY:
Where in the World is Carmen Sandiego?
MLC School detectives are on a quest to discover who stole the art.They venture to Egypt,Japan and Paris,following clues left behind by a mysterious art thief. Follow them on their adventures around the world,solving clues and dancing with the locals.Will they ever solve the case?
Performance Awards
Ì Excellent Soundtrack Mix
Ì Amazing Finale
Ì Excellent Group Dance
Ì Excellent Overall Hair and Makeup
Ì Excellent Lead Cast
Ì Best Teamwork
SECONDARY SCHOOL ENTRY:
The Private Life of a Masterpiece Edgar Degas's Little Dancer, was first unveiled at an exhibition in the spring of 1881. The piece created public outrage with many critics claiming that Degas had created a new standard of artistic horror. Today it's one of his most famous works, but who was the young dancer immortalised in the wax?
Performance Awards
Awarded the Best Biographical History Story Award for 2018, earning an invitation to perform at the NSW Wakakirri Awards Night on 10 September 2018.
Show Awards
Ì Best Individual Costume Design
Ì Best Backstage Crew
Performance and Production Nominations
Ì Excellent Group Dance
Ì Excellent Theme/Concept
Ì Excellent Staging (Combination of all aspects)
State Awards
Ì
Best Biographical History Story Award
Ì
Performance at Awards Night
Ì
Excellent Individual Set Piece Design
Ì
Best Direction - Combination of Dancing and Acting
The annual Dance Showcase has become one of our most anticipated events of the dance calendar, involving students from Year 3 to Year 12. For this year's performance, we returned to the prestigious NIDA Parade Theatre stage for the fourth consecutive year. The theme was Beyond the Frame and the girls explored the artistic intentions and personal histories of visual artists over time. Our dancers interpreted a selection of famous works and translated these to the art form of dance. This overarching concept allowed students to access their own creative voices through both performance and movement composition to communicate ideas stimulated by an appreciation of art history.
Behind every great performance hide many unseen faces. The Dance staff would like to acknowledge the Year 11 VET Entertainment students who worked tirelessly to ensure that all performers made it on stage in time for each curtain call. Their dedication to the show and their level of professionalism working alongside the NIDA staff have been inspiring to witness.
Finally, in Term 4, a select group of students from both the elective and cocurricular programs attended the first ever Ascham Dance Invitational Eisteddfod for Independent schools around the Sydney region. Our Jazz group were thrilled to receive 2nd place in the Jazz and Musical Theatre section for their Andy Warhol piece, whilst the Year 11 HSC elective class earned themselves a 3rd place with their work, Atomique
That wraps up another successful year for Dance. I am grateful to the parents and students for their ongoing commitment to the program and the DDE Department and co-curricular Dance staff for their endless enthusiasm and creative ideas that unify such an extensive program.
Ms Jenna Skepper Dance Coordinator
158
159
The Speech and Drama Studio
2018 has been an eventful year with many successes. Students have excelled in ASCA and Trinity examinations, eisteddfods, holiday productions, open days and showcases.
Year 2 to Year 4 Speech and Drama students and some Year 5 and Year 6 students participated in the ASCA (Australian Speech Communication Association) examinations, achieving exceptional results with a Distinction average and a record number of High Distinctions. Misha Behi, Zara Dhawan, Olivia Gouganovski, Aryana Sah and Anisha Sivagurunathan received ASCA Excellence Awards, for their outstanding results in their 2017 ASCA examinations, which were held at Ravenswood in May. Four of our students will receive Excellence Awards for 2018 examinations.
Year 5 to Year 11 students participated in their Trinity College of London examinations in Speech and Drama, Performing Arts, Communication Skills, Individual Acting Skills, and Group Drama in Term 4. Our students achieved outstanding results with all students gaining credits, distinctions, and high distinctions, maintaining our reputation as one of the highest achieving Speech and Drama Studios in Australia. Gabriella Melhem and Sabrine Yassine, Year 12, achieved the highest level possible in their Advanced Performing Arts Certificate. The Examiner commented that their outstanding performances
in their devised works were equal to a professional level. Students have the option to continue to the Advanced Performing Arts Certificate after they have completed Grade 8, which is the highest level of the grade exams.
students a firsthand experience of the production process and the opportunity to work with students across different year levels; they promote confidence and teamwork and of course are lots of fun!
Pre-Kindergarten to Year 1 students enjoyed open days with family and friends throughout the year. Year 2 to Year 4 students performed to family and friends at our Open ASCA examinations in Term 3. Middle School and Senior School students performed at the Trinity Examination Showcase Days in Term 4, showcasing their work for family and friends. These events are a wonderful opportunity to see our program in action.
Many of our Speech and Drama Studio students represented MLC School at the Inner West, Ryde, Parramatta, Sydney, St George and Sutherland Eisteddfods with excellent results. Students achieved numerous 1st, 2nd and 3rd placings and Highly Commended Awards in Prepared Speech, Verse Speaking, Improvisation, Character Recital in Costume, Duologues in Costume and Group Scene categories.
Junior School students from Pre-Kindergarten to Year 6 produced five highly creative and successful holiday productions this year – TheTale ofWhoville, Under the Sea, A SavannahAdventure,TwistedTales and The Space Race. Talented production teams made up of Middle School and Senior School students assisted in the productions. Holiday productions give
We are so proud of each and every one of our students at The Speech and Drama Studio for their enthusiasm and commitment throughout 2018. Our programs offer cutting-edge training and enable students to develop and expand their vocal skills, confidence, performance skills, communication and public speaking skills and social skills. We see students transform as they discover their creative potential and gain necessary tools that will undoubtedly help them, not only throughout their schooling, but also throughout their lives.
We look forward to another successful year in 2019.
Mrs Monica Brian The Speech and Drama Studio Director
'We see students transform as they discover their creative potential...'
160
Acting and Communication Academy
This year at Acting and Communication Academy, we began the year with a series of Summer Holiday Programs, with students speaking, singing, acting and dancing their way into the new year. Over the year, we enjoyed many holiday programs including The Art of Conversation, Monologue Masters and Musical Theatre Workshops. Students enjoyed exploring new skills in these action-packed workshops.
Term 1 saw the beginning of preparations for the mid-year Trinity College London Examinations and local eisteddfod performances. Many students performed in the Inner West Eisteddfod, Parramatta Eisteddfod and the Sydney Eisteddfod, with wonderful results across the board.
Early in the year, we celebrated the achievements of two of our Associate of Trinity College London Diploma students. Diya Mehta (Year 11), who began classes with ACA in Year 7, achieved her ATCL Diploma in Performing Speech and Drama with a Distinction. Diya performed four challenging pieces including T.S Eliot's The Love Song of J.Alfred Prufrock and a piece from Antigone by Sophocles.
Jessica Kuo (Year 11) received her ATCL Diploma in Communication Skills (Public Speaking). Jessica developed and presented five intricate speeches, each of which focused on different skills for presentation. In developing these
presentations, Jessica explored complex issues and demonstrated ability across a variety of contexts. Both students also attained leaderships roles at MLC School for 2019. We are sure that they will continue to achieve next year and have ample opportunity to use their amazing public speaking and performance skills.
Over the year, our continuing ATCL Diploma and Pre-Diploma students engaged in a number of Professional Development Masterclasses as part of their course. The group worked with Anna Cheney, a professional actor and comedian. There was a lot of laughter and silliness as the students explored the wonderful world of comedy, playing with timing, reaction and unique quirks to find their inner comedian. Later in the year, Kayte Borg took the group back to the Elizabethan Period with the Farandole and the Language of the Fan in her Playing Period Plays masterclass.
A particularly exciting program took place over Terms 2 and 3 with the Acting and Communication Academy Production Team's collaborative production. The process began with a blank sheet of paper and a brainstorming session as five bright young performers discussed ideas and issues of concern. From here, Mrs Borg and Miss New guided the collaborative process through improvisation derived from the Boal Technique, and the script writing process. The final result was a captivating
performance devised, written and performed by the team, which explored the generational effects of the gender wage gap. This was a special experience for all involved and it was extremely impressive to witness the dedication and thoughtfulness displayed by the students, among whom were MLC School students, Maiee Hanna (Year 7) and Maddie Lewish (Year 7). Profits from the production were donated to the Acting and Communication Academy's philanthropic efforts; a donation of approximately $10,000 was made to Caritas Australia's Timor Leste Protection and Rehabilitation Program.
The year finished with the end-ofyear Trinity College London Graded Examinations and performances. Students completed examinations in Communication Skills, Performance Arts and Speech and Drama, and achieved fantastic results.
Kayte Borg Acting and CommunicationAcademy
161
Performing Arts
JUNIORSCHOOL CONTEMPORARYDANCE
CO-CURRICULAR DRAMA
FRONT ROW Angelina Hu, Vishaalini Ravichandra, Joanne Law, Martine Zeilinga, Romy Dobbie, Chiara Corbett, Emily Ward, Joyce Mai, Isabella Bednaic SECOND ROW Anika Cuganesan, Arabella Zeederberg, Kate Cvetkovski, Hannah Bathgate, Seraya Srikumar, Isabel Baudille, Yung Hei Joanna Tsoi, Mahi Shah, Armita Dutta Gupta, Lara Varol THIRD ROW Ms S. Abrahim, Jody Feng, Keira O'Connor, Maddie Hutchens, Zara Zuccolotto, Tara Mulholland, Maya Simpson, Victoria Grammenos, Andie Clark, Ms A. Clarke, Ms L. Jinga FOURTH ROW Isabelle Lin, Indigo Devlin, Piper McCowan, Ashmini Ganesh, Aadhya Dhanpal, Mariam Yassine, Charlotte Bathgate, Clare Butcher, Annading Chen, Pascale Simington, Amisha Khatri, Milla Newman. FIFTH ROW Madhavi Chauhan, Ellery Joyce, Ana Trigg, Maia Sullivan, Jessica Pizzinga, Zoe Hannam, Holly Miller, Dakota Sinozic, Sofia Carey, Ria Kapoor, Erica Chou SIXTH ROW Madison Gollan, Sara Kie, Ruby Guminski, Ashna Kapoor, Malia Crawford, Amala Cuganesan, Cherie Pepperell, Joy Xu, Maria Antonia Costantino, Zoe Berg, Jessica Kim, Annie Chen, Zoe Cross, Grace Karras, Hanna Nash SEVENTH ROW Crystal Warner, Kaisha Rollason, Ananya Krishna, Hayley Kenzler, Tara Grasso, Himani Gupta, Annabelle Bailey, Isabella Collins, Anika Grannall, Sophie Ciesielski, Alice Kreis, Eliza Swann, Kate Cartwright, Annie Gu EIGHTH ROW Sabrine Yassine, Gabriella Melhem, Briana Chapman, Emma Suster, Eliza Crossley, Emma Rutherford, Emma Dickson, Imogen Greenslade, Elizabeth Farrow, Grace John, Samara Tucker, Amy Yarrow, Diya Mehta, Emily Osborne, Charlie Kairaitis
FRONT ROW Charlotte Latham, Eloise Girard, Aryana Sah, Allegra Carlini, Meena Kanthathas, Gurnaaz Kahlon, Emma Sullivan, Imogen Walker SECOND ROW Kristina Bitar, Sophia Malas, Jasmine Banks, Moira Peach, Christina Di Giandomenico, Haegan Sitou, Isabel Garner, Angelina Le ABSENT Lam Nguyen
162
COMPANIES
HIPHOPCREW
FRONT ROW Bethany Mikhail, Mia Tynan, Aiesha Sivaranjan, Amaya Karunakaran, Isabella Correia, Hazel Gohil, Georgie Papadimitriou SECOND ROW Erin Clowes, Bonnie Zheng, Zahra Yassine, Kristina Bitar, Stephanie Mikhail, Sameera Khatri, Riya Chib THIRD ROW Chloe Ho-Shon, Aspen Lambert, Christina Di Giandomenico, Maggie Zhang, Sophia Malas, Anisha Sivagurunathan ABSENT Kyra Narang, Fern Still, Claire Chan
FRONT ROW Jasmine Wolfe, Sofia Jury, Marissa Tsaousidis, Zoe Proctor, Zoe Churchill, Sarai Rollason, Sahasra Bandi, Ria Simone Farag, Annabel Twomey SECOND ROW Grace Scanlon, Yianna Mitropoulos, Maya Simpson, Tara Mulholland, Jennisa Ha, Arabella Zeederberg, Zara Zuccolotto, Mahi Shah, Ella Walters, Alexandra Scherf THIRD ROW Ms J. Skepper, Freya Patterson, Julia Lok, Minda Wang, Te'jhaan Altiok-Brown, Claudia Kritzler, Madison Clemens, Helena Panos, Yijia Sang, Alexandra Lasovski, Cassandra Tong, Jana Roy, Ms K. Drady FOURTH ROW Lilli-Rose Nasr, Jasmine Stavros, Elsa Pickering, Molly Rose North, Tara Gentle, Chantelle Farag, Amisha Khatri, Francesca Morrison, Charlize Hosking, Maeve Halliday, Olivia Clowes, Anna Devlin, Dalia Alsaad FIFTH ROW Grace Karras, Kelly Zhang, Tamara Obradovic, Taotao Jiang, Sarah-Bronte Andrikis, Georgia Wyatt, Chelsea Hunt, Zoe Johnson, Natalia Giannakos, Tori Charalambous, Laura Andrikis, Rachel Kardasis, Lucinda King SIXTH ROW Ella Tomkins, Jessica Kim, Rhea Gandhi, Georgia Ventouris, Paris Mitropoulos, Katerina Delis, Emily Huynh, Tiara Huynh, Veronica Phan, Annaliese Konidaris, Afamia Moussa, Anabelle Truong, Chanel Boudib, Cassandra Economides SEVENTH ROW Sherrie Chung, India Makovec, Isabella Collins, Ruby Scott-Wishart, Lilia Coman, Aadhya Dhanpal, Sophie Ciesielski, Alice Kreis, Vanessa Ryan, Georgia Beretov-Millar, Mei Yan Wong, Mercedes Ansuh-Yeboah, Cassidy Maher, Lia Al-Soufi, Briar Campbell, Ashna Kapoor EIGHTH ROW Anna Michael, Gabrielle Cadena, Sofia Costa, Charlie Sodbinov, Audrey Williams, Capri Maher, Julia Spiker, Grace Gilmore, Amelie Coman, Jennifer Leng, Stella Kochanowicz, Sophie Graham, Erin Glover, Liv Sodbinov, Emily Hunt, Georgia Dunn, Ella Makovec, Emily Hart, Georgia Softsis
JUNIOR
DANCE
163
Performing Arts
JUNIORSCHOOLJAZZENSEMBLE
JUNIORSCHOOL POMTEAM
FRONT ROW Aashi Shah, Hazel Gohil, Isabella Correia, Allegra Carlini, Chloe Miller, Luella Farah, Hannah North, Bethany Mikhail SECOND ROW Kristina Bitar, Claire Liu, Zara Constance, Christina Di Giandomenico, Isabel Baudille, Sophia Malas, Stephanie Mikhail
FRONT ROW Bethany Mikhail, Mia Rice, Mariyah Sfarjalani, Emma Sullivan, Ophelia Li, Sacha Jeyasingam, Amelia Kozman, Sophia Antipas, Hazel Gohil, Georgie Papadimitriou SECOND ROW Anna Obaid, Erin Clowes, Angelina Le, Sameera Khatri, Bonnie Zheng, Zahra Yassine, Stephanie Mikhail, Riya Chib, Amaya Karunakaran, Angelina Xu THIRD ROW Kristina Bitar, Grace Farrow, Aspen Lambert, Jemima Zoud, Kate Forster, Haegan Sitou, Sophia Malas, Anisha Sivagurunathan, Lily Rutherford, Chloe Ho-Shon FOURTH ROW Sarah Pickett, Sally Obaid, Samantha Brady, Zara Constance, Christina Di Giandomenico, Maggie Zhang, Kate Morfoot, Jasmine Banks, Kathryn Shih ABSENT Ruby Davis
164
JUNIORSCHOOL WAKAKIRRI
FRONT ROW Bethany Mikhail, Imogen Walker, Charlotte Latham, Mariyah Sfarjalani, Ophelia Li, Anna Obaid, Eloise Girard, Sacha Jeyasingam, Gurnaaz Kahlon, Sophia Antipas, Hazel Gohil, Mia Rice, Georgie Papadimitriou SECOND ROW Aryana Sah, Meena Kanthathas, Amaya Karunakaran, Riya Chib, Allegra Carlini, Bonnie Zheng, Stephanie Mikhail, Sameera Khatri, Angelina Le, Erin Clowes, Angelina Xu, Amelia Kozman, Emma Sullivan THIRD ROW Isabel Garner, Chloe Ho-Shon, Grace Farrow, Aspen Lambert, Jemima Zoud, Kate Forster, Haegan Sitou, Sophia Malas, Anisha Sivagurunathan, Lily Rutherford, Kristina Bitar, Zahra Yassine FOURTH ROW Kathryn Shih, Jasmine Banks, Sally Obaid, Samantha Brady, Zara Constance, Christina Di Giandomenico, Maggie Zhang, Kate Morfoot, Moira Peach, Ruby Davis, Sarah Pickett
165
SPORT 167
Sport Captain
There were many achievements in Sport at MLC School during 2018 – these were spread over a variety of sports. We also saw improved participation in the Independent Girls' Schools Sporting Association (IGSSA) sports program.
During 2018 we saw the introduction of the Rugby program which provided MLC School girls with the ability to train and learn about Rugby 7s. The program was initiated by student, Madeleine Lysaght, and teachers, Mr Brett Salakas and Mrs Lisa Filby. Currently the squad of around twenty girls train twice a week under the dedicated support of coach and teacher, Mr Brett Salakas. They have learnt new skills of tacking and passing as well as understanding the game.
Additionally, this year we can acknowledge the introduction of the Ascham 5-aside Football competition in which MLC School now participates. The tournament provides students who competed in IGSSA Term 2 Soccer with an opportunity to continue playing Football and developing skills in a 5-a-side format throughout Term 3. The competition is fast and competitive, which keeps Junior and Senior girls active throughout Term 3, with competitions every Saturday at Moore Park.
This year the various Sports Captains School photos were put on display in the School Gym. This acknowledged the Sports Captains and provided the girls of MLC School a student to seek support from in a chosen sport. Throughout the year, the nominated Captains enjoyed lunchtime sport committee meetings in which the Captains discussed ways to recognise athletic achievement and participation. It also allowed Captains to raise any concerns in their current sporting field.
Mrs Lisa Filby and the MLC School sports administration team have worked tirelessly throughout the year to provide and support MLC School girls throughout all their sporting endeavours. The Sports Department assists all girls, no matter what their sport is. Their efforts through the year should not go unrecognised as sport at MLC School would not be as inclusive and supportive without them.
Being Sports Captain at MLC School was an honour. Sport is such an important part of the MLC School life. Sport at MLC School provided me with amazing role models, who demonstrated a balance of education and sporting life in which they excel. For example, in 2017, 400m sprinter, Morgan Mitchell, spoke at the MLC School Sports Dinner. Morgan inspired many MLC School girls through sharing her story of working hard in order to achieve her current position in the Australian Athletics team.
At MLC School, girls have the ability to excel in their chosen sport due to the supportive environment they have been provided. Good luck to all future MLC School girls in their sporting endeavours.
Georgia Pollit Sport Captain
Georgia Pollit
'At MLC School, girls have the ability to excel in their chosen sport due to the supportive environment they have been provided with.'
168
Junior School Sports Champions
YEAR 3 TO YEAR 5
ATHLETICS CARNIVAL AGE CHAMPIONS
8 Years Champion Avery Koh
8 Years Runner-Up India-Rose Mace
9 Years Champion Lucia Barrington-Higgs
9 Years Runner-Up Eve Ireland
10 Years Champion Angelique Houltham
10 Years Runner-Up Saskia Roberts
11 Years Champion Aspen Lambert
11 Years Runner-Up Christine Jin
YEAR 3 TO YEAR 5
8 Years Age Champion
SWIMMING CARNIVAL AGE CHAMPIONS
Avery Koh
8 Years Runner-Up Chloe Miller
9 Years Age Champion Elysse Diep
9 Years Runner-Up Emily Bitar
10 Years Age Champion Jossie Liu
10 Years Runner-Up Kathleen Chrun
11 Years Age Champion Annaliese Yan
11 Years Runner-Up Christine Jin
Overall 2018 Swimming Champion
YEAR 3 TO YEAR 5
Annaliese Yan
CROSS COUNTRY CARNIVAL AGE CHAMPIONS
8 Years Champion Avery Koh
8 Years Runner-Up
India-Rose Race
9 Years Champion Lucia Barrington-Higgs
9 Years Runner-Up Eve Ireland
10 Years Champion Angelique Houltham
10 Years Runner-Up
Saskia Roberts
11 Years Champion Aspen Lambert
11 Years Runner-Up Christine Jin
170
Senior School Sports Champions
YEAR 6 TO YEAR 12 ATHLETICS CHAMPIONS
Year 6 Age Champion Isabelle Barakat
Year 6 Runner-U Hannah Ford
Junior Champion Mia Jameson Junior Runner-Up Madeleine Hutchens
Intermediate Champion Morgan Kelaher Intermediate Runner-Up Annika Haller
Senior Champion Chloe Gentle Senior Runner-Up Nicola Yarrow House Spirit Leawarra House Champion Booralee
YEAR 6 TO YEAR 12
SWIMMING CHAMPIONS
Year 6 Champion Isabelle Barakat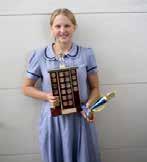 Year 6 Runner-Up Isabelle Lin
Junior Champion Juliette Beattie Junior Runner-Up Madeleine Lewis
Intermediate Champion Natasha Sheehy Intermediate Runners-Up Tess Tsoi Tashjan Managreve
Senior Champion Sienna Prowse
Senior Runner-Up Chloe Gentle Synchronised Swimming Champions Prescott
House Spirit Leawarra Overall House Champions Leawarra
171
Junior School Carnivals
Congratulations to the 24 girls from the Junior School and Middle School who represented MLC School at the Independent Primary School Heads of Australia (IPSHA) Athletics Carnival. All the girls displayed true MLC School team spirit and their performances and determination in both the track and field events resulted in several personal best times and distances.
Thank you to all the Athletics coaches who supported and facilitated the girls with their preparation in the lead-up to the Carnival. The overall results reflected the hard work, energy and time that were dedicated to the team.
Ms Julie Alimpic PDHPE Teacher
K TO Y5 ATHLETICS CARNIVAL
After a cloudy and wet morning, the sunshine appeared and the energy was extraordinary for the Kindergarten to Year 5 Athletics Carnival. All girls came dressed brightly in their house colours ready to take part in their events. Years 3-5 participated in the 100m, 200m, 800m and House Relays track events and the Long Jump and Shot Put field events. The Kindergarten to Year 2 girls joined the Carnival midmorning where they participated in a 100m Sprint, Long Jump, House Poison Ball and Relays. I would like to extend my gratitude to all the Junior School teaching staff that assisted in the running of events and care of the girls on the day. To the parents who took time out of their active schedules to come and watch their daughters, thank you. The Year 5 House and Vice Captains were amazing, their assistance in enabling the events to run efficiently was invaluable. Everyone enjoyed a great afternoon and I am certain that the girls are looking forward to doing it all again next year.
Ms Julie Alimpic PDHPE Teacher
On 6 March 2018, 19 girls from the Junior School represented MLC School at the IPSHA Swimming Championships at Sydney Olympic Park Aquatic Centre (SOPAC). The competition was fierce; however, our girls held their own in the pool to achieve personal best times and results.
Congratulations to the following girls who progressed to the Combined Independent Schools (CIS) Swimming Championships:
Annaliese Yan
Christine Jin
Zoe Jameson
Avery Koh
Chloe Miller
Isabelle Barakat
Ms Julie Alimpic PDHPE Teacher
IPSHA ATHLETICS CARNIVAL
IPSHA SWIMMING 2018
Ì
Ì
Ì
Ì
Ì
Ì
172
The Junior School's Primary House Swimming Carnival took place at the MLC Aquatic Centre on Friday 16 February 2018. Congratulations to all the girls who participated in what was an energetic and exciting carnival.
The girls looked fantastic dressed in their House colours; the House Captains and leaders did an amazing job organising their House groups, demonstrating how much sporting spirit there is in the Junior School. It was wonderful to see so many families present, proudly supporting the girls.
The Year 3 to Year 5 girls participated in Year House Relays, 100m, 50m, 33m races and the 'Superfish' race where our six fastest freestyle swimmers competed to be
YEAR 3 TO YEAR 5 SWIMMING CARNIVAL
the Superfish Champion. Records that had been held for several years were broken and new personal best times were set!
Congratulations to the 2018 Junior School Swimming House Champions Mooramoora, and the following Age Champions:
8 Years Champion
Avery Koh Runner Up Chloe Miller
9 Years Champion Elysse Diep Runner Up Emily Bitar
10 Years Champion Jossie Liu Runner Up Kathleen Chrun
11 Years Champion Annaliese Yan Runner Up Christine Jin
Overall Swim Champion Annaliese Yan
Ms Julie Alimpic PDHPE Teacher
CIS SWIMMING CHAMPIONSHIPS
Congratulations to Annaliese Yan (Y5), Christine Jin (Y5), Avery Koh (Y3), Chloe Miller (Y3), Zoe Jameson (Y6) and Isabelle Barakat (Y6) who competed at the CIS Swimming Championships. All girls swam outstandingly.
Well done to the Senior Freestyle Relay team that placed 4th overall in the final and to Annaliese Yan and Isabelle Barakat who placed in the top three and will now progress to the up-coming NSWPSSA State Championships.
Ms Julie Alimpic PDHPE Teacher
Congratulations to Annaliese Yan (Year 5) who swam at the NSWPSSA Swimming Championships. Annaliese placed 8th in NSW for the 11 Years Girls 50m Freestyle and won a Silver medal (2nd place) in the 11 Years Girls 50m Breaststroke.
Annaliese took part in the Pacific School Games held during the year in Tasmania.
Ms Julie Alimpic PDHPE Teacher
NSWPSSA SWIMMING CHAMPIONSHIPS
173
Saturday 7 April, saw the Independent Primary School Heads of Australia (IPSHA) Cross Country Carnival held at The Kings Preparatory School.
11 girls represented MLC. The 8/9 and 10 Years girls competed in the 2km run and the 11 Years and 12/13 Years girls competed in the 3km run.
8/9 Years (2km)
Avery Koh Lucia Barrington-Higgs Eve Ireland Elysse Diep
10 Years (2km)
Angelique Houltham Saskia Roberts
11 Years (3km)
Aspen Lambert Annaliese Yan
12/13 Years (3km)
Hannah Ford Jenaan Rajani Georgia Duggan
Congratulations and special mention goes to Aspen Lambert who placed 2nd overall in the 11 Years Division and Hannah Ford who placed 12th overall in the 12/13 Years Division and have both qualified for the up-coming NSWCIS Primary Championship Carnival to be held at Eastern Creek later this year.
Congratulations to all the girls on a wonderful effort.
Ms Julie Alimpic PDHPE Teacher
NSWPSSA CROSS COUNTRY
Congratulations to Aspen Lambert who competed in the 11 Years 3000m Cross Country run at Eastern Creek. Aspen ran an amazing race placing 11th overall in the state.
Ms Julie Alimpic PDHPE Teacher
YEAR 3 TO YEAR 5 CROSS COUNTRY
The Year 3 to Year 5 Junior School girls participated in their annual House Cross Country event. The weather conditions were perfect for running and all girls ran exceptionally well. With the choice of a 1km Fun Run or the Junior 2km and Senior 3km Championship course, as the girls approached the finish line some extremely close finishes were had.
This years House winner was Booralee.
Congratulations to the 2018 Champions:
8 Years Champion Avery Koh Runner Up India-Rose Race
9 Years Champion Lucia Barrington-Higgs Runner Up Eve Ireland
10 Years Champion Angelique Houltham Runner Up Saskia Roberts
11 Years
Champion Aspen Lambert Runner Up Christine Jin
Ms Julie Alimpic PDHPE Teacher
CIS CROSS COUNTRY
Congratulations to Aspen Lambert (11 Years) and Hannah Ford (12 Years) who represented both MLC School and the IPSHA Association on the 14 June at Eastern Creek Raceway. Both girls ran amazing 3km races.
Aspen's efforts saw your progress to this year's New South New South
Wales Primary Schools Sporting Association (NSWPSSA) Primary Championship Carnival.
Ms Julie Alimpic PDHPE Teacher
IPSHA CROSS COUNTRY
174
Sport Results
ATHLETICS
2018 has been a highly enjoyable year for those involved in Athletics at MLC School. The determination, enthusiasm and athletic ability demonstrated by every girl who participated in MLC School Athletics, is inspiring. It is a testament to the proficiency of our wonderful coaches and the friendly and inclusive atmosphere we all aim to achieve as a team.
Since Athletics at MLC School runs across the whole year, the commitment of the girls, who consistently attend the often physically taxing training, is very admirable. It has been gratifying to observe more and more students participating in MLC School Athletics, and I am sure its popularity will continue to increase under the leadership of the 2019 Athletics Captain, Nicola Yarrow.
Throughout the year, those involved in MLC School Athletics, had the opportunity to participate in School, Independent Girls' School Sporting Association (IGSSA), New South Wales Combined Independent Schools (NSWCIS) and Friday night twilight carnivals, where our students achieved some very impressive results. All the girls should feel very proud of their achievements at these events.
We are very grateful to our Athletics coaches – Mr Michael Psarakis, Ms Julia Laman and more recently, Mr Emmanuel Fashoyin, whose passion for Athletics and caring for each girl makes training such a joy. Thank you to Mrs Lisa Filby and the Sports Department for their constant encouragement of the girls involved in Athletics, including organising
buses out to Olympic Park and cheering us on at cold Friday night carnivals.
Lastly, thank you to all of the girls involved in MLC School Athletics. It has been a privilege to be part of such a wonderful group of hardworking young women. Congratulations on everything you have achieved so far and I wish everyone the very best in your future athletic endeavours.
Megan Cavanagh Athletics Captain
175
This year's season has once again seen the participation of both new and experienced players. Badminton is an individual sport as well as a team sport; and many girls took on the challenge of partnering up with girls they did not know. They were able to form a team because of their shared passion
for Badminton and this assisted them when playing doubles. Not only did I see great teamwork and leadership in Junior and Senior Badminton teams, but also the passion, dedication and hard work they put into improving their skills. I am hopeful that in the years to come, girls will pass down their Badminton skills and
experience to younger girls, as well as sharing their interest in and enthusiasm for the sport.
MLC School competed in the Loreto Normanhurst Badminton Competition with girls from Junior and Senior teams achieving admirable results at the end of each round each week. We also had a few teams make it to the semi-finals and finals, all achieving strong results. It was also great to see girls from different teams cheering each other. It demonstrated the strong bonds and relationships between the Badminton girls, along with their passion for this sport.
Knowing that Yijun Cui (2019) is Badminton Captain for next year, I am assured that the coming year will also bring another great season of Badminton filled with enthusiasm, spirit and sportsmanship.
Rosa Wang Badminton Captain
MLC School cultivates a sporting climate that encourages fun, competition, and teamwork. As Captain of Basketball, I am so proud and excited to have watched the sport grow, with participation by girls who have never played before, to high-level sportswomen.
BASKETBALL
Basketball this year has been an immense success. Our Senior Firsts had a season of straight wins, thanks to an amazing coach, Esther, and the support of our dutiful parents and the hardworking Sports Department. It has been an amazing journey with hard work, early morning
sessions, and long treks to Saturday morning games; the result has been unparalleled, with great wins, passion, and- most importantly, enjoyment.
MacKenzie McCowan Basketball Captain
BADMINTON 176
Congratulations to every girl who participated in MLC School Cross Country this year. The determination and sheer grit displayed by everyone who participated in the school, Independent Girls' School Sporting Association (IGSSA), New South Wales Combined Independent Schools (NSWCIS) and NSW All Schools Cross Country carnivals are truly remarkable and something to be very proud of. As a result of the hard work put in by all students who took part in MLC School Cross Country throughout the year, some excellent results were achieved at carnivals.
Arriving at school in the dark and cold to be bussed to Frencham for the IGSSA Carnival, is not always an easy ask. However, it is always wonderful to see the enthusiasm of the girls and their support for one another before, during
and after their events. Competing is therefore a very enjoyable experience for everyone involved and becomes an opportunity to make some very fond and exciting memories.
We are grateful to our amazing coaches – Mr Michael Psarakis, Ms Julia Laman and recently Mr Emmanuel Fashoyin – for their invaluable instruction, encouragement and care of every student involved. We are very lucky to have such a dedicated team of coaches and students who form the community of MLC School Cross Country, and I am very confident that such dedication will continue to yield excellent results for the girls involved presently and in the future.
Megan Cavanagh Cross Country Captain
COUNTRY
CROSS
177
Without a doubt, 2018 has been incredible for Diving! Along with many experienced divers, we have had so many new girls participate in this fun and challenging sport. Through all the belly flops, back flops, and face plants, we divers have become stronger, braver and have improved significantly. Not only have we learned new skills and improved our dives, but we have also become an inseparable team.
During Term 1 this year, we had the Independent Girls' School Sporting Association (IGSSA) and Independent Girls' School Sporting Association (IPSHA) Diving competition, where every diver did a fantastic job! The IGSSA team included Athena Nikolakopolous, Laura Andrikis, Molly North, Georgia Long, Erykah Lakkis, Ava Lee, Ziya Kalra, Lana Rieter, Eugenie Tan, Desiree Miller, Hanna Nash, Jessica Kuo, Lilia Coman, Catalina Floros, Victoria Workman, Ruby Navaez, Mia Gerbino, Selma Ulutas, Zoe Trpezanovski, and Zoe Wang.
For many, it was their first ever Diving competition. But through the support and encouragement of the whole team, everyone had lots of fun and dived to their best ability. It was clearly evident at the competition that the MLC School team were by far the loudest and most supportive of all the schools, and we all had a great time together diving and cheering each other on. The younger IPSHA girls also did a wonderful job in their competition. Congratulations Kristina Bitar, Sascha Kovarik, Sophia Malas, Dakota Dodd, Isabella Kristallis,
Lara Bazzi, Chloe Constantinidis, and Camille McLucas who were apart of the IPSHA team. They all put in a tremendous effort and have done MLC School proud.
To all the divers, a huge thank you for all your hard work and dedication throughout the year, and for turning up to training at 6.45am on the cold winter mornings. All your hard work paid off, and I am so proud of everyone who competed. Another thank you to all the supportive parents who are the taxi drivers, driving their daughters to diving early in the morning – although sleep is sacrificed, it is greatly appreciated! Furthermore, four girls – Ziya Kalra, Desiree Miller, Jessica Kuo, and Hanna Nash and Ava Lee –qualified for the IGGSA team heading to the Combined Independent Schools (CIS) competition – such a wonderful result! All the girls did such a great job and have showcased their talent excellently. Additionally, Desiree Miller and Jessica Kuo competed at the NSW ALLSCHOOLS Competition and a big congratulations to Desiree who qualified for Australian National School Championships in Perth!
We divers have also been very lucky to train at the Sydney Olympic Park Aquatic Centre (SOPAC) occasionally during the term. These training sessions that consist of dryland and in-the-water training, give us the golden opportunity to improve and try new dives using the bubbles and dryland facilities, as well as try platform diving. Even some of the younger junior girls were brave enough and jumped off the 10m platform!
Overall, not only has this year brought unforgettable memories, like the fun training sessions, silly games, and funny belly flops, but also a joyful and compassionate community. I am glad that I can be a part of such a close-knit team that supports and encourages each other.
Lastly, all these fantastic results and fun memories couldn't have been achieved without our wonderful coaches – Ms Louise Poole, Mrs Genevieve de la More, and Ms Alex Finlay Jones. They have put so much time and effort into helping us. Their patience and expertise have helped guide us to become better divers and we could not thank them enough. On behalf of all the divers, I would also like to say another massive thank you to Ms Kylie Bickerstaff who has been extremely supportive and benevolent! Throughout the whole year, she has provided so many new opportunities and helped make the sport of diving as best as it can be! We all love and want to thank her for everything she has done for us.
It has been such a pleasure being the Diving Captain this year, and I could not be more proud of this amazing sport and astonishing team. I hope to see everyone doing IGSSA and IPSHA again next year, and to see even more new and familiar faces.
Jessica Kuo Diving Captain
DIVING 178
Fencing at MLC School has had one of the most successful years yet, with all students dedicating much time and effort to the sport. This year, the MLC School Senior Girls Foil Team achieved a Silver Medal at both State and National level, improving our ranking from 2017. The team went through a five-week Fencing program competing against different school teams every Saturday to qualify for the National competition, where we narrowly missed out on a gold medal.
The girls have continually shown their dedication to the sport through their enthusiasm, and I believe that their spirit is one of the reasons for our increasing success. For such an individual sport, there is much support to be witnessed within our team, and I am sure that the team will be just as supportive and successful next year.
It was a privilege coaching the MLC School Fencing team and being Fencing Captain in 2018, and I wish all the fencers the very best for next year.
Erin Bofinger Fencing Captain
FENCING
Representation
Ì
Australian Fencing Team (Junior)
Australian Women's National Ranking (as of 15/10/18)
Ì
Junior (U20) Ranked 8th
Ì Under 23 Ranked 7th
Ì Open Ranked 10th
NSW Women's State Ranking (as of 15/10/18)
Ì
Junior (U20) Ranked 2nd
Ì Under 23 Ranked 5th
Ì
Open Ranked 5th
Ì
Under 18 School Age Ranked 1st
International Competitions
Ì
Asian Junior (U20) Zonal Championships Women's Foil [Top 32 (18th)]
Australian Fencing Competitions (Individual)
Ì
AFC#1 (Australian Fencing Circuit) Open Women's Foil [Top 16 (16th)]
Ì
AFC#2 Open Women's Foil [Top 8 (6th)]
Ì
AFC#3 Open Women's Foil SILVER
Ì National U23 Women's Foil [Top 16 (9th)]
Ì Australian and Oceania Junior (U20) Women's Foil Championship [Top 16 (16th)
Ì National Senior Schools Women's Foil Championship SILVER
Australian Fencing Competition (Team)
Ì Australian Junior Team Championship (NSW A Team) BRONZE
Ì Oceania Junior Team Championship (Australian Team) GOLD
Ì
Australian Senior Schools Team Championship (MLC Senior Girls Foil Team) SILVER
NSW State Competitions
Ì
Presidents Cup Open Women's Foil [Top 8 (6th)]
Ì
City of Sydney Women's Open Foil BRONZE
Ì State U23 Women's Foil Championship BRONZE
Ì State Open Women's Foil Championships BRONZE
NSW School Competitions
Ì
NSW Senior Schools Team Qualifier (MLC Senior Girls Foil Team) SILVER
Ì NSW School Championship Senior Girls Foil SILVER
2018 Fencing Competitions MLC School
Ì
Jivi Govendor: Cadet National Championships [Top 32 (32nd)]
Ì
Australian Senior Schools Team Championship (MLC School Senior Girls Foil Team) SILVER Team members: Jivi Govendor, Kaisha Rollason, Sophia Heyde, Erin Bofinger
NSW Senior Schools Team Qualifier (MLC Senior Girls Foil Team) SILVER Team members: Jivi Govendor, Kaisha Rollason, Sophia Heyde, Erin Bofinger
Ì
179
The Football season was amazing. With more girls participating and doing us proud. Not only did we compete in the IGSSA Football Competition with 91 girls participating in seven teams, we also joined a new 5-a-side Football competition hosted by Ascham, entering five teams.
It's been hard work each week training on cold winter mornings; however, the girls are always up for a challenge and we have stuck together and supported each other, sharing a laugh along the way. We suffered a few injuries, but our Junior girls rose to the challenge by supporting and playing to cover the shortage. We are particularly grateful to the Year 7s who stepped up and played in the MLC 01 game against PLC Pymble – our arch rivals. Although this time we didn't conquer them, we played superbly, connecting as a team and fighting until the end!
We particularly congratulate Georgia Pollitt for representing MLC School and being selected into the IGSSA, CIS and All Schools Opens teams this year.
It's the girls who have made this season so incredibly enjoyable for everyone – representing our school proudly and helping to maintain our position as a dominant Football school. We have had a tremendous amount of support – from each other and from all the wonderful parents so it is not surprising that MLC School has such wonderful players.
Ava McGrigor Football Captain
FOOTBALL 180
This year, many girls from different year groups at MLC School competed at either the IPSHA or IGSSA Gymnastics Competition at the Sydney Gymnastics and Aquatic Centre in Rooty Hill.
Prior to the competition starting, the whole IGSSA team participated in a team sleepover on crashmats in the Senior School. This sleepover allows for team bonding leading up to the competition.
IPSHA took place in the second week of Term 4. The girls all performed amazingly well with many achieving individual placings. Levels 1-4 were given team placings: Level 1 placed 2nd; Level 2 placed 6th; Level 3 placed 3rd; and Level 4 placed 6th. Additionally, we had three girls from Year 6 competing in Level 7 and one competing in Level 8.
Overall, the dedication and commitment to training shown by the IPSHA and IGSSA teams have been amazing and this was clearly reflected in their results.
Olivia Otto Gymnastics Captain
GYMNASTICS 181
2018 was a sensational year for Hockey at MLC School. All girls brought skill, dedication and a positive attitude to both the Sydney Eastern Hockey Association (SEHA) and Independent Girls' School Sporting Association (IGSSA) competitions, winning with style and always playing with good sportsmanship. Although we suffered some losses this season, we were winners overall, as all girls had an incredible season and enjoyed every single minute of it.
In 2018, the girls competed in a new competition, the SEHA Schoolgirl Competition, and our three teams all played exceptionally well. MLC School also had six teams competing in the IGSSA Competition, achieving tremendous results – our Senior Firsts team just missed out on competing in the grand final in an intensely close game.
Congratulations to all of our MLC School Hockey players – this season has been exceptional and we hope to see you all next year. Thank you to our team coaches who have passed on their wisdom, skills and love of the game to the girls, helping them flourish and become the stars they are. I encourage all students to try out Hockey and wish the future MLC School Hockey teams the best of luck.
Isabelle Sherbon Hockey Captain
Netball this year has been really successful and it has been particularly encouraging to see the growth of many of the new programs. This year we had 14 teams participating in Eastwood Ryde Netball Association (ERNA) Netball with an astonishing result of five teams in the grand finals: MLC 1, MLC 3, MLC 5, MLC 8 and MLC 12. Out of these teams, every team except MLC 8 (who were close runners-up), won their division. This is truly an amazing result for MLC School in only our second year in ERNA.
We also had two Independent Girls' School Sporting Association (IGSSA) Netball teams, with MLC 2 doing exceptionally well. They were undefeated throughout the season only to lose by two goals in the grand final. The girls in both IGSSA teams thoroughly enjoyed their
season and are prepared to train even harder next year.
Netball Talented Athlete Program (TAP), the invitational Netball training program, initiated at the end of last year, continued all year round, with girls of all ages working hard to develop their Netball skills. We were also able to enter teams into the Schools Cup and Oceania Netball Cup both of which were exciting new opportunities this year.
Overall, Netball has been a rewarding experience for all those involved, with the development of many new friendships and skills.
Nicola Yarrow Netball Captain
NETBALL
HOCKEY
182
Resilience, tenacity, commitment and reward have been some of the defining characteristics of MLC School Rowing in the 2017/2018 season. Everyone pulled together, collaborating to make this season one in which we achieved significant results by embracing the opportunities offered.
All athletes in the Rowing program achieved good results both on and off the water, in land training, benchmarking, racing, and pathways. We would like to acknowledge the squad and their families for their commitment to early morning and afternoon training sessions, and at regattas.
With an increase in Year 10 and Senior rowers this season, the opportunities and support we were able to provide also increased. We are incredibly proud that many of the students embraced these opportunities, with amazing results. For the first time in our School's history, MLC School rowers competed in the Head of the Yarra boat race in Melbourne – Australia's ultimate distance race for coxed eights. A change to the rules allowed MLC School to combine with another smaller program (Tara Anglican School) to enter a Year 10 and Senior crew. Both crews performed strongly in an experienced Victorian field.
This experience greatly benefited the rowers in the development of their technique and they performed strongly at the NSW Schoolgirl Head of River (2nd in Yr10 Coxed Four), and Australian Championships (B-Final). Madeleine Murphy (Year 11), Tayla Kerpiniotis (Year 10) and Lily Smith (Year 10) were nominated for the NSW Junior pathway, with all three being selected into the NSW pathway 8+ crews – meeting one of their role models, Kim Brennan, Olympic Gold Medallist, along the way.
While these are a few stand-out moments, the entire squad continued to grow, and perform well above expectation given our program size when
ROWING
compared to other NSW School Rowing programs. Clearly evident is the culture of performance, support, and community which has developed within the program over the last few seasons and supported by our 2017/18 Rowing Captains, Madeleine Murphy (Year 11) and Lily Smith (Year 10).
At the end of the season, we celebrate all successes on and off the water, and acknowledge the following for their results, and contribution to the program and its community.
MLC School Rowing Most Improved 2017 – 2018 Season
Ì
Junior – Olivia Alden-Hallit (Year 8)
Ì
Intermediate – Ella Woolbank (Year 10)
Ì
Senior – Madeleine Murphy (Year 11)
MLC School Rowing Encouragement Award 2017 – 2018 Season
Ì
Junior - Sarah Carvolth (Year 9)
Ì Intermediate – Olivia Debs (Year 10)
Ì Senior – Sophie Newby (Year 11)
Coxswain of the 2017 – 2018 Rowing Season
Ì Maddie Aitken (Year 11)
Spirit of Rowing Award
Ì Uma Barrett (Year 10)
Rower of the 2017 – 2018 Season
Ì Lily Smith (Year 10)
Results are not achieved in isolation and we wish to acknowledge and thank MLC School Executive, the Rowing Parents Support Group, and all families for their continued support and encouragement of the students and coaches.
Madeleine Murphy Rowing Captain
183
2018 was a year of success for our MLC School Snowsports team in both downhill events and Cross Country. We had a large number of girls of all ages competing in various events.
This year we competed in Snowboard GS with Zaz – with Jasmine Maddie being our first ever competitor in that event – and we also had competitors in Skier X, Ski GS and Moguls. Claudine Talbot from Year 9 advanced to the state competition for Moguls. Although this week was very successful, Zara Cathcart unfortunately injured herself, and was unable to compete in Cross Country later in the year.
During the week of Sydney Interschools, the Snowsports team had the pleasure of training with the Perisher staff, which was a great opportunity for the girls to improve their racing technique for Skier X and Ski GS. The weather was not too pleasant for our week at Interschools, although the snow quality was no disadvantage for our racers. We are all so proud of the effort that the girls have put into this amazing sport and are so pleased to see them just having fun.
As well as competing in downhill events, MLC School also competed in the State Cross Country Skiing where girls
participated in both relay and freestyle. Our Cross Country team trained at school in both Term 2 and Term 3, with our fabulous coach Zoe Latham, using the skikes to improve our technique and develop our understanding of the best way to approach the race. In Week 5 of Term 3, the MLC Cross Country Ski team headed down to Perisher for a week. On the Sunday before Interschools, some of our racers competed in the Amelia McGuiness Time Trials, which was a great opportunity for first timers to have a go on the skis. Our team was able to train on two days before the race with an amazing coach, Jane, from the Nordic Shelter, and this definitely enhanced our racing technique and made the girls more confident for the races. We couldn't have asked for better weather on race day and all the girls woke up nervous and excited for the big day that we had all been training for and eagerly anticipating. Such a great amount of effort was put in by all the racers and we were very lucky to have three girls advance to Nationals – Maria Stamateris, Lilia Coman and Claudine Talbot. Sadly, Maria and Lilia were unable to compete at Nationals due to injuries; however Claudine, our pride and joy, placed 9th which is absolutely amazing, considering she is in the younger age bracket of her division.
We finished the season with burnt faces and big smiles, knowing that next year will be an even bigger and better year. Being in the Snowsports team has given me the chance to get to know girls of all ages and create strong friendships with girls I wouldn't otherwise know. I was also able to meet their families and I am so grateful for the effort that the parents put in and the way they are welcoming to anyone, old or young. I would also like to particularly thank Ms Kylie Bickerstaff for designing our fabulous pink shirts – which were hard to miss on race day – and for holding the team together. We could not have done it without her.
I am so proud to be Captain of a sporting team in which everyone is so supportive of each other, as in a family. I am so keen for next year's season and for training to start again.
Madeleine Lysaght Snowsports Captain
SNOWSPORTS 184
SOFTBALL
The Softball 2018 season was amazing. MLC School entered a total of 63 girls in six teams – two Senior teams, three Junior teams and one Year 7 team. The girls trained two mornings a week and, in the case of some teams, played games very early on Saturday mornings.
All teams performed extremely well this season and did MLC School proud. Special congratulations to the Junior Seconds who played in the semi-finals and won, placing 3rd overall and to the Senior Firsts who made the finals but sadly lost.
Thanks to all the coaches for training the girls and also for being there to guide the girls during Saturday games. It has been a pleasure being Captain for 2018.
Elisha Quan Softball Captain
185
2018 has been another successful year for the MLC School Swimming Program. From the MLC School IGSSA Swim Team to the 7am morning development squads offered to all students, this season has proven to be a rewarding one, and the School's swimming program has expanded.
The IGSSA Swimming Championships held in March featured 23 of our swimmers from Year 7 to Year 12. Our performances were boosted enormously by the support of the wonderful Year 8 students who took the time to come and
cheer them on. This, accompanied with the unveiling of our new sports mascot, The Marlin, and our new and improved mascot costume, significantly heightened the enjoyment and overall excitement on the day.
This year, the MLC School Swimming Team has improved markedly and the number of finalists has increased. This is due to the amazing efforts of our new head swim coach, Mr Coleman Wong, and the outstanding talent, camaraderie and team spirit within the
MLC School Swimming Team. A selection of MLC School students also went on to compete at the highly competitive CIS and All Schools swimming events, further contributing to this year's success.
MLC School's new swim coach, Mr Coleman Wong, is keen to maintain the progress of the MLC School Swim Team, which hopefully will achieve even more success in the 2019 Swimming season.
Sienna Prowse Swimming Captain
SWIMMING 186
TENNIS
2018 was a phenomenal year for Tennis at MLC School. Altogether we had 17 teams – eight Senior, six Junior and three Year 7 – which represented MLC School in the IGSSA Saturday Sport competition. It was extremely rewarding to see the friendships formed and enthusiasm and motivation of the girls as they consistently came to training and played exceptionally well on successive Saturday mornings in Term 1. Regardless of the outcome of the games, the girls demonstrated perseverance, integrity and dedication, exemplifying their MLC School pride and attitude. Overall, MLC School had ten teams placing in the top four, and congratulations to Team 8 which came first in their division.
We would especially like to acknowledge Julia Varvarigos, who was a part of the IGSSA Pathways team and trialed for CIS, only narrowly missing selection into this team.
Playing Tennis at MLC School has been an integral aspect of my life since Year 7 and has inspired me to maintain my motivation and a healthy balance of study and fitness. I really encourage all students to give Tennis a go as MLC School provides a
friendly and welcoming environment where you can discover and excel in your passion.
Most importantly, on behalf of all the players, I would like to thank our coach, Mr Ludovic Catherine, and the MLC School Sports Department staff who have continually supported and inspired us during our Tennis journey.
Yasmin Mills Tennis Captain
TILDESLEY TENNIS SHIELD
This year was the celebration of the 100th anniversary of the Tildesley Tennis Shield Competition, which was first held in 1918. Although it was an extremely wet start to the tournament, causing all play to be suspended on the first day, the MLC School team's spirit was never dampened. Once play continued, it was incredible to hear the cheering and seeing the encouragement from all girls playing and representing MLC School.
Congratulations to all girls in the team, whether it was their first or last Tildesley Shield tournament. Everyone conducted themselves with pride and positivity throughout the competition. We particularly congratulate Taylor Hosking
(Year 10) for making it to Round 3 Singles, and Julia Varvarigos (Year 11) for making it to Round 4 Singles, narrowly missing out on a win.
We are very grateful to the Tildesley Lines Girls who gave up their time to support the team. On behalf of the Tildesley team, we would also like to thank our coach, Mr Ludovic Catherine and the Sports Department who have continued to support us.
Overall, MLC School placed six places higher than in 2017 – what a great achievement! Congratulations to all, and good luck for 2019.
Nicole Miloucheva TildesleyTennis Shield Captain
TENNIS 187
A season of Touch Football at MLC School entails early mornings, laughs and happy memories. Of course no season would be complete without a long bus trip to Frensham.
The 2018 Touch Football season saw our largest numbers to date, with over 180 girls involved in the program. It is great to see the Touch Football community at MLC School growing and I hope this continues. The Touch Football program comprised a mixture of competitive and social teams, and all the girls were given the opportunity to step outside their comfort zones and meet new people throughout the season.
We were able to enrol a total of 15 Independent Girls' School Association (IGSSA) teams this year, with girls from
Years 7 to Year 12. For some this was their first time playing Touch Football and for others, just another training session to add to the list. It was also great to see our younger players joining in this season, and we were lucky enough to enter two Independent Primary School Heads of Australia (IPSHA) teams.
We are extremely grateful to all the coaches who trained us in sunshine and rain, ordering us to run around Burwood Park, teaching us how to pass, and drilling arrows into us! We also thank our parents for being our taxi drivers, taking us from Pymble to Peakhurst and Frensham. However, most importantly, we thank the girls – they gave their all this season. I hope you had fun and perhaps learnt something about yourselves.
Congratulations to everyone who participated this season and for making 2018 another successful season of Touch Football. I encourage these girls to return next season, and invite any other girls who are interested to have a go, and persuade your friends to sign up –I guarantee that you won't regret it. I'm sure 2019 will bring us another season of laughs, fun, team spirit and loads more memories.
Natashja Eyles Touch Football Captain
TOUCH FOOTBALL 188
In 2018, the Volleyball program continued to expand with the introduction of the Targeted Athlete Program (TAP). Throughout the year, many girls from Year 7 to Year 12 dedicated themselves to learning and improving their skills each week in preparation for the Schools Volleyball Cup. This year, two MLC School teams were entered into the Sydney Volleyball League (SVL) competition, and great improvements in skill and teamwork were evident in both
teams. MLC 2 played in the Under 15s pool and achieved the outstanding accomplishment of winning Gold, which is testament to their dedication to the sport.
MLC School also entered multiple teams in the Santa Sabina competition in Term 4. Due to their success and improvement of MLC 1 as a result of participating in the Australian Volleyball School's Cup (AVSC) in 2017, the Sports staff and coaches prepared a Junior team and a
Senior team for the AVSC tournament in 2018. This is a challenging competition against various schools and clubs from across Australia. This tournament is an incredibly beneficial and rewarding experience that will dramatically improve the teams' skills on court, fostering camaraderie and enabling lifelong memories to be formed.
Josephine Lam Volleyball Captain
It has been a fantastic year for MLC School Water Polo, with many new girls joining the sport.
In Term 1, our MLC School Senior team competed in the University of New South Wales (UNSW) Water Polo Competition. These players made an outstanding effort, turning up to games no matter how far away or how early, and once there, proudly representing the school by playing with sportsmanship and drive. This competition is always a great way to start off the new year and meet new girls.
Once again, MLC School hosted the Friday Night Water Polo Competition in Term 3. This year, our Senior Firsts team took the Gold after a gruelling game against St Andrews. The girls' training and commitment in Term 3 enabled all the players to improve their Water Polo skills and they made valuable friendships across year groups as well.
WATER POLO
For the Independent Girls' School Association (IGSSA) Competition in Term 4, MLC School submitted a Junior and a Senior team who also trained diligently, keeping spirits high at Saturday morning games.
We congratulate all the players, both new and returning, for their commitment and contribution to MLC School Water Polo this year.
Water Polo Captain Grace Gilmore
VOLLEYBALL 189
Sports Dinner
On Tuesday 20 November, the annual Sports Awards and Dinner was held in the Daphne Line Hall. This night was a celebration of the sporting achievements of our students and to acknowledge their courage, determination, resilience, teamwork and sportsmanship.
We were joined by guest speakers Kiera Austin and Amy Parmenter from Giants Netball. They gave us an insight into the
life of an elite athlete. We learnt that hard work pays off, and you should never give up on your goals.
On this night, we also introduced our mascot, the MLC Marlin, to the School community. The marlin was chosen because they are fast, put up a tremendous fight, are majestic, active and strong. They leap out of water and demonstrate powerful and acrobatic movements.
Congratulations to all our 2018 award recipients. Thank you to all the families, students and staff who attended to celebrate our many wonderful achievements.
Mrs Lisa Filby Director of Sport
Thelma Coyne Long Award
Athletics
2018 SPORTS AWARD RECIPIENTS
Desiree Miller
Swimming
Junior Athlete of the Year
Annaliese Yan Athlete of the Year Sienna Prowse
Junior Athlete of the Year
Aspen Lambert Athlete of the Year Morgan Kelaher
Badminton Athlete of the Year
Tina Gong
Basketball Athlete of the Year Imogen Greenslade
Cross Country
Tennis
Junior Athlete of the Year Claire Liu Athlete of the Year Julia Varvarigos
Touch Football Athlete of the Year Chloe Gentle Volleyball Athlete of the Year Olivia Wu
Aspen Lambert Athlete of the Yea Charlotte Jones
Junior Athlete of the Year
Diving
Athlete of the Year Kristina Bitar Athlete of the Year Desiree Miller
Fencing Athlete of the Year
Football
Water Polo Athlete of the Year Kimberly Keogh
Junior Team of the Year MLC 12 Netball Team
Erin Bofinger
Athlete of the Year Georgia Pollitt
Gymnastics
Junior Athlete of the Year Kayli Scott Artistic Gymnastics Athlete of the Year Eugenie Tan Rhythmic Gymnastics Athlete of the Year Isabella Wang
Hockey Athlete of the Year Olivia Cain
Netball
Junior Athlete of the Year Mannix Aurisch Athlete of the Year Tashjan Managreve
Rowing
Athlete of the Year
Lily Smith
Rugby Athlete of the Year Amelie Coman
Snowsports
Athlete of the Year Claudine Talbot
Softball
Athlete of the Year Lydia Todoroska
Senior Team of the Year
Mannix Aurisch Ella Baker Jasmine Banks Riya Chib Erin Clowes Ruby Davis Christina Di Giandomenico Jody Feng Eloise Girard Amaya Karunakaran Aspen Lambert Sally Obaid
Senior Fencing Team Sophia Heyde Kaisha Rollason Jiveneshwari Govender Erin Bofinger
Service to MLC Sport
Professor Joan Beck Award
Crystal Warner Overall Junior Athlete of the Year Aspen Lambert Overall Senior Athlete of the Year Desiree Miller
Fencing Australian Representative Erin Bofinger
191
Sports Junior School
CISANDPSSA REPRESENTATIVES
IPSHA ATHLETICS
FRONT ROW Mikayla Woon, Eve Ireland, Lucia Barrington-Higgs, Yolanda Dolenac, Chloe Miller, Chloe Constantinidis, Avery Koh, Elysse Diep SECOND ROW Sameera Khatri, Saskia Roberts, Anisha Sivagurunathan, Zoe Jameson, Aspen Lambert, Annaliese Yan, Angelique Houltham THIRD ROW Georgia Duggan, Bella Upcroft, Christina Di Giandomenico, Eladie Simmonds, Jaiden Sinozic, Angie Lan
Christine Jin, Annaliese Yan, Aspen Lambert, Zoe Jameson, Chloe Miller, Avery Koh
192
FRONT ROW Zoe Jameson, Tiana Roins, Anikah Sanan, Lara Stojkovic, Chloe Arnold, Georgie Roediger, Vishaalini Ravichandra SECOND ROW Danielle Dib, Jaiden Sinozic, Imogen Johnstone, Sophia Sefein, Bella Upcroft, Lucinda Winlaw
FRONT ROW Gabriella Ayad, Misha Behi, Isabella Correia, Aryana Sah, Gauri Nathan, Emma Sullivan, Ava Roins, Elysse Diep SECOND ROW Aiesha Sivaranjan, Evie Papamanuel, Julinar Alshehabi, Annaliese Yan, Sameera Khatri, Riya Chib, Amaya Karunakaran THIRD ROW Amreen Thind, Ava Saad, Haegan Sitou, Christina Di Giandomenico, Jemima Zoud, Anisha Sivagurunathan, Allegra Carlini
(YEARBASKETBALL 6) IPSHA BASKETBALL
193
Sports Junior School
IPSHA CROSSCOUNTRY
IPSHA GYMNASTICS
FRONT ROW Sophia Hu, Jade Pashos, Ilaria Blanco, Ellie Li, Avery Koh, Imogen Walker, Georgie Papadimitriou SECOND ROW Rose Lin, Eloise Girard, Naoise Lynn-Black, Aryana Sah, Niamh Johnson, Misha Behi THIRD ROW Aiesha Sivaranjan, Julinar Alshehabi, Lily Simmons, Sophia Grave, Zara Dhawan, Camille McLucas
Avery Koh, Aspen Lambert, Lucia Barrington-Higgs, Elysse Diep ABSENT Jenaan Rajani, Georgia Duggan, Angelique Houltham, Saskia Roberts, Eve Ireland
194
FRONT ROW Gabriella Ayad, Isabella Correia, Mia Tynan, Elysse Diep SECOND ROW Allegra Carlini, Haegan Sitou, Saskia Roberts, Ava Roins
FRONT ROW Gauri Nathan, Anastazia Samad, Julinar Alshehabi, Felicia Hannah, Alana Ikladios SECOND ROW Evie Papamanuel, Jasmine Fordyce, Erin Muir, Saskia Roberts, Harriet Scott
SOCCERIPSHAYEAR4 MINKEYIPSHA
195
Sports Junior School
IPSHA
IPSHA
FRONT ROW Eloise Girard, Evie Papamanuel, Zahra Yassine, Anastazia Samad, Alana Ikladios SECOND ROW Chloe Ho-Shon, Mannix Aurisch, Christina Di Giandomenico, Sameera Khatri
FRONT ROW Nevaeh Nicholas, Azzurra Zappacosta, Georgie Roediger, Chloe Arnold, Aileen Leong, Lara Stojkovic, Mia Tsaousidis, Tiana Roins, Mira Kalra SECOND ROW Lucinda Winlaw, Keira O'Connor, Danielle Dib, Jaiden Sinozic, Zara Constance, Victoria Grammenos, Isabel Baudille, Amelia Cosmidis
SOCCERYEAR5
SOCCERYEAR6
196
TENNISIPSHA
Jenaan Rajani, Eladie Simmonds, Zara Constance, Mira Kalra
FRONT ROW Emily Bitar, Angelina Le, Angelique Houltham, Mia Tynan SECOND ROW Sara Trimboli, Kathleen Chrun, Suyi Yin, Sofia Sok Cifuentes
TENNISYEAR6
197
Sports Junior School
IPSHA TOUCHFOOTBALL
TOUCH FOOTBALL(YEAR6)
FRONT ROW Mia Tynan, Claire Lee, Harriet Scott, Julinar Alshehabi SECOND ROW Angelique Houltham, Anisha Sivagurunathan, Jemima Zoud, Saskia Roberts
FRONT ROW Tulasi Kanani, Zoe Jameson, Georgie Roediger, Dakota Dodd, Jenaan Rajani SECOND ROW Seraya Srikumar, Eladie Simmonds, Jaiden Sinozic, Lucinda Winlaw
198
SWIMMINGIPSHAANDDIVING
SPORTS MONITORS
Misha Behi, Erin Clowes, Chloe Ho-Shon, Alexia Carisio, Jossie Liu, Lana Radwan
FRONT ROW Hannah North, Stephanie Keo, Christine Jin, Chloe Constantinidis, Eve Ireland, Lara Bazzi, Avery Koh SECOND ROW Chloe Miller, Isabel Garner, Saskia Roberts, Annaliese Yan, Jossie Liu, Camille McLucas THIRD ROW Anisha Sivagurunathan, Haegan Sitou, Kathleen Chrun, Sophia Malas, Kristina Bitar ABSENT Zoe Jameson, Claire Liu, Chloe Arnold, Sophia Sefein
199
Sports Junior School
TOYEAR3 NETBALL
YEAR4NETBALL
FRONT ROW Emily Bitar, Lucinda Butcher, Sameera Khatri, Aiesha Sivaranjan, Karla Anderson
SECOND ROW Grace Farrow, Kathleen Chrun, Amreen Thind, Angelique Houltham
FRONT ROW Amritha Ravichandra, Hazel Gohil, Carina Chu, Eleanor McKeough, Milla Papaluca SECOND ROW Luella Farah, Anisha Sivagurunathan, Chloe Messih, Gurnaaz Kahlon
YEAR2
200
FRONT ROW Erin Clowes, Riya Chib, Aspen Lambert, Ella Baker, Amaya Karunakaran, Eloise Girard SECOND ROW Jasmine Banks, Sally Obaid, Mannix Aurisch, Christina Di Giandomenico, Jody Feng, Ruby Davis
NETBALLYEAR5
201
Sports Senior School
BADMINTON
BASKETBALL
FRONT ROW Madhavi Chauhan, Charissa Chatnantawej, Vivian Zhang, Sophia Westbrook, Elsa Pickering, Seetha Nathan, Natalie Cavallaro, Mahi Shah, Jade Di Girolamo, Paris Chen, Angela Trang SECOND ROW Indianna Miller, Chloe Correia, Mariam Yassine, Mikaela Nguyen, Ruby Smith, Taotao Jiang, Gloria Lim, Grace Selim, Preeyangka Manogaran, Kelly Zhang, Amelia Chan, Meera Rawal THIRD ROW Emma Mahant, Kyra Ioakimidis, Anika Grannall, Elsa Tonkinwise, Tess Tsoi, Sarah Healey, Sabrine Yassine, Nicole Hussein, Tia Niemann, Sophia Murphy, Alice Kreis, Eloise Drake, Sabine Saad FOURTH ROW Liv Sodbinov, Isabelle Sherbon, Sarah Dejanovic, Darani Gilchrist, Eva Wright, Natalia Grbic, Imogen Greenslade, Aleksia Grbic, Fiona MacKenzie, Maddison Fisher, Ava Heine, Madeleine Sherbon, Charlie Sodbinov, Sashira Mulholland
FRONT ROW Georgina Lim, Chantelle Wan, Ananya Wakhare, Soina Thind, Charlotte Huynh, Zunairah Mahfuz, Hayley Ma, Kirsten McLelland, Hannah Kang, Seetha Nathan, Nichole Wang SECOND ROW Amelia Bresolin, Diane Wang, Annie Gu, Sara Kie, Jessica Song, Kate Cartwright, Jacqueline Ciofani, Amelie Roediger, Jessica Zhu, Preeyangka Manogaran, Jade Di Girolamo THIRD ROW Amelia Chan, Maha Meer, Gloria Lim, Helena Lu, Elsa Tonkinwise, Evie Gallagher, Emma Mahant, Ishwary Ramjeevan, Maggie Wang FOURTH ROW Joyce Lin, Linda Lee, Eleni Charalambidis, Alice Ho Yi Lam, Chiara Moore, Rosa Wang, Claire Wang, Tina Gong, Katherine Du
202
COUNTRYCROSS
FENCING
FRONT ROW Emma Ung, Sophia Hendriks, Ananya Wakhare, Kaisha Rollason, Erin Bofinger, Jivi Govender, Sarai Rollason, Nichole Wang, Emily Ward SECOND ROW Sara Kie, Jacqueline Ciofani, Holly Miller, Sen Sen Xie, Sophia Heyde, Amanda Ou, Minda Wang
FRONT ROW Emily Osborne, Morgan Kelaher, Rahni Ong, Chloe Gentle, Megan Cavanagh, Laura Sutherland, Eliza Crossley, Annika Haller, Sammy Cavanagh SECOND ROW Keiralyn Dao, Chloe Jing, Claudia Kritzler, Scout Van Der Merwe, Julia Gough, Natasha Sheehy, Tianka Parapuram, Ella Tanner-Black, Caitlyn Singleton, Ria Simone Farag THIRD ROW Sarah Pearson, Sarah-Bronte Andrikis, Laura Andrikis, Charlotte Jones, Katie Sutherland, Vanessa Ryan, Juliette Beattie, Sasha Green, Annabelle Banfield
203
Sports Senior School
HOCKEY
NETBALL
FRONT ROW Jenna Wright, Arabella Zeederberg, Grace Scanlon, Scout Van Der Merwe, Dwaraka Raguparan, Despina Stamoulos, Dahlia Issmail, Jana Roy, Chloe Jing, Ivy Ross, Zoe Churchill, Sofia Jury SECOND ROW Dalia Alsaad, Marissa Matthews, Emily Fitzgerald, Jasmine Stavros, Olivia Clowes, Mahibhana Mahinthan, Sanya Mehta, Soina Thind, Pascale Simington, Te'jhaan Altiok-Brown, Maddie Hutchens, Mimi Jones THIRD ROW Laura Kardasis, Brooke Bucholtz, Amisha Khatri, Tori Charalambous, Sienna Strauss, Isabella Smith, Tianka Parapuram, Sasha Green, Aimee Goodridge, Sarah Pearson, Zaara Chalak, Caitlin Zeilinga, Lilli-Rose Nasr, Charlize Hosking FOURTH ROW Bethany Lo, Antonique Amperidis, Emily Eker, Taylor Hosking, Diya Mehta, Charlotte Seales, Eliza Crossley, Chloe Gentle, Eva Jessurun, Olivia Debs, Holly Miller, Cherie Pepperell, Ella Fletcher, Gabrielle Giannakos FIFTH ROW Inez Kritzler, Ana Trigg, Zoe Johnson, Aadhya Dhanpal, Sofia Carey, Hayley Kenzler, Ishwary Ramjeevan, Lauren Millar, Georgia Beretov-Millar, Briar Campbell, Claudia Padman, Zara Kilborn, Cassidy Maher, Amy-Grace Docherty, Samantha Tsakalos-Stewart SIXTH ROW Juliette Beattie, Lauren Purkis, Vanessa Ryan, Emma Webb, Katie Sutherland, Courtney Roberts, Holly Herden, Olivia Tanevski, Olivia Codevelle, Gemma Sorial, Charlie Kyle-Sutherland, Claudia Bean, Claire van der Stel, Zoe Clark, Ruby Scott-Wishart SEVENTH ROW Laura Sutherland, Lily Smith, Capri Maher, Emma Dickson, Amelie Coman, Olivia Russell, Nicola Yarrow, Samantha Naayen, Hannah Arnold, Gemma Dessent, Briana Chapman
FRONT ROW Claudia Scott, Grace Scanlon, Tina Papamanuel, Indianna Miller, Mikaela Sitaramayya, Hayley Ma, Zoe Proctor, Brittany Warner, Claudia Kritzler, Yianna Mitropoulos, Jorja Papantoniou SECOND ROW Julia Gough, Kate Cvetkovski, Mia Eker, Tessa Tomkins, Elle Tamvakolos, Charlotte McCrory, Tara Gentle, Lily Scanlon, Ava Lee, Madeleine Lewis, Gauri Sharma, Natalie Cavallaro THIRD ROW Sarah-Bronte Andrikis, Amelia Chan, Jacqueline Flett, Sophie Reid, Shivani Spencer, Anna Sundquist, Isabella Chapman, Sarah Carvolth, Eloise Drake, Chelsea Hunt, Dylan Rose, Eda Haller, Cynthia Hu, Annabelle Banfield FOURTH ROW Ella Tomkins, Uma Barrett, Maria Antonia Costantino, Desiree Miller, Tia Niemann, Isabelle Sherbon, Amy Yarrow, Jess MacMaster, Anica Shen, Madeleine Sherbon, Rhea Gandhi, Lilly Mijatovic, Amelie Roediger, Clara Janssen FIFTH ROW Bella Gall, Charlie Kairaitis, Zoe Hannam, Crystal Warner, Lauren Purkis, Jasmin Fitch, Annika Haller, Katie Papachatgis, Fiona MacKenzie, Hayley Kenzler, Vicky Feng, Maya Felice, Beatrice Drake, Chloe Azzam
204
ROWING
RUGBY
FRONT ROW Lilly Dummett, Jaimie Kappas, Charlie Sodbinov, Tiahna Sortwell, Madeleine Lysaght, Natashja Eyles, Jessica Kuo, Emily Eker, Desiree Miller SECOND ROW Mr B Salakas, Olivia Otto, Ava McGrigor, Madeline Bide, Amelie Coman, Liv Sodbinov, Ella Woolbank, Chloe Gentle, Crystal Warner
FRONT ROW Claudia Scott, Harriet Campbell, Tessa Tomkins, Francesca Morrison, Madeleine Murphy, Lily Smith, Zoe Howes, Le Yan Gui, Ivy Ross, Angela Trang SECOND ROW Ms K Hextell, Desiray La, Inez Kritzler, Ruby Smith, Abigail Latham, Dylan Rose, Olivia Alden-Hallit, Freya D'Mello, Uma Barrett, Imogen Kuah THIRD ROW Sarah Carvolth, Lauren Purkis, Harriet Clark, Olivia Codevelle, Sophie Newby, Jasmin Fitch, Sophie Reid, Sophia Murphy, Layla Hare, Briar Campbell FOURTH ROW Briana Chapman, Fiona Paterson, Ava Heine, Tayla Kerpiniotis, Samantha Naayen, Ella Woolbank, Madeleine Aitken, Olivia Debs, Emily Osborne
205
Sports Senior School
SOCCER SNOWSPORTS
FRONT ROW Annabel Twomey, Sanjana Natkunamanickam, Ria Simone Farag, Erica Chou, Gracelyn Dao, Hannah Bathgate, Julia Lok, Isabel McKeough, Keiralyn Dao, Zahli Harris SECOND ROW Maya Simpson, Alexandra Lasovski, Georgia Mouscas, Sarah Kanaan, Milla Newman, Destiny Nicholas, Aria Swan, Mia Eker, Andie Clark, Tina Papamanuel, Arrielle Carisio, Sarai Rollason THIRD ROW Alannah Gill, Annading Chen, Sarah-Bronte Andrikis, Ashmini Ganesh, Kirsten Moller, Maggie Wang, Georgia Wyatt, Sylie Bhat, Charlotte Bathgate, Annabelle Banfield, Zunairah Mahfuz, Anna Devlin FOURTH ROW Lauren Huynh, Uma Barrett, Jaimie Kappas, Sarah Monaha, Eleni Kaloterakis, Desiree Miller, Daphne Doumanis, Cienna Dent, Gabriella Melhem, Chloe Mavris, Lilly Dummett, Kaisha Rollason, Kate Cartwright, Clara Janssen FIFTH ROW Anthea Trent, Dionne Alaveras, Maria Stamateris, Lilia Coman, Tiffany Boungoto Weng, Nicola Oddie, Renae Varvaris, Kimberly Keogh, Hannah Williams, Isabella Chapman, Sophie Beraldo, Dakota Sinozic, Georgia Melhem, Natalia Giannakos, Paris Mitropoulos SIXTH ROW Beatrice Drake, Maya Felice, Annike Lindhout, Zoe Lindhout, Ava McGrigor, Katie Papachatgis, Grace John, Amelie Coman, Anushri Baksi, Sarah Moller, Sophie Graham, Georgia Dunn, Natashja Eyles, Charlie Kairaitis, Jess MacMaster
FRONT ROW Annabel Twomey, Ruby Newton, Harriet Campbell, Kate Morfoot, Madeleine Lysaght, Maya Lecuna, Jasmine Talbot, Ivy Ross, Georgia Duggan SECOND ROW Ava Lee, Mia Grasso-Nguyen, Maria Stamateris, Charlotte Pullinger, Lilia Coman, Claudine Talbot, Zara Cathcart, Francesca Morrison
206
ANDSWIMMING DIVING
FRONT ROW Athena Nikolakopoulos, Isabella Wang, Mia Gerbino, Ava Lee, Sienna Prowse, Jessica Kuo, Sarah-Bronte Andrikis, Ruby Narvaez, Anna Xu, Caitlyn Singleton SECOND ROW Natasha Sheehy, Anais Siu, Juliette Beattie, Lauren Purkis, Kimberly Keogh, Charlie Kyle-Sutherland, Laura Andrikis, Zara Kilborn, Lilia Coman THIRD ROW Hanna Nash, Desiree Miller, Tess Tsoi, Chloe Gentle, Lana Reiter, Emily Eker, Ziya Kalra, Eugenie Tan
FRONT ROW Jasmine Wolfe, Scout Van Der Merwe, Sarai Rollason, Maya Simpson, Alexandra Lasovski, Lilli-Rose Nasr, Lara Varol, Claudia Kritzler, Elizabeth Wilkie, Zahli Harris, Annabel Twomey SECOND ROW Anna Devlin, Julia Gough, Kylie Becvarovski, Annabelle Banfield, Mikaela Nguyen, Lilia Coman, Jacqueline Flett, Kirsten Moller, Ashmini Ganesh, Cynthia Hu, Miranda Norton, Mariam Yassine, Mahibhana Mahinthan, Brittany Warner THIRD ROW Gabrielle Giannakos, Lilly Dummett, Aisling McCreery, Hannah Arnold, Annika Haller, Madeline Bide, Amelie Coman, Katie Papachatgis, Georgia Dunn, Eliza Crossley, Lydia Todoroska, Ruby Guminski, Elisha Quan FOURTH ROW Chelsea Hunt, Sophie Beraldo, Sophia Kang, Georgia Beretov-Millar, Vanessa Ryan, Lucy Edwards, Natalia Grbic, Isabella Collins, Kyra Ioakimidis, Hayley Kenzler, Isabella Chapman, Dakota Sinozic, Dionne Alaveras
SOFTBALL
207
Sports Senior School
TENNIS
TILDESLEYTENNIS
FRONT ROW Kayla Graham, Charlotte McCrory, Natalia Giannakos, Julia Varvarigos, Nicole Miloucheva, Desiree Miller, Molly Rose North, Indianna Miller, Chloe Jing SECOND ROW Taylor Hosking, Alexia Lorenzato, Alex Harbridge, Katie Sutherland, Eloise Proctor, Emma Juffermans, Annike Lindhout, Yasmin Mills
FRONT ROW Elle Kendrovski, Paris Chen, Dwaraka Raguparan, Samridhi Garg, Erica Chou, Kayla Graham, Esther Tonkinwise, Chloe Jing, Isabel McKeough, Zoe Proctor, Keiralyn Dao, Ria Simone Farag SECOND ROW Tina Papamanuel, Laryssa Latt, Charlize Hosking, Sophia Westbrook, Gracelyn Dao, Eloise Proctor, Elle Tamvakolos, Molly Rose North, Charlotte McCrory, Gauri Sharma, Indianna Miller, Despina Stamoulos THIRD ROW Natalia Giannakos, Lauren Millar, Sophie Thomas, Lola Whittaker, Natalie Toomey, Eda Haller, Katie Sutherland, Zoe Clark, Trinity Elghitany, Aadhya Dhanpal, Ria Kapoor, Sienna Strauss
FOURTH ROW Desiree Miller, Phoebe Zhou, Zoe Berg, Cherie Pepperell, Nicole Hussein, Yasmin Mills, Taylor Hosking, Sarah Healey, Nicole Miloucheva, Kaisha Rollason, Joy Xu, Julia Varvarigos, Bethany Lo FIFTH ROW Alexia Lorenzato, Vivian Law, Charlie Sodbinov, Madeleine Lysaght, Emily Millar, Emma Juffermans, Alex Harbridge, Aleksia Grbic, Vicky Feng, Annike Lindhout, Chiara Moore, Liv Sodbinov, Maya Felice, Beatrice Drake
208
VOLLEYBALL
WATERPOLO
FRONT ROW Martine Zeilinga, Grace Scanlon, Olivia Clowes, Annika Lee, Mia Eker, Madita Anderson, Lily Scanlon, Marlene Anderson, Jenna Wright SECOND ROW Zara Cathcart, Charlotte Bathgate, Aimee Goodridge, Anna Sundquist, Ana Trigg, Laura Andrikis, Meera Rawal, Isabella Smith, Madeleine Lewis THIRD ROW Virginia Peter, Zoe Johnson, Tara Grasso, Tess Tsoi, Lana Reiter, Kimberly Keogh, Nikki Juffermans, Desiree Miller FOURTH ROW Lily Rodgers, Emma Suster, Gemma Dessent, Philippa Machin, Emma Dickson, Hannah Arnold, Eliza Crossley
FRONT ROW Nancy Wang, Teagan Truong, Jennifer Lee, Josephine Lam, Jade Su, Kate Cartwright, Kirsten Dao SECOND ROW Piper McCowan, Zoe Brase, Hayley Kenzler, Fiona MacKenzie, Elsa Tonkinwise, Evie Gallagher, Cynthia Hu
209
School Roll 2018
PRE-KINDERGARTEN
Scarlet Akers Macy Bellew Annika Bou Victoria Cassar Elissa Chami Elana Chrun Kyrani Countouris Eloise Dastyari Sienna Dib Poppy Frederick Hannah Girgis Daisy Han Clara Hardy Audrey Henderson Elizabeth Horvath Chloe Huang Eve Hutchison Nia Immanuel Sienna Khouzame Ava Kozman Aaliyah Liu Leah Maidment Nikoda May Jolyn Nassif Shantelle Nguyen Genevieve Nguyen Vera Papaluca Su Ahn Park Tara Siddarth Olivia Smith Clara Southwood Lily Sugianto Avianna Tanios Estella Tran Grace Trimboli Ruby Tzouganatos Victoria Xuyi Wai Vivienne Woon Annabella Xiang
KINDERGARTEN
Taylor Bakir Halimah Bokhari
Sofia Callegaro Vanessa (Queena) Chen Sophia Correia Carolyn Dou Manjima Dutta Gupta Frankie Fardoost Kimia Ferdose Zoe Fotoulis Chelsey Gao Shiloh Gao Sophia Ghaly Chloe Grasso Qing (Queeny) Guan Sophia Hall Charlotte Hing Amanda Houltham Alexandra Huynh Faith Huynh Christa Jeyasingam Anaahat Kahlon Ashwini Kanesalingam Mariette Karam Aerin Kim Ella Le Claire Liang Mia Licenblat Anna Lieu Jessica Lim Sherlyn Lin Helen Liu Yang Yang Liu Wendi Lv Maggie Ma Yasmin Maidment Leona Nadarajah Vivienne Nguyen Zara Nicholias
Fedra Nikolakopoulos Megana Pasupati Abira Sanan Selina Shan Sateni Shoaib Alicia Suen Angela Thorn Evelyn Tran
Hayley Trinh Emily Tu Magdalena Volikas Olivia Wang Fuman Joy Wei Freda Xie Adora Xu Arianna Xu Lavinia Luoyi Xu Meng Yuan (Victoria) Xu Frida Yao Hui (Elina) Yu Chloe Zheng Dora Zheng Zoe Zlamal
YEAR 1
Layla Abdelrahim Alana Bakir Lexie Bellew Olivia Burke Imogen Bush Lucia Cicinelli Olivia Connolly Anastasia Countouris Leela Das Sophia Du Raquel Gill Vita Gohil Bethany Haddad Evelyn Hardy Zara Ho-Shon Sophie Hong Isabella Horvath Scarlett Innes Alisha Ji-Lee Janani Kanthathas Chelsea Keomanivong Arabella Kuo Sookai Law Avery Lee Elisa Li Gabriela Lim Jenny Lin
Angela Liu Francesca Masters Bonnie Ming Sienna Munoz Svara Mutalithas Sally Nguyen Chloe Price Eva Rocca Emilia Sarayar Aleeya Sharma Aurora Sharma Olive Simmons Amara Sivagurunathan Imogen Sutton Giselle Tanios Yan Hei Rosanna Tsoi Eloise Wong Angelyn Xiang Anny Xie Frances Yi Wen Xie Kaitlyn Yang Jocelyn Yao Charlotte Yiu Ella Rose Zraika
YEAR 2
Tamara Abdelrahim Adelaide Akers Georgina Auld Audrey Boulton Ava Brown Zoe Brown Niamh Canadas Ethelia Cassar Gloria Chen Sienna Clark Hannah Dastyari Avery Dauphinee Alisha Dhaliwal Hayley Dinh Stephanie El'Atrache Maryse Elassal Elizabeth Faraj Emilia Ghaly
Madeleine Girgis Evelyn Gogos Katie Goldring Ingrid Henderson Sybilla Howes Angelina Huang Stella Inthavong Emma Kanaan
Emma Rose Koeswandy Olivia Kozman Megan Kuit Katelyn Lim Miranda Lin Chloe Lu Taylor Lu Rachael (Pip) McGuire Christina Messih Kristella Miltiades Rachael Ming Yunqi Ellie Ni Milla Papaluca Mai Phan Elizabeth Ravens Julia Saad Ada Savage Jade Scott-Rogers Jiarui Song Jasmin Srisathkurunathan Emma Sugianto Sofia Tzouganatos Allison Videira Firmino Elyse Vivash Jacqueline Wang Joanna Williams Liesl Wong Katherine Woo Tzu Chiao (Olivia) Yang Rima Zhang
YEAR 3
Sophia Antipas Lucia Barrington-Higgs Soraya Bates Ilaria Blanco
210
Jodhi Bou
Chelsea Chen
Carina Chu Mia Coady
Sophie Connolly Nectaria Constanti
Alyssa Corbett Lu Jin (Lucy) Cui
Georgia Delis Yolanda Dolenac Luella Farah Eleni Giannacopoulos Guan (Gigi) Guan Charla Howard Sophia Hu Tiffany Ibrahim Lola Jablonski Sacha Jeyasingam Niamh Johnson Gurnaaz Kahlon Avnika Kandala Meena Kanthathas Nicola Keast
Stephanie Keo Avery Koh Grace Kuman Charlotte Latham Violet Le Janice Leong Tin Wing Cheylene Leung Ophelia Li Rose Lin Naoise Lynn-Black India-Rose Mace Eleanor McKeough Angelina Mijakovac Bethany Mikhail Chloe Miller Isabella Munoz Kyra Narang Angelina Ng Lam Nguyen Hannah North Angela Ong Jade Pashos Stephanie Phong Ines Prince Amritha Ravichandra Mia Rice
Aaliya Salim Aashi Shah Baylie Shen
Zaina Verma Liana Wai Imogen Walker Stella Wallace Imogen Wong Mikayla Woon Angelina Xu Sophie Ye Xue (Elly) Yu
YEAR 4
Julinar Alshehabi Karla Anderson
Gabriella Ayad Genevieve Beattie Emily Bitar Allegra Carlini Maalika Chalak Kathleen Chrun Chloe Constantinidis Isabella Correia Elysse Diep Emily Duong Kiara Elghitany Grace Farrow Isabel Garner Elyssa Ghaly Hazel Gohil Sneha Hasanat Angelique Houltham Edith Hynes Eve Ireland Amelia Kozman Chloe Kypreos Ellie Li Jiayi Li Umaiza Mahfuz Camille McLucas Chloe Messih
Gauri Nathan Sallia Nguyen Anna Obaid Saskia Roberts Ava Roins Ava Saad Dina Saeed Aryana Sah Haegan Sitou Anisha Sivagurunathan Emma Sullivan Olivia Sun-Ryan
Isabella Townsend Valerie Tran Bianca Trimboli Mia Tynan Jordan Vo Danielle Wan Stephanie Wang Ella Wu Julia Zarlenga Jemima Zoud
YEAR 5
Neika Abdilla Bacon Maha Amir Nicole Audi Mannix Aurisch Ella Baker Jasmine Banks Lara Bazzi Misha Behi Kristina Bitar Abigail Bush Lucinda Butcher Sarinna Cai Alexia Carisio Riya Chib Erin Clowes Ruby Davis Zara Dhawan Christina Di Giandomenico Jasmine Fordyce Natalia Gadelrabb Eloise Girard Sophia Grave Felicia Hannah Chloe Ho-Shon Alana Ikladios Tascha Ireland Christine Jin Amaya Karunakaran Sameera Khatri Aspen Lambert Angie Lan Angelina Le Claire Lee Ynez Liauw Megan Lieu Giovanna Lim Mimi Lim Jossie Liu Hoang (Minh Thu) Mai
Sophia Malas Stephanie Mikhail Erin Muir Elora Nadarajah Nghi Nguyen Georgie Papadimitriou Evie Papamanuel Emily Phong Sarah Pickett Lana Radwan Mia Rae Anastazia Samad Harriet Scott Mariyah Sfarjalani Lily Simmons Aiesha Sivaranjan Sofia Sok Cifuentes Amreen Thind Zaz Tiglao Sara Trimboli Katelyn Tu Olivia Walker Annaliese Yan Zahra Yassine Suyi Yin Ella Zhang Bonnie Zheng
YEAR 6
Chloe Arnold Edie Baker Isabelle Barakat Isabel Baudille Isabella Bednaic Samantha Brady Cara Britton Genevieve Cesarano Claire Chan Zara Constance Chiara Corbett Amelia Cosmidis Siena Cribb Sofia Cvetkovski Danielle Dib Dakota Dodd Ivana Dolenac Georgia Duggan Fiona Feng Jody Feng Hannah Ford Kate Forster
Isabella Gadelrabb Nicole Giannacopoulos Harriet Gohil Olivia Gouganovski Victoria Grammenos Angelina Hu Chloe Hui Zoe Jameson Imogen Johnstone Mira Kalra Tulasi Kanani Bariah Khaznadar Catherine Kong Sasha Kovarik Isabella Kristallis Joanne Law
Aileen Leong Isabelle Lin Claire Liu Yolanda Liu Zara Luong Joyce Mai Stella Margarian Sienna Marriott Magdalene Miltiades Kate Morfoot Jana Mourad Nevaeh Nicholas Amelia Norton Keira O'Connor Sally Obaid Gabrielle Palmer Sophia Pavlovic Moira Peach Zara Poortvliet Jenaan Rajani Vishaalini Ravichandra Georgie Roediger Tiana Roins Lily Rutherford Anikah Sanan Isla Saxena Kayli Scott Sophia Sefein Hope Selim Kathryn Shih Santina Signorelli Eladie Simmonds Jaiden Sinozic Gwenyth Smith Seraya Srikumar Ayla Staltari
211
School Roll 2018
Fern Still
Georgia Terzis Avondale Thompson Hailey Truong Mia Tsaousidis
Bella Upcroft Eve Vantas
Alexandra Walker Lucinda Winlaw Cara Wu
Azzurra Zappacosta Maggie Zhang Yunqing (Amy) Zhao
YEAR 7
Dalia Alsaad Madita Anderson Laura Andrikis Mercedes Ansuh-Yeboah
Hannah Baker Sahasra Bandi Sienna Barrett Sylie Bhat Ivy Brasher Brooke Bucholtz Clare Butcher Harriet Campbell Zara Cathcart
Zaara Chalak Madhavi Chauhan Erica Chou Alannah Christodoulou Isabella Coombes Belle Cortiula Anika Cuganesan Kate Cvetkovski
Keiralyn Dao Sarah Demos
Anna Devlin Indigo Devlin Rashi Dhamala Aadhya Dhanpal Romy Dobbie Mia Eker
Chantelle Farag Ria Simone Farag Tara Gentle Mia Gerbino Elizabeth Giannacopoulos Alannah Gill Aimee Goodridge Mia Grasso-Nguyen Le Yan Gui Jennisa Ha Layla Hamdan Maiee Hanna Zahli Harris Sophia Hendriks Kira Hodgson-Yu Charlize Hosking Zoe Howes Madeleine Hutchens Ciara Hyland Kyra Ioakimidis Dahlia Issmail Taotao Jiang Chloe Jing Amber Johnstone Mimi Jones Sofia Jury Hannah Kang Laura Kardasis Elle Kendrovski Amisha Khatri Zara Kilborn Lucinda King Samantha King Ilaria Korompay Charlie Kyle-Sutherland Alexandra Lasovski Abigail Latham Emma Lawrie Maya Lecuna Lucy Lee Georgina Lim Julia Lok Helena Lu India Makovec Elisha Matthews
Isabel McKeough Kirsten McLelland Yianna Mitropoulos Liv Morrison Francesca Morrison Ruby Narvaez Seetha Nathan Sanjana Natkunamanickam Milla Newman Ruby Newton Destiny Nicholas Athena Nikolakopoulos Tamara Obradovic Amanda Ou Claudia Padman Jorja Papantoniou Raashi Parmar Freya Patterson Elsa Pickering Zoe Proctor Lauren Purkis Dwaraka Raguparan Meera Rawal Ivy Ross
Jana Roy Anneliese Sandy Yijia Sang Grace Scanlon Alexandra Scherf Claudia Scott Mahi Shah Pascale Simington Mikaela Sitaramayya Anais Siu
Isabella Smith Despina Stamoulos Jasmine Stavros Lara Stojkovic Maia Sullivan Aria Swan Ella Tanner-Black Ada Tetley-Sutton Tessa Tomkins Cassandra Tong Esther Tonkinwise
Annabel Twomey Emma Ung Scout Van Der Merwe Claire van der Stel Lara Varol Ella Walters Chantelle Wan Isabella Wang Minda Wang Nichole Wang Zoe Wang Emily Ward Sophia Westbrook Natasha Whitmont Elizabeth Wilkie Jasmine Wolfe Jenna Wright Anna Xu Arabella Zeederberg Caitlin Zeilinga Martine Zeilinga
YEAR 8 Mounica Akula Lia Al-Soufi Olivia Alden-Hallit Ella Allport
Marlene Anderson Sarah-Bronte Andrikis Annabelle Banfield Juliette Beattie Sophie Beraldo Zoe Brase Amelia Bresolin Sophia Cairns Briar Campbell Natalie Cavallaro Amelia Chan Isabella Chapman Tori Charalambous Annading Chen Zoe Churchill Sophie Ciesielski Zoe Clark
Andie Clark Madison Clemens Olivia Clowes Andie Comino Anna Constantinidis Christyn Cordato Chloe Correia Jade Di Girolamo Eloise Drake Armita Dutta Gupta Trinity Elghitany Jacqueline Flett Madison Floros Evie Gallagher Ashmini Ganesh Anna Gough Julia Gough Maria Gourlas Tara Grasso Sasha Green Himani Gupta Eda Haller Maeve Halliday Layla Hare Caitlin Hartnett Sophia Heyde Wisteria Hu Coco Huang Chelsea Hunt Mia Jameson Zoe Johnson Zoe Johnston Nikki Juffermans Sarah Kanaan Sophia Kang Claudia Kritzler Erykah Lakkis Laryssa Latt Madeleine Lewis Hayley Ma Emma Mahant Zunairah Mahfuz Mahibhana Mahinthan Katrina Marquarding Charlotte McCrory
212
Sanya Mehta
Tiana Michas
Indianna Miller
Kirsten Moller
Georgia Mouscas Lilli-Rose Nasr
Molly North Helena Panos
Tina Papamanuel Sarah Pearson
Sophie Reid Courtney Roberts Alexandra Robinson Sarai Rollason Dylan Rose Ruby Scott-Wishart Grace Selim
Arya Sharma Gauri Sharma Dakota Sinozic Olivia Smith Ruby Smith Shivani Spencer Kristy Spyrakis Sienna Strauss Mia Sumich Anna Sundquist Jasmine Talbot
Lara Taleb Jessie Tang Soina Thind
Sophie Thomas Natalie Toomey Charlotte Trieu Zoe Trpezanovski Marissa Tsaousidis Yung Hei Joanna Tsoi Tia Van Den Borne Renae Varvaris
Ananya Wakhare
Sophie Walker
Maggie Wang
Brittany Warner Lola Whittaker
Sophie Wilson
Mei Yan Wong
Sen Sen Xie Haya Yahia
Vivian Zhang
YEAR 9
Isabella Al-horani Dionne Alaveras
Te'jhaan Altiok-Brown Kayla Andreopoulos
Liana Angell Annabelle Bailey Sarvani Bala Hannah Bathgate Claudia Bean Kylie Becvarovski Georgia Beretov-Millar Tiffany Boungoto Weng Sofia Carey Arrielle Carisio Sarah Carvolth Claudia Catania Christie Ch'ng Charissa Chatnantawej Paris Chen
Emma Christie Harriet Clark Olivia Codevelle Isabella Collins Lilia Coman Montana Cominos Emma Corcoran Freya D'Mello Gracelyn Dao Kirsten Dao Victoria Demos Amy-Grace Docherty Vienna Durie Lucy Edwards Toni Eliades Wenyan Fan Nancy Faraj Tarindhi Fernando Jasmine Ferraby Jasmin Fitch
Emily Fitzgerald Samridhi Garg Natalia Giannakos Kayla Graham
Anika Grannall Natalia Grbic Tahlia Hatzisarantinos
Emily Heng
Holly Herden Queenie Howard-White Kittu Hoyne
Cynthia Hu
Claire Huddy Charlotte Huynh Leilani Innes Anjali Jayanthi Charlotte Jones Ellery Joyce Amara Kalcev Ria Kapoor Rachel Kardasis Hayley Kenzler Kimberly Keogh Jennipher Kong Alice Kreis Inez Kritzler Johanna Lafoa'i Ava Lee Annika Lee Isabella Lee Olivia Leighton Gloria Lim Georgia Long Kayley Macgonigal Fiona MacKenzie Cassidy Maher Preeyangka Manogaran Marissa Matthews Piper McCowan Maha Meer Georgia Melhem Lauren Millar Tara Mulholland Phoebe Mullins Sophia Murphy Neethika Naidu Mikaela Nguyen Audrey Nguyen Elise Nikolopoulos Miranda Norton Nicola Oddie Tianka Parapuram Jessie Phelps Eloise Proctor Ishwary Ramjeevan Aarathe Ramraj Vanessa Ryan Sabine Saad Lily Scanlon Natasha Sheehy Phillipa Signorelli Maya Simpson Jane So Gemma Sorial
Maria Stamateris Maddisen Strauss Katie Sutherland Claudine Talbot Elle Tamvakolos Jnisha Tanasap Olivia Tanevski Jocelyn Ting Eva Tkocz Elsa Tonkinwise Angela Trang Ana Trigg Samantha Tsakalos-Stewart Selma Ulutas Diane Wang Emma Webb Amelia Whitmont Hannah Williams Georgia Wyatt Mariam Yassine Kelly Zhang Ella Zohs Zara Zuccolotto
Sofia Costa Maria Antonia Costantino Eliza Crossley Amala Cuganesan Airlie Cullen Noelle Davis Sarah Dejanovic Katerina Delis Cienna Dent Emma Dickson Daphne Doumanis Beatrice Drake Katherine Du Lillian (Lilly) Dummett Emily Eker
YEAR 10
Antonique Amperidis Menawish Asif Chloe Azzam Kate Baker Beth Balas Uma Barrett Charlotte Bathgate Chloe Beraldo Zoe Berg Olivia Bersais Chanel Boudib Mia Burjan Gabrielle Cadena Kate Cartwright Sammy Cavanagh Marina Chan Briana Chapman Aimee Chau Annie Chen Eden Cheng Isabelle Choi Ga Man (Karen) Chung Laura Cincotta Jacqueline Ciofani Amelie Coman Tiarna Cominos
Eliana Farr Elizabeth Farrow Maya Felice Maddison Fisher Ella Fletcher Sienna Fresta Isabella Gall Rhea Gandhi Anastasia Giannakakos Darani Gilchrist Madison Gollan Meghana Gopalan Jiveneshwari (Jivi) Govender Annie Gu
Ruby Guminski Ariana Haghighi Fleur Hamilton-Vincent Zoe Hannam
Ellena Hartzenberg Sarah Healey Olivia Hempel Taylor Hosking Emily Hunt Nicole Hussein Lauren Huynh Ruby Ince Mahum Jahan Jade Jameson Grace John Elke Johns Emma Juffermans Jana Kabbara Charlie Kairaitis Ziya Kalra Jaimie Kappas Jessica Karabesinis Morgan Kelaher
213
School Roll
Tayla Kerpiniotis
Sara Kie
Jessica Kim Annaliese Konidaris Patria Koutsogiannis Imogen Kuah Desiray La Anika Lammers
Vivian Law Ngoc (Minh Tam) Le Isabel Leung Elizabeth Linardos
Bethany Lo Madison Long Vittoria Loprevite Alexia Lorenzato
Philippa Machin Jess MacMaster Simone Maddison Tashjan Managreve Chloe Mavris Veronikah McClelland Aisling McCreery Sarah McNaughton
Holly Miller
Paris Mitropoulos Sarah Moller Chiara Moore
Samantha Naayen Layla Nazha Tia Niemann Mia Novati Rahni Ong
Mikayla Papadimitriou Olivia Papasavvas Cherie Pepperell
Veronica Phan
Charlotte Pullinger Mia Ramsey Eloise Riviere Amelie Roediger Kaisha Rollason Hannah Ross Sophia Russell Emily Ryner
Alyssa Scott Jasmin Selim Jennifer Seo Anica Shen Lily Smith Cailey Smith Charolotte (Charlie) Sodbinov Olivia (Liv) Sodbinov
Jessica Song
Shannon Song
Lucy Squier Alexandra Stackpool Hazel Sung Emma Suster Samar Taleb Eugenie Tan Isabelle Tang Eva Telemachou Josefine Ticic
Ella Tomkins
Anabelle Truong Ella Tsaousidis Samara Tucker Ayla Varol
Sophia Wang Zoe Westbrook Audrey Williams Olivia Winlaw Natalie Wong Mei Wong Ella Woolbank Eva Wright Megan Xie Joy Xu Angie Xu Marie Yan Halle Yang Ruiming (Rainy) Yang Amy Yarrow Isabella Zhang Joy Zhang Shuyue (Sherry) Zhao Daisy Zheng Layla Ziade Alyssar Zogheib
YEAR 11
Madeleine Aitken Elle Andreopoulos Hannah Arnold Rasika Bains
Lucy Baker Anushri Baksi Natalie Bejar Madeline Bide
Anna Brew Olivia Cain Tayla Casey Christina Catania Eleni Charalambidis Charis Chiu Yoonju (Jasmine) Cho Yijun Cui
Sarah Day Jade De Julian Olivia Debs Olivia Debs Gemma Dessent Christiane Diamantis Georgia Dunn Cassandra Economides Natashja Eyles Vicky Feng Caitlin Field Caitlin Fitch Yumeng (Penny) Fu Chloe Gentle Gabrielle Giannakos Grace Gilmore Erin Glover Sophie Graham Aleksia Grbic Imogen Greenslade Annika Haller Alex Harbridge Nehreen Hassan Ava Heine Emily Huynh Tiara Huynh Anjelica Issa Tessa Iversen
Clara Janssen
Eva Jessurun Xin Rui (Sherry) Jiang Stephanie Kalamvokis Eleni Kaloterakis Saskia Kanellos Grace Karras Anastasia Kennett Shirley Kuang Jessica Kuo Ho Yi (Alice) Lam Jennifer Lee Bella Leighton Jennifer Leng Laura Libro Nicole Lin Annike Lindhout Zoe Lindhout Elizabeth Liu Madeleine Lysaght Rhiannon Macleod Capri Maher Mariam Makary Olivia Makhlouf Katerina Malafouris Ellen Margaritis Katrina Marshall Ava McGrigor Claire McLelland Diya Mehta Gabriella Melhem Hope Mersal Lilly Mijatovic Danielle Mikhael Emily Millar Desiree Miller Sarah Monaha Afamia Moussa Sashira Mulholland Madeleine Murphy Hanna Nash Sophie Newby Alyssa Nguyen Emily Osborne Olivia Otto
Katie Papachatgis Catherine (Kate) Papadimitriou Fiona Paterson Christiana Perdis
Virginia Peter Lauren Phelps Jessica Pizzinga Olivia Robb Lily Rodgers Olivia Russell Breanna Scott Zoe Scoufis Charlotte Seales Lana Selwood Nese Sirikci
Georgia Softsis Natasha Sok Melican Natalie Sorial Tiahna Sortwell Julia Spiker Jade Su Laura Sutherland Eliza Swann Matilda Swann Sian Thomas Lydia Todoroska Elizabeth Trung Teagan Truong Lok Yu (Tess) Tsoi Lilie Tyler Pelagia (Julia) Varvarigos Georgia Ventouris Claire Wang
Rachel Wang Crystal Warner Billie Whittaker Chit Ham (Ada) Wong Victoria Workman Olivia Wu Bethany Xue Nicola Yarrow Sabrine Yassine Amanda Yu Katie Zheng Phoebe Zhou
2018 214
YEAR 12
Julia Athos
Erin Bofinger Emmeline Booth
Mia Boursiani-Lawrence Georgia Bowrey Olivia Bubalo Rita Cammaroto Catalina Canas Megan Cavanagh Lok Ching (Leanne) Chan Hannah Chau Cecilia Chen Sarah Chou Sherrie Chung Emma Clark Amy Clarke Dakota Comino Sarah Cooper Malia Crawford Zoe Cross Gabriela Delgado Chloe Donkin Shaaden Elsawi Alexandra Farrow Alyssa Filippoff Catalina Floros Yizhou (Tina) Gong Eva Gouganovski Lyla Groom Asena Gunduz
Suhani Gupta Dyana Hamed May Hamed Emily Hart
Nicole Healey Georgia Hewitt Swathi Ilanko Danya Jacobson-van der Merwe Caitlyn Kakakios Seo (Celine) Kang Yuqing (Sonia) Kang Ashna Kapoor Anastasia Kennett Stella Kochanowicz Ananya Krishna Josephine Lam Isabella Lasovski Michelle Law Fiona Lee Linda Lee Emily Li
Monique Li Chuhua (Joyce) Lin Natalie Lin Xue (Judy) Lin Jane Liu Tina Liu Bianca Weng Io Lok Angelica Lovel Sabrina Lowe Danah Maher-Lee Therese Makarious Ella Makovec Veronika Males Katia Matar MacKenzie McCowan Divya Mehta Anna Michael Yasmin Mills Nicole Miloucheva Abbie Milton Rebecca Minett Atoufa Mohanna Kimberley Ngo Sophia Nikiforidis Megan Nipatcharoen Eva Novikov Ashley Oliver-Sjahry Jaya Ong Georgia Pollitt Sienna Prowse Sandy Qiu Elisha Quan Emma Rutherford Mia Ryan Anja Seeto Isabelle Sherbon Madeleine Sherbon Wenting Shi Claudia Simons Ruth Snelling Lisa Soliman Amy Song Ana-Maria Stevans Sarah Taleb Lynelle Tamerji Nerissa Tan Jennifer Tang Jessica Tippett Sabina Tom Elizabeth Tran Anthea Trent Ava Tsaousidis
Katrina Tsaousidis Nancy Wang Rosa Wang Hanna Woodward Anousha Xegas Jasmine Ypermachou Nikki Zanuttini Klara Zhao Jessica Zhu
215
A UNITING CHURCH DAY SCHOOL FOR GIRLS, PRE-KINDERGARTEN TO YEAR 12 Rowley Street, Burwood NSW 2134 Australia PO Box 643 Burwood 1805 Ph +61 2 9747 1266 Fax +61 2 9745 3254 ABN 75 549 644 535 CRICOS No. 02328D The Uniting Church in Australia Property Trust (NSW) (trading as MLC School) mlcsyd.nsw.edu.au