2020 EXCELSIOR
OUR VALUES Courage | Compassion | Respect | Growth
2020
2 LEADERSHIP 5 Chair of Council 6 Principal 8 Head of Senior School 10 Head of Junior School 12 School Captain 14 Vice-Captain Year 6 - Year 9 16 Vice-Captain Year 10 - Year 12 17 SRC Captain 18 Middle Years Leadership 19 Junior School Captain 20 Junior School Vice-Captain 21 Junior School Student Council 22 Spiritual Life 23 Leadership Photos 24 STAFF 29 Staff List 30 Farewells 34 LEARNING 37 Head of Learning and Teaching 38 Director of e-Learning 4 0 Lockdown 41 JUNIOR SCHOOL 43 Learning 4 4 E-Learning 44 Junior School Library - The Hub 4 6 Personal Development, Health and Physical Education ( PDHPE) 48 Visual Arts 50 2020 Learning 52 Student Life 54 Audio Visual Club 55 Independent Primary School Heads of Australia ( IPSHA ) Debating 55 Steam Curriculum and Co-Curricular 56 Steam Events 59 Junior School Photos 60 Junior School Class Photos 6 6 SENIOR SCHOOL 71 Year 12 Captains 72 Year 12 House Captains 74 Year 12 Portraits 76 Year 12 9 0 HSC and IB Results 9 4 Higher School Certificate 9 4 International Baccalaureate Diploma Programme 9 6 Academic 98 Senior School Curriculum 98 Year 7 to Year 10 Curriculum 98 Year 11 and Year 12 Curriculum: HSC and IB 98 Careers 100 Dance, Drama and Entertainment ( DDE) 101 Design, Art and Technology ( DART ) 102 English 106 History 107 Human Society and its Environment ( HSIE) 108 Languages 110 Mathematics 111 Music 112 Personal Development, Health and Physical Education ( PDHPE) 113 Science 114 Student life 116 Art and Design Captain 116 CONTENTS
MLC School has used its best endeavours to ensure that material contained in this publication was correct at the time of printing. MLC School gives no warranty and accepts no responsibility for the accuracy or completeness of information and MLC School reserves the right to make changes without notice at any time in its absolute discretion. Users of this publication are advised to reconcile the accuracy and currency of the information provided with MLC School before acting upon or in consideration of the information. Copyright in this publication is owned by MLC School and no part of it may be reproduced without the permission of MLC School.
148 Dance 149 Acting
Communication
147
171
Basketball 168
PERFORMING ARTS Dance, Drama and Entertainment (DDE) Captain and Academy (ACA) Speech and Drama Studio Sport Captain Director of Sport Reports 166 Athletics 166 Badminton 168 Diving Fencing 169 Gymnastics 170 Hockey Netball 172 Rowing 173 Softball 174 Swimming 174 Tennis 175 Volleyball 176 Water Polo 177 Sports Junior School 178 Sports Senior School 182 HOUSES 191 Abbeythorpe Senior School 193 Booralee Junior School 194 Booralee Senior School 195 Churunga Junior School 196 Churunga Senior School 197 Leawarra Junior School 198 Leawarra Senior School 199 Lester Senior School 200 Mooramoora Junior School 202 Mooramoora Senior School 203 Prescott Senior School 204 Sutton Senior School 205 Wade Senior School 206 Whitley Senior School 207 House Photos 208 PRIZE WINNERS 211 Junior School Prize Winners 212 Senior School Prize Winners 214 2019 Assembly for Academic Achievement 220 School Roll 225
166 AFL
164 Sports
150 The
151 Performing Arts 152 SPORTS 161
163
169
3 Committees 118 Debating Captain 119 Debating and Public Speaking 120 Duke of Edinburgh Award 122 Library 123 Round Square Captain 124 Round Square 125 The Edge 126 Senior School Photos 127 MUSIC 131 Music Captain 132 Music 134 Music Junior School 136 Music Senior School 138
LEADERSHIP
5
What an extraordinary year we all had!
This experience has enriched our lives individually and the life of our School. This year has taught us many lessons – resilience, flexibility, creativity and determination to make the most of any situation. It has strengthened our collaboration and highlighted the importance of communication and connectedness.
6
I would like to acknowledge the tremendous efforts and dedication of ALL our staff.
Address delivered at 2020 Speech Night
Despite facing so many challenges you did not lose focus. The whole of our School community came together, dug deep and adapted to ensure our girls, who are at the heart of all we do, were supported and flourished throughout this difficult year.
You should all feel very proud of your efforts and achievements this year.
To our Principal, Ms Lisa Moloney, thank you for your exemplary stewardship, in what must be one of the toughest years of your career. To our Executive and teaching staff, who have truly gone above and beyond and given your all to ensure the education of our girls transitioned almost seamlessly overnight from face-to-face classroom teaching to online platforms in March and ensured a smooth transition back to a new environment on campus. We thank you and appreciate all your efforts. Thank you also to our operations and administrative staff who have provided all the background support to make this year a success.
I acknowledge and thank our parents and carers for their tremendous support throughout the year. I especially thank you for your efforts during the weeks of enforced lockdown when our girls were being taught online at home. We also thank you for your engagement and increased participation in online meetings, webinars and information session; and your encouraging feedback in our surveys.
I acknowledge our Year 12 cohort – this has not been the year you imagined this time last year. Despite that, the way you have led and conducted yourselves throughout this year is a testament to the great group of women you are. We wish you all the best and know you have a bright future ahead of you.
CHAIR OF COUNCIL DR EVE TSIRONIS
I would like to thank our wonderful MLC School girls – you have risen to the challenge of the year and shown adaptability, creativity, compassion and resilience. You have shown strengths of character that embody exactly what an MLC School girl is. I am sure your parents and carers, just like us, are very proud of the women you are becoming.
Dr Eve Tsironis Chair of MLC School Council
There has been a strong focus on pastoral care and supporting our girls throughout their school journey. We thank our students for their feedback on pastoral care and academic experience, helping us to improve current and implement new programs. our community to help others during their time of need.
7
This year has afforded us the opportunity to adopt the power of new learning technologies to improve education and shown us the value of mixed modes of teaching. It has also allowed us the opportunity to shift to new modes of communication, improving the connectedness of our School community.
Secondly, Ms Anne Empson for her enormous contribution to our school over the last 30 years and for her ongoing support. Anne has served the School in various roles, including as a member of Council, Deputy Chair of Council and President of the Old Girls' Union.
I would also like to take this opportunity to acknowledge two of our long-serving Council members, both MLC School alumnae.
The Council remains committed to our Master Plan, continuing to improve and upgrade facilities and educational opportunities for current and future students.
As our academic year and indeed our calendar year draws to a close, let us remember 2020 as a year of unprecedented achievements and give thanks for all our Weblessings.lookforward to 2021 and to the bright future of MLC School and our girls.
Firstly, my predecessor, Ms Pauline Johnston, for her outstanding contribution as Council Chair. Across her 10-year tenure she has provided great guidance to the School and
2020 was the first year of implementation of our new and very comprehensive five-year strategic plan, it lays a strong foundation for the future of our School to educate the MLC School women of tomorrow. Despite the pandemic our Council has remained focused on its implementation.
Over the last few years, the Uniting Church of Australia Synod of NSW and ACT has been working with a number of NSW schools, including ours, to determine the best governance structure moving forward. In the near future, MLC School will become an incorporated entity realigning our governance structures with the modern realities of independent schooling and bringing it up to date with current best practice in governance, whilst enhancing the relationship between the School and church.
Our state-of-the-art Senior Centre has seen its first year of full operation with great feedback from students and teachers alike. It has also been recognised for its architectural merits and I congratulate the architects, BVN, on being awarded the prestigious William E Kemp Award for educational architecture at the NSW Architecture awards in July 2020 for their work on this incredible building.
We would like to thank the Old Girls' Union (OGU) for their support of the beautifully renovated Chapel. As well as upgrading existing facilities we are currently looking at options for a multipurpose Performing Arts Centre in the Aquatic Centre precinct.
The increased number of enrolment applications show a growing interest and faith in the strong future of our School.
2020 has been another year of strong academic and extracurricular achievements by our girls. They have done very well in Debating, Cadets, music and various sporting activities.
'I would like to thank our wonderful MLC School girls –you have risen to the challenge of the year and shown adaptability, creativity, compassion and resilience.'
I would like to acknowledge the financial support of many parents and carers, Old Girls and the Old Girls' Union who contributed around $200,000 to the Bursary Initiative – showing a great willingness of overseen the fruition of many important projects, such as our new Senior Centre.
There were times, I am sure, when each of us felt uncertain or overwhelmed but it was at these points that the true strength and spirit of MLC School emerged, and our commitment to 'dare to be more' became real. We adapted, evolved and grew, adopting and inventing new ways to communicate and learn. Consequently, we have emerged stronger, more connected and wiser.
Our facilities team kept us safe, constantly responding to the changing guidelines. Our Chaplains cared for us, checked in on us and offered practical support.
The year will be one that 'those who come after us' will learn about in the years to come.
The teaching staff went from face-to-face delivery to online delivery literally overnight.
The staff at MLC School always work hard but this year required exceptional levels of commitment and time from them. Those working behind the scenes had to change their approach, the IT team moved us to full online learning overnight and, at the same time, developed ways for us to stay connected with our broader community.
Teaching online involves much more than just recording what you would usually do faceto-face. But we did not lose one teaching day, and as far as I can tell, we are one of the few schools to have managed this. What
Year 12 girls, the final year of school was not what they expected or deserved but they remained positive and strong, displaying the most astonishing resilience and grit. I could not be prouder and offer them all my most sincere congratulations.
2020 truly was a year like no other, and we all; staff, students and families of MLC School, took on this brave new world of flexible learning; reimaged co-curricular activities and sporting events; social distancing and the inevitable cancellations of much anticipated immersion experiences, with courage and resilience. It is with great pride then, that I share this edition of Excelsior, which showcases the achievements of MLC School in a year of unprecedented challenge and change.
Along with the rest of the leadership team, Captain Amelie Roediger and Vice-Captains Lily Smith and Ariana Haghigi led us through the challenges with determination, care and a sense of fun that inspired and encouraged us Forall.our
To not only maintain a commitment to their studies during such a tumultuous year, but to produce some of the highest IB and HSC results in the School's history is an astonishing achievement.
I would like to thank the 2020 School Captains who ensured that the student body felt connected, supported and known.
8 PRINCIPAL LISA MOLONEY
There have been so many other positives; our Old Girls sent messages of support, and some attended their first ever Old Girls' Union (OGU) meeting via Microsoft Teams, the P&F had record attendance at their parent forums as a consequence of moving to online delivery and we became experts at webinars and online presentations.
Pre-Kindergarten student, throughout all levels in the Junior School and the Senior School, our girls responded just as we knew they would, adapting to the new model with ease, taking on more responsibility for their own learning and caring for friends even when they could not be together in person; demonstrating the MLC School values of courage, compassion, respect and growth.
9 an achievement. I am not going to name individuals, as so many gave so much, but I know that the whole School community is exceptionally grateful for their effort and the Fromcommitment.theyoungest
Behind the scenes, the Executive team met daily ensuring that the School was up to date with the most recent changes to regulations and leading from the front in their actions and communication. I would like to acknowledge each of them for their hard work and leadership.
'For our Year 12 girls, the final year of school was not what they expected or deserved but they remained positive and strong, displaying the most astonishing resilience and grit.'
A huge thank you is also due to past Chair of Council, Ms Pauline Johnston, current Chair, Dr Eve Tsironis, and all members of Council for their support and encouragement this year. Being able to rely on their leadership and expertise as we navigated the changes and adapted our approach was invaluable. So, while 2020 was a year like no other, it was an incredibly successful year and one that will go down in the history books for all the right reasons! Ms Lisa Moloney Principal
HEAD OF SENIOR SCHOOL
Rather than let all of the normal aspects of school life slip away, we set about accommodating new ways of remaining connected as a community and keeping spirits high, despite the inability of meeting together. As Head of Senior School, my IT skills were really put to the test as I embarked on producing weekly videos to remain connected to students and families, while providing words of encouragement and above all, a great sense of fun.
As Term 2 rolled on, our individual departments were discovering amazing ways of delivering content online and challenging traditional ways of learning.
NEIL SCOTNEY
With the term in full swing, we were met with the news that COVID-19 was about to have a significant impact on the normal dayto-day life for all staff and students. With what appeared to be daily updates from the government, MLC School responded in a true 'dare to be more' way and transitioned overnight from face-to-face lessons into flexible learning.
There were many obstacles placed along the way, particularly in meeting the demands of being behind a screen for such extended periods of time. This too, just became another challenge we needed to meet and overcome. I could not be prouder of the way the staff rose to the
This theme was continued in a student driven initiative that saw messages of support and appreciation given out for staff.
With the incredible support from staff and executive, the Senior School forged ahead without missing a day of learning as lessons were now delivered by staff using the Microsoft Teams platform. Sure, there were some adjustments made, but the transition was almost seamless, and a real tribute to the willingness of staff to lead the way and students to demonstrate incredible resilience.
The Senior School has been superbly led by the Class of 2020 under the Student Leadership Team. Amelie Roediger supported by her Vice-Captains Ariana Haghighi and Lilly Dummett, and the team of Portfolio Captains, made an immediate impact on the School community as they set about bringing the School closer together and leading by example in areas such as kindness. As we look back on a hugely successful year it was marked by the acknowledgement of Kindness Day, initiated by the 2019 School Captains, which included cookies for all staff and students.
Term 1 kicked off by welcoming a number of new MLC School girls to the School and the traditional Year 7 Camp held at Killalea. They enjoyed three action-packed days that enabled them to discover new friends, be immersed in outdoor activities and set the platform for a productive year ahead under the guidance of Ms Karen Roberts, Head of Year 7. Term 1 also included a positive start to the Debating season and a lovely observance of Harmony Day. Our House Swimming Carnival was its usual vibrant day of colour and flare, with an overwhelming display of House spirit and performances in the pool.
10
Term 2 also allowed us to recognise and observe Reconciliation Week with some wonderful initiatives from the leadership team and some other new online events such as parent webinars and a virtual tour day for prospective families. We were extremely fortunate to have the enthusiastic support of our IT department and Marketing and Community Relations team who worked tirelessly to ensure that creative ways were found to keep this wonderful school going throughout a pandemic.
Mr Neil Scotney Head of Senior School
Term 3 began with a bang, as we celebrated Round Square Week and Illuminate. Both events are great testament to hard working teams of staff and students that allow us to showcase student work and some amazingly talented individuals. Despite the absence of parents on site, we were still able to view some quality art and design projects and be inspired and challenged by some very creative Round Square activities and showcases.
Rather than remove all of our usual school events, staff and students simply forged ahead and delivered these with a degree of style, humour and excellence as we all took part in virtual Assemblies and Chapel Services, superbly delivered by our Chaplains, Rev Viniana Ravetali and Rev Vanessa Williams-Henke, along with all of our Leadership Team. House time was no different, as Heads of House and House Captains also met virtually each fortnight with their Houses and provided much needed relief with creative and entertaining messages of support.
The highlight for Term 3 was the final week of school for the graduating Class of 2020. With many adjustments required, including the absence of parents and family members, the 2020 cohort remained upbeat and positive; and were outstanding ambassadors of the School as they took part in a series of events, culminating in a live streamed Valedictory Service. With a year filled with enormous uncertainty, Year 12 proved to be an inspiration to all staff and students with the way they adjusted and overcame multiple first ever 'exam-bubble', a space created within the School that no other members of the community could go. Once again, a measure required to meet the COVID-19 restrictions and allow our students to perform to their very best.
As I sign off for another school year, I offer my genuine thanks and congratulations to all members of our community, but a special vote of thanks to our students. You have been an enormous source of inspiration to me this year, as I was often overwhelmed by your ability to adapt and overcome in an unprecedented year. You displayed on repeated occasion your willingness to step up; in the classroom, online, in co-curricular and sport, and regularly go above and beyond in an attempt to push boundaries and extend yourselves. It's a year we won't ever forget, but one that has made us all proud to be part of a wonderful community. There's no denying that 2020 will go down as a year of change and challenge, but MLC School rose above it all in the relentless pursuit of excellence in all aspects of school life.
11 challenge and kept students engaged over such long periods of time. My respect for staff and students was immense, as the uncertainty continued until all students eventually were able to return.
Term 3 also allowed us to stage a COVID-safe Puppy Pageant, the annual event staged by Prescott House, as it went ahead in a virtual fashion. Once again, proof that MLC School is obstacles and refused to let that stand in the way of their ability to enjoy and succeed in their final year. To the Class of 2020, I salute you! With the final term upon us, we remained observant of a range of COVID-19 restrictions still apparent and continued to forge ahead. We observed Remembrance Day and still staged a live stream MLC Idol, a much-anticipated event each year. Year 12 completed their final exams in the 'Rather than remove all of our usual school events, staff and students simply forged ahead and delivered these with a degree of style, humour and excellence as we all took part in virtual Assemblies and Chapel Services...' able to deliver on multiple platforms and keep our spirit alive. This spirit was also on display as Year 12 took part in the Inaugural 'COVID Cup'. This was a day of fun-filled action involving a series of novelty and athletic events for the Year group. It was a small way of demonstrating House spirit in the absence of the normal House Athletics Carnival. This was a great end to the day for Year 12 as they were the 'live audience' for our Battle of the Bands, which was also superbly delivered and live streamed around the School. A huge congratulations to our Music department who found creative ways for students to remain engaged in music throughout the year, despite the restrictions preventing so many performance groups from rehearsing.
Throughout the year, staff and students were greeted at the gates each morning by senior staff members, who performed temperature checks on every member of our community.
What began as a mandatory check, as advised by NSW Health, turned into an opportunity to greet individuals and check in on them each and every day. Like so many other COVID-19 initiatives, we found ourselves adjusting and adding value to daily school life, with stronger relationships being established.
I am proud of the way our girls continued to be challenged in all aspects of their learning during this year, and this is reflective of their ongoing achievements at school and beyond. This year we were awarded special recognitions in the Australian History Challenge, ICAS and winning the Stage 2 NESA Write On Competition. We have continued to excel in sport with outstanding achievements in diving, swimming and netball. I do believe there are future Australian sport representatives amongst us.
For me one of the most enriching gifts was listening to new insights parents gleaned about their child and sharing those with us. Some parents shared about their daughter's learning and others about dispositions or social skills.
Flexible learning at home only occurred for a number of weeks in New South Wales yet is firmly etched into all our memories. 2020 has indeed entailed varied, new, unique experiences. We have all encountered unforeseen challenges. Given these challenging times I have been reflecting upon what we can be grateful and actively hope for in the future.
Address delivered at 2020 Speech Day
I recall during the flexible learning time, how grateful I was, and still am, to all our staff. Learning at home cannot be compared to the success children encounter when learning at school, particularly young children. Thank you, parents, for all that you did.
A massive thank you must also go to my colleagues for your dedication, creativity and adaptivity, catering for each girl regardless if she was at home, at school or alternating in between. I am proud of the flexibility offered to our families. I am also grateful for your professionalism; being open to and acting on parent suggestions providing such comprehensive feedback to each girl about her learning; and for the extremely long hours during the school day and during the holiday period. MLC School is a leading school for girls, and for that we are indebted to you.
I am grateful for our talented team, including our IT and Community Relations departments, who created new and virtual ways to share and celebrate many of our loved annual events, albeit in new and creative ways. This included our online assemblies, House competitions, Science Week, music soirees and special events such as Illuminate and the Christmas music performance. During a year when so many organisations simply cancelled events, I am so pleased that we hosted day outdoor camps and Mother's Day and Father's Day tradition continued as households joined together online. Much fun was had at the Book Week Parade, a school favourite. It is such a favourite
12
Continuing these conversations with teachers and other support staff, enriching us with your new insights, confirmed my firm belief of how important our partnership is between home and school. The stronger the partnership, the greater the outcomes for your daughters.
DANIEL SANDRAL
HEAD OF JUNIOR SCHOOL
During and following flexible learning, I had the privilege of talking to many parents, reflecting upon the insights you gained while having your daughters at home. For some it was an extra special time of bonding, for many others it was a time of gratitude and vindication that you never took up teaching!
13 that some parents could not resist trying to sneak onto the campus for a peak.
5, during your special year to learn about and demonstrate leadership, regardless of the restrictions of COVID-19, you took up the opportunity to step up and be leaders with Captains Jodhi Bou and Sophia Antipas being wonderful and enthusiastic exemplars. I am very much looking forward to helping you continue to grow and be challenged in our Year 6 Centre as you undertake a unique year of study in your final year of primary education, in readiness for our Senior School.
Year 6, your time has come for me, on behalf of the Junior School, to congratulate you and wish you well for Year 7. I am so pleased about the highly successful year you have experienced, and I have no doubt Mr Neil Scotney will become as proud of you as I am.
During a time of challenge – and we have certainly had our share this year – the success of any organisation is dependent on its leaders.
Given all that has occurred, MLC School had a very successful year, thanks to the strength of Ms Lisa Moloney's leadership. Lisa, your steadfast resolve that the girl is at the heart of all we do is demonstrative of the exceptional educational leader I am proud to serve. Thank you for your guidance, challenge to strive and support not just here, also at the side of my hospital bed. I shall never forget the positive impact you have made to our School and to Tome.Year
To all girls here today, when I was unwell, in hospital, you helped me more than you can imagine. You sent me beautiful cards that I treasure each day, you prayed for me, sang uplifting songs for me and sent video messages, you wished me a happy birthday, told me jokes to cheer me up and gave me some wise words of advice. One of my favourites being 'Mr Sandral, please make sure you do not break your other leg!' You gave me hope and dared me to be more, igniting a great desire to return, to do what I love.
Mr Daniel Sandral Head of Junior School
One parent who has truly missed our renowned events is our Junior School P&F President, Chris Constanti. In accordance with the P&F constitution, his time as President has come to an end, during a year in which we were not permitted to host any community events. Chris, I know the limitations of 2020 was a great disappointment, yet there is much for you be proud of. It was under your presidency we held not only the largest International Night on record, but one that our long serving previous Deputy Head of Junior School Mr Doug Finlay hailed as the best International Night ever! Now that is a legacy to be proud of.
On the afternoon following my accident I awoke from emergency surgery and began to comprehend what had occurred and the resulting consequences, whilst still highly medicated. At that very moment, realising I could not be at school, I immediately began to give orders to all the medical staff and everyone else who would listen, telling them what they had to do so that the girls and staff at MLC Junior School would have a smooth and successful start to Term 4! Clearly this was not necessary. It was not necessary because I was talking to the wrong people, it was not necessary because of the highly competent people at MLC School. To my colleagues – from our administration team, specialist teachers, teaching assistants, ministers, grade teachers, learning enrichment team, maintenance, counsellors, all of you – the words 'thank you' cannot express my deepest gratitude. You have stepped up to every challenge this year, always maintaining your high level of professionalism. And your personal concern and support during the past three months is something I will hold dear.
To our Deputy Heads of Junior School, I know when you commenced your new roles this year it was not foreseen to have a yearlong pandemic, with a government directives to cease face-to-face teaching early in the academic year along with the Head of School being unexpectedly absent at the end of the year. Ms Natalie Hird and Ms Joanne Sharpe, you are indeed deserving of such a special mention and my deepest gratitude. Our Junior School is in very capable hands.
Our parent support is one of the many strengths of the MLC School community. Thank you to all those who have supported us in so many ways, big and small, including past and newly elected P&F associations, as parent ambassadors, volunteers at events, organisers and helpers at our fundraising stalls. It is the time of year to say goodbye and thank you to some much-loved community members. To our staff who conclude their time at MLC School, thank you, I cannot express my gratitude. I acknowledge the standards and expectations are very high, so thank you for giving everything for the education of our young women. On behalf of our Principal, I wish to acknowledge a woman who has not only served our School community but has also devoted her life to our Church. Sadly, we say farewell to Reverend Vanessa WilliamsHenke (Rev Ness) as she expands her vocation to parish work. In my many years of working in schools, it is a gift to find a minister who can connect and engage with adults and well as our littlest people. Rev Ness, you have that rare gift. I have seen the way our girls delight to see you, to listen to you, sing and dance with you, and pray with you. As for the bigger people, your vitality, openness, inclusiveness, candour and humour will be missed. May God watch over you Rev Ness, as you have watched over and cared for us all. We give thanks and praise that you took up your calling to be with us and may the light of the Spirit always burn brightly within you. I wish to take this opportunity to share with you whilst the last term of 2020 has been the most confronting time of my life, it has also been the most enlightening. I have learnt much; what I value, to be actively hopeful in times of trial, the power of gratitude and laughter.
14
SCHOOL CAPTAIN LOOKING AHEAD
We began the year as a Leadership Team with our heads held high, celebrating RUOK? Day alongside the 2019 Captains. Moving into Term 4 of 2019, we devised six values which would guide our leadership for the year: integrity, strength, community, empathy, passion and innovation With these values in mind and so many ideas for the year ahead, we launched 'The Captains' Corner' newsletter, to improve the communication between the Leadership Team and the student body, allowing each portfolio captain to introduce and reflect on the events and achievements of their portfolio throughout the year.
The excitement of the new year in Term 1 of 2020 was disrupted by the escalation of the COVID-19 pandemic, but not before we were able to hold our inaugural International Women's Day Panel with guest speakers and representatives from MLC School, Newington College and Trinity Grammar, engaging in insightful discussion on supporting and promoting women's empowerment. A s we transitioned to flexible online learning at the end of Term 1, the optimism and motivation of the Leadership Team did not waver. Each captain found innovative ways to lead and inspire people within their portfolio which culminated in the introduction of highly entertaining virtual assemblies, various online competitions, virtual school tours, music festivals, debating competitions, a virtual ANZAC Day service featuring members of the newly formed MLC School-Newington Cadet Unit and regular updates on the distanced but united effort of MLC School's World's Greatest Shave team, led by Charlie Kairaitis our SRC Captain, an initiative which I proudly participated in. Through this period, we witnessed the incredible dedication of our teachers as they
The beauty of adversity is that it allows us to appreciate the strength and resilience of both ourselves and those around us. It is easy to look back on this year and primarily recognise the challenges caused by COVID-19. However, testament to the hardworking staff, enthusiastic student body and collegiate Leadership Team, there is so much more to remember.
In Term 4 2019, we continued the legacy of the 2019 Captains as we emphasised the importance of random acts of kindness and witnessed the joy brought to the student body by the Christmas Cove, organised by our Round Square Captain, Lily Smith. This term also saw the Leadership Team focus on reviving the students' vigour when singing the School Song, particularly in the lead up to Speech Night. We sought to remind both staff and students that the School Song is not just a ceremonial proceeding, but rather a show of school spirit, of pride in identifying as an MLC School student and a recognition of the legacy we inherit and leave behind to future MLC School communities.
15 adapted to continue our classes online;the power of technology which enabled the continuation of our learning; and the solidarity of our community, allowing us to maintain contact despite our distance. Among the multiple events that took place after returning to school in Term 2, including Illuminate, Round Square Week and the creation of a Year 12 mural, we unconventionally announced our Year 12 gift of a time capsule, intended to be opened in 66 years' time, on the 200th anniversary of the School. With this exciting project, we hoped to capture the strength, resilience and diversity of the MLC School community in 2020 and we look forward to returning for the much-anticipated unveiling in 2086, when the 2020 cohort will be 83 or 84 years old! I cannot express how grateful I am to the Leadership Team for their support, optimism and resilience this year. On top of their outstanding leadership skills, the team is honestly a group of truly awesome people, who will no doubt go on to achieve great things. I would also like to sincerely thank Ms Lisa Moloney, Mr Neil Scotney, Ms Michele Dunn and Ms Angela Renwick who have accommodated some of our crazy ideas and worked tirelessly to make the best out of this unpredictable year. It is deeply appreciated. It has been an absolute honour being your School Captain for 2020. As a school community, in the face of adversity, we refused to be diminished. We stood strong, supported each other and stubbornly looked ahead with optimism. For that, I couldn't be prouder.
Amelie Roediger School Captain
YEARVICE-CAPTAIN6-YEAR 9 IMPORTANCE OF TEAMWORK
know'I'minnonsenseofindeed,Awithhardcharacterisedcontradictions,byendlessworkinterspersedliberatinglaughter.surrealexperienceitisreminiscentLewisCarroll'sworkofliterature,AliceWonderland;whatwordotherthannonsensecouldbettersummarisetheyear?olderthanyou,andmustbetter'–TheLory
Although I'm only three years older than the 10 fantastic Middle Years Leaders, I often paraded the wisdom of my years in conversation. However, I am sure I have learnt more from working with them than vice versa.
'Imagination is the only weapon in the war with reality' – The Cheshire Cat Faced with the daunting cancellation of assemblies, the Middle Years Team demonstrated flexibility in creating ingenious ways to connect with their wider audience.
'Every adventure requires a first step' – The Cheshire Cat 2019 Vice-Captains Emily Osborne and Rachel Wang conceived the idea of allocating Year 10 buddies to Year 6 girls in order to promote inter-year cohesiveness and mentorship. With the help of the Year 6 teachers and Head of Year 10, this program was introduced this year with 20 Year 10 girls selected for the role. The girls enjoyed getting to know each other with a variety of activities. I look forward to seeing how this program grows in the future!
Collaborating seamlessly, unconditionally supporting each other and each taking initiative with their unique style, I am so proud of the leadership the girls have displayed, from which I have drawn inspiration.
Highlights of such whimsical ideas included virtual magic shows and mindfulness sessions.
'Why is a raven like a writing desk?' – The Mad Hatter I would often pester the Heads of Years 7 to 9 with such impossible questions or rushed demands (although not this one in particular), and so I am very grateful for all their guidance and valuable mentorship throughout the year.
'I knew who I was this morning, but I have changed a few times since then' – Alice Leadership is undoubtedly a transformative force. The events of this year have shaped both me and my worldview. I have been inspired by the resilience displayed by the Middle Years and their infectious (!!)
I'm certain when we all fell down the rabbit hole of 2020, the outcome was not what we were expecting. This year brought unprecedented trials and tribulations that taught us the importance of teamwork. Year 12 is full of
'Thecheerfulness.secret,Alice, is to surround yourself with people who make your heart smile. It's only then that you'll find Wonderland' Thank you, MLC School Middle Years – you're a Wonderland.
Ariana Haghighi School Vice-Captain (Year 6 to Year 9)
16
This year was certainly filled with many twists and turns but all the girls and the teachers successfully pulled through. As a School with all that's happened, we have strengthened our sense of community and epitomised what it means to be an MLC School
MLC School truly shapes and produces strong, independent women who will shape the future. I look forward to seeing all that past, present and future MLC School girls will do.
Lilly Dummett School Vice-Captain (Year 10 to Year 12)
During the lockdown, I set the girls challenges, for example, a cooking challenge with a video of me making shortbread, where I challenged the girls to send me in their best attempts. I also started up a STRAVA challenge. STRAVA is an app where you record runs, walks or any other workouts. I challenged the girls and teachers to push themselves and focus on staying fit while in quarantine.
As the School Vice-Captain for Senior Years for 2020, it has been my absolute pleasure to watch all the girls from Year 10 to Year 12 flourish in the face of what has been a whirlwind of a year. With all that has been thrown at them, they have successfully shown resilience and embodied what it means to be an MLC School girl. At MLC School we talk about 'dare to be more' and I can confidently say that everyone at the School, including the teachers, has gone above and beyond this. Due to restrictions, I was unable to hold many in-person assemblies ; however, every fortnight Ariana Haghighi (School Vice-Captain (Year 6 to Year 9)) and I would still release videos to help boost morale during quarantine. In May, all of the Captains embarked on the push-up challenge for mental health, completing 3046 push ups in 21 days. 3046 represented the number of lives lost in Australia to suicide in 2018. Each day we would be assigned a certain number of push ups to reflect a statistic that has to do with mental health, for example, 45 push-ups to recognise the percentage of Australians who will experience a mental health condition over their lifetime. As well as this, following on from the amazing work of the 2019 captains, we successfully partook in the Random Acts of Kindness Day, giving out free cookies and little kindness notes.
YEARVICE-CAPTAIN10-YEAR 12 BOOSTING MORALE
Unfortunately,girl.for me my journey as an MLC School student has come to an end. However, I am so excited to see what the School holds for the future.
'With all that has been thrown at the girls they have successfully shown resilience and embodied what it means to be an MLC School girl.'
17
SRC's organisation of the World's Greatest Shave was also an incredible highlight of 2020. Despite the difficulties of the year, the participation of over 20 staff and students and the contributions of the School community resulted in over $16,500 raised for the Leukaemia Foundation, which was a fantastic effort.
The Student Representative Council (SRC) forms an integral part of the MLC School community and has been very active throughout 2020! Our committee, comprised of three representatives elected from each Year group in the Senior School, has been paving the way for positive change in the School, including actioning suggestions about the diary, collaborating with our café, and continuing last year's efforts in making inclusive changes to our uniform.
SRC CAPTAIN POSITIVE CHANGE
I would like to extend my thanks to the entire School community for their enthusiasm and excitement to become involved with the SRC's initiatives, as they could not have happened without you.
There is also no doubt that the SRC's work would not be possible without the dedication and enthusiasm of every single one of our committee members. Thank you for your passion towards the School and willingness to become involved, voice your ideas and be fantastic representatives of your peers.
Moreover, the SRC in 2020 continued on with the tradition of Teacher Appreciation Week – a week focused on displaying our gratitude for our staff. Alongside activities such as Student Teacher Trivia, a 'Dress as your Favourite Teacher Mufti Day', baking and Haiku-writing competitions, the students expressed their appreciation with handwritten Gratitude Notes which were distributed at the end of the week. This event was a fantastic representation of the incredible school spirit of MLC School, with students taking every opportunity to express gratitude for the hard work of our teachers.
18
Finally, I would also like to thank Mr Chris Eddleston, whose organisation, support, ideas and mentorship has played a vital role in allowing the SRC to flourish.
One of the highlights of the SRC's efforts this year was our LEGO Drive. Over Term 1, LEGO was collected to be donated to Play Well Africa, a charity which distributes LEGO to impoverished communities in Uganda, Kenya and Botswana, to foster intellectual development and critical thinking skills through toys and play. Members of the MLC School community contributed an incredible amount of LEGO, with around 10 kilos of LEGO raised in total.
Charlie Kairaitis SRC Captain
It has been an absolute honour to hold this position in 2020. I cannot wait to see the successes of the SRC continue under the leadership of our incoming SRC Captain, Gloria Lim, and I wish her all the best moving into 2021.
19
MIDDLE LEADERSHIPYEARS OPTIMISM
The Year that was. Optimism '/ ˈɒptɪmɪz(ə)m /': hopefulness and confidence about the future or success of something. Throughout our time as Middle Years Leaders, optimism and openmindedness are values that have been imperative to the success of our 2020. In late 2019, 10 of us had the privilege of being elected to represent each House within Year 6 to Year 9. Each of us had different intentions, but all shared a common goal: to unite the Middle Years cohort and minimise the divide between each Year group. Of course, with every adventure comes its challenges… From April 2020, we received the news that flexible learning would be implemented due to the COVID-19 pandemic. Our plan of unity had to be rethought. How would we keep a sense of community when each student is physically isolated from one another? How could we ensure that the mental health and wellbeing of each student is maintained?
Overcoming challenges as a group has taught us optimism. Without the optimism that we have learnt as a team, our possibilities would be so limited. For this, we are grateful as it has further grown our understanding of what it means to be a leader at MLC School – with a badge or without. We are so grateful for the opportunity we have been given this year and it was a pleasure to have led the Middle Years in such a chaotic time. All of this wouldn't have been possible without the support and guidance of our Head of Year, Ms Fiona Pow and our Middle Years Captain Ariana Haghighi. Ariana, we are so appreciative of your mentorship and the great example you set for us as leaders. And last, but definitely not least, our team and family: Mia Eker, Ella Walters, Amber Johnstone, Lucinda King, Madhavi Chauhan, Emma Ung, Maya Lecuna and Julia Lok, thank you for your contributions this year; you all make the team the optimistic, hopeful and loving team it is.
Without our onsite assemblies, we had to find ways around the adversities of distance learning. We created a multitude of comedic videos for the Middle Years, in the hope that it would brighten someone's day in one way or another. We knew that by providing this content, it could inspire others to make light of the situation we were faced with.
Y ianna Mitropoulos and Athena Nikolakopoulos Middle Years Leadership Team Representatives
Students, teachers and parents, what a year it has been! It feels like yesterday we started off with a normal school term and then COVID-19 and lockdown rolled into our lives. Families were forced to share working space at home and school was put into online learning. Toilet paper was a hot topic. Holidays, camps and excursions during the year were cancelled, which came with some disappointment. COVID-19 has definitely changed our attitudes and the way we live our lives. However, I am also reminded how fortunate we are to be attending MLC School and that we have our health and our community. I don't believe there is any other school, principals and school staff out there, that could do any better than our current staff. The new way of learning at our School, the new way of teaching and our virtual classrooms is a reminder that we are at a great school and, importantly, MLC School girls are very good at adapting to anything.
I felt like I was going to a huge festival about leadership. I learnt about generosity, leading the way and developing ideas into the real world. After we came back from the conference, we were then put to work to write about our learning experience.
I also thank Mr Daniel Sandral for his sense of humour which made us laugh and put a smile on our faces. I also thank the teachers and staff for supporting us students in unusual times.
Jodhi Bou Junior School Captain
Virtual assemblies were a new way of how our captaincy role played a part during online learning. We had opportunities to join our Senior School leaders to see how the 'big girls' do it. I learnt a few tips from them about brainstorming and surprisingly, the Senior School Captains and Junior School Captains work similarly.
In the Junior School, I have had the best of times with peers and teachers. It has been a huge honour to be here in this School and to be your captain. I congratulate the Junior School Captains for 2021. I'm sorry Junior School, but I have to say goodbye. Get ready Year 6 because here we come!
I would like to acknowledge Ms Joanne Sharpe who has guided us through this leadership role. Ms Sharpe has also given us many opportunities and new experiences, for example, when she organised time for us to speak with the Senior School Captains.
I feel like we are missing someone. Actually, I think I am forgetting a lot of people. That's right! It is you girls! This School wouldn't be "school" without you and I wouldn't be Junior School Captain. I thank you thousands of times.
Sophia and I have had an amazing time as your Junior School Captains, it has been a real honour to represent you. Earlier in the year, we attended a leadership conference with the Junior School House captains.
JUNIOR SCHOOL CAPTAIN ADAPTING TO ANYTHING
'If you can believe in something great, then you can achieve something great' is a quote from Katy Perry. Always commit to your beliefs and fight for what you think is right.
First of all, I would like to thank Sophia Antipas, my trusted ally. Thank you so much for being a great partner by always being there for me. I think we make a great team. Our collaboration has been fun. I remember both of us were very nervous for our first official speech but I think we have grown and learnt a lot about leadership together.
20
Although you couldn't host our carnivals and sports events due to the cancellations, your funny and heart-warming assembly videos brought a HUGE smile to our faces. You did an excellent job as House Captains.
Now girls, our School isn't a school without you. As the Year 5 girls go, we pass the leadership roles to the Year 4 girls. We hope our responsibilities and lives have inspired you to step up and use your skills to lead our School in 2021. As our School motto says, 'dare to be more' whenever and wherever you are.
Now to my peers in Year 5, we are off to the Senior School. I hate to say goodbye to the Junior School and I will miss you with all my heart but we are ready to ride a new roller coaster of challenges and fun. So hold on tight because here we come!
Sophia Antipas Junior School Vice-Captain
21
JUNIOR VICE-CAPTAINSCHOOL STRENGTH AND RESILIENCE
I would like to say a massive thank you to Jodhi Bou, the Junior School Captain. She never left my side and always believed in me. Thank you Jodhi for taking up this job with happiness and confidence and helping me along the way. You're such an amazing person and a loving friend.
I have been at MLC School for seven years of my life and it has been an experience I won't forget, thanks to the teachers and staff, they make MLC School the place it is today, they care for it and they care for others. Thank you, teachers, for always being there and making our learning super fun! This year's online learning was a big challenge and the teachers worked hard to make our learning easier. I would like to say a GIANT thank you to our Year 5 teachers, Ms Courtney Dougherty aka Mrs Simmons, Ms Jan Falls, Mr Eddie Park and Ms Amber Bidwell for being super supportive, welcoming and always encouraging us to do our personal best.
Oh boy! This year has been absolutely insane. I have NEVER experienced something like this. Our whole School made it through bushfires, drought, and the crazy virus COVID-19. I just want to say congratulations. This year we faced many big challenges, but we fought through them all with the strength and resilience that this School has taught us. Thank you, MLC School, for making this year full of fun and happiness, with moments we will treasure.
I can't forget the incredible House Captains.
A big issue from the Junior School was the food options available in the canteen. We put together a survey for the students asking what type of foods they wanted or would buy.
Meena Kanthathas Year 5 JSSC Representative
22 sponsor Maria-Natalia, where we managed to raise over $750! We chose red and white because those are the colours of the Indonesian flag. The Junior School also enjoyed a delightful lunchtime listening to multiple string orchestra performances from Year 1 to Year 5.
Despite all the restrictions we had to follow due to COVID-19, JSSC had a blast this year and we wish the JSSC 2021 all the best. Make the best of it because you will definitely gain a lot of new skills. We would also like to give a big thanks to Ms Courtney Dougherty and Ms Joanne Sharpe for leading our meetings. We would not have enjoyed it so much without their enormous help.
We interviewed the Manager at the canteen and also informed him of the results of the survey. Some of the changes wanted by the girls were more gluten-free options, a particular brand of ice cream and more hot food options.
The Junior School Student Council (JSSC) had an outstanding and enjoyable year. Despite this year being the most unpredictable and the craziest year that we have ever experienced, the JSSC made some positive and remarkable changes to the MLC Junior School and its environment. The JSSC consists of two girls from each class from Year 3 to Year 5. Meetings are held fortnightly on Thursdays with Ms Joanne Sharpe and Ms Courtney Dougherty, where each class representative discusses issues that have been brought up by the Junior School. These have included more canteen food options, better play equipment and more ways to help support Maria-Natalia, our four-year-old Indonesian girl, who we sponsor through World Vision. Usually, the JSSC plans the much anticipated 'Stay and Play' event but unfortunately, due to the pandemic this year, we had to give it a miss because of the social distancing rule. But that didn't stop the JSSC planning bucketloads of fun for the Junior School. We organised a red and white mufti-day to
Another big highlight of the JSSC this year was receiving a letter from Prime Minister, Mr Scott Morrison. In addition to the Coronavirus pandemic the year also gave importance to the Black Lives Matter movement, especially in America. Upon learning about the similar issues facing the Australian Indigenous community, JSSC wrote a letter to the Prime Minister, regarding the discrimination faced by the Indigenous community. We were so thrilled when he replied!
During the year, we were also fortunate enough to meet with some of the members of the Senior School Student Representative Council (SRC). It was great to hear all of the ideas that the older girls had, and we enjoyed getting to hear how things work in the Senior School. We hope we will be able to keep working with the SRC next year and in years to come.
STUDENT COUNCIL BUCKET LOADS OF FUN JUNIOR SCHOOL
Our Year 12 cohort led some excellent initiatives to support outcomes for these organisations and no doubt left a legacy for MLC School. It is with great pleasure and pride that our newly elected Captains for 2021 have taken on the baton of leadership in this partnership, giving 'Hope, Justice, Mercy, Respect, Integrity and Service' to make the world a better place.
All our lunchtime programs – Jesus in School Time (JIST), Colour Chill and Chat, Jesus and Me (JAM) – were cancelled since COVID-19 started, and we hope that they will recommence in 2021. Due to restrictions, no Christian rites such as end of term Holy Communion, Baptism, funerals or weddings took place in 2020. We're grateful for all staff and teachers at MLC School in successfully navigating the academic year, and we're thankful for our students in graciously accepting the challenges that came with it!
The time has come to mark the end of Rev Vanessa's particular responsibilities in this School, to say thank you, and to assure her of God's blessing always!
Rev Viniana Ravetali and Rev Vanessa Williams-Henke School Chaplains
COMMUNITY
SPIRITUAL LIFE UNITED
23
the Bible and the Uniting Church's values of: Hope Justice Mercy Respect Integrity Innovation TheService2020 graduates, under the guidance of Rev Vinnie and the leadership of our School Captain, Amelie Roediger, have been instrumental in partnering with Uniting (the community services ministry of the Uniting Church), Exodus Foundation and Wayside Chapel… taking real steps to make a difference for people experiencing disadvantage and vulnerability. Making beanies for the homeless and creatively providing social support to aged care residents were on top of their list of services.
One of our great strengths in 2020 was the managing of weekly virtual services for Junior and Senior School – Chapel, Devotional, assemblies, religious education and classroom teaching. We have not missed a beat in creating and encouraging a calm environment where worship and special liturgical events throughout the year was crafted in accordance with the Good News of
2020 has been most challenging yet most educating! As School Chaplains, we had to learn new ways of executing our role at a difficult time and continue to create some sense of normality and unity within the School community during the pandemic. Pastoral Care of staff and students dramatically increased during the year. The Chaplaincy team worked closely with the Heads of Years, Heads of Houses, Executives, teachers and School Counsellors, to assist in dealing with the different scope of challenges presented within the School community. Part of our pastoral care was taking the temperature of students every morning at school gates, providing the opportunity to meet and greet!
We also farewell Reverend Vanessa WilliamsHenke after four years of service at MLC School. We've witnessed her passion, energy, her enthusiasm and love for the School community. We will miss her, but at the same time look forward to her replacement with anticipation.
FRONT
24 LEADERSHIP PHOTOS HERENAMEHERENAME
ROW Paris Mitropoulos, Zoe Hannam, Lilly Dummett, Amelie Roediger, Ariana Haghighi, Charlie Kairaitis, Cherie Pepperell SECOND ROW Ms L Moloney, Lily Smith, Meghana Gopalan, Tashjan Managreve, Mrs F Booth, Mr N Scotney FRONT ROW Antonique Amperidis, Jaimie Kappas, Emily Eker, Isabel Leung, Sammy Cavanagh, Maria Antonia Costantino, Elizabeth Linardos SECOND ROW Daphne Doumanis, Uma Barrett, Jess MacMaster, Beatrice Drake, Samara Tucker, Vivian Law, Kate Cartwright THIRD ROW Audrey Williams, Tiarna Cominos, Amelie Coman, Philippa Machin, Samantha Naayen, Ella Tsaousidis CAPTAINSHOUSECAPTAINSSCHOOL
FRONT ROW Lucy Coxsedge, Azzurra Zappacosta, Anikah Sanan, Charlie Kairaitis, Erin Muir, Erica Chou, Tasha Wong SECOND ROW Mr C Eddleston, Isabelle Choi, Maya Simpson, Annie Chen, Tara Gentle, Seraya Srikumar, Laura Andrikis, Gloria Lim, Lauren Huynh ROW Zoe Clark, Ariana Haghighi, Katie Sutherland, Kate Baker, Anica Shen, Briar Campbell, Ruby Smith, Rainy Yang
FRONT ROW Emma Ung, Madhavi Chauhan, Mia Eker, Ella Walters, Julia Lok, Maya Lecuna, Yianna Mitropoulos SECOND ROW Ms L Moloney, Ariana Haghighi, Lucinda King, Amber Johnstone, Athena Nikolakopoulos, Mrs F Booth, Mr N Scotney
25 (SRC)COUNCILREPRESENTATIVESTUDENTTEAMLEADERSHIPYEARSMIDDLE
THIRD
CAPTAINSHOUSESCHOOLJUNIORCAPTAINSSCHOOLJUNIOR LEADERSHIP PHOTOS
FRONT ROW Georgia Delis, Hannah North, Jade Pashos, Stella Wallace, Riya Singh, Isabella Munoz, India Mace, Yasmine Teoh SECOND ROW Ms J Gilroy, Ms C Dougherty, Naoise Lynn-Black, Yolanda Dolenac, Lola Jablonski, Ms V Rouhliadeff, Mr C Howard
26 HERENAMEHERENAME
Sophia Antipas, Jodhi Bou
COUNCILSTUDENTSCHOOLJUNIOR
Sacha Jeyasingam
Ellen
27
FRONT ROW Bethany Haddad, Chelsea Sumich, Claudia Beattie, Olivia Burke, Niamh Canadas, Miranda Lin, Jaya Mehta SECOND ROW Ms C Dougherty, Sienna Clark, Anna Poortvliet, Matilda Dugan, Niamh Johnson, Julia Saad, Violet Le THIRD ROW Anika Gupta, Charlotte Latham, Indigo Hannah, Kanthathas, Gadsby,
Meena
29 STAFF
SusanCounsellingRountree BA, DipEd, MA (Psychology) – Head of Department Marion Delprado BA, DipEd, MA (Social Work), GDip Clinical Social Work Cara Milwidsky BPsych (Hons), MEd&DevPsych Amy Newsom BPsychSc (Hons)
STAFF LIST
Head of Information Technology
Natalie Adaimy BSc (Hons)(Food Technology), Cert IV Commercial Cookery, Cert II Hospitality Operations Richard Burgess BEd (Secondary)
LorettaCareers
Toole DipT, DipRelEd, GDipCarEd, DipCoun, MBTI Accred – Head of Careers and Academic Advising Jo Cilia BA, DipEd, GCert Careers, MBTI
Renee Willemsen BEd, Cert IV Training and Assessment, Cert II Kitchen Operations, Cert II Food and Beverage
Industrial Arts
Lisa Jinga BA, DipEd, MA – Head of Department Samantha Abrahim BA, MTeach Bianca Argyrous BA, BEd, Cert IVPA Kate Drady BA (Hons) (Dance), MTeach (Dance and Drama)
Caitlin Boyd BArtEd, BDes Victoria Bradshaw BEd (Hons) (Primary)
Neil Scotney BPhysEd, BEd (PDHPE)
MicheleRelationsDunn BJuris Law
Executive Assistant to the Principal Tracy ExecutiveNealeAssistant to the Deputy Principal and Head of Senior School
Head of Junior School Daniel Sandral BEd, Dip Teach, MEd, GradDip TESOL Head of Learning and Teaching Linda Emms BEd Design & Technology, MACE Head of Finance Systems and RossAdministrationKirby BBus Studies, Dip Acct, Cert GIA, ASA, JP Head of Human Resources
Luke Goddard BBus Borislav Karadjov Timothy Kelly BBus&Com Ashley Wierzbicki BBus&Com
RevChaplaincyViniana Ravetali MTh, BTh, DipAdminMgt Rev Vanessa Williams-Henke BTh, DipDramArt BlakeCo-CurricularFatouros BHlthSc (PDHPE), BEd (Secondary) (PDHPE and Dance Ed), Cert III Live Prod Services, Cert IV Workplace Assess Co-Curricular – Director of Co-Curricular Programs, Teacher DDE
30
Ciane Brewster BVA/BEd (Secondary)
Emily Cribb BA/BTeach Jane Lancaster BA, DipEd (Primary), MArtDesEd Liane Simpson Cert III Hosp, Cert Clothing Assembly, JP Lesley Snelgrove BEd (Art), MEd (Art & Design)
Dayna Wilding BDes (Hons)
Steven Swarts PGCertBus, MCP Head of Marketing and Community
LisaPrincipalMoloney BEd, MEd Leadership, GDip Music Ed, MACE, MACEL, AHISA Deputy Principal Frances Booth BA (Hons), PGCE, ARI, MACEL Head of Senior School
Ross Kirby BBus Studies, Dip Acct, Cert GIA, ASA, JP – Head of Finance Systems and Administration
Sally Marks BA, DipEd, DipFA – Head of Department – Technological and Applied Studies
Louise Strachan Bed (Hons), MBA (HRM)
Alexandra Norton Executive Assistant to the Head of Finance Systems and Administration Andrea AdministrationPrevost and Finance
Lauren Burrow BFA, MFA Kara Laidsaar BEd Robyn Langford DipTeach Bryce Lindstrom BTeach, DipIT Robyn Mackertich BEd Pamela McGowan DipTeach Jake Morrissey DipGD, BFA Kim Spits CertIV in Training and Assessment, Trade Certificate Cooking Caitlin White BINTArch, BTeach – Visual Arts Emma Hogan BA/BArtTh /BArtEd –Assistant Head of Department – Visual Arts Cigdem Aydemir BDA, MFA, GC (Sculpture, Performance and Installation)
Wendy Allen Cert III Teacher's Special Aide, DipEd Support Carla Comitogianni Brett Grey BCom, CPA Easso Mathews BCom
Dance, Drama and Entertainment
Julian Kennard BCA, MTeach, Cert IV Training and Assessment Bojana Kvrgic BA Jenna Skepper BEd (Secondary) (PDHPE and Dance Ed), Cert III Live Prod Services, Cert IV Workplace Assess Design, Art and Technology (DART)
– Assistant Head of Department –Technological and Applied Studies
Trinh Nguyen A ndrea Prevost Navoda Wellege CPA, ACMA, CGMA Aquatic Centre Stephen Buchberger – Aquatic Centre Manager Rochelle Dagher BA (Education & Sociology)
BEd, MA(Lit), CoGE – Head of Department Deborah Moir BA (Hons), MLitt, GradDipEd, CoGE – Assistant Head of Department Dianne Berios BEd Georgina Brewer BA/BComn, MEd (TESOL), GradDipEd (Secondary) Christine Choi BA, DipEd, TESOL Cert Carmel Cordaro BA (Hons), GDipEd Gemma Goldberger BA, GDipEd Elizabeth King BA, DipEd, TESOL Ashleigh Maihi BA, MTeach David O'Donohue BA, DipEd, Cert. TEFL. Joseph Pfeffer BLAS, MTeach Fiona Pow BA (Hons), PGCE Isabelle Trayner BEd (Secondary), BA Jane Wang BA/BEd, MEd, TESOL Enrichment and Differentiation
– Head of Department Manuel Condoleon BCom, BEd, MEd (Research), PhD – Assistant Head of Department Danielle Rodrigues BA, DipEd, MEd (Learning and Leadership), Cert II Bus, Cert IV Training and Assessment – Assistant Head of Department Lynne Bondar BA, DipEd Annie Conway BA, DipEd, DipCS, MA(Theology)
Danielle Collins BEd, MEd (Special Needs)
Samantha Edwards BEd (Hons) (Primary)
A nthony Cheater
Sarah Tynan BSc, MTeach, Cert IV HR. – Director of Immersive Learning, Teacher Science Information Technology
Marie Cassar BMechEng/BCompSc(Hons)
Roshane-LearningDe Silva BA (Humanities), GDipEd (Secondary)
Maya Cupac Deborah Doyle Patricia Duke BA, DipTeach Eamonn Dunphy BEd, DipTeach, CoGE
Vicky Zinopoulos BA, BEd, Cert IVAssessment and WPlaceTrain Antonella Accurso BEd (Secondary) Human Resources Louise Strachan BEd (Hons), MBA (HRM) Andrea Casey BSc, Cert IV in HR Human Resources Vanessa Lau BCom, CertIVBA Test Human Resources Human Society and Its Environment David Latimer BA, DipEd, MEd (Research)
Lisa Tabua BEd (Secondary) (Humanities)
Jake Katrakis-Larkin
Nerida Greville BSc, MInclED, GDip IEd, DipEd Elin Lazar Dijana Mastonardi MInclED, BEd (Primary)/BA
Jan Falls BA, DipEd, MEd, MECH, DipDecorative Arts Madison Greville BVA, MTeach (Primary)
Bryana Cooper BExHlthSc, DipEd, CertRE Jocelyn Jabbour-Perez BEc, GDipAFin&Investment, DipFinPlan, GDipEd, CertRE Helen Kondos BEd, DipEd, Cert II Bus
PeterHistoryKlamka BA (Hons), DipEd – Head of Department Felicity Berry BA (Hons), BTeach, PhD Sharon Connolly BA, DipEd Christopher Moysa BA (Hons), MTeach (Secondary)
CeciliaEnglishBatista
Emily Bryson BEd (Primary)
Lynne Slarke BA, BEd, DipEd, MEd, MSPEd, GDipSpEd – Head of Department Dianne Bonnici DipEdSupport, Cert IV Chaplaincy and Pastoral Care
Claudia Catania BEd (Early Childhood and Primary) Selina Clark BPsych (Hons), MTeach
Immersive Learning
Kelly Lyu J unior School
Kristyna Tadros BA (Economics), BTeach, MEd (Psych) Henry Wijanto BBus, MA, GDipEd
Natalie Hird BA, MTeach (Primary), Adv Dip French Studies – Deputy Head of Junior School – Student Learning Joanne Sharpe BEd, Dip Teach, MEd, MEdLead – Deputy Head of Junior School –Student Life Elizabeth Astle BA (Hons), DipEd Joanna Avraam BSc (Molecular Genetics), MTeach (Primary), DipFinPlan Rachel Barakat BEd, HigherDipEd, DipVArt, (Primary), DipEAL Amber Bidwell BA DipEd Susan Blanche BEd, HigherDipEd, DipVArt (Primary), DipEAL Rachael Borg BEd (Early Childhood)
Kathy Meintjes BSc, DipEd Belinda Merrick BEd (Hons) (Early Childhood) Jennifer Rodger BEd Salma Saikal BEd (Primary) Irene Swain DipTeach, DipEd, GDipSpEd, Cert IVAss &Tr., Cert Comp in EdAss Jackie Tanevski Cert III Early Childcare GregoryFacilities McGirr Cert III Electrical Fitter Mech Trade, Cert IV Ind Electronics –Facilities Manager Erdal Altas Brendon Doak Cert III and Cert IV Plumbing Services, Cert IV and Diploma in WHS Scott Ingwersen Horticulture Cert, AssocDipLandscaping
Daniel Sandral BEd, Dip Teach, MEd, GradDip TESOL – Head of Junior School
Steven Swarts PGCertBus, MCP Shane Beal Meghan Charters
Vince Marino Trade Certificate Electrical Jorge Schell Jeffery Wright Health CatherineCentreRoach RN, (Cert IV GCarDev) Anne Shearman BSc (Nursing), Dip Family History, Immunisation Cert, RN, JP Catherine Trevallion RN
Polly Meadows BA (Hons) (Philosophy & Ethics), PGCE (RS) Kingston Roser BA/BEd
31
LouisaLanguagesMacdonald
BA (Hons) MA, PGCE –Head of Department Penelope Hewett BCom/BA, MTeach –Assistant Head of Department Lijun Bi GDipEd, PhD Kartika Brand BA, BEd Sherry Chen BA, BTeach (Secondary), MEd Sandy Huang BA, GDipLOTE Kentaro Otani BSc/BEd Bronwyn Peace BA, GDipEd Erika Pieri BPolSci, MTeach (Secondary)
STAFF LIST
Helene Schmit BA (Literature), MA LOTE, CertIV Josephine Schreuder BA/LLB, GDIP LOTE Olivia Shan BA/BEd Elisa Tagliabue MAAppL (LT)
32 Clayton Howard BMus, MTeach (Primary) Donna Keane BA, HigherDipEd Michael Lewis BPsych, PGCE Vicki Liubinskas AssocDipECH Andrea Martinez BA, MTeach (Primary), MIncIED Helen Missiris Eleonora Monda V ictoria Noy BEd (Birth to Twelve Years)
Eddie Park BSc (Biomolecular), MTeach (Primary) Danielle Pham Ellen Rhodes BEd (Primary) Bede Schofield MTeach Courtney Simmons BEd Kim Tran BTeach (Primary) Madeline Woods BEd (Primary) Michelle Wyatt BA, DipEd (Hons), MInclEd Gina Zucco BEd, DipTeach
Learning and Teaching Linda Emms BEd Design & Technology, MACE – Head of Learning and Teaching Jennifer Brown BA, GDipEd(Hons), –Director of Curriculum (Year 7 to Year 10), Teacher Languages Anne Layman BEd, MBA, – Director of Curriculum (Year 11 and Year 12), Teacher HSIE Martina Miu Renee Togo Library Services Louise Piggott BEd, DipTeach, MEd – Head of Department Kerrie Backhouse BA, DipEd, MEd (TL) Nola Booth DipLib&InfSc Carol Campbell BEd, MEd (Library Science)
Jody Gilroy BA, MTeach Sharon Goad BA, DipEd, DipLib&InfSc Grace Kapellos BA, MA (Psych) Michelle Olah BA/BEd, GCTESOL, MEd Anne Sullivan DipLib&InfSc Marketing and Community Relations
Michele Dunn BJuris Law – Head of Department Fadia Aoun Jillian Avramis DipEventMgt, AssocDipFA Hanh Bayes BDes Nerida Coman DipTeach (Primary), Cert III BusAdmin Heleen Fourie BA, PostGradDip Communication Barbara Hoffman BSc (Hons), GCRecords Mgt Shelley Kirkwood DipArts, DipGA, AdvCert Print Management, CertAdv Christine Le J udy Lezon Melissa Pollett BJour (Hons) Julianne Sheedy
Personal Development, Health and Physical Education
Olivia Nolan BExcSc, GDipEd, MEd Leadership – Head of Department Claire White BEd (HMHE) – Assistant Head of Department Wayne Donley BEd, DipSportsSc, Hons Exercise Science (Research), GDipREd, MEd
Jane Ferguson BEd (Phys & HlthEd)
Michelle Hiss BEd (Phys & HlthEd) Sarah Jauncey BEd (Phys & HlthEd) Sarah Papachristoforou BComm/BJ, DipEd Gavin Starr BPhysEd, BEd (PDHPE), Cert Marketing
PennyMathematicsPachos BSc, DipEd, MEd(Curriculum), MEd(TL) – Head of Department Jason Truong BEd (Secondary) (Math), BSc – Assistant Head of Department John Abi-Elias BSc, BTeach, MA Christopher Eddleston MMath (Hons), PGDipEd, Marisa Edwards BA (Hons), MSc Shirley Green BSc (Hons), MTeach Michelle Hartnett BSc (Hons) Monica Lee BEd (Secondary) (Math), BSc (Math) Angela Renwick BAppSc (Math), BTeach (Secondary) Nancy Tanios BEd (Secondary) (Math) Natasa Vranesevic BSc, MSc, PhD (Astrophysics), GDipEd TrevorMusic Mee DipMus, BMus, AMusA, GDipEd – Director of Music Emma Bourke BMus (Hons), PGCE –Assistant Director of Music Tristan Coelho BMus (Hons), MMus Richard Coward BMus/BEd, Cert IVTrain&Asses, CertIIILiveProd Theatre & Events Joanna Drimatis BMusEd (Hons), MMus, GDipMus, PhD Alison Duncan BA (Hons), MMus Elizabeth Gilberthorpe BMus Sophie Grattan-Smith BMus, MTeach Holly Harrison DCA Ying Ho BMus (Hons), MMus Megan Ling BMus Karen Roberts BMus, PGDipMus, MMS, ATCL
33 SusanScienceRowley BSc, GDipFDA, GCertEducStud, MSc, MTeach (Hons) – Head of Department Mora Soliman BTech, GDipEd, MEd (Leadership) – Assistant Head of Department Glenn Blackburn BEd (Secondary) (Science) Rosie Boshell BScFoodSc&Tech, GDipEd (Secondary) Felicity Cassidy BPharm, BTeach Moira Gaha BEd (Secondary) (Science) Tracy Getts BSc (Hons), MSc, GDipEd Brooke McAlister BRurSc Kate Schurch BSc (Hons), DipEd, MEd (Educational Leadership) Ingrid Smolka BSc, DipEd Martina Stolzi MSc, MTeach Roseanne Thompson BAppSc (Hons) (Physics), GDipEd LisaSportFilby BEd, DipTeach – Director of Sport Kylie Bickerstaff BEd, DipM – Assistant Director of Sport Naomi Bruce BA, MComm Ludovic Catherine Jessica Coetzee Emmanuel Fashoyin Delia Halmu Pepe Havea Esther Maling BExHSc, DipEd Laura Mannion Kylie Mildren Emily Osborne BEd (Human Movement and Health Education) Colman Wong BSc (Exercise Science), MSportsCoaching Studies Office Kestie Neligan BEd, DipTeach – Head of School Administration, Teacher Mathematics Debra McRostie BBus Wendy Strachan
During her time at the School, Jennie taught Indonesian, French, Latin, German, Japanese Beginners and Theory of Knowledge (Year 11 and Year 12). She also supervised Indonesian and Latin Extended Essays for the IB Diploma JennieProgramme.heldan array of Senior Leadership positions at MLC School and was a mentor and coach to staff in both the Junior and Senior Schools.
FAREWELLS
Most recently, Jennie has been Director of Curriculum (Year 7 to Year 10).
Jennie interviewed and successfully enrolled many hundreds of students for MLC School and was a faithful advocate and witness to the School's success and reputation. In recognition of the outstanding contribution made by Jennie, from 2021 the Year 10 Prize for Outstanding Academic Distinction will be known as the Jennifer Brown Prize for Outstanding Academic Distinction.
In 2017, Jennie prepared and successfully led MLC School through the rigorous application process for authorisation as a Middle Years Programme (MYP) School, and in 2016 the position became the Director of Middle Years Curriculum and MYP Coordinator (DOMYC).
Jennifer Brown Jennie, as she is known, was appointed Head of Department – Languages in 1995.
Jennie has also involved herself in a rich array of co-curricular and enrichment opportunities and has accompanied and led teams of students in Australia, Indonesia, Thailand and France; and acted as a Head of House (Leawarra) for an extended period.
Jennifer Brown
The34 end of any School year brings with it the inevitable changes in staff. We offer our thanks to all those who left the School in 2020, with particular note to these staff members for their contribution to the students and the entire community at MLC School.
Reverend Vanessa Williams-Henke Rev Ness departed to lead the Uniting Church Woollahra/Double Bay congregation. She will be remembered for her love, care and unique style. Anne Layman Anne joined the staff of MLC School in 1987, teaching Economics, Business Studies/ Management, Commerce and Geography. She held the positions of Head of Year 7, Head of Social Science, Head of Human Society and Its Environment (HSIE) where she looked after Studies of Religion as well as other HSIE subjects and Director of Senior Curriculum. In 2009, Anne became responsible for the International Baccalaureate Diploma Program (IDPB) and the HSC in the Senior School. Under Anne's leadership, MLC School became internationally renowned for consistent outstanding performance in the IB Diploma. Anne was a fine ambassador for the School at school expos and IB Global Conferences, and was held in high regard by the IB Global community, Anne was a pioneer of the Year 9 Broken Hill experience; a famous roadie at the early Sydney Opera House concerts; led the inaugural Year 10 Chiang Mai Immersive Service Learning Experience; Supervised Duke of Edinburgh walks; was staff doubles tennis champion; organised, led and supervised the MLC School Ski Team for a number of years; and led and participated in a large number of school camps including Year 7, Year 8, Year 10 and Year 12. We are indebted to her for her leadership, commitment and hard work. Anne contributed to significant parts of the MLC School experience for many, many girls and their families. In recognition of the outstanding contribution made by Anne, from 2021, the award for the Dux of the MLC School IB Diploma Candidature will be known as the Anne Louise Layman Prize for the Dux of the MLC School IB Diploma Candidature
Anne Layman Reverend Vanessa Williams-Henke
35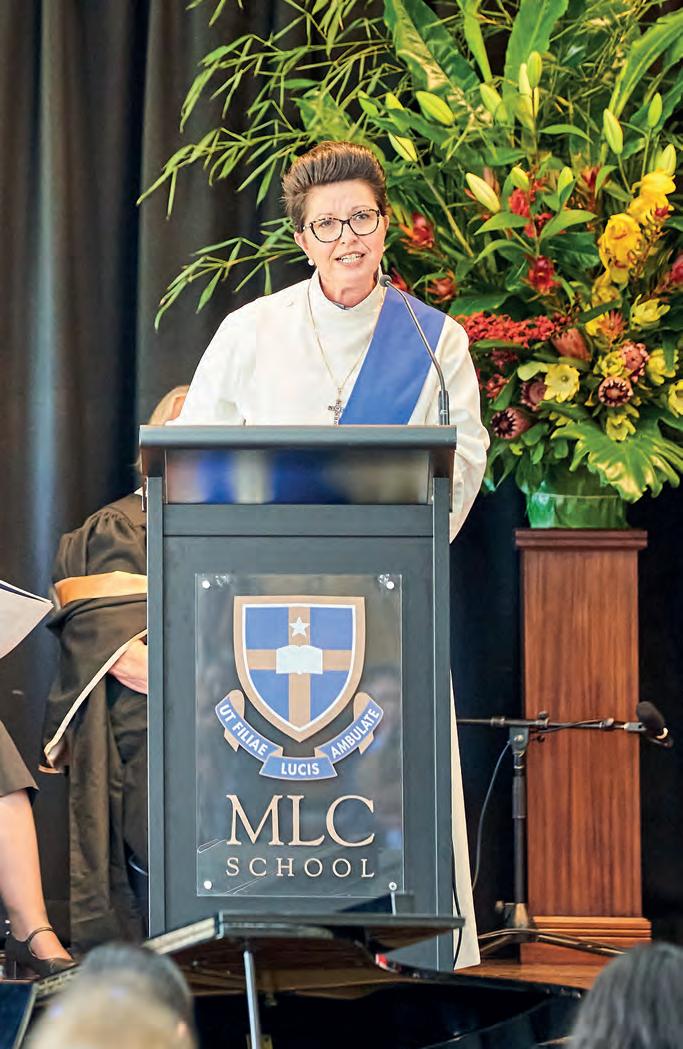 LEARNING
37
However, it was also exhilarating to watch the rapid pace through which we moved through the learning cycle, challenging our thinking about how we do things and evaluating the changes we will carry with us into the future. Online parent teacher evenings, subject selection evening webinars, virtual debating, dance tutorials, virtual chapels and assemblies are just a few examples of how our learning community adapted to the world in which we found ourselves. Teachers became narrators and film makers as they prepared resources for their classes and a certain member of the Mathematics department was our very own Eddie Woo when it came to teaching Mathematics online. A memorable moment
HEAD OF LEARNING AND TEACHING LINDA EMMS
'it was also exhilarating to watch the rapid pace through which we moved through the learning cycle, challenging our thinking about how we do things and evaluating the changes we will carry with us into the future.'
38
The learning and teaching landscape changed dramatically over the course of 2020. We commenced the year face-to-face, flipped to online flexible learning overnight at the end of Term 1 and then transitioned the entire school back to face-to-face throughout Term 2. It was both challenging and exhilarating in parts and our success in managing this is a credit to the entire MLC School community and their willingness to dare to be more!
The challenge of learning how to use new communication platforms while simultaneously adapting pedagogy and resources to be fit for purpose and at the same time continuing to deliver lessons in real time cannot be underestimated. Peer to peer learning for both staff and students was a key feature as we continued to adapt to the ever-changing context in which we found ourselves. There were glitches and things that did not quite go to plan at times but like all good learners we picked ourselves up, learnt from our experience and continued moving forward. As a community of learners, I think we also became more forgiving of each other as staff and students navigated the challenges of learning and teaching from home. Whether it was the interrupted lesson from a child or sibling (and occasionally a parent), the barking dog or the WhatsApp messages when someone could not get online for class, it was dealt with in a spirit of graciousness and sometimes a good sense of humour.
• Collaboration – the action of working with someone to produce something.
The MLC School learning dispositions are aligned to our School values of courage, compassion, respect, and growth. After much discussion and analysis of the research, six key dispositions rose clearly to the surface as being those most important to the development of the MLC School girl. These were curiosity, accountability, collaboration, self-awareness, open mindedness, and empathy.
I must acknowledge the work and commitment of our Director of e-Learning, Roshan De Silva, Head of information Technology, Steve Swarts and the entire IT department without whom we would not have been able to navigate 2020 so successfully. Their work in managing the technical requirements, training staff and fast-tracking learning platforms was essential to maintaining the continuity of learning for our girls and enabling us to continue our communications with the broader MLC School community. In the midst of this, the staff also continued the work on the development of the MLC School learning and teaching framework. Through a series of sessions staff considered current research and best practice worldwide to determine the learning dispositions most important to the development of the MLC School girl as she undertakes her learning journey. Learning dispositions refer to how students engage with, relate to, and approach their own learning. Learning dispositions facilitate and ameliorate learning as a process.
Aside from the professional learning occurring amongst the MLC School community, our staff continued to engage and lead professional learning in the broader education setting. Staff attended webinars and joined in professional networks to share experiences that in turn enriched the learning for students at MLC School. In partnership with Newington College, MLC School hosted the first ever online AHISA Directors of Studies conference that was attended by over 60 participants from leading independent schools across NSW. A group of 10 staff from both the Junior School and Senior School completed the Differentiation Instruction Made Practical online course with the Harvard Graduate School of Education.
• Curiosity – a strong desire to know or learn something.
• Empathy – a high degree of understanding of other people's Throughoutemotions.2021 we will continue to progress and refine the Learning and Teaching Framework by working with staff and students to articulate what each disposition looks like at all stages of learning. Ms Linda Emms Head of Learning and Teaching
• Self-awareness – conscious knowledge of one's own character and feeling.
39 early in Term 2 was to observe a longstanding member of our Junior School teaching staff delivering an English lesson online to Year 5. It was done with such calm and confidence you would not ever have imagined they were learning as they went.
• Accountability – the fact or condition of being accountable/responsible.
• O pen mindedness – receptiveness to new ideas and the capacity to learn/ unlearn and relearn.
• V iewed 1981 media recordings • Uploaded 57,111 files
In the Junior School we also completed a long-term project to map the digital technologies curriculum to crosscollaborative units of work. The purpose of this project was to develop lessons which connected student learning to multiple subjects, moving away from teaching in silos. In 2021, the first units will be delivered to students in Year 3, Year 5 and Year 6, with further topics developed across the Kindergarten to Year 6 spectrums. This implementation will mean by the end of Year 6, students can explain how social, ethical, and technical considerations can influence the design of solutions to help meet our future needs.
In delivering these flexible lessons students across the School engaged in the following:
• Interacted with 4698 online discussions
• Continuing to provide co-curricular and practical subjects such as Music, Art and Physical Education (PE) during COVID-19
• Providing students with a seamless face-to-face classroom experience using Microsoft Teams
• Engaging in a wide variety of asynchronous communication which engaged and fostered deep learning
• Building, managing, and delivering 500 courses across Kindergarten to Year 12 continuums
• Opened and viewed pages 1,458,660 times
A group of students also engaged in Microsoft's AI for Good challenge which is designed to give all high school students the opportunity to ideate solutions that use artificial intelligence to make a positive impact in their world. Some ideas included looking at helping people with disability and coping with mental health issues.
Mr Roshan De Silva Director of e-Learning
In implementing a flexible learning model, MLC School also leveraged the power of Microsoft Teams. Microsoft Teams is now effectively used across the Junior School and Senior School for face-to-face lesson delivery, staff professional development, assemblies, and music tuition to name but a few. The continued use of the software has also leveraged may of the tools within Office 365. Office 365 is now the official portal for staff and students to work in shared, collaborative spaces. Its integration with Canvas has also made working and learning a seamless process at MLC School.
DIRECTOR OF E-LEARNING ROSHAN DE SILVA
It would be remiss of me if I did not acknowledge the work we completed in a brief period, which enabled the School to be moved into a flexible learning model. The change we managed included some of the following highlights:
40 MLC School's three-year plan was the implementation of the Learning Management System, Canvas, and the digital normalisation of learning alongside traditional classroom practice. The impacts of COVID-19 fast tracked the School's response with much of the work completed in nine months.
41 LOCKDOWN
43 SCHOOLJUNIOR
E-LEARNINGLEARNING
When students reflected on our period of flexible learning, Canvas was praised for its easy workflow and Microsoft Teams was a much-welcomed platform to communicate with peers and teachers. The Tech Ninjas in Year 5 created some tech tips videos highlighting our creative use of technology and work arounds for when tech glitches popped up. Little did we know at the start of 2020 that we would meet the digital technologies outcomes in such an unprecedented way as students become creative users and producers of digital solutions. Ms Carol Campbell e-Learning Junior School
Our44 year dawned rich with possibilities in e-Learning. It was our second year of the new Junior School iPad program with Kindergarten to Year 2 with iPad banks, Year 3 with one-to-one School owned iPads and Year 3 to Year 6 with Bring Your Own Device (BYOD). It was a year to consolidate and enrich our integration of technology in our learning programs. But 2020 had a mind of its own. By February the shadow of a world pandemic was encroaching, and our focus changed to one of designing a Flexible Learning Model that would mean students could have uninterrupted learning, irrespective if they were at home or at school. Our new learning management system Canvas and the Office 365 app suite to be implemented over the course of the year were suddenly fast tracked and rolled out in a matter of weeks. What a rollercoaster ride it was for students, teachers and support staff. Now as we reflect on this period, we are awed at how far we have come. Canvas and Seesaw are now embedded in our learning programs as platforms to deliver content, submit work and share our learning journey.
45
'Our new learning management system Canvas and the Office 365 app suite to be implemented over the course of the year were suddenly fast tracked and rolled out in a matter of weeks.'
During flexible learning, students were encouraged to experience books in new formats. Storybox Library had close to 3000 views over this time by the MLC Junior School community. Wheelers and Borrow box, were great resources for our older students wanting to read e-books and listen to Overaudiobooks.thistime, and throughout the year our incredible library monitors worked with enthusiasm to promote books and the Hub.
JUNIOR SCHOOL LIBRARY - THE HUB LEARNING
On the Friday of Book Week, many curious creatures stepped out of their books and into our Junior School playground. We started the morning with a virtual reading by Head of School, Daniel Sandral, and all students then voted for the KOALA awards. Once voting was completed, we assembled on the sports fields for a memorable Book Week Parade. One of the highlights was the teacher dance and having Year 6 students join in the fun for
– Emily Dickinson Have you ever considered the number of quotes written about the value of books to transport you to new places where you can meet new friends? If ever there was a time, 2020 was the year to embrace reading. In the Junior School Hub, we certainly did that!
During flexible learning they ran activities and requested entries for a Junior School joke book and cookbook that now live in our library. Once back at school the monitors continued to draw students into the library through their lunchtime activities. They worked on the first Junior School student newsletter. The Junior Journal was sent out at the end of Term 2 for students to enjoy throughout the holidays.
During flexible learning a Junior School online library guide was created and launched to meet the reading and research needs of students in the Junior School. Students have enthusiastically adopted this guide with over 10,000 views since it was created. This guide has continued to be used by students from Year 3 to Year 5 and will be further developed as a digital extension of the Junior School library.
Year 3 students worked to create a video to promote the shortlisted picture books, which was shown at the national awards ceremony in November.
Each morning of Book Week started with a virtual reading session led by one of the Executive Leadership team. During lunchtimes, the Library Monitors provided a variety of activities aimed at promoting the theme of Curious Creatures, Wild Minds.
In order to celebrate the wonder of picture books and their appeal to students of all ages, our year started with a wrapped gift of a new picture book for each class. This was a great start to the year. We were excited to see some of the books shortlisted later in the year for the Children's Book Council of Australia (CBCA) Book Awards. Award-winning author Jacqueline Harvey visited the Junior School to share her experiences as an author. Alice-Miranda, Kensy & Max and Clementine Rose are all book series that our students are eager to borrow. We had a wonderful morning with Jacqueline Harvey filled with stories that made us laugh and wise advice for the budding authors amongst our Junior School students. The Junior School students again participated in the Premier's Reading Challenge, with 190 students completing the challenge in 2020. For students in Year 3, Year 4 and Year 5 we embarked on the 40 in 2020 reading challenge. Students were encouraged to set a goal of 40 books to read in 2020. The aim was to read a variety of genres, written in a number of formats.
46 'To travel far, there is no better ship than a book!'
As we returned to school in Term 2, the National Simultaneous Storytime (NSS) provided us with an opportunity to enjoy the magic of a book together through a reading of Whitney and Britney Chicken Divas. The incredible Music department joined in on the fun, entertaining students with chickenthemed music at lunchtime. We were introduced to the Kids Only Australian Literature Awards (KOALA).
Mrs Jody Gilroy Junior School Teacher Librarian
47 the first time. At lunchtime the events of the week came to a close with performances by our Year 4 and Year 5 string ensembles and the book raffle was drawn. While 2020 has certainly provided the Hub with some interesting challenges, it has also presented us with opportunities. We have travelled the world through story and have done so using a variety of platforms to take us there. We have focused on digital literacy to ensure that we are on our way to becoming savvy digital consumers and we have constructed an evolving digital platform that will support our online research and reading needs. All while promoting a love of books and reading. This has been a year to remember and one that has made the Junior School Hub more accessible as we continue to provide for the needs of our girls.
48
On returning to face-to-face learning the action returned with students learning many new skills in both the theory and practical sides of the subject. In June, as a culmination of all the theory lessons, the MLC School Safety Town came alive. The Year 3 students brought either their bike or scooter to school and participated in a bike safety course on the hockey field. The safety course had pedestrian crossings, roundabouts and traffic lights. The course also challenged the students with hazards like a dog park where Year 10 Physical Activity and Sports Studies (PASS) students ran onto the road playing the role of dogs and flew around as birds.
• Super Thursday – some more throwing and catching and skipping
LEARNING
•activities:Mindful Monday – a physical activity to help someone else, such as housework, washing the car, cleaning up the back yard, followed by writing a kindness note to someone in your family
• Family Fun Day Friday – playing games with family, which included the plastic bag throw, the plastic bag sack race, paper tennis and much more
The girls filmed themselves completing the challenges and uploaded their videos to Seesaw for a House point.
PERSONAL DEVELOPMENT, HEALTH AND PHYSICAL EDUCATION (PDHPE) 2020 – the year of changing the way we do Weeverything!started the year as normal with Year 3 to Year 5 completing their intensive swimming and then moved to lifesaving for Year 3 and Year 4. Year 5 students began a flippa ball unit (modified water polo) and learnt new skills in treading water, throwing a ball in the water and swimming with it. In the Year 3 and Year 4 lifesaving unit the girls learnt how to complete throw rescues and even paddle on a rescue board. The Kindergarten to Year 2 students prepared themselves for intensive swimming but it came to an abrupt halt after day one. We then moved to flexible learning. The 'There were remote control cars buzzing around the course as the students tried not to be distracted on their journey.'
• Super Tuesday – a throwing or catching challenge, such as throwing socks into a washing basket • W heelie Wednesday – getting out and about on some sort of wheels such as a bicycle, skateboard, rollerblades, even taking the wheelie bin for a spin!
Along with the PE challenges the students also completed health and PE activities in their timetabled lessons.
Junior School community thrived with the daily PE challenges. The students completed challenges set by their PE teachers, with the following themed days promoting different
Year 4, Year 5 and Year 6 students and their parents participated in the online presentation of Amazing Me focusing on growth and development.
The Year 10 PASS students issued fines to the Year 3 students for not using hand signals and reckless riding. The fines needed to be paid with physical challenges like star jumps, sit ups, push ups and burpees.
Kindergarten to Year 2 finished the year with an intensive swimming program where finally they were able to practice and learn new swimming skills in a safe environment. We are looking forward to practising and improving all the fundamental skills of all girls in the Junior School so we can play even more games and sports in 2021.
49
Year 1 students completed a unit called Healthy Choices. These healthy choices include sleep, food, exercise, water and in particular the rising influence of screen time. As part of the program the students brainstormed what else they could do instead of being on a screen. One of their fabulous alternatives was to throw a NO SCREEN PARTY! Many of the student's suggestions were included in the party, such as, colouring in, ten pin bowling, reading, origami cutting, and making chatterboxes.
Ms Sarah Jauncey Junior School PDHPE Teacher
Year 2 completed a new theory unit on bush tucker where they researched and understood the multiple ways bush tucker could be used in the Indigenous community not just for eating.
Additionally, Officer Sarah Jauncey sent many reckless riders to the MLC School Safety Town Police Station for further investigation. A great afternoon of fun was had by all and the consolidation of learning was put into practice. Michelle Hiss and the Kindergarten students also had the opportunity to come and visit MLC School Safety Town in action, as they have also been learning about different types of safety.
There were remote control cars buzzing around the course as the students tried not to be distracted on their journey. The students also needed to navigate over speed bumps, around bunting on the ground that resembled a drain and watch out for the spot fire in the middle of the path.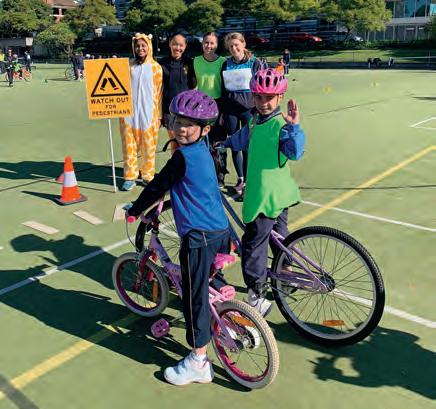 • 3rd place – Ella Le (Year 2A) – portrait of Mrs Joanna Avraam • Packing Room Prize – Anny Xie (Year 3A) – portrait of Ms Elizabeth Astle
50 Illuminate This year's annual Illuminate exhibition showcased work from across the Junior School. Pre-Kindergarten students created beautiful leaf hangings made from leaf drawings and leaf prints, attached to pipe cleaners full of colourful beads, creating an autumnal feeling on the life-sized display tree. The Year 1 still life artworks, depicting bowls of fruit, vases of flowers and other still life objects, glowed on the walls in their neon colours. The insect and bug sculptures constructed by Year 3 girls, representing dragonflies, ladybugs, spiders and other creepy crawlies, fluttered and crawled on display. The dramatic fire landscapes of the Year 5 students were a stark memory of the devastating bushfires earlier in the year, depicting scenes of flames raging, burnt bushland and native animals suffering.
NAIDOC Week Ground Mosaic
Portrait Prize
Ms Jane Lancaster and Mrs Lesley Snelgrove Junior School Art Staff
• 1st place – Gigi Guan (Year 5P) – portrait of Nora • 2nd place – Caydence Sumantri (Year 4R) – portrait of Mrs Jody Gilroy
The inaugural Junior School Portrait Prize was held in 2020. Students across the Junior School submitted, painted and drew self-portraits and portraits of teachers, with a few special portraits of Nora, our Junior School giraffe mascot. Almost 100 submissions were received and all students who entered the competition were awarded House points. The portraits were displayed in the corridors and attracted much attention from students and staff. Congratulations to the following prize winners:
Year 4 students explored Indigenous art as part of their learning program in Term 4 and created a collaborative ground mosaic in the school playground to reflect the NAIDOC Week artwork designed by Tyrown Waigana, a Noongar and Saibai Islander, whose work features on this year's NAIDOC Week Poster Competition. His work entitled 'Shape of Land', was the official artwork for NAIDOC Week 2020. The students created an image of a map of Australia, encircled by a Rainbow Serpent, to represent the Dreamtime story of the Rainbow Serpent carving out and shaping the flat land with its massive body. The ground mosaic was made from a wide selection of natural materials, such as sticks, pebbles, seedpods, shells and glass beads.
VISUAL LEARNINGARTS
51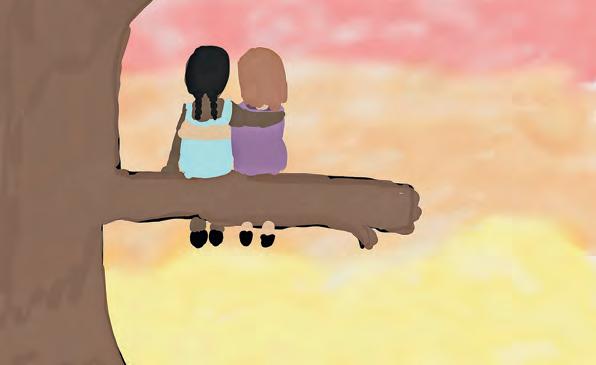 52 2020 LEARNING
53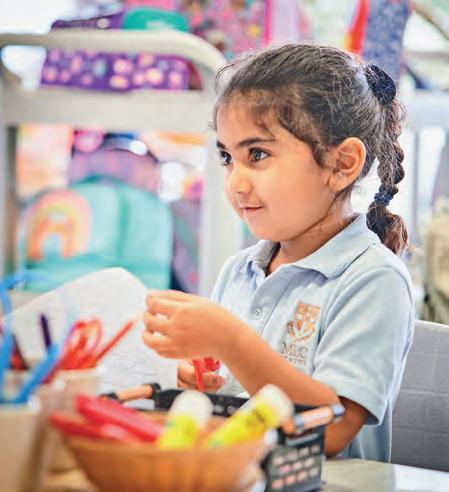 54 STUDENT LIFE
INDEPENDENT PRIMARY SCHOOL HEADS OF AUSTRALIA (IPSHA) DEBATING
55
as previous years. To offset this, we ensured a large number of girls could attend the debating squad workshops that were on offer for girls in Year 5 and Year 6. Much was learnt this year and, no matter what, debating at MLC Junior School will always be an important part of our co-curricular program.
As was with all co-curriculars, Audio Visual (A/V) Club had a bumpy road with Term 2 being cancelled due to COVID-19. However, A/V Club members enjoyed some fantastic learning from then till the end of the year. Being only a small group, we were able to focus on upskilling these talented girls and achieved so much. Over the year, we looked at storyboards and how directors purposefully plan and choose shots. These shots can be quite close (extreme closeup) or very far away. We have used this knowledge to plan and film music videos for popular songs using green screen and editing software. We looked at photography and how to make our photos more interesting using angles, focus and lighting effects. Lastly, we looked at some special filming tricks to make exciting special effects. Thanks girls, for your endless enthusiasm and excitement.
Mrs Jan Falls Junior School Debating Coordinator
This was a year unlike any other. Any activity involving an audience was significantly affected. IPSHA debating had to reinvent itself and indeed it did. All debates were run virtually. Sometimes technical issues made the process quite difficult, but the girls persevered, adapted and overcame. They were delighted that they won each of their debates. The girls realised that debating success hinges on preparation –a great takeaway from this COVID-19 year. Unfortunately, virtual debates could not accommodate the same number of teams
Mr Clayton Howard Audio Visual Club Coordinator
AUDIO VISUAL CLUB
STUDENT LIFE
Incorporating STEAM into the Junior School setting provides students with the opportunity to learn through an integrated pedagogy, showing them the connections between traditionally disparate disciplines. We aim to teach the students, right from Pre-Kindergarten, the skills of critical, logical and lateral thinking, design, innovation, inquisitiveness, resilience, collaboration and self-evaluation. These skills are essential in a 21st century education for powerful learners who will shape their own future. Pre-Kindergarten began the year with an investigation into 'Amazing Me' and their five senses, exploring their world through focusing on a single sense each week and the information it gives us. During flexible learning, we turned the direction over to the students and followed with the questions and wonders they had about the world. We had some fascinating investigations into how spiders make their webs, how leaves get their colours, and where rain comes from. In Term 3, Pre-Kindergarten students looked at sustainability and how upcycling can help reduce humanity's impact on the planet. They made a range of instruments, including guitars, triangles, guiros, and drums from everyday and unwanted materials. At the end of the year, we used science experiments to show us all different 'Changes' that can occur. We made 'oobleck' (a non-Newtonian fluid), changed the colour of celery, and tested for solubility in a range of substances. We had a lot of fun mixing, shaking, and stirring with many surprising results. Kindergarten commenced their STEAM investigations during flexible learning and looked at push and pull forces in their world for 'Materials are for Making and Moving'. They looked at their toys and tools or appliances around the house that relied on pushing and pulling. Upon returning to face-to-face learning, they designed and built a model of a house constructed by the Three Little Pigs' fourth sibling, who learnt from the other three's discoveries around what materials are best for constructing a house to resist the forces of the Big Bad Wolf. In Term 3, Kindergarten looked at how 'Living Things Have Needs To Survive', and used the Scratch Junior coding app to create a digital storybook about the needs and characteristics of farm animals. Year 1 students learnt about digital systems, data, sorting, and algorithms as part of the Digital Technologies curriculum. They had a lot of fun programming a Bee Bot dressed as the Big Bad Wolf to act out the story of the Three Little Pigs. The following term, they investigated how 'Design Solves Problems' by researching how video gaming controllers and hardware are being designed so that people with physical disabilities can also play video games. The Year 1 girls then designed and constructed their own accessible controllers that actually controlled simple video games by interfacing with Makey Makey kits.
56
STEAM CURRICULUM AND CO-CURRICULAR
The disruptions to the regular routine have shown the breadth and resilience of the STEAM (Science, Technology, Engineering, Arts and Mathematics) ethos as we engaged with the challenge of shifting to flexible learning. The students, under their parents', guardians' and teachers' patient and invaluable guidance, adapted to their new setting quickly and soon became the teachers themselves, guiding others through the trials and tribulations of technologydependent education. The students' ability to adapt, problem-solve, collaborate, and learn collectively is tribute to the skills they are developing as 21st century learners. Despite the interruptions to the traditional model of learning, the students continued to be engaged in STEAM through exciting and hands-on (even at home!) activities in their Collaborative Learning Projects (CLP).
Girls in Year 2 asked how can 'Responsible Choices Sustain Our Environment' particularly in relation to the oceans, which coincided with this year's National Science Week theme, 'Deep Blue: innovations for the future of our oceans'. After researching the water cycle and the importance of a clean water supply to our way of life, they designed a machine for cleaning up ocean pollution, then constructed a working model using LEGO WeDo 2.0 robotics kits. 'We aim to teach the students, right from Pre-Kindergarten, the skills of critical, logical and lateral thinking, design, innovation, inquisitiveness, resilience, collaboration and self-evaluation. '
57
In Year 3, students explored how 'All Living Things Are Connected'. They looked at the characteristics of animals and what makes each animal distinctly identifiable from the rest of the animal kingdom. Year 3 students looked at how we categorise animals based on those characteristics and then used the online coding platform, Scratch, to create an animal categorising game. For their next STEAM unit, girls in Year 3 looked at how 'Properties Influence Purpose' in relation to materials and substances that we use. This consisted of a series of science experiments and investigations looking at states of matter, heat, and electricity, and finished up with a popular design project to create a wearable shoe from salvaged and reused materials.
Year 4 students considered how 'Forces Influence Our World' by investigating some of the forces around us through experiments and small projects. They also used their newfound knowledge to design and construct a working model of a supply drop contraption to securely and safely deliver food from an aeroplane to wildlife in bushfire-affected areas. Later they explored how 'Earth is Constantly Changing', by conducting a number of scientific investigations to explore changes to the Earth's surface over time and the interactions that occur between the Earth and Sun. The students looked at the effect and impact of soil erosion, the rotation of the Earth, and the identification of the Sun as a major source of energy on Earth. They capped off the unit by designing and constructing a working solar oven, using the Engineering Design Cycle (Ask, Imagine, Plan, Create, TheImprove).students in Year 5 delved into how 'Sustainability Impacts the World Around Us' and how humanity can harness and improve the concept of sustainable living.
The students faced some hard truths after conducting an audit of the waste generated by the students of MLC School and just how much one school can contribute to landfill.
At the end of the year, Year 5 students investigated how 'Survival Depends on Adaptation' for living creatures. They looked at the different behavioural and structural ways that living creatures have evolved and why these modifications occurred. The students used the online coding platform, Grok, to learn Blockly programming whilst creating an animal classifier program.
For58 'Energy and Forces Influence Our Lives', Year 2 looked in particular at sound energy and how it is created. They then built their own instruments and 'noisemakers' to complement a written narrative. Later, they explored electronic circuits and made their own light-up LED Christmas cards.
STUDENT LIFE STEAM CURRICULUM AND CO-CURRICULAR
It was a shame to lose our co-curricular clubs for a while, however the students eagerly returned to them as soon as they were running again. Our Code Club, Tinkerbelles, Robotics Club, and LEGO Play co-curricular offerings were as popular as ever, providing students with the opportunity to engage with STEAM in a fun and more social setting in their lunch break. 'It was a shame to lose our co-curricular clubs for a while, however the students eagerly returned to them as soon as they were running again.'
Year 6 girls enjoyed a full year of STEAM, beginning with a unit on the never-ending, incredible depths of Space. They covered topics such as the Solar System, the Moon, and satellites and global networking technology. The students used Cospaces and Merge Cubes to create their own augmented reality (AR) 3D model of the Solar System to hold in their hands. When looking at how the world is connected, Year 6 students used the online coding platform, Grok, to learn about Hyper Text Markup Language (HTML) and Cascade Style Sheets (CSS) and how they are the basis for much of what we see on the most globally-connecting medium in history: the Internet. After returning from flexible learning, they undertook a project using Minecraft: Education Edition to complement their research into Australian history. They used the program to build recreations of Australian buildings from particular architectural periods of the 20th century. To finish up the year, the girls had fun with a range of experiments about matter and its three main states, including racing liquids of different viscosities, making water fountains using air pressure, and using ice and salt to create ice cream in a bag!
STEAM EVENTS
59
Mr Bede Schofield and Mrs Marie Cassar STEAM Lab Coordinators
National Science Week continued unaffected in August, as we arranged a series of lunchtime activities for each Year group based on this year's theme, 'Deep Blue: innovations for the future of our oceans'. The students thoroughly enjoyed the activities based on buoyancy and navigation. We wish to thank all of you for your ongoing support and enthusiasm for what we do here in the STEAM Lab, particularly through such a frustrating and testing year. It always brings a smile to our faces to see how much the students love coming to the Lab each week and we look forward to continuing to bring them fun and engaging experiences in STEAM, hopefully always face-to-face from now on!
Our usual STEAM-related events were also gravely affected by global events. Our RoboCup Junior team members were unable to experience the joy of competing in a hall full of equally-elated robotics enthusiasts. However, they can still be proud of the work they achieved and have acquired many new coding and robotics skills to take forward for next year's competition. It was with great disappointment that we were unable to hold our hugely popular Dad and Daughter Cardboard Challenge this year. This event has been a highlight of the MLC Junior School calendar for the past three years and we are very keen to get it running again next year and see all those amazing creations.
Qianyu
60
Diar
Eleni
Wong, Olivia Smith, Victoria Wai, Gabriela Lim, Frida Yao, Emily Tu, Maggie Ma, Charlotte Hing, Ethelia Cassar, Macy Bellew, Victoria Cassar SECOND ROW Sofia Ahamed, Claire Liang, Arianna Xu, Zara Stewart, Madeleine Girgis, Amelia Kroehnert, Arabella Kuo, Elana Chrun, Helen Liu, Angela Thorn THIRD ROW Emma Rose Koeswandy, Cheylene Leung, Lily Vujcic, Alice You, Surabhi Parab, Isabelle Forster, Liesl Wong, Elly Yu
FRONT ROW Eloise
Baylie
CLUBCHESSMONITORSART
JUNIOR SCHOOL PHOTOS
Gigi
HERENAMEHERENAME Mohan, Shen, Cao, Kabaha, Guan, Giannacopoulos
Amelia Kroehnert, Priya
61 6YEAR-SQUADDEBATING5YEAR-SQUADDEBATING
Li, Sophia Hu, Carina Chu, Sophie Ye, Riya Singh, Nectaria Constanti, Yasmine Teoh
FRONT ROW SECOND ROW
FRONT ROW Ophelia SECOND ROW Stephanie
Allegra Carlini, Vivian Pang, Grace Farrow, Angelique Houltham, Julinar Alshehabi, Valerie Tran
Keo, Charla Howard, Meena Kanthathas, Alice You, Leeanne Wu, Luella Farah, Ellen Gadsby
Bella Nguyen, Aryana Sah, Dina Saeed, Eve Ireland, Rebecca Gao, Umaiza Mahfuz, Emily Leung
62 HERENAMEHERENAME
Zhou, Georgina Rowles, Angelina Mijakovac, Lucy Cui, Charla Howard MONITORSENVIRONMENT6YEAR-TEAMDEBATING JUNIOR SCHOOL PHOTOS
Anisha
FRONT ROW Elysse Diep, Umaiza Mahfuz, Sara Placanica, Aryana Sah, Anna Obaid, Dina Saeed, Emma Sullivan, Bella Nguyen SECOND ROW Vivian Pang, Sivagurunathan, Labraga, Ashley Denton, Kathleen Chrun, Allegra Carlini Aaliya
Amalia
ROBOCUPMONITORSLIBRARY
FRONT ROW Sophie Connolly, Imogen Walker, Nicola Keast, Ilaria Blanco, Imogen Wong, Eva Zhung, Alessandra Spina SECOND ROW Nectaria Constanti, Luella Farah, Lily Vujcic, Angelina Ng, Isabelle Forster, Avnika Kandala THIRD ROW Rose Turner, Rebecca Ho-Bui, Alice You, Gurnaaz Kahlon, Chloe Lay
63
Nicola Keast, Isabelle Forster, Cheylene Leung, Nectaria Constanti, Violet Le
MONITORSSTEAMMONITORSSPORTS
JUNIOR SCHOOL PHOTOS
Alyssa
64 HERENAMEHERENAME
FRONT ROW Sophie Connolly, Imogen Walker, Nicola Keast, Ilaria Blanco, Imogen Wong, Eva Zhung, Alessandra Spina SECOND ROW Nectaria Constanti, Luella Farah, Lily Vujcic, Angelina Ng, Isabelle Forster, Avnika Kandala THIRD ROW Rose Turner, Rebecca Ho-Bui, Alice You, Gurnaaz Kahlon, Chloe Lay Coady, Elly Yu, Sophie Ye, Chloe Miller, Allura Zhou, Corbett, Leong
Mia
Janice
FRONT ROW Stephanie Phong, Kyra Narang, Aashi Shah, Eleanor McKeough, Mikayla Woon SECOND ROW Leeanne Wu, Angelina Xu, Lam Nguyen, Chelsea Chen, Aaliya Salim
NINJASTECHY
Sophia Hu, Rose Lin, Ophelia Li, Grace Kuman, Cheylene Leung, Carina Chu, Liana Wai
65 MONITORSTAM
HERENAMEHERENAME
KINDERGARTENKINDERGARTENPRE
66 JUNIOR SCHOOL CLASS PHOTOS
FRONT ROW Caitlyn Law, Amanda Zhang, Zoe Baker, Laura Chang, Leonie Nguyen, Chuchu Huang, Amelia Ko, Skye Nguyen, Avianna Tanios, Sienna Nguyen, Charlotte Lim, Caitlyn Wong SECOND ROW Olivia Cheng, Emily Mah, Anushkaa Thadani, Isabella Rocca, Henrietta Britton, Mila Barakat, Leah Maidment, Eloise Qiu, Xiaoni (Nina) Bai, Hayley Lam THIRD ROW Peita Nikolakopoulos, Le Chan Gui, Amelia Lee, Vaani Narang, Angelina Galilee, Yuxin (Dora) Weng, Avni Narang, Alev Brennan, Miranda Ho, Leanna Shen ABSENT Moyi Chen, Jinnuo Nie, Anaya Sharma, Ding (Bonnie) Tong TEACHERS Ms S. Clark, Ms S. Blanche (Absent)
FRONT ROW Madeleine Wong, Natasha McGuire, Amelia Stillone, Nina Varkas, Sammi Liang, Evelyn Tsang, Isabella Castillo Sun, Olivia Ngo, Selina Lo, Ayla Sumantri, Ashley Chow, Sonia Chung, Emily Wong, Edith Savage, Leah Le SECOND ROW Shuyuan Sui, Riven Jay, Xiaoyue Ju, Charlotte Alshehabi, Yvonne Henderson, Chloe Robic, Myer Boulton, Jingxuan Zhong, Delaney Wiedner, Marina Chen, Chloe Tang, Alyssa Trinh, Tahra Peries THIRD ROW Hillary Gu, Leila Chalak, Tara Kuhan, Eva Bangia, Colette Obaid, Shruti Hasanat, Emi Liu, Anouk Thorley, Marie Kristallis, Sofie Haremi, Aida Sidhom, Mila Yuan, Aleemah Trad TEACHERS Ms G Zucco, Mrs V Liubinskas, Ms C De Pasquale, Mrs E Monda
67
FRONT ROW Faith Huynh, Alexandra Huynh, Anna Lieu, Fedra Nikolakopoulos, Lavinia Xu, Aerin Kim, Vivienne Nguyen, Queeny Guan, Shiloh Gao, Freda Xie, Hui (Elina) Yu, Chelsey Gao, Emily Tu, Taylor Bakir SECOND ROW Alicia Suen, Leona Nadarajah, Frida Yao, Yunzhuo Gao, Sherlyn Lin, Adora Xu, Magdalena Volikas, Manjima Dutta-Gupta, Charlotte Hing, Christa Jeyasingam, Sophia Hall, Mia Licenblat, Chloe Zheng THIRD ROW Adele Xu, Lydia Ye, Jing Qiu, Sophia Ghaly, Helen Liu, Jessica Lim, Ashwini Kanesalingam, Sophia Correia, Sateni Shoaib, Bao (Vy) Truong, Dora Cai, Sofia Ahamed FOURTH ROW Halimah Bokhari, Abira Sanan, Maggie Ma, Ella Le, Yasmin Maidment, Angie Xiang, Daphne L'Estrange, Zara Nicholias, Hayley Trinh, Frankie Fardoost, Selina Shan, Claire Liang FIFTH ROW Angela Thorn, Zoe Fotoulis, Kamora Edwards-Ware, Vanessa Chen, Sofia Callegaro, Zoe Zlamal, Mariette Karam, Gaia Bigolin, Arianna Xu, Evelyn Tran, Amanda Houltham ABSENT Anaahat Kahlon, Megana Pasupati, Natalie Zhang TEACHERS Ms K. Tran, Ms J. Avraam, Mr M. Lewis
FRONT ROW Annabella Xiang, Mia Jin, Poppy Frederick, Avery Satchcroft, Estella Tran, Eirya Chauhan, Irene Chau, Olivia Smith, Chloe Huang, Genevieve Nguyen, Sienna Dib, Annika Bou, Vivienne Woon, Nia Immanuel, Victoria Cassar SECOND ROW Nikoda May, Macy Bellew, Daisy Han, Victoria Wai, Shantelle Nguyen, Mishika Kapadia, Lara Byrnes, Elissa Chami, Catherine Coorey, Bailey Tong, Kyrani Countouris, Camellia Yao, Ruby Tzouganatos, Niamh Gorman
2YEAR1YEAR
THIRD ROW Joyce Guan, Tara Siddharth, Katherine Zhai, Kiara Assassa, Eve Hutchison, Averie Ling, Eloise Dastyari, Audrey Henderson, Hannah Girgis, Aaliyah Liu, Jolyn Nassif, Grace Liang, Elizabeth Horvath FOURTH ROW Kexin (Kathy) Zhang, Yue (Jeselle) Jiao, Sienna Khouzame, Molly McKenzie, Lily Sugianto, Clara Southwood, Vera Papaluca, Georgia Sioutas, Scarlet Akers, Mia Li, Elana Chrun, Georgie Varkas ABSENT Peta Bianchi-Howden TEACHERS Mrs M Wyatt, Ms S Edwards, Ms M Woods
FRONT ROW Giselle Tanios, Gabriela Lim, Jasmine Chib, Sophie Hong, Ella Rose Zraika, Olive Simmons, Amara Sivagurunathan, Jocelyn Yao, Charlotte Yiu, Avery Lee, Alana Bakir, Rosanna Tsoi, Eloise Wong SECOND ROW Eva Rocca, Frances Xie, Evangeline Black, Scarlett Innes, Chloe Tiong, Aleeya Sharma, Lucia Cicinelli, Zara Stewart, Olivia Connolly, Arabella Kuo, Elisa Li, Raquel Gill, Chloe Price THIRD ROW Sally Nguyen, Angelyn Xiang, Layla Abdelrahim, Jaya Mehta, Alisha Ji-Lee, Bethany Haddad, Jenny Lin, Kaitlyn Yang, Sienna Munoz, Euna Cho, Anny Xie, Aurora Sharma, Cailise Campbell FOURTH ROW Francesca Masters, Lexie Bellew, Leela Das, Olivia Burke, Anna Poortvliet, Imogen Bush, Imogen Sutton, Isabella Horvath, Anastasia Countouris, Janani Kanthathas, Sophia Du, Vita Gohil ABSENT Chelsea Keomanivong TEACHERS Mrs E Bryson, Ms E Astle, Mrs R Borg, Mrs J Tanevski
68
HERENAMEHERENAME
FRONT ROW Joanna Williams, Maryse Elassal, Niamh Canadas, Miranda Lin, Stephanie El'Atrache, Alana Siluk, Taylor Lu, Sofia Tzouganatos, Megan Ouyang, Christina Messih, Yik Ki Lin, Hayley Dinh, Hannah Dastyari, Ethelia Cassar SECOND ROW Emma Kanaan, Tamara Abdelrahim, Rachael Ming, Rithika Vinoth, Elizabeth Ravens, Ada Savage, Ingrid Henderson, Madeleine Girgis, Danika Krekacs, Katie Goldring, Chloe Lu, Jiarui Song, Anakha Nalliah, Katelyn Lim THIRD ROW Stella Inthavong, Liesl Wong, Catia Placanica, Rima Zhang, Pip McGuire, Gloria Chen, Sybilla Howes, Jade Scott-Rogers, Angelina Huang, Megan Kuit, Adelaide Akers, Caydence Sumantri, Audrey Boulton FOURTH ROW Jacqueline Wang, Jasmin Srisathkurunathan, Sienna Clark, Alisha Dhaliwal, Grace Zhao, Avery Dauphinee, Tina Guan, Julia Saad, Zoe Brown, Ava Brown, Emma Rose Koeswandy, Kristella Miltiades, Claudia Beattie FIFTH ROW Elyse Vivash, Surabhi Parab, Emma Sugianto, Elizabeth Faraj, Kaliya Edwards-Ware, Evelyn Gogos, Jessica Pan, Katherine Woo, Indigo Hannah, Ellie Ni, Milla Papaluca, Matilda Dugan TEACHERS Ms T Duke, Ms V Rouhliadeff, Ms E Rhodes
3YEARYEAR4 JUNIOR SCHOOL CLASS PHOTOS
FRONT ROW Yasmine Teoh, Mia Coady, Amelia Kroehnert, Hannah North, Stephanie Phong, Avery Koh, Chelsea Sumich, Imogen Walker, India Mace, Eleni Giannacopoulos, Imogen Wong, Yirong Zhong, Sophie Connolly, Georgia Delis, Alessandra Spina, Marayah Johnson Clayton SECOND ROW Isabella Munoz, Jade Pashos, Sophia Hu, Ilaria Blanco, Nicola Keast, Liana Wai, Sophia Antipas, Kyra Narang, Aaliya Zhou, Janice Leong, Mikayla Woon, Holly Moore, Violet Le THIRD ROW Eleanor McKeough, Niamh Johnson, Lola Jablonski, Jodhi Bou, Carina Chu, Isabelle Forster, Nectaria Constanti, Stella Wallace, Rose Lin, Avnika Kandala, Riya Singh, Mia Rice, Elly Yu FOURTH ROW Georgina Rowles, Regina Ding, Tin Leung, Anika Gupta, Priya Mohan, Baylie Shen, Lucia BarringtonHiggs, Charlotte Latham, Angelina Ng, Aashi Shah, Zaina Verma, Alyssa Corbett, Allura Zhou, GiGi Guan FIFTH ROW Ophelia Li, Charla Howard, Luella Farah, Sacha Jeyasingam, Lily Vujcic, Ellen Gadsby, Naoise Lynn-Black, Gurnaaz Kahlon, Leeanne Wu, Diar Kabaha, Rose Turner, Aaliya Salim, Olivia Nguyen, Sophie Ye SIXTH ROW Stephanie Keo, Chelsea Chen, Rebecca Ho-Bui, Meena Kanthathas, Grace Kuman, Angelina Mijakovac, Qianyu Cao, Alice You, Lam Nguyen, Chloe Miller, Angelina Xu, Yolanda Dolenac, Chloe Lay ABSENT Lucy Cui, Eleanor Longcroft, Amritha Ravichandra TEACHERS Ms A Bidwell, Mrs J Falls, Ms C Dougherty, Mr E Park
69 5YEAR
SCHOOLSENIOR
71
72 YEAR 12 CAPTAINSDEBATINGCAPTAIN Cherie Pepperell At MLC School since 2016 SCHOOL CAPTAIN Amelie Roediger At MLC School since 2013 SCHOOL VICE-CAPTAIN (YEAR 10 TO YEAR 12) Lilly Dummett At MLC School since 2015 MUSIC CAPTAIN Zoe Hannam At MLC School since 2011 SCHOOL VICE-CAPTAIN (YEAR 6 TO YEAR 9) Ariana Haghighi At MLC School since 2010 PRESCOTT LEAWARRA WHITLEY WHITLEY CHURUNGA
73 SRC CAPTAIN Charlie Kairaitis At MLC School since 2015 DANCE, DRAMA ENTERTAINMENTANDCAPTAIN Meghana Gopalan At MLC School since 2015 ROUND SQUARE CAPTAIN Lily Smith At MLC School since 2014 ART AND DESIGN CAPTAIN Paris Mitropoulous At MLC School since 2008 SPORT CAPTAIN Tashjan Managreve At MLC School since 2016 PRESCOTT SUTTONLEAWARRAMOORAMOORA ABBEYTHORPE
74 YEAR CAPTAINSHOUSE12 CAPTAIN Antonique Amperidis At MLC School since 2015 CAPTAIN Beatrice Drake At MLC School since 2010 VICE-CAPTAIN Samara Tucker At MLC School since 2015 CAPTAIN Samantha Cavanagh At MLC School since 2014 VICE-CAPTAIN Audrey Williams At MLC School since 2015 VICE-CAPTAIN Jaimie Kappas At MLC School since 2015 CAPTAIN Elizabeth Linardos At MLC School since 2013 VICE CAPTAIN Isabel Leung At MLC School since 2008 ABBEYTHORPE ABBEYTHORPE SUTTON SUTTON LEAWARRA LEAWARRA LESTER PRESCOTT
75 CAPTAIN Emily Eker At MLC School since 2015 VICE-CAPTAIN Vivian Law At MLC School since 2015 CAPTAIN Amelie Coman At MLC School since 2015 VICE-CAPTAIN Uma Barrett At MLC School since 2015 CAPTAIN Jessica MacMaster At MLC School since 2015 VICE-CAPTAIN Tiarna Cominos At MLC School since 2015 CAPTAIN Samantha Naayen At MLC School since 2015 VICE-CAPTAIN Ella Tsaousidis At MLC School since 2008 CAPTAIN Daphne Doumanis At MLC School since 2015 VICE-CAPTAIN Kate Cartwright At MLC School since 2016 CAPTAIN Philippa Machin At MLC School since 2015 VICE-CAPTAIN Maria Costantino At MLC School since 2013 MOORAMOORA MOORAMOORACHURUNGA CHURUNGABOORALEE BOORALEE LESTERWADE WADE PRESCOTT WHITLEY WHITLEY
76 YEAR 12 PORTRAITS Veronica Abal At MLC School since 2019 Antonique Amperidis At MLC School since 2015 Menawish Asif At MLC School since 2015 Chloe Azzam At MLC School since 2015 BOORALEE BOORALEEMOORAMOORAMOORAMOORA ABBEYTHORPE Kate Baker At MLC School since 2009 Uma Barrett At MLC School since 2015 Chloe Beraldo At MLC School since 2013 Zoe Berg At MLC School since 2015 SUTTONCHURUNGACHURUNGABOORALEE BOORALEE MOORAMOORA Olivia Bersais At MLC School since 2015 Chanel Boudib At MLC School since 2008 Mia Burjan At MLC School since 2015 Gabrielle Cadena At MLC School since 2014 SUTTON
77 SUTTON LESTERCHURUNGA Kate Cartwright At MLC School since 2016 Samantha Cavanagh At MLC School since 2014 Briana Chapman At MLC School since 2013 Aimee Chau At MLC School since 2017 BOORALEE ABBEYTHORPE ABBEYTHORPE Annie Chen At MLC School since 2015 Eden Cheng At MLC School since 2008 Sein (Isabelle) Choi At MLC School since 2015 Ga Man (Karen) Chung At MLC School since 2015 WHITLEY WADE WADEBOORALEE WADE Laura Cincotta At MLC School since 2011 Jacqueline Ciofani At MLC School since 2016 Amelie Coman At MLC School since 2015 Tiarna Cominos At MLC School since 2015 PRESCOTT
78 YEAR 12 PORTRAITS WADE CHURUNGABOORALEE Airlie Cullen At MLC School since 2018 Noelle Davis At MLC School since 2018 Sarah Dejanovic At MLC School since 2015 Katerina Delis At MLC School since 2008 LEAWARRA ABBEYTHORPE CHURUNGAWADE Amala Cuganesan At MLC School since 2015 Sofia Costa At MLC School since 2015 Maria Antonia Costantino At MLC School since 2013 Eliza Crossley At MLC School since 2015 WHITLEY Cienna Dent At MLC School since 2015 Emma Dickson At MLC School since 2015 Daphne Doumanis At MLC School since 2015 Beatrice Drake At MLC School since 2010 BOORALEE LEAWARRALEAWARRA WHITLEY
79 Katherine Du At MLC School since 2008 Lillian Dummett At MLC School since 2015 Emily Eker At MLC School since 2015 Eliana Farr At MLC School since 2013 ABBEYTHORPELEAWARRA BOORALEEABBEYTHORPE Ella Fletcher At MLC School since 2014 Elizabeth Farrow At MLC School since 2015 Maya Felice At MLC School since 2013 Maddison Fisher At MLC School since 2013 PRESCOTTABBEYTHORPE CHURUNGA ABBEYTHORPE Sienna Fresta At MLC School since 2008 Isabella Gall At MLC School since 2016 Rhea Gandhi At MLC School since 2016 WADEABBEYTHORPE WHITLEY Anastasia Giannakakos At MLC School since 2008 LESTER
80 YEAR 12 PORTRAITS Darani Gilchrist At MLC School since 2015 Meghana Gopalan At MLC School since 2015 Jiveneshwari Govender At MLC School since 2017 Annie Gu At MLC School since 2015 Ruby Guminski At MLC School since 2012 Ariana Haghighi At MLC School since 2010 Fleur Hamilton-Vincent At MLC School since 2018 Zoe Hannam At MLC School since 2011 MOORAMOORA LEAWARRA LESTERSUTTONCHURUNGAWHITLEY WHITLEYABBEYTHORPE Taylor Hosking At MLC School since 2013 Ellena Hartzenberg At MLC School since 2011 Sarah Healey At MLC School since 2008 Olivia Hempel At MLC School since 2018 BOORALEE CHURUNGAWADE PRESCOTT
81 Emily Hunt At MLC School since 2015 Nicole Hussein At MLC School since 2015 Lauren Huynh At MLC School since 2013 SUTTON SUTTONCHURUNGA Ruby Ince At MLC School since 2015 MOORAMOORA Mahum Jahan At MLC School since 2017 Jade Jameson At MLC School since 2009 Grace John At MLC School since 2015 Emma Juffermans At MLC School since 2015 Jana Kabbara At MLC School since 2018 Charlie Kairaitis At MLC School since 2015 Ziya Kalra At MLC School since 2015 Jaimie Kappas At MLC School since 2015 SUTTONMOORAMOORALEAWARRA LEAWARRACHURUNGABOORALEE SUTTON ABBEYTHORPE
82 YEAR 12 PORTRAITS Sara Kie At MLC School since 2017 Jessica Kim At MLC School since 2017 Annaliese Konidaris At MLC School since 2008 Patria Koutsogiannis At MLC School since 2008 Jessica Karabesinis At MLC School since 2012 Morgan Kelaher At MLC School since 2008 Tayla Kerpiniotis At MLC School since 2016 LEAWARRA LESTERWADE WADELESTER LESTER LESTER Imogen Kuah At MLC School since 2015 LESTER Desiray La At MLC School since 2015 Anika Lammers At MLC School since 2017 Vivian Law At MLC School since 2015 Ngoc Minh Tam Le At MLC School since 2015 LEAWARRA LESTERWHITLEY PRESCOTT
83 Isabel Leung At MLC School since 2008 Elizabeth Linardos At MLC School since 2013 Bethany Lo At MLC School since 2015 Vittoria Loprevite At MLC School since 2015 SUTTON LESTER WADE LESTER Simone Maddison At MLC School since 2015 Tashjan Managreve At MLC School since 2016 Chloe Mavris At MLC School since 2017 Veronikah McClelland At MLC School since 2018 Alexia Lorenzato At MLC School since 2016 Philippa Machin At MLC School since 2015 Jessica MacMaster At MLC School since 2015 PRESCOTT PRESCOTT MOORAMOORA LESTER ABBEYTHORPEABBEYTHORPE PRESCOTT Aisling McCreery At MLC School since 2015 PRESCOTT
2016
Holly since since since since
84 YEAR 12 PORTRAITS
2015 Paris Mitropoulos At MLC School
2008 Sarah Moller At MLC School
Miller At MLC School
Samantha
Naayen At MLC School since 2015 Layla Nazha At MLC School since 2015 Mia Novati At MLC School since 2013 Olivia Papasavvas At MLC School since 2015 Rahni Ong At MLC School since 2015 Emma Oxley At MLC School since 2019 Madeleine Oxley At MLC School since 2019 Mikayla Papadimitriou At MLC School since 2013 MOORAMOORA MOORAMOORAMOORAMOORA LEAWARRACHURUNGA CHURUNGA CHURUNGAWHITLEY WHITLEY MOORAMOORAMOORAMOORACHURUNGA
2013 Chiara Moore At MLC School
85 Cherie Pepperell At MLC School since 2016 Veronica Phan At MLC School since 2016 Charlotte Pullinger At MLC School since 2015 WHITLEY WHITLEY WHITLEY Eloise Riviere At MLC School since 2014 SUTTON Amelie Roediger At MLC School since 2013 Kaisha Rollason At MLC School since 2015 Hannah Ross At MLC School since 2008 Sophia Russell At MLC School since 2018 Emily Ryner At MLC School since 2018 Alyssa Scott At MLC School since 2015 Jasmin Selim At MLC School since 2016 Anica Shen At MLC School since 2015 PRESCOTTWADE CHURUNGAMOORAMOORAWADEWHITLEY WHITLEYPRESCOTT
Jessica
Song At MLC School since 2015 Alexandra Stackpool At MLC School since 2015 Hazel Sung At MLC School since 2015 Emma Suster At MLC School since 2015 Lily Smith At MLC School since 2014 Charlotte Sodbinov At MLC School since 2015 Olivia Sodbinov At MLC School since 2015PRESCOTTLEAWARRA CHURUNGA MOORAMOORA LESTER LESTER PRESCOTT Samar Taleb At MLC School since 2008 MOORAMOORA
86 YEAR 12 PORTRAITS
Tan At MLC School since 2008 Isabelle Tang At MLC School since 2011 Eva Telemachou At MLC School since 2017 Josefine Ticic At MLC School since 2015 PRESCOTT SUTTONWADE WADE
Eugenie
87 Ella Tomkins At MLC School since 2013 Anabelle Truong At MLC School since 2013 Ella Tsaousidis At MLC School since 2008 Samara Tucker At MLC School since 2015 LEAWARRA MOORAMOORAMOORAMOORA LEAWARRA Audrey Williams At MLC School since 2015 Olivia Winlaw At MLC School since 2013 Mei Wong At MLC School since 2018 Natalie Wong At MLC School since 2008 Ayla Varol At MLC School since 2015 Sophia Wang At MLC School since 2018 Zoe Westbrook At MLC School since 2015 BOORALEEPRESCOTT BOORALEEBOORALEE WADE PRESCOTT WHITLEY Ella Woolbank At MLC School since 2015 PRESCOTT
88 YEAR 12 PORTRAITS Eva Wright At MLC School since 2014 Megan Xie At MLC School since 2011 Angie Xu At MLC School since 2015 Joy Xu At MLC School since 2008 Xu (Marie) Yan At MLC School since 2013 Halle Yang At MLC School since 2015 Ruiming (Rainy) Yang At MLC School since 2018 Daisy Zheng At MLC School since 2008 Amy Yarrow At MLC School since 2012 Isabella Zhang At MLC School since 2015 Joy Zhang At MLC School since 2015 Shuyue (Sherry) Zhao At MLC School since 2017 BOORALEE MOORAMOORA ABBEYTHORPE SUTTON SUTTON LESTER WADE CHURUNGA ABBEYTHORPE SUTTON WHITLEYWHITLEY
89 Layla Ziade At MLC School since 2008 Alyssar Zogheib At MLC School since 2015 CHURUNGAABBEYTHORPE
90 YEAR 12
FRONT ROW Isabelle Choi, Eugenie Tan, Mahum Jahan, Bethany Lo, Minh Tam Le, Desiray La SECOND ROW Vittoria Loprevite, Layla Nazha, Amelie Roediger, Alyssa Scott, Lauren Huynh, Daisy Zheng, Hazel Sung, Megan Xie, Ella Tomkins, Sara Kie, Ruby Guminski, Zoe Berg, Chanel Boudib, Aimee Chau, Annie Gu, Mia Novati, Alexandra Stackpool, Alyssar Zogheib THIRD ROW Elizabeth Linardos, Uma Barrett, Antonique Amperidis, Ziya Kalra, Patria Koutsogiannis, Isabella Zhang, Joy Zhang, Jivi Govender, Jessica Kim, Amala Cuganesan, Jasmin Selim, Annie Chen, Cherie Pepperell, Joy Xu, Rainy Yang, Menawish Asif, Imogen Kuah, Rhea Gandhi, Sammy Cavanagh FOURTH ROW Isabelle Tang, Ella Fletcher, Emily Eker, Ruby Ince, Chloe Mavris, Laura Cincotta, Paris Mitropoulos, Katerina Delis, Isabel Leung, Jacqueline Ciofani, Hannah Ross, Annaliese Konidaris, Cienna Dent, Daphne Doumanis, Lilly Dummett, Sienna Fresta, Eva Telemachou, Jaimie Kappas, Jessica Song FIFTH ROW Maria Antonia Costantino, Ayla Varol, Fleur Hamilton-Vincent, Sophia Wang, Veronica Phan, Holly Miller, Angie Xu, Karen Chung, Anika Lammers, Layla Ziade, Chloe Beraldo, Charlie Kairaitis, Anica Shen, Eden Cheng, Kaisha Rollason, Zoe Westbrook, Kate Cartwright, Anabelle Truong, Sarah Healey, Simone Maddison SIXTH ROW Ella Tsaousidis, Sherry Zhao, Veronikah McClelland, Alexia Lorenzato, Mikayla Papadimitriou, Charlotte Pullinger, Taylor Hosking, Ariana Haghighi, Aisling McCreery, Gabrielle Cadena, Jessica MacMaster, Airlie Cullen, Emily Ryner, Nicole Hussein, Josefine Ticic, Vivian Law, Noelle Davis, Katherine Du, Mei Wong, Eliana Farr SEVENTH ROW Sofia Costa, Amy Yarrow, Jana Kabbara, Mia Burjan, Isabella Gall, Darani Gilchrist, Olivia Winlaw, Meghana Gopalan, Zoe Hannam, Olivia Papasavvas, Samara Tucker, Rahni Ong, Samar Taleb, Audrey Williams, Beatrice Drake, Maya Felice, Jade Jameson, Morgan Kelaher, Olivia Hempel EIGHTH ROW Veronica Abal, Sarah Dejanovic, Natalie Wong, Ellena Hartzenberg, Olivia Bersais, Anastasia Giannakakos, Liv Sodbinov, Eva Wright, Chloe Azzam, Tashjan Managreve, Briana Chapman, Sarah Moller, Ella Woolbank, Emily Hunt, Charlie Sodbinov, Sophia Russell, Eliza Crossley, Lily Smith NINTH ROW Emma Suster, Samantha Naayen, Madeleine Oxley, Jessica Karabesinis, Emma Juffermans, Kate Baker, Elizabeth Farrow, Amelie Coman, Philippa Machin, Tayla Kerpiniotis, Emma Dickson, Marie Yan, Maddison Fisher, Tiarna Cominos, Chiara Moore, Emma Oxley, Grace John, Eloise Riviere ABSENT Halle Yang STAFF Ms I Smolka, Mrs J Ferguson, Mrs L Bondar, Mrs J Cilia, Mr T Mee, Mr N Scotney, Ms L Moloney, Mrs A Renwick, Ms S Rowley, Mr D Latimer, Mr T Coelho, Ms E Pieri, Dr J Drimatis
12YEAR
91 We would like to acknowledge the following students who have been students at MLC School from Kindergarten to Year 12.
FRONT ROW Ella Tsaousidis, Paris Mitropoulos, Annaliese Konidaris, Hannah Ross, Layla Ziade, Patria Koutsogiannis, Morgan Kelaher SECOND ROW Eugenie Tan, Samar Taleb, Sienna Fresta, Katherine Du, Katerina Delis, Chanel Boudib, Daisy Zheng THIRD ROW Eden Cheng, Sarah Healey, Anastasia Giannakakos, Natalie Wong, Joy Xu, Isabel Leung
12YEARTOKINDERGARTEN
92
93
94 Charlie Kairaitis achieved an ATAR of 9 9.95, 1 of only 15 girls in NSW to achieve a perfect rank! She also received the Chancellor's Award from The University of Sydney. Outstanding ATARs • Samara Tucker – ATAR 98.7 • Olivia Papasavvas – ATAR not for publication • Ella Woolbank – ATAR 97.7 • A nika Lammers – ATAR 97.15 * Not all ATARs were available at time of publishing. State Rankings MLC School girls achieved 5 State •rankings:4thin Ancient History and 13th in Modern History – Charlie Kairaitis • 5th in Science Extension –Veronica Abal • 10th in Food Technology –Olivia Papasavvas • 11th in Personal Development, Health and Physical Education – Ella Woolbank HSC All-Rounders Four students were placed on the HSC All-Rounders list for those who achieve Band 6 in 10 units of studies. They were: • Charlie Kairaitis • Jessica MacMaster • Samara Tucker • Ella Woolbank Distinguished Achievers Congratulations to all the girls who were placed on the HSC Distinguished Achievers list for those who achieved a result in the highest possible Band for one or more courses. HSC AND IB RESULTS Veronica Abal Zoe Berg Chanel Boudib Mia Burjan Kate Cartwright Sein Choi L aura Cincotta A melie Coman Sofia Costa Airlie Cullen Sarah Dejanovic Daphne Doumanis Beatrice Drake Lillian Dummett Sienna Fresta Meghana Gopalan Ellena Hartzenberg Sarah Healey Emily Hunt Ruby Ince Grace John Charlie Kairaitis Sara Kie A nnaliese Konidaris Imogen Kuah A nika Lammers Philippa Machin Jessica MacMaster Chloe Mavris JoyAXuJEvaEllaAudreySamaraElsaEllaEugenieSamarEHazelStackpoolAlexandraJEHOMSSMcClellandVeronikaharahMolleramanthaNaayeniaNovatiliviaPapasavvasannahRossmilyRyneressicaSongSungmmaSusterTalebTanTomkinsTonkinwiseTuckerWilliamsWoolbankWrightoyXu(Marie)YanmyYarrowZhang Sherry Zhao HIGHER SCHOOL CERTIFICATE
95 Subject Results • 6 6% of the cohort achieved a Band 6 in at least one subject. • There were 126 instances of students awarded a Band 6 or E4 MLC School had more band 6s than any other school in NSW in the Vocational Education and Training (VET) subject Entertainment. Percentage of MLC School candidates who achieved at the highest levels Subject Band Achieved5/6 Ancient History 100% Drama 100% Chinese Continuers 100% Indonesian Continuers 100% Textiles and Design 100% Visual Arts 100% Music 2 92% Design and Technology 88% Music 1 88% VET Entertainment 88% Dance 86% Food Technology 86% Physics 80% English Advanced 76% Personal Development, Health and Physical Education 76% French Continuers 75% Subject E3 and AchievedE4 Chinese Extension 100% English Extension 1 100% English Extension 2 100% History Extension 100% Music Extension 100% Science Extension 100% Mathematics Extension 173% Works Selected and Nominated for Showcase A number of performances and major works from MLC School girls were nominated for recognition as part of the HSC showcase events. To be nominated for any of these showcases is a significant achievement as it acknowledges these projects as best in the State. To be selected into a Showcase event is an outstanding OnSTAGErecognition.HSC Exhibition Selections • Grace John for Set Design –The Visit • Philippa Machin for Promotion and Publicity – Antigone HSC Exhibition Nominations • Callback (Dance) Sofia Costa, Annaliese Konidaris • Shape (Design and Technology) Beatrice Drake, Samantha Naayen, Eva Telemachou • Shape (Textiles and Design) Amelie Coman, Eva Wright • Texstyle (Textiles and Design) Amelie Coman, Eva Wright • ENCORE (Music) Joy Xu, Marie Yan • OnStage (Drama) Zoe Berg, Mia Burjan, Ellena Hartzenberg, Grace John, Annaliese Konidaris, Phillipa Machin
96
Extended Essays
• 78% of our IB candidates achieved an ATAR equivalent of 95 or over, an excellent outcome.
The Extended Essay is an independent, self-directed piece of original research, resulting in 4000-word academic thesis.
EE Subject English LiteratureA 48 40 88 Chinese B 100 100 managementBusiness 5050 100 HistoryGeography 25 75 100 Psychology 33.333.3 66.6 SEHS 5050 100 Dance 100 100 Music 100 100 Theatre 66.6 33.3 100 Visual Arts 100 100
• O ver 94% of our IB candidates achieved an ATAR equivalent of 90 or over. We congratulate the following 2020 International Baccalaureate students for their excellent achievements: Karen Chung, Eliza Crossley, Annie Gu, Ariana Haghighi, Alexia Lorenzato, Ruiming Yang and Daisy Zheng all received a perfect score of 45 (ATAR 99.95), an amazing result, which places them among the top academic achievers worldwide. Fifty-one MLC School girls have now received perfect scores over the last 11 Congratulationsyears. also to Maddison Fisher and A nica Shen who achieved a score of 44 (ATAR 99.75).
Mahum Jahan Vivian Law Alexia Lorenzato Cherie Pepperell Jasmin Selim A nica ADaisyRuimingHalNaAnabelleIsabelleShenTangTruongtalieWongleYangYangZhenglyssarZogheib
50% of MLC School candidates received three bonus points in November 2020 compared to the world percentage of 9.47%.
The Extended Essay and Theory of Knowledge awarded grades combine to gain a possible three bonus points. If a student gains a Grade A for both or a Grade A and Grade B combination they will receive the three bonus points.
*The above lists may not be a full representation of these achievements. MLC School is reliant on the Year 12 2020 cohort to provide their ATAR result or other information. Details are not made public or provided to the School. In some instances, the UniScore has been used as the ATAR was not available.
Snapshot of 2020 MLC School International Baccalaureate (IB) results compared with Australasia and the world Total number of Diplomathesittingstudents2020IB 19,716 3,280 68* Grade average 29.8 34.2 39.4 Pass rate 77% 93% 100% equivalentATAR of 98.05 or higher (IB Diploma of 40 or more) 8.7% 18.5% 54.4% * An additional four students will complete the Diploma in 2021. DIPLOMA
Once again MLC School girls have achieved at the highest level internationally in the IB. More than 40% of Year 12 girls in 2020 studied the International Baccalaureate. MLC School was the highest ranked IB School in Australia in 2020 based on these results:
Congratulations to the 2020 MLC School IB girls achieving an ATAR equivalent of 99 and over: Annie Chen Eden
AMMENETKarenChengChungiarnaCominoslizaCrossleyoelleDavismilyEkerayaFeliceaddisonFishernnieGuRubyGuminskiArianaHaghighiZoeHannam
PROGRAMME Worldwide Ascored% Bscored% Australasia BandAscored% SchoolMLC
INTERNATIONAL BACCALAUREATE
•tables/global-top-ib-schools.https://ib-schools.com/league-7girlsreceivedaperfectIBscoreof 45, being an ATAR equivalent of 99.95 • 38 % of our IB candidates achieved an ATAR equivalent of 99 or over.
This year students engaged in their learning with a sense of enthusiasm, diligence and resilience. Year 10 completed the Middle Years Programme (MYP), and there were some very interesting Personal Projects including the design and manufacture of a UV bag that reminds you to apply sunscreen, magic tricks and formal dresses.
One of the advantages of the HSC is that students can specialise in Mathematics, Humanities, Languages, Performing Arts and English. While much is made of the HSC Major Works with expos and shows, the major works in English Extension 2 are often
1 T he information on English Extension 2 is courtesy of Ms Libby King.
Thisoverlooked.year,MLC School's English Extension 21 students submitted projects that explored a diverse range of concepts reflecting an engagement with contemporary concerns.
The concepts explored in the 2020 Major Works were: an investigation into Detroit as an historical symbol of industrial flux, the experiences of liminality for an Iranian refugee in Australia during the Cronulla Riots, the psyche of psychedelic drugs, the impact of recent drought on the town of Menindee, the importance of 'third spaces' as places of social connection within cities, the destructive impact of alcoholism on families and the impact of inaction on climate change by world powers on our quality of life.
ACADEMIC YEAR 7 TO YEAR 10 CURRICULUM
The most significant change to learning this year was the move to flexible learning and the integration of Canvas at MLC School. In Term 1 students quickly learnt to use the School's online learning system and engaged in lessons virtually. Using Microsoft Teams, students engaged in lessons from their homes and used the School's learning management system, Canvas, to engage in discussion boards, access content, learn new skills and submit assignments. Many of the new skills learnt by students and staff during this time have been integrated into our approaches across departments and are now used to enrich on-campus learning.
Mrs Emma Bourke Acting Director of Curriculum (Year 7 to Year 10)
The academic growth seen in each student and their resilience demonstrated in exceptional circumstances this year reflects the unique young women at MLC School.
98 SENIOR SCHOOL CURRICULUM
The ingenuity and organisation of Year 10 students and their commitment to their projects was outstanding and has prepared them well for the more independent structure of study in Year 11 and Year 12.
YEAR 11 AND YEAR 12 CURRICULUM:
English Extension 2 students are encouraged to create Major Works in a form which ignites their passion. This year, students composed short stories, a drama script and a creative non-fiction piece. In order to investigate their chosen form, Extension 2 students read and viewed widely, considering the innovative ways in which inspirational texts can colour their use of stylistic features. For example, in preparation for her Major Work short story based on the experiences of individuals living in Menindee called 'The Dying River', a student accessed Jane Harper's novel 'The Dry', Lisa Jacobson's short story 'Blood and Bone' as well as a range of feature articles with a focus on fish kills in Menindee Lakes. HSC AND IB
All students are to be commended on their flexibility and adaptability in what has been a highly challenging year.
What started off as a routine year soon turned itself upside down with both the HSC and IB Diploma having to make rapid changes to assessments and examinations. Examinations were postponed and in the case of the May session for the IB, cancelled. By October, examination centres were made COVID-safe and the cohort of 2020 remained healthy. In 2020, there were 76,310 students presenting for the HSC in at least one course, with 76% of them studying at least one or more Mathematics course and 42% enrolled in at least one Science course.
A Mathematical Studies SL Investigation: An investigation of the correlation of height, age and percentage of service games won with the ranking of the top 100 female tennis players in the world. In the November examination session 50% of students and 75% of schools were able to access the examinations across the world despite the COVID-19 pandemic. In Australia, we were lucky enough to have 100% of schools and students access their Iexaminations.wisheverystudent, HSC and IB, Australian or otherwise, a bright, healthy and happy future. Mrs Anne Layman Director of Curriculum (Year 11 and Year 12) and IB Diploma Programme Coordinator
99 English Extension 2 students invariably comment that the course is one of the most enjoyable aspects of their final studies, as they are able to direct their own learning, with guidance, and challenge themselves to pursue topics which inspire them. As one student wrote in her final reflection, 'I have learnt to use the creative process to understand aspects of human nature that warm and terrify me.'
TOK essay number five for the November 2020 examination session was: 'The questions we can ask depend more on what we already know than on what we do not know.' Discuss this claim with reference to two areas of knowledge.
A Business management Extended Essay: Topic: The management style and organisational culture of Waterstones. Research question: "To what extent can Waterstones Booksellers Ltd.'s success be attributed to a change in its management style and organisational culture?"
A Visual Arts Extended Essay: Topic: Exploring Political Messages in the Dadaist Works of Hannah Hoch Research Question: 'How did Hannah Hoch use the method of photomontage as a form of subversive political protest during the period of the Weimar republic?'
The IB Diploma Programme is offered in 157 countries worldwide by over 3400 schools. MLC School was authorised to teach the Diploma in 1999 and the first cohort of seven students graduated in 2002. Eighteen years later we saw the largest cohort of IB Diploma students at MLC School, with 72 students completing all or part of their studies. Like English Extension 2, the IB Diploma students have to direct their own learning, challenge themselves and reflect on their learning through Theory of Knowledge (TOK) essays and presentations, Extended Essays, Creativity, Activity and Service portfolios and many internal assessments.
A Sports Exercise and Health Science SL Investigation was, 'The Effect of Visual Deprivation on the Distance Travelled Diving off a Swimming Starting Block'.
An unprecedented amount of Early Entry offers were received by MLC School students this year. Macquarie University, Western Sydney University, Australian Catholic University and University of Notre Dame were just some of the institutions who encourage applications from students who demonstrate achievements in leadership, community involvement and casual jobs. Offers were made in Clinical Science, Criminology, Arts, Science, Education and Workmore.Experience as a Year group was unfortunately impacted this year, however, students still sought holiday opportunities where able and experienced industries they might pursue further study in. Some of these include physiotherapy, childcare, pharmacy, CSIRO, film production and music. Over the next couple of years students will have access to many virtual work experience opportunities with organisations who will engage with them in real time projects and feedback. Mrs Loretta Toole Head of Careers and Academic Advising
A great deal of the Careers experience was virtual in 2020. The annual Careers and Tertiary Expo, which has been held at MLC School for over 20 years, was replaced with the Virtual Careers Expo which saw Australia's universities, TAFE, and colleges come together over a four-day online event. Students went on virtual campus tours, engaged via live chat, attended live speaker sessions and downloaded handbooks. Numerous similar events like this were run over the year providing an opportunity for all to access events they previously were unable Similarly,to.workshops, guest speakers and university presentations, which would normally be run during lunch, were conducted online and during evenings which provided greater flexibility for those with numerous commitments.
100 CAREERS
The annual Sydney University Schools Model United Nations Conference offered an opportunity for 10 Year 11 students to engage in high-level debate and problem solving within an international relations context. Students took on the roles of delegates of countries to the United Nations and, in the committees, they debated topical issues from the perspective of the country they were representing, drafting and voting on resolutions to address these matters.
For the first time we were able to conduct the Year 10 parent/student subject interviews on Microsoft Teams which turned out to be every bit as successful as face to face. Most parents were able to meet at the designated time because this platform enabled us to be more flexible and conduct some of the interviews in the evenings.
year with the threat of COVID-19 hanging over us all. This had a profound effect on all the arts including our own Dance, Drama and Entertainment department. Its most obvious manifestation was the cancellation of our huge showcase Lumiere Fantastique, Night of Nights which would have been performed at Homebush. Rehearsals were well underway with students across all Year groups, when we went into lockdown. Other annual events such as Wakakirri, Year 11 Drama Performance, Dance Showcase, AASCF Cheer and Pom Competition, Theatresports and theatre excursions, etc. were also cancelled. A number of innovations occurred to ensure that our students did not lose touch with their creativity. For example, Dance uploaded online dance tutorials, Drama ran physical warmups and activities online and our Entertainment students assisted with streaming our Year 12 IB Solo Night combined with our HSC IP Performances which produced some truly innovative, creative works. The talented, enthusiastic students and dedicated staff busied themselves in other ways. Our curriculum classes had a great year. For example, our Year 12 Drama students performed their final works for the HSC and were outstanding. Four of our seven performance students were nominated for OnStage, the showcase of outstanding HSC Drama works for 2020, and two of our projects by Grace John (set design) and Philippa Machin (poster design) were selected for the virtual showcase in February.
101
Our HSC Dance students also achieved wonderful results. The following students were nominated for Callback: Sofia Costa and Annaliese Konidaris for Major Study Performance and Major Study Performance, whilst Sofia was also nominated for Core OtherComposition.classespresented creative showcases of their work in class and our Year 9 Drama Night was performed later in the year for an afternoon student audience only. So, as the lights fade on 2020, all students and staff of DDE can reflect on creativity, innovation and collaboration and look forward to the next show. Ms Lisa Jinga Head of Department – Dance, Drama and Entertainment (DDE)
20203...2...1...CUT!wasastrange
DANCE, DRAMA ENTERTAINMENTAND(DDE)
Design,TECHNOLOGYAND(DART)ArtandTechnology(DART)
In Design and Technology, they thoroughly explored the design cycle process. Students worked on their design projects independently to explore an area of interest to them. They successfully produced a range of projects, including desk utility and light, a balcony bird feeder, multimedia productions, phone holders, infinity tables and architectural designs.
In Textiles, students created a Textile Art comprising of a culturally inspired kimono and they experimented with numerous colouration and textural techniques to find the perfect feature to reflect their chosen culture. From here, they moved on to produce a historically inspired jacket from a variety of decades, which resulted a wide range of creative garments.
Year 11 DART students made excellent progress in their preliminary year. In Visual Arts students were lucky enough to visit the 2019 ARTEXPRESS and Japanese Supernatural exhibitions at the AGNSW earlier in the year, gaining inspiration before beginning to develop their individual artist practice and the study of Modernism.
MLC School students engaged in creative projects and learning that have broadened their opportunities and understanding of art, design, food and culture. Our immensely talented group of staff adapted and created new programs to be taught both at school and flexibly, with outstanding results. A new staff member to our department, Mr Richard Burgess, is an enthusiastic, experienced and dedicated Design and Technology teacher. The 2020 Year 12 cohort performed extremely well, embracing all the challenges thrown at them with flexible learning. We could not be prouder of their work ethic, dedication and passion. The HSC students of Visual Arts, Textiles and Design and Technology created exciting artworks, innovative projects and technically refined masterpieces that reflected their unique personalities and passions, that were then displayed in an impressive exhibition. The inspirations varied from the human body, nature, isolation, illness, architecture, food wastage to sustainability. The Food Technology class were consistently dedicated, it was a pleasure to watch these girls develop into hard working, forward thinking, independent young women who possess a genuine love of good food. The highlight of the year was their last practical class, where freshly made ricotta and spinach ravioli was on the menu, with Sienna Fresta sharing her cultural expertise in pasta making.
Year 10 DART students excelled this year in Visual Arts as they continued to develop their artmaking through the exploration of portraiture, performance art, pottery and the hyper-real, with lessons that focused on underwater photography and wheel Inthrowing.Design and Technology, the students extended their skills creating incredible wooden tables.
In Textiles, they designed and created their own range of active wear using the sublimation printer, while studying the history of apparel design.
102 DESIGN, ART
The IB candidature exhibition was also of an exceptionally high standard with sophisticated, diverse concepts and technical masterful works on show. Thank you to all of the incredible and dedicated staff in the Visual Arts department for their outstanding support, enabling students from both HSC and IB to transform their ideas into reality. Both exhibitions were filmed for the parents to enjoy with all their extended family and friends. We wish the 2020 graduating year every success as they move into the next chapters of their exciting lives. Their achievements will continue to inspire the years to come.
In Information Software and Technology, students worked with vector-based graphics and motion graphics, gaining insight into network infrastructure, computer hardware and developed their own prototype microcontroller device.
In Design and Technology, the students designed a personalised set of coasters and a holder using sustainable materials. They then competed in the UNSW MiniSprint challenge which involved students designing, building and racing a model car powered only by the energy of the sun. Finishing the year, the students created an EcoPod design for a small habitable or non-habitable space.
In Design and Technology, the students took flat 2D materials and using the laser cutter created 3D working products. Moving on to furniture design with outstanding results producing detailed items including desks and tables.
In Photography and Digital Media, students were excited to learn analogue photography working in the darkroom and creating their own music videos.
Year 8 DART students in Visual Arts adapted very well to the demands of flexible learning exploring their own environments creating Joseph Cornell inspired memory boxes, a ceramic Surreal tea party and still life lino prints. In Technology, students grew their own microgreens and then harvested them to use in their own cooking at home. Basil was a hot favourite, as it is quick to grow. Results were highly impressive and hopefully it inspired the girls to cook at home.
Year 9 DART students in Food Technology worked hard to develop their food preparation and teamwork skills over the course of the year. During flexible learning, students were presented with a range of home cooking challenges, where students took the opportunity to prepare healthy recipes. The students enjoyed returning to the MLC School Food Tech kitchen and continued to cook up a storm, investigating current food trends, and exploring the local farmer's markets.
In Information Software and Technology, students explored the process of game design, learning the Unity game engine to create environments and games. They also used Lego EV3 robotics to solve a range of problems increasing in difficulty.
103
In Food Technology, students developed their understanding of food preservation and processing. Practical based activities challenged the creativity and skills of every student, while teamwork played a vital role in class practicals and opportunities to cook at home was a highlight for many of the Instudents.Photography and Digital Media, the students delighted in creating a passion project that demonstrated all the skills they have acquired throughout the course.
In Textiles, students acquired a variety of new techniques and explored the available options for digital printing creating their own bags, cushions and hoodies with outstanding Inresults.Visual Arts, they were very lucky to be able to go to Narrabeen Lagoon to do environmental site-specific art, where they constructed amazing sculptural works using found natural materials. They also produced amazing, imaginative personal journey artist's books during flexible learning from home.
Ms Sally Marks Head of Department – Design, Art and Technology (DART)
Art and Design week this year united for the first time with Round Square Rainbow Week in a truly special way. Led by our amazing Art and Design captain Paris Mitropoulos, alongside the hard work of the Art and Design Committee members, they explored the theme of 'Shine your Light' celebrating the success of women throughout history. Highlighting the work of DART students, each House creating a unique throne that encapsulated the spirit of each House. Thank you to all involved as it was a wonderful night and a huge success, to the Music and Dance/Drama departments for their incredible performances, a special thank you they were truly enjoyed by the staff and students. To finish off 2020, DART held a fantastic and comprehensive exhibition showcasing hundreds of student's works from Year 6 to Year 11. It was a wonderful evening for staff and students to celebrate the outstanding creative forces existing in our School. It was a pleasure to display the artistic and creative achievements of all the students' hard work this year and this was again recorded to share with families and the MLC School community.
DESIGN, ART TECHNOLOGYAND(DART)
Year 7 DART students in Technology were adaptable to all challenges thrown at them from engineering and building bridges out of potatoes to creating wind powered cars with recycled materials. Delving into their personal and cultural identities, students created lanterns and the nailing, sawing, sanding and scroll sawing noises in the workshop were a constant as they learnt basic woodworking skills to make a Bauhaus art style box. Students in Visual Arts jumped straight into artmaking, creating ceramic mythical creatures inspired by Sophie Woodrow and Jenny Orchard. Semester 2 saw students create a series of creative and diverse self-portraits, extending their drawing, painting and printmaking skills.
During104 flexible learning, students worked through a series of activities to produce naturally dyed fabrics. Students displayed a range of creative colouration techniques using vegetable peelings, spices, berries and tea to produce exciting colours on their fabric. They even created marbled fabrics using shaving foam and food colouring from which they created fabric containers.
Year 6 DART students explored the Pop Art Movement creating inspiring Photoshop, drawings and painted artworks. Followed by learning about our Indigenous culture, looking at the work of Trudy Inkamala and Dulcie Sharpe, sisters from a small station called Hamilton Downs, west of Alice Springs in the Northern Territory. From this inspiration they produced soft doll sculptures that represented their own culture.
We look forward to 2021 with much excitement. We hope that the students, staff and the School community will enjoy what DART has to offer. We feel privileged to teach such dedicated, passionate and innovative young women who we know will go on to achieve greatness in the world.
105
I thank them for their years of service, their dedication to their students and their contributions to the department. We wish them well and every success in their new endeavours.
106 ENGLISH
In years to come, when we think of 2020 perhaps its legacy will not be the face masks, the hand sanitisers or even the lockdown itself, but rather the importance of reaching out, staying connected and the value of community. I am grateful for the expertise and creativity of the English department and for the manner in which they focused their energies to respond with relevance to the challenges and uniqueness that was 2020.
Ms Cecilia Batista Head of Department – English
I thank the English department for never wavering in their support of our girls, for providing reassurance and instilling confidence in a year where a great deal was placed in doubt. 2020 was also the year we welcomed Ms Georgie Brewer. Her experience and passion for teaching and learning has added further depth to the English department. Sadly, however, we farewelled three members of the English department, Ms Christine Choi, Ms Jane Wang and Ms Isabelle Trayner. Each one of them left an indelible mark on MLC School.
The momentous events of 2020 underscored the importance of versatility in the way we learn, communicate and stay connected. As the world we knew was held in suspension during lockdown, we were propelled into a world of team meetings, improvisation and innovation. We were all forced to do things differently and approach learning in new ways ; however, at MLC School the study of English continued rigorously due to the versatility and dedication of its English teachers and the resilience of its students. For me, the tenets of the 21st-century learner were never more apparent. We were global citizens immersed in technology, staying connected through collaboration, communication and creativity. In the words of Socrates, 'the secret of change is to focus all of your energy not on fighting the old but building the new'. In a sense, this is what characterised 2020 for the English department, the creative expression of daily learning. Upon our return to the classroom the department began creating dynamic and engaging Canvas courses for all Year groups in both the NESA and IB programme. Contained in its pages are a multitude of resources and activities to enhance the learning experience of every MLC School girl. Available at any time of day, every day is an opportunity for them to review and extend their learning. As a result, rich learning experiences continued, and our senior students were thoroughly prepared for their HSC or IB examinations. However, in a year marked by what we couldn't do; a year where change came in the form of immobility, the importance of relationships reverberated like never before. No amount of technology can supersede the value of human connections. Indeed, for all its disruption, the new skill sets and new approaches this year demanded, 2020 was a reminder of how students learn best, with encouragement and support. In this, it was business as usual for the English department. The connections forged were the connections nurtured. We returned to the classroom prioritising reconnection and a constructivist approach to learning. Various opportunities for collaboration were offered. In Year 7, students entertained one another with Slam poetry; in Year 8 students worked in groups to modernise William Shakespeare's The Taming of the Shrew while in Year 9 they collaborated to reimagine ways of representing classic poetry. Poetry was reimagined into forms like boardgames, cakes and drawings. In Year 10, English joined forces with the Music, Art and Drama departments to work towards a multidiscipline exhibition for November 2021 of students' writing reimagined in various art forms. At the heart of all these meaningful learning experiences was a genuine concern for the wellbeing of the girls as they reintegrated into the classroom.
Theythem.confirm
I have always encouraged students to get off the highway and explore the country roads; there are so many more things to see and appreciate. The enjoyment of teaching and learning is a 'two-way' relationship. In many ways a teacher is an actor responding to his audience. Nowhere is this better reflected than in my annual introduction to the 1960s in a dress-up role play as an aged hippie. This event has invariably provided great moments for sharing stories and music. I hope students will be reminded of their learning whenever they hear Bob Dylan songs and the phrase, 'What did you learn at school today?' Thank you, MLC School, for making the past 20 years of teaching as Head of Department – History such a rewarding experience working with innumerable students whose names and faces I remember but frequently get mixed up. Thank you for enabling me to work with a thoroughly professional staff in all areas of the School, but in particular within the History department and especially with Mrs Antonella Accurso, Ms Vicky Zinopoulos and Ms Lesley-Ann Angus (retired) who have shared this journey.
Coming to MLC School was a life-changing experience for me after having taught in state schools for my first 20 years, though that system did provide an excellent foundation and experience for what lay ahead. What struck me about MLC School was its focus on encouraging individuality and innovation. Students have always been able to excel, being provided with a vast range of opportunities that foster their personal and academic growth. Students eagerly seize the opportunities provided for them and excel.
107
This will be the last report that I write as Head of Department – History, as I have decided to step down after being in that position for the last 20 years. It seems such a long time ago. I joined MLC School at the beginning of the millennium and in the 'Stone Age' (i.e. when Barbara Stone was the Principal). It is time for a new generation to lead the talented team of historians we have at MLC School.
I look forward to seeing you all next year, not as Head of Department but as a classroom teacher. Mr Peter Klamka Head of Department – History
As a teacher of History at MLC School I have been able to focus on the teaching of Ancient History, Extension History and IB History. All courses provided great opportunities to extend one's knowledge through frequent changes to syllabi and the need to seek new areas of study. This has taken me to the world of Bronze Age Mycenae, Medieval Sicily and Genghis Khan.
'The times they are a changing...' – Bob Dylan 'Life is a box of chocolates. You never know what you are going to get.' – Forrest Gump
Students who have studied History with me over the last 20 years at MLC School will understand how relevant these quotes are and certainly this year has verified both of for all of us the value of understanding the past in helping us to prepare for whatever the future places before us.
ChangeHISTORY
At the same time, MLC School has provided teachers with the opportunity to strive for excellence by encouraging their own innovation and individuality. Who would have thought that in my time at MLC School I would be able to organise and lead 12 History Tours to historic sites in Greece, Italy, Turkey and Egypt with the esteemed Latin Teacher Mr Robert Marshall and the assistance of many staff from a variety of departments? It was a life changing experience for me and, I am sure, most students. My approach to teaching Ancient History was greatly enriched by this experiential learning and provided many resources and stories for the classroom. I am often seen carrying my large Greek pot (amphora to be precise) around the School. The tours also provided the rewarding experience of working with students outside the classroom. In addition, collaborating with other MLC School staff on the tours created wonderful memories and cemented bonds of friendship that have endured. Sitting in a plaka or piazza over lunch is bound to change one's view of life… try it!
An effort was made this year to build HSIE content into the co-curricular space at MLC School. The Business Club continued to raise money for microcredit loans for women across the developing world. The Environment Club also started to explore how student voice and concern might be able to contribute to a more sustainable future for MLC School. The girls' first initiative was to introduce a bottle collection and recycling scheme for MLC School staff and students to use.
The Australian bushfire season and COVID-19 pandemic placed a significant limitation on our usual ability to take learning into the field. However, some of our excursions were still able to proceed.
ENVIRONMENT
108
Over the course of 2019 and 2020 the HSIE department developed our blended learning model with the Canvas Learning Management System (LMS). As a result of this work, we were well placed to deliver content seamlessly throughout the COVID-19 lockdown period.
The Year 11 Geography class were able to investigate the role of fire in the Australian landscape. Kimberly Keogh (Year 11) noted of her Blue Mountains excursion that 'I've really built an understanding of how vulnerable, and resilient, each of the vegetation zones is to the effects of recent bushfires.' Students of IB and HSC Business were still able to visit Taronga Zoo and IKEA to explore marketing and business operations. The IB Geography students were able to conduct a transect of the Sydney CBD to analyse changes in urban stress and microclimates. The Year 10 Commerce students were fascinated by the cases they heard at the Downing Street Law Courts. The primary research HSIE students are able to carry out during excursions is a defining aspect of our disciplines and we are looking forward to returning to the field in 2021. We also had a year of achievements from both our students and our teachers. Mr Henry Wijanto supported Chloe Zhang (Year 7) to draw on her understanding of ocean plastics to win an art prize being run by Ocean Plastics Australasia. Dr Manuel Condoleon was awarded the 2020 Best Paper in Education at the 4th Australia and New Zealand Conference on Advanced Research based on his PhD research at The University of Sydney relating to the International Baccalaureate in general, and Theory of Knowledge specifically. Additionally, Ms Danielle Rodrigues had her work in delivering online learning recognised by the AISNSW as a model for best teaching 'This year we were fortunate to be able to introduce the new Global Studies elective to Year 9 students.'
SOCIETY AND
2020 has been another exciting year in the HSIE department at MLC School. It has also been a year that has clearly demonstrated the importance of the Social Sciences. The interactions between the biophysical world and human systems were powerfully illustrated by a new pandemic. Moreover, the impact that COVID-19 has had on the world's financial markets and supply chains demonstrated the importance of developing a sound understanding of these systems to plan for a sustainable future.
While in Geography, the impacts of global commodity chains which produce Fast Fashion were explored in Year 8.
In HSIE, we continued to develop and refine our curriculum offerings to meet the needs of MLC School students. This year we were fortunate to be able to introduce the new Global Studies elective to Year 9 students. This powerful and engaging new subject allowed students to explore some of the significant issues of our times. The topics addressed in Year 9 have included terrorism, emerging diseases and natural resource consumption. The relevance of the Social Sciences to MLC School girls was also explored in new teaching and learning activities. For example, Commerce students learnt to manage market volatility through entry into the ASX Share market game and explored the political system with a newly introduced syllabus topic.
HUMAN ITS (HSIE)
109 practice. Her work was shared with other independent schools as an exemplary form of online instruction. We hope 2021 will be just as successful for both our students and teachers in their continued learning.
2020 has proven unique for several reasons. The HSIE staff were invited to prepare an item for the time capsule being bequeathed by Year 12. The HSIE department decided to contribute a range of media articles that explored the year from the various perspectives of our disciplines. Articles exploring the Business, Economic, Geographic and Psychological perspectives on 2020 were included. Sadly, at the end of 2020 we bid farewell to the Religion teachers who will be joining the History department from 2021. We also bid farewell and thank our longest serving HSIE department member Mrs Anne Layman, who has been a part of the HSIE department for 34 years.
2021 promises exciting opportunities and the HSIE department will continue to play a vital role in raising student awareness of the challenges society faces and the solutions we may be using to manage these challenges in the future. Mr David Latimer Head of Department – Human Society and Its Environment (HSIE)
All Year 8 Language students participated in the Amazing Race Day where a team of students from different languages completed four missions to reach a final destination. Those missions had a linguistic and/or cultural challenge and included activities such as, a VR Japan Tour, Indonesian Escape Room, French Pétanque, Chinese chopstick games, as well as dance challenges.
'A different language is a different vision of life.' – Federico Fellini With the restrictions that 2020 brought, we hope that our Language students have nonetheless managed to get a glimpse of a 'different vision of life' through their language studies. With limitations in terms of overseas excursions and immersion activities, we had to be more creative than ever in order to bring the culture of the target language to the classroom. Merging language and culture is at the heart of the Languages classroom and we strive to equip students with the skills to communicate, whist igniting curiosity and creating global and cultural awareness. At the start of the year, a group of senior students returned from another highly successful French exchange to Toulouse. They were accompanied by Ms Kartika Brand and Mrs Jennifer Brown and spent four weeks in the South-West of France exploring iconic places around Toulouse, followed by a cultural week in Paris discovering all the delights that the 'City of Lights' has to offer. Our students were accommodated in French families, and were not only immersed in the French language, but had the opportunity to also forge strong friendships with their host families. Unfortunately, the French exchange students were unable to reciprocate the visit in July when they were due to come and stay with our students. However, we are planning for the exchange to be as successful as ever, once restrictions are lifted and we are able to travel again.
Japanese students also participated in the Video Matsuri Film Contest and the JapanAustralia Relations Essay Contest, as well as the Linguafest Film Competition. What a talented group of students!
Ms Louisa Macdonald Head of Department – Languages
Finally, the Languages department would like to congratulate the graduating class of 2020. We hope that you enjoyed learning a language at MLC School as much as we have enjoyed teaching you and that you will find new ways to immerse yourself in language and culture as you move into the next phase of your journey.
The Indonesian classroom buzzed with activity. Earlier in the year, Ms Kartika Brand was invited to attend, with two of her Year 12 students, an Indonesian Networking Dinner by the Consulate General of Indonesia. They listened to speeches delivered in Indonesian, viewed a traditional dance, ate Indonesian food and mingled with lots of important people. The Year 12 Indonesian class was also involved in an Indonesian speaking club with Monte Sant' Angelo Mercy College and Burwood Girls High School. It has been excellent for them to communicate in Indonesian with a wider group of students and make new friendships.
110 LANGUAGES
Once again, the Year 10 French class worked hard to put together short films so that we could select one to send to the MLTA Linguafest Short Film Competition.
The Mathematics department was up for the challenge presented by COVID, maintaining the enthusiasm of the students for their learning by using technology in creative and innovative ways. We started the year by celebrating the worldwide 2020 International Day of Mathematics themed Mathematics is everywhere. Activities in the School included a Year 7 Scavenger Hunt, with students exploring the Mathematics in our School by measuring, counting, hypothesising and extrapolating features of the new Senior Centre and the gardens. Year 8 students worked mathematically in a team-based competition solving challenging problems with the winning team taking the title and chocolate prizes on offer. Our family problem in the newsletter received an overwhelming response rate and the lolly guessing jar helped increase our collection for the Indigenous Literacy and Numeracy Foundation. Our celebrations wrapped up with the support of the Student Representative Council (SRC) selling Mathematics pencils and wristbands, with all money raised going to the Indigenous Literacy and Numeracy Foundation.
111
MATHEMATICS
Flexible learning gave the department an opportunity to explore online learning tools and the creation of our own videos. The girls stepped up and our lessons ran smoothly and without any hitches. A big shout-out to the students and the teachers for their flexibility and resilience under these challenging circumstances. A particular mention to our Year 12 Mathematics students who balanced the uncertainties of our new 'normal' with such strength and maintained their positive attitude right to the end. I would like to thank the entire Mathematics department for their support and flexibility of the girls in their care and of each other. We all learnt a lot and can say with confidence that MLC School girls really do dare to be more, taking the challenges in their stride.
Mrs Penny Pachos Head of Department – Mathematics
Elective music students also adapted to the changed environment and found ways to continue to grow as musicians. Special mention must go to the 2020 Year 12 cohort who were forced to adapt their plans, particularly given group music making was affected which forced changes or modifications to performance programs.
Looking forward to when things move to a more normal footing, I am confident the changes forced upon us this year in the curriculum area will move our department to the next level. We are thankful for the Canvas platform that offers such an adaptable range of learning experiences. We now have a bank of online learning materials across all Year groups which I know will become a rich source of help for future MLC School students.
The skills gained by staff and students in online learning will enhance the already strong learning experiences that take place at MLC School. I extend my sincere thanks and congratulations to all Music staff and students on the magnificent way they adapted to a year like no other!
Mr Trevor Mee Director of Music
2020 – an historic year for everyone and not least for our Music department. Midway through Term 1 it became apparent that the School was going to move to flexible learning, so our department looked for opportunities to provide the most fulfilling experiences we could, given the limitations of not being in the usual classroom environment. For a significant period, all of our formal learning experiences were delivered via virtual meetings. Much music this year was made at home in bedrooms using traditional instruments and computer software. Being forced to think outside the square also led to novel things such as music created in kitchens on pots and pans.
I would like to congratulate staff, students and parents on the manner in which they adapted in such a challenging set of Withcircumstances.ourco-curricular programs unable to operate for an extended period, 2020 offered us the opportunity to focus on curriculum. The non-elective program in Year 6, Year 7 and Year 8 in particular has altered significantly with more emphasis on connecting music theory to practical tasks. Notation skills became more of a regular extension of the practical components of the course.
112 MUSIC
Led by Mrs Michelle Hiss and Ms Sarah Jauncey, the courses are continuing to build on practical fundamental skills, teamwork, health and wellbeing. The Junior School teaching team successfully created and delivered a wonderful Year 3 bike safety day, MLC School Safety Town, held on the sports field where the Year 10 PASS students were able to help with the activities. Year 3 students rode on the "roads" created on the field, followed the special road rules and avoided the hazards. It was a fantastic day for all students involved. In the Senior School we welcomed Miss Emily Osborne to the faculty for Term 1 and welcomed Miss Olivia Nolan back from long service leave in Term 2. The PDHPE teaching team delivered programs aligned to the new syllabus to Year 8, Year 10, Year 9 PASS and Year 10 PASS which were exciting and touched on new topics along with current affairs and their impact on health and wellbeing. They also continued to make good use of the variety of facilities here at MLC School by running a number of aquatic units including the Bronze Medallion Lifesaving Award for Year 10 PDHPE, high intensity spin classes on the spin bikes and Aussie rules football on the sports field.
We would like to extend an extra special thank you to each member of the PDHPE department; Mr Wayne Donley, Ms Jane Ferguson, Mrs Michelle Hiss, Ms Sarah Jauncey, Miss Emily Osborne, Miss Sarah Papachristoforou and Mr Gavin Starr. They continue to provide our students with opportunities and an environment to challenge and embrace their individual qualities. Their commitment to the PDHPE department, particularly in 2020, has been above and beyond, and the enthusiasm and hard work has allowed our students to continue to flourish in all areas of our subjects.
Our Year 11 and Year 12 students embraced their Senior School PDHPE and SEHS studies. In the PDHPE course the Year 11 students completed their First Aid course and the Year 12 students attended an online PDHPE HSC Enrichment Day run by Australian Council for Health, Physical Education and Recreation (ACHPER). In the SEHS course the Year 11 students were able to assist the Year 12 class by being the subjects for their practical Internal Assessment (IA) investigations. The Year 12 SEHS students were also able to attend an excursion to Sydney Olympic Park Athletic Centre to carry out some of their research and testing for their IAs. It was highly beneficial for Year 11 as they were able to witness the process for the IAs for SEHS and have now begun planning their own investigations to be carried out in early 2021.
As a department, we continued with the implementation of the new Kindergarten to Year 10 PDHPE syllabus, as well as putting into effect a new syllabus for the Physical Activity and Sports Science (PASS) Year 9 to Year 10 elective course. The swift move to flexible learning was not without its difficulties for our subjects, but our staff demonstrated a huge amount of resilience and even greater creativity to try to keep our students engaged and active, even whilst in lockdown. The department created online practical lessons that included at-home workouts run by class teachers, themed dress-up weeks and interactive fitness games to encourage the students through such a difficult time from Pre-Kindergarten level right through to Year 12 students. The PDHPE department successfully rose to the challenge of having all content for theory lessons uploaded onto the new Canvas network for Year 5 to Year 12, which enabled our students to have access to the resources and class work required to continue learning online with their teachers. In the Junior School, the PDHPE department continued to develop innovative and exciting programs using the new syllabus outcomes.
Ms Olivia Nolan Head of Department – Personal Development, Health and Physical Education (PDHPE)
Mrs Claire White Assistant Head of Department – Personal Development, Health and Physical Education (PDHPE)
• Ella Woolbank – PDHPE
• Maddison Fisher – SEHS
113
Firstly, we would like to extend a big congratulations to the Class of 2020 on their results in both the HSC Personal Development, Health and Physical Education (PDHPE) and IB Sports, Exercise and Health Science (SEHS) examinations. This is the inaugural IB SEHS class to complete the course at MLC School and it was wonderful to see the students apply themselves diligently to the content from start to finish.
PERSONAL DEVELOPMENT, HEALTH AND PHYSICAL EDUCATION (PDHPE)
The Year 12 PDHPE and SEHS students approached the demands of these courses mixed with online learning with vigour, confidence and positivity. Well done to the following students who achieved the top results in their cohort:
An article from logicofscience.com quotes the following, 'Over the course of the COVID crisis, we have repeatedly seen leading scientists and scientific organisations change their recommendations, and we have seen multiple scientific studies retracted or at least highly debated. Many view this as proof that science does not work and/or scientists don't know what they are doing. In reality this is exactly what we expect to see when science works. Science is a method, not a body of facts, and the method is often messy.' This has certainly been true for Science at MLC School in 2020. While COVID-19 has been difficult especially for a practical course during flexible learning, Science has worked, and it has been 'messy' but also exciting despite the challenges!
Year 7 started the year looking at rock structures and Earth's resources. An exercise in the viability of mining was done by students 'mining' gold chips out of chocolate and selling them back at a price to determine the costs and analyse the environmental and social impacts of mining. The annual Year 7 zoo excursion was unfortunately cancelled; however, students were able to view the tiger live streams from Taronga Zoo during our 'All Creatures Great and Small' topic. Students also created classification keys from objects they had at home and were able to play with 3D cells using mobile apps. Assessment was also different for Year 7 with stimulus material including videos and other interactives on Canvas. Students examined forces and conducted a survey of different play equipment to determine how they worked. The girls then worked collaboratively to come up with innovative ideas and build prototypes of new playground equipment in a problem-based learning project.
Year 8 girls began the year being Clever Chemists, where they examined materials based on nanoparticle technology. They undertook a research project to compare the effectiveness of the nanoparticles to regular products. At Homebush Bay, the girls examined the features of the mangroves and food webs within that community. The Living Systems topic was undertaken via flexible learning, but students were able to conduct virtual chicken wing dissections to examine how bones, tendons, muscles and ligaments work together to cause different motions. The Power to Change topic allowed students to examine energy transfers and be 'shocked' with the Van der Graaf generator.
Human impact on the ecosystem was studied by measuring the levels of water pollution using turbidity tubes, soil and water pH kits and catching water animals to use as indicator species. During flexible learning students were able to use household equipment to explore a variety of scientific principles, such as creating magic flowers with paper, psychedelic milk, bread clip speedboats and a levitation trick. The Power to the People topic was all about electricity and how it works to power our world.
Our Year 9 girls started the year with an excursion to Camp Kedron where they examined cycles in nature and the influence of abiotic factors such as aspect and soil moisture on tree growth. They analysed the role of decomposers through a leaf litter study and identified different species using a hand lens to observe the smaller organisms.
The year ended by celebrating with the Big Science Show's explosions, foaming chemical reactions, liquid nitrogen and fireballs.
Students worked on a 'Build your Own' electrical gadget. Students created, power boats, a ferris wheel, a moving picture show and even wired a doll house with LED lights and Duringfan!flexible learning with Year 10, students extracted DNA from strawberries using kitchen equipment. The Independent Student Research Project led to some creative ideas being tested, for example if the mass of glue in slime caused it to stretch further, making rubber balls to see which one would bounce the highest, using different recipes of bath bombs to determine which one would dissolve the fastest and testing how much bread can rise when different amounts of yeast is added.
114 SCIENCE
The Science Week COVID-safe performance about Marine Science presented how carbon dioxide regulations, sustainable fishing and monitoring pollution was vital for the survival of marine life.
Mrs Susan Rowley Head of Department – Science Ms Mora Soliman Assistant Head of Department – Science
115
In IB Physics one student studied the relationship between a galaxy's relative distance from Earth and the percentage of matter in the galaxy. This type of investigation would normally require observations using professional research telescopes, which is not feasible for a high school project. So, she used an open-access research database managed by the Astrophysics department at Sydney University. She learnt the appropriate SQL code to access this database and consequently downloaded the relevant information for 150 galaxies to include in her study.
Some of the Biology IAs and depth studies were also highly interesting in their research and data analysis. These included investigating how the change in temperature affects the enzyme activity for jelly to set, how temperature affects the spoilage of infant formula, the effect of different concentrations of manuka honey on bacterial growth, determining the antimicrobial action of different essential oils and how UV light affects bacterial growth. One of our Chemistry students explored the effect of pH on the fluorescence of fluorescein which involved a sophisticated analysis of data and an understanding of quantum chemistry.
Students in both IB and HSC were able to rise above the challenges of COVID-19 collecting data onsite for Depth studies, IAs and research projects. Some Chemistry projects conducted were testing the amount of iron in iron tablets, the concentration of vitamin C in fresh citrus fruits and juices, and the concentration of the active ingredient in antacid tablets.
Our Science Extension student report was awarded a prize in the Young Scientist of the Year awards for her work on the antimicrobial effect of silver nanoparticles on bacterial growth. She was able to chemically synthesise silver nano particles and combined them with an antibiotic to determine that the combined effect of both was greater than each one independently. Scientists are an interesting breed of people, they are creative, adventurous, critical, and pragmatic. Our students have certainly demonstrated this throughout the year through their curiosity, inquiring minds and passion in their love of all things Science.
'Right now it is more important than ever to shine your light, selflessly and remarkably for the greater good, with the spark of gratitude and inspiration alight within you.'
Early on in the year, we were able to launch a ceramic jewellery masterclass, International Women's Day installations as well as the commencement of DART Subject help. Perhaps the highlight of the year was Illuminate, which took place in Week 1 of Term 3 This year the traditional aspects of the event were supplemented by a specific focus on how art impacts societies. This gave us the chance to not only investigate the transformative ability of art but take advantage of this ability to bring light to people's lives across this year. A process glorified by Felix Adler when he stated: 'The hero is the one who kindles a great light in the world, who sets up blazing torches in the dark streets of life for men to see by.'
This year, my aim was to strengthen the relationships between Year groups, whilst also inspiring my peers to use their talents, artistic or not, for the benefit of others to alleviate the stresses of these tough times.
Paris Mitropoulos Art and Design Captain
The Greek word 'meraki' is defined as the passion and absolute devotion to creative tasks. I can wholeheartedly state that my peers have possessed this quality this year, more prominently than ever, with artists in wider society and importantly, our own backyard at MLC School, responding to the challenges posed by 2020 artistically to further their creative innovation.
All of this ultimately could not have been achieved without the support of the Art and Design Committee, five sub-portfolio captains, invaluable Design, Art and Technology (DART) staff and executives of the School who all helped bring my visions to life this year.
116 ART AND DESIGN CAPTAIN REPORT
Illuminate saw the Senior Centre decorated with exuberant colour and the inauguration of the House Throne Competition, where each House had the opportunity to decorate their throne. Mooramoora came out clear winners in the eyes of the completely objective judges Ms Lisa Moloney and Mr Neil NoneScotney.ofthiswould have been possible without all the girls in Art and Design Committee who have brought enthusiasm and creativity to every meeting and the five sub-portfolio captains who have provided me with endless support. Of course, I need to extend my sincerest gratitude to the DART staff, in particular Ms Sally Marks and Ms Ciane Brewster for their limitless support and guidance in maintaining the momentum needed this year. Looking at the smiles on those who participated in Illuminate in particular, I am reminded of how the Art and Design Committee has provided an outlet for enjoyment and has allowed every girl to 'shine their light' in a year will be forever known from its lows.
STUDENT LIFE
117
I would like to thank Vivian Law (Year 12), Chiara Moore (Year 12) and Nicole Kubica (Year 12) for leading some great discussions early in the year. Moving forward Annabelle Bailey (Year 11) and Harriet Clark (Year 11) are leading the group into 2021. They have already started talking to students around the School about the important issues we cover in Collective Voice regarding feminist issues, gender equality, LGBTQI perspectives, supporting minority groups, refugees and Indigenous issues. We have already had three great meetings this term and have seen many new students join our Thursday lunchtime discussions which bodes well for the future. Next year we are planning on connecting with Newington's Gender Equity group more often, especially coming together for International Women's Day and holding more Q&A panel discussions. This year we were unable to celebrate Wear It Purple Day, so we are aiming to have a big one next year. We are also looking forward to encouraging the introduction of pants to the School uniform next year.
Jesus in School Time (JIST) is a Senior School lunchtime program for sharing and exploring faith in Christ Jesus. It is a time of fun, food, fellowship, Bible study, as well as prayer. It is a student-led program with the assistance of the School Chaplains.
Mrs Lynne Bondar (Assistant Chaplain), graciously coordinated Wednesday lunchtimes for JIST meetings and we're grateful for her leadership, support and wisdom. As she concludes this role in 2020, we wish to acknowledge her great contribution to this program and wish her God's blessings always.
Rev Viniana Ravetali Chaplain
118
COMMITTEESCollective
Ms Emma Hogan Collective Voice Coordinator Jesus in School Time (JIST)
Voice This year has been a quiet year for Collective Voice. Due to COVID-19 and flexible learning we were not able to get together much and we had a very small group who kept in touch. However, it has been a good year in terms of behind the scenes planning and gathering new members to re-invigorate Collective Voice ready for the new year.
Whilst 2020 was not without challenges, MLC School was successful in continuing to provide students the opportunity to participate in and reap the benefits of Debating and Public 2020Speaking.began with regular training sessions and debates for the Independent Schools AssociationDebating(ISDA) and Friday Evening Debate (FED) competitions. Whilst we were unable to complete the season due to COVID-19, our debaters were committed and determined to debate in a new environment – online debating. After trialling this unconventional method, our teams competed in the Archdale Shield which commenced in Term 2. This season brought about a range of new and interesting topics with COVID-19 as a common topic of debate. Under the Public Speaking program, many of our students did an incredible job in representing MLC School at the annual Association of Heads of Independent Girls' Schools (AHIGS) Festival of Speech. After a day competing in various categories from Poetry to Religious and Ethical Questions, and Drama to Current Affairs, we placed third in the senior division and sixth overall.
Despite the cancellation of the Rostrum Voice of Youth competition, we were represented in the online Legacy Plain Speaking Competition by three students: Elizabeth Wilkie (Year 9), Wisteria Hu (Year 10) and Ariana Haghighi (Year 12).
DEBATING CAPTAIN REPORT
Cherie Pepperell Debating and Public Speaking Captain
119
During my time at MLC School, I have been most privileged to be part of the Debating and Public Speaking family and their commitment to upholding the MLC School debating spirit in the face of adversity and challenges. It has been an honour to be your 2020 Debating and Public Speaking Captain. I wish the 2021 teams every success in the future.
We are fortunate that MLC School continues to offer all students the opportunity to develop their skills and confidence, thus reinforcing the value of Debating and Public Speaking as not merely a co-curricular, but also an invaluable life skill. The initial rounds of the annual Interhouse Public Speaking Competition were held online this year, followed by an impromptu round and the finals at school. Congratulations to all participants and to the winners of this year's competition – Anikah Sanan (Year 8 – Sutton) and Mikaela Nguyen (Year 11 – Booralee). Similarly, an oral assessment workshop in Term 1 gave students the opportunity to receive feedback from their peers on class speeches and public speaking tips. Thank you to Ms Jan Falls and Miss Emilia Stubbs who played an instrumental role in overseeing and running these events.
Thank you to Ms Andrea Rowe and Ms Jan Falls for being the driving forces behind the MLC School Public Speaking and Debating program in the Junior School and Senior School. A huge thank you to our committed coaches who dedicate their time and effort in helping us develop our debating skills.
We are grateful to Ms Lisa Moloney for supporting this program and to all the parents and carers of our talented debaters.
120
DEBATING AND PUBLIC SPEAKING
Debating
'The coaches ran training sessions via Microsoft Teams every week and we competed in Friday evening debate nights versing other schools via Zoom.'
MLC School had nine teams competing over seven preliminary rounds and five teams progressed to the quarter finals.
Archdale The Archdale competition normally begins halfway through Term 2, but it was delayed this year and adapted to run for the whole of Term 3 in an online format. There was hope that we could revert to face-to-face after Round 4, however, it soon became clear that would not be possible. The virtual format meant that other schools outside Sydney, like Canberra Grammar, could join the competition and the plan is to continue this approach next year. Debating online is similar to face-to-face debating ; however, the adjudicator runs the whole debate and there are no spectators. The students did a wonderful job adapting to the change although there is no doubt they missed having family and friends watching and the drama of a live debate.
FED Our eight FED teams had a very successful start to the season. The main aim of FED is that debating is an enjoyable social and learning experience and all our teams showed marked improvement through five preliminary rounds of debates. However, the competition was abandoned after this round when it seemed certain that we would go into lockdown.
ISDA The School's eight ISDA teams were a mixture of older teams who have been together for years and our new Primary and Year 7 teams. The students began the year strongly and completed four preliminary rounds of debating before the competition was abandoned for the year. Friday 13 March 2020 was the last face-toface debating for our students and ironically it was a big occasion – we were double hosting both FED and ISDA rounds and the Senior Centre was full of busy, noisy debaters from Barker College, Newington College and MLC School. When we left at 10pm that night nobody could have predicted that it was the last time we would allow external visitors in the School for the rest of 2020. After an enforced break during lockdown, we returned to school in Term 2 determined to continue debating but in a virtual format. The coaches ran training sessions via Microsoft Teams every week and we competed in Friday evening debate nights competing against other schools via Zoom. This really helped us get comfortable with debating online and kept our skills fresh.
This year we had over 100 students involved in our Debating program and it was set to be our normal busy year with the Independent Schools Debating Association (ISDA) and Friday Evening Debate (FED) competitions running concurrently in Term 1 and Term 2 and Archdale taking up all of Term 3. Everything went as planned until early March when a global pandemic intervened.
For Term 4 we decided to try something new and ran an internal tournament using the British Parliamentary style of debating. Students were unaware of this style, but we had 35 pairs teams sign up for the tournament. The students really enjoyed debating face-to-face again and the chance to compete directly against teams from other Year groups. The BP style is popular in university debating societies, so it has been beneficial to try something different in a year where adaptability has been a key skill.
Overall, 2020 has been a year where key debating characteristics have never been more pertinent to life skills. All the students from Year 5 right through to Year 12 have shown resilience, adaptability, critical thinking, empathy and dedication to the MLC School debating program. We end a tough year as better debaters with a host of new skills that we did not expect to acquire when we began.
Our Year 8A and Year 10 teams competed in the semi-finals and the older girls won through to compete in the grand finals.
The Year 10 debaters were determined to win their division in 2020 after coming close in previous years. They were unstoppable and were unanimously awarded the win by the panel of three adjudicators.
Dr Andrea Rowe Debating Coordinator
Some competitions did not run this year, but many still did, albeit in a virtual form. Ariana Haghighi (Year 12) and Wisteria Hu (Year 10) entered the Plain English Speaking Competition and were successful in progressing to the preliminary final. Elizabeth Wilke (Year 9) and Alannah Christodoulou (Year 9) entered the Junior Legacy Public Speaking Competition. One of the highlights of the year was the Interhouse Public Speaking Competition. Rounds two and three were held at lunchtimes in the open spaces outside the Senior Centre. There was strong House spirit and lunch goers were happily entertained.
While 2020 has had its challenges, many girls have attended the Club on Tuesdays during lunch. For some weeks we met virtually, but as soon as we could, we were meeting in a COVID-safe environment in the Senior Centre. My thanks to Ms Emilia Stubbs for planning and running the lunchtime sessions each week.
Another initiative this year was the offer of workshops for girls who were preparing for oral assessments. This was run by the Debating and Public Speaking Captain, Cherie Pepperell (Year 12). The year concluded with the AHIGS Festival of Speech. It was a very different competition this year as it was entirely virtual. It did not have the same buzz and excitement experienced when students gather to perform live but, there was still the challenge of preparing and practising for the each of the competition sections. It could be said learning public speaking is a nerve-wracking adventure, but I prefer to think of it as an essential and powerful life skill. 2021 is a new year and I look forward to watching MLC School girls gain confidence and skill in the important domain of public speaking.
121 Public Speaking Communication is the backbone of our society. It allows us to form connections, influence decisions, and motivate change. Public Speaking is an important way to learn how to communicate effectively. The Public Speaking Club at MLC School provides an excellent platform for girls to practise and hone a wide range of speaking skills in a safe and supportive environment.
The winners were: Middle Years: Anikah Sanan (Year 8) – Sutton Senior MikaelaYears:Nguyen (Year 11) – Booralee
Mrs Jan Falls Public Speaking Coordinator
Mr Glen Mole Duke of Edinburgh Award Leader
122
DUKE OF EDINBURGH AWARD
The Duke of Edinburgh (DofE) Award is an internationally recognised award that encourages students to extend themselves beyond the classroom. The award allows students to immerse themselves in a service, skill, physical recreation and an adventurous journey, and the residential project (for the Gold Award). The Adventurous Journey places students out of their comfort zones into practical and exciting situation. In 2020 we had plans for amazing overseas and national trips ; however, restrictions of COVID-19 meant we needed to improvise in order to ensure students were able to continue progressing through their Awards. This year, students were forced to use their leadership, initiative and self-determination to continue to meet the award requirements. Many of the activities girls were once completing, such as sport, were stopped indefinitely, however this did not prevent the Duke of Ed students from completing their Physical Activity hours. Many students continued through the lockdown, working on personal fitness goals to ensure they continued to fully immerse themselves in the Award, when it seemed Itimpossible.isexceptional to consider that we had 29 students complete various award levels from 1 January 2020 to 1 November 2020.
One thing that has not changed is our girls' love of Borrowingbooks.statistics highlight that our girls enjoyed reading with over 11,400 print books borrowed this year. Our digital collection saw a 330% increase during flexible learning and whilst this has decreased since the girls returned to school, the digital collection has a growing interest. However, whatever they choose to read MLC School is certainly a place of readers. During flexible learning our girls were keen to share what they were reading in creative ways. Some of the Year 9 classes renamed their classics, though I am not convinced that publishers would have been on board with these titles!
Finally, our Annual Book Week Bookmark Winner was Le Yan Gui (Year 9), who certainly reinforced J. K. Rowling's quote 'I do believe something very magical can happen when you read a book'.
Mrs Louise Piggott Head of Library Services
Some of our Year 10 classes used emojis to inspire others and Year 7 girls made engaging book tubes to "sell" their books to their Uponpeers.returning to school, the Library was once again a vibrant place; a place to read, to do puzzles, to do homework, to study during spares and to play card games.
LIBRARY
The Year 9 English Unit on Classics had our classic shelves all but empty. There is something quite lovely hearing discussions about whether Bronte books are better than Austen books. Book Week in the Senior School was a little quieter than usual ; however, Year 6 embraced the Book Week theme of Curious Creatures, Wild Minds with their creative and imaginative creations of curious creatures. Year 7 and Year 8 students displayed their critical analysis and visual literacy skills in becoming unofficial Children's Book Council Judges, judging the Picture Book categories. They were all very tough judges.
123
During this term, Maya Simpson (Year 11) and Gloria Lim (Year 11) founded a UNICEF Student Interest Group (SIGma) to plan fundraising events and encourage acts of service throughout the School.
Lily Smith Round Square Captain
124 ROUND SQUARE CAPTAIN REPORT
Moving into Term 1 and Term 2, the committee helped out with the International Women's Day panel and devoted considerable time to planning Round Square Week.
On the surface 'Round Square' might just seem like an impossible mathematical concept and whilst that might be true, at MLC School Round Square has become far more meaningful to not only the students who join the committee meetings each week, but also to the rest of the School community who stay involved through the activities we run. Round Square is an organisation where over 200 schools from over 50 countries share a commitment to experiential learning across six IDEALS –internationalism, intophilosophyleadershipenvironmentalism,democracy,adventure,andservice.Thisisembeddedvariousaspectsof school, through learning in the classroom to participating in immersion trips including Broken Hill and Chiang Mai, international conferences, student exchanges and through the activities that the Round Square Committee runs throughout the year.
The committee created inventive and unconventional activities, installations and performances that were targeted towards uniting our School community, especially after being isolated during quarantine. These activities involved an interactive string art installation spelling out 'The World We Wish to See', an interactive world heritage map, a wishing tree, dance performances and workshops, an international film screening, a cultural dress exhibit, a debate and panel, and we ended the week with 'The Round Square Fair' on Friday lunch.
Events like Christmas Cove, Round Square Week and the Round Square Fair would not at all be possible without the continued support and leadership as shown by the 2020 Round Square Committee, Mr Blake Fatouros, Ms Jenna Skepper and Mr Julian Kennard.
Towards the end of Term 4 we created a Christmas celebration called 'Christmas Cove'. This event united and strengthened our community by celebrating the holiday spirit through activities such as a Christmas rave, wishing tree, and holiday cards.
Notwithstanding the challenges of COVID-19, the committee adapted well and transitioned seamlessly to online meetings. Despite a few false starts, Round Square Week ended up running during Term 3 Week 1 in collaboration with Art and Design's Illuminate.
This year we were all faced with a series of challenges, and it is times like these that demonstrate the true resilience and tenacity of the Round Square students, who perceived these challenges as opportunities.
• Internationalism • D emocracy • Environmentalism • Adventure • L eadership • Service
Finally, I would like to congratulate our 2020 Round Square Captain Lily Smith (Year 12). Without her drive and passion in the face of what seemed like insurmountable challenges our 2020 Round Square Week would not have been the success it was and because of her the committee is a number of steps closer to their goal to move from 'doing Round Square to being Round Square'.
Mr Blake Fatouros Director of Co-Curricular Programs and Round Square Coordinator
We were able educate the School community about the Round Square organisation and we demonstrated this not only through the assembly but also through dance, debating, activities, music, food, fashion and sport. Throughout the week during lunch, we held dance performances that were inspired by the IDEALS, a salsa workshop, a mock debate and an international film. The Round Square committee contributing to MLC School's first live streamed assembly as well as our first inter-faith devotional assembly that was in the spirit of Internationalism. We had interactive installations that explored current issues from around the world which our girls are passionate about and wanted to advocate for. Every student had the opportunity to take time to contribute to a string art installation as well as acknowledge their heritage on an oversized world map, view a multicultural fashion exhibit and make a wish on the wishing tree. Along with all of this, we were able to see the true spirit of our MLC School community come alive at the Round Square Fair on Friday lunch. The Round Square Fair was created in order demonstrate to the School community how the Round Square IDEALS and philosophy is interwoven into everything SQUARE
A long running tradition at MLC School is the annual Round Square Week, which we were still able to run in 2020. The week comprised of many activities, interactive installations and performances all run by our Round Square Committee. Throughout the week we were selling the 2020 Round Square badges (for mufti on Friday) which supports Kidz Positive, a fund that cares for children and their families suffering from HIV/AIDS in South Africa.
125 we do at school. This event involved various clubs running stalls, live music, interactive activities, sport games, and of course, food!
2020 has been a strange year for our involvement in Round Square. Though the regular exchange program and international conferences were unable to take place our girls were still able to demonstrate their engagement with the Round Square Roundphilosophy.Square is an international network of 200 like-minded schools across 50 countries on six continents. Round Square is an educational organisation which provides numerous opportunities for its global schools to connect and collaborate as well as offering unrivalled world-class programs and experiences. The aim of the organisation is to develop global competence, character and confidence in young people. Round Square Schools have a shared understanding of the link between character education and academic success. Round Square Schools believe that in order to equip young people to be positive, active and engaged global citizens they must offer them more than academic knowledge and qualifications. The Round Square approach encourages students to explore, take action, grow, challenge and change the future through the lens of the six Spirits, which include:
ROUND
The Edge, or MLC School student newspaper, is an amazingly versatile club that went from strength to strength in this strange year. Unlike many other clubs, during COVID-19 times, The Edge was able to seamlessly transition to online forums. Team members explored pertinent personal, current or international issues relevant to a selection of Termthemes.1'sedition
126 THE EDGE
Up in Lights, was a slightly different celebration of Illuminate than was envisaged. Our journey through flexible learning led to the ever optimistic On the Bright Side in Term 2, followed by an exploration of various interpretations of Power in Term 3. The highlight of each Term is the Publish Party, a celebration of our hard work and (pre-packaged, COVID-safe) food.
Tiana Robinson Year 7 The Edge Representative
A survey of The Edge team revealed whilst most girls can identify significant improvements in their written communication or graphic design skills, a surprising benefit is developing friendships with a diverse group of girls from other Year groups, 'it's like I meet a new friend each Thisweek!'.year was fun, although we said goodbye to some longstanding members, we also welcomed some new ones. The Edge is to be rebranded the Journalism Society from 2021 and we look forward to welcoming new members, new ideas and new skills.
FIFTH ROW Sophie Beraldo, Sophie Reid, Nikki Juffermans, Sophie Ciesielski, Courtney Roberts, Sophie Walker, Jasmine Balfour, Eda Haller, Zoe Trpezanovski
COMMITTEEDARTCADETS
127 SENIOR SCHOOL PHOTOS
SECOND ROW Miss C Brewster, Anisha Sivagurunathan, Olivia Clowes, Eva Telemachou, Ashley Denton, Elizabeth Linardos, Sara Kie, Dina Saeed, Madison Clemens THIRD ROW Jaimie Kappas, Amelia Chan, Zoe Johnson, Sienna Dodd, Siena Cribb, Natalie Toomey, Aarathe Ramraj, Beatrice Drake, Katerina Delis FOURTH ROW Briar Campbell, Darani Gilchrist, Sarah Moller, Audrey Williams, Amelie Coman, Maddison Fisher, Tashjan Managreve, Nicole Hussein
FRONT ROW Julia Zarlenga, Sara Placanica, Madelyn Phu, Jorja Papantoniou, Paris Mitropoulos, Zahra Yassine, Anastazia Samad, Yianna Mitropoulos, Camille McLucas
FRONT ROW Zahli Harris, Zoe Churchill, Sahasra Bandi, Kristy Spyrakis, Olivia Clowes, Madison Clemens, Raeja Pashos, Yung-Hei Joanna Tsoi, Lara Varol, Emily Ward SECOND ROW Ms E Maling (Cadet Coordinator), Julia Gough, Charlotte McCrory, Zara Cathcart, Sarah-Bronte Andrikis, Lola Whittaker, Yijia Sang, Aadhya Dhanpal, Jacqueline Flett, Sofia Sarris, Sen Sen Xie THIRD ROW Zoe Howes, Laura Andrikis, Briar Campbell, Olivia Alden-Hallit, Kirsten McLelland, Molly North, Christyn Cordato, Sophie Wilson, Emma Christie FOURTH ROW Sophia Heyde, Abigail Latham, Claudine Talbot, Lilia Coman, Anneliese Sandy, Tara Gentle, Aria Swan, Charlize Hosking, Mia Gerbino
SECOND ROW Khushii Varma, Gloria Lim, Ruby Smith, Cherie Pepperell, Amelie Roediger, Laryssa Latt, Zoe Clark, Maya Simpson THIRD ROW Ashmini Ganesh, Haya Yahia, Vivian Law, Sarah Furlan, Samantha Brady, Paris Mitropoulos, Mikaela Nguyen, Doris Yang FOURTH ROW Mounica Akula, Grace Selim, Wisteria Hu, Tashjan Managreve, Vanessa Ryan, Airlie Cullen, Arya Sharma
FRONT ROW Elysse Diep, Lara Bazzi, Emma Sullivan, Alannah Christodoulou, Angelina Zhang, Zahra Yassine, Jordan Vo, Uma Singleton, Sara Placanica, Madhavi Chauhan, Anna Obaid, Sarina Nagra, Dina Saeed SECOND ROW Sophia Shaikh, Aiesha Sivaranjan, Madura Gaikaiwari, Sarinna Cai, Amreen Thind, Keiralyn Dao, Erica Chou, Sally Obaid, Anisha Sivagurunathan, Erin Muir, Chloe Ho-Shon, Annaliese Yan, Amaya Karunakaran, Georgie Roediger, Vishaalini Ravichandra THIRD ROW Taara Kotibhaskar, Anikah Sanan, Kathleen Chrun, Ashley Denton, Chloe Hui, Sanjana Natkunamanickam, Sarah Pearson, Wisteria Hu, Amelie Roediger, Cherie Pepperell, Amalia Labraga, Ella Baker, Nitya Nimalan, Moira Peach FOURTH ROW Mia Eker, Anika Cuganesan, Tina Papamanuel, Kayla Graham, Maya Simpson, Gracelyn Dao, Esther Kim, Soina Thind, Mariam Yassine, Samridhi Garg, Sanya Mehta, Sylie Bhat, Isabel McKeough, Jade Di Girolamo FIFTH ROW Danielle Dib, Jody Feng, Isabella Kristallis, Cara Britton, Annie Chen, Shivani Spencer, Amelia Cosmidis, Zara Poortvliet, Mikaela Nguyen, Hazel Sung, Sophia Bucci, Tiana Roins, Marah Tryphon SIXTH ROW Doris Yang, Mounica Akula, Evelyn Doan, Himani Gupta, Elise Nikolopoulos, Sophia Murphy, Claudia Bean, Eliza Crossley, Ariana Haghighi, Vivian Law, Nancy Faraj, Grace Selim, Cynthia Hu
FRONT ROW Angelina Zhang, Sarah Pickett, Sanya Mehta, Kate Cartwright, Lily Smith, Kayla Graham, Madison Clemens, Cara Britton, Emily Edwards
128
DEBATINGCOMMITTEESTUDENTSQUAREROUND SENIOR SCHOOL PHOTOS
HERENAMEHERENAME
129
MUSIC
It's no surprise that COVID-19 had an immense impact on the music students. Since music is something to be heard and performed, one can imagine how disheartening this was to the musicians in the community. Yet the response from the music community has and will continue to inspire me after high school.
I'm certainly not alone in expressing my gratitude towards the music community for providing me with a second home and constantly inspiring me to do what I love.
Whilst others will remember this year for its hardships, I will always associate this time with the positivity that the music community Wemaintained.startedthe academic year at the end of 2019 with a bang! MLC idol and the Music Gala Concert were brilliant events to say the least, especially since I could truly sense genuine passion and excitement from every single student. As 2020 rolled around, with the arrival of Mr Trevor Mee and the new Music committee, the year ahead seemed to be a fruitful one.
I believe that every student should be proud of what we've achieved this year, and I have complete faith that next year will only get better!
Zoe Hannam Music Captain
Despite being apart, so many musical projects were pulled together, and the most commendable part was that a majority of these projects were student-led. From video covers of popular music to string quartets being pulled together via technology, it was as if we never discontinued the live performances. A personal favourite moment was the online choir session, which Ms Emma Bourke described perfectly as a 'cacophony of sound'.
The last few months of the year witnessed a relaxation of COVID-19 restrictions, allowing the spirit of music to return to the MLC School community. Those Illuminate performances and especially Battle of the Bands genuinely captured the power of music in evoking joy and excitement, regardless of circumstance. Throughout the woes, not once did I notice a deterioration of passion for music from any of the students or staff. I cannot say I'm surprised, as ever since my arrival in 2011, the music community at MLC School has never failed to remain zealous in the face of adversity. The way that every single staff member and student accepted the gravity of the COVID-19 situation and chose to work around it should serve as a prime example of how to face life's challenges. The sheer optimism and positivity that every musician expressed isn't something easily found in the world, so I consider myself very fortunate to have been able to experience this firsthand.
132 MUSIC CAPTAIN REPORT
133
When it became obvious that co-curricular music, in particular choral singing, would be unable to continue, our department looked for opportunities to provide the most fulfilling experiences we could, given the limitations. We were able to offer a number of alternate ensemble experiences such as African drumming, Ukulele ensembles and School of Rock to keep the group musicmaking experience alive. I am proud of the team to think and adapt so quickly to the challenges we faced.
The COVID-19 virus affected our department in fundamental ways. Most noticeably by eliminating the opportunity to perform to an audience. Even the ability to rehearse was suspended for much of the year. MLC School staff, students and community all responded in a sterling manner and we finished the year in many ways as a stronger group than we started given the shared experience of hardship faced. It feels like our year started in blissful ignorance of the impending challenges with the annual Principal's Welcome Cocktail Evening. The Stage Band, under the guidance of Mr Richard Coward, did an outstanding job in providing atmosphere for this enjoyable evening. This performance opportunity takes place at the very beginning of the calendar year and I congratulate the girls on a great job on such short preparation.
The girls have responded to the new goal with the same enthusiasm they would for any major performance.
We also managed to keep several regular performances in the calendar, many were conducted by recording such as the Piano and Chamber Music Festivals. The annual Battle of the Bands and MLC Idol went ahead with adaptions in place. As I write, we are in preparation for all of our major cocurricular groups to record a virtual concert.
We then set our sights on the Lumiere Fantastique concert event which was to be a large-scale collaboration between Dance, Drama and Music. The build-up of excitement for such a sizable, inclusive and vibrant performance meant that its eventual cancellation was a bitter pill to swallow.
I extend my sincere thanks and congratulations to all Music staff and students on keeping co-curricular music alive despite the major hurdles put in our way!
"We were able to offer a number of alternate ensemble experiences to keep the group music making experience alive. I am proud of the team to think and adapt so quickly to the challenges we faced"
MUSIC
134
One performance highlight of the year was the participation by MLC School students in Strike a Chord Competition. This inaugural Chamber Music Competition for Secondary school students was run by Musica Viva – Australia's leading Chamber Music organisation and involved student musicians from around Australia. Our groups achieved a number of prizes; the MLC School Senior Piano Trio received a First Round Keyboard Prize. There was also an excellent performance by the MLC School Senior Piano Quartet of a newly commissioned work by our Head of Composition, Mr Tristan Coehlo and a performance by the MLC School Senior Piano Trio was also featured by Musica Viva on their website. Other MLC School ensembles included the MLC School Senior String Quartet, The Milhaud Trio, MLC School Senior Piano Quartet, the Trio of Bs and the Bach at the Double Trio all received a Bronze Award.
Mr Trevor Mee Director of Music
135
Francesca
Ingrid
Emma
SECOND
Surabhi
FRONT ROW Miranda Lin, Girgis, Pashos, Yu, Leong, Hu, Blanco, Henderson, Ming, Lu, ROW Farah, Rose Salim, Dolenac, Keo, Sugianto
Imogen
Surabhi Parab, Emma
Anastasia Countouris, Lexie
Jocelyn
Angelyn
Anakha
Rachael
Jade
Niamh Canadas SECOND
Vita
Janani Kanthathas
Sophia
Janice
Chloe Lu, Liana Wai, Rose Lin, Niamh Johnson, Luella
HERENAMEHERENAME 136 ANGELIVOCEBELLA MUSIC JUNIOR SCHOOL
Taylor
Amara
Ingrid
Frances
Rachael
GiGi Guan, Carina Chu, Aashi Shah, Emma
FRONT ROW Yao, Xiang, Nalliah, Masters, Gohil, Ming, Canadas, Xie, Sivagurunathan ROW Bellew, Longcroft, Parab, Bush, Rose Koeswandy, Henderson,
Koeswandy, Eleanor Longcroft THIRD ROW Cheylene Leung, Aaliya
Meena Kanthathas, Angelina Xu, Chloe Miller, Yolanda
Ilaria
Elly
Indigo Hannah, Stephanie
Madeleine
Niamh
Eleanor
FRONT ROW Shiloh Gao, Hui (Elina) Yu, Chelsey Gao, Yunzhuo Gao, Helen Liu, Frances Xie, Dora Cai, Niamh Canadas, Angelyn Xiang, Alicia Suen, Queeny Guan, Freda Xie, Lavinia Xu, Eloise Wong SECOND ROW Elana Chrun, Chloe Price, Miranda Lin, Taylor Lu, Bethany Haddad, Jenny Lin, Chloe Lu, Janani Kanthathas, Jiarui Song, Elizabeth Ravens, Vita Gohil, Madeleine Girgis, Chloe Zheng, Olive Simmons, Elissa Chami
137 ORCHESTRAJAZZJUNIORANDBANDCONCERTINTERMEDIATE
THIRD ROW Mia Coady, Ingrid Henderson, Stephanie Phong, Imogen Wong, Avery Koh, Janice Leong, Maggie Ma, Sophia Hu, Violet Le, Rima Zhang, Sophie Connolly, Alisha Ji-Lee, Megan Ouyang FOURTH ROW Megan Kuit, Emma Rose Koeswandy, Rose Lin, Jodhi Bou, Alisha Dhaliwal, Katherine Woo, Sophie Ye, Emma Sugianto, Carina Chu, Isabelle Forster, Ada Savage, Leela Das FIFTH ROW Aaliya Salim, GiGi Guan, Leeanne Wu, Chelsea Chen, Meena Kanthathas, Yolanda Dolenac, Imogen Bush, Stephanie Keo, Chloe Lay, Cheylene Leung, Niamh Johnson, Elly Yu, Mikayla Woon FRONT ROW Ethelia Cassar, Kushla McCaul, Angelina Huang, Claudia Beattie, Jacqueline Wang, Emily Leung, Eva Zhong, Rithika Vinoth SECOND ROW Rachael Ming, Nectaria Constanti, Stella Wallace, Georgina Rowles, Indigo Hannah, Sacha Jeyasingam, Ophelia Li, Regina Ding THIRD ROW Gauri Nathan, Angelina Xu, Yolanda Dolenac, Chloe Miller, Anna Obaid, Hazel Gohil, Rebecca Ho-Bui
138 CHOIRCHAMBERMUSICCHAMBER
FRONT ROW Justine Zhang, Hannah Kang, Nichole Wang, Fiona Feng, Laryssa Latt, Jade Di Girolamo, Daisy Li, Abigail Bush, Christine Jin, Tasha Wong
SECOND ROW Ms Ying Ho, Anikah Sanan, Georgie Roediger, Amelie Roediger, Cherie Pepperell, Jessica Kim, Chloe Arnold, Julia Lok, Dr J Drimatis THIRD ROW Jessica Song, Karen Chung, Sophie Wilson, Coco Huang, Sarah Pearson, Jessie Tang, Halle Yang, Anica Shen, Isabelle Lin FOURTH ROW Jacqueline Flett, Ruby Scott-Wishart, Amber Johnstone, Eloise Riviere, Emma Juffermans, Wisteria Hu, Maya Felice, Jess MacMaster
FRONT ROW Evie Papamanuel, Erica Chou, Amelie Roediger, Liesel Kidley, Maya Lecuna, Anikah Sanan, Sienna Marriott, Madhavi Chauhan
SECOND ROW Ms K Roberts, Dalia Alsaad, Alexandra Varvarigos, Esther Tonkinwise, Jenny Wu, Georgie Roediger, Ruby Newton, Seetha Nathan THIRD ROW Emma Corcoran, Chelsea Hunt, Trinity Elghitany, Diane Wang, Ellery Joyce, Tianka Parapuram, Isabelle Lin FOURTH ROW Sophia Heyde, Anica Shen, Claudia Padman, Natalie Wong, Zoe Hannam, Sofia Carey
MUSIC SENIOR SCHOOL
HERENAMEHERENAME
139
FRONT ROW Tasha Wong, Christine Jin, Hannah Kang, Isabelle Lin, Daisy Li, Nichole Wang, Fiona Feng, Justine Zhang SECOND ROW Dr J Drimatis, Jade Di Girolamo, Cherie Pepperell, Halle Yang, Angie Xu, Laryssa Latt, Kirsten Dao, Paris Chen, Mr T Mee THIRD ROW Jessica Song, Sophia Wang, Coco Huang, Ruby Scott-Wishart, Eloise Riviere, Ria Kapoor, Jessie Tang, Anica Shen
ORCHESTRACHAMBERCHOIR
THIRD ROW Ilaria Korompay, Moira Peach, Victoria Grammenos, Amelie Roediger, Georgie Roediger, Audrey Nguyen, Ayla Varol, Natalia Hollands, Bella Upcroft, Savannah Phengsavath, Julia Gough, Chloe Hui, Ruby Newton FOURTH ROW Simone Maddison, Ellery Joyce, Emma Corcoran, Aarathe Ramraj, Chelsea Hunt, Sabine Saad, Esther Tonkinwise, Meera Rawal, Sarah-Bronte Andrikis, Ria Kapoor, Evelyn Doan, Cynthia Hu, Isabelle Lin FIFTH ROW Jenny Wu, Mounica Akula, Anica Shen, Jacqueline Flett, Katie Sutherland, Trinity Elghitany, Zoe Likely, Hannah Chessell, Christyn Cordato, Sofia Carey, Ishwary Ramjeevan, Diane Wang, Isabella Chapman SIXTH ROW Zoe Hannam, Grace Selim, Himani Gupta, Sophia Sefein, Claudia Padman, Imogen Johnstone, Kerry Fu, Taotao Jiang, Natalie Wong, Sally Obaid, Sophia Heyde, Arya Sharma
FRONT ROW Ava Roins, Abigail Bush, Madhavi Chauhan, Hannah Kang, Dalia Alsaad, Joyce Mai, Vivian Qin, Erica Chou, Annabel Twomey, Felicia Hannah, Evie Papamanuel, Tulasi Kanani SECOND ROW Mrs E Bourke, Seetha Nathan, Sienna Marriott, Ananya Wakhare, Sanya Mehta, Maya Lecuna, Liesel Kidley, Alexandra Varvarigos, Anikah Sanan, Soina Thind, Nitya Nimalan, Vishaalini Ravichandra, Ms K Roberts
SECOND
BANDCONCERTCOMBOJAZZ MUSIC SENIOR SCHOOL
140
FRONT ROW Annabelle La, Vishaalini Ravichandra, Kali Springford, Claire Liu, Chloe Arnold, Aileen Leong, Sienna Marriott, Anika Springford, Eloise Ward ROW Mr R Coward, Sameera Khatri, Seetha Nathan, Georgie Roediger, Chelsea Hunt, Martine Zeilinga, Megan Ebel, Amaya Karunakaran, Mrs E Gilberthorpe ROW Elizabeth Wilkie, Marirose Giann, Zara Kilborn, Sally Obaid, Caitlin Zeilinga, Tessa Tomkins, Dolenac, Zoe Likely, Kaitlyn Hoang
Mr R Coward, Amelie Roediger, Maya Felice, Ellena Hartzenberg, Jacqueline Flett, Maya Lecuna
THIRD
HERENAMEHERENAME
Ivana
ENSEMBLEJAZZSINFONIA
FRONT ROW Anika Springford, Vishaalini Ravichandra, Chloe Arnold, Megan Ebel, Maya Lecuna, Kali Springford, Sameera Khatri SECOND ROW Mr R Coward, Georgie Roediger, Sally Obaid, Ivana Dolenac, Marirose Giann, Seetha Nathan
141
FRONT ROW Rebecca Gao, Julinar Alshehabi, Mia Johnston, Tika MacMaster, Valerie Tran, Elysse Diep, Olivia Sun-Ryan SECOND ROW Dr J Drimatis, Annaliese Yan, Sarinna Cai, Angelique Houltham, Dalia Alsaad, Abigail Bush, Jossie Liu, Mr B Haire THIRD ROW Kathleen Chrun, Amy Lee, Liesel Kidley, Suyi Yin, Chloe Hui, Angela Lai, Grace Farrow
THIRD ROW Anika Lammers, Dionne Alaveras, Emily Ryner, Jacqueline Flett, Katie Sutherland, Maya Felice, Morgan Kelaher, Arya Sharma, Emma Christie FOURTH ROW Emma Mahant, Elsa Tonkinwise, Zoe Johnson, Olivia Winlaw, Helena Lu, Ellena Hartzenberg, Emma Juffermans, Nikki Juffermans
HERENAMEHERENAME
142
FRONT ROW Jade Park, Liesel Kidley, Amelie Roediger, Natalie Cavallaro, Charlotte McCrory, Tianka Parapuram, Madeleine Lewis, Ashmini Ganesh, Meera Rawal, Amy Zhao SECOND ROW Mr R Coward, Natalia Hollands, Ella Tomkins, Zoe Berg, Chanel Boudib, Isabel Leung, Jessica Kim, Sammy Cavanagh, Sanya Mehta, Tina Papamanuel
FRONT ROW Amy Zhao, Ella Tomkins, Natalie Cavallaro, Madeleine Lewis, Maya Lecuna, Ashmini Ganesh, Charlotte McCrory, Sanya Mehta, Jade Park
SECOND ROW Mr R Coward, Dionne Alaveras, Isabel Leung, Veronikah McClelland, Jacqueline Flett, Zoe Hannam, Arya Sharma, Amelie Roediger
BANDSTAGEBANDWINDSYMPHONIC MUSIC SENIOR SCHOOL
THIRD ROW Morgan Kelaher, Katie Sutherland, Briana Chapman, Zoe I Johnston, Ellena Hartzenberg, Emma Juffermans, Maya Felice, Nikki Juffermans
143
ORCHESTRASYMPHONY1TAIKO
FRONT ROW Abigail Bush, Kirsten McLelland, Emma Guermanoff, Tascha Ireland, Zaz Tiglao, Khushii Varma SECOND ROW Jocelyn Ting, Selina Pang, Le Yan Gui, Georgia Terzis, Janelle Jiao
FRONT ROW Tasha Wong, Christine Jin, Maya Lecuna, Claire Liu, Chloe Arnold, Kirsten Dao, Desiray La, Julia Lok, Jade Park, Hannah Kang, Nichole Wang, Justine Zhang SECOND ROW Dr J Drimatis, Paris Chen, Tina Papamanuel, Jade Di Girolamo, Harriet Gohil, Georgie Roediger, Anikah Sanan, Fiona Feng, Laryssa Latt, Sanya Mehta, Ella Tomkins, Tarindhi Fernando, Mr T Mee THIRD ROW Cherie Pepperell, Cynthia Hu, Ria Kapoor, Jessica Kim, Haya Yahia, Isabelle Lin, Mia Grasso-Nguyen, Isabel Leung, Chanel Boudib, Dionne Alaveras, Jessica Song, Amy Zhao FOURTH ROW Amelia Chan, Christyn Cordato, Karen Chung, Halle Yang, Angie Xu, Emily Ryner, Arya Sharma, Anica Shen, Coco Huang, Sophia Wang, Jessie Tang, Sarah Pearson FIFTH ROW Sabine Saad, Ruby Scott-Wishart, Ellena Hartzenberg, Amber Johnstone, Mia Burjan, Sen Sen Xie, Eloise Riviere, Olivia Winlaw, Helena Lu, Elsa Tonkinwise, Emma Mahant, Jess MacMaster
FRONT ROW Amelie Roediger, Halle Yang, Anica Shen, Karen Chung, Jessica Song, Cherie Pepperell, Jessica Kim SECOND ROW Ms Y Ho, Eloise Riviere, Emma Juffermans, Jess MacMaster, Maya Felice, Dr J Drimatis
HERENAME 144
CHAMBERIN12YEAR2TAIKO MUSIC SENIOR SCHOOL
SECOND ROW Zoe Howes, Olivia Bersais, Eloise Riviere, Tessa Tomkins ABSENT Zara Luong
FRONT ROW Ella Tomkins, Lauren Huynh, Veronikah McClelland, Maria Antonia Costantino
145
ARTSPERFORMING
Meghana Gopalan Dance, Drama and Entertainment (DDE) Captain
CAPTAINENTERTAINMENTAND(DDE) REPORT
148 DANCE, DRAMA
Dance, Drama and Entertainment (DDE) in 2020 has continued to splendidly showcase talent within the performing arts. Although the year of 2020 has delivered the unexpected event of the Coronavirus pandemic, DDE has risen above the occasion and continued to radiate our spirits throughout the School Atenvironment.thebeginning of 2020, DDE was able to show support to the extended community beyond MLC School walls, in particular, the Australian Theatre for Young People Scholarship Program. We were able to show support through the events of our Annual DDE Talent Show, where students were able to exhibit their talents to the School community and embrace the spotlight, daring to be more.
Continuing on, 2020 was certainly a year of firsts, including the first Interhouse Just Dance Competition. Through this, DDE challenged the student body and teachers to embrace the true meaning of being a risk taker. The DDE Committee successfully brought a sense of community together and managed to spread fun and excitement. As a leader, I learnt that you need a team of dedicated members. This year, I've had the privilege of working with hard-working members in DDE committee who have exceeded the expectations of commitment and dedication, under the remarkable guidance of drama teacher, Ms Samantha ThisAbrahim.year in DDE we also commend the efforts and highlighted how students were able to develop and flourish through performing arts. Dance at MLC School continues to be elevated in the classroom through the wholehearted teaching and learning under dance teachers Ms Kate Drady, Ms Jenna Skepper and Mr Blake Fatouros. In addition, the heightened experience of Drama under the phenomenal teachers including Ms Lisa Jinga, Mr Julian Kennard, Ms Samantha Abrahim and Ms Bianca Argyrous. Whilst behind the scenes of all action on stage, the students part of the scope in Entertainment continue to work hard with the prodigious assistance from technician teacher, Ms Bojana Kvrgic.
Although DDE had its challenges this year, it has been an honour and privilege to hold the position as the DDE Captain for 2020. I have cherished many memories, relationships and life-long lessons that I'm grateful to take along with me, in my life after MLC School. However, I'm ecstatic to see what's in store next for DDE to come, under the bubbly, kind-hearted and committed leadership of next year's DDE Captain, Montana Cominos.
DANCE
MLC School dance kickstarted with a bang in 2020, with new and returning students stepping into the dance studios, early in Term 1. For students registered for the Year 7 to Year 12 program, dance rehearsals filled their final days of summer holidays, and they worked as a team in anticipation for the very first collaborative performance spectacular, Lumiere Fantastique. This collaboration between Dance, Drama, Music and Entertainment curricular and co-curricular programs, aimed to create a community event that showcased the talent of MLC School's performing arts students. Rehearsals were long with dance items a-plenty, and our students worked diligently as a cohesive team to pull together mass items of 150+ dancers performing intricate movement in absolute synchronicity. With the Hollywood theme of A Night of Nights, our students were ready to dazzle large audiences at Sydney Olympic Park's Quay MarchCentre.23, 2020, lockdown. As the COVID-19 global pandemic hit Australia, performances for our dedicated dancers were sadly cancelled, with students learning from home via flexible learning for all of their academic studies. The dance program adapted to this unprecedented scenario, producing online dance lessons via our learning platform Stream. With over 560 participants taking advantage of these at-home tutorials, these statistics attest to our dancers' tenacious mindsets and love of their artform.
149
Once back onsite and with restrictions for physical group activities eased, our dancers returned to the studio, working in key stage groups to continue their training. Moving from a performance-based approach, students spent their remaining time in the studios developing their love and understanding of their elected genres, returning their bodies to peak physical state and developing both their technique and body skills. Our dancers have never been stronger. The resilience demonstrated this year by all of our students from Pre-Kindergarten through to Year 12, is beyond extraordinary, displaying unwavering persistence and dedication to dance. This is most evident in the attitudes and commitment shown by our Year 12 Demonstrationstudents.of outstanding commitment and leadership is valued in the co-curricular dance program. As such, these qualities are acknowledged within our Year 12 cohort via the attainment of a gold dance pocket. This year the gold Dance 2020 pocket was awarded to six of our longstanding members of the dance team, some of whom have been dancing in the co-curricular dance program from their Junior School years. I would like to take this moment to acknowledge Gabrielle Cadena, Sofia Costa, Daphne Doumanis, Annaliese Konidaris, Paris Mitropolous and Audrey Williams for their contributions to MLC School dance, and wish them all the very best for their future beyond the school walls. That wraps up another year for dance, thank you to the parents and students for their ongoing commitment to the program, and to the co-curricular dance staff for their endless enthusiasm and talent that inspire our students. We look forward to having everybody back together in 2021.
Ms Jenna Skepper Dance Coordinator
150
ACTING AND COMMUNICATION ACADEMY (ACA)
2020 gave us first-hand experience at how drama helps us develop skills for life, especially resilience. The ability to adapt, change and be spontaneous while managing nerves are all drama skills and are the fundamental skills needed to survive and thrive in 2020. Our students certainly embraced these challenges. In Term 1, our students studied poetry speaking and performance with this work transitioning to online performance skills in Term 2. Our poetic journey was vast and varied this year covering everything from ancient tales, romantic, shape poems and modern slam poetry. Holiday programs provided much needed COVID-19 relief and a daily opportunity for students to engage with other students and share their creativity with topics like 'Creating Villians and Heroes'. Students learnt about the elements of story, character and had fun showing their costumes to boot. The online sessions provided a welcome break for parents and connection time for students. In Term 3, as we tentatively returned to face-to-face, we were unsure if it would last with some students preferring to maintain distance and continued with online lessons. Flexibility has been the name of the game this year. Our speech and drama teaching diploma students enjoyed the opportunity to undertake their observations and sit in on a much wider variety of Zoom sessions than they ordinarily could cover in person.
Some masterclasses were successfully delivered online: Shakespeare online with Chris Tomkinson and American accents with professional movie dialect coach Rebekah O'Sullivan. Once we were able to have small groups again, we met in person privileged to have Ally Rigby present the latest acting techniques in viewpoints and Suzuki and share and inspire about her global online theatre company.
Ms Kayte Borg Director, Acting and Communication Academy
In Term 4 our classes remained small so participants could distance in the spaces available which made it possible to have highly tailored classes. Exams were delivered in a filmed format and the learnings continued. What a great year of drawing on all our resources and applying creativity to make it happen. We look forward to 2021 and continuing to grow.
Presenting to camera, which was once an optional course at ACA, became core content this year! No one could say 2020 has not been challenging on many levels, but it was a year where our students and tutors managed to adapt and achieve. Our students still entered Eisteddfods, performed virtually and submitted exams on film. New skills and resilience were the hallmarks of 2020 at ACA. In 2020, we managed to pivot and extend our online teaching skills through Zoom and offer online as well as face-to-face and a hybrid mode of teaching delivery. We also launched a full online video-based course for those who were finding scheduling lesson times and coordinating busy schedules difficult.
THE SPEECH
In Term 1, 180 speech and drama students who participated in the ASCA and Trinity College of London examinations were presented with certificates for their outstanding results, achieving a Distinction average. We were thrilled to announce that six Speech and Drama Studio students were awarded the prestigious ASCA medals for their outstanding performances in their exam at the end of last year. Award winners included Mia Coady (Year 5), Aashi Shah (Year 5), Aaliya Salim (Year 5), Avery Koh (Year 5), Joanna Yung Hei Tsoi (Year 10) and Noelle Davis (Year 12).
2020 has been an eventful year for the Speech and Drama Studio. Students have excelled in Australian Speech Communication Association (ASCA) and Trinity exams, Eisteddfods, Association of Heads of Independent Girls' Schools (AHIGS) Festival of Speech, holiday productions and online holiday programs. Students embraced the transition to online learning during Term 2, welcoming challenges and gaining new skills.
Mrs Monica Brian Director, The Speech and Drama Studio AND DRAMA STUDIO
151
We are so proud of our Speech and Drama students for their enthusiasm in transitioning to online lessons in Term 2. Students embraced this unexpected opportunity and we saw an enormous growth in confidence, increased communication skills, greater listening skills, focus and engagement. As we move into a digital future the skills gained through our online lessons are extremely Sixty-sevenvaluable.students represented MLC School across 80 sections at the Inner West Eisteddfod. A number of students submitted video entries in the Sydney Eisteddfod Stage at Home and the Sydney Eisteddfod Crowd Favourites International Competition and competed in the AHIGS virtual Festival of Speech. Twenty-two Junior School students performed in the Speech and Drama Studio's January holiday production, The Great Pet Escape, assisted by a talented production team made up of senior students. The Speech and Drama Studio held a range of exciting online holiday programs including group workshops and private coaching throughout the year. In Term 4, 32 students participated in Trinity College of London digital examinations in Speech and Drama, Performing Arts, Communication Skills and Acting. One hundred and forty students participated in the ASCA exams in performance and communication skills. We are so proud of each and every one of our students for their enthusiasm and commitment throughout 2020. We look forward to another successful year in 2021.
FRONT ROW Natasha McGuire, Madeleine Wong, Ayla Sumantri, Chloe Robic, Marie Kristallis, Shuyuan Sui, Nikoda May, Emi Liu, Xiaoni (Nina) Bai, Caitlyn Wong, Anouk Thorley, Tara Kuhan, Sammi Liang, Amelia Stillone, Emily Wong SECOND ROW Olivia Cheng, Zoe Baker, Leonie Nguyen, Vivienne Woon, Aerin Kim, Zoe Fotoulis, Manjima Dutta-Gupta, Sienna Dib, Poppy Frederick, Amelia Ko, Sienna Nguyen, Charlotte Lim THIRD ROW Genevieve Nguyen, Avery Satchcroft, Anushkaa Thadani, Kyrani Countouris, Amelia Lee, Elissa Chami, Lara Byrnes, Eloise Dastyari, Alev Brennan, Chloe Huang, Shantelle Nguyen, Victoria Wai FOURTH ROW Miranda Ho, Grace Liang, Kiara Assassa, Elana Chrun, Hayley Trinh, Sophia Correia, Ashwini Kanesalingam, Yasmin Maidment, Yue (Jeselle) Jiao, Angelina Galilee, Moyi Chen Chelsea Keomanivong, Ellie Ni, Madelyn Phu, Sara Placanica, Chloe Lay, Regina Ding, Jocelyn Yao
HERENAMEHERENAME
152
PERFORMING ARTS CONDITIONINGANDTECHNIQUEBALLETJUNIORDANCECO-CURRICULAR2YEARTOKINDERGARTEN
SIXTH ROW Zoe Johnson, Sophie Ciesielski, Georgia BeretovMillar, Isabella Collins, Nia Richards, India Makovec, Vienna Durie, Tara Gentle, Vanessa Ryan, Lilia Coman, Alice Kreis, Christyn Cordato, Rania Malibari, Alexandra Lasovski
FRONT ROW Sarina Nagra, Kristina Bitar, Ellie Girard, Erin Clowes, Sofia Costa, Audrey Williams, Maddison Fisher, Gabrielle Cadena, SeraphimaTebbutt, Riya Chib, Aiesha Sivaranjan, Minh Thu Mai SECOND ROW Ms J Skepper, Sarah Carmody, Jessica Johnson, Angelina Le, Aleeza Asif, Jasmine Stavros, Yianna Mitropoulos, Paris Mitropoulos, Daphne Doumanis, Sofia Jury, Jasmine Wolfe, Isabella Zhao, Sameera Khatri, Amaya Karunakaran, Christy Luo, Ms K Drady THIRD ROW Freya Patterson, Anna Sulan, Rachel Kardasis, Zoe Churchill, Cleo Clark, Emily Edwards, Megan Ebel, Sasha Kovarik, Dalia Alsaad, Te'jhaan Altiok-Brown, Liliana Hollands, Ilaria Korompay, Jorja Papantoniou, Jennisa Ha FOURTH ROW Chantel Nguyen, Zahra Yassine, Amreen Thind, Madison Clemens, Cameran Warner, Olivia Clowes, Ava Dean, Elsa Pickering, Sarah-Bronte Andrikis, Tori Charalambous, Raeja Pashos, Sophia Malas, Jane So, Maya Simpson, Aleezah Stavrou FIFTH ROW Halle Hiss, Amisha Khatri, Sophia Hendriks, Sienna Barrett, Samantha Brady, Lily Kim, Hannah Banks, Sarah Pickett, Grace Williams, Ella Walters, Anna Devlin, Tara Mulholland, Harriet Gohil, Isabella Kristallis
153
DANCECO-CURRICULAR
FRONT ROW Jasmine Chib, Arabella Kuo, Anastasia Countouris, Jaya Mehta, Alisha Ji-Lee, Lexie Bellew, Vita Gohil, Hannah North, Jenny Lin, Anakha Nalliah, Cailise Campbell, Aleeya Sharma, Amara Sivagurunathan, Hannah Dastyari SECOND ROW Chloe Price, Olivia Burke, Katie Goldring, Kushla McCaul, Ilaria Blanco, Megan Kuit, Avnika Kandala, Anna Poortvliet, Elyse Vivash, Sophia Antipas, Liesl Wong, Rima Zhang, Tilly Ackland, Stella Inthavong, Madeleine Girgis
HERENAME 154 CREWHOPHIPJUNIOR
THIRD ROW Julia Saad, Lola Jablonski, Alyssa Corbett, Ava Roins, Alisha Dhaliwal, Evelyn Gogos, Emma Sullivan, Sacha Jeyasingam, Indigo Hannah, Katherine Woo, Matilda Dugan, Luella Farah, Jasmin Srisathkurunathan, Regina Ding FOURTH ROW Avery Dauphinee, Zoe Andrews, Lulu Habibullah, Angelina Xu, Eve Ireland, Allegra Carlini, Kiara Elghitany, Chloe Messih, Sara Placanica, Hazel Gohil, Isabella Correia, Madelyn Phu, Aryana Sah FIFTH ROW Gurnaaz Kahlon, Lam Nguyen, Hannah French, ZeYan Wong, Anisha Sivagurunathan, Haegan Sitou, Amalia Labraga, Ashley Denton, Ava Saad, Grace Farrow, Markella Krekacs, Isabel Garner, Lily Clemens
FRONT ROW Chloe Price, Jenny Lin, Hannah North, Ilaria Blanco, Zoe Andrews, Avnika Kandala, Tilly Ackland, Vita Gohil, Alisha Ji-Lee, Jasmine Chib SECOND ROW Eve Ireland, Allegra Carlini, Isabel Garner, Anisha Sivagurunathan, Amalia Labraga, Markella Krekacs, Kiara Elghitany, Hazel Gohil, Isabella Correia
CONTEMPORARYANDJAZZ–ENSEMBLESDANCEJUNIOR PERFORMING ARTS
155 DRAMAANDSPEECHPRE-KINDERGARTENPOMJUNIOR Natasha McGuire, Emily Wong, Aleemah Trad, Emi Liu, Marina Chen, Shuyuan Sui, Sonia Chung FRONT ROW Aleeya Sharma, Chloe Tiong, Layla Abdelrahim, Hannah North, Liesl Wong, Lexie Bellew, Jaya Mehta, Jocelyn Yao, Eva Rocca, Jasmine Chib SECOND ROW Zoe Brown, Ava Roins, Isabella Correia, Kiara Elghitany, Amalia Labraga, Allegra Carlini, Hazel Gohil, Matilda Dugan, Ava Brown
PERFORMING ARTS
FRONT ROW Genevieve Nguyen, Chloe Huang, Kexin (Kathy) Zhang, Mia Jin, Hannah Girgis, Daisy Han, Jolyn Nassif, Yue (Jesselle) Jiao, Irene Chau, Poppy Frederick SECOND ROW Olivia Smith, Averie Ling, Kyrani Countouris, Catherine Coorey, Elana Chrun, Camellia Yao, Mia Li, Victoria Wai, Sienna Dib THIRD ROW Bailey Tong, Joyce Guan, Tara Siddarth, Molly Mckenzie, Georgia Sioutas, Lily Sugianto, Eve Hutchison, Grace Liang
FRONT ROW Amanda Zhang, Sienna Nguyen, Isabella Rocca, Avianna Tanios, Leonie Nguyen SECOND ROW Eloise Qiu, Yuxin (Dora) Weng, Amelia Lee, Leanna Shen
HERENAMEHERENAME 156 DRAMAANDSPEECHKINDERGARTENDRAMAANDSPEECH1YEAR
Amara
THIRD
Claire
Aurora Sharma, Bethany
157 DRAMAANDSPEECH2YEARDRAMAANDSPEECH3YEAR
FRONT ROW Faith Huynh, Xu, Gao, Kanesalingam, Angela Thorn, Sophia Hall, Yao, Kim SECOND ROW Adora Sanan, Alicia Suen, Le, Helen Volikas, Liang ROW Selina Karam, Bigolin, Cai ROW Eloise Zraika, Chib, (Rosanna) ROW Sivagurunathan, Mehta, Haddad, Stewart, Gill ROW Kaitlyn Yang, Kanthathas, Das,
Wong, Arabella Kuo, Olive Simmons, Ella
Lavinia
Zara
Anastasia Countouris, Francesca Masters, Anny Xie
Chloe Price, Yan
Shan, Arianna Xu, Mariette
THIRD
Ella
Ashwini
Liu, Magdalena
Zoe Zlamal, Maggie Ma, Dora
Aerin
Jasmine
Leela
Xu, Christa Jeyasingam, Abira
Aleeya Sharma, Jaya
Janani
Tsoi SECOND
Raquel
Gaia
Joanna
Frida
FRONT
SECOND ROW Madeleine Girgis, Boulton, McGuire, Wang, Huang, Rima Zhang, Ravens
Katie
Jiarui
THIRD ROW Liesl Wong, Alisha Dhaliwal, Woo, Sugianto, Guan, Akers
Jacqueline
Angelina
Chen, Meena Kanthathas, Chloe Miller, Alice You, Qianyu
Violet Le SECOND
Adelaide
Cao, Angelina
Tina
Elizabeth
FRONT ROW Miranda Lin, Siluk, Song, Goldring, Ming, Taylor Lu, Christina Messih, Canadas
Jodhi
Sophia
Audrey
Niamh Johnson, Sophie Ye, Luella
Mia
Rose
Sacha Jeyasingam, Naoise
Alana
Charla
HERENAMEHERENAME 158 DRAMAANDSPEECH4YEARDRAMAANDSPEECH5YEAR
Mia
Pip
Jessica Pan, Emma
Baylie Shen, Charlotte Latham, Aashi
THIRD
Angelina
FRONT ROW Imogen Wong, Hu, Wai, Kandala, Lin, Bou, Rice, Leong, Coady, ROW Lucia Barrington-Higgs, Farah, Salim, Howard, Shah ROW Chelsea (Olinda) Mijakovac, Xu, Lynn-Black
Janice
Rachael
Katherine
Liana
PERFORMING ARTS
Avnika
Niamh
Aaliya
159
FRONT ROW Meghana Gopalan, Lilly Dummett, Isabella Collins, Tara Mulholland, Harriet Clark, Annabelle Bailey, Georgia Beretov-Millar, Mariam Yassine
SECOND ROW Charlotte Priebbenow, Sameera Khatri, Mahi Shah, Jenna Wright, Arabella Zeederberg, Zara Dhawan, Nitya Nimalan, Phoebe Rizoski
THIRD ROW Emily Ward, Riley Chantler, Ilaria Korompay, Amisha Khatri, Anika Cuganesan, Sanjana Natkunamanickam, Christina Coffey, Meera Rawal
DRAMAYEARSMIDDLE
FOURTH ROW Hannah Chessell, Kate Cvetkovski, Taotao Jiang, Lucy Dickson, Gisela Labraga, Samantha Brady, Marirose Giann
THIRD ROW Sofia Cvetkovski, Marirose Giann, Savannah Hazlewood, Gisela Labraga, Ivana Dolenac, Kate Cvetkovski, Imogen Langella
THEATRESPORTS
SECOND ROW Ms S Abrahim, Uma Singleton, Layla Hamdan, Emily Ward, Phoebe Rizoski, Olivia Cassell, Eloise Ward
FRONT ROW Sarina Nagra, Lucinda Hutchins, Kristina Bitar, Amelia Norton, Zahra Yassine, Sophia Shaikh, Madhavi Chauhan, Sarah Carmody, Madeline Haller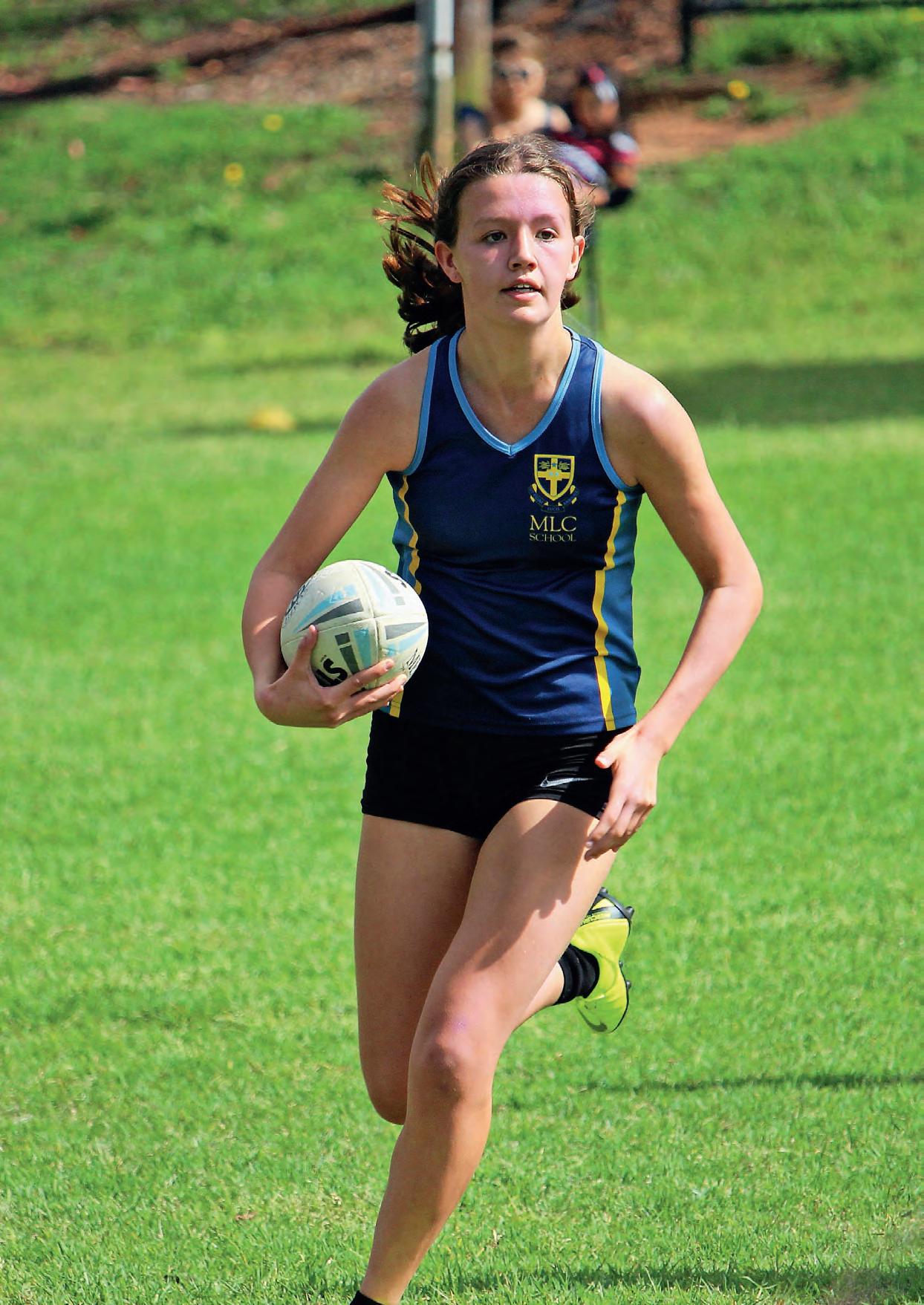 SPORTS
At the beginning, this was quite hard. Sport for me had been focused on physical competition and team training, which were now both off the table. So, we tried getting creative. This led to various Zoom calls, online student challenges, pre-made workouts and a big twist on the annual MLC School Athletics Carnival. We created MLC School's first (and hopefully last) COVID Cup, which Abbeythorpe won by one point. It involved just Year 12 students, participating in a range of normal athletics carnival events (high jump, shot put, relays) ; however, it was done on the Hockey Field at MLC School. This allowed for our Year 12 girls to enjoy their last school Athletics Carnival while still earning some House points! Some sports were lucky enough to continue with competition. While there are too many achievements to mention, we're proud of all our MLC School athletes. Some highlights of these competitions were:
• Schoolgirls 1st coxed quad scull won at IGSSA – Ella Woolbank (Year 12), Samantha Naayen (Year 12), Lily Smith (Year 12), Jasmin Fitch (Year 11)
I would like to thanks these staff and students, who have made the strong MLC School sporting community we have Finally,today.one thing I have learnt this year is how flexible and resilient our community is. Of course, I hope next year is not as disorganised and confusing as this year was but I also believe this year was the change some of us needed. I'm sure MLC School will continue to grow and adapt to the times, so while this year has been an adventurous one (not physically), I'm grateful for the opportunity to have been a part of the MLC School 2020 cohort and to have led our sporting community.
While this year wasn't what we expected, it offered an opportunity for the Sports Committee, the Sports department and myself to think outside of the box and come up with new ways to make activities COVID safe.
• Division winners and most improved at IGSSA Swimming
• Schoolgirls Year 8 double scull placed first at IGSSA – Sasha Kovarik (Year 8) and Jody Feng (Year 8)
163 SPORT CAPTAIN REPORT
• Rhythmic Gymnastics division winners at IGSSA Gymnastics
• Qualified for the second round of the CIS Soccer Cup
• Lily Smith (Year 12) qualified for Schoolgirl Single Scull at NSW State Championships
• Quarter finals appearance at the Tildesley Tennis Tournament – Taylor Hosking (Year 12) and Alexia Lorenzato (Year 12)
• Both Junior and Senior Water Polo teams won at MLC School's Friday Night Water Polo Competition
• Rose Halliday (Year 8) and Gabrielle Wilkie (Year 7) qualified to compete at CIS Diving This year could not have happened without the support of our MLC School Sports department, more specifically Mrs Lisa Filby and Mrs Kylie Bickerstaff. Each goes above and beyond to cater for the students and their sporting abilities while still empowering them to be the best they can. Similarly, the Sports Committee supported me in the preparation of competitions as well as the creation of some COVID-safe activities.
Tashjan Managreve Sport Captain
Normally, we would host our Sports Dinner to acknowledge students from each of our sports for their achievements throughout the year. Due to the circumstances, we were unable to do this for all our sports in 2020. The awards listed are to acknowledge student achievements for sports held pre and post COVID where a full competition had been run, or where students were able to compete at Championships and Qualifying meets that would have allowed them to represent at higher levels.
For sport, the challenges of 2020 meant that our athletes did not have a full season or for some, play any sport at all. When they did play, their families couldn't come and watch and there was no way to progress through the representative pathways with a host of competitions cancelled. At MLC School we had to think outside the box to find innovative ways to deliver a sports program without actually having the students here on campus. How do you manage to keep students engaged when everyone is trying to deliver some sort of program online? At MLC School, the Sports department introduced the Weekly Challenge. The challenges ranged from the Top Shot goal shooting competition, healthy cooking challenges, exercising with your pet competition and the Just Dance Challenge. We created a virtual ball passing video that showed our School community that even though we were apart from each other, we still had a connection with our peers and Towardsstaff!the end of Term 2, we saw the slight easing of restrictions and we were able to introduce the Return to Physical Activity Program. This program was not a return to training, but an opportunity for our students to participate in some form of physical activity where they could try a new sport, learn a new skill and be with their friends after several weeks of flexible learning at home.
This year started off with a bang! Our swim team won their division at the IGSSA Swimming Championships and we were also awarded Most Improved School. This was our last school competition for the year… things were about to change as was evident at the swimming presentation when we had to shake hands by touching elbows…little did we know what lay ahead!
The pandemic made us realise how something as simple as a training session could be missed so dearly. If there is one thing we have learnt from this situation, it's to never take the simple things in life for granted!
We look forward to a great year of sport in 2021 and hope that MLC School girls take up the opportunity to get involved in some form of sport throughout the year.
The further easing of restrictions in Term 3 allowed us to return to full training and our regular Saturday Sport Competitions albeit with some hygiene protocols and spectator restrictions in place.
164 DIRECTOR OF SPORT LISA FILBY
Professor Joan Beck Award Service to MLC School SportMaeve Halliday (Year 10)
Congratulations to the following students for their outstanding achievements.
Emerging Talent Tennis Isabella Munoz (Year 5)
Outstanding Achievement Swimming Avery Koh (Year 5)
Outstanding Achievement Football Jaimie Kappas
Outstanding Achievement Netball Tashjan Managreve (Year 12)
Outstanding Achievement Swimming Annaliese Yan (Year 7)
165
Outstanding Achievement Swimming Rachael McGuire (Year 4)
Emerging Talent Athletics Avery Dauphinee (Year 4)
Outstanding Achievement Rowing Ella Woolbank (Year 12)
Outstanding Achievement Swimming Chloe Miller (Year 5)
Outstanding Achievement Diving Ada Savage (Year 4)
Outstanding Achievement Netball Markella Krekacs (Year 6)
Outstanding Achievement Swimming Christine Jin (Year 7)
Outstanding Achievement Tennis Ria Simone Farag (Year 9)
Lisa Filby Director of Sport
Thelma Coyne Long Award Tashjan Managreve (Year 12)
Outstanding Achievement Swimming Florence Jiang (Year 8)
Outstanding AchievementTouch Football Katelyn Sutherland (Year 11)
Outstanding Achievement Gymnastics Isabella Wang (Year 9)
Outstanding Achievement Volleyball Fiona MacKenzie (Year 11)
Emerging Talent Swimming Kathleen Chrun (Year 6)
Outstanding Achievement Swimming Suyi Yin (Year 7)
Outstanding Achievement Diving Emily Edwards (Year 8)
Award Sports/Team/Title Student Name
Outstanding AchievementWater Polo Kaylie Keogh (Year 8)
MLC School was provided with some amazing opportunities this season. The Year 7 AFL team had Joss AFL/ACT coaches during regular training sessions focussed on improving the skills of the players. Being able to watch each team play, throughout the season, each team improved their skills and learnt the flow of the game.
Morgan Kelaher Athletics Captain
Although we were supposed to have played 3 more games (thanks COVID-19), it was a great season. I would like to thank Esther Maling for coordinating the 2020 AFL season. Girls, I hope you all enjoyed the short season, and I hope you continue to hone your skills for next season.
The year started with an enthusiastic return to the school year with athletes and coaches ready to enjoy upcoming competitions. We had steady numbers with one of our largest groups of students from Year 3 to Year 12 attending athletics training! As excited as we all were for upcoming IGSSA Twilight Carnivals, IGSSA competition and IPSHA competitions, COVID-19 left all athletics competitions and training sessions up in the air. The everchanging nature of COVID-19 had the Sports department and athletes on their toes about ways to complete competitions and training sessions (if they were to go ahead), whilst abiding to social distancing restrictions. Although in the end all IGSSA and IPSHA competitions were not held, the MLC School girls kept up with training regimes and completed training programs from their backyards.
I am sure that all of the girls are thankful to their coaches who dedicated their Saturdays and early mornings to share their love for the sport. Each coach was committed to helping each and every girl in their team to improve. I would also like to say a massive thank you to all of the girls who gave AFL at MLC School this year ago. Congratulations to all of the girls who kicked a goal and to all of the teams that won a game!
2020 was the second year that MLC School offered AFL as a sport and it was the first year we fielded a team in every stage (Years 7 and 8, 9 and 10, 11 and 12). Although this season didn't end the way we all wanted it to, every team improved drastically, laughed, made friendships and memories that will last forever. This season, MLC School registered four teams in the Independent Schools AFL Competition. Our coaches were dedicated to teach the rules and skills of the sport, learning how to handball, tackle and kick. The coaches managed to improve every single girls' skills if it was their first season or if they were academy players.
I hope you all continue to play AFL next year and I encourage you to get your friends to try out AFL next season! Create more memories of laughter and fun at school sport, because it honestly is great fun.
Charlotte Pullinger AFL Captain
166 SPORTS REPORTS AFL ATHLETICS
In the middle of Term 2, students were allowed to come back to school and to training with restrictions on student numbers. Although the 2020 track and field season may not have panned out the way any of us expected, girls in athletics had an enjoyable year of training.
167
SPORTS BADMINTONREPORTS BASKETBALL
Without any doubt, 2020 has once again been another highly enjoyable season for those involved in Badminton at MLC School. I am so proud and excited to have shared this experience with some familiar faces and also some new team members who decided to embark on this new, fun journey with us. Through all the 7am trainings, hours of train and car rides and the frantic searches for venues every Saturday, not only have we grown as badminton players, but we have also become one inseparable family. During Term 1, MLC School girls competed in the Loreto Normanhurst Badminton Competition. Although, unfortunately, the season was curtailed due to the pandemic situation, our Junior and Senior teams had both achieved some admirable results – all of our teams had been placed in the top five, with four of them – MLC09, MLC02, MLC04, MLC05 – in the first or second places. Not only did I witness these amazing achievements, but also the enthusiasm, hard work and resilience that each one of the girls
MLC School had a rollercoaster year in basketball. Basketball usually takes place in Term 2 and Term 4. However, as a result of COVID-19, Term 2 sport was cancelled, nevetheless many of the girls were able to play in a make-do Term 3 tournament in the Ascham Invitational. I am so proud of every girl who dedicated their time and energy to being a part of MLC School's Basketball family. I have seen so many individuals and relationships grow throughout the seasons and over the years. Basketball has been a great success; when we were able to play, we cultivated a supportive and fun environment, that allowed us to win many of our games.
Over the years, our basketballers have won many tournaments through the dedication of teamwork, early morning sessions and Saturday morning commutes. During my time with MLC School Basketball, we have been successful in many tournaments, even winning a gold medal in the grand final. It has been very unfortunate that I was unable to play in my last term at MLC School, but I know there are many girls who will live on the basketball energy. has demonstrated. They have continually shown their dedication, leadership, team spirit and support for each other. I am more than grateful to have been able to consider myself a part of this cohesive community. So, congratulations and thanks to all of you for this exceptional season and these unforgettable memories. Last but not least, on behalf of all the players, I would also like to say a huge thank you to our wonderful coaches, William and Kenny, as well as Ms Esther Maling who have all been extremely patient and supportive. It has been such an honour and pleasure being the Badminton Captain for 2020, and I cannot emphasise enough how proud I am of every single girl who has participated in Badminton this year. I am assured that the coming year will bring another great season of Badminton filled with passion and sportsmanship.
Rainy Yang Badminton Captain
168
Kaisha Rollason Fencing Captain
'Thank you to the coaches and congratulations to all the divers for your admirable'thiseachhaveandsupport,performances.outstandingTheencouragementsportsmanshipyoushowedtowardsotherthroughoutwholeyearhasbeen
It has been an amazing yet challenging journey working through the pandemic, keeping the basketball spirit alive. Beyond the medals and the placing, it is important to acknowledge the tight-knit community of love and support this sport has provided for those involved. I am so grateful to have been offered this opportunity, and the girls involved in this community have been an incredible cohort to work with. I'd like to thank all the coaches and staff who have been involved in basketball this year, including Ms Esther Maling, Mrs Lisa Filby and all of the Sports department. None of this would be possible without your hard work and dedication. I hope MLC School Basketball continues to thrive in the coming years. Best of luck to the 2021 teams!
This year was fraught with many challenges and new situations, all of which, we adapted to or worked around. Due to COVID-19 restrictions, fencing had limited capacity for majority of the year. As most fencing events were cancelled, we took this as a great opportunity to increase focus and skill training which developed our strengths and improved our weaknesses. Each fencer has shown incredible growth and resilience in her improvement and ability to adapt to the new requirements and regulations without complaint while continuing to work on her own goals. It has been a difficult year, but we have faced challenges and become closer as a team. Based on the performance from this year, I am confident that next year we will see many more great successes particularly for the younger fencers.
FENCING
In 2020 we took two strong teams of divers to the IPSHA and IGSSA carnivals. Congratulations to the following girls on their achievements.
169 DIVING
• Chloe Price (Year 3) – 2nd place • L ayla Abdelrahim (Year 3) – 4th place • Tamara Abdelrahim (Year 4) – 4th place • Hannah North (Year 5) – 2nd place • Ada Savage (Year 4) – 3rd in Springboard and 2nd in Platform Tamara, Hannah and Ada also qualified for OurCIS.Senior IGSSA team also performed very well. Well done to Rose Halliday (Year 8) who came 4th and Gabrielle Wilkie (Year 7) who came 4th, both qualifying for CIS. Thank you to the coaches and congratulations to all the divers for your outstanding performances. The support, encouragement and sportsmanship you have showed towards each other throughout this whole year has been admirable.
Ava Lee Diving Captain
Maddison Fisher Basketball Captain
Though gymnastics can be a sport of rivalries, struggles, injuries it is also a sport of lifelong friendships and I would encourage any girl at MLC School to give gymnastic a go. There are many levels, styles and we are accommodating for all!
With COVID-19 taking the world by storm we had to abide by social distancing laws as well as total lockdowns not only in Australia but throughout the world, hence gymnastics was greatly affected due to the nature of our training which entails hands-on coaching.
As a result of this many, if not all, competitions were cancelled including IGSSA, IPSHA, the Olympics and most importantly, the impressive and most anticipated IGSSA sleepover, which was a massive disappointment to the MLC School Gymnastics girls. We did, however, compete in a few competitions before COVID-19 and as true MLC School girls we have not let many of these setbacks hold us back with our Rhythmic gymnast Isabella Wang (Year 9) placing successfully on the podium at the qualifying events for the State Championships and qualifying for Nationals!
170 SPORTS GYMNASTICSREPORTS
Even if you think you have no talent for walking across a balance beam or spinning around a high bar, perhaps rhythmic gymnastics is a possibility if you can handle a ball or like to throw around a ribbon or dance with a hoop.
I'm looking forward to leading the MLC School gymnasts in 2021 and can't wait to get back into total training and competitions.
I'd also like to thank the incumbent 2020 Gymnastic Captains Eugenie Tan (Year 12) and Jade Jameson (Year 12) and wish them the best in their HSC, IB studies and future 'Even if you think you have no talent for walking across a balance beam or spinning around a high bar, perhaps rhythmic gymnastics is a possibility if you can handle a ball or like to throw around a ribbon or dance with a hoop.'
Natasha Sheehy 2021 Gymnastic Captain Alina Cui (Year 7) also had some successful individual podium finishes at the qualifying events and qualified for State Championships along with Lam Nguyen (Year 5) who qualified for nationals as part of the Pre Junior group. Our artistic gymnasts, Isla Saxena (Year 8) and Zoe Jameson (Year 8) had a strong start to their first senior season events with some top 6 places at State Trial events and both qualified for State Championships!
gymnastic endeavours. I'd also like to wish the best to the other girls leaving MLC School in 2020. The sky is the limit.
With training almost returning to normal, hopefully 2021 gets MLC School Gymnastics back on track for some fun and rewarding competitions and bring home some more extraordinary memories and champions.
HOCKEY This year, hockey had many disappointments and many highlights. Although the Term 2 SEHA Competition was cancelled it was a relief to be able to compete in the Term 3 IGSSA Competition. It is my delight to announce the MLC Senior First team placed 2nd overall in the regional competition. MLC 2 placed 4th, MLC 3 3rd, MLC 4 6th, MLC 5 3rd and MLC School finished 5th. Congratulations to all teams! Term 4 was difficult with some games cancelled and reorganised. Firstly, thank you to the amazing Sport department (in particular Ms Kylie Bickerstaff) for ensuring this competition has run smoothly. Thank you to parents for complying with the various COVID-19 restrictions that have been implemented. Finally, a big thank you to all girls. You have all contributed to making this season enjoyable, have showed great sportsmanship and done MLC School Hockey proud!
Maya Felice Hockey Captain
171
Netball is the biggest and I like to think the best sport at MLC School. Netball teaches us many valuable skills. Firstly, there's determination – when it feels like the game has been lost and the other team seems unbeatable, this season, MLC School girls this season stuck it out to snatch a win in the final quarter. Then there's teamwork – due to the very strict rules and positions in netball, netballers need communication skills and effective teamwork to succeed. However, as well as the skills that MLC School teaches its netballers, the sense of fun and enthusiasm is what makes netball so popular. Despite the pandemic, the MLC School spirit could still be seen within each player. Throughout the year MLC School achieved in both the ERNA and IGSSA competitions. However, none of this would have been possible without the supportive and encouraging coaches, and the Sports department, who were willing to wake up early in the morning to help us all play to the best of our abilities. Thank you to all those who have been involved in MLC School netball this year and good luck in 2021!
Congratulations to Maeve Halliday (Year 10) on being awarded her National C badge for umpiring. This is a fantastic achievement and just reward for the amount of hours Maeve committed to developing her skills. Well done! Crossley Netball Captain
Umpiring
172 SPORTS REPORTS NETBALL
Eliza
2020 NetballResults ERNA MLC 1 – Premiers ERNA MLC 6 – Undefeated Premiers ERNA MLC 9 – Premiers Representative Netball IGSSA MLC 2 – Premiers
Throughout the season we proudly represented MLC School at 11 schoolgirl regattas, recording some great results and personal bests.
173
Many girls kept up their training over winter, so we started strongly with the intermediate and senior squad who competed in the Head of the Yarra race in Melbourne. Sixteen girls were amongst 2500 other athletes in this 8km race from the heart of Melbourne to Hawthorn Rowing Club. This was an amazing opportunity for all the rowers, and we thank all the coaches and the School for supporting us to experience this major rowing event.
ROWING
The IGSSA Regatta was one of our most successful with five out of 10 crews across all Year groups making the podium; showing the great depth and talent we have in the program. Perhaps it was the new tradition of the send-off assembly and the cheering championed by Mr Neil Scotney that made all the Beyonddifference!themedal count it is important to acknowledge the enormous dedication and commitment the entire squad shows to training and competing. Our rowers are usually up at 4.30am and on the water by 5am, training after school and competing much of the weekend. Everyone should be really proud of their efforts on the water but also for the support and encouragement the whole squad gives to one another. A massive thank you to all our dedicated coaches in particular our Head of Rowing, Mr Rob Glendenning. Despite this being my last year as an MLC School rower, I am grateful for the experiences I had, and life-long friendships built thanks to the rowing program. I look forward to watching the program continue to grow and hearing about all the success of MLC School Rowing in the future.
Ella Woolbank Rowing Captain
Not being able to finish off the year with the annual Head of the River regatta because of COVID-19 was extremely disappointing for both the coaches and students. However, despite the unfortunate end, it is important that we acknowledge and reflect on the many highlights that we had.
SPORTS REPORTS SOFTBALL SWIMMING
This year MLC School introduced a new initiative for swim training prior to the IGSSA and IPHSA carnivals. The girls started training twice a week with Colman and Jess in November 2019 which allowed them to perform their very best. This was reflected in the outstanding results from both the Junior School and Senior School girls. At the IPSHA Carnival, we had several girls progress to the CIS Carnival, however, unfortunately due to the events that took place this year, the carnival did not proceed.
Congratulations to Florence Jiang (Year 8), Suyi Yin (Year 7), Christine Jin (Year 7), and Annaliese Yan (Year 7). There were also outstanding swims by Annaliese Yan to win the gold medal in the 50m Breaststroke and Christine Jin for her bronze medal swim in the 50m Butterfly.
Lilly Dummett Softball Captain
Unfortunately174 for the softball community and the wider sporting community, all IGSSA sports were cut short this term. With only two games being played the softball firsts maintained a 50% success rate, with a loss and a win.
The MLC School Swim Team performed tremendously well this year.
Emily Eker Swimming Captain
Nevertheless, the girls must be commended for their hard work. Congratulations to Jacqueline Wang (Year 4), Chloe Miller (Year 5), Stephanie Keo (Year 5), Avery Koh (Year 4), Rose Lin (Year 5) and Rachel McGuire (Year 4). At the IGSSA Carnival we had our junior medley relay place 3rd overall.
2020 has been a very successful year for the MLC School Swimming Program. Thanks to our dedicated and hard-working coaches Mr Colman Wong (who also won coach of the year in 2019) and Jess, the MLC School IGSSA swimming team were able to win our division by 40 points and take out the trophy for Most Improved School, jumping up five places! It is clear that the girls' commitment to training and team support at the carnival really paid off.
Our first game saw us take on Tara away. A slow start with the ball meant Tara got on top of us early making it hard for our firsts to get back in the game. A valiant effort in the field saw us make many complicated plays including but not limited to double plays, diving catches and some excellent relay throws. With the bat, first baseman Amelie Coman (Year 12) found the plate many times but couldn't bring us home with the win. For our second game we found ourselves at Pymble against Pymble. A rather odd injury pregame meant that we would be down a player, fortunately we had a spare player to rotate. A magnificent start with the ball saw us take control of the game early. A massive batting performance and a few bruises later saw our MLC School firsts smash Pymble on their home turf. It was great to see MLC School a victor of an age-old rivalry especially on enemy soil. While our season was unfortunately short, the time we did get to play and train together helped us forge memories and friendships that will always be remembered.
TENNIS
Thank you to our head coach, Mr Ludovic Catherine, among other coaches who all helped to improve the skills of the girls and contribute to the strong community within tennis at MLC School. A big thank you to this season's organisers as well. Thanks to everyone for a term, or half a term, of laughter, memories and fun. Your spirit has been truly inspiring.
175
I would like to extend congratulations to the girls in MLC School's Representative Squad and IGSSA tennis teams for their constant dedication and enthusiasm. An unfinished season was incredibly frustrating for the girls and me. Nevertheless, we all remained spirited and open-minded.
This season, MLC School registered a number of teams in the IGSSA Tennis Tournament. Every Saturday teams would travel as far as Frensham or be lucky enough to draw the long straw for a home game, to play tennis. The girls were accompanied by their coaches who also dedicated early mornings to assist and show their commitment to the girls. In addition to IGSSA Tennis, some of the girls in MLC School's Representative Squad were working exclusively towards the annual Tildesley Tennis Tournament. Tildesley involves over 25 independent girls' schools from across NSW who go to Pennant Hills Park to compete for the Tildesley Shield. Despite enduring trials, trainings, extra trainings and meetings, the tournament was cancelled. For the Year 12s girls this was our last year to participate in this event and all of us were looking forward to it.
Taylor Hosking Tennis Captain
SPORTS REPORTS VOLLEYBALL
'In the first half of the year, the volleyball firsts team were unsure as to whether we could play during Term 2. However, after this time of doubt, it was announced that we could begin playing volleyball in August...'
176
At the end of the year, the senior firsts volleyball team participated in AVSC. In previous years, the competition was held in Victoria and Queensland. Due to the Coronavirus, AVSC was held in NSW, with multiple competitions daily for a week.
Seven MLC School teams signed up to play the Santa Sabina competition. With new guidelines in place, the teams showed up 15 minutes before the game for a brief warm-up and then went straight into playing, with no visitors able to attend.
In the first half of the year, the volleyball firsts team were unsure as to whether we could play during Term 2. However, after this time of doubt, it was announced that we could begin playing volleyball in August for the Sydney Volleyball League competition. The competition had a somewhat troubling start, with the lack of training due to COVID-19 meaning we weren't of the highest standard. But through resilience and a strong team dynamic, we were able to maintain a positive attitude and give the competition our best go. Having ranked 5th out of five teams, it is safe to say that we were not victors of the competition, but rather, of spirit! Despite this outcome, the firsts team were only a matter of points away from making the semi-finals and for this reason, I commend my fellow volleyball teammates for their incredible efforts.
Kate Cartwright Volleyball Captain
177
WATER POLO
This year highlighted the skill and determination possessed by MLC School students. From shortened seasons to having no supporters watching the game, if water polo was seen as a hard sport before, it felt even harder this year. Fortunately, the girls pushed through, looking to their peers and coaches for support and encouragement which all lead to a very successful year of water polo. Term 3 MLC School Friday Night Water Polo once again displayed significant levels of improvement from all our players. MLC 2 secured a substantial win against Santa Sabina College (16-5) and our MLC School firsts team defeated St. Scholastica's in a close game (9-7). Our Term 4 IGSSA competition was also extremely successful with our MLC 1 and MLC 2 being named premiers of their division and MLC 3 securing 2nd place in theirs.
Tashjan Managreve Water Polo Captain
2020 was a fantastic year for water polo, with each player and coach giving their all to every training session and game, even during tough and confusing times. In 2021, we hope to see more students, both new and old, give water polo a go!
SECOND ROW Janani Kanthathas, Elizabeth Faraj, Lily Clemens, Anisha Sivagurunathan, Angelique Houltham, Tessa Britton, Evelyn Kerr, Eve Ireland, Giselle Tanios
FRONT ROW Miranda Lin, Angelyn Xiang, Anastasia Countouris, Olivia Burke, Avery Koh, Liana Wai, Mikayla Woon, Jacqueline Wang, Emily Leung, Lexie Bellew, Janani Kanthathas, Scarlett Innes, Gabriela Lim SECOND ROW Nectaria Constanti, Nicola Keast, Bella Nguyen, GiGi Guan, Ava Roins, Sophie Ye, Meena Kanthathas, Lucia Barrington-Higgs, Violet Le, Jade Scott-Rogers, Gabriella Ayad, Stella Wallace THIRD ROW Emma Sugianto, Sacha Jeyasingam, Emma Sullivan, Aryana Sah, Julia Zarlenga, Maalika Chalak, Isabella Correia, Chelsea Chen, Gauri Nathan, Stephanie Keo, Katherine Woo FOURTH ROW Imogen Bush, Allegra Carlini, Markella Krekacs, Anisha Sivagurunathan, Ava Saad, Amalia Labraga, Ashley Denton, Haegan Sitou, Jemima Zoud, Kiara Elghitany, Saskia Roberts
HERENAMEHERENAME
JUNIOR SCHOOL
FRONT ROW Elysse Diep, Olivia Burke, Gabriella Ayad, Genevieve Beattie, Avery Dauphinee, Lily Vujcic, Lucia Barrington-Higgs, Danika Krekacs, Lucia Cicinelli
178 SPORTS ATHLETICSBASKETBALL
179
DIVINGANDSWIMMINGPRIMARYNETBALL
FRONT ROW Eloise Wong, Zara Stewart, Scarlett Innes, Katelyn Lim, Alana Siluk, Tamara Abdelrahim, Euna Cho, Miranda Lin, Layla Abdelrahim, Chloe Price SECOND ROW Lexie Bellew, Olivia Burke, Rachael (Pip) McGuire, Claudia Beattie, Rose Lin, Jacqueline Wang, Avery Koh, Ada Savage, Elysse Diep, Hannah North THIRD ROW Niamh Johnson, Stephanie Keo, Saskia Roberts, Evelyn Kerr, Grace Farrow, Kathleen Chrun, Chloe Miller, Yolanda Dolenac, Lucia Barrington-Higgs
FRONT ROW Lavinia Xu, Ella Rose Zraika, Megana Pasupati, Christina Messih, Jaya Mehta, Janani Kanthathas, Olivia Burke, Hannah North, Vita Gohil, Evangeline Black, Miranda Lim, Abira Sanan, Amara Sivagurunathan, Dora Cai SECOND ROW Megan Kuit, Jade Scott-Rogers, Riya Singh, Anika Gupta, Matilda Dugan, Jasmin Srisathkurunathan, Carina Chu, Eleanor McKeough, Sienna Clark, Anna Poortvliet, Giselle Tanios THIRD ROW Luella Farah, Emma Sugianto, Katherine Woo, Rose Turner, Meena Kanthathas, Eve Ireland, Hazel Gohil, Rebecca Ho-Bui, Gurnaaz Kahlon, Ellen Gadsby, Ava Roins, Aaliya Salim FOURTH ROW Saskia Roberts, Anna Obaid, Markella Krekacs, Angelique Houltham, Grace Farrow, Amalia Labraga, Jemima Zoud, Anisha Sivagurunathan, Kathleen Chrun, Chloe Messih, Sara Placanica
FRONT ROW Avery Lee, Amara Sivagurunathan, Aleeya Sharma, Zara Stewart, Bethany Haddad, Mia Coady, Olivia Burke, Chloe Price, Francesca Masters, Janani Kanthathas, Scarlett Innes, Gabriela Lim, Eloise Wong SECOND ROW Danika Krekacs, Imogen Wong, Claudia Beattie, Mikayla Woon, Imogen Sutton, Ava Roins, Liana Wai, Gabriella Ayad, Catia Placanica, Emily Leung, Elysse Diep THIRD ROW Eleanor McKeough, Nectaria Constanti, Umaiza Mahfuz, Charla Howard, Imogen Bush, Maalika Chalak, Meena Kanthathas, Charlotte Latham, Jodhi Bou, Genevieve Beattie, Kaliya Edwards-Ware FOURTH ROW Indigo Hannah, Aryana Sah, Saskia Roberts, Markella Krekacs, Jemima Zoud, Tessa Britton, Haegan Sitou, Allegra Carlini, Isabella Correia, Julia Zarlenga
HERENAMEHERENAME 180 SOCCERTENNIS
SPORTS JUNIOR SCHOOL
FRONT ROW Hayley Dinh, Evangeline Black, Anny Xie, Yasmine Teoh, Amritha Ravichandra, Hannah North, Sienna Munoz, Georgia Delis, Zara Stewart
SECOND ROW Imogen Wong, Chelsea Sumich, Riya Singh, Ophelia Li, Carina Chu, Kyra Narang, Claudia Beattie, Isabella Munoz THIRD ROW Lily Vujcic, Gurnaaz Kahlon, Angelina Xu, Kathleen Chrun, Tessa Britton, Grace Kuman, Surabhi Parab, Alisha Dhaliwal
FRONT ROW Olive Simmons, Scarlett Innes, Claudia Beattie, Mikayla Woon, Avery Koh, Imogen Wong, Zara Stewart SECOND ROW Lucia Barrington-Higgs, Sophie Ye, Imogen Bush, Indigo Hannah, Charlotte Latham, Liana Wai
181 FOOTBALLTOUCHPOLOWATER
FRONT ROW Luella Farah, Eve Ireland, Angelina Xu, Sophie Ye, Avery Koh SECOND ROW Evelyn Kerr, Kathleen Chrun, Ava Saad, Ashley Denton, Olivia Sun-Ryan
HERENAMEHERENAME 182 BADMINTONAFL
FRONT ROW Miriam Pullinger, Ellie Girard, Jessica Johnson, Lily Simmons, Gabriella Matthews, Charlotte Pullinger (Captain), Amaya Karunakaran, Macy Tanner-Black, Claire Lee, Ruby Mansergh, Harriet Scott SECOND ROW Kayla Graham, Zahli Harris, Mia Eker, Andie Clark, Maeve Halliday, Natalie Cavallaro, Elisabeth Bubalo, Ella Fletcher, Sienna Strauss, Olivia Clowes, Lara Varol, Matisse Liu, Madison Clemens THIRD ROW Ava Lee, Ella Tanner-Black, Natalia Giannakos, Isabella Chapman, Tara Gentle, Liv Morrison, Ella Van Den Borne, Victoria Pachos, Annading Chen, Liliana Hollands, Zara Kilborn, Samantha Tsakalos-Stewart FOURTH ROW Aria Swan, Christyn Cordato, Eda Haller, Zoe Johnson, Sophie Ciesielski, Beatrice Drake, Maya Felice, Zoe Clark, Amelia Jubelin, Elsa Pickering FIFTH ROW Emily Eker, Lilia Coman, Katie Sutherland, Vanessa Ryan, Darani Gilchrist, Amelie Coman, Emma Webb, Hannah Williams, Olivia Smith, Eloise Drake, Hayley Kenzler
SPORTS SENIOR SCHOOL
FRONT ROW Annabelle La, Giovanna Lim, Justine Zhang, Nichole Wang, Jossie Liu, Sarinna Cai, Isabella Zhao, Angelina Zhang, Chloe Zhang, Emma Ung SECOND ROW Charlotte Priebbenow, Chantelle Wan, Aileen Leong, Georgie Roediger, Soina Thind, Hayley Ma, Amelie Roediger, Amanda Ou, Ashley Pagewood, Xile Yang, Claire Lee THIRD ROW Minda Wang, Jenny Wu, Amelia Bresolin, Zunairah Mahfuz, Maggie Wang, Vicky Zhang, Mahibhana Mahinthan, Jade Di Girolamo, Sahasra Bandi, Cassandra Tong, Kaitlyn Hoang FOURTH ROW Zara Cathcart, Gloria Lim, Emma Mahant, Elsa Tonkinwise, Helena Lu, Taotao Jiang, Evie Gallagher, Amelia Chan, Preeyangka Manogaran, Cameran Warner
TEAMDIVING
FRONT ROW Madhavi Chauhan, Erin Muir, Seetha Nathan, Maddison Fisher (Captain), Sabine Saad, Chloe Arnold, Chantel Nguyen, Jade Park SECOND ROW Misha Behi, Amaya Karunakaran, Zahra Yassine, Madison Clemens, Seraya Srikumar, Rianne Saab, Angelina Le, Aiesha Sivaranjan THIRD ROW Zara Poortvliet, Mariam Yassine, Gloria Lim, Fiona MacKenzie, Preeyangka Manogaran, Ruby Smith, Bella Upcroft FOURTH ROW Sophia Murphy, Sophia Sefein, Anika Grannall, Darani Gilchrist, Kyra Ioakimidis, Elise Nikolopoulos
FRONT ROW Alannah Christodoulou, Gabrielle Wilkie, Layla Hamdan, Ava Lee (Captain), Emily Edwards, Arabella Zeederberg, Madeline Haller SECOND ROW Megan Ebel, Ella Tanner-Black, Siena Cribb, Claire van der Stel, Laura Andrikis, Athena Nikolakopoulos, Jessica Johnson
183 BASKETBALL
FENCING
FRONT ROW Lucy Coxsedge, Vadeesha Kanagaratnam, Felicia Hannah, Jorja Papantoniou, Zoe Proctor, Yianna Mitropoulos, Claudia Scott, Anika Cuganesan, Erica Chou, Jasmine Fordyce, Abigail Bush, Harriet Scott SECOND ROW Anastazia Samad, Lara Varol, Amelie Roediger, Kristy Spyrakis, Bariah Khaznadar, Hayley Ma, Olivia Gouganovski, Natalie Cavallaro, Tina Papamanuel, Ella Tomkins, Mia Eker THIRD ROW Danielle Dib, Georgie Roediger, Grace Scanlon, Lily Scanlon, Natalia Giannakos, Claudia Kritzler, Arya Sharma, Shivani Spencer, Elle Tamvakolos, Mikaela Sitaramayya, Tessa Tomkins, Azzurra Zappacosta, Isabella Kristallis FOURTH ROW Julia Gough, Amelia Chan, Jacqueline Flett, Indianna Miller, Sarah Furlan, Victoria Pachos, Charlie Kairaitis, Annading Chen, Samantha Brady, Charlotte McCrory, Sophie Reid, Rania Malibari, Chelsea Hunt FIFTH ROW Zoe Hannam, Eloise Drake, Isabella Gall, Maya Felice (Captain), Zoe Trpezanovski, Zoe I Johnston, Sarah Carvolth, Eda Haller, Sophie Beraldo, Isabella Chapman, Lily Smith, Beatrice Drake
HOCKEY SPORTS SENIOR SCHOOL
184
FRONT ROW Lucinda Hutchins, Taara Kotibhaskar, Vivian Qin, Moira Peach, Amy Lee, Felicia Hannah, Uma Singleton SECOND ROW Ananya Wakhare, Emily Ward, Sen Sen Xie, Kaisha Rollason (Captain), Savannah Hazlewood, Sophia Heyde
FRONT ROW Anita Mohanan, Ellie Girard, Erin Clowes, Zaz Tiglao, Chloe Jing, Isabella Zhao, Isabella Dodd Shipsey, Mia Johnston, Joyce Mai, Kirsten Tran, Madina Ioakimidis, Riya Chib, Angelina Zhang, Sarina Nagra SECOND ROW Eloise Ward, Te'jhaan Altiok-Brown, Sophia Grave, Sameera Khatri, Maddie Hutchens, Jasmine Stavros, Madura Gaikaiwari, Bethany Lo, Anneliese Sandy, Tika MacMaster, Jessica Johnson, Anisha Miah, Maya Gupta, Annaliese Yan, Olivia Walker, Zoe Churchill, Tiana Robinson THIRD ROW Cleo Clark, Zara Coates, Matisse Liu, Megan Ebel, Chloe Arnold, Ilaria Korompay, Martine Zeilinga, Kira Hodgson-Yu, Maeve Halliday, Sofia Jury, Arabella Zeederberg, Riley Chantler, Anikah Sanan, Vishaalini Ravichandra, Gabriella Matthews, Marah Tryphon FOURTH ROW Briana Tran, Sophia Malas, Tascha Ireland, Amreen Thind, Angie Lan, Kayla Graham, Mahibhana Mahinthan, Sanya Mehta, Cherie Pepperell, Andie Clark, Soina Thind, Ella Baker, Amelia Armstrong, Nitya Nimalan, Chloe Ho-Shon, Olivia Clowes FIFTH ROW Ivy Ross, Savannah Phengsavath, Laura Kardasis, Alexandra Robinson, Emily Eker, Zoe Likely, Zara Kilborn, Sally Obaid, Caitlin Zeilinga, Liv Morrison, Sienna Dodd, Halle Hiss, Amisha Khatri, Amelia Comley, Emma Guermanoff, Grace Scanlon SIXTH ROW Brooke Bucholtz, Hannah Chessell, Bella Upcroft, Amy-Grace Docherty, Hayley Kenzler, Inez Kritzler, Ishwary Ramjeevan, Isabella Smith, Isabella Liu, Poppy Yacoumatos, Aarathe Ramraj, Sofia Carey, Zara Poortvliet, Sophie Wilson, Sophia Bucci, Aimee Goodridge SEVENTH ROW Emma Lawrie, Molly North, Claudia Padman, Elisha Matthews, Madeleine Oxley, Eliza Crossley (Captain), Emma Dickson, Emma Webb, Amelia McNamara, Christina Di Giandomenico, Emma Oxley, Amber Johnstone, Zoe Clark, Zoe Johnson, Pascale Simington EIGHTH ROW Claire van der Stel, Vanessa Ryan, Samantha Naayen, Erini Stavroulakis, Imogen Johnstone, Charlotte Penny, Natalia Grbic, Lucy Dickson, Olivia Tanevski, Courtney Roberts, Vienna Durie, Tashjan Managreve, Katie Sutherland, Briana Chapman, Nia Richards
185 NETBALL
SPORTS SENIOR SCHOOL
ROWINGSOCCER
FRONT ROW Giovanna Lim, Mira Kalra, Ria Simone Farag, Gracelyn Dao, Lilly Dummett (Captain), Maya Simpson, Mia Tsaousidis, Zahli Harris, Phoebe Rizoski
SECOND ROW Lucy Coxsedge, Isabel McKeough, Sylie Bhat, Jaimie Kappas, Natalia Giannakos, Ella Walters, Aria Swan, Evie Papamanuel
THIRD ROW Macy Tanner-Black, Annabelle Banfield, Elisabeth Bubalo, Hannah Banks, Jaiden Sinozic, Gisela Labraga, Olivia Chapman, Isabella Chapman, Milla Newman
FOURTH ROW Giselle Timperi, Beatrice Drake, Charlie Kairaitis, Lilia Coman, Amelie Coman, Mikayla Papadimitriou, Kaisha Rollason, Dakota Sinozic, Francesca Morrison
SECOND ROW Isabella Smith, Olivia Alden-Hallit, Haya Yahia, Briar Campbell, Dylan Rose, Jacqueline Flett, Sophie Wilson, Francesca Morrison, Jody Feng
THIRD ROW Sophie Reid, Sarah Carvolth, Lily Smith, Samantha Naayen, Charlotte Penny, Layla Hare, Ella Woolbank (Captain), Sophia Murphy, Inez Kritzler
FRONT ROW Sofia Iezzi, Kaitlyn Hoang, Kate Morfoot, Milla Newman, Rumi Hariz, Tessa Tomkins, Sasha Kovarik, Azzurra Zappacosta, Claudia Scott
HERENAME 186
SECOND ROW Sarai Rollason, Kylie Becvarovski, Miranda Norton, Ashmini Ganesh, Emma Christie, Dionne Alaveras, Lilly Dummett (Captain), Maya Simpson
187 TEAMSWIMMING
FRONT ROW Sarinna Cai, Claire Liu, Evelyn Doan, Emily Eker (Captain), Madeleine Lewis, Annaliese Yan, Jossie Liu SECOND ROW Florence Jiang, Isabelle Lin, Caitlin Zeilinga, Juliette Beattie, Aimee Goodridge, Suyi Yin, Jody Feng THIRD ROW Zara Kilborn, Sarah Moller, Isabella Liu, Vienna Durie, Tashjan Managreve, Amelia McNamara, Mandy Ju SOFTBALL
THIRD ROW Anais Siu, Georgia Beretov-Millar, Isabella Collins, Amelie Coman, Kyra Ioakimidis, Lilia Coman, Eda Haller, Anna Devlin
FRONT ROW Jasmine Wolfe, Alexandra Lasovski, Chelsea Hunt, Mariam Yassine, Sarah Furlan, Julia Gough, Kristy Spyrakis, Amelia Norton, Elizabeth Wilkie
FRONT ROW Kristina Bitar, Erin Clowes, Jessica Johnson, Ella Baker, Riley Chantler, Madura Gaikaiwari, Abigail Bush, Annaliese Yan, Zaz Tiglao
THIRD ROW Marirose Giann, Evelyn Doan, Zoe Johnson, Amber Johnstone, Laura Andrikis, Sarah Moller, Meera Rawal, Aimee Goodridge FOURTH ROW Nia Richards, Isabella Liu, Phoebe Mullins, Vienna Durie, Tashjan Managreve (Captain), Kimberly Keogh, Christina Di Giandomenico, Vanessa Ryan
FRONT ROW Lara Bazzi, Jossie Liu, Claire Liu, Ria Simone Farag, Zoe Proctor, Erica Chou, Chloe Arnold, Mira Kalra, Chloe Jing, Sarina Nagra
SECOND ROW Kayla Graham, Gauri Sharma, Xile Yang, Isabel McKeough, Cherie Pepperell, Ria Kapoor, Suyi Yin, Laryssa Latt, Tina Papamanuel, Stephanie Abdennour
188 POLOWATER
SPORTS SENIOR SCHOOL
TENNISCOMPETITIVE
THIRD ROW Laura Kardasis, Eloise Proctor, Charlotte McCrory, Tiana Roins, Ivana Dolenac, Esther Tonkinwise, Natalia Giannakos, Elle Tamvakolos, Angie Lan FOURTH ROW Zara Constance, Zara Kilborn, Taylor Hosking (Captain), Kaisha Rollason, Emma Juffermans, Nicole Hussein, Sarah Healey, Charlize Hosking, Noelle Davis FIFTH ROW Mounica Akula, Indianna Miller, Jasmine Balfour, Elise Nikolopoulos, Katie Sutherland, Chiara Moore, Himani Gupta, Molly North, Alexia Lorenzato
SECOND ROW Sophia Grave, Kaylie Keogh, Tascha Ireland, Annika Lee, Hermione Campbell, Olivia Clowes, Jasmine Fordyce, Savannah Phengsavath, Vadeesha Kanagaratnam
189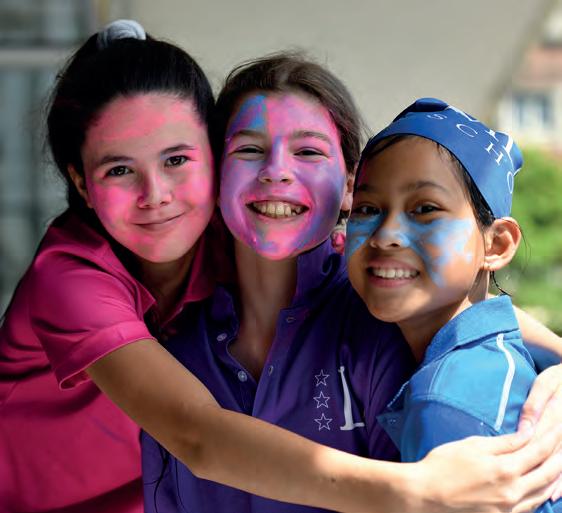 HOUSES
193
SENIORABBEYTHORPESCHOOL
Antonique Amperidis House Captain Jaimie Kappas House Vice-Captain
The COVID Cup was another huge event that saw the Year 12 Abbeythorpe Luminary Group come together to dominate and make the House proud by taking home the winning Wtrophy!ewould like to thank every girl and staff member in the House as we are so proud and honoured to be a part of the Abbeythorpe family, a cohort that always stays positive and looks out for one another. We extend a special thank you to our fabulous and amazing Head of House Ms Elizabeth Gilberthorpe. Thank you for your constant positivity and ongoing support. We wish our new captains Evelyn Doan (Year 11) and Annika Lee (Year 11) the best of luck in 2021. We know you will do an amazing job in maintaining the spirit of Abbeythorpe.
Our House spirit shone through in this year's swimming carnival where all Abbeythorpe year groups were All in this together, showing great enthusiasm in coming together in reverence to our High School Musical theme. The girls not only swam but also sang their hearts out, particularly to our synchronised swimming routine medley. The girls were passionately involved in all events and gave it their best effort which was a pleasing sight. We're so proud!
Abbeythorpe has come together very enthusiastically over the year, achieving a strong sense of House spirit which was emphasised through our collective efforts to raise money for our House charity, The Exodus Foundation, where girls collected food and toiletry items to give back to those in need. This year, Abbeythorpe learnt things about ourselves that we may have not learnt if 2020 was a different and 'non-pandemic' year. Through facing challenging aspects that arose from these unprecedented times, as a House we have furthered our understanding and practice in resilience, positivity and remaining hopeful. In an effort to maintain connectivity during the isolation period, our fortnightly meetings were turned into virtual interactive videos where we managed to still have fun regardless of our whereabouts.
A s 'the wind moves and guides us' as we say goodbye 'we will never fail to forget' the spirit and strength of our wonderful home that is Abbeythorpe.
194
Yolanda Dolenac Junior School Booralee House Captain Isabella Munoz Junior School Booralee House Vice-Captain Riya Singh Junior School Booralee House Vice-Captain
2020 has been a crazy year that no one will ever forget. Bushfires, drought, flood, and of course COVID-19. We had to learn from home, joining daily Microsoft Teams calls which also included fun PE House challenges to help build House spirit. Although there were some restrictions, and we couldn't do normal House carnivals like the swimming, cross country and athletics, we still got to plan a lot of fun activities and challenges for our School. We had another great year of Public Speaking. It was a tough competition, nevertheless Booralee pushed to the top. All girls in Year 2 to Year 5 took part of the Inter House Public Speaking Competition by giving a two-minute speech on a topic chosen by each Year group. The winners earned House points for Booralee. This House competition showed Booralee girls to be persistent and determined as they dared to be more!
JUNIORBOORALEESCHOOL
The annual Mother and Daughter Disco and Father and Daughter Challenge were a bit different to previous years. This year both events were held over Zoom. Both events were held in House groups and this was a great way to build House spirit and for us to spend more time with our Mum and Dad. Due to the global pandemic, we were not allowed to have House gatherings, so instead we had House Challenges.
The House Challenges were done in Year groups with the teachers in that Year group choosing a challenge most appropriate for them. Each group would earn House points not just for winning but for participation, encouragement, sportsmanship and improvement. Booralee enthusiastically took on each challenge and earnt lots of House points.
2020 was an interesting year and has taught us many new things around being creative and resilient.
Emily Eker Booralee House Captain Uma Barrett Booralee House Vice-Captain
House time looked especially different this year with online learning and limited interactions between Year groups, making it difficult to create House spirit. Fortunately, the positive attitudes, passion and determination of all the girls allowed us to foster House pride and create a sense of community within the House. Undoubtedly, Booralee girls were extremely inspiring in their approach to House time. We all maintained a positive attitude throughout the year and demonstrated resilience when exciting events, such as our annual Athletics Carnival and Chapel Service, were cancelled. In addition to our House spirit successes, we raised awareness of the Australian bushfire season. Girls took the initiative to choose a timely theme for the Swimming Carnival, dressing up as firefighters and Australian native bush animals. We raised over $150 for the Koala Hospital in Port Macquarie by selling lolly bags. This theme also enabled us to take home the win for the House cheer competition where we all enjoyed singing a compilation of Australian songs. Despite the cancellation of the Athletics Carnival, there was the inaugural COVID Cup which Year 12 girls participated in. Once again, the uplifting attitudes of our fellow Booraleans, who never complained and participated in all events willingly, made the day more enjoyable for everyone. Even though we did not win, it was definitely a memorable way to finish Year 12! Additionally, in House time we completed activities including wall-sits, chubby bunny challenge and blind taste testing to replace the Athletics Carnival. Although Booraleans did not get to wear their Red Racers themed outfits we were still able to create House spirit and have fun. Finally, we would like to thank Ms Tracy Getts – our Head of House – and all the staff members who have supported Booralee.
Ms Getts remained optimistic and flexible, supporting us when House time and House events were cancelled. We would also like to extend this thank you to Year 12 Booralee who remained optimistic and supportive. They helped with Swimming Carnival preparation and were always willing to lend a helping hand. We would like to wish the best of luck to the 2021 House Captains of Booralee, Olivia Tanevski (Year 11) and Nancy Faraj (Year 11). We are so glad that the Booralee will be kept in such capable hands. We can't wait to hear about all the amazing things you accomplish.
195
SENIORBOORALEESCHOOL
Common Ground is an Aboriginal-led non-profit organisation that shares First Nations stories, cultures, histories and lived experiences. Common Ground help Australians see the value of Aboriginal and Torres Strait Islander cultures through providing access to stories and knowledge that will help bridge gaps in knowledge. Through our mufti day contributions we raised $480 for this charity.
We would like to say thank you to all of the teachers and the Churungan students for supporting us. We couldn't have done what we did without you. Thank you to the students for voting for us to be your House Captains for 2020, we have loved every minute of it. We wish the 2021 Churunga Captains and the family of Churungan students in the Junior School good luck in their year ahead.
Jade Pashos Junior School House Captain Eleanor Longcroft Junior School House Vice-Captain Stella Wallace Junior School House Vice-Captain
On Wednesday 11 November, at the 11th hour, we paid our respects to the brave soldiers that fought in World War One. Our amazing Churunga girls devised a fantastic assembly to explain to everybody what Remembrance Day is about. We wore bright red poppies on our School uniform to show that we care about the soldiers who fought and died. Furthermore, we showed our respect for those who lived and fought for our country. Our Year 5 Churunga girls made envelopes that contained the beautiful poppies, a black pin to attach the poppy to our uniform, and a meaningful poem about the special day to come.
We are the Bumble Bees Sting, Sting, Sting We will fight like Dynamite Gooooooooo Churunga!! While we had an enthusiastic start to the year, hosting meetings with the Churunga family and creating cheers for the upcoming Swimming Carnival, our time to shine as leaders was cut short, or so we thought. Even though there was no Swimming or Athletics Carnival to cheer on our House; and despite the fact that we had no Chapel Service to prepare, we had the chance to lead in other ways. This was a crazy year to be House leaders, but we certainly found a way to lead the best House in the Junior School, Churunga. During flexible learning it was tough for all the girls and parents. It was very unfortunate that people missed out on exciting things like camp and captain services though we did have amazing support with teachers and parents who guided us with home activities and fun dance challenges with Ms Sarah Jauncey. We'd like to thank the teachers and parents for all of their support during that time. Before flexible learning, we were planning for our 2020 Swimming Carnival. We were making cheers and encouraging all members of our House to get involved. They were great at the cheers and we felt that we would have won the House Spirit award for the second year in a row. However, it was not to be and we took our cheering online for a House Assembly in Term 2. At this assembly we celebrated all of the Churunga birthdays in April and May, we told everyone in Churunga how they could earn House points and we taught everyone in Churunga the House cheer that Jade created. The leaders and teachers did a yellow throw challenge that we showed at the assembly, which was a lot of fun. We also had the opportunity to bring the entire House together to pray. Sharing this assembly with our House was a great opportunity to create House spirit. It was Churunga's duty to host the annual NAIDOC Week assembly. However, this year, it was a little different to our past assemblies. It was online! All of the parts were pre-recorded in the Junior School Library and the final piece was then played to all of the School. Every member of Year 5 Churunga contributed to NAIDOC Week; participating in the assembly and preparing for the bracelets out of black, yellow and red yarn, that the whole school could make. During the week, we allocated a different day to each Year group and they came to the library to create bracelets in preparation for the NAIDOC mufti on Friday. We were allowed to wear red, yellow and black to symbolise the Indigenous flag. We all brought in a gold coin donation to put around our installation that the fabulous Mrs Jane Lancaster and Year 4 made for us out of natural materials. We did this to raise money for our charity, Common Ground.
JUNIORCHURUNGASCHOOL
196
SENIORCHURUNGASCHOOL
We're proud to say that Churunga students continued to grow together through the challenges that presented themselves. As a collective, we remained positive and whilst the usual activities and face-to-face meetings occurred infrequently we still collaborated over the year. The Swimming Carnival was the main House event for the year. The theme, Churunga Chaplins, based on the movie Sister Act, was a success. The spirit of Churunga was high on the day with all girls participating with typically positive attitudes. Recognition is needed for Sarah Moller (Year 12) who took the title of Senior Champion. Further congratulations go to the group of Year 12 girls who took the title of synchro champions. The efforts and participation of all was highly appreciated. We could not be prouder to be alongside these girls, with whom we have grown over the years.
As an initiative during times of restrictions, the inter-house dance competition was a COVID-safe House challenge that allowed for the integration of House activities. With a senior and junior representative, Claire Lee (Year 7) and Katrina Marquarding (Year 10), battled against other Houses. Both put in excellent effort and showcased great dancing skills; Katrina made it through to the second round in the senior division. Both girls are to be commended. Round Square week allowed for the public speakers in the House to shine in the Inter-House Public Speaking Competition. Churunga was represented by Sanya Mehta (Year 10) and Lucinda King (Year 9) – both girls should be commended for their efforts and excellent speeches. It showed that as a House, Churunga is blessed with a range of individuals with endless strengths.
We would like to congratulate everyone in all their achievements, externally and within the House. Churunga wouldn't be the House that it is, if it wasn't for each individual who makes up the whole. It was a pleasure to lead alongside the students of Churunga, a privilege we will both be grateful for in the coming years.
Samantha Naayen House Captain Kate Cartwright House Vice-Captain
197
198
Overall, a big thank you to Leawarra for supporting us during our adventurous experience of taking on big leadership roles. Thank you for being awesome to work with.
JUNIORLEAWARRASCHOOL
Georgia Delis Junior School House Captain Naoise Lynn-Black Junior School House Vice-Captain Yasmine Teoh Junior School House Vice-Captain
Leawarra has been a great House to manage even though we have missed out on fun carnivals and special events. Before talking about all the highlights for Leawarra this year, we would like to say how proud we are on how many House points Leawarra earned during COVID. Leawarra, you were great! We enjoyed being House Captains for Leawarra and working with all the other captains. It has been incredible taking on challenges, big leadership roles and extending our skills of being more organised. Leawarra's speeches this year were amazing! Each of us from Year 2 to Year 5, prepared a speech of a couple of minutes. We had a certain topic to base our speech on, and all of us know that our House was incredibly successful with their speeches. Even if we didn't win the competition, we still had awesome speeches that were done very well. After all, it is all about the participation, and about having a go. Even though we missed out Chapel Service, we did get to do our Leawarra assembly which was a great experience for us. We supported the Exodus Foundation by collecting non-perishable food items. These food items helped those in need and helped us realise how grateful we are on Christmas and in our everyday lives. It was also a whole lot of fun creating our assembly.
In true Leawarra spirit, we continued to strive for success whilst following the values that we admire the most – compassion, enthusiasm and participation. Leading the Leawarra girls taught us a lot about communication and co-operation. 2020 encouraged us to be more creative in ways to keep our girls motivated. During the fortunate times we were together in person, we played simple games whilst getting to know the girls in the years below. Leawarra continued to show their willing participation and encouragement for each other throughout the year.
As part of being in the Leawarra House we were lucky to support a local charity, The Girls Refuge. This year was challenging for Leawarra to connect with the charity without the generous contributions of the wider Leawarran community at the Chapel Service and the Mother's Day Stall. Fortunately, we were able to visit The Girls Refuge in 2019 with Mr Wayne Donley to deliver some of our early contributions. The Girls Refuge is a non-profit organisation providing girls and young women aged 14-17 at risk of homelessness with crisis accommodation. We hope the Leawarra House in 2021 can reestablish a closer connection with these girls. The Swimming Carnival at the beginning of the year was truly an embodiment of Leawarra's commitment and team-spirit. Our participation and enthusiasm were rewarded with a first place in Championship and second place in House Spirit — the girls banded together and displayed a sense of unity and pride. As Year 12 students, carnivals are something we look forward to, and the success and passion from the whole House in the Swimming Carnival was an incredible moment to experience. Of course, 2020 could not have been possible without our most dedicated and passionate member of the House, Mr Wayne Donley. His spirit and enthusiasm provided motivation and inspiration to the House. His constant presence in connecting with the Leawarra girls and making sure we all felt supported throughout 2020 has been such a positive influence on us all. Not only that, his courage to take part in the World's Greatest Shave was a particular highlight for many girls both in Leawarra and the School community.
The experience of being Leawarra Captains of 2020 has taught us the importance of resilience and empathy. COVID has reminded us that there are always positives in any unfortunate situation. The support from our girls has been incredibly uplifting in the wild ride of 2020. We are extremely proud to have led the Leawarra girls this year and wish the House all the best for 2021!
SENIORLEAWARRASCHOOL
199
As our Head of House, Mr Donley, would say … Fear the Purple!
Beatrice Drake House Captain Samara Tucker House Vice-Captain
We are so proud of the Lester community for all the effort and participation they have put in over the past year. Despite the challenges 2020 has presented with moving to online learning and online House Time, the Lester community displayed a resilience that is to be commended. We are very happy to pass the baton onto the 2021 House Captain Hayley Kenzler (Year 11) and Vice-Captain Piper McCowan (Year 11). We know that you will both lead the house wonderfully in the next year.
200
During the course of 2020, the Lester House underwent certain changes involving our House charity. Previously, Lester House supported White Ribbon Australia due to their extensive efforts to protect women against male violence. Unfortunately, the charity fell into liquidation in Australia, leading us to change charities. After much research, conducted by our Head of House and both House Captains, the newly selected charity that we decided to support was Parramatta Mission. Not only was this charity a part of the Uniting Church, but it also mirrored the values of Lester House and MLC School. Parramatta Mission is a charity that helps women and men in times of hardship and promotes the values of dignity, faith, inclusion and hope. These values are incredibly important to both the Lester House and the School community; they ensure that all students are equipped with belief within themselves and the respect for others, which will help prepare students for their lives outside of MLC School.
SENIORLESTERSCHOOL
Elizabeth Linardos House Captain Vivian Law House Vice-Captain
It has been an amazing year for Lester House! The year kicked off with a bang in the Swimming Carnival, with our House theme Lester Lilo and Stitch. The day was a huge success with lots of great costumes and House spirit! The House Chapel Service was also a great success with the theme Unity A massive thank you to the girls, teachers, Head of House and parents for contributing to the success of this event. It was wonderful to see the whole community together! Throughout the year we also had many fun House activities including the InterHouse Public Speaking Competition and House Dance competition; the girls who participated in these all did an incredible job.
On the day, we had so much fun participating in the skip-a-thon. Students looked amazing in their tutus, tiaras and wings. We managed to raise $1333 for Wayside Chapel which was very exciting.
JUNIORMOORAMOORASCHOOL
For our service learning we supported Wayside Chapel. It is a foundation that supports the homeless and the less fortunate. We chose this charity because of the difficult times that people are facing and the more money and help that they can get, the better.
House Assembly and Service Learning
COVID-19
House Challenges This year we couldn't participate in any carnivals, including the swimming, athletics and even cross country. MLC Junior School did not give up. We created another way to have fun in our Houses. We decided that we would participate in challenges within our own Year groups. Each Year group was given a challenge according to their age, and the House that won received HOUSE POINTS! Mooramoora won many challenges including one that received 80 points. Yes 80! Even though we won challenges, it was more about teamwork, building confidence and having fun within your Luminary! GO MOORAMOORA!
India-Rose Mace Junior School House Captain Hannah North Junior School House Vice-Captain Lola Jablonski Junior School House Vice-Captain
Coronavirus had a significant impact on MLC School's House contributions in 2020. It was very hard to host House events including carnivals, House Chapel Services and even assemblies, but Mooramoora and MLC School did not give up. We instead held virtual assemblies and we participated in House challenges instead of carnivals. Unfortunately, we were unable to have our Mooramoora Chapel Service due to restrictions. Although it was not the same, we learnt an important message that this year should be cherished not despised. House Points In classes this year, students were awarded House points for either helping out or focusing really well. We were also giving out House points in the playground to people in our Houses who we thought were cleaning up really well, a spectacular way to earn House points. Even though it was only a small gesture every day, the points added up and the numbers became quite large.
202
Thank you to all the girls in Mooramoora for your courage, persistence and House spirit!
In our virtual assembly, we highlighted why Wayside Chapel is so important and we also introduced how we were going to help. We decided to host a skip-a-thon. From Pre-K to Year 5, students were asked to skip for as long as they could to collect donations in return. It was also going to be a mufti day. MLC School girls were asked to donate a gold coin if they came dressed as royal angels. This theme connected with the logo from Wayside Chapel. In the assembly we made cool videos to show the girls how to skip. We danced to popular songs such as Kings and Queens by Ava Max and Physical by Dua Lipa. At the end there was even a Kahoot quiz to check if students had been paying attention! Some people would even say that it was one of the best Mooramoora assemblies ever!
Coming 5th overall in the Athletics Carnival – one of the best rankings we've held in the past few years – was testament to all the girls in the House who participated in a range of events and demonstrated their House spirit throughout the day.
Jessica MacMaster House Captain Ella Tsaousidis House Vice-Captain
203
A nother highlight of 2020 was the House Chapel Service where our theme was gratitude. We continued our support of the House charity Beyond Blue raising funds and awareness for this cause, breaking down stigmas surrounding mental health. Mental health and wellbeing has always been important to our Mooramoora family, only exacerbated by the COVID lockdowns. We further supported this cause of wellbeing throughout many House times, encouraging girls to seek help when needed.
SENIORMOORAMOORASCHOOL
COVID restrictions came into place following our chapel service and our fortnightly House time meetings moved online. The effort from the girls was commendable and we as House Captains aimed to make sure everybody felt included and connected during these times. Overall thank you to our Mooramoora family for your enthusiasm and participation, we would not have been able to do it without you!
Mooramoora has always felt like a family to us, and this year was no exception. Our goal this year for Mooramoora was to create and build greater inter Year group relationships to develop a greater sense of community within the House. This goal was achieved this year through the organisation of games and activities that required Year group interactions. The enthusiasm and excitement of the girls was integral in the achievement of this goal, with all girls in the House continuously displaying kindness and compassion. At the beginning of the year we had our annual Swimming Carnival when all Mooramoora girls demonstrated their House spirit. The theme was Mooramoora Mermaids, with all girls getting involved, singing and chanting the cheers they helped create. The annual Year 12 synchronised swimming routine was done to the Little Mermaid song and although we didn't win, the Year 12 girls had a fantastic time.
W hile 2020 was not the year that was expected when we became House Captains, it has been an honour being the 2020 Mooramoora Captains and it will be a year that will never be forgotten. To our 2021 Mooramoora captains, Gracelyn Dao (Year 11) and Cynthia Hu (Year 11), we wish you all the best for next year and are sure that you will grow our House and achieve great things.
204
SENIORPRESCOTTSCHOOL
The Prescott Puppy Pageant occurred in a unique way. Not only was it live streamed to the School, it was expanded beyond dogs, with special entries from a horse, rabbit and ferret and it was a great success. Different awards were handed out to deserving winners, helping to raise awareness and funding for our House charity. Hopefully next year the puppies will return to MLC School for the fourth annual Puppy Pageant.
Philippa Machin House Captain Audrey Williams House Vice-Captain
This year Prescott girls excelled in all events, which were held during the school year. As House Captains, we are beyond proud of each and every one of the students. Only a few House Chapel Services were held as live events and we had the privilege to welcome Prescott families to the School for the service. During the Chapel Service we heard speeches given by various students, musical pieces and prayers from both students and Rev Vinnie Ravetali. The Chapel Service assisted to raise money for our House charity, Seeing Eye Dogs Australia. This foundation assists in the training of guide dogs to provide assistance for those who are visually impaired. Overall, this Chapel Service was a lovely event which enabled both the students, staff and families of Prescott to connect with each other and united Prescott House. The Swimming Carnival occurred at the beginning of the year ahead of the impact of COVID-19. Despite not having our amazing Head of House, Mr Chris Eddleston to assist us on the day, we still managed to come first in Spirit points and second in Championship points for the day. Mr Eddleston, in our final House time, reflected on the importance of camaraderie and teamwork. The students at the Swimming Carnival demonstrated these values which we believe are central tenets to the success of Prescott House. We were both immensely proud at the effort that every student displayed during the Swimming Carnival.
2020 has been a year of change and as a result of that many events were altered and took on a new form in order to go ahead. We would like to acknowledge and congratulate every girl in Prescott for showing resilience during these tough times and for participating in any way they could in order to make the year a success!
Samantha Cavanagh House Captain Isabel Leung House Vice-Captain
The ever-changing world in 2020 could not shake the core values of the Sutton girl. Sutton girls rose to the challenges, showed resilience and cared for one another. The key theme of friendship in the House Chapel Service earlier in the year held strong and helped to foster our aim of developing close bonds within Luminaries and across the Year groups. At the beginning of 2020, we all embraced our inner Spice Girls in the Swimming Carnival, making Sutton truly unique from the other Houses. The girl's supportive encouragement of each other and eager enthusiasm for participating in the races enabled us to place 4th overall, in House spirit and the synchronised swimming routine, making it clear that Sutton's success, at its core, is attributed to the strength of the Sutton spirit. Our achievements were not limited to the sporting field, but included Anikah Sanan's (Year 8) win in the InterHouse Public Speaking Competition and the collaborative and creative efforts, led by Ms Emma Hogan, to truly make Sutton 'illuminate' above all others in the House Throne Competition. Sutton's widespread success in numerous areas is a testament to the versatility and adaptability of the Sutton girls. More importantly, regardless of whether House meetings were conducted in-person or on Microsoft Teams, our spirit for the House was not diminished. We are proud of every one of the Sutton girls, who have continued to celebrate the success of their friends and support their House irrespective of the circumstances. It has been a sentimental end for Sutton Year 12 2020 as our high school journey began simultaneously with Mr Gavin Starr's reappointment as Head of House for another term. The Year 12 gift of pink bracelets is symbolic of the Sutton bond that will be cherished even beyond our time at MLC School. We would like to extend our warm thanks and appreciation for Mr Starr and his unfaltering devotion and ambitious vision for Sutton. We would also like to thank the Luminaries for their continued guidance of the girls. We look forward to hearing about a phenomenal 2021 led by the captain's Sabine Saad (Year 11) and Inez Kritzler (Year 11).
SENIORSUTTONSCHOOL
205
Amelie Coman House Captain Tiarna Cominos House Vice-Captain
Throughout the year of 2020, Wade House overcame the many challenges through our strength and resilience to adapt to the continuous changes that approached us. One of our goals, as House Captains was to encourage students to maintain positivity, especially in a year filled with ambiguities. At the beginning of the year, Wade participated in the Swimming Carnival with such spirit and enthusiasm. We were determined to improve the results and participation from 2019. The theme this year was Turquoise Titanic, where we had a beautiful set up and Year 12 costumes designed specifically for this event. With an amazing attendance from all Year groups and the enormous support and assistance from our Head of House, Mrs Robyn Langford, Wade House was fortunate enough to place third in the House Spirit competition, making us very proud as leaders.
Finally, as House Captains, we would like to thank each and every student from Year 6 to Year 12 for co-operating with us, making our role a whole lot easier during the year of COVID-19. We would also like to show our appreciation to all the Luminaries and especially to Mrs Robyn Langford for your constant support and involvement during this difficult year. It has been an honour to lead Wade House in 2020 and we would like to wish both the 2021 Captains, Lilia Coman (Year 11) and Claire Huddy (Year 11) all the best for the upcoming year. We would not have been able to do this without you all and are very thankful for all of your assistance.
206
Wade House is very diverse and rich in many talents, which was clearly demonstrated by the Just Dance Competition, the Handstand Competition, the Rowing Competition and MLC School's very first COVID-Cup. While we continually had to overcome obstacles related to COVID-19, Wade remained optimistic and showed our resilience.
SENIORWADESCHOOL
Unfortunately, the Swimming Carnival was the only event that was able to take place normally throughout 2020. Fortunately, Wade remained positive and adapted to the changes. We were very lucky to have amazing technology experts, enabling us to conduct virtual House times in order to maintain House communications and run activities.
We have thoroughly enjoyed our time at MLC School and we hope that Wade continues to remain positive and resilient as they strive for success and achievements in the future.
SENIORWHITLEYSCHOOL
207
As Captains, 2020 was filled with both tribulations and triumphs, particularly as a significant amount of our House interactions were held through a screen. However, what has truly prevailed is our determination that this adversity would not define us. This year, Whitley has achieved a great many things, including a well-deserved second place when Year 12 girls participated in the COVID Cup, due to our teamwork, enthusiasm and ability to connect with one another.
Having been members of Whitley for the past seven years, one thing we are especially proud of is the diversity of talent amongst the Whitley girls. Not only do we have amazing athletes, we have girls who excel in music, debating, dance and drama, all of whom have represented the House over the course of several years and achieved excellence. We are proud of every girl for striving to achieve their very best, with passion and determination in accordance with Whitley's values.
As we reflect on our time as House captains, we are overwhelmed with numerous fond memories of House activities, Luminaries and sporting events. We remember the faces of the girls lit up, filled with passion, joy and, importantly, House pride - qualities that truly reflect the Whitley spirit.
Looking back fondly on our journeys from Year 7 to Year 12 as Whitlians, we remember the good times; our Luminaries and our wonderful Head of House Ms Ingrid Smolka; our co-Luminary Mr Tristan Coelho and all the Whitley leaders who have come and gone out into the world. They all have left an amazing legacy. Now, we leave the House with the wise words of our predecessors that influenced us in our time as Whitley captains; Whitley is beyond a House, as MLC School girls we all share a close connection that stretches beyond our school lives, there is bond that forms between the girls under the flame banner. Our House is a family, and as we move through into the next stage of our lives we hold great nostalgia, hope and assurance in our hearts that our new Year 12 leaders and Vice and House Captains, Elle Tamvakolos (Year 11) and Samridhi Garg (Year 11), will continue to nurture the warmth of the Whitley family.
Daphne Doumanis House Captain Maria Costantino House Vice-Captain
Senior
208
FRONT ROW Caitlyn Law, Eloise Qiu, Genevieve Nguyen, Chloe Huang, Audrey Henderson, Avni Narang, Taylor Bakir, Yan (Rosanna) Tsoi, Shiloh Gao, Elissa Chami, Hayley Lam, Hannah Girgis, Vivienne Nguyen, Chelsey Gao, Katherine Zhai, Miranda Ho, Vaani Narang, Amelia Lee, Henrietta Britton, Poppy Frederick, Annabella Xiang SECOND ROW Mrs J Gilroy, Eloise Dastyari, Manjima Dutta-Gupta, Eve Hutchison, Sienna Khouzame, Sophia Hall, Alana Bakir, Olive Simmons, Sateni Shoaib, Hannah Dastyari, Angelyn Xiang, Chloe Zheng, Scarlett Innes, Alicia Suen, Bao (Vy) Truong, Jocelyn Yao, Jing Qiu, Averie Ling, Mrs J Falls THIRD ROW Mrs M Wyatt, Avery Lee, Halimah Bokhari, Miranda Lin, Aurora Sharma, Arianna Xu, Eyna Cho, Madeleine Girgis, Kaitlyn Yang, Vita Gohil, Jiarui Song, Bethany Haddad, Queena Chen, Taylor Lu, Megan Ouyang, Yik Lin, Hayley Trinh, Tara Siddarth, Ms E Rhodes
photos
HERENAMEHERENAME
FRONT ROW Sienna Nguyen, Amanda Zhang, Vivienne Woon, Alev Brennan, Emily Tu, Anna Lieu, Eloise Wong, Victoria Wai, Shantelle Nguyen, Lavinia Xu, Yunzhuo Gao, Adora Xu, Lydia Ye, Catherine Coorey, Niamh Gorman, Camellia Yao, Alexandra Huynh, Anushkaa Thadani, Amelia Ko, Avianna Tanios SECOND ROW Ms C Dougherty, Elizabeth Horvath, Giselle Tanios, Chloe Price, Maggie Ma, Zara Stewart, Ella Le, Magdalena Volikas, Christa Jeyasingam, Lucia Cicinelli, Daphne L'Estrange, Scarlet Akers, Amara Sivagurunathan, Zara Nicholias, Lily Sugianto, Abira Sanan, Sophia Correia, Arabella Kuo, Mia Li, Ms L Astle THIRD ROW Mrs J Tanevski, Isabella Horvath, Stephanie El'Atrache, Rachael Ming, Francesca Masters, Avery Koh, Clara Southwood, Isabella Munoz, Liesl Wong, Adelaide Akers, Imogen Wong, Stephanie Phong, Sienna Munoz, Alisha Ji-Lee, Cailise Campbell, Vera Papaluca, Ms S Edwards FOURTH ROW Mariette Karam, Mikayla Woon, Imogen Sutton, Catia Placanica, Kristella Miltiades, Liana Wai, Grace Zhao, Regina Ding, Avnika Kandala, Eleanor McKeough, Gloria Chen, Claudia Beattie, Gaia Bigolin, Riya Singh, Violet Le, Megan Kuit, Ms S Clark FIFTH ROW Milla Papaluca, Luella Farah, Emma Sugianto, Sacha Jeyasingam, Evelyn Gogos, Jessica Pan, Yolanda Dolenac, Grace Kuman, Angelina Xu, Elizabeth Faraj, Tin Leung, Charla Howard, Matilda Dugan, Isabelle Forster, Sienna Clark note: School House were not taken in 2020 due to COVID-19
FOURTH ROW Mrs N Greville, Niamh Canadas, Ingrid Henderson, Caydence Sumantri, Eleni Giannacopoulos, Sophia Hu, Ilaria Blanco, Mia Rice, Julia Saad, Stella Wallace, Carina Chu, Janice Leong, Jade Pashos, Amelia Kroehnert, Audrey Boulton, Elizabeth Ravens, Mrs R Borg FIFTH ROW Aashi Shah, Anika Gupta, Jasmin Srisathkurunathan, Diar Kabaha, Ellen Gadsby, Indigo Hannah, Angelina Mijakovac, Gurnaaz Kahlon, Chloe Lay, Surabhi Parab, Alisha Dhaliwal, Priya Mohan, Kyra Narang, Alyssa Corbett ABSENT Mrs B Schofield, Ms S Blanche, Moyi Chen, Anaahat Kahlon, Angela Thorn, Chelsea Keomanivong, Eleanor Longcroft
BOORALEESCHOOLJUNIORCHURUNGASCHOOLJUNIOR HOUSE PHOTOS *Please
THIRD ROW Ms E Lazar, Amanda Houltham, Chloe Tiong, Elisa Li, Evangeline Black, Jenny Lin, Yasmin Maidment, Olivia Burke, Zoe Zlamal, Danika Krekacs, Pip McGuire, Stella Inthavong, Katherine Goldring, Rithika Vinoth, Christina Messih, Lexie Bellew, Anny Xie, Sally Nguyen, Molly Mckenzie, Ms M Ling
FRONT ROW Olivia Cheng, Zoe Baker, Leanna Shen, Annika Bou, Mia Jin, Ruby Tzouganatos, Nikoda May, Kiara Assassa, Bailey Tong, Mishika Kapadia, Macy Bellew, Hui (Elina) Yu, Irene Chau, Yuxin (Dora) Weng, Faith Huynh, Mila Barakat, Sienna Dib, Leah Maidment, Xiaoni Bai, Skye Nguyen, Emily Mah SECOND ROW Mr C Howard, Lara Byrnes, Aaliyah Liu, Aerin Kim, Queeny Guan, Gabriela Lim, Adele Xu, Frankie Fardoost, Frances Xie, Sofia Tzouganatos, Emma Kanaan, Olivia Connolly, Ella Zraika, Charlotte Yiu, Claire Liang, Leona Nadarajah, Sherlyn Lin, Freda Xie, Grace Liang, Mrs G Kapellos, Ms J Avraam
209
FOURTH ROW Miss M Woods, Angelina Huang, Marayah Johnson Clayton, Hannah North, Chelsea Sumich, Holly Moore, Nicola Keast, Sybilla Howes, Katherine Woo, Kaliya Edwards-Ware, Yunqi Ni, Avery Dauphinee, Elly Yu, Imogen Walker, India Mace, Sophie Connolly, Elana Chrun, Mr E Park FIFTH ROW Lola Jablonski, Jodhi Bou, Gigi Guan, Niamh Johnson, Angelina Ng, Leeanne Wu, Alice You, Lam Nguyen, Lily Vujcic, Baylie Shen, Lucia Barrington-Higgs, Nectaria Constanti, Olivia Nguyen, Emma Koeswandy, Kamora Edwards-Ware
FRONT ROW Caitlyn Wong, Victoria Cassar, Leonie Nguyen, Laura Chang, Peita Nikolakopoulos, Nia Immanuel, Daisy Han, Fedra Nikolakopoulos, Olivia Smith, Angelina Galilee, Charlotte Hing, Joyce Guan, Kyrani Countouris, Ethelia Cassar, Avery Satchcroft, Eirya Chauhan, Estella Tran, Isabella Rocca, Le Chan Gui, Chuchu Huang, Charlotte Lim SECOND ROW Ms V Rouhliadeff, Mia Licenblat, Kexin (Kathy) Zhang, Sophia Ghaly, Georgie Varkas, Yue (Jesselle) Jiao, Joanna Williams, Selina Shan, Helen Liu, Angela Thorn, Dora Cai, Raquel Gill, Maryse Elassal, Eva Rocca, Jasmine Chib, Sophie Hong, Frida Yao, Sofia Ahamed, Jolyn Nassif, Ms E Bryson THIRD ROW Mrs M Hiss, Hayley Dinh, Jessica Lim, Aleeya Sharma, Jaya Mehta, Evelyn Tran, Layla Abdelrahim, Alana Siluk, Alessandra Spina, Mia Coady, Yasmine Teoh, Georgia Delis, Tamara Abdelrahim, Anakha Nalliah, Katelyn Lim, Zoe Fotoulis, Georgia Sioutas, Ashwini Kanesalingam, Angie Xiang, Ms P Duke FOURTH ROW Ms A Bidwell, Sophia Du, Chloe Lu, Anastasia Countouris, Eva Zhong, Rima Zhang, Tina Guan, Anna Poortvliet, Georgina Rowles, Zoe Brown, Rose Lin, Sophia Antipas, Jade Scott-Rogers, Elyse Vivash, Jacqueline Wang, Aaliya Zhou, Leela Das, Janani Kanthathas, Mr M Lewis FIFTH ROW Ophelia Li, Charlotte Latham, Zaina Verma, Stephanie Keo, Naoise Lynn-Black, Lucy Cui, Imogen Bush, Chloe Miller, Olinda Cao, Meena Kanthathas, Rose Turner, Rebecca Ho-Bui, Chelsea Chen, Sophie Ye, Aaliya Salim, Allura Zhou, Ava Brown
LEAWARRASCHOOLJUNIORMOORAMOORASCHOOLJUNIOR
WINNERSPRIZE
212 Year 3 Dare to be More: Courage Raquel Gill Sophie Hong Dare to be More: Compassion Cailise Campbell A mara Sivagurunathan Dare to be More: Respect Aurora Sharma A nny Xie Dare to be More: Growth Lexie Bellew Lucia Cicinelli Outstanding Academic Application Bethany Haddad Chelsea Keomanivong Outstanding Academic Achievement Leela Das A ngelyn Xiang Outstanding All-Rounder A nna Poortvliet Eloise Wong Dare to be More: Courage Kaliya Edwards-Ware Indigo Hannah Joanna Williams Dare to be More: Compassion Taylor Lu Yunqi (Ellie) Ni Rithika Vinoth Dare to be More: Respect Sienna Clark Elizabeth Ravens Liesl Wong Dare to be More: Growth Tina Guan Milla Papaluca Catia Placanica Outstanding Academic Application Maryse Elassal Madeleine Girgis Katherine Goldring Outstanding Academic Achievement Elizabeth Faraj Ingrid Henderson Surabhi Parab Outstanding All-Rounder Chloe Lu Jasmin Srisathkurunathan Sofia Tzouganatos Year 5 Dare to be More: Courage Luella Farah Niamh Johnson India-Rose Mace Yasmine Teoh Dare to be More: Compassion Georgia Delis Gurnaaz Kahlon Georgina Rowles Rose Turner
DAYAWARDEDPRIZEWINNERSPRIZESCHOOLJUNIORWINNERSASAT2020SPEECHFORYEAR3TOYEAR6.
213 Dare to be More: Respect Jodhi Bou Holly Moore Kyra Narang Mikayla Woon Dare to be More: Growth A nika Gupta Eleanor Longcroft Lily Vujcic Imogen Walker
Prizes for Service Junior School Captain Jodhi Bou Junior School Vice-Captain Sophia Antipas Booralee House Captain Yolanda Dolenac Booralee House Vice-Captain Riya Singh Booralee House Vice-Captain Isabella Munoz Churunga House Captain Jade Pashos Churunga House Vice-Captain Eleanor Longcroft Churunga House Vice-Captain Stella Wallace Leawarra House Captain Georgia Delis Leawarra House Vice-Captain Naoise Lynn-Black Leawarra House Vice-Captain Yasmine Teoh Mooramoora House Captain India-Rose Mace Mooramoora House Vice-Captain Hannah North Mooramoora House Vice-Captain Lola Jablonski
The Grayson Book Prize for Librarianship Nicola Keast Junior School Student Council Prize for Exceptional Service Meena Kanthathas
Lulu Thomas Memorial Prize for Citizenship A melia Kroehnert The Douglas Finlay Prize for Servant Leadership Elysse Diep Junior School House Cup Leawarra
Outstanding Academic Application Elysse Diep Jiayi Li Gauri Nathan Outstanding Academic Achievement Umaiza Mahfuz A nna Obaid Jordan Vo Outstanding All-Rounder Kathleen Chrun Haegan Sitou A nisha Sivagurunathan Prizes for Excellence Excellence in Music Yolanda Dolenac A nna Obaid Excellence in Visual Arts Kathleen Chrun Guan Gigi Guan Excellence in Language Tin Wing Cheylene Leung Eve Ireland Excellence in Sport Lucia Barrington-Higgs A ngelique Houltham
Prizes for Citizenship and Service
Dare to be More: Growth Yunrui (Rebecca) Gao Sara Placanica Dina Saeed
Outstanding Academic Achievement Guan Gigi Guan Rebecca Ho-Bui Sophia Hu Alice You Outstanding All-Rounder Sophia Antipas Sacha Jeyasingam Meena Kanthathas Chloe Miller Year 6 Dare to be More: Courage Grace Farrow Markella Krekacs Saskia Roberts
Outstanding Academic Application Nectaria Constanti Avnika Kandala Tin Wing Cheylene Leung Stella Wallace
Dare to be More: Compassion Inez Murray Isabella Townsend Valerie Tran Dare to be More: Respect Emily Leung Sallia Nguyen Ze Wong
214 Year 7 Achievement Across the Curriculum Maya Al-Soufi K ristina Bitar Sophia Bucci Chloe Ho-Shon A maya Karunakaran A ngelina Le Nit ya Nimalan Tasha Wong A ngelina Zhang Progress and Growth in Learning Sameera Khatri Resilience in Learning Sarah Carmody Olivia Cassell Erin Clowes Michaela Green Dayna Hariz Zoe Likely Evie Papamanuel Eleanor (Uma) Singleton Aiesha Sivaranjan A nna Sulan Academic Distinction Nit ya Nimalan Year 8 Achievement Across the Curriculum Cara Britton Emily Edwards Fiona Feng Ruby Mitchell Sally Obaid Moira Peach Vishaalini Ravichandra Georgie Roediger A nikah Sanan Progress and Growth in Learning Zara Constance Resilience in Learning Ava Dean Ivana Dolenac Megan Ebel Chloe Hui Tulasi Kanani Isabella Kristallis A melia Norton Georgia Terzis Santina Signorelli Junior Swimming Champion Florence Jiang Resilience in Learning The Robyn, Judy and Lyn Woolley Encouragement Award Kate Morfoot Achievement Across the Curriculum Academic Distinction Olivia Chapman YEARATPRIZEWINNERSPRIZESCHOOLSENIORWINNERSASAWARDED2020SPEECHNIGHTFOR7TOYEAR12.
215 Year 9
The Olive Cotton Prize for Photography Maya Lecuna
The Phyllis E Watt Prize for Leadership A melia Chan All-round Academic Excellence Grace Selim PhysicalIndonesianEnglishCommerceActivity and Sport Studies Outstanding Academic Distinction Tina Papamanuel
The Margaret Thomas Memorial Prize for Citizenship L aura Andrikis Time Travellers Zara Cathcart Visual Arts (aeq.) A nnabel Twomey PersonalChinese Development, Health and Physical Education TextilesReligion Technology Outstanding Academic Distinction Erica Chou VisualGeographyFrenchEnglishArts (aeq.) Outstanding Academic Distinction Claudia Padman History Outstanding Academic Distinction Selena Read Year 10 Progress and Growth in Learning Olivia Clowes A melia Jubelin Madeleine Lewis Helena Panos Marissa Tsaousidis Chinese Charlotte Trieu TextilesDance Technology Madison Clemens Design and Technology
Information and Software Technology Despina Stamoulos Mathematics 5.2 Progress and Growth in Learning Emma Ung Mathematics 5.3 Elizabeth Wilkie Mathematics Extension All-roundMusic Academic Excellence Seetha Nathan Photographic and Digital Media (aeq.) Sofia Jury Photographic and Digital Media (aeq.) Milla Newman Physical Activity and Sport Studies Progress and Growth in Learning Lucy Lee Progress and Growth in Learning
The Jessie Douglas Prize for Visual Arts Doris Yang PhotographicDrama and Digital Media Mounica Akula Food HistoryTechnology(aeq.) Lia Al-Soufi All-roundFrench Academic Excellence Natalie Cavallaro DrGeographyAliceWhitley Prize for Science Christyn Cordato History (aeq.) Progress and Growth in Learning Religion A nna Gough
Information and Software Technology A melia Bresolin Intermediate Swimming Champion Juliette Beattie Mathematics 5.2 Sarah Kanaan Mathematics 5.3 Ayushi Bhujel Mathematics Extension (aeq.) Rania Malibari Mathematics Extension (aeq.) Weizhi (Vicky) Zhang Music Jade Di Girolamo Personal Development, Health and Physical Education Zunairah Mahfuz
Progress and Growth in Learning Dalia Alsaad Sylie Bhat Jennisa Ha Liesel Kidley Ilaria Korompay Julia Lok ScienceCommerce Chloe Jing IndonesianDance Ruby Newton Design and Technology Jasmine Stavros Drama Madhavi Chauhan Food Technology Chantelle Wan Global All-roundStudiesAcademic Excellence Isabel McKeough
Holly Herden
International Baccalaureate Diploma
Mikaela Nguyen Geography A nnika Lee Harvard Book Prize Claudia Bean History Maya Simpson Japanese ab initio All-round Academic Excellence Yang (Janelle) Jiao Mathematics: Analysis and Approaches HL Gloria Lim Mathematics: Analysis and Interpretations SL All-round Academic Excellence A melia Whitmont All-roundMusic Academic Excellence X inyu (Cynthia) Hu Physics Freya D'Mello Psychology Maria Stamateris Visual Arts Paris Chen All-round Academic Excellence Fiona MacKenzie All-round Academic Excellence Vanessa Ryan ItalianDance ab
Prize for Preliminary Extension English All-round Academic Excellence Runner-up to Dux of Year 11 HSC Candidature Elsa Tonkinwise All-roundBiology Academic Excellence Dux of Year 11 HSC Candidature L auren Millar
All-roundStudiesMathematicsStudiesStandardofReligion2AcademicExcellence
Business Management Tarindhi Fernando Chemistry (aeq.) English Kylie Becvarovski
217 Year Prizes11for
PersonalChemistryDevelopment, Health and Physical Education All-round Academic Excellence Tahlia Hatzisarantinos Dance V ienna Durie Design and Technology Jennipher Kong All-roundMusicDrama2 Academic Excellence Ellery Joyce Economics Charlotte Jones English All-roundAdvancedAcademic Excellence K ittu Hoyne ModernEntertainmentHistory Tara Mulholland TheGeographyAldyth Deer Memorial Prize for Visual Arts All-round Academic Excellence Johanna Lafoa'i Indonesian Continuers Natalia Giannakos Mathematics Extension 1 Aarathe Ramraj TheaPhysicsNotaras Memorial Prize for Textiles and Design Jasmin Fitch Studies of Religion 1 A nnabelle Bailey All-round Academic Excellence Dionne Alaveras All-round Academic Excellence A nika Grannall All-round Academic Excellence Elise Nikolopoulos Ancient History French TheMathematicsContinuersAdvancedJudithOliveStephen
Mathematics:initioAnalysis and Approaches SL Sports, Exercise and Health Science All-round Academic Excellence Runner-up to Dux of Year 11 IB Diploma Candidature Montana Cominos ChemistryBiology (aeq.) Chinese (HSC/IB combined) Theory of Knowledge All-round Academic Excellence Dux of Year 11 IB Diploma Candidature Christie Ch'ng Year Prizes11for Preliminary Higher School Certificate Business
All-roundFrenchEconomicsAcademic Excellence
JapaneseFrench ab initio Eden Cheng All-roundPhysicsGeographyAcademic Excellence Cherie Pepperell Italian ab initio A nabelle Truong Mathematical Studies Jessica Kim Music A nica Shen Psychology Jasmin Selim Sports, Exercise and Health Science Maddison Fisher
All-round Academic Excellence V ivian Law All-round Academic Excellence Daisy Zheng Chinese MathematicsEconomicsB HL All-round Academic Excellence Runner-up to Dux of MLC School IB Candidature Ruiming Yang EnglishBiology Literature MathematicsHistory SL All-round Academic Excellence Dux of MLC School IB Diploma Candidature A riana Haghighi
Academic Excellence Eugenie Tan
Chanel Boudib Dance Sofia Costa Design and Technology Samantha Naayen
All-round Academic Excellence Emily Eker Business Management (aeq.)
TheoryTheatreof Knowledge All-round Academic Excellence A nnie Chen Visual Arts Nicole Kubica
All-roundChemistry
Alexia Lorenzato
Year Prizes12for Higher School Certificate Business MusicMathematicsStudiesAdvanced1
218 Year Prizes12for International Baccalaureate Diploma Business Management (aeq.)
StudiesIndonesianDramaofReligion 2 Samara Tucker All-roundEconomicsAcademic Excellence Jessica MacMaster English Extension 1 PersonalGeographyDevelopment, Health and Physical Education All-round Academic Excellence Ella Woolbank English Standard Emily Ryner Entertainment Ellena Hartzenberg History Extension Zoe Berg
All-round Academic Excellence Noelle Davis All-round Academic Excellence Ruby Guminski
J & N Murphy Memorial Prize for Music 2 Music All-roundExtensionAcademic Excellence Xu (Marie) Yan Japanese Beginners Joy Zhang Mathematics Extension 2 Meryl Hilda Wright Award in Food Technology All-round Academic Excellence Olivia Papasavvas Mathematics Standard Visual All-roundArtsAcademic Excellence Eva Wright All-roundPhysics
The Jennifer Carr (Grant) Memorial Prize for English Extension 2 Sarah Healey All-round Academic Excellence Sein Choi
Creativity, Activity and Service Zoe Hannam Dance Tiarna Cominos
Academic Excellence
Senior Swimming Champion Sarah Moller Studies of Religion 1 Lillian Dummett Textiles and Design A melie Coman
Highest Score Trophy for House Champion Events Prescott The G.A. Davey Cup for Highest Overall Score in House Competition Booralee
The George Lane Prize for Dux of MLC School HSC Candidature Charlie Kairaitis Special Awards Duke of Edinburgh Award Scheme Gold Award A melie Coman Tiarna Cominos Eliza Crossley Ruby Guminski Morgan Kelaher Holly Miller Rahni Ong Emma Oxley Madeleine Oxley Cherie Pepperell A melie Roediger A nica Shen Eva Telemachou C.R. Warne Prize for Sportsmanship and Proficiency in Sport Lillian Dummett Kareen Healy Memorial All-Rounder Sports Award Natalia Giannakos Nicole Horton Prize for the Players' Player A melie Roediger Professor Joan Beck Service to Sport Award Maeve Halliday The Joyce Denning Memorial Prize for Tennis Indianna Miller Thelma Coyne Long Award Tashjan Managreve Grosman Trophy Halle Yang Matthew Hindson Composition Award Veronikah McClelland Australian Music Centre Award for Outstanding Work in Composition Mia Burjan Ross Edwards Trophy Zoe Hannam Connolly Trophy Joy Xu Music Director's Award Chanel Boudib Briana Chapman Maya Felice Zoe Hannam Jessica Kim Isabel Leung Jessica MacMaster Holly Miller Cherie Pepperell Eloise Riviere A melie Roediger Emily Ryner A nica Shen Jessica Song Joy Xu Xu (Marie) Yan Halle Yang Music Director's Certificate Olivia Bersais Mia Burjan Samantha Cavanagh Ga (Karen) Chung Ellena Hartzenberg Morgan Kelaher Desiray La A nika Lammers Veronikah McClelland Ella Tomkins Sophia Wang Audrey Williams Olivia Winlaw A ngie Xu MLC School Blue for Music A melie Roediger A.N.P Award for Diversity and Inclusion A melie Roediger
219 ScienceBiology All-roundExtensionAcademic Excellence Dr Denise Cole Prize for Science Runner-up to Dux of MLC School HSC Candidature (aeq.) Veronica Abal French All-roundContinuersAcademic Excellence Runner-up to Dux of MLC School HSC Candidature (aeq.) Jessica Song Ancient MathematicsEnglishChemistryHistoryAdvancedExtension 1 Modern All-roundHistoryAcademic Excellence
The King Constantine Medal – Round Square Lily Smith Caltex Best All-Rounder Award Cherie Pepperell Helen Bagley Memorial Medal for Achievement, Generosity and Citizenship Paris Mitropoulos George Brown Prize for Leadership A melie Roediger OGU Prize for SportsmanshipScholarship,andLeadership Charlie Kairaitis
Nominations
OnSTAGE (Drama) Christina Catania Imogen Greenslade Eleni Kaloterakis Sophie Newby Crystal Warner Selected OnSTAGE (Drama) Christina Catania Jessica Pizzinga In 2019 there were four recipients Charles J. Prescott Medal. All achieved a perfect ATAR of 99.95: V icky Feng (2019 SRC Captain) A nnike Lindhout Rachel Wang (2019 Vice-Captain –Year 6 to Year 9) Olivia Wu (2019 Debating Captain) They were recognised at the Assembly for Academic Achievement, along with all other high achievers from the final exams. ATAR
•
PERFECT
•
Students in the creative and performing arts areas of Music, Drama, Visual Arts and Design and Technology are acknowledged in the Higher School Certificate examination process by being nominated for inclusion in a variety of public shows and exhibitions.
Nominations in the Creative and Performing Arts
220
ASSEMBLY FOR 2019 ACADEMIC ACHIEVEMENTS
•
After their outstanding academic achievements, the Class of 2019 returned to school on Thursday 13 February 2020 to celebrate their success at the Assembly for Academic Achievement. The Reverend Dr Charles J. Prescott Medal was introduced in 2018 to recognise the graduates with the highest university entrance score (Australian Tertiary Admissions Rank). This medal is named in honour of the founder and first Headmaster of MLC School (1886–1899), Reverend Dr Charles J. Prescott. Reverend Dr Prescott was viewed as a progressive educationalist and was a strong advocate for the education of women and girls.
•
ARTEXPRESS (Visual Arts) Eleni Charalambidis Callback (Dance) Desiree Miller Georgia Softsis Georgia Ventouris InTech (Industrial Technology) Eleni Charalambidis Zoe Lindhout Sashira Mulholland Hanna Nash Bethany Xue Shape (D&T, Industrial Technology, Textiles and Design) Madeline Bide Elizabeth Liu Nese Sirikci Texstyle (Textiles and Design) Eleni Charalambidis
221 Excellence in Academic Achievement for Subject An Excellence in Academic Achievement Award for Subject is given to those students who achieved the top Band (Higher School Certificate Band 6 or International Baccalaureate Diploma Programme Band 7), and came first in the MLC School cohort after the final examinations. Higher School Certificate Ancient History English Advanced English Extension 1 English Extension 2 History ModernExtensionHistory Charlotte Seales PersonalBiology Development, Health and Physical Education Sophie Graham ScienceBiology Extension Lily Rodgers MathematicsChemistry Extension 2 Alyssa Nguyen Design and Technology Madeline Bide Drama Elle Andreopoulos Drama Billie Whittaker English IndustrialGeographyAdvancedTechnology Zoe Lindhout Entertainment Sashira Mulholland Geography V irginia Peter Indonesian Extension Gabrielle Giannakos Japanese Beginners A manda Yu SoftwareMathematicsDesign and Development Eva Jessurun Mathematics Extension 1 Jessica Song Mathematics Standard 2 Olivia Cain Mathematics Standard 2 Christiana Perdis Mathematics Standard 2 Olivia Robb Mathematics Standard 2 Textiles and Design Matilda Swann Music 1 Jasmin (Yoonju) Cho Music 2 Tessa Iversen Personal Development, Health and Physical Education Desiree Miller Visual Arts Eleni Charalambidis
222 International Baccalaureate Diploma Programme Biology HL Theatre SL V ictoria Workman Biology SL Natashja Eyles Business Management HL Dance HL Capri Maher Chemistry MathematicsHL HL Psychology SL Theory of Knowledge V icky Feng Chemistry SL Economics HL French B MathematicsSL SL Theory of Knowledge Ruihan (Rachel) Wang English A Literature HL Katrina Marshall English A Literature HL Italian ab initio SL Physics SL Lydia Todoroska Geography MathematicalHL Studies SL Psychology HL A nnike Lindhout History HL Madeleine Murphy Mandarin ab initio SL Lok Yu (Tess) Tsoi Music HL Charis Chiu Music SL Nicole Lin Theatre HL Gabriella Melhem ASSEMBLY FOR 2019 ACADEMIC ACHIEVEMENTS
* The above list may not be a full representation of these achievements. MLC School is reliant on the Year 12 2019 cohort to provide their ATAR result or other information. Details are not made public or provided to the School. In some instances, the UniScore has been used as the ATAR was not available.
Charis
Chiu Yijun CapriZoeAnnikeNicoleJessicaClaraEmilyVickyNatashjaSarahCuiDayEylesFengHuynhJanssenKuoLinLindhoutLindhoutMaher Katrina Marshall Diya SabrineOliviaVictoriaRuihanLokLydiaCharlotteEmilyAlyssaMehtaNguyenOsborneSealesTodoroskaYu(Tess)Tsoi(Rachel)WangWorkmanWuYassine
223 Excellence in Academic Achievement for University Entrance An Excellence in Academic Achievement Award is given to those girls who achieved an Australian Tertiary Admissions Rank of 98 or more in the Higher School Certificate or International Baccalaureate Diploma Programme.*
Macy JoyceNiamhHannahShangyaPoppySiennaEloiseKyraniCatherineElanaEiryaIreneElissaVictoriaLaraAnnikaBellewBouByrnesCassarChamiChauChauhanLaneChrunCooreyCountourisDastyariDibFrederickGaoGirgisGormanGuan
SCHOOL ROLL
Charlotte Grace Alshehabi
JingxuanMilaMadeleineEmilyDelaneyNinaEvelynAlyssaAleemahAnoukChloeAylaRhiannaAmeliaAidaEdithChloeTahraColetteOliviaGemSelinaEmiSammiLeahTaraMarieWendyRivenYvonneShrutiSofieHillarySoniaAshleyMarinaChalakChenChowChungGuHaremiHasanatHendersonJayJuKristallisKuhanLeLiangLiuLoMcGuireNgoObaidPeriesRobicSavageSidhomStilloneSuiSumantriTangThorleyTradTrinhTsangVarkasWiednerWongWongYuan(Emily)Zhong
225
Eva IsabellaMyerBangiaBoultonCastillo Sun Leila
Joanna Gao Shiloh NatalieElinaLydiaFridaSophiaLaviniaAriannaAdoraAdeleFredaAngieMagdalenaEmilyVyHayleyEvelynAngelaAliciaSateniSelinaAbiraJingMeganaFedraZaraVivienneLeonaYasminMaggieHelenSherlynJessicaAnnaMiaClaireEllaDaphneAerinMarietteAshwiniAnaahatChristaFaithAlexandraAmandaCharlotteSophiaQueenySophiaGaoGhalyGuanHallHingHoulthamHuynhHuynhJeyasingamKahlonKanesalingamKaramKimL'EstrangeLeLiangLicenblatLieuLimLinLiuMaMaidmentNadarajahNguyenNicholiasNikolakopoulosPasupatiWenQiuSananShanShoaibSuenThornTranTrinhTruongTuVolikasXiangXieXuXuXuLuoyiXuXuYaoYeYuZhang
Kindergarten
Pre-Kindergarten
Nina Bai Zoe LauraHenriettaAlevMilaBakerBarakatBrennanBrittonChang
Year 1 Scarlet Akers Kiara Assassa
Daisy KathyKatherineCamelliaAnnabellaVivienneVictoriaGeorgieRubyEstellaBaileyLilyClaraOliviaGeorgiaTaraAveryVeraShantelleGenevieveJolynMollyNikodaAaliyahAverieGraceMiaSiennaMishikaMiaJesselleNiaEveChloeElizabethAudreyHanHendersonHorvathHuangHutchisonImmanuelJiaoJinKapadiaKhouzameLiLiangLingLiuMayMcKenzieNassifNguyenNguyenPapalucaSatchcroftSiddharthSioutasSmithSouthwoodSugiantoTongTranTzouganatosVarkasXuyiWaiWoonXiangYaoZhaiZhang Year 2 Sofia ChelseyZoeFrankieKamoraManjimaSophiaQueenaSofiaDoraHalimahGaiaTaylorAhamedBakirBigolinBokhariCaiCallegaroChenCorreiaDutta-GuptaEdwards-WareFardoostFotoulisGao
Moyi AmandaCaitlynDoraSherryBonnieAnushkaaAviannaLeannaAnayaIsabellaEloisePeitaSkyeSiennaLeonieVaaniAvniLeahEmilyCharlotteAmeliaCaitlynHayleyAmeliaChuchuMirandaLeAngelinaOliviaChenChengGalileeChanGuiHoHuangKoLamLawLeeLimMahMaidmentNarangNarangNguyenNguyenNguyenNikolakopoulosQiuRoccaSharmaShenTaniosThadaniTongTongWeiWengWongZhang
EmilySiennaElysseAshleyIsabellaLilyKathleenMaalikaAllegraTessaGenevieveGabriellaZoeJulinarAcklandAlshehabiAndrewsAyadBeattieBrittonCarliniChalakEvylaChrunClemensCorreiaDentonDiepDoddDuong
Zheng Zoe Zlamal Year 3
GraceRimaKatherineLieslJoannaJacquelineElyseRithikaTzouganatosVinothVivashWangWilliamsWongWooZhangZhao Year 5 Sophia Antipas Lucia Barrington-Higgs Ilaria Blanco Jodhi Marayah-KaiNiamhSachaLolaSophiaCharlaRebeccaAnikaGigiEleniEllenIsabelleLuellaYolandaReginaGeorgiaLucyAlyssaNectariaSophieMiaCarinaChelseaOlindaBouCaoChenChuCoadyConnollyConstantiCorbettCuiDelisDingDolenacFarahForsterGadsbyGiannacopoulosGuanGuptaHo-BuiHowardHuJablonskiJeyasingamJohnsonJohnson
Chloe226 Layla EllaCharlotteJocelynKaitlynFrancesAnnyAngelynEloiseYanChloeGiselleImogenZaraAmaraOliveAuroraAleeyaEvaChloeAnnaSallySiennaJayaFrancescaJennyGabrielaElisaAveryArabellaChelseaJananiAlishaScarlettIzzySophieBethanyVitaRaquelSophiaLeelaAnastasiaOliviaLuciaEunaJasmineCailiseImogenOliviaEvangelineLexieAlanaAbdelrahimBakirBellewBlackBurkeBushCampbellChibChoCicinelliConnollyCountourisDasDuGillGohilHaddadHongHorvathInnesJi-LeeKanthathasKeomanivongKuoLeeLiLimLinMastersMehtaMunozNguyenPoortvlietPriceRoccaSharmaSharmaSimmonsSivagurunathanStewartSuttonTaniosTiongHeiRosannaTsoiWongXiangXieYiWenXieYangYaoYiuRoseZraika Year 4 Tamara EmmaJasminJiaruiAlanaJadeAdaJuliaElizabethCatiaSurabhiMillaJessicaMeganYunqiAnakhaRachaelKristellaChristinaPipTaylorChloeYikMirandaKatelynMeganDanikaEmmaEmmaIrisStellaAngelinaSybillaIngridIndigoTinaKatieEvelynMadeleineElizabethMaryseStephanieKaliyaMatildaHayleyAlishaAveryHannahSiennaGloriaEtheliaNiamhZoeAvaAudreyClaudiaAdelaideAbdelrahimAkersBeattieBoultonBrownBrownCanadasCassarChenClarkDastyariDauphineeDhaliwalDinhDuganEdwards-WareEl'AtracheElassalFarajGirgisGogosGoldringGuanHannahHendersonHowesHuangInthavongJiKanaanRoseKoeswandyKrekacsKuitLimLinKiLinLuLuMcGuireMessihMiltiadesMingNalliahEllieNiOuyangPanPapalucaParabPlacanicaRavensSaadSavageScott-RogersSilukSongSrisathkurunathanSugianto Sofia
Caydence Sumantri
India-Rose Mace Eleanor AlluraAaliyaEvaEllyAliceSophieShirleyAngelinaLeeanneMikaylaImogenStellaImogenLianaLilyZainaRoseYasmineChelseaAlessandraRiyaBaylieAashiAaliyaGeorginaMiaAmrithaStephanieJadeHannahOliviaLamAngelinaKyraIsabellaHollyPriyaChloeAngelinaMcKeoughMijakovacMillerMohanMooreMunozNarangNgNguyenNguyenNorthPashosPhongRavichandraRiceRowlesSalimShahShenSinghSpinaSumichTeohTurnerVermaVujcicWaiWalkerWallaceWongWoonWuXuXuYeYouYuZhongZhouZhou Year 6 Tilly
Clayton Diar NaoiseEleanorRoseOpheliaCheyleneJaniceVioletChloeCharlotteGraceAmeliaAveryStephanieNicolaMeenaAvnikaGurnaazKabahaKahlonKandalaKanthathasKeastKeoKohKroehnertKumanLathamLayLeLeongLeungLiLinLongcroftLynn-Black
JemimaYihanJuliaJaneZeJordanValerieIsabellaTheaOliviaEmmaAnishaHaeganAryanaDinaAvaAvaSaskiaSaraMadelynVivianCamilleAnnaTinaSalliaBellaIsabelleGauriInezChloeCamilleKushlaUmaizaJiayiEllieEmilyAmaliaChloeMarkellaEvelynEveEdithAngeliqueLuluHazelIsabelRebeccaHannahJessicaGraceElghitanyFarrowFicheraFrenchGaoGarnerGohilHabibullahHoulthamHynesIrelandKerrKrekacsKypreosLabragaLeungLiLiMahfuzMcCaulMcLucasMessihMurrayNathanNgNguyenNguyenNguyenObaidOngPangPhuPlacanicaRobertsRoinsSaadSaeedSahSitouSivagurunathanSullivanSun-RyanTownleyTownsendTranVoWongXiaZarlengaZhangZoud Year 7 Maya NicoleAleezaAmeliaAl-SoufiArmstrongAsifAudi
Madeleine Wood Annaliese Yan Xile
227 Jaslina Duong Kiara
Claire Lee Shine Liang Ynez Liauw Zoe
Ella AmyAngelinaImogenAngieAngelaPamelaLilySameeraAmayaVadeeshaMiaJessieChristineTahliaTaschaMadinaLucindaLilianaKaitlynChloeHalleRumiDaynaFeliciaMayaMichaelaSophiaEllieMariroseMaduraNataliaJasmineKirrianaRubyIsabellaChristinaZaraZyahCassiaChloeAlinaLucyChristinaErinRiyaHannahOliviaSarahAlexiaSarinnaAbigailSophiaKristinaMishaLaraEveJasmineHannahBakerBanksBanksBanyerBazziBehiBitarBucciBushCaiCarisioCarmodyCassellChessellChibClowesCoffeyCoxsedgeCuiCurtisDaviesDeAraujoDhawanDiGiandomenicoDoddShipseyDurantEdwards-WareFordyceGadelrabbGaikaiwariGiannGirardGraveGreenGuptaHannahHarizHarizHissHo-ShonHoangHollandsHutchinsIoakimidisIrelandJefferyJinJohnsonJohnstonKanagaratnamKarunakaranKhatriKimKotsisLaiLanLangellaLeLee GiovannaLikely Lim Isabella Liu Jossie TashaGabrielleEloiseRebeccaOliviaKhushiiEllaZazAmreenCaitlinSimaMacyAnnaAnikaAieshaUmaMarniLilySophiaMariyahHarrietScarlettAnastaziaRianneTianaPhoebeTyraNiaLanaMimiCharlotteSarahEmilyCharlotteEvieAshleySaskiaNityaNghiSarinaEloraErinAnitaAnishaHebaAmeliaGabriellaRubySophiaMinhTikaChristyLiuLuoMacMasterThuMaiMalasManserghMatthewsMcNamaraMeerMiahMohananMuirNadarajahNagraNguyenNimalanO'ConnellLockePagewoodPapamanuelPennyPhongPickettPriebbenowPullingerRadwanRichardsRileyRizoskiRobinsonSaabSamadSarrisScottSfarjalaniShaikhSimmonsSimringSingletonSivaranjanSpringfordSulanTanner-BlackTebbuttTetley-SuttonThindTiglaoVanDenBorneVarmaWalkerMaiYueWangWardWilkieWong JanaIsabellaJustineChloeAngelinaSuyiVictoriaZahraYangYassineYensonYinZhangZhangZhangZhaoZogib Saalbhinii Aravinthan Chloe Arnold Edie SavannahRoseMadelineEmmaVictoriaOliviaHarrietAmeliaNicoleIsabellaSarahJodyFionaAlannahEmilyMeganIvanaDakotaLucyDanielleAvaSofiaSienaAmeliaChiaraZaraAmeliaZaraCleoBriannaSelinaOliviaRileyHermioneIsabelleElisabethCaraSamanthaAlenaIsabellaIsabelMatildaBakerBanfieldBaudilleBednaicBelunekBradyBrittonBubaloBurnhamCampbellChantlerChapmanChenChiangClarkCoatesComleyConstanceCorbettCosmidisCribbCvetkovskiDeanDibDicksonDoddDolenacEbelEdwardsExarhosFengFengFurlanGadelrabbGiannacopoulosGlastonburyGohilGouganovskiGrammenosGuermanoffHallerHallidayHazlewood
Year 8
Angelina228 Hu Chloe Hui Vivian Isabella
AmyAzzurraCaraLucindaGraceJessicaAlexandraPersephoneLucyRubyEveBellaMiaMarahHaileyKirstenGiselleGeorgiaLaraSerayaSpringfordSrikumarStojkovicTerzisTimperiTranTruongTryphonTsaousidisUpcroftVantasVarndellVuWahltuchWalkerJingJunWangWilliamsWinlawWuZappacostaZhao Year 9 Honey Alexander-Erber Dalia Alsaad Laura LeMiaAimeeElizabethMiaTaraRiaChantelleBayannMiaJanaRomyAadhyaRashiAnnaKeiralynKateAnikaAlannahEricaMadhaviEmmaZaaraZaraHarrietBrookeIvySylieSiennaSahasraHannahAndrikisBakerBandiBarrettBhatBrasherBucholtzCampbellCathcartChalakChangChauhanChouChristodoulouCuganesanCvetkovskiDaoDevlinDhamalaDhanpalDobbieEdreesEkerElsawiFaragSimoneFaragGentleGerbinoGiannacopoulosGoodridgeGrasso-NguyenYanGui
Jennisa Ha Layla ArachiJorjaSelinaClaudiaAmandaTamaraAmandineAthenaDestinyChantelRubyMillaSanjanaSeethaLilli-RoseLivFrancescaYiannaStephanieKirstenIsabelElishaIndiaHelenaJuliaGeorginaLucyMayaEmmaAbigailAlexandraElenaIlariaSamanthaLucindaZaraLieselAmishaLauraHannahSofiaMandyMimiAmberChloeTaotaoDahliaKyraSofiaCiaraMaddieZoeCharlizeKiraSophiaZahliMaieeHamdanHannaHarrisHendriksHodgson-YuHoskingHowesHutchensHylandIezziIoakimidisIssmailJiangJingJohnstoneJonesJuJuryKangKardasisKhatriKidleyKilbornKingKingKorompayKotsisLasovskiLathamLawrieLecunaLeeLimLokLuMakovecMatthewsMcKeoughMcLellandMegalliMitropoulosMorrisonMorrisonNasrNathanNatkunamanickamNewmanNewtonNguyenNicholasNikolakopoulosO'ConnellLockeObradovicOuPadmanPangPapantoniouPark MartineCaitlinArabellaSelinaAnnaJennyJennaJasmineElizabethNatashaSophiaEmilyMindaNicholeIsabellaVictoriaChantelleEllaLilyAlexandraLaraClaireScoutEmmaAnnabelEstherCassandraTessaAdaEllaAriaMaiaJasmineDespinaIsabellaAnaisMikaelaPascaleMahiClaudiaAlexandraGraceYijiaAnnelieseJanaIvySelenaMeeraDwarakaProctorRaguparanRawalReadRossRoySandySangScanlonScherfScottShahSimingtonSitaramayyaSiuSmithStamoulosStavrosSullivanSwanTanner-BlackTetley-SuttonTomkinsTongTonkinwiseTwomeyUngVanDerMerwevanderStelVarolVarvarigosWalkerWaltersWanWanWangWangWangWardWestbrookWhitmontWilkieWolfeWrightWuXuYangZeederbergZeilingaZeilinga Year 10 Mounica Akula Lia Sarah-BronteOliviaAl-SoufiAlden-HallitAndrikis
Freya Patterson Elsa Pickering Zoe
Jaiden Sinozic Kali
Zoe EladieSantinaCourtneyHopeSophiaKayliIslaAnikahLilyTianaGeorgieVishaaliniSafiyyahJenaanVivianZaraSavannahFionaMoiraSophiaJadeSallyKeiraAmeliaNevaehVanessaJanaKateRubyMagdaleneScarlettPietaSiennaSiennaJoyceZaraMatisseClaireIsabelleDaisyAileenHanaGiselaAnnabelleIsabellaSashaTaaraCatherineEstherBariahKaylieTulasiMiraImogenFlorenceJamesonJiangJohnstoneKalraKananiKeoghKhaznadarKimKongKotibhaskarKovarikKristallisLaLabragaLeeLeongLiLinLiuLiuLuongMaiMarriottMcCormackMcMillanMcNamaraMiltiadesMitchellMorfootMouradNguyenNicholasNortonO'ConnorObaidParkPavlovicPeachPhamPhengsavathPoortvlietQinRajaniRaufRavichandraRoedigerRoinsRutherfordSananSaxenaScottSefeinSelimShiSignorelliSimmonds
Year 11
Emily IshwaryEloiseJessieTiankaNicolaMirandaEliseAudreyMikaelaNeethikaSophiaPhoebeTaraLaurenGeorgiaMahaPiperMarissaPreeyangkaCassidyFionaKayleyGloriaOliviaIsabellaAvaAnnikaAleezahJohannaInezAliceJennipherKimberlyHayleyRachelRiaAmaraElleryCharlotteJanelleTaffyAnjaliLeilaniCharlotteClaireCynthiaKittuHollyEmilyTahliaNataliaAnikaKaylaNataliaSamridhiFitzgeraldGargGiannakosGrahamGrannallGrbicHatzisarantinosHengHerdenHoyneHuHuddyHuynhInnesJayanthiJiangJiaoJonesJoyceKalcevKapoorKardasisKenzlerKeoghKongKreisKritzlerLafoa'iLapitanLeeLeeLeeLeightonLimMacgonigalMacKenzieMaherManogaranMatthewsMcCowanMeerMelhemMillarMulhollandMullinsMurphyNaiduNguyenNguyenNikolopoulosNortonOddieParapuramPhelpsProctorRamjeevan
229 Tia ZoeZoeMiaChelseaCocoWisteriaNataliaSophiaCaitlinLaylaMaeveEdaHimaniSashaTaraMariaJuliaAnnaAshminiEvieKerryJacquelineKaitlynDarahPandoraTrinityArmitaLilyEloiseAliciaJadeCosetteChloeChristynAnnaAndieOliviaMadisonAndieZoeSophieZoeAnnadingToriIsabellaSamanthaAmeliaNatalieBriarSophiaAmeliaZoeAyushiSophieJulietteAnnabelleJasmineSophiaAthanassiouAuBalfourBanfieldBeattieBeraldoBhujelBraseBresolinCairnsCampbellCavallaroChanChanChapmanCharalambousChenChurchillCiesielskiClarkClarkClemensClowesCominoConstantinidisCordatoCorreiaCromerDiGirolamoDingDrakeDunnallenDutta-GuptaElghitanyEliadesElsawiFlanaganFlettFuGallagherGaneshGoughGoughGourlasGrassoGreenGuptaHallerHallidayHareHartnettHeydeHollandsHuHuangHuntJamesonJohnsonIJohnston Sarah TiaJoannaMarissaZoeCharlotteBrianaNatalieSophieSoinaJessieLaraAnnaMiaSiennaEriniKristyShivaniRubyOliviaDakotaGauriAryaGraceRubySofiaDylanSaraiAlexandraCourtneySophieRobinSarahRaejaTinaHelenaVictoriaMollyEmmaMeenakshiGeorgiaKirstenIndiannaTianaSanyaCharlotteKatrinaRaniaMahibhanaZunairahEmmaHayleyMadeleineLaryssaErykahClaudiaSophiaKanaanKangKritzlerLakkisLattLewisMaMahantMahfuzMahinthanMalibariMarquardingMcCroryMehtaMichasMillerMollerMouscasNagarajahNguyenNorthPachosPanosPapamanuelPashosPearsonPhillipsReidRobertsRobinsonRollasonRoseSarrisScott-WishartSelimSharmaSharmaSinozicSmithSmithSpencerSpyrakisStavroulakisStraussSumichSundquistTalebTangThindThomasToomeyTranTrieuTrpezanovskiTsaousidisTsoiVanDenBorne
Renae PhoenixJessieVickyDorisHayaPoppySenMeiSophieLolaCameranBrittanyMaggieSophieAnanyaVarvarisWakhareWalkerWangWarnerWarnerWhittakerWilsonYanWongSenXieYacoumatosYahiaYangZhangZhengZhou
Stephanie Abdennour Isabella Al-horani Dionne Alaveras Lily TarindhiNancyWenyanToniLucyViennaAmy-GraceEvelynKirstenGracelynFreyaEmmaMontanaLiliaIsabellaOliviaHarrietEmmaParisCharissaChristieClaudiaSarahArrielleSofiaLoneThanhTiffanyGeorgiaKylieClaudiaSarvaniAnnabelleLianaKaylaTe'jhaanAlexiouAltiok-BrownAndreopoulosAngellBaileyBalaBeanBecvarovskiBeretov-MillarBoungotoWengBrardBromleyCareyCarisioCarvolthCataniaCh'ngChatnantawejChenChristieClarkCodevelleCollinsComanCominosCorcoranD'MelloDaoDaoDoanDochertyDurieEdwardsEliadesFanFarajFernando
Jasmine Ferraby Jasmin Fitch
Amelia Jubelin Nikki Juffermans
Aarathe230 Ramraj Roisin ZaraKellyMariamGeorgiaHannahAbbeyAmeliaEmmaDianeVanessaSelmaSamanthaAnaAngelaElsaEvaJocelynOliviaElleClaudineKatieMaddisenMariaGemmaJaneMayaPhillipaKiaraNatashaLauraLilyAdaSabineVanessaRedmondRyanSaadSarnoScanlonShackelSheehyShineSignorelliSimpsonSoSorialStamaterisStraussSutherlandTalbotTamvakolosTanevskiTingTkoczTonkinwiseTrangTriggTsakalos-StewartUlutasVlachWangWebbWhitmontWilliamsWilliamsWyattYassineZhangZuccolotto Year 12
Laura ImogenPatriaAnnalieseJessicaSaraTaylaMorganJessicaJaimieZiyaCharlieJanaEmmaGraceJadeMahumRubyLaurenEmilyTaylorOliviaSarahEllenaZoeFleurArianaRubyAnnieJiviMeghanaDaraniAnastasiaRheaIsabellaSiennaEllaMaddisonMayaElizabethElianaEmilyLillyKatherineBeatriceDaphneEmmaCiennaKaterinaSarahNoelleAirlieAmalaElizaMariaSofiaTiarnaAmelieJacquelineCincottaCiofaniComanCominosCostaAntoniaCostantinoCrossleyCuganesanCullenDavisDejanovicDelisDentDicksonDoumanisDrakeDuDummettEkerFarrFarrowFeliceFisherFletcherFrestaGallGandhiGiannakakosGilchristGopalanGovenderGuGuminskiHaghighiHamilton-VincentHannamHartzenbergHealeyHempelHoskingHuntHuynhInceJahanJamesonJohnJuffermansKabbaraKairaitisKalraKappasKarabesinisKelaherKerpiniotisKieKimKonidarisKoutsogiannisKuah Nicole SophiaAylaSamaraEllaAnabelleEllaJosefineEvaIsabelleEugenieSamarEmmaHazelAlexandraJessicaLivCharlieLilyAnicaJasminAlyssaEmilySophiaHannahKaishaAmelieEloiseCharlotteVeronicaCherieOliviaMikaylaMadeleineEmmaRahniMiaLaylaSamanthaChiaraSarahParisHollyAislingVeronikahChloeTashjanSimoneJessPhilippaAlexiaVittoriaBethanyElizabethIsabelMinhVivianAnikaDesirayKubicaLaLammersLawTamLeLeungLinardosLoLopreviteLorenzatoMachinMacMasterMaddisonManagreveMavrisMcClellandMcCreeryMillerMitropoulosMollerMooreNaayenNazhaNovatiOngOxleyOxleyPapadimitriouPapasavvasPepperellPhanPullingerRiviereRoedigerRollasonRossRussellRynerScottSelimShenSmithSodbinovSodbinovSong(Alex)StackpoolSungSusterTalebTanTangTelemachouTicicTomkinsTruongTsaousidisTuckerVarolWang Zoe AlyssarLaylaPhoebeDaisySherryIsabellaJoyAmyRainyHalleMarieJoyAngieMeganEvaEllaNatalieMeiOliviaAudreyWestbrookWilliamsWinlawWongWongWoolbankWrightXieXuXuYanYangYangYarrowZhangZhangZhaoZhengZhouZiadeZogheib
Veronica KarenSeinEdenAnnieAimeeBrianaSammyKateGabrielleMiaChanelOliviaZoeChloeUmaKateChloeMenawishAntoniqueAbalAmperidisAsifAzzamBakerBarrettBeraldoBergBersaisBoudibBurjanCadenaCartwrightCavanaghChapmanChauChenChengChoiChung
231
232