2021 EXCELSIOR
OUR VALUES Courage | Compassion | Respect | Growth
2 LEADERSHIP 5 Chair of Council 6 Principal 8 Head of Senior School 10 Head of Junior School 12 School Captain 14 Vice-Captain Year 6 - Year 9 16 Vice-Captain Year 10 - Year 12 17 SRC Captain 18 Middle Years Leadership 19 Junior School Captain 20 Junior School Vice-Captain 21 Junior School Student Council 22 Spiritual Life 23 Leadership Photos 24 STAFF 27 Staff List 28 LEARNING 35 Head of Learning and Teaching 36 Director of e-Learning 38 Red Earth Immersion: Cape York 2021 40 JUNIOR SCHOOL 43 Learning 44 Art 44 Junior School Library - The Hub 46 Personal Development, Health and Physical Education (PDHPE) 48 2021 Learning 50 Student Life 52 Audio Visual Club 52 Da Vinci Decathlon 52 Tournament of Minds 52 Independent Primary School Heads of Australia (IPSHA) Debating 53 Stem Curriculum and Co-Curricular 54 Stem Events 57 Junior School Class Photos 58 SENIOR SCHOOL 63 Year 12 Captains 64 Year 12 House Captains 66 Year 12 Portraits 68 Year 12 80 HSC and IB Results 84 Higher School Certificate 84 International Baccalaureate Diploma Programme 86 Academic 88 Senior School Curriculum 88 Careers 90 Dance, Drama and Entertainment (DDE) 91 Design, Art and Technology (DART) 92 English 96 History and Religious Education 98 Human Society and its Environment (HSIE) 99 Languages 100 Mathematics 101 Music 102 Personal Development, Health and Physical Education (PDHPE) 103 Science 104 Student Life 106 Art and Design Captain 106 Committees 108 Debating Captain 109 Debating and Public Speaking 110 CONTENTS MLC School has used its best endeavours to ensure that material contained in this publication was correct at the time of printing. MLC School gives no warranty and accepts no responsibility for the accuracy or completeness of information and MLC School reserves the right to make changes without notice at any time in its absolute discretion. Users of this publication are advised to reconcile the accuracy and currency of the information provided with MLC School before acting upon or in consideration of the information. Copyright in this publication is owned by MLC School and no part of it may be reproduced without the permission of MLC School. 2021
3 Duke of Edinburgh Award 112 Library 113 Round Square Captain 114 The Edge 116 Cadets 117 MUSIC 119 Music Captain 120 Music 122 PERFORMING ARTS 127 Dance, Drama and Entertainment (DDE) Captain 128 Dance 130 Acting and Communication Academy (ACA) 132 The Speech and Drama Studio 133 SPORTS 135 Sport Captain 137 Director of Sport 138 Sports Reports 140 AFL 140 Athletics 140 Diving 142 Football 142 Gymnastics 143 Hockey 144 Netball 144 Rowing 145 Softball 146 Swimming 147 Tennis 148 Waterpolo 149 Sports Champions 150 HOUSES 153 Abbeythorpe Senior School 155 Booralee Junior School 156 Booralee Senior School 157 Churunga Junior School 158 Churunga Senior School 159 Leawarra Junior School 160 Leawarra Senior School 161 Lester Senior School 162 Mooramoora Junior School 164 Mooramoora Senior School 165 Prescott Senior School 166 Sutton Senior School 167 Wade Senior School 168 Whitley Senior School 169 House Photos 170 PRIZE WINNERS 177 Junior School Prize Winners 178 Senior School Prize Winners 182 2020 Assembly for Academic Achievements 190 School Roll 195
5 LEADERSHIP
CHAIR OF COUNCIL DR EVE TSIRONIS
6
On behalf of the MLC School Council, I welcome you to our Annual Speech Day celebration for 2021. We gather to celebrate another successful albeit extraordinary year. Despite its challenges, MLC School has forged ahead. Thank you to the whole MLC School community for banding together during this difficult year to support, love and nurture our girls; support our families, our staff and community members who have struggled; and progress the vision and mission of MLC Academically,School. the year started on a high note with confirmation that eight MLC School students from 2020 had attained an ATAR of 99.95, seven girls in the IB and one in HSC (one of only 32 girls across the state to attain a perfect ATAR). With that accolade, MLC School was named No 1 ranked IB school in Australia, and equal 32nd globally. Both our HSC and IB programs are going from strength to strength. Several of our HSC students also had works nominated for HSC Unfortunately,showcases.this year many of our sporting, performing arts and co-curricular activities were impacted due to COVID-19 restrictions. We look forward to these resuming in 2022. Despite restrictions, we had some remarkable achievements by our debating and public speaking students with these activities having moved online.
Address delivered at 2021 Speech Night
2021 heralded the 135th anniversary of MLC School, originally known as the Wesleyan Ladies College, Burwood, which opened in 1886. Around 400 parents, Old Girls and friends of the School marked this special occasion with a joyous Celebration Dinner at the Sydney Hilton on 5 June. Despite the everchanging regulations, school events proceeded. Celebrations continued in person where possible such as the well attended reunions in May and MLC School Alumnae Awards – where 12 Old Girls were recognised for their extraordinary achievements. Information evenings, School tours and guest speaker events were well attended via online platforms and webinars.
Our first ever Giving Day was held on 18 May to raise funds for bursaries and Indigenous scholarships. Girls and staff across the School united in an effort to show their love for MLC School by spreading the word of this initiative. Great support came from parents, staff, Old Girls, and a substantial gift from the P&F meant the event raised over $210,000. Congratulations and thank you!
7
To our wonderfully capable and compassionate Principal, Ms Lisa Moloney - thank you for your stewardship of the School in 2021. We thank you for your excellent communication throughout the year and especially through lockdown. We are grateful for all that you and the our girls' education continued almost seamlessly despite the everchanging landscape; adapting programs from face to face to online remote learning to blended learning; your efforts are recognised and MLCvalued.School Council, thank you for supporting me and the School leadership team; thank you for your governance and oversight of the School, aiming to make it a place of growth for our girls and staff alike.
This year we farewell a long-standing member of the MLC School Council, Mr Colman Chan. Colman has been a dedicated Council member for over 23 years. His passion for education, social welfare, and spiritual, mental and physical wellbeing are well recognised. Colman is also an MLC School past parent, having two daughters, Grace and Rebecca, graduate from the School. He is a strong community advocate and leader. We thank him for his years of service and wish him and his family the very best for the future.
Facility upgrades continued throughout 2021, including the full resurfacing of the sports fields, which will cater for a large variety of sports. Master planning has progressed well. Design plans of the Junior School are now finalised with renovations due to commence in late 2022. The School has worked through the last year to finalise a brief for the Performing Arts Centre and will be moving into the design phase next year.
As the MLC School community, we should all be proud of what has been achieved in such a difficult year. Dr Eve Tsironis Chair of MLC School Council 'As the MLC School community, we should all be proud of what has been achieved in such a difficult year.'
Executive have done throughout 2021: formulating an appropriate COVID-19 response; creating a positive and nurturing environment; and opportunities for learning and activities despite various restrictions.
Executive, teaching and support staff (administrative, IT, grounds staff, cleaners) - thank you for your tireless efforts to ensure adapting and flourishing in this most difficult year. Through challenges in life you develop strength and wisdom. So continue to have faith and courage; and know you are never alone – you have the love and support of your parents, guardians, teachers, friends and our heavenly Father. Congratulations –we are proud of you!
Finally, to the girls of MLC School - you have embraced the challenges of 2021, Year 12, Class of 2021 - thank you for your resilience, you have endured two very challenging years. The love you hold for your School and each other was very evident in the joy and tears you shared at the Year 12 Valedictory Assembly and Service. Let your inner strength shine and may you always 'Walk as Daughters of the Light'. As you start this new chapter of your life remember the wise words of your Head of Year, Dr Felicity Berry, 'You can, you will, you must…'
2021 also saw the Incorporation of MLC School, along with four other UCA schools, a process which has reignited the relationship of the School with the Uniting Church of Australia. We look forward to working with Rev Stuart Bollom, the Uniting Church Director of Mission, in fostering this relationship and progressing the mission of the Church.
Address delivered at 2021 Speech Night
• the School Executive • our invited guests •and very importantly, the MLC School staff and MLC School students and their Thankfamilies.youto each and every one of you, not only for your attendance today but for your commitment to MLC School and unwavering support during this most challenging of years.
I would also like to acknowledge our 2021 School Captains for their leadership and hard work. These young women are wonderful ambassadors for MLC School. Along with the rest of the leadership team, Captain Mikaela and Vice Captains Anna and Maya led us through the challenges with determination, care and a sense of fun that inspired and encouraged us all (even though much of it had to be done at a distance). And, as I said at this year's Valedictory Service, the Class of 2021 includes many exceptional leaders who do not have an official title or a badge – they too are to be congratulated on their courage, hard work and commitment. I wish each one of our graduating Year 12s all the very best. Having navigated the challenges of the last two years, they have earned a fabulous break and the opportunity to celebrate before starting off on their new adventures.
Now as many of you know, I really like musicals, almost nothing gives me more joy than seeing a well written, well produced musical, so I was particularly saddened to hear of the recent passing of Stephen Sondheim, described by The New York Times 'the theater's most revered and influential composer-lyricist of the last half of the 20th century and the driving force behind some of Broadway's most beloved and celebrated shows'.
•Rev Viniana Ravetali and Rev Sally Yabsley-Bell
It is my pleasure to welcome you here this evening and to thank you all - parents, staff and students - for your contribution to MLC School this year.
•members of the MLC School P&F committee including President Abirami Ravichandra
•Chair of Council and MLC School Old Girl, Dr Eve •membersTsironisofSchool Council -Deputy Chair Kylie Bryden- Smith -Colman Chan -Suresh Cuganesan Rev Danielle Hemsworth -Lynn McNally and Dr David Mulford
•members of the OGU including President Sue Cartwright
8 PRINCIPAL LISA MOLONEY
As I begin, I would like to thank and •Moderatoracknowledge: of the Uniting Church Reverend Simon Hansford
I nearly settled on Sunday In the Park with George, because for a while there it seemed that the only place we would ever get to see anyone would be outside. But then it came to me … if 2021 was to be summed up by a Sondheim musical, it would have to be Into The Woods.
Ms Lisa Moloney Principal
To my dear Executive and leadership team colleagues, when I looked at the list of characters in Into The Woods, I must confess I was tempted to start matching us all with the various parts – whose role was most like The Witch, Cinderella, Little Red Riding Hood, The Big Bad Wolf, The Baker or even Milky White the cow? But the truth is that each of us has played many roles and the ability of the team to share the responsibilities and alternate playing the more challenging characters such as The Big Bad Wolf and The Witch has meant that the whole cast made it to the end of the year, tired but content – thank you too.
In Into The Woods it is not until the final act that the characters realise that if they wish to achieve their individual goals, they will have to work together, but that is not our story.
Thank you for your part in our story.
Into The Woods is one of Sondheim's most popular musicals and the recent film version has allowed many millions around the world to fall in love with it too. The story's moral 'be careful what you wish for' reminds me only too well of being at this point last year and wishing for 2020 to be over so that things could 'go back to normal'. How wrong can you be? More than that, Into The Woods, involves the masterful mixing of a number of beloved fairytales – the story is familiar but it doesn't play out like it did last time you heard it, there are ludicrous plot twists and the cast members are assigned a series of tasks to be completed within a ridiculously short time frame – it's all very reminiscent of what it was like to be in a School this year.
Sondheim gave his characters three days to get things done, while in our case, it was usually less than 24 hours and there were many times when changes were announced to the public before we were informed. This is not unlike requiring a character in a musical to predict and accurately carry out the challenge before they know what it was. I'm sure that if Sondheim had tried to build that into his story line, the critics wouldn't have bought it, but that was 2021 for all of us!
To parents and carers, more than ever this year, you have been called upon to support your daughters in a myriad of ways, often while working from home yourselves - thank you. I do hope that despite the challenges, you and your families have also experienced the joy of reconnecting and spending time
It has been evident from the very start of the pandemic that much of the strength of MLC School has come from everyone genuinely putting 'the girl at the heart of all that we do' and all of us: parents, staff, Old Girls, Council and the broader School community have worked together toward this same goal. I am so proud that we have kept all our girls safe and well, despite the remarkable challenges.
I am sure that at times during 2021, the staff at MLC School did feel like characters in a show – if not Into The Woods then maybe Survivor. Just when we got ourselves into some form of new normal, the rules changed again, meaning that everyone had to stop what they were doing and adapt to yet another set of expectations. They did it with skill, style and determination and, as one parent wrote in a thank you card that I received yesterday, 'online learning at MLC School has been world class – the girls didn't miss a beat'. Thank you to our teachers, support and operational staff.
My personal thanks to Chair of Council, Dr Eve Tsironis. I think we have the only Chair of Council who was willing to give up her weekends to offer onsite vaccination clinics to students and staff!
As I reflected on the year's events I wondered 'if 2021 was a Sondheim musical, which one would it be?' While I love West Side Story (and 2021 certainly had its moments of tension), the story isn't quite right. Merrily We Roll Along is about as far from 2021 as you can get. A Little Night Music certainly didn't happen very often (although we did manage a great night at the Camelot Lounge) and as for Company, there wasn't any of that for months.
'I am sure that at times during 2021, the staff at MLC School did feel like characters in a show – if not Into The Woods then maybe Survivor.'
9
Thetogether.endof any school year brings with it the inevitable changes in the teaching staff and farewells to students and families who are leaving us. If this is your final MLC School event, thank you for the way that you have played your role at MLC School and all the very best for the future. May your journey be filled with adventure but not too many unforeseeable plot twists!
10
HEAD OF SENIOR SCHOOL NEIL SCOTNEY
International Women's Day was acknowledged and celebrated with a breakfast onsite and a panel of staff and students who were met with challenging questions about the change required for the future. With an initiative driven by School Captain, Mikaela Nguyen, and her team of leaders, the School raised much needed funds for the One Girl charity by hosting a netball game against Newington College. One Girl raises funds to provide education for girls in compromised countries so that they can gain access to schools and the necessary resources to positively impact their futures. In what is hoped to become an annual tradition, the netball game followed the theme of Do It In A Dress. This is in support of girls' equal access to education, particularly in Sierra TermLeone.2 began with continued access to events and saw us host our very first ANZAC Day Service with our MLC School Cadets. It was a proud day of remembrance and commemoration for all Australians and New Zealanders who served and died in all wars, conflicts, and peacekeeping operations and the contribution and suffering of all those who have served. We concluded the service by reading the names of all Old Girls who had gone to war. We were also fortunate to have students participate in a number of activities during the term, including a production in conjunction with Trinity Grammar School; Teacher Appreciation Week; our own
Term 1 kicked off with the welcome of many new faces and by farewelling our Year 7 cohort as they ventured off to camp. This is always a very rewarding time to forge new friendships and experience the great outdoors. Our Swimming Carnival went ahead and as always, it was a fabulous celebration of House spirit and colour. We welcomed Rev Sally Yabsley-Bell to MLC School, but sadly our annual House Chapel Services could not proceed as scheduled. In true MLC School style, rather than missing out altogether, individual Houses set about creating a recording to send to families for Easter. Like 2020, COVID-19 was not going to stand in our way, as we found new means to connect with our community.
After a year of considerable disruption, 2021 began with much promise and the hope that the school year would be more settled, for staff, students and parents.
Weanswered.dugdeep to keep the MLC School experience going and ran information evenings online, did trial examinations online, provided vaccinations for students on weekends and even ran our 2022 leadership journey online. Our incoming leaders were announced and celebrated remotely, in a first for the School. With a staggered return to school over Term 4, we prioritised the health and wellbeing of all students, knowing that the adjustment was going to be difficult for all, with a range of measures put in place. Working at a school like ours is a reminder that we are incredibly fortunate to be surrounded by a strong and supportive community. Our School is stronger for the experience of coming through a lockdown and pandemic. We have found new and creative ways of educating girls and, most importantly, will continue to dare to be more. I extend my genuine thanks to all staff, students and parents for your trust and support throughout the year.
The highlight of Term 2 was the celebration of the School's 135th Year. Whilst there were many events, including a wonderful Gala Dinner, it was inspiring to see our Houses support the inaugural Giving Day as they took part in the Coin Snake Challenge, with all funds raised going towards providing more opportunities through bursaries for Indigenous and Principal's Scholarships. It was an amazing day of celebration and a great reminder of the rich history we have as a TermSchool.3was an enormous challenge as greater Sydney was placed under a hard lockdown. School as we know it reverted to online learning and Team MLC School set about ensuring girls and families remained connected and supported. I am in awe of the staff we have as they worked above and beyond to keep learning going and girls supported. Webinars kicked back in as we supported families with communication and provided opportunities for questions to be
'We dug deep to keep the MLC School experience going and ran information evenings online, did trial examinations online, provided vaccinations for students on weekends and even ran our 2022 leadership journey online.'
11 production of Hitler's Daughter; the annual music celebration at the Camelot Lounge; a new initiative based on the Masked Singer with staff; and a live Tour Day.
Mr Neil Scotney Head of Senior School
Another important role during Flexible Learning was played by the parents of MLC Junior School girls. Remote learning is particularly challenging for our youngest And,students.ofcourse, the girls themselves were also part of the success of our Flexible and Blended Learning. They too had to adapt, apply grit and be flexible as they engaged in new ways of learning. I believe many life skills developed during this time, and these will empower our girls in the years ahead. My deepest thanks to everyone. Many hands worked together to support each of our girls. - the whole is certainly greater than the sum of its parts. The challenges of 2021 did not hinder our Junior School girls in their quest to be daring, and they achieve great things in all facets of school life. Our Junior School Representative Council led the Junior School campus with many initiatives. In the spirit of helping others, we raised thousands of dollars for the World's Greatest Shave, demonstrating the bravery of our girls and the generosity of our community. Our girls supported many other charitable organisations, both at school and of their own accord.
HEAD OF SCHOOL
DANIEL SANDRAL
In Literature, we received a shortlisted book in the Collide competition and created our own Junior School Journal. We won a gold medal in the WriteOn State Competition, a significant achievement. In STEM we received
In spite of the challenges, we continued to achieve great things; I offer my thanks to everyone for their contribution. There was great commitment from the School leadership to continuous improvement; and dedication and willingness from our grade teachers, specialist teachers, learning support educators and counsellors to continually adapt to support the academic, wellbeing and social needs of each girl.
12
JUNIOR
Reflecting on 2021, COVID-19 restrictions and lockdowns are the first things that come to mind. The duration and confines of these exceeded what any of us could have expected. I am proud of what the MLC Junior School, indeed MLC School as a whole, achieved during our Flexible and Blended Learning. Nothing is more magical than when we unite at our beautiful School to learn and grow, as reflected in our rainbow handprints.
If you walk into the Junior School campus to view the art display alongside the red carpet, there is a beautiful collage of rainbow handprints. It is a very fitting symbol for the end of the 2021 academic year. We concluded as we commenced, united onsite, learning together. The collage was inspired by Aristotle's renowned quote, 'the whole is greater than the sum of its parts.' Aristotle was referring to metaphysics. However, I think the significance of 'the whole is greater than the sum of its parts' is something we, as a community have gleaned, during this extraordinary year.
In Dance, we scored first and second place in the Winterplace competition and a second place in the Winterfest Junior Pom. In Sport, we successfully achieved representation in the CIS Basketball team and two students gained outstanding achievements in the national Diving competition. Following our own swimming carnival, we broke records in the NSW PSSA. 2021 shone a light on our proactive and supportive parent community. Not only did you provide that essential support during Flexible Learning, in creative ways you helped to keep our community together.
Thank you, Junior School P&F President Sarah Prince, committee members and volunteers, who continued to provide loved events whenever possible such as the Mother's Day store, socks for Father's Day, online community cooking class and more. I cannot thank our Parent Ambassadors enough. You have played a vital role in bringing together families when our girls needed social connection. You supported our grades online and in person, reaching out to new families and supporting those in need.
Our youngest learners had a very successful first year at MLC School with Pre-K girls' highlight being MsMoloney's tour of the big girls' school (our Senior School), Santa visiting and convincing me to have a unicorn day - whilst omitting to tell me I too had to dress up as a unicorn!
To our staff members, who are concluding their time at MLC School, you have all played a significant part and will be missed. We thank you for your dedication, professionalism, and commitment to the holistic education of our young learners. May the spirit of the 'Daughters of the Light ' always shine upon you.
To all members of our MLC School, the wholeness of our School would not be so great without your part. Our girls are enriched by all you have done. Thank you for keeping them at the heart of what you do. To the Junior School Leadership team, including our Deputy Heads of School and our School Executive, thank you for your strong leadership including the times when I had my feet up – literally. To the Chair, Dr Eve Tsironis and Council Members, thank you for all the support you give to our YouSchool.all know Ms Lisa Moloney is our School Principal. Many of you may also know that she is a musician and teaches strings in the Junior School within our instrumental program. You may not know she is also a scientist. We were, indeed, very fortunate to have a leader with a background in science during a pandemic. What I know about Ms Moloney is every decision she makes has each girl at the heart, followed by the wellbeing of our entire School community. Girls, you never cease to amaze me in all you do. As we gathered to learn together again, I was reminded what a great source of support and encouragement you are to one another. May you always be like our rainbow handprints collage. You bring many different talents and passions to share and are always willing to give your friends a helping hand.
13 a commended award for the Taronga Zoom Enrichment Challenge and a perfect score in the NCSS programming challenge. We had three of our own art portrait competitions selected to be displayed at the Hazelhurst Gallery, alongside winners of the Archibald Prize. Our list of music achievements is numerous, including but not limited to: top placements in the Boroondara Melbourne, Wollongong and St George Dance Eisteddfods, as well as international events including the Open Music Competition, Malaysian and International Piano competitions and the Chopin Avenue.
Year 5, led so well by our School Captain Chloe Lu and Vice-Captain Jasmin Srisathkurunathan, you have established high expectations for our new Junior School student leadership structure with the support of Ms Sharpe and teachers. Congratulations for being outstanding ambassadors for the Junior School campus. I look forward to being with you in your final year of Junior School at the Year 6 Centre. Year 6, you have successfully completed your final year of primary education, being actively involved in our transitional readiness program for your move to Year 7 in the Senior School. Congratulations - take pride in what you have achieved. Your parents and teachers are, indeed, proud of you.
Finally, thank you all for contributing to our beloved School community. For the whole is greater than the sum of the parts. 2021 has demonstrated that wherever the circumstances, we can and do achieve so much together.
Mr Daniel Sandral Head of Junior School
14 SCHOOL CAPTAIN FEELS LIKE HOME
Beginning in Term 4 of 2020, the other Captains and I were eager to prove ourselves, nervous about how we could fill the large shoes left by the 2020 Captains. Undeniably, our key goal was to heighten school spirit and sense of community as we slowly navigated a return to normality after 2020. We began the term by commemorating RUOK Day, alongside the 2020 Captains, to bring awareness to the importance of mental health. Other events like the launching of the first 'Captains' Christmas' video series on the School's Instagram page with the Middle Years Leaders, and the Giving Day 'Pie Face' challenge aimed to bring some lighthearted fun to school life. Our excitement built as the easing of restrictions allowed for larger'We also endeavored to tackle gender-based issues and stimulate thoughtful discourse about sexism and gender-based discrimination.' scale initiatives, seen with our launching of our first 'Do it in a Dress' campaign, being kicked off with the famed MLC School vs Newington College netball game. We also endeavored to tackle genderbased issues and stimulate thoughtful discourse about sexism and gender-based discrimination. This was seen with our creation of a virtual panel to commemorate White Ribbon Day, featuring recorded interviews of students and staff from MLC School, Newington College, and members from the wider community like Catharine Lumby, Elizabeth Broderick and Jack Jacobs. Further conversation was stimulated with the annual International Women's Day breakfast and panel discussion, involving students from MLC School and Newington College, and our guest, Honourable Justice Brigitte Markovic. These events sparked meaningful discussion about how gender-based discrimination impacts us today, and the role that we, as a school, play in diminishing its
This year, a question I often found myself asking was, 'what is it about MLC School?'. Whether it be the tenacity of the students, unafraid to boldly share their opinions, or their unwavering kindness: it is undeniable that there is something that makes the School unique and ultimately, makes it feel like home. It was this very sense of community and warmth that made it so difficult when we were once again separated due to COVID-19. Yet we remained connected even while we were apart, making 2021 an incredibly memorable year.
15 prominence. This tenacity and desire to lead did not falter once we were plunged back into online schooling, and we continued to bring together the community with virtual challenges, assemblies, and entertaining Ivideos.would
To the MLC School community, I have been so lucky and grateful to be your School Captain for 2021. You have achieved the impossible this year, something for which I will forever be proud, and is a true testament to what it means to be MLC School. Mikaela Nguyen School Captain
sincerely like to thank Ms Lisa Moloney, Mrs Frances Booth, Mr Neil Scotney, Dr Felicity Berry, Ms Sarah Tynan, Mr David O'Donohue and Ms Michele Dunn, for being a constant support. Your dedication to giving us the freedom to lead, and facilitating our radical ideas and initiatives is beyond appreciated. Above all, I must thank the other nine Captains who were always and unfailingly my team and my support. This year you have displayed an enviable amount of grit, passion, optimism, and kindness. I am truly in awe of your unlimited dedication and heart.
'The initiative I am most proud of is the 'Do it in a Dress' initiative which was run with Newington College.'
THE BEAUTY OF THE UNEXPECTED
YEARVICE-CAPTAIN6-YEAR 9
16
The first initiative of the Middle Years Leadership team was a Christmas wrapping competition stall, which consisted of an epic battle between girls from Year 6 to Year 9. Our next initiative was a DIY face mask and lip scrub stand.
This year in the Middle Years, the Year 7-10 Buddy Program was able to expand, thanks to the opening of the leadership opportunity to all Year 10 girls. I was overwhelmed by the enthusiasm of the girls of Year 10 and Year 6 alike, as they carried out games and peer support activities. My aim was to lay the foundations of mentorship for the Big Sister, Little Sister program.
Looking at the year from a Vice-Captain's perspective, as opposed to a Middle Years Captain, the leadership team and I tried to deliver several initiatives to foster that MLC School spirit. The initiative I am most proud of is the 'Do it in a Dress' initiative which was run with Newington College. It brought about a fierce rivalry between the two schools, but most importantly we proved the importance of working together with our brother school to make a little difference within the world. On reflection, I think it's safe to say no matter how much planning or detailing anyone put in, the power of Omicron and Delta seemed determined to defeat it all. However, I was so proud and surprised by the resilience and, most importantly, kindness of the Middle Years girls. So, all I can say is thank you and I cannot wait to see what you all can do in a Senior years uniform!
If I was to boil down my experience as the Middle Years Captain, I would say it showed 'the beauty of the unexpected'. Despite the challenge, the uncertainty and most of all the bad luck, every girl in an MLC School dress continued to show the most important thing - spirit. Although it was sometimes hard to feel over an online Zoom or Microsoft Teams meeting, it was always there.
The year started and ended with online Wednesday fortnightly assemblies and my poor iMovie editing skills. It was unbelievable to watch my team of the Middle Years' Leaders grow in confidence, develop their leadership skills and sense of independence.
Maya Simpson School Vice-Captain (Year 6 to Year 9)
Ana Trigg School Vice-Captain (Year 10 to Year 12)
In Senior Years assemblies, the girls brought along their zeal and kindness, as I scrambled to construct dynamic and engaging videos for these online assemblies. We discussed the significance of NAIDOC Week, Remembrance Day, White Ribbon Day, International Women's Day and also the importance of caring for our mental health, focusing on the effects of technology and social media. Kayla Graham (Round Square Captain) and her team took this a step further with 'Wellness Week' as they organised several stalls to be held around the School to give girls ideas on how to care for their mental wellbeing.
IT'S BEEN A PRIVILEGE
YEARVICE-CAPTAIN10-YEAR 12
It is difficult to sum up the incredible and unexpected events that were the year of 2021 in a mere page. I suppose it is understandable that my mind's attention should first be drawn to the challenges that we have been presented with this year, but I quickly shift my focus and turn upon the light and laughter with which MLC School has filled me, particularly in the past 12 months. It has been a privilege to stand alongside and work with some of the bravest, most sincere and understanding people I have ever met: the MLC School girls. The 2021 Leadership team and staff have truly moved me and will remain a source of inspiration. Inspired by the 2020 HSC and IB girls, I liaised with Ms Connolly (Head of Year 11) and together we organised a HSC/IB talk, that allowed Year 12s to volunteer and pass on any tips, tricks and suggestions to the Year 11s on how to balance school and social life, and how to manage the responsibilities of Year 12.
17
In truth, I found it difficult to define and execute my unique purpose as the Senior Years Captain, however I came to realise, with the guidance of Ms Tynan and Mr Fatouros, that my passion lay with the students and their unique ability to cast their light upon me and everyone around them. I tried to emphasise the importance of their role in the School by highlighting some of the girls' achievements and this was made much more straightforward with the help of Katie Sutherland (Sports Captain) and her fantastic idea of launching 'Team of the Term' and 'Sportswoman of the Week'.
'It has been a privilege to stand alongside and work with some of the bravest, most sincere and understanding people I have ever met.'
The Senior years girls and staff have truly shaped my last year at this School. I can't thank them enough for their passion and support in what, frankly, has been a challenging year for us all.
2021 has turned out to have been quite the exciting year for the Student Representative Council (SRC) at MLC School. From holding MLC School's firstever Teacher Masked Singer; to providing for over 100 homeless children through the Christmas Toy Drive; and raising an all-time Schoolhigh of $55,000 for the World's Greatest Shave; it is fair to say that there have been some wild and exciting moments that have certainly made an unexpected impact both within and beyond our School community. With that being said, I think that it is extremely important to recognise the girls behind the scenes who have made all these events not only possible, but as successful as they were. They are, of course, none other than the incredible 2021 SRC team, consisting of three representatives per year group from Years 7 to 11, who have been elected by their peers to represent their voice within our meetings, alongside a handful of equally wonderful and involved Year 12s. So, I would like to thank each one of the following girls for their constant enthusiasm, dedication, and support throughout the year, which has made being the SRC Captain the absolute pleasure that it was.
Year 9 2021Year 10 2021
Year 7 2021Year 8 2021 Anna Obaid Christina Coffey Gauri NathanAmaya Karunakaran Dina Saeed Marirose Giann
18 SRC CAPTAIN QUITE THE EXCITING YEAR
I would like to also thank Mr Eddleston, our brilliant SRC supervisor, for his eternal guidance, priceless wisdom, and for being our rock amongst all the chaos. After eight years mentoring one SRC team after the next, his decision to pass his role onto another is bittersweet, but the SRC will be forever grateful for his passion and commitment to helping us flourish within the MLC School community.
Natalie Cavallaro Thanh Brard Anna Gough Jasmine Ferraby Doris Yang Cynthia Hu Audrey Nguyen Tianka Parapuram
Finally, I wish the absolute best for Natalie Cavallaro, the 2022 SRC Captain, as she and her SRC team embark on their own journey of opportunities and initiatives. I have no doubt that the SRC will continue to thrive under her leadership.
Year 11 2021 Year 12 2021
Gloria Lim SRC Captain
Jody FengSofia Jury
Isabella Kristallis Julia Lok Jaiden Sinozic Anais Siu
19
Riley Chantler, Ava Dean, Sarah Furlan, Bariah Khaznadar, Catherine Kong, Sienna Marriott, Vishaalini Ravichandra, Georgie Roediger, Tiana Roins, and Anikah Sanan
The Middle Years Leadership experience allowed us to grow into more dedicated leaders, collaborate with each other and all the Middle Years students. It has been a great privilege to have led the Middle Years girls. When the ten of us were elected leaders in late 2020, we all brought different ideas and expectations. However, we all shared the desire to grow a greater sense of community among the Middle Years group. The beginning of our leadership experience was unconventional in that our first assembly was pre-recorded. COVID-19 skewed our plans more than once and we ended in a less than ideal way, but the experience taught us how to persevere during the most inconsistent of times. The inception of term 'themes' changed how our assemblies operated. Each term, our assemblies focused on a larger issue that would coincide with a United Nations' Day of Recognition. This was a new concept to all of us, but it allowed us to share impactful moments with the Middle Years girls. One assembly that stood out was when we petitioned students to show the disparity between genders in our society. The figures were truly staggering, but it encouraged profound discussion amongst the girls and there was a clear passion to strive for change. Beyond the themes, our fortnightly assemblies allowed us to come together, laugh, and simply take a break from the demands of school. We are so grateful to all Middle Years girls for their support and participation over the year. We owe a huge thank you to Maya Simpson, Middle Years Captain, whose unwavering enthusiasm inspired confidence and determination in us all. Maya supported and embraced all our ideas and continued to work feverishly throughout the year to improve the Middle Years experience for everyone. Leadership was an incredible opportunity for which we are all so grateful. We wish the best of luck to the 2022 Middle Years Leadership team and we hope they enjoy themselves as much as we did!
Middle Years Leadership Team Representatives
MIDDLE LEADERSHIPYEARS GROWING INTO LEADERS
Our House Captains played a huge part this year. Whether it was through art, technology, library, music, sport, service, or the environment, these girls brightened up the whole place and led each of their Houses with devotion and enthusiasm.
It's really been one rollercoaster of a year! COVID-19 this year has taught us to be strong and united, especially since it took up an even larger portion of our learning than in 2020. We've had to learn at home, which shows nothing other than true passion and determination.
A big thank you goes to Ms Lisa Moloney, Mr Daniel Sandral, Ms Joanne Sharpe, teachers and support staff. You have been our guidance through these challenging times, shining a light in times of darkness. Each of you were dedicated to your role of teaching us, and you were the best we could ask for, helping us dare to be more. Thank you. We also owe thanks to our parents, for letting us grow and become who we are today. Thank you, Mum and Dad, for mentoring me to be who I am today, from stories to math questions. You have shown me kindness, compassion and love even when times were tough. You have helped me believe in myself.
Courage, Compassion, Respect and Growth - our four values. I hope you have all embraced the meaning of these four words this year and taken them into action. I hope you have dared to be more, to be fearless and discovered the multiple adventures that hide between the cracks. Something new can be learned every day. Girls, thank you. It has been such an honour to stand alongside you, to lead and to serve. I have had many memories from the MLC Junior School Campus, many of which I will cherish and hold close to my heart forever. I hope you girls will continue to flourish and grow, through the guidance of the light.
Thank you, all of you, for teaching me how to hold my head high, and proudly walk as a daughter of the light.
Chloe Lu Junior School Captain
20 JUNIOR SCHOOL CAPTAIN HELPING US DARE TO BE MORE
First, I would like to thank my partner in crime, Jasmin Srisathkuranathan. We have been by one another's side for one whole year, and it has been an honour to serve the community alongside her. She has been the very best ally I could have ever asked for, and we helped each other grow and develop. I have loved sharing this year of service and leadership with Jasmin, and I cannot wait to watch our next adventures continue next year.
Jasmin Srisathkurunathan Junior School Vice-Captain
I hope for next year is that all MLC School girls keep on daring. Keep on daring to be more than we think we are; to show our School values whenever and wherever possible; to bring more light into our school community, and to make the most out of what we get. Most importantly, I hope that we all get to have fun, and enjoy next year. We should all be extremely proud of what we have achieved this year. Whether it be in school, or out of school, it is something to remember.
21
JUNIOR VICE-CAPTAINSCHOOL CAPABLE OF ANYTHING
We all have tough times. We all have hardships, but in the end, we always get through them. This year has shown how much we have grown, become resilient and dared to be more. It has shown that MLC School girls are capable of anything that we put our minds to, including getting through lockdowns. My experience this year was not what I expected, it was unusual to say the least. I never thought that we would fall into another lockdown or have another outbreak. I thought it was all under control, and I am sure you did too. What we learnt from this experience is what makes us who we are today –resilient, courageous and helpful. These are some of the qualities that I developed. It was the new things we found which were important this year - new friendships, new talents, new creations, and new ways of doing things. These have become a new part of us, and we should cherish them. Reflecting on this year, I acknowledge that we did have some hard times. Good things came out of them. For example, even though lockdown was a bit boring and saddening, we got to spend more family time together, get work finished earlier, and the best part – slept in! We also had a chance to get to know ourselves better. The time spent at home gave us the opportunity to explore ourselves and discover new things that we did not know were there, and that could change our Whatlives.
The definition of community in the Oxford English Dictionary is 'a group of people living in the same place or having a particular characteristic in common.' At MLC School, the JSSC (Junior School Student Council), strives to change the meaning to be so much more. From fundraising, to organising community events, the JSSC's main goal is to bring the MLC School community together; one that we feel have achieved over the course of the year.
–BeingAnonymous.intheJunior School, it feels like we have learnt very little so far. In line with one of our School values, Growth, learning from the Senior School SRC is one of the ways we can grow and their leadership helped us to organise the best possible events. After meeting with the leaders of the SRC, we developed an plan for Teacher Appreciation Week.
As a collective, the JSSC is always creating ways to display the School values around the School. The School values include Courage, Compassion, Respect and Growth. We spent many meetings in Term 2 and Term 4 piecing together how Courage and Growth look, and how to show Compassion and Respect. These ideas will be placed around the School, as an example for students to follow.
Another community building initiative was developed by the Year 5 students. This involved asking every class to brainstorm their ten favourite things about the School. The JSSC then collected the responses, and wrote them on a large poster, which was colourful and inviting. We used grade photos and hung the completed poster in the redcarpet area, for everyone to see. As everyone was involved in the suggestions written on the poster, it helped build the community, and was a good reminder of how wonderful our School and its community are.
Bridget Cortis-Jones Year 5 JSSC Representative
22
STUDENT COUNCIL BRINGING COMMUNITYTHETOGETHER JUNIOR SCHOOL
'Listen to your elder's advice. Not because they are always right but because they have more experience in being wrong.'
So, in 2021, the JSSC has managed to organise many initiatives with the same purpose - to help the community.
The JSSC consists of members from Year 3 to Year 5. There are two members representing each class, and it is their role to bring up any issues that the class may have. An enormous thank you to Ms Sharpe and Ms Astle for leading our fortnightly meetings. Without them, many of our ideas would never have been possible. Although COVID-19 brought an end to some of our plans, the JSSC still managed to help the community thrive.
In Term 1, MLC School participated in The World's Greatest Shave, to fundraise for the treatment of blood cancers.
In the Junior School, no one shaved their heads, but some students did cut off significant amounts, and we all participated in a Crazy Hair Day. This was an issue close to our hearts because it has affected the School community directly before. The amount of funds raised between the Senior School and Junior School was over $50,000.
Rick Warren, Baptist Evangelical Christian pastor and author said in one of his quotes; 'Spiritual maturity is neither instant nor automatic….it is gradual, progressing development that will take the rest of one's Aslife!'chaplains, we take comfort in knowing that our school explores a range of learning experiences, both inside and outside of the classroom that gives space for spiritual development of our girls for as long as they are a part of our community.
23
We give thanks to God for the life of Reverend Sally Yabsley-Bell who joined the Chaplaincy team at the beginning of 2021. Even though this is Rev Sally's first placement as an ordained minister of the Uniting Church, she comes with great gifts and experience in Children and Youth Ministry. She is an asset to MLC School. One of the key accountabilities of School Chaplains is to provide pastoral care for members of the School community and their families as requested, including visiting homes and hospitals, assisting in faith formation and development, and generally acting as 'listener'.
SPIRITUAL LIFE NOT MISSED
Upon reflection, the last two years of COVID-19 have been extremely difficult as the School manoeuvrers itself around adjustments and changes in between lockdowns and restrictions. For the Chaplaincy Team, COVID-19 has somehow brought focus on the nature of pastoral care and our role therein. We found ourselves
Rev Viniana Ravetali and Rev Sally Yabsley-Bell School Chaplains
A BEAT pastorally involved with our students and staff mostly on a 'one-to-one' basis, either online or face to face. Our regular weekly year chapel services and devotional assemblies continued virtually without a hitch…. at times live and other times pre-recorded. We have not missed a beat in creating and encouraging a calm, peaceful environment where worship and special liturgical events throughout the year is crafted in accordance with the Good News of the Bible and the Uniting Church's values of:Hope Justice Mercy Respect Integrity Innovation Service In Junior School, we worked well to complement pastoral programs and lessons delivered by classroom teachers. For example, during the lockdown, Rev Sally and I were rostered to meet a class every morning during their 'morning welcome' period. It was an opportunity for us to share and pray for them, as well as listen to their thematic stories. We continued to find creative ways to be a presence, especially in the climate of flexible learning.
24 LEADERSHIP PHOTOS HERENAMEHERENAME
FRONT ROW Kayla Graham, Gloria Lim, Ana Trigg, Mikaela Nguyen, Maya Simpson, Katie Sutherland, Sofia Carey
SECOND ROW Ms L. Moloney (Principal), Claudia Bean, Montana Cominos, Vanessa Ryan, Mrs F. Booth, Mr N. Scotney
SECOND ROW Ms L. Moloney (Principal), Piper McCowan, Elle Tamvakolos, Claire Huddy, Nancy Faraj, Annabelle Bailey, Natasha Sheehy, Inez Kritzler, Annika Lee, Cynthia Hu, Maddisen Strauss, Mr N. Scotney
FRONT ROW Hayley Kenzler, Samridhi Garg, Lilia Coman, Olivia Tanevski, Mariam Yassine, Isabella Collins, Sabine Saad, Evelyn Doan, Gracelyn Dao, Jane So
CAPTAINSHOUSECAPTAINSSCHOOL
FRONTROW Sienna Marriott, Catherine Kong, Maya Simpson, Georgie Roediger, Vishaalini Ravichandra
SECOND ROW Mrs F. Booth, Georgie Roediger, Sarah Furlan, Tiana Roins, Ms L. Moloney (Principal)
FRONTROW Anikah Sanan, Ava Dean, Bariah Khaznadar, Maya Simpson, Vishaalini Ravichandra, Riley Chantler, Catherine Kong
SECOND ROW Ms L. Moloney (Principal), Riley Chantler, Bariah Khaznadar, Ava Dean, Sarah Furlan, Anikah Sanan, Mr N. Scotney
25 CAPTAINSSCHOOLJUNIORTEAMLEADERSHIPYEARSMIDDLE
27 STAFF
Kathryn Smith-Sergi DipTheatre Arts & Design, BEd(Hons), Dip(Teach English & Drama), MEd Design, Art and Technology (DART)
Sally Marks BA, DipEd, DipFA – Head of Department Technological and Applied Studies
Renee Willemsen BEd, Cert IV Training and Assessment, Cert II Kitchen Operations,
Cert II Food and Beverage – Assistant Head of Department – Technological and Applied Studies Natalie Adaimy BSc (Hons)(Food Technology), Cert IV Commercial Cookery, Cert II Hospitality Operations Richard Burgess BEd (Secondary) Industrial Arts Kara Laidsaar BEd Robyn Langford DipTeach Bryce Lindstrom BTeach, DipIT Robyn Mackertich BEd Pamela McGowan DipTeach Jake Morrissey MTeach VA, BFA Caitlin White BINTArch, BTeach Visual Arts Emma Hogan BA/BArtTh /BArtEd –Assistant Head of Department – Visual Arts Cigdem Aydemir BDA, MFA, GC (Sculpture, Performance and Installation) Caitlin Boyd BArtEd, BDes Victoria Bradshaw BEd (Hons) (Primary) Ciane Brewster BVA/BEd (Secondary) Emily Cribb BA/BTeach STAFF LIST LisaPrincipalEXECUTIVEMoloney BEd, MEd Leadership, GDip Music Ed, MACE, MACEL, AHISA Deputy Principal Frances Booth BA(Hons), PGCE, ARI, MACE Head of Senior School Neil Scotney BPhysEd, BEd (PDHPE) Head of Junior School Daniel Sandral BEd, Dip Teach, MEd, GradDip TESOL Head of Learning and Teaching Linda Emms BEd Design & Technology, MACE Head of Finance Systems and RossAdministrationKirby BBus Studies, Dip Acct, Cert GIA, ASA, JP Head of People and Culture/ Human LouiseResourcesStrachan (until October 2021) Nyrissa Filetti Bsc, Coaching certification, Prince 2 (from October 2021) Head of Information Technology Steven Swarts PGCertBus, MCP Head of Marketing and Community MicheleRelationsDunn BJuris Law Executive Assistant to the Principal Tracy ExecutiveNealeAssistant to the Deputy Principal and Head of Senior School Alexandra Norton Executive Assistant to the Head of Finance Systems and Administration Andrea Prevost
28 Administration and Finance Ross Kirby BBus Studies, Dip Acct, Cert GIA, ASA, JP – Head of Finance Systems and Administration Wendy Allen Cert III Teacher's Special Aide, DipEd Support Carla RobynComitogianniDiChristoforo AGIA, JP Brett Grey BCom, CPA Easso Mathews BCom Trinh NavodaAndreaNguyenPrevostWellege CPA, ACMA, CGMA Aquatic Centre Stephen Buchberger – Aquatic Centre Manager (until April 2021) Luke Goddard BBus - Aquatic Centre Manager (from April 2021) Borislav Karadjov Timothy Kelly BBus&Com Jessica Schell Ashley Wierzbicki BBus&Com LorettaCareers Toole DipT, DipRelEd, GDipCarEd, DipCoun, MBTI Accred – Head of Careers and Academic Advising Jo Cilia BA, DipEd, GCert Careers, MBTI RevChaplaincyViniana Ravetali MTh, BTh, DipAdminMgt Rev Sally Yabsley-Bell, BTh THL BlakeCo-CurricularFatouros BHlthSc (PDHPE), BEd (Secondary PDHPE and Dance Ed), Cert III Live Prod Services, Cert IV Workplace Assess, MEd (Leadership & Management) Assess Co-Curricular – Director of CoCurricular Tara AndreaRobertsonRowe , BA(Hons), MPhil, PhD SusanCounsellingRountree BA, DipEd, MA (Psychology) – Head of Department Marion Delprado BA, DipEd, MA (Social Work), GDip Clinical Social Work Cara Milwidsky BPsych (Hons), MEd&DevPsych Catherine Roach RN, (Cert IV G CarDev) Jemima Shafei-Ongu Dance, Drama and Entertainment Lisa Jinga BA, DipEd, MA – Head of Department Kate Drady BA (Hons) (Dance), MTeach (Dance and Drama) Teresa Huzij BCA(Hons), MTeach Julian Kennard BCA, MTeach, Cert IV Training and Assessment Bojana Kvrgic BA Jenna Skepper BEd (Secondary) (PDHPE and Dance Ed), Cert III Live Prod Services, Cert IV Workplace Assess
CeciliaEnglishBatista BEd, MA(Lit), CoGE – Head of Department Deborah Moir BA (Hons), MLitt, GradDipEd, CoGE – Assistant Head of Department Amber Bidwell BA, Dip Ed Georgina Brewer BA/BComn, Med (TESOL), GradDipEd (Secondary) Joelene Cheney BA Communications, DipEd, MA Creative Writing Kellie Cogin BA /BEd
Kingston Roser BA/BEd
– Head of Human Resources (until October 2021) Andrea Casey BSc, Cert IV in HR Human Resources
Gemma Goldberger BA, GDipEd Elizabeth King BA, DipEd, TESOL
Shane
Bonnici DipEd(Support), Cert IV Chaplaincy
Grad Dip Ed Dovia Graice
Susan van StevenInformationZuylenTechnologySwarts PGCertBus, MCP –Head of IT David Allen
Kristyna Tadros BA (Economics), BTeach, MEd (Psych)
Henry Wijanto BBus, MA, GDipEd –Assistant Head of Department Manuel Condoleon BCom, BEd, MEd (Research), PhD Christopher Highman BA, BEd (Humanities and Social Sciences)
Anita Lee Liane Simpson Cert III Hosp, Cert Clothing Assembly, JP Lesley Snelgrove BEd (Art), MEd (Art & Design) Dayna Wilding BDes (Hons)
MIT Junior School
29
Mariam Issa Vanessa Lau BCom, CertIV BA Human Resources Human Society and Its Environment
Danielle Rodrigues BA, DipEd, MEd (Learning and Leadership), Cert II Bus, Cert IV Training and Assessment – Head of Department Paul Batten PhD, BSc (Hons), DipEd –Assistant Head of Department
KellyJakeAnthonyMeghanBealChartersCheaterKatrakis-LarkinLyu
Pastoral Care Jacqui Donnelly MA
Daniel Sandral BEd, Dip Teach, MEd, GradDip TESOL – Head of Junior School
Dip Ed
Dijana Mastonardi MInclED, BEd
& secondary) major in ESL Sandra Mann
GDipEd (Secondary), GCert(Educational Research), MSpecEd
Rachel DeborahLloydMoir BA(Hons), MLitt, GradDipEd, COGE David O'Donohue BA, DipEd, Cert. TEFL. Joseph Pfeffer BLAS, MTeach Fiona Pow BA(Hons), PGCE Wayne Symes BA, DipEd, BTh, Dip Min. Luisa EnrichmentWebb and Differentiation
Alyson ElizabethArestanAstle BA (Hons), DipEd
Ellen Balassone BEd (Primary)
Jocelyn Jabbour-Perez BEc, GDipAFin&Investment, DipFinPlan, GDipEd, CertRE Helen Kondos BEd, DipEd, Cert II Bus
Rachel Barakat BEd, HigherDipEd, DipVArt, (Primary), DipEAL Kate Beange BEd (Early Childhood Education, Birth-12)
Jesse Hogan Ph.D in Fine Arts, Masters of Fine Art Education, Masters of Art Education UWS, BFA Jane Lancaster BA, DipEd (Primary), MArtDesEd
Bridget Kovats BEd (SecondaryHumanities and Social Sciences)
Lynne Slarke BA, BEd, DipEd, MEd, MSPEd, GDipSpEd – Head of Department Dianne and (Psych), BA (primary BA, (Vision) (Primary)/BA Filetti BSc, Coaching certification, Prince 2 – Head of People and Culture (from October 2021) Louise Strachan BEd(Hons), MBA (HRM)
Joanne Sharpe BEd, Dip Teach, MEd, MEdLead – Deputy Head of Junior School –Student Life
Kathy Meintjes BSc, DipEd Belinda Merrick BEd (Hons) (Early Childhood) Jennifer Rodger BEd Irene Swain DipTeach, DipEd, GDipSpEd, Cert IVAss &Tr, Cert Comp in EdAss Jackie Tanevski Cert III Early Childcare GregoryFacilities McGirr Cert III Electrical Fitter Mech Trade, Cert IV Ind Electronics –Facilities Manager Erdal ScottPatrickAltasBarkerIngwersen Horticulture Cert, AssocDipLandscaping Vince Marino Trade Certificate Electrical Jorge HistoryJefferySchellWrightandReligious Education David Posker-Hill BA, DipEd, Grad Cert RE, MA, MEdLead – Head of Department Antonella Accurso BEd(Sc) Felicity Berry BA (Hons), BTeach, PhD Lynne Bondar BA, DipEd Sharon Connolly BA, DipEd Annie Conway BA, DipEd, DipCS, MA(Theology) Bryana Cooper BExHlthSc, DipEd, CertRE, Cert II Commercial Cookery Peter Klamka BA (Hons), DipEd Christopher Moysa BA (Hons), MTeach (Secondary) Judy Tenzing BA (History), Grad DipEd (History / TESOL) Vicky Zinopoulos BA, BEd, Cert IV Assessment and WPlaceTrain People and Culture/ Human Resources Nyrissa
Natalie Hird BA, MTeach (Primary), Adv Dip French Studies – Deputy Head of Junior School – Student Learning
30 Amber Bidwell BA DipEd Susan Blanche BEd, HigherDipEd, DipVArt (Primary), DipEAL Rachael Borg BEd (Early Childhood) Emily Bryson BEd (Primary) Melissa Bye Marie Cassar BMechEng/BCompSc(Hons) Claudia Catania BEd (Early Childhood and Primary) Selina Clark BPsych (Hons), MTeach Danielle Collins BEd, MEd (Special Needs) Maya SamanthaAnnieDeborahCupacDoyleEllisEdwards BEd (Hons) (Primary) Jan Falls BA, DipEd, MEd, MECH, DipDecorative Arts Madison Greville BVA, MTeach (Primary) Clayton Howard BMus, MTeach (Primary) Donna Keane BA, HigherDipEd Michael Lewis BPsych, PGCE Vicki Liubinskas AssocDipECH Andrea Martinez BA, MTeach (Primary), MIncIED Helen VictoriaDianaEleonoraMissirisMondaNguyenNoy BEd (Birth to Twelve Years) Andrena Otton BEd(Primary), DipEd (Primary), Dip RE Eddie Park BSc (Biomolecular), MTeach (Primary) Danielle Pham Rebecca Putna Bede Schofield MTeach Courtney Simmons BEd Erin Torres Kim Tran BTeach (Primary) Connie Tsokas BEd (Primary), Dip Ed (ESL), Cert Gifted & Talented Ed Madeline Wods BEd (Primary) Michelle Wyatt BA, DipEd (Hons), MInclEd Gina Zucco BEd, DipTeach LouisaLanguagesMacdonald BA (Hons) MA, PGCE –Head of Department Penelope Hewett BCom/BA, MTeach –Assistant Head of Department Lijun Bi GDipEd, PhD Kartika Brand BA, BEd Manuela Di Giovanni Degree in Foreign Languages and Literatures; BA Teach (Secondary) ; MA (Tesol); PhD (Arts and Social Sciences ) Penelope Hewett BCom/BA, MTeach Sandy Huang BA, GDipLOTE Kentaro Otani BSc/BEd Bronwyn Peace BA, GDipEd Erika Pieri BPolSci, MTeach (Secondary) Rosa Scalzo BModern Languages, DipEd, DipSpecialNeeds, MA Helene Schmit BA (Literature), MA LOTE, CertIV Josephine Schreuder BA/LLB, GDIP LOTE Elisa Tagliabue MAAppL (LT) Learning and Teaching Linda Emms BEd Design & Technology, MACE – Head of Learning and Teaching John Clear BA, DipEd – Director of e-Learning Rochelle Dagher BA(Education & Sociology) Cathryn Moore Dip Ed Primary, BEd Early Childhood, MEd (Educational Leadership) Renee LouiseLibraryTogoServicesPiggottBEd, DipTeach, Med – Head of Department Kerrie Backhouse BA, DipEd, MEd (TL) Nola Booth DipLib&InfSc Jody Gilroy BA, MTeach Sharon Goad BA, DipEd, DipLib&InfSc Grace Kapellos BA, MA (Psych) Michelle Olah BA/BEd, GCTESOL, MEd Anne Sullivan DipLib&InfSc Marketing and Community Relations Michele Dunn BJuris Law – Head of Department Fadia Aoun Jillian Avramis DipEventMgt, AssocDipFA Hanh Bayes BDes Nerida Coman DipTeach (Primary), Cert III BusAdmin Heleen Fourie BA, PostGradDip (Communication) Barbara Hoffman BSc (Hons), GCRecords Mgt Lucile Jaillais BBus, MMarketing Christine Le Judy MelissaLezonPollett BJour (Hons) PennyMathematicsPachos BSc, DipEd, MEd(Curriculum), MEd(TL) – Head of Department Jason Truong BEd (Secondary) (Math), BSc – Assistant Head of Department John Abi-Elias BSc, BTeach, MA Rachel Drissen Toby Duncan BSc, BE(Chem), DipEd, MEd Christopher Eddleston MMath (Hons), PGDipEd, Shirley Green BSc (Hons), MTeach Michelle Hartnett BSc (Hons) Hwa Lee Monica Lee BEd (Secondary) (Math), BSc (Math) Angela Renwick BAppSc (Math), BTeach (Secondary) Alex Shroder BSc, DipEd Vito Zurlo BEd (Mathematics), Dip Teach. TrevorMusic Mee DipMus, BMus, AMusA, GDipEd – Director of Music Emma Bourke BMus (Hons), PGCE –Assistant Director of Music Tristan Coelho BMus (Hons), MMus Richard Coward BMus/BEd, Cert IVTrain&Asses, CertIIILiveProd Theatre & Events Joanna Drimatis BMusEd (Hons), MMus, GDipMus, PhD STAFF LIST
31 Alison Duncan BA (Hons), MMus Elizabeth Gilberthorpe BMus Sophie Grattan-Smith BMus, MTeach Ying Ho BMus (Hons), MMus Megan Ling BMus Laura McDonald BMusA (Hons) Post graduate Sophie Podrasky Karen Roberts BMus, PGDipMus, MMS, ATCL Personal Development, Health and Physical Education Olivia Nolan BExcSc, GDipEd, MEd Leadership – Head of Department Claire White BEd (HMHE) – Assistant Head of Department Wayne Donley BEd, DipSportsSc, Hons Exercise Science (Research), GDipREd, MEd Jane Ferguson BEd (Phys & HlthEd) Michelle Hiss BEd (Phys & HlthEd) Sarah Jauncey BEd (Phys & HlthEd) Emily Osborne BEd (Human Movement and Health Education) Sarah Papachristoforou BComm/BJ, DipEd Andrew Simos BEd (PDHPE and RE) Gavin Starr BPhysEd, BEd (PDHPE), Cert Marketing SusanScienceRowley BSc, GDipFDA, GCertEducStud, MSc, MTeach (Hons) – Head of Department Mora Soliman BTech, GDipEd, MEd (Leadership) – Assistant Head of Department Glenn Blackburn BEd (Secondary) (Science) Kaitlyn Calluaud BExPh, MTeach Felicity Cassidy BPharm, BTeach Moira Gaha BEd (Secondary) (Science) Tracy Getts BSc (Hons), MSc, GDipEd Brooke McAlister BRurSc Kate Schurch BSc (Hons), DipEd, MEd (Educational Leadership) Ingrid Smolka BSc, DipEd Martina Stolzi MSc, MTeach Roseanne Thompson BAppSc (Hons), GDipEd Senior School Neil Scotney BPhysEd, BEd (PDHPE) Christopher Barnes BA Dip Ed - Deputy Head of Senior School - Academic Martina Miu BCom, MCom (PAcc) Alexandra Norton Sarah Tynan BSc, MTeach, Cert IV HRDeputy Head of Senior School - Wellbeing LisaSportFilby BEd, DipTeach – Director of Sport Kylie Bickerstaff BEd, DipM – Assistant Director of Sport Naomi Bruce BA, MComm, BClinicalExPhys, ESSA AEP Ludovic Catherine Jessica Coetzee Jessica Dyson Robert Glendenning Ashley Harris BS&ExMgt Cert IV Fitness Pepe EstherHaveaMaling BExHSc, DipEd Laura CaitlynJessicaMannionMcAndrewRichardson BSc (Nutrition Science) Emily Osborne BEd (Human Movement and Health Education) Colman Wong BSc (Exercise Science), MSportsCoaching Studies Office Kestie Neligan BEd, DipTeach – Head of School Administration, Teacher Mathematics Debra McRostie BBus Wendy Strachan
32
33
35 LEARNING
36
The past 12 months have presented our School community with many challenges and opportunities. Staff and students have demonstrated receptiveness to new ideas and ways of learning and the willingness to work together. It has been this willingness to work together and collaborate as a school community that has seen us achieve in ways we could not have imagined.
In Semester 1, we began our journey as a staff to learn more about Aboriginal and Torres Strait Islander histories and cultures and how these can be authentically embedded in all aspects of learning. Guided by Roslyn Thomas from the Association of Independent Schools of NSW (AISNSW) we began the conversation with what we thought we knew and where we would place ourselves on the continuum of learning. Despite the many challenges of 2021, we continued this journey throughout the year. This has been just the first step in a much longer journey. As a staff there is consensus about how much more we need to learn and there is an energy to continue the work in 2022.
In Term 3, we once again flipped to Flexible Learning and with the experience of 2020 behind us, the transition was seamless. Staff and students adapted to online collaboration as the extended lockdown became a reality as well as venturing into the new world of online assessments and examinations. Staff explored new apps and features in Microsoft Teams to enrich the learning experience and for Junior School students their elective classes moved online as well.
In Term 4, we ventured yet further into new territory in the form of Blended Learning. Knowing that for many in our community the return to school would not necessarily
HEAD OF LEARNING AND TEACHING LINDA EMMS
'...we began our journey as a staff to learn more about Aboriginal and Torres Strait Islander histories and cultures and how these can be authentically embedded in all aspects of learning.'
I extend my gratitude to the incredibly dedicated staff, the parents who have supported from home and the girls for their willingness to come on the journey with us and forgive us the mishaps along the way.
Ms Linda Emms Head of Learning and Teaching
37 be straightforward, the teachers worked to provide engaging and rich learning experiences to both the girls in front of them and those still learning from home. Their pedagogical skill was evident as they navigated this new landscape. None of this would have been possible without the support and direction provided by our Director of e-Learning, John Clear. He worked closely with both staff and students to ensure we remained connected and able to continue the learning journey together. As a staff we are incredibly grateful to count John as part of the team. However, the greatest acknowledgement of the year must go to the girls. This year they have demonstrated their courage and resilience in so many ways as well as the emotional intelligence to regulate their own emotions in the most challenging of times. This does not mean there were not some tough days, but they could be secure in the knowledge that the support was there when they needed it.
• conduct formal examinations using a secure browser.
DIRECTOR OF E-LEARNING
• provide opportunities for the girls to work both during class time as well as outside normal school hours
Change in any organisation is difficult, and schools are no different. Twenty years ago, educationalists coined the phrase 21st century learning to refer to particular core capabilities considered necessary for students to thrive in today's world, including: competence in digital technologies and literacy; and Acollaboration.silverliningof COVID-19 is that the take-up of key digital technologies has been accelerated. What were, until recently, interesting uses of technology in schools, advocated by many but not all, quickly became essential tools adopted by all teachers, and MLC School students have been advantaged as a consequence.
JOHN CLEAR
38
• provide resources and curriculum content, delivered to each class through their own Canvas course
These changes to teaching practice have been substantial and required considerable professional learning from the teachers, who
• build courses of study that allow the girls to work both independently and with their peers
• make assignments available for completion and uploading
• share rich multimedia content to engage and explain
• make collaboration between the girls a simple process
• mark work and provide timely feedback to the girls
• differentiate learning, ensuring that each girl is able to learn at a pace appropriate to her
• provide quizzes that give immediate feedback to the girls
The MLC School Executive demonstrated considerable foresight three years ago with the decision to introduce the Canvas Learning Management System (LMS). Implemented from Kindergarten to Year 12, Canvas has meant that teachers have continued to deliver content to the girls, even when called upon to do so remotely. Through Canvas, teachers are able to:
The Junior School STEM Lab, under the guidance of Marie Cassar and Bede Schofield, continues to provide opportunities for our Junior School girls to delve into Science, Technology, Engineering and Mathematics through group and individual tasks and projects, investigating the interrelation of these areas and the impact of them in our daily lives.
In the Junior School, with one eye on (online) NAPLAN testing, all girls in Years 3 to 6 have begun spending time each day using a typing program. This will help ensure the girls aren't at a disadvantage when it comes to the writing component of NAPLAN. Each girl's teacher is able to monitor individual progress and provide additional opportunities or remediation as necessary.
'The technology space will always feel like it's built on shifting sand. Technology will only continue to answer the demands of constant change if it is constantly evolving as well. '
39 are to be congratulated for their commitment in taking these enormous changes in their Whilestride.COVID-19 has somewhat hijacked this adoption of different technologies, this energised willingness to trial different software is being leveraged, with different faculties and teachers investigating building quizzes into online videos, working with small groups of students in Teams, leveraging accessibility components of Microsoft software and developing online publishing skills.
eSafety continues to play an important role in the eLearning space. It's vital that girls (and their teachers) not only know how to stay safe online, but that it becomes second nature to take the necessary steps. With this in mind, I have made presentations to all girls, looking at password safety, hidden location data in images, privacy settings and what not to post in social media, and learning to decode a URL as a first line of defence against possible scams.
The technology space will always feel like it's built on shifting sand. Technology will only continue to answer the demands of constant change if it is constantly evolving as well. We aren't learning and teaching the way we were three years ago; the challenge continues to be not only to adapt, but to ensure MLC School girls and their teachers continue to understand the imperative of tackling this change willingly.
Mr John Clear Director of e-Learning
Zara Kilborn Year 10 student
40 RED EARTH IMMERSION:
Kathleen's and Frances' beliefs and stories are still so strong; however, they have had to adapt their way of living to suit our way of Whatlife.I have taken away from this trip is that I need to not make assumptions or generalisations about Indigenous Australians. Something that became really clear to me on this trip is that we need to stop making excuses or using the word 'uneducated' as a reason for not knowing or fully understanding something. This was evident at Buru, when one of the local community members, PJ, asked our group, "What does closing the gap mean to you?". I have also learnt to really appreciate the little things that before this trip I had taken for granted in my life. I'd never really thought about what it would be like to live without what I think of as everyday things, like flushing toilets. This trip was life changing and I have learnt so much about myself as well as the incredible country I live in with one of the oldest cultures in the world. This immersion is something that will stay with me forever, and I am grateful for the lessons I have learnt and the bonds I have formed with girls in Year 10 and Year 11, as well as my group's teachers, Ms Tynan and Ms Schmit.'
Coordinated by Sarah Tynan Deputy Head Senior School - Wellbeing
In June 2021, 52 students and four staff left the chill of Sydney winter and headed north for an experience of a lifetime: the first MLC School Red Earth Indigenous Immersion. The premise behind the experience was a chance for our girls to experience life on remote Indigenous homelands, where they spent time with the Elders talking, learning and experiencing all that this ancient culture has to offer. The girls also participated in service activities that were decided upon in collaboration with the Traditional Owners and that would be of benefit to them and their families.
To describe her experience, Zara Kilborn, Year 10, 2021 shares her story.
Another highlight for me was sitting around the campfire in Dikaarba, in a clearing surrounded by lush rainforest, one of the most scenic places I have ever visited. We listened to Kathleen and Frances, the Elders of their homeland, talking about their life experiences. A couple of words that have stuck with me were Kathleen's comment, 'to survive, you have to live a white man's life'. This really brought home to me how Indigenous culture has had to change over the time since the English invasion.
CAPE YORK 2021
Although we were only there for a day, I felt as though I left with close bonds with them.
At the school, we helped to paint the area where they would eat and play, as well as building planter boxes to assist with their veggie garden. Whilst helping and giving back to the community, it was incredible to have the children share their knowledge and understanding of their culture and land.
'From 16 to 25 June, 52 MLC School girls in Year 10 to Year 12, and four teachers (Ms Tynan, Ms Schmit, Mrs Green and Mrs Renwick) had the opportunity of a lifetime, heading up to Cape York on a Red Earth Immersion trip. We spent 10 days immersing ourselves in Indigenous culture and forming bonds with the Elders in the community as well as our MLC School peers and teachers. I was lucky enough to be in Group 2 where we spent time in the community of Laura and two homelands, Dikaarba and Buru in the Wujal region. On our trip we learnt about Elders' experiences of gaining rights back to their traditional land. We visited the local State School in Laura and heard students' and teachers' perspectives on how their culture can continue to be learnt about in Australia. Visiting Laura State School was one of my highlights of the trip. There were friendly, welcoming children who attended school that day and we spoke with them about their families, pets and experiences at school.
41
43 SCHOOLJUNIOR
•Packing Room Prize: Clara Southwood (Year 5), 'My Sister'
1st Prize: Leanna Shen (Year 1)
MLC Junior School Art Photography Prize This inaugural competition attracted entries from K-6 based primarily on the natural environment. The winning entries were:
Euna Cho's entryAurora Sharma's entry
Flexible Learning also created opportunities for the girls to extend their exploration of art making and studying beyond set teaching and learning programs and of expected outcomes. For example, Year 3 used their beautiful landscape watercolour paintings incorporating flora and fauna of various Australian World Heritage natural sites as a backdrop to film a documentary or an advertisement using their own handmade paper puppets to create important personal narratives on the environment.
MLC Junior School Family Portrait Prize
• 2nd Prize: Aurora Sharma (Year 4)
•Packing room Prize: Emma Rose Koeswandy (Year 5)
ARTLEARNING
To further enhance students' independent learning, additional opportunities were also offered to showcase their art abilities within the School community and to a wider School audience: Our 'Rainbow Handprint Collage' Once we returned from lockdown, everyone in the Junior School – students and staff members – created a handprint. They captured themselves on their handprint with lines, shapes, patterns, symbols and images meaningful to them. These handprints were transformed into a beautiful Rainbow Handprint Collage. This collaborative artwork is a celebration of our girls and staff members. It captures our diversity and individuality while representing our connection and unity as a school.
Operation Art Exhibition Due to unforeseen circumstances, selected artworks were sadly not able to be submitted into the exhibition as planned.
Whilst online Visual Arts lessons meant that materials used had to shift to being readily available resources within reach in a home environment, the skills and adaptability of our girls (and their parents in sourcing such materials) to explore creative ideas and to document the process using technology, was so often impressive, innovative, and rewarding.
•
has evolved dramatically since McCullough's 20 th century quote and yet surprisingly these words resonate now to best describe this year's experiences in teaching Visual Arts in the Junior School and in our students' learning experiences during the challenging periods of COVID-19 lockdowns.
• 2nd Prize: Euna Cho (Year 4), 'Portrait of Euna'
• 3rd Prize: Amelia Stillone (Kindergarten)
'The44 love of making things cannot be defined to the physical world-electronic form giving can also be a rewarding handson experience.', Malcolm McCullough, 'Abstracting Craft', (1993), Harvard TechnologyUniversity.
• 1st Prize: Gigi Guan (Year 6), 'Queeny'
The beautiful artworks by Rhianna Sui (Kindergarten), Mila Barakat (Year 1), Alicia Suen (Year 3) and Gabriella Lim (Year 4) were proudly displayed in the red-carpet showcase to greet the girls when they returned to the School in Term 4.
• 3rd Prize: Caydence Sumantri (Year 5), 'My Sister Ayla'
The theme was selected this year to best challenge the girls and reflect upon their own family members as portrait subject matter. The winning entries were:
Students were given the opportunity to follow their creative passions and utilise the materials around them, including digital media and photography. In many ways, Flexible Learning provided a unique opportunity for our young artists to create in ways that might not have been possible within the MLC School Art Studio.
Selected exhibiting finalists in the Young Archie Competition at the Hazelhurst Arts Centre during December to January, with the AGHS 2021 Archibald Art Prize, were Rhianna Sui (Kindergarten), Euna Cho (Year 4) and Gigi Guan (Year 6) with Gigi winning her age category.
45
Hazelhurst Arts Centre's Young Archie Competition
The National Portrait Gallery's Little Darlings Youth Portrait Prize Euna Cho and Gigi Guan's portraits were selected for the Little Darlings Youth Portrait Prize to be held at the National Portrait Gallery in Canberra from the 25 June to 9 October, 2022. Only 12 entrants were selected by the National Portrait Gallery from over 350 student entries from all over Australia. Euna and Gigi's artworks will be used for the art gallery's 2023 calendar and will be displayed in conjunction with the National Photographic Portrait Prize and the Darling Portrait Prize We are so proud of all girls entering these competitions and the high standard of their artmaking and photography. In 2022, there will be more opportunities in design, filmmaking, and art critical writing to entice our girls and further engage in art beyond the studio. In the next two years, Visual Arts, like many other subjects, will be moving towards a new National Curriculum. At the end of Term 2, JS Visual Arts teacher, Jane Lancaster, accepted the Curriculum Advisor Creative Arts K-6 position with the NSW Education Standards Authority (NESA). We congratulate Jane on achieving such a position and feel pleased that MLC School is best placed for future programming directions with such a wonderful connection.
Term 4 welcomed most students back into the Art Studio again after lockdown. Their enthusiasm for artmaking was quite overwhelmingly positive as were their unsolicited responses to their artmaking lessons whilst away from the studio. We look forward from the lessons and innovations learnt from 2021 to further enhance rewarding hands-on experiences whether it be virtual or face to face in the future and sincerely thank parents in supporting their daughters' engagement in art.
Mrs Victoria Bradshaw and Mrs Lesley Snelgrove Junior School Visual Arts Teachers Caydence Sumantri's entry
Gigi Guan's entry Leanna Shen's entry
•In Term 3, as we recommenced flexible learning, students participated in the Littlescribe Mini-Writers Festival.
'In books I have travelled, not only to other worlds but into my own. I learned who I was and who I wanted to be, what I might aspire to, and what I might dare to dream about my world and myself.'
Close to 60,000 students from across the country took part. Over two weeks, our girls joined workshops run by 15 of the country's most well-known children's book authors, from Jackie French to Andrew Daddo, who helped to inspire our girls to create and share their own writing.
•Students were encouraged toexperience books in new formats. Storybox Library had over 3000 views in 2021 by the MLC Junior School community. While at home, some of our students chose to borrow online through Wheelers (ePlatform) and Borrow Box. These were great resources for our older students with many new titles added.
46
• The Library Captains and Monitors were active throughout Term 1 and 2, working on lunchtime activities for each grade. They created abook suggestion box as well as a Book of the Month display to inspire girls to read, and they read picture books to the younger students. They wrote for and produced the firstJunior Journal for 2021. This edition celebrated family, Malala and Mrs Lancaster.
the year with a focus on developing our reading goals and sharing our favourite books through Reading for Fun in 21. During flexible learning, we continued to share the books that we love in each grade through book talks.
Throughout the year we have reflected on the Children's Book Council of Australia's (CBCA) theme for 2021: Old Worlds, New Worlds and Other Worlds. We have explored the books shortlisted for the CBCA Awards and celebrated the winners. During another year of being locked down, reading has been an avenue for travel and growth that we have continued to promote in the Junior School Library, The Hub. This has again been a year of opportunity, finding new ways to share our message and encouraging all to understand the importance and pleasure of •Wereading.started
•The Junior School students again participated in thePremier's Reading Challenge, with over 160 students completing the challenge in 2021.
• On 19th May, the Junior School celebrated the Australian Library and Information Association's (ALIA) National Simultaneous Storytime. Students got into the swing of it with impressive models, colouring, illustrations and poetry that highlighted our interest in Space, the Solar System and the world around us. We watched as Dr Shannon Walker read to us "Give Me Some Space", by Philip Bunting, from the International Space Station. It was such a treat.
•In the lead up to Book Week, the captains and monitors worked to promote the events and activities. They created "how to dress up" videos, suggestions for book themed creative activities, games and recordings of books, all shared within the library guide.
• Each morning of Book Week started with a virtual reading session introduced by one of the Library Captains.
JUNIOR SCHOOL LIBRARY - THE HUB LEARNING
– Anna Quindlen
Mrs Howden gave students a lesson on how to write their own news articles for the Lockdown Edition of the Junior Journal. She promoted the need to check sources and ensure that you write the facts, giving students permission to be nosy in the pursuit of a well written and accurate news story.
47
• On 9 September, we concluded our Book Week celebrations. Students dressed up as a book character. Their day was filled with shared literature treasures, reading adventures, a Book Week Performance, a lip sync challenge and a disco with DJ KitKat, to share their love of literature and celebrate the efforts of all students throughout the term.
Mrs Jody Gilroy Junior School Teacher Librarian
•Lavinia Xu in 3A won theBook Week Bookmark Competition. Her bookmark was a celebration of the Book Week theme, depicting characters that we know and love from 'Old Worlds, News Worlds and Other Worlds'.
•As we returned to school in Term 4 we had the pleasure of welcoming editor, author and expert in the field of Journalism, Saffron Howden, into the Year 5 classroom, remotely.
A book was read by a member of the executive leadership team. The Library Captains then introduced a new online competition each day of that week to celebrate the theme 'Old Worlds, New Worlds and Other Worlds'.
Wednesday: All about getting into the fresh air on some sort of wheels such as bikes, scooters, skateboards, rollerblades and even taking the wheelie bin for a spin.
In Flexible Learning, Year 3 to Year 5 completed a tabata workout to get their bodies moving after lots of time sitting on the screen. Girls then learnt, practised and refined a different fundamental movement skill each week. To finish off the lesson, they listened to some interesting podcasts about Australian women, while being active.
•Thoughtful Thursday: All about doing something for someone else. Making posters to hang on windows and fences to promote positive thinking and kindness, writing and delivering letters to our neighbours, completing housework, doing some gardening, writing kindness notes for family members and friends.
Year 2 kicked off the year with revising the food groups and incorporating their knowledge into researching celebration foods from different countries and writing their favourite recipes. They were excited about learning about the different parts of the body and how they work, in particular making their own skeletons. They also learnt about safety practices and the importance of being a good friend.
LEARNING
Kindergarten to Year 2 girls loved our online PE lessons during flexible learning. Kindergarten enjoyed a variety of dance lessons using different body parts to lead different movements and understanding levels to make a performance more visually interesting. Year 1 engaged in Gymnastics and moved through basic positions, balances and even made a ribbon routine using a wooden spoon and a piece of string. Year 2 enjoyed refreshing their fundamental skills. We focused on refining their throwing and catching skills, giving them different challenges to help them develop more strength and accuracy.
In Health this year, the new PDHPE syllabus has enabled Kindergarten girls to learn about what makes them special and unique, how to keep safe and look out for dangers, how to be healthy and all about different types of Yearfamilies.1enjoyed learning about communication and understanding and reading people's body language. They loved to engage in mindfulness and to discover their happy place to help them stay calm and relax when feeling overwhelmed or sad.
PERSONAL DEVELOPMENT, HEALTH AND PHYSICAL EDUCATION (PDHPE) We thought we changed everything in 2020 but how wrong we were! 2021 was the year of changing it all again and again. We started the year with a bang. Year 3 to 5 girls completed the intensive swimming program preparing for the swimming carnival. Year 3 and 4 girls moved onto becoming lifesavers, as they learnt how to complete throw rescues; how to enter the water in different ways; and even how to paddle a rescue board. Year 5 students learnt how to play flippa ball (modified water polo). This involved learning new skills of treading water and throwing a ball as well as swimming with the ball. The Kindergarten to Year 2 students prepared themselves for the first ever K-5 swimming carnival by participating in the intensive swimming program. What a way to finish a big Term 1! Term 2 saw the girls in Kindergarten to Year 4 begin to prepare for the athletics carnival with practising and refining sprinting, long distance running, throwing and jumping, while Year 5 learnt about kicking. The unit culminated in some fun and at times competitive soccer games. Watch out Matildas, we have some MLC School stars headed your way. We never imagined that we would be learning from home in Term 3 and some of Term 4. The Junior School community thrived with the daily PE challenges to get everyone in the family active for some part of each day. Once again, the challenges followed themed days to promote the different •activities:MegaMonday: This was to start the week with a bang and make a physical challenge to attempt each day of the week. It included activities such as running 2km, swimming in cold water, taking the dog for a different walk each day.
•Family Fun Day Friday: This was a highlight of the week for many as it involved challenging the whole family in activities, some inspired by the Olympics like the canoe race. Other challenges included the plastic bag fan race, balloon tennis, the great toilet roll flip, paper catapults, the toilet paper leg flip, plastic bag catch and so many more.
48
•Tricky Tuesday: This was the day all the tricks came out. We learnt how to juggle, flick aluminium foil balls into goals, making catapults with elastic bands and dining room chairs, playing trick shots with socks into washing baskets, and much •Wackymore.Wheelie
Ms Sarah Jauncey Junior School PDHPE Teacher
With the increase in bike riding during lockdown, the timing of the bike safety unit in Term 2 led perfectly into the Year 3, super riders putting their skills into practice during the lockdown period. To finish off the year girls learnt the importance of teamwork. Year 4 learnt about all about UV radiations, and the students then presented a PowerPoint to their families on how to reduce the chance of getting skin cancer. It was all about being a upstander in Year 4 this year, as girls learnt how to keep safe on the internet and the importance of staying active. Year 5 learnt how to read a food label and how to prevent lifestyle diseases with a healthy lifestyle. In Term 3, students learnt about identity and culture and how that influences our health. The girls put together some amazing TED talks on what diversity meant to them. In Term 4, the Year 5 students started to work as Marketing Directors for a muesli bar company. They learnt about the 4Ps of marketing and how to be aware of the strategies and methods that are used to promote and sell products and services that may or may not assist with healthy lifestyles. With the installation of the new sports fields, we are now looking forward to practising and refining of all our fundamental movement skills.
Year 3 starting the year learning all about everyday foods, superfoods and zombie foods that we should only eat sometimes.
49
50 2021 LEARNING
51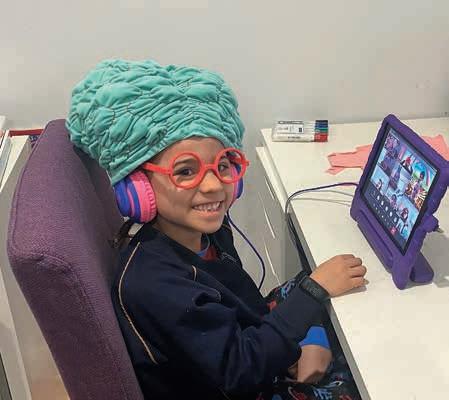 Mr Clayton Howard Audio Visual Club Coordinator DA DECATHLONVINCI
Imagine training, planning and preparing for a competition over many weeks only to be told, in the last days, that almost everything had changed? That is what happened this year for the girls involved in the Tournament of Minds (ToM) competition. Tournament of Minds is a program for all primary and secondary students providing the opportunity to solve authentic, openended challenges that foster creative, divergent thinking that culminates in a live performance requiring effective and cooperative teamwork. This year, COVID-19 meant live performances were out. Worse still, lockdown restrictions meant the girls could not even meet to film their planned presentations.
OFTOURNAMENTMINDS
Like all clubs, the Audio Visual (A/V) club was affected by COVID-19 once again. Although the club was only able to run for half the year, we made the most of our time, nonetheless. With a mix of Year 5 and Year 6 students, girls had lots of fun experimenting with different photography and film techniques. In Term 1, we looked at photography and how we can use interesting angles, focus and lighting effects like shadows and silhouettes to achieve beautiful photos. We then used this in our short films during Term 2. During this time, we looked at special filming tricks to make exciting special effects. With such a small group, we were able to focus on upskilling these talented girls to achieve so much. Thank you, girls, for your endless enthusiasm and excitement.
The Da Vinci Decathlon is designed to celebrate the academic gifts of Australian youth by providing a stimulating and challenging competition. Students compete in teams of eight across 10 disciplines: engineering, mathematics and chess, code breaking, art and poetry, science, English, ideation, creative producers, cartography and Whatlegacy.makes for success in this activity is teamwork and dedicated training. Mr Kentaro Otani, Diana Nguyen and Danielle Collins spent many hours challenging our MLC School girls with past papers and team-building activities in preparation for the competition. Even though the event was
STUDENT LIFE AUDIO VISUAL CLUB
run online this year because of COVID-19, the experience was intense and exhilarating. Everyone had to juggle IT issues, time constraints and difficult questions to compete. MLC School's results, however, were quite outstanding. Over 60 schools competed in each grade division but many of our teams placed in the top 15 schools for English, Maths, Creative Producers, Science and Art and Poetry. Congratulations to Jordan Vo, Anisha Sivagurunathan, Kathleen Chrun, Anna Obaid, Jiayi Li, Umaiza Mahfuz, Eve Ireland, Elena Tulloch from the Year 7 team who placed 5th overall.
52
Mrs Jan Falls Mind Challenges Co-ordinator
The debating year started with flare and focus. Year 5 girls were new to the debating world and needed knowledge, while Year 6 girls were keen to develop and hone their skills. Senior debaters joined us for training, encouraging and inspiring the girls. Early interschool debates saw many successes for the teams and as Term 2 concluded spirits were high. The girls looked forward to further competitions in Term 3 as well as the much-anticipated Gala Debating Day. Then lockdown struck
53
The first casualties were the Year 5 and Year 6 teams. Supporting these girls while in lockdown was deemed too difficult. Thankfully, the four remaining Senior School teams remained creative and adaptive, rising to the challenge. They were supported very ably by Kentaro Otani. Congratulations to Eve Ireland, Harriet Hahn, Jordan Vo, Vivian Qin, Zara Poortvliet, Sarina Nagra and Moira Peach of the Language Literature Team who achieved an Honours award for their presentation.
I am not sure what 2022 will bring, but I do know that MLC School girls will adapt and give it their best.
Mrs Jan Falls Mind Challenge Co-ordinator
Mrs Jan Falls Mind Challenges Co-ordinator
INDEPENDENT PRIMARY SCHOOL HEADS OF AUSTRALIA (IPSHA) DEBATING and all debating was cancelled. Everyone was bitterly disappointed and frustrated. As I look back over the year, I realise COVID-19 took away future possibilities but it could not affect the past. Debating had offered the girls so many positive experiences and so much valuable learning. They can now take the many skills they have learnt into the new year with confidence and enthusiasm.
STUDENT designed a machine for cleaning up ocean pollution. They then constructed a working model of their design using LEGO WeDo 2.0 robotics kits. In Term 4, we looked at how 'Energy and Forces Influence Our Lives', particularly friction, air resistance, and gravity. The students undertook a variety of experiments and projects including making parachutes and marble mazes. In Year 3, students explored how 'Places Are Defined by Their Features' and used Minecraft to create biomes based on their research. For their next STEM unit, Year 3 looked at how 'Properties Influence Purpose' in relation to materials and substances that we use. This consisted of a series of science experiments and investigations looking at states of matter, heat, and electricity, and finished up with two design projects: to create a wearable shoe from salvaged and reused materials; and pizza box solar ovens.
Year 2 asked how can, 'Responsible Choices Sustain Our Environment', particularly in relation to the oceans. After researching the water cycle and the importance of a clean water supply to our way of life, they 'At the end of the year, we used science experiments to show us all different 'changes' that can occur. '
STEAM CURRICULUM AND CO-CURRICULAR
LIFE
Incorporating STEM into the Junior School setting provides students with the opportunity to learn through an integrated pedagogy, showing them the connections between traditionally disparate disciplines. We aim to teach the students, right from Pre-Kindergarten, the skills of critical, logical and lateral thinking, design, innovation, inquisitiveness, resilience, collaboration and self-evaluation.
54
Pre-Kindergarten began the year with an investigation into 'Amazing Me' and their five senses, exploring their world through focusing on a single sense each week and the information it gives us. In Term 2, we investigated how 'Through Exploration, People Discover the World' but looking at natural phenomena, such as rainfall and volcanoes, and recreating small versions ourselves. Term 3 was disrupted by lockdown but that didn't stop the Pre-Kindergarten students from engaging with fun activities around sustainability to see how 'Our Environment is Impacted by Human Activity'. We looked at how compost works and made upcycled instruments from everyday materials. At the end of the year, we used science experiments to show us all different 'changes' that can occur. We made 'oobleck' (a non-Newtonian fluid), changed the colour of celery, and tested for solubility in a range of substances. We had a lot of fun mixing, shaking, and stirring with many surprising Kindergartenresults.
looked at push and pull forces in their world for 'Materials are for Making and Moving'. They looked at their toys and tools or appliances around the house that relied on pushing and pulling. The students designed and built a model of a house constructed by the Three Little Pigs' fourth sibling, who learnt from the other three's discoveries around what materials are best for constructing a house to resist the forces of the Big Bad Wolf. During Flexible Learning in Term 3, Kindergarten learnt about coding and sequencing by using the Scratch Jr. app to create a dance party animation.
Year 1 learnt about digital systems, data, sorting, and algorithms as part of the Digital Technologies curriculum. They had a lot of fun programming a Bee Bot dressed as the Big Bad Wolf to act out the story of the Three Little Pigs, followed by coding with the Tynker app. Taking lessons online during Flexible Learning in Term 3 was an appropriate setting for our investigation into digital systems: what they are, their components, and their uses in our world.
The STEM (Science, Technology, Engineering, and Mathematics) qualities of collaboration and adaptability were on show as we once again faced the challenges of remote learning. The students, under guidance of their parents, guardians, and teachers, recalibrated quickly to engage in learning from home. The students' ability to adapt, problem-solve, collaborate, and to learn collectively is a tribute to the skills they are developing as 21st Century learners. Despite the interruptions to the traditional model of learning, the students continued to be engaged in STEM through exciting and hands-on activities in their Collaborative Learning Projects (CLP).
55
The students in Year 5 investigated how 'Natural Hazards Affect Society and the Environment', particularly earthquakes. They researched earthquake-proof technologies and designed and constructed a model of an earthquake-proof building that was tested for structural integrity. During Flexible Learning in Term 3, the students looked at codes and ciphers, how satellites communicate with Earth, followed by an Outer Space coding challenge on the Grok Academy platform, and finished the unit with a Space-themed virtual escape room.
In Term 2, they undertook a project using Minecraft: Education Edition to complement their research into Australian history. They
Year 6 enjoyed another full year of STEM, beginning with a unit on the never ending, incredible depths of Space. They covered topics such as the Solar System, the Moon, satellites, and global networking technology. They concluded the unit by coding LEGO EV3 robots to collect 'space rocks' on a mat.
STUDENT CURRICULUM AND CO-CURRICULAR used the program to build recreations of Australian buildings from architectural periods of the 20th Century. When looking at how the world is connected, Year 6 used the online coding platform, Grok, to learn about HyperText Markup Language (HTML) and Cascade Style Sheets (CSS) and how they are the basis for much of what we see on the most globally-connecting medium in history: the Internet. To finish up the year, Year 6 had fun with a range of experiments about matter and its three main states, including racing liquids of different viscosities, erupting bottles of Diet Coke with Mentos, and using ice and salt to create ice cream without a freezer!
Year56 4 looked at how 'Forces Influence Our World' by investigating some of the forces around us through experiments and small projects. They used their newfound knowledge to design and construct a working model of a supply drop contraption to deliver food securely and safely from an aeroplane to wildlife in bushfire-affected areas. Later, they worked on building their Digital Technologies skillset by using the code.org website and learning about sprites, nested loops, functions, and conditionals through block coding.
LIFE STEM
Our STEM related events were adversely affected once again. Our hugely popular Dad and Daughter Cardboard Challenge was cancelled for the second time. This event has been a highlight of the MLC Junior School calendar in the past and we keenly anticipate being able to host it again and see all those amazing creations and smiles on everyone's faces. We celebrated National Science Week in August, albeit online during Flexible Learning. We ran as many online food science activities as we could for this year's theme, 'Food: Different by Design'. The highlight was seeing all the video submissions that students made of themselves doing their own food science Forexperiments.theRoboCup Junior competition, we ran two teams: one from Year 5 and one from Year 6. Once again, the team members were unable to experience the joy of competing in person but still participated via filming and submitting their performances. They should be immensely proud of the work they have achieved despite the disruptions and such difficult circumstances. We would not have been able to achieve all that we do in STEM without the assistance of our fellow teachers and those supporting our students at home during periods of remote learning. We wish to thank all of you for your ongoing support and enthusiasm for what we do here in STEM. The enthusiasm of the students, despite the many adversities, has buoyed our spirits during the toughest times this year. We dearly hope for a much more settled year next year to continue to provide fun and engaging STEM experiences for them.
Mr Bede Schofield and Mrs Marie Cassar STEAM Lab Coordinators
57
STEM EVENTS
58 JUNIOR SCHOOL CLASS PHOTOS HERENAMEHERENAME
SECOND ROW Evelyn Tsang, Angela Ge, Yisa Liang, Aimee Li, Chloe Tang, Hillary Gu, Aida Sidhom, Olivia Ngo, Alyssa Trinh, Selina Lo, Nina Varkas, Edith Savage THIRD ROW Myer Boulton, Colette Obaid, Jingxuan (Emily) Zhong, Shuyuan (Rhianna) Sui, Chloe-Marie Robic, Yvonne Henderson, Leila Chalak, Marina Chen, Mila Yuan, Riven Jay, Anaisha Sharma, Delaney Wiedner FOURTH ROW Zimu (Annie) Wang, Vu (Mia) Truong, Cassandra Mackiewicz, Shruti Hasanat, Anouk Thorley, Emi Liu, Eva Bangia, Mariangel Corrales Solano, Marie Kristallis, Tara Kuhan, Olivia Li
SECOND ROW Shuchang Sui, Chloe Zheng, Ellie Park, Elizabeth Feng, Victoria Bongiorno, Jingya Chen, Aisha Ashour, Alexandra Southwood, Leah Ji, Hannah Wang, Erika Ni, Grace Luo, Amelia Libdy, Isabel Selim, Jiatong Yan THIRD ROW Amelia Lim, Alana Jin, Syra Advani, Olivia Zhang, Aleemah Trad, Jaiyana Habib, Celine Ykmour, Lauren Eggers, Ariela Barakat, Isabelle Galilee
FRONT ROW Emily Obaid, Isabella Cheng, Yinuo Lyu, Laura Yin, Evelyn Coomes, Lavinia Yeh, Petrice Cassar, Vicki Nikolakopoulos, Annabelle Ling, Maryam Refai, Zoe Huang
TEACHERS Mrs R. Barakat, Mrs E. Monda, Ms G. Zucco, Mrs V. Liubinskas
FRONT ROW Natasha (Gem) McGuire, Maya Srisathkurunathan, Isabella Castillo Sun, Amelia Stillone, Tahra Peries, Ayla Sumantri, Jasmin Ganda, Sonia Chung, Emily Wong, Aurora Chau, Sammi Liang, Leah Le, Madeleine Wong
KINDERGARTENKINDERGARTENPRE
TEACHERS Miss E. Rhodes, Mrs S. Clark, Ms K. Tran
THIRD ROW Katherine Zhai, Grace Liang, Lara Byrnes, Macy Bellew, Bailey Tong, Averie Ling, Eve Hutchison, Kiara Assassa, Camellia Yao, Tara Siddharth, Eloise Dastyari, Elissa Chami, Victoria Wai
FRONT ROW Caitlyn Wong, Zoe Baker, Olivia Cheng, Caitlyn Law, Leonie Nguyen, Avianna Tanios, Chuchu Huang, Caitlin Eadie, Amelia Ko, Sienna Nguyen, Charlotte Lim SECOND ROW Isabella Rocca, Peita Nikolakopoulos, Leanna Shen, Skye Nguyen, Anaya Sharma, Xiaoni (Nina) Bai, Laura Chang, Leah Maidment, Le Chan Gui, Hayley Lam THIRD ROW Moyi Chen, Henrietta Britton, Miranda Ho, Vaani Narang, Yuxin (Dora) Weng, Angelina Galilee, Mila Barakat, Avni Narang, Amelia Lee, Alev Brennan ABSENT Eloise Qiu, Anushkaa Thadani, Amanda Zhang TEACHERS Ms M. Woods, Ms S. Edwards
SECOND ROW Genevieve Nguyen, Irene Chau, Hannah Girgis, Catherine Coorey, Niamh Gorman, Jolyn Nassif, Kyrani Countouris, Ruby Tzouganatos, Aaliyah Liu, Audrey Henderson, Mishika Kapadia, Shantelle Nguyen, Nikoda May, Sienna Dib
FRONT ROW Victoria Cassar, Eirya Chauhan, Vivienne Woon, Poppy Frederick, Annika Bou, Olivia Smith, Avery Satchcroft, Chloe Huang, Mia Jin, Qaylah Mohamed, Estella Tran, Nia Immanuel, Daisy Han, Annabella Xiang
59
FOURTH ROW Elizabeth Horvath, Georgie Varkas, Jesselle Jiao, Mia Li, Lily Sugianto, Georgia Sioutas, Clara Southwood, Vera Papaluca, Scarlet Akers, Elana Chrun, Sienna Khouzame, Joyce Guan, Kathy Zhang TEACHERS Mrs C. Catania, Mr M. Lewis, Mrs M. Bye
2YEAR1YEAR
FRONT ROW Emily Tu, Taylor Bakir, Anna Lieu, Lavinia Xu, Hui Yu, Shiloh Gao, Adora Xu, Lydia Ye, Qing (Queeny) Guan, Chelsey Gao, Fedra Nikolakopoulos, Freda Xie, Aerin Kim, Alexandra Huynh, Faith Huynh SECOND ROW Stella Scott, Charlotte Hing, Latoya Iese, Magdalena Volikas, Christa Jeyasingam, Abira Sanan, Dora Cai, Maggie Ma, Selina Shan, Mia Licenblat, Sateni Shoaib, Bao (Vy) Truong, Manjima Dutta-Gupta, Elle Monteleone, Frida Yao THIRD ROW Ashwini Kanesalingam, Leona Nadarajah, Claire Liang, Sherlyn Lin, Sofia Ahamed, Vivienne Nguyen, Peiyan (Elise) Gao, Alicia Suen, Valentina Palazzolo, Sophia Hall, Cassandra Eadie, Annaliese Bott, Adele Xu, Angela Thorn, Sophia Correia FOURTH ROW Ella Le, Chloe Zheng, Hayley Trinh, Arianna Xu, Quynh (Anna) Pham, Olivia Wang, Halimah Bokhari, Felicity Wang, Elly Chen, Helen Liu, Kristy Che, Jing Qiu, Caitlin O'Shea, Angie Xiang, Zara Nicholias FIFTH ROW Yasmin Maidment, Megana Pasupati, Sofia Callegaro, Kamora Edwards-Ware, Queena Chen, Mariette Karam, Gaia Bigolin, Zoe Zlamal, Amanda Houltham, Anaahat Kahlon, Evelyn Tran, Daphne L'Estrange, Zoe Fotoulis, Jessica Lim
60
TEACHERS Ms S. Blanche, Ms C. Tsokas, Ms M. Greville, Ms E. Astle FRONT ROW Eloise Wong, Larissa Pham, Gabriela Lim, Olive Simmons, Alana Bakir, Jocelyn Yao, Chloe Price, Jasmine Chib, Avery Lee, Giselle Tanios, Scarlett Pham, Yan Tsoi SECOND ROW Chloe Tiong, Ella Rose Zraika, Amara Sivagurunathan, Olivia Connolly, Frances Xie, Kelsey Pham, Isabella Horvath, Joumana Reehman, Charlotte Yiu, Raquel Gill, Arabella Kuo, Sophie Hong THIRD ROW Elisa Li, Scarlett Innes, Aleeya Sharma, Angelyn Xiang, Cailise Campbell, Zara Stewart, Sally Nguyen, Aurora Sharma, Chelsea Keomanivong, Lucia Cicinelli, Eva Rocca FOURTH ROW Ivy Doan, Sienna Munoz, Bethany Haddad, Anny Xie, Euna Cho, Kaitlyn Yang, Jenny Lin, Alisha Ji-Lee, Jaya Mehta, Layla Abdelrahim, Evangeline Black FIFTH ROW Francesca Masters, Sophia Du, Lexie Bellew, Imogen Sutton, Anna Poortvliet, Imogen Bush, Olivia Burke, Anastasia Countouris, Vita Gohil, Janani Kanthathas ABSENT Leela Das TEACHERS Mrs V. Noy, Mrs J. Tanevski, Mrs A. Otton, Ms A. Martinez
3YEARYEAR4 JUNIOR SCHOOL CLASS PHOTOS
HERENAMEHERENAME
Gloria Chen TEACHERS
Miss D. Nguyen, Ms A. Bidwell, Mr E. Park, Mrs J. Falls (Absent)
FRONT ROW Hannah Dastyari, Maryse Elassal, Niamh Canadas, Yik Ki Lin, Christina Messih, Megan Ouyang, Grace Barnes, Mara Nichols, Rithika Vinoth, Phuong (Janice) Pham, Anakha Nalliah, Katelyn Lim, Evangeline Fergus, Sofia Tzouganatos, Hayley Dinh, Joanna Williams, Ethelia Cassar SECOND ROW Tamara Abdelrahim, Taylor Lu, Bridget Cortis-Jones, Amelie Cowling, Madeleine Girgis, Chloe Lu, Emily Van Der Westhuizen, Zara Paterson, Arya Benton, Stephanie El'Atrache, Matisse Snaidero, Minna Yates, Rachael Ming, Tanisha Aravind, Emma Kanaan, Harlow Elsibai, Jiarui Song, Alana Siluk THIRD ROW Ada Savage, Danika Krekacs, Isla Leung, Sierra Rowe, Elizabeth Ravens, Ingrid Henderson, Celeste Ong, Audrey Boulton, Megan Kuit, Jade Scott-Rogers, Adelaide Akers, Eloise Martins do Vale, Rachael McGuire, Caydence Sumantri, Nikhita Kumar, Stella Inthavong, Katherine Goldring, Amelia Kaluza FOURTH ROW Angelina Huang, Melisande Pitman, Liesl Wong, Maya McBrien, Claudia Beattie, Sybilla Howes, Tina Guan, Grace Likely, Elyse Vivash, Julia Saad, Ava Brown, Zoe Brown, Emma Koeswandy, Sienna Clark, Jacqueline Wang, Rima Zhang, Catia Placanica FIFTH ROW Kristella Miltiades, Tsz (Grace) Zhao, Avery Dauphinee, Emma Sugianto, Surabhi Parab, Matilda Dugan, Evelyn Gogos, Elizabeth Faraj, Jessica Pan, Kaliya Edwards-Ware, Indigo Hannah, Katherine Woo, Yunqi (Ellie) Ni, Alisha Dhaliwal, Milla Papaluca, Jasmin Srisathkurunathan, Iris Ji
ABSENT
61 5YEAR
63 SCHOOLSENIOR
64 YEAR 12 CAPTAINSDEBATINGCAPTAIN Claudia Bean At MLC School since 2016 SCHOOL CAPTAIN Mikaela Nguyen At MLC School since 2009 SCHOOL VICE-CAPTAIN (YEAR 10 TO YEAR 12) Ana Trigg At MLC School since 2016 MUSIC CAPTAIN Sofia Carey At MLC School since 2016 SCHOOL VICE-CAPTAIN (YEAR 6 TO YEAR 9) Maya Simpson At MLC School since 2016 PRESCOTTWHITLEYCHURUNGA ABBEYTHORPE BOORALEE
65 SRC CAPTAIN Gloria Lim At MLC School since 2015 DANCE, DRAMA ENTERTAINMENTANDCAPTAIN Montana Cominos At MLC School since 2016 ROUND SQUARE CAPTAIN Kayla Graham At MLC School since 2009 ART AND DESIGN CAPTAIN Vanessa Ryan At MLC School since 2016 SPORT CAPTAIN Katie Sutherland At MLC School since 2016 PRESCOTT WADE LESTER ABBEYTHORPE MOORAMOORA
66 YEAR CAPTAINSHOUSE12 CAPTAIN Evelyn Doan At MLC School since 2019 CAPTAIN Mariam Yassine At MLC School since 2014 VICE-CAPTAIN Annabelle Bailey At MLC School since 2016 CAPTAIN Sabine Saad At MLC School since 2016 VICE-CAPTAIN Maddisen Strauss At MLC School since 2017 VICE-CAPTAIN Annika Lee At MLC School since 2016 CAPTAIN Hayley Kenzler At MLC School since 2016 VICE CAPTAIN Inez Kritzler At MLC School since 2016 ABBEYTHORPE ABBEYTHORPE SUTTON SUTTON LEAWARRA LEAWARRA LESTER PRESCOTT
67 CAPTAIN Olivia Tanevski At MLC School since 2009 VICE-CAPTAIN Piper McCowan At MLC School since 2016 CAPTAIN Lilia Coman At MLC School since 2016 VICE-CAPTAIN Nancy Faraj At MLC School since 2012 CAPTAIN Gracelyn Dao At MLC School since 2009 VICE-CAPTAIN Claire Huddy At MLC School since 2018 CAPTAIN Isabella Collins At MLC School since 2016 VICE-CAPTAIN Cynthia Hu At MLC School since 2016 CAPTAIN Samridhi Garg At MLC School since 2016 VICE-CAPTAIN Natasha Sheehy At MLC School since 2017 CAPTAIN Jane So At MLC School since 2014 VICE-CAPTAIN Elle Tamvakolos At MLC School since 2014 MOORAMOORA MOORAMOORACHURUNGA CHURUNGABOORALEE BOORALEE LESTERWADE WADE PRESCOTT WHITLEY WHITLEY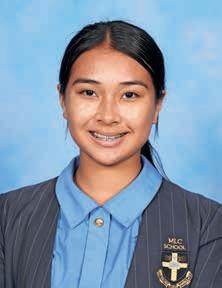 68 YEAR 12 PORTRAITS Stephanie Abdennour At MLC School since 2020 Isabella Al-horani At MLC School since 2014 Dionne Alaveras At MLC School since 2016 Lily Alexiou At MLC School since 2020 Te'jhaan Altiok-Brown At MLC School since 2015 Kayla Andreopoulos At MLC School since 2009 Liana Angell At MLC School since 2016 Annabelle Bailey At MLC School since 2016 SUTTONSUTTON SUTTONSUTTON Sarvani Bala At MLC School since 2014 Claudia Bean At MLC School since 2016 Kylie Becvarovski At MLC School since 2014 Georgia Beretov-Millar At MLC School since 2016 LEAWARRALEAWARRALEAWARRA WADE PRESCOTT WHITLEY WHITLEY WHITLEY
69 Tiffany Boungoto Weng At MLC School since 2018 Thanh Brard At MLC School since 2020 Lone Bromley At MLC School since 2020 CHURUNGA PRESCOTT Sofia Carey At MLC School since 2016 ABBEYTHORPE ABBEYTHORPE ABBEYTHORPE Arrielle Carisio At MLC School since 2016 Sarah Carvolth At MLC School since 2009 Claudia Catania At MLC School since 2011 Christie Ch'ng At MLC School since 2009 WHITLEY Charissa Chatnantawej At MLC School since 2016 Paris Chen At MLC School since 2016 Emma Christie At MLC School since 2014 Harriet Clark At MLC School since 2017 LESTER LESTER LEAWARRA LEAWARRAABBEYTHORPE WHITLEY
70 YEAR 12 PORTRAITS Emma Corcoran At MLC School since 2016 Freya D'Mello At MLC School since 2016 Gracelyn Dao At MLC School since 2009 MOORAMOORA Kirsten Dao At MLC School since 2009 CHURUNGA WADE WADE Montana Cominos At MLC School since 2016 Olivia Codevelle At MLC School since 2015 Isabella Collins At MLC School since 2016 Lilia Coman At MLC School since 2016 Evelyn Doan At MLC School since 2019 Amy-Grace Docherty At MLC School since 2015 Vienna Durie At MLC School since 2018 Lucy Edwards At MLC School since 2016 LEAWARRABOORALEE BOORALEEBOORALEELESTERLESTERABBEYTHORPE WADE
71 Toni Eliades At MLC School since 2018 Nancy Faraj At MLC School since 2012 Tarindhi Fernando At MLC School since 2016 Jasmine Ferraby At MLC School since 2016 BOORALEE Kayla Graham At MLC School since 2009 Jasmin Fitch At MLC School since 2017 Samridhi Garg At MLC School since 2016 Natalia Giannakos At MLC School since 2009 Anika Grannall At MLC School since 2016 Natalia Grbic At MLC School since 2016 Tahlia Hatzisarantinos At MLC School since 2009 Emily Heng At MLC School since 2016 LESTER WHITLEY WHITLEY WHITLEYWADE BOORALEE BOORALEE ABBEYTHORPE MOORAMOORA MOORAMOORA SUTTON
72 YEAR 12 PORTRAITS Holly Herden At MLC School since 2016 Kittu Hoyne At MLC School since 2016 Cynthia Hu At MLC School since 2016 Claire Huddy At MLC School since 2018 Charlotte Huynh At MLC School since 2016 Leilani Innes At MLC School since 2011 Anjali Jayanthi At MLC School since 2018 Janelle Jiao At MLC School since 2019 Ria Kapoor At MLC School since 2009 Charlotte Jones At MLC School since 2016 Ellery Joyce At MLC School since 2016 Amara Kalcev At MLC School since 2014 BOORALEE LEAWARRALEAWARRA ABBEYTHORPE ABBEYTHORPE WADE WADE SUTTON SUTTON MOORAMOORA MOORAMOORA MOORAMOORA
73 Rachel Kardasis At MLC School since 2012 Hayley Kenzler At MLC School since 2016 Kimberly Keogh At MLC School since 2018 Jennipher Kong At MLC School since 2016 Alice Kreis At MLC School since 2014 Inez Kritzler At MLC School since 2016 Johanna Lafoa'i At MLC School since 2017 Aleezah Lapitan At MLC School since 2020 Annika Lee At MLC School since 2016 Ava Lee At MLC School since 2014 Isabella Lee At MLC School since 2016 Olivia Leighton At MLC School since 2016 CHURUNGA WHITLEYWHITLEY WHITLEY PRESCOTT ABBEYTHORPE ABBEYTHORPE LESTER LESTER SUTTON SUTTON MOORAMOORA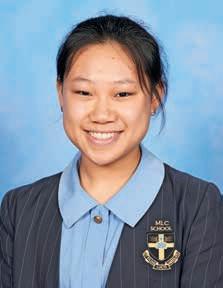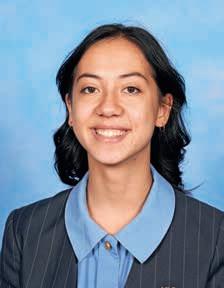 74 YEAR 12 PORTRAITS Cassidy Maher At MLC School since 2016 Preeyangka Manogaran At MLC School since 2014 Marissa Matthews At MLC School since 2009 Piper McCowan At MLC School since 2016 Gloria Lim At MLC School since 2015 Kayley Macgonigal At MLC School since 2016 Fiona MacKenzie At MLC School since 2011 Georgia Melhem At MLC School since 2013 Lauren Millar At MLC School since 2016 Tara Mulholland At MLC School since 2016 Phoebe Mullins At MLC School since 2018 Sophia Murphy At MLC School since 2017 MOORAMOORA WADE WADE CHURUNGA BOORALEE WADE WHITLEY LESTER LESTER LESTERSUTTONLESTER
75 Neethika Naidu At MLC School since 2009 Mikaela Nguyen At MLC School since 2009 Audrey Nguyen At MLC School since 2009 Elise Nikolopoulos At MLC School since 2016 Jessie Phelps At MLC School since 2018 Eloise Proctor At MLC School since 2009 Ishwary Ramjeevan At MLC School since 2016 Aarathe Ramraj At MLC School since 2018 Miranda Norton At MLC School since 2009 Nicola Oddie At MLC School since 2013 Tianka Parapuram At MLC School since 2016 Roisin Redmond At MLC School since 2019 ABBEYTHORPE PRESCOTT PRESCOTT SUTTONPRESCOTT CHURUNGA CHURUNGA BOORALEEBOORALEELEAWARRA WADE LEAWARRA
76 YEAR 12 PORTRAITS Vanessa Ryan At MLC School since 2016 Sabine Saad At MLC School since 2016 Lily Scanlon At MLC School since 2016 Natasha Sheehy At MLC School since 2017 Kiara Shine At MLC School since 2019 Phillipa Signorelli At MLC School since 2014 Maya Simpson At MLC School since 2016 Katie Sutherland At MLC School since 2016 Jane So At MLC School since 2014 Gemma Sorial At MLC School since 2013 Maria Stamateris At MLC School since 2016 Maddisen Strauss At MLC School since 2017 BOORALEEPRESCOTT PRESCOTT PRESCOTT SUTTON SUTTON WADEWADE ABBEYTHORPEBOORALEE CHURUNGA CHURUNGA
77 Claudine Talbot At MLC School since 2016 Elle Tamvakolos At MLC School since 2014 Olivia Tanevski At MLC School since 2009 BOORALEEMOORAMOORA Jocelyn Ting At MLC School since 2014 Eva Tkocz At MLC School since 2016 Elsa Tonkinwise At MLC School since 2016 Angela Trang At MLC School since 2016 Ana Trigg At MLC School since 2016 Samantha Tsakalos-Stewart At MLC School since 2016 Selma Ulutas At MLC School since 2016 Vanessa Vlach At MLC School since 2020 Diane Wang At MLC School since 2016 LESTER LESTER CHURUNGAWHITLEY ABBEYTHORPE PRESCOTT PRESCOTTMOORAMOORA MOORAMOORA MOORAMOORA
78 YEAR 12 PORTRAITS Emma Webb At MLC School since 2016 Amelia Whitmont At MLC School since 2015 Hannah Williams At MLC School since 2016 Abbey Williams At MLC School since 2019 Georgia Wyatt At MLC School since 2015 Mariam Yassine At MLC School since 2014 Kelly Zhang At MLC School since 2014 Zara Zuccolotto At MLC School since 2014 BOORALEE MOORAMOORA MOORAMOORA CHURUNGA CHURUNGA CHURUNGAPRESCOTTLEAWARRA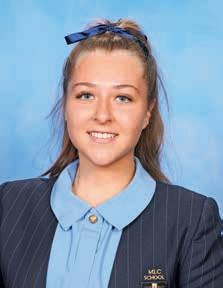 12YEAR
FRONTROW Aleezah Lapitan, Paris Chen, Kayla Graham, Christie Ch'ng, Emily Heng, Selma Ulutas, Samridhi Garg, Maya Simpson, Mikaela Nguyen, Ana Trigg, Stephanie Abdennour, Charlotte Huynh, Jane So, Zara Zuccolotto, Sarvani Bala, Angela Trang, Isabella Al-horani SECOND ROW Anjali Jayanthi, Rachel Kardasis, Thanh Brard, Kelly Zhang, Roisin Redmond, Tara Mulholland, Lily Scanlon, Tarindhi Fernando, Kayla Andreopoulos, Te'jhaan Altiok-Brown, Eva Tkocz, Jennipher Kong, Charissa Chatnantawej, Arrielle Carisio THIRD ROW Samantha Tsakalos-Stewart, Audrey Nguyen, Gracelyn Dao, Maddisen Strauss, Jasmine Ferraby, Tianka Parapuram, Marissa Matthews, Miranda Norton, Mariam Yassine, Annika Lee, Isabella Lee, Piper McCowan, Aarathe Ramraj, Eloise Proctor, Freya D'Mello, Emma Corcoran, Toni Eliades, Kylie Becvarovski, Kirsten Dao, Ava Lee FOURTH ROW Cynthia Hu, Evelyn Doan, Preeyangka Manogaran, Tiffany Boungoto Weng, Jocelyn Ting, Leilani Innes, Dionne Alaveras, Georgia Beretov-Millar, Ishwary Ramjeevan, Lily Alexiou, Emma Christie, Charlotte Jones, Gloria Lim, Ria Kapoor, Diane Wang, Janelle Jiao, Elle Tamvakolos, Natalia Giannakos, Ellery Joyce FIFTH ROW Cassidy Maher, Maria Stamateris, Georgia Wyatt, Neethika Naidu, Alice Kreis, Sabine Saad, Olivia Leighton, Amara Kalcev, Phillipa Signorelli, Amy-Grace Docherty, Vanessa Vlach, Georgia Melhem, Nancy Faraj, Kiara Shine, Lone Bromley, Tahlia Hatzisarantinos, Amelia Whitmont, Inez Kritzler, Natasha Sheehy SIXTH ROW Sofia Carey, Hayley Kenzler, Anika Grannall, Elise Nikolopoulos, Phoebe Mullins, Isabella Collins, Harriet Clark, Liana Angell, Johanna Lafoa'i, Lilia Coman, Katie Sutherland, Claudia Bean, Elsa Tonkinwise, Nicola Oddie, Kayley Macgonigal, Gemma Sorial, Sophia Murphy, Claire Huddy, Sarah Carvolth SEVENTH ROW Vanessa Ryan, Lauren Millar, Montana Cominos, Hannah Williams, Abbey Williams, Emma Webb, Holly Herden, Natalia Grbic, Annabelle Bailey, Fiona MacKenzie, Olivia Codevelle, Olivia Tanevski, Jasmin Fitch, Jessie Phelps, Kimberly Keogh, Claudia Catania, Lucy Edwards, Vienna Durie ABSENT Emily Fitzgerald, Kittu Hoyne, Claudine Talbot STAFF Ms S. Tynan, Ms L. Moloney (Principal), Mrs F. Booth, Mr N. Scotney
80 YEAR 12
FRONTROW Christie Ch'ng, Marissa Matthews, Eloise Proctor, Gracelyn Dao, Mikaela Nguyen, Kayla Graham, Tahlia Hatzisarantinos, Kirsten Dao
12YEARTOKINDERGARTEN
81 We would like to acknowledge the following students who have been students at MLC School from Kindergarten to Year 12.
SECOND ROW Ms L. Moloney (Principal), Audrey Nguyen, Miranda Norton, Sarah Carvolth, Olivia Tanevski, Natalia Giannakos, Kayla Andreopoulos, Ria Kapoor, Neethika Naidu, Mrs F. Booth
82
83
84 Congratulations to the entire cohort. Below we highlight some of the outstanding achievements. Outstanding ATARs •Elsa Tonkinwise 99.8 •Ellery Joyce 99.2 •Tahlia Hatzisarantinos 98.65 • Lone Bromley 98.4 •Sofia Carey 98.4 • Anika Grannall 98.2 •Kittu Hoyne 98 •Charlotte Jones 97.85 •Aarathe Ramraj 97.85 •Lauren Millar 97.25 •Kelly Zhang 97.1 State Rankings MLC School girls achieved 6 State •Elsarankings:Tonkinwise1st in Ancient History •Natalia Giannakos2nd in Indonesian Extension •Nikki Juffermans2nd in Dutch Continuers •Kittu Hoyne3rd in Visual Arts •Tara Mulholland3rd in Entertainment •Ellery Joyce5th in Music Extension HSC All-Rounders Six students were placed on the HSC All-Rounders list for those who achieved Band 6 in 10 units of studies. Congratulations to: Distinguished Achievers Congratulations to all the girls who were placed on the HSC Distinguished Achievers list for those who achieved a result in the highest possible Band for one or more Therecourses.were 131 instances of students awarded a Band 6 or E4 54% of the cohort achieved a Band 6 in at least one subject. HSC AND IB RESULTS Dionne Alaveras Kayla Andreopoulos Liana HayleyNikkiElleryCharlotteKittuHollyHatzisarantinosTahliaAnikaNataliaJasminViennaDochertyAmy-GraceLiliaEmmaCarvolthSarahArrielleSofiaLoneAnnabelleAngellBaileyBromleyCareyCarisioAnneChristieComanDurieFitchGiannakosGrannallHerdenHoyneJonesJoyceJuffermansKenzler Inez ZaraKellyStewartSamanthaAnaElsaEvaJocelynOliviaGemmaJanePhillipaAaratheNicolaEliseTaraLaurenPiperCassidyKayleyIsabellaJohannaKritzlerLafoa'iLeeMacgonigalMaherMcCowanMillarMulhollandNikolopoulosOddieRamrajSignorelliSoSorialTanevskiTingTkoczTonkinwiseTriggTsakalos-ZhangZuccolotto HIGHER SCHOOL CERTIFICATE • Lone Bromley • Sofia Carey • Charlotte Jones • Kittu Hoyne • Johanna Lafoa'i • Elsa Tonkinwise
85 Works Selected and Nominated for Showcase A number of performances and major works from MLC School girls were nominated for recognition as part of the HSC showcase events. To be nominated for any of these showcases is a significant achievement as it acknowledges these projects as best in the State. To be selected into a Showcase event is an outstanding recognition. Callback nominations: •Lilia Coman (Core Composition and Major •CassidyNominations•Ishwary•Zoomers•Reservations•Rachel•ElleryOnSTAGE••ENCORE•SarahTexstyleExhibitionselectedKittuARTEXPRESS•KittuSHAPE•ViennaPerformance)Durie(CorePerformance)nominations:Hoyne(DesignandTechnologyMajorProjects)selectionsHoyne'sHSCVisualsArtsprojectwasforinclusionintheArtExpressattheArtGalleryofNSW.nominationAnneCarvolth(MajorProject)nominationsSofiaCareyElleryJoycenominationsJoyce(ScriptWriting)Kardasis(PromotionandPublicity)AnaTrigg(IndividualPerformance)selectionsSofiaCareyRamjeevanMaher
–
Once again MLC School girls have achieved at the highest level internationally in the IB. 49 of Year 12 girls in 2021 studied the International Baccalaureate. 12 students (24%) received a perfect score of 45 (99.95 ATAR). Congratulations to: Kylie Becvarovski – Christie Ch'ng – Annie Chen – Montana Cominos Evelyn Doan – Tarindhi Fernando – Cynthia Hu – Fiona MacKenzie – Mikaela Nguyen – Vanessa Ryan – Anica Shen – Amelia Whitmont 1 student received a score of 44 (99.75 ATAR). Congratulations to Audrey Nguyen. 23 students achieved an ATAR of 99 and over. Congratulations to:
Annika
–
MayaGloriaGracelynKirstenParisAlyssaNeethikaLeeNaiduScottChenDaoDaoLimSimpson Snapshot of 2021 MLC School International Baccalaureate (IB) results compared with Australasia and the world Total number of students sitting the 2021 IB Diploma 16,860 2,644 49 Grade average 32 37 40.9 Pass rate 87% 98% 100% Extended Essays and Theory of Knowledge •53% MLC students received an A in their Extended essay (11% world wide) •28% received an A in Theory of Knowledge (6% world wide) INTERNATIONAL BACCALAUREATE DIPLOMA PROGRAMME Worldwide Australasia SchoolMLC
86
Janelle Jiao
Kylie AmeliaAnicaVanessaMikaelaFionaCynthiaTarindhiEvelynMontanaAnnieChristieBecvarovskiCh'ngChenCominosDoanFernandoHuMacKenzieNguyenRyanShenWhitmont
Nancy Faraj
Audrey Nguyen
88
The IB Visual Arts students brought me to tears with the incredible ceramic work of Amelia Whitmont, drawing much needed attention to the many environmental tragedies occurring in our most prized natural resources as well as the work of Paris Chen who explored the 'destructive nature of the rapidly digitalising world on human actions and minds'. From the impressive insights into Russian postmodernism in Elsa Tonkinwise's English Extension 2 major work to the soaring joy of listening to Sofia Carey and Ellery Joyce sing in their Music 2 final performances; or the sheer playful joy (and talent) of Te'jhaan Altiok-Brown, Maya Simpson, Georgia Wyatt, Vanessa Ryan, and Montana Cominos' final Dance group performance.
SENIOR SCHOOL CURRICULUM
The phrase 'May you live in interesting times' is either considered a blessing or a curse. There were times this year in the depths of a three-month long lockdown that most would be forgiven for saying it was a curse. As our students sat in their bedrooms facing a computer screen, completing assessment tasks or classroom tasks via Microsoft Teams, I cannot imagine there were many who counted these 'interesting times' as a Iblessing.haveadifferent view. I have seen the experience of lockdown as a unique challenge our students faced and overcame. I saw this in the steely gaze of our Year 12 students sitting their final (albeit delayed) HSC and IB examinations and I saw it in the courage shown by every student from Year 7 to Year 12 as they made their way back onto campus in Term 4 facing prolonged mask-wearing and the fear that the 'lost-time' would make transition back into school life difficult. Mostly I saw it in the incredible work produced by our staff and students during these trying times. Our imaginative staff created tasks that overcame the restrictions of flexible learning and our wonderful students leapt at the opportunity to express their knowledge in new and wonderful ways. Despite a reduced access to the incredible resources onsite at MLC School, our HSC and IB students ploughed ahead with major works and examination preparation. I had the pleasure of submitting these to NESA and the IBO and it was a joy I will not forget for some time.
In short, our students have taken the hardships of two years of COVID-19 interrupted education and turned it into powerful pleas to help our environment, insightful explorations into what it means to be human in this every changing world and as always an opportunity to sing and dance with our friends.
Mr Chris Barnes Deputy Head of School – Academic Care
ACADEMIC
89
Thecolleges.careers assessment program for Year 10 was delivered online for the very first time and the individual interviews between the counsellors, students and parents were very successful as parents found it a lot more accessible, being able to join in from work or home. Following on from the interviews, the students and parents were able to attend a virtual Year 10 Information Evening leading up to the subject selection process. All of the interviews were conducted through Microsoft Teams, and again, the feedback from parents was very positive.
90 CAREERS
This year challenged us to do things differently. The COVID-19 experience has fundamentally changed the whole admissions process for students applying to University. The Work Study Grow Report October 2021 indicates that Early Entry programs have doubled in the last year and there are now 44 early entry schemes. Furthermore, the School Recommendations Scheme has seen a marked increase in the number of Institutions who are now participating. These alternative entry schemes take into consideration other aspects of a student education, including school reports, commitment to extracurricular activity, involvement in community projects and work experience.
The Careers Counsellors also recommend the students based on their personal attributes. The implication of these schemes is that over 55% of our Year 12 cohort had already received multiple offers to one of their preferences prior to commencing exams. We have noticed that this has reassured students and helped relieve the usual anxiety that surrounds exam time. Knowing that they had a safety-net also had a positive influence on their motivation to study.
Ms Jo Cilia Head of Careers and Academic Advising
During Term 2 we were able to run our usual University Presentations at lunch time, and we had a significant increase in student uptake. We hosted UNSW, UTS (B.Acc Scholarship), USYD, Macquarie University, Crimson Education (study in US and UK). We also held a Study Abroad Evening and Study Interstate Evening on Microsoft Teams for students and parents. We were very fortunate to secure three of our former students who are currently studying in the US including Vicky Feng who is at Princeton University. In addition, after lockdown ended, we were able to offer students virtual experiences in the form of webinars from all of the different Universities in NSW as well as interstate. While we were not able to hold the annual MLC School Careers and Tertiary Expo, students were able to access a great deal of information from individual faculties within multiple Universities and private
cut this year with the threat of COVID-19 hanging over us all. Just when we thought things were improving – LOCKDOWN. This had a profound effect on all the arts including our own Dance, Drama and Entertainment department. Other annual events such as Wakakirri, Year 11 Drama Performance, Dance Showcase, Theatre-sports, and theatre excursions etc were also cancelled. Yet, miraculously, we managed to squeeze in our Senior School production, an adaptation of 'Hitler's Daughter' by Jackie French.
Other classes presented creative showcases of their work online and our Year 9 Drama night was only performed for an afternoon student audience. So, as the curtain falls on a strange year, my belief in the power of the performing arts has only been strengthened.
Ms Lisa Jinga Head of Dance, Drama, Entertainment and Theatre
DDE believes we have a responsibility to offer a range of teaching and learning experiences for all students, providing opportunities to allow individuals to achieve heightened levels of cognitive and affective development. Performance-based learning offers students the potential to develop holistically and promotes emotional balance and cognitive flexibility. All these things were thrown a curve ball in 2021, yet both students and staff adapted with creativity and resilience. Whilst various activities were cut, the essential components of what we do were only on standby, ready for action next year.
The collaborative nature of our subjects engages students in a creative process of sharing, developing and expressing emotions and ideas. A number of innovations occurred to ensure that our students did not lose touch with their creativity. For example, dance uploaded online dance tutorials, drama ran physical warmups and activities online and our Entertainment students assisted with online activities. Our HSC Drama IP Performances produced some truly innovative, creative works despite lockdown and Dance students were also nominated for Callback.
91
DANCE, DRAMA ENTERTAINMENTAND(DDE)
The talented, enthusiastic students and dedicated staff busied themselves in other ways. Our curriculum classes had a great year. For example, our Year 12 Drama students performed their final works for the HSC without a public audience and were outstanding. Students were nominated for Onstage, the showcase of outstanding HSC Drama works for 2021.
Cut!Standby...Action...CUT!Somanythingswere
12 cohort performed extremely well, rising to all the challenges thrown at them through Flexible Learning, which saw the cessation of face-to-face classes for last twelve weeks of their final year. We could not be prouder of their work ethic, dedication, passion and flexibility.
In Year 11, Food Technology students explored factors affecting food availability and selection, nutrition concepts and properties related to the chemistry of
92
Year 11 DART students made excellent progress in their preliminary year. In Visual Arts, students were lucky enough to visit the 2020 ARTEXPRESS and Margel Hinder – Modern in Motion Exhibitions at the Art Gallery of NSW earlier in the year, gaining inspiration before beginning to develop their individual artist practice and the study of Modernism. Creating exciting artworks inspired by the innovating Modernist and Contemporary practicing artists in experimental mediums.
The HSC students of Visual Arts, Textiles Technology and Design and Technology created exciting artworks, innovative projects and technically refined masterpieces that reflected their unique personalities and passions. The inspirations for these works varied: identity, nature, isolation, illness, architecture, ideal representations of the body, childhood memories, beehives, and emergency housing for bush fire victims. Unfortunately, we have not yet been able to show them in a physical exhibition; however, a digital exhibition is well on its way and we hope to show all these works soon.
In Textiles and Design, students created a Textile Art piece and a culturally inspired kimono, implementing their experimentation of numerous colouration and textural techniques to find the perfect feature to reflect a chosen culture. From here, students moved on to produce an historically inspired jacket focussed on a chosen decade, which resulted a wide range of creative garments.
DESIGN, ART TECHNOLOGYAND(DART)
In Design and Technology, students studied Scandinavian and 20th Century design as inspiration for their design projects. Students identified a range of needs that resulted in the production of laser cut doll houses, bespoke charcuterie boards, MLC School House badges and adaptable jewellery.
The IB candidature exhibition was also of an exceptionally high standard with sophisticated, diverse concepts and technical skilled works in exhibitions created with no audience. Each student created a selection of works in multiple mediums including ceramics, watercolours, digital media and photography, painting, fumage and sculpture. We know how incredibly hard this year was for each student to finish this way, although you would not know it from the quality of the works. Thank you to all the incredible and dedicated staff in the DART department for their outstanding support, enabling students from both HSC and IB to transform their ideas into reality. We wish the 2021 graduating cohort every success as they progress into the next exciting chapters of their lives. Their achievements will continue to inspire the years to come as they have endured the unthinkable and have come out shining so very brightly.
2021 extended what was possible for the entire DART department beyond what we could have imagined. MLC School students across all year groups have engaged in creative projects and learning, broadening their opportunities and understanding of art, design, food and culture, both at school and online. Our immensely talented group of staff adapted and created new programs to be taught both face to face and through Flexible Learning with outstanding results. I would like to introduce a new staff member to our department, Jesse Hogan, who is an enthusiastic, experienced, and dedicated Visual Arts teacher. We also farewell Kara Laidsaar and Cigdem Aydemir as they move on to other challenges and thank them for their contributions to these wonderful Theachievements.2021Year
The Year 11 Industrial Technology Multimedia students were in their element: creating 3D models, 2D platform games and vector animations. The range of projects afforded them the skill and experience to understand how multimedia products function and look. Students were encouraged to pursue their own areas of technical interest when developing their projects, ensuring that their passions and technical ability flourished.
Year 10 DART students excelled this year in Visual Arts as they continued to develop their artmaking through the exploration of portraiture, performance art, pottery and the hyper-real, with lessons that focused on wheel throwing, jewellery design and performance art. Considering the restrictions placed on them with flexible learning, the students all worked exceptionally hard, experimenting with new mediums, and courageously taking new risks with their artmaking. The Photography and Digital Media students explored Postmodern conventions to create compelling surreal narratives and developed and refined their technical capabilities by producing insightful documentaries and graphics posters.
93 food. Students also developed their food preparation skills and applied their understanding of the physical properties of ingredients and their role in recipe success.
The industry study ensured that we could research and analyse industry leaders such as Disney, Pixar, and Ubisoft. From this investigation students discovered how and why these businesses create, operate, and deliver the sensational products that they do. This knowledge supported them to gain professional insight supporting the development of their own theoretical and practical understanding for multimedia Lockdownproducts. did not dampen the creativity of the Year 10 Textiles students, as they all worked diligently with the kit of millinery essentials sent home to them. Using this, and other items they could find around them, students researched a costume designer and made a wearable headpiece, resulting in a wide variety of skilful, fun headpieces.
In Design and Technology, Year 10 students identified a genuine need for a range of jewellery products and produced some magnificent pieces including pendants, earrings, and necklaces. They then moved onto a furniture design project developing outstanding concepts and producing detailed items including resin cast breadboards, bookstands, recycled Merbau occasional tables and Tasmanian Oak TV units.
Students ended this two-year elective course by enthusiastically creating a passion project of their choosing, demonstrating all the skills they have acquired throughout this time.
In Year 10 Food Technology, students explored concepts related to food security, food service and catering and food product development. They enjoyed working as a team to create their own food product and participated in sensory testing and focus groups to evaluate each groups product experimentation. Students continued to develop their food preparation and teamwork skills in a range of practical based activities. During Flexible Learning students enjoyed opportunities to plan and prepare meals for their families at home.
In Information Software and Technology, students worked with vector-based graphics and motion graphics, gaining insight into network infrastructure, computer hardware and developed their own prototype microcontroller device.
Year 8 DART students in Visual Arts had the opportunity to venture out into the city for the day, undertaking a series of drawing and photography tasks on Cockatoo Island and around Circular Quay. They adapted very well to the demands of flexible learning exploring their own environments creating a series of Cubist inspired still life artworks and working digitally to submit their Visual Arts Process Diaries.
During Flexible Learning students prepared a wide range of recipes for their families reflecting current food trends.
Many of the students prototyped parts using the 3D printer and developed a range of solutions for maximising the suns energy. Their final project involved learning Floor Planner software to enable the architectural design of a studio for a selected house of Inchoice.Year 8 Technology, students grew their own herbs or microgreens and then harvested them for use in their own herb-based recipes at home. They also filmed instructional video clips which were then added to their websites to promote the use of herbs in cooking.
Year 9 Food Technology students developed their food preparation skills and ability to work in team under time constraints adding a wide range of recipes to their repertoire. They explored theory concepts related to nutrition, contemporary and cultural influences on food in Australia, as well as current food trends.
Year 9 Information Software and Technology students, explored the process of game design, learning the Unity game engine to create online environments and games. They also used Lego EV3 robotics to solve a range of challenging problems that increased in Indifficulty.Year9 Design and Technology, students designed a personalised set of laser-cut coasters using bamboo. They then competed in the UNSW MiniSprint Challenge, which involved students designing, building and racing a model car powered by the energy of the sun.
In94Year 9 Visual Arts, students were lucky to be able to go to Narrabeen Lagoon early in the year to create environmental site specific art, where they constructed amazing sculptural works using found natural materials. They also produced imaginative and technical personal artist's books during flexible learning, working with watercolour, acrylic, collage, pencil and felt tip pen to explore the notion of journey.
DESIGN, ART TECHNOLOGYAND(DART)
During flexible learning some of the students also worked through a series of activities to produce naturally dyed fabrics. They displayed a range of creative colouration techniques using vegetable peelings, spices, berries and tea to produce exciting colours on fabric. They also created marbled fabrics using shaving foam and food colouring that were then used to create fabric containers.
Year 7 DART students in Visual Arts jumped straight into artmaking, creating ceramic mythical creatures inspired by Sophie Woodrow and Jenny Orchard. Semester 2 saw students produce a series of creative and diverse self-portraits, extending their drawing, painting and collaging skills from home. Students in Technology were adaptable to all challenges thrown at them from engineering and building bridges out of potatoes to creating wind powered cars with recycled materials. Delving into their personal and cultural identities, students created lanterns and the nailing, sawing, sanding and scroll sawing noises in the workshop were constant, as they learnt basic woodworking skills to make a Memphis Modern inspired box.
Year 9 students in Photography and Digital Media learnt about the camera's origins by creating a series of camera-less photograms using alternative darkroom procedures and practices. Students worked in small groups to capture, edit and export a suspenseful Film Noir chase scene. The girls adapted well to online learning by creating engaging routine and ritual photographic and video works.
Year 6 DART students explored the Elements of Art to create a wide range of artworks in early 2021. With the Illuminate festival in mind, they produced a collaborative soft sculpture installation that represented the different elements – wind, water, fire, earth. In Semester 2, they broadened their understanding of what art can be, learning about the history of architecture
95 and designing utopia cities in 2D and 3D forms. Back in the classroom, students were inspired by their lockdown experiences as they created an infographic style map of their 5km radius. Art and Design week was set to continue our collaboration with Round Square Rainbow Week in a truly special way. Led by our amazing Art and Design Captain Vanessa Ryan, the hardworking Art and Design Society members explored the theme of "Into the Unknown" for this year's Illuminate festival. The theme celebrated the courage of the MLC School community as we embraced the uncertainties and challenges of the post-COVID world together. Although it was not able to go ahead, a huge thank you to all involved as much of the work was completed before lockdown and it would have been a wonderful night. We were able to display the Miniscapes created by the committee members using the donated toys from the Junior School outside the Sutherland Rooms in Term 4. We look forward to 2022 with much excitement and hope that the students, staff and school community will enjoy what diversity DART has to offer. We feel privileged to teach such dedicated, passionate, and innovative young women who we know will go on to achieve greatness in the world.
Ms Sally Marks Head of Department – Design, Art and Technology (DART)
96 ENGLISH
As I reflect on the year that was and the many challenges 2021 brought, I'm reminded of the story about a boy and a cocoon. Perched on a tree, a cocoon writhes and sways in the sunlight. Its movement catches the eye of a boy walking by, who notices a small gap appear at the end of the cocoon. He stops to watch the butterfly struggle to emerge. The butterfly's wings flutter and strain but only minutely expand the small opening at the end. The boy watches for a long time and perceives the butterfly begin to lose its strength. Fearing the butterfly will die, the boy takes a penknife and cuts open the cocoon. The butterfly immediately falls to the ground. Its body is weak and feeble, and its wings barely move. The boy continues to watch, expecting the butterfly to spread its wings and fly. But the butterfly only writhes from side to side. Eventually it does not move at all. In his act of benevolence, the boy ensures the butterfly's demise. The butterfly needed the struggle, was dependent on it to strengthen its wings. Without it, the wings were not fortified to fly. There's a formative side to all struggles and challenges. We may not immediately understand what has been gifted but I hold on to the hope that we have been gifted, nevertheless.
I write this with the class of 2021 particularly in mind. Through every disruption, our Year 12 English students worked steadily and in a sustained manner. I congratulate them on their tenacity and unyielding commitment to their studies. Like the protracted efforts of the butterfly, this Year 12 cohort is the only one in history to have a partial fifth term of schooling. For them, the year has been long and when I think of the achievements of 2021 I cannot but think the achievements belong to them. Their endurance not only fortified their wings, it has inspired others to persevere also.
In English, we were certainly gifted with quality of staff when we welcomed Ms Kellie Cogin, Dr Luisa Webb, and Ms Bridget Kovats to the Department. They ensured the continuity of learning during this year of dramatic change. I thank them for their professionalism, commitment to their students and willingness to go the extra mile. Sadly, we farewelled Ms Ashleigh Maihi earlier in the year and now we farewell Dr Webb. I thank both teachers for their unflagging support of their students and their contributions to the Department. We wish them well and every success in their new endeavours. It would be remiss to think 2021 was only about struggle. It was also about new Inbeginnings.theSchool's 135 years of excellence, the English Department proudly launched the inaugural Thelma Herring Writing Competition. Named after MLC School's Old Girl Thelma Herring, our competition honours a woman who represents the 'dare to be more' spirit of our community. Thelma was Dux of the School in 1933, the first female staff member of the English Department at the University of Sydney, and a publisher for 32 years. In its inaugural year, the stimulus for the Thelma Herring Writing Competition was bridges, a concept that aimed to connect us to both our past and our future. Open to all students in the Senior School whose talents lie with the written word, the competition invited entries in two categories: poetry and short story. We were delighted with the positive response we received in the competition's inaugural year. It reflects the calibre of student we have at MLC School. We received over 100 entries with each entry earning a point for their House. We congratulate
I yank my earphones awkwardly out of my ears and stuff them hastily into my pockets, the slight warmth in them from my body warming my frozen hands. Stepping out of the bus, I see other classmates, students, all filtering in through the school gates.
I continue on. Mindless, automatic steps retracing an intimately familiar path, one that I've walked everyday for three years and for three more years I will continue in my own footsteps. I've probably worn down this tiny fraction of the school with my consistent path - I smile wryly at that thought and shake my head. I stop at my locker, heaving the heavy bag on my back into the cramped cubicle. The space is tiny and its small wonder when I accidentally knock the little calendar on the inside of the locker door to the ground. A small annoyance, so I sigh and bend down to pick it However,up. as I turn to retrieve the fallen object, I find that someone has already beaten me there. My eyes catch scruffy hair and a glint of the dim light above off glasses. Askew tie and sheepish smile with an outstretched hand holding an offering - of maybe friendship?that is my locker calendar. He -? She -? I can't really tell, their features handsome and beautiful at the same time. And it doesn't matter anyway to me - I accept it, my face conforming to a typical smile, isn't this considered polite? When they look away though, I can't help but my gaze follow their form. Sorrowful eyes and a fake twinkle in them. Faded ego, once great. Someone who's finding it hard to Akinsmile.tomake believe, what you want to think you are. Fake it 'till you make it, right? To be who you believe is the best possible version of you out of all of the multiverses. Half of a whole, (or so you think) looking for the other. Destined to be forever, until death do us part. Crush culture is messed up, don't you think? Yet I still want to be theirs, which affects my heart with a pang. As twisted as it is no one can help it once they fall victim to crush culture, both admirer and the admired a victim. I want to talk to them more, see that smile no matter how fake it is- somehow, I still admire it. I see everything in them as perfect. This is dangerous, I know, but my will is Maybeweak.thiswill become part of my daily routine. Some distant part of my mind protests, but I reach out a metaphorical hand of friendship to them. Building bridges, you know? Make connections, and maybe fit into the highschool hierarchy better.For now I follow after them like a lost puppy, some order to cling onto in the sea of chaos that is relationships, friends, cliques and betrayal.
It's the golden hour, although it sure doesn't feel like it as the weak winter sun is barely visible, the light fading away and only the bleak, windswept playground is left.
Ms Cecilia Batista Head of Department – English
You would think those lines align to the shape of the handball courts and benches, neatly laid out and drawn perfectly straight.
Poetry:Junior Zara Poortvliet (Year 9), A New Dawn
Short Story: Chloe Zhang (Year 7) , Crush culture is messed up, don't you think? A meditation on identity and the struggles of fitting in.
A vivid depiction of the construction of a bridge with an interesting use of meter.
Poetry:Senior Robin Phillips (Year 11), The Human Condition
A powerful and evocative poem about the transience and frailty of the human condition.
Short Story: Claudia Padman (Year 10), All in a Day's Work Authentically captures a day in the construction of Australia's most famous bridge, the Sydney Harbour Bridge. If 2021 provided any certainty perhaps it is the certainty that challenges are inevitable. But with collective effort and support, challenges can be endured and even conquered. I am proud to lead an accomplished team of professionals who together endured and conquered the struggles of 2021. I thank them for their daily efforts, good humour and most of all, their grit and resilience.
A messy arrangement of unforecast raindrops, without rhyme or reason, everyone individual and at their own pace.
Chloe Zhang's short story: Crush culture is messed up, don't you think?
97 Lester, the winning House with 47 entries and Mooramoora, which was a close second with 46 entries. We also congratulate all the House Champions and our overall winners in the Poetry and Short Story categories for the Junior and Senior division. Our overall winners were:
It's more akin to a Jackson Pollock painting, all lines and seemingly random splatters of paint all over the canvas. Real life is messy, and in this hasty, disordered mess of different people, souls, emotions, it's all too easy to get lost.
It's a cold morning and my breath curls out of my nose and mouth like smoke from a dragon, the wisps lingering for a moment before dissipating.
As I walk inside, the students are already grouping off into clusters, some walking around and mingling with others, most of them finding their clique and settling in. The hierarchy is evident, who's allowed to talk to who, invisible lines drawn through the quad without any instruction or prior arrangement.
HISTORY RELIGIOUSANDEDUCATION
2021 saw the disciplines of History and Religious Education combine under the one banner. In doing so, the increased collaboration between such humanitiesbased subjects has increased the students' experience and understanding of the past, the socio-religious systems that underpin our society, and the civic responsibilities in which we are required to actively participate in a rapidly changing world. In summmary, 2021 has been a frenetic, eye opening, and yet highly rewarding beginning to my tenure at MLC ThroughoutSchool.the
year History students continued to engage in their studies with passion and a sense of civic reasoning.
98
Mr David Posker Hill Head of Department – History and Religious Education
Religious Education classes have continued to build an awareness of faith, culture, ethics and aspects of philosophy. It has been pleasing to see the enthusiasm and interest of Stage 4 students when discovering aspects of a wide variety of Semitic and Eastern religious traditions. In Stage 5, students have sought to answer the 'big questions' in life. In doing so, they have explored the key values of both secular and non-secular traditions and personalities; and applied their own understanding and experiences to develop their own answers. Stage 6 students, both HSC and IB, have continued to excel in the Histories and Studies of Religion. It has been a privilege to witness the commitment of the teaching team, and the students throughout the year. Extension History students were lucky to be joined by 2020 Old Girl, Zoe Berg, who discussed the best way to approach their Major Project. The class was also privileged to hear from a range of guest speakers throughout the year, including Dr Fiona Radford. Modern History students enjoyed a workshop with Jonathan Dallimore and Ken Webb. We look forward to a return to onsite activities in 2022. It is with sadness that 2021 sees us say goodbye to Dr Felicity Berry. As an inspiration in the class, and highly committed colleague and scholar of History, she will be greatly missed by students and staff alike. We wish her the best in her future. Finally, it has been a year in education like no other. I am indebted to the passion, experience and expertise of the teachers within the department. Their ability to embrace the challenges of Flexible Learning and maintain the delivery of exceptional lessons has been impressive. As Hannibal said, 'We either find a way, or make one', in 2021 we certainly made a way!
Stage 4 students have developed their awareness of the Ancient and Medieval Worlds, spending significant time considering the differing perspectives thrown up by the past. In Stage 5, students have investigated the events and personalities which have encapsulated the 19 th and 20 th centuries. Of note was the Year 10 excursion to the Sydney Jewish Museum. Here students were afforded the honour of listening to a Holocaust survivor. This challenged their perceptions of the past and put a face to statistics so often overlooked in textbooks.
We started our journey to reinforce a culture of critical thinking through lesson design and authentic rich assessment of our students' learning. This year, within the team, we started a range of micro pilot projects which encouraged problem solving skills, collaboration and, most importantly, student choice. A key highlight was our Year 7 Minecraft world project where students were challenged to work collaboratively to build a community to meet the requirements of optimal liveability. Our Year 9 and 10 Commerce students navigated their way through dynamic course content via a syllabus update, which now reflects the complexity of the business, economic and legal landscape of Australia and the world.
99
Year 9 Geography students completed a dual incursion and excursion investigating food security challenges and solutions in Australia. We were able to source high profile and innovative industry experts in the field of the future of cellular food: Rebecca Screnci – the lead scientist of Vow Food Australia, who worked on the production of the first cellular kangaroo meat Bianca Le – founder and executive director of Cellular Agriculture Australia a research field dedicated to creating agricultural food products without using livestock
2021 has been a year of innovation in the HSIE department at MLC School. It has also been a year that has clearly demonstrated the importance of our role as global citizens.
HUMAN SOCIETY AND ITS ENVIRONMENT (HSIE)
We also continued our commitment to extend our students' learning outside the classroom.
Ms Danielle Rodrigues Head of Department – Human Society and Its Environment (HSIE)
The Year 9 students also visited urban pocket farms in Camperdown Commons to assess the viability of urban farms as the future of food production for cities. The Year 11 IB Business Management students also joined the group for the incursion component of the day, highlighting the cross curricular links in HSIE, as they investigated Vow Food Australia as a business case study.
Our Preliminary and HSC Business Studies students also ventured outside the classroom to apply their knowledge and understanding to real life case studies. Key highlights include the Preliminary Business Studies students' visit to Taronga Zoo to investigate its business marketing strategies and market segmentation. Our HSC Business Studies students also ventured to IKEA, which was used as a case study for marketing strategy and corporate responsibility towards environmentally sustainable practices. We look forward to maintaining our commitment to providing high quality and dynamic learning experiences both inside and outside the classroom in 2022.
100 LANGUAGES
'The limits of my language mean the limits of my world.' – Ludwig Wittgenstein In a world where we have certainly experienced many limitations in recent months, our students have, nevertheless, continued to expand their knowledge of languages, opening themselves up to the wider world. With all the restrictions during 2021, immersion experiences abroad were sadly not possible. However, we endeavoured to bring immersion to the classroom, including during Flexible Learning, and the students continued to grow as multifaceted learners who created many memorable moments.
Year 9 Chinese students entered the Linguafest Short Film Competition and created a wide range of two minute films on the theme of a 'choice', showcasing the signature item of a piece of fruit! The Chinese Culture Club, which is student-led, also proved to be popular. The students were introduced to a plethora of cultural activities, including Chinese painting and music, Chinese New Year, the Lantern and Dragon Boat festivals and celebrating Christmas with Guiren Primary School online. 2021 was also our first year to offer Chinese as a co-curricular program for students from Kindergarten to Year 6. Students of Japanese were immersed in a range of linguistic and cultural activities. Year 8 students entered the Linguafest Short Film competition and the Video Matsuri Short Film Festival. Year 9 students were involved in an online exchange program with Sakieda Primary/Middle school in Ishigaki, Okinawa, Japan. We were proud of Kerry Fu (Year 11), who was the recipient of the Judge's Special Award in the NSW Japanese Speech Contest. The annual excursion for the senior students to Nihongo Tanken Centre again took place and the Japanese Culture Club was buzzing with Finally,activity.theLanguage Faculty would like to congratulate the graduating Class of 2021. We hope that you have enjoyed learning a language at MLC School and that this will be the start of a life-long love of all things languages.
2021 was the inaugural year for the studentled Indonesian Club, while Year 10 students began a pen-pal program with students from Burwood Girls High School. Year 9 and 12 students learned about Indonesian eating customs and etiquette through a traditional meal on the terrace. Our Year 11 students met with Indonesian students from Monte Sant' Angelo Mercy College for a speaking day, followed by a meal in the city at Shalom Indonesian Restaurant. Year 11 and 12 students also entered the National Indonesia Australia Language Awards Speech Competition, where they showed much skill delivering a speech in Indonesian. In French, students in Year 8 engaged in some creative projects, such as writing French Mr Men books and Haiku poems. Year 6 students worked collaboratively to recreate the story of the Three Little Pigs in French, while Year 9 students made videos of a day in the life of Cinderella. We even managed to hold a master class in French cooking with Year 12 IB students online. We also began a French language clinic once a week to offer extra support to students at lunchtime. Finally, senior students were put through their paces when they had the opportunity to attend a French Speaking Skills day at Wenona School.
Ms Louisa Macdonald Head of Department – Languages
Congratulations are extended to Cara Britton, Erica Chou, Fiona Feng, Nitya Nimalan (who achieved the highest score in our school), Moira Peach and Vicky Zhang on achieving Distinction prizes. It is a privilege for me to work with the talented teachers in the Mathematics department. I am inspired by their passion for Mathematics and their love of teaching. I thank them for their support and efforts in instilling a love of Mathematics in our students. We are truly blessed in the wonderful girls we teach every day, and I would like to thank the girls of MLC School for making 2021 a memorable year.
Misha Behi (Year 8) Jaslina Duong (Year 7) Aiesha Sivaranjan (Year 8) Sarinna Cai (Year 8) Cara Britton (Year 9) Anisha Miah (Year 8) Fiona Feng (Year 9) Erica Chou (Year 10) Sarah Pearson (Year 11) Chloe Jing (Year 10) Zizhuo (Alicia) Ding (Year 11)
2021 has been a year of great achievements in the Mathematics department. A diverse range of learning experiences has been embraced with the underlying drive to achieve academic excellence and personal bests.
2021 saw an increase in the subjects offered within the department with the introduction of Mathematics: Applications and Interpretations Higher Level to the IB Diploma Programme at MLC School. MLC School now offers the full spectrum of Mathematics courses across all Stages and year levels, offering our students the choice to study at a level and in an area of Mathematics that sets the groundwork for their post-school life.
Mrs Penny Pachos Head of Department – Mathematics
Finally, 25 students from Year 8 to 11 entered the Australian Mathematics Trust Computational and Algorithmic Thinking (CAT) competition. This problem-solving competition gives students the opportunity to explore algorithmic thinking, a type of logical thinking that identifies students' computer programming potential in real-world contexts.
101
Nitya Nimalan (Year 8) was awarded a High Distinction, with the highest school score overall. Australian Mathematics Competition Results 2021: Best in School and High Distinction Award Winner
Nitya Nimalan (Year 8) Distinction Award Winners
Allegra Chiang (Year 7) Annaliese Yan (Year 8) Elena Sun (Year 7) Anita Mohanan (Year 8) Kathleen Chrun (Year 7) Claire Lee (Year 8) Anna Obaid (Year 7)
Four students also attempted the Australian Intermediate Mathematics Olympiad (AIMO).
MATHEMATICS
The AIMO is an open exam designed to stretch talented students and this year attracted 1615 students from 147 schools. Fiona Feng and Cara Britton both achieved Credit Certificates in this highly competitive Mathematics competition.
The year began with a celebration of HSC and IB results for the Class of 2020. Once again, our Mathematics students achieved outstanding results. 73% of our Extension 1 Mathematics students achieved a Band E4 or E3, with over 50% of our Advanced, Standard 2 and Extension 2 students achieving results in the top two bands of their respective courses. 100% of our Higher-Level students achieved the top Band 7 in the International Baccalaureate with 50% of our Standard Level and Mathematical Studies students achieving the top two bands in their respective courses.
This year, 134 students entered the Australian Mathematics Competition, a competition that attracts more than 250 000 entries.
I extend my sincere thanks and congratulations to all Music staff and students. In particular, I would like to thank Ms Emma Bourke for her contribution to MLC School Music. Emma has accepted a position as Coordinator of Welfare at Rouse Hill Anglican College for 2022; a position much closer to her home. Emma started in 2016 and has made substantial contributions across curricular and co-curricular Music. Staff and students alike wish her the very best in her new role. MLC School Music has now endured possibly the hardest two years in its history. Let's hope that next year we can experience Music without the restrictions enforced by the pandemic.
In particular, the Year 8 program this year included an initiative, a 'Passion Project' in which students were able to delve into an area of their own interest. This enterprise was not only appreciated by the students, but teachers also noticed a significant lift in engagement and a discernible improvement in outcomes. Given more autonomy, students took the opportunity to explore more thoroughly, ask more questions and seek to improve their skills. It was pleasing to see this culminate in a very high number of students choosing Year 9 elective Music in 2022. Elective music students again adapted and found ways to continue to grow as musicians. Special mention must go to the 2021 Year 12 cohort who were faced with a major disruption at a critical time of their preparations. HSC Performances were ultimately unable to go ahead, and composition recordings were forced into recording individual parts. Special mention to Tristan Coelho for editing these recordings so skilfully; there were some incredibly fine compositions this year and the recordings brought them to fruition masterfully.
After such an unusual year in 2020, this year started with great optimism for a more normal year. No one predicted that the whole of Term 3 and four weeks of Term 4 would be again delivered through remote learning into students' bedrooms and living rooms. The Canvas platform has now become an integral part of our classroom program and staff skills in putting creative lessons and activities online for students has grown exponentially. With our co-curricular programs again unable to operate for the latter half of the year, 2021 focused on curriculum development. Our non-elective classes continued to develop.
I know the changes forced upon us these last two years in the curriculum area will continue to be of benefit in coming years. The bank of online learning materials across all year groups will become a rich source of help for future MLC School students, while the skills gained by staff and students will enhance the already-strong learning experiences that take place at MLC School.
102 MUSIC
Mr Trevor Mee Director of Music
PERSONAL DEVELOPMENT, HEALTH AND PHYSICAL EDUCATION (PDHPE)
Our Year 11 and 12 students embraced both the Personal Development, Health and Physical Education and the Sport, Exercise and Health Science course. In the PDHPE subject, Year 11 students completed their First Aid course, and the Year 12 students were fortunate enough to travel into Sydney city centre to attend a PDHPE HSC Enrichment Day run by the Australian Council for Health, Physical Education and Recreation. In the SEHS course the Year 12 students worked tirelessly on their practical Internal Assessment (IA) investigations.
We would like to extend an extra special thank you to each member of the PDHPE faculty: Mrs Claire White, Ms Jane Ferguson, Mrs Michelle Hiss, Ms Sarah Jauncey, Miss Emily Osborne, Mr Gavin Starr, Ms Bryana Cooper, Ms Esther Maling and Ms Kylie Bickerstaff. In 2021, they created learning environments, which allowed students to explore their interests, compete positively alongside their peers in the sporting arena and overcame challenges by practising resilience, equipping them with lifelong skills. Their commitment to the PDHPE department, particularly in the latter half of this year, has been exceptional, and their unwavering support and hard work has allowed students to continue to flourish in all areas of our subjects.
103
2021 - what a year. When reflecting on the last 12 months, a few words come to mind to encapsulate the efforts of the Personal Development, Health and Physical Education (PDHPE) department: Microsoft Teams, determined and unwavering. The move to online learning via Microsoft Teams was not quite what staff had in mind for 2021, as we thrive on the time spent outdoors inciting the physical and mental capacities of MLC School students. However, each staff member deserves enormous praise for maintaining student engagement during theory and practical lessons; and leading by example as they reinforced the large benefits of an active lifestyle (cue step count challenges, and yoga and meditation classes). The department created online practical lessons that included at-home workouts run by class teachers, themed dress-up weeks, and interactive fitness games to encourage the students through the difficulty of a pandemic. Staff were determined to ensure that every student was catered for, no matter their circumstances, using a range of online learning tools. Before the start of Term 4, over 300 workbooks were mailed to students to reduce screen time and provide alternative learning Despiteactivities.the challenges that online learning presented, the PDHPE faculty well and truly rose to the occasion. Thanks to the incredible teaching practices of Mrs Michelle Hiss and Ms Sarah Jauncey, initiatives such as Tricky Tuesday, Thoughtful Thursday and Family Fun Day meant online classes remained fun, competitive, and engaging for students and their families!
Ms Olivia Nolan Head of Department – Personal Development, Health and Physical Education (PDHPE) Mrs Claire White Assistant Head of Department – Personal Development, Health and Physical Education (PDHPE)
104 SCIENCE
First-hand investigations are the cornerstone of learning in Science. During remote learning, the Science staff adapted and modified investigations so they could be undertaken at home. We built Escape Rooms, sent seeds home for the Year 10 student research program and modified chemistry experiments to 'kitchen chemistry'. In addition, PRP (Prep Room Productions) created videos in which students could observe experiments and analyse results. Inquiry-based learning begins with solving simple problems before moving onto the greater challenges, so maintaining a robust experimental program during lockdown was critical. Brooke McAlister and Glen Blackburn, our Laboratory staff, are an integral part of our teaching and learning support.
'The pandemic has shown us that what we thought to be impossible becomes possible if we have the building blocks in place and if we work together. Science is critical to solving humankind's greatest challenges. [It] will show us how to achieve a prosperous nation while protecting our environment and biodiversity.' – Dr Cathy Foley MLC School students are part of a future that will increasingly rely on Science to solve a growing and complex range of human issues. To prepare our girls to be part of these solutions, the Science staff guide learning from the foundations of Science in Year 7 to an understanding of the intricate mechanisms of the cell, the universe, and the atom in Year 12. Setting the building blocks in place and working together with the girls to construct knowledge, is a journey that gives us all great pleasure. In 2021, we took advantage of a range of online and remote opportunities. Year 7 girls could not go to the zoo, so the zoo came to us - along with a sample of adorable and interesting animals. In Year 8, the annual Science Week performance, Time for Tech, was delivered online. Our Year 9 girls visited Homebush Bay to examine the ecology in that area and used simulations to model scenarios involving electrical energy. During our time onsite, Year 10 were introduced to new topics with a Clever Chemistry and Forensics Day. Year 11 and 12 students visited ANSTO, Sydney Water and the Long Reef rock platform. Towards the end of the year, Pro Scientiae (Girls for Science) met to undertake a range of STEM challenges. Girls from Year 7 to Year 11 gathered to play with some of the interesting aspects of Science, such as writing with fluorescent 'ink' and LED lights; and determining if salt water melts ice more quickly than tap water. In addition to this, students from Year 7 to Year 10 participated in the Big Science Competition with girls achieving High Distinctions, Distinctions and Credit awards. Students from Year 7 to Year 12 sat the Australian Science Olympiads for Physics, Chemistry, Biology and Junior Science. Year 12 Biology students also entered the British Biology Olympiad, attaining High Distinction and Credit awards.
I applaud our Year 12 students, not only for their excellent results but also for the resilience and determination they showed towards their studies. Both HSC and IB Science courses are challenging under normal circumstances and the past two years have been anything but normal. The students' tenacity and resolve to always do their best will stand them in good stead as they undertake further studies, many in Science, Engineering and Health Science. In doing so, they will help us to 'achieve a prosperous nation while protecting our environment and biodiversity'. I wish them great success in the future and look forward to following their scientific pursuits. We welcomed Ms Kaitlyn Calluaud (2007) to the Science teaching team. She is a bright and enthusiastic educator who brings a range of experiences and talent along with a fresh approach to collaboration. It is always delightful to welcome Old Girls into our team, especially one with such a strong connection to MLC School.
Mrs Susan Rowley Head of Department – Science
105
Ms Mora Soliman is leaving MLC School in 2021 to take up a Head of Science role. Mora has been a valuable member of the Science staff since her appointment as Assistant Head of Science in 2018, sharing her expertise and talent with both students and staff. We wish her every success in the Thisfuture.isalso my last year as Head of Science at MLC School. It has been a privilege and joy to serve the Science staff and our amazing students. I have learned so much about leadership and partnership along with the importance of building trust and respect. The Science staff have been supportive and collaborative, contributing to a compassionate and productive team which is committed to the growth of every student.
106 ART AND DESIGN CAPTAIN REPORT
connections with the MLC Junior School by leading the Christmas tree ornament stall and organising a meeting with the Junior School art monitors and our Senior School DART portfolio captains.
STUDENT
LIFE
Vanessa Ryan Art and Design Captain
At the beginning of Term 4 2020, the Art and Design Society and I created a mission statement for our year ahead: To promote a sense of community, curiosity and courage within art and design, which creatively expresses the diverse and colourful environment of MLC School. Whilst I admit it seems a little wordy, I am so proud of the hard work, resilience and dedication of the Art and Design Society which brought this mission to life and inspired many students to get involved in DART in 2021.
Although the event could not go ahead in Term 3 2021, I am incredibly proud of what we achieved in our months of hard work. Moreover, a legacy that will live on from Illuminate 2021 will be the incredible MLC School Miniscape sculpture created from generous donations of old toys from our entire School community. None of this would have been possible without the unwavering support of the Art and Design Society, portfolio captains, teachers and staff. Thank you to the awesome sub-captains Ishwary Ramjeevan, Elle Tamvakolos, Cynthia Hu, Freya D'Mello, Haya Yahia, Olivia Clowes and Madison Clemens. To the members of Art and Design Society, thank you for lighting up my Thursday lunchtimes, I'm so proud of everything we have achieved! I hope that one day you will look back on this year and remind yourselves of your strength, compassion and resilience. Thank you, Mrs Marks, for supporting me this year. Your incredible work behind the scenes does not go unnoticed. Thank you also to Ms Brewster for helping me at the beginning of my leadership, and to Mr Scotney, Ms Booth, Ms Moloney and Ms Norton for bringing my vision to life. Most importantly, thank you Ms Boyd for being the greatest mentor I could have ever imagined. Thank you for believing in me; keeping me grounded; and providing the best advice. Your support kept me going throughout the year. I feel incredibly honoured to have been your Art and Design Captain for 2021. The presence and success of Art and Design at MLC School has continued to grow from strength to strength, and I cannot wait to hear about the amazing opportunities it continues to provide MLC School girls in the years to come. As we enter 'into the unknown' in 2022, please keep supporting one another, reach out to your friends, and remember that art will always be here for you.
Early in the year, we launched a ofpersonalcomfortcreativeencouragedcompetition,CottoncompetitionSchoolCookinginstallation,RemembranceyearMoreartmakingintotheweekcreatingcollaborativewhole-schoolartproject,amuralforNAIDOCwhichwasinspiredbycollaborativeapproachpaintingprominentmanyIndigenouscommunities.highlightsoftheincludedcreatingtheDaypoppyChristmasChallenge,MLCArchiePortraitureandtheOlivephotographywhichgirlstobeandstepoutoftheirzones.Oneofmyfavouritemomentsthisyearwasfostering
One of the biggest student-led events in the MLC School calendar is the Illuminate festival, which celebrates our DART department alongside many co-curricular activities and societies. The theme for Illuminate this year was 'Into the Unknown.' Apart from being the name of an absolutely incredible song from the soundtrack of Frozen 2, this theme was chosen as a way of acknowledging the unpredictable and whirlwind year of 2020 and celebrating the resilience of the MLC School community when entering the uncertain but exciting future. Little did we know that the post-COVID world we were trying to celebrate would come back to disrupt our year again!
107
JIST is a student-led program assisted by the School Chaplains. 2021 has been difficult and challenging. Like most co-curricular programs, JIST was cancelled for most of the school year. We now look forward to the recommencement of this program in 2022.
Rev Viniana Ravetali and Rev Sally Yabsley-Bell Chaplains
Members of Collective Voice were still able to share articles, ideas and debates through our Facebook page and still occasionally to meet online during lockdown to reconnect. Important issues we covered in Collective Voice in 2021 centred on our usual strong feminist issues, promoting gender equality; LGBTQIA+ perspectives; discussing political issues; supporting minority groups; and exploring Indigenous issues facing Australia today. A big focus of our discussions was around the use of gender inclusive language around the School and promoting it in our community. Unfortunately, we were once again unable to celebrate Wear It Purple Day due to lockdown, so we are aiming to have a big one in 2022. We would also like to welcome our new Collective Voice Year 12 leaders Ruby Scott-Wishart and Robin Phillips, who will inspire and lead us for 2022. Ms Emma Hogan Collective Voice Coordinator 'Members of Collective Voice were still able to share articles, ideas and debates through our Facebook page and still occasionally met online during lockdown to reconnect.'
108
Collective Voice started well in 2021, but as the year progressed it became impossible to meet due to online learning and COVID-19 lockdown. We would like to acknowledge the amazing efforts of our group leaders Annabel Bailey, Harriet (Pidge) Clarke and Tara Mulholland for initiating some great discussions and ideas during the first half of the year. We were able to participate in International Women's Day events and took part in a human installation on the hockey field of a giant ribbon shape for White Ribbon Day. Many members of our Collective Voice group were also able to take part in an important initiative started by the leadership team – the Consent Task Force, whereby students and teachers came together to workshop ideas and plans to make sure consent education was delivered across the School in age appropriate ways; and to connect with boys' schools such as Newington College to have an open dialogue between men and women around such important issues.
CollectiveCOMMITTEESVoice
Jesus in School Time (JIST) Jesus In School Time (JIST) is one of the weekly school ministry programs held at lunch time for girls in Year 6 to Year 12. It is an invaluable opportunity for enquiry and learning, so girls can explore their faith and spirituality through reflective learning of Scriptures and Biblical Stories. It's also an awesome time to hang out, share food and sessions where girls can be inspired to grow, learn together, and be encouraged spiritually.
Claudia Bean Debating and Public Speaking Captain 2021 has been a rollercoaster of a year. Debating has been a part of the 'ups' for many MLC School girls as it has provided a space for personal growth, friendship and, of course, fun.
DEBATING CAPTAIN REPORT
A big thank you to everyone who participated in Debating at MLC School in 2021, it was a difficult year to navigate but we were determined to make the most of it. I have thoroughly enjoyed my role as Debating Captain this year, with my favourite part being able to see the big smiles brought to the girls' faces when they train and debate in their teams. I thank our wonderful coaches who dedicate hours of their time each week (and especially their Friday nights) to help develop our debating skills. We are so grateful to have support from MLC School as well as the amazing support from all parents and carers. Good luck to every MLC School debater for their future competitions, I have had the best time being a part of MLC School Debating and I am so appreciative of your support. I will never forget being a part of the Debating and Public Speaking family.
At roll-over in Term 4 of 2020, a British Parliamentary (BP) debating competition was run in place of training. This was an entirely new format where four teams of two girls compete in one debate. The MLC School coaches enjoyed creating out of the box topics such as 'That children should be raised communally by the government, rather than by individual pairs of parents'.
In the beginning of 2021, students debated in the Friday Evening Debate (FED) and the Independent Schools Debating Association (ISDA) competitions. They were primarily held online, although to the great relief of the
MLC School debaters, the final rounds were able to take place in person. MLC School hosted the ISDA Grand Final and the Senior Centre was buzzing with lots of spectators and supporters. A huge congratulations to our amazing Year 8 team which powered through their debate to defeat Newington College and rightly claim the trophy as the undefeated ISDA champions for the 2021 season. Congratulations for the 8B team in the FED competition who also won their Grand Final debate against Monte Sant' Angelo Mercy College. 2021 closed with the Archdale Debating Competition, an inter-school competition with independent girls' schools. This year I am also very grateful to have had the opportunity to help with MLC Junior School debating trainings, with the girls showing great talent at such a young age.
109
The major setback of this year was the COVID-19 pandemic which resulted in a second round of quarantine and a multitude of restrictions. Our wonderful coaches and organisers were determined to find a way to continue debating on an online format, and we began training and debating online via Zoom. Even though our MLC School debaters are well versed in technology, Zoom presented many difficulties including links that didn't work, the muting of speakers throughout debates, the unfortunate unmuting of teams during debates and of course… various moments of darkness when the MLC School Senior Centre lights went out due to low movement in the room. Our debaters demonstrated great perseverance and resilience and managed to overcome these problems.
110
DEBATING AND PUBLIC SPEAKING
Archdale The Archdale season ended up very fragmented this year due to the COVID-19 pandemic. We began the season doing online debates and then were able go back to face-to-face for two rounds. Unfortunately, our last two rounds were postponed due to the lockdown, but the competition organisers were determined to continue despite the odds. We were able to do the final two preliminary rounds online, with the added difficulty of each student logging in from their own home. This made prep and sharing rebuttals tricky - but not impossible. The finals series was postponed until early November when students were back at school and could prep and debate together in one room. All finals were online and seven MLC School teams made the quarter finals. We had six teams competing in the semi-finals and our 7A team won through to the grand final. For the second year in a row the grand final was held online and our 7A team put in a stellar performance to win against Kambala School and be crowned the champions for 2021.
MLC School also had 25 students competing in this year's Independent Girls' School Association (IGSA) Festival of Speech. As happened last year, the competition was run online with students logging in from home. All the students put in great performances with the highlights being a second place in the Junior Public Speaking, third place in the Senior Public Speaking, fourth place in the Senior Readings and second place in the Drama. Overall MLC School came fifth out of 26 schools competing this year.
Independent Schools Debating Association (ISDA) The ISDA competition was also able to start the season in face-to-face format and our eight teams debated exceptionally well through seven preliminary rounds. We had seven teams progress through to the Octo finals round and four teams won through to the quarter finals. Our Year 7, Year 8 and Year 9 teams all competed in the semi-finals. Both the Year 8 and Year 9 teams made it to the grand final, which was hosted at MLC School. It was a big occasion and a great Debating event with teams from 10 different school competing. Our Year 9 team were the runners up in their division fighting hard but going down to Sydney Grammar School; and the Year 8 team won their final against Newington College to be the undefeated champions of their division for 2021.
This year our students were hopeful about getting back to debating and public speaking face to face. And we were able to resume our usual debating mode of going to other schools or hosting visitors at MLC School in the first half of the year. Unfortunately, all our plans were suspended in June, but luckily the FED and ISDA competitions had just finished. For the rest of the year, we were able to draw upon last year's lessons and successfully pivot to participating in competitions online. This meant that our students were able to keep up their practice and improve their skills despite all the challenges this year provided.
Friday Evening Debating (FED) Our eight FED teams were excited to be back debating face to face this year. They travelled around to other schools and hosted debate evenings at MLC School through the seven preliminary rounds. Five teams made the quarter finals and the 8B, Year 9 and Senior B teams won through to the Semi-finals. Our 8B team represented us in the grand final at St Aloysius College and won their debate against Monte Sant' Angelo Mercy College to be the champions of their division for 2021.
Public Speaking
'We have had a busy year in public speaking with MLC School students competing in several competitions throughout the year.'
We have had a busy year in public speaking with MLC School students competing in several competitions throughout the year. The Rostrum Voice of Youth speaking competition was in March and we had three Junior and three Senior students compete in the heats. Our Year 7 and Year 11 students both made it through to the regional finals. In the Plain English Public Speaking competition, we had a Year 10 and Year 11 student compete in the heats. Our Year 11 student, Wisteria Hu, made it through to the regional final and won. The state semi-final was held in early June and our student gave an excellent performance in a field of 12 high quality speakers. The Legacy Junior Public Speaking competition was held in July and heat submissions were held online due to the lockdown. Two MLC School students won through to the regional final which was also conducted online. Our Year 7 student, Harriet Hahn, won through to the state final of the competition which was held on 19 November. In a very talented field of eight speakers from schools around the state our MLC School student put in a powerhouse performance in both the prepared speech and the impromptu and was announced the winner of the competition for 2021.
Overall MLC School came an agonisingly close second in the Archdale Shield competition, being only one point behind the winners SCEGGS.
We also had two Year 11 students (Jade di Girolamo (Year 11) and Wisteria Hu (Year 11)) enter this year's online competitions for the United Nations Evatt and United Nations Negotiations. As a team of two, they competed through the preliminary rounds of Evatt and won through to the state final in August. They came first out of the top 15 teams in NSW and competed in the Nationals in December. Both students also competed in the UN Negotiations completion in July and made it to the semifinals in September. They then progressed to the grand final and came second overall in the competition.
Overall, despite many challenges this year our Debating and Public Speaking students have remained dedicated to representing MLC School with distinction and commitment. Having to swap between online and face-to-face at various points throughout the year has certainly tested our resilience and problem-solving skills. Another difficult aspect has the absence of parents to watch our debates or attend speaking competitions. However, just having been able to finish all our competitions this year feels like a triumph and our many wins are the icing on the cake. I want to thank this year's Debating Captain, Claudia Bean, for her energy and leadership of the Debating students throughout a challenging year.
Dr Andrea Rowe Debating & Public Speaking Coordinator
Oratory class 2021 was our first year running Oratory classes on Thursday afternoons. The idea behind the class was to give students a one-hour lesson each week to concentrate on improving their speech writing, speaking and presentation skills. We had a very lively Year 5 class and a talented Year 6 class. The Year 7 and Year 8 students had their own class as well. These classes ran for all of Terms 1, 2 and 3 in both face to face and online forms.
111
112
DUKE OF EDINBURGH AWARD
The international Duke of Edinburgh Award was created to reward students who extended themselves beyond the classroom. COVID-19 presented participants in 2021 with challenges forced around how to immerse themselves in service, skills, physical activities and how to take part in adventurous journeys and residential Asprojects.afamous
Mr Glen Mole Duke of Edinburgh Award Leader "As a famous author once wrote: 'where there's a will there's a way' and MLC School students proved that statement to be true."
author once wrote; 'where there's a will there's a way' and MLC School students proved that statement to be true. By showing the tenacity and foresight to think outside the box, many completed their hours in a city that was in lockdown nearly as many days as it was out of it. 30 students successfully completed the Award in 2021, made up of 13 Gold, six Silver and 11 Bronze awards. During 2021, we had 82 students start their Duke of Edinburgh journey with MLC School, and it appears 2022 may be even bigger.
'Reading is one of the joys of life and once you begin, you can't stop' – Ray Bradbury What a year it has been. Prior to moving to Flexible Learning, the Library underwent a much-needed facelift. New carpet throughout and newly painted walls made the Library fresh and appealing. ILC 2 underwent a major renovation with new shelving, new desks, and new flexible seating. The response from the girls has been overwhelmingly positive, the space is well used particularly by our Senior girls.
Mrs Louise Piggott Head of Library Services
113 LIBRARY
The MLC School reading community continues to thrive with our girls regularly borrowing from the Library. During Flexible Learning, statistics demonstrated the growing importance of the Library's digital collection - usage increased by a massive 245%. Time will tell if this format continues to be popular for our students or will they revert to their love of reading a physical copy. Whichever format they choose, I hope our girls continue to find joy in reading.
Finally, Term 3 was meant to begin with the annual Round Square week, and whilst it was unfortunate that this could not go ahead, this did not stop students from continuing to engage with Round Square. Throughout the term, our committee developed a whole school IDEALS Challenge, having deep discussions about the environment, Afghanistan conflict and other topical issues. This year also included the first ever virtual Round Square International Conference. MLC School had two student leaders and five delegates attend the conference where they participated in different activities, centred around the theme of Brave Conversations, over the course of three days. None of what has been achieved this year would have been possible without the passion and dedication of all staff and students involved. Thank you to Mr Blake Fatouros, Ms Caitlin White, and all of students in the IDEALS Society for their tireless work and ongoing commitment.
114
I have no doubt that Round Square at MLC School will continue to thrive under Mounica Akula's leadership next year, and I wish her the best of luck.
In Term 2, MLC School hosted the inaugural Round Square NSW/ACT Cluster Conference, which involved the coming together of schools from across our region to participate in a range of activities centred around the IDEALS and the theme of Reigniting the Flame. This weekend was an opportunity to form connections with local member schools; and included many valuable discussions surrounding homelessness, marginalisation and service, with the hope of inspiring meaningful action.
2021 was an exciting year for Round Square at MLC School. It was filled with many firsts as we continued to integrate the Round Square philosophy into the many things we do here. In Term 4, 2020, we explored the importance of mental health and the relationship it shares with the Round Square IDEALS and Discoveries. This theme formed the basis of our weekly committee meetings where all students involved were given the opportunity to develop and lead an activity that they were passionate about. Alongside this, we also hosted MLC School's first ever Wellness Week, dedicated to highlighting the importance of mental health and wellbeing through running a range of different educational and mindfulness sessions. As part of this week, we piloted the introduction of Baraza discussion groups into Luminary time, which, due to its success, became something we continued throughout the year.
Our focus in Term 1, shifted towards women's rights and gender equality. On 10 March 2021, MLC School hosted Round Square's largest ever virtual Postcard entitled 'Women of the World - Where do we stand?', which involved over 150 participants from 27 countries coming together to discuss the evolving situation of gender equity in the hope of broadening perspectives, acknowledging current issues and working towards positive change. This topic, which coincided with International Women's Day, aimed to encourage individuals to be more alert and aware of the gender biases and inequalities that surround them; take responsibility for their own actions; and stand up against prejudicial behaviour.
ROUND SQUARE CAPTAIN REPORT
Kayla Graham Round Square Captain
115
The Journalism Society, the School newspaper previously known as The Edge, has continued to grow this year. Our 2021 editions have explored a diverse range of themes. In Term 1, Issue 15, we explored the concept of Tradition and delved into a range of family and cultural traditions and recipes. For Issue 16, we got a little political by Diving Into Discourse, exploring politics in Palestine, the travel ban and animal abuse. For Term 3, the theme for Issue 17, Metamorphosis, was prophetic as it was produced during Flexible Learning.
The Edge team meet in F210 at lunchtimes and new members are always welcome. All ideas or contributions welcome, please email theedge@mlcsyd.nsw.edu.au
Team members' personal interests truly shone through discussions of perceptions of Marie-Antoinette, questioning if the perfect organism can exist and investigating life post-school. The final 2021 edition, Issue 18, was themed Uprising and explored the French revolution, a snapshot of real and fictional uprisings as well as the usual craft, recipes and crosswords for the holidays.
There have been a range of students, from different year groups participating in The Edge in 2021 and they have morphed into a cohesive, well-oiled writing machine.
Contributions have been eclectica reflection of students' personalities and covered in depth articles, interviews, creative short stories, reflective reviews, recipes, puzzles as well as the burgeoning favourite 'Top 5/10' lists. Whilst the girls have made contributions according to their strengths, they have also risen to the challenge of developing new skills, whether in graphic design, layout, templating, or Congratulationscommunication.goes to The Edge 2021 team for persevering in challenging circumstances but always doing so with positivity, energy and new ideas.
Students Ms Kerrie Backhouse
116 THE EDGE
The Journalism Society Coordinator
The Edge team
Despite the challenges that this year brought, the MLC School Cadets stood out as they displayed their determination and strength both at home and on camps. We were very fortunate to have been able to experience our first ever Annual Cadet Camp, with the entirety of the Unit spending 5 days in the Colo Valley. Annual Camp is a chance for all the cadets to apply what we learn during home training to a bush setting, and this was a very new and challenging experience for us all. It was filled with activities such as day-long treks through valleys, where we carried everything on our backs; canoeing; and various initiative exercises. For many of us, it was also filled with moments of doubt. However, instead of giving up, the MLC School cadets carried on, developing their resilience and leaning on each other for support. If you ask any of the girls, they will tell you how rewarding it was to relax around the campfire, after having pushed themselves out of their comfort zone during a trek. Although the camp was cut short due to bad weather, it was a very memorable and character-building experience that we encourage everyone to get involved in. We would like to wish all the girls involved in the NCCU next year the best of luck, especially to those who now hold leadership positions within the unit. We know you will continue to encourage and support the younger girls at MLC School wanting to get involved and prove that girls can do anything boys can, if not better. Thank you to everyone involved in the NCCU, especially Ms Maling who has given up so much of her time to coordinate the program. Being a cadet has given us the opportunity to develop skills that are not taught in a classroom such as leadership, resilience and teamwork, as well as the opportunity to create lifelong memories; it is definitely something we will continue to benefit from into the future.
117
At the beginning of 2020, MLC School girls were invited to join the Newington College Cadet Unit (NCCU) for the first time since it was founded in 1869. 2021, only MLC School's second year of involvement with the NCCU, was certainly a very significant year for the Unit as it was filled with numerous milestones and achievements that will forever be an important part of MLC School's history.
2021 marked the first time that two Year 12 girls, Emma Christie and Lilia Coman, were promoted to the highest rank, Cadet Under Officer (CUO), and completed the course. In addition, it was also the first time that an MLC School girl, Lilia Coman (Year 12), was awarded Cadet of the Year at the Annual Passing Out Dinner held at Newington College. Along with these achievements, the MLC School Cadets were also provided the opportunity to be a part of, and lead, the Catafalque Party at ANZAC Dawn Services. This was also the first year a Catafalque Party was included in an ANZAC Day service at MLC School.
CADETS
Lilia Coman and Emma Christie Year 12 Students
MUSIC
120 MUSIC CAPTAIN REPORT
Sofia Carey Music Captain
Music has always been something that has brought the MLC School community together however, when COVID-19 hit at the beginning of 2020, it felt as though the thing that had initially brought us together was keeping us apart. Never could I have imagined a world where I wouldn't be rocking up to the Music Centre at 7am for choir on a Wednesday morning. But suddenly that was my reality, and the world of music was devastatingly Buthalted.this isn't true, is it? In moments of tragedy, we turn to the arts as a source of comfort and refuge. Although we could not continue to rehearse as we once did, this did not mean that music was not present in our lives. If anything, being unable to rehearse as a community for so long made us all realise the true value of the ensembles and performance opportunities, which seemed so intangible in the midst of the chaos that came with COVID-19. In fact, the darkness that came with this year's lockdown only made the good moments shine even brighter in my memory. One of those bright memories took place at the beginning of the academic year in Term 4 of 2020, with one of my personal favourite events of the year – MLC School Idol. It was such a unifying moment, being the first musical event that had happened all year. Excitement and passion were in the air and I could not wait to see what was to follow. Then we had the virtual Music Gala concert, which the staff and students worked tirelessly to create throughout Term 4. It had all the ensembles moving towards a goal once again and in the end, we put together a beautiful concert. The choir's rendition of 'Somewhere Only We Know' never fails to bring me to tears, serving as a reminder of both our strength, in spite of the obstacles that lay in our path; and the power of music. We were also lucky enough to have our annual Camelot Lounge concert this year – a night of funk, which showcases the various bands and solo singers across the school. With these events, that special feeling, that 'bubble', as Jacqueline Flett likes to call it, was back in the music community and in my heart. But as we all know, we were back under restrictions faster than one could utter the word 'coronavirus'. Many music events could not go ahead; however, this does not diminish the hard work that occurred in preparation for them. Students involved in the national Strike a Chord chamber music contest saw success with seven MLC School ensembles winning prizes – an outstanding achievement. Preparation for the Angel Place concert, which was set to highlight both 'Triumph and Tragedy', involved massive commitment from both the students and the staff – only to see it all cancelled just as we were set to go. The way the music community has handled the events of this year is a testament to the sheer resilience that permeates Music at MLC School and its wider community. I will forever be in awe of everyone's determination and unwillingness to give up. I have no doubt that whatever happens next year, Music will continue to shine at MLC School. In the meantime, thank you for the music.
121
The plans for the annual K-2 Christmas Concert also had to be taken online. The girls collaborated with Opera Express, creating the lyrics and music for an original Nativity musical, something we never thought we would manage online. The challenges did not end once we returned to school. With restrictions on singing and mixing grades, we still had to adapt and use new methods to share our performance with our school community, learning a lot of new skills along the 2021way.was the first year we have had Music Captains and Monitors and even these young leaders had to rise to the challenges posed by COVID-19 restrictions, demonstrating their flexibility and capacity for innovation when they launched a school wide GarageBand competition which was enthusiastically embraced by girls of all ages. This year our girls have seized the opportunity to explore new and exciting ways to share and enjoy music together.
Even our ensembles went online!
MUSIC
'While there have been limited opportunities for performance, our girls have still found ways to share and enjoy music.'
Sophie Grattan-Smith Junior School Music Teacher
122
Once COVID-19 restrictions took away our ability to sing together, or even come together at school for a time, we had to look creatively at how we could still make music virtually. Online lessons involved GarageBand composing, virtual xylophones, musical appreciation, and lots of creativity.
It has been another unusual and challenging year for Music in the Junior School, with ever changing restrictions impacting most group music making. While there have been limited opportunities for performance, our girls have still found ways to share and enjoy music. Before lockdown, we did enjoy some performance opportunities. Students in the Junior School, both performers and audience, participated enthusiastically in our wellattended lunch time 'Piccole Stelle' concerts. Angeli Choir provided a moving contribution to the Junior School Anzac service with their rendition of 'Always Remember', also featuring Claudia Beattie and Rachael Ming on flute and oboe. Since their introduction last year, ukuleles have really taken off in the Junior School and the new Ukulele Ensemble was set to debut at the whole school 'Triumph and Tragedy' concert. A combined Junior School performance of 'Eye of the Tiger' was planned to include all of Year 6 (singers, strings and winds), the Bella Voce and Angeli choirs, and the Ukulele Ensemble. Although this concert "tragically" never made it to the stage, during the final combined rehearsals, an outstanding standard was reached and the joy in the room was almost as good as performing for the parents in Angel Place.
123 'This year our girls have seized the opportunity to explore new and exciting ways to share and enjoy music together.'
40 PianoFingersQuartet Strike A Chord Keyboard Prize $200 Wisteria Hu (Year 11), Isabelle Lin (Year 9), Angela Lai (8), Christine Jin (Year 8)
MLC VocalSchoolConsort Strike A Chord Vocal Prize ($200), Strike A Chord Spirit of Chamber Music Prize ($200) Ellery Joyce, Sofia Carey, Tianka Parapuram, Emma Corcoran, Sabine Saad, Ana Trigg (Year 12)
SticksMozart-rella Bronze
The annual Principal's Cocktail evening, usually the first performance opportunity of the year, was unable to proceed due to health restrictions; thankfully other smaller events were able to go ahead as planned. Many of our Senior students were able to present their HSC and IB works at our Friday Live concerts in Terms 1 and 2. These performances were greatly appreciated by MLC School staff and parents who had not had the opportunity last Termyear.2started with a very special ANZAC service. Now that MLC School has a Cadet program shared with Newington College, this ceremony has been expanded significantly. The Music department was proud to contribute to the occasion and I congratulate the Chamber Choir and MLC School Concert Band on a very professional performance at such an historic event for the School. A huge thank you to Elizabeth Gilberthorpe as well who played the last post and reveille beautifully during the ceremony. Term 2 also saw a different collaboration with Newington College. We had two of our Rock bands perform in their annual Rockfest. This year's event focused on highlighting pieces written by students amongst the usual covers and both of the MLC School bands performed original songs. Our department featured strongly in the national Strike a Chord Chamber Music Competition and achieved some splendid results in the Sydney Eisteddfod in Term 2 as well. Here is a list of results for these two competitions: Strike a Chord results:
Tetivo Trio Strike A Chord Strings Prize $200 (reserve semi-finalists) Daisy Li (Year 9), Tasha Wong (Year 8), Juah Hyun (Year 7)
Group Award Students
Bartholdy Trio Semifinalist Fiona Feng (Year 9), Justine Zhang (Year 8), cellist from Sydney Con High
MLC SeniorSchoolTrio Strike A Chord Mixed Ensemble Prize $200 Jacqueline Flett (Year 11), Jade di Girolamo (Year 11), Cynthia Hu (Year 12)
124 MUSIC
Nichole Wang (Year 10), Hannah Kang (Year 10), Christine Jin (Year 8), Angela Lai(Year 8)
MLC School Bass Quintet Bronze Fiona Feng (Year 9), Ruby Scott-Wishart (Year 11), Coco Huang (Year 11), Jade di Girolamo (Year 11), Wisteria Hu (Year 11)
For the second year running, COVID-19 affected our department in fundamental ways. Much like 2020, the opportunity to perform or even rehearse was suspended for a significant proportion of the year. Also like the preceding year, we started optimistically as the virus seemed under control in NSW and a more normal year seemingly lay ahead.
First Prize: MLC School Sinfonia
Trevor Mee Accompanist: Ying Ho Tutors: Maria Timofeeva, Alison Duncan
First Prize: MLC School Junior String Trio; Daisy Li (Year 9), Tasha Wong (Year 8), Juah Hyun (Year 7)
Third Prize: MLC School Chamber Orchestra
125 Sydney Eisteddfod results: Event 289: Secondary School Intermediate String Ensemble
One of the most enjoyable and anticipated events at MLC School is the annual Camelot Lounge performance, which is an enormous credit to Richard Coward and the students who put on such fantastic performances. There are now so many performers in this event that we struggled to fit them in the venue! This was the performance highlight of the year, and we are extremely grateful it was able to run without the interruptions, which have characterised so much of 2020 and 2021. We then set our sights on the 'Triumph and Tragedy' concert at City Recital Hall, which was to be our first large-scale Music concert
Event 288: Secondary School Premium String Ensemble
Conductor: Joanna Drimatis Tutor: James Larsen Event 287: School Chamber Music (19 & Under)
Highly Commended: MLC School Senior Piano Quartet; Ruby Scott-Wishart (Year 11), Coco Huang (Year 11), Jade Di Girolamo (Year 11), Wisteria Hu (Year 11) in 18 months. The build-up of excitement for this performance was palpable. Its eventual forced cancellation due to the delta strain of COVID-19 was Disappointmentdevastating.thenbecame the norm for the remainder of the year. As I write, toward the end of the school year, we are limited to String and Taiko rehearsals in year groups and all other ensembles and choirs are run Ivirtually.congratulate all Music students and staff for maintaining their enthusiasm for music making during these extraordinary circumstances. Let's hope that next year there are more opportunities to express our love of music through performance.
Trevor Mee Director of Music Tutors: Joanna Drimatis, Ying Ho Event 114: Youth Choir For Female Voices (19 And Under) Highly Commended: MLC School Chamber Conductor:Choir
Conductor: James Larsen Tutors: Megan Ling, Nemanja Petkovic, Joanna Drimatis
ARTSPERFORMING
DDE committee started 2021 off with a bang, running the annual MLC School Talent Show. The huge crowd of support were impressed by the competitors' incredible talent and ability to entertain. Congratulations to all the girls who competed and demonstrated such bravery to perform in front of others. A special mention must go to our winner Ruby Newton and runner-up Isabella Townsend who both danced their hearts out. Simultaneously, we also raised $318 for the Australian Theatre for Young People (ATYP) charity with the gold-coin donations required for entry. What an achievement!
This year, Dance, Drama and Entertainment (DDE) has thrived as an influential contributor to MLC School's lively and theatrical culture; and provided new initiatives and opportunities for the Senior School community to display their passion for the performing arts. In Term 4 of 2020, DDE introduced a new event to MLC School – the miraculous 'Christmas Dance Spectacular'. The holiday-themed dance routine, choreographed by DDE committee members during our Wednesday lunchtime meetings, was a pure embodiment of the Christmas spirit, radiating immense joy and positivity out to the Senior School audience. This spectacular, performed on the last day of term, felt like the perfect way to close the school year. Behind this buzzing success was the ever passionate DDE committee – together, we brainstormed, choreographed, remixed music, and organised costumes and props to ensure this event came to fruition.
In 2021, the DDE department had the pleasure of organising a school production, Hitler's Daughter. Enacted by drama/theatre students, with prop, staging and lighting assistance from MLC School's Entertainment Crew, Hitler's Daughter was a pure display of the persistent efforts from all students and staff involved. As I'm sure Ms Jinga would agree, it was a tremendous success, which made the craziness of working during such a tough COVID-19 year all worth it. Despite having to delay and then finally cancel further events for Term 2 and Term 3 due to COVID-19, the DDE committee continued to make the most out of our lunchtime meetings before the lockdown hit, playing fun theatre-inspired games and holding a successful Just Dance lunch-time competition – even Ms Huzij couldn't help but join in on the fun! This year, DDE epitomised dedication, teamwork and perseverance. We shared laughs, giggles and smiles, and I feel so grateful to have been able to lead and participate in this journey. We did it, team!
128 DANCE, DRAMA
CAPTAINENTERTAINMENTAND(DDE) REPORT
Montana Cominos Dance, Drama and Entertainment (DDE) Captain
129
In Term 4, MLC School students returned to face-to-face lessons. To see students back in the studio was a blessing, and we look forward to making 2022 a year to remember. Thank you to the parents and students for their ongoing commitment, and to the co-curricular dance staff for their endless enthusiasm and talent. We look forward to having everybody back together in 2022.
Ms Jenna Skepper Dance Coordinator
130 DANCE
On a cold June morning, our Pom and Hip-Hop students met tutors outside the Showground Pavilions at Sydney Olympic Park for the 2021 AASCF WinterFest Competition. Staff and parents shared mutual relief at the return to live performance opportunities for our girls, while our Senior dancers demonstrated community spirit, running a team warm up and sharing words of inspiration with younger students. Our girls performed with great enthusiasm and achieved the following results.
Semester 1 focused on a performancebased approach, preparing items for Australian All Star Cheerleading Federation (AASCF) competitions, Wakakirri and Dance Showcase. Students spent their lessons developing technique and forming new friendships across the MLC School dance community. As students neared the end of Term 2, they were confident and ready to hit the stage.
Junior School: Pom – 2nd Place (Primary School Pom HipDivision)Hop – 1st Place (Primary School Hip Hop Division) Senior School: Pom – 2nd Place (High School Pom Division) Hip Hop - 1st Place (High School Hip Hop Division) Overalls: Scholastic Dance Grand Championship 2nd Place – Senior Hip Hop In Semester 2, students were challenged once again by extensive COVID-19 lockdowns. We acknowledge and share the disappointment for our students, and the impact this had on our performance opportunities for the year. However, the show must go on and in Term 3 we made the switch to online learning. The resilience demonstrated by students was extraordinary and the co-curricular dance team were humbled with students' commitment to their online practice despite the challenging times. Demonstration of leadership and outstanding commitment is valued in the co-curricular dance program. As such, these qualities are acknowledged within our Year 12 cohorts with the presentation of a Gold Dance Pocket. This year the Gold Dance Pocket was awarded to ten of our longstanding members of the team, some of whom have been dancing with us since Junior School. I would like to take this moment to acknowledge Isabella Al-horani, Georgia Wyatt, Isabella Collins, Rachel Kardasis, Vanessa Ryan, Lilia Coman, Georgia Beretov-Millar, Maya Simpson, Tara Mulholland, and Vienna Durie for their contributions to MLC School dance and wish them all the best for their future endeavors.
MLC School co-curricular dance had a strong start in 2021, with new and returning students stepping back into the studios in Term 1. Students were delighted to be back in their regular co-curricular classes following disruptions from 2020 and felt reinvigorated by their new performance items for the year.
131
132
Students have worked together online and in person, and sometimes both at the same time. Trinity College London exams were again filmed and submitted online this year and students continue to expand their skills across acting and presenting to camera and, when opportunity has permitted, presenting in Studentsperson.have continued to excel, even being shortlisted for the Bell Shakespeare Scholarships, and diligently working toward improving their performance and speaking skills. After the return of face-to-face classes in Term 4, our Diploma students started to put their teaching skills into practice by assisting with the lunchtime and Saturday morning classes. This has been a lot of fun for all. We have come to cherish the moments of being able to meet face-to-face and appreciated the time online. The determination to continue to improve and commitment to learning is a wonderful attribute we have seen in our students over this past year.
Well done!
The Acting and Communication Academy has enjoyed 12 wonderful years at MLC School and the privilege to work with hundreds of inspiring and talented students. We thank MLC School and those families for this opportunity and wish you all the best in the years to come. We look forward to hearing about your bright and exciting achievements in the future, our creative communicators and passionate performers.
Ms Kayte Borg Director, Acting and Communication Academy
ACTING AND COMMUNICATION ACADEMY (ACA)
2021 was a year full of challenges and as usual the girls continued to focus on their achievements and took advantage of the amazing opportunities afforded them. An upside of our COVID-19 adventure was that Senior students, taking the Diploma Course in our Masterclass series, were able to work with some international stars. Students were privileged to have Masterclasses with some of our Australian acting legends, such as Ben Young who is the director of the acclaimed Clickbait series; musical theatre star of stage Elisa Colla (Dame Julie Andrew's My Fair Lady); as well as Laban Technique with Riley Spadaro; Script Analysis, Auditioning Skills and Self-taping with NIDA Masters graduate and professional actor Jessica Spies; and LeCoq Movement and Method with ACA favourite Christopher Tomkinson. Our June and December Holiday programs were a lot of fun and students enjoyed meeting together to learn about playmaking and improvisation, again led by our highly qualified tutors.
THE SPEECH AND DRAMA STUDIO
133
The Speech and Drama Studio's reputation for excellence continued this year with our students achieving highly, both within and beyond our school community. Students have excelled in Australian Speech Communication Association (ASCA) and Trinity College of London examinations, Eisteddfods, Independent Girls' School Association (IGSA) Festival of Speech, Impro Australia's Theatre Sports Schools Challenge, Sport for Jove's National Shakespeare Carnival, holiday productions and online holiday programs. Students have gained agents and professional acting work in the film and television industry.
Our Acting for Camera students are having great success in the industry with many receiving audition opportunities, being booked for work and even landing quality agents. Our Writer's Club students are gaining excellent knowledge and understanding of writing techniques across a variety of literature styles and genres. Students are writing their own pieces including scripts, prose and poetry and are starting to submit their work to writing Festivals and competitions. This year marked our first year of PreKindergarten to Year 2 group students being a part of the MLC School Pre-Kindergarten to Year 2 afterschool co-curricular Round Square program. Students gained an understanding of the Round Square values through the 12 heroes of discoveries, which they explored through role play, poetry and public speaking Studentsexercises.embraced the transition to online learning during lockdown, welcoming challenges and gaining new skills. We are so proud of each one of our students for their enthusiasm and commitment throughout 2021.
Junior School students from Pre-Kindergarten to Year 6, assisted by a talented production team of Year 7 to Year 12 students, produced three very successful holiday productions, A Fairy's Tale, Alice in Wonderland and Reindeer School. Many students enjoyed our September online holiday programs.
85 students represented MLC School at the Inner West, Ryde, Parramatta and Sydney Eisteddfods, achieving numerous top places. Two of our students were finalists in the IGSA Festival of Speech with one placing in the finals.
Our Theatre Sports Club Intermediate and Junior teams represented MLC School with excellent results at the 2021 Theatre Sports School's Challenge hosted by Impro Australia. After winning their sections in the MLC School Shakespeare Carnival, 12 Middle Years Drama Company members competed in the Regional Shakespeare Carnival run by Sport for Jove. MLC School students performed brilliantly and moved through to the State Finals at the Seymour Centre in three out of the four categories. We were thrilled that MLC School students were awarded second place in the Duologue section. In addition to the Shakespeare Festival, the Middle Years Drama Company produced two wonderful productions for a virtual audience.
Mrs Monica Brian Director, The Speech and Drama Studio
200 speech and drama students participated in the ASCA and Trinity College of London examinations achieving outstanding results with a Distinction average. We were thrilled to announce that ten students from Year 5 to Year 12 were awarded the prestigious ASCA medals for their outstanding performances in their examination at the end of last year.
SPORT
Of course, this year wasn't the year we hoped for, or were expecting. Before we went into lockdown however, the Sport department and the Sport committee began our recognition program. 'Sport Woman of the Week' aimed to highlight individual efforts at Saturday morning sport. 'Team of the Term' was a prize for the team with the greatest number of wins throughout the season. These aimed to increase participation, celebrate girls throughout the year; and to highlight the fact that you don't need to be a winner to be recognised. When we went online, the School's ability to adjust was amazing. There were countless videos, a netball shooting competition and athletics training done online. I am so proud of all the girls' efforts during that period.
137
Finally,department.over this year, I have learnt how resilient and flexible we are as a school community. I hope you continue to develop and adapt to the times. I am so grateful to have had the opportunity to lead such an incredible school and I cannot wait to see the School flourish and grow in the coming years.
Katie Sutherland Sport Captain
This year could not have been possible without the concerted efforts of the entire Sport department, especially Lisa Filby, Kylie Bickerstaff, and Esther Maling. Each went above and beyond to encourage and support girls of all ages and talents to achieve their best and develop their skills. As a school, we are so lucky to have such a hardworking team of staff members in the Sport
Some sports were lucky enough to continue with competition. While there are too many achievements to mention, the Sport department and I are incredibly proud of all the MLC School athletes.
SPORT CAPTAIN REPORT
In lieu of Saturday sport competitions that had been cancelled, we held a 5-week virtual House Challenge. Students were encouraged to participate every Saturday morning to earn points for their House to win the 'Lockdown Challenge Trophy' and a special House prize. Congratulations to Churunga which was the winning House.
"There's always a silver lining to every cloud and everything has to happen for a reason and if everything's really challenging, then you can make it into a positive". – Joss Stone
During Term 3 we offered virtual fitness sessions, the Olympic Challenge to get into the spirit of the Olympics and a sport challenge asking 'Should Netball be included in the 2032 Brisbane Olympics?'
Students had to create a video persuading the International Olympic Committee to include Netball in the Brisbane Olympics in Term2032.4saw a gradual return, transitioning from online delivery to face-to-face delivery, so that students could return to sport in as safe a manner as possible.
Additionally, we offered a morning Return to Sport Program as we slowly transitioned back to face-to-face learning.
2021 also saw the introduction of the Pre-Kindergarten to Year 2 Super Sports Program, introducing our students to fundamental movement skills and learning how to play some of the sports we offer in our co-curricular program. Our parent committee came together, known as Friends of Sport Parent Committee to assist in raising the profile of sport amongst MLC School families. The purpose of this group is to provide an opportunity for parents to be actively involved in the co-curricular sports program at MLC School and build stronger connections.
Members of this group will:
•Promote sports-related parent/athlete education
•Provide another avenue to disseminate information and promote student participation in sport
DIRECTOR OF SPORT LISA FILBY
138
We started 2021 with a clear vision – to help our students create a passion for sport and fitness. Up until June 2021, we had 1244 students registered to participate in our co-curricular sports program. Then COVID-19 hit again, and we were forced into another lockdown. So, it was time to again think outside the box, to offer the students something to keep them engaged with the school community and stay physically active.
139 •Create a sense of sporting community •Give feedback to the School on sporting matters of concern to parents •Assist with fundraising
The use of only Australian-made products was a significant factor in the School's choice of company to undertake the works. The courts are made from 100% Australianmade Poligras H2Oz COOLplus turf with permanent line marking for hockey, nine tennis courts, three netball courts and three basketball courts. Poligras was recently used for the Olympics in Japan and has received rave reviews for its green technology.
This group supported our parent webinar, 'For the Love of the Game – Positive Sports Parenting'. The participants engaged in an interactive webinar that allowed them to discuss ways in which they could support their child when they played sport. During lockdown, work on replacing and upgrading the hockey/sports fields at the School was undertaken. The former synthetic hockey/sports pitch was originally built as a training field for the Sydney Olympics 2000. The new sports field covers 5,800m2 and due to the need for the fields to be marked to cater for a large variety of sports, the builders deemed the project one of the most complex they had ever completed. During the upgrade, 90 tonnes of sand was removed and recycled for use on a golf course and the original synthetic turf and rubber underlay was relocated for reuse in a skirmish centre, saving it from going to landfill.
Whilst our regular Sports program could not continue in the way that we would have liked, we are grateful that we were able to have our swimming, cross country, and athletics championships. We look forward to 2022 and increased participation in the range of options provided for our students. We have our fingers crossed for a full year of sport.
Lisa Filby Director of Sport '2021 also saw the introduction of the Pre-Kindergarten to Year 2 Super Sports Program, introducing our students to fundamental movement skills and learning how to play some of the sports we offer in our co-curricular program.'
140 SPORT REPORTS AFL
ATHLETICS
The 2021 AFL season was a success for MLC School girls no matter where they ended up on the ladder. This season saw a large increase in the numbers of girls interested in giving the sport a go - from returning students, to ones who had never played before. We had a total of six teams, with two per age group. Throughout the season, the girls learnt new skills and how to apply them in a game to defeat the opposition. With the help of our coaches and friends, who worked together to create a united team, each training session ensured further development of skills. As the season progressed it was clear each team and each girl was greatly improving in skill, teamwork and understanding of the game. The finals saw MLC03 lose a riveting, high scoring game against Pymble Ladies College. It was even right to the final siren. The girls put up an impressive fight. Yet again 2021 was a difficult year for Sport and Athletics particularly. Whilst we managed to hold the MLC School Championships and the Junior School Carnivals, pathways into both IPSHA and IGSSA events were cancelled as were CIS Athletics. However, the performances at these events were fantastic and it was great to see all the girls competing in track and field Congratulationsagain. to all the age champions and to the athletes who continued to train all year despite COVID restrictions, lack of competitive opportunities and very trying circumstances, great job MLC School Athletics! Kiara Shine Athletics Captain Their teamwork and skills shone throughout the four quarters with goals coming straight from the centre ruck and strong defence to minimise the opposition's goal scoring. The rest of the teams may not have been as successful on the ladder, but their enthusiasm and their efforts were nevertheless impressive; and each player grew in resilience. Many girls were new to the sport this season yet still managed to contribute to their teams with great valour and spirit. Whether a game was won or lost, MLC School girls left the field with a smile (and a few grass stains), always willing to congratulate their teammates on another fun game of Saturday footy. Hayley Kenzler AFL Captain
141
142
Whilst our MLC School Diving Championships were postponed for 2021 due to COVID, we look forward to 2022 and what that will bring.
What a great season it has been for diving. After months of training and cancelled competitions due to the initial COVID lockdown, we have finally made it onto the boards. Coming out from 2020 has been extremely hard but we now have many new, talented divers. We have all belly flopped, face planted, and splashed as we practiced our new dives this term. We had some strong results at both the schoolgirls IGSSA and IPSHA competitions this year. Our Senior team sent 16 divers to compete at the IGSSA Carnival. Congratulations to Laura Andrikis who was selected for the CIS team. Our Junior Team was made up of 15 divers. Congratulations to Ada Savage, Hannah North, Dora Cai, Tamara Abdelrahim, and Niamh Johnson who were selected for the CIS team. Ada, Tamara and Dora placed at CIS and progressed to the NSW PSSA Competition, congratulations on this amazing result.
The 2021 football season was characterised by impressive performances from the MLC School teams. This year MLC had four football teams playing in the IGSSA Football competition, one senior team and three junior teams. Fortunately, football was one of the lucky sports that went ahead despite the tough year, meaning we were able to make the most out of the season. Once again, MLC School Senior Firsts played in Division 1, the highest level of the IGSSA competition, and this inevitably presented the team with a great challenge. This was an entirely new team than previous years, filled with players of various skills. The girls kept a positive mindset throughout the season, and each saw a drastic improvement in their football ability throughout the friendly competition. The girls developed and improved tactically and mentally, by facing some highly skilled teams. Despite a rough start, the girls' improvement meant the number of goals conceded diminished and they scored some quality goals. Most importantly, we developed our skills and built friendships across the different year groups. Much of this is the result of the impeccable coaching of the Firsts coach, Bradley Ayres, who not only challenged us to achieve optimally, but also established a comfortable and enjoyable playing environment.
SPORT REPORTS DIVING FOOTBALL
MLC School divers also competed regularly in the NSW Diving Interclub competitions and our girls regularly featured on the podium. NSW Diving celebrated two of MLC School's own: Layla Abdelrahim (Year 4) who placed 2nd in the state in the Pathways Girls Best Results category and Ada Savage (Year 5) who placed 1st overall in the state in the 11 and Under Age Girls category. Further congratulations go to Ada and Tamara for their success at Australia National Age Diving Championships, where they competed in multiple categories. Ada placed 2nd in platform for her age and Tamara placed 3rd in 3m springboard for her age.
A big thank you to all the coaches for the support and encouragement you have showed us throughout this year. Another big congratulations to everyone who competed in IGSSA and CIS, and despite all the disruptions this year, managed to stick with diving. All your hard work and dedication to training has paid off.
Ava Lee Diving Captain
In terms of our junior football teams, our Junior First team, MLC02 performed exceptionally throughout their season. The girls bonded well as a team, and under the coaching of Tony Dunn, were able to improve their skill-based performance and ability to play quick, complex and efficient football.
Alex Robinson 2022 Gymnastic Captain
The start of another lockdown meant that our gymnasts were no longer able to come into the gym to train and all of our sessions were held online. The dynamic nature of gymnastics, requiring the use of apparatus and physical interaction meant that training looked very different from normal. Nevertheless, the enthusiasm and passion that filled the gym still found its way into our Teams meetings where the girls trained hard and worked on stretching, strength and fundamental skills. As lockdown extended, artistic gymnastics girls from Levels 1-8 were given the exciting opportunity to participate in an online competition. The routines that had been set had adapted core skills from each apparatus to accommodate for the restrictions that came with doing gymnastics at home. There were 5 unique routines for the beginner, intermediate and advanced divisions. We practised hard to perfect our performances, and then recorded them to be sent in for judging. The roll out of awards showed outstanding results. With lockdown finally ending at the end of the year, our gymnastics community has been able to gradually reunite, and the rhythm of training has fallen back into place. I am very proud to be a part of the gym family and am excited to lead us through 2022. Gymnastics at MLC School provides girls with the chance to develop skills, friendships and, because of the rewards and achievements that gymnastics offers, the confidence to help them flourish in all aspects of their lives.
A huge congratulations to all the girls that made up our 2021 Football squad, for their hard work in training and in the games; for their positive team spirit and effort; and some exceptional performances.
Alongside the usual IGSSA Football competition, 16 MLC School girls were selected as part of the CIS Cup squad. This year was highly successful, and the team advanced further than any MLC School team for the past three years. The team consisting of girls from Year 9 to Year 12. They defeated Meriden in a local derby 3-1, with an excellent performance.
The Junior Seconds, MLC03, played well as a team, and despite struggling to win a match throughout the season, they still developed and maintained a positive spirit. Similarly, our MLC Junior Thirds, MLC04 executed some promising plays, and will continue to develop their skills in the future seasons.
Natalia Giannakos Football Captain
143 GYMNASTICS Gymnastics this year has certainly been interrupted by the challenges of COVID-19, but our gymnasts have embraced it with good spirit and resilience. We were fortunate to compete in a few competitions early in the season and our girls performed very well. However, the rest of the season and highlights including IPSHA and IGSSA events were cancelled. COMPETITION RESULTS L5-7ArtisticInvitational Competition L5 – D1: Hannah North – 10 th overall L5 – Senior: Sophia Hu – 4th overall Helary Tam – 13th overall Isabella Dib – 14th overall Emma Jung – 20 th overall L6 – D1: Tamara Abdelrahim – 9 th overall Hayfa Melhem – 11th overall L6 – D2: Alex Robinson – 4th overall L7: Eliza Hazlewood – 9 th overall SeniorRhythmicInternational RG Aust Champs Isabella Wang (Y10) – 8th Overall Level 9 Rhythmic Gymnastics Senior State Champs Alina Cui (Y8) – 1st Ribbon, 5th Ball, 7th Overall State Trial 1 – South Zone Lam Nguyen (Y6) – 5thoverall MLC girls – external club L9 Senior Australia Championships: Mia Jameson (Y11) – 4th Vault Senior International: Breanna Scott (2020) – 3rdoverall
144
This year we were lucky enough to get in some hockey competitions before and after the COVID-19 lockdown.
SPORT REPORTS HOCKEY NETBALL
netball season was like no other, so I'd firstly like to congratulate all of our MLC School netball players for demonstrating such amazing determination and commitment this season. Fortunately, we were able to complete our first term of netball in the Eastwood Ryde Netball Association (ERNA) competition, with many teams looking on track to making the finals!
However, despite undergoing the selection process for the MLC School Representative teams, we were unable to compete in the Term 3 IGSSA competition or gala days such as the NSW Netball Schools Cup.
MLC School also entered the three teams in the IPSHA Hockey Competition for our Junior School players. The girls learnt a great deal throughout their season, increased their overall skill development, and honed their game play. The teams recorded a few victories throughout the season. Sadly, the IGSA Hockey Competition did not go ahead in Term 3 due to COVID-19; however, we were fortunate enough to field two teams in the 5-a-side Briars Friday Night Hockey Competition held at Cintra Park in Term 4, the first time MLC School has entered this competition. Both the senior and junior teams battled it out in the seven-week competition against club teams and other school teams. Both teams finished in sixth place. It was a welcome change and challenge; and kept our players fit and focused through to mid-December. This was a fantastic start to the competitive 5-a-side version of the game and this competition offers a solid opportunity for MLC School Hockey development.
Congratulations to Zoe Clark (Year 11), Riley Chantler (Year 9) and Caitlin Zeilinga (Year 10) who received their ERNA umpiring badges. For others (like me), who were so close to receiving their National C umpiring badges before lockdown hit, keep motivated, I know we can achieve them next Thankyear!you to Mrs Filby, Ms Bickerstaff, the Sports department and all of our coaches for your unwavering support. From the early morning training sessions to the Saturday games, we were so lucky to have such great mentors, who improved our netball skills; and also fostered an environment where we could learn the invaluable skills of teamwork, perseverance and resilience, which are applicable to our everyday lives. Thank you also to all the parents, managers and supporters for your wonderful support and cheers from the side lines.
Despite the lockdown blues of not being able to play our favourite game, many of us were inspired by the Tokyo Olympics, and were challenged to consider the prompt 'Should netball be included in the 2032 Brisbane Olympics?' in one of Mrs Filby's weekly sports challenges. Congratulations to all the girls who submitted videos which aimed to persuade the International Olympic Committee. Who knows … in 2032 we may have an MLC School Old Girl competing with the Australian Netball Diamonds in Brisbane.
Lily Scanlon Hockey Captain Life is better with goals … especially netball Thegoals!2021
I would also like to congratulate the umpires and umpires-in-training for their dedication this season.
Finally, netball is a sport anchored in teamwork, communication and commitment. I know many of us like to use the phrase "I'm here if you need!" on the court, whether we're a Centre or Wing Attack ready to receive a quick pass from our shooters in the goal-circle, or we're a Wing Defence or Goal Defence standing behind the transverse line in case our attackers in the goal third need a reset. Throughout lockdown this year, I have been so inspired by the way our MLC School netballers have transferred the "here if you need" support from on-court to off-court, reaching out to friends during these challenging times. Please keep up the support for one another, and I hope to see you all back on the courts in 2022.
Vanessa Ryan Netball Captain
MLC School entered four Senior School teams in the Sydney East Hockey Competition during Term 2. There were three senior division teams and one junior division team - all played hard in their competition. All teams were challenged throughout the season. They trained hard and focused on development in preparation for IGSSA competition in Term 3. The final results found us in the middle of the ranks following a few strong wins at the end of the season.
ROWING
Inez Kritzler Rowing Captain
145
This season emphasised the meaning of friendship and helped strengthen the bonds within the Rowing squad. It has been amazing to see every girl give their best, showing a true level of strength, determination, and grit. We are all so proud of every girl in the rowing program. This season was evidence of what resilience and hard work can accomplish. The rowing squad competed at the annual IGSSA Regatta, where the incredible performances on the day saw MLC School named the 2021 IGSSA Regatta Champions as the school with the best results for the number of students competing. This was a remarkable result and reflected on the efforts of every MLC School girl who competed on the day and the dedication and expertise of their coaches. The peak competition of the season is the NSW Head of the River. The whole squad put in a tremendous amount of effort and showed great commitment to training in the lead up to this event. Jodie Feng and Amelia Glastonbury made the MLC School Rowing squad extremely proud with their 1st place in the Schoolgirl Year 9 Double Scull. They rowed the perfect race and pushed their competitors right to the end. An important part of the rowing program is rowing camp held at Bathurst. There was great enthusiasm and excitement. The girls trained hard, worked on their strength, fitness, and technique to prepare themselves for the season. It was an amazing week that fostered teamwork, new friendships, and Ipersistence.amextremely grateful for the qualities, such as discipline and resilience, that rowing has taught me over my time as a rower and Rowing Captain. I am so appreciative of all the amazing friendships I have made across the year groups. Thank you so much to the Head of Rowing, Mr Robert Glendenning, for all the hard work and dedication that you put into the rowing program, thank you to all the coaches who help us improve our skills and develop every training session, none of this could be done without you.
Dionne Alaveras Softball Captain 'We were able to field three teams for the full season, which we were fortunately able to play.'
SPORT SOFTBALLREPORTS
MLC03 had a sensational season, finishing second in their division. Highlights included defeating Santa Sabina 14 – 5 on their home ground and Frensham 14 – 8. Although losing their battle for third place by five runs in a showdown against Roseville was heartbreaking, the team should be tremendously proud of their success. As one of the few sports to be played this year, our Softball teams took the competition in their stride, performing at some of the highest levels we've seen in recent years. The coaching staff and I are all highly grateful for the efforts put in by each player; and we are amazed by the development in our teams.
In 2021, softball was a major success at MLC School. We were able to field three teams for the full season, which we were fortunately able to play. The season was filled with impressive hits and catches; fun trips to Frensham; and time to get to know new and old teammates better. All teams started their season with fantastic wins: 13 – 1, 10 – 0 and 7 – 1, and that set the tone for the rest of the season.
146
The MLC01 team had a spectacular year, filled with laughter and success. The team put on a stellar performance to finish top of the ladder and face off against Ravenswood in the grand final. Exhilarating matchups like the close game against Pymble Ladies' College at Santa Sabina (which the MLC School team won by 1 run!) made for memorable experiences for all team members. Although the team finished second, I know that our players and wider MLC School community were extremely proud of their performance. The MLC02 team also had an exciting season. It was a tight competition, and they were close to making the top four. Their hard work and determination were on display all season, never more so than in a gruelling final round win against PLC 11 – 8. The season proved to be a thrilling one and the team should be proud of their resilience and outstanding effort.
Congratulations to all the girls who participated in Swimming in 2021, they have demonstrated great determination and resilience during this year of swimming. The swimming team holds a bright future ahead of them and I wish them the best of luck in the coming years, especially to Juliette Beattie, our 2022 Swimming Captain.
Evelyn Doan Swimming Captain
SWIMMING
Despite the disruptions due to COVID-19, the MLC School Swimming program continued to deliver another year of exceptional swimming. In between pool closures, the MLC School Representative Swimming Squad consistently showed perseverance and enthusiasm throughout the early morning training sessions and carnivals. The sportsmanship of the girls at these events, coupled with their competitive streak for swimming, has led to some truly amazing outcomes this year. This began with the MLC Junior School Swimming Team being placed first in the girls' team competition at the IPSHA interschool swimming carnival. Overall, the MLC School team had the most points of all schools that competed. A massive congratulations to these girls, this is the first time that our Junior school team has won the IPSHA swimming competition and they have certainly set the tone for future years. This year the senior girls participated at the Independent Girls' School Sporting Association (IGSSA) Swimming Championships, Trinity Grammar School Mixed Interschool Cup and our own MLC School Invitational. Congratulations to the following swimmers who went on to represent MLC School at the NSWCIS All Schools Swimming Championships: Natasha Sheehy (Year 12), Annaliese Yan (Year 8) and Suyi Yin (Year 8). We also had three MLC School girls compete at the Australian Age National Championships. For Annaliese Yan (Year 8), Christine Yin (Year 8) and Florence Jiang (Year 9), this was the first time they had competed at a national competition. They swam extremely well and we are very proud of their achievements. Special thanks to our MLC School Head of Swimming coach Mr Colman Wong and coach Jess Coetzee. The success of the MLC School Swimming program could not have been possible without their hard work and support. Both their coaching and mentoring has played an instrumental factor in cultivating a sense of spirit and determination within the team.
147
REPORTS TENNIS
In Term 1, we had 10 teams entered into the IGSSA Tennis Competition. Every week, these girls displayed great dedication to their sport by attending multiple training sessions during the week, then travelled across Sydney to compete each Saturday morning. Despite coming up against some very tough competition, all girls played incredibly well throughout the season and should be very proud of their efforts. I would like to commend MLC01 for making it to the finals and congratulate MLC04 for winning their grand final against Ascham.
2021148 has been a very exciting year for Tennis at MLC School, filled with fierce competition and lots of success for our tennis players.
In March, MLC School also participated in the annual Tildesley Shield Tennis Tournament at Pennant Hills Park. We had a total of nineteen players competing in the tournament: nine singles players and five doubles pairings, all of whom represented the School with great pride. All MLC School girls played extremely well throughout the competition; demonstrating amazing skill; focus and determination on the court; and maintaining an exceptional quality of tennis.
Unfortunately, our season ended prematurely due to the COVID-19 lockdown, as we could not have any teams in the Inter-district Competition during Term 3. Whilst this was disappointing for all our players, their hard work in preparation for this competition, and dedication throughout the year is to be Thankcommended.youto our Head Coach, Ludovic Catherine, along with the rest of the coaching team, for their dedication; for helping us grow and develop into better players; and for always pushing us to do our best. We also thank the Sports department staff for their ongoing support and guidance.
SPORT
Kayla Graham Tennis Captain
Finally, a huge thank you to all of the MLC School tennis players for their dedication, enthusiasm and spirit, all of which make playing tennis at MLC School so enjoyable.
In addition to this, everyone displayed great school spirit and sportsmanship off the court through supporting, encouraging and cheering on their teammates as they went up against some very tough competition.
In the singles competition, Jasmine Balfour and Kayla Graham progressed to the third round, and in the doubles competition, Erica Chou and Chloe Jing also won their first and second round matches to make it to the third round. This was an amazing result for the MLC School Tildesley team.
MLC School Water Polo once again produced another enjoyable and successful season in Term 1. Four teams represented MLC School in the ESSG competition with MLC 1, MLC 3 and MLC 4 finishing in 5th place; and MLC 2 placing 3rd Due to COVID-19 and the extended lockdown, MLC School was unable to hold their annual Friday Night Competition Invitation for 2021. This was a huge disappointment; the Friday Night competition is always a highlight and is ideal for our teams to prepare for the IGSSA Water Polo competition in Term 4. To brighten up lockdown for the water polo girls, we were all fortunate to watch and support MLC School Old Girl Keesja Gofers (2007) compete in water polo in the 2020 Tokyo Olympics. Congratulations to all the water polo girls, who competed in the Term 1 competition.
WATERPOLO
149
Kimberly Keogh Water Polo Captain
We have all improved tremendously and want to thank our coaches for all the hard work and dedication they have provided us week in and week out. We would like to extend a welcome to any new players joining us for the next competition, and we are excited to see the other players improve their skills for another excellent season.
150 SPORTS CHAMPIONS ATHLETICS AGE CHAMPIONS 8 Years Champion Macy Bellew (Year 2) Runner Up: Anna Lieu (Year 3) 9 Years Champion: Maggie Ma (Year 3) Runner Up: Giselle Tanios (Year 4) 10 Years Champion: Danika Krekacs (Year 5) Runner Up: Jacqueline Wang (Year 5) 11 Years Champion: Harlow Elsibai (Year 5) Runner Up: Bridget Cortis-Jones (Year 5) CROSS COUNTRY CHAMPIONS 8 Years Champion Anna Lieu Runner Up: Dora Cai 9 Years Champion Zara Nicholias Runner Up: Maggie Ma 10 Years Champion: Jacqueline Wang Runner Up: Raquel Gill 11 Years Champion: Harlow Elsibai Runner Up: Bridget Cortis-Jones JUNIOR SCHOOL SPORTS CHAMPIONSSWIMMING AGE CHAMPIONS 8 Years Champion Dora Cai 9 Years Champion Zara Nicholias Runner Up: Chloe Zheng 10 Years Champion: Jacqueline Wang Runner Up: Euna Cho 11 Years Champion: Iris Ji (Year 5) Runner Up: Harlow Elsibai (Year 5)
151 ATHLETICS AGE CHAMPIONS Year 6 Champion: Lucia Barrington-Higgs Runner Up: Riya Singh Junior Champion: Katie See Runner Up: Elysse Diep Intermediate Champion: Tara Gentle Runner Up: Emma Lawrie Senior Champion: Kiara Shine Runners Up: Katie JessieSutherlandPhelps HOUSE SPIRIT: YearCROSSSHBooraleeOUSECHAMPION:uttonCOUNTRYCHAMPIONS6 Champion: Riya Singh Runner Up: Avery Koh Junior Champion: Elysse Diep Runner Up: Michaela Green Intermediate Champion: Christine Jin Runner Up: Madeleine Hutchens Senior Champion: Charlotte Jones Runner Up: Annika Lee SENIOR SCHOOL SPORTS CHAMPIONS SWIMMING AGE CHAMPIONS Year 6 Champion: Chloe Miller Runner Up: Avery Koh Junior Champion: Florence Jiang Runners Up: Annaliese Yan Christine Jin Intermediate Champion: Kaylie Keogh Runner Up: Aimee Goodridge Senior Champion: Victoria Wan Runner Up: Natasha Sheehy SYNCHRONISED SWIMMING BooraleeCHAMPIONS:
HOUSES
A key highlight for Abbeythorpe was finishing third in the Year 12 Synchronised Swimming Competition and fifth overall at the Swimming Carnival. The theme this year was 'Green Grinch', voted by our Year 12 Abbeythorpians. Students and staff dressed up in dazzling costumes as elves, Santa, Rudolf the reindeer, and the Grinch itself! To complement our theme, our girls demonstrated their initiative by showing up early to decorate our stand, so it was glistening with tinsel, Christmas ornaments, and of course - the colour green. These triumphs were made possible by the enthusiasm and team-spirit of Abbeythorpe, not to mention the tireless efforts of all students and staff to make this day come to Abbeythorpe'slife. outstanding performance and vibrant spirit can be largely attributed to our new Head of House - Ms Stolzi. Being incredibly supportive, innovative and ambitious in all House-related projects, Ms Stolzi inspired energy and enthusiasm among all of Abbeythorpe and we cannot express our gratitude enough. We would also like to thank every member of Abbeythorpe House for this cherished community that you have created - the incredible memories of this year would not have been possible without your team spirit. We wish our new Captains, Trinity Elghitany and Indianna Miller the very best for the exciting year ahead! We know that you will do an amazing job at continuing the legacy of Abbeythorpe. As our House song goes, "We are one, our Abbeythorpe, our spirit shines, we grow together". It is on this note that we say goodbye, as even though we are no longer there, we will always be one with the spirit that is Abbeythorpe.
Despite the challenges and missed opportunities brought by COVID-19, Abbeythorpe still demonstrated a strong sense of House Spirit and delivered extraordinary results in various competitions and activities this year.
Online House times; no Athletics carnival; the inability to pursue our Exodus Foundation fundraising event; and our annual Chapel service being held virtually were some challenges that Abbeythorpe had to face. Nevertheless, Abbeythorpe's lively and positive spirit ensured that this year was not let down by these obstacles, as we were able to come together in ways that we had never before. We started inter-Luminary competitions; created an incredible Housemade art piece; and enjoyed many fun House times - both online and in person.
Evelyn Doan Abbeythorpe House Captain Annika Lee Abbeythorpe House Vice-Captain
SENIORABBEYTHORPESCHOOL
155
JUNIORBOORALEESCHOOL
Though we could not do everything we had planned, we displayed great resilience and adapted to the obstacles thrown at us. It was a momentous yearfor leadership and learning.We thank all the teachers in the Junior School for all their supportthis year.
Rachael Ming Booralee Service Captain
Booralee Environmental Captain
Emma Sugianto Booralee Music Captain
Sienna Clarke
Elizabeth Faraj Booralee Library Captain
The annual MLC School Swimming Carnival was a highlight. The Year 5 girls led the cheers, encouraging the younger years to aim for their personal best. We also introduced a new Booralee mascot known by the name Brutus the Dinosaur to raise our team morale. Everyone in Booralee was a great sport and cheered loudly from the side lines. Booralee won the House relay and were champions on the day overall. Go TheBooralee!ServiceCaptains loved serving both our School and the wider community. This year we createdChristmas gift boxes to donate to the Uniting Church charity, Wayside Chapel. These gift boxes wherea huge successand we hope that all the people who received one of these gift boxes got a little bit happier and had a little more hope over the Christmas period.
Booralee Technology Captain
Nikhita Kumar
156
In 2021, the Booralee team successfully hosted a variety of challenges and dances. For music, the Music Captains and Monitors created a GarageBand competition worth House points for those who entered. We also worked hard to tackle some environmental concerns for our Junior School. Having noticed an unusual increase in plastic utensils being used in the playground, we worked with Environmental and Art Captains to tackle the issue. Together, we created colourful posters which were posted across the School, especially in the canteen; and addressed the School at our Junior School Assembly about the issue.
Booralee Art Captain
Kristella Miltiades
157
SENIORBOORALEESCHOOL
2021 was a year full of ups and downs. We had to learn to adapt to online House times; the uncertainty of House events; and limited interactions between year groups; but thankfully, the constant positive attitudes, drive, and passion from every person in the House made leading the House that little bit easier and more enjoyable. The resilience and perseverance of Booralee shone through at our annual Swimming Carnival and energy levels were through the roof as the whole House immersed themselves in our theme of Red Rave. Year 12 Booralee made history, coming first in synchronised swimming for the first time in over 10 years. Unfortunately, we were unable to have an Athletics Carnival this year, but the Booralee family made sure the energy and spirit at the Swimming Carnival was impossible to beat. We would like to thank Ms Tracy Getts for the unconditional support and optimism throughout this year. Ms Getts has helped us immensely to prepare for House time every second week; organise our online House Chapel service; and overall being an incredible support for all Booralee girls. We would also like to thank the whole of Booralee. The optimism, support and resilience in everyone's attitudes has made leading such an incredible House extremely enjoyable and rewarding. Finally, we would like to thank Year 12 Booralee for the endless support this year and for always being willing to help. In a year where there seemed to be endless hurdles, Year 12 girls were always there to bring our spirits up. We wish the 2022 House Captains of Booralee, Annabelle Banfield (Year 11) and Isabella Chapman (Year 11), the best of luck. We are so glad Booralee will have two incredible leaders and we are looking forward to hearing everything you achieve next year.
Olivia Tanevski Booralee House Captain Nancy Faraj Booralee House Vice-Captain
For Book Week our amazing Churunga Library monitors, joined with the rest of the library team to tape ourselves reading books, creating games, activities and how-to videos for students to be inspired to read. We assisted Mrs Gilroy throughout the year, but even more so during our Online Book Week Event. We were so impressed with the enthusiasm ofChurungans throughout the School, who took part in each activity.
Niamh Canadas Churunga Sport Captain Art Report
Evie Fergus Churunga Art Captain Environment Report
Ingrid Henderson Churunga Music Captain Sport Report
Indigo Hannah Churunga Library Captain Technology Report
ChapelJUNIORCHURUNGASCHOOL/ServiceReport
Caydence Sumantri Churunga Technology Captain
We have done many things essential for the environment this year, though many of our plans were halted by COVID. Madeleine Girgis Churunga Environmental Captain Library Report
In Term 1, the Churunga Chapel Service was hosted by our ChurungaCaptains. In the same week,we prepared for the Athletics Carnival andhosted an Assembly. The captains did their best to include everyone in the service, with parts delivered by all students from Kindy to Year 5.The theme was You can Fly...But Soar, which was a call for us to shine in all we do.
During our assembly we celebrated Harmony Day and our charity, the World's Greatest Shave to increase awareness about blood cancer. We hosted a Crazy Hair Day and students brought in a gold coin donation. Some of the girls in the Junior School even raised money by cutting their hair. Many thanks to the students for their support.
Surabhi Parab Churunga Service Captain Assembly and Music Report
158
Churunga students have loved participating in all art activities throughout the year. The portrait competition truly inspired Churungans.
STEM week occurred online because of lockdown so students were limited to the items in their pantry and the space in their backyard for their displays. There were so many entries and they were all so different.They varied from fruit volcanoes to stained sugar glass. Congratulations to Churungans who entered!
The Junior School held the two most exciting sports events of the year: the Swimming and Athletics Carnivals. Churunga House girls all came together to do their personal best. We showed our wonderful Churunga House spirit by cheering, dancing and supporting each other at the carnivals. To our amazement, Churunga won the Athletics Carnival for the first time in many years, highlighting our wonderful team spirit!
Some honourable mentions for activities we did complete this year include scavenger hunts; making yellow circles to create a sculpture for Illuminate; practising chants and Just Dance House times. These allowed the House to grow as a community, and made our time as Captains simply amazing. We are incredibly grateful for all the support and positive feedback from the girls throughout the year. A special thanks to Mr Richard Coward our Head of House for being so helpful with equipment and organisation, as well as making our plans a reality. Thank you to our wonderful Luminary teachers: Ms Swain (Year 12), Ms Piggott (Year 11), Ms Cilia (Year 10), Ms Gilberthorpe (Year 9), Ms Skepper (Year 8), and Mr Coward and Mr Posker-Hill (Year 7)), for always helping the girls, making Luminary fun, and for being the backbone of the House. It was a blessing to leading Churunga and get to know the girls who make up the House this year. We wish the new Churunga Captains the best and we cannot wait to see where they take the House next year.
SENIORCHURUNGASCHOOL
Churunga went above and beyond in all aspects this year. As Captains, we are so proud of how the House has come together through all the activities. Even though activities were cut short, we truly made the most of the year. We are so grateful for the positive response from every member of the AtHouse.House Chapel, we discussed the House charity Save the Children along with the idea of Churunga Carnival. Despite the collective planning and creativity from the girls, unfortunately, these plans were unable to go through because of COVID-19.
The main event, the Swimming Carnival, had the theme of Golden Grommets (surfing/ beach theme), which proved very popular with the girls dressing up in Hawaiian shirts. The support was amazing, and our House spirit shone through. We would like to thank everyone for participation and their chanting.
159
Isabella Collins House Captain Natasha Sheehy House Vice-Captain
Being part of the Leawarra leadership team has been such a fun experience. Even though we couldn't do many of the jobs we would usually do because of COVID-19 we had loads of great ideas and enjoyed supporting our House in the ways that we could. Leawarra had an incredible year, and we are so proud of our girls. All the girls in Leawarra cheered and participated in the carnivals,
160 JUNIORLEAWARRASCHOOL
dressed up for Book Week, drew portraits for the Portrait Competition and participated in the Cup Challenge and the GarageBand Music Despitecompetition.allthebumps in the road, Leawarra girls have shown great House spirit and tried their hardest. It has been a challenge but we enjoyed and cherished being the Leawarra Captains for 2021. Go Leawarra! Elyse Vivash Leawarra Arts Captain Joanna Williams Leawarra Environmental Captain
Tina Guan Leawarra Library Captain
Anakha Nalliah Leawarra Music Captain Matisse Snaidero Leawarra Service Captain Alana Siluk Leawarra SportCaptain Ethelia Cassar Leawarra Technology Captain
SENIORLEAWARRASCHOOL
The Swimming Carnival allowed everyone to demonstrate their wonderful House spirit. The theme was 'Leawarra Lion King'. Leawarra placed a well-deserved third overall and fourth in synchronised swimming. Leawarra's annual Mother's Day stall was a great success. We raised money for The Girls Refuge, a charity which offers crisis accommodation for girls aged 13 to 17 years. Leawarra raised approximately $1,500 and it was all thanks to the many donations and assistance we received. Then, unfortunately, we had to farewell our amazing Head of House Mr Wayne Donley, who will always be remembered for his amazing morale, merchandise and House spirit. Luckily, Mr Joseph Pfeffer is our wonderful new Head of House, and we wish him all the best in the coming years.
161
Leawarra has always been a House that feels as close as a family, although some question our spectacular drumming and chanting, this unity and commitment from all Leawarrans is what makes our House one that always shines. This year was no different, Leawarra managed to stay strong and accomplish great things. One of our goals this year was to ensure that everyone in our House was celebrated for their accomplishments and made to feel included. To achieve this, the monthly Leawarra newsletter was introduced where girls from every year in Leawarra could be featured or/and ask questions regarding the School and House. This newsletter also allowed for the House to feel more connected with a 'pet of the month' and 'birthdays of the month' section.
Although 2021 was not what we expected when we became House Captains, it was a journey that we very much enjoyed. It was an honour to lead this House and we are sure that Lewarra will continue to accomplish many things.
So. thank you lovely Leawarrans for the many kahoots, Just Dances and food we shared over the years. 2021 has been a crazy year from online Chapel Services and House times to having to write about bridges, but we wouldn't have wanted to experience it with any other House.
Mariam Yassine Leawarra House Captain Annabelle Bailey Leawarra House Vice-Captain
There have been a lot of changes in the Lester community this year. We began work with a new charity, farewelled one Head of House, welcomed a new Head, all while showing great resilience to the COVID-19 pandemic.
Lester was filled with effervescence during our House times, which included opportunities for younger years to practise their leadership skills by running activities.
Lester House Vice-Captain
The year included inter-house competitions for Giving Day and an English competition in which Lester enjoyed great success. The Giving Day competition required students to bring as many coins as possible to raise money for the new scholarship program, the coins were placed in a line in the Bird Bath Quad to see which House could achieve the longest 'snake'. Lester placed second in this competition, making us incredibly proud of the generosity of our House families. We won the English writing competition due to mass participation with plenty of girls dedicated to submitting entries.
162
SENIORLESTERSCHOOL
House times changed when we went into lockdown; however, that did not stop Lester from participating in the activities we had planned, nor did it prevent us from seeing everyone's wonderful faces. We are so proud of Lester and the positive attitude this year. We are so grateful for the opportunity to lead Lester in this amazing year. We are pleased to pass leadership onto the 2022 House Captain, Zoe Johnson and ViceCaptain, Zunairah Mahfuz, who are most deserving of their new roles and will lead Lester House to excellence.
Hayley Kenzler Lester House Captain Piper McCowan
The year began under the leadership of Mr Kentaro Otani, after we farewelled Mrs Jocelyn Jabour-Perez as Head of House. The Lester Chapel Service was the first event of the year. It had the theme of 'Strength in Solidarity' and supported our chosen charity, Parramatta Mission. Our theme embraced the values and practice of Parramatta Mission which supports youth, families, men, and women across Greater Western Sydney to provide meals, accommodation, and mental health services. Though the Chapel Service was live streamed, Lester showed great enthusiasm ensuring the service ran smoothly and held just as much joy as any other.
The year continued swimmingly with the theme 'Lester Labourers' at the Swimming Carnival. Lester showed amazing House spirit with their wonderful high-vis vests and hard hats, as well as their encouraging cheers throughout the day.
Minna Yates Mooramoora Art Captain Christina Messih Mooramoora Environment Captain Harlow Elsibai Mooramoora Library Captain Sierra Rowe Mooramoora Music Captain Sofia Tzouganatos Mooramoora Service Captain Danika Krekacs Mooramoora Sport Captain Ada Savage Mooramoora Technology Captain
164
This year has truly been a roller coaster ride, a year of drastic changes and incredibly harsh restrictions. The name Mooramoora means good spirit and keeping our spirits up throughout this year has certainly been a challenge. For the Mooramoora assembly and Chapel service we focused on the topic of kindness and the importance of showing it to others. We encouraged girls to spread kindness like confetti. Throughout this year we were lucky to be able to get all the sports carnivals in before the restrictions came into place. It was a great feeling to watch all the Houses compete and try to cheer the loudest. Even though Mooramoora didn't win any of the carnivals, the entire House definitely tried their hardest and aimed to beat their personal best. In Art, many girls participated in the Portrait Competition with some outstanding portraits being produced by many members of the Mooramoora House. In Music the Captains organised a very successful garage band competition to be able to earn some valuable house points. This year the Mooramoora Captains encouraged the House members to think under pressure and be a good team member, this skill was demonstrated in the STEM challenge when all grades were asked to decide the best way, as a team, to stack cups using four pieces of wool or string attached to an elastic band. Unfortunately, the nude food day organised by the Environment Captains didn't go ahead due to the lockdown. The Environment team worked hard in preparing for this day to encourage all members of the Junior school to cut down on the use of plastic packaging. Like everything this year, Book Week looked very different. Girls earnt lots of point for Mooramoora by entering the lip sync battle and dressing up as their favourite book Thischaracter.yearwas a different year than we had planned but we all learnt so much. We learnt to adapt to online learning and to stay connected to our friends and team mates from our school, House and class. We had to change our leadership strategies at every turn but were able to end the year as we started in the Mooramoora way by spreading kindness like confetti!
JUNIORMOORAMOORASCHOOL
SENIORMOORAMOORASCHOOL
Mooramoora has always felt like family for us. Our House rose to the challenges of the year and showed great resilience and positivity. Much like our mascot, the beloved green frog, we jumped high to achieve.
165
The Swimming Carnival at the beginning of the year was a highlight for Mooramoora House. Our theme was 'Mooramoora Madhouse' and all students delighted in dressing up as spectacular circus showmen.
Our goal this year was to help make the Swimming Carnival an enjoyable experience for all girls from Year 6 to Year 12, and there was wonderful participation, especially from girls in the younger years. We were proud of Mooramoora's achievements at the carnival. We competed in many drives and initiatives. In the Giving Day coin drive, Mooramoora came an amazing fourth place out of all ten Houses! This shows the great cooperation and drive of all students. The start of a new MLC School tradition, the Thelma Herring Writing competition was another opportunity for Mooramoora to make its mark. Students were asked to write a short story or poem inspired by 'bridges'. With an incredible total of 46 entries Mooramoora took out a well deserved second place. Furthermore, three girls in our House were awarded Junior Poetry Finalist, Junior Short Story Finalist and Senior Poetry Division winner. It was the teamwork and enthusiasm among the Mooramoora girls that contributed to the success of these AllachievementsMooramoora girls joined together to participate in the Illuminate art projects, where each girl was able to create green patches to add to an even bigger vase.
Overall, this year has been fun and exciting for everyone in our House, with many memorable moments shared amongst us. We owe our thanks to the girls and our enthusiastic Head of House Annie Conway.
Forever green frogs, 2021 Mooramoora House Captains Gracelyn Dao Mooramoora House Captain Cynthia Hu Mooramoora House Vice-Captain
As House Captains, we are extremely proud of the commitment and courage that each girl has put forward to not only support the House but to support one another. It epitomised the theme of 'Strength and Solidarity' that we put forward at the beginning of the year.
In spite of the challenges of the pandemic, 2021 has shown that even through the toughest of times, the girls of Prescott are able to come together in solidarity to support one another to build each other up in times of Notneed.only would we like to thank the girls for their ongoing enthusiasm and commitment, but we would also like to give a huge shout out to our Head of House, Mr Eddleston, for supporting and guiding our decisions; not just in carnivals but in spirit. We have certainly learned a lot from running such an awesome and easy-going house.
Jane So Prescott House Captain Maddisen Strauss Prescott House Vice-Captain
Our Chapel Service centred around finding strength from the solidarity of our House. It was not often during the year that we got the chance to physically come together as a House, so watching everyone unite to pray for 'Strength and Solidarity' proved to be a major highlight for us.
166 SENIORPRESCOTTSCHOOL
During our annual 'Prescott Puppy Pageant', the much loved event helped to promote and raise money for our charity, Seeing Eye Dogs Australia. The day was a success with all puppies being on their best behaviour, in front of an adoring crowd!
To the best house ever!!
The Swimming Carnival gavePrescott the opportunity to show off their great power and enthusiasm. We came second in House points and second in House spirit! We've watched our brilliant girls absolutely smash the Maths Olympiad with their teamwork and smarts; create incredible writing for the English Writing competition, and contribute in many ways.
The Sutton House has always been a safe and inclusive environment that has allowed each girl to excel and shine, with this year being no exception. Our goal for the year was to ensure that we strengthened the Sutton community by creating important bonds between year groups and encouraged bravery by getting the girls out of their comfort zone. Despite the many obstacles we faced this year surrounding COVID-19, each Sutton girl embodied resilience, courage and kindness, some of the core values of our House. These were reflected in the Chapel theme, 'Strength in Solidarity and Unity'. Although we couldn't celebrate this in person, the girls exhibited 'Solidarity and Unity' through their passion for the House throughout the year. To begin 2021, Sutton House competed in the annual Swimming Carnival. Our theme for the carnival this year was Sutton Scuba, with all of the House getting involved and dressing up. Each girl showed determination and spirit on the day, which led us to take our first place for Championship Points. Another highlight of the year was our amazing participation and success in the Inter-House Public Speaking competition, where we demonstrated the 'Strength of Solidarity' in support - standing behind and rousing our champion, Anikah Sanan (Year 9). This year Sutton House took on an initiative to develop more captaincy opportunities. This new House structure was a great opportunity for every girl in Sutton to put themselves forward and lead in an area about which they were passionate. The House structure included captaincy roles to allow girls to lead and manage: photography; newsletter editing; video/drone control; website/admininistration and management; and graphic design. Along with the addition of captaincies there were also the opportunities for Year 12 students to become leaders in the management of the carnivals and other House activities. This enhanced our House support, increased participation in all aspects of the House and allowed those with expertise a chance to lead and manage in their chosen area. Whilst we didn't get to enjoy our final term as House leaders in person, we continued to engage in House time online and despite the differences amongst us, we continued to embrace each opportunity that allowed us to connect. We would also like to thank Mr Gavin Starr for all that he does, helping us to improve as leaders and encouraging the House to strive for greatness. Thank you to all the Luminaries who have supported the girls throughout the years, and congratulations to the House Captains for 2022, Mia Jameson and Sasha Green, we know you will do amazing things.
Sabine Saad Sutton House Captain Inez Kritzler Sutton House Vice-Captain
167
SENIORSUTTONSCHOOL
Although Illuminate did not go forward because of COVID-19, the mural was a wonderful way for the House to come together to create some art. To the rest of Wade House, we would like to thank you all for making the most of this challenging year. Without the support from all the girls and the teachers, this house would not be what it is today. We would like to especially thank Robyn Langford for her dedication to our House and all the late nights and lunchtimes she has spent making decorations and costumes; as well as organising activities for House times and beyond. We know that next year under the guidance of the 2022 Captains, Briana Tran (Year 11) and Haya Yahia (Year 11), Wade is in great hands and will achieve so much in the upcoming year. We also know that the future of Wade is bright. If what we have seen this year is any indication, all Wade House members are smart and intelligent young girls that have the strength to do anything they put their hearts to!
168
Lilia Coman
The Year 12 Wade girls placed second in synchronised swimming. Under Vanessa Ryan, the amazing Art and Design Captain, ' The Great Wade' mural design was born as part of the program for Illuminate. Through a multitude of House times, and effort among those who volunteered their spare periods and lunchtimes, the turquoise, 'Under the Wave of Kanagawa'-inspired sculpture/mural was created with chicken-wire, a portable clothing rack and handmade ornaments.
After last year's lockdowns and challenges related to the COVID-19 pandemic, we thought this year was going to be the time we finally bounced back and showed the other Houses what Wade can achieve. Being elected as House Captains, we aspired for Wade to thrive this year at the sports carnivals and the various inter-House competitions. However, unfortunately, due to the pandemic, this year's annual activities were not able to go ahead as usual. Fortunately, we were able to have the Swimming Carnival, where Wade participated under the theme of 'Tropical Turquoise'.
Wade House Captain Claire Huddy Wade House Vice-Captain
SENIORWADESCHOOL
As we reflect on this tumultuous year, Whitley's passion, enthusiasm and spirit was outstanding. The girls rose to challenges and formed a greater sense of community through increased interactions with their peers and others in different year groups. We are incredibly proud of every one of the girls. 2021 started with the Swimming Carnival, which allowed Whitley to embrace their inner 'Wizards and Witches'. The girls showed tremendous support for one another by cheering for their peers, and we took out the cheer competition. As a collective we put our own twist to the song We Will Rock You and added musical instruments such as drums to create a deafening sound. The participation at the carnival was noteworthy; girls embraced the theme, volunteered for relays and led the Unfortunately,chants.
SENIORWHITLEYSCHOOL
the girls this year didn't get an Athletics Carnival. Instead, we expressed our creativity through our illuminate sculpture on the theme 'Into the Unknown'. Each girl contributed to the project by personalising a circle to stick onto two mirrors of heaven and hell. The project required increased effort, time and planning and the Whitley girls showed both resilience and optimism in their Aapproach.focalpoint for our girls was the Chapel Service. Like many things this year, this was untraditional as it was recorded, yet in true Whitley spirit they adapted to this change admirably. We would like to commend all the girls for being present, making us one of the Houses with the least absences. We would like to thank the girls who bravely volunteered to take part in the service, as speakers or Placingmusicians.emphasis on service and giving was an important way to navigate the pandemic.
Elle Tamvakolos Whitley House Vice-Captain
Samridhi Garg Whitley House Captain
169
Whitley is proud to be associated with Uniting for our House charity. This year we were excited that conversations took place to see how we can support the elderly in nursing homes to enable their connectivity with their families through technology. Through Uniting, we are also hoping to connect with and help young girls who are unable to live at home.
Ingrid Smolka and Bryce Lindstrom. Your commitment and sheer belief in us, made us strive for the best for Whitley and the School Wecommunity.lookback on the fond memories we have created this past year and we are overwhelmed with loss. As we depart from the School, we have come to deeply appreciate our House times and House activities. Working with the students and staff has highlighted the importance of communication and teamwork to build a sense of community. We will forever be grateful for this family of inspiring and talented girls. We look forward to hearing about the wonderful things Whitley's 2022 Captains, Layla Hare and Ruby ScottWishart achieve and we wish all the girls best of luck for their future endeavours.
Leading the House this year was 'no walk in the park'; however, we would like to thank every student and staff member for making this easier for us. We would like to extend a thank you to all the Luminaries, who have supported the girls through a difficult hard year, in particular the Year 12 Luminaries,
THIRD ROW Kiara Elghitany, Stephanie Keo, Felicia Hannah, Zara Coates, Summer Ryan, Emily Ea, Sienna Marriott, Haegan Sitou, Amreen Thind, Savannah Phengsavath, Juah Hyun, Cleo Clark, Angelina Hu, Madina Ioakimidis, Julia Zarlenga, Allegra Chiang FOURTH ROW Georgia Mouscas, Alexandra Varvarigos, Harriet Campbell, Indianna Miller, Martine Zeilinga, Ciara Hyland, Kyra Ioakimidis, Olivia Smith, Caitlin Zeilinga, Kirsten McLelland, Mia Grasso-Nguyen, Mia Gerbino, Esther Tonkinwise, Sarah Kanaan, Andie Clark
FRONT ROW India-Rose Mace, Avery Koh, Rhiti Bhatta, Ms R. Lloyd, Ms L. Macdonald, Mrs L. King, Evelyn Doan, Ms M. Stolzi, Annika Lee, Ms F. Pow, Mrs C. White, Mrs P. Pachos, Mr R. Burgess, Jenna Chiang, Amelia Kroehnert SECOND ROW Eve Vantas, Priya Mohan, Brianna Chiang, Saskia Roberts, Paris Chen, Jennisa Ha, Nichole Wang, Soina Thind, Audrey Nguyen, Anna Constantinidis, Eva Tkocz, Emma Ung, Sofia Iezzi, Tina Nguyen, Luella Farah, Olivia Nguyen, Chloe Kypreos
SECOND ROW Tulasi Kanani, Jaslina Duong, Sacha Jeyasingam, Sarah Carmody, Eve Ireland, Jade Di Girolamo, Dwaraka Raguparan, Alicia Ding, Lily Scanlon, Chantelle Wan, Angelina Xu, Ruby Durant, Tiana Robinson, Emily Phong
FRONT ROW Imogen Wong, Stephanie Phong, Mikayla Woon, Eleanor McKeough, Ms S. Huang, Ms R. Willemsen, Olivia Tanevski, Ms T. Getts, Nancy Faraj, Ms M. Soliman, Ms S. Papachristoforou, Isabelle Forster, Liana Wai, Violet Le, Isabella Munoz
FIFTH ROW Natalia Gadelrabb, Amelia Armstrong, Edie Baker, Isabella Gadelrabb, Sophia Bucci, Rebecca Mai Yue Wang, Hannah Banks, Ella Van Den Borne, Rebecca Beaton, Elena Tulloch, Suyi Yin, Angie Lan, Hermione Campbell, Giselle Timperi, Sophia Grave, Julinar Alshehabi SIXTH ROW Ellery Joyce, Tiffany Boungoto Weng, Trinity Elghitany, Selina Yang, Olivia Leighton, Katie Sutherland, Evie Gallagher, Sen Sen Xie, Anika Grannall, Sofia Carey, Renae Varvaris, Tia Van Den Borne, Janelle Jiao, Jessie Tang ABSENT Selina Chen, Claudia Catania, Lucy Cui, Chloe Lay note: Junior School House photos were not taken in 2021 due to COVID-19
ABBEYTHORPEBOORALEE HOUSE PHOTOS *Please
HERENAMEHERENAME 170
THIRD ROW May Nguyen, Eliza Kershaw MacDonald, Gabrielle Wilkie, Chloe Curtis, Lily Clemens, Megan Ebel, Isabella Kristallis, Grace Farrow, Olivia Ebel, Riley Chantler, Anna Obaid, Tascha Ireland, Lucy Vu, Jenaan Rajani, Uma Singleton FOURTH ROW Jasmine Stavros, Madison Clemens, Freya D'Mello, Helena Panos, Isabel McKeough, Elizabeth Wilkie, Ella Tanner-Black, Kayley Macgonigal, Mikaela Nguyen, Tianka Parapuram, Hannah Chau, Charlotte Trieu, Laryssa Latt, Dahlia Issmail, Mia Eker FIFTH ROW Sophia Malas, Macy Tanner-Black, Vanessa Nguyen, Jaiden Sinozic, Olivia Chapman, Ashley Denton, Sally Obaid, Nia Richards, Tessa Britton, Matilda Banfield, Cara Britton, Layla Van, Madura Gaikaiwari, Lucinda Howlett SIXTH ROW Natalia Giannakos, Isabella Chapman, Talia Suna, Briar Campbell, Sophie Reid, Gemma Sorial, Jasmin Fitch, Holly Herden, Emma Webb, Lucy Edwards, Tara Gentle, Pascale Simington, Meenakshi Nagarajah, Grace Scanlon, Annabelle Banfield ABSENT Kirsten Dao, Rashi Dhamala, Emily Duong, Zahli Harris, Maia Sullivan, Jessie Zheng, Himani Gupta
FRONT ROW Jordan Vo, Sophia Antipas, Edith Hynes, Ms G. Goldberger, Ms M. Hartnett, Ms B. Cooper, Mariam Yassine, Mr W. Donley, Annabelle Bailey, Mrs R. Mackertich , Ms P. Hewett, Sarina Nagra, Aashi Shah, Zaina Verma, Sienna Christodoulou SECOND ROW Lucy Coxsedge, Ava Roins, Georgia Pasas, Jasmine Wolfe, Stephanie Abdennour, Brittany Warner, Juliette Beattie, Tara Grasso, Coco Huang, Te'jhaan Altiok-Brown, Jorja Papantoniou, Alannah Christodoulou, Abby Coxsedge, Evie Papamanuel, Hailey Truong THIRD ROW Ellen Gadsby, Stephy Liang, Maral Zoree Shojaee, Riya Chib, Kristina Bitar, Sameera Khatri, Evelyn Kerr, Chloe Miller, Meena Kanthathas, Isabella Dodd Shipsey, Abigail Bush, Chloe Luk, Krystal Karahontzitis, Justine Zhang, Charla Howard FOURTH ROW Isabella Clark, Dalia Alsaad, Tina Papamanuel, Zoe Proctor, Amisha Khatri, Charlotte McCrory, Amy-Grace Docherty, Athena Nikolakopoulos, Kittu Hoyne, Zoe Brase, Milla Newman, Eloise Proctor, Charissa Chatnantawej, Jana Roy, Caitlin Hartnett FIFTH ROW Matisse Liu, Alice You, Alina Cui, Jemima Zoud, Chloe Hui, Stephanie Bombotas, Siena Cribb, Lucy Dickson, Seraya Srikumar, Ava Saad, Anna Sulan, Zahra Yassine, Elena Sun, Bella Upcroft, Isabella Bednaic SIXTH ROW Anna Devlin, Anna Sundquist, Nicola Oddie, Sienna Barrett, Dylan Rose, Nikki Juffermans, Eloise Drake, Kerry Fu, Christyn Cordato, Arya Sharma, Zara Kilborn, Harriet Clark, Leilani Innes, Romy Dobbie ABSENT Chloe Arnold, Emily Fitzgerald, Lucinda Hutchins, Olinda Cao, Georgia Delis, Grace Kuman, Tiana Roins, Stella Wallace
CHURUNGALEAWARRA
FRONT ROW Amritha Ravichandra, Kushla McCaul, Eleanor Longcroft, Alyssa Corbett, Mrs M. Wyatt, Ms J. Skepper, Isabella Collins, Mr R. Coward, Natasha Sheehy, Mrs L. Piggott, Mr D. Posker-Hill, Avnika Kandala, Siena Jury, Elysse Diep, Jilly Pidcock SECOND ROW Anika Gupta, Miranda Hudson, Ellie Girard, Allegra Carlini, Clementine Hendriks, Aleeza Asif, Laurelle Yim, Jossie Liu, Sarah Lawrie, Amal Zogheib, Hazel Gohil, Emma Sullivan, Lily Vujcic, Lola Jablonski THIRD ROW Rianne Saab, Maya Gupta, Marissa Tsaousidis, Hannah Kang, Thanh Brard, Sanya Mehta, Mahibhana Mahinthan, Jocelyn Ting, Zara Zuccolotto, Kira Hodgson-Yu, Sophia Au, Joanna Tsoi, Chloe Jing, Armita Dutta-Gupta, Olivia Cassell, Claire Lee FOURTH ROW Camille Ong, Cara Wu, Keira O'Connor, Scarlett Sarris, Maya Simpson, Alexia Wood, Sylie Bhat, Ashmini Ganesh, Sofia Sarris, Neethika Naidu, Georgia Wyatt, Christina Coffey, Vishaalini Ravichandra, Amy Zhao, Vivian Isabella FIFTH ROW Alexandra Lasovski, Kirsten Moller, Olivia Gouganovski, Chiara Corbett, Eladie Simmonds, Elisabeth Bubalo, Hannah Chessell, Christina Di Giandomenico, Zara Constance, Alannah Exarhos, Kaylie Keogh, Madison Snowden, Sophia Hendriks, Anika Cuganesan SIXTH ROW Sophia Heyde, Penelope Yacoumatos, Emma Lawrie, Amandine O'Connell Locke, Kimberly Keogh, Stephanie Megalli, Helena Lu, Katrina Marquarding, Abbey Williams, Lucinda King, Lauren Millar, Ishwary Ramjeevan, Chelsea Hunt, Jade Davis
171
ABSENT Gurnaaz Kahlon, Kyra Narang, Lily Rutherford, Eva Zhong, Tilly Ackland
FRONT ROW Alessandra Spina, Jade Pashos, Emily Leung, Lucia Barrington-Higgs, Mrs D. Mastronardi, Mrs R.Thompson, Hayley Kenzler, Mr K. Otani, Piper McCowan, Mr J. Kennard, Mrs S. Van Zuylen, Dr L. Bi, Tasha Wong, Bella Nguyen, Mia Coady SECOND ROW Umaiza Mahfuz, Zoe Andrews, Carina Chu, Chelsea Chen, Rose Turner, Harriet Scott, Kali Springford, Anika Springford, Michaela Green, Vadeesha Kanagaratnam, Zara Dhawan, Aryana Sah, Hannah Shortus, Aiesha Sivaranjan, Madelyn Phu, Naoise Lynn-Black, Tyra Riley THIRD ROW Rose Lin, Aaliyah Iese, Kayla Graham, Tara Mulholland, Georgina Lim, Chantel Nguyen, Claudia Scott, Ruby Newton, Laura Kardasis, Sanjana Natkunamanickam, Raeja Pashos, Amanda Ou, Emma Corcoran, Rachel Kardasis, Christie Ch'ng, Cassia Davies, Nectaria Constanti FOURTH ROW Angela Trang, Sofia Cvetkovski, Ella Ma, Ava Dean, Zunairah Mahfuz, Olivia Alden-Hallit, Aria Swan, Elena Kotsis, Alexandra Robinson, Selena Read, Talia Tsaloukas, Ella Mayne, Ella Hu, Emily Edwards, Madhavi Chauhan FIFTH ROW Zoe Bigg, Jody Feng, Pamela Kotsis, Fiona Feng, Lily Walker, Lily Dunnallen, Pieta McMillan, Marirose Giann, Georgia Terzis, Isabelle Lin, Kate Cvetkovski, Maggie Wang, Amelia Comley, Sophia Pavlovic, Jessie Johnson, Layla Alameddine SIXTH ROW Zoe Johnson, Ivy Brasher, Wisteria Hu, Kaitlyn Flanagan, Tia Athanassiou, Kirriana Edwards-Ware, Olivia Codevelle, Fiona MacKenzie, Ciara Middleton, Sophia Kang, Sophie Ciesielski, Elsa Tonkinwise, Sophia Murphy, Sarah Carvolth ABSENT Isla Saxena, Ivana Tsaloukas
HERENAMEHERENAME 172 LESTERMOORAMOORA HOUSE PHOTOS
FRONT ROW Imogen Walker, Riya Singh, Elly Yu, Ms P. McGowan, Ms C. Aydemir, Mr C. Highman, Gracelyn Dao, Mrs A. Conway, Cynthia Hu, Mr T. Mee, Ms K. Laidsaar, Ms C. Batista, Ms D. Rodrigues, Maria Stamoulos, Sophie Connolly SECOND ROW Gigi Guan, Baylie Shen, Giovanna Lim, Elora Nadarajah, Harriet Hatton, Keiralyn Dao, Natasha Whitmont, Emily Ward, Hannah Baker, Alexandra Scherf, Seetha Nathan, Yianna Mitropoulos, Charlotte Huynh, Madeline Haller, Gauri Nathan, Nghi Nguyen, Harriet Hahn, Jodhi Bou THIRD ROW Genevieve Beattie, Hope Selim, Eloise Ward, Annaliese Yan, Lam Nguyen, Mia Johnston, Vivian Pang, Chloe Ho-Shon, Kaitlyn Hoang, Mia Tsaousidis, Tracy Zhou, Tika MacMaster, Charlotte Priebbenow, Olivia Walker, Daisy Li, Inez Murray, Isabella Townsend FOURTH ROW Layla Hamdan, Despina Stamoulos, Tori Charalambous, Anna Gough, Diane Wang, Isabella Lee, Lara Taleb, Tahlia Hatzisarantinos, Samantha Tsakalos-Stewart, Gloria Lim, Amelia Whitmont, Amelia Chan, Julia Gough, Francesca Morrison, Tessa Tomkins FIFTH ROW Hana Lee, Markella Krekacs, Sophie Winnall, Sienna Dodd, Lara Stojkovic, Alexandra Walker, Isabella Liu, Lily Hatton, Samantha Brady, Dakota Dodd, Anisha Sivagurunathan, Ella Baker, Danielle Dib, Bariah Khaznadar SIXTH ROW Grace Selim, Aadhya Dhanpal, Eda Haller, Vanessa Vlach, Zoe Johnston, Sophie Walker, Samantha King, Natalia Grbic, Lola Whittaker, Hannah Williams, Mikaela Sitaramayya, Sophie Thomas, Selina Pang, Amara Kalcev ABSENT Claire Liu, Robin Phillips, Claudine Talbot, Zoe Trpezanovski, Sophie Yang, Xile Yang, Sophie Beraldo
FRONT ROW Amy Fallick, Chelsea Sumich, Regina Ding, Ms O. Nolan, Ms S. Marks, Ms L. Jinga, Jane So, Mr C. Eddleston, Maddisen Strauss, Mr J. Pfeffer, Ms B. Peace, Mrs R. Driessen, Niamh Johnson, Mariyah Sfarjalani, Sasha Murray SECOND ROW Chloe Zhang, Kayli Scott, Emily Zhou, Selma Ulutas, Maddie Hutchens, Miranda Norton, Julia Lok, Kelly Zhang, Minda Wang, Le Yan Gui, Zoe Churchill, Amaya Karunakaran, Isabella Zhou, Camille McLucas THIRD ROW Minh Thu Mai, Defne Isikli, Amelia Norton, Ellen Marshall, Isabelle Ng, Katie See, Hannah French, Phoebe Rizoski, Kathleen Chrun, Maxine Hawkins, Isabella Correia, Vivian Qin, Zara Luong, Taara Kotibhaskar, Yolanda Dolenac, Valerie Tran FOURTH ROW Sahasra Bandi, Aarathe Ramraj, Jenny Wu, Cameran Warner, Doris Yang, Sofia Jury, Mia Sumich, Ruby Smith, Chloe Correia, Maeve Halliday, Sienna Strauss, Victoria Wan, Ivy Ross, Roisin Redmond, Lara Varol FIFTH ROW Amy Lee, Rose Halliday, Ynez Liauw, Halle Hiss, Georgie Roediger, Willow Mair, Ivana Dolenac, Amelia Cosmidis, Ruby Mitchell, Grace Williams, Esther Kim, Gabriella Matthews, Finn Muir, Isabel Baudille, Lily Kim SIXTH ROW Lone Bromley, Jasmine Balfour, Yijia Sang, Emma Mahant, Liana Angell, Johanna Lafoa'i, Erini Stavroulakis, Vanessa Ryan, Claudia Padman, Elisha Matthews, Charlize Hosking, Anais Siu, Cosette Cromer, Ana Trigg ABSENT Christy Luo, Giuliana McCluskey-Voigt, Thea Townley, Mei Yan Wong, Joycelyn Yong
PRESCOTTSUTTON
173
FRONT ROW Phoebe Chee, Mia Rice, Mr C. Moysa, Ms K. Neligan, Mrs J. Ferguson, Ms G. Brewer, Sabine Saad, Mr G. Starr, Inez Kritzler, Mrs L. Bondar, Ms L. Emms, Ms K. Backhouse, Misha Behi, Janice Leong, Hannah North SECOND ROW Tahlia Jeffery, Layelle Chmeisse, Cheylene Leung, Charlotte Latham, Leylim Ozer, Sophia Shaikh, Alice van der Stel, Isabel Garner, Angelique Houltham, Zaz Tiglao, Jessica Fichera, Marni Simring, Jessie Xu, Diar Kabaha, Saalbhinii Aravinthan, Sophie Ye, Eliza Hazlewood THIRD ROW Erin Clowes, Anikah Sanan, Isabella Al-horani, Ayushi Bhujel, Samantha Chan, Olivia Clowes, Lilli-Rose Nasr, Ilaria Korompay, Isobelle Vandenhoek, Kayla Andreopoulos, Kylie Becvarovski, Emily Heng, Ada Tetley-Sutton, Aileen Leong, Anastazia Samad FOURTH ROW Mira Kalra, Sarinna Cai, Nitya Nimalan, Indiana Hodgkinson, Florence Jiang, Maya Al-Soufi, Sophia Sefein, Courtney Shi, Imogen Langella, Amalia Labraga, Zoe Jameson, Eve Parker, Lily Simmons, Carina Savoca, Kate Morfoot FIFTH ROW Dionne Alaveras, Ria Kapoor, Erykah Lakkis, Annading Chen, Ella Walters, Abigail Latham, Gisela Labraga, Alena Belunek, Isabella Wang, Maria Gourlas, Claudia Kritzler, Sasha Green, Mia Jameson, Sarah-Bronte Andrikis SIXTH ROW Mimi Jones, Alice Kreis, Kiara Shine, Arachi Park, Isabella Smith, Jessie Phelps, Sophia Cairns, Claire van der Stel, Phoebe Mullins, Zoe Clark, Molly North, Meera Rawal, Charlotte Jones, Laura Andrikis ABSENT Lia Al-Soufi, Savannah Hazlewood, Zoe Howes, Yihan Zhang, Jessie Zheng, Mr P. Klamka
WADEWHITLEY
HERENAMEHERENAME
HOUSE PHOTOS
174
SECOND ROW Katrina Athanasiou, Jiayi Li, Sallia Nguyen, Jenna Wright, Zaara Chalak, Ria Simone Farag, Mahi Shah, Ananya Wakhare, Erica Chou, Bailey Hentze, Elizabeth Giannacopoulos, Maya Lecuna, Anita Mohanan, Phoebe Hoang THIRD ROW Nicole Audi, Sara Placanica, Chevonne Collins, Santina Signorelli, Marah Tryphon, Ava Tong, Ze Wong, Jasmine Fordyce, Christine Jin, Chloe Wang, Kirsten Tran, Maalika Chalak, Chloe Messih, Amelia Tchan, Madeleine Wood FOURTH ROW Hayley Ma, Kristy Spyrakis, Emma Nguyen, Gauri Sharma, Anjali Jayanthi, Liesel Kidley, Marissa Matthews, Haya Yahia, Vicky Zhang, Tarindhi Fernando, Natalia Hollands, Amelia Bresolin, Natalie Cavallaro, Briana Tran, Andie Comino FIFTH ROW Sima Tebbutt, Amelia Glastonbury, Persephone Wahltuch, Emma Guermanoff, Zara Poortvliet, Zoe Likely, Amelia McNamara, Charlotte Penny, Sarah Furlan, Ashley Pagewood, Sienna McCormack, Magdalene Miltiades, Alaska Durie, Anisha Miah SIXTH ROW Jana Edrees, Cassidy Maher, Phillipa Signorelli, Maria Stamateris, Elise Nikolopoulos, Vienna Durie, Montana Cominos, Courtney Roberts, Taotao Jiang, Lily Alexiou, Mounica Akula, Georgia Melhem, Chantelle Farag, Elsa Pickering ABSENT Liliana Hollands, Ellie Li, Scarlett McNamara, Sophia Westbrook, Sophie Wilson
FRONT ROW Marayah-Kai Johnson Clayton, Nicole Giannacopoulos, Sophia Hu, Ophelia Li, Mrs A. Accurso, Mr J. Abi-Elias, Lilia Coman, Ms R. Langford, Claire Huddy, Ms K. Calluaud, Tess Wright, Lara Bazzi, Charlotte Frith, Seraphine McNamara, Eleni Giannacopoulos
FRONT ROW Holly Moore, Ilaria Blanco, Aaliya Zhou, Ms K. Cogin, Miss M. Lee, Ms H. Schmit, Samridhi Garg, Ms I. Smolka, Elle Tamvakolos, Mr M. Condoleon, Ms A. Maihi, Mrs S. Green, Genevieve Thai, Nicola Keast, Yasmine Teoh SECOND ROW Gabriella Ayad, Jenny Nguyen, Leeanne Wu, Alexia Eliades, Isabelle Millgate, Angelina Mijakovac, Maiee Hanna, Freya Patterson, Jennipher Kong, Aleezah Lapitan, Tiana Michas, Shine Liang, Khushii Varma, Stella Sivyer, Rebecca Ho-Bui, Angelina Ng, Allura Zhou, Jane Xia THIRD ROW Aaliya Salim, Angelina Zhang, Mimi Pullinger, Jessica Jing Jun Wang, Joyce Mai, Lulu Habibullah, Lana Radwan, Alexia Carisio, Angelina Le, Zyah De Araujo, Olivia Sun-Ryan, Dina Saeed, Fiona Pham, Annabelle La, Eve Banyer, Isabella Zhao, Georgina Rowles FOURTH ROW Sarvani Bala, Claire Pepperell, Arrielle Carisio, Jasmine Ferraby, Toni Eliades, Ava Lee, Emma Christie, Aimee Goodridge, Tamara Obradovic, Anna Xu, Bayann Elsawi, Pandora Eliades, Preeyangka Manogaran, Darah Elsawi, Arabella Zeederberg, Cassandra Tong, Sarai Rollason FIFTH ROW Claire Taylor, Moira Peach, Ruby Varndell, Sasha Kovarik, Azzurra Zappacosta, Angela Lai, Sarah Pickett, Imogen Johnstone, Joyce Zhang, Victoria Grammenos, Jana Mourad, Catherine Kong, Leah Brigham, Ruby Mansergh SIXTH ROW Brooke Bucholtz, Natalie Toomey, Sarah Pearson, Shivani Spencer, Ruby Scott-Wishart, Layla Hare, India Makovec, Lucy Lee, Claudia Bean, Victoria Pachos, Jacqueline Flett, Amelia Jubelin, Amber Johnstone, Georgia Beretov-Millar ABSENT Zara Cathcart, Annabel Twomey, Allura Zhou
WINNERSPRIZE
178 Year 3 Dare to be More: Courage Selina Shan Emily FridaAdoraTuXuYao Dare to be More: Compassion Sofia FedraZaraLatoyaAhamedIeseNicholiasNikolakopoulos Dare to be More: Respect Mariette Karam Megana Pasupati Abira EvelynSananTran Dare to be More: Growth Sophia Correia Sherlyn Lin Qing (Queeny) Guan Magdalena Volikas Outstanding Academic Application Aerin ChloeLaviniaSateniKimShoaibXuZheng Outstanding Academic Achievement Sophia Hall Christa Jeyasingam Maggie Ma Hui (Elina) Yu Outstanding All-Rounder Dora FelicityClaireAshwiniCaiKanesalingamLiangWang Year 4 Dare to be More: Courage Jasmine Chib Gabriela Lim Aurora Sharma Dare to be More: CompassionFrancesca Masters Amara Sivagurunathan Zara Stewart Dare to be More: RespectIvyArabellaDoan Kuo Yan Hei (Rosanna) Tsoi Dare to be More: Growth Olivia AleeyaCailiseBurkeCampbellSharma DAYAWARDEDPRIZEWINNERSPRIZESCHOOLJUNIORWINNERSASAT2021SPEECHFORYEAR3TOYEAR6.
179 Outstanding Academic Application Sophie Hong Kelsey JoumanaPhamReehman Outstanding Academic AchievementChelsea Keomanivong Eloise Wong Anny Xie Outstanding All-RounderEuna Cho Leela Das Anna Poortvliet Year 5 Dare to be More: Courage Amelie Cowling Indigo SofiaNikhitaHannahKumarTzougantos Dare to be More: CompassionKaliyaJasminSurabhiMadeleineEdwards-WareGirgisParabSrisathkurunathan Dare to be More: Respect Audrey Boulton Evie EloiseFergusMartins Do Vale Zara Paterson Dare to be More: Growth Sienna Clark Grace Likely Mara CaydenceNicholsSumantri Outstanding Academic ApplicationGraceLieslAlanaCelesteBarnesOngSilukWong Outstanding Academic AchievementElizabeth Faraj Emma Sugianto Emily Van Der Westhuizen Katherine Woo Outstanding All-Rounder Bridget Cortis-Jones Ingrid Henderson Chloe RachaelLu(Pip) McGuire Year 6 Dare to be More: Courage Jodhi Bou Ellen ChelseaAmrithaMarshallRavichandraSumich Dare to be More: Compassion Sophia Antipas Grace Kuman Priya HannahMohanNorth Dare to be More: RespectLuciaAaliyaKyraLuellaBarrington-HiggsFarahNarangSalim Dare to be More: GrowthCharlotte Latham Eleanor BaylieAngelinaMcKeoughNgShen Outstanding Academic ApplicationNectaria Constanti Sacha Jeyasingam Janice Leong Liana Wai Outstanding Academic AchievementGigiStephanieSophiaGuanHu Keo Cheylene Leung Outstanding All-Rounder Rebecca Ho-Bui Meena Kanthathas Chloe Miller Yue (Elly) Yu Prizes for Excellence Excellence in Music Rose ChloeKoeswandyMiller Excellence in Visual Arts Ingrid Henderson India Rose Mace Excellence in Language Alana Siluk Yue (Elly) Yu Excellence in Personal Development, Health and Physical EducationGeorgia Delis Nikhita Kumar The Grayson Book Prize for Librarianship Melisande Pitman Helen Weymouth (Stephinson) Music Prize Rachael Ming
Leawarra House Captain - Art Elyse Vivash Leawarra House Captain - Environment Joanna Williams
Lulu Thomas Memorial Prize for Citizenship Georgia Delis
Junior School Captain Chloe Lu Junior School Vice-Captain SrisathkurunathanJasmin
for Citizenship The Douglas Finlay Prize
181
Booralee House Captain - Art Kristella Miltiades
Prizes for Leadership Niamh Canadas
Churunga House Captain - Art Evie Fergus Churunga House Captain - Environment Madeleine Girgis
Mooramoora House Captain - Service Sofia Tzouganatos Mooramoora House Captain - Sport Danika Krekacs Mooramoora House Captain - Technology Ada Savage
Leawarra House Captain - Technology Ethelia Cassar Mooramoora House Captain - Art Minna Yates
Servant
Leawarra House Captain - Music Anakha Nalliah
Churunga House Captain - Library Indigo Hannah Churunga House Captain - Music Ingrid Henderson
Booralee House Captain - Service Rachael Ming Booralee House Captain - Sport Claudia Beattie
Leawarra House Captain - Library Tina Guan
Junior School Student Council Prize for Exceptional Service Bridget Cortis-Jones
Leawarra House Captain - Service Matisse Snaidero Leawarra House Captain - Sport Alana Siluk
Booralee House Captain - Library Elizabeth Faraj Booralee House Captain - Music Emma Sugianto
Prizes for Service
Booralee House Captain - Environment Nikhita Kumar
Booralee House Captain - Technology Sienna Clark
Churunga House Captain - Service Surabhi Parab Churunga House Captain - Sport Niamh Canadas Churunga House Captain - TechnologyCaydence Sumantri
Mooramoora House Captain - Environment Christina Messih Mooramoora House Captain - Library Harlow Elsibai Mooramoora House Captain - Music Sierra Rowe
182 Year 7 Achievement Across the Curriculum Stephanie Bombotas Kathleen Chrun Harriet Hahn Eve Ireland Isabelle Millgate Anna Obaid Haegan Sitou Qixuan (Elena) Sun Amelia Tchan Progress and Growth in Learning Elysse Diep Jillian Pidcock Stella Sivyer Emma Sullivan Resilience in Learning Stephanie Bombotas Allegra Chiang Olivia Ebel Jessica Fichera Jemima Hardy Edith Hynes Genevieve Thai Valerie Tran Academic Distinction Ella Hu YEAR 8 Achievement Across the Curriculum Nicole Audi Eve Banyer Amaya Karunakaran Qianyan (Angela) Lai Angelina Le Anisha Miah Nitya Nimalan Sophia Shaikh Eleanor (Uma) Singleton Tasha Wong Progress and Growth in Learning Madura Gaikaiwari Vadeesha Kanagaratnam Amy Lee Amelia McNamara Harriet Scott Resilience in Learning Amelia Armstrong Alina Cui Zoe Likely Sophia Malas Charlotte Priebbenow Anastazia Samad Mac y Tanner-Black Suyi Yin Academic Distinction Maya Al-Soufi Sophia Bucci Sarinna Cai YEARATPRIZEWINNERSPRIZESCHOOLSENIORWINNERSASAWARDED2021SPEECHNIGHTFOR7TOYEAR12.
183 Year 9 Academic Excellence Cara Britton Zara MeilinPoortvliet(Vivian) Qin Anikah Sanan Progress and Growth in Learning Matilda Banfield Vivian Isabella Bariah Khaznadar Esther Kim Hana VishaaliniLee Ravichandra Cara Wu Chinese Catherine Kong AcademicEnglishCommerce(aeq)Excellence Jody Feng FoodDanceTechnology Santina Signorelli MusicDrama Sienna Marriott English (aeq) Esther Kim AcademicFrench Excellence Sarah Furlan Information and Software Technology Kaylie Keogh PersonalJapanese Development, Health and Physical Education (aeq) Academic Excellence Emily Edwards Mathematics 5.2 Giselle Timperi Mathematics 5.3 (aeq) Hermione Campbell Mathematics 5.3 (aeq) Yunqing (Amy) Zhao Personal Development, Health and Physical Education (aeq) Hope Selim Photographic and Digital Media Lucy Vu Physical Activity and Sport Studies Riley Chantler Religious Education Alexandra Walker Visual Arts (aeq) Sally Obaid Visual Arts (aeq) Georgie Roediger Visual Arts (aeq ) Academic Excellence Olivia Chapman Design and Technology GlobalGeographyStudies MathematicsIndonesianHistory Extension Science Outstanding Academic Distinction Moira Peach Year 10 Academic Excellence Zoe NatashaProctorWhitmont Progress and Growth in Learning Kira TamaraYiannaLucyZaraCiaraHodgson-YuHylandKilbornLeeMitropoulosObradovic Commerce Mikaela Sitaramayya AcademicDance Excellence Ruby Newton Design and Technology Jasmine Stavros HistoryDrama (aeq) Anna Xu HistoryEnglish (aeq) Time AcademicTravellersExcellence Selena Read AcademicFrench Excellence Maya Lecuna Food PersonalTechnologyDevelopment, Health and Physical Education (aeq) AcademicScience Excellence Elizabeth Wilkie PersonalMusicGeography(aeq)Development, Health and Physical Education (aeq) Visual AcademicArtsExcellence Claudia Padman Global AcademicStudiesExcellence Isabel McKeough Indonesian Chantelle Wan Information and Software Technology Despina Stamoulos Mathematics 5.3 Cassandra Tong Mathematics 5.2 Progress and Growth in Learning Emma Ung
185 Photographic and Digital Media Milla Newman Physical Activity and Sport Studies Lucy Lee Religious Education Progress and Growth in Learning Yunqi (Victoria) Wan MathematicsChinese Extension Textile Technology The Jennifer Brown Year 10 Prize for Academic Distinction (aeq) Erica Chou Music (aeq) The Jennifer Brown Year 10 Prize for Academic Distinction (aeq) Seetha Nathan Year Prizes11for International Baccalaureate Diploma Chemistry Christyn Cordato Chinese B Samantha Chan Design and Technology Visual Arts Doris Yang Mathematics:Economics Applications and Interpretations HL Physics All-round Academic Excellence Charlotte Trieu ItalianEnglishab initio Music All-round Academic Excellence Sanya Mehta French B History All-round Academic Excellence Natalie Cavallaro Mathematics:Geography Applications and Interpretations SL Lia Al-Soufi Mathematics: Analysis and Approaches HL Weizhi (Vicky) Zhang Japanese ab initio Yanlan (Kerry) Fu Psychology All-round Academic Excellence Grace Selim Theatre Madeleine Lewis All-round Academic Excellence Ayushi Bhujel All-round Academic Excellence Himani Gupta All-round Academic Excellence Meenakshi Nagarajah Business Sport,IndonesianManagementBSLExerciseandHealth Science Runner up to Dux of Year 11 IB Diploma Candidature Tina Papamanuel Mathematics:Biology Analysis and Approaches SL Dux of Year 11 IB Diploma Candidature Laryssa Latt Year Prizes11for Preliminary Higher School Certificate Ancient GeographyEconomicsBusinessHistoryStudies(aeq) All-round Academic Excellence Andie Comino PersonalBiology Development, Health and Physical Education All-round Academic Excellence Layla Hare Chinese Continuers Amelia Bresolin TextilesDance and Design Madison Clemens Design and Technology Industrial Technology Evie Gallagher Drama All-round Academic Excellence Ruby Scott-Wishart English Extension Coco Huang StudiesEntertainmentofReligion II (aeq) Tori Charalambous Food PhysicsTechnology Sienna Strauss Geography MusicMathematics(aeq)Advanced1 All-round Academic Excellence Chelsea Hunt Mathematics Standard All-round Academic Excellence Shivani Spencer Studies of Religion II (aeq) Juliette Beattie Visual Arts Amelia Jubelin All-round Academic Excellence Jacqueline Flett All-round Academic Excellence Sophie Thomas
French186 ModernContinuersHistory All-round Academic Excellence Runner-up to Dux of Year 11 HSC Candidature Sarah Pearson StudiesMusicMathematicsEnglishChemistryAdvancedExtension2ofReligionI All-round Academic Excellence Dux of Year 11 HSC Candidature Jade Di Girolamo Year Prizes12for International Baccalaureate Diploma Mathematics:ChineseChemistryBiologyB Analysis and Approaches HL Christie Ch'ng Business andMathematics:ManagementApplicationsInterpretations All-round Academic Excellence Fiona MacKenzie French B Mikaela Nguyen Geography Annika Lee History Vanessa Ryan Indonesian B Preeyangka Manogaran Japanese ab initio All-round Academic Excellence Yang (Janelle) Jiao Physics Kirsten Dao Visual Arts HL All-round Academic Excellence Amelia Whitmont All-round Academic Excellence Tarindhi Fernando All-round Academic Excellence Gloria Lim All-round Academic Excellence Alyssa Scott MusicEnglishEconomics All-round Academic Excellence Runner-up to The Anne Louise Layman Award for the Dux of IB Xinyue (Cynthia) Hu ItalianDance ab Mathematics:initioAnalysis and Approaches SL Sport,PsychologyExercise and Health Science All-round Academic Excellence The Anne Louise Layman Award for the Dux of IB Montana Cominos Year Prizes12for Higher School Certificate PersonalChemistryBiologyDevelopment, Health and Physical Education All-round Academic Excellence Tahlia Hatzisarantinos Business MathematicsMathematicsStudiesAdvancedExtension 1 Lauren Millar Chinese Continuers Chinese Extension Jennipher Kong Dance Vienna Durie MusicDramaExtension (aeq) All-round Academic Excellence Sofia Carey Economics All-round Academic Excellence Charlotte Jones English Standard Abbey Williams MathematicsEntertainmentStandard 2 Nicola Oddie Geography Dionne Alaveras History ModernExtensionHistory All-round Academic Excellence Lone Bromley Indonesian Continuers Indonesian Extension Natalia Giannakos Mathematics Extension 2 Aarathe Ramraj Music 2 Music Extension (aeq) Science Extension All-round Academic Excellence Ellery Joyce Physics Elise Nikolopoulos Studies of Religion I Kimberly Keogh Studies of Religion II Hayley Kenzler Textiles and Design Amy-Grace Docherty All-round Academic Excellence Anika Grannall
for Visual Arts Helena Panos
187 All-round Academic Excellence Johanna Lafoa'i Design and Technology Visual Arts All-round Academic Excellence Runner-up to The George Lane Prize for Dux of MLC School HSC Candidature Kittu Hoyne Ancient History English Advanced English Extension 1 English Extension 2 French Continuers French Extension All-round Academic Excellence The George Lane Prize for Dux of MLC School HSC Candidature Elsa Tonkinwise Special Awards Junior Athletics Champion Katie See Junior Swimming Champion Florence Jiang Intermediate Athletics Champion Tara Gentle Intermediate Swimming Champion Kaylie Keogh Senior Athletics Champion Kiara Shine Senior Swimming Champion Yunqi (Victoria) Wan Professor Joan Beck Service to Sport Award Riley Chantler
TheHatzisarantinosJenniferCarr Memorial Prize for English Entension Elsa Tonkinwise Connolly Trophy Alaveras Matthew Hindson Composition Award Dao Ross Edwards Trophy Xinyue (Cynthia) Hu J&N Murphy Memorial Prize for Music 2 Australian(aeq)Music Centre Award for Outstanding Work in Composition Grosman Trophy Ellery Joyce J&N Murphy Memorial Prize for Music 2 (aeq) MLC School Blue for Music Sofia Carey Duke of Edinburgh Award Scheme Gold Award Montana Cominos
ElleNatashaAaratheshwaryGloriaTarindhiDaoFernandoLimRamjeevanRamrajSheehyTamvakolos
Tina
The
OGU
Margaret Thomas Memorial Prize for Citizenship Sienna McCormack
(Grant)
2
Science Elizabeth Wilkie
Coco Huang Harvard
The Phyllis E Watt Prize for
The Deer Memorial Prize
Textiles and Design Natalie
Kirsten
Jessie
The Judith Olive Stephen Prize for English Extension Book Prize Papamanuel Hilda Wright Award in Food Technology Sienna Strauss Denise Cole Prize for ScienceChristie Ch'ng and Tahlia
Preliminary
Robyn, Judy and Lyn Woolley Encouragement Award Macy Tanner-Black
Thea Notaras Memorial Prize for Toomey
Aldyth
Meryl
Dr
Dionne
A.N.P Award for Diversity and Inclusion Lim Constantine MedalRound Square Kayla Graham Caltex Best All-Rounder Award Maya Simpson
Thelma Coyne Long Award Prize for SportsmanshipScholarship,andLeadership Ryan
The
The
The
Olive Cotton Prize for Photography Milla Newman
Visual Arts Annabel Twomey Dr Alice Whitley
Joyce Denning Memorial Prize for Tennis Jasmine Balfour Kareen Healey Memorial All-rounder Sports Award Indianna Miller C.R Warne Prize for Sportsmanship and Proficiency in Sport Natalia Giannakos MLC School Blue for Sport Claudine Talbot
The Douglas Prize for Prize for
Leadership Jasmine Stavros
Kirsten
King
Vanessa
Helen Bagley Memorial Medal for Achievement, Generosity and Citizenship Ana Trigg Brown Prize for Leadership Mikaela Nguyen
George
Gloria
188
189
After their outstanding academic achievements, the Class of 2020 returned to school on Thursday 10 February 2021 to celebrate their success at the Assembly for Academic Achievement. The Reverend Dr Charles J. Prescott Medal recognises the graduates with the highest university entrance score (Australian Tertiary Admissions Rank). This medal is named in honour of the founder and first Headmaster of MLC School (1886–1899), Reverend Dr Charles J. Prescott. Reverend Dr Prescott was viewed as a progressive educationalist and was a strong advocate for the education of women and girls.
ACADEMIC
In 2020 there were eight recipients who achieved a perfect ATAR of 99.95: •Ga Man (Karen) Chung (99.95) •Eliza Crossley (99.95) •Annie Gu (99.95) •Ariana Haghighi (99.95) •Charlie Kairaitis (99.95) •Alexia Lorenzato (99.95) •Ruiming (Rainy) Yang (99.95) •Daisy Zheng (99.95) They were recognised at the Assembly for Academic Achievement, along with all other high achievers from the final exams. PERFECT ATAR
Encore (Music) Joy Xu Xu (Marie) Yan Onstage (Drama) Zoe Berg Mia AnnalieseEllenaBurjanHartzenbergKonidaris
ASSEMBLY FOR 2020 ACHIEVEMENTS
190
Nominations in the Creative and Performing Arts Students in the creative and performing arts areas of Music, Drama, Visual Arts and Design and Technology are acknowledged in the Higher School Certificate examination process by being nominated for inclusion in a variety of public shows and exhibitions. Nominations
Shape (Design and Technology) Amelie EvaEveSamanthaBeatriceComanDrakeNaayenTelemachouWright Texstyle (Textiles) Amelie Coman Eva Wright Selected Onstage (Drama) Grace PhillippaJohnMachin
Callback (Dance) Sofia AnnalieseCostaKonidaris
191 Excellence in Academic Achievement for Subject An Excellence in Academic Achievement Award for Subject is given to those students who achieved the top Band (Higher School Certificate Band 6 or International Baccalaureate Diploma Programme Band 7), and came first in the MLC School cohort after the final examinations. Higher School Certificate Ancient ModernMathematicsEnglishChemistryHistoryAdvancedAdvancedHistory Charlie Kairaitis ScienceBiology Extension Veronica Abal Business PersonalGeographyStudiesDevelopment, Health and Physical Education Ella Woolbank Dance Sofia Costa Design and Technology Samantha Naayen StudiesIndonesianDramaofReligion 2 Samara Tucker Economics Anika Lammers English Extension 1 Mathematics Standard Jessica Macmaster English Extension 2 Sarah Healey English Extension 2 Hazel Sung Entertainment (Aeq.) Emma Suster Entertainment (Aeq.) Sarah Moller Food MathematicsTechnologyExtension 2 Olivia Papasavvas French Continuers Jessica Song History Extension Zoe Berg Japanese Beginners Joy Zhang Mathematics Extension 1Eugenie Tan Visual Arts Eva Wright Music 1 Chanel Boudib Music 2 Music Extension Xu (Marie) Yan Studies of Religion 1 Lillian Dummett Textiles and Design Amelie Coman
192 International Baccalaureate Diploma Programme Biology Ruby Guminski Business Management Emily Eker Business Management Theory of Knowledge Alexia Lorenzato Chemistry Anica Shen Chinese MathematicsEconomicsB HL Ruiming (Rainy) Yang Dance Maddison Fisher English Literature PsychologyHistory Ariana Haghighi English Literature Annie Chen JapaneseFrench ab initio Physics Eden Cheng Geography Amelie Roediger History Eliza Crossley Indonesian MathematicsSLSL Cherie Pepperell Italian ab initio Anabelle Truong Mathematical Studies Jessica Kim Mathematical Studies Ella Tsaousidis Music Maya Felice Sports, Exercise and Health Science Alyssa Scott Theatre Annie Gu Theory of Knowledge Halle Yang Visual Arts Madeleine Oxley ASSEMBLY FOR 2020 ACADEMIC ACHIEVEMENTS
193 Excellence in Academic Achievement for University Entrance An Excellence in Academic Achievement Award is given to those girls who achieved an Australian Tertiary Admissions Rank of 98 or more in the Higher School Certificate or International Baccalaureate Diploma Programme.* * The above list may not be a full representation of these achievements. MLC School is reliant on the Year 12 2020 cohort to provide their ATAR result or other information. Details are not made public or provided to the School. In some instances, the UniScore has been used as the ATAR was not available. Chloe Azzam Uma AnastasiaMaddisonMayaEmilyKatherineNoelleElizaTiarnaGaEdenAnnieGabrielleBarrettCadenaChenChengMan(Karen)ChungCominosCrossleyDavisDuEkerFeliceFisherGiannakakos Annie Gu Ruby EmmaChiaraParisHollyAlexiaIsabelVivianNicoleCharlieMahumZoeArianaGuminskiHaghighiHannamJahanKairaitisKubicaLawLeungLorenzatoMillerMitropoulosMooreOxley Olivia AlyssarDaisyHalleRuimingNatalieSamaraAnabelleIsabelleAnicaJasminAmelieCheriePapasavvasPepperellRoedigerSelimShenTangTruongTuckerWong(Rainy)YangYangZhengZogheib
195 SCHOOL ROLL Pre-Kindergarten Syra CharlotteAdvaniGrace Alshehabi Aisha Ashour Ariela VictoriaBarakatAlessandra Bongiorno Petrice Aspasia Cassar Jingya Chen Lauren IsabelleElizabethEggersFengGeorgia Galilee Zoe Zhouyu Huang Leah Wanqing Ji Alana AmeliaAmeliaJinLibdyGrace Lim Annabelle Jolie Ling Grace Ruisi Luo Yinuo Lyu Erika Ni Vicki Nikolakopoulos Emily Mary Obaid Maryam Asiya Refai Isabel AlexandraSelimJuliette Southwood Shuchang Sui Aleemah Trad Hannah Yihan Wang Jiatong Yan Lavinia Yeh Laura Jiayi Yin Celine Ykmour Olivia Zixiao Zhang Kindergarten Eva Shanti Bangia Myer Josephine Boulton Isabella Youchen Castillo Sun Leila JasminSoniaMarinaAuroraChalakChauChenChungHe-Jing Ganda Angela Ge Hillary JacquelineGu Khanh Linh Ha Shruti Hasanat Yvonne Josephine Henderson Riven Hazel Jay Marie Kristallis Tara Kuhan Leah Rose Le Olivia SammiAimeeLiLiXiao Mi Liang Yisa Liang Emi CassandraSelinaLiuLo Ava Mackiewicz Natasha Daneiris Ying Lyn OliviaMcGuireGrace Ngo Jinnuo TahraColetteNieObaidSrikanthi Peries Chloe-Marie Robic Edith JingxuanMilaEmilyMadeleineDelaneyNinaEvelynVuAlyssaAnoukChloeAylaShuyuanAmeliaMayaAidaAnaishaSavageSharmaSidhomSrisathkurunathanRubyStilloneSuiKenzieSumantriTangSitaraThorleyAnnaTrinhGiaLinhTruongJiYingTsangVarkasWiednerWongHauYeeWongYuanZhong Year 1 Xiaoni Bai Zoe Louise Baker Mila Barakat Alev Munise Brennan Henrietta Elspeth Britton Laura Chang Moyi OliviaChenCaitlyn Cheng Mariangel Corrales Solano Caitlin Julia Eadie Angelina Thalia Galilee Le Chan Gui Miranda Ho Chuchu Huang Amelia Grace Ko Hayley Jordyn Lam Caitlyn Yuet Yiu Law Amelia CharlotteLeeAnne Lim Leah Mackenzie Maidment Avni LeonieSiennaSkyeVaaniNarangNarangNguyenNguyenThanhDoan Nguyen Peita AmandaCaitlynYuxinAnushkaaAviannaLeannaAnayaIsabellaEloiseNikolakopoulosMengmengQiuSophiaRoccaSharmaLiwenShenTaniosThadaniDoraWengCheukLamWongDevonZhang Year 2 Scarlet Mae Akers Kiara Assassa Macy Anne Bellew Annika Bou Lara VictoriaByrnesCarmela Cassar Elissa Yasmin Chami Irene Chau Elana EloiseKyraniCatherineChrunCooreyCountourisClaraMinu Dastyari Sienna Rose Dib Poppy Matilda Frederick Hannah Verity Girgis Niamh Gorman Joyce Yunuo Guan Daisy Yezi Han Audrey Yvette Henderson Elizabeth Diana Katsiaris Horvath Chloe Kayee Huang Eve Olivia Hutchison Nia Immanuel Yue Jesselle Jiao Mia MishikaJin Kapadia Sienna Khouzame Mia Jinghan Li Grace Liang Averie Jane Ling Aaliyah Liu Nikoda Grace May Qaylah Mohamed Jolyn Jean Nassif Genevieve Nguyen Shantelle Nguyen Vera Olivia Papaluca Avery Punitham Satchcroft Tara KexinKatherineCamelliaAnnabellaVivienneGiseleVictoriaGeorgieRubyEstellaBaileyLilyClaraOliviaGeorgiaSiddharthSioutasEleanorSmithMarieSouthwoodSugiantoTongTranTzouganatosVarkasXuyiWaiWayongHuixinWoonXiangYuyouYaoZhaiZhang Year 3 Sofia Rose Ahamed Taylor Bakir Gaia Grace Bigolin Halimah Sayyeda Bokhari Annaliese Evie Bott Dora Yiru Cai Sofia Callegaro
Kristy196 Che Elly Yunxi Chen Queena Chen Sophia Rose Correia Manjima HayleyEvelynAngelaAliciaSateniSelinaStellaAbiraJingQuynhMeganaValentinaCaitlinFedraZaraVivienneLeonaElleYasminMaggieHelenSherlynJessicaAnnaMiaClaireEllaDaphneAerinMarietteAshwiniAnaahatChristaLatoyaAlexandraFaithAmandaCharlotteSophiaQingPeiyanChelseyShilohZoeEdwards-WareKamoraCassandraDutta-GuptaAnnEadieGeorginaRoseGraceFotoulisGaoGaoGaoGuanElizabethHallAvaHingGraceHoulthamHuynhHuynhTuvaluIeseAnneJeyasingamKaurKahlonClareKanesalingamFaithKaramKimL'EstrangeKateLeLiangAnnaLicenblatMarieLieuJadeLimLinLiuYuyuanMaMaidmentMonteleoneNadarajahNguyenClareNicholiasMariaNikolakopoulosMaryO'SheaCristinaPalazzoloMayaPasupatiAnhPhamWenQiuSananScottXiaoXuanShanShoaibChelleYenSuenThornTranDuyenLinhTrinh Bao Vy Truong Emily MagdalenaTu Anne Volikas Felicity Wang Olivia Wang Angie Xiang Freda Zhuo Yan Xie Adora Chen Xu Arianna Chenxuan Xu Lavinia Luoyi Xu Frida Xingyu Yao Lydia Ye Hui ChloeYuIsabella Zheng Zoe Kong Zlamal Year 4 Layla EvangelineLexieAlanaAbdelrahimBakirBellewDiana Black Olivia Jane Burke Imogen Norma Bush Cailise ScarlettLarissaThuySallySiennaJayaFrancescaJennyGabrielaElisaAveryArabellaChelseaJananiAlishaScarlettIsabellaSophieBethanyVitaRaquelCathySophiaIvyLeelaAnastasiaOliviaLuciaEunaJasmineCampbellChibChoCaterinaCicinelliMaeConnollySavannaCountourisDasDoanMadisonDuYuXinGeGillJuneCaruanaGohilHaddadYongXinHongHorvathAnhInnesJi-LeeLakshmiKanthathasJKeomanivongSarahKuoLeeLiStefiLimLinHopeMastersArliyaMehtaMunozNguyenBichPhamPhuongYenPhamPhuongAnhPham Anna Rose Poortvliet Chloe Elizabeth Ruth Price Joumana Zahra Reehman Eva Alessandra Rocca Aurora Devi Sharma Aleeya Sharma Olive Rose Simmons Amara Sivagurunathan Zara ImogenStewartTaylor Sutton Giselle Tanios Chloe Tiong Yan Hei Rosanna Tsoi Eloise Sophia Wong Angelyn Xiang Anny FrancesXieYi Wen Xie Kaitlyn Wenmiao Yang Jocelyn CharlotteYaoJi San Yiu Ella Rose Zraika Year 5 Layla IvyHayleyAlishaAveryHannahLeelaAmelieAnastasiaBridgetOliviaSiennaLuciaEunaJasmineEtheliaNiamhCailiseImogenOliviaZoeAvaAudreyEvangelineAryaLexieClaudiaGraceAlanaAdelaideTamaraAbdelrahimAbdelrahimElizabethAkersBakirClaireBarnesAnnabelBeattieBellewBentonDianaBlackBoultonGraceBrownSophiaBrownJaneBurkeNormaBushCampbellCanadasJaneCassarChibChoCaterinaCicinelliClarkMaeConnollyMaryCortis-JonesSavannaCountourisRoseCowlingDasBronwynEllaDastyariDauphineeDhaliwalDinhDoan Sophia Madison Du Matilda Cate Dugan Kaliya Faye Edwards-Ware Stephanie Grace El'Atrache Harlow MadeleineRaquelEvieElizabethElsibaiFarajFergusGillGrace Girgis Evelyn Lillie Gogos Vita June Caruana Gohil Katherine Macy Goldring Tina RomaSiennaRachaelKristellaChristinaJayaRachaelMayaFrancescaEloiseChloeTaylorJennyYikKatelynGabrielaGraceElisaIslaAveryArabellaNikhitaMeganDanikaEmmaChelseaJananiSuaEmmaAmeliaAlishaIrisStellaScarlettAngelinaSybillaIsabellaSophieIngridIndigoBethanyGuanHaddadBeatrixHannahEleanorHendersonYongXinHongHorvathJudithHowesChengziHuangAnhInnesInthavongYutongJiJi-LeeRoseKaluzaSophiaKanaanKangLakshmiKanthathasJKeomanivongRoseKoeswandyAmelieKrekacsCynSanKuitKumarSarahKuoLeeHoiKiLeungLiWinifredLikelyStefiLimElizabethLimKiLinLinEdenLuLuMartinsdoValeHopeMastersAveryMcBrienIridianYingKayMcGuireArliyaMehtaMessihMiltiadesAmeliaMingMunozNadubeedi
197 Anakha Lily Nalliah Sally MaraYunqiNguyenNiMary-Catherine Nichols Celeste Eng Mei Lila Ong Megan Ouyang Jessica Pan Milla Grace Papaluca Surabhi Parab Zara Lily Paterson Thuy Bich Pham Phuong Linh Pham Scarlett Phuong Anh Pham Melisande Susan Pitman Catia Linda Placanica Anna Rose Poortvliet Chloe Elizabeth Ruth Price Elizabeth Ann Ravens Joumana Zahra Reehman Eva Alessandra Rocca Sierra Jasmin Rowe Julia Saad Ada Kimberley Sue Savage Jade CharlotteMinnaJocelynKaitlynFrancesAnnyAngelynKatherineEloiseLieslJoannaJacquelineElyseRithikaEmilySofiaYanGiselleImogenCaydenceEmmaZaraJasminJiaruiMatisseAmaraOliveAlanaAleeyaAuroraScott-RogersDeviSharmaSharmaJadeSilukRoseSimmonsSivagurunathanRenataSnaideroSongSrisathkurunathanStewartSugiantoMischaSumantriTaylorSuttonTaniosHeiRosannaTsoiTzouganatosAnnaVanDerWesthuizenVinothMeiLiVivashWangElpinkiWilliamsLingYeeWongSophiaWongWooXiangXieYiWenXieWenmiaoYangYaoValerieYatesJiSanYiu Rima Xiaoshang Zhang Tsz Ham Grace Zhao Ella Rose Zraika Year 6 Sophia Michelle Antipas Lucia Barrington-Higgs Ilaria Lilian Blanco Jodhi QianyuBouOlinda Cao Chelsea Yuan Chen Carina SoYan Chu Mia Elizabeth Coady Sophie Louise Connolly Nectaria Constanti Alyssa Corbett Lu Jin TinJaniceVioletChloeCharlotteGraceAmeliaAnukruthiAveryStephanieNicolaMeenaSubinAvnikaGurnaazDiarMarayah-KaiNiamhSachaLolaDefneSophiaCharlaRebeccaHarrietAnikaGuanEleniEllenCharlotteIsabelleLuellaAmyAlaskaYolandaJiaqiGeorgiaCuiDelisDingDolenacRoseDurieLouiseFallickDianaFarahLeesForsterEloiseFrithHolmGadsbyGiannacopoulosGigiGuanGuptaRoseHattonNgocTramHo-BuiMadisonHowardZhenzhuoHuIsikliRoseJablonskiElizabethJeyasingamSophieJohnsonJohnsonClaytonKabahaKaurKahlonReddyKandalaKangKanthathasJacquiRebeccaKeastKeoSusieKohKondagunturiKroehnertAnnabelleKumanLouiseLathamJosephineLayAnnabellaLeJingXuanLeongWingCheyleneLeung Ophelia Li Rose EleanorLinEkaterina Stoddart AaliyaAlluraYueAliceSophieAngelinaMikaylaImogenStellaImogenLianaLilyZainaAliceRoseYasmineChelseaAlessandraRiyaBaylieAashiAaliyaSummerGeorginaMiaAmrithaStephanieJadeHellenHannahLamOliviaAngelinaKyraIsabellaHollyPriyaChloeAngelinaEleanorEllenIndiaNaoiseLongcroftLynn-BlackRoseMaceJoanMarshallMcKeoughMijakovacBelleMillerMohanCharlotteMooreMunozNarangWingYanNgNguyenBaoNguyenCateNorthOuPashosKongmunPhongPriyaRavichandraCharlotteRiceRowlesIsabelRyanSalimShahPeilinShenSinghSpinaLouiseSumichYaMinTeohTurnerGracevanderStelVermaMarieRobbVujcicHelenWaiCamilleWalkerVittoriaWallaceWongHuijingWoonXuSlYeYouYuZhouZhou Year 7 Tilly Marianne Ackland Layla KatrinaZoeJulinarAlameddineAlshehabiAndrewsAthanasiou Gabriella Ayad Rebecca Louise Beaton Genevieve Sarah Beattie Rhiti Bhatta Zoe StephanieBigg Victoria Bombotas Leah Parish Brigham Tessa Anne Britton Allegra Rose Carlini Maalika Chalak Phoebe Wei Ting Chee Ching Huen Chiang Allegra Chiang Layelle Chmeisse Sienna Georgia Christodoulou Kathleen Chrun Lily ChevonneClemensTeal Collins Isabella Correia Abby Jade Coxsedge Ashley Quane Denton Elysse SiennaDiepSusan Dodd Jaslina Kha Uy Duong Emily Karyn Duong Olivia Claire Ebel Kiara PolixeniElghitanyAlexia Eliades Serena Farley Grace Madeleine Hope Farrow Jessica Jo Fichera Hannah Lucy French Isabel Ava Garner Hazel Gohil Lulu Aminah Habibullah Harriet Hanna Hahn Jemima Mae Hardy Rumi MaxineHarizMizuki Hawkins Elizabeth Mary Lee Hazlewood Clementine Amelia Hendriks Phoebe Hoang Indiana EvelynKrystalSienaEveAaliyahJuahEdithMirandaEllaAngeliqueHodgkinsonAnaisHoulthamHuMayHudsonHelenHynesHyunMeleseiniIeseCharlotteIrelandIsobelJuryKarahontzitisKerr
Eliza198 Kershaw MacDonald Markella Mira Krekacs Bianca Krsnik Chloe AmaliaKypreosCarmela Labraga Sarah Charlotte Lawrie Emily Leung Ellie Li Jiayi StephyLi Liang Ella Yunjia Ma Umaiza Mahfuz Kushla OliviaQixuanEmmaMariaStellaAnishaHaeganHannahKatieCarinaScarlettAryanaDinaAvaAvaSaskiaSaraJillianMadelynGeorgiaEveXinyiLeylimCamilleAnnaSalliaLinhMayNhaTinaIsabelleGauriInezSashaErinIsabelleChloeSeraphineCamilleGiulianaMcCaulClaraMcCluskey-VoigtMcLucasOliviaMcNamaraMessihMillgateClaireMuirAnneMurraySabineMurrayNathanSuzanneNgNguyenViNguyenQuynhThaiNguyenPhuongNguyenNguyenMariaObaidMinaEngXuanOngOzerPangParkerVictoriaPasasVictoriaPhuPidcockPlacanicaLilyRobertsRoinsSaadSaeedSahSarrisSavocaJaneSeeMaryShortusMeiSitouSivagurunathanSivyerAngelicaStamoulosJaneSullivanSunCharlizeSun-Ryan Claire JemimaAmalEmilyIsabellaTracyJoyceYihanPhoebeJuliaLaurelleJessieZhengTessZeSophieChloeJordanLaylaElenaIvanaValerieIsabellaTheaGenevieveAmeliaTaylorMeiTchanThaiTownleyGraceTownsendTranTsaloukasThereseTullochVanVoYilinWangLouiseKa-LynWinnallYanCelesteWongLucindaWrightYanXiaXuGiWeiYimZarlengaEllaZeinZhangZhangZhouZhouZhouHanaZogheibZoud Year 8 Maya ChloeAlinaLucyChristinaErinTiffanyRiyaHannahOliviaSarahAlexiaSarinnaAbigailSophiaKristinaMishaLaraMyfanwyEveHannahEllaNicoleAleezaAmeliaAl-SoufiRoseArmstrongAsifAudiRoseBakerBanksJacquelineBanyerEmmaBarrettBazziMaheswaryBehiBitarBucciTrehearneBushCaiCarisioCaterinaCarmodySusanCassellChessellChibZhiEngChongClowesCoffeyCoxsedgeYujingCuiEsteeCurtis Cassia Davies Emily Davis Zyah De Araujo Zara ChristinaDhawanMaria Di Giandomenico Isabella Rose Dodd Shipsey Ruby Lola Jayne Durant Emily Peic Nai Ea Kirriana Isabella Edwards-Ware Ava Marie Farah Jasmine Philippa Fordyce Natalia TikaYinzhiJossieClaireHanIsabellaGiovannaZoeYnezShineAmyClaireAngelinaImogenAngieQianyanPamelaHayoungSameeraAmayaVadeeshaMiaJessicaChristineTahliaTaschaMadinaLucindaLilianaKaitlynChloeHalleFeliciaMayaMichaelaSophiaHarrietEloiseMariroseZoeMaduraGadelrabbGaikaiwariGaoVictoriaGiannRubyGirardGohilGraveRoseGreenGuptaHannahKalindaHissHo-ShonHoangClairHollandsMargaretHutchinsAdamandiaIoakimidisCamilleIrelandJefferyJinHilaryAnneJohnsonInderMaurJohnstonKanagaratnamKarunakaranAriaKhatriKimKotsisLaiLanSophiaLangellaLeLeeLeeLiangSofiaLiauwWinifredLikelySoniaLimMoniqueLiuZhangLiuLiuLiuChristyLuoElizabethMacMaster Hoang Minh Thu Mai Willow Spencer Mair Sophia Malas Ruby Margot Mansergh Gabriella Zoe Matthews Amelia Eileen McNamara Anisha Miah Anita Anusuya Mohanan Elora AnnalieseMadeleineTashaLucindaGabrielleEloiseRebeccaOliviaKhushiiEllaZazAmreenCaitlinSeraphimaMacyAnnaAnikaAieshaEleanorMarniLilyEladieSophiaMariyahHarrietAnastaziaRianneTianaPhoebeTyraNiaLanaMiriamCharlotteSarahEmilyWhitneyCharlotteEvieAshleyNityaNghiTrinitySarinaNadarajahKaurNagraDieuAnhNguyenPhuongNguyenSuvedaTaaraNimalanAnnPagewoodPapamanuelZoePennyPhamKongyanPhongBessiePickettRosePriebbenowLilliceGaudryPullingerRadwanMeifangRichardsLeeRileyAmilliaRizoskiJadeRobinsonSaabRenateMarySamadAnnieScottSfarjalaniShaikhMaySimmondsGraceSimmonsIsabellaRoseSimringSudhaUmaSingletonLakshmiSivaranjanSpringfordMatildaSulanAnneTanner-BlackTebbuttTetley-SuttonKaurThindTiglaoGraceVanDenBorneVarmaCharlotteWalkerMaiYueWangCharlotteWardKateWilkieClaireWinlawKeeannWongWoodYan
199 Zahra Nora Yassine Suyi MaralYinZaree Shojaee Olivia Hazel Zein Justine Mingzhi Zhang Angelina Zhang Chloe IsabellaZhangYunxuan Zhao Year 9 Vanessa Van Gia An Saalbhinii Aravinthan Chloe Anisha Arnold Edie Grace Baker Matilda Lyn Banfield Isabel Rose Baudille Isabella Paula Bednaic Alena Anne Frances Belunek Samantha Brady Cara Nell Britton Elisabeth Vanessa Bubalo Hermione Campbell Riley Olivia Chantler Olivia Chapman Keyi ChingChenYee Chiang Cleo Harriet Clark Zara Amelia Charlize Coates Amelia Jayne Comley Zara Gaye Constance Chiara Corbett Amelia Marina Cosmidis Siena Pamela Cribb Sofia MadelineEmmaVictoriaOliviaAmeliaNicoleIsabellaSarahFionaJodyAlannahEmilyMeganIvanaDakotaLucyDanielleAvaVeronikaCvetkovskiMajaCzerniawskiGraceDeanDibDicksonLeeDoddDolenacLeighEbelClaireIliffeEdwardsExarhosFengYuanFangFengAnnaFurlanGadelrabbGiannacopoulosElizabethGlastonburyGouganovskiVasilikiGrammenosGuermanoffPriyaHaller Rose Georgia Halliday Lily Grace Hatton Savannah Rose Lee Hazlewood Bailey MeilinZaraSavannahFionaMoiraSophiaSallyAmandineKeiraAlexandraAmeliaNguyenVanessaJanaKateRubyMagdaleneCiaraScarlettPietaSiennaElla-SiennaJoyceZaraChoiMatisseIsabelleDaisyAileenHanaGiselaAnnabelleIsabellaSashaTaaraCatherineEstherBariahKaylieTulasiMiraImogenFlorenceZoeVivianChloeAngelinaLucindaHentzeEveHowlettHuHuiFrancesIsabellaJamesonXyJiangRoseJohnstoneKalraKananiKeoghKhaznadarKimKongMalviaKotibhaskarLilyKovarikKristallisYeeLumLaMargotLabragaLeeLeongYingTongLiLinMulveneyLiuYingChloeLukLuongMaiGraceMarriottRoseMayneLilyMcCormackRoseMcMillanPhoenixMcNamaraJenniferMiddletonMiltiadesErinMitchellAnnaMorfootMouradQuynhPhuongThaiMaeNortonNotarasO'ConnorSofiaO'ConnellLockeObaidRosaPavlovicMaryArthurPeachPhamPhengsavathPoortvlietQin Jenaan VishaaliniRajaniMaya Ravichandra Georgie Lee Roediger Tiana Roins Lily Caitlin Rutherford Anikah Calista-GraceSanan Savva Isla May Saxena Kayli YunqingAzzurraCaraGraceJessicaAlexandraPersephoneLucyRubyEveBellaMiaMarahHaileyKirstenAvaGiselleGeorgiaRubyLaraSerayaKaliMadisonJaidenSantinaYiDivyaHopeSophiaScottSefeinSelimSharmaShanShiSignorelliVictoriaSinozicElizabethSnowdenSpringfordSrikumarStojkovicIcinTanTerzisCamiliaTimperiLaurenTongMyHanTranTruongTryphonPortiaTsaousidisAlexandraLaviniaUpcroftVantasVaruniVarndellMinhTuVuWahltuchEvaWalkerJingJunWangKathrynWilliamsRuoLinWuZappacostaZhao Year 10 Sara ZaaraZaraHarrietBrookeIvySylieSiennaSahasraHannahLauraDaliaHoneyAkbariAlexander-ErberAlsaadElizabethAndrikisMaeBakerBandiRoseBarrettBhatElizabethBrasherOliviaBucholtzChristanCampbellCathcartChalak Hannah Thanh-Hue Olivia Chau Madhavi Chauhan Erica Hannah Shiou-Ting Chou Alannah Christodoulou Isabella Poppy Clark Anika Lakshmi Cuganesan Katerina Cvetkovski Keiralyn Dao Jade Michelina Davis Anna AlexandraElenaIlariaLucindaSamanthaZaraLieselAmishaLauraHannahSofiaMimiAmberChloeTaotaoDahliaKyraSofiaCiaraMadeleineZoeCharlizeKiraSophiaZahliPoppySarahMaieeLaylaJennisaLeMiaAimeeElizabethMiaTaraRiaChantelleBayannMiaJanaRomyAadhyaDevlinDhanpalMyaDobbieEdreesPatriciaEkerElsawiFaragSimoneFaragGentleGerbinoGiannacopoulosGoodridgeGrasso-NguyenYanGuiHaHamdanHannaHaranHardySarahHarrisRebeccaHendriksHodgson-YuHoskingHowesPenelopeHutchensHylandIezziRheaIoakimidisIssmailJiangJingAlannahJohnstoneSophiaJonesCharlotteJuryKangMaryKardasisKhatriJoymariePolceKidleyJuliaPressickKilbornLeeKingKingKorompayKotsisLasovski
Abigail200 Latham Emma Rochelle Lawrie Maya Marie Lecuna Lucy CheYing Gaudry Lee Georgina Silvia Lim Julia Lin Lok Helena Lu India Grace Makovec Elisha Mary Matthews Isabel FrancescaYiannaStephanieKirstenMcKeoughMcLellandMegalliMitropoulosRoseGlenys Morrison Lilli-Rose Nasr Seetha AriaTaliaMaiaJasmineDespinaIsabellaAnaisMikaelaDakotaPascaleMahiClaudiaAlexandraGraceYijiaJanaIvySelenaMeeraDwarakaGemmaZoeElsaClaireLucyFreyaAmberJorjaXinClaudiaAmandaTamaraAthenaNhaRubyMillaSanjanaNathanNatkunamanickamEvelynNewmanNewtonNhuNguyenNikolakopoulosObradovicOuAliceSusanPadmanYunPangPapantoniouArachiParkPattersonAdaPattersonLi-JunPepperellGracePickeringProctorQiuRaguparanRawalReadLynRossRoySangScanlonScherfElizabethScottKinnarShahZianiSimingtonSinozicMareeSitaramayyaSiuAnnSmithMaryStamoulosStavrosRuthLenoreSullivanMelisSunaZdenkaSwan Radhika Talekar Ella JessieMartineCaitlinArabellaLanAnnaJenniferJennyJennaAlexiaJasmineElizabethNatashaSophiaEmilyIsabellaNicholeMindaChantelleYunqiEllaLilyAlexandraLaraIsobelleClaireEmmaAnnabelTaliaEstherCassandraTessaAdaMaritaTanner-BlackTawadrousSophiaTetley-SuttonEmilyTomkinsXiaoRuTongRuthTonkinwiseTsaloukasMariaTwomeyUngElizabethvanderStelVandenhoekImogenVarolChristinaVarvarigosWalkerCharlotteWaltersWanWanWangYusiWangYeeunWangMayWardWestbrookGraceWhitmontJoyWilkieWolfeMarieWoodKateWrightWuXieXuYangMaeZeederbergTheadoraZeilingaElizabethZeilingaYijiaZheng Year 11 Mounica Akula Lia OliviaAl-SoufiRose BriarSophiaAmeliaZoeAyushiSophieJulietteAnnabelleJasmineLokTiaSarah-BronteAlden-HallitAndrikisFotiniAthanassiouYeeAuEilidhBalfourLouiseBanfieldSimoneBeattieBeraldoBhujelElizabethBraseAvaBresolinMadeleineCairnsRaeCampbell Natalie Katherine Cavallaro Lok Yung Chan Amelia Zoe Chan Isabella Chapman Tori ClaudiaSophiaSarahNikkiAmeliaZoeZoeMiaChelseaCocoJiYangNataliaSophiaCaitlinLaylaMaeveEdaHimaniSashaTaraMariaAnnaJuliaAshminiEvieYanlanJacquelineKaitlynDarahPandoraTrinityArmitaLilyEloiseZizhuoJadeCosetteChloeChristynAnnaAndieOliviaMadisonZoeAndieSophieZoeAnnadingCharalambousChenOliviaChurchillAliceCiesielskiCateClarkLillyClarkClemensElizabethClowesKaylaCominoConstantinidisKallistaCordatoCorreiaSianCromerDiGirolamoDingDrakeMayDunnallenDutta-GuptaGhaylaElghitanyEliadesElsawiFlanaganMarieFlettFuBoGallagherGaneshLaurenGoughGraceGoughGourlasGrassoConnollyGreenGuptaHallerAnneHallidayRoseHareJaneHartnettCressidaHeydeTamwynHollandsHuHuangGraceHuntJamesonElizabethJohnsonInderMaurJohnstonElizabethKiddJubelinMichelleJuffermansMarieKanaanKangSamKritzler Erykah Ann Lakkis Laryssa Pascale Latt Madeleine Anne Lewis Hayley Ma Emma Scarlette Mahant Zunairah SophieAnanyaRenaeTiaYungMarissaCharlotteBrianaNatalieSophieSoinaJessieLaraClaudineAnnaMiaSiennaEriniKristyShivaniRubyGauriAryaGraceRubyDylanSaraiAlexandraCourtneySophieCharlotteSarahRaejaTinaHelenaVictoriaMollyEmmaMeenakshiGeorgiaKirstenIndiannaTianaSanyaCharlotteKatrinaMahibhanaMahfuzMahinthanDeniseMarquardingGraceMcCroryMehtaMichasMillerLouiseMollerMouscasSashaNagarajahThao-UyenNguyenRoseNorthVasilikiPachosAlexandraPanosPapamanuelEkateriniPashosMayPearsonPhillipsHayesReidJadeRobertsKailieRobinsonAlexandraRollasonMadeleineRoseHarrietScott-WishartSelimRadhaSharmaSharmaSmithRoseSpencerSpyrakisStavroulakisStraussKeziahSumichRoseSundquistJaneTalbotTalebTangKaurThindRoseThomasReneeToomeyMyTamTranAnneTrieuTsaousidisHeiJoannaTsoiBelleVanDenBorneConstanceVarvarisSachinWakhareClareWalker
201 Maggie WeizhiDorisHayaPenelopeSenMeiSophieLolaBrittanyCameranWangWarnerJadeWarnerHelenaEvelynWhittakerAlexandraWilsonYanSophiaWongSenXieYacoumatosYahiaYangZhang Year 12 Stephanie Abdennour Isabella Al-horani Dionne Alaveras Lily TarindhiNancyToniLucyViennaAmy-GraceEvelynKirstenGracelynFreyaEmmaMontanaLiliaIsabellaOliviaHarrietEmmaAnnieParisCharissaChristieClaudiaSarahArrielleSofiaLoneThanhTiffanyGeorgiaKylieClaudiaSarvaniAnnabelleLianaKaylaTe'jhaanAlexiouAltiok-BrownKristenAndreopoulosReneeAngellLilyBaileyBalaBeanMarieBecvarovskiBeretov-MillarBoungotoWengLoanBrardFotisBromleyEleniCareyCarisioAnneCarvolthLouiseCataniaCh'ngChatnantawejNuoChenChenLucyJessieChristieClarkOdileCodevelleRayeCollinsJayneComanCominosCorcoranMaryD'MelloDiepDaoTaylaDaoDoanDochertyElizabethDurieKateEdwardsEliadesFarajFernando Sunisa Jasmine Ferraby Jasmin ElleryCharlotteYangAnjaliLeilaniCharlotteClaireXinyueKittuHollyEmilyTahliaNataliaAnikaKaylaNataliaSamridhiFitchGargGiannakosMareeGrahamGrannallGrbicHatzisarantinosHengMadisonHerdenHoyneCynthiaHuLarissaHuddyHuynhKirrillyInnesSiriJayanthiJiaoOliviaJonesMareeTownsend Joyce Amara Emma Kalcev Ria RachelKapoorIrena Grace Kardasis Hayley Michelle Kenzler Kimberly AvaAleezahJohannaInezAliceJennipherKeoghKongKreisZoeKritzlerSofiaLafoa'iJaneLapitanChe-HueiGaudry Lee Annika Sunja Lee Isabella Grace Gui Zhen Lee Olivia Sofia Leighton Gloria Sophia Lim Kayley Alexandra Macgonigal Fiona Josephine Robertson CassidyMacKenzieBelle Maher Preeyangka Manogaran Marissa Matthews Piper Angelina McCowan Georgia Melhem Lauren Millar Tara Sabine Mulholland Phoebe Alexandra Mullins Sophia Marie Murphy Neethika Naidu Mikaela Minh Phuong Nguyen Audrey Phuong Anh Nguyen Elise Marie Nikolopoulos Miranda Cameron Norton Nicola Charlotte Oddie Tianka Susy Parapuram Jessie Phelps Eloise Michellie Proctor Ishwary Ramjeevan Aarathe Ramraj Roisin Norah Redmond Vanessa Therese Ryan Sabine Joy Saad Lily Isabella Scanlon Alyssa NatashaScottRose Sheehy Kiara Elizabeth Shine Phillipa Signorelli Maya Reena Audrey Kaur JaneSimpsonBoramy So Gemma Sorial Maria Isabella Stamateris Maddisen Strauss Katelyn Grace Sutherland Elle ZaraKellyMariamGeorgiaHannahAbbeyAmeliaEmmaDiVanessaSelmaSamanthaAnaAngelaElsaEvaJocelynOliviaTamvakolosTanevskiTingJaneTkoczTonkinwiseTranTrangSofiaTriggTsakalos-StewartUlutasVlachWangKateWebbEdenWhitmontWilliamsMaryWilliamsBrookeWyattImanYassineZhangLilyZuccolotto
MLC SCHOOL LIMITED A UNITING CHURCH DAY SCHOOL FOR GIRLS, PRE-KINDERGARTEN TO YEAR 12 Rowley Street, Burwood NSW 2134 Australia PO Box 643 Burwood 1805 Ph +61 2 9747 1266 Fax +61 2 9745 CRICOSABNenquiries@mlcsyd.nsw.edu.au325484645102325No.02328D mlcsyd.nsw.edu.au