GASLIGHT GROUP PROPERTIES NORTHERN MICHIGAN REAL ESTATE gaslightgp.com
ON THE
Don't sleep on a Little Traverse Bay sunrise! We spend so much time focused on the westerly facing sunsets this area is renowned for and it's easy to forget that we have vistas in every direction. With locations in Petoskey and now in Harbor Springs, we have 21 agents ready to be your expert for all things Northern Michigan. Our agents care not only about their clients, but about our region and the Northern Michigan community. Real estate is not just negotiating deals. It's weaving people into the community seamlessly, and when it's time to exit, bringing home that investment to the satisfaction of a seller. That's who we are and that's what we do. We look forward to working together and proving it to you again and again.
2 | gaslightgp.com
TABLE OF CONTENTS 04 MEET OUR TEAM 06 OUR LOCATIONS 07 SUMMER 2023 EVENTS 08 RESIDENTIAL LISTINGS 32 LAND LISTINGS 48 COMMERCIAL LISTINGS 50 NORTHERN MICHIGAN DAY TRIPS 54 Community Feature: RISING HOPE EQUESTRIAN CENTER 64 VACATION RENTALS COVER GASLIGHT GROUP PROPERTIES NORTHERN MICHIGAN REAL ESTATE gaslightgp.com 03 A NOTE FROM OUR OWNERS
Front Cover Photo by: Wave Break Media Back Cover Photo by: Cam Braddock
It is our pleasure to present the Gaslight Group Properties and Vacation Properties of Northern Michigan 2023 Property Guide. As we approach the peak of the summer season, we would like to take this opportunity to reflect on the year so far and offer some insights into the current state of the real estate market.
For our group, first and foremost, we are happy to announce we have added a second location for our sales team in downtown Harbor Springs at 152 E. Main Street to better serve existing and future clients. Although the office is new, the professionals based there are far from it. This location was built around 5 seasoned agents with a combined 124 years of experience in the Harbor Springs real estate market and beyond. It's an exciting expansion for us and we look forward to seeing you on Main Street in one of the most preeminent resort towns in the world, Harbor Springs.
On the real estate sales side of our business, the market has remained fluid; however, at the time of this publication the number of closed transactions within our coverage area is down a whopping 44% from last year, but the price per unit sold is up nearly 17% in 2023. Fewer transactions at higher prices spell good news for sellers, but the summer market traditionally brings a rush of inventory and we expect these percentages to push closer together as the year continues.
Our vacation rental business, VPNM, has been busy adding intriguing properties to our portfolio through the first half of 2023—expanding our coverage area from south of Charlevoix on Lake Michigan, Walloon Lake, Boyne Mountain, Boyne Highlands, Harbor Springs, Petoskey, through the Inland Waterway, and up through northern Emmet County. All of these rentals can be found in the back section of this publication and can be booked on our website: www.vpnomi.com. Traditionally these properties book pretty far in advance, and why wouldn't they?
Northern Michigan is a premier vacation destination for all four seasons, and we continue to perfect our comprehensive management program, benefitting both owners and guests, to make your journey to our part of the country one to remember!
We are proud to report that Gaslight Group Properties has continued to be a leader in the industry and in our communities with our dedicated team of 24 professionals consistently delivering expertise to the buying, selling, and short-term renting process. We are constantly evolving and innovating to ensure that we remain at the forefront of the industry and that our clients benefit from the latest tools, technology, and trends. But that's not the only thing we do. Of course, we are your investment forecasters and contract negotiators, and our 'client-first mentality' delivers proven results year in and year out when it comes to marketing homes for sellers and vacation rental owners and securing the best deals for purchasers and tenants. But what else are we? We like to think of ourselves as ambassadors of all things Northern Michigan and beyond. Experts in zoning issues, school systems, hiking trails, beaches, ski hills, community resources, dive bars, and pizza places—you name it, we've probably experienced it. That's what we bring to the table. Local knowledge to help immerse you into our community yearround, on weekends, or seasonally. To help convey this, some of our team members have shared their experiences throughout this guide. Take a look at a few great day trips we've experienced from this local area and go see for yourself. You won't be disappointed!
Thank you to our clients and partners for their continued support, we look forward to working with you in the coming months and beyond. Now get out and enjoy the natural beauty that Northern Michigan provides—it's what we are known for and the reason we all live and work here. See you out there.
Michael "Mac" McCarthy Danielle Smith Pete Platte
gaslightgp.com | 3 A NOTE FROM OUR OWNERS
4 | gaslightgp.com Petoskey Office 231.347.7300 | 215 Howard Street DANIELLE SMITH Owner/Broker/Rental Manager c. 517.256.5856 danielle@gaslightgp.com MICHAEL "MAC" McCARTHY Owner/Broker c. 231.838.7700 mac@gaslightgp.com PETE PLATTE Owner/Broker c. 231.838.0935 pete@gaslightgp.com Two companies. One team of experts. Harbor Springs Office 231.242.4942 | 152 E. Main Street gaslightgp gaslightgroupproperties
CAM BRADDOCK Realtor c. 231.330.9819 cam@gaslightgp.com
NANCY McFADDEN Realtor c. 231.838.4501 nancy@gaslightgp.com
JANE FISHER Realtor c. 231.409.8060 jane@gaslightgp.com
ABBY BADGLEY Realtor c. 231.373.0828 abby@gaslightgp.com
SAM DeCAMP Associate Broker c. 231.838.4213 sam@gaslightgp.com
ANNA DeCAMP Realtor c. 231.373.2625 anna@gaslightgp.com
JACQUELLINE GARBORG Marketing & Operations Manager o. 231.347.7300 jacquelline@gaslightgp.com
DANIELLE BOYD Realtor c. 231.373.3904 danielleboydrealtor@gmail.com
DEENA WOODS Realtor c. 231.758.2599 deena@gaslightgp.com
JILL COOK Realtor c. 517.317.7616 jill@gaslightgp.com
HAILEY CAMERON Administrative Assistant o. 231.347.7300 hailey@gaslightgp.com
MICHAEL BEDELLS Realtor c. 231.838.1600 mbedells@gaslightgp.com
JACK CARTER Realtor c. 231.881.5006 jack@gaslightgp.com
TOM MARGHERITA Realtor c. 231.373.8283 tom@gaslightgp.com
CHRISTY BERRY Realtor c. 214.693.1600 christy@gaslightgp.com
PENNY McCREADY Realtor c. 231.590.2760 penny@gaslightgp.com
KRISTIN KEISWETTER CLARK Realtor c. 517.582.1580 kristin@gaslightgp.com
BROOKE WOODHAM Realtor c. 312.493.7349 brooke@gaslightgp.com
ANDERS McCARTHY Broker's Assistant c. 231.881.7177 anders@gaslightgp.com
gaslightgp.com | 5
Gaslight Group Properties opened a Petoskey office in 2012, where they continue to operate alongside their vacation rental affiliate company, Vacation Properties of Northern Michigan. This year, GGP Harbor Springs opened to better serve our NoMI community. Our team of knowledgeable and experienced real estate agents specialize in representing all of Northern Michigan with honesty, integrity, and a "put the client first" mentality. Call our office to see how we can help you reach your real estate goals!
6 | gaslightgp.com Locations
Petoskey Office 231.347.7300 | 215 Howard Street Harbor Springs Office 231.242.4942 | 152 E. Main Street
GASLIGHT GROUP PROPERTIES
JUNE
2 The Big Show Over the Little Village (Fireworks)
3-4 4th of July Celebration (Fireworks 7/3, Parade 7/4)
4 4th of July Celebration (Parade & Fireworks)
7-8 20th Annual Boyne Thunder Poker Run
7-9 Blissfest Music Festival
8 Emmet County's Summer Craft Show
8-9 54th Annual Art & Craft Show
JULY AUGUST
Summer Summer EVENTS EVENTS
RECURRING
SEPTEMBER
Car Show 28-29 Sidewalk
15 37th Annual Art in the Park 15-23 Venetian Festival 20 Food Truck Rally 21-22 Shay Days 22-23 23rd Annual Bay Harbor Arts Festival 23 Cruise-In
Sales 28-30 62nd Annual Ugotta Regatta
9-18 Lilac Festival
24-25 24th Annual Summer Art Show
27 Night of the Arts Gallery Walk
29 Blessing of the Fleet
5 Walloon Woodies & Classic Car Show
12-13 Rally
the
Market 18-19 Sidewalk Sales 25-27 Fudge Festival 22-23 Balloons Over Bay Harbor 22-24 Festival of the Book 30 Harvest Festival
10 Annual Car Festival (Zorn Park) 12 Waterfront Art Fair
by
Bay Auto Show & Flea
Harbor
Boyne City Charlevoix Walloon Lake Mackinac Island Bay Harbor
Petoskey
Springs
Wednesdays Farmers Market
Thursdays Street Musique Farmers Market Fridays Farmers Market Stroll the Streets Saturdays Farmers Market
Fall Festival
2023 2023 gaslightgp.com | 7
OCTOBER 7 Annual
13-15 44th Annual Apple Festival
2727 BESTER ROAD
A first time offering, Black Forest Farm was constructed as a private equestrian estate and has remained under the same ownership for nearly 50 years. A mere two miles from the waterfront and amenities of Harbor Springs, Black Forest Farm is comprised of approximately forty-five acres, a four-bedroom main residence, two-bedroom carriage house, and a nine-stall barn. This is a truly unique offering in the Harbor Springs area. The main residence and carriage house were constructed by one of the area's premier custom builders in 2001, and the property has remained under their care. Amenities of the main house include primary suites on both the first and second floors, custom kitchen, formal dining room, library, billiards room and bar overlooking Little Traverse Bay, fireplaces, elevator, and a two-car attached garage. The carriage house includes two en-suite bedrooms, covered porch, caterer's kitchen, and a four-car heated garage. Both feature several outdoor seating areas perfect for evenings spent looking out at the bay or the surrounding woodlands. The land itself consists of longstanding pines and hardwoods, beautiful pastures, and unmatched privacy. The fenced private drive winds for over a quarter-mile beyond the picturesque barn and paddocks before arriving at the main residence and carriage house. Black Forest Farm is an idyllic private estate on the outskirts of one of Michigan's most beloved waterfront towns.
MLS 470973 | $3,450,000 | Andrew Bowman
8 | gaslightgp.com HARBOR SPRINGS HOMES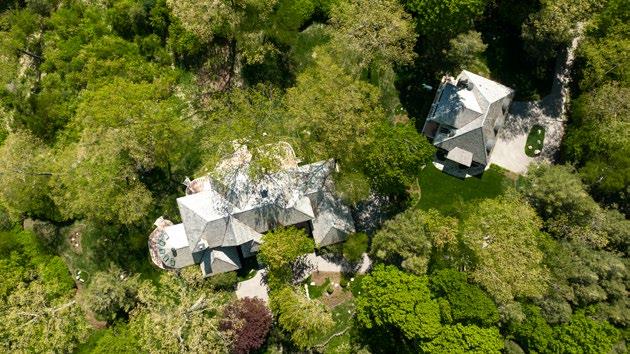 gaslightgp.com | 9 HARBOR SPRINGS
406 W. THIRD STREET
Offered fully furnished! This delightful home offers a serene and idyllic setting, perfect for those seeking a peaceful retreat or a year-round residence. As you step inside, you are greeted by a warm and inviting atmosphere. The open-concept design seamlessly blends the living, dining, and kitchen areas, creating a spacious and versatile living space. Natural light floods through the large windows, illuminating the tastefully appointed interiors. The kitchen boasts modern appliances, ample counter space, and stylish cabinetry. It is the perfect place to unleash your culinary creativity and entertain guests with ease. The dining area provides an intimate space for gatherings and shared meals. The residence features three cozy bedrooms, each providing a tranquil sanctuary for rest and relaxation. The master suite offers a private oasis with its en-suite bathroom, ensuring utmost comfort and privacy. Outside, a professionally landscaped yard provides a peaceful escape and a place to enjoy Michigan's beautiful seasons. You'll have easy access to downtown, where charming shops, delicious restaurants, and local amenities await. Additionally, the nearby natural wonders of Northern Michigan, including stunning beaches and picturesque hiking trails, offer endless opportunities for outdoor adventures. With its impeccable charm, inviting interiors, and desirable location, this home is a true gem in the heart of Harbor Springs!
MLS TBD | $1,250,000
| Sam DeCamp & Anna DeCamp
10 | gaslightgp.com HARBOR SPRINGS
HOMES
2360 COLUMBIA POINT #56
Custom built by Cesario Builders in Northern Michigan's premier private golf community, True North, this architecturally designed 4 bedroom, 3.5 bath home is under construction. The timber lodge themed design offers a casual comfort incorporating high ceilings, exposed beams, loads of natural light overlooking the pond, and is a short cart ride to the club house. True North is a private club on a peaceful 320 acres with limited membership. Purchase of this exceptional home qualifies the owner to apply for membership and bypass the waiting list.
MLS 470942 | $2,100,000 | Sam DeCamp &
gaslightgp.com | 11 HARBOR SPRINGS
Anna DeCamp
1034 BIRCHCREST COURT
Welcome to Birchwood Farms, where tranquility meets luxury living. Nestled in the serene woods at the end of a peaceful cul-de-sac, this stunning 4-bedroom, 3 and a half bath home awaits you. This residence offers spaciousness and elegance in equal measure, providing the perfect retreat from the outside world. As you approach the home, you'll appreciate its idyllic location, surrounded by nature and enveloped in privacy. Step inside, and you'll be greeted by breathtaking views and an abundance of windows that flood the home with natural light. The kitchen and family area seamlessly flow together, allowing for easy interaction and effortless entertaining. Imagine preparing meals in the well-appointed kitchen, complete with modern appliances, ample storage space, and a convenient island. Adjacent to the kitchen, the family area provides a cozy space for relaxation and gatherings. This room is perfect for creating lasting memories with family and friends. The main floor also features the primary suite and a secondary bedroom. The spacious primary suite is a private oasis, offering a luxurious en-suite bathroom with modern fixtures and a walk-in closet. The secondary bedroom provides versatility, allowing for various uses. Upstairs, you'll discover a fantastic game room and the lower level of the home is perfect for accommodating guests or extended family. Outside, the home continues to impress with its luscious backyard.
12 | gaslightgp.com HARBOR SPRINGS HOMES
MLS 471076 | $597,900 | Christy Berry
SERVING NORTHERN MICHIGAN • 231.347.9062 • KINGINSAGENCY.COM • MAIL@KINGINSAGENCY.COM Contact us to review your homeowners policy today. Do you carry enough insurance on your home?
7755 TAMARAC TRAIL
Well-maintained 3 bedroom, 3 bathroom home, used seasonally, that backs up to a park in a great family neighborhood, Tamarac Trails! This location is close to town, the Harbor Springs market, and Harbor Springs schools. Walk in on the lower level where you can find the third bedroom and en-suite bath, laundry room, and the door to the garage. Upstairs opens to cathedral ceilings, 10 feet at their peak, and a bright, open concept main living space. The kitchen has a peninsula with space for seating, a brand-new dishwasher, and a newer oven/range. The living room has a gas stove for cozy winter nights and a slider out to the back deck and yard, which showcases beautiful ferns in the summer. Down the hall off the living room is the other guest bedroom, guest bath, and the primary suite, which has a walk-in closet and en-suite. The property backs up to the shared Tamarac Trails Park, a rich forest that will not be developed. The home would be great for a family, seasonal use, or a short-term rental!
MLS 470317 | $459,000 | Sam DeCamp & Anna DeCamp
14 | gaslightgp.com HARBOR SPRINGS
HOMES
133 MISHE-MOKWA DRIVE
Turn-key home with bright south-facing views of beautiful Round Lake on a quiet street that gives you shared water access in an ideal location between Petoskey and Harbor Springs. Association dues are $0 per year for this gem, which is currently being used as a lucrative short-term rental. This smart and convenient floor plan offers a main floor primary suite, main floor laundry, and two adorable upstairs bedrooms connected by a Jack and Jill bathroom. All bedrooms have huge walk-in closets, and this place is full of recent updates, including a high efficiency furnace, sump pump, windows, doors, flooring, paint, appliances, countertops, A/C, new hardware, and much more. It comes equipped with all furnishings, accessories, flatware, stemware, pots and pans, art, and even the new gas grill is yours. All of this with nearby access to the Little Traverse Wheelway and a short jaunt to the Petoskey State Park, The Highlands, Nub's Nob, the Inland Waterway, and a wide variety of shopping and dining options. Close to everything, yet low township taxes.
MLS 470729 | $448,000 | Michael "Mac" McCarthy
gaslightgp.com | 15 HARBOR SPRINGS
604 BAY STREET
Looking for a stunning home in one of Michigan's most desirable locations? Look no further than this fabulous six bedroom, three and a half bath property in Petoskey! With luxurious finishes, spacious living areas, and breathtaking views of the bay, this is the perfect place to call home. Step inside and you'll be greeted by an open and airy living space that's perfect for entertaining. The gourmet kitchen features top-of-the-line appliances, custom cabinetry, and an oversized island that's perfect for cooking and dining. Adjacent to the kitchen, you'll find a cozy den, dining room, and living room with a fireplace and large windows that offer plenty of natural light and stunning views of the bay. Upstairs, the primary suite is a true oasis with a spa-like bathroom and walk-in closet. Two additional bedrooms, one with a private balcony overlooking the water and a full bathroom, complete the second floor. Outside, you'll find a beautifully landscaped yard with plenty of space for outdoor activities and entertaining. Enjoy the stunning views from the large deck, or take a stroll down to the water's edge and enjoy all that Petoskey has to offer. Don't miss your chance to own this incredible home in one of Michigan's most sought-after locations!
MLS 471111 | $1,790,000
| Jane Fisher
16 | gaslightgp.com PETOSKEY HOMES
gaslightgp.com | 17 PETOSKEY
917 GROVE STREET
Nestled in the heart of Petoskey is this custom-built masterpiece. This home showcases builder upgrades and high-end finishes throughout, including main floor ten-foot coffered ceilings, quarter sawn oak floors, artisan-crafted iron and oak shelving, aluminum clad wood windows, among many others. Situated on nearly a 200-feet-deep lot, it includes a heated 28' x 32' accessory building with a giant 10' x 18' door, providing an abundance of space for storage. The grassy yard is irrigated and fully fenced for privacy to enjoy the gas field stone firepit set amidst a custom hardscape patio just off the deck. The interior spans across three thoughtfully designed floors. The main floor has a seamless flow between rooms which include an office, dining area, open living room, kitchen with walk-in pantry, the primary suite with a walk-in closet and en-suite bath, the entry from the attached garage, and a powder room. Upstairs are three bedrooms, two baths, and a laundry room, while the lower level includes a game room, family room, fourth full bath, and a fifth bedroom. This home is as practical as it is stylish, with upgraded energy efficient appliances, state-of-the-art HVAC, and multiple zoned utilities to ensure optimal efficiency. Shining as a beacon of modern living inside the city limits, the replication cost would exceed the asking price, an exceptional value in today's market!
MLS 471009 | $1,215,000 | Michael "Mac" McCarthy
& Kristin Keiswetter Clark
18 | gaslightgp.com PETOSKEY HOMES
gaslightgp.com | 19 PETOSKEY
120 E. LAKE STREET
This newly renovated tri-plex is a multi-family opportunity. In the heart of downtown, no better location is out there! Outstanding views paired with the best location makes this desirable listing one that will sell quickly. There are three beautifully appointed units. The first floor is a two bedroom, two bath, with an open floor plan. Our second unit is a three bedroom, three bath with an open floor plan and a very unique front and center turret room, a lovely place to read a book and enjoy the view. While the third unit is a one bedroom, one bath unit, it has the beautiful views we all desire in this lovely area we call home. So much opportunity for the investor or homeowner who wants to live in one unit and rent out the other two, and so much opportunity for the lucky few that get to live near the marina and walk to downtown Petoskey for dinner! Beards Brewery is a hop, skip, and a jump home!
20 | gaslightgp.com PETOSKEY HOMES
MLS 469818 | $1,450,000 | Jane Fisher
gaslightgp.com | 21 PETOSKEY
956 HOTCHKISS CIRCLE
Beautiful home with majestic views of Little Traverse Bay. Walkout basement is ready for you to finish with room for 2 more bedrooms, 2 baths, a theater room, and outdoor kitchen. Main floor thoughtfully planned out with an expansive deck for entertaining. If you've been wanting to build but don't want to wait, this home has much of the work completed and just needs your finishing touches! Come check out this spectacular home and make it your own!
MLS 470867 | $980,000 | Jill Cook
22 | gaslightgp.com PETOSKEY HOMES
1115 E. MITCHELL STREET
Ease, ease, ease! That is exactly what this turn-key, meticulous 3 bedroom, 1 bath home in downtown Petoskey represents. Situated at the top of Mitchell Street and the Gaslight District, this little blue wonder comes ready for the next owner. By ready, we mean everything. New furnace, central air, hot water heater, windows, roof, appliances....all new. Being offered turn-key means fully furnished, linens in the closet, dishes in the cabinets, pots and pans ready to make your morning breakfast and head out on your daily adventures. The work has been tastefully done on this home, offering the opportunity to move to town with nothing more than your suitcase and a dream of ease and "up north" living.
gaslightgp.com | 23
PETOSKEY
MLS 470890 | $369,000 | Abby Badgley
324 GROVE STREET
Recently remodeled home in the heart of Petoskey's bustling downtown market. With a full remodel in 2018, views of Little Traverse Bay, 3 bedrooms, 2.5 baths, and a charming porch to watch the world go by, this home is sure to impress! Hardwood floors, a main floor primary suite, and additional half bath on the main level make this a great home for yearround and seasonal visitors alike. Reimagined with integrity by the previous owner, not many properties in Petoskey have been done to this standard while maintaining its "Petoskey charm." A private backyard is accessible via Rush Street, providing off-street parking. The carriage garage, used for storage, is ideal for all the seasonal toys Northwest Michigan requires. A quick stroll from your front door has you at Petoskey's famed Gaslight District in just a few minutes. Summer is here and so is your opportunity to own an updated, efficient home in our lovely area.
24 | gaslightgp.com PETOSKEY HOMES
MLS 471069 | $599,000 | Pete Platte
320 JACKSON STREET
Large home in-town Petoskey. With such a hot market and selling season in Northwest Michigan just taking off, you won't want to wait to see this well-located, sized, and cared for home. Near the Bear River Walkway, the hospital, and the famed Gaslight District of Petoskey, finding a home at this price point can be challenging, and here is your opportunity to do so with plenty of space for your loved ones. A large addition put on the home in the early 90s serves the property well, with ample bedrooms, bathrooms, and garage space that would have even the biggest car enthusiast drooling. Enter from Jackson Street to a charming classic Petoskey home, including a fireplace, open kitchen, and second floor bedrooms, or come in the back via the alley way through your large garage and entrance area for more space to enjoy. A large primary bedroom, beautiful natural light, and lots of room allows for the next owner to put their own touches on the home. Northwest Michigan and the Petoskey area is a fast-moving market, and this one is sure to impress. Location, size, garage, and well cared for—don't wait to schedule your personal tour!
gaslightgp.com | 25
PETOSKEY
MLS 471006 | $449,000 | Pete Platte
1117 E. MITCHELL
STREET
Great condominium alternative with no association dues and very little upkeep with a one-car garage and within walking distance to town and several Petoskey schools. This cute little bungalow is in an ideal location for a small family, young professionals, or someone looking for a weekend or retirement home in our vibrant waterfront town. Inside this charming downtown gem you will find coved ceilings, classic wood flooring, two main floor bedrooms, an upstairs bedroom, plus a kids area. There is a full basement for storage and a large kitchen with a small dining area. Homes in this part of town come to market infrequently and even less frequently at this price point. Call today for a private tour.
PETOSKEY HOMES
Visit pontiusflowers.com 592 E. Main St., Harbor Springs Contact 231-526-9690 pontiusflowers@gmail.com AVAILABLE YEAR-ROUND for WEDDINGS AND EVENTS Celebrating 100 1923-2023Years
5021 COOK AVENUE
Situated in Conway between the public beach and the bike path sits this darling and newly renovated home. An extra large yard with additional garage makes this an even more inviting home. This charming house is the perfect place for anyone in search of peace, tranquility, and easy access to the outdoors. Inside, the home is filled with natural light, creating a warm and inviting atmosphere. The spacious living room features large windows with stunning views of the surrounding landscape. The kitchen and dining area are perfect for hosting family dinners or entertaining guests, and they open to the living room for a wonderful floor plan. The home's two bedrooms are generously sized and feature ample closet space and large windows that flood the rooms with natural light. The two bathrooms are both tastefully designed as well as newly renovated. Outside, the property is a true oasis. The large yard is perfect for outdoor activities and gatherings, while the artesian well, just steps away, provides fresh and clean water for all your household needs. There is also a small peek of Crooked Lake! Whether you're looking for a peaceful retreat or a home that's close to all the action, this property is the perfect choice. Don't miss out on this incredible opportunity to own a piece of paradise.
MLS 470926 | $329,000 | Jane Fisher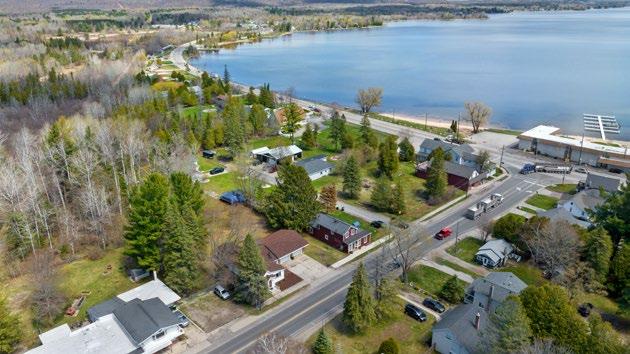 28 | gaslightgp.com CONWAY HOMES
12711 NEW NATURES AVENUE
This recently renovated home is move-in ready so you can go out and enjoy summer! New carpet, paint, lighting, and updated kitchen and bathrooms. The home has 4 bedrooms, 2 full baths, partial basement, 2-car oversized garage, pole building, and shed on just over 2 acres. The property has a lot of potential and room to make it a great place to hangout, garden, and relax in front of a bonfire. Great location within walking distance to the Sturgeon River, town, and parks. So much to enjoy such as fishing, kayaking, snowmobiling, skiing, and all the amenities that Northern Michigan has to offer! It would make a great family home or up north getaway! Call today and schedule your personal tour!
gaslightgp.com | 29 WOLVERINE
MLS 470733 | $249,000 | Nancy McFadden & Pete Platte
2467 ANNEX ROAD
This beautiful and timeless home in the historical district of Hubbard's Annex to the National Park on Mackinac Island, is on private land, situated on a corner lot with two sides abutting state land. Custom built in 2012, all the modern conveniences are in place, offering ease of living with little-to-no maintenance or updating being required. Three bedrooms and three and a half baths ensure plenty of space for family and friends. The modern kitchen and open floor plan are hard to find on this unique island. This home offers all of that and more. Laundry room, fireplace, high-end finishes, and selling with the furnishings. There is also a full basement with tall ceilings for extra living space and a lot of storage. The backyard patio is a huge hit on a cool evening with the firepit in place for evening chats and parties where you can enjoy the tranquility of Mackinac. The Annex is a special area on Mackinac Island, just up and behind the Grand Hotel, providing the peace of being in the woods with the benefits of proximity to town. An easy walk from downtown or the airport, yet secluded and quiet! This home offers year-round living opportunities that are rare amongst the historic cottages in the Annex, allowing you to experience the all the unique seasons of Mackinac.
MLS 470757 | $1,999,000
| Jane Fisher
30 | gaslightgp.com MACKINAC ISLAND
HOMES
gaslightgp.com | 31 MACKINAC ISLAND
COUNTRYSIDE LANE LOTS
Package price for the 12 remaining lots at Rolling Meadows Preserve. Ready to build, spacious lots in a dynamic location known by locals as "The Golden Triangle," due to its convenient proximity to the growing resort towns of Charlevoix, Petoskey, and Boyne City. Located in the Petoskey School District at the border of Charlevoix and Emmet counties, property owners here have an abundance of work and entertainment options, being no more than 15 minutes from each community. Add to this the fact that the community is situated on land that splits two of the most storied and beautiful inland lakes Northern Michigan has to offer, Walloon Lake and Lake Charlevoix, and you are formulating a great foundation for investment. Throw in Truestream high-speed Internet, 27 acres of association greenspace, exposure in all directions, and other fine homes, and you have the recipe for success in a housing market that is in desperate need of new construction. Each lot is listed individually for a higher amount, or this price takes them all.
MLS 467605 | $239,900 | Michael "Mac" McCarthy
32 | gaslightgp.com
PETOSKEY LAND
4712 KEATON LANE
Perfect location to build your dream home just outside of Petoskey's city limits! This .52 acre lot is close to lakes, wineries, golf, and restaurants. Great neighborhood with paved roads in a country setting. Located in Bear Creek Township, so lower taxes and also lower HOAs.
MLS 469240 | $40,900 | Deena Woods
4812 KEATON LANE
Build your dream home only minutes from downtown Petoskey in this quiet, countryside neighborhood. Paved roads. Wooded lot at rear, so plenty of privacy as well. Close to all the amenities Petoskey has to offer!
MLS 469239 | $39,100 | Deena Woods
34 | gaslightgp.com PETOSKEY
LAND
5539 BASSWOOD LANE
Don't miss your chance at owning one of the few available lots to build your home in the gorgeous neighborhood of Oaks of Walloon. This is a great opportunity to build your dream home among its magnificent tree-lined streets. Take a look at this desirable 1-acre lot located in a cul-de-sac that assures privacy. The serene, peaceful setting will be the perfect location for your home. Walloon Lake public access is only one mile away, plus acres of conservancy land with trails for nature lovers. Only a few miles from Petoskey. This is a must-see!
MLS 468616 | $46,500 | Deena Woods
TBD ASH COURT UNIT 10
One of the last building parcels in Oaks of Walloon. The Oaks is a well-established association with beautiful homes and a lot of trails to enjoy with conservancy land nearby. This 1.1-acre wooded lot has public access to Walloon Lake only a mile away. Close to Petoskey. If you are looking for a private, quiet neighborhood to build your home, this is an opportunity you don't want to pass up.
MLS 468615 | $48,500 | Deena Woods
gaslightgp.com | 35 PETOSKEY
LOT 9 GRAND RIDGE DRIVE
Beautiful and lightly treed, this lot is a great location for your new home. The Grand Ridge association is close to Petoskey and offers a private entrance with lighted streets and a walking trail. There is abundant space to build on this corner lot. If you are looking for an area close to town that offers peace and quiet, this is the lot for you.
MLS 468618 | $70,000 | Deena Woods
1010 GRAND RIDGE DRIVE
Looking for the perfect location to build your dream home? Then here it is! This 1-acre lot located in the beautiful Grand Ridge development, is a couple of miles from downtown Petoskey. Private entrance with pond, walking trail, and lighted private streets all contribute to a setting of serenity and solitude. Wooded lot on the corner, so ample space to build. Lower township taxes are another plus. This is an opportunity you don't want to pass up.
MLS 468617 | $71,000 | Deena Woods
36 | gaslightgp.com PETOSKEY
LAND
588 HARBOR VIEW LANE
Are you ready to build your dream home close to Petoskey? Look no further than this 1.47 acre lot in the beautiful Harbor View Hills neighborhood! Take a look at this hilltop property with expansive views of a beautiful countryside. Visualize yourself living on over an acre with serenity and nature to surround you. Buildable area up front and semi-wooded in the back. Plenty of privacy as this lot abuts a common area of the association. Minutes from downtown Petoskey and lower township taxes!
MLS 468529 | $78,000 | Deena Woods
1325 KIERAN COURT
Wonderful building site in the city limits of Petoskey on a sizable 167' x 73' lot. Directly across the street from North Central Michigan College and its publicly accessible trails. A short walk to Petoskey's famed Gaslight District, unique shops and restaurants, and area schools.
MLS 470891 | $59,000 | Pete Platte
gaslightgp.com | 37 PETOSKEY
5 BUCKAROO TRAIL
An open meadow building lot with countryside views on a quiet cul-de-sac. The lot is just under an acre with mainly flat and open terrain. The Horseshoe Meadows development is located close to Petoskey, Boyne City, and Charlevoix. Recently Truestream was brought to the area. Township taxes and low HOAs makes this a great place to call home.
MLS 469975 | $29,000 | Nancy McFadden
TBD GREG ROAD
Situated on a high traffic count road, this nine-acre parcel is the perfect opportunity to build just the next greatest business that Petoskey has been waiting for. Serene rolling land with Walloon Lake views, with a lot of area and room to expand. The inroad and parking pad have already been defined. In the heart of family farms and vineyards, this is the perfect place to situate your own special business. Take a drive by and see the vision!
MLS 468378 | $199,000 | Jane Fisher
38 | gaslightgp.com PETOSKEY
LAND
1110 CHARLEVOIX AVENUE
Prime US-31 commercial building site on the southwest side of Petoskey, adjacent to the newly expanded McLaren Northern Michigan campus. Ideally suited for medical use, but could work for a lot of different applications as the site may possibly fit a two-story 8,000 square foot building. This first class location has great south-facing exposure on US-31 South with ample parking in an area between Petoskey and Bay Harbor that is growing! Call today for more information.
Hi-Fi Cocktails + Music
PETOSKEY
MLS 470508 | $449,900 | Michael "Mac" McCarthy
316
E. Mitchell Street, Petoskey OPENING SOON!
BROKEN RIDGE LOTS
Conveniently located close to Petoskey and Harbor Springs, Broken Ridge offers lots with amazing lake views and others with mixed hardwoods and country views. Amenities include paved roads, underground utilities, and natural gas, along with access to the Little Traverse Wheelway at the association entrance. Close to local beaches, golf, and skiing. Whether you intend on building your vacation home or a year-round residence, this location will suit any need.
Starting at $79,900 | Michael
Bedells
40 | gaslightgp.com HARBOR SPRINGS LAND
Site Map
BROKEN RIDGE
BROKEN RIDGE EAST
gaslightgp.com | 41
HARBOR SPRINGS
PARCEL 3 GLENN DRIVE
Just beyond the quaint shops and restaurants of Harbor Springs, follow Glenn Drive past historic Harbor Point, and meander along the quiet wooded lane. There you will discover this lakefront parcel offering the nearly impossible to find combination of sunsets, sandy lake bottom, and proximity to downtown. Offering over 100' of frontage on Lake Michigan with a beautiful southwesterly exposure providing incredible views beginning in Little Traverse Bay and extending to the horizon over nothing but water. Enjoy the freedom to design and build a home unencumbered by the architectural controls of an association, and with a builder of your choosing. Please inquire for details, and do not miss the chance to reside in one of Northern Michigan's most sought after areas. Price is for the parcel only and does not include new construction. The private drive, newly completed seawall, and all major site preparations are in place.
HARBOR SPRINGS LAND 42 | gaslightgp.com
MLS 458223 | $1,750,000 | Andrew Bowman
6129 WINTERGREEN DRIVE #50
Harbor Springs ski-in/ski-out building site at Nub's Nob. Hamlet Village Mountain Side is designed so that you can put your skis on at your house, ski down to the grey or black lift, then get off the orange lift and ski back home. The wooded setting and required architectural-style promote a wonderful Northern Michigan home design. Build the home of your dreams to enjoy winter and summer. Ownership in Hamlet Village Mountain Side includes use of the Hamlet Club indoor pool.
MLS 470233 | $44,000 | Sam DeCamp & Anna
3879 DOUGLAS COURT
Located just outside the city limits, Evergreen Ridge provides easy access. Walk or ride to stores or the downtown area! Build your home in a neighborhood of newer homes and mostly year-round owners. This is a wonderful lot in a great location!
MLS 470438 | $69,900 | Sam DeCamp & Anna DeCamp
HARBOR SPRINGS
gaslightgp.com | 43
DeCamp
1358 ANDOVER CLUB DRIVE #6
A true ski-in/ski-out lot in the Andover Club on the north peak of The Highlands of Harbor Springs. This is a great place for your cottage or year-round residence. Perfect layout for a walkout basement with terrace living and privacy. The Highlands also offers CCB membership, 4 resort golf courses and a par 3 course, zip lining, horseback riding, dining, and other resort amenities and owner perks.
MLS 470999 | $109,900 | Michael Bedells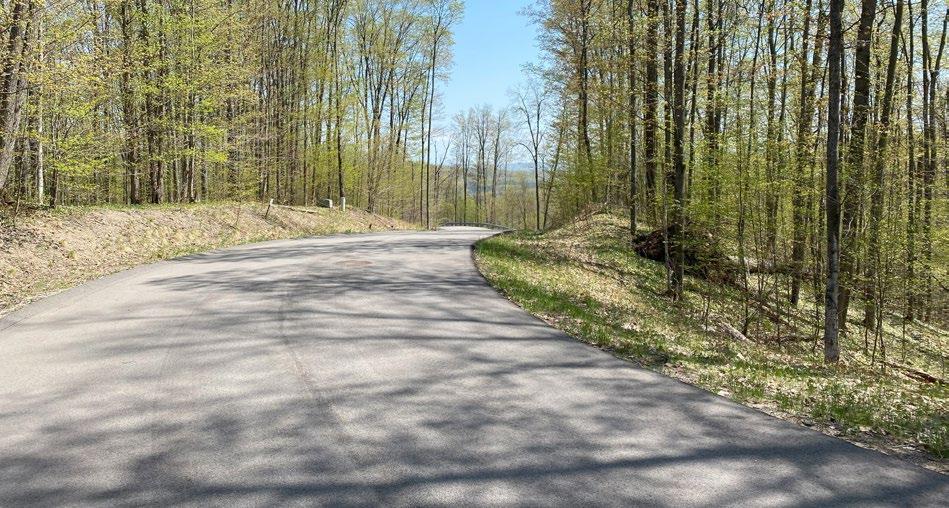 HARBOR SPRINGS
LAND
Let's find your happy place.
There are plenty of mortgage options out there, but chances are there is only one that is just right for you. Let us help you find the perfect mortgage for your life and your future. No gimmicks and no games, just solid mortgage options with competitive rates designed around your needs.
Home financing options include: Contact us today to get started! • Conventional loans • Condo programs • Construction and bridge loans • Doctor & Dentist Loans • Community Champion Loan program All loans subject to approval. Additional terms and conditions apply to each type of portfolio loan program. Programs subject to change. Closing cost assistance available on select mortgage programs in specific markets, income restrictions and other conditions apply. This is not a commitment to lend. Contact a Mercantile Bank mortgage lender for complete details. • Lot and Land Programs • Renovation programs • Unique Property programs • Closing Cost Assistance program Bryan Leavitt
Lender NMLS# 130571 616.581.1740
426123 231.881.6652
VP, Mortgage
bleavitt@mercbank.com Jon Lyons VP, Mortgage Lender NMLS#
jlyons@mercbank.com
TBD SILERY ROAD
191 acres with approximately 1,850 feet of Little Pigeon River frontage and bordering state land! Great hunting property featuring deer, bear, bobcat, beaver, river otter, trout, and more. Perfect slice of "up north," with plenty of room to build and play. Large acreage is becoming tougher to find and this property has the potential to check all your boxes!
MLS 469156 | $374,900 | Cam Braddock
PARCEL B SILERY ROAD
91 acres bordering state land with approximately 1,850 feet of Little Pigeon River frontage! This would make an ideal hunting property with plenty of wildlife, including deer, bear, bobcat, beaver, river otter, trout, and more. Enjoy all the recreation that Northern Michigan has to offer with a lot of space to build and play!
MLS 468443 | $224,900 | Cam Braddock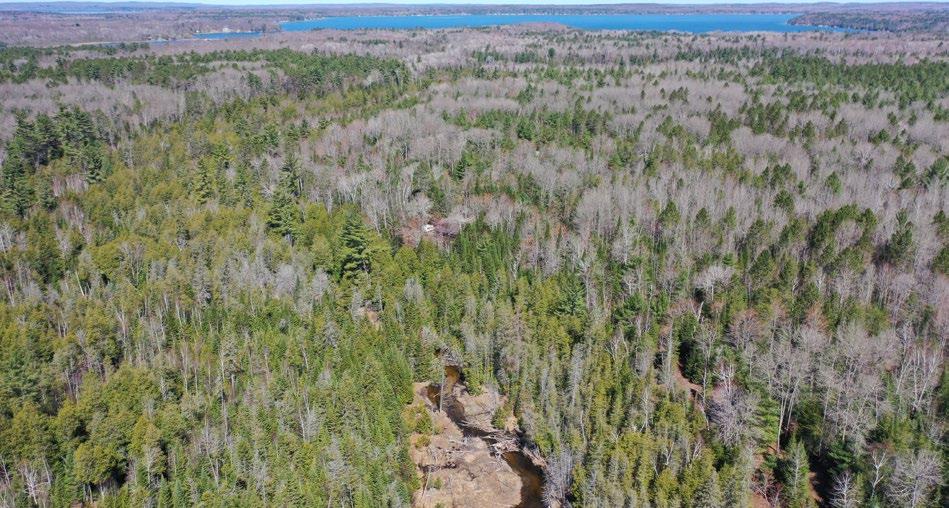 INDIAN RIVER
LAND
46 | gaslightgp.com
TBD BOULEVARD DRIVE
131 feet of Lake Michigan waterfront and 25 acres spread over 2 lots overlooking the Straits of Mackinac just west of the bridge. This is Pure Michigan in an area that is primed to grow, because there is really nothing like the Great Lakes. The future of deeded and private water frontage ownership is a compelling one.
MLS 469530 | $174,900 | Cam Braddock & Michael "Mac" McCarthy
TBD DENSMORE AVENUE
25 acres just west of the Mackinac Bridge available. Located on the paved downhill section of Boulevard Avenue across the street from the Father Marquette National Memorial Park. A great opportunity to own your piece of U.P. paradise just off the clear blue waters of Lake Michigan.
MLS 469549 | $99,900 | Cam Braddock & Michael "Mac" McCarthy
ST. IGNACE
gaslightgp.com | 47
Tucked away off Quick and Hoyt Road just North of Harbor Springs is a little slice of horse heaven. As you pull into the barn, the curious faces of the horses who reside here will perk up from munching their hay to greet you. Horses and ponies of all sizes, shapes, and colors reside here to provide one thing, unconditional love and therapy for all those who meet them.
OUR HISTORY
This 25-acre property has an equestrian history dating back to 1978 when Ceejay Heckenberg bought the land and started Black Forest Hall Farm. Under Heckenberg's guidance, it became a well-known and beloved riding stable that offered boarding, lesson programs, and pony camps. Black Forest Hall worked closely with Northwood University's Equine Management Program allowing students to gain practical, hands-on experience as they learned about the business of caring for horses. Heckenberg believed that good horsemanship encompassed the dayto-day care of the horses, as well as a shared responsibility and commitment to each other and the community.
In 2005, Heckenberg donated the land to the Little Traverse Conservancy. Now, Rising Hope Equestrian Center leases the land from the conservancy and is carrying on the legacy of horses, community, and giving back.
OUR MISSION
The realization of the dream in us to share God's grace and creation with you. We have been blessed to see beauty and love in each other, in horses, and in this place. Rising Hope was started with the idea that anyone and everyone should have the chance to learn to care for and ride horses. It all began years ago with this idea and one horse in a friend's backyard. We desire to share this experience with those of you who might become stronger through the exposure to the joy that grows between people loving horses and equestrian activities.
Rising Hope works to make horsemanship accessible to our community regardless of ability to pay. We offer scholarships for students, horse camps for children, and this barn serves as a home to the Exceptional Riders, a therapy program for students with special needs. Rising Hope builds community, teaches hard work, and helps everyone involved grow.
OUR TEAM
Each of Rising Hope's riding instructors has a long history with horses who all share in teaching responsibilities. While we are a lesson facility that is open to the public, we are not a facility where you can come jump on a horse, yank on his mouth, and take off on a trail. We are here to teach good horsemanship and responsibility. Every age and level of rider is welcome. Because the barn is a non-profit, everyone pitches in to help take care of chores. We have a great group of volunteers, parents, students, and community members that help keep the barn in tip top shape. We have monthly work bees that bring everyone together to accomplish a list of tasks, like the big job of spring cleaning, or getting the barn ready for events.
When Leah Keller took over managing the barn in 2016, it was her goal to get the barn busy and back on the map, so to speak. Keller is a fourth generation horse person, and no stranger to hard work or the equestrian community. She set out to teach newcomers the importance of Natural Horsemanship and groundwork. "I always start on the ground. If a person isn't comfortable leading a horse into the barn, grooming them, and tacking them up, they have no business getting on a horses back," said Keller. It wasn't long before she asked Buster and Sheryl McLaury to come from Texas to teach a clinic, a huge treat for our small horse community in Northern
48 | gaslightgp.com COMMUNITY FEATURE
Michigan. The McLaury's are world-renowned clinicians and colt starters, who will be returning for their sixth consecutive trip to Rising Hope this summer.
Ellie Bricker is an integral person at Rising Hope with an impressive history of teaching, training, and showing. Bricker has a large student base, teaching all ages and disciplines
from the very beginning stages of riding up to taking your horse to a clinic or a show.
Susan Klimas has a long-standing history on this property, a native of Harbor Springs, Klimas learned how to ride at Black Forest Hall. She became an accomplished show jumper at a young age and fell in love with teaching riding after college. Klimas also ran a therapeutic riding program in Singapore while living there. She enjoys teaches both children and adults alike.
WE HAVE BEEN BLESSED TO SEE BEAUTY AND LOVE IN EACH OTHER, IN HORSES, AND IN THIS PLACE. RISING HOPE WAS STARTED WITH THE IDEA THAT ANYONE AND EVERYONE SHOULD HAVE THE CHANCE TO LEARN TO CARE FOR AND RIDE HORSES.
Heather Chism first came to Rising Hope as an instructor with the Exceptional Riders Program. Once she saw the horsemanship that was being taught, she became a student of Bricker's, and now horse owner and fellow instructor! Chism is a certified therapeutic riding instructor. As a way to give back to the community, all therapy lessons are automatically granted a scholarship through the scholarship program. She believes in the power of therapeutic riding as a great confidence builder and helps to strengthen muscles.
HOW TO HELP
Rising Hope gives back to the community in many ways but especially through its scholarships. The scholarship program allows for all therapy students to ride no matter their financial situation. This program and many others, offered by Rising Hope, depend on the kindness of the community at large. As a 501(c)(3), all donations are tax deductible. These donations allow for the horses, the property, and the special programs to continue at the high level of service and care that Rising Hope is proud to maintain. Please consider donating and supporting this worthy place. For more information on our programs, please visit our website at: www.risinghopeequestriancenter. com. To make a donation, checks can be mailed to 2787 Quick Road, Harbor Springs, MI 49740.
gaslightgp.com | 49 COMMUNITY FEATURE
200 N. ELIZABETH STREET
Twenty individual apartment spaces designed for an adult foster care facility available in the Alpena market. Offering includes business potential, current good faith, real estate, and FF&E (turn-key). Ample lot space to possibly expand facility. Both licensee and admin are on-site with experience and hoping to continue with new ownership. This has been an owner-operated facility since 2005. The 13,000+ square foot building has been well-maintained and was built with integrity. Twenty apartments with call light service built-in, community space for residents, and a beauty center on-site with weekly services, this facility is ready for a new owner/operator. Loads of potential!
50 | gaslightgp.com HILLMAN COMMERCIAL
MLS 468694 | $1,050,000 | Pete Platte
02797 US-131 NORTH
These beautiful new storage facilities will house boats, cars, trailers, household items, and so much more. Conveniently located just outside the Walloon Lake Village and central to all things Walloon. The units will feature professional landscaping with an asphalt drive, keeping your equipment clean and dust-free. Garage doors are 14' x 14' and power is 200 amp. These units can be insulated and heated for an additional charge. There will also be a privacy gate with coded entry for peace of mind.
MLS 466791 | $109,000 | Jane Fisher
gaslightgp.com | 51 BOYNE FALLS
120 BOYNE VALLEY STORAGE DRIVE #66
Boyne Valley Storage unit #66 is a 20' x 50' storage unit with a 14' door and one door entrance. Built in 2022, this unit was upgraded with electric all around, ample lighting, natural gas heat, insulated walls and ceiling, and a large fan.
MLS 470996 | $124,900 | Michael Bedells
1727 ANDERSON ROAD
17,331 vehicles per day pass this site (per the ECRC). Talk about great exposure! This great parcel of land offers 4.35 acres with 420 feet of road frontage. Zoned R-2, which offers just the right zoning for so many opportunities. The current structure has had an extensive demo and is ready for the new bones to be installed. Large parking lot with plenty of space to expand either the parking and/or the building window. This high traffic count parcel is ready for your vision!
MLS 468757 | $899,000 | Jane Fisher
52 | gaslightgp.com BOYNE CITY / PETOSKEY COMMERCIAL
248 STATE STREET
High-traffic rental location in downtown Harbor Springs! Right next to the post office and near the farmers market, this building has a big front window and large floor space. The back room has a bathroom and plenty of space for storage. Available December 2023. Please call for details!
For Lease | Sam DeCamp & Anna DeCamp
110 E. THIRD STREET
Great downtown Harbor Springs location for lease. Almost 500 square feet, currently a salon, but could easily be an office with a nice sized entry or waiting room. Plenty of parking nearby. Available November 2023. Please call to learn more!
For Lease | Sam DeCamp & Anna DeCamp
gaslightgp.com | 53 HARBOR SPRINGS
NORTHERN
Northern Michigan is home to an immeasureable number of outdoor adventure activities just waiting to be explored, all within a day's drive. Some of our agents share their tried and true favorites! DAY TRIPS
MICHIGAN
54 | gaslightgp.com
Photo
taken by Ami Woods in Good Hart, Michigan.
Inland Waterway
Written By: Cam Braddock
The Inland Waterway is Michigan's longest chain of rivers and lakes. Nearly 40 miles long, the Inland Waterway connects some of the best inland lakes in the state and it's right in our backyard! Pickerel Lake, Crooked Lake, the Crooked River, Burt Lake, the Indian River, Mullett Lake, the Cheboygan River, and finally into Lake Huron. Whether you're looking to fish, anchor at the sandbars, or cruise all day, the waterway offers options for every explorer. My ideal summer day in Northern Michigan is out on the boat cruising with family between Crooked and Burt Lakes via the Crooked River. This route offers phenomenal scenery, wildlife, swimming holes, and fishing spots. Stop along the way for lunch and get the full Northern Michigan flavor, you won't be disappointed!
Oden Island
Written By: Anna DeCamp
The day I went out to Oden Island it rained and I almost got back in the car and left. It was early fall and I was dog sitting for a cousin nearby. I couldn't remember the last time I had been to the island—a school field trip maybe? With my mom and her friends on a group snowshoe as kids? It was so long ago. I grabbed my camera and rain jacket and started down the trail as the rain slowly started to fall. I am so glad I did.
This is what makes living in Northern Michigan special. As I walked it was warmish and drizzly, and I was the only one on the trail. The drops left patterns among the grasses on the lake. They balanced on the tips of the branches and points of pine needles. Then, the soft rain stopped and the sun started to glow through the old-growth canopy. As I followed the trail, I rounded a corner of thick cedar trees. In the clearing, the sun was shining through the towering giants and the humidity-induced fog, lighting up these brilliant golden rays. It was one of the most magical things I had ever seen.
Oden Island itself is private, minus homeowners, their guests, and visitors to the Nature Preserve. It sits in Crooked Lake and is accessible via bridge. The parcel is 50 acres and one mile of lake frontage. It was protected by donors and the Little Traverse Conservancy in 2000 to preserve the "large
old-growth trees and fragile wetlands" on the property. There is about a mile of trail, with a couple of viewpoints, and views across Crooked Lake. There are no steps, though some of the boardwalks may be a bit tight for a wheelchair.
We are lucky to have a Conservancy that is able to protect lands such as Oden Island Nature Preserve. So, if you have a moment, I recommend a walk at Oden Island in the rain.
Eastern Upper Peninsula
Written By: Danielle Smith
We are so lucky to call Northern Michigan home. A place where a day trip over the Mighty Mac can take you to some of the most beautiful scenery and spotty cell service something we could all use more of. Taking US-2 weaving around the Lake Michigan frontage is a beautiful drive all in itself. Hiking at Tahquamenon Falls and taking in Michigan's largest waterfall is pretty spectacular, but climbing down to the bottom of the falls and hearing the power of the water and feeling the mist is just something to make you smile. Stopping off at Oswald's Bear Ranch on the way to the falls to watch the bears run around 240 acres, feed them apples, and stand 1 foot away from a cub is a fun experience. Paradise isn't much further for lunch at The Inn Gastropub &
Steakhouse or adventure further through the U.P. and go to Grand Marias for a burger at The Dunes Saloon. Sable Falls will be waiting for you after lunch to take a little hike and run up the dune. Traveling farther west, Kitch-Iti-Kipi is always a fun day trip to check out the largest natural freshwater spring. No matter where my family and I head for the day in the Upper Peninsula, the memories are all smiles and no phones!
Sturgeon River
Written By: Jack Carter
Tubing down the Sturgeon River in Indian River, Michigan is an exhilarating experience that offers a perfect mix of excitement and relaxation. As you float downstream, you'll be surrounded by the stunning natural beauty of Northern Michigan, with lush forests and wildlife all around you. The river is also known for its crystal-clear water, which provides a refreshing break from the summer heat.
The Sturgeon River offers tubing experiences for all skill levels, with calm sections perfect for families and more challenging rapids for thrill-seekers. No matter your
level of experience, tubing down the Sturgeon River is an unforgettable adventure that's perfect for making lasting memories with friends and family. Plus, with several outfitters located in the area, it's easy to find everything you need to make the most of your tubing trip.
Good Hart
Written By: Mike Bedells
Nestled along a stretch of spectacular scenic highway along the Lake Michigan shoreline is beautiful "downtown Good Hart." In addition to its status as a thriving resort area, Good Hart also has the privilege of a history rich in Native American lore and local legend.
The area of land following the winding bluffs overlooking Lake Michigan between Harbor Springs and Cross Village has been called by many names throughout the years. Originally, Native Americans knew it as L'Arbre Croche, meaning "crooked tree." The name derived from an enormous tree with a crooked top reported to be just west of the foot of the hill on Lamkin Road in Good Hart. The tree was used as a landmark to those traveling by canoe in the area. Native American camps were first established all along the Lake Michigan shoreline at various points including Cross Village, Middle Village (Good Hart), Seven Mile Point (seven miles north of Harbor Springs), and Harbor Springs. When the area now known as Good Hart was singled out, it was called Waw-gaw-naw-ka-see, meaning "crooked tree" in Ottawa (Odawa). It was also referred to as Opitawe-ing, meaning "halfway" for halfway between Harbor Springs and Cross Village. European settlers would later call it "Middle Village" and then "Good Hart." Good Hart's permanent naming came to be in 1827, when the subjects at Middle Village were left to their chief's brother, Kaw-me-note-a, which means "good heart" in Ottawa. The word was somehow misspelled by the USPS along the way, and the error remains today.
Some of the most beautiful native decorative pieces and artwork came from the area's first residents. Straw and sweet grass baskets, beaded medallions, quill boxes, and birch bark baskets remain treasured items that are no longer as easy to come by. Agnes Shenanaquet, an Ottawa resident of Good Hart, was known nationally for her spectacular pine quill boxes. In 1981, Mrs. Shenanaquet received the Triple A rating from the Smithsonian Institution for her quill basket work. Her boxes and baskets and similar pieces remain treasured pieces of art throughout the world today. Original industry in the areas surrounding Good Hart included fur trading, fishing, farming, and logging. A rich history surrounding these trades is abundant and celebrated today.
Through additional means of transportation, the early 1900s allowed Good Hart to become a prominent resort area. Nearby Harbor Springs became a summer playground, drawing seasonal residents from places like Detroit, Chicago, Buffalo, and St. Louis. In Good Hart, lakefront and bluffside resorts began to emerge. One notable resort was the Lamkin Lakeshore Lodge located at the base of Lamkin Hill in Good Hart. The original resort was built in 1912 by Mr. And Mrs. Lamkin and housed a summer hotel, rental cottages, general store, and post office where both husband and wife served at postmaster. The store was also home to the first school for Native Americans located in Good Hart. A post-WWII gas explosion destroyed the entire original structure but left the resort cottages and dining house intact. Another successful resort was the Krude Kraft Lodge, which is still in existence as a private rental home just 2 miles north of Good Hart along Lake Shore Drive. The
property was originally developed and operated by the Bliss family. Mr. Bliss was a local legend in development and was responsible for creating the famed Bliss Log Home style of cottage construction.
The area of Lake Shore Drive (M-119) between Harbor Springs and Cross Village is appropriately deemed the "Tunnel of Trees" due to the dense shadowy woods tipping the high bluffs along the shores of Lake Michigan. Known for its winding curves, the Tunnel of Trees is one of the narrowist state highways in the nation at 18 feet wide and with no centerline. No matter what season, the Tunnel of Trees offers visitors an unparalleled view of Lake Michigan and occasionally Beaver Island, Isle Aux Galets, and even Waugochance Point.
Traveling along M-119, visitors will enjoy historical signs marking points of interest such as Devil's Elbow and The Old Council Tree. The signs were originally erected in 1955 through the efforts of resident Chauncey Bliss of Good Hart and the Harbor Springs Chamber of Commerce. The signs were restored and now offer brief history lessons to visitors traveling the roads of the area once called L'Arbre Croche. Approximately 4 miles north of Good Hart, travelers will see the location of The Old Council Tree, where famous tribal councils were held. One of the most legendary involved a meeting between Menominee, Chippewa, and Ottawa tribes after the massacre at nearby Fort Michilimackinac in July 1763. The purpose of that gathering was to discuss further moves against the British. One of the most infamous historical markers explains the hairpin turn on Lake Shore Drive just south of Good Hart known to most as "Devil's Elbow." Legend states that Devil's Elbow marks the location where the devil scooped out a giant hollow after Native Americans suffered a rampant plague. The original sign explained the eerie history: "A Flowing Spring In This Ravine Was Believed By Indian Tribes To Be The Home Of An Evil Spirit Who Haunted The Locality During The Hours of Darkness." It has been said that former residents could hear "voices and sounds" coming from the ravine after dark. The current marker offers a less chilling message.
Nub's Nob
Written By: Pete Platte
Northern Michigan summers are a source of pride and second to none in most locals' opinions. But northwest Michigan has about 90 days of summer and over 100 (at least it feels like it) days of winter. The year-round residents have learned that it's much less about enduring the winters here and much more about embracing them. My personal favorite spot to embrace the winter and spend the day in the winter months is at Nub's Nob Ski Area. With 53 runs, 8 chairs, outstanding grooming, and the Midwest's best skiing, this isn't just a locals' favorite. Travelers from all over the Midwest come to ski at "Nub's," as we fondly call it.
Downhill skiing isn't all Nub's offers, and I spend a lot of my time there doing other outdoor activities. With nearly 15 miles of groomed Nordic ski trails, it's a great way to find your outdoor exercise for the winter. Snowshoe trails and backcountry ski trails are also onsite, with 5 more miles of trail. Taking off on a Nordic loop from the lodge, you can find yourself exhausted yet rewarded with a perch at one of the highest points in the area with beautiful sweeping vistas. A lap or two on the upper red trail, one on the lower blue, and even a seasoned Nordic skier can find themselves with their daily fill of aerobic activity. An exhilarating descent back down past the lodge and you can still find more trails to enjoy.
Most days you will find yourself peacefully enjoying the Nordic trails with few other skiers in sight. They are in use, but with so much space you feel like you've got the place to yourself, and it's nice to be in nature enjoying the cold air and quiet. If Nordic skiing isn't your pleasure, taking laps on the downhill ski area is sure to be. A personal favorite is trying to take a few runs on the famous green chair (being replaced as this is written and published to a more modern chair. I hope it's still "the green chair"). From there you can enjoy most of the front ski runs at the resort. If you find it to be too busy at any given time, head back to the orange and brown chair for more fun and runs. My oldest son's
favorite is Panda Land, with animal statues to ski by or stop and take a photo of.
After enjoying the outdoor activities at Nub's, it's time to unwind inside for some of Nub's famous curly fries. Kids and adults love them, and the resort is plenty generous in its portions. Fries in hand, I often wander into the Nub's Pub. The same friendly faces are normally behind the bar, and if you are lucky, you will get a front row window seat to watch skiers navigate the front hills. While there is no denying that NoMI summers are "as good as it gets" and the main attraction to our area, I think finding yourself at Nub's Nob on a cold winter day enjoying the outdoors is a true embrace of what northwest Michigan is all about.
58 | gaslightgp.com
The Viewlands
Written By: Sam DeCamp
Emmet County has an abundance of access to public and quasi-public land. One of the most convenient and centrally located outdoor areas is the Offield Viewlands. Located at 995 Hideaway Valley Road, the Offield Viewlands was acquired by the Little Traverse Conservancy, a non-profit organization supported solely by donations, in 2020. It is comprised of 290 acres of rolling, open land and woods bordering thousands of acres of state land. Boasting yearround vistas of Little Traverse Bay, Crooked Lake, Round Lake, and Pickerel Lake, on a clear day the views extend over 35 miles and almost 180 degrees.
In 1989, entrepreneur and visionary Ted Frey purchased the property to fulfill a lifelong dream to own and operate a first-class golf course. The challenging nature of the rolling topography and the spectacular views quickly became a favorite among the golfing community. Ted successfully ran the golf course for 30 years. If it wasn't for Ted's desire to fulfill his dream and purchase this unique property, the Conservancy may never have had a chance to make it what it is today.
When the opportunity to purchase the property was presented to the Little Traverse Conservancy, they recognized the potential positive impact that creating a nature preserve would have for the community. Creating a
NCMC Trails
Written By: Abby Badgley
Are you looking for a fun and adventurous way to explore the great outdoors in Petoskey, MI? Look no further than the NCMC hiking trail! This picturesque trail is located on the campus of North Central Michigan College, offering stunning views of the surrounding forests and valleys. The trail is well-maintained and easy to navigate, making it the perfect choice for hikers of all skill levels. Whether you're a seasoned hiker or just starting out, the NCMC hiking trail has something for everyone.
The trail covers a distance of about 2 miles, winding through the beautiful countryside and offering plenty of opportunities to spot local wildlife and take in the natural beauty of the area. One of the most unique features of this trail is the fact that it is located on the NCMC campus. This means that visitors can easily combine their hiking
pathway from the cart paths and fairways, removing grasses that were not native to Northern Michigan and replanting indigenous species of trees, wild flowers and grasses, Little Traverse Conservancy opened a natural recreation area for all to enjoy. Year-round the Offield Viewlands is used by locals and visitors alike for hiking, biking, snowshoeing, cross country skiing, or just enjoying the view or an evening sunset. Currently, plans are in place and fundraising is in process to build a mountain bike path with sections for all levels of riders.
The Offield Viewlands has been enjoyed almost weekly by members of my family and I am sure you will enjoy it as well. At a minimum checking out the view or enjoying a sunset is a must.
adventure with a visit to the college, exploring the campus and taking advantage of all the amenities it has to offer.
So why not take a break from the hustle and bustle of everyday life and escape to the great outdoors? The NCMC hiking trail is the perfect choice for a day trip, offering stunning views, fresh air, and plenty of opportunities to connect with nature. Whether you're a local resident or just passing through, be sure to add the NCMC hiking trail to your list of must-see attractions. Your mind, body, and soul will thank you for it!
SkyBridge
Written By: Kristin Keiswetter Clark
For a unique perspective in Northern Michigan, Boyne's SkyBridge, a pedestrian suspension bridge, is a mustsee destination for nature lovers and adventure seekers alike. My son Charlie and I ventured out and explored the area's new landmark after making reservations online. We drove to Boyne Falls, arrived at Boyne Mountain, and walked through the Mountain Grand Lodge. Our tickets were available at the ticket window next to Forty Acres. We hopped in line and rode up the historic Hemlock Scenic Chairlift to the mountain's top. We walked around a bit at the top near the Eagle's Nest, where we first saw the massive and impressive timber towers. The bridge connects the peaks of McLouth and Disciples Ridge which spans 1,200 feet from end to end, but what I didn't realize until I was on it, was that it is 118 feet above the ground. Crossing the SkyBridge is a breathtaking experience. Literally, it took my breath away; which became a favorite part of the adventure for my son. From the moment I stepped out onto the narrow walkway, I felt a rush of excitement (or panic). I could feel the presence of others on the bridge during my journey as people step on and step off. There is some movement and a little sway. About halfway across there is a clear section of the bridge where the brave can look down below. I chose to keep my eyes on the prize a fire in the firepits at the other side.
The panoramic views are incredible and it is such a unique perspective of the surrounding areas. The journey across the SkyBridge was definitely a thrilling one. It is journey you can take any time of the year and the panoramic views will change with the season. The list of other adventures is long at Boyne, beyond skiing and golf, to zip lining, waterpark slides, and biking.
If you are looking for a one-of-a-kind attraction or an unforgettable adventure, step out onto the SkyBridge and prepare to be amazed.
Winter Sports Park
Written By: Tom Margherita
Located just a few blocks up the hill from Petoskey's Gaslight District is one of our family's absolute favorite spots. The Petoskey Winter Sports Park is a beautiful and unique asset to our community and one that tends to really blow people away when they see it for the first time in peak season. The park was developed, as its name would imply, around winter activities and it does not disappoint as a favorite to locals and visitors alike. Once our community has settled in for the winter and is blanketed with snow cover, the park comes to life with its (2) skating rinks (1 for hockey and 1 for open skating), an awesome sledding hill, and a large cozy
warming building, complete with a roaring fireplace and concession stand. The park has been a source of wintertime outdoor recreation and home to Petoskey's annual Winter Carnival events for generations. Admission to this magical place is actually free, with the only cost being skate rentals or snacks at the concession stand. Here is one other insider tip: the Winter Sports Park is not just for winter! It is also one of the best year-round, in-town locations for walking your dog or going to throw the frisbee or play catch!
Mackinac Island
Written By: Jane Fisher
If you haven't been to the most beautiful place known as Mackinac Island, Michigan, you must make your way! A special place with its own unique pace. Travel back in time in your own horse-drawn carriage, where no cars are allowed, and a simple, easy pace offers peaceful days of quiet comfort.
My most perfect day on Mackinac Island begins with a leisurely breakfast at one of the island's charming cafes, where you can enjoy a cup of coffee and a freshly baked pastry while taking in the stunning views of Lake Huron. After breakfast, take a leisurely bike ride or horse-drawn carriage tour around the island, exploring the many historic landmarks, scenic vistas, and charming shops and boutiques. Bring a bike or rent one on the island and cycle around to see some of the most stunning views.
In the afternoon, head to the Grand Hotel, where you can enjoy a delicious lunch on the veranda overlooking the Straits of Mackinac. Afterward, take a tour of the hotel's beautiful gardens and relax on the lawn with a book or a refreshing drink.
As evening approaches, make your way to the Grand Art Gallery, where you can admire the works of some of the world's most renowned artists, including the legendary
John Singer Sargent. Take your time exploring the gallery's extensive collection, which includes paintings, sculptures, and other works of art from a variety of eras and styles. As you gaze at Sargent's exquisite portraits, you'll be transported to another time and place, lost in the beauty and elegance of his masterful brushstrokes. The gallery's knowledgeable staff will be on hand to answer any questions you may have and to help you appreciate the art in a deeper and more meaningful way.
As the evening draws to a close, take a stroll through the quaint streets of Mackinac Island, enjoying the cool breeze and the twinkling lights of the shops and restaurants. With memories of a perfect day on the island still fresh in your mind, you'll retire to your cozy inn or hotel, savoring the magic of Mackinac and dreaming of the adventures that await you tomorrow.
Pond Hill Farm
Written By: Christy Berry
Anyone visiting Harbor Springs, Michigan would be remiss not to visit Pond Hill Farm. This family-owned eatery was started 20 years ago by Jimmy Spencer and offers the freshest pizza around in a fun and unique outdoor dining experience. There is also a cafe offering farm-to-table meals made with organic, locally sourced ingredients.
The farm offers a variety of family friendly activities for visitors of all ages including strolling through the vineyards, enjoying the homegrown beer and wine, and shopping at the farm store.
There is a petting zoo, playground, and the "Gnome House Hunt," which might just be my favorite. It's so satisfying to hike the gnome trail in search of their little gnome homes.
Seasonal activities also keep things interesting at Pond Hill Farm with live music and greenhouse tasting tours in the summer and hayrides and pumpkin picking days in the fall. There is seriously always something to do here at this Harbor Springs staple.
Jordan River
Written By: Nancy McFadden
The Jordan River is a 24.9-mile-long stream in the northwestern part of the lower peninsula in Michigan. It is the largest tributary of Lake Charlevoix. The Jordan's headwaters rise from springs in the upper Jordan River Valley, making it a special place for water enthusiasts to experience through kayaking, rafting, fly fishing, bird watching, and the fall color tour. Along the shores during your float you will spot the local wildlife, the overhanging cedar bows, the rustic cabins, and year-round cottages while hypnotic rippling notes fill the air. The Jordan holds a special place in my heart; it's where the day starts and ends fly fishing with my husband. We are truly thankful for this amazing river and the time spent on it together. The fish and its welcoming beauty keeps us coming back every year.
WHITE & LIEBLER | a r c h i t e c t s 117 howard street, petoskey mi 49770 www.white-liebler.com 231-347-6870 Inspiring Design | Thoughtfully Crafted | Exceptionally Built Refined Waterfront Living ~ Simplified
VACATION PROPERTIES OF NORTHERN MICHIGAN
NORTHERN MICHIGAN
what are
PROPERTY MANAGEMENT
Vacation Properties of Northern Michigan recognizes that homeowners make a substantial investment when purchasing a second home in Northern Michigan. When you are not personally using your property, trusting in a management company to generate revenue can be a fun experience. Every property owner has a different vision. VPNM has found after 13 years in the business that it's important to offer their services with the flexibility to cater to each owner's personal needs. In this evolving industry, VPNM is always investing time and finances to make sure they are using the most advanced software and marketing tools, reliable and respectful subcontractors, and efficient and detailed staff. We would love the opportunity to view your property and discuss your goals!
64 | vpnomi.com
you up for?
PLAN YOUR TRIP WITH US
You have picked your dates with family and friends. Excited to finally take a break and relax in Northern Michigan. Leave the rest of your trip in the hands of a local management company. VPNM not only will help you find the perfect getaway, but we are here to share the many attractions unique to this area farm markets, festivals, and more. You have probably strolled by our office on a nice sunny day in downtown Petoskey. We are here to share with you the ins and outs of our beautiful area, such as where the best burger in town is or the best patio to grab lunch. We don't want to just book your trip we want to build relationships and help you to truly enjoy Northern Michigan like a local that lives here.
Contact us at 231.347.7300 or visit our website at www.vpnomi.com.
vpnomi.com | 65
ENDLESS SUMMER COTTAGES
Two Walloon Lake cottages perfect for a multi-family vacation! This rental has been updated with new paint, flooring, and modern furnishings from West Elm, CB2, Article, and more! Nestled on the north arm of Walloon Lake, these two lovely cottages situated on one large waterfront parcel is the perfect layout for multiple families. The spacious backyard is an ideal setting for yard games and creating memories on the lake. With 100 feet of waterfront there is plenty of space to swim and play. If you are looking to do more on the lake, Tommy's on Walloon is the perfect spot to rent watercrafts, paddle boards, and more! This rental is perfectly positioned—just a 12-minute drive to Petoskey, Walloon Village, and Bay Harbor. These cottages are set up so that the traveling parties can have their space but still be right by each other. The lakeside cottage has three bedrooms, two baths, with a full laundry, living room, and kitchen. One of the bedrooms is located on one end of the house and is set up as a master suite. The roadside cottage has two bedrooms, one bath, and also has a laundry area, living area, and kitchen. Combined there are five bedrooms and three bathrooms.
5 Beds | 3 Baths | Sleeps 10
66 | vpnomi.com WALLOON LAKE RENTALS
vpnomi.com | 67 WALLOON LAKE
WALLOON TIMBER FRAME
Situated on the north arm of Walloon Lake, this exquisite timber frame home brings a peaceful setting in the woods on one of Northern Michigan's most prestigious lakes. Take the elevated driveway down to be welcomed by a grand staircase to the front entrance of the home. The main level is very open with a large sectional positioned by the fireplace and an oversized kitchen and island that is great for family entertainment. The main level also offers a master suite as well as a second bedroom and full bathroom. There is plenty of outdoor seating on the lakeside of the home, including some covered areas should you happen to catch a rainy day during your stay. A second living area and fireplace on the lower level make it easy for kids to have a place to gather just off from the additional three bedrooms and two bathrooms. Enjoy the private dock for evening cocktails or to take a dip in the lake. The backyard is a great spot to bring your favorite lawn games or let the kids run and play. Located just 15 minutes to downtown Petoskey makes for great convenience to grocery stores, restaurants, shopping, and more. Join the many other families that have made Walloon Lake an annual destination!
5 Beds | 4 Baths | Sleeps 8 68 | vpnomi.com WALLOON LAKE RENTALS
vpnomi.com | 69 WALLOON LAKE
MID-CENTURY WALLOON BUNGALOW
Perfectly located on pristine Walloon Lake, this renovated mid-century cottage is the picture-perfect getaway to Northern Michigan! Enjoy the expansive views of the lake through the floor-to-ceiling glass while sitting in the living/dining area. These beautiful windows continue throughout the home into the bedrooms and let you take in the natural beauty around you. If you appreciate location and tastefully decorated homes, this place is for you. The built-in patio area that leads to the private dock offers multiple sitting areas to enjoy a glass of wine and watch what's happening on the lake. The mid-century kitchen is unbeatable with its restored teal metal cabinets and gives the perfect amount of "funk" to this glass bungalow. Walloon Village is minutes away, where you can enjoy fine dining, shopping, rent boats and paddle boards, and much more!
3 Beds | 2 Baths | Sleeps 6
70 | vpnomi.com WALLOON LAKE RENTALS
WALLOON CLASSIC
Walloon Lake has been a treasured destination for many generations and this classic cottage captures many years of those memories with modern updates that are looking to be shared with your family. With private frontage on the South Shore, you will enjoy all aspects of "lake life." Enter the home into a quaint kitchen with Petoskey Stone knobs, a large cast iron sink, dishwasher, and metal countertops ready to prep your meals. Just off the kitchen is a mudroom/pantry with an extra fridge perfect for overflow food, beer, and wine! The spacious dining and living room areas are complete with the original woodwork and built-in cabinets and the true character of a Walloon cottage. A large master suite addition is placed on the main level of the home with plenty of space. Take a step out another porch to the lakefront. The original staircase in the living room takes you to the upper level, down a hallway, and into one of the four bedrooms. There is unique charm with water basins located in a couple of the bedrooms. Enjoy all different times of the day on porches, one located in back with a large round table that is perfect for dining and the other on the lakeside, complete with a wicker swing perfect for morning coffee or nighttime refreshments.
5 Beds | 4 Baths | Sleeps 10
vpnomi.com | 71 WALLOON LAKE
TALL PINES OF WALLOON
This well-maintained home sits on 150 feet of private Walloon Lake waterfront. Overlooking the lake, this large front yard is ready for yard games and fun! It is tucked off the road and situated on just over an acre of property. Upon entering the front doors, you are welcomed into an open floor plan with vaulted ceilings, a panoramic wall of windows with a view to the lake, tongue and groove interiors, and plenty of space to enjoy your friends and family. The spacious bedrooms offer a split layout with two bedrooms, each with two twin beds, and full bathroom on one end of the home and the master suite with a king bed on the opposite end. Two of the bedrooms overlook the lake and take in the same views as the living area. There is also a full laundry room and another half bath just off the kitchen/living area. The home has a dock where you can bring your boat, paddleboards, kayaks, or other fun water toys. The Village of Walloon is a short bike or boat ride away!
3 Beds | 2.5 Baths | Sleeps 6
72 | vpnomi.com
WALLOON LAKE RENTALS
WHITE ANCHOR LODGE
This comfortable family cottage situated on Walloon Lake is an original log cabin masterpiece on a spacious parcel of land. Offering just over 3 acres and 246 feet of private beach frontage makes renting on Walloon Lake even more relaxing! Enjoy hard-packed, sandy bottom lakefront with plenty of space for yard games and family gatherings! Parking is perched at the top of the sloped hill, and staircases on either side of the cottage lead you down towards the entrance to the home or to the grassy front yard and waterfront. Enter through the side door to find the original kitchen where many family meals and traditions have been made. Off the back of the kitchen is a full bathroom and one bedroom. Our favorite part is stepping through the swing door from the kitchen onto the platform staircase that overlooks the massive great room with a stone fireplace, a mini bar area to pull up a stool, and large windows overlooking the lake. A great place for conversations, games, puzzles, and drinks! Taking the opposite stairs and swing door to the other wing of the cottage, you will find the guest rooms. All bedrooms have an outside door available, which offers private entrances to the courtyard or outside deck to enjoy morning coffee and not disturb others. Spending time on the lake includes many hours on the spacious front porch. This well-loved cottage has a picturesque setting that has created many unforgettable memories on the lake!
4 Beds | 2 Baths | Sleeps 14
vpnomi.com | 73 WALLOON LAKE
THE YELLOW COTTAGE
This charming yellow cottage is situated on Walloon Lake, offering a friendly feeling with neighbors and picturesque setting. Our favorite features? Enjoying treats and drinks on the front porch, taking a dip in the lake, and walking the "locals" path in front of the house into the village! Upon entering this cottage, you are welcomed by plenty of daylight and an open floor plan offering a great view of the lake. The open concept floor plan allows for your entire group to be a part of cooking, puzzles, and TV or couch conversations all at once. The main level offers the first bedroom and full bath as well as laundry. Taking the oak tread staircase opens up into a spacious loft area—great for kids to play games and hang out while still being involved with the main level through the open cathedral wall. The upper level offers two more bedrooms as well as a second full bathroom. There are two cottages on this property, owned by one welcoming, generational family. Although it is "private" frontage, the owners are up at times but stay to themselves and to their designated side of the dock to respect the space of guests. There is a dock space available for a boat, which can be launched at the boat launch 1 minute from the cottage. The famous Walloon Lake Inn or Barrel Back restaurants are a 3–8-minute walk as well as all that the Village of Walloon has to offer!
3 Beds | 2 Baths | Sleeps 8
74 |
WALLOON LAKE RENTALS
vpnomi.com
PETOSKEY CLASSIC VICTORIAN
This beautifully renovated and maintained 1890s Victorian home sits right in the heart of the historic Mitchell Street residential district, just up the hill from Petoskey's downtown Gaslight District. Enjoy summer evenings on the front porch sipping a glass of wine, or stroll just a few blocks to enjoy downtown restaurants and entertainment. This home offers four bedrooms and 3.5 baths, all fully renovated with enchanting original charm. Its central location to Harbor Springs, Charlevoix, Boyne City, and more, makes it ideal for day trips and golf outings. Check out the local farmers markets, entertainment in the parks, or grab your bike and jump on the Little Traverse Wheelway. End your day with a walk down to the harbor, where you will experience the most amazing sunsets ever! Location does not get any better if you're looking to experience Petoskey at its historic best.
4 Beds | 3.5 Baths | Sleeps 8
vpnomi.com | 75 PETOSKEY
CEDAR HOUSE
Perfectly placed on an oversized in-town Petoskey lot, the Cedar House is a great getaway for backyard BBQs, bonfires, and enjoying Northern Michigan like a local! If biking is your thing, you can ditch your vehicle and jump on the Little Traverse Wheelway (bike path) that extends from Charlevoix all around Little Traverse Bay over to Harbor Springs. The Petoskey State Park (beach access) is also just minutes down the bike path or it's a one block walk to catch the beautiful Lake Michigan sunsets. Head the opposite direction on the bike path and pop into downtown Petoskey for lunch and shopping. The location doesn't get any better! This adorable cottage is ready to provide a relaxing vacation with its clean presentation and simple decor. Enter through the front door into a cozy living area which is great for watching TV, playing games, or enjoying drinks. The large dining room table is also a great place to gather around for meals or puzzles. Do not miss the cute coffee nook to grab your morning cup of energy. The main level also offers two cute bedrooms and one fully updated bathroom. Upon taking the steps upstairs onto the beautifully refurbished wood floors, you will find two more bedrooms and another updated bathroom. There is a spacious king guest room and a second bedroom with a full over full bunk bed. This charming cottage is in the middle of the action, yet with an abundance of privacy!
4 Beds | 2 Baths | Sleeps 10
76 | vpnomi.com PETOSKEY
RENTALS
PETOSKEY CHARMER
Arrive on a quaint street just one block from Lake Michigan to this sweet Petoskey Charmer and enjoy all the amenities Northern Michigan has to offer. Sip your morning coffee on the side porch or enjoy a nice breakfast in the dining area while catching the beautiful glimpse views of the water. There are two bedrooms located across the hall from each other with an updated full bathroom just off from the same hallway. There is a living area open to the dining room and a laundry area in the basement for your convenience as needed. The spacious kitchen area with a smaller island and barstools is perfect for laying out snacks and meals. You have direct access to Little Traverse Bay, Lake Michigan is one block away to search for Petoskey stones, swim, or catch amazing sunsets. Be sure to bring your bikes! The Little Traverse Wheelway, a paved biking/walking path connecting from Harbor Springs to Charlevoix, is located just off the backyard.
2 Beds | 1 Bath | Sleeps 4
vpnomi.com | 77 PETOSKEY
HAPPY DAYS CONDO
Perfectly placed in between Petoskey and Harbor Springs, this two bedroom, one bath condo is the perfect Northern Michigan getaway! If you are looking for a quaint rental that is still close to a lot of activities, look no further. Located 5 minutes from Petoskey and 7 minutes from Harbor Springs, it offers plenty of options for great shopping and exquisite dining. Bonus—it's located right off the Little Traverse Wheelway, which is 26 miles of a beautifully paved bike trail that goes from Harbor Springs to Charlevoix. If biking is not your thing, go hiking and/or walk 2 minutes to the Petoskey State Park and enjoy your time at the beach on the shore of Lake Michigan. Different from other Bathing Beach Association condos, this unit offers a large wrap-around deck that is great for grilling out and enjoying a glass of wine. 2 Beds | 1 Bath | Sleeps 6
78 | vpnomi.com PETOSKEY RENTALS
LAKESIDE 16
Located in the prime triangle of activities that Northern Michigan has to offer, this condo is a great location for your next trip! Lakeside Club is located on Round Lake—an all sports lake and right across the street from the Petoskey State Park. The Little Traverse Wheelway (paved bike path) runs right in front of the condo development that can connect you to Harbor Springs for lunch and shopping or all the way through Petoskey to Charlevoix for the same amenities. This unit features two bedrooms, each with a queen bed on the main level, as well as an open floor plan of living/kitchen space and two full bathrooms. A deck off the living area overlooks a small pond for a peaceful setting. Take the interior stairs to the loft where you will find a large open area with three full beds. Located just a short walk to the beachfront.
2 Beds Plus Loft | 2 Baths | Sleeps 10
FRESHWATER NOOK
Centrally located between Petoskey and Harbor Springs, this condo is a great location so close to Northern Michigan activities! Step up onto the covered front porch and enter through the front door into the updated kitchen with an open floor plan to the living area as well as a half bath and laundry closet. The one bedroom and full bathroom are located just up the staircase. Enjoy the little back porch or take a quick walk to hang out on Lake Michigan. This condo is also located right off the Little Traverse Wheelway, which is 26 miles of a beautifully paved bike trail that goes from Harbor Springs, through Petoskey, and all the way down to Charlevoix.
1 Bed | 1.5 Baths | Sleeps 2
vpnomi.com | 79 PETOSKEY
LAKESHORE EXECUTIVE RETREAT
If the Four Seasons Hotel offered a lakefront rental in Michigan, this would be it! Highest quality, full log construction in impeccable condition on Lake Michigan. A newer luxury build, executive level residence with soaring ceilings, massive log beams and rafters, plank floors, and carpeted bedrooms. Take long walks on the beach and witness beautiful pink and purple sunsets from this west-facing home. Walk out almost a quarter mile into the lake before you get waist deep. You get a secluded feeling on this heavily wooded lot, but are just minutes away from all conveniences. A wonderful, soothing retreat to get away from the stresses back home, but with the conveniences you'd expect in a luxury retreat.
3 Beds | 2.5 Baths | Sleeps 8
80 | vpnomi.com CHARLEVOIX RENTALS
vpnomi.com | 81 CHARLEVOIX
FOUR SEASONS ESCAPE
Situated at the top of Andover Club at The Highlands of Harbor Springs, this 7 bedroom, 7 bath luxury home is ideal for a fun trip full of adventure! Visiting during the winter season provides you with direct ski-in/ski-out access with the Lois Lane ski run right out the back door. The backyard was designed with outdoor entertaining in mind with a private hot tub, builtin natural gas grill, and custom built-in firepit, with plenty of patio seating! The main level living area is set up perfectly with couches surrounding the gas fireplace and large vaulted ceilings. Two guest rooms are located directly off from the living room. A beautiful, brand new addition has been added to this home off the kitchen that provides plenty of extra space! A large bunk room with a full bathroom attached is every kid's dream when traveling with friends and family. If you enjoy exercise on your trip, you will love the workout room added to this home on your way to a large laundry room and the spacious primary suite overlooking Lois Lane. Take the staircase down to the second living area, which is a great space for kids to hang out! The three additional guest bedrooms are also located on this level. The well-manicured landscaping surrounding the home and the backyard amenities create an exclusive location in all of the four seasons. This slope side vacation home is sure to provide cherished memories for your group for years to come!
7 Beds | 7 Baths | Sleeps 20
82 |
HARBOR SPRINGS RENTALS
vpnomi.com
vpnomi.com | 83 HARBOR SPRINGS
HILLSIDE RETREAT
Tucked into nature at the top of The Highlands of Harbor Springs, a ski and golf resort, is a perfect abode for year-round vacationing in Harbor Springs, and yet just minutes to Petoskey! This 3,200 square foot chalet boasts views overlooking the Lois Lane ski run. One of the highest residences at The Highlands, truly ski-in/ski-out, and a perfect place to wake up, strap on your skis, and hit the slopes. Featuring five bedrooms and four bathrooms with additional loft space for sleeping. The main level offers an open floor plan with a lot of windows, a vaulted great room, and gas fireplace—all of which make it easy to take in the views of skiers going by or the beautiful fall colors. You'll find two master suites with private baths, one with a king and one with a queen, and two more bedrooms, one with two full beds and the other with two twin over full bunkbeds. The fifth bedroom has a queen and there is loft space for extra sleeping arrangements. The gourmet kitchen includes everything you'll need to prepare meals and gather with your friends and family. The large wrap-around deck features a six-person hot tub, gas grill, and large patio set. The backyard is perfect for yard games, and there is a large game room in the lower level. This spacious, well-appointed chalet accommodates large groups well, allowing ample room to gather as well as private space for downtime.
5 Beds | 4 Baths | Sleeps 16
84
HARBOR SPRINGS RENTALS
| vpnomi.com
vpnomi.com | 85 HARBOR SPRINGS
BIRCHWOOD BLUFFS EDGE
Overlooking a beautiful valley of trees in the heart of Birchwood Farms sits this spacious Bluffs Edge home. Enter through the front door into the living room with floor-to-ceiling windows, wood floors, and plenty of space to relax and take in the views. The Bluffs Edge home is conducive to enjoying family meals, playing board games, and socializing with friends and family! The lovely, updated kitchen with clean, bright colors is complete with stainless steel appliances, quartz countertops, and the perfect breakfast nook for morning coffee. Continue your day out into the cozy three season porch or onto the deck that spans the entire back of the home. The spacious master suite on the main level just off from the living room is complete with tongue and groove vaulted ceilings, double vanities, walk-in shower, and an oversized soaking tub. Take the stairs up and across the mezzanine to two more bedrooms and one full bathroom. There is another suite located above the garage with a queen bed and full bathroom creating a private and quiet space. The lower level is a spacious bonus space which works well for kids to be entertained or for larger groups, such as a wedding party, to spread out and get ready for their big day.
4 Beds | 3.5 Baths | Sleeps 8
86 | vpnomi.com HARBOR SPRINGS RENTALS
MODERN BIRCHWOOD COTTAGE
Nestled in the trees of Birchwood Farms, this bright and clean modern home is ready to host your group for your next trip to Northern Michigan! Upon entering the home into the foyer, you are welcomed by an open staircase that lets light travel from the front to the back of the home. Enjoy the wood burning fireplace or take a peek in the cabinet to pull out a game or puzzle on a rainy day. The dining area is located around either side of the fireplace with furnishings that offer clean, modern lines. The dining table can seat six with an extra two seats at the kitchen counter bar. The second set of oversized sliding doors offer another entrance to the wrap-around deck. Granite countertops and stainless steel appliances make this kitchen easy to cook in and enjoy meals in at the home. The master bedroom is located on the main level and offers a king bed, TV with cable, and a third entrance to the deck. The spacious master bathroom has a double vanity, soaking tub, and stand-alone shower with another entrance from the foyer to offer a bathroom to the main level of the home. The oversized laundry room is located off the kitchen and has a door to a screened-in porch that connects to the two-car garage. Take the stairs to the landing area, which overlooks the living room, to two bedrooms located on each end of the home. Very clean and comfortable home!
3 Beds | 2 Baths | Sleeps 6
vpnomi.com | 87 HARBOR SPRINGS
VIEWLANDS 53
Welcome to this stunningly updated condo located in the heart of Hideaway Valley, amidst 4.5 miles of awe-inspiring hiking trails at the Offield Family Viewlands Reserve. Get ready to be mesmerized by the breathtaking views of Little Traverse Bay and the Inland Waterway, which can be seen at certain locations along the winding paved paths. It's only a stone's throw away from Petoskey and Harbor Springs, with just an 8-minute jaunt to Nub's Nob and The Highlands of Harbor Springs, the perfect location for adventure seekers! Step inside this charming abode and be enveloped by fresh neutral tones and an inviting open layout. The kitchen is fully equipped with granite countertops, stainless appliances, subway tile, and trendy open shelving, perfect for whipping up your favorite meals. Enjoy a sumptuous dinner at the large dining table that seats six, with two additional barstools at the kitchen counter and even more space on the deck located just off the main level. Turn on the gas fireplace, cozy up on the plush couch, and watch your favorite movie on the large smart TV. All bathrooms have been tastefully updated. The lower level is a fun space to hang out, with a ping pong table and barstools for an exciting game of cards. Pristine, well-maintained, and ready for you to create unforgettable memories up north!
4 Beds | 3.5 Baths | Sleeps 9
88 | vpnomi.com HARBOR SPRINGS
RENTALS
SWEET SECLUSION
Situated on 100 feet of private frontage on Pickerel Lake, this cozy cottage is ready for you to come relax! The main floor features an open floor plan with the living room, kitchen, and dining area overlooking the lake (fireplace non-operational). Enjoy meals and drinks indoors or out on the back deck with seating for six or at the picnic table located by the lakefront itself. One full bathroom is found on the main level for great convenience. Take the wood staircase up to find the main bedroom with a king bed and large deck, perfect for morning coffee overlooking the lake! The second bedroom is also located in the upper level with two sets of twin bunk beds. The second full bathroom with laundry is located off the two bedrooms. Dock for jumping into the water to swim, outdoor firepit for bonfires and s'mores, mooring for your boat, and yard space to play. What more could you ask for on your summer vacation? This cottage is a quick trip to many exquisite resort towns like Petoskey, Harbor Springs, and Indian River. But don't limit your trips to those—Mackinaw City and Mackinac Island are a quick day trip too! Located close to Petoskey State Park, Burt Lake State Park, and plenty of unique stores and restaurants! Something for everyone in your group!
2 Beds | 2 Baths | Sleeps 6
vpnomi.com | 89 PICKEREL LAKE
SUMMERSIDE DRIVE
This fabulous property boasts all of the luxurious amenities you desire including spacious living areas, shared lake access to Crooked Lake, a boat launch five minutes down the road, and quick trips to all of your favorite resort towns: Petoskey, Harbor Springs, Boyne City, Mackinac City, Mackinac Island, and more. Plenty of space to grill out, play yard games, and enjoy your friends and family! You will be welcomed through the front door with new hardwood flooring and a neutral palette. The spacious kitchen with granite countertops is perfect for cooking instead of always going out to eat. Enjoy your meals at the dining table that seats eight or continue the summer and fall nights at the outside dining. The main level of the home also offers a half bath and the spacious primary suite, which is complete with heated bathroom floors and a large walk-in shower. Heading up the stairs, you will find a nice landing area to sit and read or for kids to play games. There are two large bedrooms and one full bath on this level as well. If the landing area is not enough for kids to relax, they can also enjoy the second "living" arrangement in the bedroom to watch TV. This home offers the perfect blend of seclusion and convenience!
3 Beds | 2.5 Baths | Sleeps 8
90 | vpnomi.com ALANSON RENTALS
THE ODEN HOUSE
Enter into this charming cottage from the wrap-around porch through original wood double doors. Find yourself in a cozy space with a new mid-century feel. The main level entertaining area is very spacious with a large sectional couch to fall into while enjoying the gas fireplace, music over the record player, and a few drinks with friends and family. On the opposite side of the living area is a ten-person dining room table surrounded by floor-to-ceiling windows, an area perfect for making memories and conversations. The full kitchen is on the back of the home with new appliances and is connected to the laundry/mudroom area leading out to the expansive fenced-in backyard. This home has five bedrooms and seven bathrooms giving plenty of space to let your group spread out. Bedroom one is located on the main level with a full bath attached. There is a second half bath connected to the dining room to service the rest of the main level as well. Upstairs brings you to four more bedrooms and five bathrooms—all of which have at least a half bath setup in each room creating more privacy for each guest. Located across the street from Crooked Lake and near many Northern Michigan destinations, this home is sure to be a family favorite!
5 Beds | 7 Baths | Sleeps 10
vpnomi.com | 91 ALANSON
CASA DEL LAGO
A serene setting directly on Munro Lake, this three bedroom, two bath home is a perfect getaway for any season! A quick drive to many Northern Michigan favorites. You are welcomed into the home through the kitchen and dining area which is open to the living room overlooking the lakefront. There is also a perfect little game table area in the living room. Stainless steel appliances and a large dining room table seating six makes it a great space for cooking meals. There are four extra seats at the breakfast bar as well. The split floor plan offers more privacy to the master bedroom with an en-suite, including a large soaking tub, shower, and plenty of closet space. The second bedroom located on the opposite end of the home has a full size bed and the third bedroom offers two twin bunk beds, which is a great place for kids to hang out or for you to separate a bit if it's a guys' weekend away on the snowmobiles. Grab a glass of wine and sit on the large deck to take in the spacious yard and great view of the lake or sit at the lakeshore in the old-time hammock suspended from the many trees. The two-car garage is available for use and a great spot to store your toys during your stay. Bring your boat, kayak, and paddleboards and use the private dock to enjoy your time on the lake.
3 Beds | 2 Baths | Sleeps 10
92 | vpnomi.com LEVERING RENTALS
THE HIDEAWAY
Situated on 10 wooded acres, this cozy three bedroom cabin is the perfect setting to find peace and quiet. Don't let its location fool you as you are a quick trip to Harbor Springs and have great access to the beautiful places that Northern Michigan has to offer! Grab your favorite drink of choice and gather by the wood burning fireplace for great conversations or to catch up on a good book. This cabin is fully stocked to cook meals in and offers a large picnic table on the front porch, which is an ideal setting for a cookout. Don't feel like cooking? Take a 9-minute drive to Moose Jaw Junction (a local's favorite!) for their Friday night fish fry, burgers, and more! Or take a 12-minute drive to Cross Village for the breathtaking views of Lake Michigan and dine at the famous Legs Inn. Bliss Polo Club is 4 minutes down the road from the cabin and is a perfect location for any polo enthusiast! If you are looking for a relaxing getaway in solitude, then you have found your match!
Beds
vpnomi.com | 93 LEVERING
6
3
| 2 Baths | Sleeps
THE WOODS CHALET
This well-placed Mountain Cabin sits directly across from jumping on the slopes and catching the Alpine chairlift at Boyne Mountain. If you're looking to get away to ski, golf, mountain bike, or just sit by the fire with a drink, then this is the place for you. Its location, layout, and amenities are designed to please. It offers four bedrooms and three baths along with a private hot tub on the back deck where you can catch a glimpse of Deer Lake in the right season! Although it is part of the Mountain Cabin development at Boyne, this particular cabin sits down in a grove in the woods, which offers more privacy and parking.
4 Beds | 3 Baths | Sleeps 9
94 | vpnomi.com BOYNE FALLS RENTALS
vpnomi.com | 95 BOYNE FALLS
SNOWFLAKE CABIN
This great new 4 bedroom, 3 bath home is nestled in the woods in The Reserve at Boyne Mountain. This rental sleeps 8 comfortably in beds, but there is plenty of space for a couple more in the lower living area. If you're looking to be at Boyne or a central location to many great towns, this is the perfect house. It is secluded and quiet with plenty of things to do right on property. A perfect place for an "up north" stay!
4 Beds | 3 Baths | Sleeps 8
96 | vpnomi.com BOYNE FALLS RENTALS
CREEKSIDE CONDOS
The Creekside Condos at Boyne Mountain are located on some of the best skiing and snowboarding hills in the Midwest. Step off our patio onto Hilda's Hideaway ski slope, which leads to the brand new Disciples 8 chairlift. These professionally decorated units offer two spacious bedrooms. The master bedroom with a king bed and flat screen TV has a private bath with an oversized tub and tiled shower. The second bedroom has two queen beds, flat screen TV, and its own bath off the foyer. The living area has a two-way gas fireplace, so you're able to enjoy it inside and outside on the patio. The kitchen, with granite countertops, is fully equipped for you to show up and start cooking. There is plenty of space to eat inside with the dining table, bar stools, and more space to expand outside to the patio furniture with a propane grill. The large private hot tub is an added bonus to use throughout your stay for some great relaxation and is just a step out of the front door. If you're looking for a great getaway in Northern Michigan, this is a perfect central location.
vpnomi.com | 97 BOYNE FALLS
2
| 2 Baths | Sleeps 8
Beds
THE COTTAGE UP NORTH
This vacation home is perfectly placed in a wooded setting off the beaten path, yet minutes from some of the best activities Northern Michigan has to offer. Upon entering the front door of this quaint cottage, you are welcomed with the charm of the rustic beams, the cute center staircase with an open loft, and modern furnishings. The stand around kitchen counter is perfect for setting out all your snacks and drinks to enjoy a relaxing day of games and puzzles. The main level offers one of the three bedrooms with a queen size bed and TV as well as the cute bunk area, perfect for the kids to hang out and play! There is a full bath on the main level with a tub/shower and a unique wood vanity top. The mudroom/laundry area is an ideal spot to drop all of your personal items when coming in the door or any extra items from your adventurous days. Take the staircase to the loft and you will find a great seating area to read a book and relax! The second and third bedrooms can be found in the upper level as well as a full bathroom with a walk-in tiled shower. Step out onto the deck to enjoy a drink in the slanted chairs while someone cooks up dinner on the grill, and enjoy a meal at the outside dining table. End your night at the large firepit out back to start all over the next day!
3 Beds | 2 Baths | Sleeps 10
98 | vpnomi.com BOYNE FALLS RENTALS
vpnomi.com | 99 BOYNE FALLS
VACATION PROPERTIES OF NORTHERN MICHIGAN www.vpnomi.com | 215 Howard Street, Petoskey, MI | 231.347.7300 | info@vpnomi.com Your Guide to NORTHERN MICHIGAN VACATION RENTALS