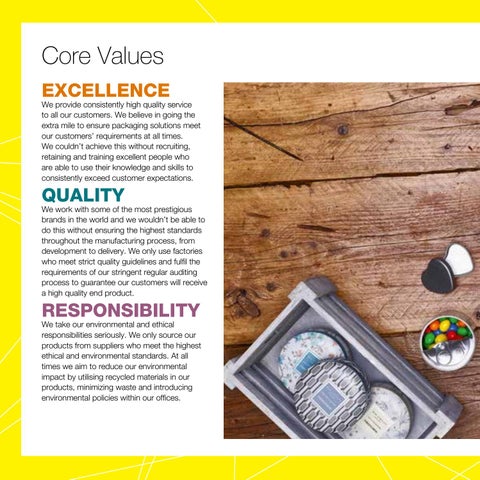 Core Values EXCELLENCE
We provide consistently high quality service to all our customers. We believe in going the extra mile to ensure packaging solutions meet our customers' requirements at all times. We couldn't achieve this without recruiting, retaining and training excellent people who are able to use their knowledge and skills to consistently exceed customer expectations.
Quality
We work with some of the most prestigious brands in the world and we wouldn't be able to do this without ensuring the highest standards throughout the manufacturing process, from development to delivery. We only use factories who meet strict quality guidelines and fulfil the requirements of our stringent regular auditing process to guarantee our customers will receive a high quality end product.
Responsibility
We take our environmental and ethical responsibilities seriously. We only source our products from suppliers who meet the highest ethical and environmental standards. At all times we aim to reduce our environmental impact by utilising recycled materials in our products, minimizing waste and introducing environmental policies within our offices.
Millbarn Packaging Stock Catalogue