• 2023
JANUARY–FEBRUARY
Mercedes-Benz Club of America ®
The Best Keeps Getting Better
New features for traveling in luxurious comfort
From the all-new bright and airy Classic Canyon décor to improvements across the entire lineup, our touring coaches deliver more freedom, flexibility, and style than ever before. Go further and stay longer with the powerful E1 Package optional upgrade and travel in ultimate comfort with a host of enhanced components like soft-close drawer hardware, solar capacity expansion, and an improved air conditioner. Learn more about our luxurious Class B lineup at airstream.com.
airstream.com//2023-tc-updates
with the Best®
Roll
airstream.com
1 THE STAR 1-2 • 2023 1954 MERCEDES-BENZ 300 SL GULLWING SOLD for $1,600,000 I Amelia Island Auction 2022 NOW INVITING CONSIGNMENTS LIVE & ONLINE AUCTIONS COLLECTIONS & ESTATES PRIVATE SALES CONTACT OUR SPECIALISTS TO LEARN MORE AUCTIONS & PRIVATE BROKERAGE GOODINGCO.COM 310.899.1960


3 THE STAR 1-2 • 2023 Bremmer Kraft BR20 18 19 20 Enkei Tuning Raijin 18 Forged One FF06 19 20 MSW Type 41 20 MSW Type 74 18 19 20 MSW Type 50 18 19 20 21 ASA GT17 17 18 19 20 BBS XR 17 18 19 20 O.Z. Ultraleggera HLT 19 20 O.Z. Superturismo EVOLUZIONE 18 19 20 O.Z. SUPERTURISMO AERO HLT 18 19 20 O.Z. Gran Turismo HLT 19 20 O.Z. Hyper XT HLT 20 21 22 O.Z. Hyper GT HLT 17 18 19 20 BRAKES SUSPENSION CrossClimate2 ExtremeContact DWS 06 Plus X-Ice SnowEncompass AW01 P7 AS Plus 3 ADVAN Sport A/S+ HiTrac All Season AltiMAX RT45 Assurance WeatherReady Blizzak WS90 Azenis FK460 A/S Potenza RE980AS+ Ecsta PA51 Raptor ZR A/S FAST FREE SHIPPING on All Orders Over $50* TYPE 40 18 19 20 TYPE 30 17 18 19 20 ©2022 Tire Rack FA ST FREE SH IP P ING ON ORDERS OVER $50 *tirerack.com/freeshipping M-F 8am-8pm EST SAT 9am-4pm EST 800-981-3957
Features 26 Barn Find Fairy Tale One MBCA member's car of a lifetime 38 Alpenfahren Time travelling through the Alps in a 1993 230TE 46 Mr. Maybach's Magnificent Machine This 1902 Mercedes-Simplex revolutionized the automobile 54 When Studebaker Sold the Star Historian Karl Ludvigsen investigates 66 May the G-Force Be With You At the wheel of the new G550
The Star® (ISSN 0744-155X) is published bimonthly by the Mercedes-Benz Club of America, Inc.
Katie Carruth
Executive Director and Publisher
1907 Lelaray Street Colorado Springs CO 80909-2872
Periodical postage paid at Colorado Springs, CO 80909 and additional entry offices.
Copyright © 2023 by Mercedes-Benz Club of America, Inc. Reproduction without permission is prohibited. Printed in the U.S.A.
The Star® is a registered trademark of the Mercedes-Benz Club of America, Inc. All rights reserved.
POSTMASTER: Send address changes to Mercedes-Benz Club of America 1907 Lelaray Street Colorado Springs, CO 80909-2872
MEMBERSHIP:
To join call 800.637.2360 or visit www.mbca.org Dues are $65 for one year, $117 for two years, or $167 for three years. Foreign dues please add $10 per year. Membership includes a subscription to The Star®.
ADDRESS CHANGES: Send all changes to Mercedes-Benz Club of America 1907 Lelaray Street Colorado Springs CO 80909-2872 or visit www.mbca.org
Opinions, ideas, and suggestions in The Star® are those of the authors and do not necessarily represent the views of MBCA. MBCA neither accepts nor bears any responsibility or liability for the accuracy of any such opinions, ideas, or suggestions, or the applications thereof. Any representations or warranties (express or implied) with respect thereto are hereby disclaimed by MBCA. No inference should be made that the products or services advertised herein have the approval of MBCA, Daimler AG, Mercedes-Benz USA, or any other entity.
The trade names & trademarks "Mercedes-Benz," "Mercedes," and the three-pointed star in a circle are owned by Daimler AG and authorized for use by its licensees – which include MBCA – exclusively.
5 THE STAR 1-2 • 2023
On the Cover: 1940 Rometsch Mercedes-Benz 320 Cabriolet • Image Royce Rumsey Table of Contents: 1940 Rometsch Mercedes-Benz 320 Cabriolet • Image Royce Rumsey 79 Freude Report: California Dreamin' at Freude 2022 84 Freude Report: Debüt Car Show 86 Meet new Executive Director Katie Carruth 87 National News: Election Results 88 National News: Region & Section Awards 90 Featured Event: Great Marques 92 Star Bright: Oliver Seligman 94 Featured Event: Hershey 96 Section Events: Driving & Social Events Among the Stars 72 Rising Star: Up & Coming Modern Classics – 1973-1981 C107 SLC 76 Auction Spotlight: Market Results for Notable Mercedes-Benz Vehicles Old & New Columns & Departmen ts 18 First Drive: C300 4Matic Sedan 20 Inside Line: F1 Report 101 Directory: National Board 102 Directory: Regions & Sections 104 Trading Post: Classified Ads 105 How to Submit Trading Post Ads 111 Index of Advertisers 112 StarryEyed: 1940 Rometsch Benz 6 Artifact: 1931 Schauinsland Hillclimb 8 At the Wheel: Looking to the Future 10 Top Dead Center: New Opportunities 10 Contributors C ontributors 12 Star Report: King of the 'Ring 14 Star Report: Andy Warhol Cars 16 Your Letters 17 Noted: Drive Smart, Drive Safe JANUARY–FEBRUARY 2023 • VOLUME 68 • NUMBER 1 ®
Arti Fact
ARCHIVES
AAn image so stunningly sharp and clear that it might have been taken yesterday in fact captures a roadside stop more than 90 years ago. Clad in overalls and dusters, three couples chat happily next to a magnificent automobile, its imperious hood and low stance hinting at powerful performance. The rakish machine is a rare Ferdinand Porsche-designed MercedesBenz Type SS Cabriolet A. Warily eyeing the camera from beneath his signature soft cap is the car's young owner, racing ace Rudolf Caracciola. To the left, perched on the car's long running board is Caracciola's beloved wife and business partner, Charlotte "Charly" Caracciola. Walking up the long hill on the right – perhaps to share his first impressions of tackling the tough course – is renowned driver Hans Stuck.
This photograph from July 1931 records a break in practice for the ADAC (German Automobile Club) Schauinsland Hillclimb, run over a twisting logging track from the town of Horben near Freiburg to the top of Schauinsland Pass (today located in BreisgauHochschwarzwald). The challenging route climbed 2600 feet over a distance of 7.5 miles.
That year's Schauinsland Hillclimb was held on July 26. The smaller inset images capture Caracciola in a works Mercedes-Benz SSKL on his thrilling drive to first place in a time of 8:51. Manfred von Brauchitsch, also in a factory SSKL, took second in a time of 9:10. Caracciola would be crowned 1931 European Hillclimb Champion for Sports Cars at the wheel of the all-conquering SSKL. Hans Stuck would capture the title in 1932, also in an SSKL. For more about Rudolf Caracciola, see the three part series by Karl Ludvigsen beginning in The Star, May-June 2021. For details of the mighty SS, SSK and SSKL, see the late Graham Robson's "Days of Thunder", The Star, March-April 2021
To this day, the old Schauinsland route is one of the longest, most challenging mountain courses in Germany, and remains part of the European Hill Climb Championship calendar.
Stephan McKeown
MAIN IMAGE: Rudolf Caracciola and friends take a break during practice for the upcoming Schauinsland Hillclimb. INSETS: Carac ciola sweeping to victory in front of large and enthusiastic crowds.
6 THE STAR 1-2 • 2023
IMAGES FROM THE DAIMLER
7 THE STAR 1-2 • 2023
Charly Caracciola
Rudi Caracciola
Hans Stuck
Looking Forward To The Future And How We'll Get There
Today is the first day of a new era at the MercedesBenz Club of America. It's time to remake ourselves and change the perceptions of what people think of us. The club faces many challenges; our charge is to correct those perceptions.
We have an opportunity to forge a new future. To get there we must be willing to step out of our comfort zones and change the ways we've always done things. Repeating the past will not change the results we seek or move us forward. We cannot continue to repeat the same mistakes and expect different outcomes; we must change our paradigms about how things are done.
Becoming a cohesive and effective team is the first step and helping our new Executive Director, Katie Carruth (see page 86) implement her vision for the club. This is what will help us to change the course of our club. Focusing on the following four goals must be our priority.
1. Unity
Andrew Carnegie once said, "Teamwork is the ability to work together toward a common vision." We must ask our selves what is the vision we are working toward?
Poet Mattie Stepanek said "Unity is strength... when there is teamwork and collaboration, wonderful things can be achieved." What is it we are trying to achieve?
Members, prospective members, sponsors, and potential sponsors must see the greatness of our club and only we can create the image we seek. We are one club not eighty-four sepa rate clubs. How can we get that message out? Better yet how can we demonstrate it?
Lastly, what can each of you do to deliver that message? It's not an adversarial relationship between the leadership team and the sections. All of us, our sections and members need to be united and focused on our future.
Writer Audre Lorde said "It is not our differences that divide us. It is our inability to recognize, accept, and cele brate those differences."
Although we all have differences and different viewpoints, we need to respect those differences and use each other's strengths to move forward to achieve our goals.
Henry Ford once said, "If everyone is moving forward then success takes care of itself." The key word here is every one being committed to success, because if you are there's no stopping us.
2. Look to the future
First, "Forget all the reasons why change won't work and believe the one reason why it will!" Change moves us forward!
It's time for us to have pride in our car club and to chart a new path so we can continue to remake ourselves and our orga nization. We need to believe that together we can change our future and make a difference for the future. No one person can do it alone. Don't be afraid to dream and encourage others to do so.
Janet Jackson said "Dreams can become a reality when we possess a vision that is characterized by the willing ness to work hard."
What is it we should be dreaming to achieve? We need to get back to having Fun!
3. Recognition
To paraphrase philosopher and author, Matshona Dhliwayo "We become strong by lifting others up and recognizing their contributions."
Eleven years ago, a spark lit a small fire that eventually ignited a blaze and today that small spark has resulted in placing me where I am today, leading MBCA into the future. That spark was receiving my section's Member of the Year award (MOTY) in 2012.
We have 17,887 members in 84 sections and yet in 2022, 42 sections submitted nominations for MOTY. Fifty percent of our sections made the effort to recognize members who con tributed to their sections in the past year. Can you all imagine if we lit eighty-four sparks every year the greatness our club could achieve?
4. Communication
George Bernard Shaw once said, "The single biggest problem in communication is the illusion that it has taken place."
All too often we experience this when we send information on to the membership. Recently the best example of this has been with the Medallion Rally. We've heard from numerous sections and members that they knew nothing about it, what it was for, and who was getting the money.
I think we fall into this mistake, Assuming that our prior communication has been effective, and that people get it. How do we fix this?
There's no doubt that we can move the club to a higher level. How? I think George Patton said it best, "You don't tell people how to do things. Tell them what needs to be done and they'll surprise you with their results."
Thank you all for being members of our Mercedes family and for everything you've done for the club this year and past years. Most of all thank you for your confidence in me.
8 THE STAR 1-2 • 2023 Doug Geganto AT THE WHEEL
THE
PRESIDENT FROM

NOTE
A New Year & New Opportunities
Happy new year! 2023 prom ises to be exciting and eventful, and we're looking forward to bringing you the best of the MBCA. From the events you organize to the top adventures in North America, there's something happening within easy reach of every member.
There's no denying that MercedesBenz is in the middle of huge changes as the company reiterates its commitment to electrification, but it's also important to remember that we can continue to enjoy our classics and our newer gaso line-fueled vehicles indefinitely. It will be 30 years or more before seeing a gas-pow ered car on the road is as remarkable as seeing a steam-powered car is today.
Speaking of steam, every car enthusi ast should spare a thought and prayer for our friend Jay Leno, who recently suffered
Contributors
serious burns when a gasoline leak caught fire in his shop. Mr. Leno is one of the world's leading experts on steam cars and on classic cars generally. We wish him a speedy and complete recovery.
We're thrilled to bring you several important stories in this issue. Those who attended Mercedes Freude this year had the chance to see Randy Carlson's remarkable one-of-a-kind barn find cab riolet, and now we've got the whole story for you. We've also got a beautiful drive through the Alps in a wonderful young timer Benz, as well as a look at one of the oldest Mercedes vehicles still oper ating. Historian Karl Ludvigsen explains the one-time partnership between Mercedes-Benz and Studebaker, and we finish up our features section with a look at the latest aspirational G-Wagen.
It's a great kick off for a great year.
T he Star ® is the official magazine of the Mercedes-Benz Club of America, Inc.
1907 Lelaray Street Colorado Springs, CO 80909-2872 800.637.2360 • 719.633.6427 www.mbca.org
President Julie Bruggner, julesslb@msn.com
Executive Director & Publisher Katie Carruth, katie@mbca.org
BUSINESS STAFF
Administrative Services Manager Cindy Tumbleson, cindy@mbca.org
Assistant Business Administrative Manager Ryanne Dias, ryanne@mbca.org
Membership Specialist Nicole Noll, nicole@mbca.org
Marketing Director Ken Engelman, ken@mbca.org
EDITORIAL STAFF
Editor in Chief Jeff Zurschmeide, jeff@falstaffpubs.com
Creative Director & Senior Editor
Stephan McKeown
European Editors
Karl Ludvigsen, Simon Strang
Reviews Editor
Jason Fogelson
Auction Editor
Ryan Hemphill
Copy Editors
Sinclair McShane, Laura Simonds, Richard Simonds
Technical Editors
Daniel Stahl, Pierre Hedary
Associate Editor Rubin Howard
CONTRIBUTORS
David Abarr, Sean Aryai, Win Baum, Jon Bernardi, Randy Carlson, Axel Catton, Jay Hirsch, West Kenyon, George Larson, Ginny Pitzen, Royce Rumsey, Oliver Seligman, Denis Tanney, Dave Tobin
SUBMITTING EDITORIAL MATERIAL
Jeff Zurschmeide 1506 5th Street
Tillamook, OR 97141 503-330-3010
jeff@falstaffpubs.com
Please query The Star first regarding possible editorial interest. We regret that we cannot always acknowledge or return materials submitted for consideration.
Self-proclaimed "Carchaeologist" Randy Carlson is a Southern California based car nut and avid history chaser. He has been involved in multiple automotive television programs and his writing and photography has been published worldwide. Randy's happy place is in a dusty barn or his home garage, rescuing and reviving history on wheels.
Axel E. Catton is the proverbial car guy. Growing up in the Bensonhurst district of Brooklyn, New York, the German native got his first fix of cars and car culture at an early age. Stints in public relations for BMW and Audi followed, before Catton started writing about cars full-time in 2007. Today he is published around the world.
DISPLAY ADVERTISING
Kaló Media
Charlton Calhoun, charlton@kalomedia.com Weston Kalogeridis, weston@kalomedia.com
CLASSIFIED ADS
Trading Post ads: www.mbca.org/classifieds
ADDRESS CHANGES & MISSING ISSUES
Ryanne Dias, Ryanne@mbca.org
10 THE STAR 1-2 • 2023 Jeff
CENTER TOP DEAD EDITOR'S
Zurschmeide
12 THE STAR 1-2 • 2023
NEWS •
•
•
TA R
ARTICLE STAR STAFF IMAGE DAIMLER GLOBAL MEDIA EPORT
The
Best From Mercedes-Benz:
REVIEWS
PEOPLE
EVENTS S
R
The Mercedes-AMG ONE supercar smashes the Nürburgring record for road-legal production cars by nearly eight seconds
The Mercedes-AMG ONE is the new king of the famous NürburgringNordschleife. With an official time of 6:35.183 minutes for a lap of the historic 12.94-mile German track, the silver hypercar with F1 technology and racing driver Maro Engel behind the wheel set a new record for road-legal pro duction vehicles, as well as a new fastest lap time for the super sports car category. Despite the challenge of a damp and slip pery track, the unmodified AMG beat the previous record set by a specially pre pared Porsche 911 GT2 RS by a stupendous 7.82 seconds.
The only modification to the AMG ONE for the record attempt was addi tional wheel camber – although this was set within maximum factory tolerances. The record-breaking vehicle was equipped with everything that the Mercedes-AMG ONE road car offers as standard equipment, including hybriddrive technology migrating from the racetrack to the road for the first time. With a 1.6-liter V-6 combustion engine and four electric motors, the E Performance hybrid delivers a total of 1,063 horsepower. One electric motor assists the turbocharger for the gaso line engine, two motors drive the front wheels, and one motor assists the gaso line engine driving the rear wheels. The engine, mounted in mid-engine position in front of the rear axle, revs up to 11,000 rpm. Top speed is capped at 218 mph.
Additional motorsport technology ranges from a carbon fiber monocoque and body to the engine/transmission unit as a stressed chassis element, and active aerodynamics. The Mercedes-AMG ONE also features the fully variable AMG Performance 4Matic+ all wheel drive system with a hybrid-driven rear axle and electrically driven front axle with torque vectoring.
The record lap required not only superb driving skills, driver Engel had to manage battery energy, using the AMG ONE's four-stage Energy Flow Control, and lift off the gas a little earlier in some sections, known as "lift and coast" in technical jargon. In addition, the car also regenerated energy during braking.
The cutting-edge technology of the record-breaking AMG-ONE is making its way into all the hybrid vehicles engi neered by Mercedes-Benz, adding further luster to the brand's reputation for perfor mance and efficiency.
13 THE STAR 1-2 • 2023
... the unmodified AMG beat the previous record set by a specially prepared Porsche 911 GT2 RS by a stupendus 7.82 seconds.
14 THE STAR 1-2 • 2023 STA R R EPORT
Attendees at Mercedes Freude had the opportunity to appreciate some of the most celebrated and argu ably best-known treasures from the Mercedes-Benz Art Collection at the Petersen Automotive Museum in Los Angeles: the exhi bition "Andy Warhol: Cars - Works from the Mercedes-Benz Art Collection" presents 27 screen prints on canvas and 13 drawings from Andy Warhol's world-famous Cars series. The show opened last July and runs until January 22, 2023.
"We are delighted to once again make these great pictures accessible to a broad international audience in the Los Angeles exhibition and thus contribute to the promotion of culture and educa tion," said Renata Jungo Brüngger, member of the board of management of Mercedes-Benz Group. "Because that is precisely the point of our art col lection: with our social commitment to culture and education, we want to create a recognizable benefit for the common good."
The Mercedes-Benz
In the pictures presented, the most famous American pop artist uses eight selected MercedesBenz models to document the history of the automobile – from the Benz Patent Wagen Motor Car of 1886 to the C111-II research car constructed in 1970. At the Petersen Automotive Museum – one of the largest automotive museums in the world –the works are on display together with five of the eight vehicles portrayed by Warhol – including the Mercedes-Benz Formula One racing car W196 R with streamlined body, the Mercedes-Benz 300 SL "Gullwing" Coupé (W198) and the MercedesBenz 750-kilogram formula racing car W125.
The series Cars is one of the last coherent groups of works by internationally renowned Andy Warhol before his death in February 1987. The artist created the series on behalf of the then Daimler-Benz AG to mark the 100th anniversary of the automobile. To date, 30 screen prints and the drawings from the series are part of the MercedesBenz Art Collection.
Art Collection
shows
Andy Warhol
masterpieces at the Petersen Museum in Los Angeles
15 THE STAR 1-2 • 2023
ARTICLE STAR STAFF IMAGES DAIMLER GLOBAL MEDIA
Art of the automobile: Screen prints from Warhol's Cars series include 1937 Mercedes-Benz W125 (left) and 1970 C111-II research vehicle (above)
S TA R TALK
Remembering David Gray
The members of Central Florida Section mourn the loss of past president David Wallace Gray Jr. of Longwood, Florida. Born in Baltimore, Maryland in 1940, David moved to Central Florida, started his own travel agency and got involved with other Mercedes-Benz enthusiasts. In 1976, he was a founding member of the Central Florida Section. He became the fourth president of the section in 2001, serving until 2015.
Your Letters
We want to hear from you. Email jeff@falstaffpubs.com , or write to Star Editor, 1506 5th Street, Tillamook, OR 97141. All letters received are assumed to be intended for publication and may be edited.
Love the GLE 450 4Matic
Referring to Jason Fogelson's article on the GLE 450 4Matic, I agree that this vehicle is "just right," at least for us. After having the very first of the last 3 generations of ML/GLE, I ordered and purchased one of the first V167 GLEs, a 2020 GLE 450 4Matic, which is virtually identical to the 2022 fea tured in the article. It has been a great and useful vehicle. I got the rare E-ABC suspen sion, which is wonderful.
I just want to point out that the 362 horsepower stated in the review does not include up to 21 additional horsepower available on demand from the EQ Boost system. That same system also powers the ancillaries like air conditioning, eliminates turbo lag and makes the start/stop system seamless. A great vehicle.
Greg Williams Portland Section
Max Hoffman
I enjoyed Karl Ludvigsen's article on Max Hoffman. I can remember in 1968 when I lusted for a BMW 2002 that the brochure made clear BMW's link with Mr. Hoffman.
There are a few things I've read about him over the years which I don't know if they are fact or innuendo: In addition to the 300SL, he's also responsible for the Porsche Speedster. And I read that Hoffman either helped design or designed the Porsche crest. As I say, I read it some where and don't know whether it is true.
Hoffman also paid Frank Lloyd Wright with a 300SL and a 300Sc for his architec tural work on his Long Island home and perhaps his Manhattan showroom. I was saddened to learn that this showroom was torn down. Tearing down anything by Frank Lloyd Wright is a desecration.
EV ambivalence
David was a humanitarian as well as a travel, boating, and car enthusiast. His charitable work began on a trip with doctors to the Appalachians. Over the years, his service expanded to earthquake relief in Central America, delivering medical and school sup plies to Haiti, and missionary trips to China, Suriname, Korea, India, Thailand and the Caribbean. He received the Jefferson Award from Channel 6 TV, the Jaycee International World Peace Award and Disney Points of Light award for his humanitarian efforts. He also served as President of Cerebral Palsy in Central Florida. An Eagle Scout, David was also a veteran of the U.S. Navy.
In 2001, David became the fourth pres ident of our section. During his term he championed annual activities including the Lake Mirror Auto Festival in Lakeland, the Auto Fest in Zephyrhills, the Central Florida Auto Show and the Winter Park Concours.
In addition to his duties as president, David edited the section newsletter, Around the Benz. In 2006, it was recognized as one of the top ten club newsletters by MBCA.
In 2015 David retired after serving as president for fourteen years. We are forever grateful for his steadfast dedication and contribution to the Central Florida Section.
Bob Hartmann, President Bob Rolle, Director at Large, Historian
Sounds as if you're 100% sold on EVs. I had the opportunity, the last time my S550 was in for service, to drive an EV loaner for a day or so. I'll admit it was an interest ing experience. I hope you'll agree that the savings from not buying gasoline is far from being proven more economical than charging and battery replacement costs. Tire wear can also be an issue. No one has addressed the tax on gasoline that keeps our roads drivable. In addition, the self-driving feature is a little over the top for the typical driver.
A friend suggested that they pass a law that EVs can only be charged by wind or solar. If they want to abandon fossil fuels, then do so. Not sold yet…
Dick Jones Delaware Valley Section
We do like electrics, but even if we didn't, EVs are inevitable. Mercedes-Benz has said they're going all-electric many times. Ultimately, we'll find out if charging and maintenance costs are lower or higher than with internal combustion cars, but at the moment charging is cheaper than buying gas, at least where we live. As they say, your mileage may vary!
One thing we're very confident about – even if Mercedes-Benz stops selling gas-powered vehicles, our existing high-quality cars will probably outlast our lifetimes. So, we can keep driving the cars we love. – Editor
As imperfect as Max Hoffman's asso ciation with Daimler-Benz was, perhaps he was there at the right time to help the Stuttgart company establish a firm foot hold in North America.
Bill Brandt Sacramento Section
Max Hoffman was not responsible for the 300SL – it was developed by M-B and he agreed to take some. He didn't like driving the 300 SL, considering it "too trucky". The car he really pushed for was the 190 SL.
He was definitely responsible for the Porsche Speedster, pushing Porsche for a car that he could sell for less than $3,000. He had nothing to do with the actual Porsche crest, though he did suggest to Ferry Porsche that the firm needed one.
I can believe the Wright story may be true but know no detail.
Yours to the Max – Karl Ludvigsen
16 THE STAR 1-2 • 2023
David Gray
Max Hoffman
NOTED: Drive Smart, Drive Safe
Without doubt, recent societal changes have impacted all of us. Those choosing to drive themselves, their family and friends in Mercedes-Benz vehicles or other late-model or collector cars, please pay attention. This concerns your safety and well-being.
We own very desirable cars, plain and simple. Whether it is shopping, getting gas or charging your EV, or simply parking your car outside your home or while visiting friends, be aware of your surroundings and take necessary precautions. Carjackings, stolen vehicles, purposeful damage to vehi cles, and worse, are now part of everyday life. Do not become a victim by following steps that will reduce the chances of you becoming a statistic.
Avoid traveling late at night. Especially, never get gas or recharge your EV while out of your home late at night. Prepare ahead so you won't need to do so late in the evening. Be aware of the neighborhood you are in. Avoid sketchy areas, especially at night.
Should you experience a minor "bump" to your car while driving or parking, ques tion whether the incident was an accident or purposeful to get you out of your car. Be suspicious. If you determine the bump was purposeful, do not get out of your car without police presence. Move out of the area to call 911. Always have your cellphone fully charged when traveling, especially at night. Never leave your keys or fob in or near
the vehicle when parked outside the home. And never allow valuables to be exposed or viewable from outside the vehicle. Those of us with cabriolets or convertibles should always close the roof and be sure all windows are shut when leaving the vehicle. Please everyone, drive safely, refuse to become a victim!
Win Baum Connecticut/Westchester Section
Scan the QR Code to Follow MBCA on Social Media
17 THE STAR 1-2 • 2023
IMAGE JOHN REED
The 2022 Mercedes-Benz C300 4Matic Sedan is the first in a new generation of the C-Class, wearing new sheet metal over a new interior, power train, and technology package. No longer the bargain Mercedes, this Baby Benz is all grown up.
When the C-Class's ancestor, the 190, debuted in 1982, it was the entry-level Mercedes-Benz. This positioning in the model hierarchy continued with the first C-Class cars in 1993. Though the C-Class models arrived with the expected build quality and engineering, they lacked the authentic premium look and feel of the larger vehicles in the lineup. As compet itors rose with superior performance and styling, the C-Class seemed to attract aspirational buyers from mainstream brands. When the CLA-Class and A-Class vehicles joined the lineup, they freed the C-Class from its entry-level responsibil ities. This freedom expresses itself in the latest iteration of the C-Class, which is available in sedan (four-door), coupe
(two-door), and cabriolet (two-door con vertible) forms. The closely related GLC SUV and GLC Coupe models share many of the same bones, not to mention the same position in the SUV lineup. The C300 comes into its own with this new generation. Ironically, part of this new maturity is due to its design taking on elements of the E-Class and S-Class – that's a compliment. The C300 is now a member of that elegant sedan family and holds its own as a gorgeous, sporty four-door. Inside, it presents a clean, balanced dashboard with a digital instru ment panel and a big center infotainment touchscreen in portrait orientation. A few extra inches in overall length and an inch more wheelbase mean a bigger cabin, with modest increases in headroom, legroom, shoulder room, and elbow room in the second row. The cabin feels roomier and more comfortable, pushing the C300 closer to the E-Class than the CLA-Class.
The revamped C300 engine distin guishes the new C-Class from both the
CLA and E-Classes. A turbocharged 2.0liter inline four-cylinder is the only choice, but it now includes an integrated start er-generator (ISG) and 20 horsepower/148 lb-ft more torque than the previous gen eration's four-cylinder with improved fuel economy and performance. This new setup is a mild hybrid gasoline-electric, like the EQ Boost in the E-Class, S-Class, and other Mercedes vehicles.
We recently spent a week with the 2022 Mercedes-Benz C300 4Matic sedan. The starting price of $45,550 comes in at $2,000 above the rear-wheel drive C300 sedan. The C-Class two-door coupe starts at $47,850, and the two-door convertible begins at $55,400. AMG makes high-per formance versions of the coupe and convertible models, but not the sedan. Our test vehicle came with an as-tested price of $60,870, including a laundry list of appearance and convenience options. Pricing has been dynamic this year (by "dynamic," we mean "rising constantly") due to supply chain and other factors, so
2022 Mercedes-Benz C300 4Matic Sedan
TYPE: Five-Passenger Compact Sedan CONFIGURATION: Front engine/4Matic All-Wheel Drive ENGINE: Turbocharged 1,999-cc inline-4 with ISG POWER: 255 hp @ 5,800 rpm • TORQUE: 295 lb-ft @ 2,000 – 3,200 rpm
TRANSMISSION: 9G-TRONIC nine-speed automatic OVERALL LENGTH: 187.0 in • HEIGHT: 56.6 in CURB WEIGHT: 3,957 lbs EPA ESTIMATED MILEAGE: 22 city/33 highway/27 combined ACCELERATION 0-60 mph: 6.0 sec TOP SPEED: 130 mph (electronically limited)
ARTICLE JASON FOGELSON IMAGES MBUSA MEDIA
FIRST DRIVE 18 THE STAR 1-2 2023
don't be surprised if the price you see online or in a dealership is higher.
Driving the C300 4Matic sedan shows the vehicle's makeover was more than cosmetic; it now has a more solid feel and better handling to accompany its increased power. The C300 now delivers a genuine premium driving experience. We are eager to try out the AMG variant, as the only thing better than more power is lots more power, and that's an AMG hallmark.
The C300 comes in three lines: Premium, Exclusive, and Pinnacle. Instead of packages and a la carte options, Mercedes-Benz has bundled upgrades and features in each line. This strategy simpli fies selecting a luxury level and reduces build complexity while narrowing the opportunities for personalization. Most of us will be able to find a happy balance in the lines, though.
Watching a baby grow up can be a melancholy experience, but we felt only joy with the new, more mature 2022 Mercedes-Benz C300 4Matic sedan.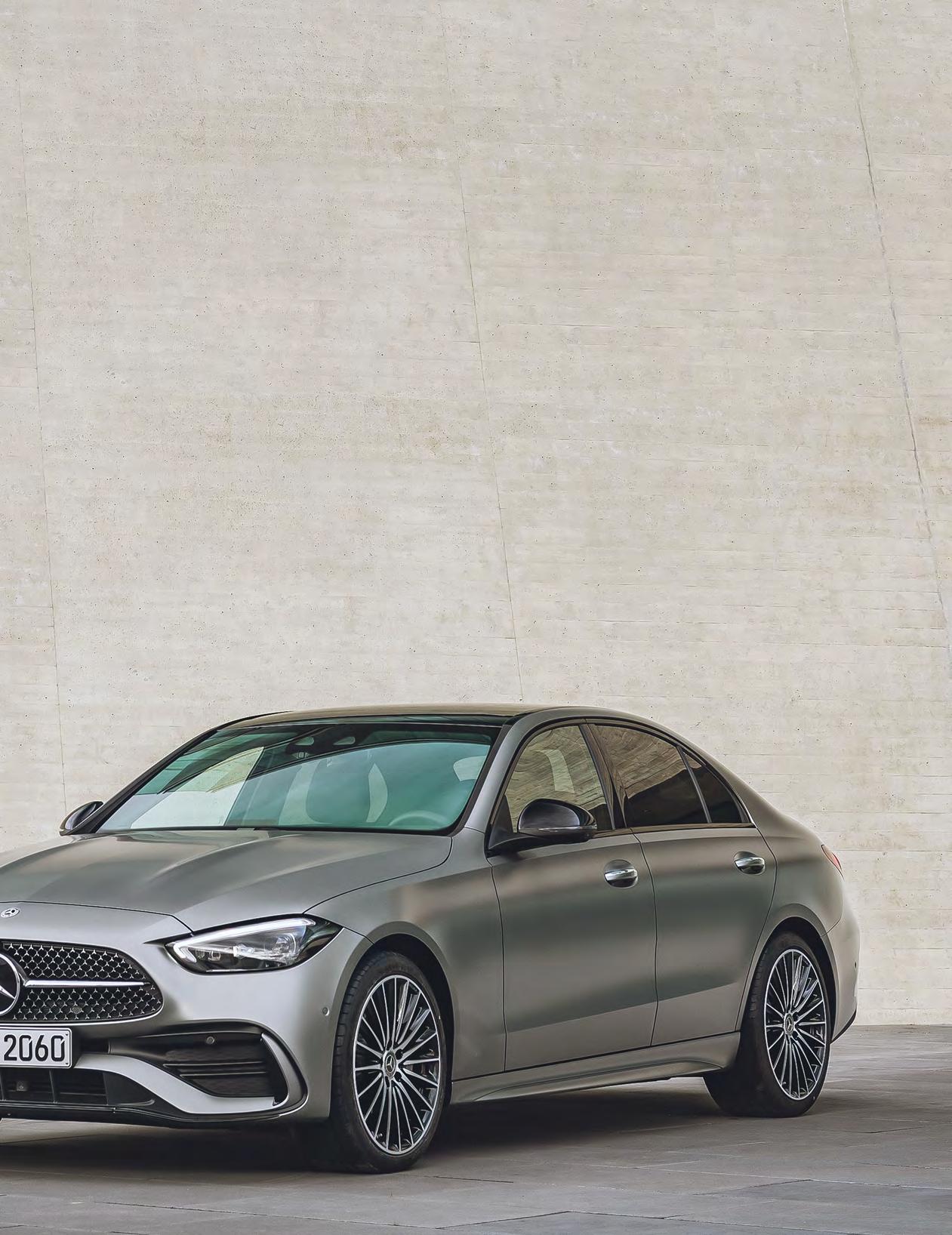 C300 now delivers a genuine premium driving experience. 19 THE STAR 1-2 2023
The
Read any half-decent book about growth and self-dis covery and there will be a line in there somewhere about finding joy in solving problems. After all, while a trouble-free life is not realistic, it's often a clear to-dolist that we strive for in our everyday lives. In the end, without objectives, we drift. Therefore, so the logic goes, the happiest individuals tend to be those who find a way to enjoy the marrow while chewing the bone.
Watching Lewis Hamilton at work, particularly in the second half of the 2022 FIA Formula 1 World Championship season, there were several signs he'd rediscovered his mojo. It was as if his exceptional race-contending performances in Austin and Mexico, to add to those already delivered at Silverstone, Zandvoort and the Hungaroring, had nourished the splintered soul that sat shattered in the cockpit under the lights at the end of the Abu Dhabi Grand Prix last December. In fact, he's relishing F1 so much that in Mexico he confirmed he would be sticking around for the foreseeable future.
Whether or not you subscribe to any of the multiple theories that emerged from the debacle of the 2021 title showdown, what cannot be denied is that Hamilton's claim on the championship was crushed by an illegitimate stewarding decision. For racers, such as those that lead the Silver Arrows, rules are sacrosanct. They are what you push against; how you measure your level; how you know you've won. So, when the rule-makers stray from the line, anything goes. How can you know the value of your achieve ment? The injustice makes it all the harder to process. The pain of those repercussions has etched sharply on the expressions of senior Mercedes-AMG F1 personnel all season long.
During F1's third North American stint of the season –Rounds 19 and 20 at the Circuit of the Americas and Mexico City – there was (rather fancifully) some paddock speculation that the controversial result might have been reversed and that Hamilton would retrospectively be crowned the 2021 champion. It emerged that Red Bull Racing had committed a 'Minor Breach' (less than five per cent of the total) of the $145 million spending cost cap put in place for teams ahead of the 2021 campaign. The sport's governing body, the Federation Internationale Automobile (FIA), deliberated for some time over the punishment – which could have ranged from a mere fine to a points deduction or exclusion from the 2021 results. Meanwhile Red Bull proclaimed inno cence with a predictable amount of robust defense. In the end, it was found to have overspent by $1.8 million. This amounted to more than a thimble-full, but small enough to be credibly argued as an accounting error. Nevertheless, Red Bull was the only one of ten teams to materially overspend.
The team's punishment was a £6 million fine and a 10% reduction in its aerodynamic testing allocation for the next 12 months, starting from October. Other team principals, includ ing McLaren's Zak Brown and Ferrari's Mattia Binotto called for harsher penalties, the former going so far as to insinuate it was tantamount to rule-breaking. But when you look beyond the headlines and into the fine print, the punishment meted out in the Accepted Breach Agreement, when added to limita tions on aero research time, means that Red Bull now has less
development available to it than Mercedes for the rest of 2022, and around 20% less until September 2023. RBR team principal Christian Horner stated that he believed that could be worth around half a second per lap in real terms. But then, having negotiated the punishment with the FIA directly, it was in his interests to emphasize the pain. It could have been worse.
Reacting to the news, Mercedes team principal Toto Wolff said it was "too little" for Mercedes and "too much" for Red Bull. "The most important thing is that there is a robust governance," he said. "The FIA didn't budge, they just followed the process."
"Overall, it's good to see that there is a penalty," he added, "whether we deem it too low or too high. What you see is that beyond a sporting penalty and financial fine, it's also reputa tional damage. In a world of transparency and good governance, that's just not on anymore. Compliance-wise, whatever team you
20 THE STAR 1-2 • 2023 INSIDE LINE MOTOR
SPORT • Simon Strang
Lewis Hamilton leads Max Verstappen • Mexico
are, you're responsible for representing a brand, your employees, your partners, and that's why for us it wouldn't be a business case."
Time will tell whether the punishment has matched the crime, but it seems unlikely that anyone will use the breach as a precedent for playing a joker in the future on budget. From Hamilton's side, the whole thing just revived unpleasant memo ries, adding that he felt that any change in the 2021 result would have made no difference to his experience of it.
"The damage is already done," he said in a selected media interview during the US GP. "I know inside me what we did as a team, and what we truly achieved, and I can keep that to myself. I am proud of that."
In the aftermath of Abu Dhabi, there were some in F1 who sensed that had Hamilton achieved a record eight titles in 2021 he might have called time on his astonishing career. So, when
he returned this season still shell-shocked to a less competitive vehicle in the W13, those perceptions lingered. But if this was indeed the case, then the fightback from midfield mediocrity with the zero-sidepod Mercedes which has proved so difficult to goad into a competitive operating window, has rejuvenated him.
"We will do another deal," he said. "My goal is to continue to be with Mercedes. I've been with them since I was 13, and it really is my family. I believe in this brand. I believe in the people that are within the organization. I want to be the best teammate I can be to them because together I believe we can make it even stron ger than it already is. I can be an integral part of that.
"I am going forwards," added the 37-year-old, who also announced ownership of a new film company called Apollo Dawn which will make a documentary on his life story and is working with Hollywood A-lister Brad Pitt on a fictional Formula
21 THE STAR 1-2 • 2023 IMAGES MERCEDES-AMG F1
The
Silver
Arrows and Lewis Hamilton finally seem to be gaining ground
1 movie. "Regardless of what's happened in the past, I chose not to dwell on it. There is nothing I can do to change it. I gave every thing and I sacrificed, and I am willing to do it again."
Winds of change
While the driver line-up looks set to remain the same, Mercedes all but admitted that it's design philosophy would certainly change tack in 2023. As the season has matured, so has the team's understanding of the ground-effect-led regula tion changes has improved. Wolff admitted that his team could almost pinpoint the moment during last year's design-phase at which the team sealed its fate this season.
As previously explained in The Star, Mercedes designed its car to run as low as possible, using the low-drag surface to con tribute to the vacuum effect under the car's floor. But that was before everyone became aware of the violent 'porpoising' that afflicted the 2022 cars and prevented them from stabilizing on the straight, causing them to smash into the ground with the underfloor, significantly reducing performance. While Red Bull and Ferrari managed to run their cars higher off the ground with less performance degradation, Mercedes struggled until it cured
the bouncing and initiated a series of developments to recover ground. Next year's car will benefit from these learnings.
"The DNA of the car is going to change for next year, that's clear," said Wolff. "It doesn't necessarily mean the bodywork will change, but certainly the architecture [or DNA] of the car, will change."
"We thought we could run on the deck, but you can't!" he told Sky Sports.
Some of those lessons are already in play as Mercedes pursues its goal of chasing Ferrari's second position in the Constructors' Championship down before the season ends – though the 'draggy' nature of the Mercedes and its need to use a big rear wing will stay on W13.
Singapore slung
In spite of this, the team expected a strong performance on F1's return to Singapore, indeed George Russell described his car as one 'capable of winning' on the notoriously difficult street circuit. Uncharacteristic rain blighted the event, and while pro viding Hamilton with an unlikely pole shot, it also contributed to him running wide at Turn 16 in the final stages of qualifying on the drying track. Starting third, the Briton who has deliv ered some of his finest drives at Yas Marina, was forced wide by Ferrari's Carlos Sainz at Turn 1 and became stuck behind the Spaniard as Sergio Perez's Red Bull and Charles Leclerc's Ferrari made their escape.
Bottled up behind the Ferrari later in the stint, Hamilton made a surprising mistake when he locked up into the Turn 7 bar riers and needed to stop for a nose and a change of Intermediate Pirellis. He emerged in fifth sandwiched between Sebastian Vettel's Aston Martin and Verstappen. The trio of champions put on a virtuoso display, but when Lewis made an ill-judged attempt to pass the German, he ran wide and allowed Verstappen through, eventually finishing a distant ninth.
That's still better than Russell managed, having taken grid penalties and starting from the back. The team gambled on the track drying sooner than it did and Russell was left to flounder on medium slicks from Lap 22, while all else around him pressed on. By the time his tires came in to working temperatures, laps later, the game was up.
F1 returned to Japan for the first-time post-COVID a week later and while everyone enjoyed being back at the glorious Suzuka, where Verstappen clinched his second title with emphatic class, the W13's inherent drag was too much to overcome in another wet-to-drying race and Hamilton finished fifth, Russell eighth.
Coming to America
The U.S. Grand Prix offered up a different story altogether. Hamilton, a Circuit of the Americas specialist, having won the event on five occasions including its inaugural staging in 2012 while he was still with McLaren, sniffed a victory shot. Apart from the long back straight, COTA's characteristics played into the Mercedes' natural drag coefficient, and while Hamilton only qualified fifth it would be become third on the grid after Perez and Leclerc took engine penalties.
Then when Russell harpooned poleman Sainz at the start, Hamilton found himself second chasing Verstappen's front-row starting Red Bull. Initially the duo ran a couple of seconds apart
22 THE STAR 1-2 • 2023
LINE
INSIDE
George Russell • Mexico
as they cured tires and settled into a rhythm, but it was soon clear that on the mediums at least, Hamilton couldn't match the Dutchman. So he went for the undercut and pitted for hard tires on Lap 13.
The gamble didn't work, as Hamilton emerged stuck behind the recovering Leclerc and Perez, so when Verstappen pitted a lap later, he retained the lap lead. A long Safety Car period to recover Valtteri Bottas's beached Alfa Romeo, and then immediately after to sweep up the mess left from a frightening accident between Lance Stroll and Fernando Alonso, changed the race's complex ion. Hamilton was now back up on Verstappen's tail and this time he stayed there.
His pace wasn't enough to pass the Red Bull, so the under cut was deployed again. This time, thanks to a botched Red Bull pitstop, Hamilton got his lead, while Verstappen dropped to third behind Leclerc, who'd run a long first stint to put himself in the mix from 12th on the grid. Verstappen, furious, then unleashed a wicked pace to recover and made light work of the sliding Ferrari.
Even still, Hamilton seemed to have the race locked, but he'd had to change to a scrubbed set of mediums, having used all his new sets earlier in the weekend, and once Verstappen had passed
Leclerc his pace was too relentless to resist. The gap at the end was 5 seconds to Verstappen's favor after he'd sent a pass auda ciously down the inside of Hamilton at Turn 12. What perhaps was more significant, though, was that Mercedes and not Ferrari had offered Red Bull its fiercest challenge.
It was more of the same in Mexico. Once again the race was between Verstappen and Hamilton, who along with teammate Russell had looked like pole contenders until the world cham pion settled it in his own favor on the final qualifying run.
Verstappen made a strong start from fellow front-row starter Russell. Hamilton tucked in behind to get the slipstream and was able to capitalize when Russell jinked right to try and out brake the Red Bull. The two Mercedes ran side-by-side through the chicanes with Hamilton edging out Russell on the exit kerb and moved into second.
Mercedes had elected to start on the mediums, while the Red Bulls and Ferraris went for the softer red-walled tires. This proved the better option, and even with potentially superior race pace, Hamilton was unable to close the gap with his slower mediums, until Verstappen stopped on Lap 25. Hamilton went long, and Russell even longer, but both lost track position back to Verstappen when they pitted. And this is where it went wrong.
The world champion went from softs to mediums, while Mercedes went from mediums to hards, believing that the soft tires wouldn't last and that the Red Bulls were two-stopping. Within five laps both Hamilton and Russell were on the radio saying 'we've made the wrong choice.' The engineers retorted back that the medium could suffer degradation late-on, but the longer the race went on, the less likely that seemed. In the end Verstappen took a record 14th win of the season, 15 seconds ahead of a frustrated Hamilton. Russell was fourth behind Perez.
My kingdom for a win
Next up will be Brazil. A place Hamilton set on fire in 2021, racing through the field in the Sprint and the Grand Prix with electric pace and astonishing panache. This year there is no title in the cards, but armed with the new floor and front wing that closed the gap for Mercedes in North America, the team goes South with the hope of finally clinching its first win in 11 months and 21 races.
There are now only two grands prix left to nail it, and while second position in the Constructors' Championship is a distinct target – the team is just 40 points behind Ferrari – third and a win might actually be a better result for Mercedes. Third in the points guarantees them more wind tunnel time in 2023 than their key rivals, after all. And with a ten-year streak of race vic tories to guard over, a winless season would be a deeply painful reflection of 2022.
"The race win would be proof that our car is back to fight for wins,' said Wolff. "It would definitely be some consolation fin ishing second [in the Constructors'], because Ferrari had the quickest car at the beginning of the season, and finishing ahead of them would be great. But our main priority is to understand the car and have a quick automobile on the track."
Based on his recent form, Hamilton's ability to change a race through sheer force of will is bubbling back to the surface, and there is no better message to send your rivals than to go into the winter winning.
24 THE STAR 1-2 • 2023
INSIDE LINE
Lewis Hamilton • Mexico
"My goal is to continue to be with Mercedes. I've been with them since I was 13... I believe in this brand."
26 THE STAR 1–2 2023
A bout of Covid leads one MBCA member to the car of a lifetime
ARTICLE RANDY CARLSON IMAGES ROYCE RUMSEY RANDY CARLSON DAIMLER ARCHIVES
There are times in life when great opportunities grow out of dark situations. This Mercedes-Benz car story is definitely an example proving that observation.
However, before diving into the details, let me dial the wayback machine to the 1970s. I was just a pup, growing up in Southern California with a father who collected cars. My early years set me up for a lifetime of following in my Dad's footsteps.
I still remember when I was about 10 years old, riding shotgun in my father's 300SL Gullwing. I had to use every bit of self-restraint to not push the little horn button on the passenger side – it would annoy him so. For a time, my mother drove a 190SL, and both my brothers had their turn behind the wheel as they got their driver licenses. As the young est sibling by a decade, my driving years were still to come, but the images remain vivid in my middle-aged mind.
When my Dad passed away in the mid-1980s, I was just 18. The cars in his collection slowly drifted off to new owners. My eldest brother got the 190SL, and I kept Dad's 356 Porsche. A Packard remained in the family garage while we all grew up and then went off to pursue our individual lives.
The joy of the chase
Since that time, I've spent my life chasing and restoring old cars. The process has kept me close to my father in mind and memory. I'm sure he would have greatly enjoyed my automotive adventures. While I may have never achieved the kind of collection that he did, I have had some very fun machines come through my hands. I have immersed myself in the automotive hobby and col lector scene perhaps even deeper than he ever did.
The 300SL had been sold long before his passing, and way before I could ever drive it myself. But I have been a fan of Mercedes-Benz and other German marques since those days.
Flash forward to August of 2021 and I found myself in the height of prepar ing for Monterey Car Week. My trip was planned to the hour, with one of my vehi cles signed up for multiple events. After a year of forced hiatus because of Covid
27 THE STAR 1–2 2023 PRIDE
restrictions, I was experiencing a whole new level of exhilaration.
That excitement was crushed just a week before Monterey when Covid again stepped in to ruin the fun. This time it wasn't the cancellation of an event, it was much closer to home. In fact, it was in my own home. My son fell ill with Covid and then it spread to all of us. And while our symptoms were thankfully mild, it did mean that going to play cars with my friends in Monterey was off the table.
Instead of attending Car Week in person, I watched it all unfold via social media and texts from friends in Monterey, while I grumbled and moped around the house like a brooding ogre. I spent hours on the internet staring at pictures of cars and video of cars and watching all the auctions online from end to end. It helped pass the time, perhaps, but it didn't make me feel much better. However, in this dark and broody mood I stumbled on to what turned out to be one of the most incredible car discov eries I have ever found.
A true barn find
I was trolling Facebook and in one of the barn find groups I saw a photo of a recently discovered Packard that someone had pulled out of a shed. It was much like my father's old car. Mike, the person posting, was excited with his
find but didn't know much about it, so I commented with some background knowledge and began a conversation with him. The chat started first in the comments, and then private messages which eventually led to a long and enjoy able phone call that kept me away from the computer for a while.
We chatted about his car and how he found it, and at one point I asked the obvious question "What else was in the barn?" The Packard had some stablemates for sure, a 1930s Rolls Royce seemed the most exciting of the array and after the call he texted me some photos.
The Rolls was indeed cool, but a sliver of red convertible next to it caught my eye. I asked what it was and Mike replied that it was a Mercedes-Benz. I just knew with every fiber of my being, whatever it was, I wanted it. I asked him if he would be willing to help me get that car, and he agreed. He planned his next trip to the barn the following week and I sat and stared at the photos Mike had texted me, struggling to figure out what that red car was.
The day came when my new car friend Mike was finally able to visit the barn once again. Afterward, he sent me a ter rible quality cell phone video of his walk around the car. The interior was dark and the mystery vehicle was pinned tight in the corner behind other cars – hardly
Isolated by Covid, Randy Carlson stumbled across something intriguing hidden behind other cars in a shot on a Facebook barn find group. That something turned out to be this extremely rare 1940 Rometsch-bodied Mercedes-Benz Cabriolet.
28 THE STAR 1–2 2023
ROMETSCH BENZ
I sat and stared at the photos Mike had texted me, struggling to figure out what that red car was.
29 THE STAR 1–2 2023
30 THE STAR 1–2 2023
the sort of situation where you could make a wise buying decision. I made it clear to Mike that I wanted this car badly and would make it well worth his time if he could swing a deal with the owners for me.
The owners would not give him a price at the time, but my Internet friend promised to follow up with them. I spent a sleepless night poring over the video and dark photos trying to assess the car and its condition, and other than the sellers saying it was a 1940 or 1941, they knew nothing more about it.
The next day the phone rang and I was given a price. I quickly agreed and asked how best to send the funds. As many people do, the owners wanted cash. With my being quarantined 200 miles away, this presented a problem. My helper offered to handle the cash if I wired him the money, so I arranged the transfer.
The moment I got confirmation that the wire was sent, the gravity of the situ ation hit me like a ton of bricks. I had just sent a sizable chunk of money to a man I didn't know, for a car that was not his, that was located 2000 miles away. Plus, I had no clue exactly what the car was or how horrible its condition. Was I com pletely insane?
31 THE STAR 1–2 2023
The flowing lines of the body and the unique rear fender shape were like nothing I had ever seen.
Streamlined elegance: Research points to Rometsch de signer Johannes Beeskow as the creator of this Cabriolet.
ROMETSCH BENZ
32 THE STAR 1–2 2023
I spent sleepless nights while the funds cross the country and my Internet friend Mike made arrangements to return to the barn to do the deal three days later. Thankfully, he was great at keeping me up to date so I knew when he was heading to meet them and that he was about an hour and a half away from the location.
I watched the hands on the clock move for what seemed like an eternity and finally a text came through, "Houston we have a problem." My heart sank, my stomach churned. I thought, "This is where it all falls apart." I calmed my emo tions and gave him a call. The problem, it turns out, was that they couldn't find the key for the car! I breathed a sigh of relief, laughed, and told him to forge ahead. A short time later he texted me a copy of the bill of sale; the car was mine. But what did I just buy?
Some detective work
As the cars surrounding it were moved and the first clear images came through via text, I completely lost my mind. This car was not some derelict 170 or standard model at all, but rather some thing truly spectacular. The flowing lines of the body and the unique rear fender shape were like nothing I had ever seen.
Although much of the Cabriolet's history remains a mys tery, the car's decades of evocative patina are self-evident.
33 THE STAR 1–2 2023
This car was not some derelict 170 or standard model at all, but rather something truly spectacular.
ROMETSCH BENZ
As video and photos came through of its extraction I was literally screaming and running through the house like a maniac.
Mike sent a photo of the body tag on the driver's side, and again I screamed like a schoolgirl, "Rometsch? Are you kidding me?" I was intimately familiar with the coachbuilder Rometsch through their VW-based creations, having had two of them here in my own garage in the past. I have even visited the diminu tive Rometsch museum in Germany just a few years ago, but I had never heard of a Rometsch Mercedes-Benz before.
As Mike loaded the car up on his trailer to get it off the property I again freaked out a bit. The plan was for him to park it under his equipment shed until I could get a trucker out to pick it up. With the realization of the rarity of the car now clear in my mind, I made some frantic phone calls and miraculously found a transporter that could pick it up the very same evening.
After more sleepless nights the trans porter pulled up in front of my house. He opened the door of the truck and I put
my hand on the fender. It was real, this had really happened, and this incredi bly rare coachbuilt Mercedes-Benz was now mine.
A classic back on the road
Since the arrival of the red car, I have spent months researching its history. I have also been working on preserving and reviving the Rometsch Benz to the best of my ability. We have managed to get it running and driving, with all the loose parts assembled. A few missing items have been found, or fabricated and installed. Finally, and best of all, the fun of bringing it out into the world to share at events has started.
The car debuted at the grand opening of the new Mercedes-Benz Classic Center in Long Beach, California (see The Star, November-December 2022) where it attracted quite a crowd. The Rometsch Benz's second event was the San Marino Motor Classic where it consistently drew more eyes and compliments than the sea of perfectly restored classics parked around it. The goal is further technical
34 THE STAR 1–2 2023
This car left the Mercedes-Benz Mannheim plant on March 15th, 1940, bound for Berlin.
fettling to make the car reliable and safe to drive and then to continue to show it in its "as found" state. While a full resto ration is a tempting challenge, for now the beauty and intrigue of the car as found is too much fun to pass up.
The story as we know it
The full history of the Rometsch Benz is not yet complete, but many of the puzzle pieces have been put in place. This car left the Mercedes-Benz Mannheim plant on March 15th, 1940, bound for Berlin. However, originally it was not the sporty red Cabriolet it is today. In fact, it was built as a Pullman Limousine. The car rides on the long wheelbase W142 320 chassis with the larger 3.4-liter engine. Factory records have established that the Cabriolet still has its original engine. How and when did it become this flashy Sport Cabriolet?
The answer to this came from an auto motive historian in Brazil. He sent me a photo of the car taken in Berlin in 1948, posed in front of the distinctive windows of the Rometsch building that I have seen with my own eyes. Miraculous!
The backstory goes further. I con tacted the Rometsch archives. After an initial search, they showed only small jobs done to the car, not the full coach work. However, the discovery of a thesis on coachbuilding in the Berlin Technical Institute revealed personal notes from Rometsch designer Johannes Beeskow that mention the car and a Maybach coupe completed in 1948 as "the last."
That "last" reference may connect to his pre-war career with coachbuild ers Erdmann and Rossi. That's where Beeskow designed and built many amazing custom bodies, many with uncanny resemblances to the body on my Cabriolet. The Erdmann archives agree that it looks to be an Erdmann style design, but they have no records of it in their ledgers.
Notes found in an interview with Beeskow recall Rometsch taking delivery of the Mercedes and Maybach to work on, but they did not mention in what condi tion the vehicles were received. There are many mysteries yet to be solved.
What remains to be found, most importantly, is the car's first owner and initial purpose. The car was originally delivered in 1940 as a limousine, most
The car left the factory in 1940 as a long wheelbase W1420 IV 320 sedan with the larger 3.4 liter engine. By 1948, it had been rebodied as a Cabriolet by Rometsch in Berlin, where it posed in front of the factory's distinctive facade of windows.
35 THE STAR 1–2 2023
ROMETSCH BENZ 1939-1942
3.4 liter W142 IV
36 THE STAR 1–2 2023 Perhaps ... the flowing fenders of this beautiful Rometsch Benz will take me once again to Monterey. 1940 Rometsch Mercedes-Benz 320 Cabriolet Type: Based on a 4-Door, 7-Seat, Long-Wheelbase 320 W142 IV Sedan (1939-1942) ENGINE: M142 II 3405cc L-Head Inline-6 FUEL SYSTEM: Single, Twin-Choke, Downdraft Solex 32 JFF Carburetor TRANSMISSION: 4-Speed Manual with Additional Overdrive POWER: 78 hp at 4,000 rpm • TORQUE: 161 lb-ft at 1,700 rpm WHEELBASE: 129.9 in • LENGTH: 206.7 in • CURB WEIGHT: 4,080 to 4,300 lb TOP SPEED: 78 mph • FUEL EFFICIENCY: 13 mpg
An accomplished automotive restorer, Randy Carson has the skills and expertise to tackle a ground up refurbishment of the rare Rometsch-bodied Cabriolet. Right now, however, he is enjoying just showing the car in its barn find condition.
likely to a dignitary or wealthy indus trialist. I wondered if that person was the same owner who contracted with Beeskow to convert it to a Cabriolet? Did the vehicle change hands or sustain war damage that brought it to the coach builder in Berlin for its radical rebuild?
How and when did this car eventu ally find its way to the United States? The sellers recalled that the recently departed family patriarch had acquired it in Albuquerque, New Mexico, possibly in the late 1950s or early 1960s. The car was flat-towed with a homebuilt tow bar to rural Michigan in the late 1960s, where it was parked in the barn to wait for me until 2021.
What comes next
The little red Cabriolet has certainly had some intriguing travels. Now, thanks
to an incredible twist of fate, this rare automobile is here in my California garage. My obsession with it continues to grow daily.
While I may have missed playing with cars among my friends in Monterey last year, I have Covid to thank for keeping me away. The imposed isolation allowed me to stare at my computer screen and dis cover something incredible.
I also have to thank my Internet friend Mike who helped make this all happen while I sat quarantined at home. It was a wild and scary gamble that got the adren aline pumping for sure. Perhaps in the future the flowing fenders of this beau tiful Rometsch Benz will take me once again to Monterey. I will most definitely invite my friend Mike to join me. Without him, and Covid, this dream would have never happened at all.
37 THE STAR 1–2 2023
ROMETSCH BENZ
Time
traveling through the Alps in a pristine 1993 Mercedes-Benz 230TE
Rottweil, Germany
My ultimate Mercedes adventure began with family friends in a small farming village near Tübingen, not far from Germany's Black Forest. The company was wonderful, and the crisp fall air invigorat ing, especially after having left my home in Arizona just days before. Nevertheless, I was chomping at the bit to get started on a most excellent adventure in a most excellent car, one that was "engineered like no other car in the world."
After a good night's rest and a real German Früstück, it was time! My good friend and American travel companion Joe and I were ready to embrace a long drive in the mountains. My German friend Robert had loaned me his meticulously maintained and perfectly original 1993 230TE Mercedes-Benz Kombiwagen. The Benz was waiting for us to put it through its paces on some of the most exhilarating roads and epic scenery in the world.
This particular W124 station wagon is finished in Cabernet Red Metallic (paint code: 512), fitted with black and anthracite cloth interior (interior code: 061). It also includes a sunroof, optional ASD (electro-hydraulic locking differen tial), self-leveling rear suspension, and a very uncharacteristic European 2.3L gas engine and four-speed automatic gearbox. Best of all, this beautiful specimen would be ours for the next four days while travel ling through the countryside and Alps of Germany, Austria, and Italy.
While this 230TE is just shy of 30 years old and has 158,500 miles showing on the odometer, it truly is a Mercedes-Benz through-and-through, in both quality and durability. The car's interior looked and felt just like it would have when it left the factory in 1993. The switchgear and all the controls functioned like new.
Neuschwanstein
On a crisp October morning, it was time to turn the key and get underway. As expected, the engine turned over deci sively, delivering a smooth and still near silent purr in the cabin. And so we were off to our first destination – the 19th century fairy-tale castle Neuschwanstein. Built for King Ludwig ll, this fantasy castle is located in foothills of the German Alps in Hohenschwangau, Germany, just a few miles from the Austrian border.
The first leg of our journey was two hours and 45 minutes, which took us through miles of farming villages, rolling hills, and to the world-famous Autobahn. However, the 2.3-liter engine and auto matic transmission meant our top speed was far from impressive and getting to the top, or near it, was also a bit unin spiring. Regardless, the W124's drivetrain was silky smooth and sufficient to enter Autobahn traffic without concern. Still, the right hand lane was a very good friend for this Kombiwagen
Contrary to popular belief, many sections of the Autobahn do have speed limits and those average between 100 - 120 km/h (62-75 mph). It was a privilege to be on a number of stretches with no posted speed limit. Again, while not earth-shat tering, winding this engine up to 100 mph was smooth and the car was every bit as poised and quiet on the straightaway as my GLC Coupé. While the top speed is 200 km/h, as indicated by Mercedes specs, the 2.3-liter engine enjoyed cruising at just 24 mph below top speed. This car could have
39 THE STAR 1–2 2023
ABOVE: King Ludwig ll's Neuschwanstein, Hohenschwungau, Germany. BELOW: Cabernet Red Metallic W124 in the rain.
ARTICLE & IMAGES WEST KENYON ALPINE TOUR
Neuschwanstein
Hohenschwangau, Germany
taken on considerably more in perfect comfort if it had been fitted with one of the optional larger engines.
Hohenschwangau
Ascending the mountain from Füssen, Germany to Hohenschwangau, we were greeted with light rain which gave ample opportunity to use the very efficient and era-hip single windshield wiper. Beyond the intrigue of the efficiency and near complete edge to edge clearing ability, there was the enjoyment of watching the ever-so-funky gyrating motion this wiping system goes through to do its job. Yes, a few times I did get distracted and mesmerized as I watched the wiper and not the road!
Once in Hohenschwangau, we checked into the beautiful Hotel Müller, which is located at the foot of Schloss
Hohenschwangau, the first castle of King Ludwig ll. Hotel Müller is one of several four-star hotels I have stayed at in Hohenschwangau and I give it a five-star rating for both dining and accommoda tions. The food, atmosphere, mountain views, and historic building made for an experience well worth repeating.
After a tour of the Neuschwanstein Castle and a leisurely walk down the mountain back to the hotel, it was time to call it a day. We enjoyed dinner at a long time favorite, the Hotel Alpenstuben just down the road from Hotel Müller. The dining here is also excellent and their offerings of authentic Bavarian cuisine are well worth the visit.
The Tyrol and Innsbruck
Morning dawned with a brief shower of light rain, just in time to pack the car
and head off further up into the Alps. We were making our way to Innsbruck, the capital of Austria's western state of Tyrol.
Perhaps due to the chilly temperature, the W124 started a bit sluggishly, putting an instant knot in my stomach. A second later, it fired and all was well. After getting a few more swipes of the mono wiper to remove the residual rain, we were on a 15 minute ride to the Austrian border.
Once again our steadfast 1993 230TE performed flawlessly. Even more impres sively, it was just sipping at the gas, which I was not expecting from a car of this vintage. Our journey included highway, city, and aggressive mountain roads. Through it all, the car averaged 19 MPG. I was quite pleased, as gas prices averaged $8.00/gallon in Europe.
At this point the terrain remained relatively flat as we headed to Innsbruck,
40 THE STAR 1–2 2023
.
.. time to pack the car and head off further up into the Alps.
so the drive was uneventful yet spectac ular as the Alps continued to grow ever more grand. We were treated to just a few glimpses of lightly snow-covered peaks appearing in the distance.
Arriving in Innsbruck brought the thrill of having this W124 packed in city traffic and narrow streets. Here too, the car displayed its ability to nimbly weave through city traffic, U-turns, and exceed ingly cramped parking garages.
Where to stay in Innsbruck
Stopping in Innsbruck brought us to another inspiring small hotel, housed in a building built in the year 1200. The Gasthof Weisses Rössl is located in the heart of historic old town Innsbruck and has been serving as an inn since the 1600s. The Gasthof has been family-owned and -operated for the past 100 years.
41 THE STAR 1–2 2023
TOP: Mountain meadow near Innsbruck. ABOVE: Scenic pull-off, route SS242 southbound toward SS48 Strada Dolomites.
Dolomites, Italy
Innsbruck, Austria
Without exception, this hotel was excellent. From our warm welcome from Maria to the dining experience and the quaint rooms overlooking the narrow streets of old town, along with the excel lent level of service, this hotel is on my list of top picks for future stays. While it is rated as a three-star hotel, in my opinion this hotel far exceeds that if you are looking for a cozy piece of history in old town Innsbruck, complete with a great gastronomic experience.
Another great dining experience in old town Innsbruck is the vintage-themed Piano Bar Café. The Café boasts an inti mate dining room with vintage artwork covering the walls floor to ceiling. There is candlelight at each table, which made for an eclectic, if not eccentric, dining experience. We spoke with Greda Seiler, who has owned the establishment for the past 40 years with her husband. She said they take pride in their restaurant, and serve only the best food, and it shows.
South into Italy
After we ate our way around Innsbruck, it was time to prepare for another big day with our W124. We headed south through the Alps to the great Dolomites in the Tyrol region of northern Italy.
42 THE STAR 1–2 2023 ALPINE TOUR
Rottweil, Germany
San Giovanni di Fassa, Dolomites, Italy
Rottweil, Germany
Our journey would start off on rel atively benign high-speed motorways with miles of tunnels for the majority of the trip. The exception is the final 15 kilo meters, which would begin our ascent into the mountains with hairpin turns up to our hotel, which was located in San Giovanni di Fassa. The town lies in the rolling pasture foothills of the Dolomites, and represents the heart of Alpine skiing.
After getting just a teaser of what the roads had to offer on the next leg of our adventure, we checked in at the X Alp Hotel. Considering the high quality of everything we'd experienced so far, it's all the more impressive that this was the highlight hotel of our tour. The hotel manager, Pietro, greeted us in true big Italian style and showed us to our room, complete with a large balcony and a view that begged for attention.
That view would have to wait, because the Great Dolomite Road was calling our 230TE to a duel.
Climb every mountain
Lasting four hours and climbing 7,800 feet, the journey took us along a stretch of roads that ring the Dolomites. This test would certainly show the technology and ingenuity Mercedes-Benz engineers offer
43 THE STAR 1–2 2023
The area's visual richness ranges from epic alpine vistas to atmospheric architectural details on historic side streets.
After we ate our way through Innsbruck, it was time to prepare for another big day in our W124. Old Town, Innsbruck, Austria
ed in this E-Class of three decades ago, and it was sure to impress us in every way.
Within just a few kilometers, we quickly climbed once again into some of the most stunning scenery on earth. Due to the dry summer across most of Europe, autumn colors were beginning to blaze a few weeks ahead of schedule and stood in spectacular contrast to the still lush green pastures, vivid blue sky and even some fresh overnight snowfall.
Seeing all this beauty was made pos sible by our W124, which ever so nimbly whipped through the many miles of switchbacks and steep grades.
While the overall agility of this car was exceptional and better than I imagined, the small-displacement engine and auto matic transmission meant it sorely lacked the power needed to push us briskly up the hills. On especially steep ascents, it was necessary to manually shift gears if the 230TE was going to do more than maintain walking speed to the next turn.
Still, body roll was minimal and the car's steering remained very composed. There was the traditional slight tendency to understeer common in cars of the period, which I was forced to embrace as I laid into several of the hairpin turns.
Keeping in mind that this was not my car, and having my buddy Joe with me, my better angels kept me from pushing harder to test when the tires would begin to break loose.
Heading home
As ever, all good things must come to an end. So it was with this journey and our W124. After an intense drive and hun dreds of photos, we headed back to the X Alp Hotel where we sat down to a tantaliz ing five-course meal at the restaurant. The food was presented perfectly by waiter Roberto in true South Tyrol Italian style. After dining on many locally sourced ingredients, including cappuccino soup, venison ravioli, venison tenderloin, seared tuna, and a sampling of exquisite wines, we called it a night and prepped for heading back to Germany. However, we had one final pitstop to make in Rottweil.
Being partial to the town of Rottweil, founded in AD 73 by the Romans, I felt there was no more fitting place to snap a few parting photos of the W124.
And so it's here that we say "so long, farewell, Auf Wiedersehen, goodbye" to a legendary car, magnificent scenery, and treasured friends – until next time.
44 THE STAR 1–2 2023
Whether hugging curves in the majestic Dolomites or sightseeing in Innsbruck, our 1993 230TE performed flawlessly.
ALPINE TOUR
Seeing all this beauty was made possible by our W124, which ever so nimbly whipped through the many miles of switchbacks and steep grades.
Dolomites, Italy
45 THE STAR 1–2 2023 Old Town, Innsbruck, Austria 1993 Mercedes-Benz 230TE (W124) TYPE: Four-door, five-passenger station wagon ENGINE: M102, 2,299cc, single overhead cam inline four-cylinder TRANSMISSION: 4-speed automatic HORSEPOWER: 130 at 5,100 rpm (SAE) TORQUE: 146 lb-ft at 3,500 rpm (SAE) LENGTH: 187.6 in • CURB WEIGHT: 3,263 lb FUEL EFFICIENCY: ~24 mpg PERFORMANCE: Zero-60 mph 11.4 sec TOP SPEED: 117 mph
At the turn of the 20th century, there was abso lutely no agreement among car manufacturers about how an automobile should operate. Each builder had their own ideas about how to make a vehicle go, turn, and stop. Steering might be by wheel, tiller, or even foot pedals. Throttles and brakes were similarly varied, with levers, pedals, valves, and all manner of odd configura tions. Some of the ideas born during that era were pretty good, but most were not.
Above all, operating a car was compli cated compared to driving a horse, which at least came with its own brain and built-in instinct for self-preservation.
In the midst of this industrial free-for -all, Daimler and other automakers tried to simplify the operation of their vehicles, sometimes using the name "Simplex" to signify that their car would be easier to operate than others. The push to make a straightforward motorcar led to changes that we take for granted today.
Set the Wayback to 1902
By taking a look back in time we can gain a greater understanding of how a
consensus developed about how cars should function. At the turn of the last century, automakers were generally working from a shared understanding of horse-drawn wagons. The term "horseless carriage" was more than a quaint descrip tion. Because builders routinely started with an unpowered carriage, the best place to put a motor was in the back, with driver and passengers sitting in front or on top of the engine. This meant that the pas sengers ended up very high off the ground, as they were in a horse-drawn carriage. The traditionally large diameter wheels and high ground clearance that helped carriages make their way over rough roads and terrain made motorcars very tall.
Sitting up high meant that the occu pants endured constant swaying and bouncing. Simple leverage meant that the passenger compartment moved around a lot on the springs. It's an uncomfortable, sometimes terrifying and truly dangerous way to travel. Further, locating the engine in the rear often led to overheating, as there was no good way to get cooling air into the system. The low speeds that most cars managed on rough roads meant that airflow was minimal at best.
ARTICLE STAR STAFF IMAGES DENIS L. TANNEY
47 THE STAR 1–2 2023
HERITAGE
Wilhelm Maybach's 1902 Mercedes-Simplex revolutionized the automobile
Maybach to the rescue
Working in Stuttgart around 1900, Wilhelm Maybach designed the MercedesSimplex to address these problems and build an attractive and better handling car. Produced from 1902 to 1909, the Simplex was the first vehicle branded a Mercedes by the Daimler Motoren Gesellschaft (DMG), a predecessor firm of Daimler-Benz.
Note that the Mercedes-Simplex is different from the American Simplex and Crane Simplex automobiles. There was also a Simplex vehicle built in France from 1919 to 1921. Only the name connects these various machines.
The distinguishing features of the Mercedes-Simplex were its powerful engines, ranging from 40 to 60 horse power, and its low carriage and low center of gravity. The engine was moved to the front of the vehicle, to allow airflow to provide maximum cooling. Maybach stated that the goal of this automobile was "comfort by means of simplicity."
The result was revolutionary. The radical Mercedes-Simplex was much easier to drive than its competition, and much more pleasant, reliable, and safe. When DMG began exporting the Simplex to America in 1904, it quickly became the best-selling foreign car in the country. Of course, there wasn't much competition in those days. Total 1904 production for DMG was 800 cars, of which 200 were exported to the United States, mostly to New York. Among all American automakers, just 22,000 cars were made that year.
What makes a Simplex?
Contrary to its name, the Simplex is a fairly sophisticated design. The 6.8-liter engine produces about 44 horsepower at 1,300 RPM. Ignition comes courtesy of a magneto, and induction is managed with a single carburetor. The driveline consists of a four-speed manual transmission and a chain drive to the rear axle.
Braking was accomplished through two systems. A hand brake actuates drum brakes on the rear axle, and a foot brake acts on an intermediate gear shaft on the chain drive. The driver could trigger a water sprinkler to help cool the brakes while driving. The Simplex rode on dual solid axles suspended under semi-elliptic leaf springs.
The cooling system further set the Mercedes-Simplex apart from its
48 THE STAR 1–2 2023
The radical Mercedes-Simplex was much easier to drive than its competition, and much more pleasant, reliable, and safe.
1904 MERCEDES-SIMPLEX
ABOVE: Intake side of Wilhelm Maybach's 4-cylinder, 40-horsepower motor. Cam-controlled intake and exhaust valves made the engine run smoother and quieter; a redesigned carburetor increased engine speed. RIGHT: The Simplex under way. Breakthroughs in engine design, cooling, suspension, handling and braking ensured the Simplex was in a class of one.
49 THE STAR 1–2 2023
50 THE STAR 1–2 2023
competition, using Maybach's honeycomb structure of 8,070 small pipes; an idea rep licated in automotive radiators to this day.
Racing the Simplex
Then as now, success on track spurs showroom sales. This point was not lost on Emil Jellinek, DMG's dynamic sales agent on the French Riviera, where he was also diplomatic consul for the AustroHungarian Empire.
As soon as the Simplex became avail able in 1902, Jellinek put one to work in his Mercedes racing team on the Nice-La Turbie hill climb. Hill climbs were then among the most popular forms of racing, with wealthy owners drafting their chauf feurs into running timed competitions. Hill climbs severely tested the weak cooling systems and indifferent suspen sion and handling of the cars of the time. The Simplex allowed the Mercedes team to defeat all competitors at the La Turbie Hill Climb, setting new records in the process. Owning a winning car was a must for Europe's elite, and it helped DMG sell the Simplex. (For more on the history of the Mercedes-Simplex, and Jellinek's role in its development, see The Star, NovemberDecember 2017).
The motorsports connection was not limited to Europe. Again in 1902, a Mercedes-Simplex won a five-mile race at Grosse Pointe, Michigan, just outside of Detroit. Mercedes was winning in the American auto industry's own back yard. Then industrialist William K. Vanderbilt, Jr., a multimillionaire and racing enthusi ast who later founded the Vanderbilt Cup, took up racing the Simplex. Vanderbilt had prior experience and success with Mercedes, competing in some of the biggest and most-celebrated races around the turn of the century.
Preferring to test himself and his vehicles in endurance races, Vanderbilt entered his Simplex in 600-mile events in France. He set new records, winning a race from Albis to Chartres at nearly 70 mph.
The Simplex in Maine
A rare surviving example of the Mercedes-Simplex can be found at the Owl's Head Transportation Museum in Owl's Head, Maine. The museum has a mission to "collect, preserve, exhibit, and operate pre-1940 aircraft, ground vehi cles, engines and related technologies
Faster and better handling than any other vehicle on the market, the Mercedes-Simplex swept all before it in the hill climb competitions popular at the time. The Simplex was aptly named, not only for the rational, reductionist nature of its mechanical design, but also for the simple and elegant details of its running gear and minimalist body devoid of flourish.
51 THE STAR 1–2 2023
Jellinek's Mercedes team defeated all competition at the La Turbie hill climb, setting new records in the process.
1904 MERCEDES-SIMPLEX
significant to the evolution of transporta tion." The museum houses more than 150 antique automobiles, aircraft, motorcy cles, bicycles, engines, and more.
The museum was founded in 1974 by Thomas Watson, head of IBM, with an initial focus on airplanes, but old cars soon became part of the program. At some point, Watson had acquired this 1904 Simplex 40/45, and it was donated to the museum by his son, Thomas Watson, Jr.
"This particular car was ordered in Paris back in 1903," states Warren Kincaid, ground vehicle conservator at the museum. "It was ordered, but then for whatever reason, the Paris buyer reneged and the car ended up coming to New York. That's how it got to the United States."
With a car of this value and impecca ble condition, just starting and running it creates the risk of damage to the original components. Therefore, museum staff doesn't drive it very often, but they do start the engine to demonstrate to visitors that it still runs.
"We generally use it standing in place, as a running demonstration," Kincaid says. "We don't do much driving it around because the minute you take it out to drive, people want rides and we hate saying no."
Keeping an old car as specialized as a Simplex running is a challenge.
"For many years we didn't run it at all," Kincaid says. "It's such a rare and historic car. But then the last ground vehicle con servator we had here, he liked the car, so he got it running and they drove it around our end of the runway here at the airport. But then it sat again for a number of years. I've always liked the car, so I brought it back into the shop and we got it running again. We're trying to preserve it, so we run it maybe four days a year."
The staff of the Owl's Head Museum takes the Mercedes-Simplex to some of the leading car shows on the Eastern sea board, so you might spot this antique gem at the Greenwich Concours in Connecticut or a similar show. But really, why not use this unique piece of Mercedes history as a reason to plan a trip up to the Maine coast for a visit to the museum and to the beau tiful countryside and shoreline up that way? We think it's worth the trip.
For more information about the Owl's Head Transportation Museum and its collection, visit www.owlshead.org
52 THE STAR 1–2 2023
When DMG began exporting the Simplex to America in 1904, it quickly became the best-selling foreign car in the country.
1904 MERCEDES-SIMPLEX
The Simplex was a rolling advertisement for quality, performance and advanced engineering from Stuttgart's Daimler.
1902-1905 Mercedes-Simplex 40HP TYPE: Open roadster fitted with two-passenger rear body with rear-opening door ENGINE: T-head 6.8-liter, 4-cylinder with dual-cam intake and exhaust valves TRANSMISSION: 4-speed and reverse, aluminum case HORSEPOWER: 40 horsepower at 1,050 rpm WHEELBASE: 122 in • CURB WEIGHT: 2,600 lb TOP SPEED: 50 mph
HERITAGE
ARTICLE KARL LUDVIGSEN IMAGES DAIMLER ARCHIVES LUDVIGSEN PARTNERS
Sales of the Stuttgart company's cars from Hoffman's stores and dealers in New York and Los Angeles were 253 in 1952 and 421 in 1953.
By 1954, Max Hoffman's era as distributor of MercedesBenz cars in America was entering its fourth season. Max was selling the famed company's 180 and 220 models through his Mercedes-Benz Sales, Inc. The February 1954 New York display of pro totype 300SL and 190SL models – their creation encouraged by Hoffman – sug gested great things for the future.
At that moment, however, progress was slow. Sales of the Stuttgart com pany's cars from Hoffman's stores and dealers in New York and Los Angeles were 253 in 1952 and 421 in 1953. "The Export Department," wrote Beverley Rae Kimes, "led by Arnold Wychodil, knew there was a lot of territory between New York and Los Angeles with no representation."
Wychodil had an ace up his sleeve. In the spring of 1952, he learned that Carl F. Giese's contract with India's Hindustan Motors had expired. Since the end of 1950 Giese had been working with Hindustan to convince the Indian military that it
needed a Daimler-built diesel-powered four-by-four vehicle, which if accepted would be produced locally by Hindustan.
This effort hit several roadblocks, not least the governments' refusal to allow knocked-down kits of demonstrators to be brought ashore. DBAG chief Wilhelm Haspel took Hindustan out of the loop, while complaining to Giese of lack of progress. Convincing the Daimler chief, Haspel tried a new direction after being named Delegate for India by the DBAG in 1952. He turned instead to the nation's biggest business combine, the Tata Group.
To make a long story short, Carl Giese succeeded in selling Tata the idea of setting up a works to assemble three-ton Mercedes-Benz trucks in India for local sale. In force from April 1, 1954, the pact was the beginning of a mutually prof itable relationship between Tata and Daimler-Benz.
Big plans in America
Carl Giese was not out of a job. His understanding with Wychodil was that
1. Flanking the elegant, pillarless Mercedes-Benz 300d in this Studebaker-Packard advertisement were models from its two domestic marques, both built on the same chassis at the company's South Bend, Indiana manufacturing plant.
54 THE STAR 1–2 2023
When one of America's oldest auto makers signed up to market Germany's Mercedes-Benz, hopes were high on both sides for a successful pairing
55 THE STAR 1–2 2023 1
if he were successful in India he would be similarly empowered to establish dis tribution of DBAG products in America. Looking for someone to assist him in this effort, through a colleague in September 1954 he contacted Heinz C. Hoppe, who had acquired some English and in 1952 had visited the United States on business for a second time. On October 16, 1954 Hoppe joined the DBAG as Delegate to the Management Board, responsible to Giese.
Heinz Hoppe first attended a man agement-training course in Stuttgart, though he was often interrupted by Giese's urgent tasks. "Sudden upheavals during my training period were only too typical of Giese's style of management," Hoppe realized. "His aim was to reduce my contact with the company head quarters to a minimum. Giese clearly intended me to realize that I was to obey his instructions without objection. When I asked what my work in the U.S.A. would consist of, he replied curtly, 'You'll find that out in good time when you're over there. All you have to do is sell cars.'"
Only a month into his underling's six-month training Giese ordered Hoppe to start work in the United States. "The early days in America were more of an escapade that anyone would ever have believed," Hoppe recalled. Based in a hotel, he was sent sales reports but was barred from any contact with Max Hoffman or his minions. Soon after Carl Giese arrived in December, the bar of a Hollywood hotel was the venue for a meeting with Max that "rapidly took on a most bizarre form," wrote Hoppe. It became evident that Hoffman and the DBAG must soon part ways.
As for Carl Giese, his plan was to arrange the local assembly of MercedesBenz cars from imported parts as he had done in India, shrugging off the company's standing rejection of such a policy because it felt the quality would be compromised. Trucks were okay, but not cars. A vast unused aircraft factory in the wilds of Quebec was inspected in the dead of winter and judged unsuitable – not least because the Quebecois were anything but friendly to Germans.
Finding a partner
In 1955 the staff of the new and gradually enlarging Daimler-Benz of North America was directed hither and
2. In Max Hoffman's day, Mercedes hit the ground running with this 1954 display in New York. Stars of the show were the cordoned off prototypes of the 300SL and 190SL. 3. Celebrating the Mercedes-Benz deal with Tata are Arnold Wychodil, left, with the chief of Tata on the right. Between them stood the beaming Carl F. Giese – villain of the piece in America.
56 THE STAR 1–2 2023 2 3
THE STUDEBAKER ERA
yon by Giese, visiting outboard maker Kiekhaefer, General Electric, United Aircraft, and Curtiss-Wright in his search for the talismanic American Tata. All dropped out of contention for various reasons save Curtiss-Wright, the only serious prospective partner.
"As 1956 wore on," Hoppe related, "our contract negotiations concentrated increasingly on aircraft engine manu facturer Curtiss-Wright. It had failed to keep up with modern jet engine devel opment and was therefore anxious to do business with a successful engine man ufacturer like Daimler-Benz, which was pursuing a relevant line of development.
Desires at Curtiss-Wright also veered in an automotive direction. Its chief since 1949 was Roy T. Hurley, described as "brash, impulsive and a born wheeler-dealer." Before joining the long-established company, Hurley had worked at Bendix and Ford, thus knowing something of the auto world. Hurley was prompted to look toward Studebaker-Packard by the Federal gov ernment, with which C-W had important contracts. It would be appreciated, said Washington, if Curtiss-Wright would come to the rescue of the struggling Studebaker-Packard Corporation.
Roy Hurley responded with a $35 million infusion in exchange for leases on some S-P facilities and delivery of the auto company's defense contracts. Curtiss-Wright also assumed effective control of the beleaguered car company, which in fact was closing down Packard's famed Detroit factory, its last cars leaving the line on June 25, 1956. Accepted on May 28, the deal with C-W was signed on July 26. Creator of the S-P combine James Nance was replaced by Studebaker chief Harold Churchill.
In these febrile summer months, the talks between Daimler-Benz and CurtissWright made the news. Paying attention was John Christy, editor of Sports Cars Illustrated in New York. In a "hold the presses" move Christy cleared the top of his editor's column for the following:
"As of 4 p.m. on July 11 we have known that there will be a Mercedes-Benz plant in the United States and that the most popular versions of the Daimler-Benz line will soon be coming to U.S. customers out of Detroit, not Stuttgart." The news was released a week later along with the
4. The stylish 190SL prototype from New York underwent many changes before becoming the production car featured in brochures. For Studebaker-Packard, it was an attractive offering. 5. Pictured later in life, Heinz Hoppe was the right man to lead Mercedes-Benz sales in America, hand-picked by Carl Giese – who then wouldn't let him do his job. 6. Roy T. Hurley was the freebooting chief of Curtiss-Wright who saw merit in a link with Daimler-Benz and took over Studebaker to get it.
long-awaited announcement that troubled Studebaker-Packard Corporation was pur chased by Curtiss-Wright. The Studebaker part of the combine would still continue to operate as such, and the excellent Packard manufacturing facilities would be used to turn out several versions of the Mercedes line under license.
Not since the days during the thirties when Rolls-Royce was manufactured in Springfield, Massachusetts has a foreign car been built in this country. Volkswagen almost did but reneged at
57 THE STAR 1–2 2023 5 6
"The early days in America were more of an escapade that anyone would ever have believed," Hoppe recalled.
4
the last minute, selling their New Jersey plant at a small profit. Mercedes may well stick, however; they have only to retool an existing plant to begin operation.
To Mercedes: Best of luck! And to Curtiss-Wright: "Please do the job right –it's a wonderful car."
This appeared in the September 1956 issue of Sports Car Illustrated (left), whose cover originally bore a special sticker hailing the news (now lost from this example) and SCI's stunning exclusive. But the now abandoned Packard factory would never build Mercedes-Benz cars.
"When I toured Studebaker's South Bend ... plant in September 1956," Hoppe said, "with engineers Fritz Nallinger and his successor Hans Scherenberg, we could see that the production methods were out of date. I suggested once again to Giese that the plan to cooperate with Curtiss-Wright and Studebaker-Packard should be dropped and that instead we should work with United Aircraft on aero engines, either Mack or White on
trucks and buses and, for the automobile market, build up a system of distribu tors on the same lines as Mercedes-Benz Distributors in Vancouver.
"Giese rejected this proposal," Hoppe continued, "quoting a board decision that envisaged cooperating, if possible, with a single partner. In this case the partner could only be Curtiss-Wright. The assumption of Studebaker-Packard's management by Curtiss-Wright was an ingenious move on the part of Roy Hurley. The American auto manufac turer's sales organization, with 2,500 dealers at the time of the contract nego tiations, was a useful argument when talking to Daimler-Benz. The prospect of concluding a contract with us was some thing he could use when negotiating with the banks.
"Hurley did everything he could to influence the future course of our dis cussions," Hoppe recalled. "His line of argument ran: 'We, Curtiss-Wright, have supplied you with a ready-made sales
7. In the September, 1956 issue of Sports Cars Illustrated, editor John Christy hailed the imminent production of Mercedes cars in the Packard factory. It didn't happen. 8. This 190SL was the first Mercedes to be sold by Freeman-Spicer, the home dealership of Studebaker-Packard in its factory town of South Bend, Indiana. 9. The tailfeathers of a Studebaker Hawk, background, with a 190SL in the foreground locate the scene as taking place while Studebaker sold Mercedes-Benz cars.
58 THE STAR 1–2 2023 7 8
"To Mercedes: Best of luck! And to Curtiss-Wright: Please do the job right – it's a wonderful car."
network. Now all you have to do is sign on the dotted line and deliver 60,000 cars a year.' This totally unrealistic figure was based on the assumption that every dealer would sell two MercedesBenz a month, so that 2,500 x 2 x 12 = sales of 60,000 cars. By way of compar ison, Max Hoffman had sold about 3,000 cars in 1956. In those days 60,000 a year was a volume which, even by the most realistic calculation, could never have been supplied because Daimler-Benz's total annual passenger car output was no higher than 80,000 units."
Sounding the alarm
Newcomer to the New World though he was, Heinz Hoppe pulled out all the stops in his effort to thwart the proposed alliance. "I even persuaded Wychodil's representative to visit Max Hoffman's imposing showroom on Park Avenue and the dreary premises of the Studebaker dealer on 11th Avenue to ponder the difference between them and work out for himself what was awaiting us after signing up with Studebaker.
"A feature of the negotiations," Hoppe added, "was that both Giese and Hurley clearly possessed a firm picture of the situation which was immune to any form of common-sense objection. I regarded Giese's agreement to supply 60,000 vehi cles per year as a complete illusion. In view of my persistent opposition Giese gave me strict instructions to stay out of New York on the Saturday before the contract signing, when Könecke and Wychodil were in the U.S.A. This was to avoid the slightest risk of my meeting them and trying to prevent the contract from going through."
On March 6, 1957 the contract doc uments between the two famous companies were agreed with CurtissWright and signed. The arrangement would remain in force for 15 years. The documents comprised five basic con tracts and 15 ancillary agreements. They included licenses for the assembly and construction of selected products and the use of patents and trademarks. Mercedes models 220S, 300d and 300SL and three truck types were specified. Either party was entitled to terminate the contract prematurely after January 1, 1962 if sales failed to reach a value of $50 million per year.
The new "Curtiss-Wright and Mercedes-Benz" entity had an initial annual budget of $360,000 and a staff of 16. Its president was Roy T. Hurley with Carl F. Giese as vice-president and general manager. "It is easy to imagine," said Hoppe, "that this transfer of author ity to Hurley and Giese caused a number of headaches in Stuttgart, all the more so because DBAG only held a 40 percent minority share in the new company.
"I had raised objections to the agree ment with Curtiss-Wright for many months without success," said a defeated Hoppe. "The most urgent task was to cease working through Max Hoffman on the basis of the notice served on him for May 1, 1957 and for me to obtain posses sion of all the vehicles in inventory and spare parts on behalf of Daimler-Benz North America (DBNA). Not surprisingly, there were considerable differences of opinion and arguments about valuation between Hoffman's staff and our own specialists." A major issue was the com pensation to be paid for terminating the contract. Agreement was finally reached at $2 million, which Studebaker paid off by a special fund at $20 per vehicle sold.
59 THE STAR 1–2 2023 9
THE STUDEBAKER ERA
"I even persuaded Wychodil's representative to visit Max Hoffman's imposing showroom on Park Avenue and the dreary premises of the Studebaker dealer on 11th Avenue to ponder the difference between them and work out for himself what was awaiting us after signing up with Studebaker."
10
The takeover was completed on schedule without roiling the automo tive market. Most customers, including dealers, regarded the Mercedes-Benz sep aration from Hoffman as giving them at least a chance of future success to obtain spare parts and process warranty claims. On the negative side, many customers, banks, and influential personalities in the United States were highly skeptical as to whether these expensive, high-quality passenger cars could or should be sold by the precarious Studebaker-Packard, of all companies, with most of its struggling dealers serving only the lowest level of the market.
An appendix to the contract con tained forecasts of retail sales for the 1957/58 period. As one example, envi sioned delivery of the elegant 300d Mercedes was 6,700 units, of which the best dealers were to sell one a month during a specified 22 months. That this
was a grotesque exaggeration was shown by actual sales of this model throughout the world from 1957 to 1962: just 3,152. In response the sales targets were dialed back significantly after the first months.
In fact, relatively few dealers were contracted to sell the Mercedes-Benz range. In 1957 about 200 were signed up. Throughout the Studebaker era the total never went above 430. The only ones capable of coping with the M-B cus tomer were former Packard dealers and those who also had franchises for Buick, Cadillac, or Lincoln. Others did no more than bolt a Mercedes star to the front of their building. Said one Studebaker dealer, "I'll never sell a Mercedes here unless some half-wit comes along and wants one. But I leave the star up there on the building because it raises my status in the area."
Nevertheless, deliveries by the new organization were off to a fast start.
Incoming orders and cars supplied to Studebaker dealers improved American Mercedes sales tremendously in the summer of 1957. However, this shortterm success only lasted until the fall of that year, when dealers all had their cars. Shortcomings erupted at the initial delivery stage: no infrastructure existed for repairing damage in transit. "As we continued to deliver new cars," said Heinz Hoppe, "it became obvious that dealers were overstocked to a quite irre sponsible level. Many of the cars were parked on unpaved rented lots near the docks, exposed to dirt and bad weather with no roofing to protect them."
Challenges adapting
A dragging anchor was the lack of American style amenities in MercedesBenz offerings. Air conditioning that an American customer expected as a matter of course was entirely unknown
60 THE STAR 1–2 2023
in Germany. Attempts to rectify this in the short term were failures. Power steering added to the 300d performed poorly. Adapting a Borg-Warner auto matic transmission to the highly tuned three-liter engine was a flop. Chief engineer Fritz Nallinger clung to the concept that a Mercedes-Benz would lose its sporting character if it had an automatic transmission. His contribu tion to the discussion was merely: "You'd better teach the Americans how to use a gear shift!"
"We were very soon confronted with the familiar problem of after-sales servic ing," Heinz Hoppe related. "Studebaker dealers were accustomed to most of their clients never appearing again unless something went wrong under warranty. Most of them had repairs done at their local garages. This practice ran into dif ficulties immediately as far as Mercedes automobiles were concerned, for example
10. Only ten percent of Studebaker-Packard dealers signed up for Mercedes-Benz. This one bought the signage but parked no German cars on the forecourt. 11. The company adopted a peculiar amalgamation of its brand with that of Mer cedes-Benz in its advertising. This one featured the 220S. 12. The sturdy Pitman arm of the 190SL was thought by Stude baker-Packard to be an attractive selling point for prospective buyers. The genius of David Ogilvy was still in the future.
because they had complex fuel-injection systems. As a result, a typical American mechanic was unable to service one of our cars. Training mechanics was of no great benefit. They had too few opportu nities to practice what they had learned, usually forgetting some important stage in the procedure.
"As agreed," Hoppe continued, "we supplied workshop manuals and various other technical information, but these usually collected under a layer of dust in the corner of the workshop. Therefore Daimler-Benz of North America set up a program to bring German contract mechanics over to America for a few
61 THE STAR 1–2 2023
11 12
"I'll never sell a Mercedes here unless some halfwit comes along and wants one. But I leave the star up there on the building because it raises my status in the area."
THE STUDEBAKER ERA
years, with their families. We paid their fares in both directions and guaranteed them a safe job and no loss of earnings when they went back to Germany. This program went a long way toward build ing up our American clients' confidence."
(Living in a Detroit suburb during this Studebaker Mercedes-Benz period, the author has vivid memories from the time when his daily driver was a 300SL Gullwing coupe. Driving into the service entrance of a local Studebaker dealer, he would often be forced to follow in
the muddy tracks of a filthy Studebaker pickup, just brought in for repair from a nearby farm. Luckily the dealer did have an imported fuel-injection expert.)
Mismanagement by Giese
All too soon, Heinz Hoppe related, "there was a fairly high degree of tension between the management in Stuttgart and DBNA in the United States. This grew noticeably by the end of 1957, the more so since Carl Giese chose to keep DaimlerBenz in the dark as to the progress
our business activities were making. Studebaker-Packard was not entirely innocent in this respect either. After the end of October, it began to exercise its right as exclusive Mercedes-Benz agent and forbade DBNA any examination of, or influence on, its passenger car orders and sales.
"We were not notified of the current sales figures until November 1957," Hoppe recalled, "evidently because the lack of success was too obvious to conceal any longer. On November 15 Harold Churchill, president of Studebaker-Packard, invoked the contract provision that allowed him to delay further incoming shipments for 90 days. This was despite the fact that the number of vehicles already delivered was less than one-tenth of the target figure of 60,000 units. As soon as we at DBNA had them, we supplied Stuttgart with the detailed sales figures for June to November 1957.
"From that moment on the alarm bells began to ring," said Hoppe. "Doubts expressed from Germany naturally worsened the already tense situation on the other side of the Atlantic. Giese banned his staff from any direct contact with Stuttgart and called for all reports to Germany to be submitted to him first. This had adverse effects on the DBNA staff's working climate.
"Early in December 1957," Hoppe continued, "I received a call from Hans Klotz concerning sales forecasts for the first quarter of 1958. Wychodil had appointed Klotz, a son-in-law of Federal Germany's Economics Minister, as direc tor of exports and his effective deputy. Klotz distrusted Giese and was therefore anxious to obtain the exact figures.
"On this day, December 6, 1957, Giese was in South Bend at a planning com mittee meeting. When I learned that Giese would not be returning to the office that day, I drove out to his house in Greenwich, Connecticut. I explained to him that Wychodil's requests were per fectly justified and urged him to cancel all further deliveries of vehicles from Stuttgart so that we could deal with the excessive stocks we already had.
"At this point," recalled Hoppe, "the situation got out of hand. He issued strict instructions to his staff for there to be no contact with Stuttgart in any shape or form, since only he was entitled
62 THE STAR 1–2 2023 13
13. No details of the 300SL were thought necessary in this ad. Potential buyers were encouraged to contact South Bend.
THE STUDEBAKER ERA
to deal with Wychodil and Könecke. Our discussion grew more and more heated, culminating in personal insults. I marched out of the house of DBNA's president, slamming the door violently behind me while wondering if I had put an end to my career with DaimlerBenz. I drove home quite prepared to pack my bags and return to Germany with my family.
"Without inviting any further discus sion," Hoppe would recall, "or making any attempt to solve our problems, a few days later Giese flew to St. Moritz where he planned to spend Christmas. The rest of us remained behind, faced with the wreckage of what we had been trying to build up. I started an intensive sales promotion program. In agreement with Studebaker, we organized from mid-De cember what we called the Volkssturm, a private army that helped dealers move these cars while motivating them with our personal meetings."
At the close of 1957 the new network had retailed 3,150 Mercedes-Benz auto mobiles – only 129 more than Hoffman sold in 1956. Unsold stock was 3,500 cars, many standing in mud and snow near the Baltimore and Houston docks. Studebaker-Packard was also on the brink of bankruptcy, adding an acute risk of every new DBNA-delivered car being included in the impounded assets if a receiver were appointed.
Thanks to the intervention of Karlfried Nordmann, then in charge of service at Untertürkheim and a Hoppe ally, Mercedes's position with Studebaker was finally made clear at the mother factory. In fact, Nordmann's report to the DBAG management was such an alarm ing indictment of the situation that the export department refused to pass it on to the board. He drafted a new version in a less apocalyptic style.
63 THE STAR 1–2 2023 14 15 16
14. In the Studebaker Mercedes-Benz era, South Bend's stylists adopted raised honeycomb grilles not unlike those of the Mercedes being sold in parallel. This was a Studebaker Hawk. 15. In 1958, Studebaker staged a huge driveaway in Reno, Nevada to draw attention to its Mercedes-Benz product range. They arrived on multiple trucks and trailers. 16. Horse woman Sandra Joan Meek lassoed a 190SL driven by racer Paul O'Shea to highlight the big Reno driveaway event in 1958.
Totally immune to rational criticism, Giese refused to countenance any interference with his decisions.
One last attempt
After meetings early in 1958 a special sitting of the DBNA board was con vened in Stuttgart in February. Among attendees was Bob Guthrie, represent ing the American company's law firm. The meeting had only one agenda item, which was agreed upon in advance and implemented following the delayed arrival of the arrogant Carl F. Giese.
After Könecke declared the meeting open, Guthrie spoke only the words: "Mr. Giese, you are fired from all your duties." This annulled Giese's posts as a member of the DBAG board in Stuttgart, member of the Telco supervisory board in India and president of DBNA – every posi tion he held. Giese's subsequent suit for damages was dismissed. Later, he moved to Bermuda in the role of export chief for Curtiss-Wright.
With former Packard man Lon Fleener in South Bend leading the small but valiant Mercedes-Benz Sales team, Hoppe recommended that MBS be divided into six zones. The Zone Managers' task was to sign up the best dealer in every town or city to represent Mercedes-Benz.
Despite these efforts, sales failed to grow in 1958, 1959 and 1960. In 1958 the figure was 7,704 vehicles, well below the declared objective of 1,000 per month.
A Mercedes-Benz franchise was available to acquire for $10,000 in parts, tools and signs plus enough open credit to place two to four cars in the show room. By 1964, there were more than 320 Mercedes-Benz and other brand
dealers in the United States. More than 150 shared premises with Studebaker with most others paired with imports such as Triumph and MG in addition to domestic automobiles. Fewer than 20 dealerships were exclusively MercedesBenz. Meanwhile, Studebaker had gone for diversification, having first aban doned its California plant and then its South Bend, Indiana home base. It retreated to assembling cars in a small Canadian plant that could accommodate
neither trucks nor the sporty Raymond Loewy-designed Avanti.
The end of a partnership
Though still selling Mercedes prod ucts, said Heinz Hoppe, "Studebaker was deaf to entreaties to invest more in aftersales service and particularly to set up regional spare parts inventories. It was increasingly obvious that if it were to survive at all Studebaker was obliged to try to earn as much cash as possible with
64 THE STAR 1–2 2023 17
17. Lawyer Bob Guthrie (right) played a role in helping the parties reach an agreement on the split between Studebaker and Mercedes-Benz. He's with banker Frank Mannheim. 18. Daimler-Benz continued to step forward with a series of advertise ments highlighting the history and quality of Mercedes-Benz and the availability of its automobiles in the United States.
18
Mercedes-Benz products while investing as little as possible. Among the demands it made of its subsidiary Mercedes-Benz Sales was that the sum of $1 million should be handed over, regardless of how this money had been earned. The MBS budget was drawn up from the outset to fund this."
Added Hoppe, "I placed my hopes on the provision in the contract between Studebaker and Mercedes-Benz that allowed us to withdraw if turnover dropped below $50 million. There was
no denying that the contract did indeed contain this withdrawal provision and that turnover had fallen severely. From 1959 on, our annual sales, never outstand ingly high, began to drop gradually." The senior managers in Stuttgart were wary of enforcing this clause of the agreement, fearing that it might lead to lawsuits in the famously litigious United States.
At the end of 1963, after analyzing the business proposition, an American consultant reported his conclusion that Daimler-Benz could and should
19. After the separation between Mercedes-Benz and Studebaker took effect, unfinished business for Heinz Hoppe (pic tured ) – newly appointed CEO of just-formed entity Mercedes-Benz of North America – was disposing of some 1,000 still-unsold 190D diesels. Famous ad man David Ogilvy helped him move the metal with this text-heavy advertisement.
terminate the contract. His report stated that business would never be improved by the current level of investment and sales activity. He further found that the longer the present shortcomings per sisted, the more disappointed customers would become and the more likely a further drop in sales would then ensue.
Convincing though this was, trans atlantic egos and commitments got in the way of an easy negotiation between Daimler-Benz and Studebaker. Cessation of automobile production in South Bend sparked the final confrontation. Bob Guthrie's appointment as Studebaker's chairman in the summer of 1964 meant that someone familiar with DaimlerBenz's problems was running the show.
Although Studebaker sought $5 million in compensation for severance, the German side demurred. Finally, a figure of $3.75 million was accepted by both sides. The separation agreement was signed on December 14, 1964, and dissolved links among DBAG, Studebaker and its Mercedes-Benz Sales subsidi ary. This took effect on December 31, 1964. Studebaker canceled all its fran chises, leaving the new German-owned company, titled Mercedes-Benz of North America, at liberty to cherry-pick the best of the bunch in the United States and Canada. Of the 210 dealers originally approached by Stuttgart, 195 accepted the offer to sell Mercedes-Benz vehicles. Today, many are still loyal outposts of Mercedes-Benz in North America.
65 THE STAR 1–2 2023
Of the 210 dealers originally approached by Stuttgart, 195 accepted the offer to sell MercedesBenz vehicles. Today, many are still loyal outposts of Mercedes-Benz in North America.
19 THE STUDEBAKER ERA
May the be with you
At the wheel of the new G550
Did you ever drive a car you knew wasn't good for you, but you just couldn't keep your hands off it? A car so compel ling you had to turn around and give it one more look, every single time? A vehicle you wanted to drive so much, you couldn't wait to start it up the next day? Well, I give you the 2023 Mercedes-Benz G550.
Now, I hear you say, a G-Wagen? Really, that thing's been around for 40 years now. Forty-three to be exact, as the very first version had its press launch in Toulouse, France in February, 1979. And while the uninitiated would say it's been unchanged for all these years, hardcore fans know that the most recent iteration – still called 463 – is all-new. Yes, an all-new G-Wagen sounds like the 1970s "all-new VW Beetle," but it's true. To find out how true, we took the most recent version from Stuttgart to its birthplace, which isn't Stuttgart.
When Mercedes called and offered a G550 (badged the G500 in Europe) I couldn't say no. I wanted it even if it wasn't the Über-G63 from AMG and it also wasn't the diesel version. I didn't know
how much I would come to regret that in the days ahead. But there it was, so I went.
What's in a G550?
The G550 features a 4.0-liter biturbo V8 with 416 horsepower. More impor tantly, it offers 416 pound-feet of torque. It's an old school drivetrain in a decidedly old school vehicle. The reason I love the G550 more than the AMG versions is that it combines luxury and performance with a somewhat restrained appearance and the best possible comfort. I hadn't been in a G since I penned my very first feature for the late Gary Anderson here at The Star more than ten years ago. So, even I was thinking, it's gonna be the same SUV, just with a gas engine, right?
In short, yes and no.
Everything we love about the G has been retained. Its design first and fore most, with that upright windscreen, the boxy utilitarian shape, the compact layout, the sideways swinging rear door, and its unstoppable off-road capabilities. But what's been added in the newest version is everything we had been missing.
At only 189.7 inches long, the G-Wagen is almost five inches shorter than an E-Class. But at 86.1 inches wide, it's also almost five inches wider, something you will remember when entering a car wash. At 77.5 inches tall, the G-Wagen cuts an impressive figure. The G can seat a maximum of five people, with no seven-seat option available because of its outside length. The remaining space behind the rear seats is much smaller than we're used to in most SUVs. And despite its compact length, all the diff locks and the permanent AWD mean you have to live with a turning circle of 44.6 ft.
The inside is where the changes are most visible for the upcoming year. A 12.3inch touchscreen in typical MB fashion stretches to the right of the instru ment panel. The small steering wheel is wrapped in contrasting brown leather and there are grey leather seating surfaces with a diamond pattern. The air vents are brushed aluminum, with dark brown wood trim. It all looks very modern, in a surprising contrast to the conservative outside. There is a glovebox with a rather
66 THE STAR 1–2 2023
ARTICLE & IMAGES AXEL E. CATTON DRIVER'S SEAT
Old Town, Schärding, Austria
68 THE STAR 1–2 2023
Nordfriesland, Northern Germany
Tønder, Denmark
With an Ur-G in Schärding, Austria
flimsy lid, but the center armrest is so cav ernous, it swallowed my largish camera whole with room to spare.
G as in Geschichte (History)
When development started for Mercedes' first off-road vehicle, the original focus was not on a luxury bou levardier but mainly on commercial and military use. Internal documents from the early 1970s indicate "forest rangers, fire departments and mountain rescue organizations" as well as other municipal and trade users as the main targets for the "all-terrain station wagon."
Over the last four decades develop ment of the G has split into two major branches, with the type 461 catering for the professional end of business, while the type 463 developed into the jack-ofall-trades for private use that it is today.
Early-on, Daimler-Benz, as it was then called, pulled Austrian develop ment experts Steyr-Daimler-Puch into the project. The company has roots back to the earliest days of Mercedes-Benz, when
it was an importer of Daimler products. Steyr had established themselves as a pro ducer of hardcore off-road vehicles and a center of excellence on 4x4 technology. After joint development, production was set to happen in the company's facility in Graz, Austria, where all G-Wagens have been made since.
G as in Grand Tourer
We decided to take the G back to where it came from. Together with my journalist friend Alexander Brunner, we headed to the quaint Austrian city where the G plant is located.
Entering the G is still an experience. Once you climb into the snug interior, it takes some real heft to shut the door; heavy rubber door gaskets ensure that the cabin is sealed airtight. The seating posi tion is much more upright than in any Mercedes-Benz car, but the small 14-inch steering wheel is perfectly positioned for me. Starting the V-8 engine with the silver starter button awakens a visceral burble that goes straight up one's spine.
Once on the road, I noticed the biggest difference to any previous G-Wagen: ride comfort. You wouldn't think it with this SUV rolling on massive 275/50 R20 Pirelli Scorpions, but I would classify the ride as a 9 out of 10 for its class and weight. A special shout-out to Pirelli for making these 20-inchers one of the quietest SUV tires I've ever come across.
Recent fuel price hikes have a tight grip on the the G's motherlands – Super 98 gasoline had gone from around $5 to more like $9 per gallon – so on our way to Graz we were keeping it civil, letting the biturbo leisurely push us along with traffic at about 100 mph. One of the best new additions to the G-Wagen is ZF's fab ulous 9-speed automatic gearbox. The ZF box was putting us in top gear whenever possible and keeping revs at about 2000 where the torque is at its highest.
G as in Graz
Once we arrived in Graz, we noticed there is no longer a Steyr-Daimler-Puch logo on the factory. The plant in Graz'
69 THE STAR 1–2 2023
The G550 rolls on massive 275/50 R20 Pirelli Scorpions. These tires play a huge part in the G's comfort and quietness –superb for an SUV of this weight – the only downside is wind noise.
Cobblestoned old town of Møgeltønder, Denmark
Liebenau quarter is part of the Canadian automotive conglomerate Magna International's Austrian subsidiary, Magna Steyr. The company sub-contracts everything from parts and subassemblies to electric powertrains and complete vehicles for manufacturers ranging from BMW and Jaguar to Toyota and Fisker.
In 2021, G-Class production here was at an all-time high, with 41,174 units pro duced mainly by hand. After a tour of the town, Alexander and I took pictures of our jade green metallic G-Wagen in front of the plant and witnessed dozens of G models whisking in and out of the factory gates. Quite a few of them were factory mules loaded with test equipment.
As we headed back over the German border, we were looking to fill up our tank one more time in Austria. Our navigation map displayed not only our route but also the current pricing of gas stations along the way. And while not always 100 percent accurate, those that we identified as the cheapest were still cheapest when we got there. That's a clever feature!
G as in Go!
Once back in Germany, I left Alexander behind and started my long trek north to the Danish border, where my family lives. I had no time to lose so I let the G-Wagen fly up to its limited speed of about 130 mph. This is not a restriction of the G-Wagen, but of the tires. Getting a 5,500-pound behemoth like this to higher speeds requires some serious – and even more expensive – rubber. Over all my various trips, fuel consumption was a mediocre 16 mpg, right in between the factory-rated 15 city and 17 highway. This is not great at $9 a gallon, but then it is a 416-hp biturbo V-8.
On the long stretches of the Autobahn, the seats turn out to be extremely com fortable. Heated and cooled with a myriad of massage functions, which I generally ignore, I found them a very welcome interruption of the usual boring highway drive. Another welcome distraction was the excellent Burmester sound system which has plenty of adjustment options, but could have been a little more powerful.
G as in Generations
On the road performance for a vehicle of this size and weight is impressive, with 0 to 60 taking just 5.9 seconds. Now, to put that in perspective, I had just come out of a stint in a fully electric Porsche Taycan, which managed the same task in 5.1 seconds. But this was to be expected, being both a Porsche and an EV. The G-Wagen, on the other hand, is a prehis toric beast. It huffs and puffs, snorts and burbles, and when it races, it goes. So it feels much faster.
Once up in the north, I took my 89 year old mom with me on a photoshoot over the border into Denmark. She loved the way the G-Wagen rode, and while I demonstrated – with her permission –the "G forces," two boys about 10 years old got off their bikes to watch us as they heard the mechanical commotion. Once we slowed down to the permitted speed, both boys gave us a big thumbs-up.
Whatever else happens in this fast-changing world, the next generation of G-Wagen enthusiasts is safe.
70 THE STAR 1–2 2023
Magna Steyr factory, Graz, Austria
Magna Steyr has been part of the Mercedes-Benz production network since 1979. In 2021, 41,174 G-Wagens were made here. There is a Mercedes center of excellence outside the plant.
71 THE STAR 1–2 2023
2023 Mercedes-Benz G550 (W463) TYPE: Four-door, five-passenger SUV ENGINE: M176, 3,982cc, dual overhead cam V-8 with twin turbochargers TRANSMISSION: 9G-TRONIC 9-speed automatic HORSEPOWER: 416 at 5,250 rpm (SAE) • TORQUE: 450 lb-ft at 2,250 rpm (SAE) LENGTH: 189.7 in • CURB WEIGHT: 5,551 lb • FUEL EFFICIENCY: 14/17 mpg PERFORMANCE: Zero-60 mph 5.6 sec • TOP SPEED: 130 mph
Schackenborg Castle, Møgeltønder, Denmark
The 1973–1981 C107 SLC is at home on 5th Avenue or a rally stage
Asaying in the world of art and antiques is "If it was expensive and desirable in period, it will most likely be that way forever." That's generally true of the Mercedes-Benz C107 SLC coupes, sold in the United States 1973–1980. Today, these handsome pillarless coupes are desirable, but not that expensive. The SLC is steeped in racing heritage, has fine period style. and is a very capable grand tourer that can eat up highway miles while delighting occupants.
It seems that enthusiasts are just starting to appreciate SLCs again for their unique charms. Values that had remained largely flat for years have recently registered an uptick. If this model appeals to you and if you can find a well-preserved original car that's been well cared for, now is the time to make a move.
It's hard to imagine that the SLC was actually the replacement for the elegant Mercedes-Benz W111 coupe introduced in the early 1960s, because those were the top-of-the-line S-Class coupes. By the late 1960s, Mercedes-Benz product planners had initial draw ings of the replacement for the W113 SL, which would become the much more modern R107 SL. When considering a replacement for the W111, it was decided to base the new coupe on the new SL, as design of that car was much further along than the new W116 S-Class sedan. By simply stretching the new SL, adding a fixed roof and back seat, Mercedes could introduce a new coupe much faster than being forced to wait for the W116 sedan.
Motorsport heritage
After the 1955 Le Mans tragedy, Mercedes withdrew from international motor racing for more than 30 years. However, the firm competed in rallies. In 1978 Mercedes entered several
Market Examples
modified 450SLCs in major endurance rallies. The 450SLC won the FIA's South America Rally, covering over 15,000 kilometers in a 40-day period. Smitten by success, Mercedes-Benz homolo gated a higher performance SLC, the potent 450SLC 5.0, fitted with a 5.0-liter all-aluminum engine, modified suspension, aluminum body panels and a host of other changes. Mercedes had real rally success with the 5.0. The company then went on to develop the 500SLC, an even more potent weapon.
The C107 won rallies around the world during the 1978 – 1981 seasons. So, while the performance of the rally developed SLCs is quite different than that of the basic road-going models, the basic DNA is the same. It's not too much of a stretch to imagine yourself crossing the Andes in an FIA rally while tooling up the gravel driveway to the 'You-Pick' apple orchard in your 450SLC.
Design
The decision to base the new SLC on a modified SL chassis is ultimately what gave the SLC its most prominent, if somewhat controversial feature, the "window louvers" (or "window gills") located just aft of the rear window and forward of the C-pillar. The 450SLC is the same as the SL from the front bumper to the windscreen, yet the wheelbase is about 14 inches longer than that of the SL (111 inches vs. almost 97 inches). By stretching the car, Mercedes slotted in a reasonably-sized rear seat, but also created a roofline issue if the coupe was to remain pillarless.
It's the rear louvers that make the visual transition from the rear side window to C-pillar. They're a curious design element, and one that's been much debated at many club gatherings I've attended. Some people love them, others don't. Either way, the
72 THE STAR 1–2 2023 Up
ARTICLE DAVE TOBIN DATA DANIEL STAHL I MAGES DAVE TOBIN • DAIMLER ARCHIVES • BRINGATRAILER
& Coming Modern Classics Rising Star
1973 450SLC: Silver Green Metallic (861), Pine Green leather. 65,000 miles, small '73only bumpers. Repaint in original color, description mentions various interior refurbish ments in 2015. Sold for $32,838 on 6/21/21. Color, no doubt, helped the price of this one.
1980 450SLC: Manganese Brown Metallic, Palomino leather. 28,000 miles showing, un known if correct or not, wear to interior looks like probably more miles. European head lights installed. Looks to be a nice driver. Sold for $15,750 on Bringatrailer.com 7/1/21.
OLD & NEW
rear-side view of an SLC is unmistakable thanks to those silver painted plastic louvers sandwiched between two pieces of glass.
The longer wheelbase improves ride quality, making the SLC a great long-distance tourer: comfortable and solid feeling with the handling of a smaller car.
Capable performer despite restrictions
The 1970s were tough on performance. Increasingly strict safety and emissions requirements imposed by America's DOT and EPA meant changes to the SLC. The earliest 1973 American market SLCs had attractive, slim bumpers. From 1974 through the end of U.S. production in 1981, SLCs came with larger 5 mph DOTmandated bumpers. U.S. market 450SLCs used Mercedes' capable M117 V8; 1973 and 1974 models cranked out 190 horsepower.
Thanks to increasing emission controls, 1975 – 1979 SLCs made just 180 horsepower. In 1980, power was down to 160 horses, with 0 – 60 times hovering between 10 and 11 seconds, and a top speed
of 124 mph. All 450SLCs came with three-speed automatic trans missions. As a result, SLCs can feel a bit "boaty" and cumbersome around town. However, a long-distance highway trip turns into a comfortable and sporty affair behind the wheel of an SLC. The 1981-only 380SLC had a 3.8-liter V8 with 155 horsepower and a 4-speed automatic transmission.
Equipment and options
As the top model in the lineup, SLCs came well equipped from the factory and had few available options. What was optional and standard changed over the years. For example, standard for 1978 was leather interior (velour available at no charge), metallic paint, air conditioning, automatic antenna, center armrest, Becker Mexico AM/FM w/ cassette, power windows, and cruise control. Options included a power sunroof, orthopedic seatbacks, and heated front seats. Steel wheels with painted wheel covers were standard. Bundt style alloys were available at no charge.
73 THE STAR 1–2 2023
Two interior views of a 1980 450SLC reveal that cockpit controls are identical to the R107 SL, and a wheelbase 14 inches longer than an R107 SL allows for a decent-sized back seat.
1978 Mercedes-Benz 450SLC
OLD & NEW
C107 SLC U.S. Models: Specifications • 1973–1981
MODEL 450SLC 380SLC
MODEL YEARS 1973-1980 19 81 CHASSIS 107.024 107.025
ENGINE TYPE 4520cc V-8 3839cc V-8
ENGINE NUMBER 1973-75: 117.982 116.960 1976-80: 117.985
POWER (SAE Net hp) 1973: 190 155 1974: Fed 190, Cal 180 1975-79: 180 1980: 160
TORQUE (SAE Net lb-ft) 1973: 240 19 6 1974: Fed 240, Cal 232 1975-79: 220 1980: 230
TRANSMISSION 3-speed automatic 4 -speed automatic TOTAL PRODUCTION1 31,739 3,789
1 Total Production figures include both U.S. and non-U.S. models
The SLC market
The 450SLC was the most expensive car in the Mercedes range from its launch for 1973 until the 450SEL 6.9 arrived in mid-1977. In 1976, a new 450SLC had a base price of $24,131 delivered to the West Coast, while a 450SEL sedan cost $21,877 and the 450SL was $19,515. By 1980, base SLC prices had ballooned to $42,848, while a 450SL cost $36,130. Despite these higher SLC prices, by the midto-late 1980s SLs commanded a premium over the fixed roof SLC.
As time went on, SLC prices bottomed out. A lot of SLCs fell into the hands of people who might have been able to buy them, but couldn't afford to maintain them properly. As a result, today there are a lot of very needy SLCs to be found.
Decent drivers can still be found in the $10,000 range. Nicer cars are pushing $15,000 - $25,000. Great cars range anywhere from about $30,000 - $50,000, but those are really top-quality cars with provable, low odometer readings in excellent, original cosmetic condition. Top prices are for investment grade cars. Still, there are plenty of very nice, driver quality SLCs for well under $20,000. Interesting period-correct colors demand a premium, if
Choosing your SLC
I've said it before about other vintage Mercedes-Benz vehi cles, but it's absolutely true about the SLC: find the best one you can, and pay up for a good example. You can't turn a bad one good without many thousands of dollars and lots and lots of effort. Good cars are out there, you just have to find them.
What does good mean? Original interiors with dashes that aren't cracked. Original paint. Cars with limited ownership, or at least known history, plus a thick folder of paperwork showing regular maintenance. Even so, you should budget several thou sand dollars of mechanical work to bring the car up to a safe and comfortable standard. Remember, the newest SLC is still a 40 year-old car. With time and patience, you can find just the right SLC for yourself, but don't delay, the word is out and they aren't depreciating anymore.
74 THE STAR 1–2 2023
you can stomach those seventies shades. I like the funky metallic oranges and greens. I owned a Pastel Blue (color code 922) 1977 450SLC with body colored wheel covers. That car had presence!
Rally Bandama • Ivory Coast • 1979
OLD
NEW
The SLC is steeped in racing heritage, has fine period style, and is a very capable grand tourer that can eat up highway miles while delighting occupants.
&
& NEW
OLD
Spotlight AUCTION
1974 Mercedes-Benz 280C w/69k miles, The MB Market: This 1974 280C is finished in Dark Green over Tan MB-Tex upholstery and powered by a 2.8-liter inline-six M110 engine. 69,000 original miles are shown on the analog odometer. Service records included in the sale date back more than 30 years. Also present are the original purchase agreement and window sticker. Features include power windows, manually adjustable seats, air conditioning and a Becker Europa stereo. Lot 1561 was sold by The MB Market in an online auction for $24,500 on November 2, 2022. Ryan's take: From its paint-matched hub caps to the iconic silver mesh grill, this 280C is the perfect representation of 1970s Mercedes-Benz style. These little coupes have long been overlooked by the collector car market –while being cherished in modifier circles who have long since "sunk the C" on airbags to emphasize the long, low body lines and turn these into a staple of the Los Angeles and South Florida classic cruiser community. The traditional col lector car market is now taking notice, however, with influential thought leaders like Keith Martin joining the W114 coupe club in recent months. Being long since overlooked, many of these examples were left to rot (even those with lower miles) so finding a nice one with the proper restoration/preservation work already completed is a true rarity. This example sold at close to $26,000 (with the buyer's fee) making it emblematic of not only the rising 114 coupe market but, also, the "green premium" that I've long since touted in this column. Grab one of these while you still can and be part of a rising tide in the collector community.
2009 Mercedes-Benz SL65 AMG Black Series, Broad Arrow: This 2009 Mercedes-Benz SL65 AMG Black Series is one of 350 examples produced, 175 of which were designated for export to the American market. Power is provided by a twin-turbocharged 6.0-liter V-12 paired with a paddle-shifted five-speed automatic transmission and a limited-slip differential. This AMG Black Series shows 13, 000 miles. Lot 884 sold at the Cars of Jim Taylor sale for $340,000 on Oct 15, 2022. Ryan's take: For those lucky enough to spend time in one of
these limited production rockets from Affalterbach, everything from the fit and finish to the heart-stopping accel eration, smooth ride, and epic stopping power can be downright intoxicating. Like most cars in this segment, many examples see more garage time than actual road miles but with this example we're pleased to see an odometer that reaches into the five-digit mark and is well prepared to double that time and time again. For those seeking one of the most exclusive modern AMG cars or who fancy playing Batman on the weekends, the SL65 AMG Black Series shouldn't be
overlooked. This sale landed right where the market would expect, as values of these machines continue to rise. While 13,000 miles may not seem like much, it is for an SL Black Series and we hope the new owner continues to raise that figure and put this monster machine to its intended use with regularity. This one sold about 10-15 percent lower than one would expect, but it was an outlier in the curated classics of the Jim Taylor collec tion. The bidder here got a bargain by buying between the beautiful bespoke bodied cars of old and sniping this SL Black for an excellent price.
76 THE STAR 1–2 2023
IMAGES COURTESTY & COPYRIGHT: THE MB MARKET & BROAD ARROW
1974 280 C
2009 SL65 AMG Black Series
Auction results for notable Mercedes-Benz vehicles
OLD & NEW
1972 Mercedes-Benz 600 Sedan, RM Sotheby's: As one of a total of only 2,190 examples of the stately "Der Grosser" created by Mercedes-Benz from 1963 through 1981, this example shows just 5,267 original miles from new. A nicely preserved example, this 600 retains its original interior and exhibits mostly orig inal paint (the roof has been repainted).
The W100 600 models were equipped with a unique engine-driven hydraulic system which operated most of the vehi cle's many powered functions, including power closing doors, sunroof, and trunk. This example is accompanied by a Mercedes-Benz 600 branded Castrol hydraulic system maintenance kit. This automobile is presented with a copy of Mercedes-Benz Classic Center History Zertifikat. Lot 313 sold at the Monterey Auction for $280,000 on August 20, 2022. Ryan's take: At first glance, this may appear to have been the steal of the week in Monterey… but the cautious bidding is well-founded when it comes to acquiring a W100. With the "compara tive" sale of a Pullman Landaulet across the street at Broadarrow for nearly ten times this price, one might wonder what put the brakes on this super 600? I picked this one to go much higher as a benefi ciary of the "Green Premium." The reason for this 600 sale slump is hydraulically driven, in the end. These cars are noto riously expensive to maintain and, by that measure, they only really come in two variants: (1) massively over-restored (and expensive) and; (2) everything else. This is an unfortunate reality but well-founded when you consider the cost of a new window switch can run you $20,000+. Congratulations to the winning bidder on this bargain beauty. I only hope you have a mountain of spare OEM parts and a masters degree in engineering to maintain it… or a spare $300k to pay someone else to get it there.
1983 Mercedes-Benz 380SL, 37-Years in single family ownership, Bring-aTrailer: This 1983 Mercedes-Benz 380SL shows 74k miles. Work completed in 2021 included refinishing the wheels, repairing electrical components, and replacing the tires as well as the fuel pump, relay, filter, and tank-sending unit. This R107 is now offered by the seller on
behalf of the owner at no reserve with service records, an accident-free Carfax report, and a clean California title. Lot 89669 in an online auction for $13,000 on November 11, 2022. Ryan's Take: What an incredible bargain buy on BaT. This example not only shows perfect curb appeal, but it also wears the right party dress, being clad in the era correct colors of Manganese Brown Metallic over Palomino interior. On the right day with the right audience, this car could have easily fetched an additional 50 percent, but, sadly it appears to have been lost in the shuffle over at the mega-factory that
is today's BaT auctions. This being the 91st 1983 380SL sold by BaT, it was one of approximately 400 other cars selling that day. The fact of the matter is, BaT's volume is simply too large to allow for their user base to see everything on a given day. A reserve might have saved this one, but it is likely that the listing was only taken on the condition that the car be listed No Reserve, knowing that this eventuality might occur and it would be an overlooked gem amongst the masses of metal they move each day. Bravo the bidder on this brown beauty, but condo lences to the seller.
77 THE STAR 1–2 2023
IMAGES COURTESTY & COPYRIGHT: RM SOTHEBY'S & BRING-A-TRAILER
1972 W100 600 Sedan
1983 380SL
RYAN G. HEMPHILL
Co-founder, The MB Market – The world's first online auction platform exclusively for Mercedes-Benz vehicles
OLD & NEW
NEWS CLUB NEWS
CLUB
California Dreamin' Mercedes Freude 2022
79 THE STAR 1–2 • 2023 CLUB NEWS
IMAGE DAVID ABARR
MBCA gathers for Mercedes Freude 2022
ARTICLE DAVID ABARR IMAGES DAVID ABARR HYATT REGENCY PETERSEN AUTOMOTIVE MUSEUM GINNY PITZEN
The second year of MBCA's Mercedes Freude (the joy of Mercedes) was held in beautiful Newport Beach, California this past October, based at the elegant Hyatt Regency Newport Beach
The event is offered in partnership with the newly relocated Mercedes-Benz Classic Center, now in nearby Long Beach. This year's Freude attendees were treated to a multi-day program packed with memorable events, and time with some of Stuttgart's most exquisite machinery.
Being able to spend time with old and new friends helped make our Freude cele bration an even more special week.
A visit to the Petersen
One of the highlights of our week was a private tour and reception at the famed Petersen Automotive Museum in Los Angeles. The museum's futuristic architecture makes a stunning backdrop to one of the finest car collections in the world. Currently on display is an exhibit
80 THE STAR 1–2 2023
FREUDE REPORT
CLUB NEWS CLUB NEWS
TOP: Our Hotel California was the Hyatt Regency Newport Beach. ABOVE: The Petersen Automotive Museum always makes an impression. RIGHT: Freude perks included a private tour of the museum, including the "Andy Warhol: Cars" exhibit.
featuring Andy Warhol's "Cars" art prints displayed with some notable exam ples from the history of our favorite car company, together for the first time (see article on page 14 of this issue). In prepa ration for the 100th anniversary of the automobile in 1986, Mercedes-Benz com missioned Andy Warhol to create a major series of his famous silk screen paintings depicting key vehicles from the com pany's history. Unfortunately, Warhol passed away in February 1987, having completed only part of the commission.
Displayed alongside the art were rare treasures from Mercedes-Benz: the experimental 1971 C111, the 1937 W125 Grand Prix racer, the 1954 W196R Formula 1 Grand Prix car (on loan from the Indianapolis Museum), a Gullwing, and a Benz Patent Motorwagen replica. Freude attendees enjoyed an in-depth, docent-led tour of the Warhol exhibit, the fascinating upper floors of the museum and of course, the famed vault. The Petersen Museum never disappoints.
81 THE STAR 1–2 2023
CLUB NEWS
FREUDE REPORT
The Classic Center
The Classic Center's Mike Kunz and Nate Landers offered Freude attendees group tours of the new and expanded facility, showing off the gleaming shops including the upholstery, paint, main workshop, and body shop.
At the time of our visit, the Classic Center's showroom showcased several significant examples of the famed W196 Gullwing. Also in the shop was chassis #2 of the 190SL which was actually com pleted several months prior to chassis #1. Nate and Mike also conducted a tech session outlining the overall scope and goals of the Classic Center operation that included a discussion on parts and sup pliers during and post COVID lockdown.
Tech sessions
Tech sessions this year featured an in-depth overview and wide-ranging dis cussion on parts procurement featuring just-retired Classic Center parts manager Tom Hanson, famed parts tracker Blue Nelson, MBZ Parts owner Sheila Heaney, and Belinda Clontz-Sarooei. All are West Coast experts in the field.
The end of week highlight was a panel discussion on current classic MercedesBenz values, chaired by Tyler Hoover and MB Market's Blakley Leonard and Ryan Hemphill. Panelist Tyler Hoover is famous for his YouTube channel and collaborations with Doug Demuro and Ed Bolian. The informative talk focused on two recent record sales from this past summer: the W196-S 300SLR Uhlenhaut Coupe (see The Star, September-October 2022) and the W124 AMG Hammer. Members found the discussion insight ful and entertaining.
Debüt show
The Classic Center also graciously hosted Debüt, our first annual Freude Car Show (see following article). This was a fun concours for everyone and attracted some spectacular machinery.
Finally
As the event chairman for this year's Mercedes Freude, I would like to thank all those who attended, and espe cially everyone whose hard work and dedication helped make this year so out standing. Looking forward to seeing you at Mercedes Freude 2023.
82 THE STAR 1–2 2023
Southern California's mild winter weather offered spontaneous opportunities for old friends to reconnect. Our group toured the newly-expanded Classic Center facilities, including gleaming upholstery, paint, main assembly and body shops.
CLUB NEWS CLUB NEWS
This year's Freude attendees were treated to a multi-day program packed with memorable events, and time with some of Stuttgart's most exquisite machinery.
83 THE STAR 1–2 2023
CLUB NEWS
ARTICLE JON BERNARDI IMAGES GEORGE LARSON FREUDE REPORT
For the inaugural Mercedes Freude car show (Debüt in German) we wanted to take a fresh approach to the concours idea, to drop the pressure and raise the fun factor. Luckily, we were able to stage this year's event at the new Mercedes-Benz Classic Center, Long Beach.
To start, rather than divide vehicles into many different classes, we went for simplicity: Cars 25 years and older and those 24 years and newer. What could be more straightforward than that? To further the jaunty new tune we were trying to play, our judging criteria was boiled down to the simple statement "the car you would want to take home."
Several youngtimers – as in young people – aided us in this effort. We wanted to both get them involved and to get the benefit of their perspective. The two young fellows, Sam and Max – both sporting hats and T-shirts from Hagerty –were paired with a couple of experienced hands to reduce the intimidation factor. Everyone involved did an admirable job with smiles on their faces.
Thanks to Hagerty Insurance for supporting the efforts of our young judges and for supplying us with attractive award ribbons for them to give out to the winners.
The Classic Center's Nate Lander was riding around our show on the Center's 1886 Reitwagen motorcycle replica. The 'open flame tube ignition' is located under the seat. Talk about the first heated seat!
Our overall goal for this year was to get people to move around, talk to friends they had not met yet, and just enjoy the day; Q-tips and microfiber were frowned upon – the event was called Freude for a reason!
Mission accomplished.
2022 Freude Special Awards
The Road Less Traveled Edition
Longest Drive Hans Strom • Sweden
Oldest Car
Randy Carlson • San Diego Section 1940 W142 320 Sport Cabriole t Best Trunk or Treat Roy Green • Orange County Section
Best Car Display Belinda Clontz-Sarooei • Los Angeles Section
Best Period Dressed
Randy Carlson • San Diego Section: overalls, flannel shirt and driving hat
Owner Who Looked Most Like Their Car George Larson • Portland Section: grey driving suit and carbon fiber helmet matching his AMG GTS Edition 1
The Car Most Sat-In Joe Morgan • Central California Section Hard Luck Award
The one we did not want to give out went to a couple who shall remain nameless. Their Pagoda got hit on the way to the show Best Car Gadget
Randy Wood with a surfboard on top, a roof rack and flower vase. Four cars displayed period correct radio telephones
CLUB NEWS CLUB NEWS
85 THE STAR 1–2 2023
CLUB NEWS
PLENTY TO SEE HERE: From Joe Morgan's "Most Sat In" 280SE (top left) to Randy Carlson's "Oldest Car" 1940 W142 320 Sport Cabriolet (third row, right) the first Freude Car show delivered.
Meet Katie Carruth
The MBCA has hired Kathryn "Katie" Carruth of Colorado Springs, Colorado as the club's new executive director. Ms. Carruth took over the reins of the club from fprmer director Mike Regennitter on December 19.
"Katie is the right leader for Mercedes-Benz Club of America," said incoming club president Doug Geganto. "We believe her strong leadership experience will help focus the club and return us to profitability."
Carruth has more than a decade of senior management experience, including strategic development and plan execution at multiple not-for-profit arts and agricultural organizations. Most recently, she was executive director of American Goat Federation, the governmen tal policy and trade arm for the U.S. goat meat, fiber, dairy and recre ational industry.
She also served as executive director of American Boer Goat Association, a show-based, interna tional organization of enthusiasts, where she worked on behalf of members to advance the industry through promotion, education and research programs. Prior, Carruth served as executive director for LEAD Foundation, a learning disabil ities organization, and American National Cattlewomen. Early in her
career, she was a weather anchor and reporter with the Fox Network affiliate station in Lubbock, Texas.
"Katie's extensive background working with boards of directors and her business development skills should help MBCA strengthen channel partnerships, develop strategic alliances, and expand our presence," Geganto said.
"I am very excited to be joining the MBCA team," Carruth said. "I believe MBCA has a passion ate membership and an engaged
management team who are focused on the future while celebrating the club's past. This uniquely positions us to capitalize on the rapidly shift ing needs of the organization."
As Carruth guides the associ ation through change, she wants to assure the members the focus will be on creating value for their membership.
"I believe MBCA is in a position to provide a cost-effective and timely suite of experiences to help engage members of all demographics," she said. "Our focus will be on finding the resources and funding we need to provide this value."
Carruth has a passion for horses, vintage clothes, and her children's sports and activities. She enjoys traveling, skiing, cooking, garden ing and philanthropic volunteerism.
"I look forward to learning all about the gorgeous MercedesBenzes – both old and new," she said.
Carruth holds a master's degree in sustainable agriculture and food security in international rural devel opment from the Royal Agricultural College in the United Kingdom. She has a bachelor's degree in agri cultural communications with an emphasis in animal science and a minor in classical ballet from Texas Tech University, where she also served as the school's mascot, the Masked Rider.
86 THE STAR 1–2 2023
National News CLUB NEWS CLUB NEWS
MBCA's new executive director arrives with a wealth of non-profit experience
87 THE STAR 1–2 2023
2022
Vote
•
at Large
Regional Director • Eastern Region Diana Quinn 322 Regional Director • Great Lakes Region Jeffrey
123 Regional Director • Mid-Atlantic Region
225 Regional Director • South Central Region Brett Jurick 242 Regional Director • Southwest Region Steve Ross 87 49.15% Ron Borino 90 50.85% Bylaw Change as Approved by The National Board • November 13, 2021 Approve 1,902 95.00% Disapprove 100 5.00% Election Summary Total Returns by Internet: 1,926 93.86% Total Returns by Mail: 126 6.14% Total Returns: 2,052 100.00% Total Ballots Distributed: 18,120 Percent Returned:
Certified, Frank Fatone President & CEO, Election Services Co.
Mercedes-Benz Club of America
Election Final
Summary
October 18, 2022 Director
Drew Webb 1,563 33.61% Ernest Fancy 1,517 32.62% Charles Woods 1,571 33.78% 4,651 Votes Total
Hirst
Bill Fisher
11.32%
National News CLUB NEWS
2022 Election Results
MERCEDES-BENZ CLUB of AMERICA
The MBCA congratulates these outstanding members and officers from every region and section.
REGION
SECTION AWARD
NAME O FFICE
SOUTHWEST
Channel Island Officer of the Year
Steve Koger Vice President Steve Ross San Diego Member of the Year Steve Ross Regional Director San Diego Member of the Year Rudy Wokoek
Los Angeles Members of the Year Linda Martinez & Stanley Ross Channel Island Member of the Year Vassil Valcher
EASTERN
Carolinas Officer of the Year
Marsha Wilmot Treasurer Dianna Quinn Peachtree Member of the Year Will Coloma Peachtree Membership Chair of the Year Reijo Haarla Carolinas Member of the Year Tony Martinez Triangle Member of the Year John Byrne Tarheel Member of the Year Arch Hamilton
Central Virginia Member of the Year David Hay Virginia Member of the Year James Villers
SOUTHEAST Southern Stars Officer of the Year David M.Wommer
Hank Webb Road Star Member of the Year
Battaglia, Jr. Southern Stars Member of the Year Jacqueline M. Keener
CENTRAL
St. Louis Gateway Officer of the Year
Indiana Crossroads Member of the Year
St. Louis Gateway Member of the Year
Faerber Memphis Member of the Year
Cunningham Nashville Member of the Year Ron Pasquale
88 THE STAR 1–2 2023 National News
President
Rocco
GREAT LAKES International Stars Officer of the Year Don MacDonald Ronald Harshman International Stars Member of the Year Bryan Dandurand
Rick Siefert President Kenneth Koehler Bluegrass Stars Members of the Year Mr. & Mrs. Albert Henley
Roger Brummett
CLUB NEWS CLUB NEWS
Dana
Suzanne
REGION & SECTION HONORS • 2022
Thank you for all you do to keep our club members active and engaged and our club thriving.
REGION SECTION AWARD
NAME O FFICE
SOUTH CENTRAL
North Texas
Officer of the Year
Ron Seifert President Brett Jurick
Ozark Members of the Year
Barbara & Terry Lowinger
Lone Star Member of the Year Rob & Jill Brown
Central Oklahoma Member of the Year Ken Wells
North Texas Member of the Year Jerry Chenault
Fort Worth Member of the Year Tom Jobe
Eastern Oklahoma Member of the Year Kristen Bebout
Houston Member of the Year Jay Morris
ROCKY MOUNTAIN Wichita
Officer of the Year
Calvin Kissick Treasurer Steve Dierks
Pikes Peak Member of the Year Marla Wiseman
Wichita Member of the Year Lee Elrick
New Mexico Member of the Year Karen Schwartz
WESTERN
Sierra Nevada Officer of the Year
Marcus Dodson Secretary Doug M. Geganto
San Francisco Bay Area Member of the Year Janet Welter
Central Coast Member of the Year Sally Kruger
Sierra Nevada Member of the Year Christy Dodson
MIDWEST
Chicagoland
Member of the Year
Michael Olesen Andrew Opicka Wisconsin Member of the Year Richard Kusch
MID-ATLANTIC
Northern New Jersey Officer of the Year
Lucille Chabala
Treasurer Bill Fisher
Northern New Jersey Member of the Year Tom Elder
Keystone Member of the Year John & Jan Kitner
Delaware Valley Member of the Year Ellin Jones
NYC Long Island Member of the Year Lou Palumbo
Connecticut/Westchester Members of the Year Rich & Kristy Niemynski
South Jersey Member of the Year Priscilla Bath
NEPA Member of the Year Otto Christensen
NORTHEAST
Minuteman
Officer of the Year
Drew Webb Niagara Member of the Year
Minuteman Member of the Year
Finger Lakes Members of the Year
Dean Coclin President
Michael D'Ambrosio
Ulysses DeGuzman
Dr. Oscar & Peggy Lopez-Raffo
89 THE STAR 1–2 2023
CLUB NEWS
Great Marques 2022 celebrates famous Cannonball Run
ARTICLE OLIVER SELIGMAN IMAGES SEAN ARYAI
As is the case each year, Great Marques 2022 was a unique show. We reached out to our friends at the world famous Cannonball Run cross-country car event and built our show around their organization, as well as our longtime partners BMW and Ferrari. Mercedes-Benz has long been a major participant in Cannonball Runs and holds several records. It's not a surprise to most Mercedes-Benz follow ers that our cars are built like no other and excel at outrunning most automobiles. A quick glance at racing history tells you that.
Our directors are good at spotting trends and acting on wid ening the appeal of the Mercedes-Benz Club of America. NYC/ Long Island Section's Great Marques has grown by leaps and bounds over the years. We try to add a new element to our shows each year and our directors are chosen to reflect where we are going. Shows are held at Old Westbury Gardens; one of our board members, Bob Hussey, sits on their board, which facilitates our use of the property. It's the largest tract of undeveloped land in Nassau County, and is just a few miles East of New York City.
Our board members are committed to do whatever it takes to make our show work. We want our members to have a fun
experience and we make sure all members are welcome. In 2021 Sean Aryai, one of our directors made contact with Chris Clemens through Linkedln after reading about his historic round trip from New York to LA and back in a 1999 R129 SL500 in Road & Track. Chris agreed to attend last year and the bond was set.
We began planning our September show last December. We had members from as far away as New Zealand and met regu larly on Zoom. All of our board members have special talents. Sean Aryai is an expert on all things digital; John McAuliffe is our communications director. He helped all our sections go digital 15 years ago. Lou Palumbo runs Gullwing Motors repair and restoration shop with his son Steven Palumbo. Allen Lipp runs Automobile Professionals, a group that values vehicles. Bob Hussey is an entrepreneur. Mike Carroll is a lover of all things automotive. Our newest board member, Yuri Marus reaches out to the younger members who are playing an increasing role in our section. And we had experienced people in John Anachik and his wife Susan, who get everyone into the correct category and help entrants when they arrive at the show. John also sources and helps distribute trophies.
90 THE STAR 1–2 2023
Feature
Event
CLUB NEWS CLUB NEWS
This year for the first time we used more than the fields of Old Westbury Gardens. On Friday evening, as a stepping stone to expand the reach of the club, we held a fundraiser reception at the barn. At that reception we gave an award to Pam Yates. Her late husband Brock Yates started the Cannonball Run back in 1971. Chris Clemens also arranged for the Ferrari Daytona that Brock Yates drove cross-country to be at the show. One of our many guests, Ed Bolian, founder of Vinwiki, brought his 600CL which also broke a record. If you like automobile-themed stories be sure to go onto Vinwiki and you too can tell your story. We had a team of filmmakers making a new documentary on-site as well. After cocktails, we had a pizza party and the reception rolled into the evening.
The culminating event was the Concours d'Elegance on Sunday. Once again, the field at the gardens was full of MercedesBenz vehicles of all years, models, and colors, from a 1952 sedan to the latest EQ electrics brought by our longtime sponsor Rallye Motors of Roslyn, New York. Many of our members look forward to this event and return year after year. It's a lot of work but it's a lot of fun too. We hope to see you here next year.
CLOCKWISE FROM TOP LEFT: Corral of record-breaking Cannonball cars at Old Westbury Gardens. Ferrari Daytona in which Brock Yates and Dan Gurney set the 1971 NY to LA record in 40 hours, 51 minutes. Pam Yates and Chris Clemens with awards presented by NYC/Long Island Section. Panel discussion of sea to sea record breakers from many eras. 2015 E63 of Arne Toman and Doug Tabbutt broke the record in 2019 in 27 hours, 25 minutes.Ed Bolian and his 2004 CL55 set the record in 2013 in 28 hours, 50 minutes.
91 THE STAR 1–2 2023
CLUB NEWS
ARTICLE STAR STAFF IMAGES OLIVER SELIGMAN
Building lasting relationships leads to ongoing success for
Leading a section of MBCA is no easy task. Marshalling that section to produce a world-class car show is a next-level challenge. It's one that Oliver Seligman has eagerly accepted, and his success with NYC/Long Island serves as a role model for others.
"I'm always looking for ways to make our events exciting," Oliver says. "Not just a concours, but more than that. I always try to bring in elements to make it a fes tival so that people all have a good time."
The show he mentions is Great Marques (see page 90). At any kind of club event, a festival atmosphere can be elusive to nail down, but Oliver has a clear vision.
"First of all, it's a multi-marque show," he explains, "and it's been that way for about 15 to 20 years. We started this show as just a Mercedes-Benz get-together, and we started out with 34 cars. Now we've mul tiplied that by a factor of 10. There's about 300 to 400 and sometimes even more cars on the field. What makes it a festival is that it's a chance to meet Mercedes-Benz owners, BMW people, Ferrari people, and people who drive sports cars or fun cars of any kind. It's a community, is what it is, and we've been together for years and years."
It's hard to build any kind of event from scratch, and it takes money to put on a major car show. That's where Oliver really found his stride.
"I'm the primary fundraiser," Oliver declares. "That's something that I started doing, I'd say 10 years ago. I decided to do it because well, I have big eyes and big dreams, and I want big things! So, I started going out and asking for money and believe it or not, I got it. Now every year we try to expand the number of sponsors."
Getting sponsors for a club event requires plenty of persistence, fol low-through, and credibility.
"I try to always deal with the top level, because otherwise you don't get any
commitment," Oliver states. "Then I keep in contact with these people. It's really about what we can do for them. So, with our show, they know what they're going to get, and they know they're going to get favorable reviews. It's absolutely relation ship based, and not letting people down. For example, after the show, I always contact every single sponsor and vendor to say thank you and to ask how it went."
Oliver also stays in close contact with his board and the people doing the work in his section.
"I talk to all the board members," he says, "and not just at meetings, but all the
time. I'll run an idea by somebody and I'm open to new ideas. My wife Gloria is my main confidant. She's always there and always supports me. She's always got good ideas and I always try to bounce ideas off her. She has the same passion for every thing Mercedes as I do."
Above all, Oliver keeps looking to the horizon for the next good idea.
"I don't see any reason why there should be any boundaries when you're doing something to make people have a good time," he says. "I think whatever works and whatever brings people together is what we should do."
92 THE STAR 1–2 2023
Oliver Seligman, President of NYC/Long Island Section
CLUB NEWS CLUB NEWS
It's hard to build a successful MBCA event from scratch, and it takes money, time and unending dedication to put on a major car show. That's what Oliver Seligman has done with Great Marques, NYC/Long Island Sections annual automotive festival.
STA R BRIGHT OUTSTANDING CLUB MEMBER
CLUB NEWS
Autumn means the Hershey Car Show
This year, and for the future, the fall Hershey car show began on a Tuesday, and show day was Friday, October 7. This year we saw a return of Europeans and Canadians, who had not been able to attend during the pandemic.
At the RM auction associated with the event, a 1979 450SL sold for $39,600, while a 1927 8/38 brought $40,000. A 1959 300d sedan sold for $28,600, while a 1958 220S cabriolet achieved $96,250. Finally, a 1970 280SE 3.5 coupe brought a bid of $88,000. Overall, the prices seemed to be soft and there were some very good deals made for the buyers.
In spite of inclement weather Tuesday and early Wednesday, many of the flea market vendors said the people walking the flea market were avid buyers. "People came looking to buy parts, unlike in past years when many people just came to look," said one vendor. As a sign of the times, there were many empty flea market spots, whether due to the new schedule, the economy, some of the vendors getting on in years, or due to the Internet.
The people walking the miles of aisles all said they want to see and touch the part they want to buy and also, there is the excitement of the flea market.
Dragone Classic Motorcars of Connecticut and Mark Hyman had no complaints at all, and sold several cars that were under their tent. Larry Lawrence from Mt Pleasant, Texas, said he sold several parts to Europeans who didn't come to the show in 2021.
Hershey is for people who love all cars, and there is sure to be something to be found in the corrals, auction or the show waiting for that person to see.
Next year's fall Hershey car show will be held on Tuesday-Friday, Oct 2 - Oct 6, 2023
94 THE STAR 1–2 2023
ARTICLE & IMAGES JAY HIRSCH CLUB NEWS CLUB NEWS
95 THE STAR 1–2 2023 190 SL-230SL-280SL-450SL K&K Manufacturing CLUB NEWS
Section Events Driving & Social Events
ROAD STAR SECTION, SECTION MEETING, SEPTEMBER 17. After a record hot, hot Florida summer recess for Road Star Section, we met for our September Meeting at The Jersey Diner. Everyone was anxious to get back with their Mercedes friends, comparing their Mercedes trips during the summer months to cooler climes and talking about other activities they experienced during the summer. William Browney
FORT WORTH SECTION, COUNTRY DRIVE, SEPTEMBER 17. Thirty-one folks in 16 cars joined us for a country drive, a visit to historic Fort Belknap in Newcastle, a delicious buffet lunch at the Graham Country Club, and a visit to Graham's Old Post Office Museum at the center of the town's courthouse square, the largest such square in the country. DJ DeJesus
NORTH TEXAS SECTION, NORTH TEXAS PICNIC, SEPTEMBER 17. Eighty-four members turned out for our annual section picnic at the Pole Barn at Meyers Park, a beautiful Collin County Park in North McKinney. The weather was perfect for an outdoor event and the day included lunch catered by Rudy's BBQ followed by a clean car show. Ryanne Dias
LOS ANGELES SECTION, ROUTE 66 DRIVE, SEPTEMBER 17. Starting this historical Landmark driving adventure, meeting at the 1915 Cucamonga Service Station followed with many road side stops such as the Wigwam Motel, The original McDonald's Museum, The California Route 66 Museum, Lunch at Cross Eyed Cow Pizza, Elmers Bottle Tree Ranch and 20 Mules Museum Mojave. Brigitte Trapp
NYC LONG ISLAND SECTION, GREAT MARQUES, SEPTEMBER 18. Great Marques 2022 was as usual, a memorable day. Actually, it's a two-day show. Hundreds of exotic cars filled the "Great Lawn" of the Gardens and the Old Westbury Gardens staff, volunteers and our own Board Members made the participants welcome. John McAuliffe
FROM THE TOP: Fort Worth Section's Country Drive; Los Angeles Section's Route 66 Drive.
SAN FRANCISCO BAY AREA SECTION, SECTION MEETING, SEPTEMBER 24. Highlights of the meeting: Approved the letter of invitation inviting FASCA - the Formosa Association of Student Cultural Ambassadors to perform at our party. Website and Newsletter editing - David Sears will be assist ing in the background as Adam Quintillan takes the job, and John Goode will be editing assistant. John Goode
EASTERN OKLAHOMA SECTION, FIRST AMERICANS MUSEUM, OCTOBER 1. Nineteen section members drove to Oklahoma City to visit the First Americans Museum. The mission of the museum is to share the cultural diversity, history, and contributions of the 39 distinct First American Nations in Oklahoma today. John Kushnerick
96 THE STAR 1–2 2023 YOUR CLUB • YOUR EVENTS
EDITED • STAR STAFF
CLUB NEWS CLUB NEWS

97 THE STAR 1–2 2023
new
!!! CLUB NEWS
New identity,
projects
Section Events
INTERNATIONAL STARS SECTION, DETAIL SESSION, OCTOBER 1. International Stars held a fall detail session at Aaron's auto detailing in Shelby town ship. The content was ceramic coatings, how to clean a car properly to prepare it for a ceramic coating, the process to get the iron deposits off the paint, and clay bar treatment. Don MacDonald
MISSISSIPPI SECTION, RENAISSANCE EURO FEST, OCTOBER 1. We joined the car corrals at the 14th annual Renaissance Euro Fest. Each corral – Porsche, BMW, Audi, and Mercedes – was bursting at the seams, filling the show field with wonderful and exotic European automobiles. We had a covered tent with picnic tables, an Oktoberfest style European beer garden and Shine Barbecue. Scott Boone
SACRAMENTO SECTION, FIRST SUNDAY DRIVE, OCTOBER 2. Sometimes the best First Sunday Drives seem to have a wonderful spontaneity all their own; the section's First Sunday Drive this past October was a great example. We went from suburban Sacramento to the gold rush towns of Ione and Jackson, then south to some of the largest vineyards I have ever seen. Bill Brandt
SAN FRANCISCO BAY AREA SECTION, FIRST SUNDAY DRIVE, OCTOBER 2. We had wonderful weather for a First Sunday Drive, especially in a convertible with the top down. This FSD was quite a memory lane for a few of our members, who had either worked at or graduated from Stanford University. Everyone enjoyed the scenery, and the leisurely drive through the redwoods on the Skyline Blvd. John Goode
NORTH TEXAS SECTION, OKTOBERFEST DINNER, OCTOBER 6. Our annual Oktoberfest dinner was again a great success. Folks had fun sharing stories with friends and Brett Jurick, the South Central Regional Director announced the new section officers for the year. The new Officers are: Jerry Chenault – President, Tom Strohm – Vice President, Henry Tomarelli – Secretary, Gayle Brewer – Treasurer. Brett Jurick
SPOTLIGHT EVENT
ST. LOUIS GATEWAY SECTION, FALL PICNIC AND SHOW, OCTOBER 8. The beautiful weather, great venue, delicious food and drink along with the won derful St. Louis Gateway Section member camaraderie, combined to make for a fantastic Fall Picnic. Jonathan Leggs
FORT WORTH SECTION, NORSE ROAD TRIP, OCTOBER 8. Fourteen folks in 7 cars joined us for a trip to Norse, once a bustling settlement of Norwegian immigrants in Bosque County. Once numbering thousands, only about 100 widely dispersed people remain today. DJ DeJesus
NORTH TEXAS SECTION, AUTUMN TRAILS, OCTOBER 22. This year was the 64th annual Autumn Trails monthlong event that ends on the final day with an Antique Car Parade thru downtown Winnsboro. Our club has par ticipated in this event for several years, and this year 13 cars and 23 members attended the parade. It was a beautiful day in Texas for a parade and the fun is having the tops down and throwing candy to the kids that line the two-mile parade route. Folks like the Mercedes group because we throw the "best candy" to the kids. Ron Seifert
SPOTLIGHT EVENT
SAN FRANCISCO BAY AREA SECTION, OKTOBERFEST AND CELEBRATION OF LIFE, OCTOBER 22. Our Section celebrated the life of an extraordinary man and long-time member of our section, the late Sandor Drobilisch. It was held at Harry's Hofbrau in Redwood City, an entirely appropriate venue since Sandor loved Oktoberfest and had hosted us there pre viously. "A true Gentleman, Inventor, Traveler, MBZ Enthusiast, and Friend to all." Farewell old friend . Barton Lane
98 THE STAR 1–2 2023
FROM THE TOP: North Texas Section members getting ready for their popular Autumn Trails Parade. View of St. Louis Gateway Section's annual Fall Picnic and Car Show. San Francisco Bay Area Section Oktoberfest and celebration of the life of Sandor Drobilisch.
CLUB NEWS CLUB NEWS
99 THE STAR 1–2 2023 Own a Porsche? Great Membership Benefits for only $46: • Over 3,500 events annually including National and Regional events, driving tours, car shows, autocross, high performance driving, sim racing, and rallies. • Award-winning monthly magazine, Porsche Panorama. • Free classified ads and access to our exclusive membersonly marketplace, The Mart. • Exclusive bi-annual members-only new car raffles. • e-Brake News, weekly Porsche content to your Inbox JOIN US | WWW.PCA.ORG | 410-381-0911 Donate any make or model of car, truck, motorcycle or boat – running or not – in support of the Mercedes-Benz Club of America Educational Foundation (MBCAEF) The MBCAEF supports automotive education, defensive driving programs for young people, and Mercedes-Benz technical documentation ALL DONATIONS ARE TAX DEDUCTIBLE CLUB NEWS
Section Events
LONE STAR SECTION, ALZHEIMER'S ASSOCIATION FUNDRAISER, OCTOBER 23. A total of 24 members purchased medallions in support of the Alzheimer's Association, and were recognized at a reception at Perissos Vineyard. George Vrba bought 10 medallions in memory of his father, Rudy Vrba.
MISSISSIPPI SECTION, NEW ORLEANS POLO CLUB, OCTOBER 30. Members traveled to Folsom, Louisiana to watch the New Orleans Polo Club in action. A beautiful day, and a fabulous drive were topped only by welcoming hosts, delicious food and excellent polo! Scott Boone
EASTERN OKLAHOMA SECTION, PAWNEE BILL RANCH, NOVEMBER 3. The Pawnee Bill Ranch was once the showplace of the world-renowned Wild West Show entertainer Gordon W. "Pawnee Bill" Lillie. Members toured Pawnee Bill and his wife May's fourteen-room mansion, fully furnished with their original belongings. John Kushnerick
PITTSBURGH SECTION, MEMBERSHIP MEETING, NOVEMBER 5. The section held its annual membership meeting on November 5 at John Sisson MercedesBenz. Close to 40 members were in attendance. The dealership staff graciously offered to give members of the Pittsburgh Section a tour of their facilities and service area, and provided a service technician for a question and answer session. The club then presented a lifetime achievement award to Mr. John Sisson. Susan Grunewald
LOS ANGELES SECTION, SANTA YNEZ VALLEY DRIVE, NOVEMBER 12. We drove the beautiful Santa Ynez Valley country roads, a very scenic, leisurely winding enjoyable road trip. We stopped for lunch at Petros Winery. Santa Ynez Valley Historical Museum and Carriage House was having their Annual Vaquero Show and Collectible Sale. Brigitte Trapp
SEATTLE SECTION, ELECTRIC VEHICLES EVENT, NOVEMBER 12. We gathered at Mercedes-Benz of Seattle on a Saturday morning to learn about the future of the company. Sixteen members received an update on the latest electric vehicles, plans, and technology. We then conducted a question and answer session for over an hour. John Spaulding
FROM THE TOP: Mississippi Section at the New Orleans Polo Club. Lone Star Section pur chased medallions in support of the Alzheimer's Foundation. George Vrba bought ten me dallions in memory of his Dad, Rudy. Eastern Oklahoma Section toured Pawnee Bill Ranch.
Section Event Reports in The Star are based on materials uploaded to the MBCA website. Deadline for the next issue is January 15. Visit mbca.org, select the Star Magazine tab and click on Submit Event Notice or Submit Event Report to publicize your section's upcoming activities, submit reports and pictures, and learn what other sections are doing.
100 THE STAR 1-2 2023
CLUB
NEWS
DIRECTORS AT LARGE
President (2024)
Doug Geganto
Peachtree Section 3211 Black Gum Lane Gainesville, GA 30504 404.754.9955 dgeganto@charter.net
Vice President (2024)
Drew Webb
Northern NE Star Section PO Box 473 Salem, NH 03073 508.662.4900 rdswebb@gmail.com
Treasurer (2024)
Charles Woods
Central Oklahoma Section 3708 Bonaire Place Edmond, OK 73013 charlesbwoods1@gmail.com
Secretary (2024)
William L. (Bill) Parrish, Jr. Tarheel Section
3945 Golf Drive NE Conover, NC 28613 Cell: 828-719-6140 williamlewisparrish@gmail. com
elevate the MercedesBenz experience through knowledge, camaraderie,
NATIONAL BUSINESS OFFICE
Director at Large (2024)
Ernie Fancy
Minuteman Section 1 Butterworth Road Holland, MA 01521 508.377.8286 (c) fancyer@cox.ne t
PAST MBCA PRESIDENTS
1955-1957 Dr. Milton Allen = 1957-1959 Dr. Ken Bartlett, Jr = 1959-1960 L. B. Kirkendall = 1960-1961 Arthur G. Rippe y = 1961-1962 Allen G. Bishop = 1962-1964 John W. Burnside = 1964-1966 Walter G. Vartan 1966-1968 Frank S. Baker= 1968-1970 Harger W. Dodge = 1970-1972 J. Chadwick Hunt= 1972-1974 O tto Saborsky= 1974-1976 Allen Funkhouser= 1976-1977 Tracy Williams = 1977-1978 Thomas Doherty= 1978-1979 Fred Lustig = 1979-1981 Phil Parrino = 1981-1982 Fer ne Gardner=
1982-1984 Grant Elford =
1984-1986 Hyatt Cheek
1986-1988 Murdoch Campbell = 1988-1990 Virginia Turner
1990-1992 Robert Beltz 1992-1994 Robert A. Martin = 1994-1996 Kathy Kennel =
1996-1998 Walt Anderson 1998-1999 W. Robert Nitske = 1999-2001 H. Peter Watson
2001-2003 Donald Leap = 2003-2005 Richard Simonds
2005-2007 Jim O'Sullivan
2007-2009 Peter Lesler
2009-2011 Rodger Van Ness 2011-2013 Steve Dierks
2013-2017 Terry Kiwala
2017-2019 Gene Jurick
2020-2022 Julie Bruggner =Deceased
Director at Large (2023)
James E. Roberts, DMD
Alabama Section 2301 Arlington Avenue S #200 Birmingham, AL 35205 205.529.0071 (c) jertoothsaver@bellsouth.net
COMMITTEE CHAIRS
Awards
Ginny Pitzen
Lone Star Section 304 Legends Parkway Kingsland, TX 78639 ginnypitzen@yahoo.com
Budget
Charles Woods
Central Oklahoma Section 3708 Bonaire Place Edmond, OK 73013 charlesbwoods1@gmail.com
Election Committee
Steve Ross San Diego Section 16151 Fruitvale Road Valley Center, CA 92082 619.508.3925 inewsx@sbcglobal.net
Enthusiasts
Josie Lesler
Southwest Florida Section 2314 Queens Way Naples, FL 34112 216.403.2216 (c) jqlesler@aol.com
Driving Skills
Jason Burton Chicago Section 175 E Delaware Place #4925 Chicago, IL 60611 312.224.1787 jb@jasonburton.com
Director at Large (2023)
Jason Burton Chicago Section 175 E Delaware Place #4925 Chicago, ll 60611 312.224.1787 jb@jasonburton.com
President Ex-Officio
Julie Bruggner
Three Rivers Section 5526 Thornbriar Lane Fort Wayne, IN 46835 260.348.1369 (h) julesslb@msn.com
Membership
Richard A. Huskey Carolinas Section 627 Vista View Drive Asheville, NC 28803 828.785.9995 huskey2ra@charter.net
National Concours
Pete Lesler
Southwest Florida Section 2314 Queens Way Naples, FL 34112 216.403.2951 (c) w113sl@aol.com
Co-Chairs:
Jon Bernardi San Diego Section Jon113sl@att.net
Gary Edwards
Peachtree Section gary@gwedwards.org
Personnel
Cliff Reyle Memphis Section 9658 Dove Meadow Cove East Germantown, TN 38139 901.754.8574 (h) cliff.reyle@youthvillages.org Governance
Laura Simonds 650.703.2656 Lsimonds97520@gmail.com
Performance Driving
Jim Roberts
NW FL/Alabama Section 2301 Arlington Avenue S #200 Birmingham, AL 35205 205.529.0071 Jertoothsaver@bellsouth.net
Social Media
Jacquelyn Kennedy Southern Stars Section 101 E Jones St Savanah, GA 31401 jekennedy96@gmail.com 912.658.1220
Strategic Planning
Julie Bruggner
Three Rivers Section 5526 Thornbriar Lane Fort Wayne, IN 46835 260.348.1369 (h) julesslb@msn.com
Technical Information
George Murphy
Smoky Mountain Section 233 Briarcliff Avenue Oakridge, TN 37830 865.482.9175 perfanalysis@comcast.net
Technology
Diana Quinn
Peachtree Section 442 Chowning Place NW Marietta, GA 30064 dianaquinn@me.com 770.635.8112
Executive Director
Katie Carruth
1907 Lelaray Street Colorado Springs, CO 80909 800.637.2360 katie@mbca.org
Administrative Services
Cindy Tumbleson
Pikes Peak Section
1907 Lelaray Street Colorado Springs, CO 80909 800.637.2360 cindy@mbca.org
National Events
Roger Brummett Indiana Crossroads Section Box 3783 Carmel, IN 46032 317.421.2784
EDUCATIONAL FOUNDATION
President Bryan Gunning bgun@sprynet.com
LEGAL COUNSEL Thomas James
MERCEDES-BENZ
USA
Customer Assistance 800.367.6372 (U.S.) 800.387.0100 (CANADA)
Classic Parts & Information 866.622.5277 classicparts@mbusa.com
Marketing Director
Ken Engelman
Connecticut/WestchesterSection 1907 Lelaray Street Colorado Springs, CO 80909 201.638.7141 ken@mbca.org
MBCA APPOINTEES
Editor, The Star
Jeff Zurschmeide
Portland Section 1506 5TH Street Tillamook, OR 97141 503.330.3010 jeff@falstaffpubs.com
Send contact information updates to: ryanne@mbca.org
MERCEDES-BENZ CLUB OF AMERICA
National Board
101 THE STAR 1-2 2023 NATIONAL BOARD
"To
and exceptional events."
REGIONAL DIRECTOR
Contact National VP
ATLANTIC CANADA
Contact Regional Director
MINUTEMAN
Dean Coclin 781.789.8686 mbca.minuteman@gmail.com
NORTHERN NEW
ENGLAND STAR
William Raymond 8 Main Street #6 Jaffrey, NH 03452
HUDSON-MOHAWK
James R. Wright 26 Crystal Lane Delmar, NY 12054 518.439.3178 hudsonmohawkmbca @gmail.com
NIAGARA
Joanie Long 8561 Falls Rd West Falls, NY 14170 716.655.4515 joanielong@verizon.net
FINGER LAKES
Obed Opare-Sem 6369 Brockport Spencerport Rd. Brockport, NY 14420 732-618-6345 obed.opare.sem@hotmail.com
OTTAWA
Mike McKinnon 213 Denise Crescent Carleton Place, ON K7C 0C4 Canada 613.257.1913 benzowner@bell.net
MONTREAL
David Peebles 2601 Yearling Dr St Lazare, QC J7T 2A1 Canada 514.941.5320 unimog@securenet.net
TORONTO
Peter Spitzer 4425 No 1 Sideroad Burlington, ON L7M 0X4 Canada 905.599.5770 mbca@spitzerinc.com
REGIONAL DIRECTOR
Hank Webb 2224 Lookout Landing Fleming Island, FL 32003 904.294.5650 hankwebb58@bellsouth.net
SOUTHERN STARS David Wommer 904.534.7319 davidwommer@gmail.com
CENTRAL FLORIDA
Robert Hartmann
781 Summer Oaks Court Oviedo, FL 32765 407.913.6134 (h) hartmann.r@att.net
SOUTH FLORIDA
Michael J. Chrusch 10945 Ravel Court Boca Raton, FL 33498-6761 561.990.7886 (h) 954.260.6466 (c) michaelchrusch@hotmail.com
ROAD STAR Barry Paraizo 11758 Lake Shore Place North Palm Beach, FL 33408 561.310.8957 ferrbp@bellsouth.net
SOUTHWEST FLORIDA
Contact Regional Director TAMPA BAY Gary Dolin g.dolin@verizon.net
REGIONAL DIRECTOR
Bill Fisher 53 Winfield Circle Sewell, NJ 08080 609.221.2633 BillFisherMBCA@yahoo.com
CONNECTICUT/ WESTCHESTER
Winthrop E. Baum 25 Van Zant Street, Ste 19C East Norwalk, CT 06855 203.858.6300 win@winbaum.com
NORTHERN NEW JERSEY
Valerie Cristiano 908.369.0793 mercedeslady1@verizon.net
SOUTH JERSEY Ernest Schirmer PO Box 6429 Lawrenceville, NJ 08648 609.895.1611 eschirmer@ieee.org
NEW YORK CITY & LONG ISLAND
Oliver Seligman 760 Holden Avenue Ext. Cutchogue, NY 11935 917.763.0178 (c) 212.510.8293 (h) mogs05@aol.com
KEYSTONE
Marty Rexroth 1060 Detwiler Drive York, PA 17404 717.764.0624 marstang@aol.com
NORTHEASTERN PENNSYLVANIA
Mike Ziegler 437 Auburn Street Allentown, PA 18103 610.504.5370 (c) mikez@zieglersrv.com
DELAWARE VALLEY
Michael Parlato 113 Blackwell Road Pennington, NJ 08534 609.577.5931 m300cab@gmail.com
REGIONAL DIRECTOR
Ken Koehler
6168 Ruthven Drive Noblesville, IN 46062-6722 317.669.2072 (h) skkoehler@att.net
BLUEGRASS STARS
Gary Rumrill 6801 Switch Bark Ct Louisville, KY 40228 502.592.7736 g.rumrill@twc.com
NASHVILLE
Randy Bibb 330 Whitworth Way Nashville, TN 37205 615.259.1349 rbibb@lewisking.com
SMOKY MOUNTAIN Contact RD MEMPHIS Bill Sudekum 561 Long St Southaven, MS 38672 sudekumwa@msn.com 662.429.3407 CINCINNATI Tyler O'Brien 513.477.3056 tylerob1@gmail.com
INDIANA CROSSROADS
Roger Brummett Box 3783 Carmel, IN 46032 317.721.2784 roger@metroelevator.com
ST. LOUIS GATEWAY
Rick Siefert 846 Nardin Drive Chesterfield, MO 63017 314.435.1903 (c) Rick.siefert@att.net
MISSISSIPPI Mike Marsh 533 Madeleine Court Brandon, MS 39047 601.946.1950 (c) mike@marshmarketing.ms
REGIONAL DIRECTOR
Diana Quinn 442 Chowning Pl NW Marietta, GA 30064 770.635.8112 dianaquinn@me.com
GREATER WASHINGTON
Rugger Smith 3709 S. George Mason Drive T5E Falls Church, VA 22041 703.861.0402 prsmith3@msn.com
CENTRAL VIRGINIA Brad Purvis 757.566.1546 bradpurvis@mac.com
VIRGINIA
Donald LaBar 1274 Christian Court Virginia Beach, VA 23464 757.226.0048 dlabar3@verizon.net
TRIANGLE
Bill Faison 108 Royal Club Drive Cary, NC 27513 919-469-9228 drcbill@aol.com
TARHEEL William L. Parrish, Jr. 828.719.6140 parrishwl@retired.appstate.edu
CAROLINAS
Jane Martinez
1375 Whispering Oaks Ln Matthews, NC 28104 505.270.3851 Jsmartinez.mb550@gmail.com
PEACHTREE
Gary Edwards 2060 White Rock Rd Lincolnton, GA 30817 757.831.9556 edwardsgw@nu-z.net
ALABAMA-NW FLORIDA
Jim Sparacio PO Box 530185 Birmingham, AL 35253 jim506@charter.net 205.243.7727
CENTRAL GEORGIA Thomas Couch 478.741.9014 tommycouch@live.com
REGIONAL DIRECTOR
Jeff Hirst
1209 Lucia Drive Canonsburg, PA 15317 (724) 745-6783 MBCAGreatLakesRD@gmail. com
PITTSBURGH
Sandra Turko 612 Pennsylvania Boulevard Jeanette, PA 15644 742.527.0838 mbcapghchapter@gmail.com
CENTRAL OHIO
Michael Mizesko 614.377.3694 7614 Brandon Road New Albany, OH 43054 mbcacos@gmail.com
NORTHWEST OHIO Branton Pardee 419.215.1696 techdada@yahoo.com
WESTERN RESERVE
Rod Thompson 3175 Roundwood Road Chagrin Falls, OH 44022 440.247.2853 renold.thompson@ clevelandship.com
THREE RIVERS
Contact Regional Director
INTERNATIONAL STARS Don MacDonald 248.647.8430 don.macdonald1@gmail.com WESTERN MICHIGAN Matthew Short 269.760.7204 mshort2@gmail.com
REGIONS LISTED EAST TO WEST Section Guide MERCEDES-BENZ CLUB OF AMERICA
NORTHEAST REGION SOUTHEAST
EASTERN REGION
GREAT LAKES REGION Send contact information updates to: ryanne@mbca.org 102 THE STAR 1-2 2023 SECTION GUIDE
MID-ATLANTIC REGION
REGION
CENTRAL REGION
REGIONS
MIDWEST REGION
SOUTHWEST REGION
WISCONSIN
Bruce Hamilton
4225 Southwyck Drive Janesville, WI 53546-2120 608.754.6066 n12em@sbcglobal.net
CHICAGOLAND Gretta Glimm gretaglimm@yahoo.com
CENTRAL ILLINOIS
MINNESOTA
John Jacobson 1820 Kolff St Newport, MN 55055 651.690.5115
benzboy@comcast.net
IOWA HAWKEYE
REGIONAL DIRECTOR
Andrew Opička
1221 Bay De Noc Ct Green Bay, WI 54311 andrew@opicka.com
Patricia D. Kellogg 4607 Thornhill Drive Peoria, IL 61615 309.688.8000 (h)
Bob Young PO Box 716 De Soto, IA 50069 515.229.3870 bobyoung@inbox.com)
KANSAS CITY Rich Carlson Rich@kcmbca.org
REGIONAL DIRECTOR
Ron Borino
29443 North 108th Place Scottsdale, AZ 85262 602.550.9939 1southwestregion@gmail.com
DESERT STARS
Debbie Ichiyama
6502 E. Evans Drive Scottsdale, AZ 85254 480.268.9535 (h) dichiyama@me.com
SOUTH-CENTRAL REGION
OZARK
Dennis Anderson 15175 Putman Road Rogers, AR 72756 479.295.8008 dt.anderson@cox.net
CENTRAL OKLAHOMA
Brett Jurick
2024 Palace Way Allen, TX 75013 214.773.7820 bjurick@tx.rr.com
NEW ORLEANS
Sandy Downing 219 Garden Road River Ridge, LA 70123 504.813.3086 sandown60@aol.com
Jeff Leatherock 904 N Miller Oklahoma City, OK 73107 405.306.9495 leatherock@aol.com
EASTERN OKLAHOMA
John Kushnerick 12445 S Granite Avenue E Bixby, OK 74008 918.527.8121 jkushnerick@cox.net
NORTH TEXAS
Ron Seifert 339 Pine Valley Dr Fairview, TX 75069 972.824.0464 rseifert@grandecom.net
ROCKY MOUNTAIN REGION
WICHITA
Lee Elrick
1440 N. Gatewood #51 Wichita, KS 67206 316.634.2088 leeelrick@me.com
EASTERN NEBRASKA
FORT WORTH
DJ de Jesus 4159 Charron Lane Fort Worth , TX 76116-8160 817.732.8773 (h) djdejesus@charter.net
HOUSTON
Erroll Hines P.O. Box 2261 Kingwood, TX 77252 eahines@aol.com
LONE STAR
Alan Syme 520 Davis Mountain Circle Georgetown, TX 78633 210.827.8308 alansyme424@gmail.com
TEXAS HILL COUNTRY
REGIONAL DIRECTOR
Contact National VP
CHAPARRAL
John Peters
520.425.5058 petersjr@comcast.net
LAS VEGAS
Robert Hellriegel 8260 Sweetwater Creek Way Las Vegas, NV 89113 702.768.7530 Hello_rjg@yahoo.com
LOS ANGELES
Amir Rudyan 28051 Balkins Dr Agoura Hills, CA 91301 amir@avmindustries.com
ORANGE COUNTY
Kevin Faunce 26632 Sinforosa Dr Mission Viejo, CA 92691 949.310.3669 mbcaorangecounty@gmail.com
REGIONAL DIRECTOR
Steve Dierks
2381 Shrider Road Colorado Springs, CO. 80920 719.593.9557 steve.dierks@gmail.com
Sandy Dose 1331 S. 184th Circle Omaha, NE 68130 402.334.8126 (h) doses@stifel.com
MILE HIGH
Stan Rios PO Box 388 Parker, Colorado 80134 720.404.6362 rican6987@gmail.com
PIKES PEAK
Andrew Nelson 1027 Adams Dr Colorado Springs, CO 80904 719.217.9481
Ottobahn2@gmail.com
NEW MEXICO
Jo Chase 6338 Antares Road NE Albuquerque, NM 87111 505.220.3267 farmgal229@aol.com
NORTHWEST REGION
HAWAII
Shawn Merrill PO Box 492658 Keaau, HI 96749 650.255.8202 hicmdo1@gmail.com
CENTRAL COAST Yvonne Lazear 805.402.2322 ylazear@gmail.com
CENTRAL CALIFORNIA
Kathryn Splivalo 4800 N Van Ness Boulevard Fresno, CA 93704 559.289.0578 kaspliv@gmail.com
SAN FRANCISCO BAY AREA John Goode 650.215.3402 goode4me@gmail.com
REGIONAL DIRECTOR
Jeff Shindler
#9-11291 7th Ave Richmond BC V7E 4J3
CANADA
604.271.1829 (h) 604.910.1829 (c) Jeff.shindler@telus.net
IDAHO
Robert Heath 5429 W. Clearview Ct Boise, ID 83703 208.599.3334 rwheath75@hotmail.com
SEATTLE
David Glass 10901 176th Circle NE #4618 Redmond, WA 98052 425.869.6706 davidr.glass@att.net
PORTLAND
David Abarr 625 4th Avenue SE Albany, OR 97321 541.981.1919 mbcapdxdave@comcast.net
Send contact
SAN DIEGO
Michael Cooper michaeldenise1212@gmail.com 760-650-6206
CHANNEL ISLANDS
Peter Samaha 1600 Hobart Street Camarillo, CA 93010 805.890.8489 psamaha@msn.com
SACRAMENTO
David Michael
302 Stage Stop Court
El Dorado Hills, CA 95762 415.939.9000 demichael@gmail.com
SIERRA NEVADA
ALBERTA
Satellite to British Columbia Section
BRITISH COLUMBIA
Leigh Gayman 1815 Crawford Rd North Vancouver, BC V7K 1R8 CANADA lgcars@shaw.ca
VANCOUVER ISLAND
Robert Watson #518-6880 Wallace Drive Brentwood Bay, BC V8M 1N8 CANADA 250.652.5667 (h) mbca.visland@gmail.com
information updates to:
103 THE STAR 1-2 2023 SECTION GUIDE
Gail Wells 1230 Mineral Flat Road Reno, NV 89506 blackswan342@gmail.comt LISTED EAST TO WEST Section Guide MERCEDES-BENZ CLUB OF AMERICA
WESTERN REGION
ryanne@mbca.org
REGIONAL DIRECTOR
Don Dionisi 1503 Wild Peak San Antonio, TX 78258 830.438.5539 don.dionisi@yahoo.com
SLs for Sale
1975
1987
1991
881 5852 randsscavia@hotmail.com (NY)
1996 SL500 Black/Shell. 106,450 miles. Well-cared for, heat ed garage-kept. Newer black canvas convertible top, match ing hardtop, storage stand. Never sees snow or salted roads, functions as it should. Richard Olsen: (917) 838-4499 rickol sen2015@gmail.com (ME)
2005 SL500 Silver/Berry. 53,500 miles. Florida car. Original window sticker. Comfort package/trim package/AMG sport package/tire pressure monitoring /Bi-Xenon headlamps /key less go package. $21,900 Patrick Rocca: 973-934-3488 patrick lrocca@gmail.com (NC)
1999 SL500 Silver/Java. 25,615 miles. Mint condition. Must make room in garage. $25,000 Tam Taylor: 330-807-8809 TAM1@callttci.com (OH)
2005
1995 SL500 Red/Tan. 87,332 miles. Both tops. Red exterior and tan interior both in perfect condition. Tires are new. Cloth car cover for storage. Carfax available along with all service Records. Asking $8500 Douglas Larson: 920-574-0215 DLar son@mods.us (WI)
2000 SL600 Black/Black. 39,200 miles. I am certain this is one of the nicest 600's in the country. Only 39k original miles. Triple black on black. Never seen a drop of rain. Garaged 24/7. Every thing works. $30k obo. Kevin Egan: 616-262-4262 wkegan@ sbcglobal.net (MI)
2004 SL500 Silver/Cream. 109,000 miles. Owned over 10 years as weekend car. Sports package, AMG wheels, updated tail lights, changed front grille, and trunk spoiler. $17,000 cash OBO Jarek: (707)396-0573 jpiszczek@yahoo.com (CA)
2013
2004 SL600 Charcoal/Red. 42,000 miles. One of 400 made, All original, mint condition inside and out, complete documenta tion, all service records. Never Driven in snow or rain. $49,000. Inspections welcome, Joseph Sais: 646-899-0565 Sais@op tonline.net (NY)
TRADING POST Submit ads to: www.mbca.org/create-classified-ad
104 THE STAR 1-2 2023
450SL Blue/Tan. 158,000 miles. Original owner, clean title, always garage kept, hard and soft top in great shape, ex cellent mechanical condition, all service records. Reasonable offers accepted. Heike Corbeil: 760 832 3374 service@star-au tohaus.com (CA)
1983 280SL Red/Black. 69,000 miles. Manual 5 speed with 182 hp 2.7-liter 12v inline gas engine. Bought as reconstructed title. Owned for 10 years, drives well. Passed inspection 2021 and insured. $10K Mike Bertrand: 253-293-0581 bertmi01+M BCA@gmail.com (PA)
560SL Bronze/Brown. 88,831 miles. Garage kept, runs great, looks fantastic. This car is a great example of a very nice driver. Since I have owned, seats have been recovered. $29,900 Wendell Gundlach: (336) 209-2736 wendellgundlach@gmail. com (NC)
500SL White/Grey 82,000 miles. Serviced by the selling dealer. Beautiful factory paint, flawless grey leather. New top, New Pirellis. Everything works. One of the nicest available. Original window sticker and bill of sale with all records. $16000. Robert A Scavia: 518
SL500 Black/Tan. 71,850 miles. Contact for details and questions. $17,500 obo. Olin Marth: 484-772-6295 Nilo61@ comcast.net (PA)
20" AMG twin
spoke light
2012 SLS-AMG Grey/Porcelain. 11,900 miles. 7 speed auto trans. 19" and
5
alloy wheels and red brake calipers. Bang and Olufsen 1000 watt sound system. Indoor fit ted cover. Spoiler. Back-up camera, navigation. $175k. Charley Train: 603-455-0019 (FL)
SL550 Red/White. 45,823 miles. One Owner. Loaded-AMG wheel pkg, magic roof. Always garaged, dlr. serviced, no smoke, never out of Tucson, No dents/scratches, clean carfax. $45,500 Biff: 520-404-4617 biffjohnson@comcast.net (AZ)
POST
2015 SL65 White/Beige. 16,000 miles. 2 owner, fully optioned v12 powered AMG SL, awesome condition, cpo warranty till 3/23. Always dealer serviced. Always garaged. $149,000 Hilmar: 732 228 1732 (NJ) TRADING
Other Mercedes-Benz Vehicles for Sale
1959 220s Gray/Tan (Hydrak clutch) will not go into gear when engine is running. If I turn off the engine it will go into gear. Call for more information. Asking $7,500 obo. Haamid Jaavaid: 510566-3474 (CA)
1978 240D Green/Bamboo. 216,700 miles. Restored/refur bished survivor purchased from original owner's family. Ful ly serviced, A/C converted, New Tires, New Paint, 4-speed. $21,000 Michael Brewer: 843-834-0053 michael.e.brewer@ comcast.net (SC)
How to Submit Trading Post Ads
To submit a Trading Post Ad, upload your ad, with a good quality image if desired, at: www.mbca.org/create-classified-ad
To appear in the July–August 2022 issue of The Star, ads must be active on the website at the end of the day January 15, 2023. Submitted ads are posted immediately.
1961 Sb White/Red. 285K miles. 4 speed manual, Showroom, 0wned 48 years, Euro Model, sunroof, restored, books, spare parts, records, new A/C, new tires, Drive anywhere, $20K Gene Kruger: 805-459-8868 genewkruger@gmail.com (CA)
1978 280SE Blue/Blue. 171,000 miles. One owner 1978 280SE for sale. Excellent condition externally, interior and mechanical ly. All records are available. Bill Palumbo: 480-239-3279 billpa lumbo@comcast.net (IN)
A club member may post one Mercedes-Benz related ad of up to 250 characters (approximately 35 words) and one photo on the website free of charge, space permitting. Members are charged for additional words and pictures. The online ad may be edited or removed by the member.
All ads are automatically removed after 60 days online unless renewed.
Only ads for Mercedes-Benz vehicles, parts, literature, and related services are accepted.
1967 200 Black/Red. 53,259 miles. Restored by 3 MBCA me chanics, rebuilt engine by Metric, new suspension, seals, steer ing, interior, under hood, auto trans, original motor, quiet, noth ing but compliments email me for details $75K John: lofjon@ sbcglobal.net (CA)
1979
1967 250S Silver/Sandalwood. 77099 miles. Has a 280 motor with new cylinder head. 4-speed manual on the column. Rebuilt master cylinder and carbs. Have extra parts to go with car. Ask ing $4,400 OBO Dr. John D Sheuring: 984-289-9143 drdmsec@ gmail.com (NC)
1980 280CE White/Siena. 211,000 miles. Original condition California car. Siena brown leather. Runs well, passes smog with comfortable margins. 4-speed MT. Becker Radio. Euro headlights. Complete records. David Sears: (408) 916-8100 dv.sears@gmail.com (CA)
Non-members or commercial enterprises may post text ads for Mercedes-Benz related vehicles, parts, goods, and services on the club website. Ads up to 300 characters $30 per issue with 60 days on the website. Fees must be paid in advance and are non-refundable. Please submit all Commercial Corner ads to Nicole@mbca. org or call 800.637.2360.
The terms of sale, payment, shipping, and other affairs related to Trading Post ads are the sole responsibility of the buyer and seller. However, if issues arise, write to: editor@mbca.org.
MBCA and the Editor of The Star reserve the right to edit or remove any advertisement without recourse, justification, refund, or compensation.
Club members without internet access may submit ads by mail to:
MBCA National Business Office 1907 Lelaray Street Colorado Springs, CO 80909-2872
Please follow correct ad format when submitting ads by mail. Ad must be typed or clearly printed, and include name, address, phone and credit card information or check. Always include member number. Photographs submitted by mail will not be returned. Trading Post ads automatically expire after 60 days unless promptly renewed.
1971 300SEL 6.3 Blue/Tan. 89,000 miles. Most everything re stored, new cams, new leather, new wood, carpet, new hoses, moonroof, new tires, new air bags, stays level, new paint Dennis Dobbin: 307-620-0724 d.dobbin@bresnan.net (WY)
1982
No inference should be made that the goods and services advertised herein have the endorsement of Daimler AG, MBUSA, or MBCA.
105 THE STAR 1-2 2023
280CE Yellow/Bamboo. 67,400 miles. 4-Owner, 4-Speed Auto, Becker Europa, Tool Roll & Jack, Pics Avbl, Mftr Books & Lit., Maj Svc Performed plus add'l repairs, Binder w/History & Svc Records - $27,500 Jerry K: 440-225-6678 smurrf00@gmail. com (FL)
300TD White Spent $7,000 to make the car safe, reliable and usable. All work done by MB Classic experts, the last one highly regarded in the NJ MBCA community, using exclusively MB or OEM or proper parts. Carlos L Sanchez: 718-415-8524 car los.l.sanchez@icloud.com (NJ)
NO PHOTO PROVIDED
TRADING POST
BEWARE OF SCAMMERS
Be careful. Online crooks can scam you. It's best to sell to someone you know, or to confirm the transaction with a mutual friend, like a club member. Note that cashier's checks are easily faked. Ask for a direct bank-to-bank transfer and confirm receipt before releasing your car. The most common scam is when the Scammers offers more than your asking price, paying with a cashier's check, with excess to be used by you to pay for shipping. They're stealing your car and your money.
1990
TRADING POST Submit ads to: www.mbca.org/create-classified-ad 106 THE STAR 1-2 2023
1982 300D Ivory/Palomino. 134,000 miles. FL car from 19942021. Rebuilt trans., alternator, new tires, brake hoses, rear shocks, rear brake pads, brake fluid & power steering flushes; fuel, air & ps filters. $14,500 Larry Taylor: 717-406-8015 lar rytt543@gmail.com (NY)
1982 240D Grey/Red. 175,000 miles. Euro spec 240D, 4-speed. Exceptional original condition, all OEM parts (recent >15K spent). Inspections encouraged. $24,500. Title on hand. Please call for additional photos, info. Marcus Droege: 954-610-7783 mdroege@pharmaconcepts.com (IL)
1983 300CD Ivory/Palomino. 161,000 miles. Southern, rust-free example from FL and TX. New window seals, fluids & filters. Well sorted. very smooth and quiet engine, books, tool & 1st aid kits. Clean CarFax. Asking $21,500. Larry Taylor: 717-406-8015 lar ryt543@yahoo.com (NY)
1984 300CD Magenta/Palomino. 110,500 miles. Completely Re furbished. New interior leather, carpets, seat padding, $15,000 in mechanical completed in 2016. New Glasurit paint, vehicle appears new. Thomas Fenig: 704.772.6858 thomasfenig@ gmail.com (NC)
1984 380SE Ivory/Brown. 90,000 miles. Well maintained south ern car. A great driver or project car. Asking $6,900. Dave Young blut: 815/541-6584 (IL)
1985 300SD Champagne/Brown. 140,000 miles. 3rd owner. 5 cyl Diesel engine. Very good condition. Bill: (405) 642-7683 (OK)
1986 300E White/Gray. 107,000 miles. Incredible condition with all original paint and interior that still looks like new. Thousands spent on recent services and drives like a dream. 107k miles but looks like it has 7k. $11,500. John Pavich: (928)600-4871 jdpa vo@gmail.com (AZ)
1987 560SEC Red/Red 127,000 miles. Concours quality paint matches the immaculate interior. New parts needed including fuel pumps and suspension air bags. This has been a fantastic road car and inspections are welcome. David Hester: (719)3959156 tpm0317@yahoo.com (CO)
1988 420SEL Taupe/Cream 110,268 Miles. A stunning beauty - garaged, excellent cond 4.2L V8 Engine, power sunroof/win dows/seats, driver side airbag, clean title, no accidents. Deidre McKee: 847-650-2783 deidrend@gmail.com (IL)
300SE Silver/Palomino. 110,000 miles. Exceptional orig inal condition, maintained to the highest level with all OEM parts (recent >15K spent). CA car. Drive anywhere. Inspections encouraged. $18,950. Marcus Droege: 954-610-7783 mdroege@ pharmaconcepts.com (IL)
1995 E320 Cabriolet Silver/Beige. 100,400 miles. xlnt condition belies mileage. Orig. paint. AMG wheels. Everything works ex cept the soft top. 2 Cyls replaced, others need to be rebuilt. Con tact for 150+ detailed photos. Dave Tobin: 651-216-1265 dave@ daveknowscars.com (NY)
!
POST
Other Mercedes-Benz Vehicles for Sale TRADING
Other Mercedes-Benz Vehicles for Sale Parts & Misc. for Sale
1995 E300 Diesel Silver / Cream Beige. 81000 miles. Acquired from original owner. All original condition; rare 1 year only mod el. Recently serviced, everything works including A/C. $24,500 Larry Taylor: 717-406-8015 larryt543@yahoo.com (NY)
2007
2000
2008
2004
2014
2004 SLK230 Silver/Black. 106,000 miles. Really good con dition, recent service, all work done at MB dealerships. Has retractable hardtop. $7000 obo Beitia: 510-282-2677 cosme. beitia@yahoo.com (CA)
2016
2018 S560 4Matic Black/Black. 16,000 miles. Well optioned. Ceramic coated at dealer. CPO warranty thru 3/23. MB warran ty thru 3/25 available. Dealer maintained. Garaged. Carfax and records. $68,000. Will Jordan: (828) 285-2325 rainbowwjo@ aol.com (NC)
2018 S450 Black/Black. 49,000 miles. One owner, maintained to the Highest Stds. Full complement of amenities, service his tory, car fax, and recent major service. $46,950 Norm Cohen: 770-883-9115 (GA)
2022 Airstream Interstate 19 Silver/Silver 2,400 miles. Still has the new car factory smell and has never been slept in. It comes loaded with everything you need for a comfortable stay and more. Easy parking in full size slot. $175K OBO. Adam: (209)996-0254 adamjast@mac.com (MA)
Mercedes-Benz Shop Closing -Barnful of 123,126 & 107 Parts–New, Used & Refurb parts available. Cars: 1977-85 (123&126);1974-85(107). Happy to respond (35 years experience with these cars/parts). William (Chip) Johnson; 757.789.3203; 860.402.0232; classicmercedesparts@gmail.com (VA)
2006
2017
Vintage
107 THE STAR 1-2 2023
E320 Wagon Silver/Gray. 178,000 miles. One of the best cars I have ever owned in terms of quality, performance and styling. It drives beautifully and is in perfect mechanical shape. All records included. No rust. $7500 Todd Dillon: (314) 698-8488 mr740i2000@gmail.com (MO)
E500 Silver/Gray. 189,200 miles. Excellent condition ext/ int. New tires and belts, plugs, Transmission n diff fluids changed every 50K. All maint records. $7500 obo Thushara: 214-766-7340 tsilva@gmail.com (TX)
E350 Wagon Tan/Tan. 147,915 miles. Clean title. Orig inal window sticker, two keys. New tires, rear air suspension, fresh service & tune up. For more info or pics contact by phone or email. $8500 obo Josh: 769-232-5157 josheco89@ gmail.com (MS)
S550 4Matic 60,600 miles. Florida car, no winters or salt. Heated and cooled seats, Navi, soft touch door openings etc. No accidents, excellent condition. $15,500. Sager Loganathan: sag erl984@outlook.com (NY)
ML320 CDI White/Macadamia 184,000 miles. 2 owners, dealer serviced, all records, no smoking, no pets, no rust, no off-road, recent Michelins, No DEF needed, 396 ft-lbs torque, $11k OBO David Pienkowski: 859-230-0870 harbormaster.frank. silva@gmail.com (KY)
SLK55 Red/White/Black. 16,000 miles. Pristine condition, 16,000 miles, AMG engine signed by builder, Only 400 of these cars built that year, Complete service records, all done by MB dealership, $45,000 Mike McHann: 901-299-6341 (TN)
CLS63 Gray/Red. 54,850 miles. Fully loaded, ceramic coat ing, no performance mods. Complete service records. New tires and A-1 service. Asking $55,000. Mark Merritt: 512-745-1597 c2soc@hotmail.com (SC)
C300 Coupe 4Matic Silver/White. 19,006 miles. Excel lent condition, one owner, meticulously kept, both keys, clean title and CARFAX. Tiny blemish on front air dam, pictures avail able. Local pickup or transport. $30,000. Fred Hundertmark: 425-238-8287
Sterling Silver Mercedes-Benz Logo Pins Stick/ Lapel Pins from West Germany. Old stock of 80 new pins from 1970's recently found. Gift boxed for giving! $39.95/ea + Ship ping. Linda Price: (502) 500-7242 lprice1@twc.com (KY)
TRADING POST
Parts & Misc. for Sale
Parts & Misc. Wanted
Wanted: manual transmission C-class sedan - Looking to upgrade from my mechanically excellent but cosmetically challenged 2006 C230 Sport. Nice functionally and visually and preferably next generation infotainment; must be manual. Bill VerDuin: 440-567-9246 (AZ)
Roof Rack Bars and Dachbox 400 Carrier - MB roof rack bars and Dachbox 400 cartop carrier in very good to excellent condition. Purchased for 2013 ML but fits other models too. Bars and carrier both lock. Georgeann Peters: (614)638-5827 ggpeters27@gmail.com (OH)
Wanted: W210 E55 in great condition – Ideally from West Coast or other warmer climates, under 100K miles (unless oth erwise in mint condition), no rust, everything working, great condition, no accidents, service history. Gideon: 347-563-7745 gafeldstein@gmail.com (CA)
Literature/books for sale - Sales literature 1970 to 2022. Most all models. Email (no text) for a complete list with special prices for MBCA members, before I list on eBay. Bill Burkhardt: (913) 648-1835 wburkhardt@kc.rr.com (KS)
190SL Parts - New gas tanks ignition lock and key radios chrome windshield frame and glass mirrors carburetor transmissions radiator generator doors bumper guard jacks manuals valve cover many more new and used parts Bill: 410-546-6407 bsnavely@verizon.net (MD)
1984 turbo diesel coupe for parts or restoration. Sat for several years and has some rust, but body panels are all sal vageable. Interior is tan leather in rough shape. Ran when parked. $1,500. E. J. Brugman 330-957-0011 ejbrugman@ sbcglobal.net (OH)
1988 R107 Hardtop - Maroon with cream hardtop. Car written off, hard top was not installed at the time. Asking $1500 OBO. George Mitges: 905-562-5316 gmitges@gmail. com Located in Ontario, Canada (ON)
Mercedes-Benz Shop Closing – All left over assorted manu als, parts and tools are for sale. Owner's manuals, Service manu als and assorted parts for most models from 1960-1990. Mostly used, some new. call with needs. Jeffrey: (410)526-4495 (MD)
Parts & Misc. Wanted
TRADING POST Submit ads to: www.mbca.org/create-classified-ad 108 THE STAR 1-2 2023 Mail your order with payment to: MBCA-Store 1907 Lelaray Street
Springs CO
or call 800.637.2360 or order online at
Back Issues All issues of The Star for the years
are still available from the
Office. Consult online index for contents before ordering. Many issues for
2010 are also available. Please contact the office to find out if your requested issue is still in stock. Call: 800.637.2360 Easy Buying Tips: • You don't need to be a club member to order magazines • Credit card or check accepted • Shipping is included within continental United States • Individual copies $10.50 each • Call to check on the availability of specific issues • International Orders: Call for details & shipping costs Wanted: 560SEC Magazine Advertisements - Looking for magazines and advertisements that feature the Mercedes 560SEC or C126 Coupe of any year. Perhaps old editions of The Star have some of these articles, or ads on the back page? brent.m.saba@gmail.com 651-307-0378 (TX) Wanted: Sheepskin Seat Covers for W123 - Looking for one or a pair of vintage, great condition Mercedes accessory (OEM) beige sheepskin covers for a W123. Bernard Canepa 202-236-2026 (DC)
Colorado
80909-9283
mbca.org
2011-2019
MBCA National Business
the years 1999 to
Cenos 20" Rims. Rims in Excellent Condition - came off of a 2013 Mercedes GL450. Mounted with 275/50R 20 Hakkapelitta snow tires. $900 or Best Offer. Tom: 970-390-2353 (CO) MB Classic Magazines - Magazines in great condition in Ger man: 2-4/2006, 1-4/2007-2009, 1-3/2010-2015, 1 and 3/2016, 1-3/2017-2019, 1-2/2020-2021 and three acrylic cases. Rea sonable offer to include S&H Bernhard Deutsch: 828-302-3513 bernid@att.net (NC) 2 GLE350 Tires - 2 Pirelli Scorpion Zero all season tires, size 255/50 R19. OEM for 2020 GLE350. Approximate 15k miles, date code 2019 in excellent shape. Cost $300 each new. Make offer for both. Doug: dstubbe@yahoo.com, 203-209-8317 (CT) Four Sport Edition A10-2 wheels - Firestone Firehawk Indy 500 tires 245/45R17 Gloss
4
Black, Size: 17x8 Offset: +28mm Backspacing: 5.629" 5X112mm, driven less than 200 miles, off my 2000 R129. Asking $900.00 Al Michaud: 860-913-5257 amichaud2@cox.net (CT)
1957 Hepco Luggage - 2 Suitcases and 1 Hatbox. Purchased by my grandmother and grandfather in 1957 upon taking delivery of their 190SL in Germany. Some imperfections and water stains. Not used since 1958. Best Offer. Steve Ruckmick: 949-235-5042
(CA)
POST
TRADING
109 THE STAR 1-2 2023 OEM Quality molded two part set in the various interior colors Rear View Mirror Trim Assembly with HomeLink and Auto Dim CLASSIC TRIM PARTS FITS: R129 SL 1997-2001 +1-716-931-9551 www.classictrimparts.com classictrimpartsllc@gmail.com Scan for Product TRADING POST
110 THE STAR 1-2 2023 Shoponline BUD'S PARTS • SERVICE •RESTORATION BudsBenz.com 770.942.8444 Mon-Fri 8am-5pm est 7773 W. Strickland St. Douglasville, GA 30134 ORDER FROM OUR NEW ONLINE CATALOGS! CANDOITALL TRADING POST
111 THE STAR 1-2 2023 The Next Trading Post Ad Deadline: January 15, 2023 For More Details See Page 105 123 USA LLC ...................................................... 109 Adsit Company, Inc. 95 Airstream, Inc ..................................................... C2 Authentic Classics LLC ......................................... 97 AutoMobilia Magazine 109 Becker AutoSound, LLC ..................................... 110 Beverly Hills Car Club 99 BMWCCA ............................................................. 99 Bud's Benz ........................................................ 110 Classic Trim 109 Gill's Precision Automotive ................................. 97 Gooding & Company 1 GTECHNICQ........................................................25 Gullwing Motorcars Inc ..................................... 106 J.C. Taylor Antique Auto Insurance 75 K&K Manufacturing ............................................ 95 Kienle GmbH 9, 97 Lauderdale Speedometer ................................. 109 Laurent Nay ........................................................ 97 Liqui Moly.........................................................23 Madera Concepts .............................................. 109 Mandrus Wheels C3 MBCA –Educational Foundation (MBCAEF)..........99 MBCA – Loyalty Reward Program • Canada..........99 MBCA – Loyalty Rewards Program • U.S...............93 MBCA – Purchase Name Badges.........................110 MBCA – Social Media Options .............................17 MBCA –The Star Back Issues.........................,.....108 Mecum Auctions.................................................11 Mercedes-Benz Cars MBUSA C4 Mercedes-Benz Lifestyle Collections..................... 2 Metric Motors Inc. .109 Miller's Inc. ....................................................... 111 Niemöller Spare Parts....................................... 111 Pelican Parts 78 Porsche Club of America ..................................... 99 Tire Rack 3 Unique Cars of Palm Beach ............................... 109 Index of Advertisers TRADING POST
Starry Eyed
On the road again: Sidelined with Covid, club member Randy Carlson was trolling an internet barn find group when he began an online conversation that would lead him to the discovery of a lifetime: a 1940 W142 IV 320 sedan rebodied in 1947 as a Cabriolet by Rometsch in Berlin. The story begins on page 26. Image Royce Rumsey
112 THE STAR 1-2 • 2023
2022 EQB350 4MATIC® SUV shown in
leather upholstery with AMG Night Package and Iridium Silver paint with optional equipment. ©2022 Mercedes-Benz USA, LLC For more information, call 1-800-FOR-MERCEDES, or visit MBUSA.com. HEADLINE: 28 pt. • SUBHEAD: 11 pt. Electric just got bigger. Three rows bigger. The all-electric T:7.375" T:10"
Black