Page 2
Animal Friends of Yolo County Animal Services
The Friends of the Yolo County Animal Services primary objective is to assist the Yolo County Animal Services, Sheriff's Office of Yolo County, in its mission to improve the welfare of animals in Yolo County.
Mercer Veterinary Clinic
Mercer is a non-profit run by UC Davis veterinary students and volunteers who are passionate about helping animals and owners in need. We provide critical services such as flea and heartworm prevention, vaccinations, and free spay/neuter services to our clients.
NorCal Boxer Rescue
NCBR is a foster-based rescue for boxer dogs in northern California. We prioritize the most vulnerable dogs, including those who are old, ill, injured, or housed at the shelters where the risk of euthanasia is the greatest.
Purebreds Plus Cat Rescue
Purebreds Plus Cat Rescue (PPCR) is an organization dedicated to the rescue, rehabilitation, socialization, and rehoming of purebred and other exceptional cats and kittens into permanent homes. In addition, it further educates the public in the proper care of breeds and the importance of spaying and neutering.
Rotts of Friends Animal Rescue
The mission of Rotts of Friends is to educate and prevent irresponsible breeding and ownership of animals through the rescue, rehabilitation, and placement of discarded and abused animals into forever homes.
ShepHeroes
ShepHeroes is a non-profit rescue organization with an experienced team of volunteers focused on carefully placing German Shepherd Dogs into loving homes matching their temperament, activity level, and needs. We focus on GSDs who are at risk due to abandonment, neglect, and abuse, or significant change in circumstances.
Yolo County SPCA
Our mission is to continuously improve the welfare of animals in the community through programs that promote the adoption of homeless animals into permanent and loving homes, provide humane education, advocate for spaying/neutering companion animals, and support trapping, altering and return of community cats.
Arts, Culture & Humanities
Acme Theatre Company
Our mission is to present plays of high literary quality while providing opportunities for young people to learn acting and technical theatre skills through peer and adult mentorship in an environment of mutual trust, respect, and responsibility.
Chamber Music Society of Sacramento
The Chamber Music Society of Sacramento (CMS) was founded to provide high quality chamber music to audiences in the greater Sacramento area, and to provide learning opportunities for youth and others who may not be familiar with the genre.
Davis Arts Center
Davis Arts Center is a gathering place for dynamic engagement with the arts. Through multidisciplinary classes and programs for the regional community, we inspire creative expression in people of all ages and foster an environment for the arts to flourish.
Davis Community Chorale
By performing great choral literature, the Davis Chorale is dedicated to enhancing the lives of the community, its audience and its members, in the belief that music elevates the spirit.
Davis Media Access
Our mission is to enrich and strengthen the community by providing alternatives to commercial media for local voices, opinions, and creative endeavors.
Davis Musical Theatre Company
Our mission is to create theater that is sustainable, invested in the community, and vibrantly, provocatively theatrical. We are a center for new work and creators of bespoke educational theater for young audiences.
Davis Shakespeare Festival
DSF strives toward cultural equity through storytelling and education that promotes cultural joy by maintaining spaces that are reflexive, inclusive, and accessible to limitless communities.
Yolo County Nonprofit Directory — Big Day of Giving 2023 — Page 3
Davis Choir The high self-expression, through Davis School Foundation Arts development Foundation education grants,
Davis School Arts Foundation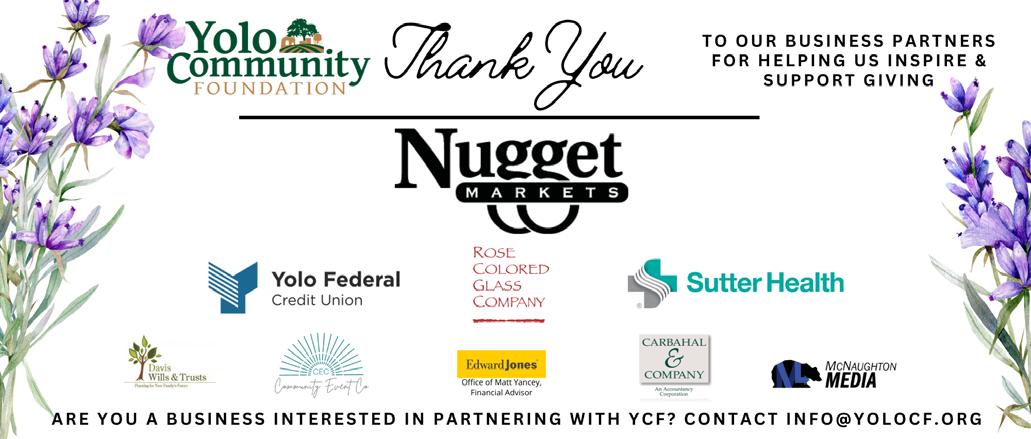 Arts and cultural education is crucial to the development of all children. The Davis School Arts Foundation provides partnership and support of culturally relevant arts education for children in Davis public schools. We do this through project grants, advocacy and arts integration training for educators.
Davis Youth Choir
The Davis Youth Choir serves youth by providing high quality vocal education, opportunities for self-expression, performance, and social interaction through music.
International House Davis
International House Davis (I-House) connects people, experiences, and perspectives within a global framework. Our programs, classes, services, and events provide opportunities to learn about and experience cultures from around the world, while building connections within our diverse local community.
Pamela Trokanski Dance Theatre
The mission of The Pamela Trokanski Dance Theatre is to redefine dance as an active art form and an integral part of the human experience for all ages and all degrees of technical training.
Pence Gallery
The Pence Gallery's mission is to serve the community through displaying high caliber art exhibits, supporting the development of local and regional artists, and offering educational programs for visitors of all ages.
West Sacramento Historical Society
The West Sacramento Historical Society is an allvolunteer group of dedicated individuals interested in preserving, collecting, educating, exhibiting, and interpreting the history of West Sacramento and its surrounding diverse community.
Wildflower Women's Ensemble
Wildflower Women's Ensemble was born of the desire to create vibrant classical theatre with entirely female/ female presenting/non-binary casts, dedicated to creating vibrant, lively, and wild Shakespeare.
Winters Museum
The Winters Museum and the Historical Society of Winters are dedicated to preserving and sharing the rich history of Winters and the Winters area through educational events, research, oral histories, and photo and artifact exhibits.
Woodland Opera House Inc
The Woodland Opera House has enjoyed continued success in its mission to preserve and operate this historical, community treasure for the benefit of the area and to nurture performing arts.
Yolo County Nonprofit Directory — Big Day of Giving 2023 — Page 5
Yolo County Fair Museum
The Yolo County Historical Society is working with the Woodland Parlor 30 Native Sons of the Golden West, the 40th District Agricultural Association Board of Directors, and other local historical groups to convert a fairgrounds office building into the Yolo County Fair Museum.
YoloArts
YoloArts believes arts and cultural practices transform our daily interactions by sparking dialogue, building empathy, and encouraging shared experiences. We strive to inspire a flourishing arts and cultural ecosystem in Yolo County by serving the community, individual artists, and arts organizations.
Civil Rights, Social Action & Advocacy
Davis Phoenix Coalition
The mission of the Davis Phoenix Coalition is to gather and engage the community to eliminate intolerance, for the purpose of preventing hate motivated violence and cultivating a civic culture that embraces and promotes all aspects of the city's diverse community.
Do Good Shop
The mission of Do Good Shop is to provide victims of exploitation safe, ethical artisan employment and connect shoppers with an easy way to empower survivors of injustice, homelessness, poverty, trafficking, and oppression with a hand up.
The People's Vanguard of Davis
The People's Vanguard of Davis is a community-based watchdog and news reporting organization that publishes daily coverage of local government and criminal justice reform.
Yolo County CASA
Our CASA volunteers advocate for abused and neglected children in the foster system to ensure their voices are heard and their needs are met. We champion, without compromise, for the best interest of every Yolo County foster child.
Community Improvement, Capacity Building Downtown Streets Team
Downtown Streets Team advocates for those with no voice, removes stigma and barriers to employment, and is ending homelessness through the dignity of work.
iDream-The Mac Give Back Project
iDream-The Mac Give Back Project provides technology/training to those who have a need. Our mission is to find those who reside on the side of the digital divide that contains limited or no access to technology.
The Bike Campaign
Promote biking as an alternative to cars, educate the community on best bike-riding practices, and celebrate the health benefits of biking.
Winters Friends of The Library
The Winters Friends of the Library is an all volunteer organization. We promote library involvement, increase literacy, foster a love of reading, and enhance community culture.
Winters Senior Foundation
Bike Davis
To encourage and promote bicycling, improve infrastructure, influence policy, and advocate for a vibrant bicycle culture in Davis, California.
Cool Davis
Cool Davis works to create enduring community resilience through equitable and inclusive strategies that lower greenhouse gas emissions and help our region adapt to a changing climate.
Friends of the Woodland Public Library
The Friends of the Woodland Public Library (FOL), a nonprofit corporation, is an association of persons interested in books and libraries, whose purpose is to enrich the cultural and civic life of Woodland and to support the Woodland Public Library in its mission.
The Winters Senior Foundation is a local nonprofit, all volunteer, community-based organization representing and advocating for the senior population in the City of Winters and surrounding areas.
Women of AT&TSacramento Chapter
Women of AT&T is organized to connect and inspire members to achieve their personal and professional goals and to effect change in the community.
Woodland Host Lions Charities Inc
To empower volunteers to serve their communities, meet humanitarian needs, encourage peace and promote international understanding through Lions clubs.
Page 6 — Yolo County Nonprofit Directory — Big Day of Giving 2023
Woodland TV (Formerly known as WAVE TV Channel 21)
Woodland TV provides the opportunity for our community to speak and share freely through public access media.
Yolo Conflict Resolution Center
We are a community-based center working to help people resolve conflicts by delivering mediation, facilitation, education, and restorative justice services.
Yolo County Library Foundation
The Yolo County Library Foundation (YCLF) supports Yolo County Library's mission to "provide access for all to ideas that inform, entertain, and inspire."