Monday,September4,2023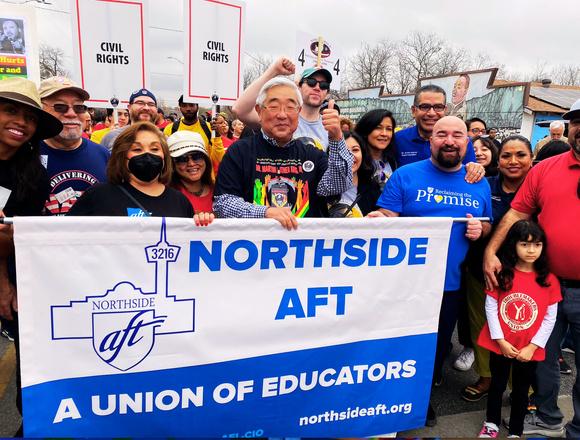 T A B L E O F C O N T E N T S NEBCD Agenda OurSponsors CandidateandVendor Tables 02 03 04 05 06 07 08 09 LaborWoman&LaborManoftheYear 10 TexasSenatorRolandGutierrez, KeynoteSpeaker JimChesnut,IndieRecording Artist & Let'sPlay!Kids'Activities Menu 1 OurSponsors Membership Application AboutNEBCD 11
MadeleineDewar,NEBCDBoardMember;PledgeofAllegiance,Veteran JimLucas,NEBCDBoardMember 12:40 IntroduceElectedOfficialsandCandidates
D-SanAntonio,TXSD19,2024Candidate,UnitedStatesSenate
HonortheLaborWomanandLaborManoftheYear, PresentedbyCongressmanGregCasar,U.S.HouseofRepresentatives, CongressionalDistrict35
1:10
1:25 Children'sActivitiesBegin
1:30 90MinutesofMarvelousMusicalEntertainment
1:30-3:00VisitTablesofElectedOfficials,CandidatesandVendors
2:15
2:30
3:00
Buytake-homefoodfromthekitchen
Kitchencloses
Picniccloses
NEBCD 2 NOON DoorsOpen--CometoTheEatBrayLoveCafe
12:30 Welcome
12:50 KeynoteSpeakerSenatorRolandGutierrez
A
JimChesnut,MikeTrigg,andJaimeVarela
G E N D A
NEBCD 04 3 'Em: edUp rtheSmall VeganSausageAlternativewith VeganTortilla PotatoSalad| RoastedCorn| Coleslaw|Watermelon UnlimitedSweetorUnsweetTea| Lemonade|Water StillHungry?WeHaveExtras: Hotdogs$2|CornCobs$1 Sides$0.50:PotatoSalad,Coleslaw, Watermelon CAFE The The The
Sponsors
John&ZadaCourage,SACityCouncil,District9
Did You Know?
Proceeds from the Labor Day Picnic, along with NEBCD's spring fundraiser, member dues and merchandise, are used to fund a centralized pop-up campaign headquarters in 2024 that supports all Democratic candidates and volunteers.
Description Phone Email
MaryLouAlvarez,Judge,45thDistrictCourt
RobertMiller,ViceChair,NEBCD Srinivasan(Chino)Rao
AuroraSanchez,InMemoryofHenry,"TheFox"Munoz
LausanneWiatrowski, Co-Chair,NEBCDEvents&FundraisingCommittee
LawOfficeof PatMaloney
JavierSalazar,BexarCounty Sheriff
Antonia(Toni)Arteaga,Judge,57thDistrictCourt
U.S.SenateSponsor $500
VicePresidentialSponsor $750
PresidentialSponsor $1000
4
Sponsors
SecurityUnderwriter $300
JanLongfellow, NEBCDEventsandFundraisingCommittee
U.S.CongressSponsor $250
GregCasar
CynthiaChapa
HenryCuellar
MarisaFlores
AngelicaJimenez
OscarKazen
MichaelMery
JustinRodriguez
PeterSakai
RoseSosa
AlbertUresti
BettyVance
LisaVance
VeronicaVasquez
ChristineVasquez-Hortick
USRepresentative,CD35
Judge,288thDistrictCourt
USRepresentative,CD28
Judge,224thDistrictCourt
Judge,408thDistrictCourt
Judge,ProbateCourt#1
Judge,144thDistrictCourt
BexarCountyComm.,Pct.2
BexarCountyJudge
Judge,289thDistrictCourt
CountyTaxAssessor/Collector
NEBCDEventsandFundraising
LawOfficeofLisaA.Vance,P.C.
Judge,ProbateCourt#2
Judge,225thDistrictCourt
Did You Know?
If we want to be competitive up the ballot, we have to be competitive down ballot too. We know you get a lot of requests for political donations, but a gift to NEBCD stays in Bexar County and serves candidates like these, who often campaign on very small budgets.
5