Welcome to Village Verde Sotogrande Extraordinary homes in a stunning setting, with state of the art amenities on the doorstep of La Reserva Club, the Costa del Sol's finest private residential and country club.
SotograndeDevelopingsince
Since its inception, Sotogrande S.A. has been the creator and developer of Spain's largest and first private master plan community. Through ambitious, innovative projects and developments, we are committed to making Sotogrande relevant in the 21st Century and beyond.
Village Verde is Sotogrande's latest project of a series of distinctive developments and real estate communities created to offer contemporary community living in this exclusive and celebrated destination. Alongside our real estate projects, we are introducing a wide range of hospitality, leisure and sports amenities to complement Sotogrande's quality of life based on discretion and privacy. 1962
Capturing the elite. Slim Aarons' "Poolside in Sotogrande" The American society photographer Slim Aarons was famous for his pictures of the rich and famous at play. His 'poolside' shots of 1975 capture a unique glimpse of Sotogrande society, with sun-tanned bodies lazing by crystal-blue pools surrounded by clipped jade green lawns.
A diverse Andalusialandscapegastronomiccelebratingandbeyond to satisfy every taste. Home of famous regattas like the Hobie Cat-16 World Championship, J 80 World and GC-32AtlanticdynamicChampionships,NationaltheRC44challenge,GateRallyandRacingTour.
Polo in Sotogrande
Sotogrande Polo, another first for this storied destination! Polo has been synonymous with Sotogrande, and it is now widely recognised as one of the foremost polo clubs in the world with the annual Santa Maria Polo tournament hosted every summer without interruption since 1965.
World class golf There are five 18-hole golf courses in Sotogrande including Valderramahost to the European Tour's Volvo Masters and the 1997 Ryder Cup, and ranked Europe's number 1 course since the 1980s. Others designed by leading golf course architects Cabell B. Robinson, Robert Trent Jones and Dave Thomas include the La Reserva Club, home of the La Reserva de Sotogrande Invitational hosted by Sorenstam.Annika
Within easy reach Europefrom Sotogrande is perfectly positioned in one of the most sought-after enclaves of the Andalusian coast and easily reachable from all of Europe's capital cities and beyond. Sotogrande offers unparalleled opportunities to come for a short stay or longer. Sotogrande, the residential resort destination is made up of four main districts; La Reserva, Sotogrande alto, Sotogrande Costa and Sotogrande Marina. Village Verde is located within La Reserva, home of La Reserva Club Sotogrande, the latest private residential and country club project developed by Sotogrande S.A. GEOLOCALIZACIÓN
Village Verde
An exclusive community of contemporary apartments and penthouses in a tranquil parkland setting in the heart of Sotogrande. Designed for modern living, including state of the art facilities. Enjoy the ultimate lifestyle in southern Spain at Village Verde, within easy reach of Marbella and Gibraltar.
Parkland living A green and pleasant land is what you will find at Village Verde. Lush countryside, woodland and parkland surrounds you on this 6 hectare site with pedestrian and cycling trails among cork trees, specially designed to make the most of the great year-round climate and enjoy the natural surroundings of your new community.
La Sotogrande'sReserva,lastdistrict Village Verde is located within La Reserva and is made up of 121 spectacular modern properties, nestled within 6 hectares of lush, green parkland. This gated community offers dedicated facilities for its residents. This creates a wonderful sense of community and belonging, as well as incredible homes. La Reserva Club Sotogrande Sotogrande International School Beach Club SPARestaurant Hotel Horse riding Bar DrivingShopping Range StreetTennisSchoolGolfCycling Market Trekking Running Hotel Encinar Horse riding Club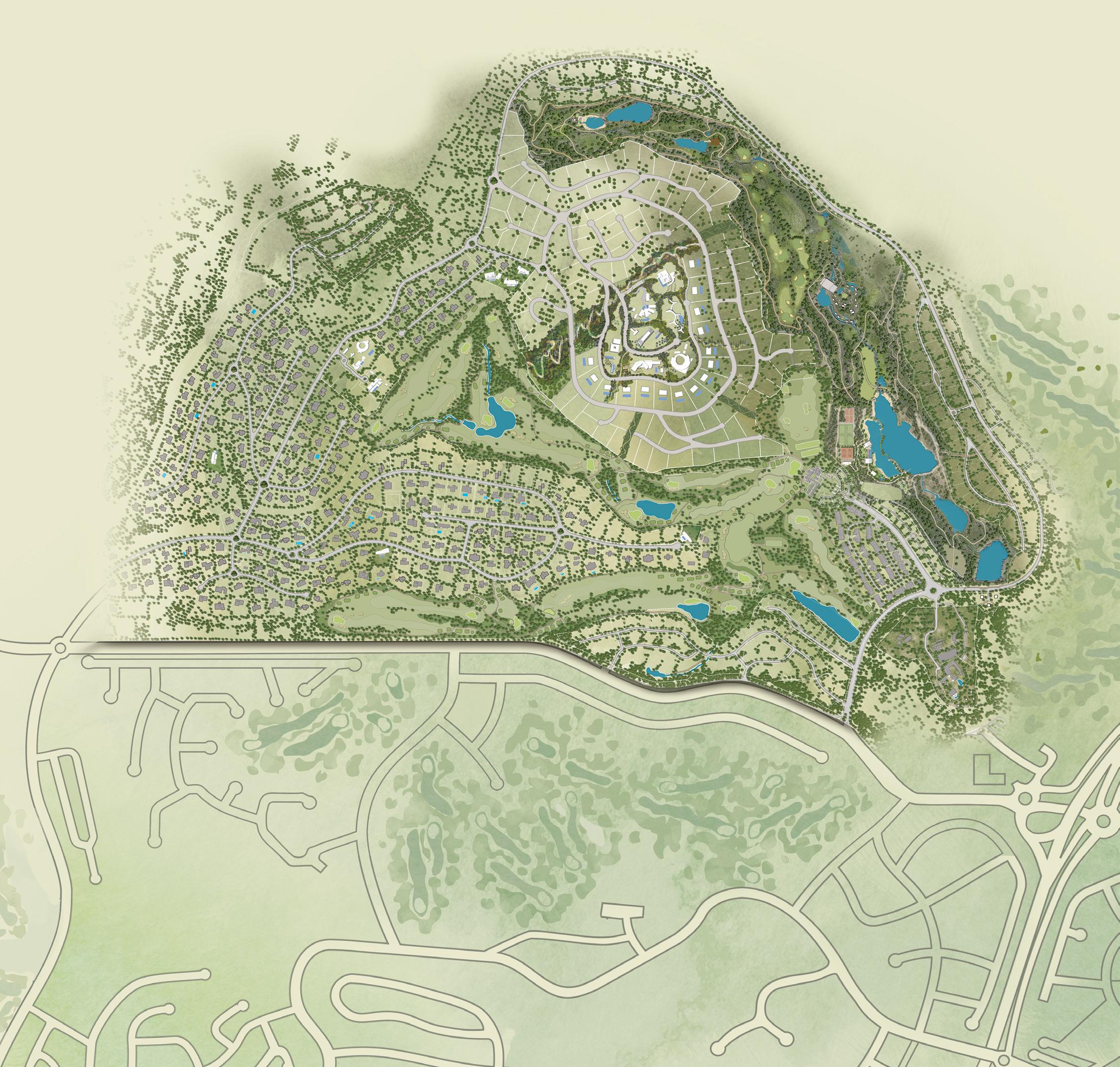 00 LA RESERVA ENTRANCE 01 MAIN ACCESS 02 SECURITY GATE 03 PARKING ACCESS 04 BEACH 05 SAND POOL 06 MAIN POOL 07 ADULTS POOL 08 GASTROBAR 09 CROQUET LAWN 10 KIDS PLAYGROUND 11 JOGGING TRACK 12 GYM & SPA PHASE 01 PHASE 02 13 09 08 06 04 02 07 05 03 01 10 11 10 10 12 07 09 06 04 01 05 08 04 05 06 13 03 03 03 03 03 02 10 00 N Siteplan
Visión Village Verde is our interpretation of the perfect village environment. We're combining exquisite properties, surrounded by lush, green countryside and a wide array of amenities to create an ideal community here in Sotogrande.
Village Verde is reimagining the traditional concept of a village within a contemporary setting. With a strong sense of community, the beautifully designed and detailed apartments and penthouses set within a green, lush parkland. Residents connect with nature, while having everything they need on their doorstep. Verde means green in Spanish and this reflects both its countryside setting and its commitment to being an environmentally friendly project. It is being built using sustainable construction methods and will have BREEAM certification. BREEAM is a certificate of sustainability delivered when a real estate development adheres to standards that respect the environment and its natural resources ensuring a balanced way of life for its residents.
The ultimate lifestyle in a stunning setting – this is Village Verde!
homesEco-friendly
The project will also be certified by WELL, the premier standard for buildings, interior spaces and communities seeking to implement, validate and measure features that support and advance human health and wellness. They judge a project based on air, water, nourishment, light, fitness, comfort and mind and only accredit spaces that are positive and healthy places to live, where people really thrive.
Our eco-friendly properties flood the interiors with light thanks to large windows and sliding doors. In addition, penthouses enjoy large roof top terraces while ground floor units include their own private garden. √ Air and light Maintaining and embracing the stunning natural environment around Village Verde has been key in the development. Facilities such as playgrounds, running tracks, bike trails and outdoor fitness areas, encourage residents to get out into the fresh air, enjoy nature and be active. √ Wellbeing
A heaven for family living Families are made to feel at home at Village Verde and we've designed the community to cater to their needs. This car-free, secure, gated community offers space, nature and facilities to keep everyone happy and make the most of your precious family time. There will be a main pool and children's pool with a sandy bottom and a 25 m. indoor pool, gym and spa, picnic and BBQ area, several play areas, croquet field and pedestrian paths for jogging.
Family friendly facilities, a sense of community and contemporary, practical properties, plus an international school on the doorstep, makes Village Verde a community like no other.
The Apartments Our stunning one, two, three and four bedroom apartments and four and five bedroom penthouses, offer the ultimate in contemporary open-plan living. They are flooded with natural light and boast incredible terraces from which to enjoy the warm Spanish sun.
With a total living area of between 180 and 520 square metres, these generously proportioned apartments include underfloor heating and Aerotherm airconditioning systems. The modern, sleek interiors blend seamlessly into the wonderful terraces, perfect for al fresco dining and relaxation.
The horizontal design allows stunning dual-aspect or wrap-around terraces in each property, large roof terraces on the penthouses and private gardens for ground floor properties. All properties come with 2 private garage spaces and a large storage room.
DOWNLOAD FLOORPLANS BOOK A PRIVATE TOUR
Design by L35, a reputed international architecture firm and the biggest architect office in Spain. They have an impressive track record over 50 years, having successfully completed more than 200 projects on four continents. Their goal is design excellence, creative freedom and achieving only the highest standards.
Architecture and interior finishings
Hidden minimalistic aluminum frames in windows with seamless transition interior-exterior. Aluminum skirting flash with the plasterboard partitions. Floor to ceiling white lacquered wood doors and joinery. Double glazed windows with sun film and argon gas protection. Motorized window shutters in bedrooms. Underfloor heating system. Separated air-conditioning and ventilation system per room. Armored entry doors framed in wengue wood. Quality bathroom sanitary ware and fittings. Big format ceramic first quality tiles (Porcelanosa or similar reputed brand). Domotic system with Schneider lighting control. Hansgrohe taps in all bathrooms. Berna Caliza PORCELANOSA Berna Acero PORCELANOSA
Kitchen and laundry room Bulthaup opened kitchen with central Siemensisland.integrated high efficiency Separatedappliances.fitted laundry room with high efficiency washing machine and dryer. Stone Master in-suite bedroom Large wardrobe and dressing area. Integrated bathroom with glass wall and articulated wood lattice. Krion standalone bathtub in bathroom. Large shower with big rain shower. Built-in RaindanceshowerEHansgrohe Freestanding bathtub by Krion (Slim model, 150 x 80 cm)
Exterior finishings
Large terraces along all the apartment façade with glass handrail. Different floor finishing in terraces: garden, wood decking and tiling. Large garden and private terrace area in ground floors. White lime rendered façade with thermo-treated wood accents in penthouse façade and access area.
Energy High-isolatedefficiencyaluminium frames and BREEAMglazing.certificate GOOD rating. Aerothermal water heating and air-cooling system. High efficiency kitchen Recycledappliances.water for irrigation Commonnetwork. areas and Sandyfacilitiespoolforkids with water Bigfeature.adult pool with large landscaped decking. Putting green area. Exterior playground area for kids. Exterior Yoga/gym timber deck Runningarea. path throughout the plot perimeter. 20 m long Indoor-outdoor pool. Indoor gym and sauna with changing room facility.
The plans, specifications, images and other details herein are only indicative and subject, among others, to the approval of the relevant authorities. The Developer/Owner reserves the right to make additions, deletions, alterations or amendments as and when it deems fit and proper, without prior notice.
This brochure is meant only for promotional purposes and cannot be construed as a binding legal document.
DISCLAIMER
Artists' impressions and interior design used in the flat/unit plans and images, including all furniture, fixtures, items, electronic goods, amenities, accessories etc., are used for illustration purposes. The Developer/Owner is not liable / required to provide any furniture, items, electronic goods, amenities, accessories etc. as displayed in the plans and images. This brochure does not constitute an offer and/or contract of any type between the Developer/Owner and the recipient.
The relationship between the Developer/Owner and the actual customers will be governed strictly by the written agreements to be executed from time to time and not on the terms of this brochure.
T + 34 856 560 villageverde.residencial@sotogrande.com922villageverdesotogrande.comAvenidaLaReserva,S/N,Sotogrande "Your property is just the start, be part of so much more" Developed by VV Desarrollos Inmobiliarios, S.L.U., a wholly owned affiliate of