ORCAS ISLAND & LOPEZ ISLAND
LIVING IN THE SAN JUANS
THEN & NOW
WELCOME TO OUR NEW 2023 ORCAS ISLAND AND LOPEZ ISLAND REAL ESTATE GUIDE
We're taking our Real Estate Guide in a brand-new direction this year. We're using historic photos of Orcas Island and Lopez Island and comparing them to current shots to highlight how much has changed. Alongside these stunning visuals, we're going to be weaving in fascinating stories of the islands' past into the fiber of "Living in the San Juan Islands".
Of course, we'll still be including the latest listings for Windermere Real Estate on both islands, as well as the outer islands. This catalog offers a range of lovely properties that we're proud to offer for Summer, Fall, and Winter of this year. You'll also get to know each of our 22 Windermere Brokers based right here on Orcas and Lopez Islandsoffering you an expert's perspective.
2020 and 2021 proved our busiest years in terms of buying and selling real estate here. Despite a quieter second half to 2022, which was due in part to almost no properties remaining unsold, things are finally shifting to balance in terms of a healthy
buyer's and seller's market, and we couldn't be happier.
The pandemic threw a curveball into our plans, but we're finally seeing it wane as life returns to something akin to normal. Our beautiful San Juan Islands have become even more popular with those seeking a quieter, more rural way of life away from the bustle of urban counties. There are certainly challenges to overcome, such as the ferry system, but we're overcoming even these as new families move in and make these small pieces of paradise their home.
There's been a marked uptick in new residential construction, likely due to new residents looking for a permanent home here. Even Windermere Real Estate/Orcas Island isn't immune: our new home is a two-story building boasting new boutique luxury hotel rooms with great views of Eastsound Bay. Swing by to check it out, or join us to tour this significant new building in downtown Eastsound.
2 LIVING IN THE SAN JUANS // THEN & NOW
Now, onward with our story...
PHOTO NOTES
Thank you to Bill Evans for the use of his landscape photos featured on the cover and throughout this magazine.
A special thank you to Orcas Island Historical Museum and Lopez Island Historical Museum for the use of photos from their collections for the Then and Now features.
3 3 2023 EDITION TABLE OF CONTENTS Orcas Island Map ................................................................................................................. 8 Orcas Island Brokers ......................................................................................................... 12 Orcas Island Listings ......................................................................................................... 14 Lopez Island Map ............................................................................................................... 43 Lopez Island Brokers ......................................................................................................... 47 Lopez Island Listings ......................................................................................................... 48 Local Businesses ................................................................................................................ 63
4 ORCAS-ISLAND.COM (360) 376-8000 LIVING IN THE SAN JUANS // THEN & NOW
ORCAS ISLAND
Rosario Resort Today
Eastsound Main Street Today
Island Market Today
Then & Now
Rosario, circa 1915
Eastsound Main Street, circa 1945
Templin´s Store
LOPEZ ISLAND
Then & Now
5 2023 EDITION WRELOPEZ.COM (360) 468-3344
Early Lopez Island Ferry Landing
Edison Week Taxi
Port Stanley Horse Race
Richardson Tigers baseball team circa 1911.
ORCAS ISLAND
6 ORCAS ISLAND LIVING IN THE SAN JUANS // THEN & NOW
7 ORCAS-ISLAND.COM (360) 376-8000 2023 EDITION Life is a one time offer, live it well... on Orcas Island.
8 ORCAS ISLAND LIVING IN THE SAN JUANS // THEN & NOW
Office Location
orcas@windermere.com
Orcas Island, WA
Private Roads: Many island roads are privately owned and maintained They are for the use of owners and their guests only Please always respect the privacy of all proper ty owners.
MAP LEGEND
Minor Public Road
Minor Public Road
Private Road
Parks and Protected Land
Contour Lines (inter val 200 feet)
Miles
9 2023 EDITION ORCAS-ISLAND.COM (360) 376-8000
1 2 ½
Visit us at www.orcas-island.com
Main Street, Eastsound, WA 98245
360-376-8000
360-376-5637
0
217
Phone:
Fax:
WELCOME TO ORCAS ISLAND
Like so many of our Island Places, the Windermere office on Orcas Island has changed and evolved over time. This year, we have come full circle to land in a brand-new building completed in Spring of 2023 as our forever home in Eastsound. The Windermere office called this location home once before, from the late 1990s until 2009. And then again for a few years between 2018 and 2021. Today, we have the pleasure to be in a state-of-the-art facility, constructed with intention and purpose aligning with our views by recognizing the importance of being good stewards of the islands and our planet. Many of the materials used are made from recycled products, such as our carpets and steel doors.
Our new office is home to 17 extraordinary Brokers. Each of us has a unique story as to how we came about calling Orcas Island our home. We are products of the Island, with several of us growing up here, attending school, and graduating from Orcas High School. And now, we are raising our children here. Regardless of our background, our commonality is that we all have chosen to call Orcas Island our home.
An unrivaled local knowledge and expertise are a tremendous resource when working with our clients. We take full advantage of the tools, innovation, and professionalism that the Windermere name has become synonymous with. Together, we work collaboratively within our community to assist others through our various volunteer efforts. We are passionate about what we do, and always happy to help in any way we can.
As you browse these pages of real estate for sale, you may envision what your own Island story could be. We are here to help you with that next chapter.
John & Mariah Dunning Owners
10 ORCAS ISLAND LIVING IN THE SAN JUANS // THEN & NOW
WEST BEACH, ORCAS ISLAND
Then & Now
by David Hance
SCHÓ:LH ORCAS ISLAND 98245 SAY WHAT? WHERE THE HECK IS THAT?
Well, that would be its address if it still existed. For hundreds of years, until the early 1800s, it was a significant meeting village of coastal Salish Native Americans. It was where West Beach Resort is now located.
At that time, abundant springs and creeks, plentiful oysters, clams, mussels, crab, bottom fish, game, and salmon - in schools of literally millions - made the location very attractive. A 200' longhouse was erected and Native Americans from all the islands paddled here to hunt, fish, clam, hold ceremonial festivities, and camp - often for weeks. Along the shore, tons of salmon could be spotted drying in the sun, while women and children tended the smoking fires.
SCHÓ:LH (now West Beach Resort)
Large numbers of arrowheads, stone knives, grinding querns, and sinkers for nets have been found, indicating Schó:lh was once quite a center for the native population.
A Coast Salish descendant of a chief of Schó:lh told of a great whale feast. A huge whale drifted in and became stuck on the rocks on the north side of the village. The meat would be more than the villagers could consume themselves, so the chief sent his fastest paddlers to all the islands, including Vancouver, to invite all to a great feast. They came by the hundreds and stayed for weeks. All day and night great strips of meat were cut and roasted over wood fires - certainly the biggest picnic ever held in the San Juans! Huge whale bones were found along the beach, further supporting the validity of the story.
Sadly, according to Lummi lore, the village met its end around 1800, when a war party of northern tribes (perhaps the Haida from Canada) came in canoes one night and surprised the villagers. Most of the men were killed and many women and children were taken prisoner. The few that escaped fled deep into the woods. They traveled at night in small groups, changing campsites every couple of days. They finally made their way to what is now Eastsound where they obtained canoes after several weeks and traveled to Vancouver. Many indications of old transient camps in the woods were found later by survey teams.
The village site has seen many transformations since then. It was homesteaded. It became a center for the trapping and selling of millions of tons of salmon. The government stopped this in 1931, but it was too late. Those enormous historic salmon runs have never recovered. It then became a large brickworks operation, a commercial orchard, and finally became what it is today: a happy vacation spot again!
Schó:lh village location, now the home of West Beach Resort
Post Schó:lh village, Kimple Brick Factory and the first cabin of what would later become the Resort
Present day West Beach Resort, a new happy village
WashingtonRuralHeritage.org
Salmon drying over open wood fire
circa 1925. Courtesy of Orcas Historical Museum
Anacortes History Museum, Samish Indian Nation
11 2023 EDITION ORCAS-ISLAND.COM (360) 376-8000
ORCAS ISLAND BROKERS
Alysha Sherburne Broker
Direct/Cell: (360) 298-8427
alysha@windermere.com
Chantelle Hildreth
Broker
Direct/Cell: (360) 317-6581
chantellehildreth@windermere.com
orcasislandlifestyle.com
David Hance Broker
Direct/Cell: (360) 622-8518
dhance@windermere.com
islandlifenw.com
Duffy King Broker
Direct/Cell: (360) 317-4272
duffy_king@yahoo.com
George Beebe Broker
Direct: (360) 376-6214
Cell: (360) 317-6568
georgeb@windermere.com
georgebb.withwre.com
Greg White Broker
Direct: (360) 376-6210
Cell: (360) 298-6767
gregwhite@windermere.com
orcasgw.com
Jaylin Peacock
Broker
Direct/Cell: (360) 317-6075
jaylin@windermere.com
jaylinpeacock.withwre.com
John Dunning
Designated Broker/Co-Owner
Direct: (360) 525-9456
Cell: (360) 317-8377
johnd@windermere.com
orcas-island.com
12 ORCAS ISLAND LIVING IN THE SAN JUANS // THEN & NOW
ORCAS ISLAND BROKERS
Lydia Miller Broker
Direct/Cell: (360) 622-6460
pebblecovefarm@gmail.com
Mariah Dunning General Manager/Co-Owner
Direct: (360) 376-5500
Cell: (360) 317-7426
mariah@windermere.com orcasislandliving.com
Marie Baxter Broker
Direct/Cell: (360) 317-3273
marieonorcas@windermere.com
marieonorcas.withwre.com
Roxanna Marck Broker
Direct/Cell: (619) 224-9015
roxy@roxymarck.com
roxymarck.com
Shea Sasan Broker
Direct/Cell: (949) 299-6868
sheasasan@windermere.com
Spencer Watt Broker
Direct/Cell: (360) 927-9460
spenceronorcas@windermere.com spenceronorcas.withwre.com
Suzanne Nichols Broker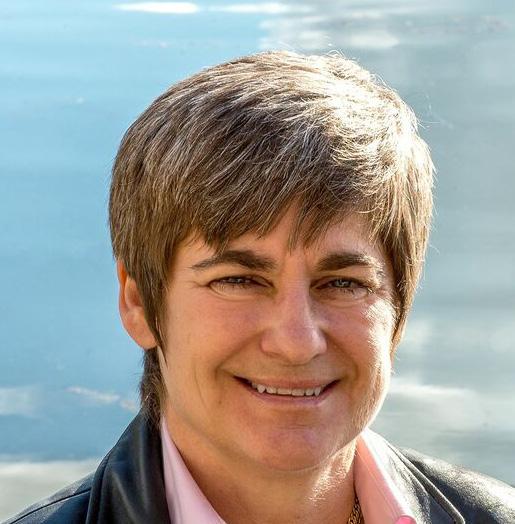 Direct: (360) 376-6204
Cell: (360) 904-8586
suzanneonorcas@windermere.com orcasrealtor.org
Whitney King Broker
Direct/Cell: (360) 298-0171
whitneyking@windermere.com
whitneyking.withwre.com
13 2023 EDITION ORCAS-ISLAND.COM (360) 376-8000
THE EXQUISITE WATERFRONT ESTATE
Seattle architect, David Vandervort design and built by Burke Thomas, completed in 2020/2021. This stunning 4 bedroom, 3.5 bath elegant home, is situated on 7.93 park-like acres. Expansive lawn flows into low-bank, protected cove beach. Main level great room w/floor to ceiling windows and custom stone, wood-burning fireplace. Chef's kitchen w/high-end finishes and ample prep space flows seamlessly w/great room, providing a distinctive entertaining space. Formal dining room and den located off kitchen. Primary bedroom and ensuite on main floor. A rift and quarter sawn White Oak engineered hardwood. 3 additional bedrooms and 2 baths, and spacious game/bonus room upstairs. Finished 700 sf attached garage. 2-bedroom, 1 bath bunkhouse and fully finished Boat Barn. Private well, newer 6 BD septic, fiber, and mooring buoy. An idyllic island sanctuary. #2049449
$6,288,000 | Offered by Chantelle Hildreth
14 ORCAS ISLAND LIVING IN THE SAN JUANS // THEN & NOW
15 2023 EDITION ORCAS-ISLAND.COM (360) 376-8000
EXQUISITE VICTORIAN VALLEY ESTATE
New England style 2 BD/2.5 BA superbly constructed home featuring light filled great room w/soaring ceilings and historic reclaimed East Coast barn. Plank pine and limestone flooring throughout main level, floor-to-ceiling river rock fireplace. 5 + pastoral AC. Many new upgrades: deck, siding, HVAC, well pump house, + 10k gal. in rainwater storage, patio, sauna, fenced garden, orchard, barn and hay storage sheds. 3500 sf shop. #2044527
$1,995,000 | Offered by Chantelle Hildreth
16 ORCAS ISLAND LIVING IN THE SAN JUANS // THEN & NOW
OLD ISLAND CHARM
Built in 1977, this two-level home retains the ambiance of the carefree era in which it was made. Big open living space upstairs with a southwesterly ocean view. With 2720 sf, 3 bedrooms, 2 ½ baths and a den, there is plenty of space. Large decks on both levels, two car carport, modern heat pump and new roof. Price includes newly installed septic system. #2054255
$845,000 | Offered by Greg White
PEEKABOO VIEWS
Big Fir trees are included in this rare opportunity to own acreage in Doe Bay. Very peaceful w/ combination of flat and sloped acres. Private road meanders through property. Water membership and road maint. agreement incl. Property, located on Cow Hill, is a magic forest with Conifers and Alders. A wonderful property to connect with East-est Orcas Island. #2028516
$250,000 | Offered by Greg White
17 2023 EDITION ORCAS-ISLAND.COM (360) 376-8000
KANGAROO HOUSE BED AND BREAKFAST
Rare residential/commercial marina-zoned property can be your private home, turn-key 5-star B & B, or dream business. Historic Craftsman features huge fireplace, fir floors, fire suppression, concrete drive, yellow cedar deck, box-beam ceilings, stained glass and much more. Possible 9 bedrooms can also be used for den, studio, or office. Enjoy gorgeous landscaping from 2 decks, hot tub, or covered porch. Spacious entry, 2 living rooms, dining room, library, chef's kitchen and pantry make it ideal for entertaining. #2064766
$2,195,000 | Offered by Lydia Miller and Mariah Dunning
18 ORCAS ISLAND LIVING IN THE SAN JUANS // THEN & NOW
THE KANGAROO HOUSE
Then & Now
The year is 1907, a nickel buys you a double feature, wearing a bathing suit without a skirt will get a woman arrested for indecent exposure and there won't be electricity in the San Juan Islands for another 30 years.
On Orcas Island, on the site of a 160 acre homestead, stone mason and renowned builder DW Gafford has just completed a 2 year project creating an Arts and Crafts era craftsman style masterpiece built from locally felled Douglas Fir, Western Red Cedar and fieldstone. A five flu chimney made out of vitrified clinker bricks overlooks the grand 6,600 sq ft structure. Oversized doors and windows are ornately finished with brass and bronze accents and leaded stained glass. Guests are promised the luxury of "fully plumbed bathrooms in every bedroom with hot and cold water".
A new kind of tourism is budding in the San Juans. Fortunes are being made by the middle classes in Seattle and Vancouver and they are coming to
vacation and send their children to summer camps. The new hotel is named Aloha recognizing the cattle ranching families in the San Juans with Hawaiian heritage. Ships loaded with lumber and lime from the Pacific Northwest are returning with sugar and pineapples. The Aloha has the only restaurant on the island.
The hotel was bought by Captain Harold "Cap" Ferris during the Great Depression. He brought home a wild kangaroo, named Josie from a voyage to Australia. She was said to be able to predict the weather and would lie down under the big cedar tree when a storm was coming. Locals began to call the hotel, "Kangaroo House".
Over the years, there have been numerous renovations and updates. Today's guests enjoy luxurious accommodations surrounded by old world charm.
Kangaroo House Bed and Breakfast is the longest continuously operated B and B in the San Juansand is celebrating its 42nd year!
Old Kangaroo(sp) House
19 2023 EDITION ORCAS-ISLAND.COM (360) 376-8000
STUNNING WATERFRONT ESTATE WITH LOW BANK BEACH ACCESS
Resting on 5 fenced acres with gated entry on the shore of East Sound with 450' low bank waterfront and mooring buoy is something totally unexpected. As you approach this modestly elegant home with low maintenance landscaping and inviting covered porch, you will see it in the details. Cherish Island Living in this perfectly charming 3900 square feet artistic masterpiece boasting effortless sophistication in sublime spaces inclusive of 2 bedrooms, 3 bathrooms on the main level and a self-sufficient 1 bedroom, 1 bathroom studio on the lower level. The innovative floor plan flows seamlessly to the attached 2-car garage, intriguing Al fresco areas, and outbuildings suitable for art studio, office, shop, or barn. It will surprise, enrich, and fascinate. Conveniently located just minutes from Orcas Landing, Eastsound Village, and Westsound. A unique and rare opportunity! #2058933
$4,700,000 | Offered by Chantelle Hildreth
20 ORCAS ISLAND LIVING IN THE SAN JUANS // THEN & NOW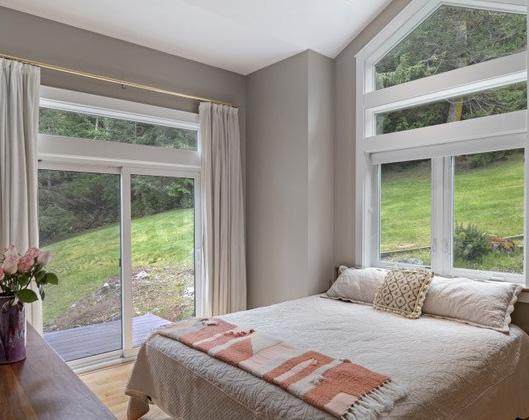 21 2023 EDITION ORCAS-ISLAND.COM (360) 376-8000
CHARMING COTTAGE
Single story 3 bedroom 2 bathroom home situated on over half an acre in a quaint Eastsound community. Light and bright throughout, this home boasts an open concept living area with vaulted ceilings and skylights. While the main living area has seamless access through the French doors to a new deck that overlooks the tranquil front yard. #2054578
$650,000 | Offered by Shea Sasan
SPRING POINT WATERFRONT PRIVACY NEAR EASTSOUND
This 4 bedroom 2 bathroom home situated on just under 4 acres of land is surrounded by serene forest. The home boasts amazing opportunity and room for growth. #200719
$689,000 | Offered by Shea Sasan
Welcome to the renowned Spring Point Community in Deer Harbor. This waterfront lot includes 180 degrees of Southeastern ocean views along with beachfront access from the lot. #2056191
$595,000 | Offered by Shea Sasan
ROSARIO VIEW LAND
Lovely sunlit corner property just over a half-acre with a western exposure, across the road of high bank waterfront. Approved permitted 3 BD septic design, Geotech report, water, power, a and high-speed fiber cable at the property line. Paved county road to paved private road access and a cut in driveway. Near Moran State Park, Rosario Resort and Spa and Marina, 10 minutes from the village of Eastsound. #2054089
$189,000 | Offered by Jaylin Peacock
22 ORCAS ISLAND LIVING IN THE SAN JUANS // THEN & NOW
EXCELLENT CRAFTSMANSHIP
Luxury finishes include Maple floors, clear Fir trim, soapstone counters and hearth, custom cabinetry and two stone fireplaces w/propane starters. Primary suite fills the second-floor w/fireplace, wet bar and ensuite bath includes a soaking tub and double walk-in shower. The elevator accesses all levels! 50-year roof/copper gutters. NEW furnace, water filtration system and full interior paint. Rock Island fiber internet! #2054349
$1,725,000 | Offered by Suzanne Nichols
23 2023 EDITION ORCAS-ISLAND.COM (360) 376-8000
NORTHSHORE WATERFRONT HOME
Designed by the owner for their retirement comfort, this elegant high-bank waterfront home has a light, warm feeling from sun's light streaming through multi-story windows into a great room w/ indoor pond and a fireplace that is a stonework of art. With 2 regular ovens, 2 warming ovens, sinks, a propane range and an indoor grill along w/ a huge amount of granite counter workspace there is room for many hands to make light work of dinner. Savor the privacy of HOA-owned greenbelt, viewed from the bedrooms, balconies or from the large soaking tub in the bath which is complemented by towel warmers, dual vanities and a double-head shower. Hobby rooms and plumbed closet could be converted for full use of 4 BD septic. Daylight basement wine cellar and tasting room complement hot tub and landscaped cattery. Enjoy a good book on the cool, shady library balcony or take a short walk to the private beach. #2051726
$1,775,000 | Offered by Roxy Marck
24 ORCAS ISLAND LIVING IN THE SAN JUANS // THEN & NOW
25 2023 EDITION ORCAS-ISLAND.COM (360) 376-8000
BUSINESS AND COMMERCIAL PROPERTY OPPORTUNITY
The Lower Tavern is a long-time favorite for both locals and visitors alike. It's been serving up great pub-fare, cold beer, and wine by the glass, to enjoy in the casual atmosphere for the past 30 years at this prime location. Ample bar seating, sunny patio, and private parking lot. Don't miss this opportunity to bring your vision and carry on the legacy that is The Lower Tavern.
#1982998 and #1981617
$650,000 and $1,400,000 | Offered by Whitney King
26 ORCAS ISLAND LIVING IN THE SAN JUANS // THEN & NOW
THE LOWER TAVERN Then & Now
The Lower Tavern has been a beloved gathering place on Orcas Island for decades. From karaoke nights to Seahawk Sundays, and everything in between, it is a long-standing favorite for islanders and tourists alike. It has been in its current location for the past 30+ years, however, that is not where it all began.
Norm and MaryAnn Carpenter took it over. A few years later, they sold the business to Ron and Rita Sailling. The Sailings renamed it Old Gaffers Pub and moved it across the street, where the Madrona Bar and Grill is today.
Once again, it was sold, and the original name returned with a slight change. At the time, there was a new tavern on the hillside outside of town, that was known as The Upper Tavern. To keep the two taverns from being confused, the new owner added 'Lower', which is how The Lower Tavern came to be named.
Originally opened in 1952, The Tavern as it was known, was inside the grocery store, where Ray's Pharmacy is located. The Linnes family bought the grocery store ( who are still running it today as Island Market) and took over The Tavern. After a year of running The Tavern, it was leased to Cary and Karen Linnes and the following year
In 1992, The Lower Tavern was moved to 46 Prune Alley. One wouldn't be able to tell looking at it now, but this building was formally the medical center. The building is still serving community needs, but in a much different capacity. In 2007, ownership once again changed hands, and to this day is still owned and run by Jim Passer and Teri Nigretto.
Although the location has changed over the years, as well as owners, The Lower Tavern's commitment to serving the community has remained.
Property of Orcas Island Historical Museum
27 2023 EDITION ORCAS-ISLAND.COM (360) 376-8000
CRANE ISLAND WATERFRONT GEM
Dock your boat at the shared dock adjoining the property and wander up past the pebble cove beach to this south facing classic mid-century modern retreat. Designed by acclaimed architect Paul Hoag as his personal home, the main house blends nature outdoors with tranquility within. Old growth cedar lined walls create a warmth that resonates with the stone fireplace built with rocks gathered from Mt. Baker. The water views from nearly every room invite you to watch the world and the ferries go by. The radiant heated tile floors in the great room and kitchen/dining area add to the warmth of the space. The guesthouse was designed by acclaimed architect Wendell Lovett as his own residence, perched out over the waterfront at high tide. With 1.5 +/- acres of land, there is plenty of room for gardening, additional buildings, or just enjoying the outdoors. This property is truly one of a kind. #1908842
$1,999,000 | Offered by Spencer Watt and Mariah Dunning
28 ORCAS ISLAND LIVING IN THE SAN JUANS // THEN & NOW
29 2023 EDITION ORCAS-ISLAND.COM (360) 376-8000
A1 DRIVE-IN CAFE
Then & Now
In the late 1960s Eastsound had the appearance of a town fallen on hard times. Abandoned cabins were slowly disintegrating under the relentless growth of blackberry canes. An open sewer ran along Prune Alley. There were more children playing in the streets than open storefronts. For a very brief period of time central Eastsound had more gas stations, three, than restaurants, two. Parking was plentiful.
windows. Folks could be inches from feeding birds. With another dozen or more feeders in various locations around his property customers at the A1 were guaranteed a free show along with their burger.
Along came the Doty family. Hal retired and sold the A1 to a large family that instantly doubled the total population of Eastsound. With the Doty family came the first major change to the landscape of Eastsound. The walls with plastic windows were removed. A second two-story building joined the handful of like-size buildings in town.
Over the years of their ownership, the Doty's made many changes to the face of the A1. When the USPS decided to relocate the Doty's purchased the building next door. Rick Doty opened the Homegrown Market, a predecessor to the Co-op. A growing need for storage and dining space resulted in merging the two buildings into one large building. Velma Doty managed to save a small patch of over-grown beauty in the courtyard between the two buildings which gave customers a colorful place to dine. Everything had changed except the picnic tables in the A1 Cafe.
It was a "Drive-thru" in that Hal Carson would take a drive-up order if and when he felt like doing so - never in the winter and always with a cigarette in his mouth. The building had temporary walls with plastic sheeting for windows which were sometimes removed during warm summers. The four ancient wood picnic tables seated thousands of folks over the years. And a black, pot-belly stove provided the only heat in the winter. Well, sometimes Hal would "heat things up" with a tip of his bottle.
Hal Carson's now demolished home was next door to the A1. It was a hummingbird paradise. Year after year people would return to the A1 just to see the hundreds of hummingbirds. Between eight and ten feeders were perched outside the
When the building sold, an era ended. Efforts to keep the cafe open after the Doty's retirement were short-lived. By then Eastsound had several other dining options and a good bakery. Other entrepreneurs flourished in the space. The Homegrown Market had enough client base to attract individuals developing a food cooperative and the Co-op was born.
The changes in the A1 somewhat reflect the changes in Eastsound. Both were small, island-retreat entities that catered more to locals than visitors. With the increasing popularity of Orcas as an island getaway, Eastsound and the A1 have grown-up quite a bit.
30 ORCAS ISLAND LIVING IN THE SAN JUANS // THEN AND NOW
GORGEOUS SOUTHERN MARINE VIEWS DOWN EAST SOUND
2.7 +/- AC of beautiful land in Tomihi community. Rosario Ridge Lot 9. Peaceful setting w/off the road privacy, moss covered rocky knolls and sunny open spaces. Water, power to property line. 10 min to Eastsound amenities and Moran State Park, and numerous hiking trails. Rosario Resort and Marina minutes away for dining and float plane access to Seattle. Seller to provide approved septic design. #2051541
$425,000 | Offered by Chantelle Hildreth
SUNNY SOUTHWEST FACING WATERFRONT
Marine views overlooking Eastsound. Nearly one acre with level and lovely building site set amongst Madrona and Fir trees. Year-round sunsets and a tranquil, private, end of the road setting. Near Moran State Park for hiking, kayaking, swimming, and fishing. Rosario Resort amenities include a marina, spa, restaurant/bar, seaplane landing and swimming pool. Washington Water membership. Seller to provide approved septic design. #2052365
$389,000 | Offered by Chantelle Hildreth
31 2023 EDITION ORCAS-ISLAND.COM (360) 376-8000
EPITOME OF ISLAND LIFESTYLE
You will love the stunning marine views and private beach this property boasts. A 2,961 square foot home sits on nearly five south facing, sunny acres. Three bedrooms, three bathrooms, plus two bonus rooms offer plenty of space for comfortable living, hobbies, and guests. Take in the scenic views down Rosario Strait all the way to Mt. Rainier from most of the rooms. Roughly 1,500 square feet of newly refurbished deck is ideal for BBQs, summertime entertaining, or just quietly enjoying the nature that surrounds you. A fully fenced and deer safe garden is steps away from the home. Stroll down the picturesque trail to the 392 feet of waterfront for a day on the water or to play on the beach. A mooring buoy was recently installed for convenient access to your boat. This is the best of island living and properties like this are once in a lifetime. #2046852
$2,250,000 | Offered by David Hance
32 ORCAS ISLAND LIVING IN THE SAN JUANS // THEN & NOW
33 2023 EDITION ORCAS-ISLAND.COM (360) 376-8000
BEAUTIFUL NORTHWEST CONTEMPORARY STYLE HOME
Soaring ceilings and generous rooms. Main home is 3 BD/2 BA, an enormous primary on main level, and 2 additional BD. Interior recently repainted, all newer appliances. Newer composition deck and peek-a-boo views. Finished daylight basement w/ separate entrance, living room, kitchen, full BA and 2 more rooms. 800 sf garage/shop w/metal roof and 5 BA + adjoining 800 sf carport. New granite countertops in kitchen along with newer appliances. Rockisland fiber nearby. 220V EV charger. Additional 320 sf outbuilding. Wired for generator. RV hook-up. #2050072
$835,000 | Offered by Chantelle Hildreth
34 ORCAS ISLAND LIVING IN THE SAN JUANS // THEN & NOW
SPECTACULAR EQUESTRIAN ESTATE
Fully fenced estate w/electric gated entry. 8+ level AC of prime pasture and located min. from Eastsound. Insulated barn, high producing well, 30'x40' kennel/shop/garage w/.75BA, newer generator, chicken coop, fenced garden space and a gorgeous pond. The immaculate Timberland home w/ 2 BD, 2 BA, separate office space, living room w/ propane stove and 962 sf deck w/hot tub. Proximity to Sportsman's Club. Fiber and EV charger. #1940767
$1,295,000 | Offered by Chantelle Hildreth
35 2023 EDITION ORCAS-ISLAND.COM (360) 376-8000
ORCAS VILLAGE STORE
This Island staple is also an Island Icon. Situated in one of the most prime locations in the San Juan Islands, the OVS, provides locals and visitors a full-service grocery store, along with gourmet prepared foods, and gift items. Current owners have operated and expanded this business since 2001. 8,500 +/- building has commercial kitchen, elevator and loading bay, ample storage and refrigeration, as well as top floor ready to be finished to your specifications. Building and business must be sold together. #2059135 and #2059133
$1,980,000 and $7,288,000 | Offered by John and Mariah Dunning
36 ORCAS ISLAND LIVING IN THE SAN JUANS // THEN & NOW
ORCAS LANDING Then & Now
William Sutherland homesteaded approximately 60 acres at what today is the Orcas Landing. In the 1880's he built a dock, warehouse, and store. This was the first store at the Landing and one of five stores on Orcas Island at the turn of the century.
From 1900-1904, he built the Orcas Hotel to house arriving guests to the island. Upon completion of the hotel, he moved his family into the building, leaving only two rooms available for paying guests. William Sutherland created a culture and activity hub at the landing by hiring Octovia Van Moorhem to cook meals for the guests and folks camping in the surrounding area.
Today, the Orcas Landing is still the welcome gate to the island with the majority of the visitors as well as the locals using this thoroughfare to arrive and depart.
As time went on, the Orcas Landing became the single landing location for the ferries. With the post office, the Orcas Hotel, and a variety of other small enterprises, the area continued to remain a central hub for the island.
Property of Orcas Island Historical Museum
Property of Orcas Island Historical Museum
Property of Orcas Island Historical Museum
37 2023 EDITION ORCAS-ISLAND.COM (360) 376-8000
VIEW ESTATE WITH EXTRAORDINARY PRIVACY
Secluded 5-AC, comprised of main house, guest house, w/ vacation rental permit, detached garage w/ studio space above. Breathtaking 180-degree views of the San Juans, Canada and spectacular sunsets from the home, guest house and decks. Top quality finishes within the 2 BD 1 ¾ BA main house, w/ finished basement for heated storage below. Chef's kitchen with granite counters. Relax in the living room taking in the expansive views from the floor to ceiling windows. Enjoy a movie via the home theater system w/ projection screen above the stone fireplace. 2nd floor primary suite w/ soaking tub and walk-in shower. Fenced garden area w/ raised beds. Below the main house sits a large viewing deck, complete w/ hot tub. #1961932
$1,690,000 | Offered by John and Mariah Dunning
38 ORCAS ISLAND LIVING IN THE SAN JUANS // THEN & NOW
39 2023 EDITION ORCAS-ISLAND.COM (360) 376-8000
CONTEMPORARY ROSARIO NEIGHBORHOOD HOME
Designed by award-winning Vancouver architect, Back Country Hut Co. One-of-a-kind contemporary home a short distance from Moran State Park. Open floor plan w/ Maple hardwood floors and Douglas Fir beamed ceilings. Views of Cascade Bay through a 25 ft high wall of windows. Smart-home integrations and high-end appliances. Primary bedroom with vaulted ceilings and ensuite bathroom with heated floor. Main floor bathroom has walk-in shower and heated floors. #2051725
$950,000 | Offered by Roxy Marck
40 ORCAS ISLAND LIVING IN THE SAN JUANS // THEN & NOW
2018 2023 41 2023 EDITION ORCAS-ISLAND.COM (360) 376-8000
WINDERMERE REAL ESTATE Then & Now
LOPEZ ISLAND
42 LOPEZ ISLAND LIVING IN THE SAN JUANS // THEN & NOW
43 43 WRELOPEZ.COM (360) 468-3344 2023 EDITION are for the use of owners and their guests only Please always respect the privacy of all property owners. Swifts Bay Fisherman Bay Davis Bay Mackaye Harbor Ou er Bay Barlow Bay Aleck Bay Teleg aph Bay Shoal Bight Henderson Lake Mud Bay Jasper Bay Hunter Bay Lopez Pass Lopez Hill (535') WatmouthBight McA dle Bay Hughes Bay Jones Bay Lopez Sound Shoal Bay
Hummel Lake Frost Island SHAW ISLAND SAN JUAN ISLAND BLAKELY ISLAND DECATUR ISLAND Mummy Rocks Buck Island Shark Reef Deadman Island Whale Rocks Iceberg Island Hall Island Secar Rock Boulder Island Iceberg Point Cape St Mar y Ram Island Sper y Peninsula Humphrey Head Upright Head Flat Point R e n L y a D a e R e p L NelsonLn CedarsLn Sundown Ln Erisman Dr Hummel Lake Rd Holly Ln Chickadee Ln Swal'Lech Ln 1 2 4 3 Shady Ln Oystercatcher Ln Sandy Cove Ln d R n e n J Beverly Ln Otter Ln Daisy Ln Baroque 'n n s s a G Forest Ln Less-Traveled Rd Long Ln Shoal n L a B Naylor Close Rd YewLn Overlook Ln PennyLn H ltop Wy 1 Foxglove Ln 2 Sea Ranch Rd 3 Storer Wy 4 Moonrise Wy 5 Anchorage Rd 6 Tide End Rd 1 Kent Ct 2 Cabezon Ln 3 Navarre Ln 4 Atta Girl Ln 1 2 1 Ocean Spray Ln 2 Shearwater Ln 2 2 4 2 3 4 5 1 4 5 5 6 7 3 3 1 1 1 2 3 4 5 7 6 8 1 Willow Ln 2 Conifer Wy 3 Lodgepole Ln 4 Crab Island Rd 5 Captain Leison Ln 6 Swan Ln 7 Woodhaven Ln 1 Norman Rd 2 Funny Valentine Ln 3 Bryn Mawr Ave 4 Gillnetter Ln 5 Starboard Rd 1 Butler Wy 2 Gull Pl 3 Whiskey Hill Rd 4 Dryad Pl 5 Dolphin Ln 1 Yellow Rose Rd 2 Sterling Pl 3 Amelia Ln 4 Buck Island Pl 5 Orobanche Pl 6 Caldwell s Folly 7 Pebble Beach Pl 8 Olympic Pl 1 Sorensen Ln 2 Old Kelp Mill Rd 1 1 2 2 1 2 3 3 4 4 5 6 Shorelan d D r T h u n derRd Odlin Park Rd PortStan ey Rd Gem FarmLn Milita y Rd O d H m s e a d R d Cross Rd Dizzy G Ln Sunset Ln Milagra Ln Tree Farm Ln Blakely V ew Rd Biggs Ln Nickel Ln Fisherman Bay Rd isherman Bay Rd Fisherman Bay Rd R e e C d R n S o P n e y C R e n S o Lopez Sound Rd Lopez Sound Rd Gallenger Pl Lopez Sound Rd R n o d h c R d R s a a d R y u D d R D d R y B d u M d R a s a D Davis Bay Rd Coffelt Rd Ritchie Rd Airpo Rd Lopez Island Ai por t n o o R s g E P o P MudBayRd MudBayRd d R a k e R n g H ChadwickRd BlueDarterLn Aleck Bay Rd Rosalie Ave Flint Rd Bat & Ball Ln Seth Rd d R o a B M d R B s h u H d R r e p S Frances Ln SnowberryLn ElizaRd VeraLn Oles Ln Doe Run Rd a B d M R k o D Cape Saint Mary Rd Cole Rd Cousins Rd Vista Rd Islandale Rd Aerie Pl n L m e m m S Hunter Bay Rd ElliottRd Elliott Rd Lopez Hill Rd Harald Glen Ln RavenHillLn d R p o R t o G L n n D Kjargaard Rd Bur Rd Kielhaven Ln Channel Rd d w e e a B Leaning ree Ln Soundview Ln OspreyRd Bakerview Rd d R n C n L e e C n L s d n S n a C g n n o M L S R e e C Austin Ln School Rd Fawn Lily Ln Flicker Ln n d o n a G n a e R L e o H Dill Rd ishermanBay Rd Grayling L n Sunrise Rd Wes park L n SpencerSpitSP Rd Duck W a k L n Watmough Head Rd M c a e Harbor Rd Macay e Ha bo Rd SatelliteRd Four Wheel Dr Spence Spit State Park Odlin County Park County Dock/Ramp Uprigh Channe Park Otis Perkins Day Use Park Shark Reef Park Gol Course Agate Beach County Park Iceberg Point Lighthouse Reserve Poin Colville Lighthouse Reserve Canoe Island Long Island Cha les Island Blackie Brady Memorial Beach County Dock/Ramp County Dock/Ramp Public Beach Access Public Beach Access Flower Island NWR Castle Island Lopez V illage See Inset on Reverse R o e b P Willbrook Ln n a B o h S d R w e v k a NordicDr Sawmill Rd Wind allWay Still Rd Rose Rd Leah Spirit Rd Bonanza Dr TekoaAve IslandaleRd Northstar Rd Pave Blvd Pavey D o b a H g u S Island V ew Pl Blvd Swift Ln Rookery Rd Schruder Rd HollandRd Stronghold Ln SalmonberryLn D k o B Tennis Ave L ke m G Aguila Calle Mccaule Ln d n e W n n o R n e h w o T n h n L d e e w n D Hutton Ln T r nes Rd Agate Beach Ln BumblebeePl roxel Pl Salmon Point Rd lraB wo BayRd R s u o C d R m a Orchard Rd Bluff Rd Rocky "R" Dr Ring Rd Wildrose Ln Namaste Ln Jack Rabbit Ln King's Point Rd Ethan Ct SkidRd Wildwood Ln d R e e k a S MeadowLn Hemlock Ln Starkman Ln Ivy Ln Hodgson Rd Caldwe Dr Sweetbrier LnSageLn R o D r D s v D n n o n H d R w V y a d R n u C Leaf Ln BayshoreRd BayshoreRd n o m Perkins Ln TinkhamLn Skookum Ln Junco Rd n n e H Richwood Ln n e n a AppleTreeLn Walkabout Rd WilliamsLn d R u n e P Reef Net Rd Orcutt Ln ChestnutLn Bayshore Rd Dragon Run Rum Runner Rd Mariner Dr Normandy Ln Pickering Ln Andrews Ln Estenson Rd Mozar Ln Coho Ln 0 0.5 1.0 2.0 Miles Lopez Island, Washington Copyright ©2015 Winde mere Real Estate Map designed and produced exclusively for Winde mere by Springer Ca tographics LLC N Minor Public Road Private Road Parks and Protected Land Contour Lines (inter val 200 feet) Parks and Protected Areas Public Boat Launch Public Beach Access Golf Course Lighthouse Private Roads: Many island roads are privately owned and maintained They are for the use of owners and their guests only Please always respect the privacy of all property owners. 0 0.5 1.0 2.0 Miles
Copyright ©2015 Windermere Real Estate Map designed and produced exclusively for Windermere by Springer Cartographics LLC MAP LEGEND Minor Public Road Private Road Parks and Protected Land Contour Lines (inter val 200 feet) Parks and Protected Areas Public Boat Launch Public Beach Access Golf Course Lighthouse
UprightChannel
Lopez Island, Washington
LOPEZ ISLAND
Turns out, the Lopez Improvement Co (circa 1908) wasn't wrong. Here we are, 115 years later and those very same ideals are what have drawn us all this beautiful island.
44 LOPEZ ISLAND LIVING IN THE SAN JUANS // THEN & NOW
"An abundance of sunshine & pleasant weather, a life filled with happy memories. Fertile valleys with prosperous farms & an air of independence everywhere."
45 45 WRELOPEZ.COM (360) 468-3344 2023 EDITION
Hummel Family enjoying a picnic at today's Otis Perkins Park
LOPEZ ISLAND OFFICE Then & Now
In 1985, local Realtor Annie Albritton and her husband Johnny purchased the first lot in the newly developed Lopez Village Plat. It was here that Johnny lovingly built the Friendly Isle Building – the first in the new plat. This is where Annie opened and operated her Real Estate Brokerage. Nearly 40 years later, under the same ownership, we're proud to be a substantial local presence as Lopez' largest real estate agency. Year over year, our team leads Lopez' market share, a testament to our ability to handle real estate transactions with integrity, competence and professionalism.
We believe 'local' matters, especially in our business. Collectively our brokers have more than 110 years of real estate experience right here on Lopez Island. We live and work here. Together, we share a vast knowledge of the islands' dynamics and personality.
Although a lot has changed over the years, we hold true to our belief that relationships and community are at the core of a successful real estate business.
46 LOPEZ ISLAND LIVING IN THE SAN JUANS // THEN AND NOW
LOPEZ ISLAND BROKERS
Alan Roberson
Broker
Direct/Cell: (360) 969-4230
LopezIslandAlan@gmail.com
Dianne Pressenda
Managing Broker
Direct/Cell: (360) 202-6995
pressenda@rockisland.com
Amanda Slattery
Office Manager
Direct: (360) 468-3344
wrehome@wrelopez.com
Annie Albritton
Designated Broker
Direct: (360) 468-3344
wrehome@wrelopez.com
Claire Anderson
Broker
Direct/Cell: (360) 919-9639
claire@myislandhome.org
Megan McLean
Broker
Direct/Cell: (360) 223-7990
meaganintheislands@gmail.com
Mitty Huntsman
Broker
Direct/Cell: (425) 985-9561
mdesign@rockisland.com
47 47 WRELOPEZ.COM (360) 468-3344 2023 EDITION
RICHARDSON STORE Then & Now
The now iconic site of Richardson store began with the construction of a post office in 1887 and docks capable of handling twice daily steamship stops in 1889. This provided Lopez farmers with a reliable marketing route for their produce, meat, and dairy. Within a short time, the area began to feel like a "Boom Town" with the addition of a warehouse, general store and public hall.
Over the next 70+ years, the Richardson Store became the only evidence of what once had existed. It remained a beloved Lopez hub, a place where you could pick up necessities, share the island news with neighbors and sip a cold beverage. It was placed on the National Register of Historic Places in 1978.
Fish traps and ensuing canneries gave Richardson another boost at the turn of the century. The ready market brought hundreds of fishermen to the south end of Lopez and summer populations ballooned to an estimated 5,000 people. Thriving, the Richardson area added a bakery, barbershop, creamery, slaughterhouse, pool hall and new store.
On a windy October evening in 1990, the Richardson Store caught fire and burned to the ground, leaving a hole in the hearts of locals. To this day, Richardson is recalled as a gathering place of bygone Lopez days and traditions - it's creaking floorboards, ice cream cones and friendly banter gone with the fire.
However, the beginning of the end was the 1916 warehouse fire. A general store was built in its place. Then, a lackluster salmon run slowed fishing. Another blaze in 1921 destroyed a cannery. By 1925, freighters had discontinued their runs to the area, fishermen had moved on, a railway linked the Seattle area to Eastern WA farmers and car ferries began offering regular service to the island.
48 LOPEZ ISLAND LIVING IN THE SAN JUANS // THEN AND NOW
Once a thriving community hub, Richardson was a busy port
With three canneries in the area, fisherman flocked to Richardson
Richardson Oil and Store that eventually burned in 1990.
The Richardson many locals remember today
Today, Richardson is still a prominent point on SW Lopez. Rich in history and open vistas, this very special property with 507' of WF is sited on two tax parcels. One of the last deep-water ports on Lopez Island, there is a state marine lease in place. An office/ storage building is located on the pier. There's a share in the community water system. Open, southern exposure and aweinspiring views. Bring your imagination and own a bit of history. #2033444
$695,000 | Offered by Windermere Lopez
49 WRELOPEZ.COM (360) 468-3344 2023 EDITION
ENCHANTING PRIVACY
As trees give way to a sunny clearing, a storybook timber frame home lines up perfectly with a territorial view of Swifts Bay. The 2 BD/2 BA main house features an airy living area with a central wood stove and spacious kitchen. Beautiful beams, joinery and masonry steal the show here. The main level primary suite has French doors, a garden window and flex space. The light-filled loft has its own deck. This 20 AC parcel also has a guest house, outbuildings, a fenced garden, rain catchment and more! #2039484
$1,295,000 | Offered by Windermere Lopez
50 LOPEZ ISLAND LIVING IN THE SAN JUANS // THEN & NOW
A PLACE TO START
At the end of a quiet lane near the community beach path is this sweet 3 BD/2 BA mfg home. The u-shaped kitchen offers spacious counters and the laundry room has an exterior door. Pride of ownership shows with the addition of cherry hardwood floors, ceramic tile, metal roof, extra insulation, an upgraded heating system and a cozy wood stove. Plus, there's a fenced garden, fiber optics and community water. #2052666
|
WEEKS HOMESTEAD HOUSE
Then & Now
The Weeks Homestead House and water tower was built in the 1890s in the area known as Lopez Village. At the time, "Lopez" which we all refer to as "The Village" was one of four small community hubs on the island. By 1910, the area had a school, two churches, a creamery, store, post office and dock capable of handling steamships.
The Homestead was converted to commercial use in 1993 and is now the home of Vortex and North Sea Apothecary.
51 51 WRELOPEZ.COM (360) 468-3344 2023 EDITION
Aerial of Lopez Village circa 1947.
Weeks Homestead and water tower near the turn of the century
The Homestead still stands today, housing local businesses
$627,000
Offered by Windermere Lopez
FRONT ROW SEAT
Mesmerizing western views span across Agate Beach, Outer Bay and the Straits melting into the snow-capped Olympic Mountains. This 2 BD/2 BA home, plus studio apt, has large picture windows capturing once-in-a-lifetime views from nearly every room. Watch the sun rise from the front patio or the ever-changing sunsets from the waterfront deck. Storm watch from a front row seat and cuddle up to one of two propane stoves. Mid-Century Modern design with easy access to private low bank beach. Enjoy nature at its finest. #2053836
$1,347,000 | Offered by Windermere Lopez
52 LOPEZ ISLAND LIVING IN THE SAN JUANS // THEN & NOW
HILL-SIDE STUDIO
Perched above rolling farmland, the Salish Sea and Olympic Mountains, sits a fully-fenced, level 2.4 AC parcel featuring a spacious, modern studio and cedar-sided workshop. The studio has a full kitchen, vaulted ceilings, heated tile floors and a sleeping nook. Three sets of double glass doors lead to a wrap-around patio with picturesque views. Garden sheds, irrigation system, orchard, 5 BD septic and so much more! #2053726
$759,000 | Offered by Windermere Lopez
PRISTINE FOREST
It's rare to find 12+ untouched acres on Lopez Island. Sloping gently upward from Burt Rd, an old trail leads you through soaring Douglas Firs, mossy clearings and a diverse understory. A forest sanctuary with southern exposure, there is ample room to situate a residence, guesthouse and outbuildings in total privacy. Close to the Village and airport and just a few moments from Shark Reef Sanctuary. No CCRs/HOA. #2050688
$465,000 | Offered by Windermere Lopez
NEAT AS A PIN
Vaulted ceilings greet you as you enter this updated 2 BD/2 BA manufactured home on 1.16 ACS. The spacious floor plan features an eat-in kitchen with bar seating flowing into the dining and living spaces. The primary suite is located on one end of the home. The 2nd bedroom, hobby room and office are on the opposite end. Recent upgrades include vinyl flooring, ceramic tile and heat pump. Plus, there's a large shop and garden shed. #2053476
$549,000 | Offered by Windermere Lopez
53 53 WRELOPEZ.COM (360) 468-3344 2023 EDITION
MT BAKER VIEWS
Drink in sweeping water views from nearly every room of this high end 3 BD/2.5 BA home. Enjoy the double-sided fireplace from the spacious living room with French doors flowing to the sunny deck. The main floor primary suite has its own deck access, soaking tub and large closet. There's an attached 2-car garage and detached 2-car garage. The large yard is level and fenced –perfect for entertaining. All this, in an established, peaceful neighborhood with community beach access and a private mooring buoy. #2038213
$1,485,000 | Offered by Windermere Lopez
54 LOPEZ ISLAND LIVING IN THE SAN JUANS // THEN & NOW
SALISH SEA VIEW
Open spaces, mature trees and views to the Olympic Mountains make for a scenic home site. Drilled well, 3 BD septic, electricity and installed fiber optics. #2053840
$329,000 | Offered by Windermere Lopez
LOPEZ SCHOOL Then & Now
The Lopez School House opened in 1895. Serving 1st to 8th grade, it operated until the four Lopez Schools melded into one district. The building was used as a restaurant in the 1950s and then later as the first Fire Hall.
SUNSET VIEWS
Nestled near the top of Mariner Hill, this 1.7 AC lot is the perfect place to enjoy sunsets over San Juan Channel. Water, power and phone in the road. #1954230
$297,500 | Offered by Windermere Lopez
The Lopez Fire Department expanded in 1983 and donated the building to the newly formed Library District. The school house was moved across the street to its present location, where it serves as the Lopez Library.
55 55 WRELOPEZ.COM (360) 468-3344 2023 EDITION
Lopez School Class of 1940
The Lopez School repurposed as the current Lopez Library
Lopez School circa 1905
SAND AND PEBBLE COVE
Set on a 2 AC rocky point, tucked away on southend Lopez, is a carefully sited 3 BD/2 BA home capturing panoramic water and mtn views. The custom home, with hickory floors, a riverstone fireplace and high-end appliances promises a private sanctuary for the nature lover. Many windows frame the view from the remodeled primary suite w/ deck access. Outdoors there's a bluestone patio, epic fire pit on the point and detached garage. Gated, deer fenced, 2 car garage, stairs to cove beach, mooring buoy and boat winch. #2053940
$2,350,000 | Offered by Windermere Lopez
56 LOPEZ ISLAND LIVING IN THE SAN JUANS // THEN & NOW
SWEET ISLAND HOME
This inviting cedar-sided 2 BD/2 BA home is conveniently located just north of Lopez Village. The home's covered front porch is charming, while the maple floors & soapstone wood stove bring warmth to the space. Upstairs, the vaulted ceilings & windows envelope the rooms with light. Set on 1 AC there's lots of room to garden & play. Includes income producing, turn-key laundry business with recent upgrades. # 2051602
$795,000 | Offered by Windermere Lopez
RUSTIC AND ROMANTIC
This 1978 one-room log cabin, nestled among the trees and salal, is perfect for camping. With a little elbow grease and TLC you can bring this woodsy abode, complete with skylights, back to life. The vintage cabin features a small kitchenette with operational electric stove, a detached shower house and cute outhouse with Campco potty. Water catchment is in need of repair. Sold as is. No CCRs/HOA. #2055574
$145,000 | Offered by Windermere Lopez
57 57 WRELOPEZ.COM (360) 468-3344 2023 EDITION
ESCAPE THE WORLD
Transport yourself from everyday living when you enter the gates of this Lopez Island compound. A meandering, wooded drive leads you this architecturally designed 2 BD/2.5 BA main home, guest house and sprawling waterfront grounds. The Northwest style home stands proudly amongst thoughtful and mature landscaping. You'll find refined touches throughout. There's room to expand, with 13+ ACS spread over 4 tax parcels and stairs to kayak storage on the beach. It's the perfect island escape. #2053034
$2,495,000 | Offered by Windermere Lopez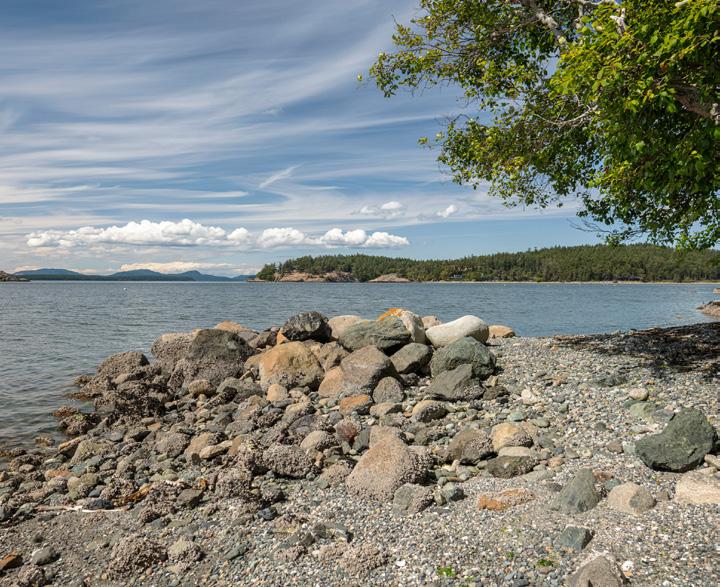 58 LOPEZ ISLAND LIVING IN THE SAN JUANS // THEN & NOW
LOPEZ STORE
Then & Now
Through changing hands, names, locations and a 1923 fire, the Lopez Store has endured. After the fire, it reopened in the current day Bay Building.
The store was purchased in 1959 by Bill Carpenter Sr. running on credit until 1973, when Bill Jr. wrote on the wall, "Now that Lopez has a genuine bank, it'll just have to be cash, friends." Lopez Store is still operated by Bill's heirs, albeit in a new Village location.
CUTE AS CAN BE
This sweet 1.5 story cabin has been completely refurbished with new insulation, drywall, paint, kitchenette, bath and more. Enjoy the park-like setting with peek-a-boo views of Lopez Sound as you cozy up to the European style heater in the main room. 4 BR septic, 2 tax parcels, community water and a potential RV site w/50 amp service. Community beach access. #2053876
$399,000 | Offered by
59 WRELOPEZ.COM (360) 468-3344 2023 EDITION
Lopez Store and Post Office, across from current day Bay Building
Lopez Store today
Lopez Store circa 1887 on Weeks Point Way
Windermere Lopez
THE RETREAT
Steal away to this brand new, hillside 3 BD/2 BA home with prominent westerly views across the channel to the Canadian Gulf Islands. The welcoming great room has vaulted ceilings, maple floors, fireplace and large windows marrying the space to the towering evergreens and large view corridors. The kitchen features cherry cabinets, granite counters and down-draft range in the generous island. Enjoy sunsets from the covered porch, the perfect place for morning coffee or evening appetizers. Two car garage + hobby room. #2055317
$1,295,000 | Offered by Windermere Lopez
60 LOPEZ ISLAND LIVING IN THE SAN JUANS // THEN & NOW
If you've ever lived on an island
If ever you've lived by the sea, You'll never return to the mainland once your spirit has been set free.
J. Earnhart
61 WRELOPEZ.COM (360) 468-3344 2023 EDITION
62 LOPEZ ISLAND LIVING IN THE SAN JUANS // THEN AND NOW
"Island living is not just about the sun, sea, and sand, but it also includes the richness of its culture, the diversity of its people, and the stories of the land."
CHANTELLE HILDRETH Broker Windermere Real Estate/Orcas Island Chantellehildreth@windermere com (360) 317-6581 orcasislandlifestyle com 199 Main Street, Eastsound, WA (360) 376-3648 www.pawkis.com
explore my artwork and visit my island studio, please call: (530) 388-0933.
am
of
my creative
to
the life
to
mariewolfe.com
To
I
thrilled by this gift
creation, as well as the challenges it brings that press upon
sensibility as I strive
live
I wish
live ~ Marie
BISTRO DELI FISH MARKET WWW.BUCKBAYSHELLFISHFARM.COM (360) 375-3216 A SEAFOOD EXPERIENCE O R C A S I s l a n d S t y l e
Buying or selling, I am passionate about the NW Island Lifestyle and helping others experience it. Vacation is great, but living here is ! amazing Over 4 decades on Orcas Island Background in Engineer ng and Project Man Experienced and skil ed to he p you live your DAVID HANCE Windermere Real Estate / (360) 622-8518 dhance@windermere co This land is your land, This land is my land, I can help you buy some, I can help you sell so me. Alan Roberson, Broker lopezislandalan@gmail.com 360 969 4230 GREG WHITE Windermere Real Estate / Orcas Island (360) 298-6767 gregwhite@windermere com Don't stop retrieven' Lov e Where You Live! Suzanne Nichols, Realtor ® suzanneonorcas@windermere.com 360.904.8586 E h E REAL ESTATE/ORCAS ISLAND, INC
Whether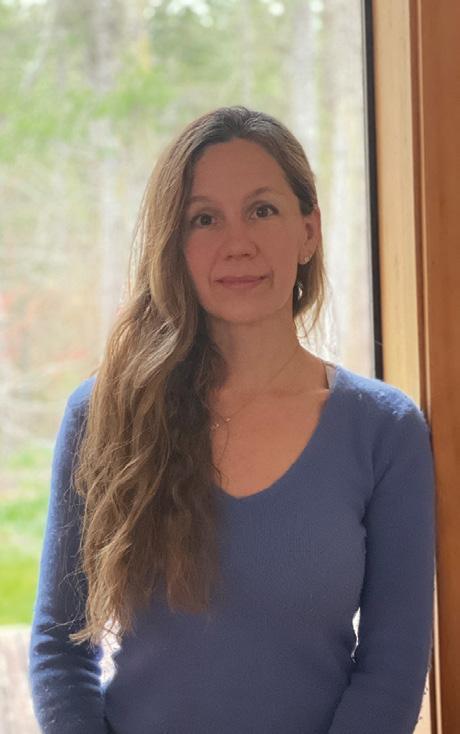 Claire Anderson BROKER | REALTOR, WA LIC. 20120978 360-919-9639 claire@myislandhome.org www.myislandhome.org
SLAND
LOPEZ
buying or selling
I can help realize your island home dreams.
FEEL RIGHT AT HOME IN THE SAN JUAN ISLANDS SAN JUAN ISLAND ORCAS ISLAND LOPEZ ISLAND www.nwislandescapes.com reservations@nwislandescapes.com (360) 378-3601 NEW UE HOTEL 217 Main Street, Eastsound, WA 98245 www villageinn-orcasisland com Tel: 360-376-2263 villageinn@nwislandescapes com
of
"They literally thought
everything
and I cannot wait to visit again since I felt completely spoiled from beginning to end "