from Peterloo 2019 Report
by manchesterhistories
AUDIENCES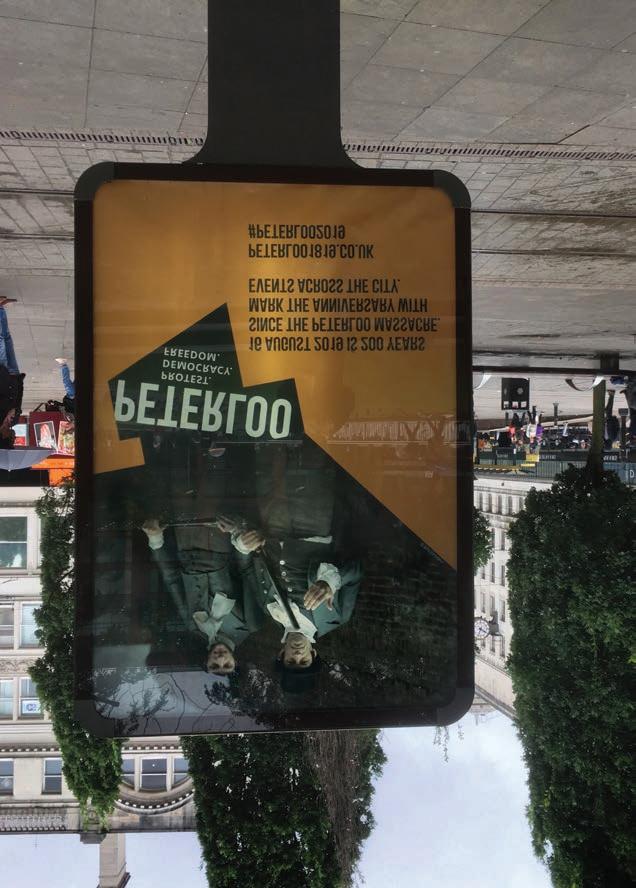 Reaching new audiences was an important part of the programme. The aim was to deliver engaging and relational content through the Peterloo 2019 website and social media to ensure more people were aware of and took part in the programme.
Manchester Histories worked with Fido PR to release all the key press releases for the programme, and set up a Marketing & Communications steering group consisting of officers from Manchester City Council, Manchester Central, and Marketing Manchester to promote and profile work.
Manchester Histories and Fido PR established good working relationships with key media partners including The Guardian, BBC Radio Manchester, MEN, BBC North West Tonight, Granada Reports, BBC Radio 4, Channel Four News, and local stations such as Manchester TV and ALL FM to ensure the story of Peterloo reached different audiences.
A digital marketing campaign was delivered to ensure the story of Peterloo reached a wide variety of different audiences. This included a number of key channels:
website
The Peterloo website was the lynchpin of the marketing campaign and traffic was directed to the wealth of content on the site including the 180+ events, timelines, interactive, Eyewitness Accounts, victims maps and resources.
Social Media Using Facebook, Instagram and Twitter to post regular content, we engaged audiences in the Peterloo story. On Friday 16 August we led a Twitter Moment campaign, which told the story of Peterloo as it happened on the day, through a series of posts, this engaged thousands and helped enable the #Peterloo2019 hashtag to trend.
❝I just wanted to get in touch to say how much I enjoyed 'From the Crowd'. You've done such a fantastic job with the whole Peterloo programme, but I was very impressed with the spirit of participation that ran through Friday, and the way that you elevated the voices of the solo speakers and handed the platform to them. I hope you're all very proud of what you've achieved.
Emma Richmond
Email A monthly e-news was sent out to a quickly expanding database, with regular communications sent to the Peterloo Network, an audience cultivated over the last 4 years, through ongoing involvement in the campaign.
Video
Video became an important channel for telling the Peterloo story and we worked with Marketing Manchester to script and produce a brand new film promoting Manchester as a radical city and leading tourist destination.
Advertising The partnership with The Guardian included an in-kind online advertising campaign worth £20,000. From June - August we carried out three homepage takeovers (Friday 6 August, 12 & 29 July, 5 August), banner advertising for six Peterloo 2019 events and 3 pieces of editorial were published online. On the 16 August 2019 there was a significant feature in the printed publication on the anniversary commemorations, From the Crowd. To help market From the Crowd we worked closely with Manchester City Council's design agency MFour, to secure digital screens across the city. This helped us to reach a wide audience with key screens including Princess Parkway.
Visual Identity
The development of the Peterloo visual identity involved over 120 people – from our public and cultural steering groups across Greater Manchester that creatively steered, reviewed, shortlisted and chose the final logo and identity. The visual identity of Peterloo was then shared with all partners and communities participating in the programme or hosting their own events to ensure Peterloo had an identity that people recognised and felt part of.

Saturday 6 th July Royal Northern College of Music peterloo1819.co.uk
AUDIENCES (continued)
where the project took place: The digital marketing campaign took place online, whilst the programme of events was held from June - August 2019 in Manchester Central Library with other partner events taking place across Greater Manchester.
Partners involved in the delivery of the project: Fido PR, Dinosaur (Website development), Marketing Manchester, The Guardian, BBC Radio Manchester, Manchester City Council, Manchester Evening News, Manchester Central Complex.
Artists: David Caunce (Imagine) – Graphic Design M-Four Design – Graphic Design
Names of groups / organisations involved: Manchester City Council Peterloo Network Group Marketing Manchester UK Parliament
Main outcomes:
 Delivered a digital marketing campaign across multiple digital platforms, reaching thousands using a very limited budget
 Using the visual identity produced by the Peterloo Network created a strong brand identity which could be seen right across Greater Manchester
 Doubled the number of Instagram followers between January to August through posting regular content and utilising Instagram stories to share partner events and activities related to Peterloo
 Led a Twitter Moment campaign on Friday 16 August, which told the story of Peterloo as it happened on the day, through a series of posts. This engaged thousands and helped enable the #Peterloo2019 hashtag to trend
 Created a platform for digital audiences to explore the 180+ events taking place across the region
 Created a digital footprint for Peterloo 2019 with over 300 pieces of online content generated
Key learning: Working with such a rich variety of partners enabled the digital marketing campaign to reach a wide ranging audience, nationally and internationally. Involving community groups in the visual identity for the campaign meant that people recognised and valued the brand and felt a part of it. The marketing meetings with the partners often felt rushed due to workloads and could have benefited from more involvement from some organisations earlier on in the planning phase.
Legacy of project:
Working with such a wide range of partners across Greater Manchester and nationally has created new pathways for future projects
The marketing campaign has created a huge digital footprint with hundreds of pieces of content now readily available online, helping to propel the story of Peterloo and increase engagement
Digital Engagement: Spikes in website visits were noticeable on Thu 6 June (Peterloo Launch, 481 visits) and Friday 16 August (From The Crowd, 2,987 visits). When referred to the site from a social media platform, Facebook brought the highest volume of traffic, with 70% of visitors. The top traffic referral sites include: manchesterhistories.co.uk (40%) visitmanchester.com (10%) peterloomassacre.org (8%) manchestereveningnews.com (5%)
Ticket sales at Manchester Central Library events from June – August 2019: June 1,101 July 827 August 4,240
Guardian tracking links: 5 Jun - 17 August Banner Advert 575,535 impressions / 1,705 clicks
6 June Culture Takeover 151,218 impressions / 260 clicks
12 July Culture Takeover 1,372 impressions / 4 clicks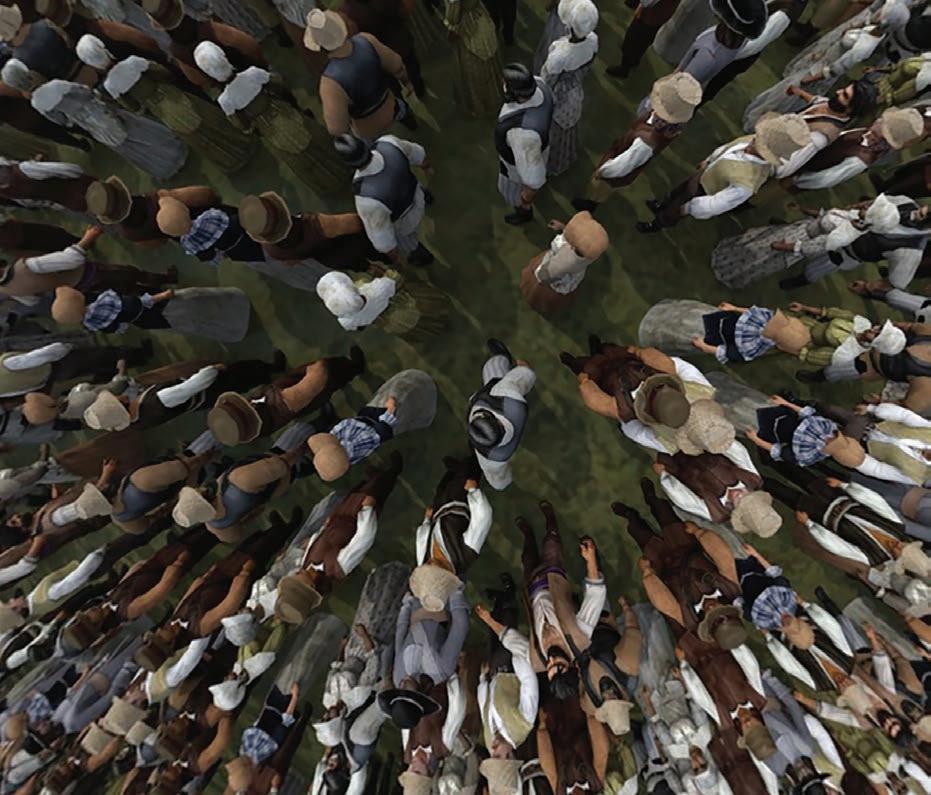 Twitter Moment: