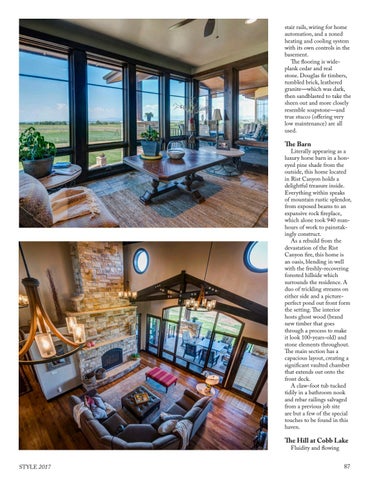 stair rails, wiring for home automation, and a zoned heating and cooling system with its own controls in the basement. The flooring is wideplank cedar and real stone. Douglas fir timbers, tumbled brick, leathered granite—which was dark, then sandblasted to take the sheen out and more closely resemble soapstone—and true stucco (offering very low maintenance) are all used.
The Barn
Literally appearing as a luxury horse barn in a honeyed pine shade from the outside, this home located in Rist Canyon holds a delightful treasure inside. Everything within speaks of mountain rustic splendor, from exposed beams to an expansive rock fireplace, which alone took 940 manhours of work to painstakingly construct. As a rebuild from the devastation of the Rist Canyon fire, this home is an oasis, blending in well with the freshly-recovering forested hillside which surrounds the residence. A duo of trickling streams on either side and a pictureperfect pond out front form the setting. The interior hosts ghost wood (brand new timber that goes through a process to make it look 100-years-old) and stone elements throughout. The main section has a capacious layout, creating a significant vaulted chamber that extends out onto the front deck. A claw-foot tub tucked tidily in a bathroom nook and rebar railings salvaged from a previous job site are but a few of the special touches to be found in this haven.
The Hill at Cobb Lake Fluidity and flowing
STYLE 2017
87
2017-09 Lydia's Style Magazine  
Annual Breast Cancer Issue!
2017-09 Lydia's Style Magazine  
Published on Aug 31, 2017  
Annual Breast Cancer Issue!