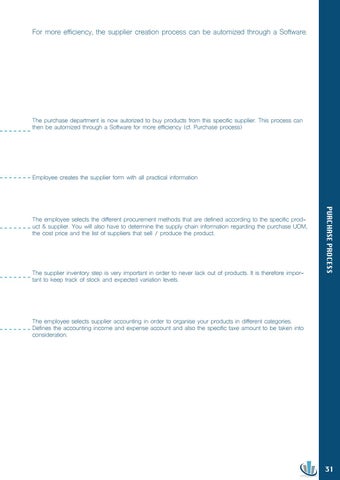 For more efficiency, the supplier creation process can be automized through a Software.
The purchase department is now autorized to buy products from this specific supplier. This process can then be automized through a Software for more efficiency (cf. Purchase process)
Employee creates the supplier form with all practical information
The supplier inventory step is very important in order to never lack out of products. It is therefore important to keep track of stock and expected variation levels.
PURCHASE PROCESS
The employee selects the different procurement methods that are defined according to the specific product & supplier. You will also have to determine the supply chain information regarding the purchase UOM, the cost price and the list of suppliers that sell / produce the product.
The employee selects supplier accounting in order to organise your products in different categories. Defines the accounting income and expense account and also the specific taxe amount to be taken into consideration.
31
Belean.net Best Practices