7 minute read
TAYLOR HAWKINS - UPFRONT & PERSONAL
WRITTEN BY ANA VELASCO | PORTRAITS BY MARISSA ARLT
Taylor Hawkins is here for a good time. Here for him right now is New York City, where he phones in from and excuses his voice. "I'm kind of getting over a cold right now," he says. "Trying to, anyways. Everyone's sick at our house." It's the initial glimpse I get of Taylor Hawkins, Hidden Hills Dad – a title he's been wearing for years, sure, but a title less known to those who have seen him grow into a music icon as the drummer for Foo Fighters for the better half of his life.
But don't be fooled. Although, Hawkins might be Dad now to his wife Alison and his kids, he's still the kind of rock dad who counts LeAnn Rimes as a neighbor – a perk that facilitated her collaboration on the new album for his side project, Taylor Hawkins and the Coattail Riders, titled Get The Money. It's an album rife with collaborations, from Rimes to Dave Grohl, Perry Farrell, and Nancy Wilson, Chrissie Hynde and Jon Davison - a sort of patchwork of the rock music that Hawkins loves, harkening the heyday of the 70's and 80's guitar-strung classics. Get The Money is a homage to rock and roll in an era when rock and roll has been faltering, but Hawkins' intention is not necessarily to create a renaissance, it is, to put simply, to have fun. "It's basically my record collection summed up in one record," he says.
TAYLOR'S HOME STUDIO IN HIDDEN HILLS, WHERE THE LATEST COATTAIL RIDERS ALBUM WAS RECORDED, IS A MUSICIAN'S HAVEN, WITH WALLS THAT PAY HOMAGE TO MANY OF HAWKINS' ROCK 'N' ROLL HEROES.
I'M REALLY ENJOYING, YOU KNOW, BECOMING THAT NEXT WAVE OF CLASSIC ROCK.
Hawkins will be 48 years old the week after we speak and his gratitude for the life he's been able to live, and continues to live, is felt. "I'm really enjoying, you know, becoming that next wave of classic rock." He knows he is a blessed man. And it's hard to know whether his gratitude and joie de vivre are two reasons why life keeps shining on him, or whether life has shone on him so brightly he can't help but have fun with his gratitude. In any case, it doesn't matter, all that matters is a good time, good music, good company, and the legacy of rock and roll.
The album is incredibly fun, from the music, to the videos, and the slew of collaborators in it, including Dave Grohl, Perry Farrell and LeAnn Rimes. How did these collaborations come about?
Really, just kind of informally. Dave...obviously that's the easiest, you know
HAWKINS PERFORMS "I REALLY BLEW IT" ON JIMMY KIMMEL LIVE WITH DAVE GROHL BACKING ON DRUMS AND PERRY FARREL FEATURED ON VOCALS.
HE KNOWS HE IS A BLESSED MAN. AND IT'S HARD TO KNOW WHETHER HIS GRATITUDE AND JOIE DE VIVRE ARE TWO REASONS WHY LIFE KEEPS SHINING ON HIM, OR WHETHER LIFE HAS SHONE ON HIM SO BRIGHTLY HE CAN'T HELP BUT HAVE FUN WITH HIS GRATITUDE.
how that came about. I'm in a band with him. I called him, "Come over and help me out with a couple songs." Perry I'm also friends with. Nancy Wilson, I kind of had to reach out for that one, but that worked out really nice. LeAnn is actually a neighbor of ours, she lives in our neighborhood. Our kids go to the same school, and it was one of those kind of parent things, you know?
It seems like the kind of ethos of the project revolved around the idea of fun, and kind of bringing together all these people from your walks of life. What was the initial vision for the band, and how has that evolved since the first album?
Well, I mean, my ethos period, for anything outside of you know, work, which is The Foo Fighters or family, is to be creative and have fun. I love collaborating with people who I look up to. So, the idea of collaborating with Perry Farrell, or Nancy Wilson, or Joe Walsh, or Chrissy Hynde, or any of those amazing people is a privilege. It's a privilege I get because of the band I'm in...it created that privilege. I wanted to have fun and try and do something good musically.
The Foo Fighters, primarily when it comes to the creative side of things, it's Dave's vision. And I'm a creative person, so, whenever I get a chance, I am always working on something else. I've become more of a workaholic the older I've gotten because it's fun. I have a recording studio at my house...it's nothing super fancy, but it's a good hang, and some decent mics, and a little bit of decent equipment. And that's what you're hearing was recording in that room.
There's light as far as the intentions. I wear my influences pretty boldly on my sleeve. If I want some beat to sound like The Police then I just go there, I don't care. If I want it to sound like Steely Dan, or Queen, or Jane's Addiction, I just go there. I sort of, like, I'm always looking at my songwriting almost like clipart...take a little bit of that, a little bit of this, and a little bit of that. Kind of makes me, you know, almost Warhol-y. I'm not saying I'm Andy Warhol by any measure (laughs). But you know what I mean? Taking things that already exist, and putting them together in a way that almost makes it new.
I also love that some of the collaborators in this are your wife and kids. What do they think about the project? It must be fun for them too.
It's a part of it. Half the songs are about my wife, and the good, bad and the ugly, you know? They're there with me when I do it. It's sort of a family affair. Because I figure any time I'm taking aside from serious work, which is Foo Fighters, it's best if I kind of include the family on some level. (From somewhere afar Alison screams "And you record at home.") Oh...and I record at home (laughs). My wife really wants to do this interview, I think.
HAWKINS REGULARLY FEATURES THE WHOLE FAMILY IN HIS VIDEOS. FROM TOP TO BOTTOM, ANNABELLE TAKES FLIGHT WITH DAD ON A "PEGA-CORN" AND CHANNELS HER INNER BOWIE, SHANE, A TALENTED DRUMMER HIMSELF, FEATURED IN "MIDDLE CHILD," FRANCES, THE FAMILY POOCH, YOUNGEST, EVERLEY, AND WIFE, ALISON, IN THE TELENOVELA-ESQE VIDEO FOR "I REALLY BLEW IT."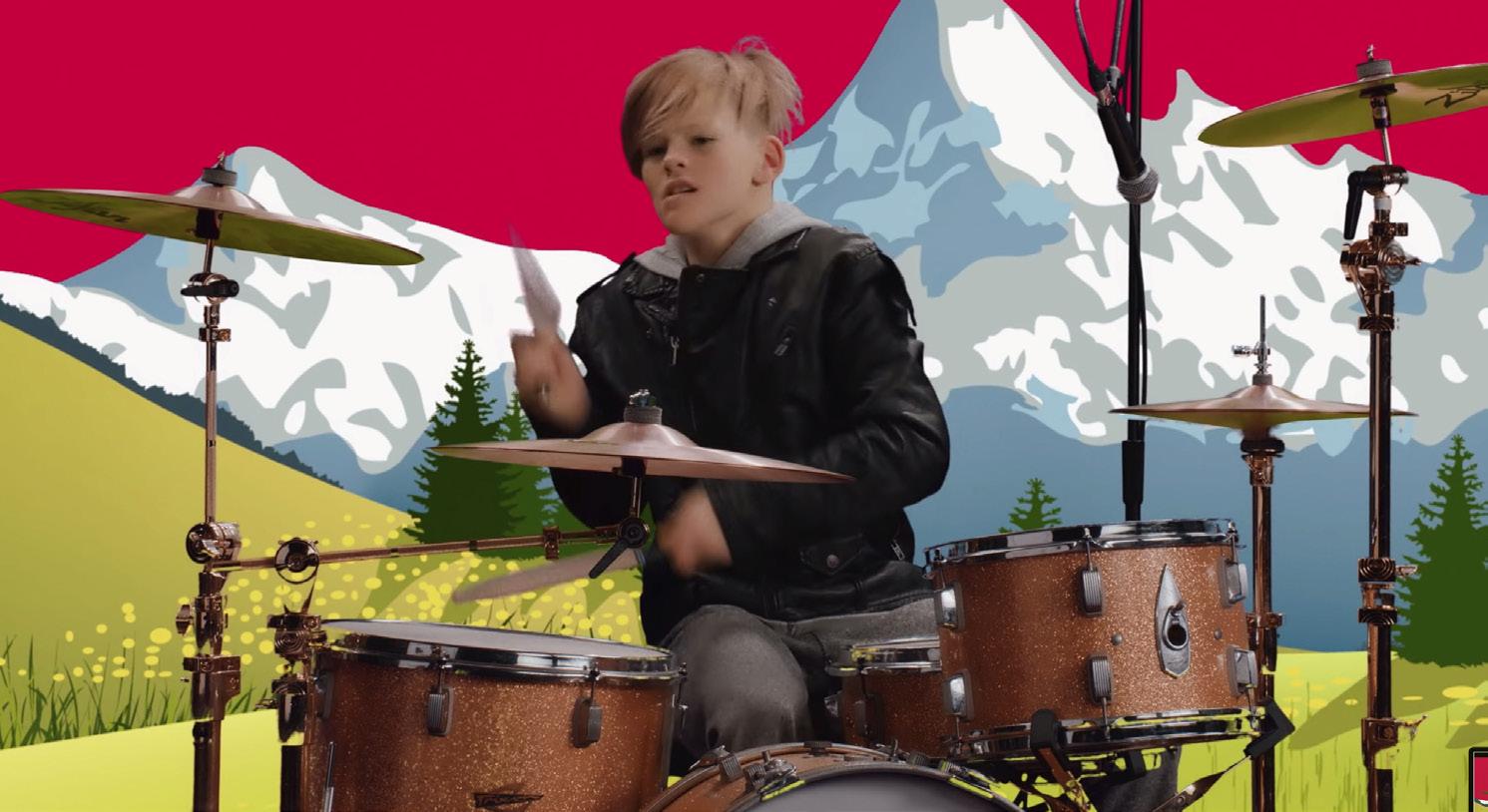 IT'S SORT OF A FAMILY AFFAIR. BECAUSE I FIGURE ANY TIME I'M TAKING ASIDE FROM SERIOUS WORK, WHICH IS FOO FIGHTERS, IT'S BEST IF I KIND OF INCLUDE THE FAMILY ON SOME LEVEL.
I'M JUST SO BLESSED, AND SO MUCH OF THE STUFF THAT HAPPENED IN MY LIFE CAME DOWN TO LUCK AND TIMING. I WAS DETERMINED AND PREPARED WHEN IT CAME.
You've been playing music for over 25 years, you've been with The Foo Fighters, toured with Alanis Morrisette, and have your own other slew of projects. With all of this experience behind you, what advice would you give yourself?
Slow down. (laughs) Don't party too hard. Don't wear your heart on your sleeve...I don't know, I wouldn't need to say anything, because I mean, you couldn't have written me a better story in a way, you know? I mean, I'm so blessed. I couldn't really think of a better sort of storyline in my life as it is. And I don't mean that to sound, you know, self-congratulatory, or stuck up, or anything like that. I'm just so blessed, and so much of the stuff that happened in my life came down to luck and timing. I was determined and prepared when it came. And I have a lovely family, I have an amazing house, I have an amazing career. I still have a lot of the same friends I had when I was a kid.