Living like a local
NORTHERN RIVERS
LET'S HIDEAWAY
Budget loving escapes in the hinterland
OLÉ!
Zesty flavours of Mexico this side of the border
BANGALOW BEAUTY
Historic charm and plenty of soul
BOUNTY FULL
The producers of artisanal excellence
A CREATIVE FORCE
Jason Grant on returning to nature
Spring 23 #08
TAKE ME, I'M FREE
DISCOVER • DINE • SHOP • ESCAPE • THE ARTS In full bloom SLOW FLOWERS & HAPPY DAYS
Moonlightbar.com.au Open 7 Days From 5pm. Bay Lane, Byron Bay NSW. Bookings Online - Moonlightbar.com.au Moonlight Happy Hour 5PM - 6PM / Rotating Drink & Snack - $15
PUBLISHER'S LETTER
Spring is in the air! It's the season of sunshine, flowers, great food, and endless possibilitiesand we've got another incredible issue of Locale Magazine here to inspire you.
This season, we're diving into the enchanting world of 'slow flower farming'. Ever wondered where your flowers come from? We've learnt that it's not all as it seems, and chat to some amazing florists and farmers taking a slow approach and getting back to the earth. As you can see by our glorious cover image - shot onsite at The Farm Byron Bay & featuring the stunning harvest of Poppy & Fern - their fresh, seasonal, radiant blooms speak for themselves!
Speaking of our cover, we were so fortunate to have collaborated with the incredibly talented Designer, Stylist, Photographer and 'man of many hats' – Mr Jason Grant, whose creative vision is truly inspiring (and whose gorgeous pup Gertie is the perfect cover model). Don't forget to read our profile on him, featuring his breathtaking new book – Force of Nature.
This issue we're also taking you on a delightful stroll through the charming streets of Bangalow, and through the local Farmers Markets – where award winning produce, and tasty gourmet treats await your spring grazing boards! From the mighty macadamia, to the best Mexican this side of the boarder, we can assure you your tastebuds will be tingling this edition.
We've added a good dose of 'Boho' culture and we're not leaving out the guys… We've handpicked a selection of businesses that cater to the boys, and uncovered ways to boost your mental health, enhance your appearance, and clear your mind.
So, what are you waiting for? It's time to get out there, explore, and uncover the very best our region has to offer. Follow us on Instagram @locale_magazine to stay in the loop with all the latest happenings. We're all about living like a local and embracing the unique beauty that surrounds us.
Enjoy the Locale love!
issues only $50
Publisher / Creative Director
Karen Kinnersly
Editor
Donna Rishton-Potter
Graphic Design
Karen Kinnersly
Contributing Feature Writers
Donna Rishton-Potter | Kylie Mitchell-Smith
Alison Bone | Amanda Kuhn | Angela Saurine
Cover Photographer
Jason Grant
Printing Fast Proof Press
Advertising enquiries
hello@localemagazine.com.au
Editorial enquiries
editor@localemagazine.com.au
Follow Us
locale_magazine localemagazineau
www.localemagazine.com.au
Karen xx
Don't miss out on an issue! Have your copy delivered straight to your door Contact us at hello@localemagazine.com.au Locale Magazine is printed on 100% recyclable stock and is 100% FSC Certified. Made with love. Locale Magazine is published four times a year and all rights are reserved. The contents are copyrighted and cannot be reproduced without written consent from the Publisher. Locale Magazine ("the Publisher") and related companies disclaim all liability, damages, costs, and expenses arising from or in connection with the information or material in the magazine, any negligence of the Publisher, or any person's actions in reliance on it. Complaints regarding placed advertisements must be made within seven days of publication. Inclusion of any copy does not imply endorsement by the Publisher. Views expressed by contributors are personal and not necessarily endorsed by the Publisher. The magazine accepts quality contributions written in its style. The Publisher has made reasonable efforts to trace copyright holders but does not accept liability for any action taken by readers in reliance on the recommendations in the magazine. Locale acknowledges the traditional custodians of the lands on which we live and work. We pay our respects to ancestors and Elders, past and present. localemagazine.com.au locale_magazine localemagazineau GOLD COAST ISSUE #1 - SUMMER '23 COMING SOON Don't miss out on the opportunity to be featured in our exclusive Gold Coast issue, launching in December. Whether you want to showcase your business, promote your brand, or share your story, now is your chance to shine. Secure your spot today - hello@localemagazine.com.au. 4
4
Northern
Higher Self Skin is a one of Australia's most respected skin clinics with over 20 years of International Skin expertise Expertly harnessing the power of medical grade skincare in fusion with a holistic approach to skin health and cosmetics in their award winning treatments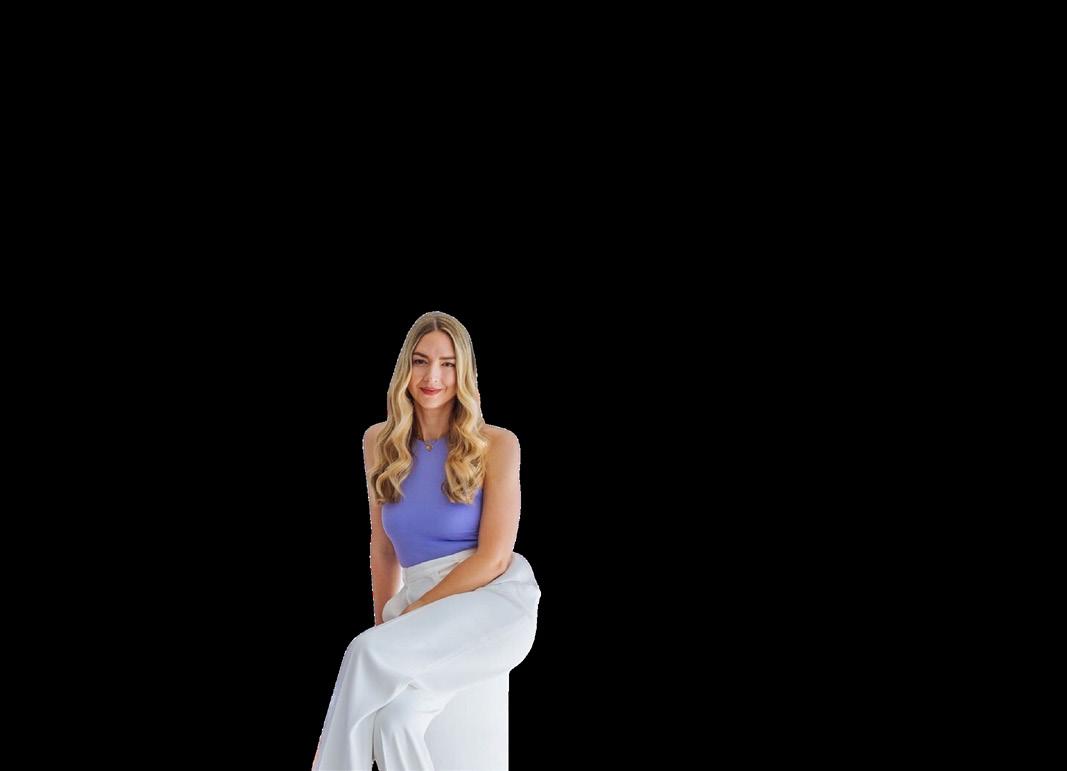 Our customised treatments are tailored to your specific needs utilising the very latest technology Offering luxury bespoke facials, elite skin treatments, O Cosmedics skin care, brows + beauty and advanced Cosmetic Injectables
A synchronised balance between results and relaxation the result is beautiful, youthful-looking skin now and in the future
e a u t
n i c
s k i n B
y + c o s m e t i c c l i
Rivers
Injectables Clinic
Leading Skin, Beauty & Cosmetic
BROWS | BEAUTY | SKIN HEALTH | ACNE, AGING + PIGMENTATION EXPERTS RESULTS + RELAXATION FACIALS | O COSMEDICS CORRECTIVE TREATMENTS HYDRAFACIAL™ | ADVANCED ANTI-AGING | PARAMEDICAL SKIN NEEDLING BIOREPEEL | COSMELAN | EXSOSOME | PRP | LED | COSMETIC INJECTABLES BOOK YOUR COMPLIMENTARY SKIN CONSULTATION TODAY MARINE PARADE, KINGSCLIFF www higherselfskin com au 02 5611 9235 discover your best self yet valued at $49 Join our Tribe and invest in your wellbeing RECOVERY MEMBERSHIP $89 per week READY TO JOIN? Scan the QR code to get going or chat to us in store! You can find us at The Commons Casuarina Shop 7, 480 Casuarina Way directly opposite Rip Curl T&Cs apply. Infrared Saunas Led Light Therapy Ice Bath 1 x Float Per Week Includes unlimited:
Features
8 BEAUTIFUL BANGALOW
Delight in the abundant charm of this historical town
10 VIBRANT & BLOOMING
The slow flower movement is picking up pace
Discover
16 MACADAMIA MAGIC
There's so much to love about our native nut!
24 A BOUNTY FULL
Fill your market basket with with the region's acclaimed artisanal produce
Dine
28 FRESH, FIERY AND FABULOUS
When you're in the mood for a fiesta come venture south of the border
Shop
36 FOR THE FELLAS
Caring about the health, happiness & wellbeing of our men
38 BOHEMIAN DAZE
The effortless style of the Northern Rivers
Escape
46 HINTERLAND MAGIC
Weekend escapes that won't break the bank
The Arts
58 TO THE BEAT
The vibrant universe of LUNA DISCO
62 WHERE YOUR ART IS
Whether a beginner or a pro, let your creativity flow in these seriously fun classes!
contents
8. 10.. Regulars 40 LOCALE'S MUST HAVES 64 BUSINESSES WE LOVE 66 GIG GUIDE 24. 28. 62. 38. 6
7 SPRING 2023 Award Winning Gourmet Pies | A variety of Sourdough Bread | GF options available Specialty Coffee | Cakes and Slices | Everything baked on site 12 BYRON STREET, BANGALOW | (02) 6687 1209 | BANGALOWBREAD.CO Opening hours: 6am-3pm weekdays, 7am-2pm weekends 9 DUDGEONS LANE BANGALOW NSW Thurs-Sat 12pm-9pm & Sun 12pm-8pm www.commonpeoplebrewing.com.au @commonpeoplebrewing Our AIBA Gold Medal winning El Sabro Hazy IPA is now a part of our core range, so you can experience the burst of tropical fruit flavours every day. The taste of summer, all year round.