CBD F&B
Unless you've been living under a rock, you've probably noticed an explosion of CBD around town in the last year. Once relegated to online purchases only, Hong Kong's local businesses have embraced the cannabidiol trend, adding it in everything from sweet treats to smoothie bowls. By Jo Robinson
BE-JUICED
Forget hemp seed and honeycomb; this is how you really bring your smoothie bowl to the next level! This SoHo juice joint has teamed up with LIFE CBD to add servings of CBD to cold-pressed juices, açaí bowls and smoothies.
45 Peel St., Central, bejuiced-hk.com
YOUNG MASTER BREWERY
Named after the Cantonese slang word, which means to chill out or pass time, Hea CBD beers are designed to help you unwind. This series of CBD beers by local microbrewery Young Master offers four different styles of brew: Session Ale, Pale Ale, and Double IPA (which incidentally, also doubles the CBD). You can pick them up wherever Young Master is sold, or head straight to the OG CBD hotspot, Found Cafe, where you can pick up some takeaway tinnies.
8 Tai On Terrace, Sheung Wan, found.hk
CONSPIRACY CHOCOLATE
With brain-boosting cacao and anxiety-reducing CBD, we love this homegrown bean-to-bar brand. Made with only four ingredients - cacao beans, organic raw cane sugar, CBD isolate and hemp seed hearts - this all-natural option is a welcome addition to their already super-delicious lineup of craft chocolate flavours. Each bar contains around five servings, and is made with fellow homegrown CBD brand, Heavens Please.
conspiracychocolate.com
GENTLE BRO
Got a sweet tooth? These CBD gummies from Gentle Bro should be right up your alley. Made with all-natural ingredients, they come in two fruity flavours: green apple or strawberry lemonade. Swing by their store on Pottinger Street to find some of these chewy delights, or browse their extended range of products online which also include body balms and dog treats.
Room 102, Lap Fai Building, 8 Pottinger St., Central, gentlebro.com.hk
DRIP 39
For a more immersive experience in edibles, swing by new cafe Drip 39 to watch them infuse the cookie of your choice with CBD. There are three flavours to choose from: rose, earl grey and marshmallow. They also have an online store with a range of products including essential oils, skincare and health supplements.
39 Staunton St., Central, IG: @drip39hk
LEKKER STUFF
Made with sustainably sourced Belgian chocolate, die-hard chocolate fans will swoon over Lekker Stuff's vegan chocolates. Handmade in Cape Town, these moreish chocolate bars come in either 56 percent or 70 percent dark chocolate. Order them online at their website, or swing by Feather & Bone to grab and go.
lekkerstuff.shop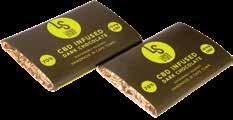 FRESH CUTS
Dining news that's good for you
GREEN MONDAY TEAMS UP WITH CRYSTAL JADE FOR VEGAN MENU
Beloved Chinese restaurant and dumpling purveyor Crystal Jade has partnered with plant-based social venture Green Monday to launch a new meat-free menu. The Crystal Green menu uses Omnipork to make veggie spins on classic recipes, like xiao long bao and wonton soup, as well as other dishes like sweet and sour chicken made with Spanish mock meat brand, Heura. Check it out at most Crystal Jade locations (excluding Kennedy Town and Airport). crystaljade.com.hk
AVEITA LAUNCHES ORGANIC GINGER POWDER
Looking for some inspo to spice up your smoothie game? Try adding some spicy organic ginger powder from Aveita. As one of the OG superfoods, ginger is known for its immune boosting and anti-inflammatory benefits, and this dried, powdered version makes it easy to add in our morning tea. Baking fan? We also highly recommend whipping up some homemade gingerbread treats!
Costs $150 for 120g. aveita.com
CHEAT DAY
Because life's too short to always order the salad
CHOW BELLA
Hotly-anticipated, new hotel The Hari opened its doors last year, and with it came two new exciting additions to Wan Chai's culinary scene. Their Italian restaurant, Lucciola, is a masterclass in Italian cuisine done right. Simplicity is key, with top-quality ingredients that allow classic dishes to shine, from the burrata Pugliese to the amberjack carpaccio. For pasta fiends, their carbs are not to be missed. We sampled two dishes, the simple yet delicious Spaghetti Acciughe E Tomino Fresco, tossed in a sauce of Sicilian anchovies, garlic, parsley and fresh tomino cheese; and the phenomenal Paglia E Fieno Al Ragu Di Rane e Dragoncello, a tagliatelle dish made with herbs, onion, string beans, prosecco, white balsamic and (wait for it) frogs' legs from Piedmont. For dessert, don't miss the decadent tiramisu, made with a rich, eggy custard; and the insanely moreish lemon cake, served with white chocolate-flecked cream. We're already planning our next visit. 2/F, The Hari, 330 Lockhart Rd., Wan Chai, thehari.com
A FRESH APPROACH
Are you a small business owner? It might be time to finally make that transition to a cloud-based accounting system. Let Fresh Accounting set you up with Xero and transform the way you do your finances.
What if we told you that managing the financials for your small business doesn't have to be a headache?
No more frowning at an Excel spreadsheet or Google sheet: let Fresh Accounting set you up with Xero, and you'll see how easy - and yes, fun! - it can be to stay on top of your finances.
With offices in Hong Kong and Singapore, Fresh Accounting takes a friendly, customer-focused approach to accounting, guiding you every step of the way to make sure you have a handle on your finances.
Fresh Accounting partners with Xero, a cloudbased accounting software, that allows businesses to quickly and easily see their accounts, reconcile transactions, bill clients, manage pay runs and so much more. An added benefit is that Xero can connect with your HSBC or DBS bank account.
With easy-to-understand charts and graphics and the ability to connect directly to your bank feeds, you can use data-driven insights to control your expenses, identify areas where you can grow, and really understand how your business is doing.
Need someone to talk you through the numbers? Fresh Accounting also provides CFO and financial advisory services, and are able to help SMEs, solopreneurs and side-hustlers alike get to grips with their finances, control costs, and identify how to survive and thrive in challenging times.
Whether you're just starting out, or you want to make the transition to Xero from your existing system, Fresh makes the process smooth, simple and stress-free.