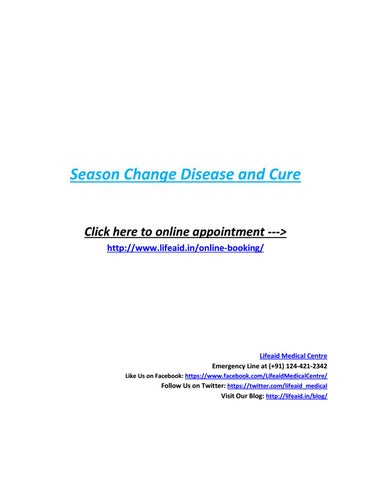 Season Change Disease and Cure Click here to online appointment ---> http://www.lifeaid.in/online-booking/
Lifeaid Medical Centre Emergency Line at (+91) 124-421-2342 Like Us on Facebook: https://www.facebook.com/LifeaidMedicalCentre/
Follow Us on Twitter: https://twitter.com/lifeaid_medical Visit Our Blog: http://lifeaid.in/blog/
---
Though season changes indulge an excitement among the people, but it also brings season change diseases with it. A high percentage of gentry is involved in getting affected due to season change. As the cold breezes turn their direction to summers, the virus causing flu begins showing its effects. Casual flu, cold, viral fever, body-ache are few of the symptoms that suggest that you are being influenced by this tremendous season change.
I am sure; one would not like to take unnecessary leave from their workplace due to their illness. The best way that could serve as an escape from these season change diseases is to prevent yourself beforehand only. "Better safe than sorry", is the only idea one should have in their brains to save themselves from these diseases. As soon as you catch cold or feel dizziness and fatigue in your daily routine, immediately take the medicines or consult hospitals in Gurgaon. Don't keep your skin exposed to air immediately as the season changing winds hamper your health suddenly. Gradually, switch to summer clothing according to the season. You can also take some home remedies like drinking ginger tea or "KAADHA" as suggested by elders so that you can regain your health quickly. In case of any serious illness rush to the Gurgaon hospitals or nearest doctor immediately to avoid any kind of mishap. Keeping your eating habits healthy will surely help your body fight well against diseases and will help you to emerge as a winner.
---
Take every precaution; you can to keep yourself best in your health. Maintaining a proper immunization schedule, adhering to hygienic practices, consumption of healthy food, and maintains clean and hygienic surroundings do not support the breeding of insects like mosquitoes and can help to prevent the onset of many seasonal diseases. It is always advised to drink plenty of water, put on proper clothes as per the season and have a healthy diet. All these little practices will keep your health smiling and no season changing diseases shall dare to affect you. Every season have their own beauty, and if you are not in the best of your health, it is impossible to enjoy them. Make sure that you take the simple precautions mentioned above to keep yourself and your family in good health. STAY FIT, STAY STRONG!!!
Season Change Disease and Cure