6 minute read
Discovering Art, Ingenuity and
D ART, iscoveringiscovering ingenuity and entrepreneurs
CREATIVITY THROUGH ART IS THE SELF-EXPRESSION OF HUMAN NATURE.
It is evident in our music, food, dance, fashion, painting, speech and architecture and has many purposes. Through their passion, artists strive to convey a message, make a strong statement, invoke a particular emotion or achieve a specific reaction. Everyday objects and situations become the canvas for introducing the viewer to different perspectives and a glimpse into another world. ¿ by Kristen Carter
ART, ingenuity and entrepreneurship
From pop art icon Andy Warhol to abstract expressionist Jackson Pollock, amazing pieces of art are created when someone is brave enough to attempt something new and edgy. While museums and galleries offer a unique experience that will never be replicated, the internet has opened the gateway to connect with amateur artists, explore various modes of art, watch step-by-step tutorials and discover an endless amount of inspiration. One trending art that is becoming more and more popular is glass artwork.
Chelsie Kelly, a native of the Columbia area and a University of South Carolina graduate, has found her passion in creating masterpieces from broken glass. Although she is working toward becoming a copywriter and has experience in a wide variety of fine art forms, she has found that glass art has brought her the most satisfaction and notoriety. "I have had success in marketing my paintings, but my most unique creations are glass silhouettes," she explains.
The idea for this style of art came to Chelsie as a student of advertising at the University of South Carolina. A landscaper was cutting grass when his lawnmower ran over a rock which in turn hit and shattered the back windshield of her neighbor's car. "The landscaper mistakenly believed the car to belonged to me," she says. "When I saw the pile of tinted glass, I was inspired to create a silhouette." She had been exposed to this type of art in high school and was ready to give it another try.
When asked about the level of difficulty for glass art, Chelsie remarks with a smile that, "It's not as complicated as it looks. I simply outline the silhouette I want and then I place it in the picture frame. Then I adhere the tempered glass to the frame one piece at a time until the silhouette is complete," she continues. "More than anything, it takes a lot of patience. It's like putting together a puzzle." Depending on the size of the frame each work of art can take anywhere from several days to several weeks to complete.
Chelsie sold her first glass piece at an art auction for the American Advertising Federation of the Midlands in 2018. In an effort to combine her passions and pay tribute to the advertising industry, she decided to create the silhouette, "Mad Men's Don Draper". The sale of that piece was so exciting that she decided she had to make more; however, she had used all of the glass available to her. "I went to junkyards hoping to find more," Chelsie says, "which didn't really work out. Then I realized that I could order tempered glass online. This makes the process a lot easier but is also more expensive."
Shortly after selling her first piece Chelsie was accepted into her dream school, VCU Brandcenter in Richmond, Virginia as a copywriter. On top of the
intense curriculum to achieve a master's degree, she has taken advantage of the opportunities presented to her there and is involved in several clubs and organizations. Her duties include being a student ambassador as well as the copywriting track representative and current fundraising chair in the student body government called Brandcentral. Unfortunately, these wonderful opportunities paired with many more lead Chelsie to lose touch with her artwork; something was missing. Then came "Side Hustle".
"One day a classmate, Chris Cole, asked me if I would be willing to assist him in creating and running a club called Side Hustle. Chris and I both knew what it was like to put passion projects on the back burner and we wanted to make sure that we didn't lose sight of that part of ourselves," Chelsie explains. "It's easy to put off your hobbies and passion projects because there is no one depending on you or holding you accountable; no teams, no professors, no boss, no degree. People feel guilty taking the time to do something they enjoy if it isn't directly related to school or work with a concrete outcome. That shouldn't be the case".
Side Hustle is a community of creators at Brandcenter that inspire each other to create and complete passion projects by sharing ideas and experiences. If someone has a side endeavor that they want to work on, be it photography, script writing or producing music, Side Hustle helps by holding them accountable and providing support. "We help people establish goals and create schedules as well as provide our skills, time, and resources to one another, spreading motivation and sharing inspiration. There are regular check-ins where each person gives updates on their progress and, if they have setbacks, we work on those together," Chelsie continues. "Hustle Buddies" are provided based on compatible skillsets to help with accountability outside of group meetings."
The concept of Side Hustle has been successful; Chelsie was able to complete a new piece of glass art for the first time since moving to Richmond. From the beginning of her journey in glass, she was looking forward to creating a Marilyn Monroe piece, being that Marilyn is arguably the most recognizable person in pop culture. Now that she has the support of Side Hustle, she hopes to continue her glass art and create a collection that can one day be featured in a gallery. When asked which artists inspire her the most, Chelsie explains, "I love Warhol but I really take my inspiration form Sage Barnes, Jacob Hess, and Jennie Vinter. I think there's something about their work that jumps from the canvas and makes you want to interact with the work."
While Side Hustle is a club strictly for Brandcenter students, Chelsie challenges people to create their own club at home with friends or family in an effort to support each other in their quest for a creative outlet or secondary income. She also recommends viewing Youtube, MasterClass,or Skillshare videos to embrace the foundations of technique, production and form. "I think it's so important for people to get creative," she explains. "You don't have to spend hours piecing together glass like I do, but don't be afraid to try something new. These days anyone can be an artist; almost all the resources you need are online". n
For art inquires Chelsie can be reached at Chelsie_k@yahoo.com or (803)718-6795. Prices vary according to the size of the canvas and the difficulty of the silhouette. For ideas and information pertaining to VCU Brandcenter or Side Hustle, visit Chelsiekelly.com.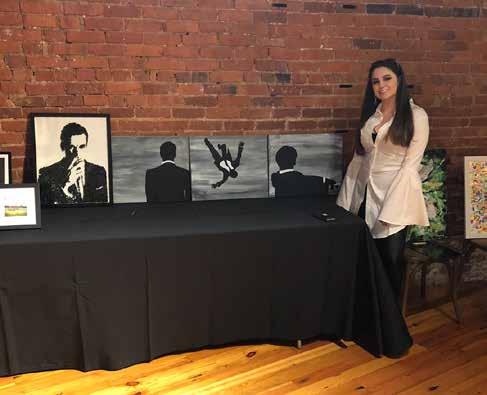 Your vision is our focus
From comprehensive eye exams to the most advanced laser cataract surgery, your vision is our focus.
Derek L. Barker, M.D. William Cain, Jr., M.D. Stephen A. Cross, M.D. Edward G. Crosswell, M.D. Hal H. Crosswell, Jr., M.D. H. Holland Crosswell, III, M.D. William F. Crosswell, M.D. Derrick A. Huey, M.D. William A. Johnson, Jr., M.D. Jae Youn Sarah Lee, M.D. Edward G. Mintz, M.D. R. Mitchell Newman, Jr., M.D. Joshua Nunn, M.D. Lynn Hicks Snoddy, M.D. Garner J. Wild, M.D.
Call 803.779.3070 to schedule an appointment at any of our three convenient locations.
columbiaeyeclinic.com
Downtown Columbia • 1920 Pickens at Calhoun Northeast Columbia • 100 Summit Centre Drive Lexington • 100 Palmetto Park Boulevard