Getting You BETTER SOONER.
If you're dealing with injuries or pain, you can count on the experts at Lexington Orthopaedics and Sports Medicine to get you moving again. Our highly specialized physicians offer comprehensive care for patients at five convenient locations throughout the Midlands. Whether for diagnostics, treatments, consultations or physical therapy, our team is here to get you better, sooner.
2 | LEXINGTON LIFE | August 2023 lexingtonlife.com
LexMed.com/Ortho West Columbia Lexington Medical Park 2 146 East Hospital Drive Suite 350 West Columbia, SC 29169 Lexington Lexington Medical Center Lexington 811 West Main Street Suite 101 Lexington, SC 29072 Irmo Lexington Medical Park Irmo 7033 St. Andrews Road Suite 104 Columbia, SC 29212 Northeast Lexington Medical Center Northeast 3016 Longtown Commons Drive Suite 200 Columbia, SC 29229 Chapin Lexington Medical Center Chapin 557 Columbia Avenue Suite C Chapin, SC 29036
6 | LEXINGTON LIFE | August 2023 lexingtonlife.com
Please continue to pray for the family of River Bluff High School principal Jacob Smith after the tragic accident which occurred during their family's summer vacation in Hawaii. I pray they continue to heal and be strengthened during this season of recovery and that they are blessed with love and health moving forward.
Life is precious and moves quickly. Knowing that school is about to be back in session, I recently spent some time looking back at my family's back-to-school pictures from years gone by. I wasn't expecting to tear up, but I did. Seeing the transformations as Joey, Jenna, and Noah morphed from youths into adolescence and then into teenagers and young adults was more emotional than I anticipated. As a parent, I am proud of the young people they have become. I also realize the growth process is lifelong, as we mature into adults and all the fun stuff that comes along with "adulting."
I am thankful we have quality leadership and people like Jacob Smith who are responsible for the education of America's next generation. As a community, we need to appreciate the underpaid teachers who work tirelessly teaching today's "YouTube" kids how to read, write, and perform arithmetic. Many times, these dedicated teachers spend their personal finances to make sure their classrooms are ready and functional for the first day of school. To say that the teachers care is probably the understatement of the year.
Enjoy the tradition that is the first day of the school year. Hug your kids, their kids, grandkids, teachers, cafeteria workers, bus drivers, and everyone involved in educating and protecting the future of tomorrow.
Thanks for reading,
Todd Shevchik
TODD SHEVCHIK Publisher & Editor-In-Chief toddshevchik@gmail.com
JAN JOHNSON Editor & Director of Digital Media lexlifeeditor@gmail.com
lexingtonlife.com August 2023 | LEXINGTON LIFE | 7 contents 16 30 FEATURES 13 Educational Foundation Lexington County School District One 16 Be Pro, Be Proud SC 21 Truckers Who Go the Distance 28 5 Questions for Parents to Ask at Back-to-School Night 30 OUR Rescue Run 33 Essential Tips to get Organized COLUMNS 12 Faith Matters 25 Tom Polland 39 David Clark DEPARTMENTS 7 From the Publisher 9 Calendar of Events 10 Lexington Leader 36 Spice of Life
photo
Heidi Graves Photography
Cover
by
CONTACT US LEXINGTON LIFE MAGAZINE • (803) 356-6500 • LEXINGTONLIFEMAGAZINE.COM
Follow us on Facebook KIM CURLEE
kimcurlee214@gmail.com JANE
jcarterdesign@comcast.net
Production Manager
CARTER Editorial Designer
8 | LEXINGTON LIFE | August 2023 lexingtonlife.com
AUGUST
Saturday, August 5
CWNO Coaches' Wives Conference
320 Corley Mill Road, Lexington, 9:30 am - 4:00 pm
C.W.N.O. is a Coaches Wives gathering to come together with women who experience the same lifestyle as you. Ladies from all over South Carolina and surrounding states come together for an event you don't want to miss. Whether you're a girlfriend, fiance, wife, or retiree, this event is for you. Leave feeling inspired, heard, and connected! Tickets are $40/individual, $275/table of 8. Visit cwnosc.wixsite.com/cwnosc for more information.
Saturday, August 5
Drive-In Movie Night -
The Super Mario Bros.
Saluda Shoals Park, 5605 Bush River Rd., Columbia, 6:30 pm - 10:30 pm, $15/per vehicle
Purchase tickets at the event (first come, first serve for the first 150 vehicles). The movie begins at 8:45 p.m. Food truck on site.
Saturday, August 12
Lexington Paint and Pour Open Paint
711 E. Main St., Suite A1, Lexington, 10:00 am - 2:00 pm, $27 and up
Drop in or reserve your spot ahead of time. Visit lexingtonpaintpour. com for more information.
Tuesday, August 15
Historically Speaking: Homes of Lexington
Lexington Main Library, 5440 Augusta Road, Lexington, 6:30 pm - 7:30 pm, Free
Learn about some of the historic homes from the colonial period and the 19th century. The presentation will discuss architectural styles and how they affected the historic structure of Lexington. Presented in partnership with Lexington County Museum. (ages 18+)
Saturday, August 19, and Sunday, August 20
2023 Soda City Comic Convention
Columbia Metropolitan Convention Center, 1101 Lincoln St., Columbia, 10:00 am - 5:00 pm
The 8th annual Comic Con is back, showcasing the best comics, toys, cosplay, gaming, and artists in the Midlands. Tickets range from $5-40. Visit sodacitycomiccon. com for more information.
Friday, August 25
Paddle and Pint - Paddle and Craft Beer Tasting
Saluda Shoals Park, 5605 Bush River Rd., Columbia, 6:00 pm - 8:00 pm
Paddle the Lower Saluda River followed by a craft beer tasting. The trip is dependent on weather and river levels. Boats and all necessary equipment are provided. Ages 21 and up, $47 per person. Visit ircr.net for more information and to register.
Saturday, August 26
2023 For the Love of Hops
Craft Beer Festival
Icehouse Amphitheatre, 107 West Main Street, Lexington, 6:00 pm
This is a 21 & up event, and you must show a photo ID. Food will be available for purchase. Tickets range from $30 - $50 depending on the date of purchase. The price includes unlimited samples of over 50 different craft beers from North and South Carolina, live music, and a souvenir sampling glass.
Thursday, August 31
The Hitmen Party Band
Icehouse Amphitheatre, 107 West Main Street, Lexington, 6:30 pm, Free
Join the Icehouse Live Concert Series presented by Lexington Medical Center featuring The Hitmen Party Band. Their song list includes everything from Rihanna and Robin Thicke to Bruno Mars, other current hits to classic Top 40, and everything in between.
lexingtonlife.com August 2023 | LEXINGTON LIFE | 9
by Jackie Perrone • Jacper342@gmail.com
Looking Back
Two events set the floodgates of memory gushing this month: An invitation from Lexington Life Magazine to look back on our 20 years together, and the approach of my 100th (!) birthday. Irresistible.
This lifetime is neatly divided into quadrants. The most newsworthy part of my story was over by the time I was 25 years old. The next two quadrants featured 50 years of family life in Columbia. And the final quadrant began 25 years ago when we moved to the Columbia Presbyterian Community and my husband died.
QUADRANT 1: As I grew up in Barnesville GA, I spent my high school and college years as an active journalist on two newspapers and earned an ABJournalism degree from the University of Georgia in 1943.
With my sparkling new degree, some letters of recommendation from my former editors, and resume in hand, I tackled New York City and within three days landed an entry-level opportunity position at United Press Association, the news wire service competitor of Associated Press. I had cracked the job market, but finding a place to live in the housing-shortage era of rent controls presented the next challenge. I lucked into a spot at a women's hotel near Times Square that was safe, convenient, and affordable. The career had begun! I was 19 years old.
For almost four years, I had a front-row seat to the biggest news of the century, writing for UP clients such as Newsweek, H. V. Kaltenborn (commentator), Kate Smith Speaks (radio broadcast), John Nesbitt ("The Passing Parade"), and many others. During those eventful war years, many military men of my acquaintance came through this port of embarkation on their way to England, stockpiling for D-Day. My phone number had been passed around here and there, and I served as a hostess for these visitors who wanted to paint the town before leaving it. We took in Broadway shows and nightclub life and lived it up. I connected with roommates that enabled us to rent an apartment on Lower Fifth Avenue, near Washington Square. Many WWII veterans will admit that those wartime years were the most exciting thing that had ever happened to them. This was true for me also.
QUADRANTS 2 and 3: The end of WWII brought my soldier home after 4 years in New Caledonia in the South Pacific. Jim Perrone was a Clemson electrical engineer and served in the Signal Corps at the Pacific Theater Communications HQ. We arrived in Columbia as newlyweds when he began his 40-year career at South Carolina Electric and Gas Co. For 50 years, I lived the homemaker role for three children (followed by three grandchildren),
keeping house, carpools, PTA, church, Scouts, some volunteering, and part-time jobs. For one decade I worked as a Group Service Representative at Aetna Life Insurance Company. I traveled the state doing customer service and training the employees who would administer the Aetna group insurance benefits at their company.
QUADRANT 4: The empty nest found us downsizing in 1998. Jim lived less than a year after our move to Columbia Presbyterian Community, and I was living in a foreign country known as Lexington. I connected with Jerry Bellune at the Lexington Chronicle, and told him, "I don't know the people or the geography of Lexington, but I have a map and a directory." Soon I was writing personality profiles of local citizens as well as stories of some of the events and places which made Lexington unique. When Todd Shevchik created Lexington Life Magazine, we hit it off immediately and I embarked on another two decades of live journalism.
From the start, Lexington Life recognized the potential for reporting on this fast-growing and greatly changing community. Mostly I settled into telling the stories of Lexington Leaders. At my retirement community, I am surrounded by people talking about what they did 50 years ago. Lexington Life gave me the opportunity to meet people who are doing something interesting right now. And what stories they had to tell! Bankers: Raymond and Mike Crapps; public servants: Steve MacDougall, Randy Halfacre, Chris Wooten; businesspeople: Ted Hoover, Tim Driggers, Lou Kennedy; medical leaders: George Wendt, Eunice Medhurst; artists: Sissy Frierson, Michael Storey; educators: Kathy Maness, Lynn Summer, Gregory Little; musicians: Hal McIntosh, Einar Anderson, Sylvia Looney; and oh, so many more! The count was approaching 300 stories at the last count. I remember each one, fondly.
Every interview was different, and yet I noticed a common thread across the spectrum. Many Leaders commented that although Lexington is growing and changing fast, we all hope it never loses the down-home small-town friendliness where you know and care about your neighbors. So far, I'd say that's still a landmark here.
These assignments were every month for 20 years, but I also wrote for other local publications: Columbia Living, Sandlapper, South Carolina Homes and Gardens, and others.
About that birthday: No one goes through life expecting to live to be 100. Even making it into the 21st century surprised me somewhat. Guess I owe that to my parents, Mother Nature and Father Time.
The pandemic and advancing age brought on retirement from what I had enjoyed so greatly for so long. I owe a huge debt of gratitude to Todd and his editorial family for providing those blank pages for me to fill. It was a fabulous journey, guys. Thank you. Keep on keeping on. n
lexingtonlife.com August 2023 | LEXINGTON LIFE | 11
Dear James Snell:
Our son attends an area high school. He was turned in for possessing a vape pen by another student, the same student who actually brought the pen to school! We feel that our son was unfairly treated by the school administration, and want to fight against this expulsion. Can you please explain what the process is and what our rights are to challenge this?
Sincerely, Concerned Parents
Nate Robbins Assistant Pastor of Equipping
Watershed Fellowship
711 East Main Street Suite S
Seeking the Welfare of Lexington
Dear Concerned Parents:
The first step in contesting the expulsion is to notify the school that you are requesting a hearing. The school should provide the information on how to make this request when they give you written notice of the expulsion hearing.
As long as you make a timely request for a hearing, the school district will schedule one in front of their hearing officer. School expulsion hearings are not held in court or presided over by a judge. Instead, they are usually held in the district office and the decision is made by a district employee.
The hearing officer will decide if your son violated a school rule. If not, then the matter should be dismissed with no finding made against him. If the hearing officer did decide a rule was violated the next decision will be what sanction should be imposed. Although expulsion is possible for many situations, it's not required and the hearing officer will have discretion to still allow for a return to school.
Your family has the right to be represented by an attorney during this process. Although the hearings are not conducted in the same way as a court trial, there are strategies that can be employed to maximize the chances of a successful outcome. This can include gathering and presenting helpful evidence that support's son's innocence, or otherwise demonstrating he deserves to remain in school.
You should also keep in mind the possibility that a school resource officer could initiate criminal charges in certain circumstances. One of these would be if the vape pen involved tested positive for marijuana. If you receive any notification of a criminal referral, you should definitely consider hiring an attorney for your son.
Best wishes, James Snell
James Snell is a Lexington area lawyer providing services in personal injury and criminal defense law. His office also represents students facing expulsion recommendations. To schedule a consultation for your legal matter call (803) 359-3301.
What do you see when you look at our town today? Are you inspired by the creation of parks and recreational sites? Encouraged watching new businesses serving citizens well? Perhaps you see opportunities for improvement–better infrastructure, more community gathering spaces, additional programs supporting our elderly?
I believe deep down we all long for Lexington to thrive! We want to see future generations succeed. We want to leave this place better than when we found it. We want to know that our time spent living in this town had purpose. These are certainly worthy reasons to invest in our wonderful town, but don't go nearly far enough. It is Christian worldview and a belief in the power of the gospel which provides us with the fullest motivation to seek the welfare of our town.
Community investment is a theme that runs through the whole Bible. God tells the Jews living in Babylon to "seek the welfare of the city where I have sent you." (Jeremiah 29:7) And he beckons Christians in the NT to live in such a way so that others "may see your good deeds and glorify God on the day of visitation." (1 Peter 2:12) But why do we need the gospel to do this effectively? The problems of the world and even our town are too grand for us to transform with only human means and resources. Too many broken families. Not enough money or time. The list goes on and on. But if we rely upon the unlimited power of God, we can rest assured that the work will be accomplished and will truly last. He promises as much when we hear him upon the throne say, "Behold I am making all things new." (Revelation 21:5)
God has given each of us a calling to invest in our communities to make them more glorious, loving, and beautiful. What are you called to do here in Lexington? If you are lacking direction let me encourage you toward joining a local church. A critical role of the church is to equip the saints for the work of ministry so that they might better make an impact in jobs, families, and neighborhoods. Whether that be Watershed or one of our other Gospel-preaching churches we are excited to see how the Lord uses you to seek the welfare of this city! n
Coffee at 10am, Service at 10:30am
www.watershedfellowship.org
12 | LEXINGTON LIFE | August 2023 lexingtonlife.com
(803) 359-3301 • WWW.SNELLLAW.COM 123 HARMON STREET • DOWNTOWN LEXINGTON
Educational Foundation Lexington County School District One
The Lexington One Educational Foundation serves to support additional programs and initiatives within Lexington District One. Established in 1994, the Foundation is a charitable, nonprofit organization that raises funds through an annual campaign and special event fundraisers. It is led by a volunteer Board of Directors comprised of local business leaders, community leaders, volunteers, and Lexington District One parents who are passionate about public education and supporting students, teachers, and schools.
The Foundation provides teacher grants for classroom projects as well as larger school grants for projects that offer innovative ways to enhance students' learning. Literacy, mathematics, STEM, and teacher training are a few areas their grants focus on enriching. It also assisted in the renovation of the district's Early Childhood Developmental Screening Center. Corporate partners have helped the foundation award grants in specialty areas such as robotics, building construction, and pharmacy.
The Foundation's scholarship funds support Lexington District One graduating seniors who pursue a degree in higher education. Donors who wanted to leave a legacy in Lexington District One via an endowed scholarship made these scholarships possible. The Foundation also provides need-based grants to seniors that help with basic items to start college prepared. Additionally, the Foundation provides financial support to Lexington District One students and their families who may be in a temporary crisis and have serious needs. Foundation staff and volunteers work closely with Lexington District One social workers, teachers, and administrators to identify such students and assist them with food, clothing, transportation, and more.
The Foundation welcomes individuals to volunteer at events or to help share its mission with others in the community. Positive connections support the Foundation and ultimately support Lexington District One. The Foundation will hold its Second Fore the Foundation Grand Golf Tournament on Thursday, October 19th at the Golden Hills Golf and Country Club. n
To find out how you can be a part of the Foundation's efforts, contact Julie Anderson Washburn, Executive Director at 803821-1008 or jwashburn@ lexington1.net or visit lex1edfound.org.
lexingtonlife.com August 2023 | LEXINGTON LIFE | 13
14 | LEXINGTON LIFE | August 2023 lexingtonlife.com
lexingtonlife.com August 2023 | LEXINGTON LIFE | 15
BE PRO BE PROUD SC:
Building Tomorrow's Workforce, Today
Be Pro Be Proud SC is a unique workforce development program designed to promote the benefits of skilled trade careers across the state in hopes of bringing a new generation of skilled professionals into the workforce. The Be Pro Be Proud Mobile Workshop is equipped with hands-on simulators and VR experiences for a variety of skilled trades including welding, truck driving, and heavy equipment operation. The Mobile Workshop crisscrosses the state throughout the year, visiting middle and high schools, Career and Technical Education centers, technical colleges, and special events statewide; more than 30,000 people have par-
ticipated in the experience since its launch in 2020, with the Workshop having traveled over 46,000 miles of SC roads.
"Students are the future of our workforce, and Be Pro Be Proud SC provides them with career options that many of them are not even aware of," states S.C. Department of Employment and Workforce Executive Director Dan Ellzey. "We hope to influence more people to pursue these jobs and to realize that essential work like transportation and logistics, utilities, construction, and diesel technology, among others, are crucial to our state economy and that the demand for these jobs will always be there."
16 | LEXINGTON LIFE | August 2023 lexingtonlife.com
"There is a difference between hearing about a job and experiencing a job," says Rick Todd, President and CEO of the South Carolina Trucking Association. "Using a simulator and getting to speak to specialists from these skilled trade fields leave an impact on a young person. By attending these events, students will be in the driver's seat while they learn that many of these jobs are high-paying and in-demand, that they have long-term career prospects, and that getting certified for these jobs costs only a fraction of the cost of a fouryear degree."
Be Pro SC receives requests every day from schools anxious to have the big blue truck visit their students; even watching the high-energy promotional video about the Mobile Workshop pales in comparison to seeing it up close and in person. The schedule of upcoming tour stops is available on the Be Pro SC website at www.beprobeproudsc.org; schools can use the link at the bottom of each page to request a visit to their campus in the near future.
"We hope that the students can effectively communicate to their parents the excitement that they feel about their experience on the Mobile Workshop," says SuzAnne Driscoll, Be Pro SC Project Manager. "The kids don't know what they don't know – until they see the Workshop, that is. Then they realize that there are some cool jobs out there that give them
other state education, workforce, and economic development agencies, as well as the SC Legislature, which has appropriated recurring funds for Be Pro Be Proud SC to operate the Mobile Workshop for many years to come; the private partners contribute money and in-kind donations to provide updated Workshop experiences and the accompanying educational and marketing materials.
In total, Be Pro Be Proud SC has almost
exciting, viable, and high-paying career options, many of which can begin right after graduation!"
Be Pro Be Proud SC is a great achievement of a public-private partnership in South Carolina. The private partners include the members of the Associated Industries of South Carolina Foundation (AISCF) -- comprised of the S.C. Trucking Association, S.C. Chamber of Commerce, Carolinas AGC, the Home Builders Association of South Carolina, and the Forestry Association of South Carolina – plus over 40 other large and small businesses around the state. The public support comes from the Department of Employment & Workforce (DEW) and
50 business partners committed at varying in-kind and financial levels to support the efforts to educate students around the state about the opportunities available today in high-paying, in-demand Skilled Professions. These partners host events and visit tour stops to meet with students directly to discuss the realities of jobs in these fields. Any business wishing to be part of this amazing non-profit effort can contact SuzAnne Driscoll at SuzAnne@BeProBeProudSC.org. n
lexingtonlife.com 17
"There is a difference between hearing about a job and experiencing a job"
18 | LEXINGTON LIFE | August 2023 lexingtonlife.com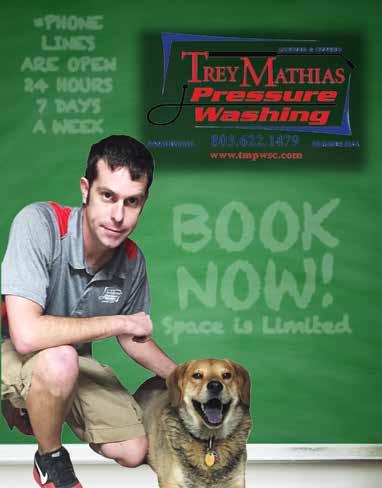 lexingtonlife.com August 2023 | LEXINGTON LIFE | 19 * PHONE LINES ARE OPEN 24 HOU RS 7 DAYS A WEEK Serving the Midlands Since 2012 104 Hamilton St., Lexington SC 29072 803.661.7557 Thomas and Jayne Falk Franchise Owners assistinghands.com/midlands Remain where the memories are. If you have a loved one in need, call us. Your Home. Our Care.® Our compassionate caregivers can help you or your loved one remain safe at home. DHEC License # IHCP-0494 ©2023 Assisting Hands® Home Care, Nampa, Idaho 83687. All Rights Reserved. Our in-home services include: 24 -Hour Home Care Transitional Care Personal Care Companion Care Specialty Care
20 | LEXINGTON LIFE | August 2023 lexingtonlife.com
The South Carolina Special Olympics Convoy:
TRUCKERS WHO GO THE DISTANCE
by Marilyn Thomas
On the morning of August 26, 2023, a formidable brigade of heavy-duty trucks from all over the Southeast will be lining up at the South Carolina State Farmers Market for a unified purpose: to demonstrate their support of the Special Olympics. As local law enforcement officers escort this miles-long convoy onto the highway and complete the designated route, these participating motorists will be mobilizing their forces to raise awareness and funds for this worthy cause.
The primary driving force behind the local Special Olympics Convoy is Mike Still, Torch Run® liaison for the Special Olympics in South Carolina. While working as an officer for the State Transport Police (STP), the law enforcement division that enforces federal regulations and state laws pertaining to commercial vehicles, Still began volunteering for the Torch Run, a grassroots campaign that unites officers to raise funds and awareness for the Special Olympics.
"When the law enforcement Torch Run raises money for the Special Olympics," says Still, "every dollar goes to the athletes, whether it be for buying uniforms, buying awards, or getting their families to the events. It's a great partnership."
As a Torch Run volunteer, Officer Still heard about a truck convoy charitable event started by an officer in Florida, and his interest was piqued. In his role as a STP officer he says he saw the kindness of truck drivers and learned about the truck convoy and thought it would be an incredible opportunity to join together.
After sharing the idea with his coworkers, the South Carolina Special Olympics Convoy was officially launched in 2007. However, "I found out really quickly that I needed help," says Still. While attending a safety awareness event, he connected with Tim Cooley, a trucker and road team captain for the South Carolina Trucking Association.
"I told him about the convoy, and I told him I needed help with recruiting," he recalls.
lexingtonlife.com August 2023 | LEXINGTON LIFE | 21
"I knew that I had a good event, but it's hard for me to get the truck drivers there. So, he took on that aspect of it, and he and a group of truck drivers have helped me to grow this thing incredibly."
"Mike has wanted me to come alongside him," says Cooley. "We've made so many friends, and I enjoy getting involved in the middle of everything to make new friends. I think I've met people with my passion and my interest, and my thing is coming together as people, and making new friends has been my favorite part of it."
"In the first year, we had 24 trucks, and it was a bunch of my friends and things we got together," says Cooley, a second-generation truck driver who has a bachelor's degree in business from USC Spartanburg and has been driving for UPS for 32 years.
Since those days, the number of truckers and officers involved in the convoy has multiplied. Last year they had 213 trucks and raised over $76,000. The STP is the host agency, but they have almost 10 local
police agencies that are a part of it. The Sheriff's Departments of Lexington and Richland Counties are among them, and Still specifically commends Sheriff Lott for his resourceful assistance. "They actually bring out two of their buses," he says, "so our athletes and their families (which about 100 normally attend) get to be a part of the convoy, it's an incredible event."
Because of its growing success, the administrative duties of the convoy are overseen by a committee of seven or more volunteers. "What I like to pride ourselves in," says Cooley, "is we furnish everything for the convoy. We do all the promotional; I've got a friend of mine that helps get together all the food and coordinates all that; and there's about a half dozen of us that provide the finances for that. It's satisfying knowing that we can all jump in as a group of truck drivers and coordinate this and have a good time and do what we enjoy."
On the day of the event, athletes are often included in the proceedings. As an example, Still mentions that a Special Olympics participant who is going to the World Games in Germany has been invited to sing the National Anthem at the upcoming opening ceremony. Other families are asked to share testimonials about how meaningful the Special Olympics has been to them, and a Lexington cheerleading team may be coming to show their support and rally the crowd.
The truckers or trucking companies who apply to join the convoy are asked to donate at least $100 to Special Olympics, and logos of these contributors are posted in event advertisements. The top-ten drivers who have raised the most funds for the event lead the pack with the highest bidder at the front of the line, "which is a very big honor," says Still. "The second highest gets to be the last truck in the convoy."
As the big-wheeled procession cranks up and trundles past, supporters gather around the entrance of the Farmers Market, flank the highway, and wait at the Interstate exits along the convoy's route to cheer and take pictures. "It's quite a spectacle to see when it's going up I-77," says Still. "If you can imagine, we line up 200 trucks nose-to-tail, and we go out onto the road and go up I-77 to Percival Road, loop around, and come back."
In the recent past, Cooley filmed the convoy with his dash cam and estimates that the truck procession extended for at least five miles long.
22 | LEXINGTON LIFE | August 2023 lexingtonlife.com
"We have a heart for children, we have a heart for people in general, and these Special Olympic athletes just tug at your heartstrings."
Upon their return, the festivities continue. They have a celebration luncheon, award ceremony, and an auction [of trucker-oriented items such as hats, truck parts, and trucker paraphernalia]. They give out a variety of awards such as oldest driver, youngest driver, the oldest truck, the biggest contributors, the farthest traveler, the team with the most trucks, and a team award.
Still explains that all truck drivers and their families are invited but it is a public event as well, anyone can come. He says, "The cool thing about our truck convoy is, so many of our companies are what we call mom-and-pops, owner-operators, so we have good-looking trucks, it's almost like a truck show."
Although the convoy's obvious mission is to raise funds and awareness for the Special Olympics, it is also a day to celebrate truck drivers and the trucking industry. Still explains, "If you think about it, everything that we own, everything that makes our life more convenient, where we got it – it got there on the back of a truck. Truck drivers spend a lot of hours away from home, holidays, and all of that," he adds, "so that we live a better life. And then on top of that, they're just wonderful people."
Cooley seconds this notion when he says, "I think one of my heartfelt concerns is to give a positive outlook on our industry as far as drivers that give up their time and give up their nights and give up their holidays to provide for the public, and to do the services that we do. This shows the heart of the people. If you use what you have – like a love for trucks or love for your job or your industry and put it to good use in a positive way for them – that's just what it's all about."
"We get to celebrate truck drivers, but at the same time, they help us raise money for the Special Olympics, so it's just been an incredible partnership," says Still.
"Come!" exclaims Cooley. "I promise you'll have a good time, and once you come, you'll want to become part of the convoy family – and that's the way I address it on Facebook. It's not just a bunch of drivers; you become part of our convoy family once you come and participate and support this cause."
"Showing the heart of the people that are involved in it is what my number one thing is," he says. "We have a heart for children, we have a heart for people in general, and these Special Olympic ath-
letes just tug at your heartstrings."
The latest updates about the convoy can be found on their "SC World's Largest Convoy for Special Olympics" Facebook page https://www.facebook.com/ SCTruckConvoyForSpecialOlympics
Additional information, which includes a downloadable registration packet for convoy applicants, is available on their official website at www.so-sc.org. n
lexingtonlife.com August 2023 | LEXINGTON LIFE | 23
What is the Secret to our Residents' Success? The Longevity of our Team! Meet our Hospitality Team! Our passion for what we do creates a lively community where residents thrive with the quality care and support needed to live a fulfilled life. 800 N Lake Drive Lexington SC, 29072 803.832.4357 Rhonda | 18 Years Joni | 18 Years Linelle | 10 Years Taylor | 6 Years Brittney | 5 Years Della | 6 Years Senior Living Choices offered by Liberty Senior Living
24 | LEXINGTON LIFE | August 2023 lexingtonlife.com
The Beach That Was
by Tom Poland
From afar the skyline looks like that of a city, and it is. Myrtle Beach's skyline of hotels seems to dwarf the skyline of all other South Carolina cities. It even has a SkyWheel similar to Atlanta's SkyView Ferris Wheel. Standing on a hot beach gazing at that skyline through humidity and vapors rising from suntan potions, you see no mirage. It's real, this place of living on the edge—the edge of the continent and the edge of vanishing wildlife habitat.
Two mornings after I photographed the Myrtle Beach skyline from Surfside Beach, my sister, Deb, went out for an early morning walk. Overnight, a loggerhead sea turtle had nested twenty paces north of our dune walkway. She called me as I was on my first cup of coffee. To the beach I went. There the South Carolina United Turtle Enthusiasts, (SCUTES), were hard at work preparing 131 eggs for relocation to a safer place.
As I stood watching the team, a memory came to me. In the early 1980s I filmed a nesting sea turtle at Cape Romain National Wildlife Refuge, a sprawling National Wildlife Refuge near Awendaw. It was late, around 3 in the morning. We'd been patrolling the beach in a battered jeep— dropped there by a helicopter—looking for the telltale scrape marks that betrayed a female loggerhead turtle's crawl to the dune line. Deb had just seen that scrape and she knew at once it had to be a nesting female.
"We have a hard time with turtles that want to head up coast toward Myrtle Beach," a woman told me. A native South Carolinian, I detected pride in her voice but concern in her eyes. How things have changed for God's creatures along the continent's edge. In the beginning there was no
Grand Strand, no Myrtle Beach, just wet, dense thickets, sand, and swamps. The Waccamaw and Winyah Indians long called this wild land, "Chicora," translation "the land.
Time passed and isolation and a weak economy rendered Horry County's beaches largely uninhabited until the 1900s. Then the Burroughs & Collins Company—a timber/turpentine firm with substantial beachfront property—had an idea. Develop the area as a resort. Swamps would become vacation venues and true sea-level change would come. Chicora gave
way to "Long Bay," "Withers," or "Withers Big Swamp." Then the emerging resort area went by "New Town." That too would change when the Horry Herald sponsored a contest to officially name the area. Mrs. F.E. Burroughs—wife of Burroughs & Collins's founder—renamed New Town "Myrtle Beach" a tip of the hat to the southern wax myrtle shrub.
Today beach worshipers mob the Grand Strand, I sometimes among them, though I go to be with family and perchance glimpse osprey with fish in their talons and whatever else nature will share. On this trip I saw no porpoises, but I put my binoculars on dark elongating shadows, bluefish blitzing toward Garden City.
How I wish I might have seen that nesting sea turtle. The time was right. May through August ushers in the time when sea turtles lumber ashore under darkness to lay eggs in the dunes. Once she begins dropping her eggs she will not budge, a behavior that allowed many a female loggerhead in crueler times to fall victim to poachers who prized turtle meat and eggs.
No poachers, just curious beachcombers. Among them, my sister, daughter, and me. The turtle gave us the highlight of the week, remembering as she did, where she came into this fast-changing world. You could say she too came to a resort, a last resort that's witnessed massive change. n
lexingtonlife.com August 2023 | LEXINGTON LIFE | 25
Congratulations
to the Lexington One School District
2022-2023 State Champion Athletes!
Lexington High School Cheerleading: Class 5A State Championship
Lexington High School Girls Cross Country: Class 5A State Championship
Colton Travis, Gilbert High: 3A State Wrestling Championship (195-pound class)
Charles Spires, Pelion High: 2A State Wrestling Championship (120-pound class)
Pleasant Hill Middle School Dance Team: SCDA State Dance Team Championship in Jazz, Hip Hop and Pom
Gracie Floyd, Gilbert High School: 3A State Champion in Girl's Discus
Grant Goldsmith, Lexington High School: 5A State Champion in Men's 800 Meters
River Bluff High School Baseball: Class 5A State Championship
South Carolina Archery In The Schools IBO/ 3D State Championship
Elementary: Pelion Elementary • Middle: Meadow Glen Middle • High: White Knoll High
South Carolina Archery In The Schools State Bullseye Championship
Elementary: Pelion Elementary • Middle: Pelion Middle • High: White Knoll High
26 | LEXINGTON LIFE | August 2023 lexingtonlife.com
lexingtonlife.com August 2023 | LEXINGTON LIFE | 27
5 Questions for Parents to Ask at Back-to-School Night
Whether your child is just starting kindergarten or is already in high school, back-to-school night can be a bit overwhelming for parents. Most schools offer parents, students, and guardians the opportunity to visit the school, meet teachers and talk with administrators. While this usually is not a required event, it's a great opportunity for parents to check in on and advocate for their children. Some parents may be overwhelmed by the experience, so to help make the experience easier and more fun, here are some questions that parents should consider asking.
1. How do you handle disruptions in the classroom?
One of the most challenging parts of teaching is dealing with disruptions in the classroom. Whether your child is often distracted by disruptions, causing disruptions, or highly overwhelmed by disruptions, it's important to know how your child's teacher will deal with them. Every teacher will handle classroom issues differently, so parents may want to ask this question to find out more about teacher management and effectiveness.
2. How much homework should I expect my child to have?
Homework is common in many schools around the globe. Since homework is often done at home, this is a great question for parents to ask. Parents should make sure their child is staying on top of their school work, and if they are told to expect homework, they can set aside family time to ensure that their children are doing what they've been assigned.
3. Do you offer additional tutoring opportunities?
Many students will benefit from tutoring. Whether they need help or are looking for additional work, tutoring is a great way for students to get individualized help. Asking teachers if they have tutoring opportunities before or after school can help better prepare parents for how to advocate for their children.
4. What are your experiences in education?
Another great question for parents to ask teachers is about their teaching experience. You can ask this question to get to know more about a specific teacher. Ask them to follow up questions about their college courses, schools they have previously taught at, motivations for becoming a teacher, and more. These questions will help you form a great first impression with the teacher and help you get to know more about them.
5. What is the best way to contact you?
Before leaving back-to-school night, obtain the best form of contact information for the teacher. Get an accurate email or phone number and give them yours as well. This is a great way to ensure that communication is a reliable option for both sides. Many teachers these days ask for and provide contact information anyway.
These questions can help you learn more about your child's teachers and school administrators. Asking these questions at the start of the year will help you have a better understanding of what to expect throughout the year. It's also a great time to get and give accurate contact information to keep an open line of communication. n
28 | LEXINGTON LIFE | August 2023 lexingtonlife.com
lexingtonlife.com August 2023 | LEXINGTON LIFE | 29
Fight for the light. Silence the darkness.
by Linnette Rochelle
Human Trafficking is among the fastest-growing criminal enterprises in the world.
After working for more than ten years as a special agent for the United States Department of Homeland Security, Tim Ballard, retired from DHS in 2013 to start a nonprofit organization to rescue trafficked and exploited children worldwide. The goal of Operation Underground Railroad (O.U.R.) is to deter, disrupt, dismantle, and completely eradicate child exploitation and child trafficking around the world.
The O.U.R. extraction teams are made up of highly skilled professionals who work in a coordinated effort with local law enforcement both in the states and abroad. They are not a vigilante team. O.U.R. fills the gaps in resources created by budget shortfalls. These resources can include any number of things such as tactical expertise, equipment, extra trained agents on the ground, etc. To date, O.U.R. has assisted law enforcement in the rescue of more than 6,000+ survivors and the arrests of 4,000+ predators.
Sound of Freedom
Released last month, the movie Sound of Freedom is based on the story of Ballard's career, his rescues, and what led him to start O.U.R. It stars Jim Caviezel as Ballard and highlights one of his first missions to free dozens of children from sex trafficking and exploitation. It is a story of the fight for freedom and hope, even in the darkest of places.
By raising awareness with this movie, O.U.R. hopes to propel a movement that will save millions of children around the world. You can find showtimes at angel.com/ tickets/sound-of-freedom with new theaters added daily. If the price of the ticket keeps you from going, generous fans have Paid it Forward with tens of thousands of free tickets for the film, available at angel.com/freetickets. If you would like to Pay it Forward please visit angel.com/freedom.
30 | LEXINGTON LIFE | August 2023 lexingtonlife.com
Lexington Rescue Run
South Carolina
O.U.R. volunteers have grown from 50 members a few years ago to more than 320 members today. One Lexington volunteer, Christi Mayo, started a 5K race to raise funds and awareness for O.U.R. The first Lexington Rescue Run was held in March 2019 and takes place annually at the Red Bank Arena which offers plenty of parking, a playground, and bathrooms. It is a family-friendly event and spectators are welcome. Participants receive an O.U.R. Rescue Run t-shirt. The next race will be on March 23, 2024, and all proceeds go directly to O.U.R. Visit www.lexingtonrescuerun. com for updates and more information. n
lexingtonlife.com August 2023 | LEXINGTON LIFE | 31
Grow Your Business Let us help! 803.356.6500 ToddShevchik@gmail.com
32 | LEXINGTON LIFE | August 2023 lexingtonlife.com
Essential Tips For How Students Can Get Organized
by Carlton Ryan
Being organized is crucial to getting stuff done, no matter a person's age. While adults certainly need to be organized, the same rule applies to kids in school. Success in the classroom depends upon organization. Plus, the earlier age at which someone learns this crucial life skill, the better. While teens might not have a reputation for discipline and self-control, they are in fact much more capable of being organized than is often assumed. Here are seven essential tips for how students can get more organized.
Keep Track of the Schedule
A crucial aspect of being organized is knowing when things are happening. In the context of school, that means knowing when homework assignments are due, when tests are scheduled, and the like. This sort of awareness is vital to avoiding having to cram for tests, or to ensuring homework gets completed. One good idea is to use a calendar to track due dates and other impending events. A planner can also be an invaluable tool for schedule tracking.
Keep Materials Organized
A backpack is an important tool for students. Organizing a backpack is an important part of the larger project of being an organized student. The multiple compartments of a backpack should be used to divide notebooks, textbooks, and anything else needed for school into a few different broad categories. Papers, class information, and assignments must be organized by subject. Each subject should have its own binder or folder, to avoid wasting time searching through disorganized, loose papers and notebooks. A backpack should be cleaned out regularly too.
Work In the Right Space
At school, kids are required to work at desks in an environment conducive to being efficient and productive. At home, matters can be very different. Though doing homework while lounging in bed might seem like an attractive prospect, it's a terrible idea. Working at a desk or table is much more sensible and will lead to efficiency and productivity. There should be plenty of room at the desk or table to spread books and papers out.
Avoid Distractions
Distractions make getting work done much more difficult. Humans are simply not designed to focus deeply on more than one thing at once. Even multitasking isn't a good idea. Allowing distractions to interfere with schoolwork is not a recipe for efficiency or success. With the rise of digital technology, the problem of distraction has become even worse. That's why students should put their phones away and turn off music when attempting to focus on schoolwork.
Get Parental Encouragement
Parents play an important role in helping students find success in school. Teen students are at an age where it is still crucial for parents to guide them, instruct them, and correct their errors. When it comes to being organized and efficient, parents should help. Teachers can only do so much since students spend a considerable amount of time at home. While micromanaging teens rarely works, parents can still nudge students in the right direction.
The years during which a person is growing up are when the stage is set for the rest of life. Success as an adult reliably has its origin in good habits that are formed in childhood. Success in school is certainly important for its own sake, but getting organized is also simply valuable in preparing for life more generally. n
lexingtonlife.com August 2023 | LEXINGTON LIFE | 33
34 | LEXINGTON LIFE | August 2023 lexingtonlife.com
lexingtonlife.com August 2023 | LEXINGTON LIFE | 35 2816 AUGUSTA ROAD (HWY. 1) • I-26 EXIT 111-A • 803-936-1447 Valid on full-priced merchandise only. Not valid on previous purchases, sale items, or in conjunction with any other coupons or offers. Excludes: red and blue tag merchandise, food, wine, cemetery memorials, pre-made floral wreaths and arrangements, and custom floral orders. Other exclusions may apply, see store for details. Coupon must be redeemed at time of purchase. Limit one coupon per household per day. Discount only applies to one item. Expires 08/31/2023. GET 20% OFF ANY ONE REGULAR PRICED ITEM! SIGN UP FOR OUR EMAILS TO RECEIVE INFO ON UPCOMING SALES & COUPONS! email: OUTDOOR FURNITURE CUSHIONS & PILLOWS LAWN & GARDEN FLORAL RIBBON & MESH CRAFT SUPPLIES HOME DECOR KITCHEN & DINING FOOD & WINE GIFTS, & MUCH MORE! PLUS, VISIT OUR CUSTOM FRAME SHOP! Short on time? Shop online! SEE OUR WEEKLY IN-STORE SPECIALS AT WWW.CAROLINAPOTTERY.COM! Save on New Decor for Fall!
Baked Chicken Fingers
EASY Kid-Approved Back to School DINNERS
1 cup breadcrumbs
1/4 cup grated parmesan cheese
1/4 teaspoon garlic powder
1/4 teaspoon thyme
1/4 teaspoon parsley
1/4 teaspoon paprika
1/4 teaspoon salt
1/8 teaspoon pepper
1 1/2 lb. chicken tenders
1/4 cup olive oil
Preheat the oven to 400 degrees and spray a baking sheet with nonstick cooking spray.
Mix the breadcrumbs, parmesan cheese, thyme, parsley, paprika, salt and pepper and stir until combined. Set aside. Pour the 1/4 cup olive oil into another bowl and dredge the chicken in the olive oil and then into the dry ingredients making sure both sides are coated. Bake for 25 minutes, flipping the tenders once. Serve warm with ketchup or honey mustard dipping sauce.
Healthy Cheeseburger Bites
1 lb lean ground beef
3/4 cup liquid egg whites, or 4 whole egg whites
1/2 cup fat-free shredded cheddar
1/2 cup shredded parmesan
1/2 cup breadcrumbs
1/4 cup ketchup
3 T mustard
5 small dill pickles, finely diced (or relish)
Preheat the oven to 400ºF and spray a 24-muffin tin with nonstick cooking spray.
Brown the ground beef in a large skillet over medium-high heat. While the meat cooks, mix the remaining ingredients in a large mixing bowl. After briefly cooling, add the cooked meat to the remaining ingredients, stirring until even. Spoon the mixture into the mini muffin tin and bake for 23-25 minutes or until muffin tops are golden brown. *Note: For a standard-size muffin tin, add 3-5 minutes to the bake time.
36 | LEXINGTON LIFE | August 2023
Taco Pizza
1 pound ground beef
1 envelope taco seasoning
1 cup water
2 prebaked 12-inch pizza crusts
1 can (16 ounces) refried beans
3/4 cup salsa
2 cups coarsely crushed tortilla chips
2 cups shredded cheddar cheese
Optional: shredded lettuce and chopped tomatoes
Preheat the oven to 350°. In a large skillet, cook beef over medium heat until no longer pink; drain. Stir in taco seasoning and water, bring to a boil and reduce heat. Simmer, uncovered, for 10 minutes; set aside. Place crusts on ungreased pizza pans or baking sheets. Combine beans and salsa; spread over crusts. Top with beef mixture, chips, and cheese. Bake until heated through and the cheese is melted, 13-16 minutes. If desired, sprinkle with lettuce and tomatoes.
Ham and Cheese Tortellini
1 tablespoon butter
1/2 cup yellow onion diced
8 ounces deli ham diced
1 cup chicken broth
salt and pepper to taste
1 bag (19 ounces) tortellini (fresh or
of the cheese. Sprinkle the remaining cheese evenly over the top. Place under the broiler in the oven until the cheese is melted.
Veggie Fried Rice
2 cups brown rice
1 tablespoon low-sodium soy sauce
1 tablespoon garlic powder
1/2 tablespoon ginger
1 cup of your favorite vegetables *can use a frozen bag of mixed veggies*
1 tablespoon sesame oil
2 scallions
Cook rice and veggies according to the manufacturer's instructions. Add sesame oil to the skillet and add veggies and rice. Stir in garlic, ginger, and soy sauce. Cook for a few minutes and top with scallions.
Pasta Salad
1/2 cup uncooked farfalle pasta
1/4 cup fresh peas or frozen and thawed
1 carrot diced
1/2 cucumber peeled and diced
1/2 red bell pepper diced
1/4 cup steamed corn kernels
Dressing
1 tablespoon extra virgin olive oil
2 tablespoons lemon juice
1/2 teaspoon salt
Cook pasta according to the manufacturer's instructions. Mix the pasta with the rest of the ingredients in a bowl and serve at room temperature or cold. *Note: This pasta salad can be served at room temperature
August 2023 | LEXINGTON LIFE | 37
Wealth and Riches
I've recently had good conversations with several younger people about wealth.
It must have been a topic floating around the universe, at least in the minds of these folks.
Barbara is about 35 and was working for a chain restaurant company. They have a serious problem finding anyone willing to work. They'd bring in a half dozen new people, and four of them would take their first break and not return. The restaurant is always short-handed, their wait times are horrible, and it's not getting any better. I met her after waiting 45 minutes for a pretty poor cheeseburger in an empty restaurant. Barbara has just quit her manager's job because her boss's problem-solving involves screaming a lot. She now makes less money but has gone to her son's ball games for the first time in three years. She is enjoying her life again.
Bill is the youngest at 21 years old. He's a crew chief and works hard at a landscaping company. He likes his work and the people he works for are okay, but of course is thinking of "doing something
better." That's a good drive to have, and perhaps with some time in Tech School he can learn a trade. But he has a lot of the game whipped and doesn't even really know it.
Johnny is almost 40 and works hard at another company. One could say he's an unskilled worker, but he knows a lot of different things and can solve problems. He makes decent money, has the respect and appreciation of his boss and co-workers, and likes his work. He has the added experience of having done some prison time when he was younger for some stupid mistakes with drugs. Now he has his act together, does his work, and enjoys a quiet life at home with his wife. He told me: "I'm the richest guy I know, because I am happy with what I have."
I told Johnny: "You will have a great life for as long as you have that outlook. At my age of 64, I can tell you that you have found the secret."
A number of guys I grew up with set out to chase "the almighty dollar." They have made a ton of money in their life
working at a job they hate, married to a "perfect" woman they don't like, living in a big house with a pool and all that stuff, with several perfect kids who never come home to visit their folks. I've talked to several of these men, and each one drinks himself to sleep each night in a Lazy Boy chair. More than one has serious health problems aside from all the other issues they face.
The point of these comparisons is that we should spend more time talking with our kids about wealth and riches. Money is necessary and important, but true wealth and riches are developed inside a person. It's a corny sounding idea, but it is true. n
lexingtonlife.com August 2023 | LEXINGTON LIFE | 39
David Clark writes and works in Cochran, GA. Connect with him at cw.w4trj@gmail.com.