HOSPITALITY
Flake Lato, Annual Office River Retreat
WE BELIEVE IN CREATING ENVIRONMENTS THAT ENRICH COMMUNITIES AND NURTURE LIFE
FIRM OVERVIEW
Established in 1984, Lake|Flato designs buildings that respond to the culture and climate of each unique place. We believe in creating environments that enrich communities and nurture life through our work. In collaboration with our clients, Lake|Flato creates buildings that are tactile and modern, environmentally responsible and authentic, artful and crafted.
The firm's designs evolve from an appreciation for the pragmatic solutions of vernacular architecture, the honesty of modernism and the context of our rich and varied landscape. By employing sustainable strategies in a wide variety of building types and scales, the firm designs architecture that conserves energy and natural resources while creating high-performance buildings and healthy built environments for the building's occupants.
With a staff of 150 professionals, Lake|Flato is guided by fifteen partners who create teams that lead each project from beginning to completion. A collaborative process within the office fully engages clients and subconsultants and creates a place in which ideas can flourish. Comprehensive and inclusive design reviews generate fresh ideas and firm-wide ownership of the work.
Lake|Flato has received wide critical acclaim. We wererecognized by ARCHITECT Magazine as the top firm overallin the 2019 ARCHITECT 50, the American Institute ofArchitects honored us with its prestigious Firm of the YearAward in 2004, and Lake|Flato was the first architecture firm to earn a Texas Medal of Arts in 2009. Fifteen Lake|Flato projects have received the national AIA Committee on the Environment Top Ten Award, the highest recognition for sustainable design. Fast Company recently named us one of the "Ten Most Innovative Architecture Firms in the World" and the LOCUS Foundation honored Lake| Flato with a Global Award for Sustainable Architecture, recognizing our architectural approach to addressing the needs of society. As architects, teachers, environmental stewards and community advocates, we strive to elevate the public's appreciation of architecture and foster the education of the next generation of architects.
LEADERSHIP IN ENERGY & ENVIRONMENT
Lake|Flato believes that architecture and sustainability are inseparable, and that buildings should be beautiful and affordable while promoting healthy living. With these goals in mind, we help our clients understand the necessity and attainability of a sustainable approach to design. Since the firm's inception close to 40 years ago, environmental concerns have been integral to our design approach.
NATIONAL AIA COMMITTEE ON THE ENVIRONMENT TOP TEN GREEN PROJECTS
Fifteen Lake|Flato-designed projects have received national AIA COTE Top Ten Green Awards, The American Institute of Architects' highest honor for excellence in sustainable design.
INCLUSIVE COLLABORATION
A key driver for advancing sustainable design, environmental resiliency and social equity outcomes is our integrated design process. This generative process creates meaning and momentum at the very start of a project, driving results that have led to various design performance milestones including Lake|Flato receiving 15 AIA COTE Top Ten awards, more than any other architecture firm. These award-winning projects are located across the country and include various projects, from naturebased education centers to large-scale civic and urban transformation s.
DESIGN INNOVATION
Lake|Flato is constantly seeking new and innovative ways to advance building and human performance. The design of the 3D-printed House Zero, for instance, pushes the boundaries of traditional home building methods – revealing innovative ways to provide shelter in the wasteprone home building industry. Another instance of Lake|Flato applying new and evolving technology to elevate sustainable design is the firm's expertise with mass timber. With more than 15 mass timber projects in progress or completed, Lake|Flato's commitment to mass timber construction is a carbon-fighting strategy that celebrates the timeless qualities of beauty, nature, and craft.
EQUITY, DIVERSITY & INCLUSION
The clients and communities we serve are some of the most progressive and diverse in the industry. We expect no less of ourselves as we strive to create an inclusive atmosphere in our practice and in our collaborations. Attaining rigorous B Corp certification and participating in the International Living Future Institute's JUST program is an extension of our commitment to equity, diversity and inclusion. Both programs provide transparent, internationally recognized frameworks for assessing and improving how we operate through an equity lens. By holding ourselves accountable to these high standards of verification and transparency, we aspire to serve as a model for other firms.
LIVING BUILDING CHALLENGE
Dixon Water Foundation Josey Pavilion (certified)
Confluence Park 2023 Austin Central Library 2020 Marine Education Center 2020 Georgia Tech Krone Engineered Biosystems Building 2018 Dixon Water Foundation Josey Pavilion 2016 H-E-B Mueller Market 2016 ASU Health & Wellness Center 2014 Pearl Brewery / Full Goods Warehouse 2013 ASU Polytechnic Academic District 2012 Livestrong Foundation Headquarters 2011 Shangri La Nature Center 2009 Government Canyon 2007 World Birding Center 2006 UTHSC School of Nursing 2006
Soho House | Austin, TX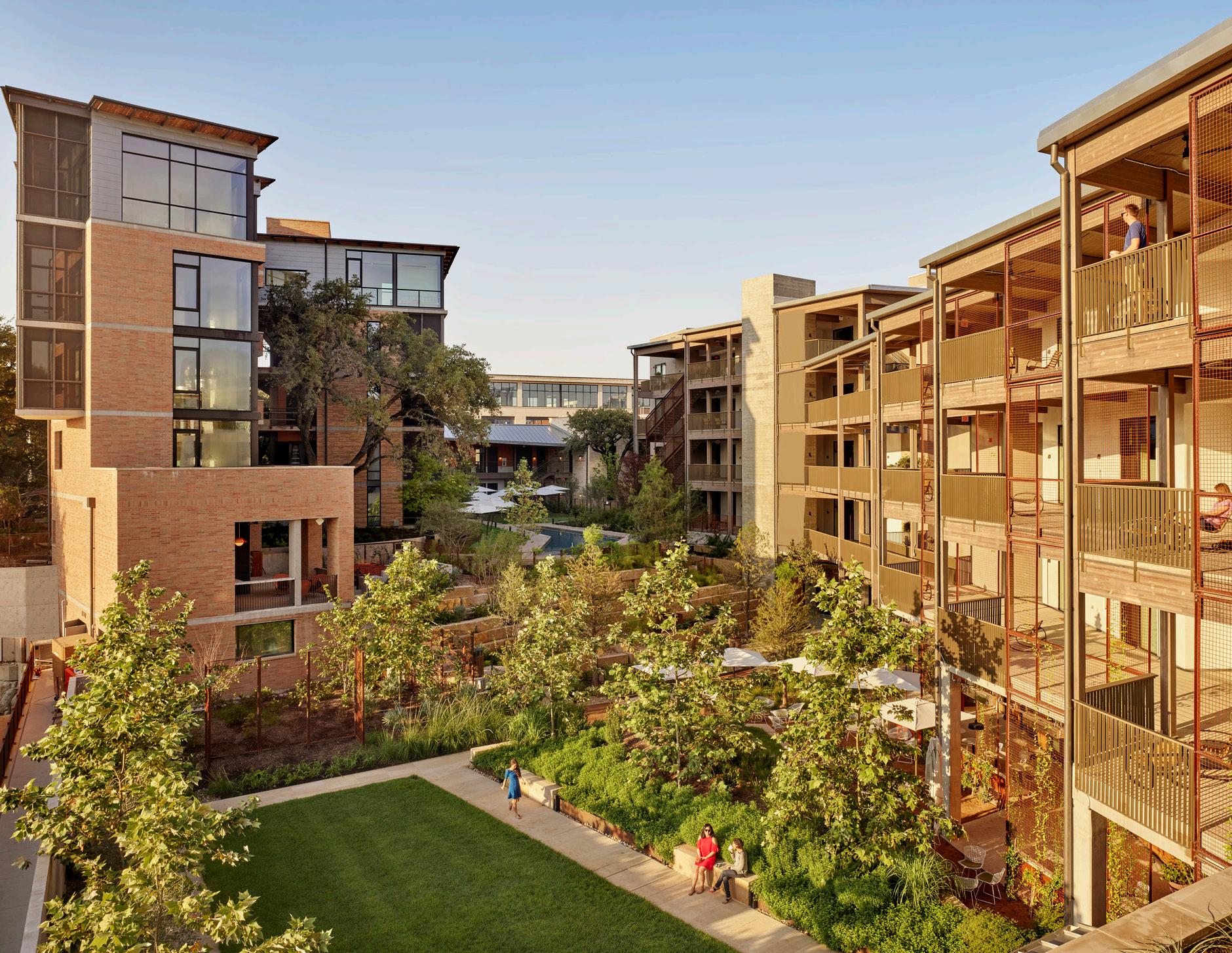 HOTEL MAGDALENA
AUSTIN, TEXAS
This newly completed boutique hotel and residences sits in the heart of downtown Austin. It is the first mass-timber boutique hotel constructed in North America. The structural system reduces the energy of the structural components by using renewable materials and limits the carbon use intensity during the construction process by drastically shortening construction time. The 5-building complex was designed around the existing Live Oak heritage trees, which become the focal points for outdoor gathering spaces and private suite gardens. All rainwater on site will be collected in underground cisterns and will be used to meet all irrigation demands for the landscape, which emulates the spring fed rivers in the Hill Country around Austin.
client/developer
Bunkhouse
project size
70,000 sq. ft.
95 keys
recognition
2022 Texas Society of Architects Design Award
2022 WoodWorks Wood Design Award for Sustainable Wood Design
2021 Architectural Digest Hotel Award
2021 AIA Austin Design Award for Excellence
2021 AIA San Antonio Citation Award
The hotel offers a ground floor restaurant, swimming pool, outdoor pool bar, and event space that all integrate into the central courtyard terraces. Hotel occupants access their rooms via large, outdoor wooden porches, encouraging occupants to spend time outdoors and to engage with other hotel guests
before
HOTEL SAN JOSÉ
AUSTIN, TEXAS
A 1930s motor hotel in an eclectic district of South Austin was transformed from low-rent lodging into a hip, modern destination. Rooms in the existing three buildings were restructured, and a new 16-room building was added in the former parking lot to create a central courtyard. This communal courtyard space serves as an outdoor lobby, lounge and pool area. The hotel has attracted both transient visitors and locals alike, serving as a lively gathering place along South Congress. Harper's Bazaar has named Hotel San José in their list of the Ten Best Hotels in the World.
client/developer
Bunkhouse Group
project size
11,360 sq.ft. unconditioned; 7,240 sq.ft. conditioned
40 keys
recognition
2002 AIA San Antonio Design Award
2001 Texas Society of Architects / AIA Design Award
2001 Interior Design Magazine, Best Small Hotel
Wherever possible, materials were recycled and new materials were specified to address Austin's Green Building Program criteria for sustainability. This urban infill project reduced the area of impervious cover while creating a new Austin destination.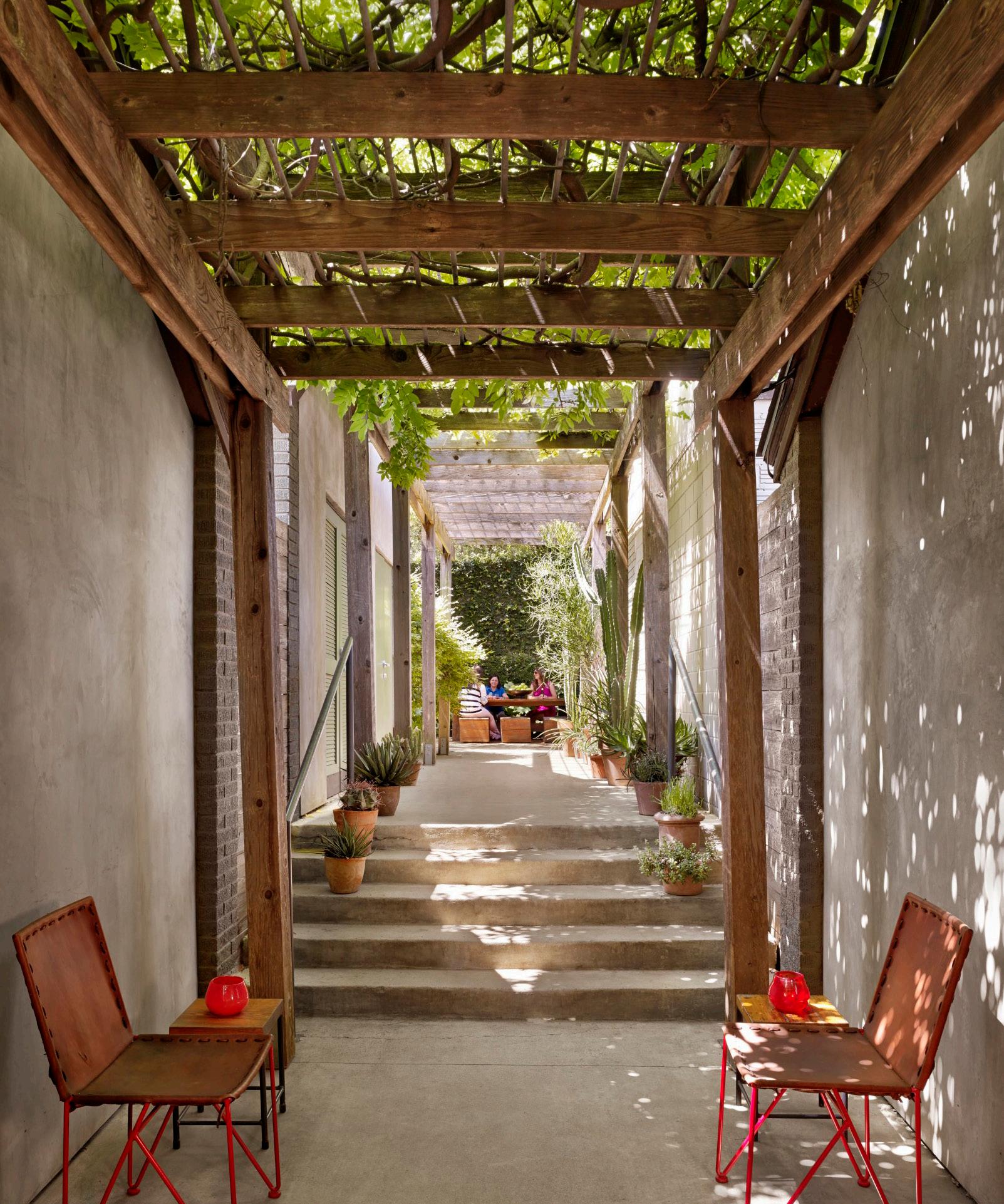 Original architectural details, such as tile shed roofs, parabolic arches, arbors and porches, were repeated throughout the complex. Gardens of native Texas plants tie the buildings together.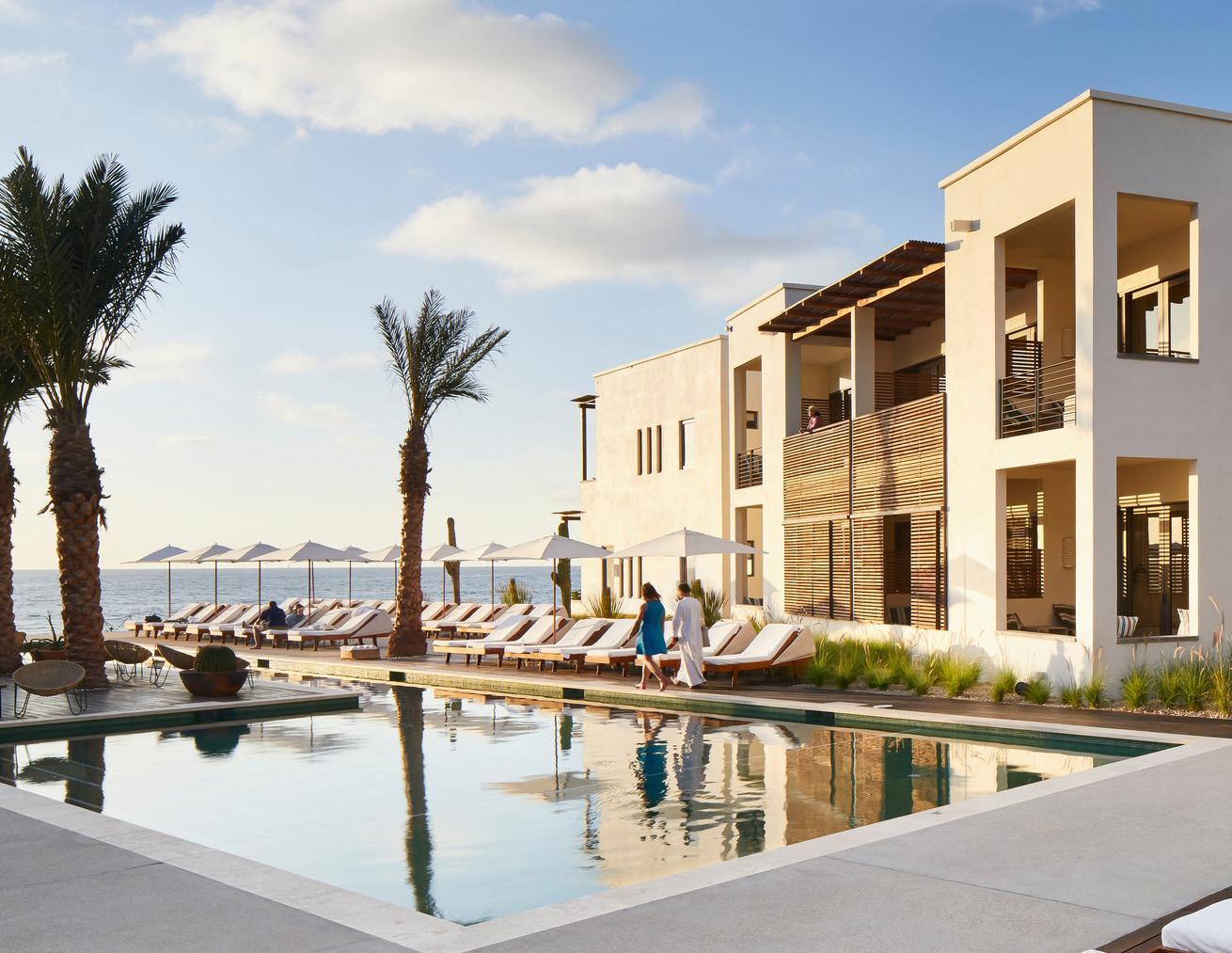 HOTEL SAN CRISTÓBAL
SUR, MEXICO
The historic town, sweeping beaches, palm forests, stoic foothills, local farms, cantinas, and authentic Mexican culture form the ideal ecosystem for a more essential, reverential kind of lifestyle. A collection of three landscapes—beach, farm and hillside—make up Hotel San Cristóbal. Adjacent to a 250-year old fishing village with considerable charm, the design for the boutique hotel combines a thoughtful approach to architecture that keeps the area's inherent, raw beauty. Wide-open views are maintained throughout the complex to its natural surroundings. A nationally recognized team in planning, architecture, education and lifestyle design was assembled to ensure that each aspect of Hotel San Cristobal is skillfully and sustainably crafted.
client/developer
Bunkhouse Group
project size
30,063 sq.ft.
phase1: 28 keys
phase 2: 62 keys
BAJA
Technology and tradition are carefully merged through a thoughtful approach to design and meticulous attention to the time-honored principles of a balanced lifestyle.
AUSTIN, TEXAS CANOPY AUSTIN, DOWNTOWN
The new Canopy Austin, Downtown is a 6-story boutique hotel with 140 guest rooms, underground valet parking and a variety of public programs and shared spaces designed to immerse guests in the neighborhood. A bar and restaurant open up the hotel to vibrant West 6th Street, while a lush pool deck and flexible event room overlook the street from the second level.
The project will be an anchor for Austin's lively West 6th street, further strengthening not only the dynamic arts scene of the area, but also the identity of Austin as a creative urban hub.
client/developer
Scenic Capital Advisors
project size
80,000 sq. ft. conditioned
30,000 sq. ft. unconditioned
The heart of the site is an urban courtyard— a relaxing oasis surrounded by lively spaces.
THE LODGE AT GULF STATE PARK
BALDWIN COUNTY, ALABAMA
The Lodge at Gulf State Park is a green, overnight stay and meeting facility that improves public access to the park's beaches, trails, freshwater ecosystems and other natural resources while serving as a model of resilient, environmentally friendly coastal development.
The design seeks to ecologically enhance the beach's degraded dune habitat to restore approximately 50 acres of dunes in the park through creation of sand movement corridors at strategic locations to allow for the natural buildup of dunes. Native vegetative plantings, including sea oats, sand oats, or seaside bluestem, stabilize dunes and promote increased dune coverage. The project is an early restoration project of the Deepwater Horizon Oil Spill Natural Resource Damage Assessment and is seeking SITES Platinum Certification and LEED Gold Certification.
In association with Sasaki, Rabun & Looney Associates
client/developer
Gulf State Park
project size
350 key hotel
291,000 sq. ft.
4 resturants
The Lodge features guest rooms, restaurants and over 40,000 SF of indoor and outdoor meeting space.
CANOPY HOTEL SAN ANTONIO
SAN ANTONIO, TEXAS
The Canopy San Antonio is a multilevel hive of urban placemaking integrating layers upon layers of site history & context. A collection of balconies, perches & terraces are shaped and oriented toward specific Riverwalk experiences. The tower's massive structure carefully intertwines with the historic stone building which was restored and kept nestled in place within the project's core. This new 21-story boutique hotel dramatically transforms a long neglected urban corner next to the Esquire Tavern in downtown San Antonio.
The design of the contemporary 197-room hotel incorporates and preserves a historic 1860's limestone building and offers and expansive public porch to the adjacent historic Riverwalk. To create a "complete street" the design includes widened sidewalks and ground-floor retail to create an inviting place for pedestrians.
In collaboration with Gensler.
client/developer Private project size
140,242 sq. ft. conditioned
12,308 sq. ft. unconditioned
SOHO HOUSE AUSTIN
AUSTIN, TEXAS
Tapping into Austin's history as a magnet for artists and musicians, Soho House offers a variety of settings for creative inspiration and causal glamor. Handmade and artisan-crafted materials were used throughout the project, grounding the spaces in a rich tactile experience unique to the vibrant South Congress neighborhood. Soho House includes three levels of hospitality with a cinema, intimate event spaces, and a rooftop pool/ club deck totaling 50,000 SF of interior and 12,000 SF of exterior space. Lake|Flato worked in close collaboration with Soho House's design team to execute the project, coordinating the design of the Soho space within the Music Lane shell building, also designed by Lake|Flato.
client/developer
Soho House
project size
49 key hotel
50,000 sq. ft.conditioned
12,000 sq. ft.unconditioned
PALMETTO BLUFF MORELAND VILLAGE OUTFITTER BUILDING
BLUFFTON, SOUTH CAROLINA
The Moreland Village Outfitter Building at Palmetto Bluff in Bluffton, SC is a 7,600 SF building comprised of a retail store, boat launch, canteen/ deli, classroom, office, and adjacent maintenance building. Situated in the Lowcountry of South Carolina, between Charleston, SC and Savannah, GA, Palmetto Bluff is one of the largest waterfront properties on the East Coast, encompassing an extensive nature preserve, with river and ocean access, walking trails, a distinctive food and wine program, and many other amenities.
client/developer
South Street Partners
project size
conditioned space: 4,250 SF
unconditioned space: 2,660 SF
deck/boardwalk area: 5,270 SF
Open decks that connect the various structures to one another also allow visitors to engage with surrounding natural environment.
before
EPOCH WINERY TASTING ROOM
TEMPLETON, CALIFORNIA
Epoch Estate Wines new Tasting Room and Production Winery sits delicately upon the historic 143 acre York Mountain property. A full restoration of this landscape reconnects us to the origins of the site and maintains the spirit of agrarian structures that are subservient to the landscape.
The design scheme brings new life to the original earthquake-damaged winery as the new Tasting Room with a full reconstruction incorporating original heavy timber and site fired brick materials and new roof system to streamline the massing.
Importing fruit from their three locally owned and managed vineyards, the new facilities provide a production capacity of 15,000 cases. The steel framed winery outbuilding "pole barn" houses the fermentation room, cased goods storage and daily support program while barrel storage caves dive into the hillside working both economically and functionally for barrel aging and winery growth.
client/developer
Armstrong Vineyards
project size
16,410 sq.ft. conditioned recognition
2020 Texas Society of Architects' Design Award
2019 AIA San Antonio Merit Award
before images
before images
SAXUM WINERY
PASO ROBLES, CALIFORNIA
Saxum Vineyards is focused on producing Rhone varietal blends from the Templeton Gap/Willow Creek area of Paso Robles. The new tasting room facility is completely subterranean: crushing, fermenting and barrel storage caves; minimizing its presence in the vineyard and from a neighboring residence. Floating outside between the 2 working portals, a green roofed steel-framed pavilion houses lounge space, private offices, lab/kitchen, and restrooms. The vineyard's 71 acres of rocky calcareous soils, steep hillsides, sunny days, and cooling ocean breezes yield world-class fruit, which is sustainably farmed without chemical fertilizers, herbicides, or pesticides and rarely needs supplemental irrigation.
client/developer
Saxum Vineyards
project size
1,995 sq.ft. conditioned
2,815 sq.ft. unconditioned
recognition
2018 AIA San Antonio Honor Award
ALAMO BEER BREWERY
SAN ANTONIO, TEXAS
The 18,000 SF facility is uniquely positioned as a gateway to a growing neighborhood and as a catalyst in the urban revitalization of downtown San Antonio. Buildings are organized around a central gathering space, connecting brewery operations, administrative offices and beer hall structures crafted out of pre-engineered metal systems. Appearing as an extension of the Hays Street Bridge, its red rust-colored and warehouse-like facade, consistent with the building's industrial surroundings, makes the brewery a thread in an existing historic fabric.
client/developer
Alamo Beer Company
project size
18,000 SF construction cost withheld at owner's request recognition
2015 AIA San Antonio Design Award
2016 Architizer A+ Architecture + Details: Metal, Honorable Mention
2016 Best of Downtown Award
before
VIBRANT
HOUSTON, TEXAS
Formerly a 1960s dry cleaners, this reimagined building is now home to Vibrant, a restaurant featuring healthy ingredients located at the heart of Houston's Montrose neighborhood. Envisioned as an "oasis for the community," the project centers around the food and the garden, for which the architecture serves as backdrop. An exterior dining space nestles within a new courtyard carved out of the existing building, and new openings in the walls– one tall along the north, one low and long along the south – bring in natural light, each framing a different garden experience. Inside, banquettes create natural seating zones, and a coffee bar anchors the space, with the kitchen as the terminus. Drawing inspiration from Vibrant's menu of authentic, wholesome food pared down to its original elements, a similar concept was carried out with the restoration of the original building. The design team focused on celebrating the natural, inherent qualities of the building while transforming it into a more daylit, vibrant space. The restaurant's interiors complement both the culinary experience and the quirkiness of the original building.
client/developer
Vibrant Living project size 2,464 sq. ft. conditioned 495 sq. ft. unconditioned
BEST QUALITY DAUGHTER
SAN ANTONIO, TEXAS
Set in a historically significant Victorian house in a bustling commercial district in San Antonio, Best Quality Daughter is a contemporary restaurant that redefines casual modern dining in celebration of the Asian American experience. Influenced by the owner's bicultural identity and her worldly travels, the restaurant design delights in an eclectic, feminine whimsy with both local and global flavor. The restaurant is organized into four distinct dining rooms, informed by the historic architectural layout and loosely inspired by the four auspicious beasts that appear in Chinese constellations. Best Quality Daughter proudly asserts that respecting history can coexist with a defiantly cross-cultural mindset. Set in this former domestic environs, guests feel the immediate intimacy of being welcomed into the home of a sensationally well-traveled friend.
client/developer
Rio Perla Properties
project size
2,500 sq. ft. conditioned
AUSTIN CENTRAL LIBRARY
COOKBOOK BAR & CAFE
AUSTIN, TEXAS
Cookbook Bar and Café celebrates the Austin Central Library's extensive cookbook collection by featuring footnoted culinary and cocktail creations. Cookbook's prime location within the Austin Central Library, overlooking Shoal Creek, serves patrons from both inside the library and from Second Street. The bright and welcoming interiors showcase the chefs preparing farm-to-table food as well as the cookbook collection that visitors can peruse while dining. The interiors enhance the daylight and views in the space while tying in the materials palette used throughout the Austin Central Library. The 50 indoor seats and 75 outdoor seats were chosen to utilize local artisans and create a communal and cordial experience for visitors.
Cookbook's partnership with the Library also extends to other parts of the building. Cookbook operates a coffee cart that is stationed on the Library's 6th floor roof garden overlooking downtown Austin and caters events taking place at the Library. When a chef is giving a talk at the Library's demonstration kitchen, Cookbook features their recipes.
client/developer City of Austin
project
size
sq. ft. conditioned
3,400
BAKERY
LORRAINE
AUSTIN, TEXAS
Over the years, Bakery Lorraine has established a loyal following in San Antonio, and this shop in Austin at the popular Domain district is their first venture beyond their hometown. While the bakery focuses on traditional French pastry techniques for modern life, the restaurant design also balances an appreciation of classic all-day cafes with a contemporary feel. The interior design creates a backdrop to celebrate the work of local San Antonio artists displayed throughout the café, while also highlighting their decadent pastries.
client/developer
Bakery Lorraine
project size
2,557 sq. ft. conditioned
CONFIDENTIAL ISLAND RESORT
BAHAMAS
This boutique hotel project is located on the existing site of a resort previously destroyed by hurricane Dorian. It consists of 30 luxury rental bungalows and 34 private villas for purchase built from cast-in-place concrete and heavy timber framing to ensure a more resilient and longlasting resort. The architectural aesthetic was inspired by the natural ironshore on site as well as the traditional local history of nautical craftsmanship. The siting of upland structures allows for a more porous connection at the water's edge was paired with dense, undisturbed areas of native vegetation to create a guest experience based on the story of the land and place. On-site renewables and landscape-based stormwater controls are built into the site design to ensure a lighter impact to the local ecosystem.
client/developer
Confidential
project size
60 hotel keys
100,000sf
3BR, 4BR and 5BR house
ADDITIONAL RELEVANT EXPERIENCE
SILVER LAKE HOTEL Los Angeles, California
This Boutique Hotel captures the romance of the iconic the mid-century Sunset Strip. The 94-key hotel is structured around three urban courtyards that leverage the mild Los Angeles climate and the Strip's urban vitality. Generous balconies and exterior circulation keep guests connected to the surrounding context and recall regional mid-century modern architecture. The program includes a 4-story hotel over retail, restaurants and event space as well as a 2 story below grade parking structure.
SCHRADER HOTEL Hollywood, California
The 11-story hotel is designed to engage the surrounding neighborhood and connect to Selma Park across the street. The design leverages the unique culture and climate of Hollywood with a rooftop pool and amenity deck, as well as creating an exterior public courtyard to encourage more activity and community engagement. The hotel creates an authentic sense of craft and place with modern materials and artful massing that celebrates views of the Hollywood Hills to the north and takes advantage of views to the south.
DESERT PEARL INN Springdale, Utah
Lake|Flato is currently providing master planning services for the Desert Pearl, a 73-key mini resort that overlooks Zion National Park. The 36 acre phased master plan and concept plan for the expansion of the existing 4 acre Desert Pearl leverages the incredible site to create a unique guest experience.
A variety of residence options, including traditional lodging, river bunks, tree houses, casitas, and yurts, are thoughtfully integrated into the landscape. Communal spaces including an amphitheater, restaurant and spa are linked to the resort by meandering footpaths.
UNIVERSITY OF TEXAS AT&T EXECUTIVE EDUCATION & CONFERENCE CENTER Austin, Texas
The AT&T Executive Center serves as the southern gateway to the University of Texas, welcoming executives, alumni, prospective students and visitors to campus. Developed by the University in conjunction with the McCombs School of Business, the 322,000-square-foot facility contains seven tiered classrooms, a 300-seat amphitheater, multiple break-out rooms, several conference rooms, and an 800-seat ballroom, all complementing the 300-room residential center. A central courtyard provides connections to the outdoors from all primary public spaces. In association with HKS, architect of record; Rabun Rashe Rector Reece, feasiblity study.
DREAM HOTEL Nashville, Tennesee
The Printer's Alley Hotel is a unique adaptive reuse and addition of existing buildings and a new structure in downtown Nashville into a new boutique hotel. The design is inspired by the urban and historic context of Printer's Alley while at the same time creating a new iconic presence for the district. The 10-story hotel will contain 168 rooms with a central gathering lobby and restaurant.
EL COSMICO Marfa, Texas
El Cosmico is a unique concept hotel designed for Bunkhouse Development in Marfa, Texas. Guest rooms are vintage Airstream trailers, yurts and teepees. Open-air communal spaces include an amphitheater and shed pavilions. El Cosmico is part campground, part creative lab, greenhouse and music venue, "a community space that fosters and agitates artistic and intellectual exchange." Lake|Flato collaborated with Bunkhouse owner Liz Lambert and Jack Sanders of Design Build Adventure to master plan and create this one-ofa-kind communal outpost in the West Texas desert.
THUNDERBIRD HOTEL & CAPRI EVENT CENTER Marfa, Texas
A haven for "culture tourists" in the west Texas town of Marfa, the Thunderbird Hotel juxtaposes contemporary design with Western touches. Built in 1959 as a classic horseshoe-shaped, single-story roadside motel, the 24-room structure was gutted and rebuilt to reflect a modern, minimalist aesthetic. Each room opens onto the vine-covered breezeway that surrounds the courtyard. The renovation of this World War I–era storage hangar into a 4,000-square-foot community gathering and event space was the last phase of construction. Inspired by an ephemeral arroyo—Spanish for a dry creek bed—stormwater is quietly controlled through the garden to the town creek.
RIVER CAMPS AT CROOKED CREEK St. Joe, Florida
This 1,500 acre woodland preserve is the site of a new development that restores the native landscape and develops an ecologically sensitive residential community that actively embraces the environment. The RiverHouse, various model cabins, and the Southern Living Idea House are simple structures that facilitate cross ventilation, provide balanced day lighting and rest lightly upon the land. Screened porches, balconies, broad overhangs and elevated first floors all respond to the climate and are used consistently to define the cabins and structures.
RECOGNITION
Lake|Flato has been recognized with more than 300 international, national and regional awards and featured in over 100 books and 250 publications.
INTERNATIONAL
ARCHITIZER A+ ARCHITECTURE AWARDS
Alamo Beer Brewery (Honorable Mention: Metal Details)
Austin Central Library (Honorable Mention: Light)
Bridge House (Honorable Mention: Residential)
Clinton Corners (Architecture+Prefab Jury Winner)
Confluence Park (Cultural+Pavilions)
Dixon Water Foundation Josey Pavilion (Sustainability)
House Zero (Architecture + New Technology & Experimental Design)
Marine Education Center (Architecture + Sustainability)
ARCHDAILY TOP 100 PROJECTS IN THE WORLD
ASU Health Services Building
Dixon Water Foundation Josey Pavilion
CHICAGO ATHENAEUM AMERICAN ARCHITECTURE AWARD
Aegean Pool House
Confluence Park
Dixon Water Foundation Josey Pavilion
Holdsworth Center
Hotel Magdalena
Ishawooa Mesa Ranch
Knox College Whitcomb Art Center
Marfa Ranc h
Marine Education Center
C ONGRESS FOR NEW URBANISM GLOBAL CHARTER AWARD
Pearl Brewery Redevelopment
DEZEEN AWARDS
House Zero (Top 10 Architecture Projects of 2022)
Marfa Ranch (Rural House of the Year, Top 10 Houses of 2022)
FAST COMPANY MOST INNOVATIVE ARCHITECTURE
House Zero (Finalist in Spaces & Places 2022)
LOCUS FOUNDATION GLOBAL AWARD FOR SUSTAINABLE ARCHITECTURE
Lake|Flato Architects
INTERIOR DESIGN MAGAZINE HALL OF FAME
Lake|Flato Architects
INTERIOR DESIGN BEST OF THE YEAR DESIGN AWARD
Canopy Hotel San Antonio (Chain Hotel)
S TEPHEN R. KELLERT BIOPHILIC DESIGN AWARD
Dixon Water Foundation Josey Pavilion
TIME MAGAZINE
Austin Central Library (World's Greatest Places)
House Zero (Best Invention in Design 2022)
ULI INSTITUTE GLOBAL AWARDS FOR EXCELLENCE
Pearl Brewery Redevelopment
THE WOOD PRODUCTS COUNCIL WOOD DESIGN AWARD FOR GREEN BUILDING
Dixon Water Foundation Josey Pavilion
WOOD DESIGN & BUILDING AWARD
Marine Education Center at the Gulf Coast Research
Laborator y
NATIONAL
AIA ARCHITECTURE FIRM AWARD
Lake|Flato Architects (2004)
ARCHITECT 50, TOP U.S. FIRMS
Lake|Flato Architects - 1st Overall (2019)
AIA INSTITUTE HONOR AWARD
Armstrong Oil & Gas
Carraro Residence
Confluence Park
Hill Country Jacal
Hog Pen Creek Residence
Lasater Residence
Marine Education Center
Pearl Brewery Redevelopment
World Birding Center
AIA/HUD COMMUNITY BUILDING BY DESIGN AWARD
Carver Academy
ARCHITECT'S NEWSPAPER BEST OF DESIGN AWARDS
Courtyard House (Honorable Mention)
AIA COMMITTEE ON THE ENVIRONMEN T TOP TEN GREEN PROJECTS
Arizona State University Health Services Building
Arizona State University Polytechnic Academic Buildings
Austin Central Library
Confluence Park
Dixon Water Foundation Josey Pavilion
Georgia Tech Krone Engineered Biosystems Building
Government Canyon Visitor Education Center
H-E-B Muller Market
Knox College Whitcomb Art Center
Livestrong Foundation Headquarters
Marine Education Center
Pearl Brewery Redevelopment
Shangri La Botanical Gardens & Nature Center
University of Texas at Houston School of Nursing
World Birding Center
AIA/ALA LIBRARY BUILDING AWARD
Austin Central Library
Great Northwest Branch Library
ALA/IIDA LIBRARY INTERIOR DESIGN AWARD
Austin Central Library
FAITH & FORM, RELIGIOUS ARCHITECTURE AWARD
Congregation Agudas Achim
Friends Meetinghouse
AIA COMMITTEE ON ARCHITECTURE FOR EDUCATION
Arizona State University Polytechnic Academic Buildings
Carver Academy
Cranbrook Kingswood Girls Middle School
Francis Parker School
Indian Springs School
Knox College Whitcomb Art Center
St. John's College Levan Hall
AIA HOUSING AWARD
1221 Broadway
Blue Lake Retreat
Hog Pen Creek Residence
Lake Austin Residence
Lake Tahoe Residence
ASLA HONOR AWARDS
Arizona State University Polytechnic Academic District
Houston Arboretum
Mill Springs Ranch
Phil Hardberger Park Urban Ecology Center
Shangri La Botanical Gardens & Nature Center
West Texas Ranch
AMERICA BY DESIGN WINNER (SEASON ONE)
Marine Education Center
AMERICAN INSTITUTE OF STEEL CONSTRUCTION
AWARD
Armstrong Oil & Gas Headquarters
Arizona State University Polytechnic Academic Buildings
Cutting Horse Ranch
Government Canyon Visitor Center
Triple-S Steel Supply Company
BUILDER'S CHOICE AWARDS
Lake|Flato (Hall of Fame for Design Excellence Award)
House Zero (Project of the Year 2022)
Miller Porch House (Project of the Year)
Mill Springs Ranch (Custom Home Design Award)
1221 Broadway Redevelopment (Design & Planning Award)
Hacienda Ja Ja (Design & Planning Award)
LC Ranch (Design & Planning Award)
Story Pool House (Design & Planning Award)
CONGRESS FOR NEW URBANISM EMERGING PROJECT
Montgomery Park Master Plan
ECOHOME AWARD
Hacienda Ja Ja
METAL ARCHITECTURE DESIGN AWARD
Knox College Whitcomb Art Building
Spurs AT&T Center
METROPOLIS PLANET POSITIVE AWARDS
Confluence Park (honoree)
RESIDENTIAL ARCHITECT DESIGN AWARD
1221 Broadway Redevelopment
Broadford Farm Pavilion
Dog Team Too Loft & Studio
Hacienda Ja Ja
LC Ranch
RESIDENTIAL DESIGN MAGAZINE AWARDS
Aegean Pool House
Courtyard House
Verde Creek Ranch
SOCIETY FOR COLLEGE & UNIVERSITY PLANNING
AWARDS
Knox College Whitcomb Art Center
USG Biomedical Sciences & Engineering Education
Facility
TILT-UP CONCRETE ASSOCIATION AWARDS
Lake|Flato Architects (Irving J. Gill Progressive Architect Award)
Confluence Park (Achievement Award)
U.S. WOODWORKS WOOD DESIGN AWARD
Friends Meetinghouse
Hotel Magdalena
LSU Hilltop Arboretum
The Soto
University of Denver Career Achievement Center
Museum of Fine Arts, Houston Center for Conservation
REGIONAL
AIA ARIZONA DESIGN AWARD
Arizona State University Health Services Building
AIA ALBUQUERQUE HONOR AWARD
New Mexico School for the Arts
AIA AUSTIN DESIGN AWARD
Blue Lake Retreat
Austin Central Library (with Sustainability Commendation)
Holdsworth Center
Hotel Magdalena
Witte Museum
AIA COLORADO DESIGN AWARD
Armstrong Oil & Gas Headquarters
University of Denver Career Achievement Center (Award of Merit)
AIA GEORGIA DESIGN AWARD
Georgia Tech Krone Engineered Biosystems Building
Georgia Tech West Village Commons
AIA INDIANA DESIGN AWARD
Prindle Institute for Ethics
AIA MARYLAND DESIGN AWARD
USG Biomedical Sciences & Engineering Education Building
AIA MISSISSIPPI DESIGN AWARD + JURY AWARD
Marine Education Center at GCRL
AIA NEVADA DESIGN AWARD
Horizon House
AIA NEW MEXICO DESIGN AWARD
New Mexico School for the Arts
AIA SAN ANTONIO DESIGN AWARD (2006-2020)
1221 Broadway Redevelopment
Aegean Pool House
Agudas Achim Synagogue
Alamo Beer Brewery
Armstrong Oil & Gas Headquarters
ASU Polytechnic Academic District
ASU Health Services Building
Bellaire Residence
Big Bend Fossil Discovery Exhibit
Blue Lake Retreat
Bluffview Porch House
Bridge House
Briscoe Western Art Museum
Broadford Farm Pavilion
Brown Residence
Clinton Corners Residence
Confluence Park
Courtyard House
Cranbrook Kingswood Middle School for Girls
Dixon Water Foundation Josey Pavilion
Dunning Residence
Epoch Winery
Full Goods Warehouse
Georgia Tech Krone Engineered Biosystems Building
Georgia Tech West Village Commons
Goat Mountain Ranch
Government Canyon Visitor Education Center
Hillside House
Hog Pen Creek Residence
Holdsworth Center
Hotel Magdalena
Hotel San Jose
Indian Springs School
Knox College Whitcomb Art Center
Lake Austin Residence
Lake Tahoe Residence
Livestrong Foundation Headquarters
Marine Education Center at the Gulf Coast Research Laboratory
Midtown Arts & Theater Center, Houston (MATCH)
Mill Springs Ranch
Museum of Fine Arts, Houston Center for Conservation
Naples Botanical Garden Visitor Center
New Mexico School for the Arts
Olmos Park Residence
Pearl Brewery Redevelopment
Phil Hardberger Park Urban Ecology Center
SK Ranch
Sunshine Cottage School for Deaf Children
St. John's College Levan Hall
Story Pool Pavilion
The Prow
Triple S Steel
USG Biomedical Sciences & Engineering Education Facility
UT Austin Harry Ransom Center
UT Houston, School of Nursing
Verde Creek Ranch
Vibrant Fairview
World Birding Cente r
AIA SAN ANTONIO COTE AWARD
Georgia Tech Krone Engineered Biosystems Building
AIA SAN DIEGO DESIGN AWARD
Francis Parker School
AUSTIN GREEN AWARDS
Austin Central Library
Holdsworth Center
AUSTIN BUSINESS JOURNAL COMMERCIAL REAL ESTATE AWARDS
Music Lane
SAN ANTONIO BEST OF DOWNTOWN AWARD
Alamo Beer Brewery
Briscoe Western Art Museum
SAN ANTONIO GREEN BUILDING AWARD
1221 Broadway
Phil Hardberger Park Urban Ecology Center
TEXAS SOCIETY OF ARCHITECTS DESIGN AWARDS
1221 Broadway Redevelopment
ASU Polytechnic Academic District
ASU Health Services Building
Armstrong Oil & Gas Headquarters
Brown Residence
Carraro Residence (25 Year Honor Award)
Confluence Park
Courtyard House
Cutting Horse Ranch
Dixon Water Foundation Josey Pavilion
Dog Team Too Loft and Studio
Epoch Winery
Epoch Tasting Room
Friends Meetinghouse
Full Goods Warehouse
Government Canyon Visitor Education Center
Hog Pen Creek Residence
Hotel Magdalena
Hotel San Jose
Lake|Flato Architects 311 Third Street San Antonio, Texas 78205 www.lakeflato.com 210.227.3335 July 23