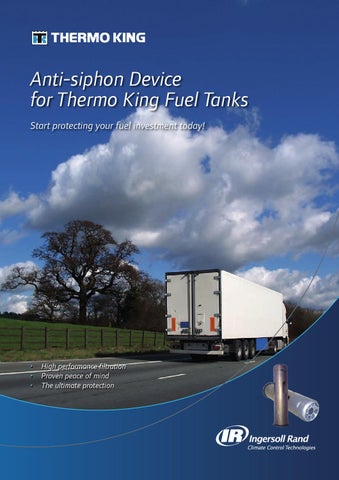 Anti-siphon Device for Thermo King Fuel Tanks Start protecting your fuel investment today!
• • •
High performance filtration Proven peace of mind The ultimate protection
---
Anti-siphon Device – Superb Fuel Safety In today's competitive transport business, keeping fuel costs low is high on everyone's priority list. As the cost of fuel increases, so do the instances of fuel theft through siphoning. Trucks, with their large fuel tanks, are most vulnerable. In order to prevent siphoning of fuel from fuel tanks, Thermo King introduces an advanced anti-siphon device for plastic as well as steel tanks. Designed for high performance filtration and optimum fuel safety, this anti-siphon device is a must have to protect your fuel investment!
Your benefits: • High quality filtration. • Prevention of any attempt to illegally siphon fuel from the fuel tank. • Available for plastic and steel Thermo King fuel tanks.
Product
*
Part number
TK Plastic Fuel Tank
130960
TK Stainless Steal Tank
130878
For more information please contact:
www.ingersollrand.com www.thermoking.com Ingersoll Rand Climate Control Technologies NCI Building - 4th Floor, Culliganlaan 1B, 1831 Diegem, Belgium.
© 2008 Ingersoll-Rand Company Limited TK 60188-8-PL EN (06-2008)
Anti-siphon Devicefor Thermo King Fuel Tanks - Thermo King - KH OneStop A/S  
Anti-siphon Device for Thermo King Fuel Tanks - Start protecting your fuel investment today! - Thermo King - KH OneStop A/S
Anti-siphon Devicefor Thermo King Fuel Tanks - Thermo King - KH OneStop A/S  
Published on Mar 14, 2013  
Anti-siphon Device for Thermo King Fuel Tanks - Start protecting your fuel investment today! - Thermo King - KH OneStop A/S