Kawartha Lakes' Premier News Magazine * May 2023
by their nature, are very complex. This is especially true for hardworking farm families, as these divorces involve dispersing land, livestock, and machinery that cannot be easily divided. You need a firm that has experience in dealing with divorces involving the division of farm land and equipment. The Riley Divorce & Family Law Firm knows how to guide you through marriage dissolution so that you can protect your children and minimize your legal and financial risks. Isn't it time to move on with your life? www.therileyfirm.ca 223 Kent Street West, Lindsay 705.535.0996 Don't lose the farm! Kawartha Lakes divorce lawyer, Paul Riley Get a free consult today.
Divorces,
Publisher:
Roderick Benns
Editor-at-Large/Business Development
Rebekah McCracken
Contributing Editor: Trevor Hutchinson
Contributing Writers:
Denise Waldron
Ian McKechnie
Geoff Coleman
Ginny Colling
Trevor Hutchinson
Roderick Benns
Art Direction + Design:
Barton Creative Co.
Christina Dedes
Photographers:
Sienna Frost
Web Developer: Kimberly Durrant Published By Fireside Publishing House Printed By Cofax Printing
Please send advertising & editorial inquiries to Roderick Benns at:
The Lindsay Advocate 1 Russel Street E. Lindsay ON, K9V 1Z7
publishing corrections or advertising credit for subsequent issues. The Publisher reserves the right to reject, revise, cancel, omit, discontinue or even decline to print advertising without reason or liability, & without notice. The Publisher has made every effort to ensure information contained herein was accurate at press time. The Publisher does not assume & hereby disclaims any liability to any party for damage, loss, or disruption caused by errors or omissions.
The business of journalism must be part of a new ecology — one that is not separate from community, pretending always to be objective — but rather one that is deeply embedded in community, its intentions made plain. We advocate for a community of prosperity, socially and economically, with no one left behind. — Roderick Benns, Publisher Our vision May 2023 * Vol. 6 * Issue 60 EVERY ISSUE Bill 23 could spell big trouble for wetlands Feature 12 Feature 28 The curtain rises on an ambitious season for theatre and performances across city Cover 18 The hope and challenge of finding a good relationship Letters to the Editor 4 * UpFront 6 * Benns' Belief 9 Great Reads 37 * Cool Tips for a Hot Planet 39 * Just in Time 40 The Affordable Kitchen 42 * Trevor's Take 46 To advertise in the Advocate please contact us by telephone at (705) 341-1496 or by email at kawarthalakespublisher@gmail.com The Advocate is published monthly & distributed through diverse businesses & locations throughout Kawartha Lakes, North Durham & southern Haliburton County. We are a proud member of the Lindsay & District, Fenelon Falls & Bobcaygeon Chambers of Commerce. PRIVACY POLICY: The Lindsay Advocate is independently owned & operated. The opinions expressed herein are the views of the contributors & do not necessarily reflect those of this magazine. Photos, text & art work contained in The Lindsay Advocate are copyrighted & may not be published, broadcast or rewritten without the express permission of the Publisher. Liability for incorrectly displayed advertising is limited to
to the editor
Restricting cars is a common, valuable approach in downtowns
What a great idea Wayne Medford has for downtown Lindsay in a recent letter to the editor.
Active Transportation Advocates Kawartha lakes (ATAKL) sees the widening of sidewalks, creation of bike paths and restricting parking in the downtown core as highly desirable. Recognizing that a good part of Kent Street has just been redeveloped, this approach could be applied to adjacent streets in order to appreciate the same effect.
Restricting cars in central historic, architecturally important and pleasing areas is a common theme and is highly desirable. We need to start thinking about our city in a less auto-centric way but a more pleasing and convenient way for active transportation (walking and cycling).
This would also be of benefit commercially for downtown businesses. In Europe, small cafes and restaurants and small shops flourish along these automobile-restricted streets. Wider sidewalks and bike lanes draw people downtown and allow them to linger longer in an inviting, pedestrian-friendly environment.
Not only in Europe do we see this but also in our own capital, Ottawa. The pedestrian mall of Spark Street, once a street with lots of traffic, is now a haven for walkers and a source of income for numerous small businesses. Many other municipalities across the province and across the country have adopted this approach with success.
Bill Steffler, Lindsay
Keeping dog excrement off school playgrounds
Recently I was walking my dog in the playing field of one of our local high schools at dismissal time. There was much activity as students made their way to the parking lot enjoying the camaraderie of life at high school. Suddenly I heard "get your dog off the playing field!" It didn't take me long to realize that statement was directed at me. I wish I had been close enough to respond.
Yes, I am a dog walker in the track and sports field area of the high school but I do carry identifiable bags in my pocket to do the required pick-up when necessary. However, I also find myself using those bags to clean up the disgusting remains that other dog owners have neglected. I am shocked to find these left far too frequently for some
"Don't you like to write letters? I do because it's such a swell way to keep from working and yet feel you've done something."
— Ernest Hemingway
innocent shoes to discover. Though I clearly appreciate the large space to exercise my own energetic pooch, I would certainly respect the decision if I was to discover a newly posted official sign stating no dogs allowed.
Dog owners, please enjoy this grassy space to interact with your energetic canine buddy (but) show the courtesy of leaving no nasty proof that you were there. This is a place for children to play, enjoy sports and just hang out with friends.
Garry Schubert, Lindsay
The Advocate cares
Your articles always feel like they are written by people who really care. My wife goes to the store and buys a birthday card and then buys a stamp. She then writes a handwritten note and gives it to me to write a note and then puts it into an envelope and addresses the envelope. She then puts the stamp on the envelope and then mails the birthday card to one of our children or grandchildren.
We then get a picture of our grandchild, the recent Declan, who lives in Germany, holding the card. We have the same emotional feeling reading the Advocate. Happy fifth birthday.
Robert and Dena Gilmour, Scarborough
The Advocate welcomes your letters. We do not publish anonymous letters unless it's a matter of public importance and/or someone risks harm by writing us. We publish under strict guidelines & only if we can verify the person's identity. Simply email kawarthalakespublisher@gmail.com.
Keep your letters to 200 words or less.
lindsayadvocate.ca
4
Job-seeking journey
Thank-you for sharing your employment seeking journey thus far. (Re: Get a job they say, online Advocate.) I have often heard that there are tons of jobs out there, but still a lot of unemployed who do not want to work. Your story is refreshing because there are people, such as yourself, who are actively doing the best they can to find the employment that is so needed and desired. All the best as you persevere in your continued search.
Lance Mitchell, Lindsay
Short-term rental allowance creates hotel-like conditions
We need to stop the short-term rentals so people around them can get their lives back. I do not want my tax dollars wasted on police officers tending to these disastrous places. Their time could be better spent fighting crime. This needs to stop as people should not have to live next to a hotel.
Brad King, Lindsay
Summers are noisy with short-term rentals
I totally support Aaron Sloan (manager of municipal law enforcement and licencing) on his proposal for short-term rentals. The city has to step up regarding the STRs. The last couple of summers were pretty noisy around the lake, specifically on the weekends. I feel sorry for the residents right next to one of the noisy ones.
Gerhard Diefenbach, Kawartha Lakes
Short-term rentals do not benefit community: Reader
The number of short-term rentals owned by corporations is more than one would think. And these corporations are absent. No oversight or control of what happens on the property and a lack of any concern. It is against the zoning bylaw to have these properties owned by corporations in residential neighbourhoods, but try and get an answer to that from council? If no owner is present on the rental property, then STRs should not be allowed. And I'm so tired of hearing how much STRs benefit the surrounding towns. These renters bring everything they need for their stay. There's no actual benefit to the community or neighbourhood.
Suzanne Alden, Kawartha Lakes
Re: Our Turn to Grow, Benns' Belief in the April Advocate
So much of what I read is about luxury housing suggesting that monied people from outside the area are buying here (possibly a second home). We need affordable housing for the people currently living and working here. The new amenities that will come with the luxury housing will require workers who will need housing. I note the advertising for these $2 million dollar homes mentions the nearness of the Victoria Rail Trail. Hopefully purchasers are aware of their surroundings and do not try to change them.
Sandra Junkin, Kawartha Lakes
Send
If we grow, we'll need more affordable housing
5
to be featured here!
us your thoughts
"Open the Door" to a new life for abused women and their children
Lindsay and Bobcaygeon Lawn Bowling Clubs looking for new members
Women trying to leave abuse behind can find help at Women's Resources 24/7 emergency shelter.
But eventually those women need their own home. The Open the Door campaign is raising money to create a second-stage housing program. Construction is underway on safe, secure, affordable apartments in Lindsay that will help women rebuild their lives and break the cycle of violence for their children.
"It took me years to escape my abusive partner and I didn't know where we would land until someone mentioned Women's Resources to me and I reached out and they caught us," said one former shelter user.
Nearly $2 million of the cost is covered by financing and government grants. The campaign target is $500,000, and more than $201,000 has already been raised.
If you've got an image of stuffy seniors, all in white clothing, lawn bowling, then you've never seen the sport lately, according to past president of the Lindsay Lawn Bowling Club, John Harper.
As both the Lindsay and Bobcaygeon clubs gear up for another season they're looking for new members and Harper emphasizes the pastime has changed into a relaxing leisurely pursuit.
"Lawn bowling is a multigenerational sport. In fact, most people who start at an older age wonder why they didn't start earlier in life," says Harper.
Most lawn bowling clubs are also very social and provide opportunities for get-togethers both on and off the green. This might include taking part in curling bonspiels or club members going out for dinner together.
The clubs are also working on providing indoor lawn bowling soon.
For more information or to make a donation, visit womensresources.ca or contact Carolyn Fox at 705-324-7649, ext. 223 or cfox@womensresources.ca
lindsayadvocate.ca
For more information about the Lindsay club call John Harper at 705-934-1967 or in Bobcaygeon call Larry Holden at 705-738-5290.
There's a major social component to lawn bowling, say organizers.
Women's Resources must raise thousands of dollars for their new emergency shelter.
* UPFRONT * 6
Wild Acres offers fresh cut local flowers for all occasions
McColl takes over as president of Lindsay Chamber
For beautiful flowers grown locally and without the use of pesticides, Wild Acres near Omemee is just the place for you, says owner Kim Callaghan.
Along with her husband, Theo Schoenmakers, Kim opened Wild Acres in 2021. Both Kim and Theo have farming backgrounds, and they thought flower farming would fill an important local niche.
Wild Acres offers weekly bouquet subscriptions, arrangements, bouquets, and special event flowers. They even sell to local florists. "We grow with the environment in mind," says Kim. She points out that the natural way in which the flowers are cultivated results in more natural habitat for insects, birds and wildlife.
The flowers are picked the morning of, or the evening before any event and then made into bouquets. Kim's favourite part of growing flowers? The joy that Wild Acres bouquets bring to all her customers.
To reach Wild Acres visit wildacresflowers.ca or email wildacres.ont@gmail.com
A long-time resident of Kawartha Lakes, Dawn McColl has become the newest president of the Lindsay + District Chamber of Commerce (LDCC). McColl takes over from Roderick Benns who was president of the chamber for the past three years. Benns will now serve as past president for one year.
McColl is currently the assistant executive director at VCCS Employer Services based in Lindsay. She has worked in the employment services field for more than 16 years in a variety of roles and she is also the past chair of the Workforce Development Board.
The new president says she is excited about the LDCC's year ahead.
"I am looking forward to supporting the board in this new role as we continue to provide leadership, service and advocacy for our Chamber members."
The rest of the newly elected LDCC board includes Waylon Skinner, vice president, Shana Kelly, secretary, Samantha Burke, treasurer, and Dr. Brett Goodwin, Joby Lake, and Janet Di Bello serving as directors.
Kim Callaghan at her Omemee-area property.
Incoming LDCC president, Dawn McColl. Photo: Sienna Frost.
7 * BUSINESS UPFRONT *
7th, 2023
Annual Silver Sponsor: Lakeland Funeral & Cremation Centre
Hero Sponsors: Kawartha Dairy RemedysRx Lett Architects Inc. Help raise funds for our local grief and bereavement services while enjoying the Trans Canada Trail Learn more at www.hikeforhospice.ca or call 705-324-7323 x164 Presented By: Not the library from your childhood (but we still love doing storytime) D I S C O V E R E X P L O R E B E E N T E R T A I N E D k a w a r t h a l a k e s l i b r a r y . c a M i l l i o n s o f o p p o r t u n i t i e s O n e e x c e p t i o n a l l i b r a r y . Celebrating 25 years Proactive Planning for a solid future 344 Logie Street, Lindsay, ON K9V 0N4 705.878.3530 / 877.854.2919 / mabeeandassociatespwm.com Investors Group Financial Services Inc. 8
Auks Lodge, Fleming College, Lindsay Sunday, May
Hike for Hospice 2023 19th
Hike
Ah, spring. The smell of lilacs in the air. The hopeful sound of children's laughter. In town, the buzz of civilized street cleaners and the urban medley of voices in cafes.
And then there's the dark side of spring.
First, I highlight the young and restless Mensa candidate who chooses to ride his mini dirt bike by my home, in town, on both the street and sidewalk. It's an auditory onslaught that leaves one with a lingering sense that maybe humanity won't be okay after all.
The same ilk – brothers in idiocy –are those who tour their unnecessarily loud cars and trucks down Kent Street, a stain on the return to patio life so many crave in late May and into summer. It's as if the sounds their cars make are intended to show their virility. We get it. You wish to impress your peers with your ample exhaust system and find a mate via your suspect music tastes filtered through your enlarged stereo speakers. Now go away. May I suggest North Bay? (Sorry North Bay, I chose you at random. I'm sure you have your own issues.)
Nothing to do with spring but since I'm feeling a little cranky as I write this, let's get some other things off my chest.
Online readers of the Advocate — Thank you for reading. However, the key word in those previous four words is 'reading.' That doesn't just mean the headline. Please do not ask us ques-
By Roderick Benns Publisher
tions on The Facebook that are clearly answered within the story. No one on this team will answer them – it's a rule we have. Instead, underneath your probing query we will simply write "this question was answered in the article."
Next! For the love of God, stop saying "the Kawartha Lakes." It's just Kawartha Lakes. We don't even need to say "City of" any longer. We don't say City of Toronto or City of Peterborough all the time. Even the City of Kawartha Lakes is trying to use just Kawartha Lakes more often. We live in Kawartha Lakes, period. Unless you mean to refer to an area that encompasses Peterborough, only then should you say 'the' Kawartha Lakes because both municipalities share the Kawartha Region.
If you just mean our municipality, then it's just Kawartha Lakes.
Now let's talk about parking. From my booth at Smitty's last month I observed an octogenarian who attempted to back up into a parking space no less than five times. The thing is, I don't mean five tries on the same space. I mean he tried five different parking spaces and only on the fifth space did he feel he had succeeded. Meanwhile, other drivers had no idea what to do except stare in trepidation at this vehicular chaos. Young or old, stop backing into parking spaces if you don't know what you're doing.
With that off my chest, I'm going to try and enjoy the lilacs and a latte.
All local. All Canadian. 705.324.7574 nesbittsmeatmarket.com Grilling season
here! In the Cambridge Mall Downtown Lindsay STEAKS BURGERS SAUSAGES FRANKS KABOBS & MORE!
is
9 * BENNS' BELIEF *
Time to get a few things off my chest
Wetlands should be everyone's concern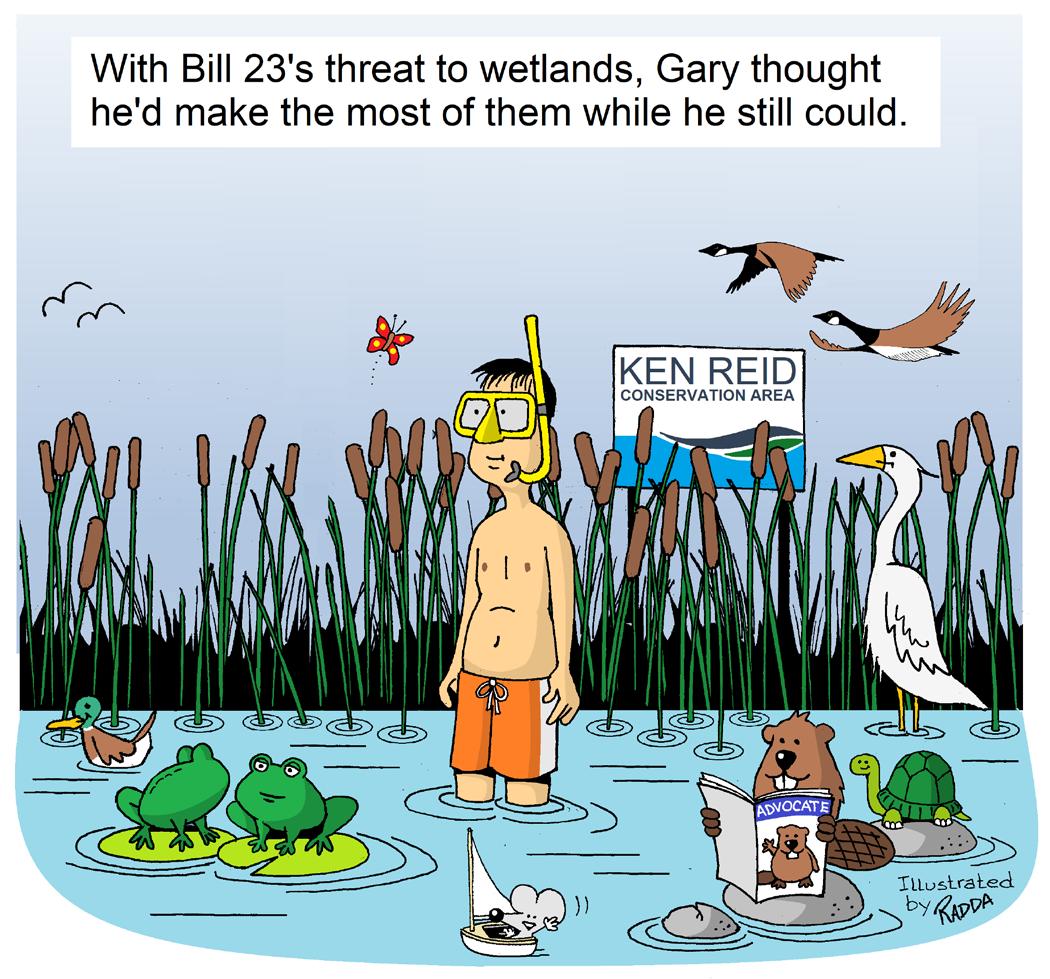 Ever since the province passed their not-so-poetically entitled More Homes Built Faster Act, it's as if wetlands and conservation areas in Ontario are now an afterthought.
As we feature in this month's Advocate, wetlands — both local and provincial — are in decline, mainly because of population sprawl.
Robert Pye, executive director of Watersheds Canada, points out that wetlands are like sponges, soaking up excess rain and snow melt. And since they release it slowly, this helps maintain our stream flows and aquifer levels during droughts.
If we keep paving over these sponges, there will be less absorption and more proclivity for flooding.
Angela Coleman is the general manager of Conservation Ontario, the group that advocates for all 36 conservation authorities. As she told CBC News last year, the new bill could mean interconnected watersheds, wetlands and natural areas are dealt with in a fragmented way since more power is being shifted to municipalities which will have their own interests top of mind.
Coleman said there could be "unintended consequences" if the work done by 36 conservation authorities shifts to 444 municipalities of different sizes and staffing levels. "Municipal boundaries aren't necessarily the most effective way to plan for, for example, how upstream development would impact the downstream community," she told CBC.
As Ontario Nature's website points out, wetlands enhance landscape resilience against many of the anticipated impacts of climate change, too, including flooding, drought and the loss of biodiversity. They also play a critical role in carbon storage.
Since they act as a kind of natural infrastructure, wetlands contribute over $50 billion in economic benefits for Ontarians each year.
There's still time for the government to understand this and make the needed legislative changes to protect our environment. We certainly understand the need for more places to live; this is not in question. But there are ways to enhance our housing supply without causing environmental damage on this scale.
Church hasn't
been welcoming
Re: The uncomfortable pew: Declining church attendance in Kawartha Lakes, May Advocate. Many church activities are held during the day, such as bible study which is catering more to the elderly as the younger demographics are unable to attend due to work.
I have started to attend a church in Lindsay and each time I have gone nobody has spoken to me, given me a program, or even said welcome. Not coming across as a real warm atmosphere. How are the people going to want to attend if it appears that the church is happy with the population that they already have and don't reach out to those new people who may be interested in attending?
lindsayadvocate.ca
10
— Tamara Schneider, Kawartha Lakes * EDITORIAL *
* SPOTLIGHT *
Know when to leave the battlefield when it comes to your mental health
With the first week of May being Mental Health Week, it's important to consider what we've been taught about perseverance and what that might mean in practice – especially for our mental health.
A day after her arranged marriage, a woman we'll call Mira suddenly realized there had been a big mistake. Her husband had a problem with addiction. Having been raised in a conservative family, she had learned to honour her wedding vows. For over 15 years, she made every effort towards her husband's rehabilitation, but every effort failed. He was not cooperating. He became a chronic source of financial and emotional exhaustion. Mira often wondered how much longer she could continue honouring her wedding vows, or whether she should give-up and move-on with her life.
During her early schooling, she had absorbed motivational messages about never giving up and working until goals were accomplished. This was the secret of success in life, according to what she had learned. Her parents also reinforced this message of perseverance.
Mira's teachers gave her two other examples. The first example pertained to her country getting its freedom from colonizers. The freedom fighters kept on fighting for more than 100 years, against the colonial rulers. Eventually, the rulers gave up. Mira's country got its freedom.
In the second story, a king was running away from the battlefield. While hiding in a cave, he observed a spider trying to climb the wall. The spider kept on falling but it did not give up. Eventually, the spider made it to the top. Seeing the spider's victory, the king returned to the battlefield and kept on fighting with his solders until they finally won.
I, too, believed in such motivational anecdotes until I came across a man we'll call Tim. His situation was a no-win scenario. He was working for a boss who took credit for all successes and blamed his subordinates for all failures.
The boss clearly had his own psychological issues of insecurity, and an inferiority complex. His threshold for fear or anxiety was low. Furthermore, this boss was not going to move or retire soon. After discussing several options with Tim, I suggested he move on to another organization where he might be more appreciated for his knowledge, experience and skills. Why continue to work for someone who is emotionally wounded? There was no value in maintaining his seniority if he was unhappy and burnt out from the efforts. In this case, perseverance would have led only to further harm to Tim.
A second encounter that reinforced this thinking was with an investment advisor. She of course had education, training and many years of experience in dealing with the stock market. Her advice was to always have an exit strategy. This meant that even before thinking about investing in any stock, one should always have a plan to exit from it before incurring greater levels of loss.
Looking at it from the point-of-view of mental health, one may find that winning a war at any cost, is not necessarily the answer to a happy outcome. Accept what you can't change. Leave the trenches when it makes sense and learn to live with that newfound peace. Abandoning the battlefield is not necessarily a sign of weakness but in fact could be a smart strategy.
Naresh James is the retired executive director of the former Canadian Mental Health Association, Kawartha Lakes branch.
11 * OPINION *
The wonder of wetlands
Our 'life support systems' are under threat, say local experts. There's still time to change that.
By Ginny Colling
As an eight-year-old boy, Josh Feltham couldn't stay away from the pond in his yard or the streams, bogs and marshes nearby. They are a hub for species like turtles, snakes and salamanders, and magnets for kids.
Today Feltham continues to explore wetlands because they're his happy place. "I feel that I'm at home."
He's also out there as a professor of environmental science at Fleming College exploring many wetlands, including McLaren's Creek in Ken Reid Conservation Area, Fleetwood Creek and the Kawartha Highlands area. Some are cattail marshes, some are treed swamps, others are fens or bogs.
Wetlands are our life support systems. They filter contaminated water from farm fields and roads, recharge our wells and aquifers and help prevent flooding. Wetlands also store more carbon than any other ecosystem, thus helping us combat climate disruption.
"People want to turn on the tap and have access to clean water. (In part) they have wetlands to thank for that," says Robert Pye, executive director of Watersheds Canada. No one likes a flooded basement, or washed-out roads. Without our wetlands, some areas would see more flooding. They act as sponges, soaking up excess rain and snow melt. And they release it slowly, helping maintain stream flows and aquifer levels during droughts.
But our wetlands are under threat – and that's a problem.
"We continue to pave over landscapes, so there's less absorption, while climate change brings more water. You can't get insurance for some properties because of flood risk," Feltham said. According to the Insurance Bureau of
Canada, flooding is getting more frequent, with two in 10 Canadian homes at risk.
More than 70 per cent of Ontario's wetlands have disappeared since European settlement began – mostly due to development and agriculture. It's a global problem. And in Ontario, those threats to our remaining wetlands are accelerating.
In the Kawartha Conservation area, 15 per cent, or 383 square km, is wetland, said Rob Stavinga, watershed resources technician for Kawartha Conservation. It's important to preserve the wetlands we have left.
Retired district biologist Barry Snider, who oversaw wetland evaluation in that role, continues to study wetland losses and looked at four townships – Ops, Emily, Mariposa and Eldon. Over the last decade, wetland coverage in those areas shrank by almost 500 hectares, primarily due to agricultural expansion.
"That's a lot – 1,200-some acres. That's (equivalent to) 12 100-acre farms."
Referring to a report from the Ontario Biodiversity Council, he noted that the annual rate of wetland loss in the province almost tripled between 2010-2015 compared to the previous period. Recent changes to provincial legislation like the More Homes Built Faster Act have raised fears that the rate of wetland loss will not slow down anytime soon.
Our remaining wetlands are critical, says Pye, an avid hunter and lover of the outdoors. "When we think of infrastructure, we tend to think of roads and subways. But we have a mother-nature-made infrastructure working for us.
lindsayadvocate.ca
12
And there's no municipal budget that could ever pay for that. The infrastructure value is worth mega-dollars. Once a wetland is gone, it's gone."
That would also hurt those who share his love of waterfowl hunting, canoeing and fishing. Birders flock to our wetlands to spy the many feathered species that pass through during migration, or call the wetlands home. Those areas provide spaces for recreational pursuits and attract tourist dollars.
Wetlands offer some of the last remaining large tracts of habitat for everything from bear and deer to chipmunks, squirrels, and some endangered or threatened species, including plants. "Without wetlands we'd lose a lot of species of birds," Stavinga said. "And a lot of fish spawning areas are in wetlands. We would have a lot of disappointed people out there who wouldn't be able to catch any fish."
More than 100 organizations, from Birds Canada to affordable housing groups and even a building industry and land development association, have raised concerns about the legislative changes, most fearing the loss of natural heritage areas like forests and wetlands. In a written statement, Watersheds Canada points out that the More Homes Built Faster Act has severely limited the role of conservation authorities (CAs). They can no longer help municipalities review development applications, "leaving municipalities without the expertise conservation authorities have previously offered in understanding environmental impacts of proposed development, particularly near waterways and floodplains."
The way wetlands are evaluated has also been changed. Small wetlands can no longer be evaluated as a group, making it harder to qualify for the protections afforded by Provincially Significant Wetland status.
Advocate writer Ginny Colling with her dogs at Ken Reid Conservation Area. Photo: Bre Ferguson.
One way to protect the wetlands that remain is to put valuable land in trust and set it aside permanently through organizations like Nature Conservancy Canada and Kawartha Land Trust, Stavinga said. Good regulations to protect wetlands are also important. They give the CA a chance to work with landowners to discuss the importance of natural features on their land.
"When people understand nature and its importance, they want to protect it," he said, adding he understands the frustration when some feel they can't do what they want
with their own land. Pye noted that the private property land ethic is strong, particularly in the agricultural community. "They've (the agricultural community) been so good to identify these wetland areas that provide these ecological services. There's been very good land stewardship over the years."
He points to the Alternative Land Use Services program (ALUS) as an example of farmers working on environmental concerns. ALUS Peterborough covers an area that
lindsayadvocate.ca
14
Advocate writer Ginny Colling talks with Josh Feltham, a Fleming College professor of environmental science. Photo: Bre Ferguson.
includes Kawartha Lakes and is now working with 31 farmers, 12 of them in this city. It provides funding and expertise to those who want to turn marginal farmland into an area that can provide ecological services like cleaner water, carbon storage and wildlife habitat.
"Farmers have created new wetlands in low lying wet areas, established grasslands within compacted nutrient-depleted soils and expanded hedgerows," program coordinator Kate Powell said in an email. She sees Ontario losing natural wetlands, and farmland, primarily to development.
In November, First Nations chiefs in Ontario called the new provincial legislation that encourages development on natural areas a "blatant violation" of First Nations rights over their traditional territories. Ontario Regional Chief Glen Hare said the legislation "will inevitably harm Ontario's environmental heritage and weaken land and water environmental protection."
it's gone.
Those who have evaluated the land already available for development say there is more than enough space to build the 1.5 million homes the government wants to add over the next 10 years.
By easing the way for more sprawl development in areas like the Greenbelt, the Oak Ridges Moraine, and beyond, with its new legislation, the province is encouraging paving over the sponges that protect us from flooding, wetlands advocates say.
That will increase flood risks for homeowners and cottagers, while at the same time increasing commuter traffic from sprawl developments. It will also shrink local government revenues, and increase taxes.
Feltham said we need to get developers working with environmental groups on the issue.
"Many think we have to choose between economics and environment, but you can't. If you do, you end up where we are now, which is a hell of a mess." LA
15
We have a mother-nature-made infrastructure working for us. And there's no municipal budget that could ever pay for that. The infrastructure value is worth mega-dollars. Once a wetland is gone,
M a y t h r o u g h S e p t e m b e r u p t o 6 d a y s a w e e k .
L o o k i n g f o r l i g h t e x e r c i s e , m e e t i n g n e w f r i e n d s , s o c i a l o r c o m p e t i t i v e i n t e r a c t i o n ? L a w n B o w l i n g h a s i t a l l . F u n f o r a l l a g e s !
P h y s i c a l s t r e n g t h p l a y s a s m a l l p a r t i n t h e g a m e w h i l e s k i l l a n d s t r a t e g y a r e t h e r e a l f a c t o r s .
L i n d s a y L a w n B o w l i n g C l u b
J o h n H a r p e r 7 0 5 - 9 3 4 - 1 9 6 7
l i n d s a y l a w n b o w l s @ g m a i l . c o m
W e b : l i n d s a y l a w n b o w l s . c o m
B o b c a y g e o n L a w n B o w l i n g C l u b
L a r r y H o l d e n 7 0 5 - 7 3 8 - 5 2 9 0
b o b c a y g e o n l a w n b o w l i n g @ g m a i l . c o m
W e b : b o b c a y g e o n l a w n b o w l . w i x s i t e . c o m
lindsayadvocate.ca Barristers, Solicitors, Notaries Angus
Heather
contact@staplesswain.com www.staplesswain.com Dedicated to Excellence Since
Residential & Recreational Purchases, Sales & Refinancing Contract Preparation & Review Wills & Powers of Attorney Business Succession Planning Estate Administration Incorporation Partnership & Shareholder Agreements 10 William St. S. Lindsay
402 Simcoe St. Beaverton
LAWN
McNeil Waylon Skinner Nicole Moore
Richardson
1959
705.324.6222
705.426.7317 LINDSAY & BOBCAYGEON
BOWLING CLUBS CLUBS
Where Dreams Come Home Serving the Kawartha Lakes for over 20 years. Lindsay 705.324.3411 Bobcaygeon 705.738.5001 16
GLOBUS THEATRE In Beautiful Bobcaygeon! 705-738-2037 globustheatre.com M A I N S T A G E S H O W S PLUS 4 ONE NIGHTERS!